Sushi I-Naba (Manhattan Beach, CA) [2]
Sushi Inaba
1300 Highland Ave, Manhattan Beach, CA 90266
310.545.3345
www.sushi-inaba.com
Sat 05/02/2020, 06:40p-07:35p
By my estimation, Yasuhiro Hirano's six-seater
I-naba
has to be
the
LA sushi debut of the past couple years. It's a place that I'd easily place within the top echelon of Los Angeles sushi spots, and so I was curious to see how the restaurant would handle the current coronavirus crisis. Back on April 24th, the Chef announced on Instagram that he'd be serving limited quantities of
bara-chirashi
, which instantly piqued my curiosity.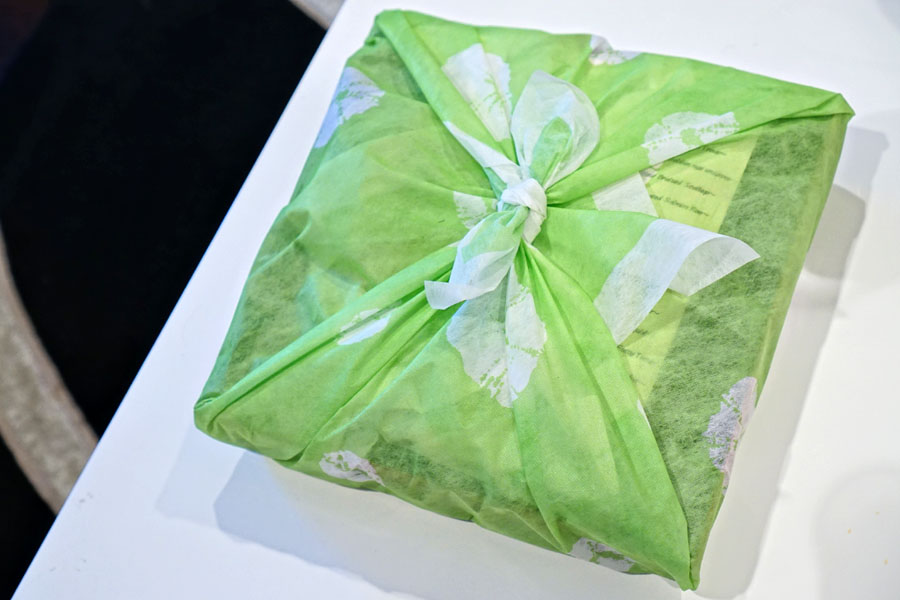 The meal arrived tightly wrapped in translucent cloth.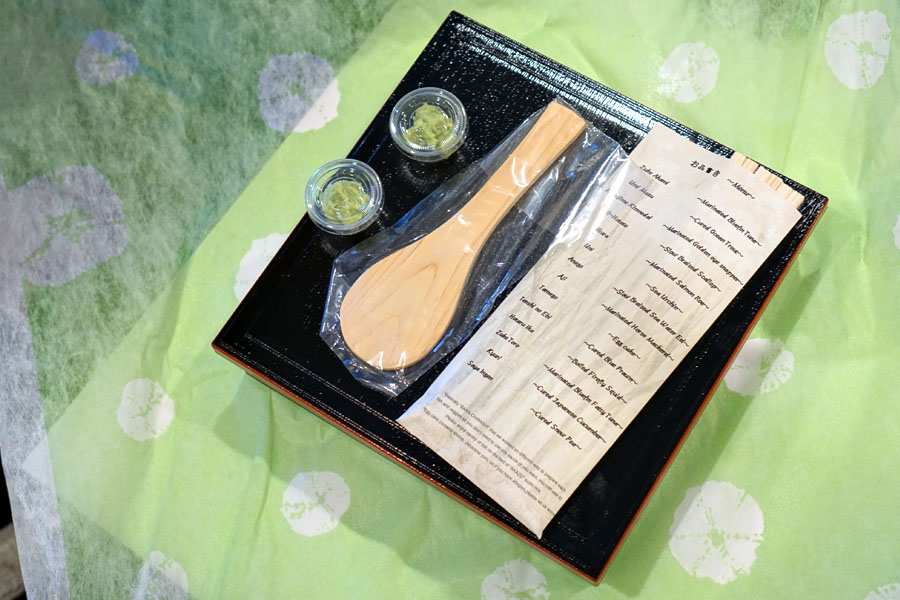 The sushi was presented in a faux
shokado
(black-lacquered bento) box, and on top were mini containers of wasabi, an unexpectedly fragrant wooden
shamoji
(rice paddle), and the menu.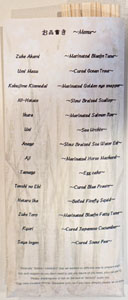 All the various ingredients were clearly enumerated, which I certainly appreciated. Note that the menu also doubled as the packaging for the included chopsticks. Click for a larger version.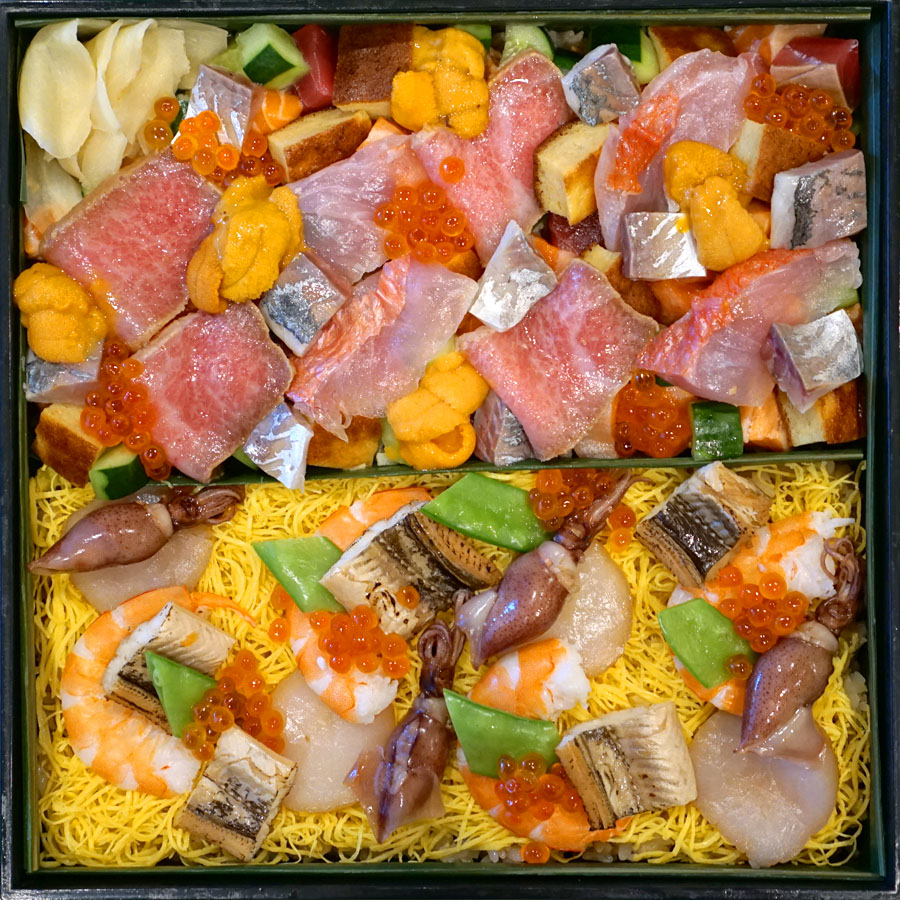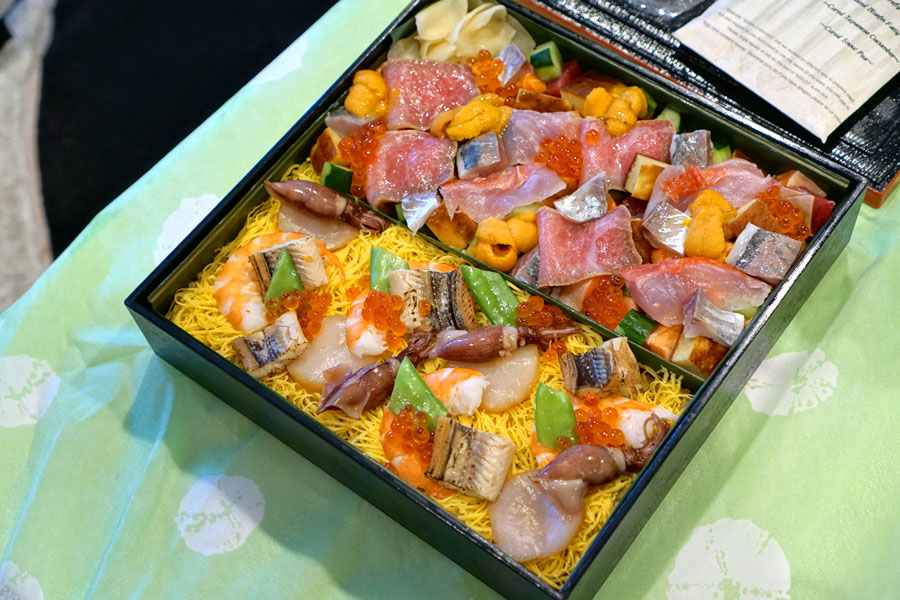 And the
barazushi
is revealed. It was quite a beautiful sight, with each item individually prepared and placed over a base of
akazu
-heavy sushi rice. The price for all this was a hefty $200, though do keep in mind that the box could easily feed two people (or even three smaller appetites).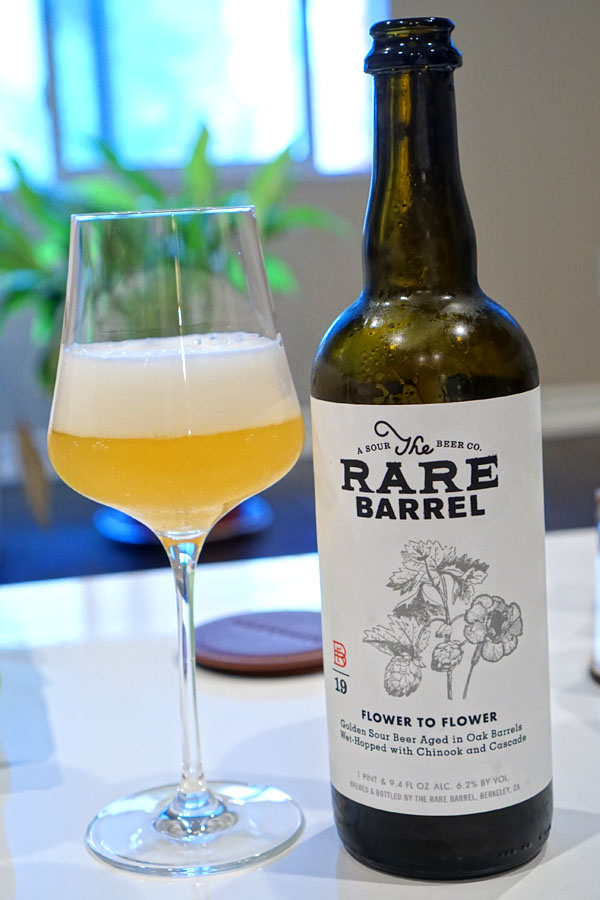 To drink, we opted for the
2019 The Rare Barrel Flower to Flower
, a golden sour ale aged in oak barrels and wet-hopped with Chinook and Cascade. The beer smelled great, with pineapple at the fore joined by hop aromatics and just enough funk. Tasting it, I got more tart, earthy notes punctuated by resinous, citrusy hops and a smidge of spice. Quaffable and refreshing for sure.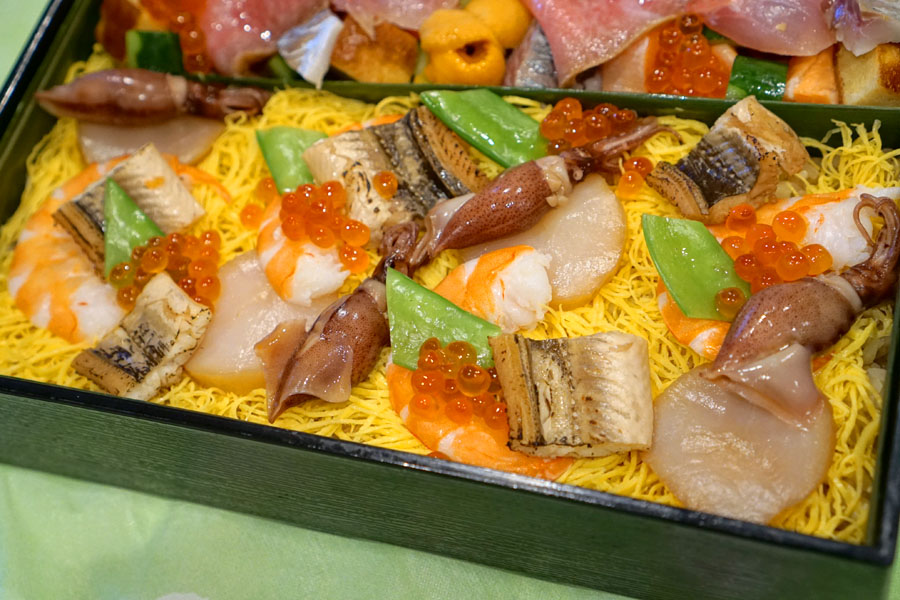 I began with the lower portion of the box:
Ni-Hotate: Slow braised scallops featured a wonderfully supple texture alongside boatloads of umami. My favorite element in this half of the box.
Ikura: Marinated salmon roe showed off its signature salinity, the strength modulating depending on the particular bite. Rather nice when taken with just the rice, too.
Anago: The slow braised sea water eel stayed true to classic form, its touch of sweetness balanced by the fish's inherently oceany nature.
Tenshi no Ebi: Cured blue prawn was a joy to eat given its refined brine and supple-yet-snappy consistency.
Hotaru Ika: Boiled firefly squid were crisp to the bite, and conveyed a healthy dosing of salt.
Saya Ingen: Cured snow peas were a welcomed addition thanks to their inimitable crunch and brightness.
Note that the various toppings were all placed over a bed of shredded egg, which worked surprisingly well as a complementary element to the
chirashizushi
. Also of note was the rice, which I found especially vinegary.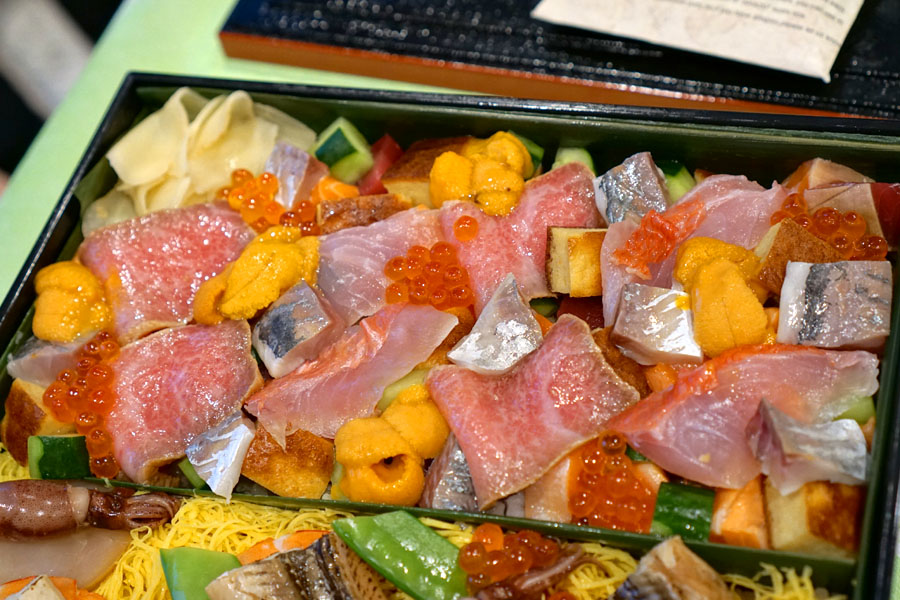 Next we'll move to the upper section, which contained noticeably more ingredients:
Zuke Akami: Small chunks of marinated bluefin tuna were richly flavored, with bountiful amounts of umami.
Umi Masu: The cured ocean trout was one of the fattiest, lushest examples I've had.
Kobujime Kinmedai: Kelp-marinated golden eye snapper was soft and sticky, its flavors concentrated.
Ikura: The marinated salmon roe served a similar function as it did above.
Uni: Sea urchin worked particularly well when taken with the cucumber.
Aji: I was a fan of the marinated horse mackerel thanks to the sheer elegance of its salinity.
Tamago: Egg cake ate sweet and fluffy, but with an undercurrent of brininess.
Zuke Toro: The marinated blue fin fatty tuna was among the sweetest examples I've ever had, and I loved how said sweetness meshed with the fattiness of the fish.
Kyuri: Cured Japanese cucumber served as a much-appreciated textural component while also adding a freshness to the dish.
This was definitely the more luxurious portion of the box, and, as it lacked the shredded egg above, the rice here was even more crucial for contrast.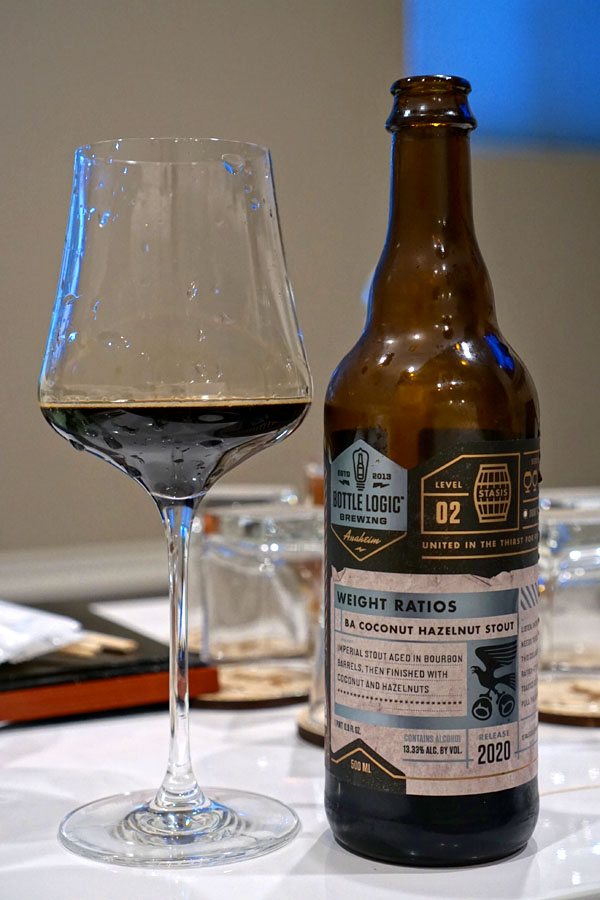 Dessert duties were handled by the
2020 Bottle Logic Weight Ratios
, an imperial stout aged in bourbon barrels and finished with coconut and roasted hazelnuts, created in collaboration with Horus Aged Ales. Stupendous nose brimming with robust coconut along with nutty, floral overtones. The beer was delightfully velvety on the palate, and gave up mounds of toasty coconut up front along with notes of fudge, while the hazelnuts came through more toward the finish and stuck around.
I think it's safe to say that this was the best chirashi bowl I've had, though admittedly, that's a bar that isn't terribly high. I'm actually hoping that the restaurant will start making
nigiri
available to-go. If that happens, I think a revisit may be in order.