Kismet Rotisserie (Los Angeles, CA)
Kismet Rotisserie
4666 Hollywood Blvd, Los Angeles, CA 90027
323.400.3700
www.kismetla.com/kismet-rotisserie-chicken/
Wed 05/20/2020, 08:45p-09:40p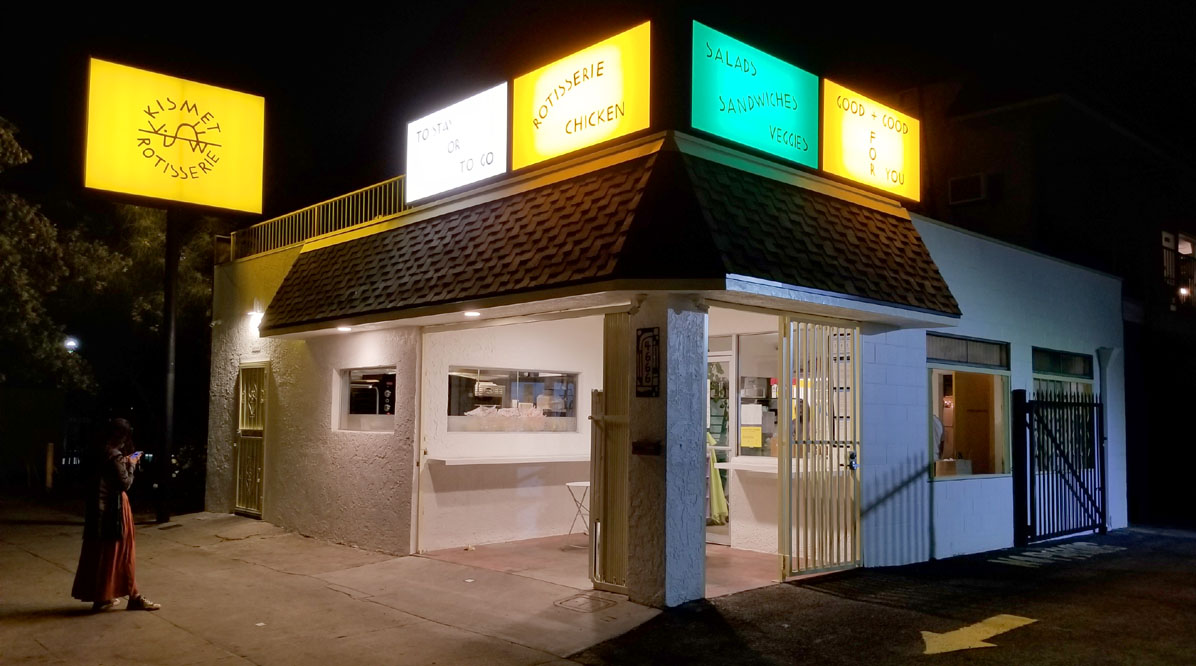 If you saw my last post, you'll know that I finally paid a visit to Los Feliz's
Best Fish Taco in Ensenada
. Now that was a relatively light meal, so I decided to cross the border to East Hollywood to check out Kismet Rotisserie. The new eatery comes to us from Chefs/Owners Sarah Hymanson and Sara Kramer, who also operate
Kismet
a few doors down, as well as the now-shuttered Kismet Falafel (known as
Madcapra
until October 2018) at Grand Central Market. The place opened on January 15th, taking over the former home of Yuca's (the second location of the Hillhurst original--open August 2007), and Casa Diaz prior to that.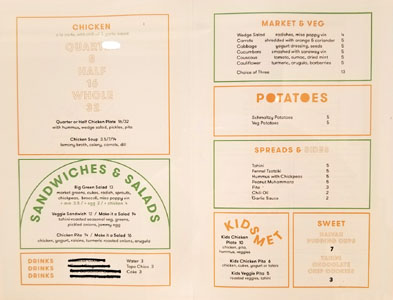 From what I can tell, the menu hasn't changed at all from what the restaurant usually offers--no coronavirus specials here. Obviously the spit-roasted chicken is the focus, but there are a number of Mediterranean-style sides to go along. Click for a larger version.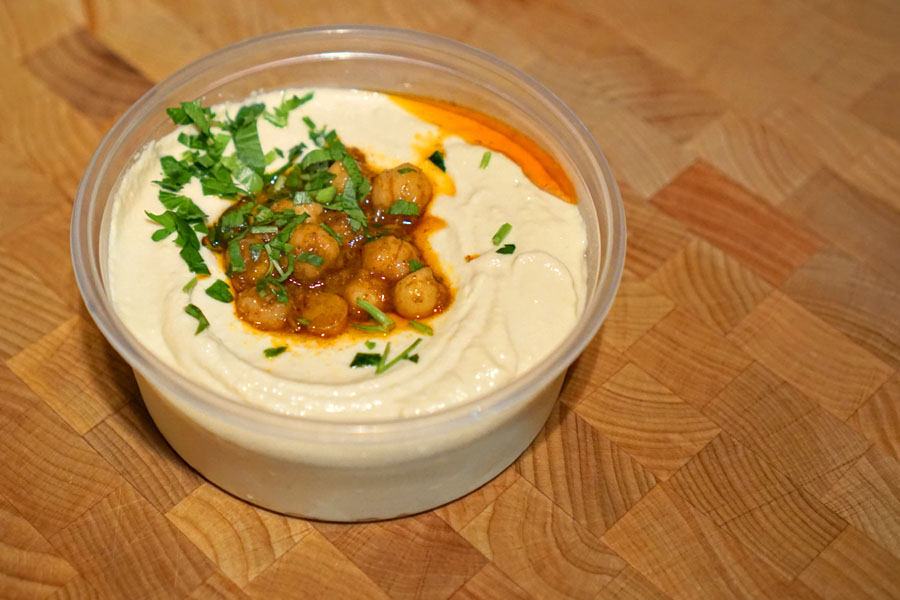 Hummus with Chickpeas [$5.00]
Up first was perhaps the most prototypical of meze. The hummus had a somewhat smoother than usual consistency, while in terms of taste, I found it pretty classic, though there was this hot dog-like umami note that was unanticipated, but not unwelcomed. Meanwhile, the whole chickpeas on top provided further depth and piquancy.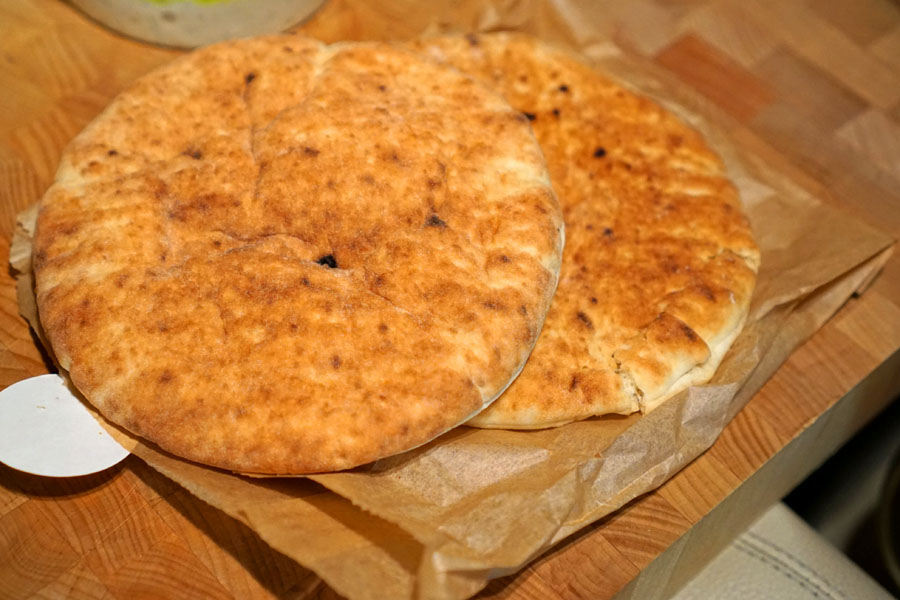 Pita [$3.00]
The flatbread here was of the thicker, softer, somewhat crusty variety, with a slight tanginess. It functioned as a natural accompaniment to the mezze, and curiously enough, when eaten with the hummus above, I detected an almost
cong you bing
-esque sensation that was a pleasant surprise. I've read that the bread is custom-made for the restaurant by none other than Bub and Grandma's.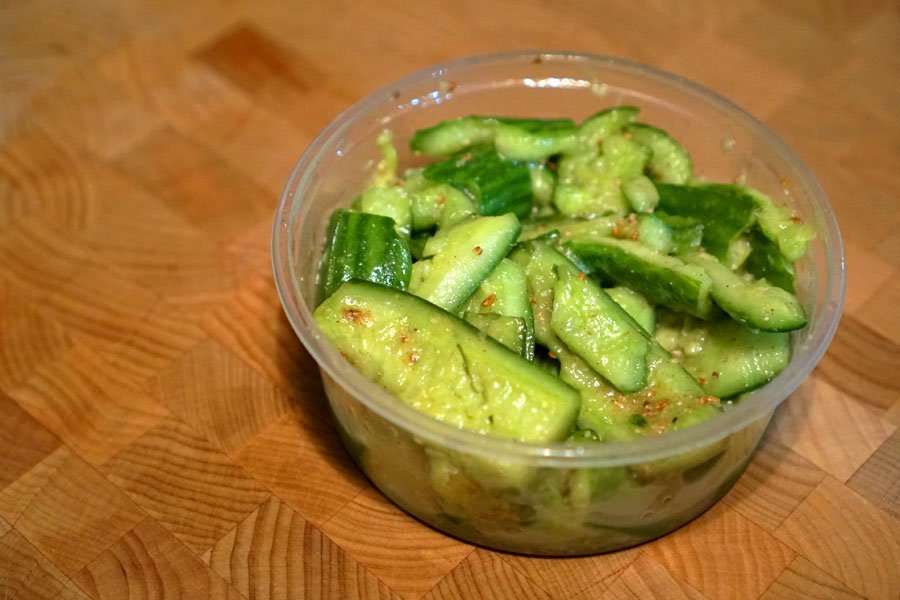 Cucumbers [$5.00]
| smashed with caraway vin
Cucumbers were as juicy and crunchy as I wanted, their bright flavors joined by complementary notes of sour, savory, and minty.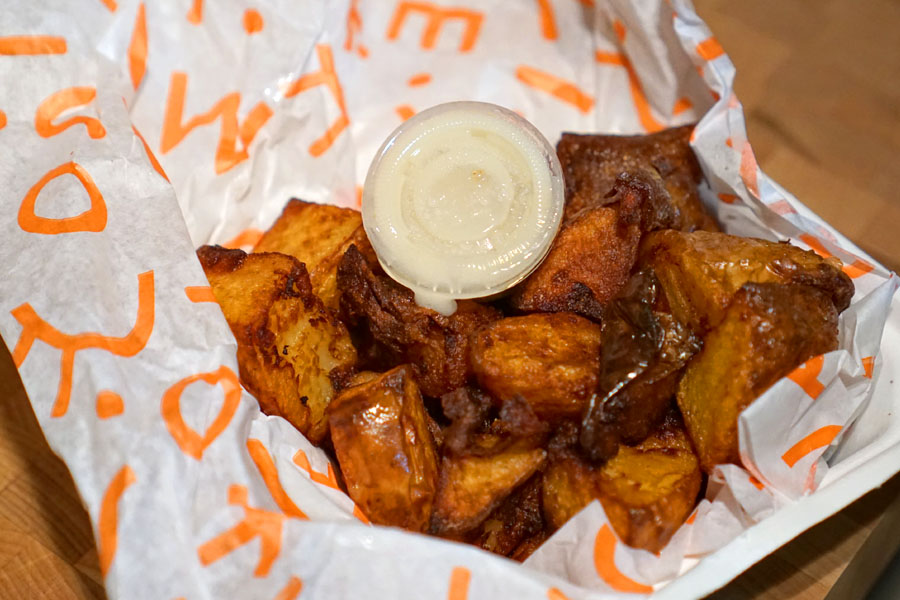 Schmaltzy Potatoes [$5.00]
Roasted potatoes came out hot and hearty, and you could definitely taste the schmaltz in the background. Note the inclusion of a container of
toum
, a subtly tart, subtly sweet example that was rather restrained in its garlickiness.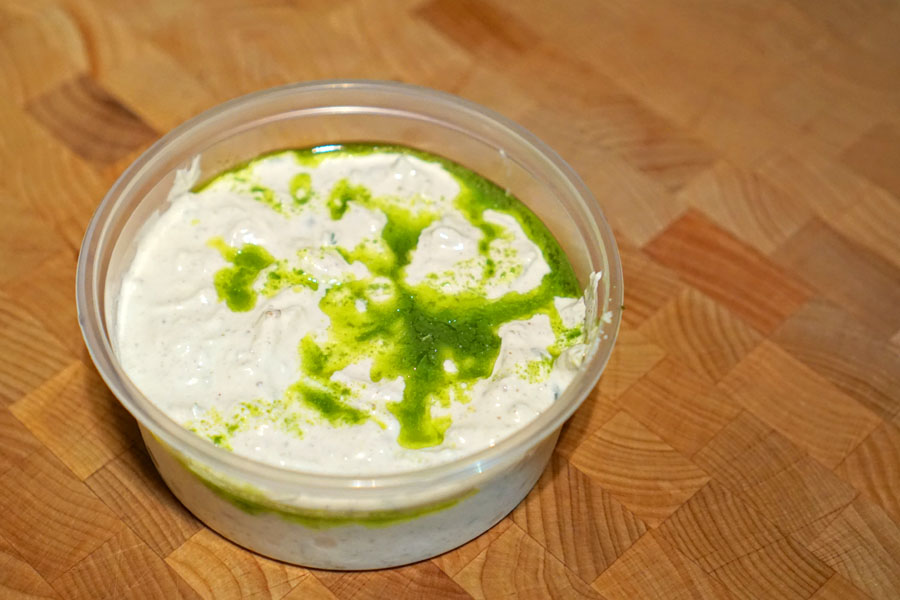 Fennel Tzatziki [$5.00]
I enjoyed the tzatziki, which I found lush, creamy, with a nice cucumber-y lightness. It was great with the pita above, as expected, but what was amusing was that I swear I tasted ice cream in certain bites.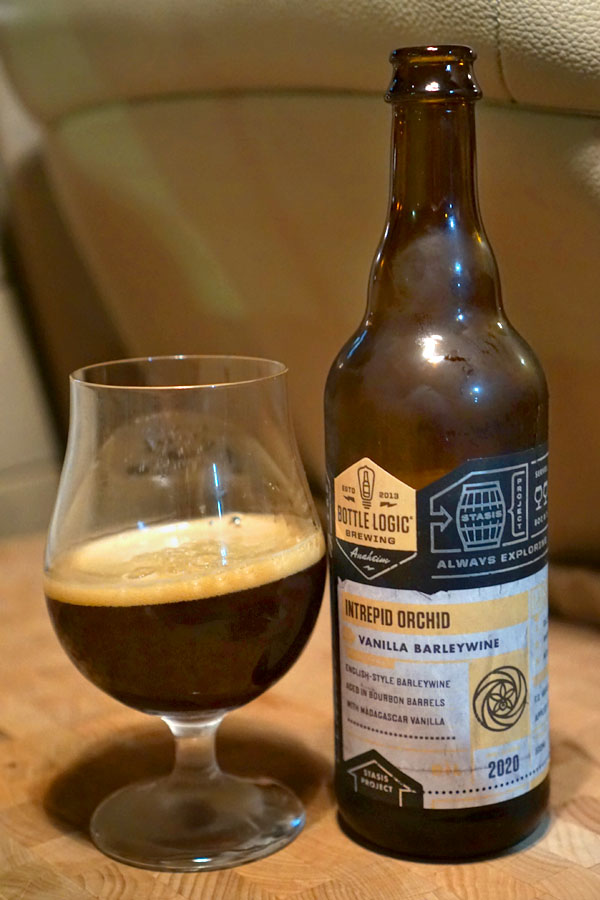 To imbibe, I opened up a bottle of the new
2020 Bottle Logic Intrepid Orchid
, a bourbon barrel-aged, English-style barley wine with Madagascar vanilla. The beer displayed an intense nose filled with sweet, fragrant vanilla layered over a base of nutty malt. Tasting it, I found boatloads of vanilla commingled with elements of brown sugar and caramel on the mid-palate that lingered long and strong. This was perhaps the most in-your-face barleywine I've had.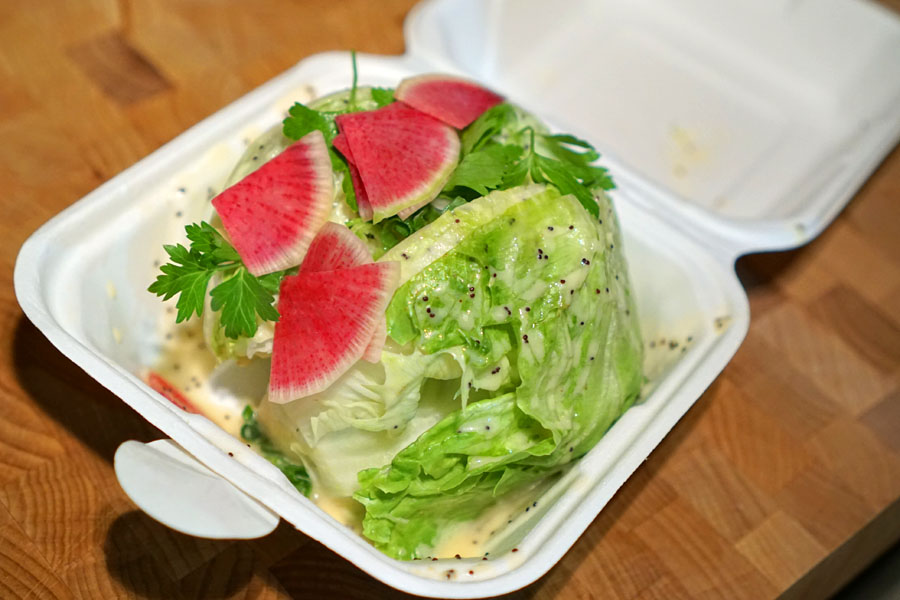 Wedge Salad [$4.00]
| radishes, miso poppy vin
A half head of lettuce arrived light and crisp, well matched to that nutty, floral, semi-sweet vinaigrette while scallions added hits of zestiness.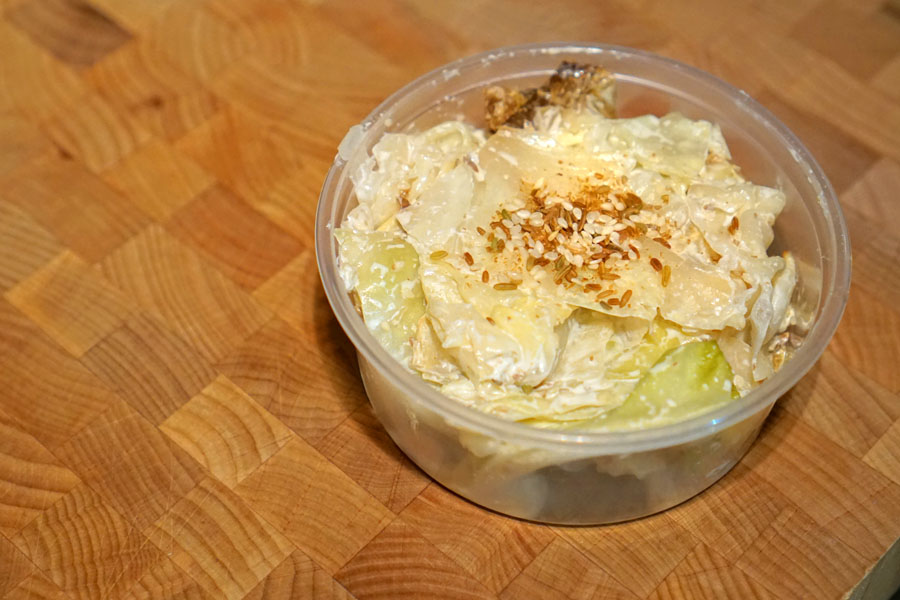 Cabbage [$5.00]
| yogurt dressing, seeds
Cabbage was delightfully crunchy, its light, vegetal funk pairing swimmingly with the creamy, nutty components in the dish.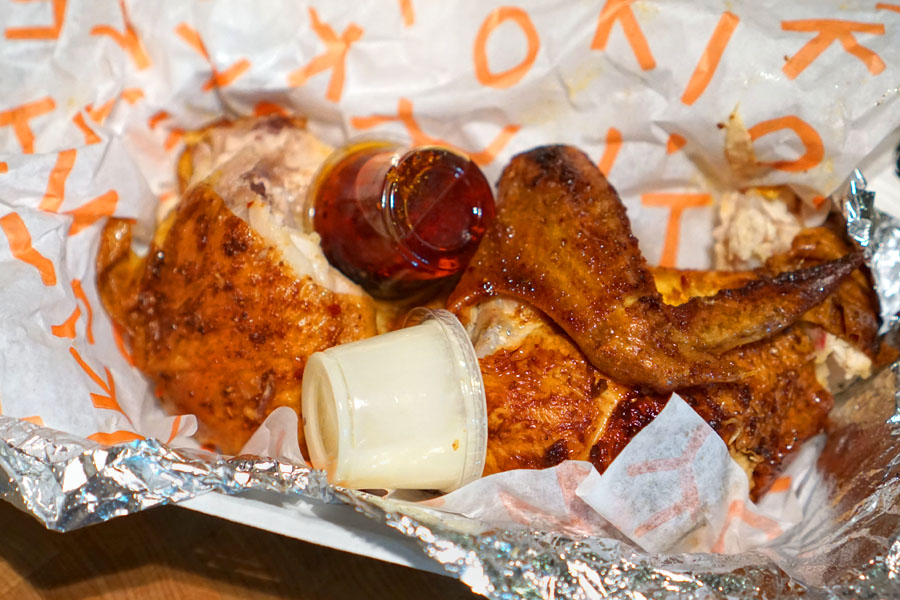 Half Chicken [$16.00]
| a la carte, with chili oil & garlic sauce
The chicken here is sourced from Petaluma Poultry up in Sonoma County, and I ended up getting a half bird so I could try all the parts. I began with the breast, which was decently juicy and well seasoned; I especially liked the char situation on the skin. The wing was next, and showed off a wonderfully crisp, aggressively flavored skin, as well as a healthy dosing of umami that actually veered briny (but not in a bad way); I was reminded of the dried anchovy snacks I had as a kid. As for the (surprisingly small) thigh, it had the most luscious texture here, and conveyed a depth of flavor that reminded me of why I prefer dark meat. I ended with the drumstick, which had a taste/texture that I'll liken to a less succulent version of the thigh. Do note that this order came with two condiments: an uncommonly nutty chili sauce and the
toum
described above.
All in all, a very solid meal from Kismet Rotisserie. The actual chicken was quite enjoyable, though at the same time, I can't say that it was head and shoulders above the competition, especially given its cost, which I know has been a point of contention. Meanwhile, all the sides met the mark, and in fact, I'd say that this place may be worth checking out just for those.