Fabby's at Cassell's Hamburgers DTLA (Los Angeles, CA)
Fabby's at Cassell's Hamburgers DTLA
421 W 8th St, Los Angeles, CA 90014
646.632.2297
www.instagram.com/fabbysla / www.exploretock.com/fabbys/
Sat 07/04/2020, 06:30p-08:00p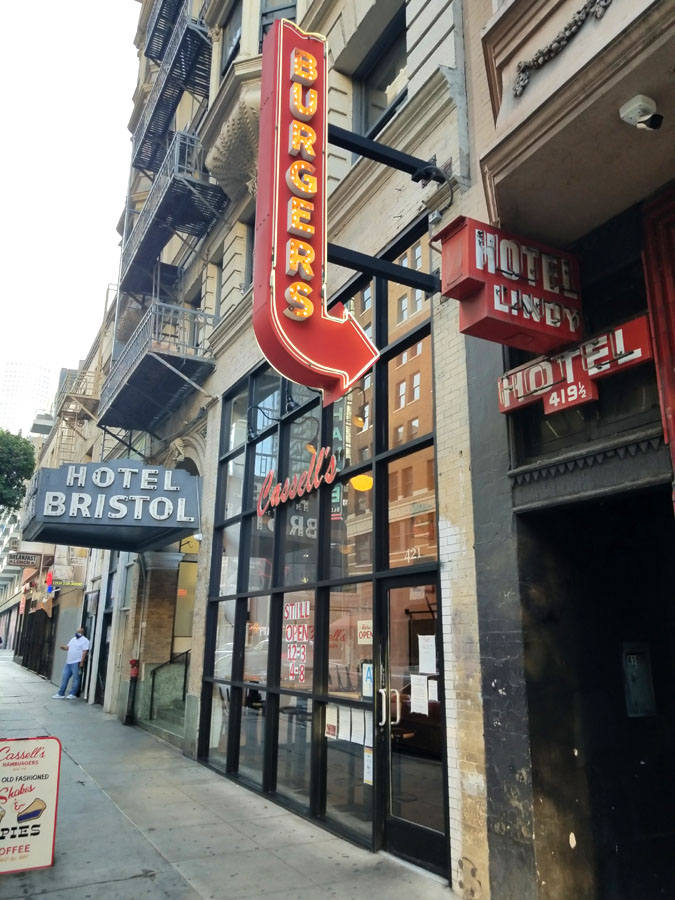 The advent of the coronavirus has resulted in some unexpected takeout-focused restaurant concepts popping up, and one that I've been curious about is Fabby's, which launched at the end of May and comes to us from Alex Guzman. Residing inside Cassell's in Downtown, the dinner series is named after the Chef's mother, and features what he describes as "pre-Hispanic Mexican cuisine with a modern Californian touch," or basically his reinterpretation of his mom's cooking. Currently, Fabby's is available on Fridays and Saturdays only.
About the Chef
: A Mexico City native, Alejandro Guzmán eschewed culinary school, but instead got his start working at his uncle's butcher shop back in the early 2000s. He eventually made his way to Single Origin at The Original Farmers Market in 2012, and worked as a barista until 2013, when he joined Jessica Koslow at Sqirl. He ran the coffee/tea program there until September 2014, then took on a business development role over at Bar Nine in Culver City, which lasted until the start of 2016.
In December 2014, Guzmán also began working as an apprentice at Gary Menes'
Le Comptoir
in Koreatown. He was able to climb his way up to the position of sous chef (having been promoted in December last year), but left the tiny, tasting menu-focused restaurant this April to begin work on Fabby's. A fun fact: the Chef is engaged to none other than Devon Tarby (of Proprietors LLC fame).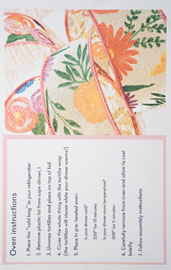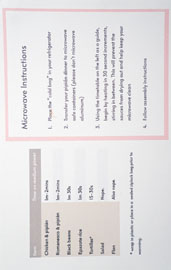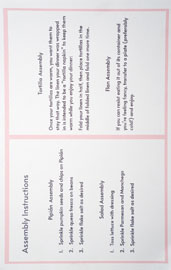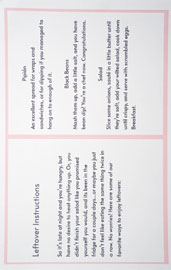 My dinner came with six cards containing assembly and reheating instructions. The cost of the menu was $35 per person, plus 9.5% tax and optional 20% tip. Click for larger versions.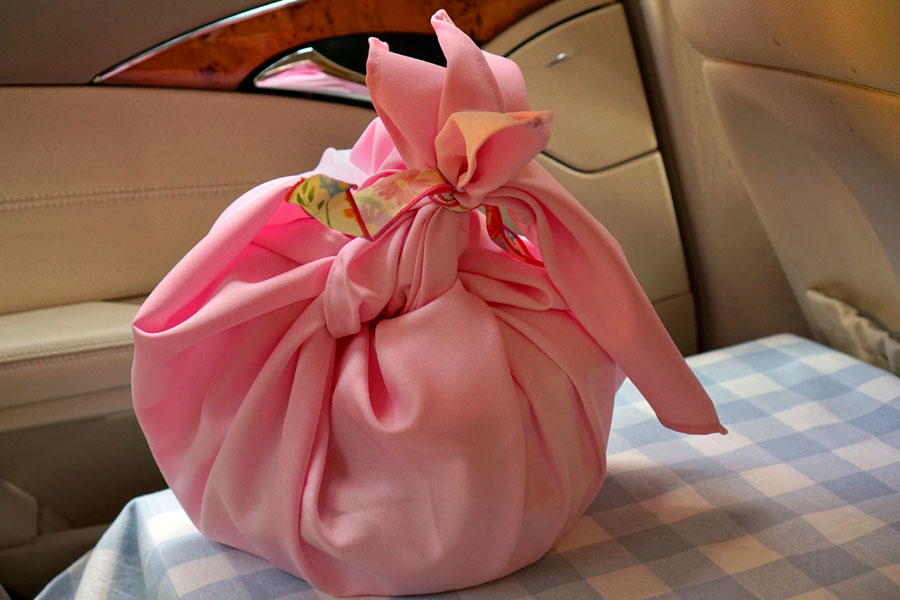 The food came wrapped in cloth, which made for a charming presentation that recalled Japanese-style
furoshiki
. Pink is the Chef's favorite color, and the ribbon is reminiscent of mom. The desire was also to be more sustainable, as the hope is that diners can find a second use for the wrapping cloth.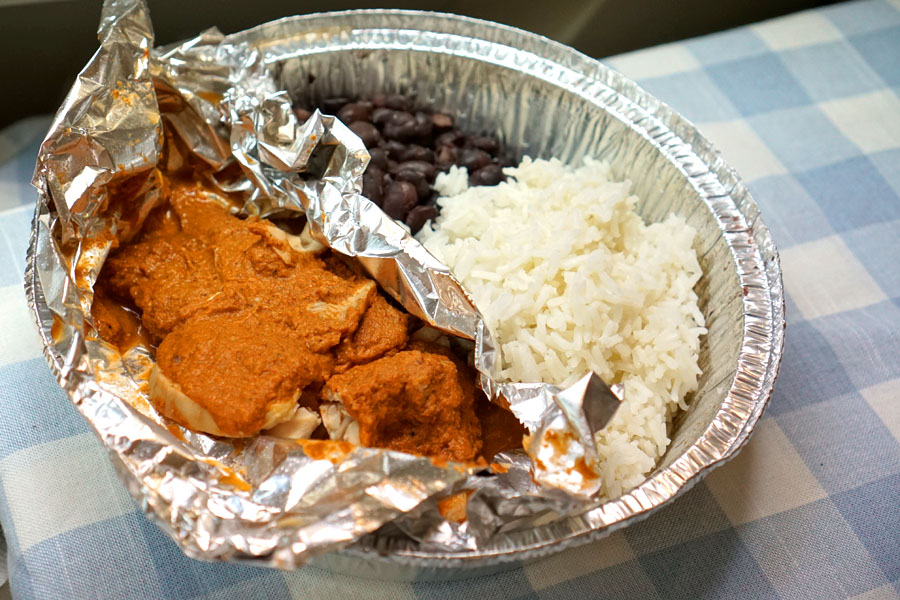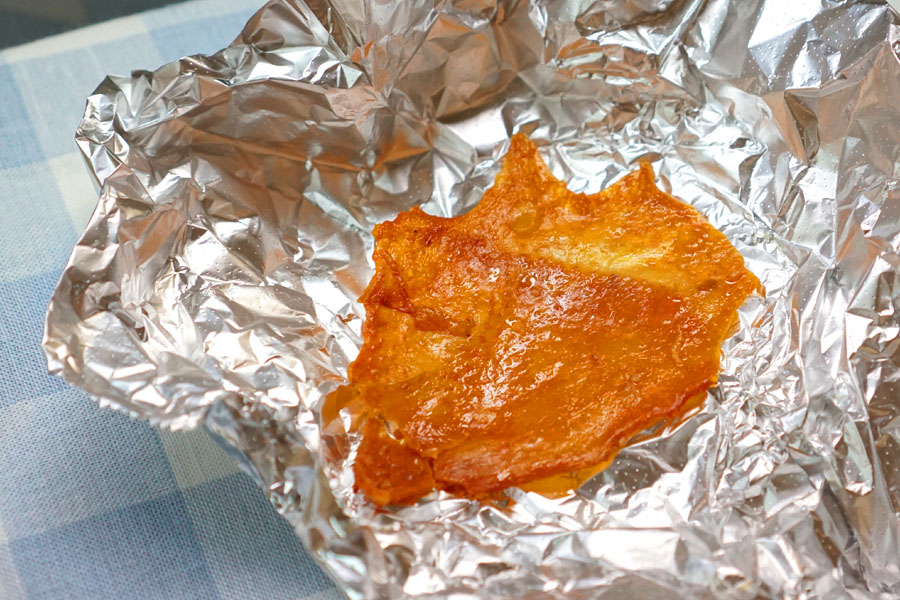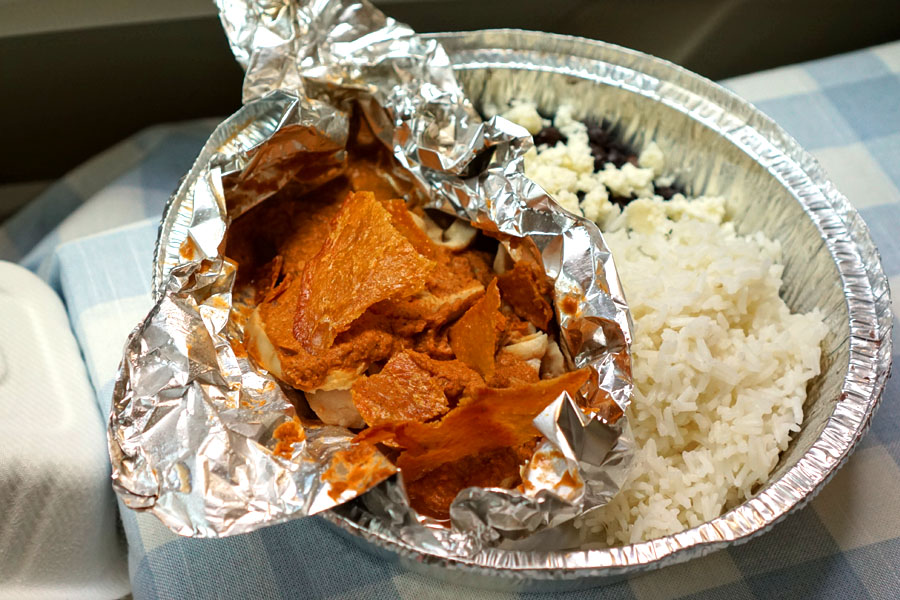 1: pipián rojo con pollo
| red pipián with braised chicken thigh
2: frijoles negros con hoja de aguacate
| black beans with avocado leaf
3: arroz blanco con epazote
| white rice with epazote leaf
Let's begin with our main course: chicken served with pipián, which is effectively a type of mole based on squash seeds and various types of chilies. The bird was quite something, arriving super soft and super juicy. It married effortlessly with the pipián sauce, which imparted a wonderfully nutty, savory, spicy complexity, all while the fried chicken skin added pops of salty and crunch. Meanwhile, the included rice was pretty textbook, and as for the beans? They were nicely boosted by the application of queso fresco, though the avocado leaf didn't really make itself known.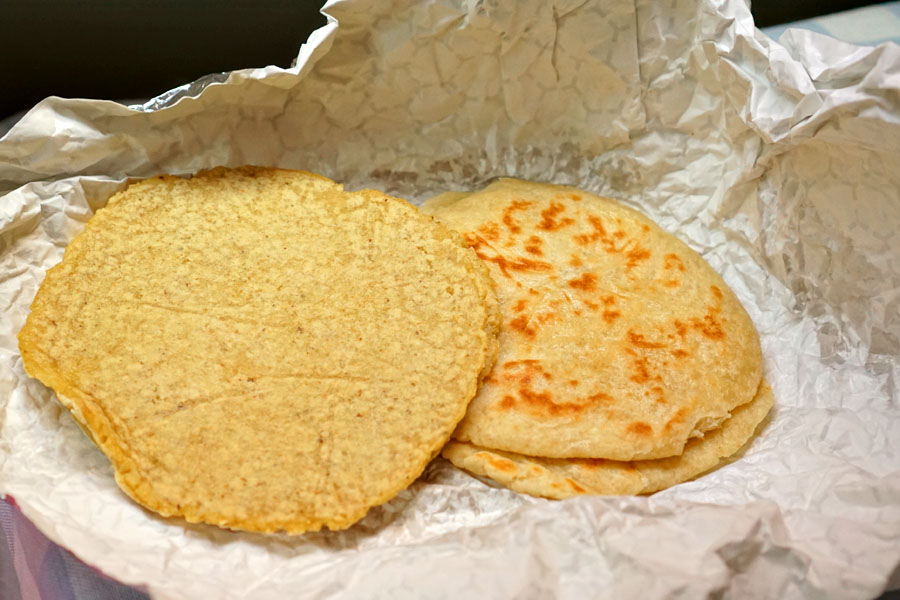 4: tortillas de maíz y harina
| corn and flour tortillas
Two types of tortillas were provided. The corn examples ate hearty and rustic, while the flour ones were thick and doughy, but with a relatively mild flavor profile.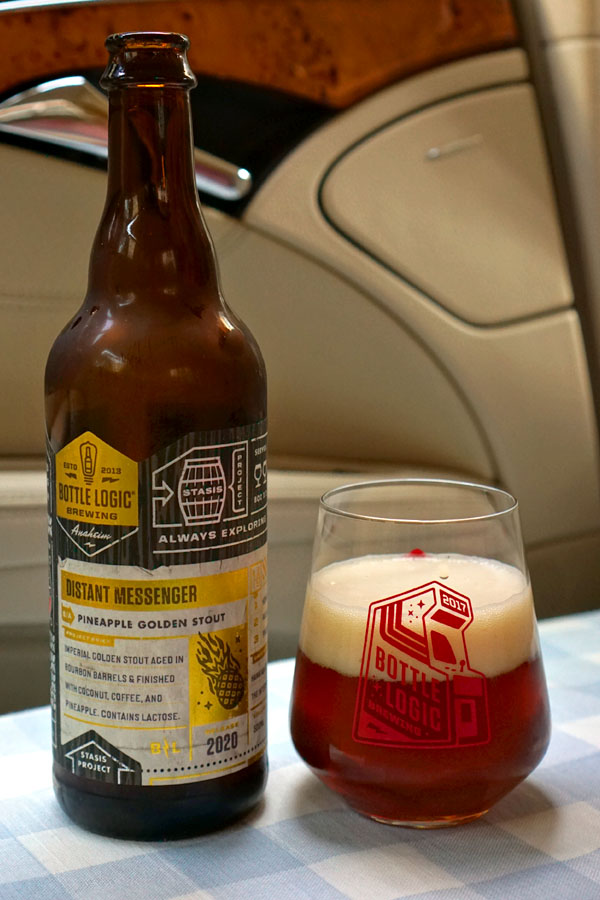 To drink, I had the newly-released
2020 Bottle Logic Distant Messenger
, an imperial golden stout aged in bourbon barrels and finished with lactose, fresh coconut, pineapple, marshmallow, and Bodhi Leaf's El Salvador Angel Mountain coffee. Nose of tropical pineapple darting around with sugary toffee--very nice. The palate here was smooth, showing off more fruity pineapple along with brown sugar, all cut by the astringency of coffee. This beer was inspired by Hawaiian coffee cake, which I don't think I've had before, but it pretty much tasted like exactly how I would picture the dessert in my head.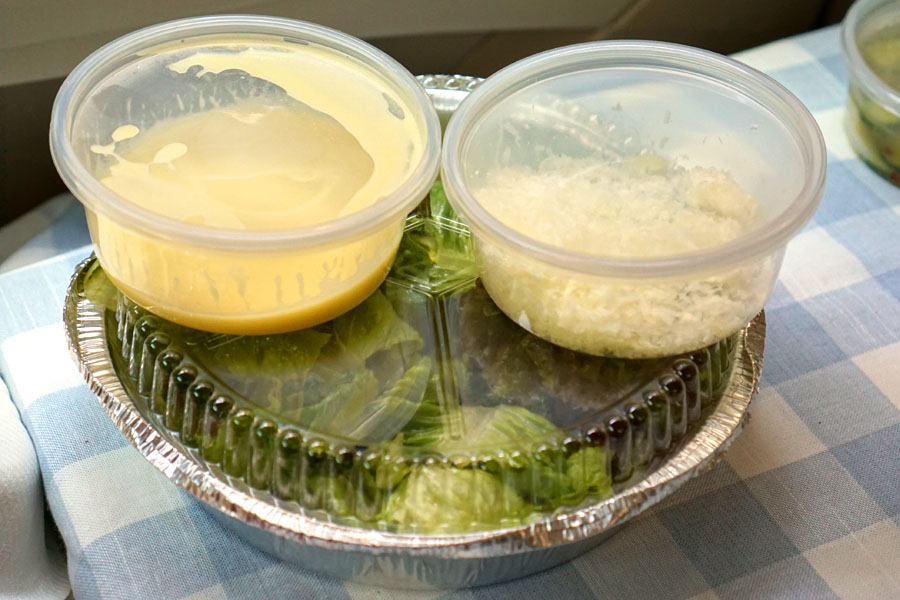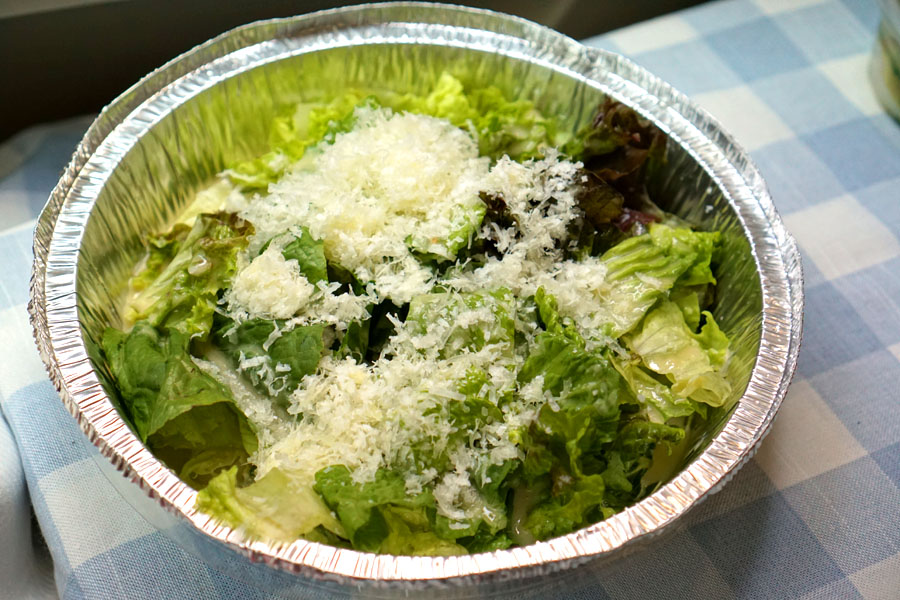 5: ensalada cesar
| caesar salad
Here was a fairly prototypical rendition of your classic Caesar, but with the addition of Manchego to the usual Parmesan. That extra cheese lent a salty, savory potency to the salad that I quite enjoyed, while there was also an omnipresent citric tartness that kept things in check.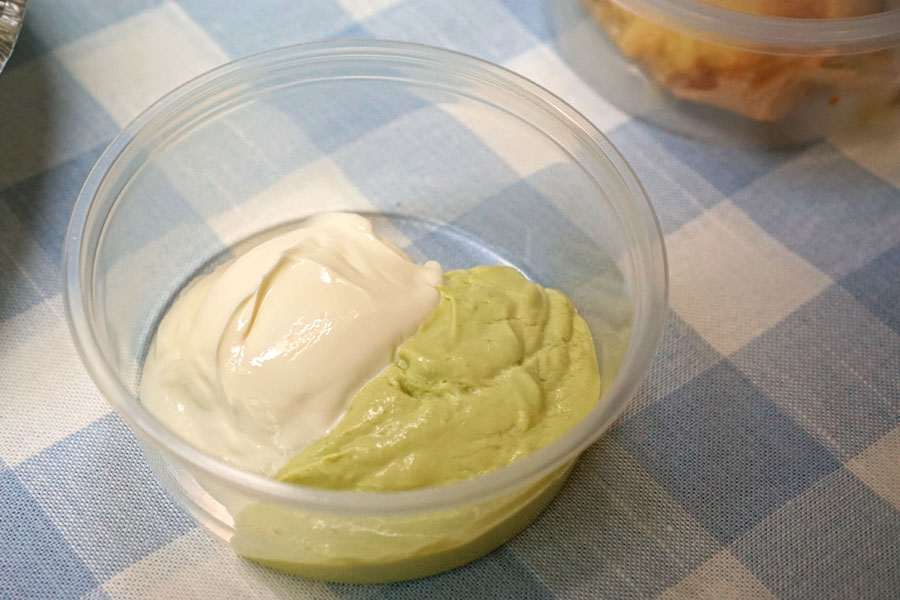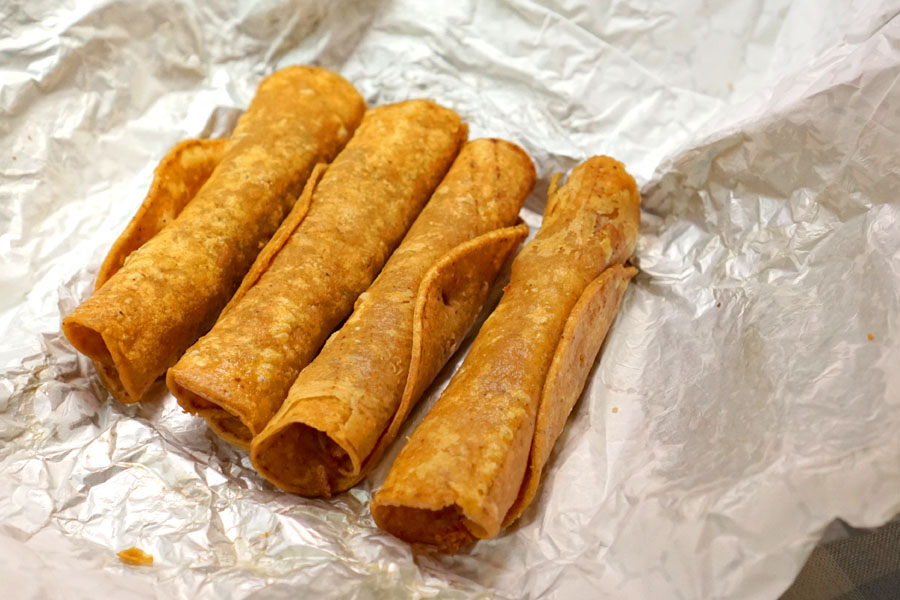 Taquitos (4) [$9.00]
| chicken carnitas, avocado salsa, yogurt
In addition to the prix fixe pipián dinner, there were also a few supplementary
antojitos
available. I began with the rolled tacos, which I found uncommonly crunchy, while flavors were decidedly salty and savory. The avocado and crema were thus absolutely crucial for balance, but overall, the dish seemed a bit monotone. Something more was needed, perhaps like a pico de gallo, cheese, or some lettuce.
Aguachile [$13.00]
| diver scallop, serrano, cucumber
Guzmán's aguachile played bright, crunchy cuts of cucumber against sweet slivers of scallop. There was a subtle spice that pervaded everything, but I actually would've preferred more heat. What actually stood out to me the most were the finishing notes of the dish, which combined a noticeable briny character with a very apparent citrusy element.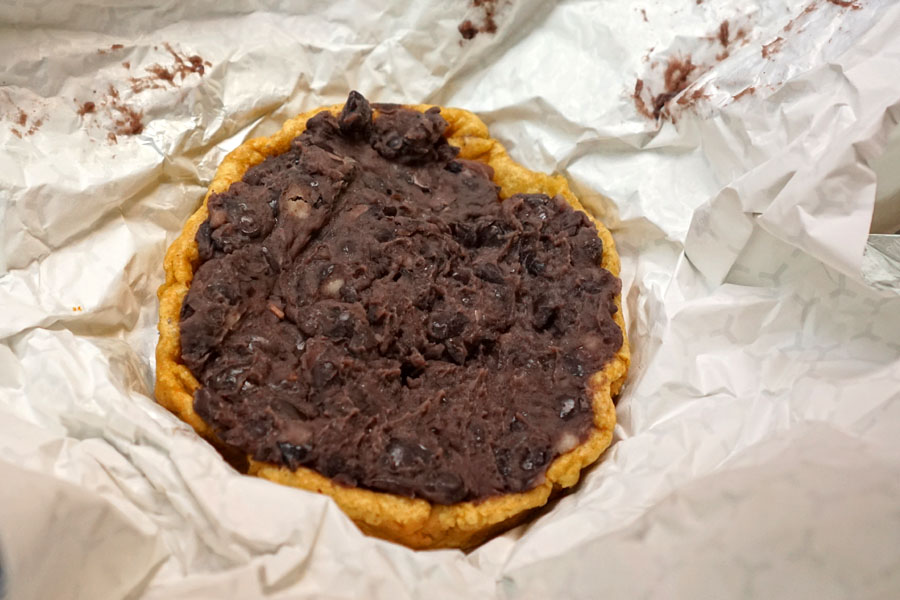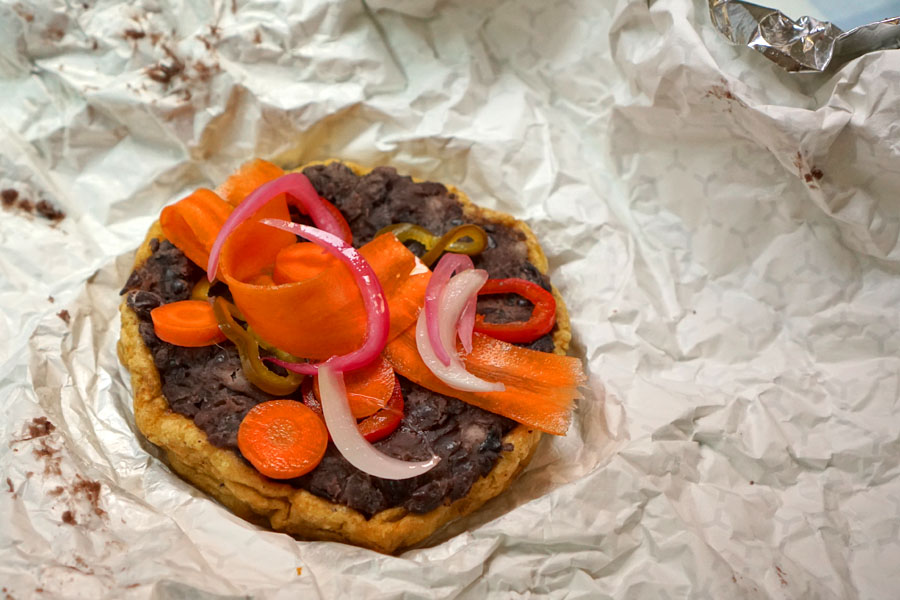 Sope [$8.00]
| fried corn masa, black beans, salsa verde, queso fresco, pickled veggies
The sope featured a tough, thick, doughy base that really showed off the intrinsic character of the maize. This set the stage for a back-and-forth between black beans and the crunchy, acidic nature of the pickled carrots, peppers, and onions.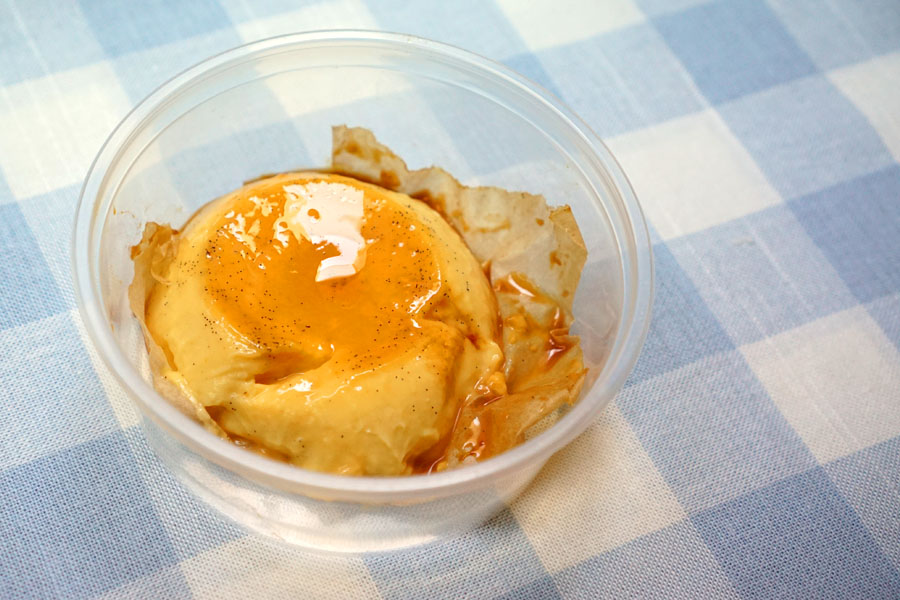 6: flan de requesón
| ricotta flan
Dessert was handled by a particularly rich, dense crème caramel flavored with what I believe was vanilla. There was a lovely finish of caramel here, and the dish ended up pairing superbly with the beer above.
Guzmán spent five years at Le Comptoir, so it's heartening to finally see him do his own thing. What's interesting is that the Chef is trying to make Fabby's permanent. Specifically, he's planning on turning it into a wine bar concept that will take over Cassell's, and is apparently working on securing a liquor license for the location. If things go as desired, Fabby's looks to be another worthwhile addition to the Downtown dining scene, and I look forward to checking it out some day.