Tsubaki (Los Angeles, CA) [2]
Tsubaki Restaurant
1356 Allison Ave, Los Angeles, CA 90026
213.900.4900
www.tsubakila.com
Wed 06/24/2020, 06:35p-08:00p
I last posted about
Tsubaki
's Charles Namba and Courtney Kaplan back in July last year, not too long after the debut of
Ototo
, their sake bar concept offering cheffy takes on Japanese pub fare. Ototo was largely well-received, scoring a rather positive review from Bill Addison of the
LA Times
, and even landed an "Outstanding Bar Program" semifinalist nod from James Beard back in February. Things seemed to be going pretty swimmingly for the couple until the emergence of the coronavirus earlier this year. Both Tsubaki and Ototo had to shutter, but fortunately, returned relatively quickly with a takeout system in place.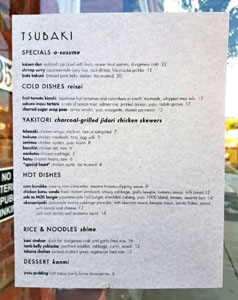 Pictured above is Tsubaki's to-go menu, which actually incorporates a number of dishes from Ototo (e.g. the katsu sandwich, the okonomiyaki). Click for a larger version.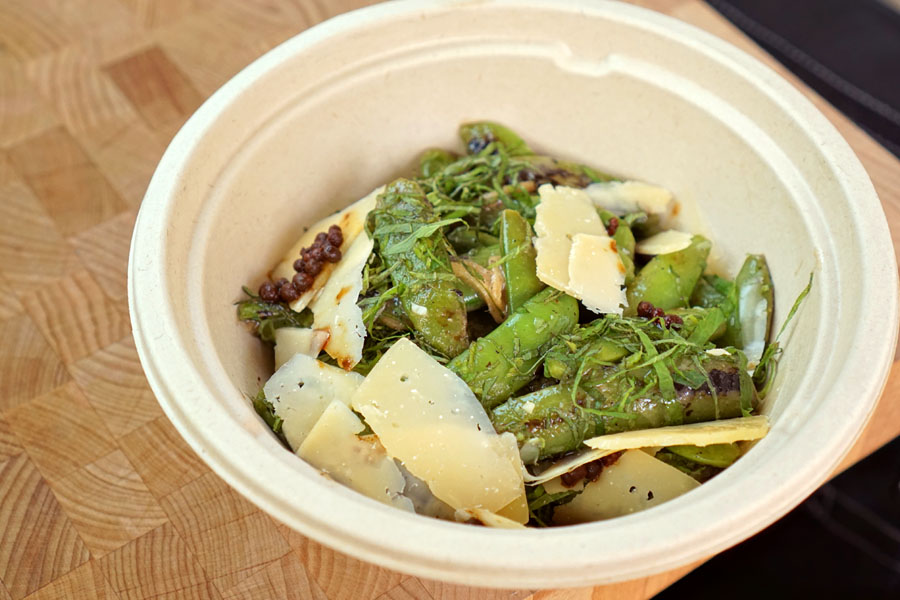 charred sugar snap peas [$12.00]
| arima sansho, yuzu vinaigrette, shaved parmesan
This was a must-order for me given my penchant for snap peas, and turned out to be a bit more interesting than expected (in a good way). Thanks to the yuzu vin, the peas had this savory-sour-smoky flavor profile going on that married nicely with their intrinsic brightness. However, even more engaging was the use of Parmesan, which functioned as a salty, potent foil to the peas.
hatsu [$6.00]
| chicken hearts, tare
I made sure to sample a few of the yakitori items offered. First up were the chicken hearts, which were somewhat chewy, while flavors leaned earthy, almost minerally in fact. There was a touch of heat here, though I wouldn't have minded more.
lamb belly yakisoba [$12.00]
| pan-fried noodles, cabbage, cumin, aonori
The yakisoba featured soft, springy noodles that were both savory and sweet. Lamb belly added further weightiness to the dish, so the contrast from the garlic chives was absolutely critical. Quite cozy.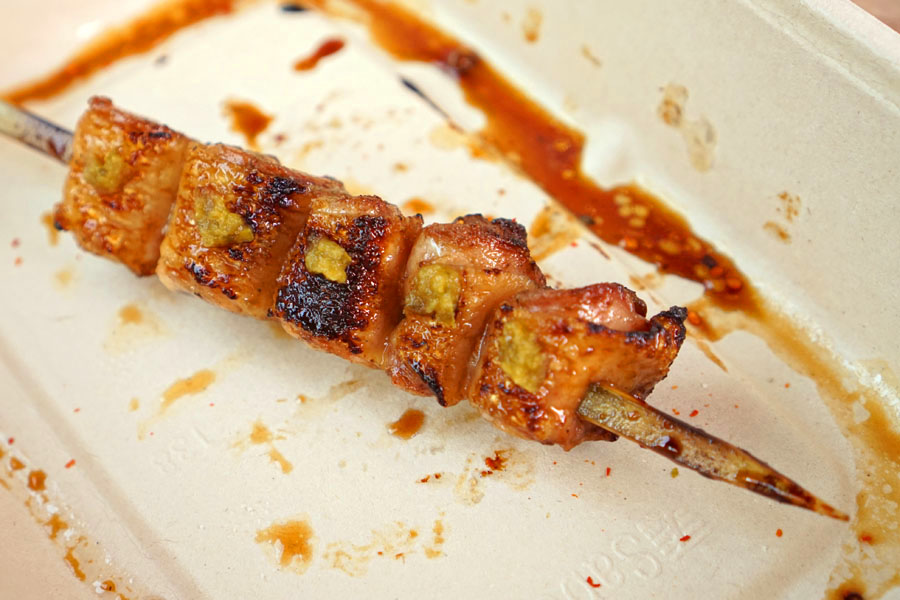 soriresu [$8.00]
| chicken oysters, yuzu kosho
Sot-l'y-laisse
is a relatively uncommon sight in yakitori, so I definitely wanted to try it here. I found the oysters super flavorful, an explosion of salt, savor, and char that was further amped up by the application of
yuzukosho
.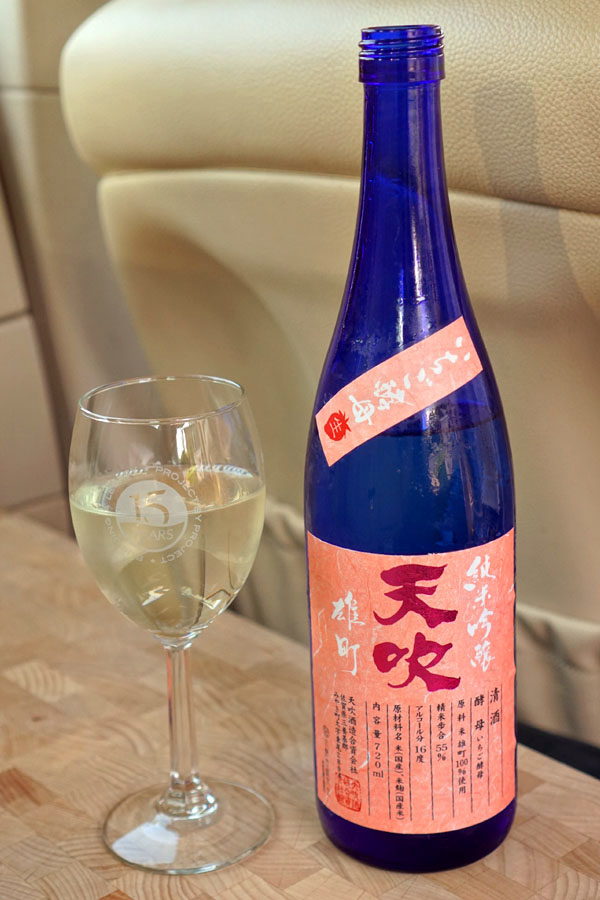 To drink, I ordered a bottle of the
Amabuki 'Ichigo' Junmai Ginjo Nama [$36]
, an unpasteurized sake made using strawberry flower yeast (something I'd never heard of before). The nose here was delightful, giving up a bevy of sweet, aromatic, floral notes laced with honeydew melon. In terms of taste, this veered fruity and tropical, with pineapple at the fore leading to ricey, alcoholic notes and a touch of the advertised strawberry toward the rear.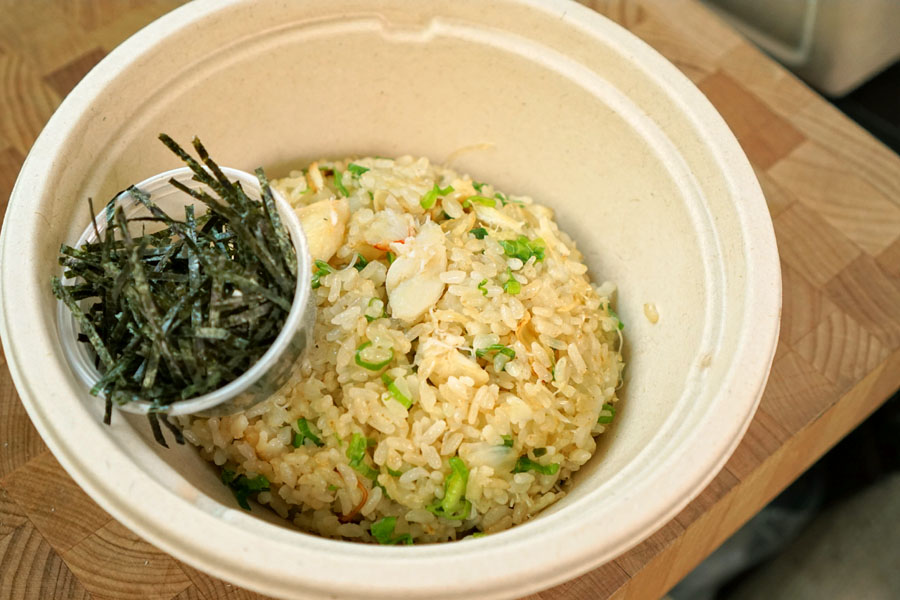 kani chahan [$16.00]
| duck fat, dungeness crab and garlic fried rice
I'm a sucker for fried rice, so not surprisingly, this was my favorite item of the night. The texture of the rice itself was spot on, and I was especially impressed by how the sweetness and brine of the crab was so forcefully conveyed, set against zesty scallion while the seaweed boosted the umami factor.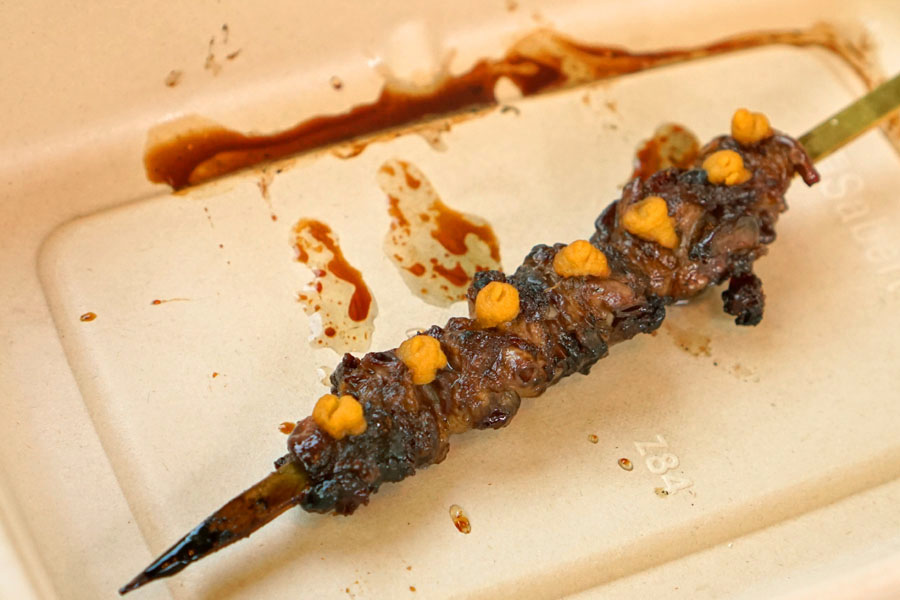 "special heart" [$4.00]
| chicken aorta, hot mustard
Toku hatsu
was a totally different eating experience compared to the heart above. There was definitely a healthy amount of both sweetness and smoke here, balanced out by the application of piquant
karashi
mustard.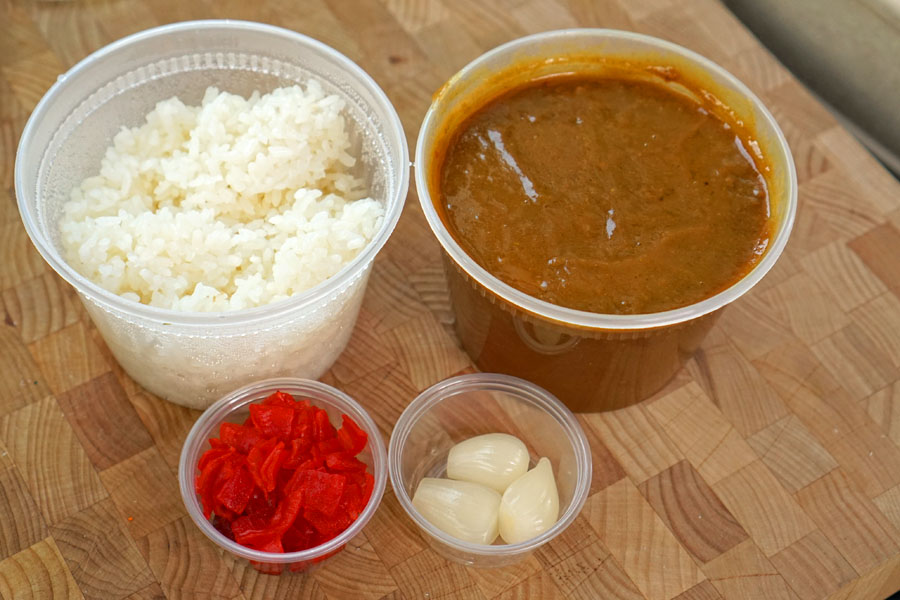 shrimp curry [$15.00]
| japanese-style curry rice, rock shrimp, fukujinzuke pickles
I'm actually quite the fan of Japanese curry, so I was happy to see this as a special this evening. Flavors here were pretty classic--maybe a touch sweeter--and there was a subtle, growing heat that I enjoyed, while the shrimp imparted an extra dimension to the curry that made it stand out from the rest. Of course, the short-grain rice was the perfect pairing, and the
fukujinzuke
and
rakkyo
pickles offered up a much-appreciated acidity and crunch. Yum.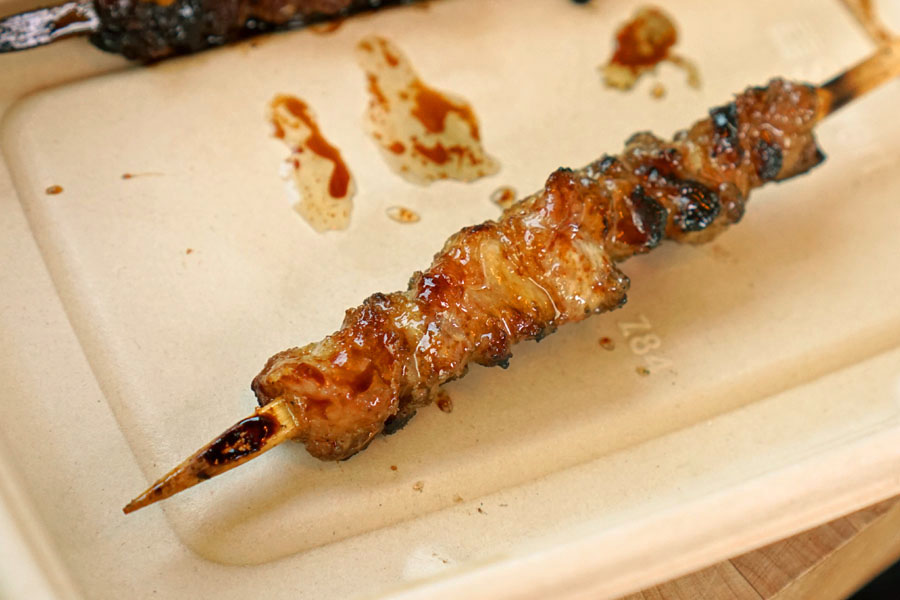 bonchiri [$6.00]
| chicken tail, tare
I generally consider
bonjiri
my favorite cut for yakitori, and it certainly was tonight. The tail ate fatty and sweet and lush, but with tempering hits of salt and smoke that really completed the package.
All in all, a worthwhile effort from the Tsubaki team, and a reminder why this place is one of my go-to spots in Echo Park. I'm hoping that Namba and Kaplan can weather the COVID-19 storm, since I definitely want to be able to come back here when this crisis passes.