Champion's Curry (Los Angeles, CA)
Champion's Curry Restaurant
136 S Central Ave, Los Angeles, CA 90012
213.265.7187
www.japanesecurry.com / www.chancurry.com
Mon 09/28/2020, 07:45p-09:10p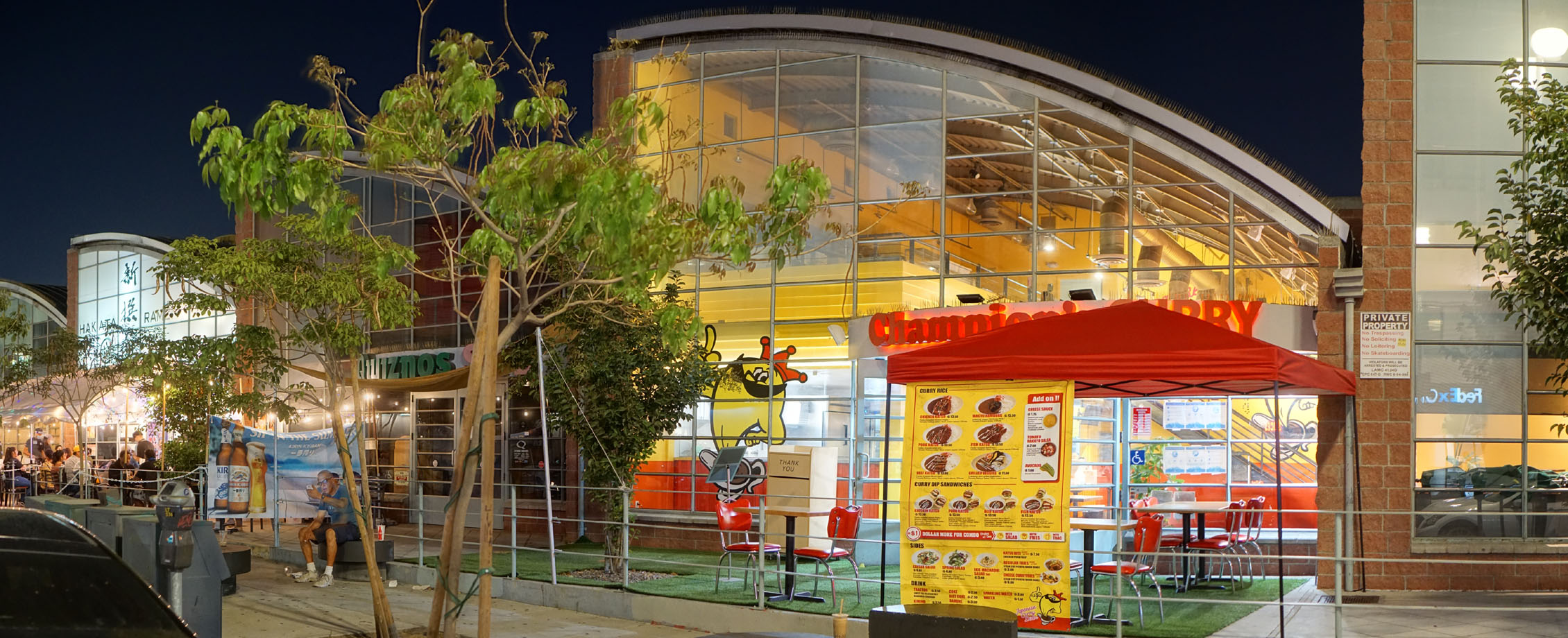 I was recently in the mood for Japanese-style curry, so I made my way over to Downtown to check out Champion's, which opened back in August. The spot is situated in Little Tokyo, and is the second US location of the Kare no Chanpion chain from Japan.
A bit of history
: The story of Champion's Curry begins with Chef/Founder Yoshikazu Tanaka, one of the progenitors of what's now known as "Kanazawa-style" curry. Tanaka first got interested in food through his father, who cooked at Yamanaka Onsen in Ishikawa Prefecture. By age 16, he knew that he wanted to specialize in Western cuisine (
yoshoku
), and went to train at Toyoken in Tokyo, oft regarded as the pioneer of Japanese-style Western cuisine. Following, he returned home and worked at various places throughout the Hokuriku region, and in 1956, became head chef at Restaurant New Kanazawa. There, he perfected his curry recipe, which was subsequently shared among his fellow cooks, some of whom went on to open their own curry eateries.
Tanaka struck out on his own in 1961. Though he initially planned on opening a teppanyaki joint, he instead opted to launch a Western restaurant called Yoshoku Tanaka, located in Takaokamachi, Kanazawa. The curry soon became the place's most popular dish, and in 1965, the Chef changed his restaurant's name to Kareraisu no Tanaka to reflect that. Another name change came in 1971, when Tanaka partnered with Takashi Okada, a regular customer. They revised the name of the restaurant to Turban Curry, with Okada in charge of business side of things, and began focusing almost exclusively on curry at this point. Soon after, a second Turban Curry location was opened in Katamachi, Kanazawa, though Okada wasn't involved in this outpost. The partnership dissolved in 1973, resulting in another name change, this time to Tanaka no Turban. The next year, the restaurant relocated to the nearby city of Nonoichi.
However, other people continued using the Turban Curry name, resulting in some confusion, and the Chef ended up tweaking his roux recipe in an attempt to offer some differentiation. Following, Tanaka's curry became more and more well regarded, and it was around this time when the company was first able to expand via franchising. In 1996, "Turban Curry" was registered as a trademark, so the Chef was forced to hastily change the name of his establishments to the now-current Champion's Curry. Champion's continued to expand afterward, and now boasts 31 locations in Japan. The company entered the United States in July this year with a location at
SteelCraft
in Long Beach. This flagship Little Tokyo store, meanwhile, grand-opened on August 15th.

Champion's sports a bright, cheery interior, which was of course devoid of customers tonight due to coronavirus restrictions. This space was previously home to the likes of karaage specialist Karayama, Cajun eatery Oystars, Korean-ish place Urban Seoul, Chinese joint-
cum
-sports bar Green Bamboo, and Captain Wok.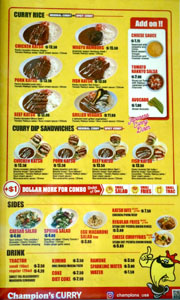 The menu's shown above, and features curry and katsu in multiple forms and formats, along with sundry sides. Note that only two spice levels are offered: Original Curry or Spicy Curry. Click for a larger version.
The custom logoed bag was a nice touch.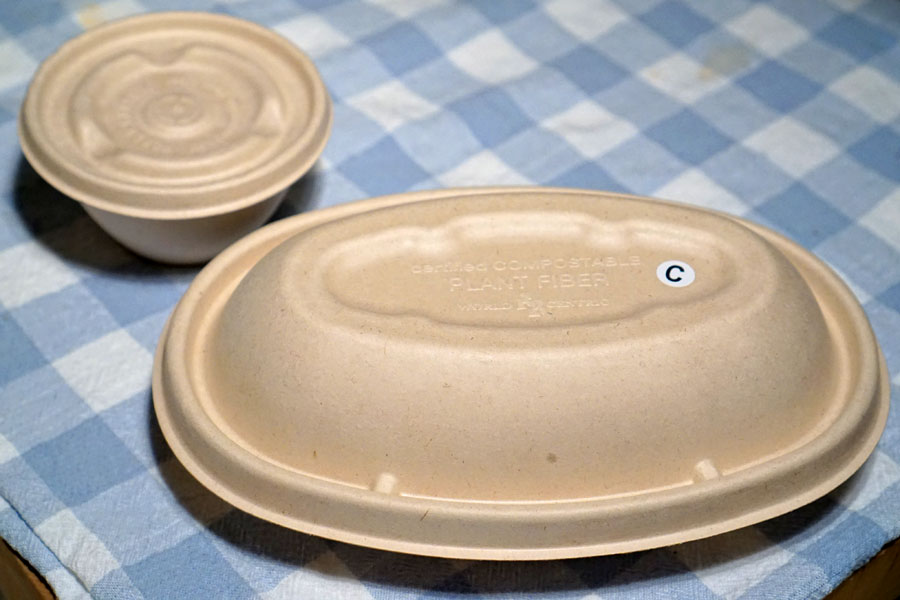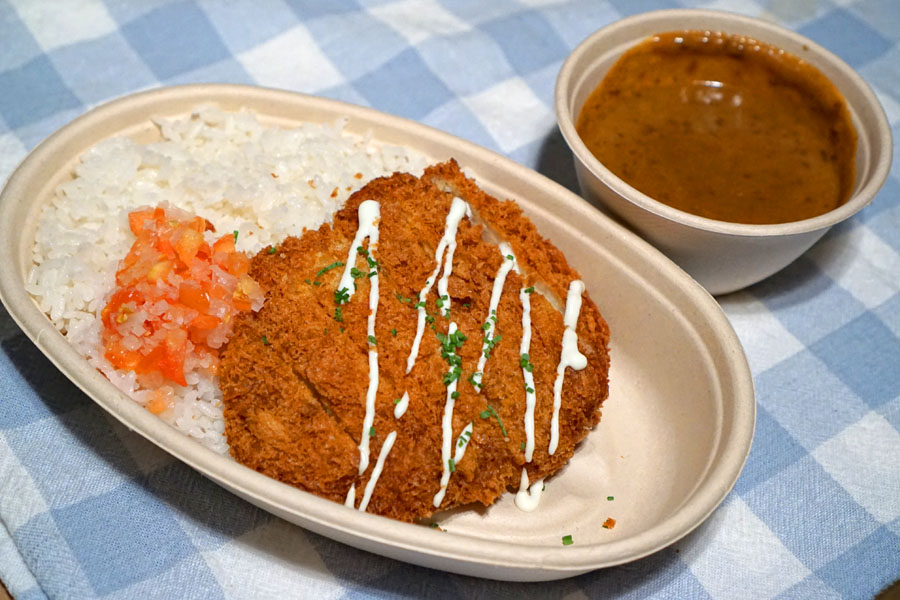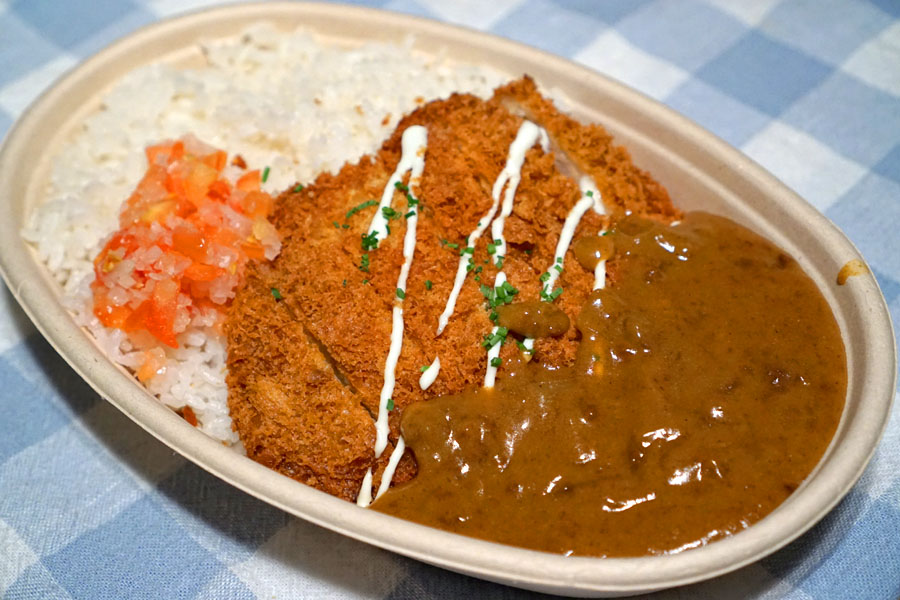 Chicken Katsu Curry Rice (Original) [$13.50]
| Panko breaded chicken thighs / Tomato Rakkyo salsa / Sour cream sauce / Chives
I began with perhaps the most fundamental unit of curry consumption. I first sampled the curry by itself, and found it classic and cozy, but with more of an emphasis on its dry spice elements, offset by a restrained sweetness. As for the
torikatsu
, it was succulent and supple and flavorful, with a crisp yet light batter that was pretty much right on the money. The bird married like clockwork with the curry, while semi-sticky rice moderated the potent flavors. The
rakkyo
was interesting; since it was mixed with tomato, the pickle was much less pungent than usual.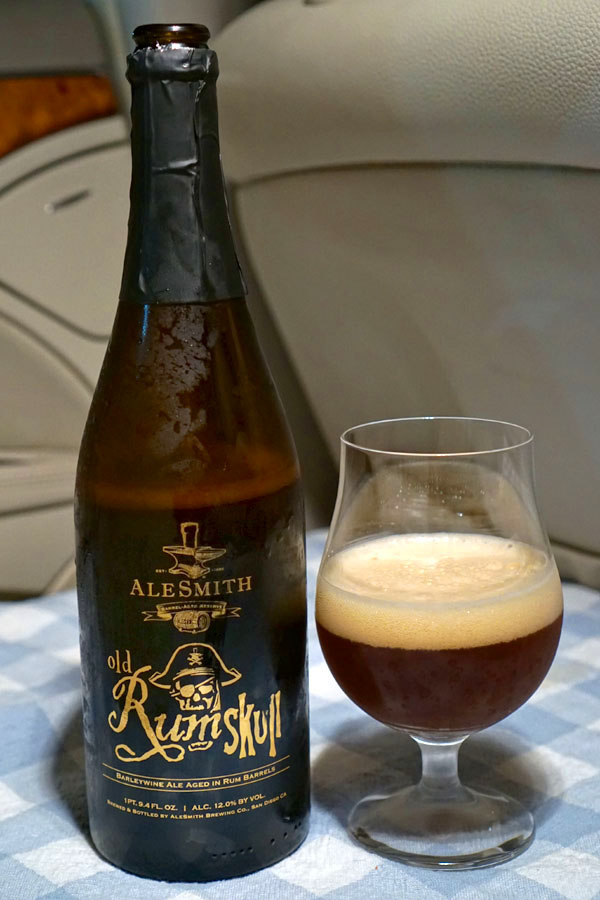 To drink, I opened up a bottle of the
2017 AleSmith Old Rumskull
, a barley wine aged in rum barrels. This is a beer that's often reported as infected, and unfortunately that was the case tonight. Instead of the rich, malty, caramel-esque flavors one would expect, I instead got loads of tart, acetic notes, with a healthy dosing of earth and funk to boot. I didn't bother finishing the bottle.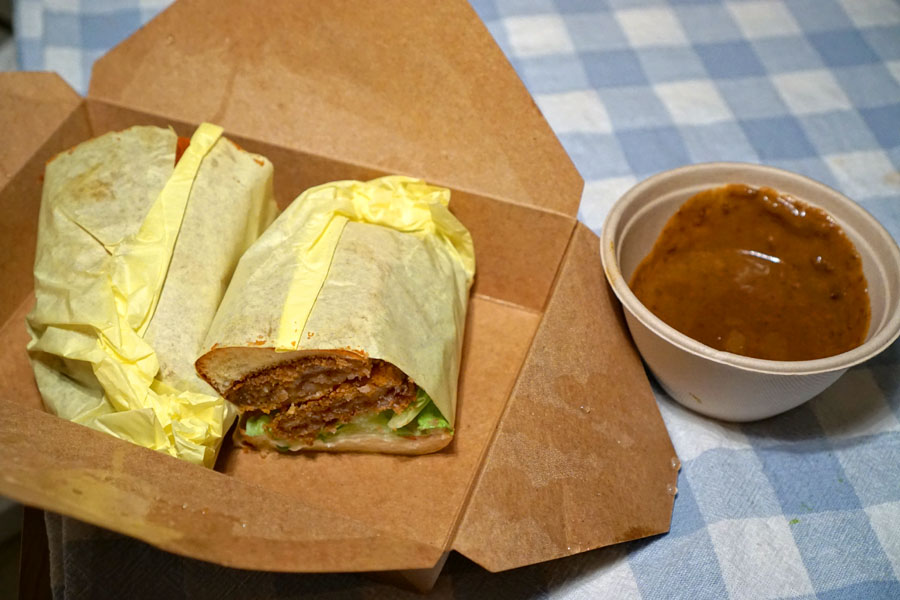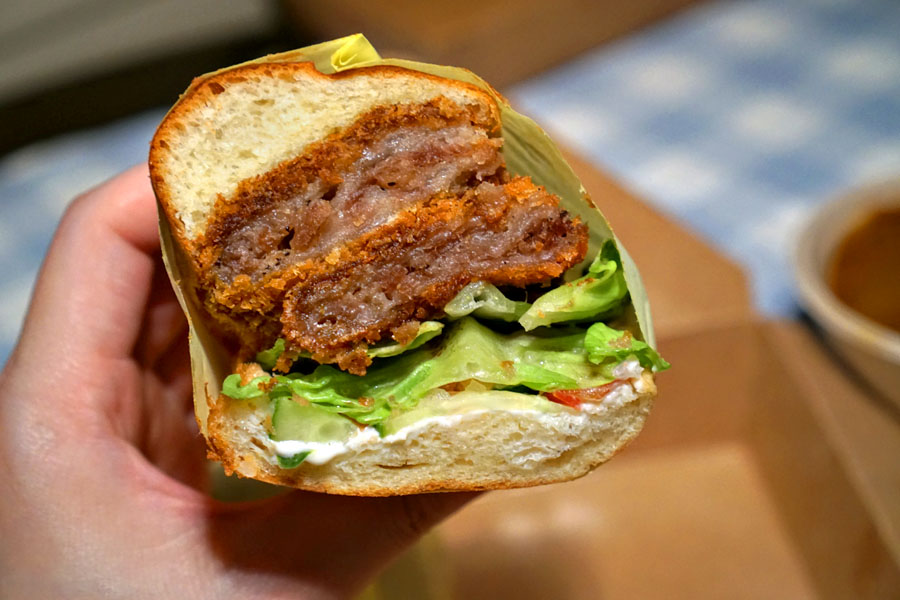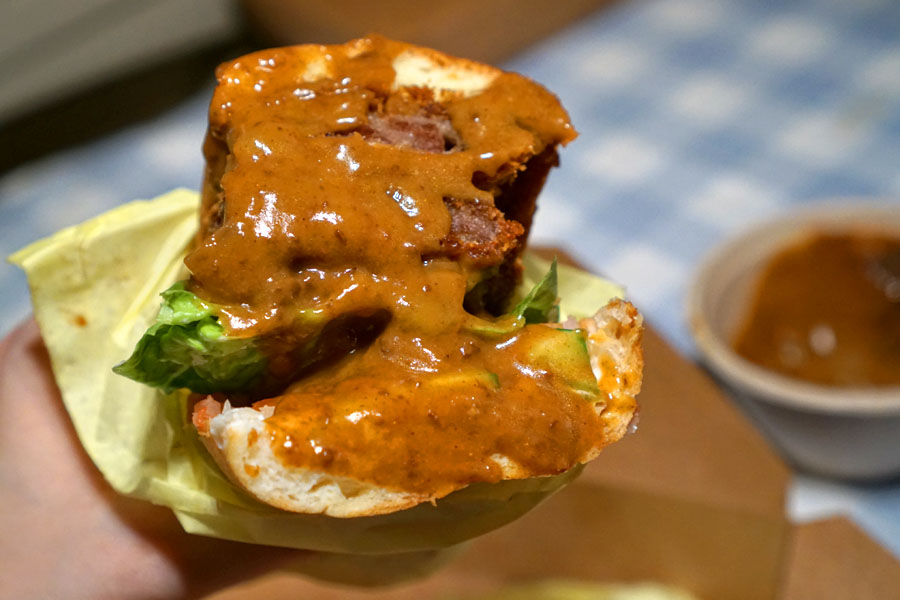 Beef Katsu Curry Dip Sandwich (Original) [$13.50]
| Panko breaded Mince Beef / Brioche bread / Gum lettuce / Cucumber / Tomato Rakkyo salsa / Sour cream sauce / Worcestershire sauce / Chives
Next came the
menchi-katsu
, but in sandwich form. The cutlet itself tasted darker toned due to the use of beef, while the veggies (the crunchy slivers of cucumber in particular) functioned as a smart contrast in both flavor and texture. The sando was pretty enjoyable alone, but a plunge into the included curry definitely completed the package. This was almost like a Japanese curry version of a French dip.
Katsu Bite (Spicy) [$7.50]
| Pork
The "Bite" version of tonkatsu comprised the cutlet, a cup of sauce for dipping, macaroni salad, and a green salad. It's actually quite a good value if you compare it to the rest of the menu. Value proposition aside though, the pork ate dense and substantial, with a porcine funk that seemed to emphasize the sweeter notes in the batter. The meat was certainly enjoyable alone, but really opened up with a slathering of the curry. As for the mac salad, it was a decidedly creamy example, but one perked up by the zippiness from the celery bits within. The regular salad, meanwhile, did its part, and featured a particularly nutty dressing.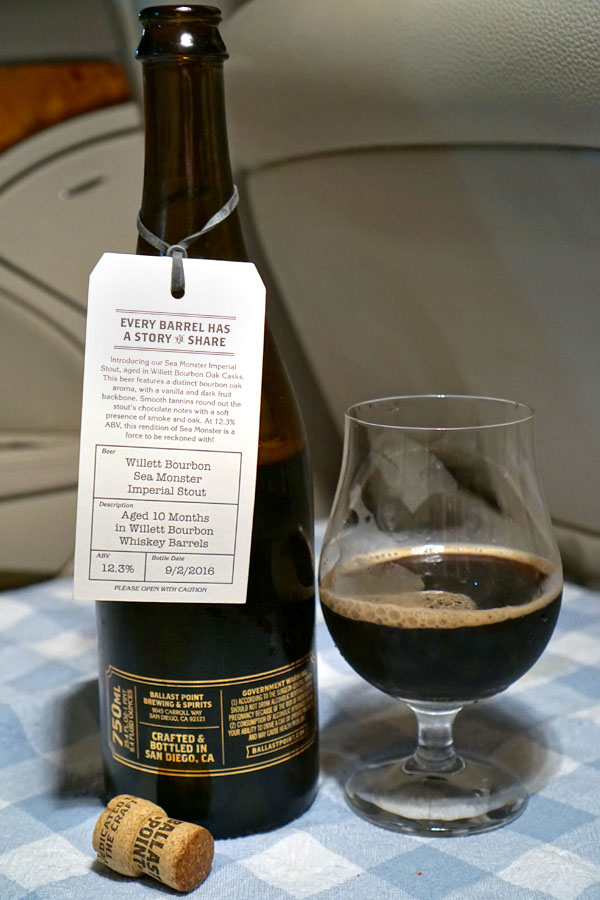 Since I only had a glass or so of the beer above, I quickly moved on to the
2016 Ballast Point Willet Bourbon Sea Monster Imperial Stout
, aged in oak whiskey barrels for ten months. Nose here was pretty mild, featuring chocolate, some dark fruit, and a marked oakiness. The palate was surprisingly thin, with flavors of malt and cocoa powder joined by more wood, bourbon, and a bit of a candied quality.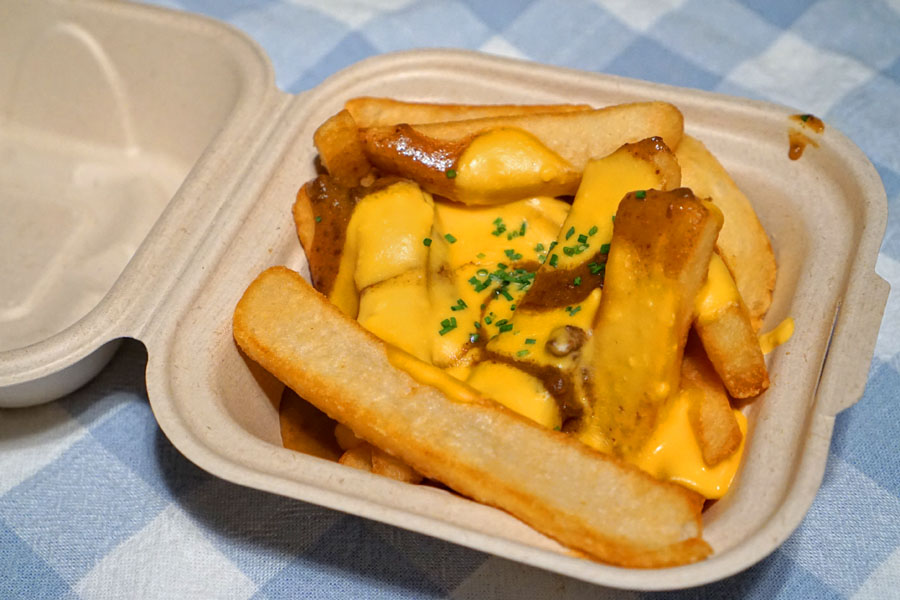 Cheese Curryfries [$6.80]
| Steak Cut Potato
Thick cut fries weren't as crisp as I would've liked, though they did serve as a reasonable base for a pretty effective marriage of cheese and curry.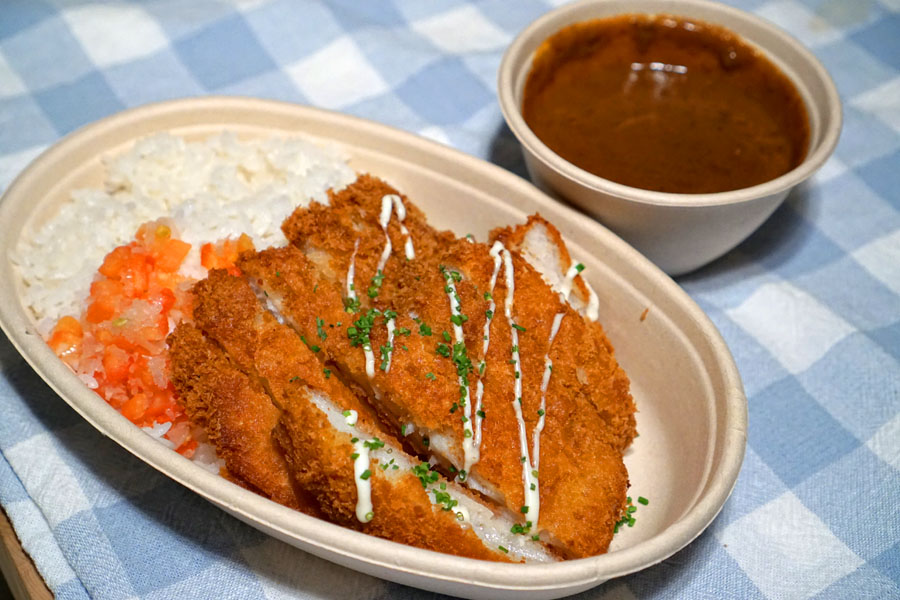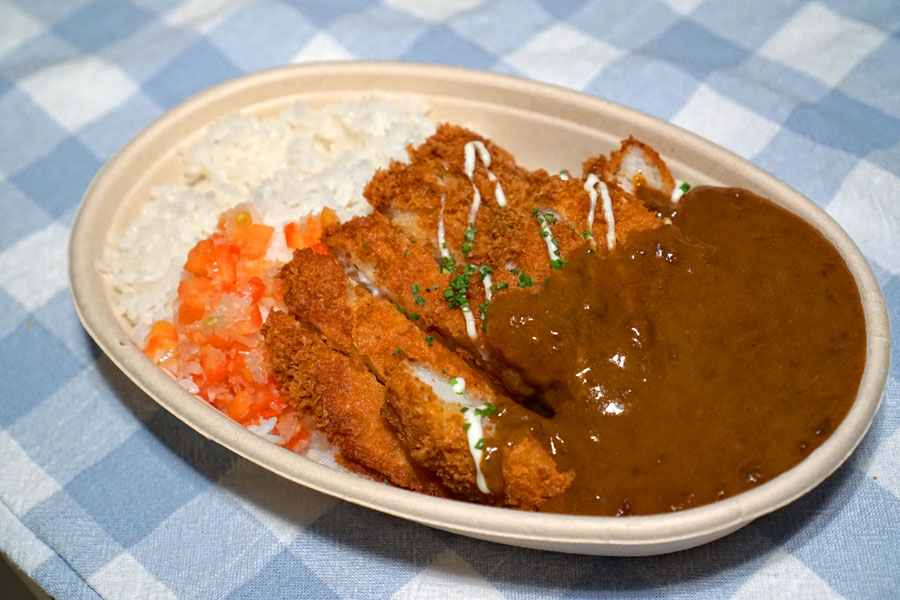 Fish Katsu Curry Rice (Spicy) [$13.50]
| Panko breaded fish Katsu / Tomato Rakkyo salsa / Sour cream sauce / Chives
I don't think I'd had fish with curry before, but this dish ended up being my favorite item of the night. I found the fish flaky and dense and pretty flavorful, and overall it reminded me a bit of fish sticks, but with much better breading. Note also that I got this with the spicier version of the curry. It was indeed noticeably hotter, and almost had a chili-esque sort of character, but this was balanced by a more apparent sweetness up front. The curry really managed to complement the fish without overwhelming it.
Like many of you, I was bummed when I heard back in February that Curry House was closing all their locations, especially given that the one in Little Tokyo's Weller Court had been in operation since 1983. Champion's isn't an exact replacement, but it's a pretty solid consolation, and serves up curries that are slightly more aggressive than I'm accustomed to. It's worth checking out if you're a J-curry fan.