The Bamboo Club (Long Beach, CA)
The Bamboo Club Tiki Bar
3522 E Anaheim St, Long Beach, CA 90804
562.343.2534
www.bambooclublb.com
Sun 08/16/2020, 08:30p-10:10p

I hadn't posted about a place in Long Beach since the advent of the coronavirus, so I decided to rectify that with a visit to The Bamboo Club, a tiki-themed restaurant that opened on March 8th last year. This spot comes to us from co-owner James "Jim" Ritson of Long Beach's 4th Street Vine wine bar as well as Brett Gallo and Erick Verduzco-Vega of the nearby bar The Stache. The partners have recruited Executive Chef Melissa Ortiz to run the kitchen.
About the Chef
: Ortiz was born in Orange County, and comes from a Mexican, Portuguese, and Spanish background. Interestingly, she spent over seven years in the United States Army, and fell in love with cooking after preparing many a meal during the course of her service. After returning Stateside around late 2008, she settled in the Long Beach area and subsequently enrolled at The Art Institute of California-Orange County right at the start of 2010. Ortiz finished her studies in June 2012, and following,
staged
at
Melisse
. From June to October 2013, she was a chef de partie at the L'Imperator hotel in Nîmes, France. A year later, she found herself as a line cook at The Peninsula Beverly Hills, and in May 2015, transitioned to a sous chef role at Little Sparrow in Downtown Santa Ana. She became EC there in July 2015 after the departure of opening chef Eric Samaniego, who's now at Michael's on Naples. Ortiz's tenure at Little Sparrow ended in April 2016 with the closure of the restaurant; the space is now home to Ross Pangilinan's well-regarded
Mix Mix
.
Shortly after the shutter, she started a fermentation-focused dinner series entitled Pyru After Dark with friend Remy Bisharat (she also had a later series called Instinctual), which had the misfortune of popping up at Kim Sanchez's embattled Sweet Dixie Kitchen (the place that was caught re-serving Popeyes chicken). She also ran the kitchen at Snap Inc's Venice headquarters around this time, with the help of Bisharat. Ortiz's next post was at
Michael Cimarusti
's Best Girl at the Ace Hotel in Downtown. From there, she moved to
Connie & Ted's
as a sous in February 2018, working under Sam Baxter. She left C&T in early 2019 since she was slated to deploy to Afghanistan, but after said deployment was delayed, she took on some jobs near her home in the LBC. This included gigs for Rose Park Roasters, Berlin Bistro, and of course The Bamboo Club.
From what I understand, Ortiz took a leave of absence from Bamboo Club in anticipation of that aforementioned Afghanistan deployment. However, it seems to have been pushed back yet again, and as a result, she's started consulting for The Stache as well. With her status in limbo, I believe the kitchen here is now run by her sous chef Daniel Nuñez, who worked with her at Best Girl and also boasts Long Beach experience at both Ellie's and James Republic.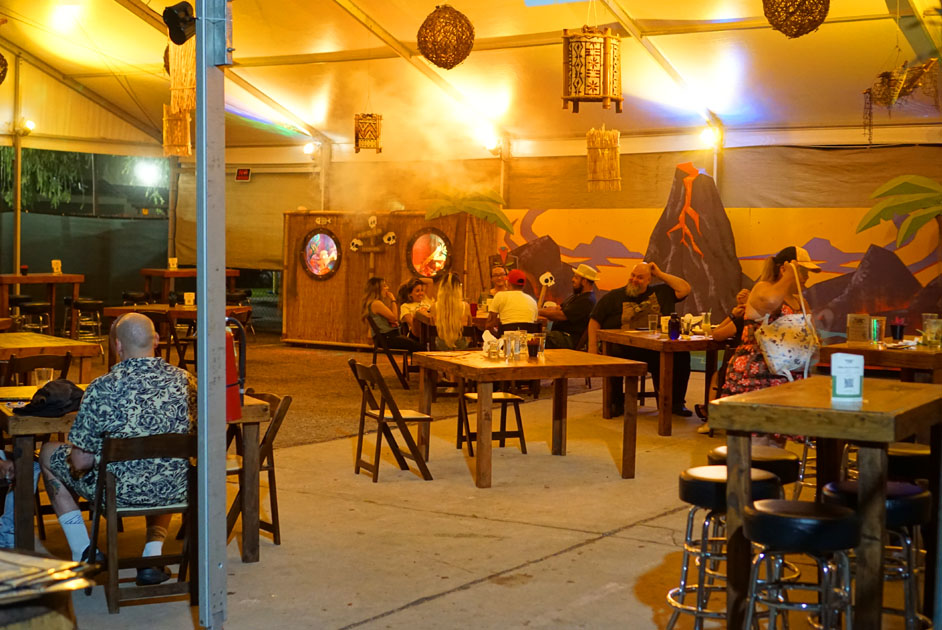 The Bamboo Club takes over an address that was previously home to the likes of Tidal Bay Beach Bar, Liquid Lounge, and Jackson's Bar & Grill. The space was revamped by Huntington Beach local Ben Bassham (a.k.a. Bamboo Ben), who also designed Pacific Seas inside
Clifton's
, among numerous other projects. Due to COVID-19, I wasn't allowed into the interior area, but I did enjoy my patio seating, and the team has even constructed a dining tent.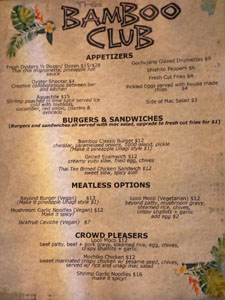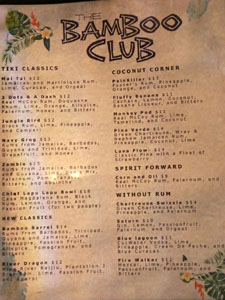 The food menu largely adheres to your usual tiki tropes, though there are a few welcomed twists. As for the cocktail list, it's the charge of barmen Brian Noonan (The Stache) and Dustin Rodriguez, and features many of your favorite tiki classics. Click for larger versions.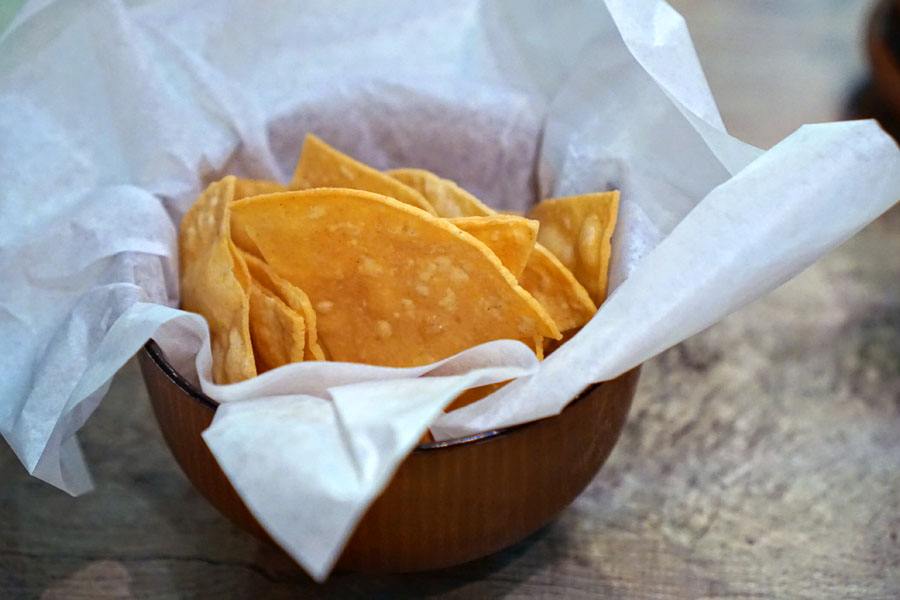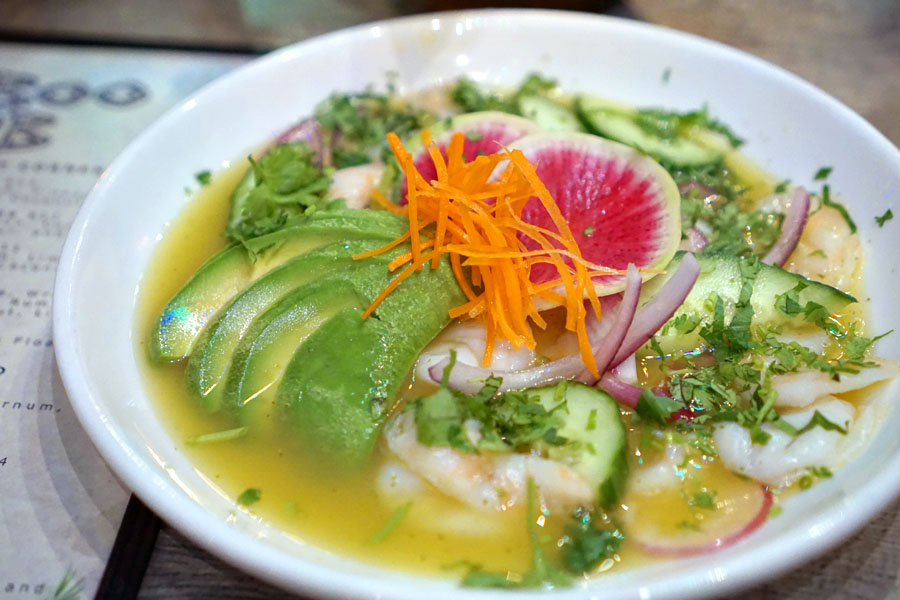 Aguachile [$15.00]
| Shrimp poached in lime juice served ice cold with tostadas, cucumber, red onion, cilantro & avocado
I have a hard time turning down aguachile, and tonight was no exception to that rule. Bamboo Club's version was aggressive in terms of acidity and citrus, but the dish was evened out by the avocado as well as the shrimp itself. Also crucial was the sheer zestiness of the red onion, and the paired tortilla chips were perfectly crunchy.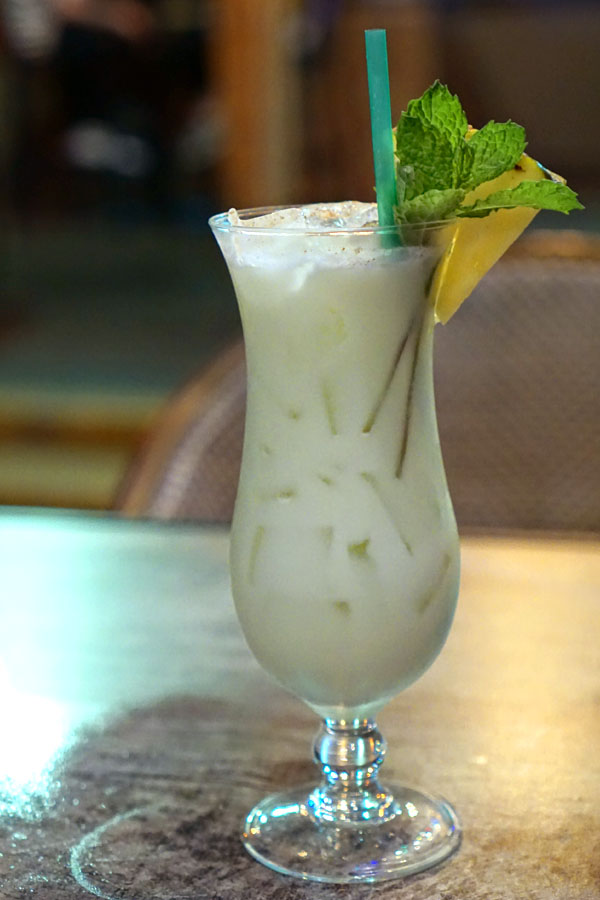 Pina Verde [$14.00]
| Green Chartreuse, Wray & Nephew Jamaican Rum, Pineapple, Coconut, Lime
My first cocktail was a take on the classic piña colada. The drink featured a super minty nose that I enjoyed, while the Chartreuse gave it an herbal tinge to counteract the sweet, smooth flavors of coconut present. Meanwhile, the finish showed off just a hint of heat from the rum, alongside bitterness and a smidge of spice.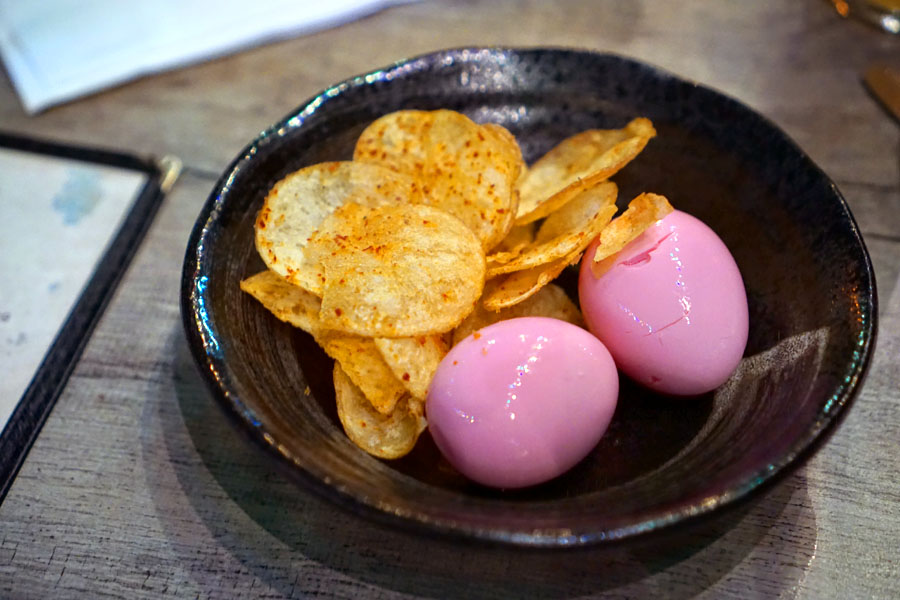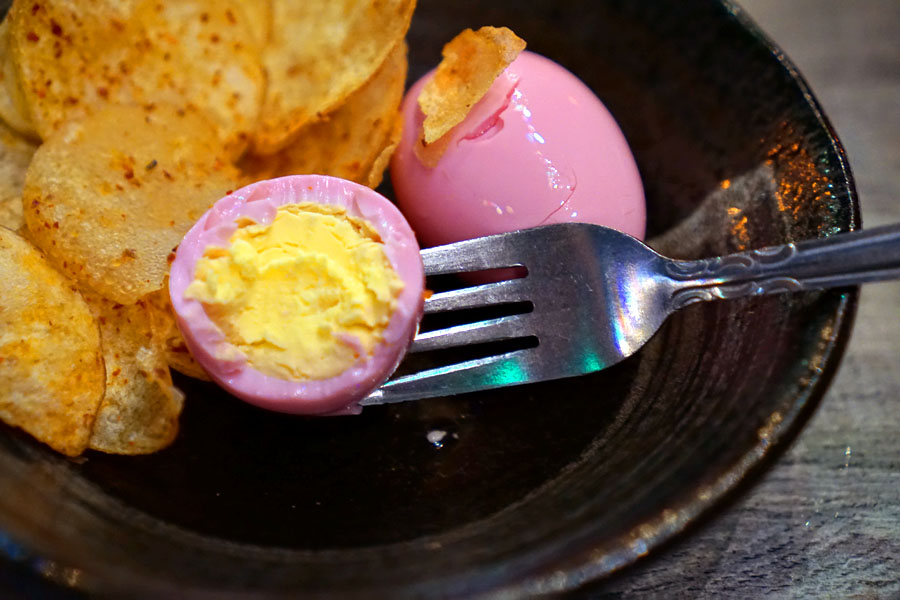 Pickled Eggs served with house made chips [$4.00]
Being the egg slut that I am, this was a must-try for me. The eggs displayed your classic hard-boiled characteristics, but with the addition of a pleasant tartness from the pickling process. As for the potato chips, I found them unusually airy, while flavors brought forth a mix of umami and spice.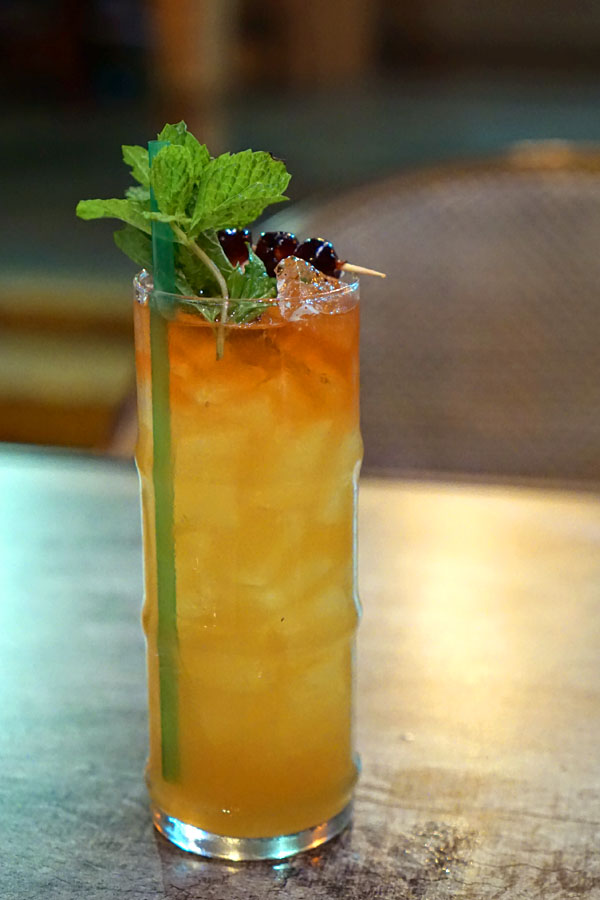 3 Dots & A Dash [$12.00]
| Real McCoy Rum, Duquesne Rhum, Lime, Orange, Allspice, Falernum, Honey, and Bitters
Next to imbibe was another classic tiki cocktail. Up front I got an almost savory sort of spice, commingled with minty aromatics. This then led to a honeyed mid-palate and a finish that blended more honey with a marked bitterness and nutty character.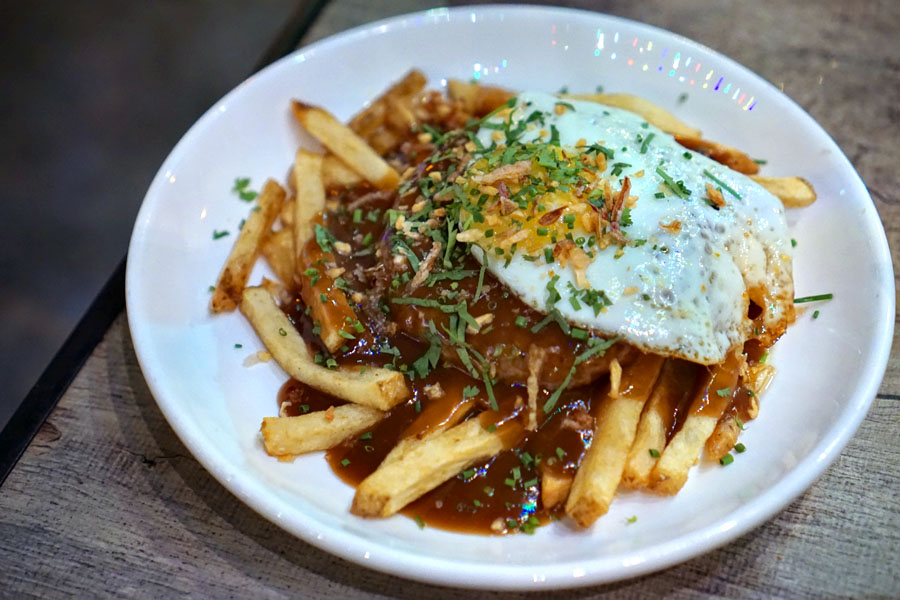 Loco Moco [$12.00]
| beef patty, beef + pork gravy, steamed rice, egg, chives, crispy shallots + garlic
The kitchen had run out of rice for the loco moco, and thus substituted French fries, making this a sort of poutine-style presentation. It turned out to be a bit of a happy accident, as the fries actually made a lot of sense when paired with that dense, hefty patty and cozy, deeply-flavored gravy, all while the runny egg added an additional layer of lusciousness.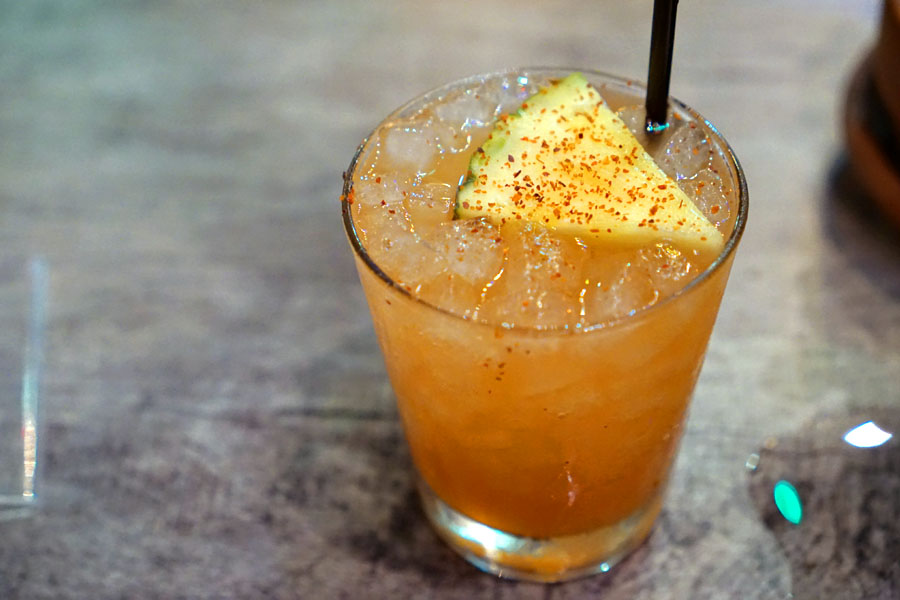 River Dragon [$12.00]
| Ming River Baijiu, Plantation 3 Star Rum, Lime, Passion Fruit, and Aperol
I don't think I'd ever seen
baijiu
incorporated into a tiki cocktail before, so I just had to give this one a shot. I definitely got the unmistakable ferment-y funk of the Chinese liquor right up front--it hit hard--though this was tempered a touch by complementary elements of tropical fruit, lime, and heat. This is not a drink for everyone I'll say.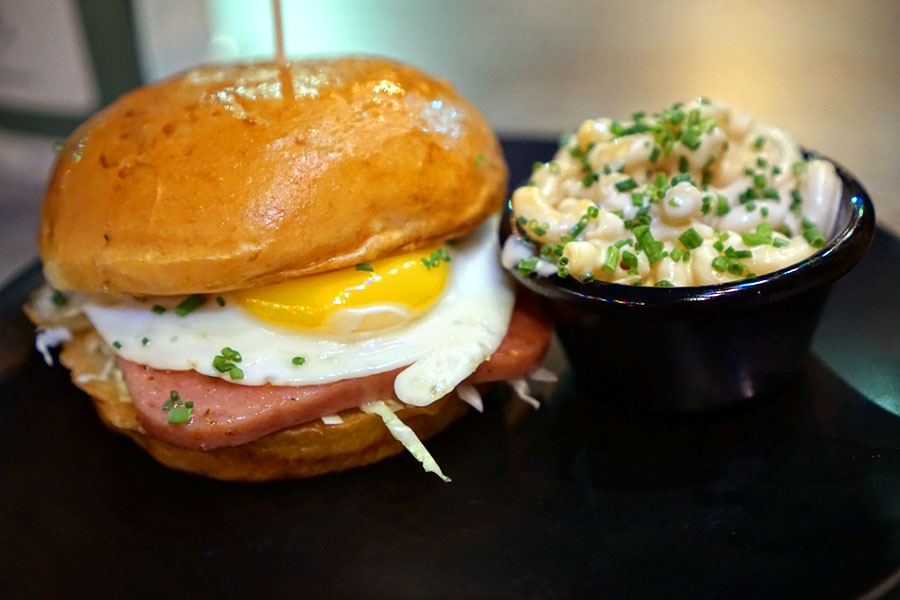 Grilled Spamwich [$12.00]
| creamy yuzu slaw, fried egg, chives
I'm a sucker for Spam, so I just couldn't resist ordering this. I'm glad I did though, because it was delicious. Bamboo Club's housemade rendition of the canned pork product conveyed all the classic, heartwarming flavors I expected and wanted, and was an obvious pairing with that runny egg. Even better than said egg, however, was the slaw, which I found wonderfully creamy, yet bright. It served as the perfect finishing piece to the sandwich, and I didn't mind the subtle sweetness in the bread, either. As for the accompanying mac salad, it was spot on, and displayed a very Japanese-y soy sauce-esque savor.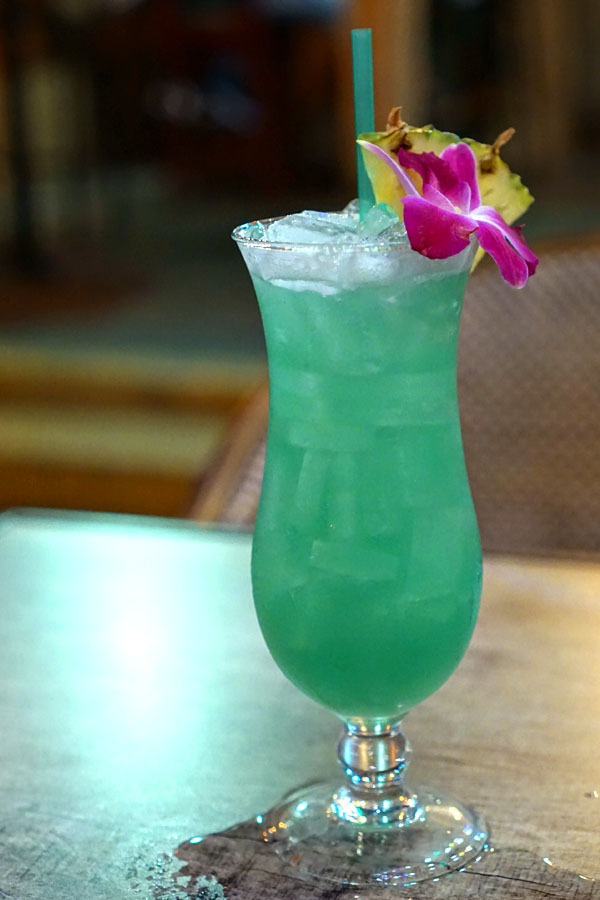 Blue Lagoon [$11.00]
| CutWater Vodka, Lime, Pineapple, Cream De Peche, and Blue Caracas
My final cocktail of the night was the sugariest of the bunch for sure. I got loads of pineapple that led to even more sweet peach, though fortunately, the vodka did make an appearance on the back end to provide at least a modicum of balance.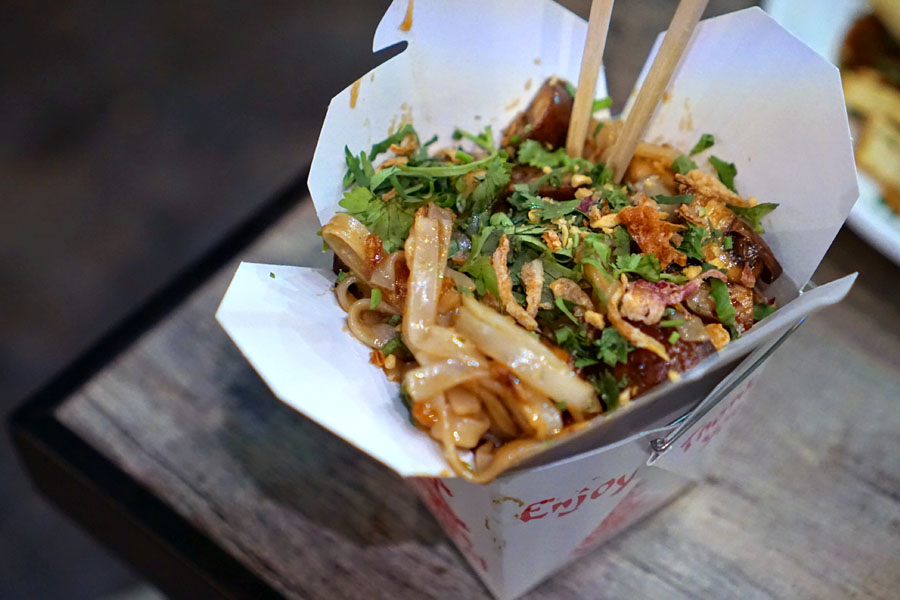 Mushroom Garlic Noodles [$12.00]
My meal ended on a strong note thanks to these noodles. There was just a superb depth and savoriness to the dish that was boosted even further by the woodsiness of those mushrooms. Cilantro imparted an excellent herbaceousness, while there was also this bit of sweetness that pervaded everything. Overall it was just super comforting, and despite this being a vegan item, I didn't miss the meat at all.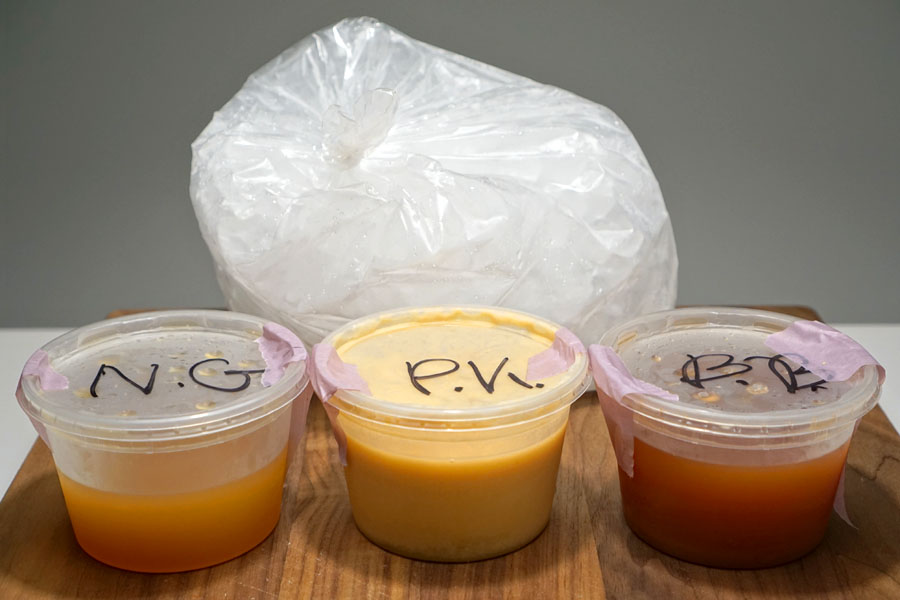 I also ended up bringing three of Bamboo Club's cocktails home with me. Note that each was intended for two servings. A big bag of ice was included as well, which was much appreciated.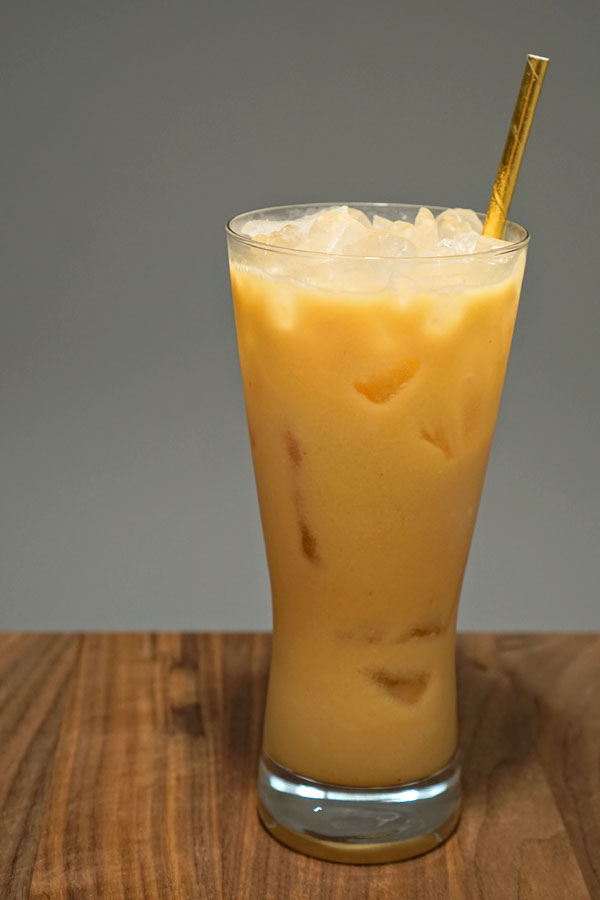 PainKiller [$20.00]
| Pusser's Rum, Pineapple, Orange, and Coconut
Our first to-go cocktail was the trademarked Painkiller, and it was a commendable rendition. Think super smooth and creamy, with flavors of sweet coconut countered by hits of spice and just enough booziness.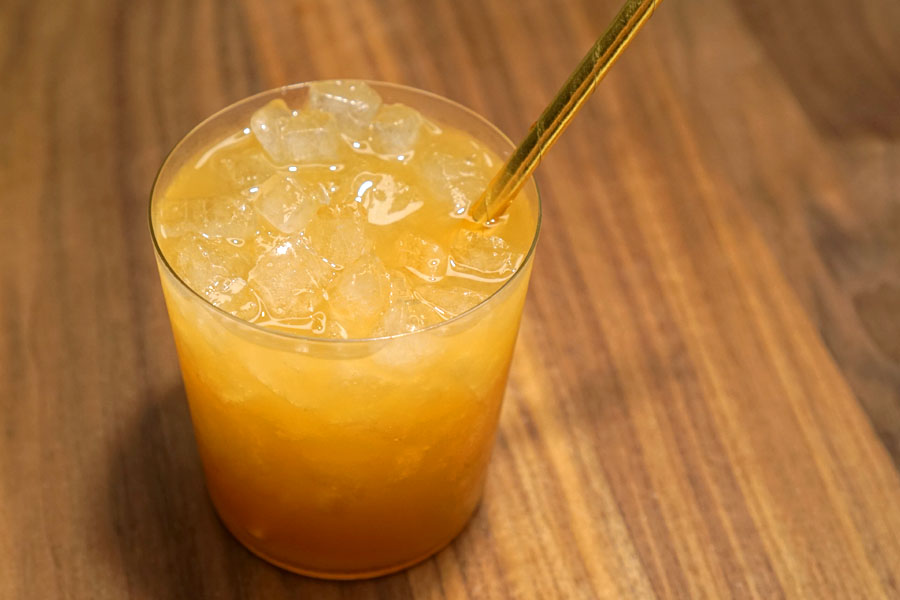 Navy Grog [$22.00]
| Rums from Jamaica, Barbados, Guyana and Trinidad, Lime, Grapefruit, and Honey
The Navy Grog seemed to lean closer to Donn Beach's version of the cocktail. I found it pretty spirit-forward at first. Notes of tropical fruit, citrus, and sweet spice appeared toward the middle, while bringing up the rear was a palpable bitterness and heat.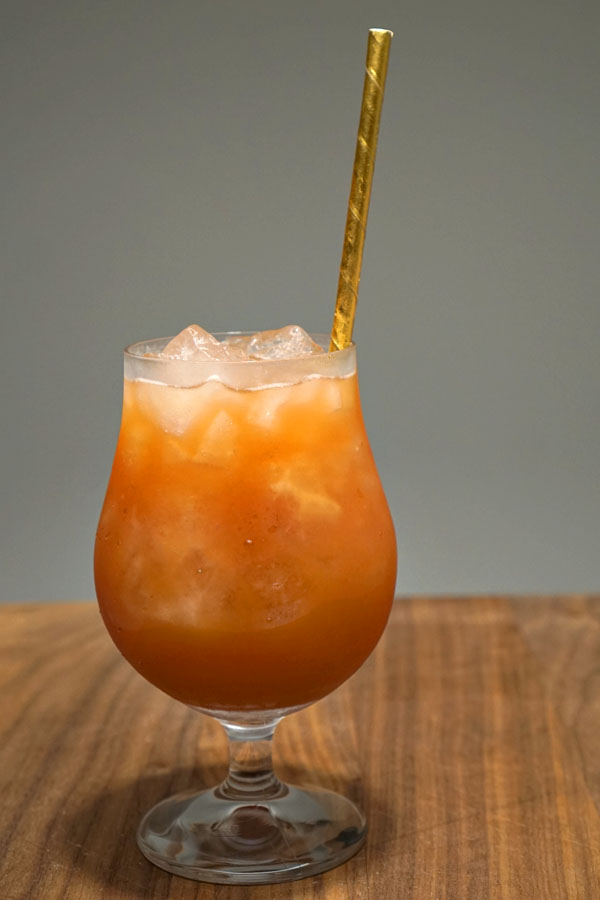 Bamboo Barrel [$24.00]
| Rums from Barbados, Trinidad, Guyana and Jamaica, Lime, Pineapple, Passion Fruit, Allspice, Pomegranate, and Bitters
The final of the three cocktails was apparently a unique creation of Bamboo Club's. It was surprisingly mild, subdued at first sip, but then the booze and bitters hit you, moderated a tad by sweet-n-sour passion fruit. The most interesting thing was actually the finish, which had this vegetal, umami-ish character that was almost briny, and actually reminded me of nori seaweed.
I have to say that I really enjoyed my time at Bamboo Club. The team truly met the mark both with the food and the cocktails, and I can actually see myself making this one of my go-to spots in Long Beach. An excellent addition to the Los Angeles area tiki scene.