Teddy's Red Tacos (Downey, CA)
Teddy's Red Tacos Restaurant
7665 Firestone Blvd, Downey, CA 90241
323.723.9763
www.teddysredtacosofficial.com
Tue 09/22/2020, 08:05p-09:55p

One of the most hyped taquerías of the past couple years has got to be Teddy's Red Tacos. The brainchild of Chef/Owner Teddy Vazquez Solis, the spot is known for its birria, but not the famous goat meat variety associated with Jalisco. Rather, Teddy's focuses on birria de res, a Tijuana-style preparation made with beef, and the conceit here is that pretty much every item on the menu is either saturated or spattered with Vazquez's signature red tinted beef broth, which incorporates a secret mix of herbs, spices, and chilies. In addition to adding an oomph to the dishes, the process has also helped set the food apart from that of most other taco joints in town.
About the Chef
: Vazquez was born in Los Angeles, and grew up between LA and Mexico. He never really planned on being a taquero, but rather, found himself working in import/export. However, business slowed down a few years ago, and he decided to pursue a career change by learning how to make birria from a friend down in Tijuana who happened to run the well-regarded Birriería El Paisa. Upon returning to the US, he worked as a driver for Uber, and had the idea to advertise his cheffing services by placing birria in the trunk. The smells would then pique the interest of his riders, thus opening up opportunities for customer acquisition.
One such customer happened to own a bar down in Long Beach, and invited Vazquez to slang birria outside his establishment. From there, he moved on to a taco cart, and acquired a food truck in 2016. At first, the truck popped up at various locations throughout the Los Angeles metro area, but eventually settled on a railroad track-adjacent spot at 731 East Slauson Ave in South LA. Vazquez even set up tables and chairs, and word soon spread, assisted by the Chef's savvy use of Instagram.
September 2018 saw the opening of the first brick and mortar location of Teddy's at 9532 Whittier Blvd in Pico Rivera, while a second debuted in Venice at 46 Windward Ave at the end of January 2019. This was quickly followed by Vazquez being featured on a Super Bowl ad by ESPN Deportes, as well as a review from the
LA Times
' Patricia Escárcega. All was not well, however, as it was revealed in March 2019 that the Chef had experienced a falling out with his partner at the Pico Rivera location. He got involved in a legal dispute and even had his Instagram account hacked, but eventually prevailed. The rogue restaurant was subsequently renamed Azteca Red Taco, though it still serves essentially the same menu as Teddy's (replete with a "Platinum Plate").
Vazquez's next move came at the end of August 2019, when he placed another Teddy's truck in the parking lot of Club Bahia in Echo Park. In 2020, he opened two more brick and mortar locations, both around the end of July. The first is situated at 6438 Whittier Blvd in East LA, while the second, the subject of this post, resides in Downey in the former home of Food Culture LA, LA Taco Sol Luna, and the longstanding El Taco (which was founded all the way back in 1958).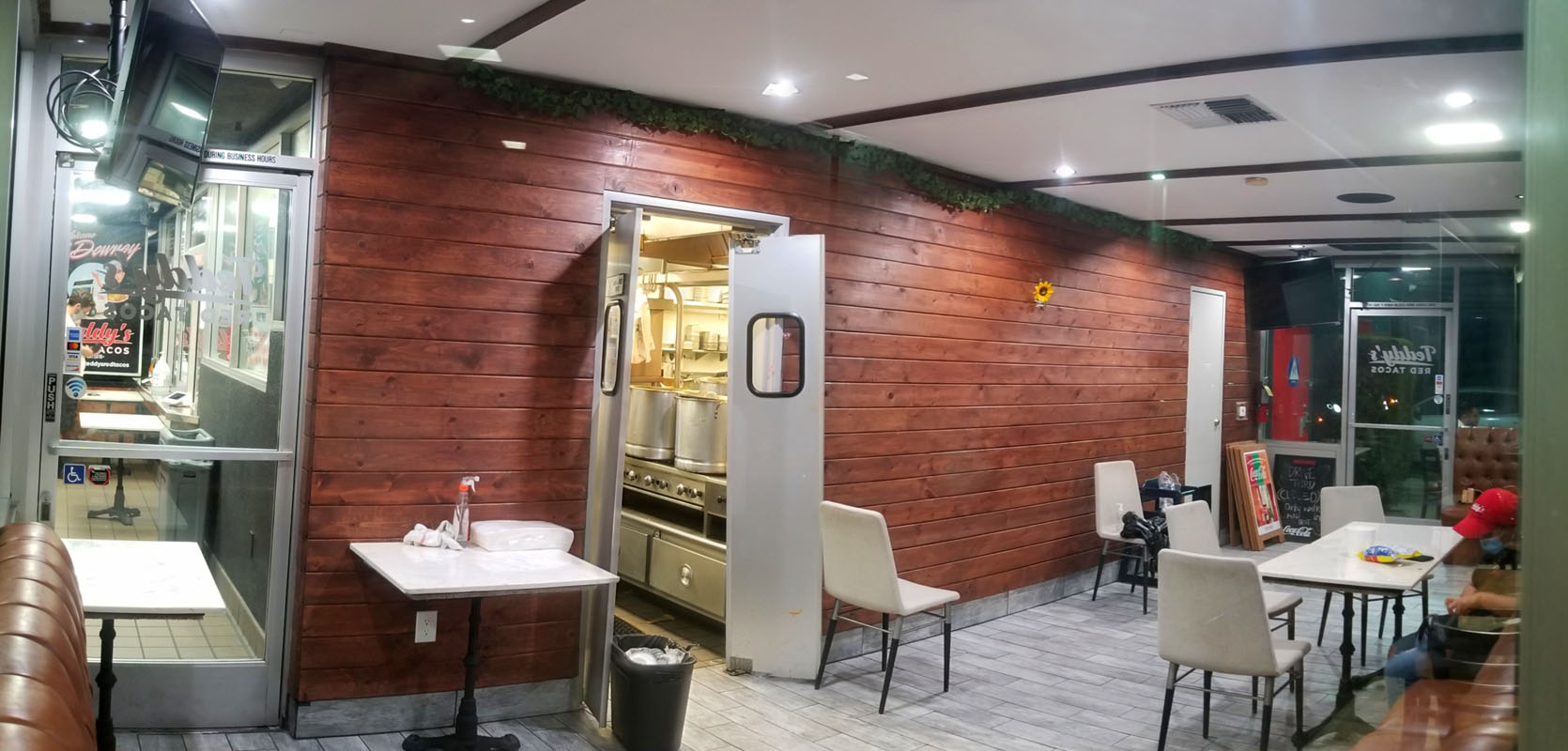 The restaurant has an indoor dining area, which was obviously closed this evening due to coronavirus restrictions.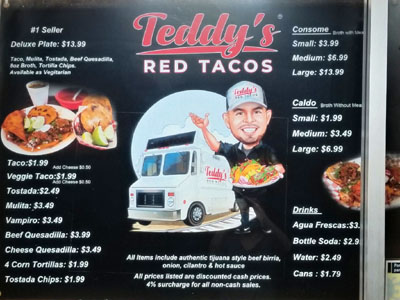 Teddy's' menu pretty much only features birria-related foods, and I actually find that focus refreshing. Curiously, Vazquez used to sell a wider range of items at his original food truck (e.g. cecina), but all that has since gone away in favor of all birria, all the time. Click for a larger version.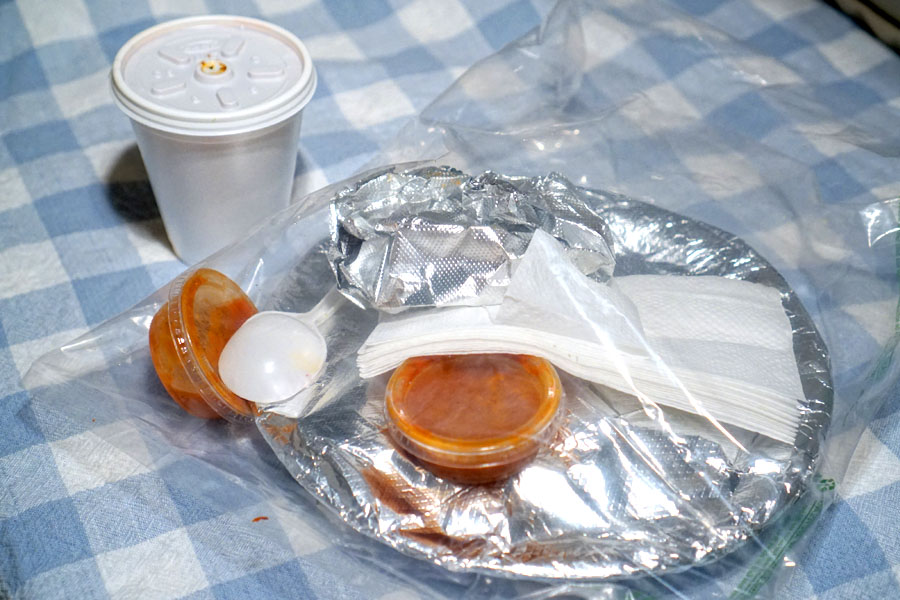 The packaging that the restaurant decided to use was somewhat unique, as it's fairly rare that I see food packed for takeaway in a clear plastic bag.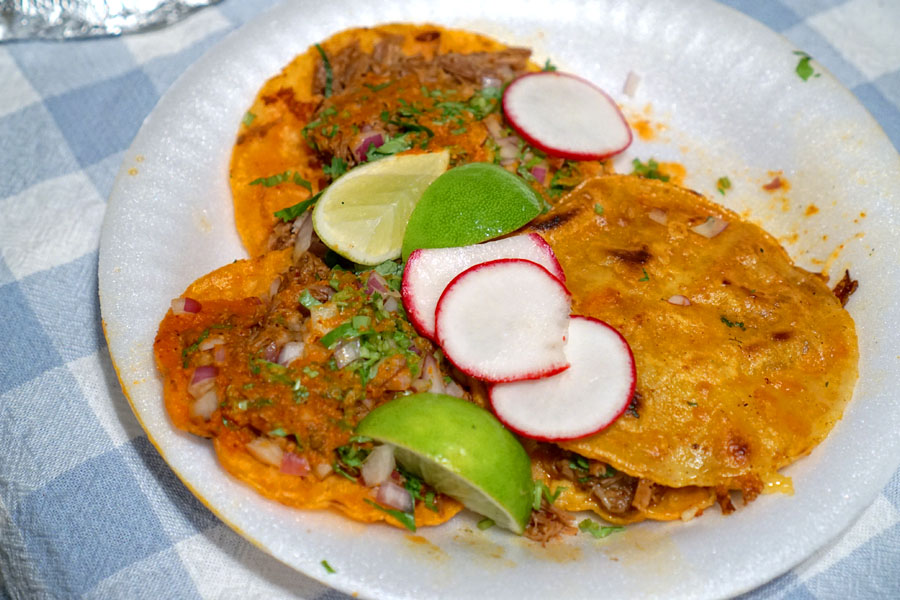 With the aluminum foil out of the way, the food is revealed.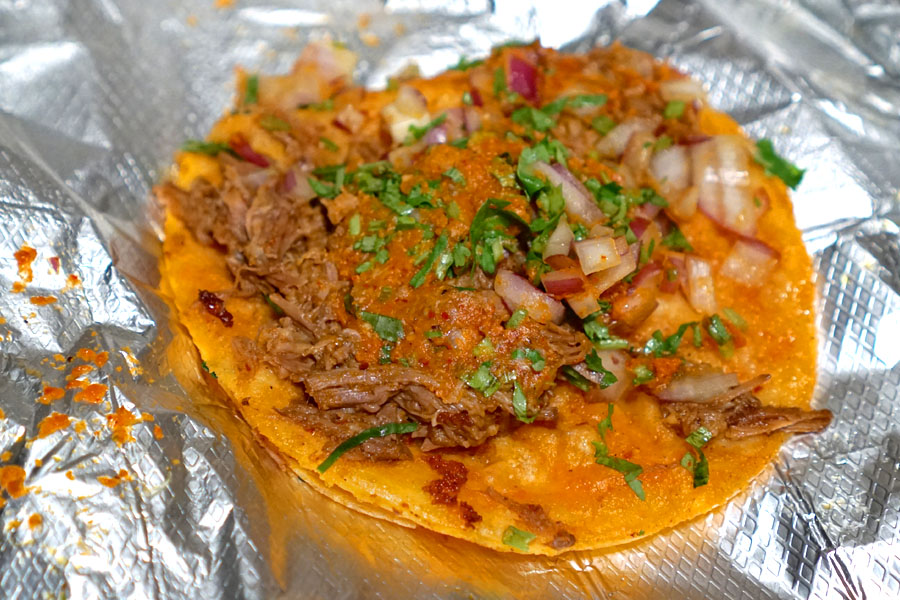 Taco [$1.99]
Naturally, I had to begin with the namesake red taco. The birria was superbly spiced, and married perfectly with the zippiness of the chopped onions. Texturally, the meat showed off a flossy, tender consistency that had just enough chew to it without being tough. However, I was disappointed in the tortillas, which, despite being double layered, pretty much completely disintegrated the moment I picked up the taco, making it a mess to actually eat.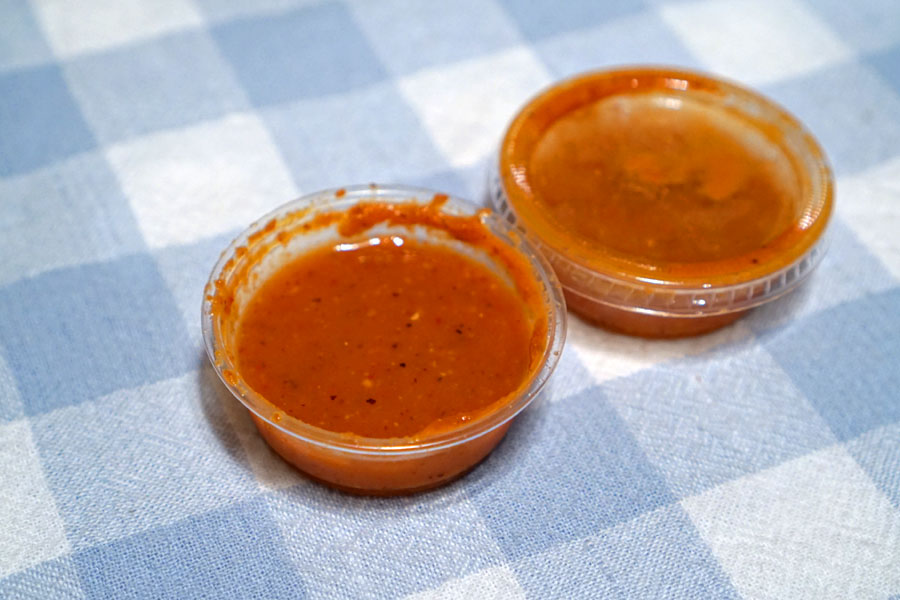 The salsa at Teddy's is apparently based on chile de árbol, and features a sour, salty, prickly type of heat that stays with you. It's aggressive, but melds well with all the stewed beef.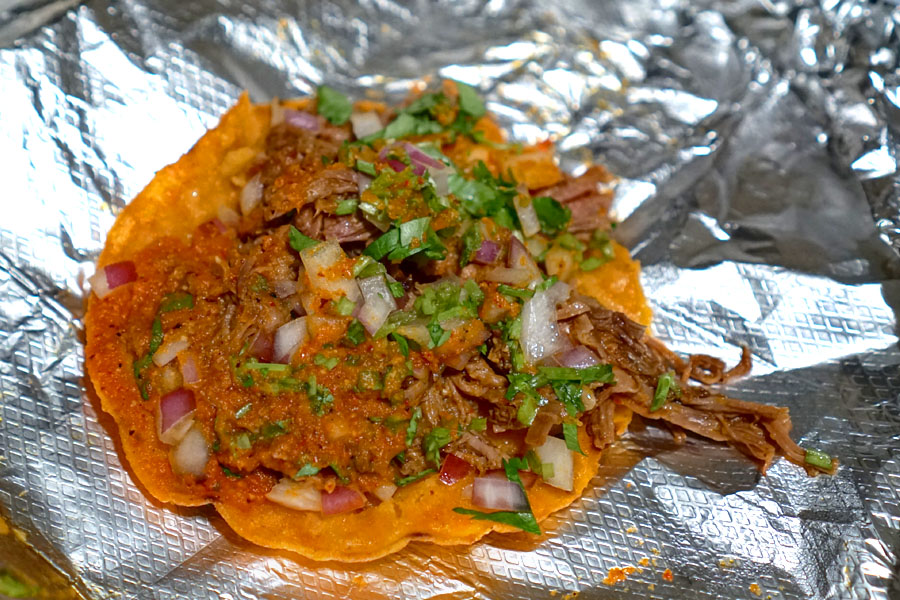 Tostada [$2.75]
The tostada conveyed all the mouthwatering flavors as the taco above, but unfortunately, the tortilla failed to deliver once again. Tostadas are supposed to be crunchy, but tonight's example was borderline soggy, with the only crispiness occurring at the edges. As a result, this was also much harder to eat than it should've been.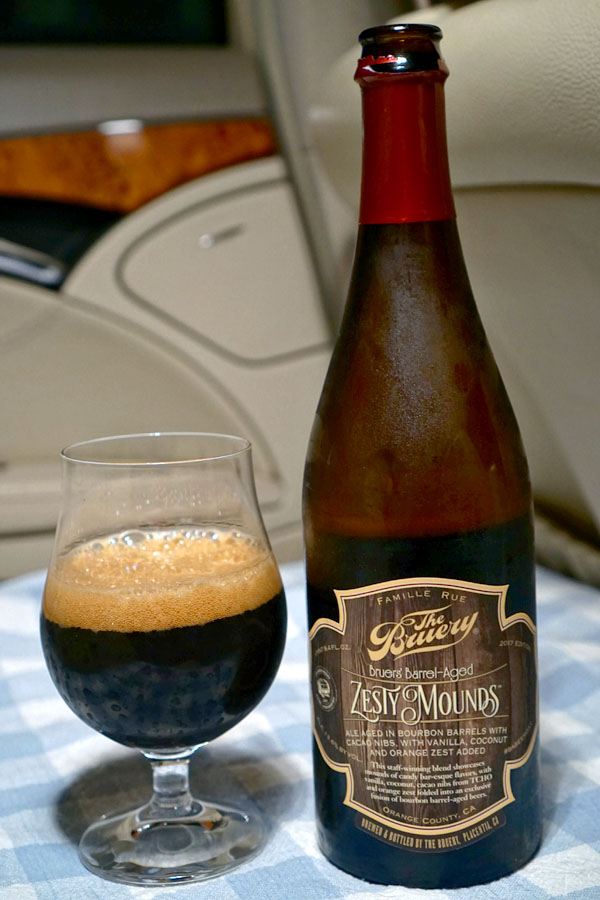 To drink, I opted for a bottle of the
2017 The Bruery Bruers' Barrel-Aged Zesty Mounds
, a candy bar-inspired, bourbon barrel-aged ale with TCHO cacao nibs, vanilla, coconut, and orange zest added. The beer smelled of robust chocolate and malt with a nutty undertone. Taste-wise, I got lots of cocoa powder up front, joined by warm spice, oak, bourbon, and sweet dark fruit, while the finish demonstrated a palpable tanginess. I didn't actually get much from the advertised orange zest.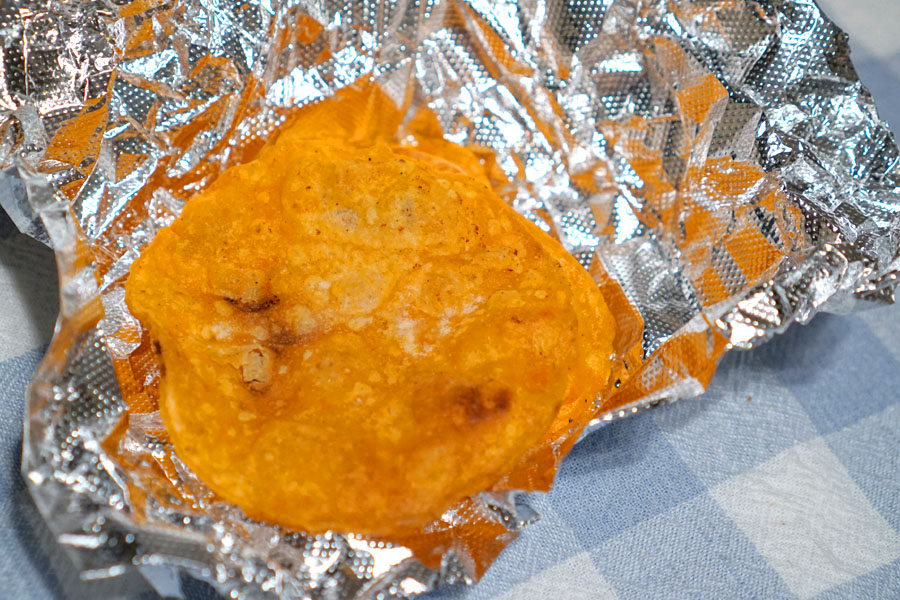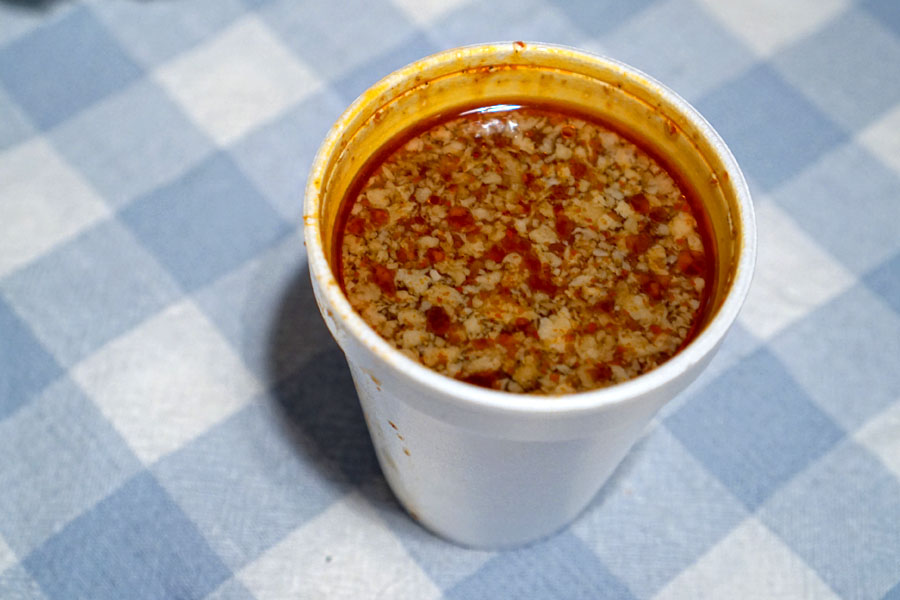 Caldo (Small) [$1.99]
| Broth without Meat
I was a fan of the caldo, which I found rich and heady, imbued with the essence of beef and spice, with a countering tartness to boot. It was super cozy, and I didn't miss the meat at all. This also came with a couple of tostadas, which provided some textural variation. I suggest soaking them in the liquid to see what happens.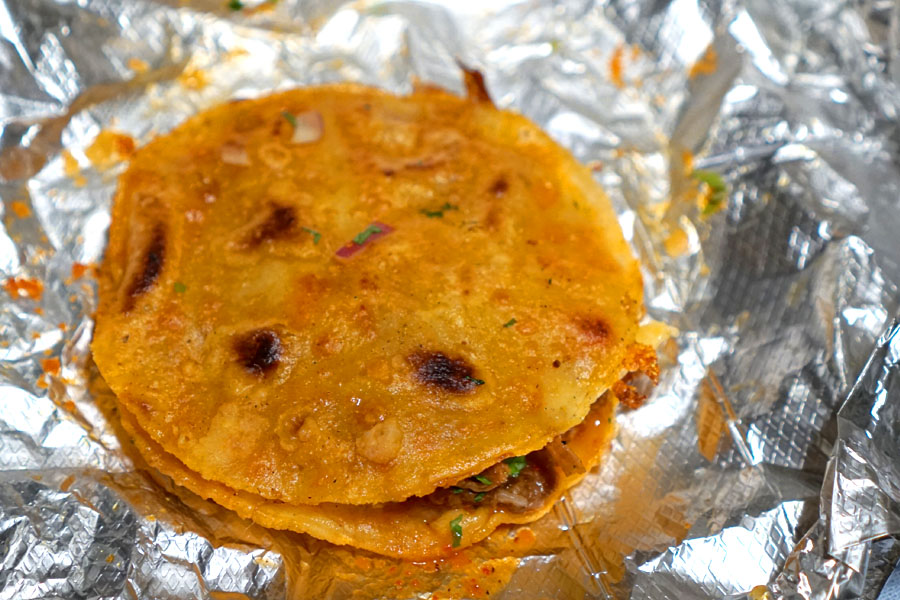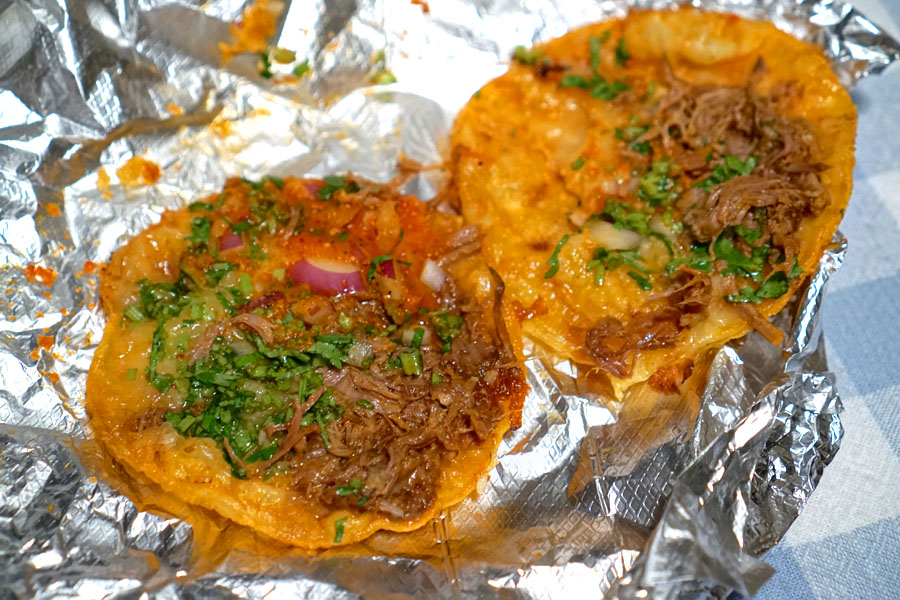 Mulita [$3.49]
The mulita was essentially a taco, but with the second tortilla placed on top, and some cheese added. The same great birria flavors were present here, and I did enjoy the contribution from said cheese. Fortunately, the tortillas here were much more structurally sound, I'm guessing due to the extra griddling.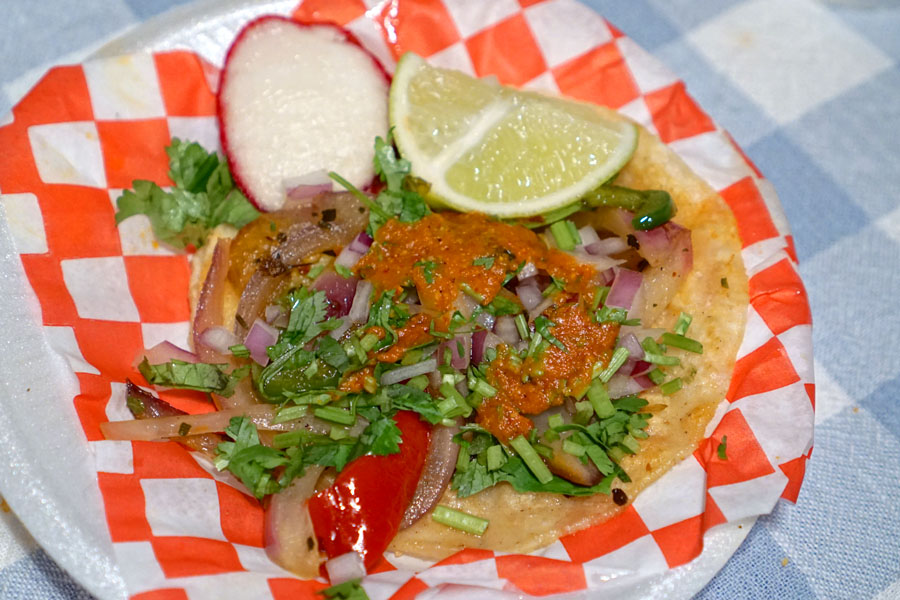 Veggie Taco [$1.99]
Next we have a tasty vegetarian option. I was pretty impressed with the sear and depth that the kitchen was able to develop, while the bell peppers added a welcomed crunch. In addition, the corn tortilla here was clearly the most substantial of the bunch, perhaps since it didn't get a dip in the restaurant's signature consommé.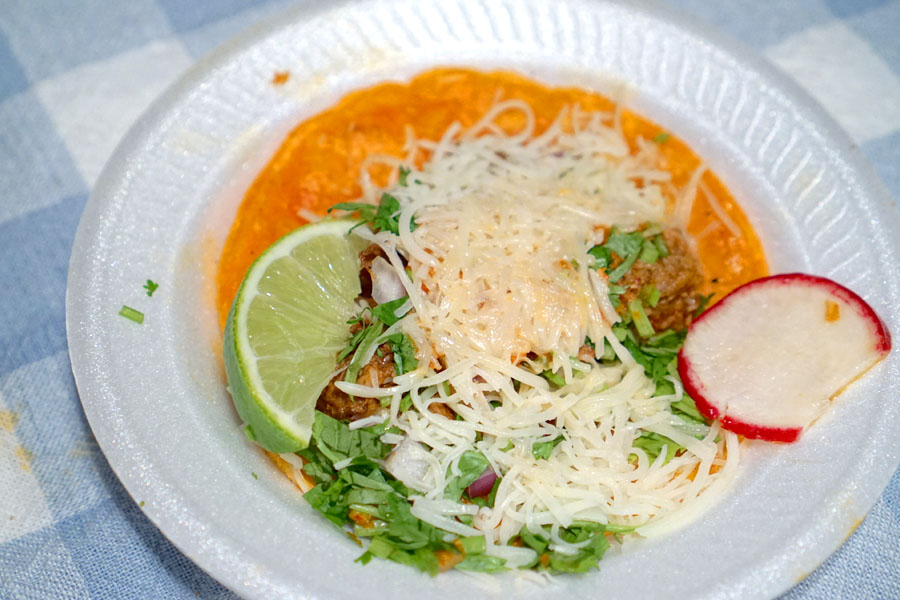 Taco + Add Cheese [$1.99 + $0.50]
I also sampled the standard Teddy's taco, but this time with the optional sprinkling of cheese. The queso married nicely with the birria, and actually transformed the dish in a fairly significant way. It wasn't necessarily better or worse, just different and worth trying.
Vampiro [$3.49]
Apparently I forgot to snap a photo of the vampiro, but it was akin to a tostada, though with the addition of cheese. That cheese did add a delectable secondary note to the dish, though again, the tortilla was noticeably lacking in texture.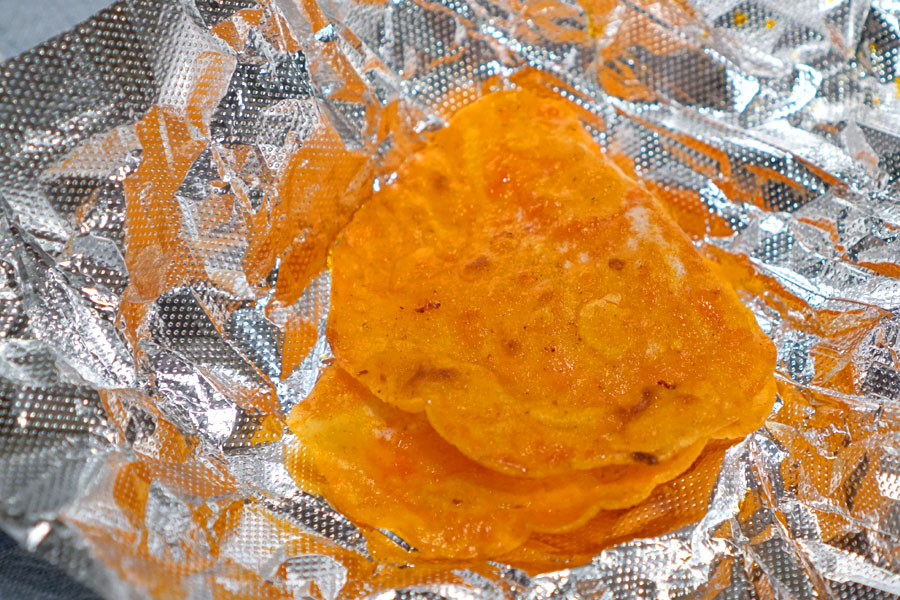 Consome (Small) [$3.99]
| Broth with Meat
This was a version of the broth above, but with the actual meat still present. It was expectedly heartier, deeper than the caldo, and I appreciated the contrast provided by the red onions even more here. Yum.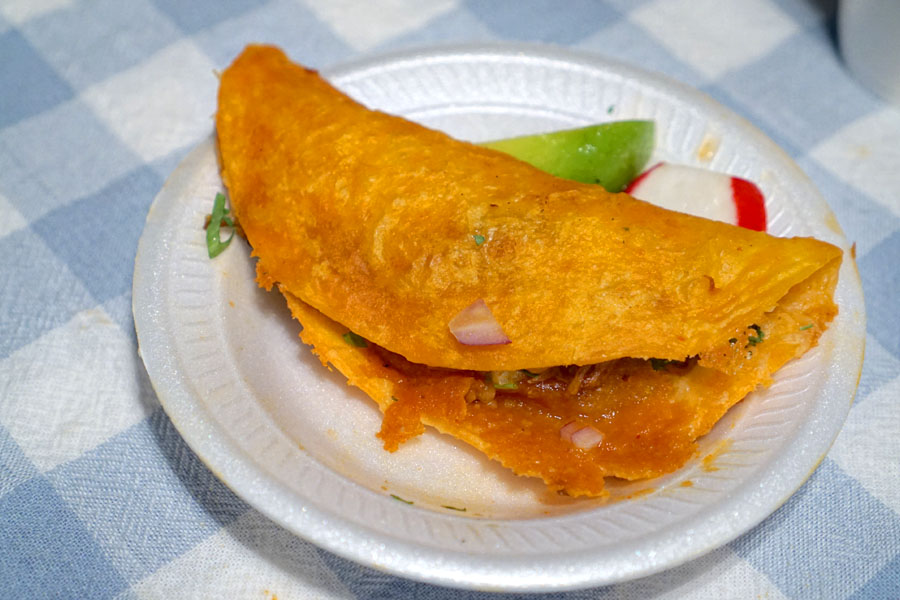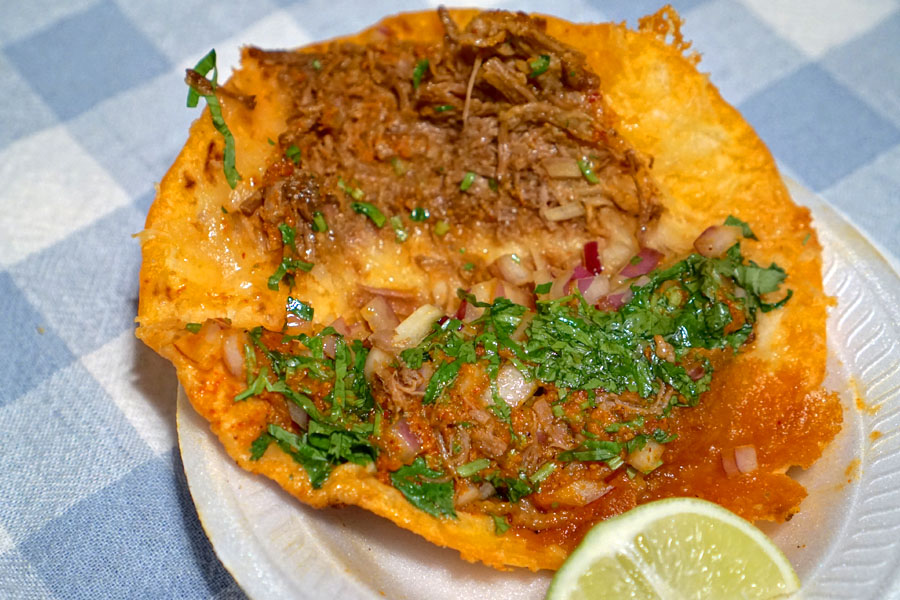 Beef Quesadilla [$3.99]
The quesadilla managed to be a surprise favorite, as I just loved how that crispy cheese sang when paired with the birria. Of course the cilantro and onions were crucial components as well, but even more notable was the flour tortilla, which had a heft, a sturdiness to it that served as the perfect vessel.
I had a generally positive time at Teddy's. I can't really fault the actual birria, since the beef was delicious, and in fact I wouldn't mind some more of it in my life. Now as I mentioned above, there were issues with some of the tortillas, which marred my experience somewhat. I'm not sure what happened there, but hopefully it's not a common occurrence. In any case, Vazquez looks to be keen on continuing the expansion his red taco mini-empire, and sure, I wouldn't mind a location closer to me.