Top Round Roast Beef (Los Angeles, CA)
Top Round Roast Beef
1000 S La Brea Ave, Los Angeles, CA 90019
347.859.7683
www.eattopround.com
Mon 08/24/2020, 08:50p-10:50p

For my latest takeout adventure, I decided to head over to Mid-Wilshire and pay a visit to Top Round, which I'd wanted to check out for over seven years. The fast casual eatery grand-opened all the way back on June 17th, 2013, and was founded by Chef Anthony Carron (800 Degrees, Mina Group), Noah Ellis (Picnic LA,
Red Medicine
, Mina Group), Chef Steven Fretz (Nic's on Beverly,
The Church Key
,
XIV
), and Jamie Tiampo (Dell'anima, L'Artusi, L'Apicio--all in New York). Top Round has since expanded to Louisville (Aug 2017-Mar 2019), San Francisco (Aug 2017), Irving (Feb 2018-Mar 2019), Dallas (Aug 2019), Irvine (Nov 2019), and Fort Lauderdale (Feb 2020), though more locations were initially planned (e.g. New York, Chicago, DC, San Jose).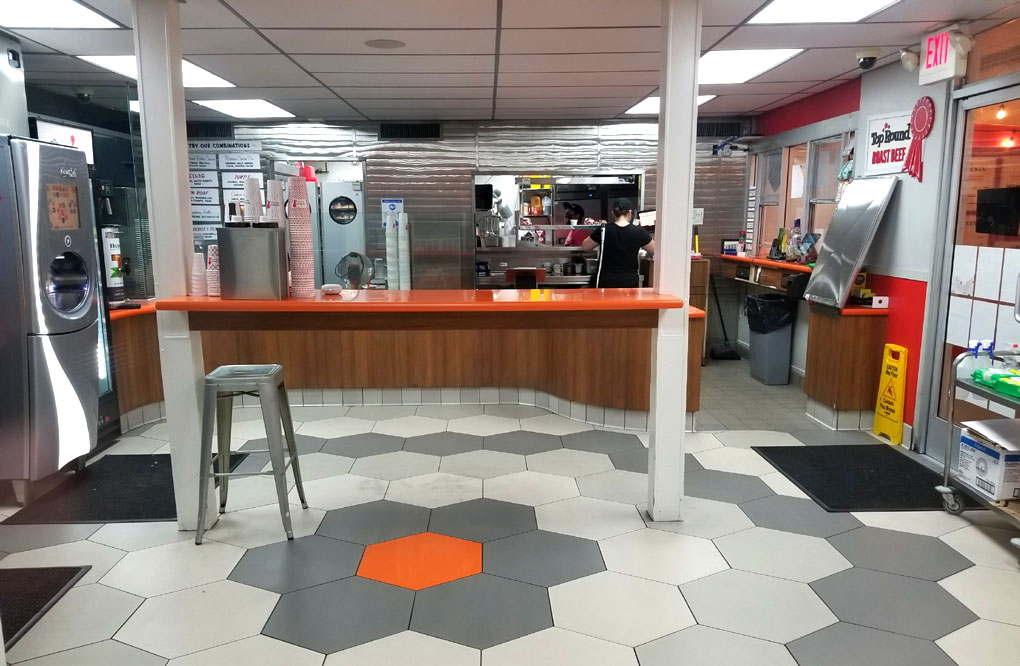 Top Round occupies the former home of Bee's Donuts (a.k.a. Lee's Donuts) and Pop's Burgers before that. The build was redone by Charisse Cardenas (Red Medicine) and sports a retro-ish aesthetic appropriate for the concept. The inside of the restaurant was off limits due to coronavirus, but the patio area was available for dine-in use.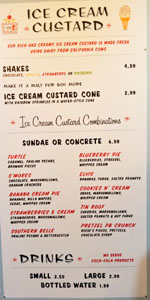 As for the menu, Top Round's septet of roast beef sandwiches is joined by chicken and burger options as well as sides and other sundry items. Also of note are the shake, sundae, and concrete choices on offer. Click for larger versions.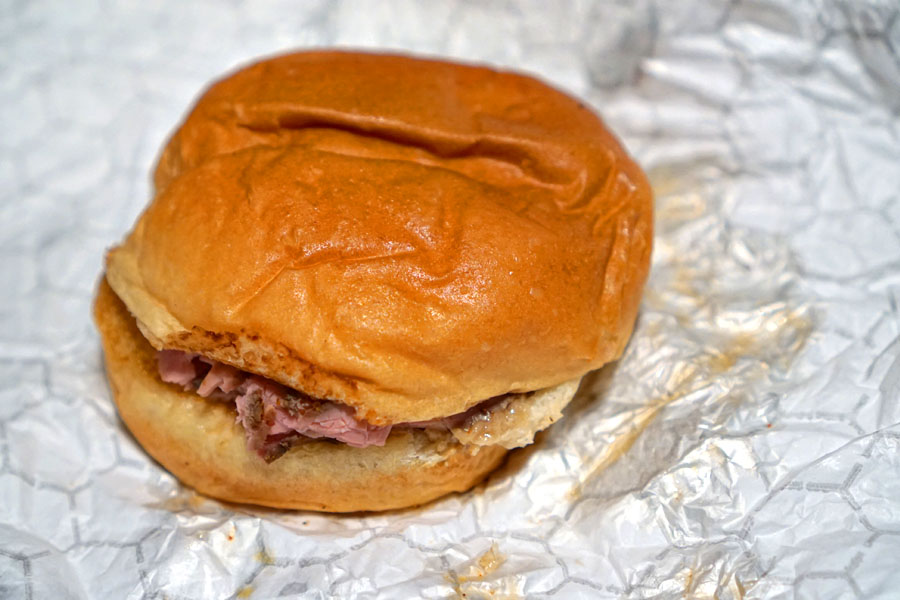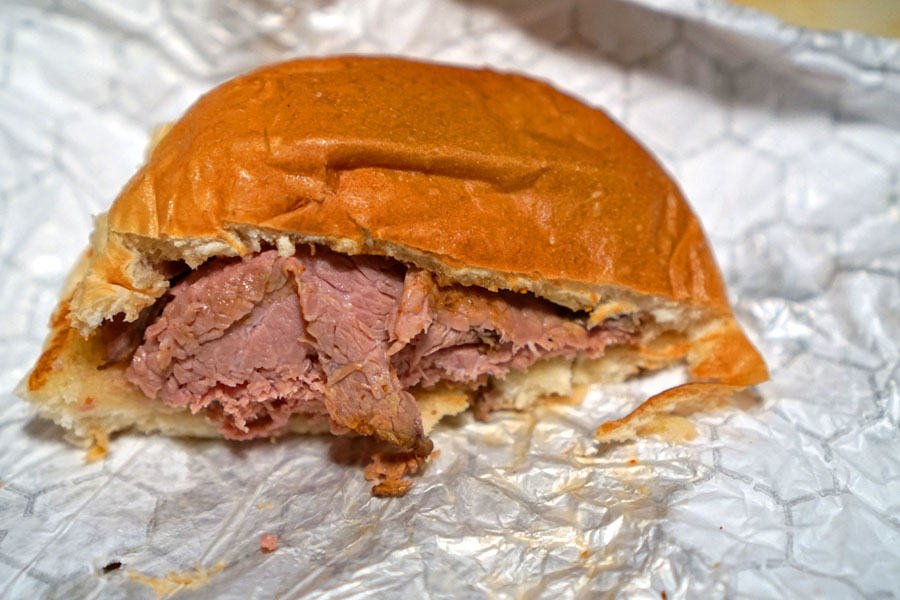 OG Roast Beef [$6.99]
| topped with house seasoning & au jus
Since this was my first time here, I had to begin with the most basic unit of roast beef consumption available. I found the slices of beef tender and generally tasty, their classic au jus flavors and restrained spicing allowing the intrinsic nature of the meat to shine through. Meanwhile, the sandwich's soft bun provided a slightly sweet finishing note.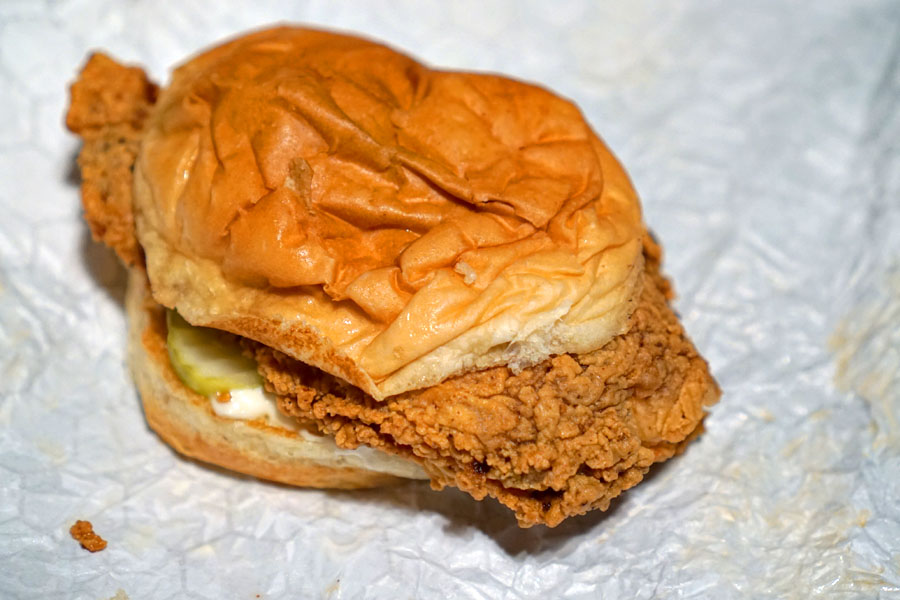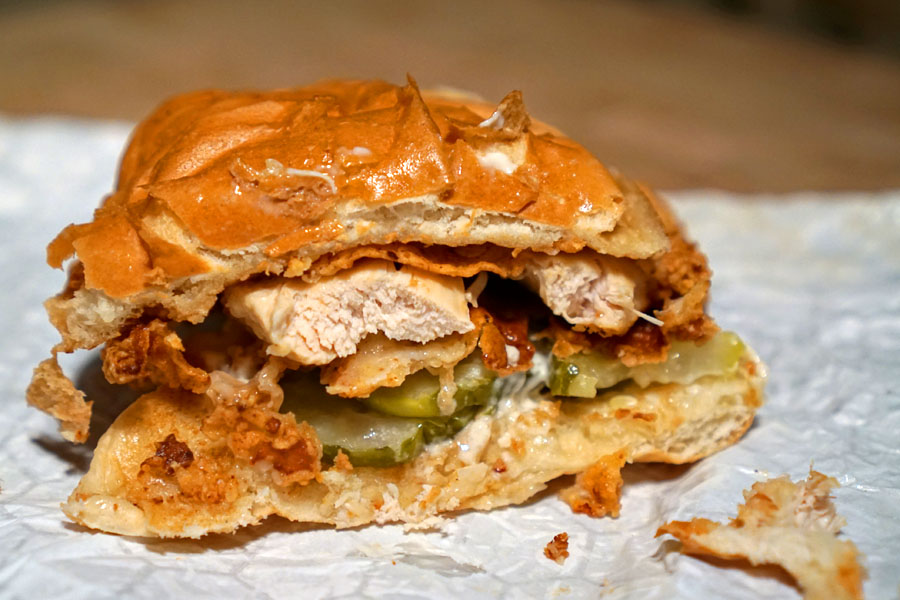 OG Chicken [$7.99]
| pickles & mayo
Chicken arrived well fried, its crisp, craggy crust imbued with a touch of sweetness. The bird was enjoyable alone, but was improved by the contrasting tang of the pickles while the sweet, buttery bread certainly made sense, too.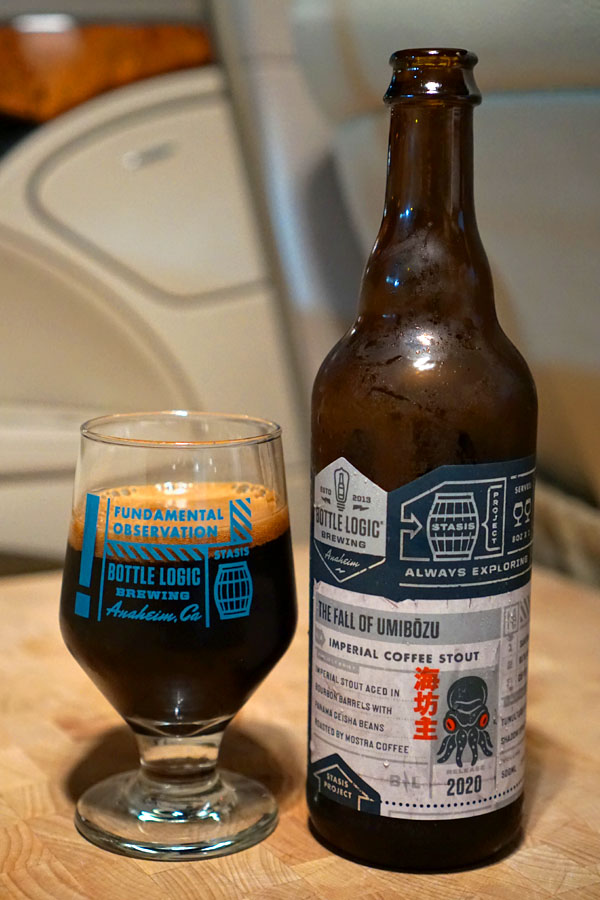 My first beverage was the
2020 Bottle Logic The Fall of Umibozu
, a double mash imperial stout aged in bourbon barrels for 18 months and finished with Mostra's Panama Geisha coffee, created in collaboration with Iowa's much-hyped Toppling Goliath Brewing. The beer smelled of cocoa powder mixed with coffee grounds, backed by an underlying sweetness. The palate on this one was pleasantly thick and smooth, with flavors of sugary dark fruit and honey transitioning to roasty coffee and flashes of green pepper toward the rear. Quite good.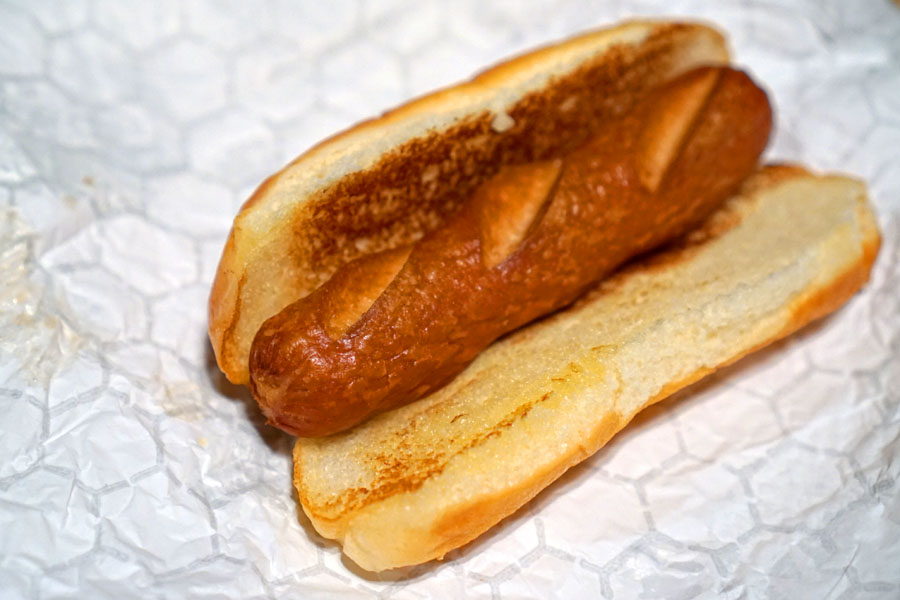 Original Hot Dog [$4.99]
| on a butter-toasted Hawaiian hot dog bun
Top Round's hotdog showed off classic flavors, but turned up a notch, and I quite liked the pillowy bun here, tinged with a bit of sweetness. Unfortunately, I was not provided or offered any condiments with the dog, and was left wondering how much better this would be with some relish and/or mustard.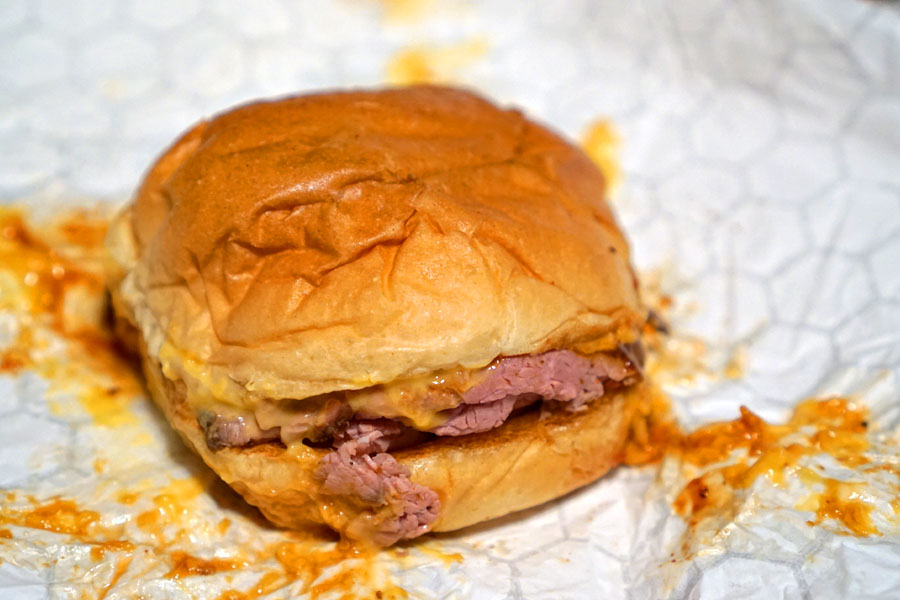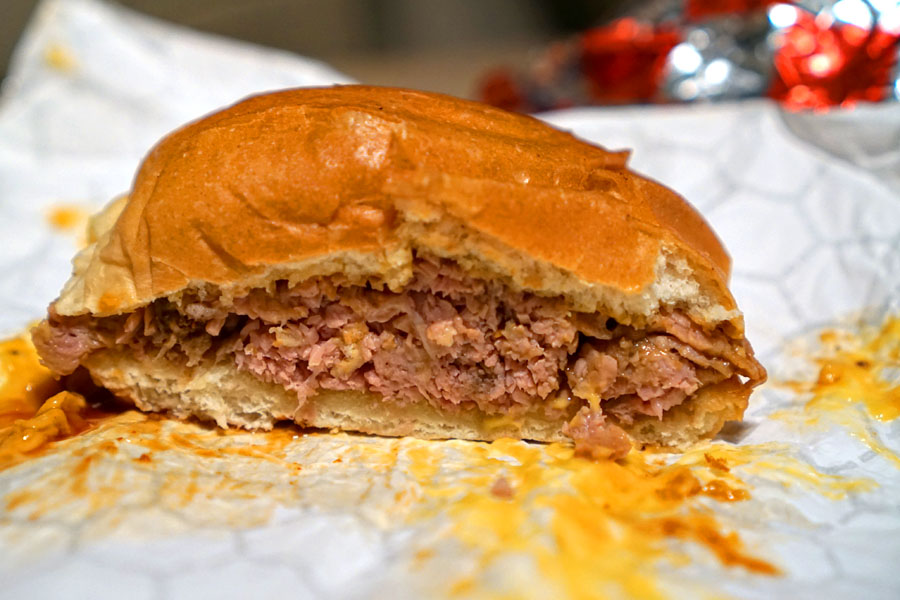 Beef & Cheese [$7.99]
| house cheese "wizz", round sauce
The addition of cheese definitely gave the sandwich an extra layer of lusciousness, but the dominant note here was actually the sweet-tart nature of the Round sauce. Fortunately though, the beef still managed to make itself known.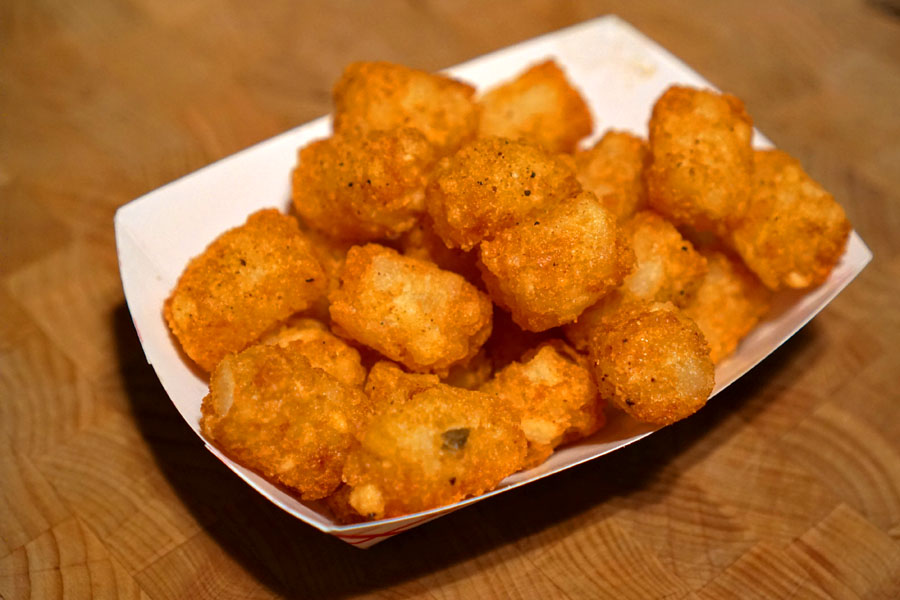 Tater Tots [$3.29]
| with top round seasoning
I have hard time saying "no" to tater tots, and the ones tonight were seemingly extra crispy, with a light dusting of seasoning.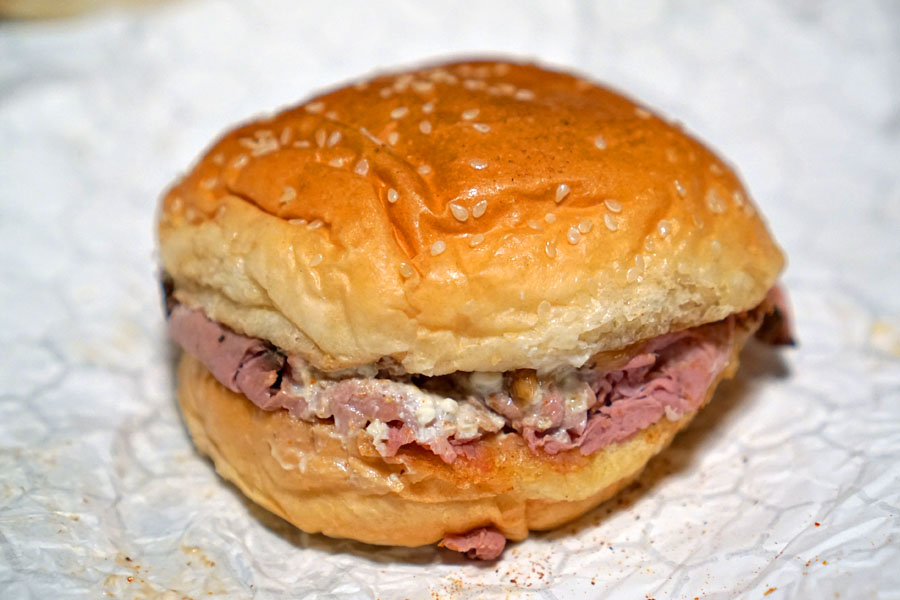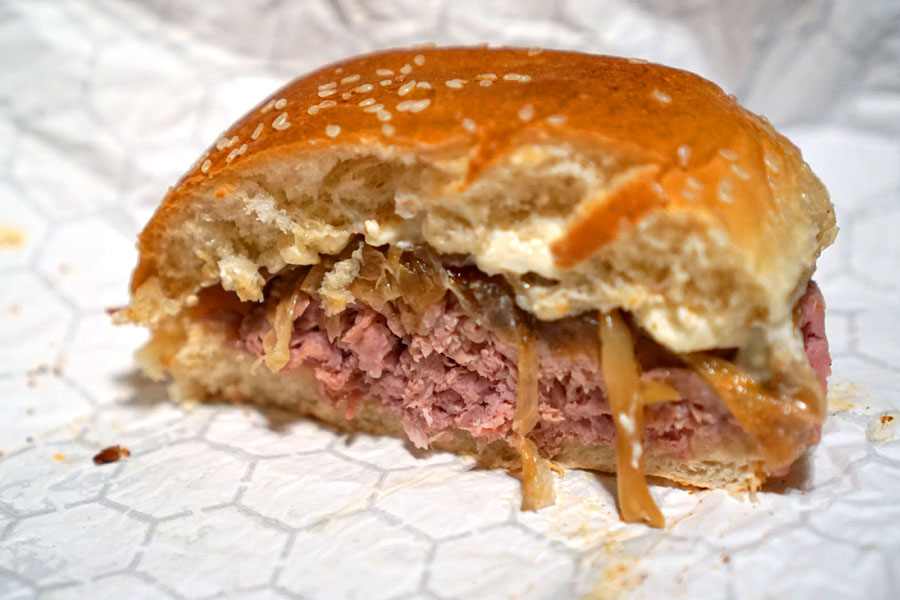 Black & Blue [$8.99]
| blue cheese, black pepper, caramelized onions, sesame bun
Here, the sugariness of caramelized onion married well with the pepper-boosted beef, though I wanted more funk from the blue cheese. Note that I was a bit confused at first while eating this, since its packaging was incorrectly mixed up with that of the Horse & Hole below.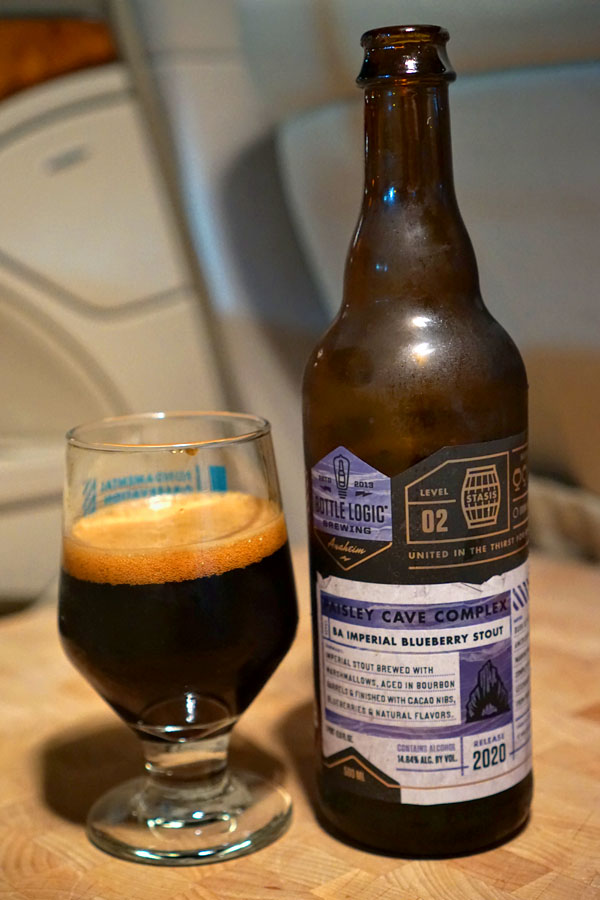 The evening's second beer was the
2020 Bottle Logic Paisley Cave Complex
, a bourbon barrel-aged imperial stout brewed with marshmallows and finished with cacao nibs and blueberries, made in collaboration with Portland's Great Notion Brewing. The nose here was fantastic; I could smell the blueberries from several feet away, and close up, the aromas were basically identical to that of a blueberry muffin. Tasting it, I got more of those rich, robust muffin flavors up front, while the back end brought notes of oak, vanilla, and bourbon burn. Very nice.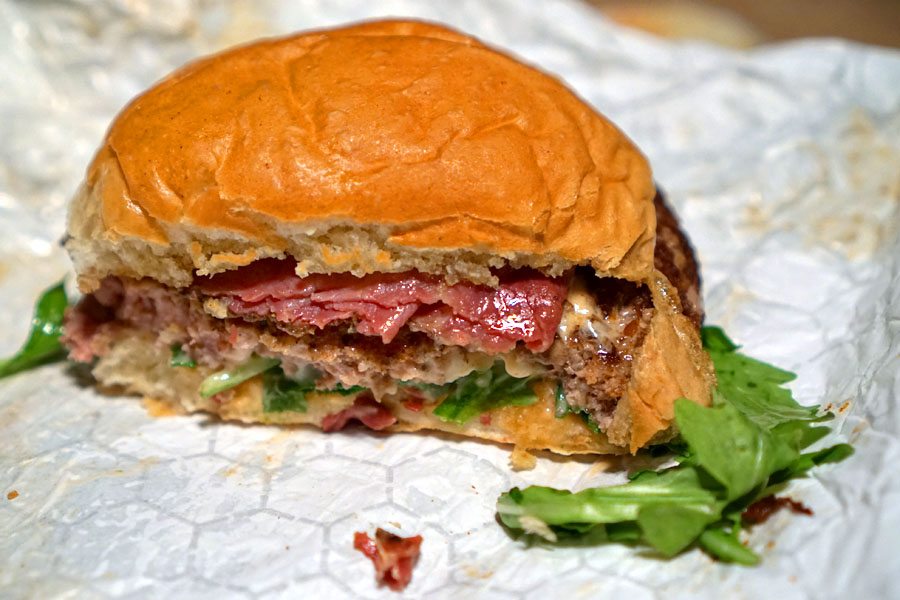 Pastrami Burger [$9.99]
| grilled pastrami, provel cheese, chef sauce, arugula, onions
The lone burger of the night met the mark. The Angus patty was the hero here, but I enjoyed how it was boosted by the salt and spicing of the pastrami. Provel cheese was much appreciated as well, but even better was the ending note of bitterness from the arugula.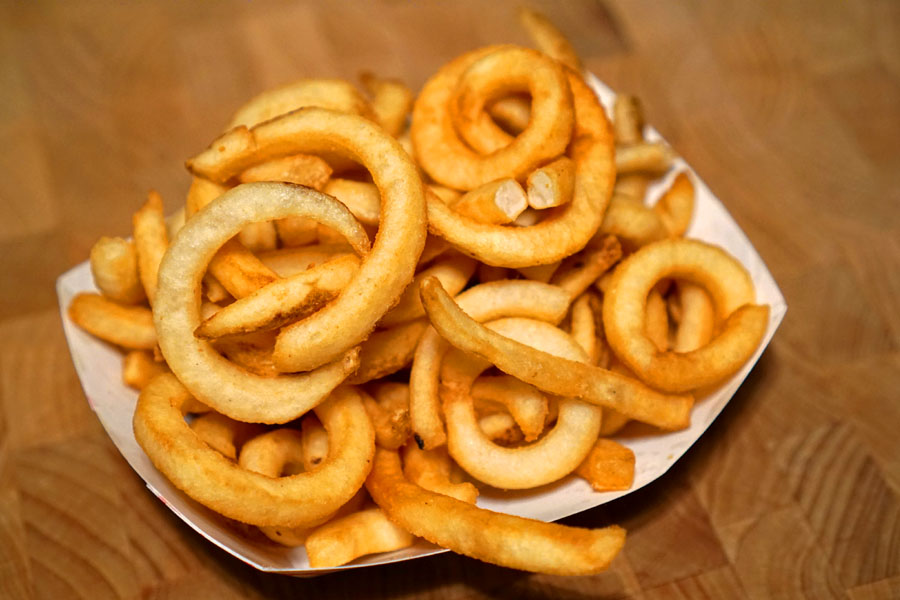 Curly Fries [$3.29]
Fries were superbly textured, but tasted underseasoned. I'm guessing that this was because people usually get them with various toppings, as evinced by the presence of Cheese Fries, Gravy Fries, and Dirty Fries on the menu.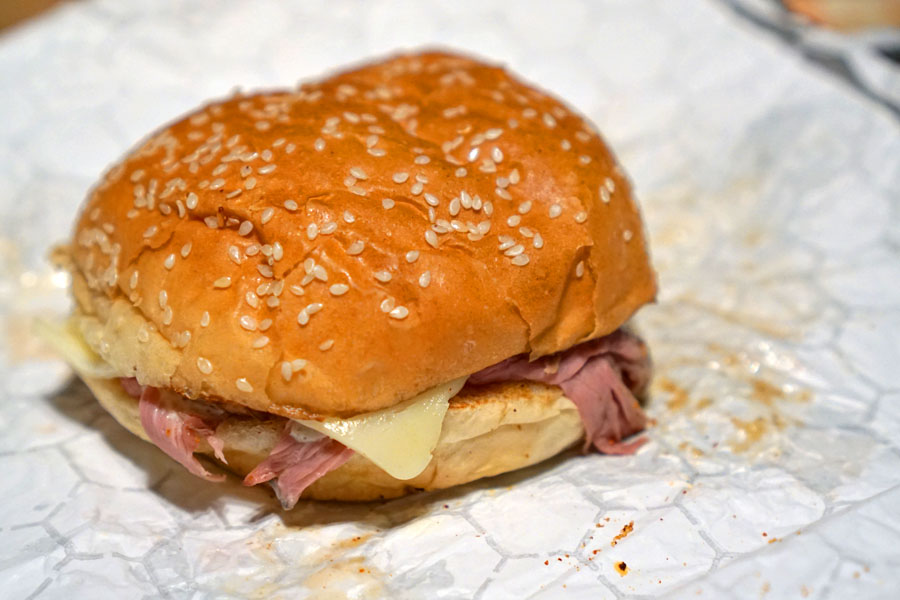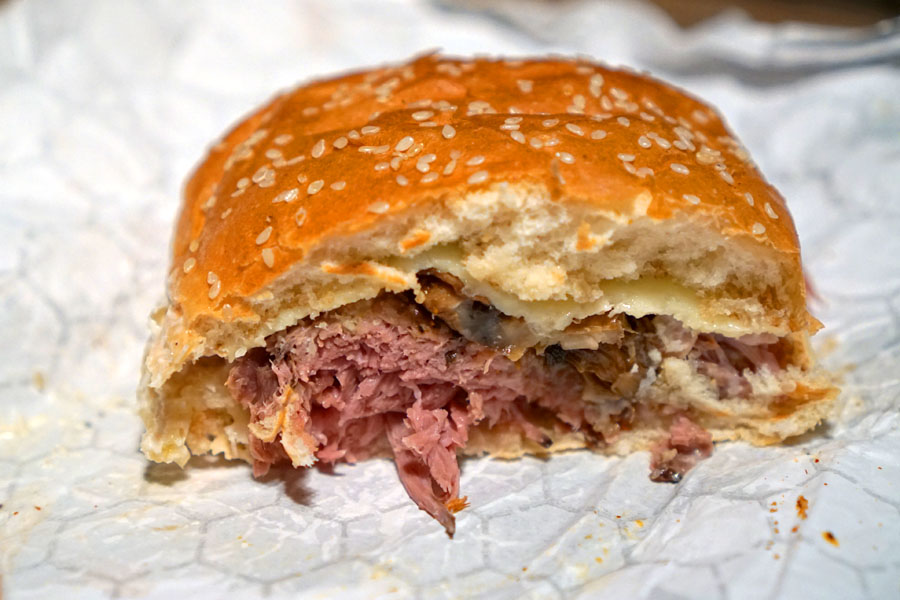 Horse & Hole [$8.99]
| horseradish cream, provel cheese, roasted mushrooms, sesame bun
My final sandwich was my favorite of the bunch thanks to its spot on interplay between cheese, earthy 'shrooms, and zippy, lingering horseradish.
Despite a couple missteps, I was generally satisfied with my dinner at Top Round and was glad to have checked the place out after all this time. The partners are pushing hard to expand the restaurant's presence via franchising, and I could see it achieving a decent level of success as a replicable concept. I wouldn't mind having one closer to me.