Here and Now (Los Angeles, CA)
Here & Now Bar
300 S Santa Fe Ave, Los Angeles, CA 90013
213.262.9291
www.hereandnowdtla.com
Thu 08/27/2020, 10:00p-11:15p

So it turns out that my last seven posts have all featured new establishments, so I decided to keep the trend going with a report on Downtown cocktail den Here and Now. However, do keep in mind that when I say "new," I mean new to this blog, as this place has been around for nearly two years, and I've actually been here a number of times already.
The story of Here and Now begins with Sarah Meade. The first time bar owner, USC grad, and former Sprinkles Cupcakes manager announced back in summer 2015 that she'd be opening up Westbound, a rail station-inspired cocktail bar inside the Arts District's One Santa Fe development. The spot ended up debuting with decent fanfare in May 2016, and boasted drinks by Dee Ann Quinones (
Employees Only
,
Commerson
, Booker & Dax) and a surprisingly ambitious food menu by Gary Nguyen (
Melisse
,
Alma
). Nguyen didn't last long though, and was replaced by the end of '16 by his sous Taylor Persh (
Bestia
,
Trois Mec
,
The Bazaar
, Brix), who toned things down in terms of schmanciness. Everything seemed to be going pretty smoothly at the bar, but apparently that wasn't the case, as Westbound ultimately shuttered in May 2018.
Meade didn't give up though. Instead, she partnered with the folks behind
Va'La Hospitality
(Aaron Melendrez, Damian Diaz, Othón Nolasco) and the four revived Westbound as Here and Now. The new bar debuted in October 2018 with its charming
Studio Collective
-penned interior largely intact, a refreshed drinks list, and a new food menu by Geovanny "Geo" Delgado, an alum of
E.R.B.
, Pistola, Gusto, and Petit Ermitage who's now at Burgers 99. However, the partnership didn't last long, as the Va'La guys were out by May 2019. As of August 2020, Here and Now is helmed by Bar Manager Taylor Cloyes, who comes by way of
Church & State
and Severance Wine Bar.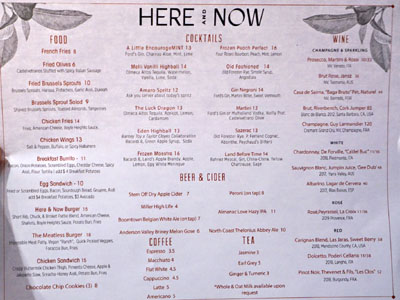 Above we see the menu, which is perhaps a bit more abbreviated than usual. Click for a larger version.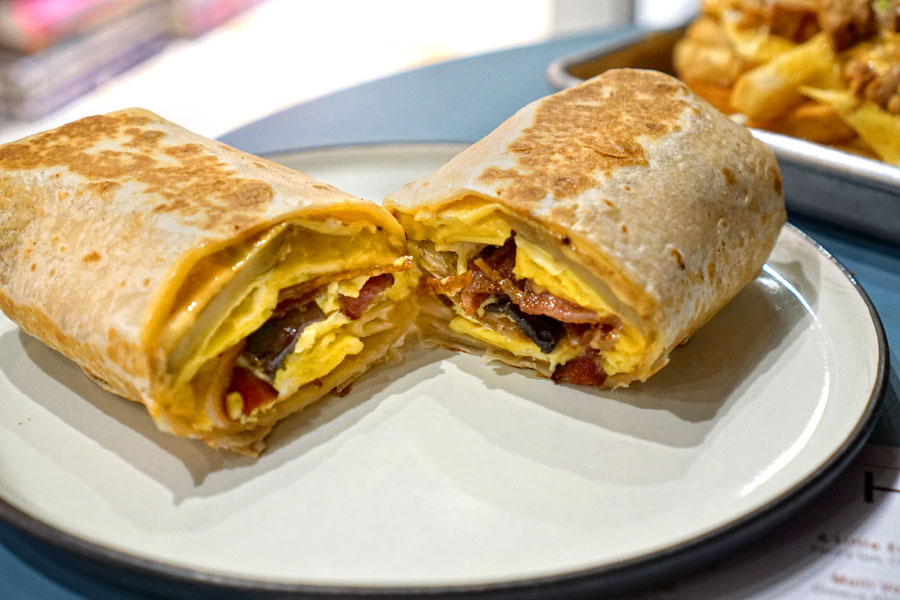 Breakfast Burrito [$11.00]
| Bacon, Onion Potatoes, Scrambled Eggs, Cheddar Cheese, Spicy Aioli, Flour Tortilla
The breakfast burrito is one of my all-time favorite late night eats, so naturally I had to indulge this evening. Here and Now's example was unique in that it managed to be both trashy and classy at the same time. There was almost an elegance to the combination of soft, fluffy eggs and runny cheese. Bacon imparted brazen blasts of smoke and salt, while potatoes had a moderating effect. I appreciated the bit of heat present, too, not to mention the crispness of the griddled tortilla.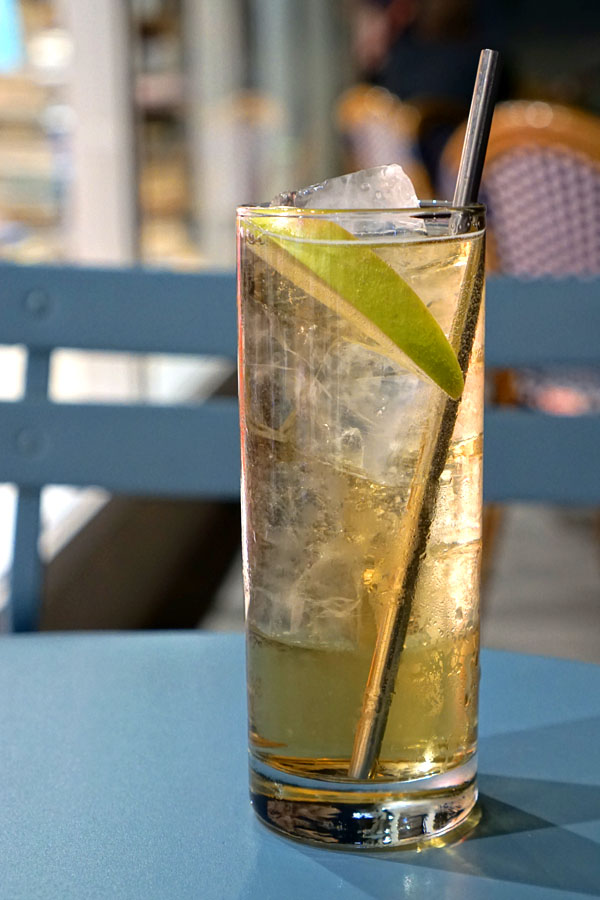 Eden Highball [$13.00]
| Bacardi 8, Green Apple Syrup, Soda
(Barney Toy x Taylor Cloyes Collaboration)
I began with this easy-breezy cocktail, one that showed off a deft back-and-forth between a nearly candied apple sort of sensation and the unmistakable heft of the rum.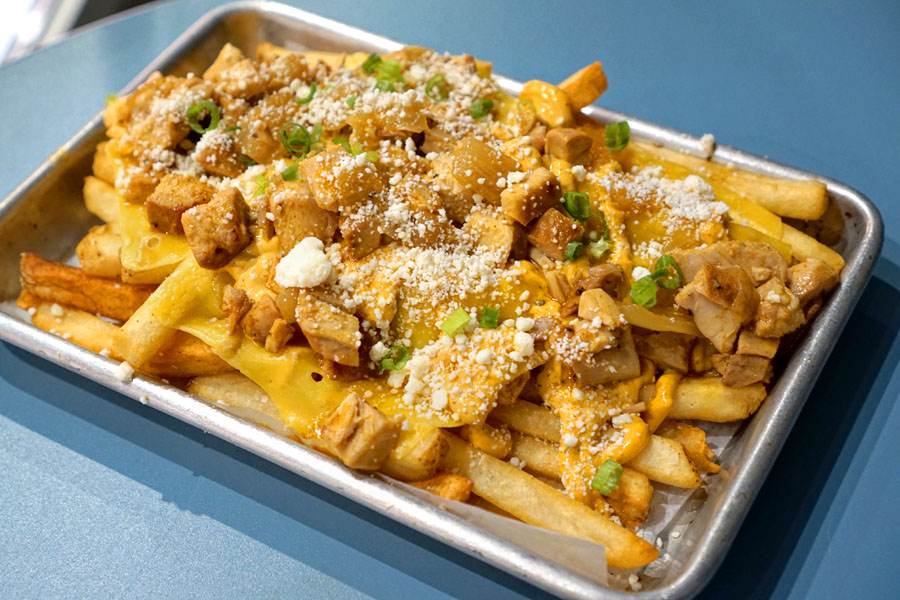 Chicken Fries [$14.00]
| Fries, American Cheese, Boyle Heights Sauce
This was as gratifying as it looked. The chicken itself ate soft and succulent, and its seasoning was on point. The bird meshed easily with the three-way of cheese present, and I was definitely down with the fries, too.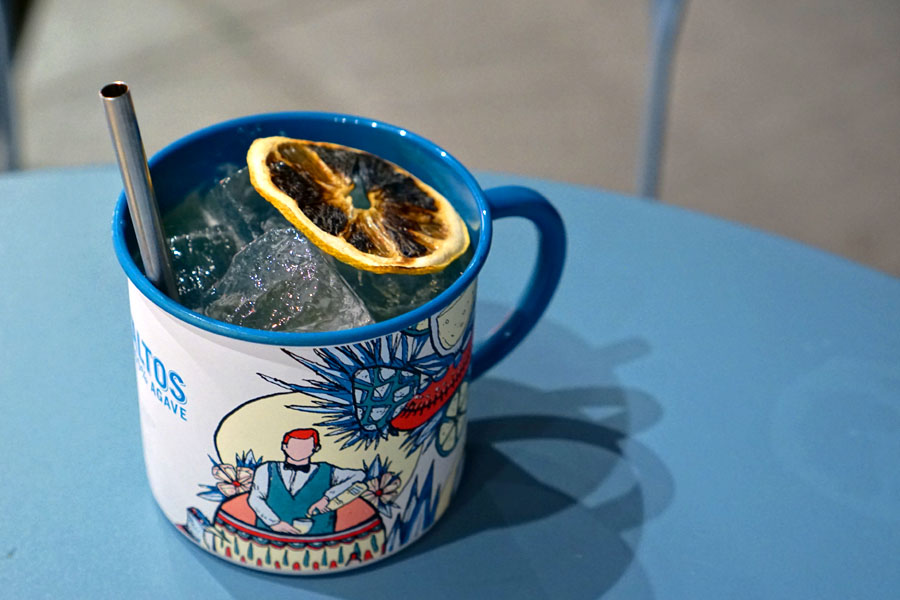 The Luck Dragon [$13.00]
| Olmeca Altos Tequila, Apricot, Lemon, Cardamom
Now this next cocktail was decidedly more potent, and smelled super smoky from the flaming disk of dehydrated citrus on top. Tasting it, I got a healthy dosing of sweet, spicy, fragrant cardamom commingled with the agave-laden flavors of tequila and a smidgen of stone fruit.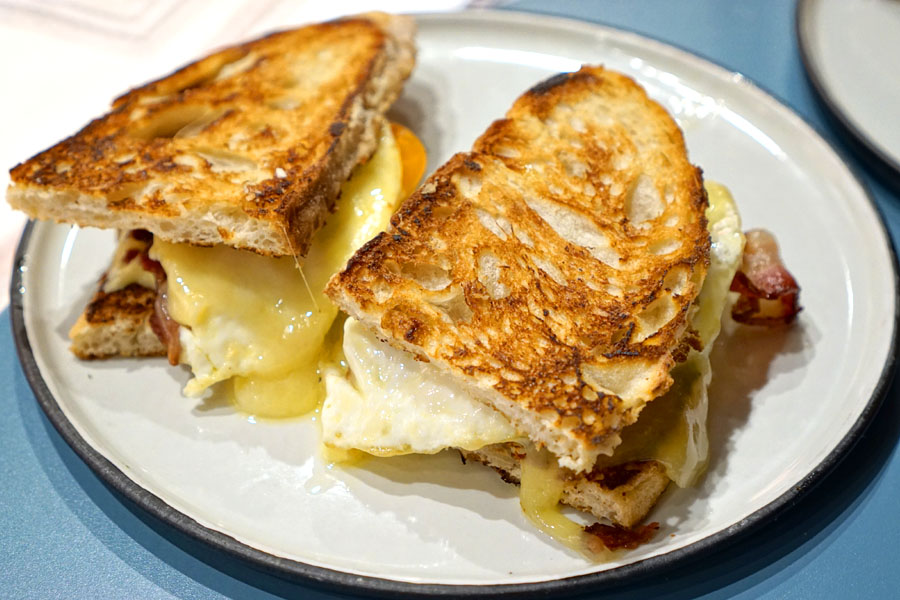 Egg Sandwich [$10.00]
| Fried or Scrambled Eggs, Bacon, Sourdough Bread, Gruyere, Aioli
The egg sando represented a pretty much perfect marriage of runny fried egg and salty, smoky bacon, with the cheese of course making the pairing even more formidable. All the pieces melded together better than I thought they would, including that delightfully crisp toast. A surprise standout.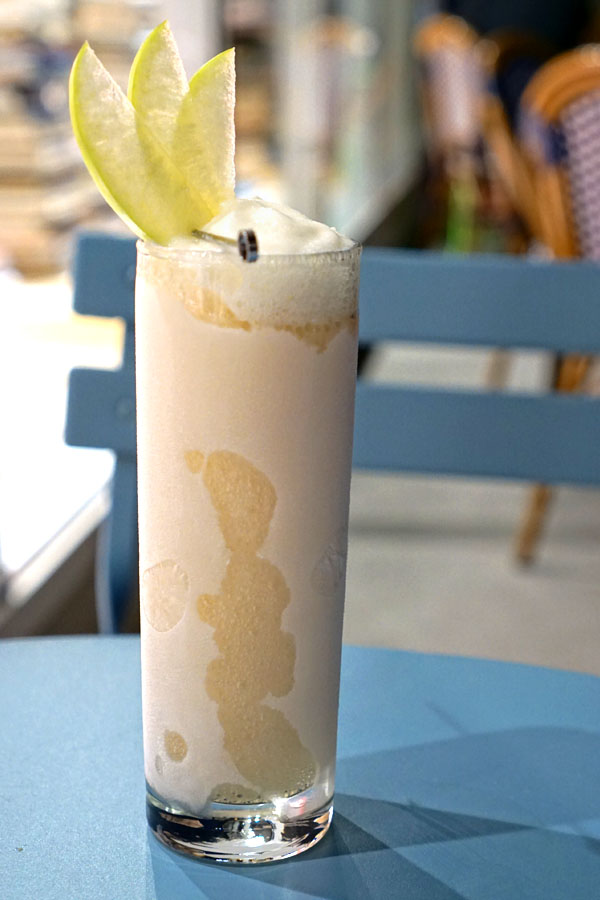 Frozen Maestra [$16.00]
| Rum, Apple Brandy, Granny Smith Apple, Lemon, Meringue
I also made sure to try one of the frozen cocktails. Here, a tart, eggy meringue formed a foil to the bracing, almost astringent slush, which was laced with tangy apple and lemon as well as the oomph of the rum/brandy combo.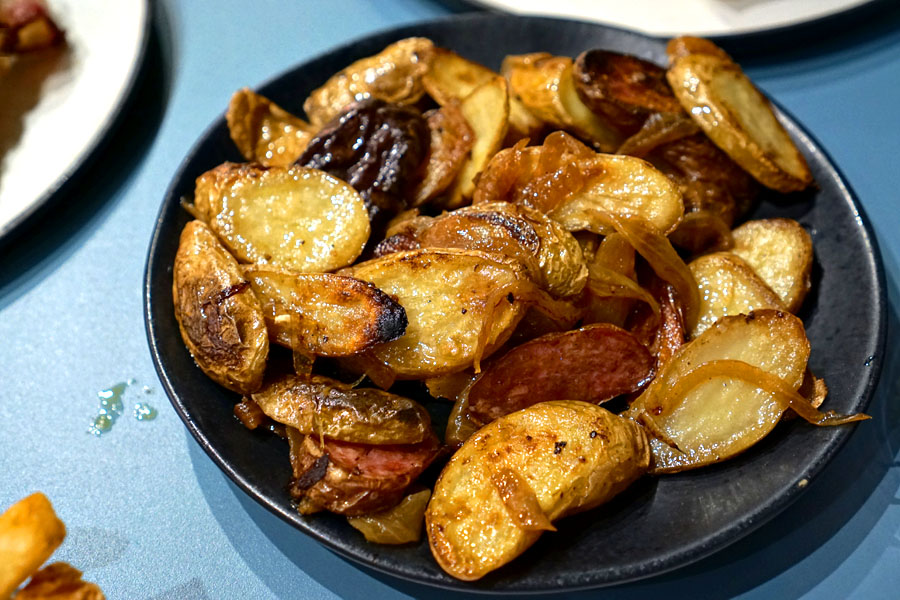 Breakfast Potatoes [$4.00]
I requested a side of potatoes with my egg sandwich above, and these met the mark. Of particular note was the piquancy provided by those caramelized onions.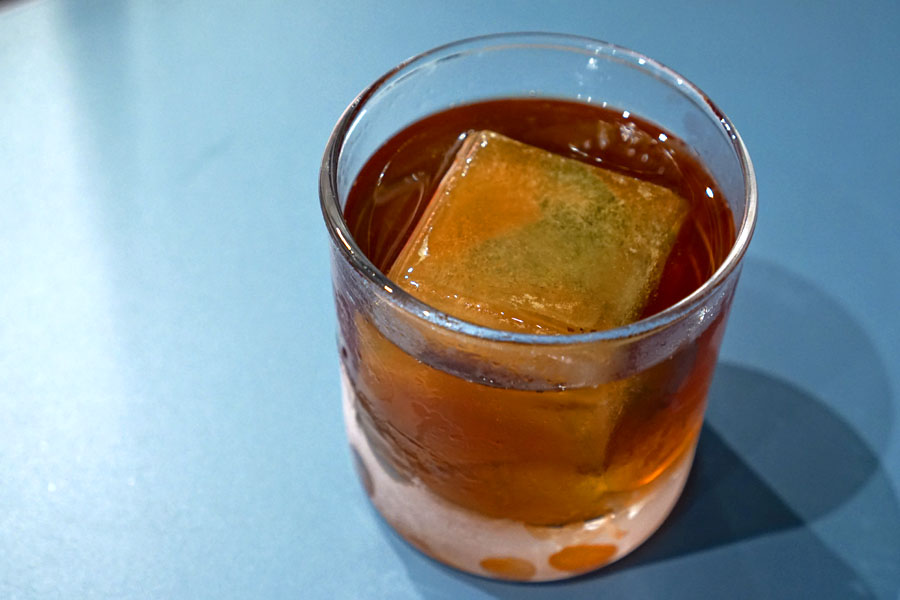 Land Before Time [$14.00]
| Bahnez Mezcal, Gin, China-China, Yellow Chartreuse, Sage
My last cocktail was definitely the booziest of the bunch, and probably my favorite. The nose here was great thanks to its massive amount of sweet, warm, herbaceous notes, primarily from the Chartreuse I'm guessing. Tasting it, I got an intense medicinal character up front, transitioning to a sweet, prickly heat and a liberal amount of aromatic sage (note the sage-infused ice cube).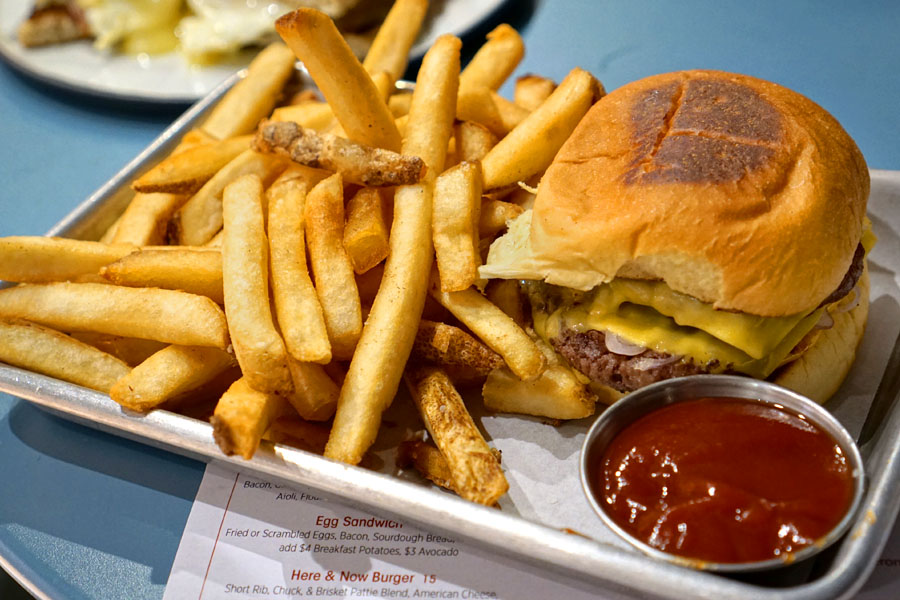 Here & Now Burger [$15.00]
| Short Rib, Chuck, & Brisket Pattie Blend, American Cheese, Shallots, Boyle Heights Sauce, Potato Bun, Fries
The hamburger is probably this place's most well known dish, and I rather enjoyed it. I got this almost "old school" beefiness here that just made sense with that yellow cheese, all while the shallots imparted a touch of sweet-n-sour to the mix. You can't go wrong with those fries, either.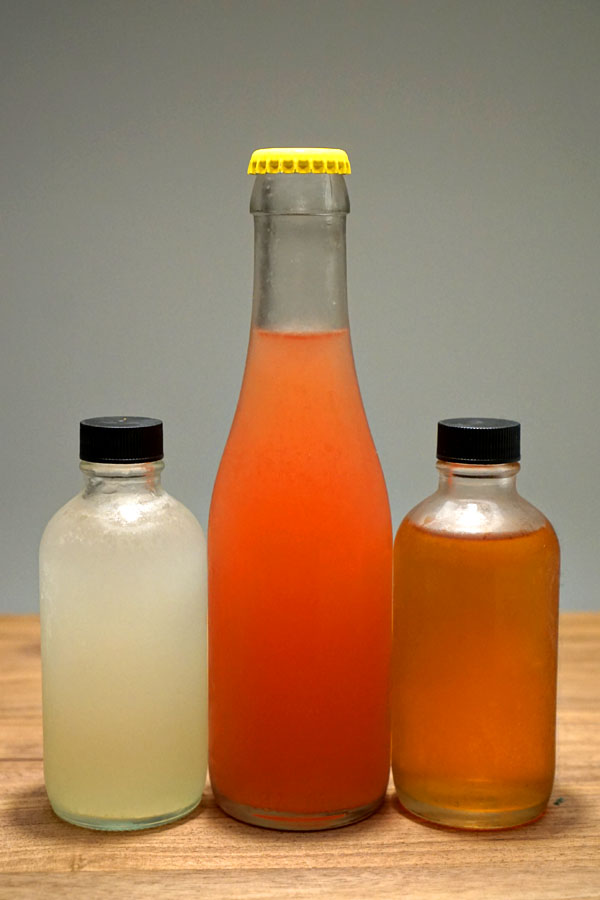 I ended up getting a few of Here and Now's cocktails to-go as well.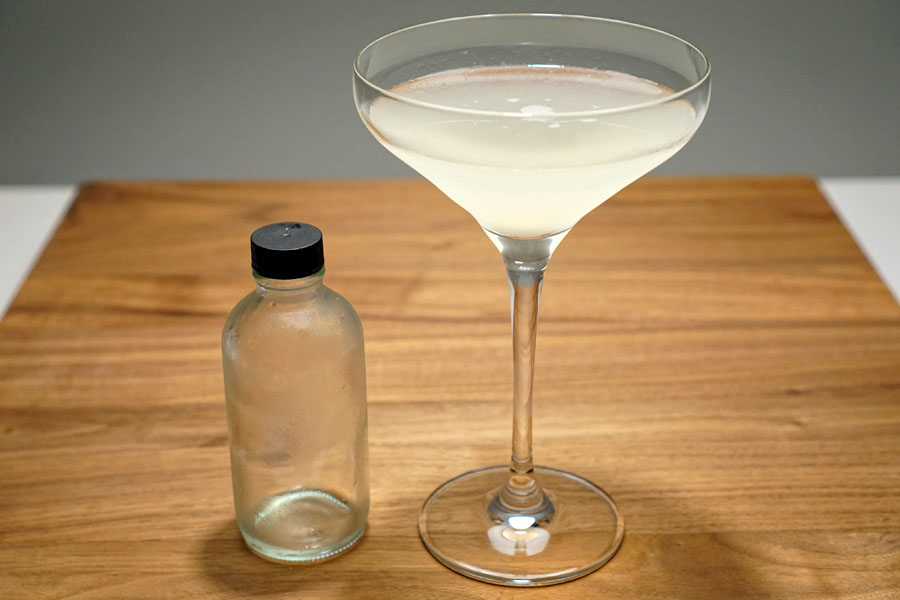 A Little EncourageMINT [$13.00]
| Ford's Gin, Chareau Aloe, Mint, Lime
All three takeaway cocktails were enjoyed the following evening. The first featured a surprisingly aromatic nose filled with sugary mint and cucumber, while the taste combined citrusy, minty nuances with subtly bitter, botanical, and boozy elements.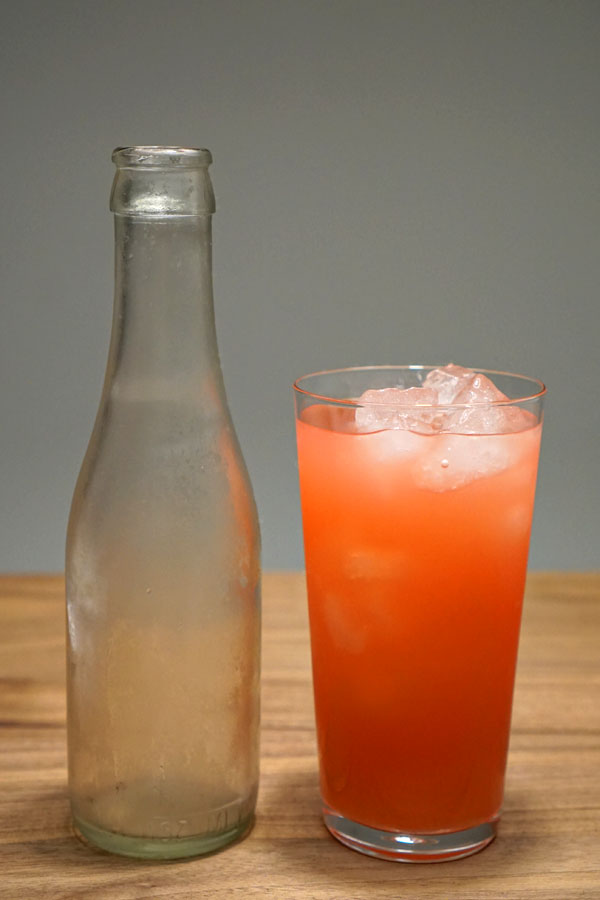 Melli Vanilli Highball [$14.00]
| Olmeca Altos Tequila, Watermelon, Vanilla, Lime, Soda
This coral-hued cocktail displayed familiar flavors of watermelon fused with a comforting sweet spice from the vanilla.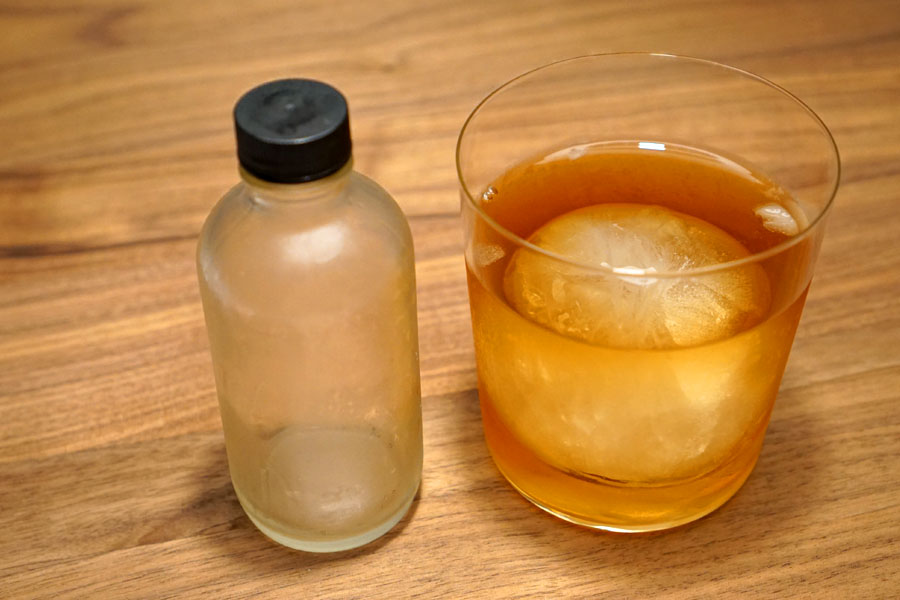 Sazerac [$13.00]
| Old Forester Rye, P. Ferrand Cognac, Absinthe, Peychaud's Bitters
The Sazerac was certainly the most classic of the cocktails I tried. Aromas here were intense, and conveyed a distinctly sugary, cherried component that I quite liked. Taste-wise, I found the drink subdued at first, but then a plethora of spicy, bitter, and boozy flavors came in, all finished by a markedly herbal, vegetal piece.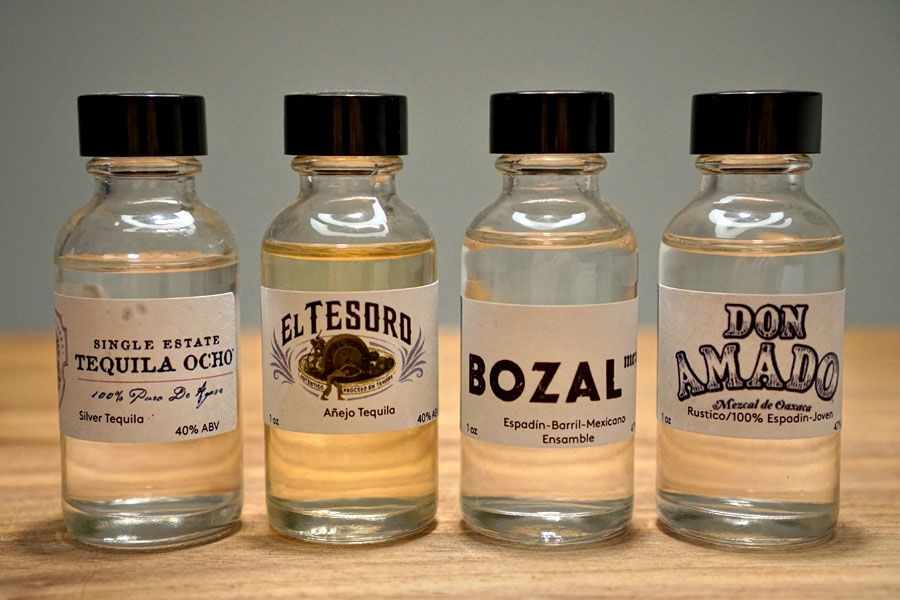 Intro to Agave Flight [$37.00]
I also picked up these four one ounce samplers of agave spirits:
Tequila Ocho Single Estate Silver Tequila
,
El Tesoro Añejo Tequila
,
Bozal Espadín-Barril-Mexicano Ensamble Mezcal
, and
Don Amado Rustico Mezcal
.
Now as I mentioned above, I'd actually been to Here and Now a number of times already, and despite our current coronavirus situation, I have to say that this was one of my best visits yet. Due to the more relaxed pace this evening, I think I just got to taste and appreciate everything a bit more this time. I'm sure I'll make my way back here again.