Woodspoon (Los Angeles, CA)
Wood Spoon Restaurant
107 W 9th St, Los Angeles, CA 90015
213.629.1765
www.woodspoonla.com
Tue 09/15/2020, 08:15p-09:35p
Aside from
churrasco
-style spots, Brazilian cuisine is one that doesn't seem to be all that well represented here in LA, which I think is unfortunate. In fact, it'd been years since I posted about a Brazilian place, so I decided to correct that with a visit to Woodspoon. Situated in Downtown on the edge of the Fashion District, the restaurant opened in 2006, and is the brainchild of Chef/Owner Natalia Pereira.
About the Chef
: Pereira hails from Minas Gerais, a Brazilian state well regarded for its gastronomy. Her father was a dancer, and ended up having an affair with a woman who would eventually give birth to the Chef. That woman wanted little to do with her, so as a result, Pereira was largely raised by her father's wife, Francisca, who also taught her to cook at a young age. However, she eventually became orphaned due to familial pressures and went on to live in a series of foster homes over the years. She first came to the United States in 1998 to have reconstructive dental work performed, which was necessitated by a serious car accident she'd been involved in a year earlier. Upon returning to Brazil, Pereira lived on a farm with a family in Esmeraldas, a municipality in Minas Gerais. She then moved back to the US around three years later, and as word of her cooking spread, eventually secured employment as a private chef. Through these cheffing gigs, she was able to meet one Darius Danta, who partnered with her to open Woodspoon in 2006.
The restaurant soon made a name for itself as a go-to spot for Brazilian fare, and Pereira herself became more and more well-known. In 2013, she competed on
Ilan Hall
's
Knife Fight
, where she took on
Phillip Frankland Lee
in a radish-foie gras battle judged by Evan Kleiman and
Stephane Bombet
. She also appeared on
Breaking Bread with Brooke Burke
in 2015, and in 2018, launched A Bite for Peace, a sort of traveling dining experience designed to connect people through the enjoyment of a family-style meal together. The Chef has also been working on her first book,
My Life in Recipes
, which should be out later this year.

The dining room has been upgraded since Woodspoon's early days, and now features a homey, almost shabby chic sort of aesthetic.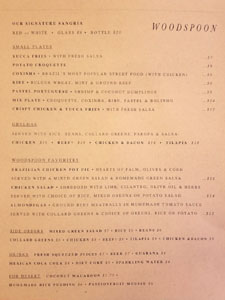 Woodspoon's abbreviated coronavirus menu is shown above. However, do note that there could be off-menu items, as I was able to order the
frango com quiabo
even though it wasn't listed. Click for a larger version.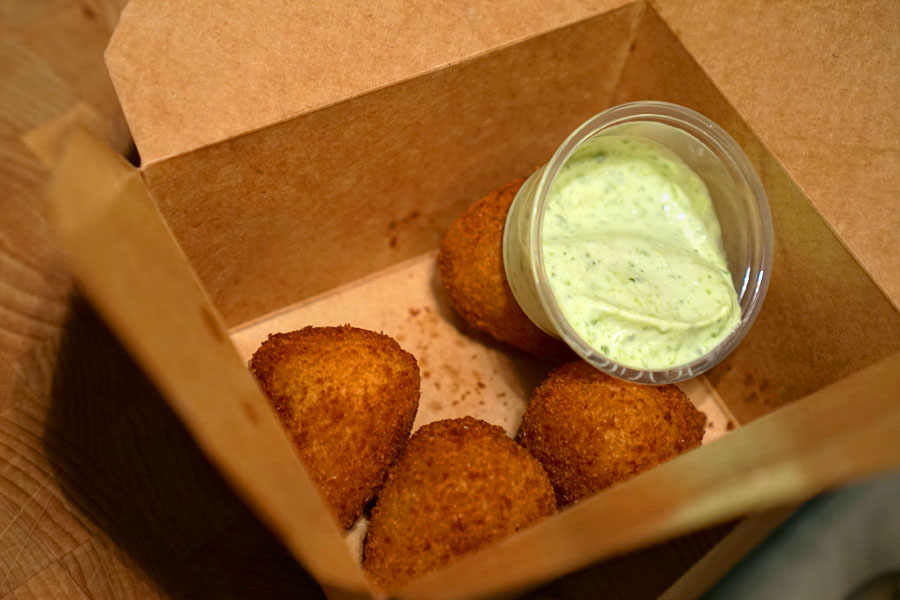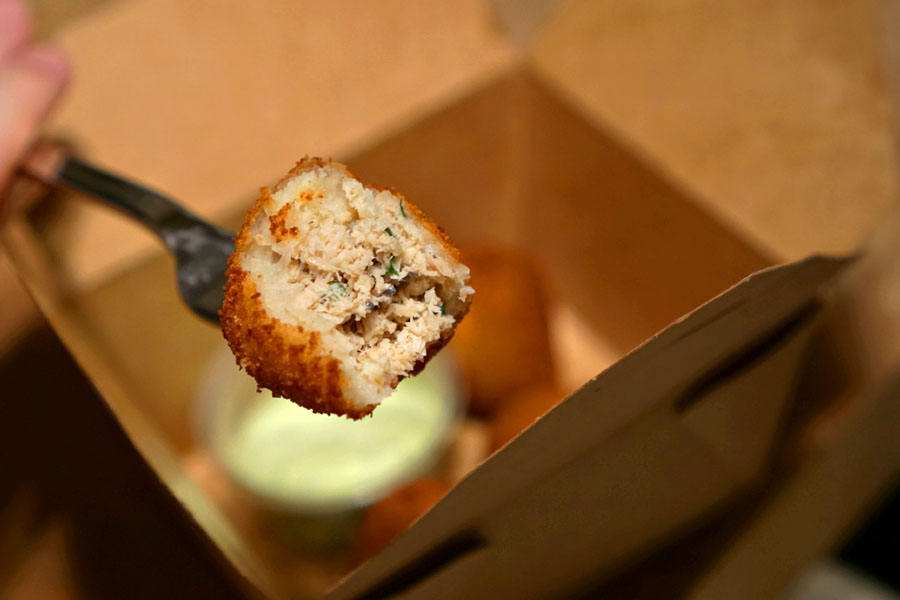 Coxinha [$8.00]
| Brazil's Most Popular Street Food (with Chicken)
We begin with the street food staple that is
coxinha de frango
. The teardrop-shaped fritters came stuffed with a luscious filling of shredded, subtly sweet chicken. I appreciated the crispness of the croquette's golden crust, and even more so the green-tinted, mayonnaise-based sauce on the side, a bright-yet-creamy creation that apparently incorporates parsley, oregano, and malagueta chilis.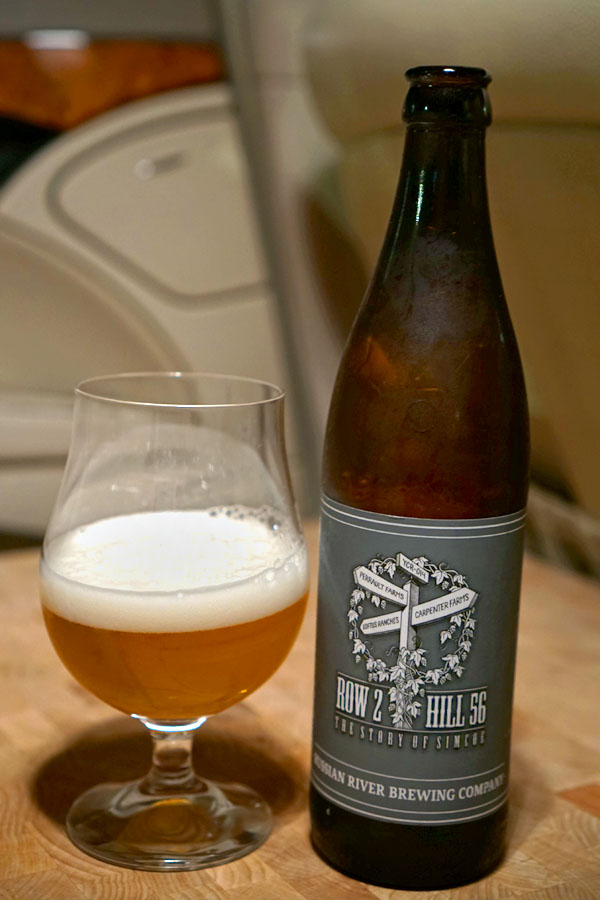 To drink, I opened up a bottle of the
2020 Russian River Row 2/Hill 56
, a pale ale hopped with 100% Simcoe. The beer smelled great, giving up aromas of orange juice, pineapple, and pine. Tasting it, I got more citrusy notes commingled with a soft bitterness and a lingering biscuity character.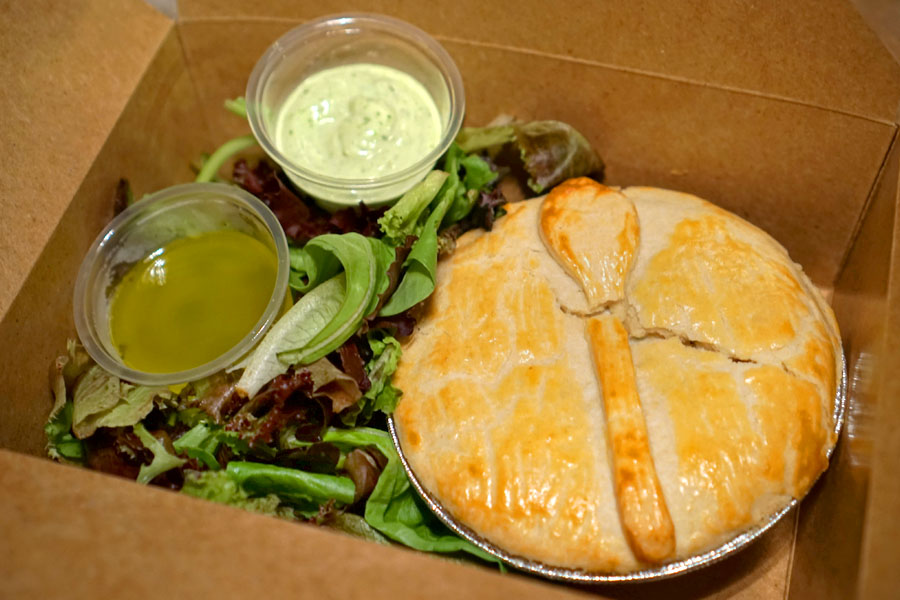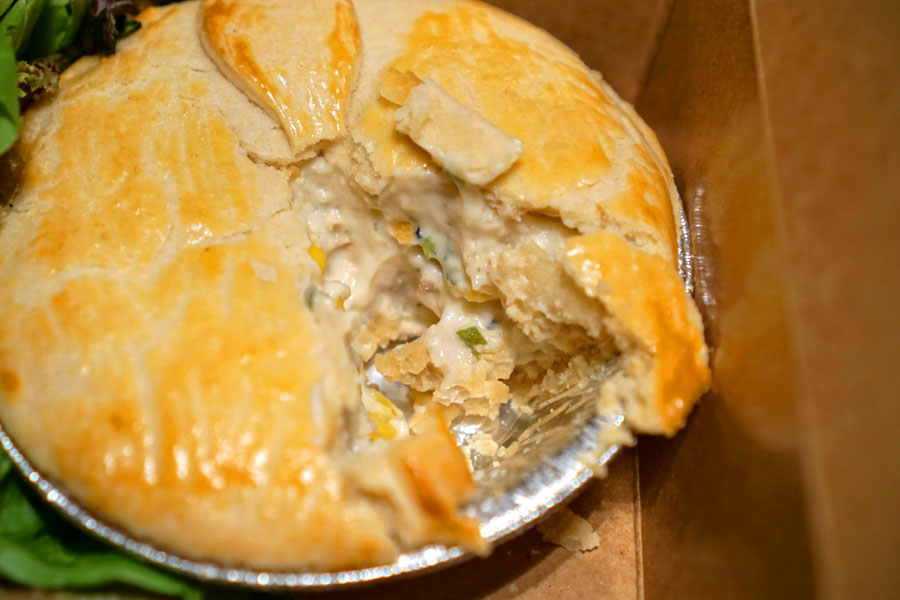 Brazilian Chicken Pot Pie [$16.00]
| Hearts of Palm, Olives & Corn, Served with a Mixed Green Salad & Homemade Green Salsa
Next up was Woodspoon's signature
empadão de frango
. The pot pie featured a filling of creamy chicken, joined by the sweetness of corn while the heart of palm lightened things up. Also key was the crust, which I found flaky and buttery, while again, that green salsa on the side added a necessary zestiness to the dish.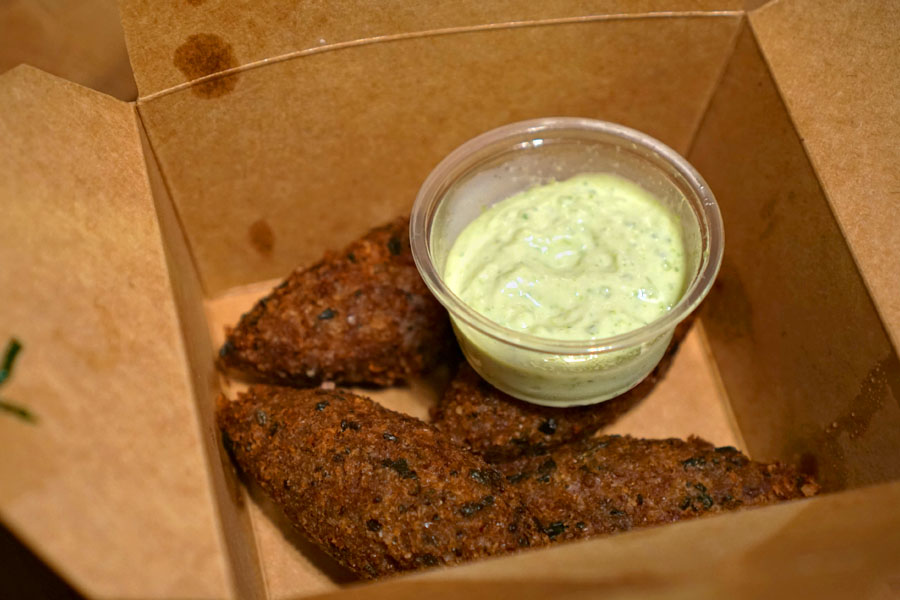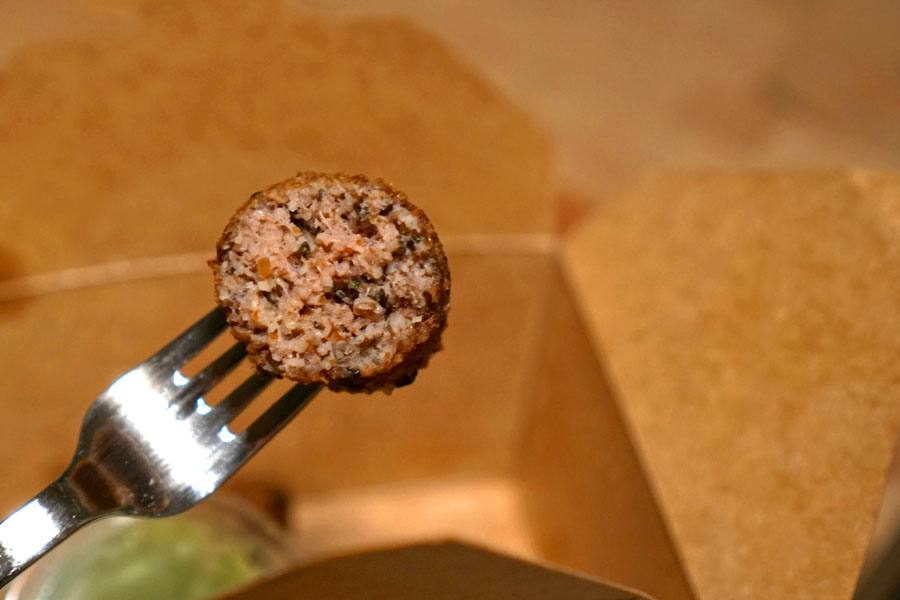 Kibe [$8.00]
| Bulgur Wheat, Mint & Ground Beef
This Brazilian take on Middle Eastern
kibbeh
showed off a gritty texture and nuanced flavors that were simultaneously meaty, minty, and nutty. The accompanying green sauce, meanwhile, worked its magic here as well.
Frango com Quiabo [$19.00]
| Brazilian Chicken Stew with Okra, Polenta
Here we have my favorite item of the night. I found the chicken hearty and expertly spiced, while the okra functioned as a natural complement. The stew paired seamlessly with that beautifully textured rice, but even better were those wonderfully earthy, nutty black beans. I was also a big fan of the collard greens (
couve
), which displayed a delightful bitterness and crispness.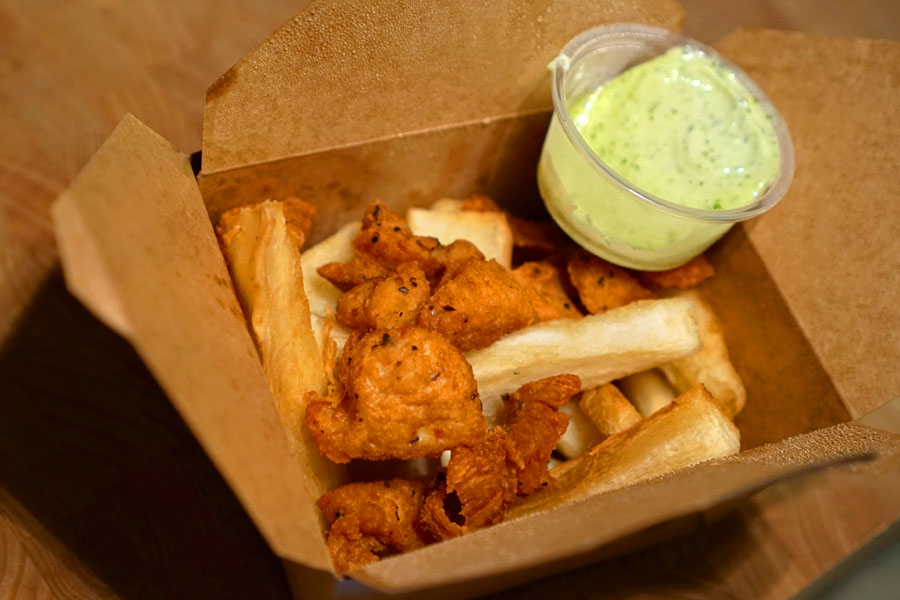 Crispy Chicken & Yucca Fries [$15.00]
| with Fresh Salsa
Cassava fries (
mandioca frita
) hit the spot, and featured a grainy texture as well as a hint of sweetness; they were lovely when paired with the included salsa (which I sort of want to put on everything now). The fried chicken (
frango à passarinho
), unfortunately, missed the mark, as though the bird was well-seasoned, it was also overly dry and tough.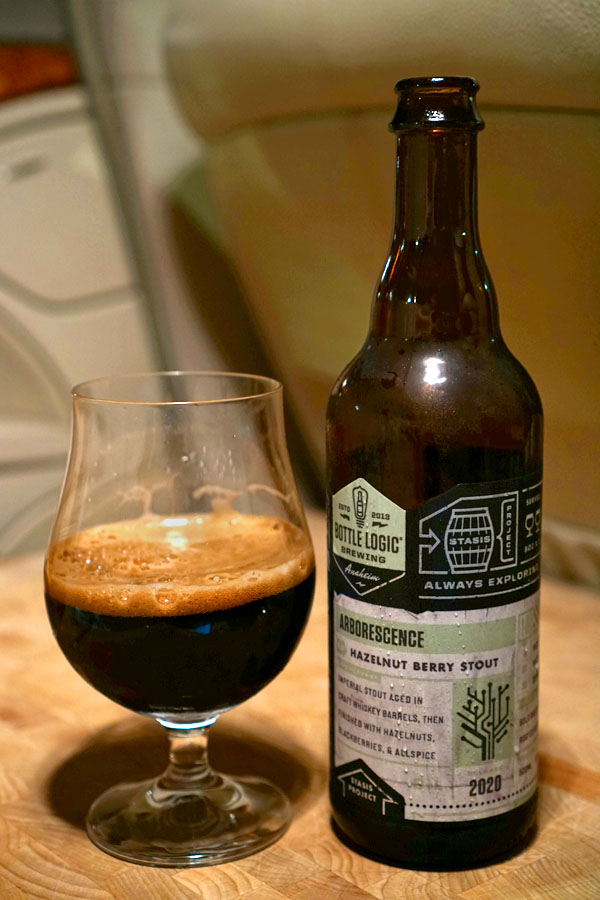 The evening's second beer was the
2020 Bottle Logic Arborescence
, a cocktail-inspired imperial stout aged in craft whiskey barrels and finished with hazelnuts, blackberries, and allspice. Nose here was heavy booze and wood combined with a healthy dose of dark fruit and a smidgen of nuts. Taste-wise, I got a bourbon-y heft mixed with more sweet berries and a top layer of bitter spice. The finish on this one was long, and tended to highlight the fruit.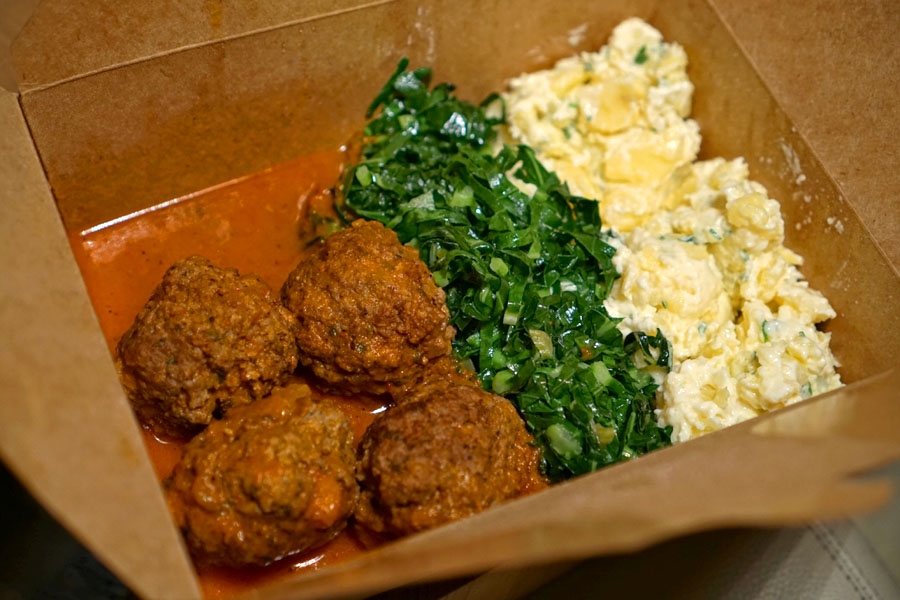 Almondegas [$15.00]
| Ground Beef Meatballs in Homemade Tomato Sauce, Served with Collard Greens & Choice of Greens, Rice or Potato
I generally enjoy spherified meat, and this dish was no exception. The meatballs had the rustic sort of texture that I like, and featured a welcomed herbaceousness as well as a peppery spice on the back end. The collards were just as good as in the chicken stew, and as for the potato salad, it was creamy and slightly sweet, though I could've used more acidity.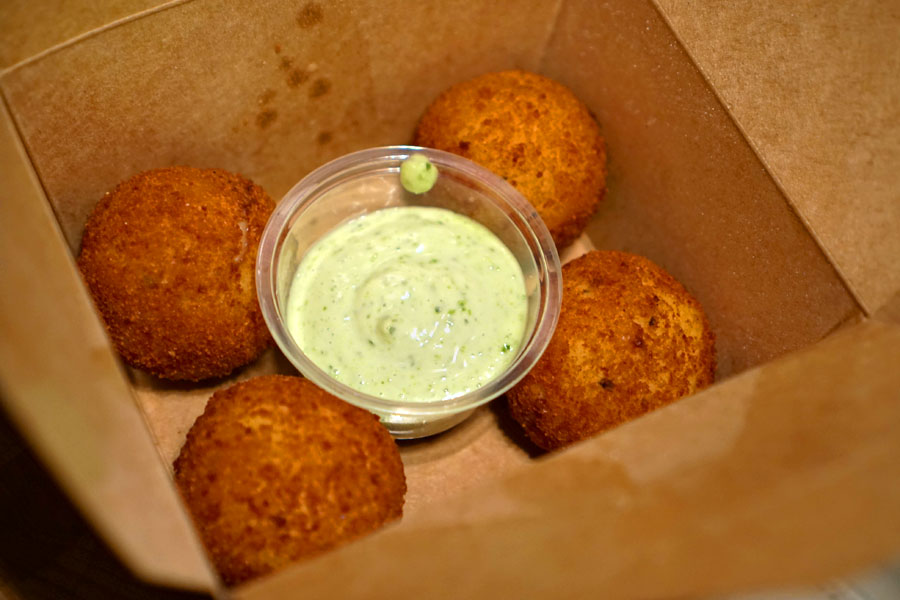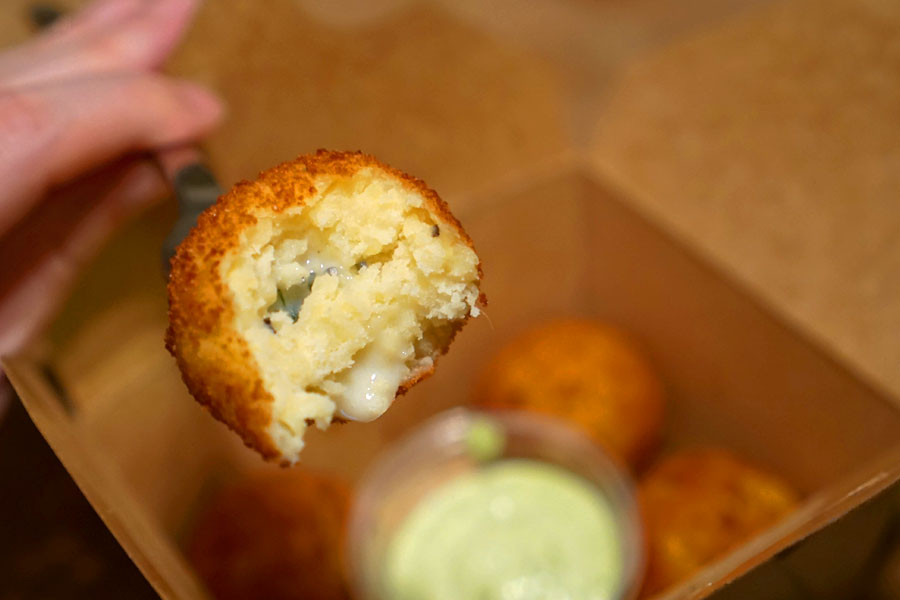 Potato Croquette [$8.00]
And speaking of spherical food, the
croquetes de batata
ate lush and cheesy, with a great hit of pepperiness. Even better with a dip into the accompanying sauce, of course.
Chicken & Bacon Grelhas [$18.00]
| Served with Rice, Beans, Collard Greens, Farofa & Salsa
I ended with one of Woodspoon's grilled selections, and it was a great conclusion to the meal. The chicken came out juicy and flavorful, and conveyed an excellent smoke that combined perfectly with the saltiness of the bacon. The greens and beans were just as good as above, and I really appreciated the pico de gallo-esque salsa as well. More interesting though were the soft 'n' sweet caramelized plantains, and the nutty, powder-like
farofa
, or seasoned-and-toasted cassava flour (
farinha de mandioca
).
Like I said above, it had been too long since I last enjoyed some Brazilian food, so tonight's dinner was a refreshing change of pace. There's definitely a hominess, a coziness to Pereira's cooking, and at the same time, you get a sense of the thoughtfulness behind the various dishes. Woodspoon has been going strong for 14 years, and I hope it continues to do so. However, that may not be the case going forward. It's
been reported
that Pereira is trying to sell the business, or at least a majority stake in it. When I asked my server at the restaurant about this, he claimed no knowledge of the situation, so I guess we'll have to wait and see what happens.