Dama (Los Angeles, CA)
Dama Restaurant
612 E 11th St, Los Angeles, CA 90015
213.741.0612
www.damafashiondistrict.com
Fri 08/07/2020, 08:15p-11:15p

With outdoor dining permitted in LA now, I decided to check out Dama, which comes to us from the team behind Venice's well-regarded
Scopa Italian Roots
: Chef Antonia Lofaso, Salvatore Aurora, Mario Guddemi, Steve Livigni, and Pablo Moix. The restaurant offers contemporary Latin fare, and debuted in the Fashion District back in July 2018. I've wanted to report on this place ever since it opened, but finally got the chance to recently.

Located in the City Market South development, Dama takes over a building that was previously home to Pacific Banana Co., and which was originally slated to house an outpost of Charles Phan's
Slanted Door
. The roughly 5,000 square-foot space was redone by
Carolina Wicker
(Scopa, The Chestnut Club, Local Peasant), and features an indoor-outdoor setup infused with an inviting, island-y vibe. The restaurant is known for its large three-sided bar, wraparound terraces (where we were seated), and sizeable patio. They've even added an outdoor seating area to the side, next to Cognoscenti Coffee (visible in the first photo).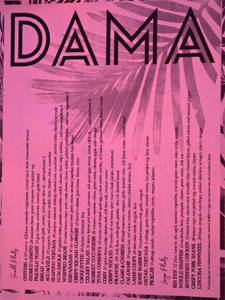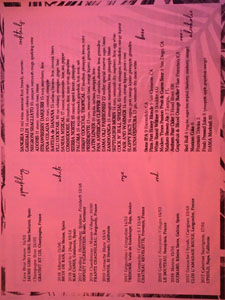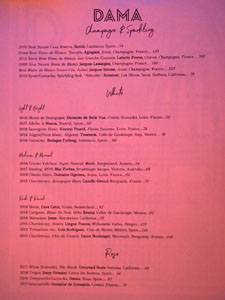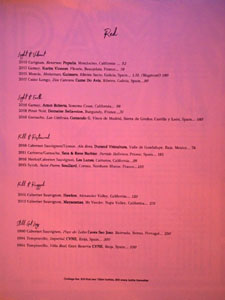 Dama's pan-Latin-inspired menu draws influence from Central and South America, the Caribbean, as well as Spain, and I don't think it's been modified at all because of coronavirus. Meanwhile, the beverage program here is just as notable, with a wide-ranging, tropical-tinged cocktail list from Moix/Livigni and a compact-but-interesting array of wines curated by Taylor Grant. Corkage is $35 for the first two bottles, and then $50 for any further bottles. Click for larger versions.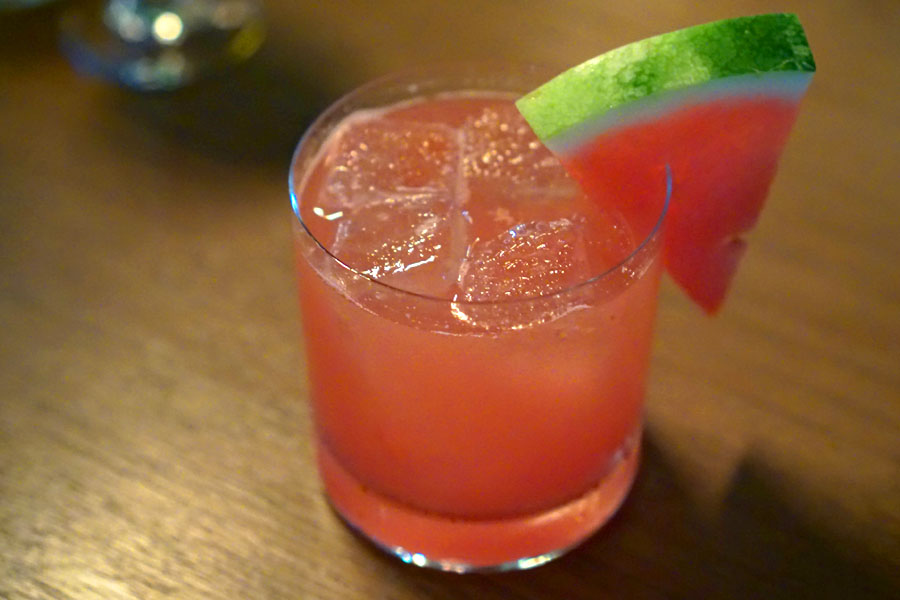 Sandia Mezcal [$17.00]
| mezcal, watermelon, lime, salt, pepper
My party ended up making our way through a dozen cocktails throughout the course of this meal. Much to my surprise, this first one wasn't actually very watermelon-y. Instead, I got a more generic sort of fruitiness backed by an undercurrent of smoky mezcal.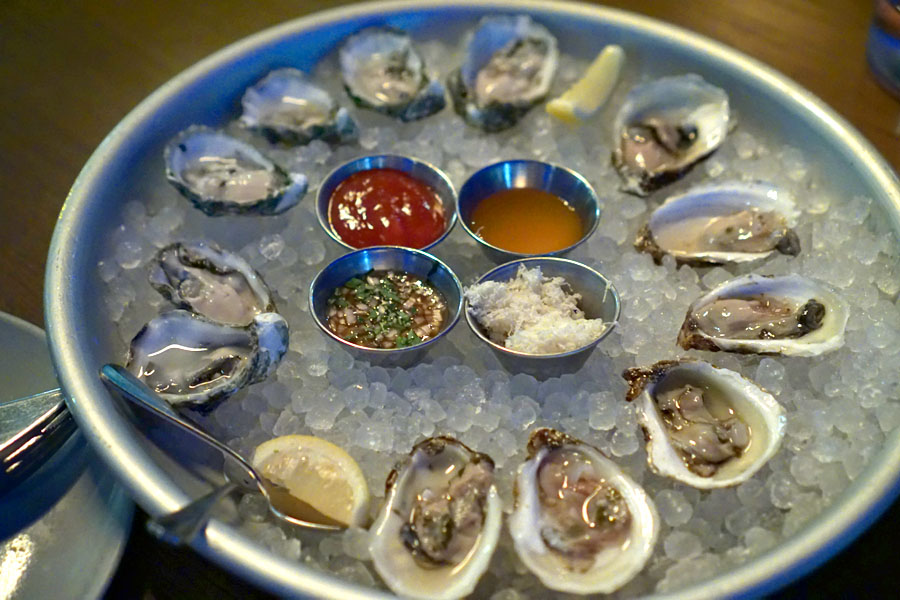 Oysters [$42.00/dozen]
| coriander mignonette, cocktail sauce, fresh horseradish, lemons
We went half-n-half on the oysters. Kumamotos were seemingly extra saline tonight, though their trademark cucumber character was still present; try 'em with a dash of the housemade hot sauce. As for the Beausoleils, they were softer, sweeter than the Kumies, and rather delicate overall.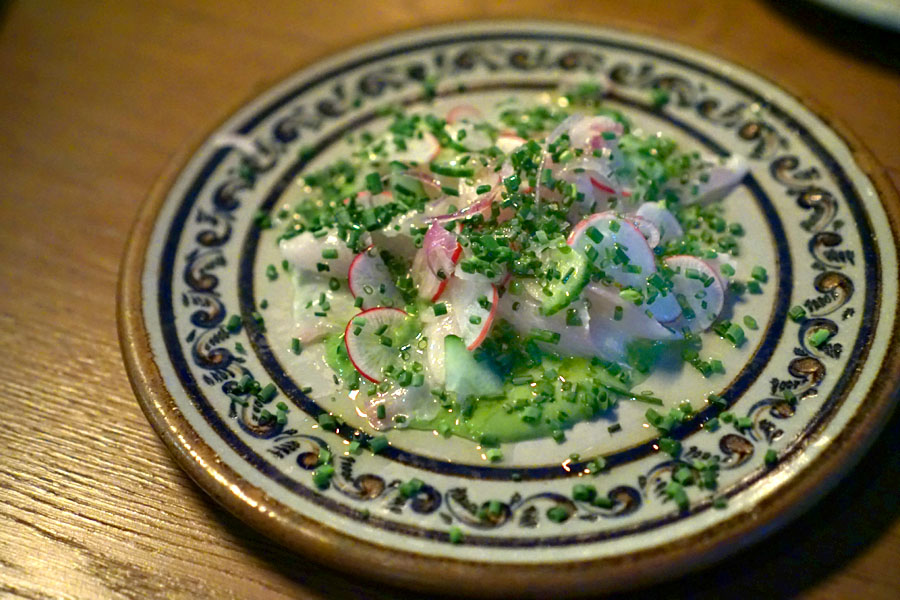 Aguachile [$21.00]
| kanpachi, red pearl onion, radish, lime, cilantro, chive, cucumber
I was certainly a fan of the aguachile. It had a great zippiness to it, as well as a heat that perked up my palate without becoming domineering. These flavors worked swimmingly with the subtly briny, meaty cuts of amberjack, and I also liked the textural variation from the radish and cucumber.
Sierra Norte [$16.00]
| mezcal, aperol, lemon, pineapple
Our second cocktail commingled citrusy, fruity, and decidedly sugary notes with a light touch of bitterness, all over a base of restrained mezcal smoke.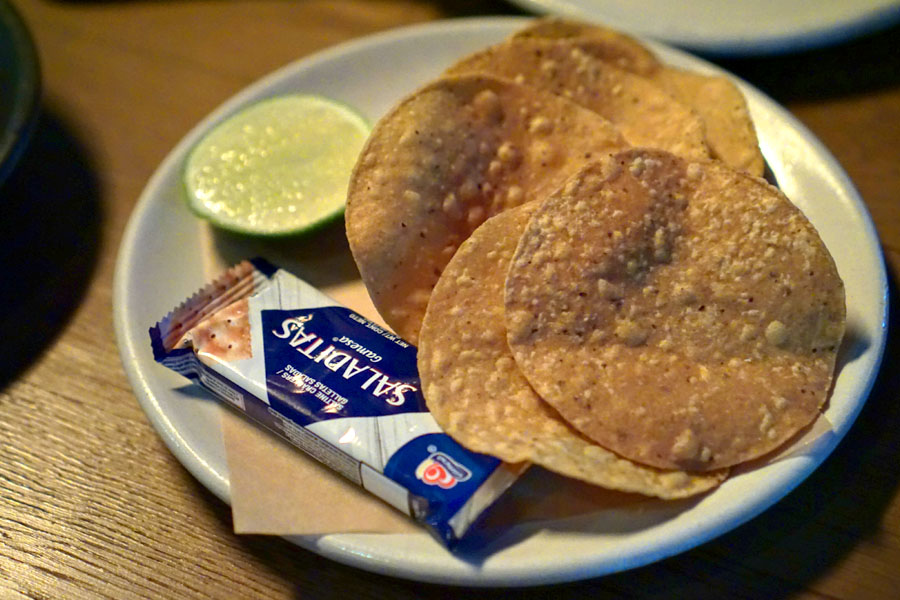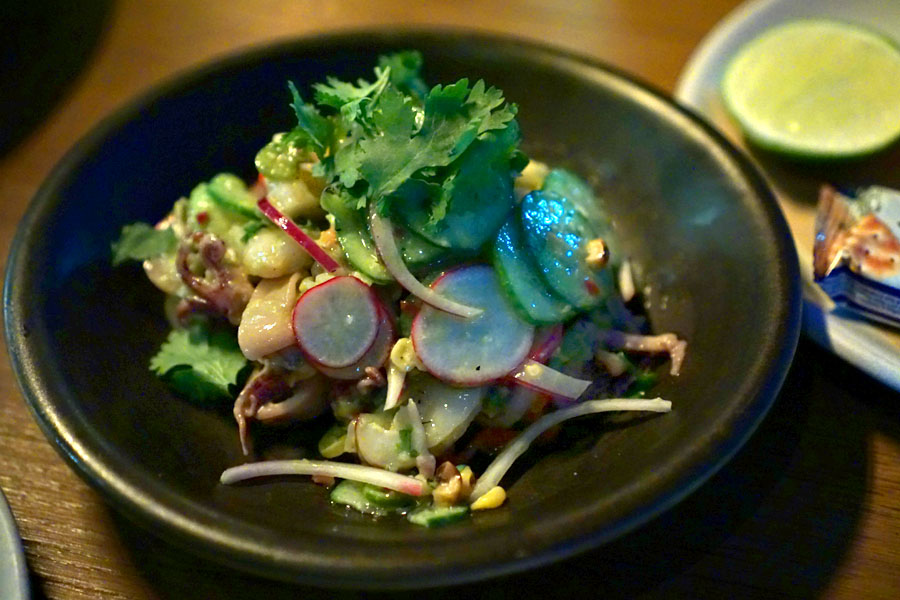 Seafood Tostada [$18.00]
| octopus, calamari, shrimp, charred corn, cucumber, pickled chilies, cilantro, avocado
The tostada was a winner too. I loved the mishmash of textures at play here, as well as how the acidity in the dish just bound together all the various ingredients. Of course, this was even better when taken with those crispy, almost vegetal tortilla chips.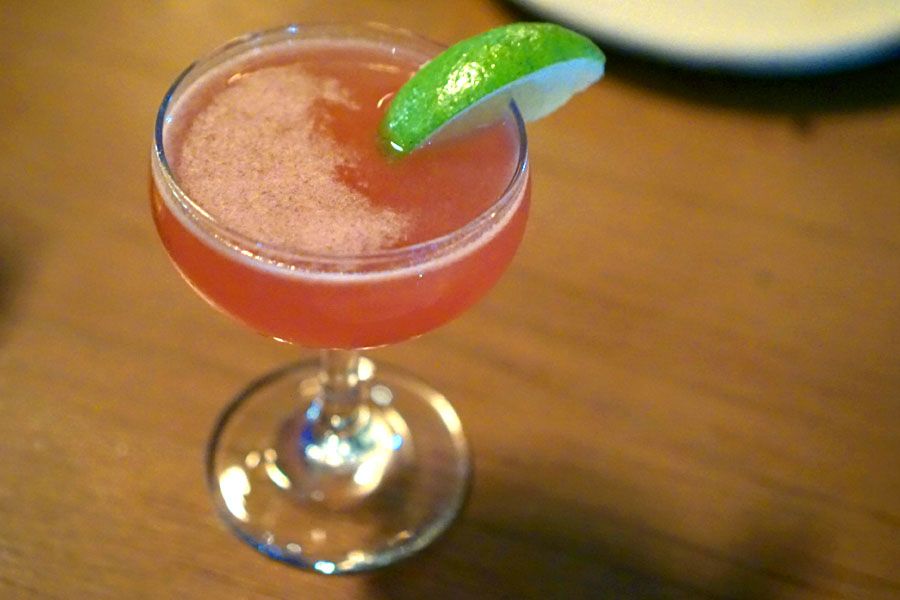 Pan American Clipper [$13.00]
| calvados, absinthe, lime, grenadine
Cocktail #3 married bright apple notes with astringent, medicinal elements and spicy, cherried flavors that lingered long and strong.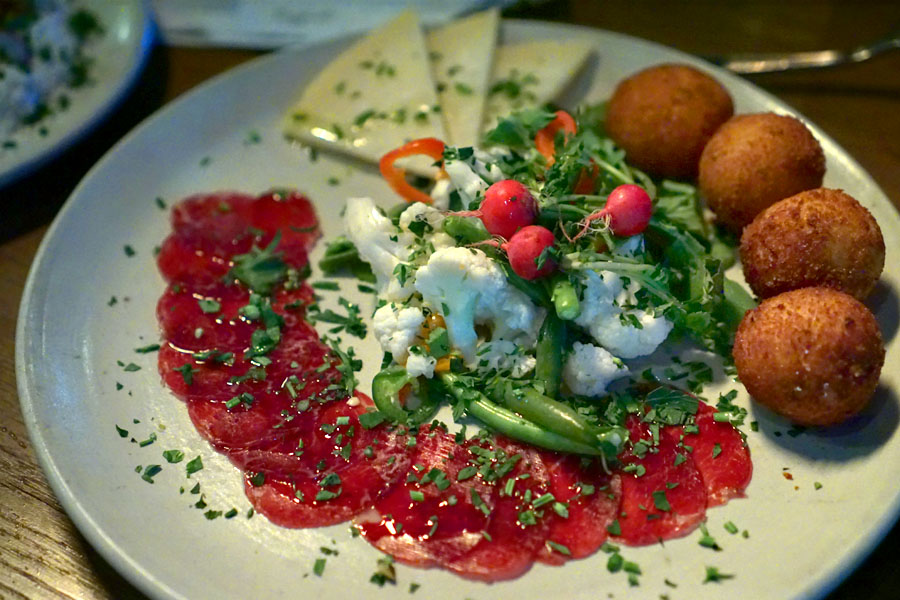 Iberico Lomito [$28.00]
| seasonal cheese, potato croquette, hot pickled veg
Cured pork loin showed off some deep, savory flavors that went well with a touch of herbaceousness. I also enjoyed the croquettes, which I found crisp and cozy, while the pickles imparted both texture and acid.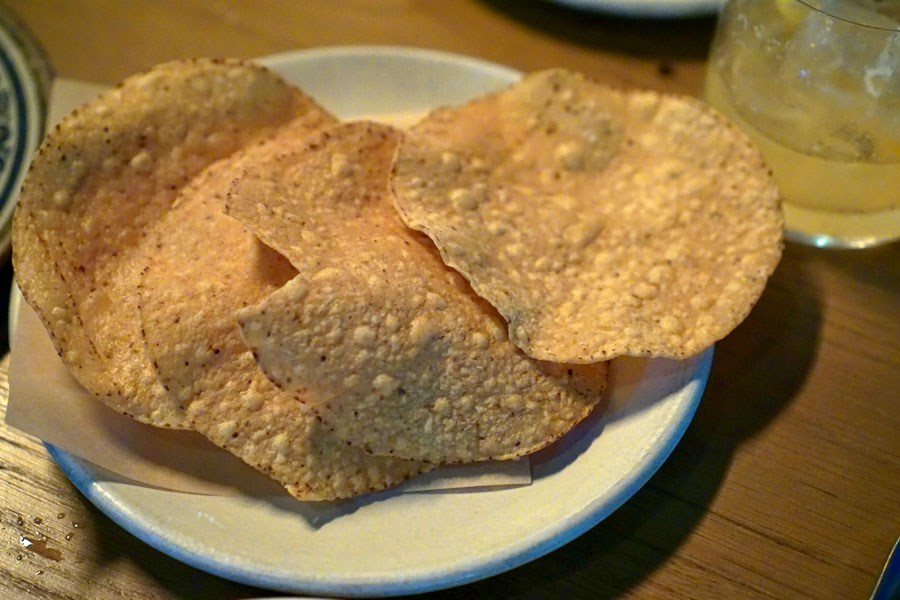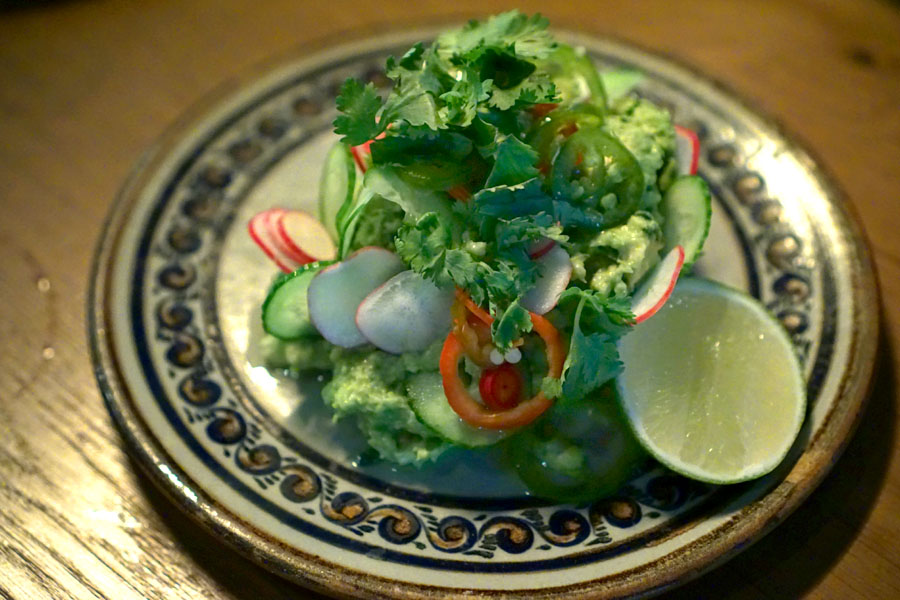 Guacamole [$16.00]
| pickled chilies, persian cucumber, radish, cilantro, lime, crispy tortillas
This might be the fanciest guac I've ever seen, and fortunately, its taste lived up to its appearance. I was a big fan of the sheer citrusiness of the dip, as well as how the piquancy of the chilies contrasted the utter lushness of the avocado.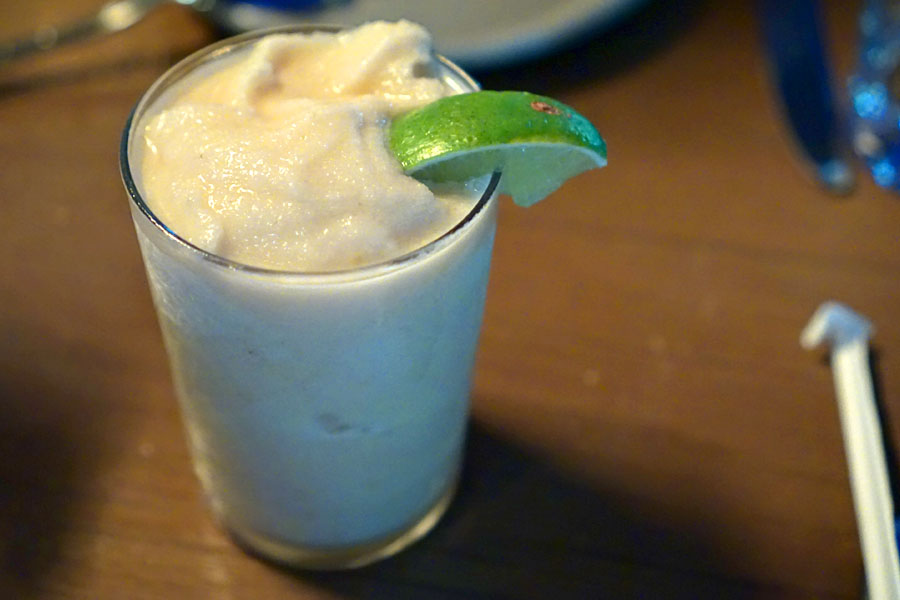 Batida de Banana [$15.00]
| cachaca, banana, lime, coconut, bitters
Next came our first blended cocktail of the night, and it was a fun one, featuring delectable flavors of aromatic coconut and sugary banana in perfect harmony, all tarted up by a trace of lime.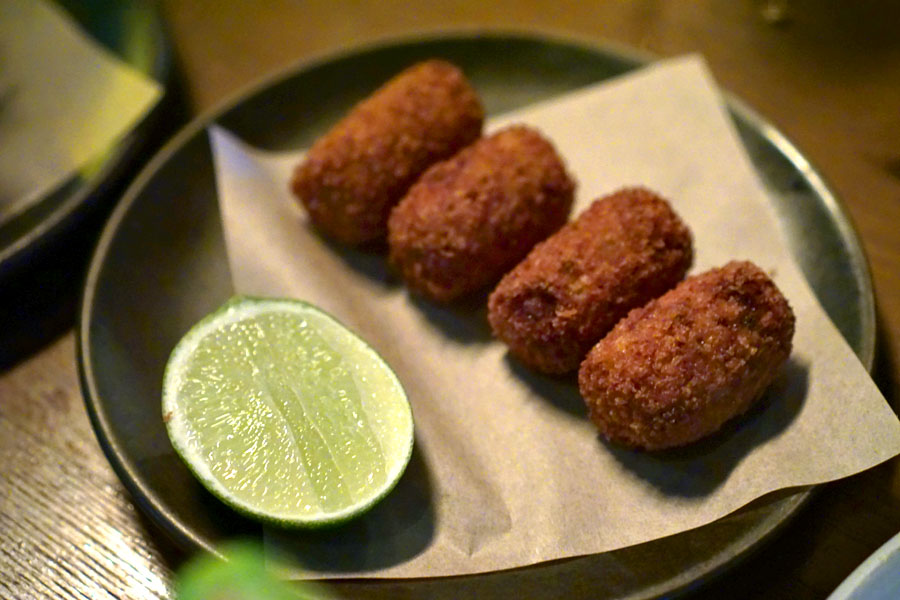 Croquettes [$16.00]
| chicken, bechamel, lime
These croquettes delivered, arriving thoroughly creamy and loaded with the savor and richness their chicken filling. Even better with a squirt of lime.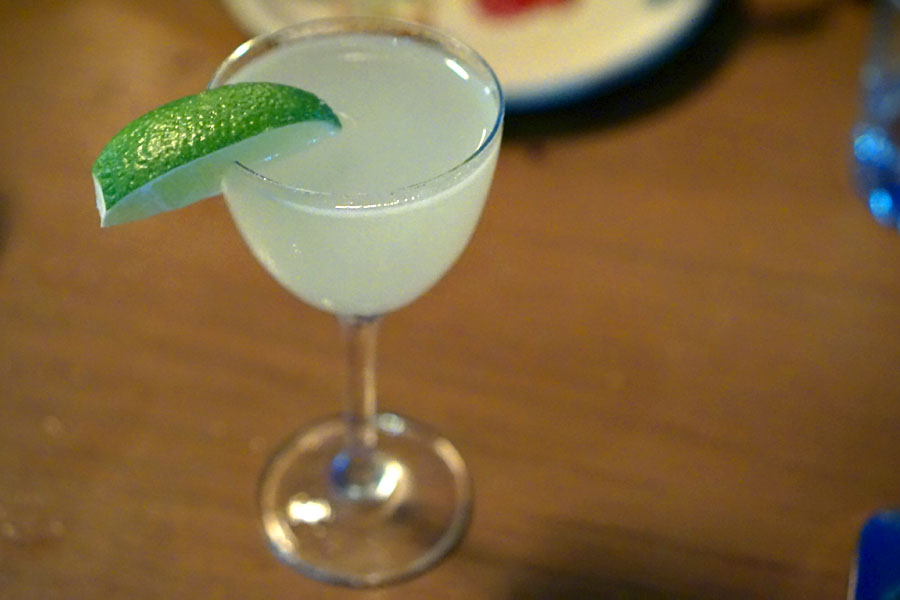 Latin Lover [$16.00]
| tequila, cachaca, pineapple, lime
Compared to the preceding cocktails, this one was much steelier, presenting acerbic notes of lime layered over a base of sugary cachaça that actually masked the tequila.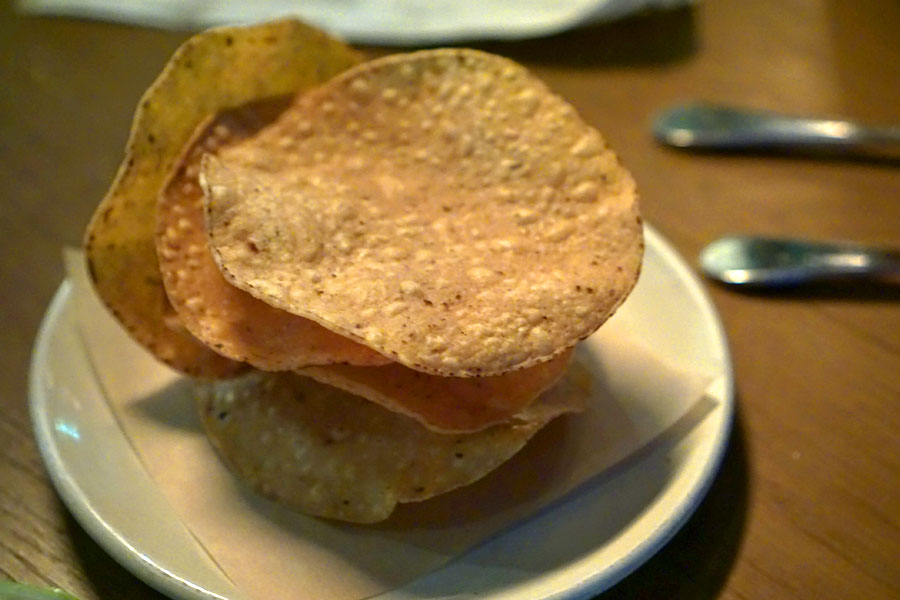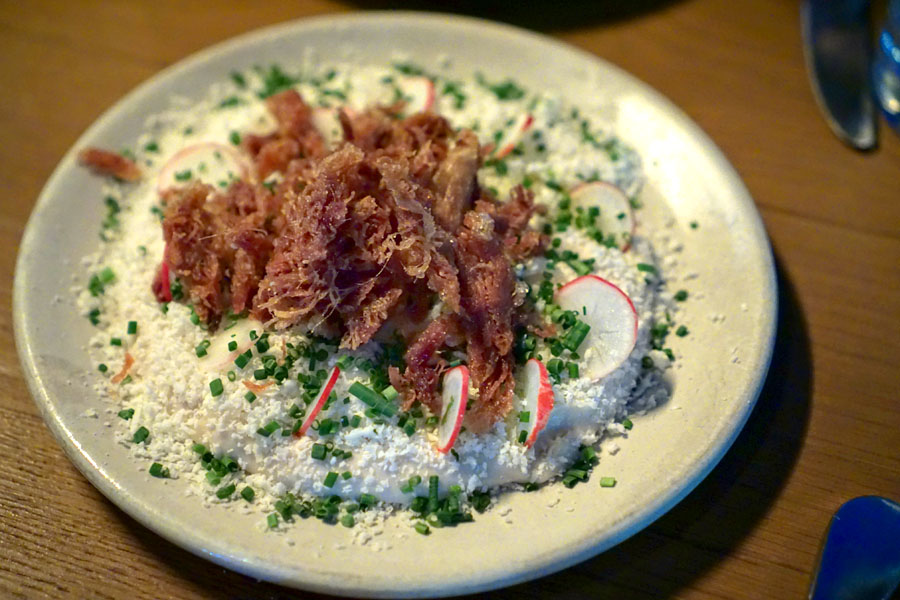 Whipped Beans [$15.00]
| white beans, crispy pork, cotija cheese, chives, radish, pickled pearl onion
The beans managed to be a surprise standout. I was enamored with their nuttiness and luxurious consistency, while the pork imparted a much appreciated hit of salt to the mix. Great when spread over the included tortilla chips.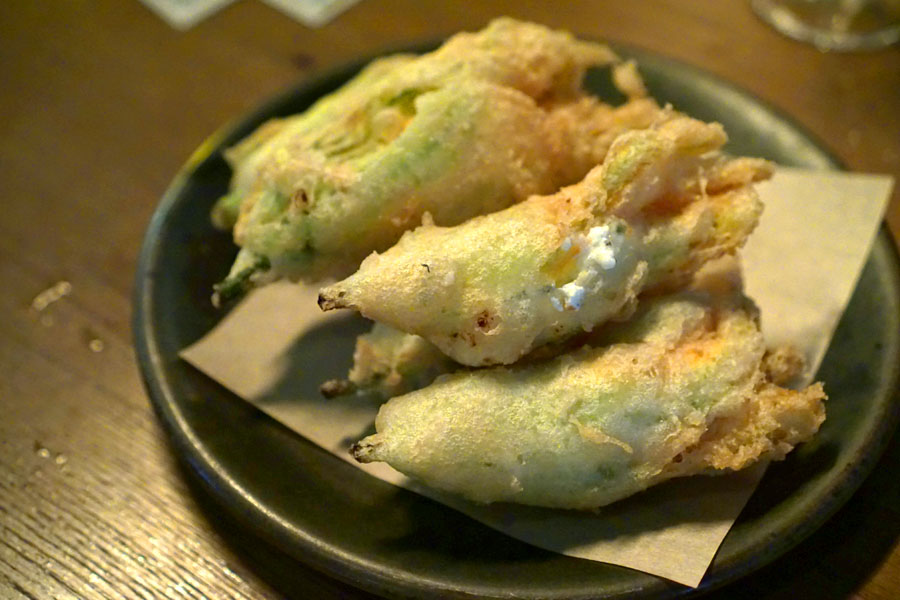 Crispy Squash Flowers [$15.00]
| farmer's cheese, goat cheese, thyme, chive
Squash blossoms met the mark, too. What really worked for me was the back-and-forth between the blossoms' creamy, wonderfully herby filling and their airy, crunchy batter.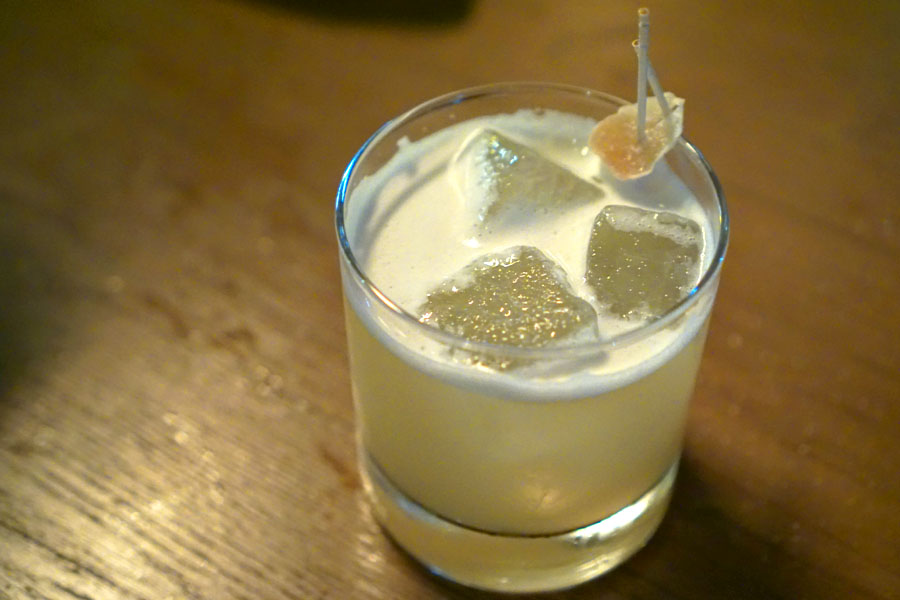 Flu Cocktail [$16.00]
| rye whiskey, armagnac, ginger, lime
A variation of Sam Ross' iconic Penicillin cocktail featured the drink's classic interplay between citrus and zesty ginger, but set over a modified base of rye and brandy.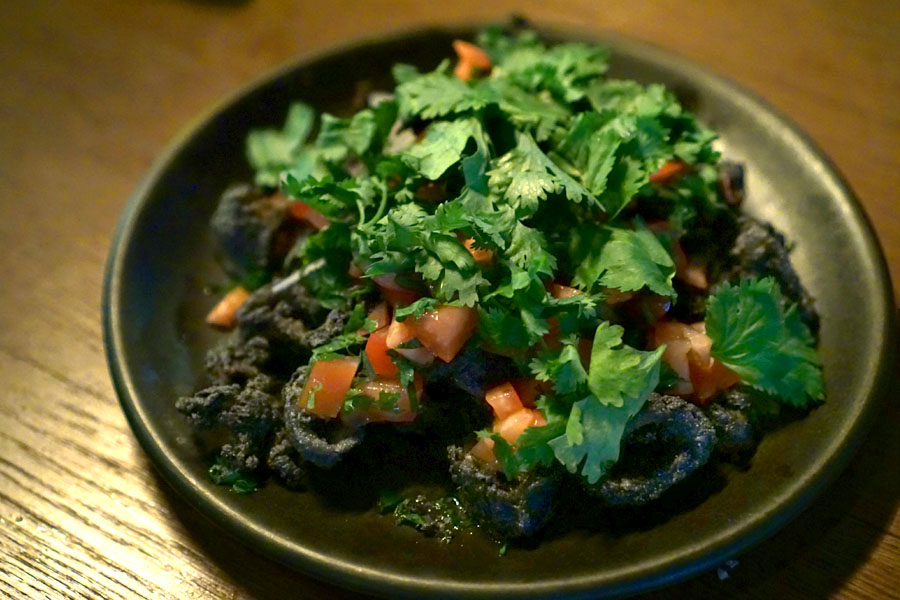 Calamari [$18.00]
| squid ink, red onion, tomato, cilantro, pickled serrano, lime
The calamari was on point, both texturally and in terms of taste, with the heat and acidity from the various garnishes really meshing superbly with the squid. Now as for the squid ink, it gave the dish a noticeably dark tint, but didn't really affect the flavor profile all that much.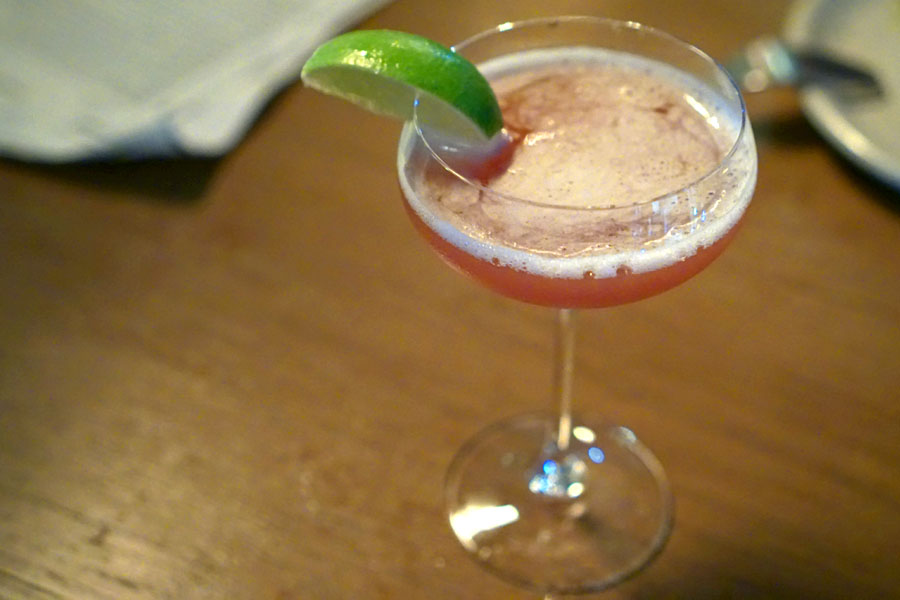 Sloppy Joe's [$14.00]
| cognac, port, orange liqueur, pineapple, grenadine
The first cocktail of our third round displayed an almost fruit punch-like sweetness that paired neatly with the drink's nutty, oxidized notes.
Empanadas [$16.00]
| dry aged ground beef, green onion, smoked paprika, brazilian hot vinegar
Empanadas were possibly the best I've had. A filling of dry-aged beef ate super deep, meaty, and juicy, and was tempered just enough by the presence of a pastry crust. They were delicious alone, but I also enjoyed the acid imparted by the accompanying vinegar.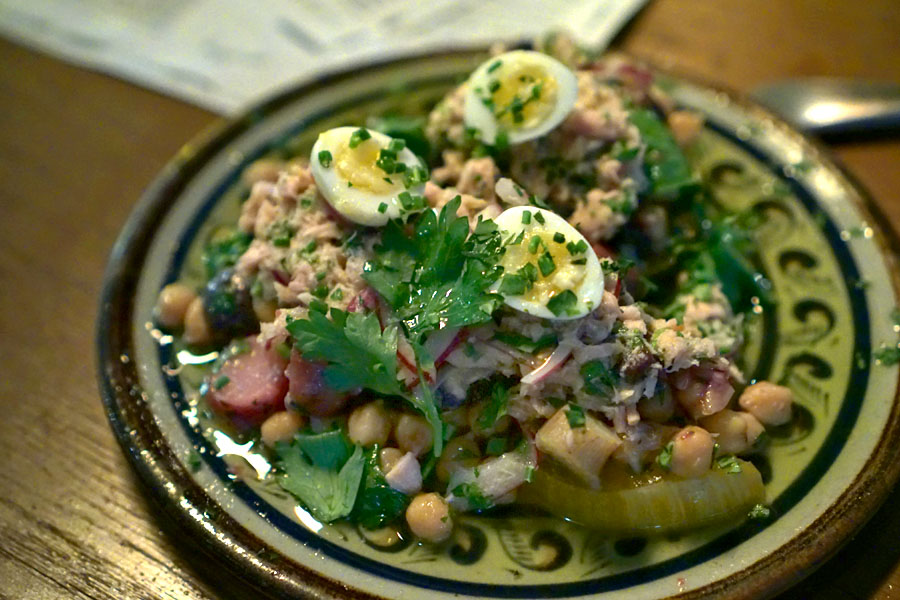 Tuna Conserva [$19.00]
| tomato, soft boiled quail egg, yukon potato, parsley, red onion, garbanzo beans, lemon, cumin
Tuna arrived flaky and full of flavor. Chickpeas offered up both a contrasting nuttiness and a certain substantialness. Lightening things up, meanwhile, were tomato, herb, and citrus.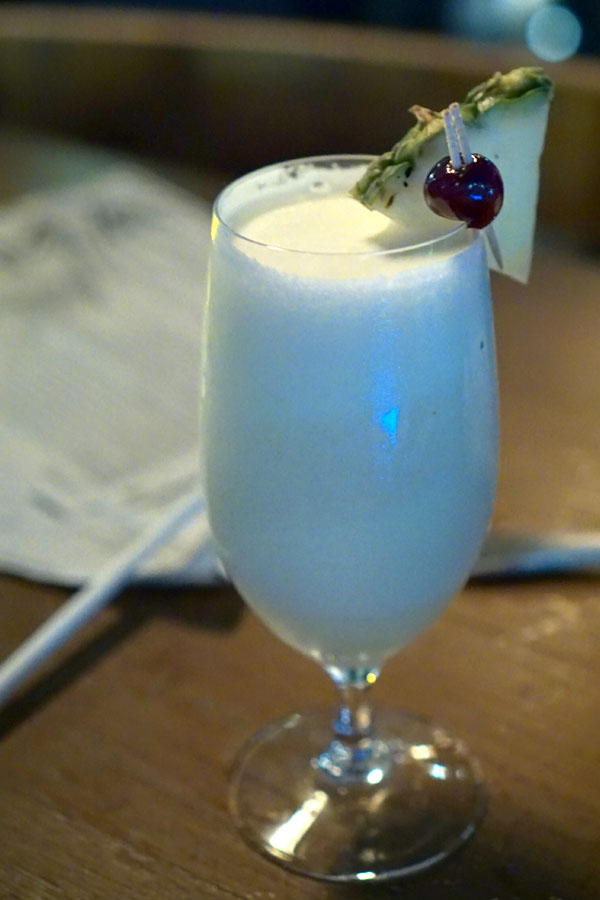 Pina Colada [$15.00]
| rum, coconut, pineapple
Our second blended cocktail was the iconic piña colada. It was an unabashedly fun, slushy concoction, and really showed off the unmistakable sweetness of coconut.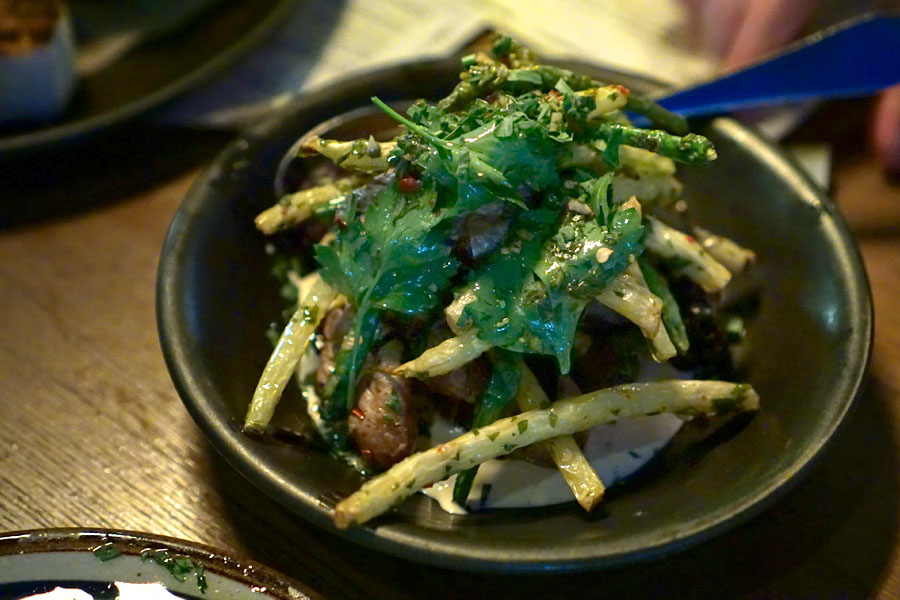 Crispy Potato [$16.00]
| medley of wax beans, spicy mayo, basil, parsley, chimichurri
Potatoes were as crispy as advertised, and also imbued with a delightfully creamy heat from the mayonnaise. At the same time, the use of wax beans resulted in an effective juxtaposition.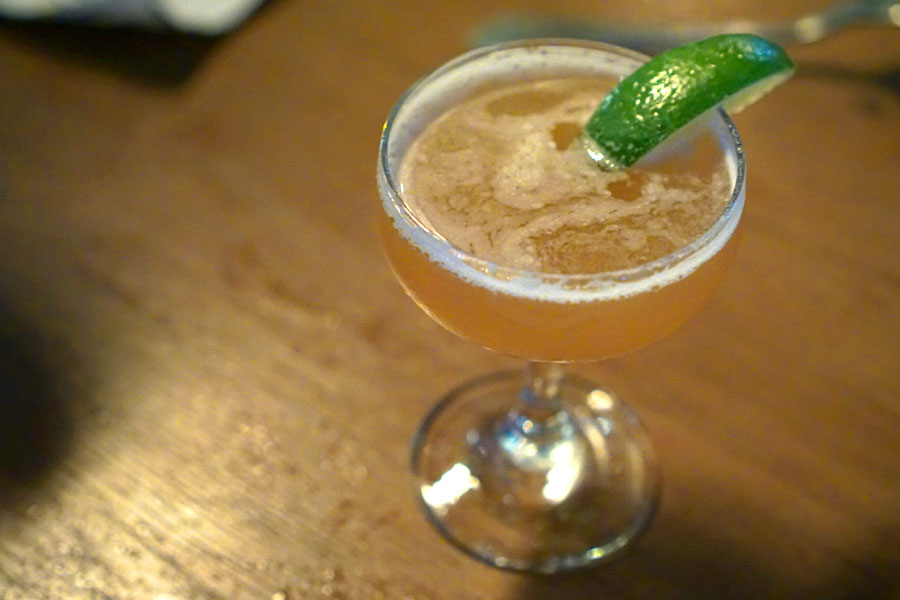 Zamboanga [$14.00]
| armagnac, maraschino, lime, pineapple, bitters
This cocktail had the most interesting nose out of all the drinks tonight. It actually smelled like vitamin tablets curiously enough, though the palate skewed toward flavors of cocoa, berry fruit, nuts, and citrus.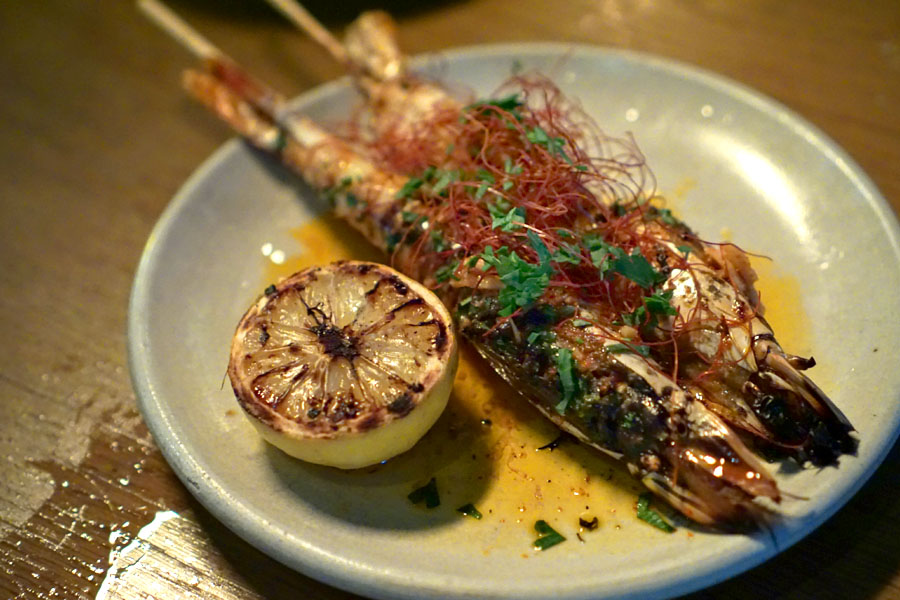 Prawns [$28.00]
| chili, lime, confit garlic, parsley, olive oil, charred lemon
The kitchen deftly imparted char and smoke to these shrimp, while an enticing array of embellishments brought the needed sour and spicy nuances.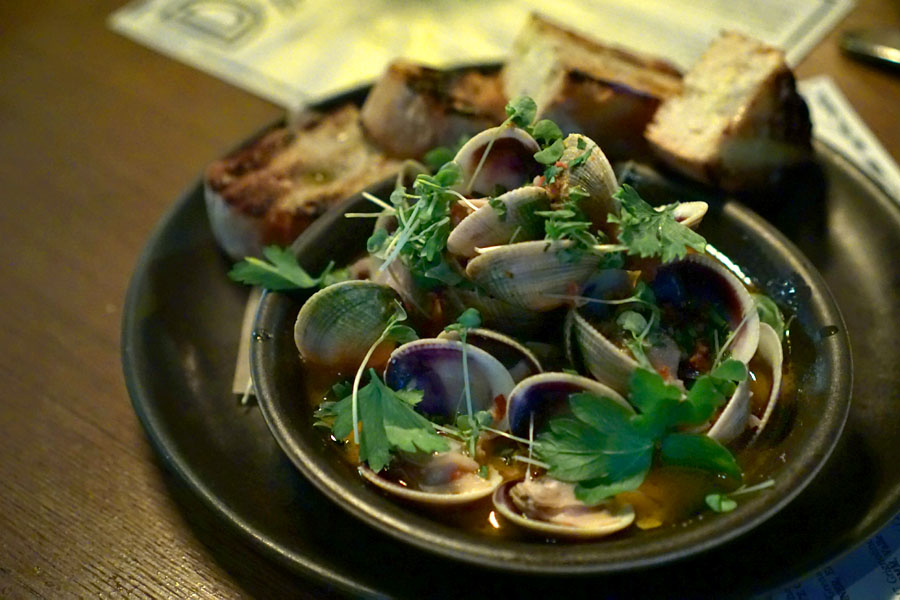 Clams & Chorizo [$26.00]
| basil, rosemary, oregano, garlic, spanish cider, chili flakes, butter, charred bread
Clams were pretty great, and came thoroughly imbued with the spicy savor from the sausage. Be sure to use the toast to sop up the remaining liquid.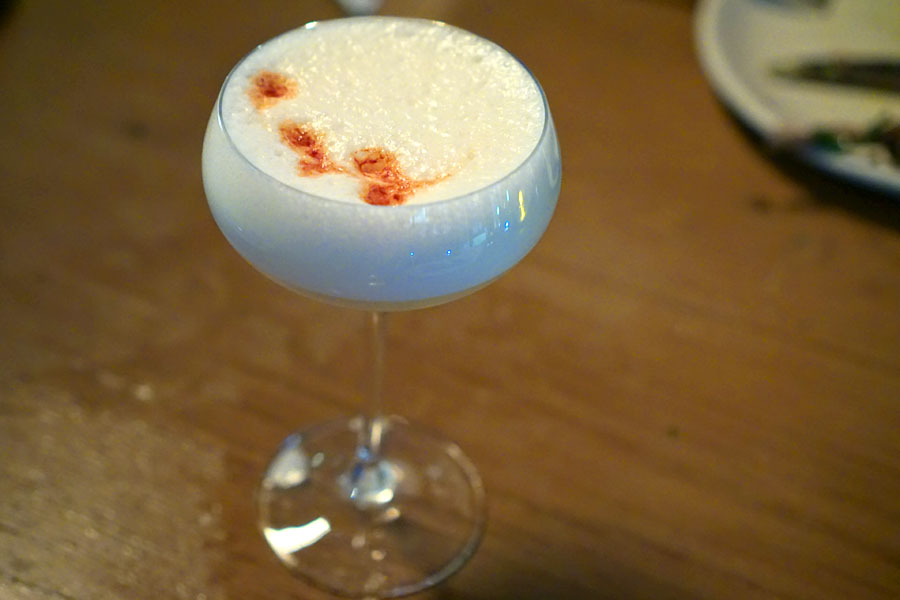 September Morn [$14.00]
| rum, vermouth dry, raspberry, lime, egg white
This was one of the "fluffiest" cocktails I've had, and in fact, there was a bit too much egg white here, though the drink's balance of sharp and fruity flavors was largely to my liking.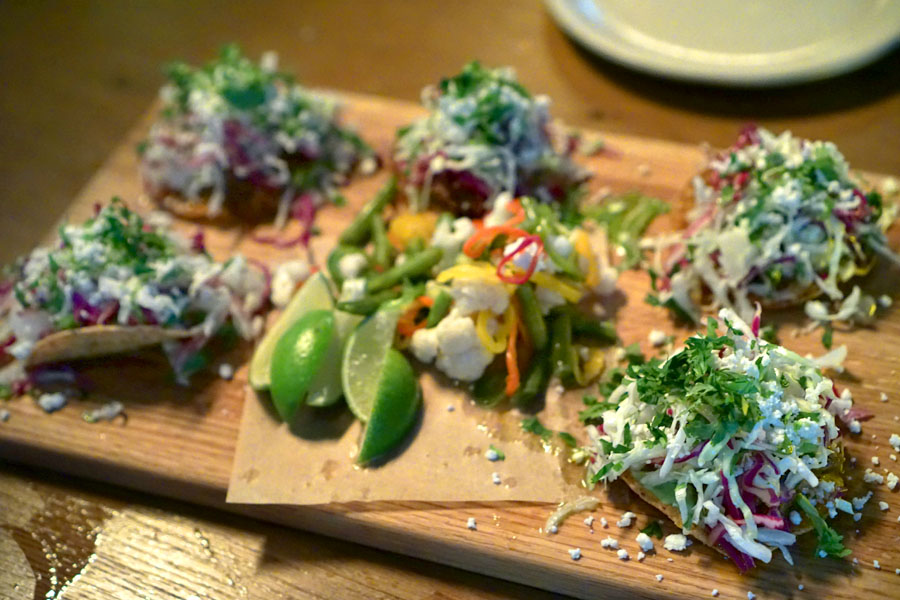 Oxtail Tostada [$5.00/each]
| cabbage, queso fresco, avocado crema, hot pickled veg, lime, cilantro
Filled with juicy, well-seasoned, long-cooked oxtail, these mini tostadas were fun and easy to enjoy. I especially appreciated the liberal amount of veggies piled on top, and didn't mind those pickles in the middle either.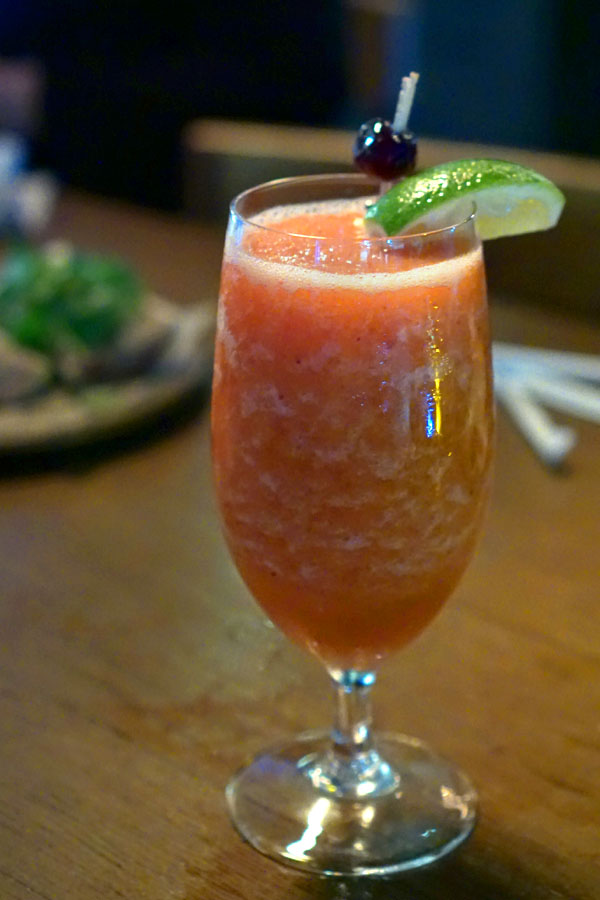 Strawberry Daiquiri [$15.00]
| rum, strawberry, lime
Our final blended cocktail featured loads of rich, ripe strawberry flavors and nary a hint of booziness. A perfect summer quaffer.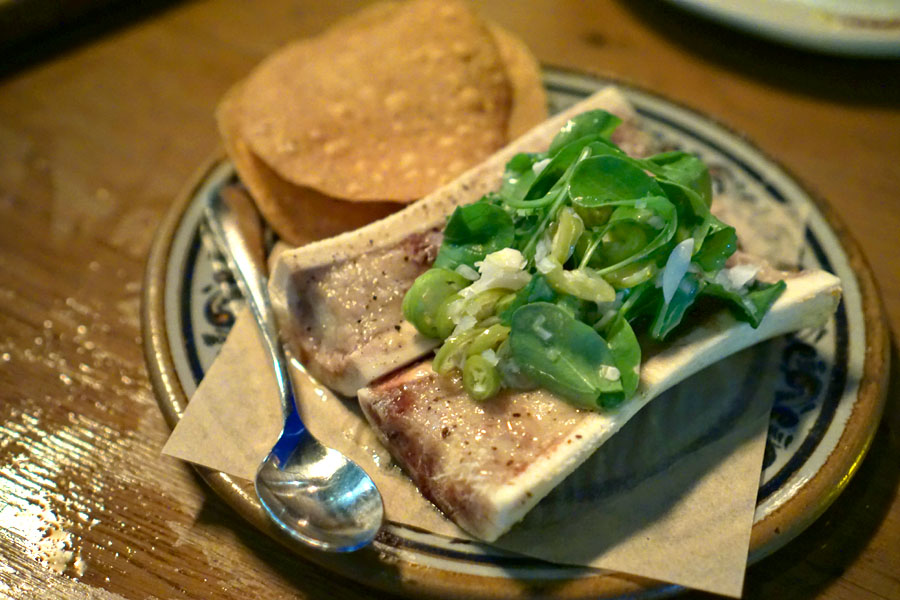 Bone Marrow [$18.00]
| pickled serrano chili, garlic, arugula
This was one of the better bone marrows I've had in a while. The key was the considerable amount of acidity, herb, and heat in the dish, which perfectly counteracted the lush, fatty nature of the marrow. The crunchiness of those tortilla chips was a further bonus.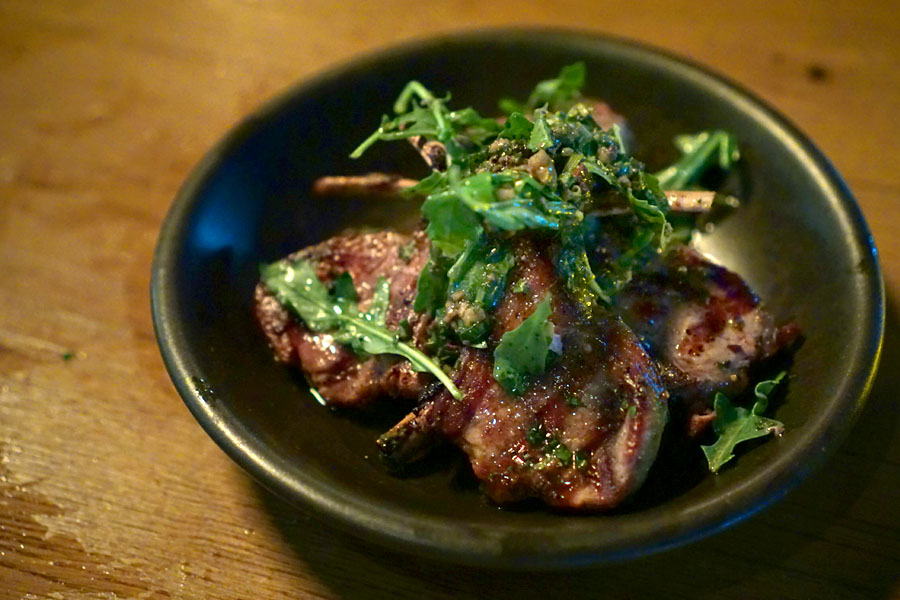 Lamb Chops [$28.00]
| olive salsa verde, arugula, lime
And now we come to our final savory dish. The lamb was super tender, and really hit the spot with its delicious amalgam of char, savor, and salt, evened out by all that greenery on top.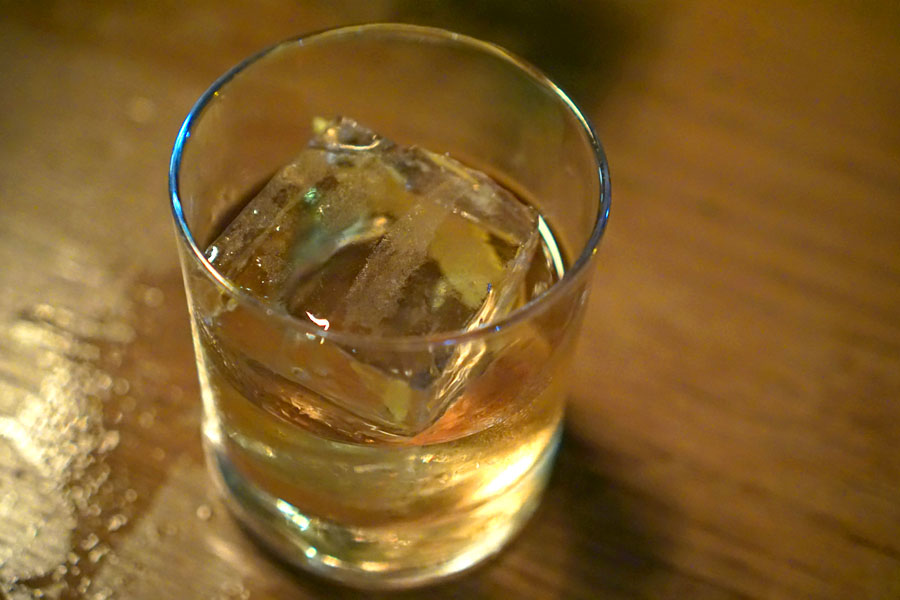 Cock n' Bull Special [$15.00]
| bourbon, armagnac, benedictine, orange liqueur
Our last cocktail was also the booziest, by a big margin. I found it fragrant and apple-y on the nose, while the palate was decidedly stiff, herbal, and medicinal, though there were also contrasting elements of fruit and sour spice to liven things up.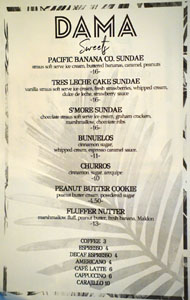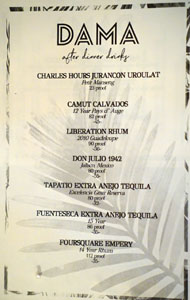 Dama's dessert menu reads fun and theme-appropriate. Click for larger versions.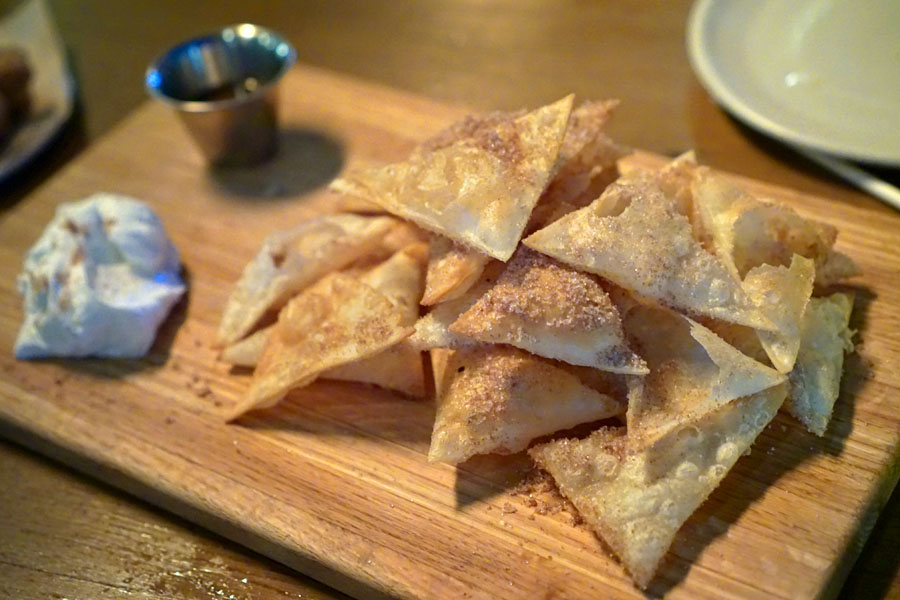 Bunuelos [$11.00]
| cinnamon sugar, whipped cream, espresso caramel sauce
Triangle-cut buñuelos ate airy and crisp, their dusting of sweet-n-spicy cinnamon sugar playing well with the caramel sauce and whipped cream, both of which were laced with coffee.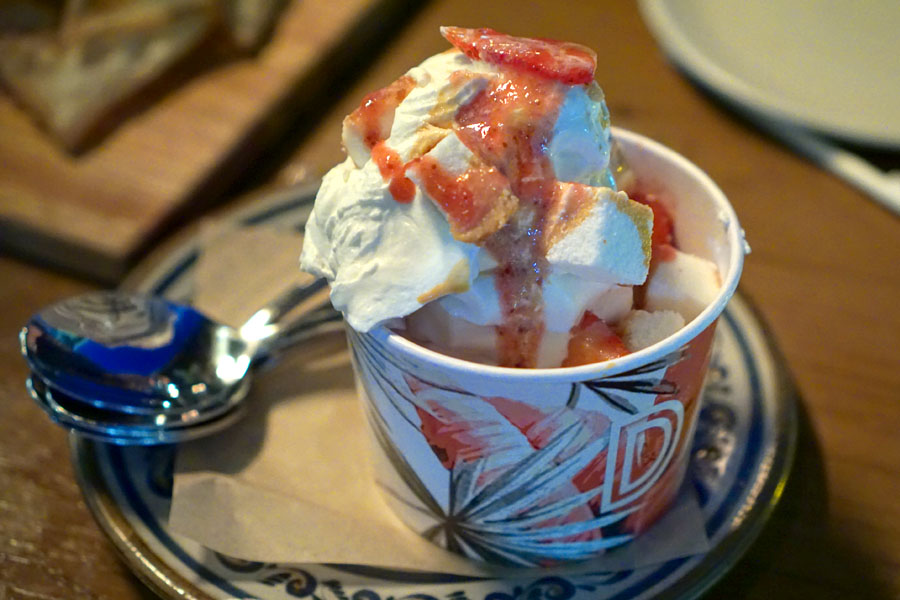 Tres Leches Cake Sundae [$16.00]
| vanilla straus soft serve ice cream, fresh strawberries, whipped cream, dulce de leche, strawberry sauce
I was definitely a fan of the soft serve and strawberries here, but the actual tres leches cake left me wanting, since it veered a bit dry, and didn't really convey the lusciousness of the classic dessert.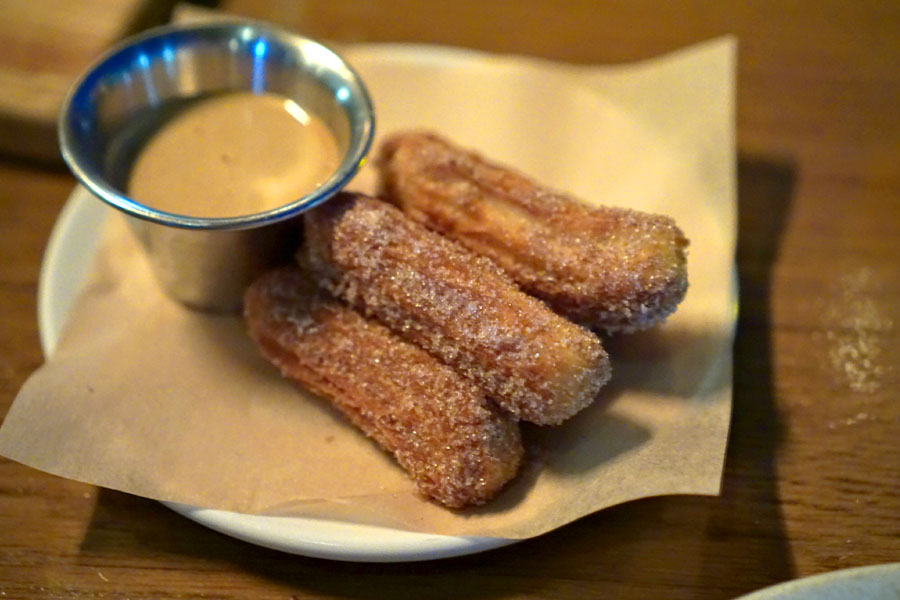 Churros [$10.00]
| cinnamon sugar, arequipe
Last up were the churros. In terms of texture, I loved their balance between creamy and crisp, while the cinnamon imparted the classic flavors I was looking for. As for the accompanying caramel sauce, it was actually a tad salty at first blush, which I appreciated. One of the best churro preparations I've sampled in a while.
I'd been wanting to blog about Dama for a long time, and it was worth the wait. I was just pleasantly surprised at how tasty everything was. Lofaso and company are doing a pretty bang-up job in the kitchen, and I was impressed at how the team was able to weave together the disparate flavors of Latin America in such a cohesive and delicious fashion. I see this place being one of my go-to spots in Downtown.