Pikunico (Los Angeles, CA)
Pikunico Restaurant
767 S Alameda St, Los Angeles, CA 90021
213.278.0407
www.pikunico.com
Wed 09/23/2020, 07:45p-08:50p

My latest takeout exploit brought me to Downtown's underutilized ROW DTLA development, specifically Kuniko Yagi's karaage-inspired fried chicken joint Pikunico. Named after a contraction of "picnic" and "Kuniko," the place opened back in December 2018, and I'd been wanting to check it out pretty much ever since then. In fact, it was on my short list of to-go spots back when the coronavirus lockdown first started, but the restaurant stopped offering takeaway on March 24th. However, Pikunico re-opened on July 15th, so I made sure to pay 'em a visit.
What's been going on with the Chef the past few years
: I last reported on Yagi in January 2013, when she opened
Hinoki & the Bird
in concert with David Myers. I rather liked my meal there, and the restaurant was positively reviewed by both the
New York Times
and Jonathan Gold, but apparently there was quite a bit of internal strife happening in the background. In June 2014, Myers was forced out of Hinoki, while Yagi was out the door by December that year (she was replaced by
Brandon Kida
). In summer 2015, she started popping up semi-regularly at Shawn Pham's Simbal, while her next project, a ramen spot called Tokyo Strike (to be located in Downtown's Medallion complex), was teased the following April. Tokyo Strike never came to fruition though, and Yagi continued to spend her time consulting and popping up (including events with
Nicole Rucker
) before Pikunico was revealed in August 2017. The restaurant was created in concert with
Kaizen Dining Group
(Kabuki, Tengoku), and grand-opened on December 3rd, 2018.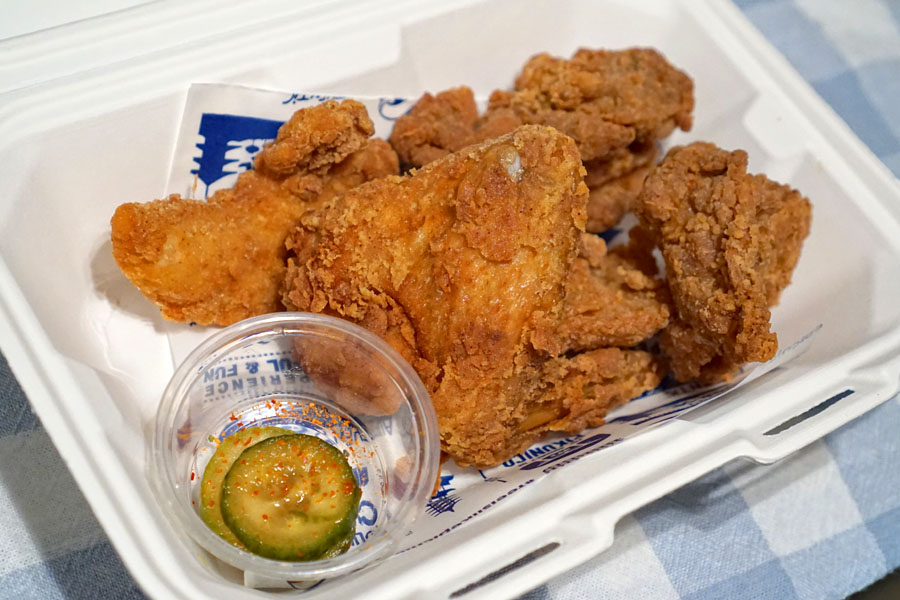 Mix Fried Chicken [$11.00]
| 1 thigh, 2 tenders, 1 whole wing
Since this is a fried chicken joint, I had to start, well, with the fried chicken. Specifically, I began with the wing. The drumette part was well spiced, though not terribly juicy, with a crispy crust somewhat reminiscent of that of a Taiwanese-style pork chop. The flat portion was even more tasty, while I enjoyed the crunchy, shattery tip as well. I then moved on to the thigh, which was easily more succulent and more deeply flavored than the wing, conveying an almost soy sauce-like savoriness and traces of ginger--yum. The tenders, naturally, were the least interesting of the bunch; I preferred pairing the pieces with the included pickles to give them some more oomph.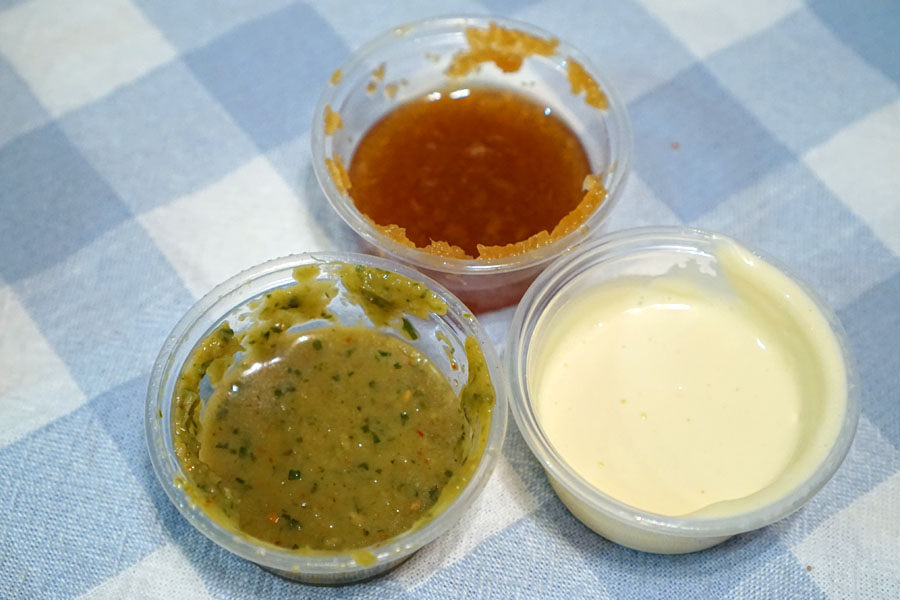 The chicken came with a trio of condiments. My favorite of the three was the
Parsley Sesame Sauce
, which I found delightfully herby and gingery, with a great umami kick. We also had a
Daikon Ponzu Oroshi
featuring grated radish set in a tangy, citrusy base. Last up was the sour-yet-briny
Lemon Aioli
, easily the creamiest, most substantial of the bunch.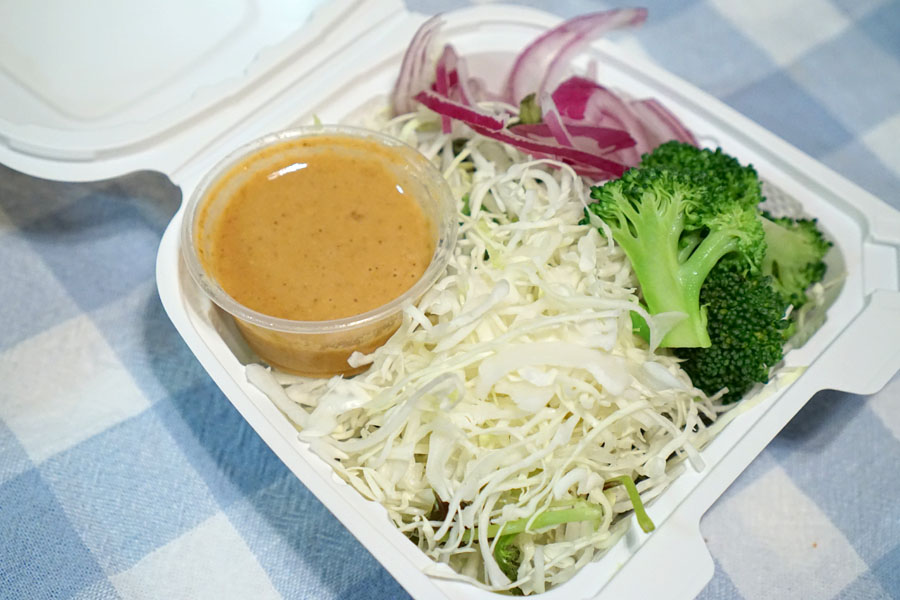 Pikunico Slaw [$4.50]
| cabbage, kale, red onion, seasonal vegetable, sesame vinaigrette
Here, the intensely nutty, savory nature of the sesame vin worked as a foil to the comparative lightness of the cabbage, all while the onion added a crucial zippiness to the dish.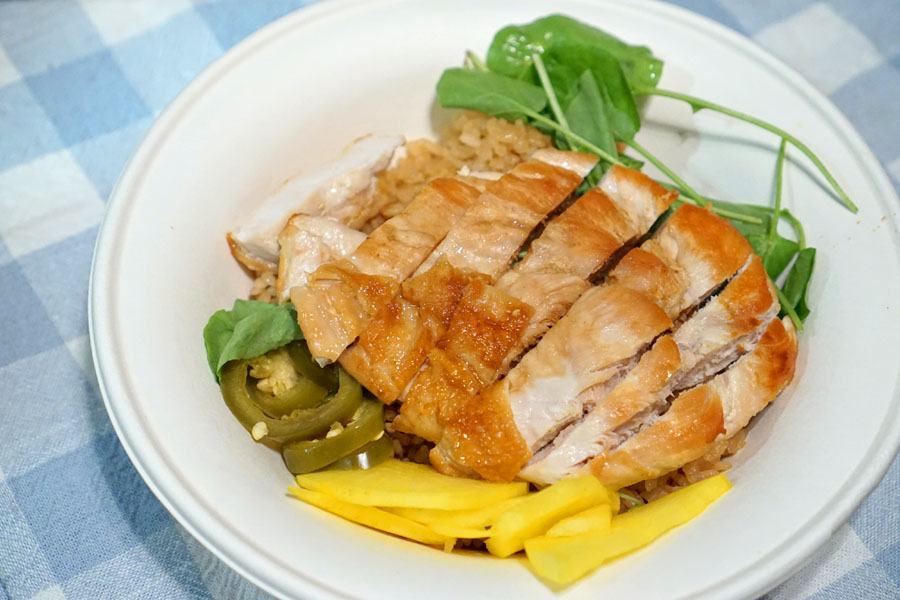 Chicken & Ginger Rice Bowl [$13.00]
| gently roasted chicken breast, soy glaze, ginger rice, house-made assorted pickles
Roast chicken arrived loaded with some very familiar flavors that incorporated plenty of ginger. It was a natural pairing with the sticky-ish, soy-imbued rice, and I appreciated the crunch and acidity from the
takuan
pickles, and especially the heat from those jalapeños. My concern here was that certain parts of the bird were drier than I would've liked.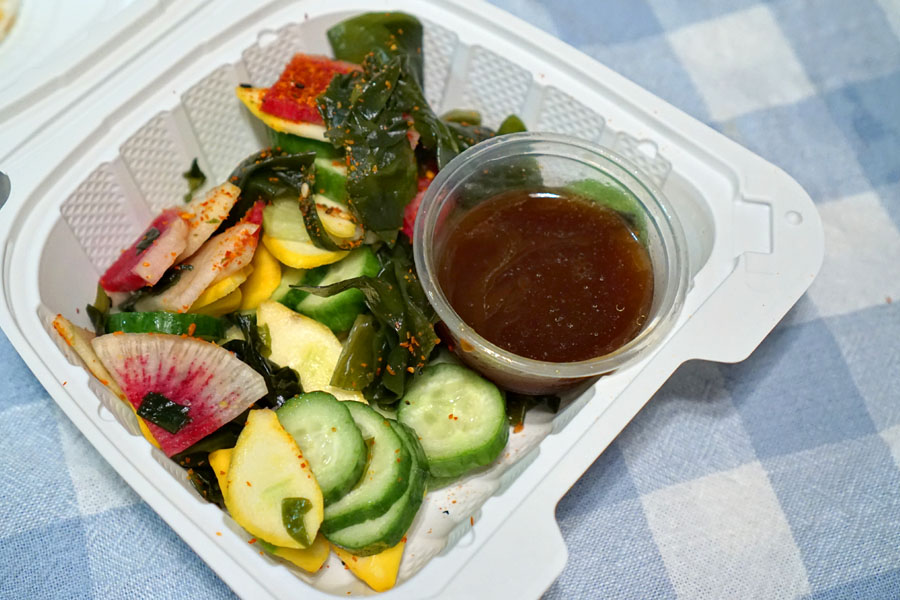 Seaweed & Cucumber Salad [$5.00]
| wakame, cucumber, watermelon radish, arugula, ponzu vinaigrette
The salad functioned as welcomed respite from all the chicken I was having. I liked the back-and-forth between the slick, umami-laden seaweed and the bright, crisp nature of the cucumbers. Radish imparted a hot, bitter element, while that tart, nutty vinaigrette helped tie everything together.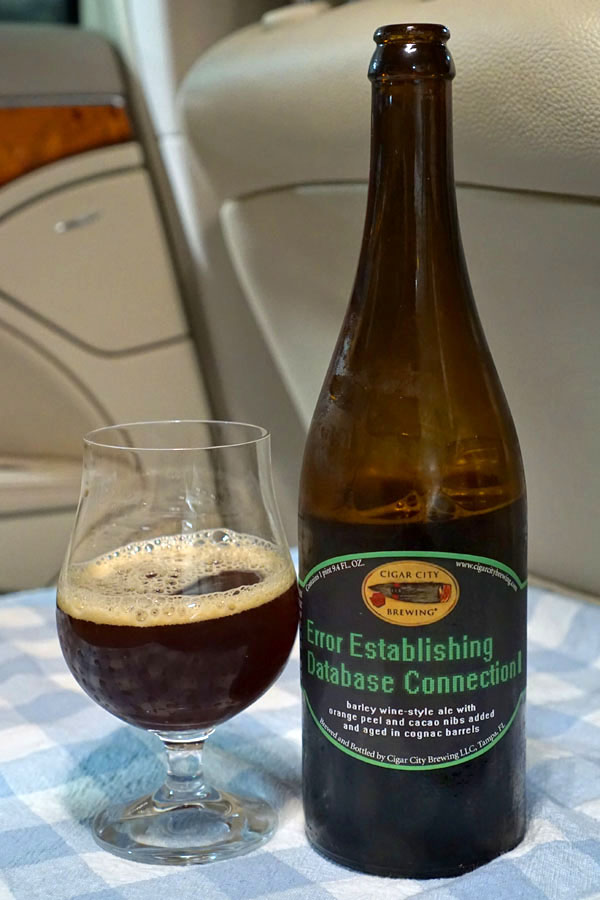 To drink, I opted for the
2015 Cigar City Error Establishing Database Connection
, a Cognac barrel-aged barley wine with orange peel and cacao nibs. The beer smelled of chocolate and citrus, as expected, but also showed off a nuttiness and almost garbage-y funk. This funk was the first thing I tasted, but it quickly transitioned to a bevy of malty, cacao-ish flavors punctuated by strange notes of citrus, while the finish veered tart and grapey.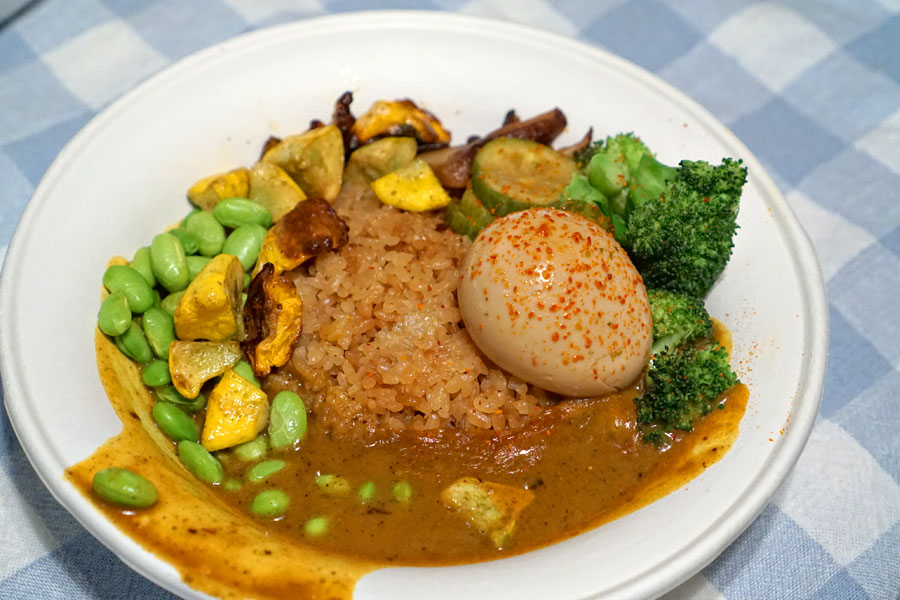 Veggie Curry Bowl [$13.00]
| seasonal roasted vegetables, curry sauce, seasoned egg on ginger rice
I'm a sucker for Japanese curry, so this was a must try. It featured your classic, homey, spicy
kare
flavors, which meshed well with the roasted veggies, and particularly the crunchy edamame. Also key was the pleasantly sticky rice, which was perfumed with earthy, mushroom-y notes, and I was a fan of that lush, supple, umami-laden egg, too.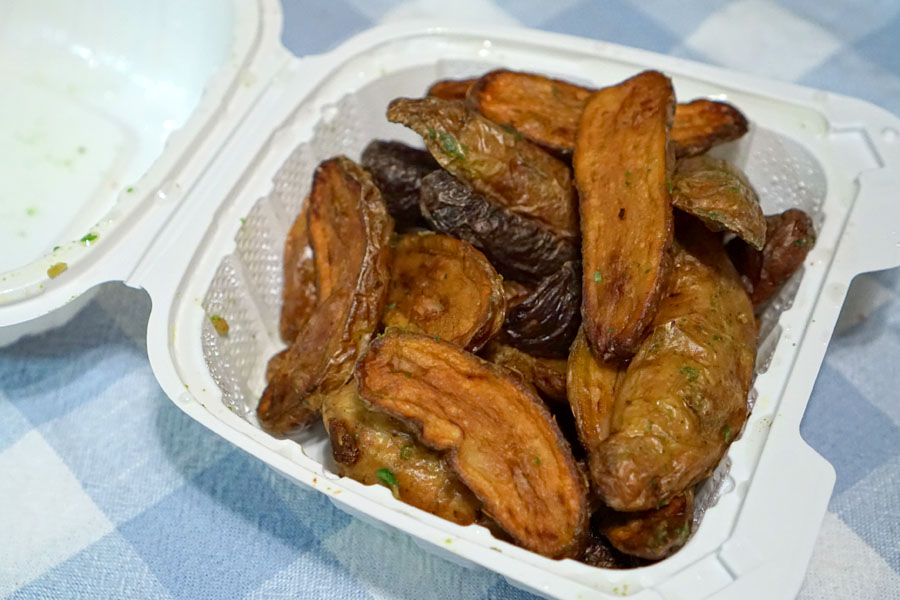 Fingerling Fries [$3.50]
| with negi salt
Fries were hearty and rustic, and perked up by restrained pricks of salt. The included ketchup certainly made sense as a condiment, but I also enjoyed utilizing the three sauces shown above.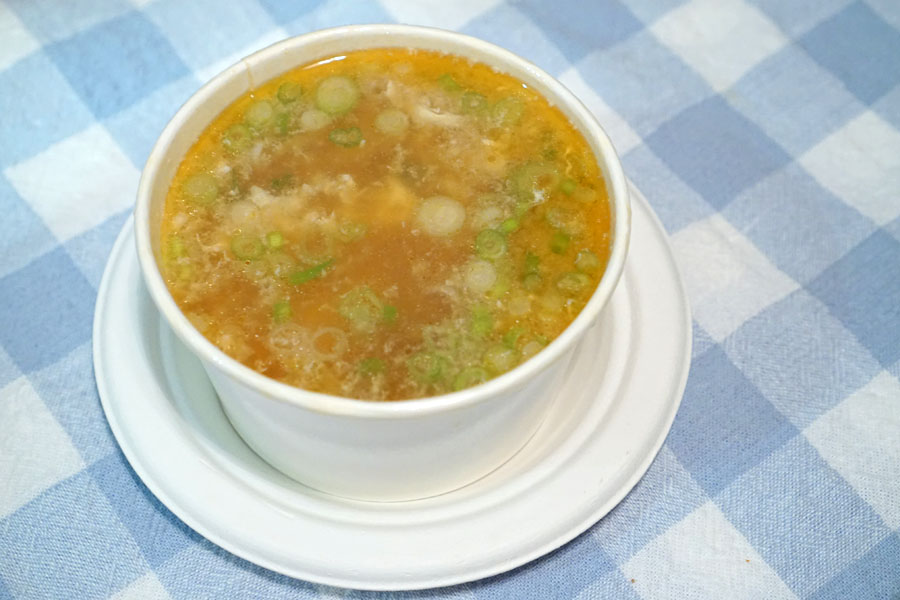 Chicken Egg Drop Soup [$5.00]
| house-made chicken broth, chicken, egg, green onion
Pikunico's take on a Chinese soup staple was a surprise standout. The broth displayed intense aromas of chicken and scallion, and tasting it, I got lots of hot, spicy ginger, tempered by silky strands of egg and hearty chunks of meat. Cozy and satisfying.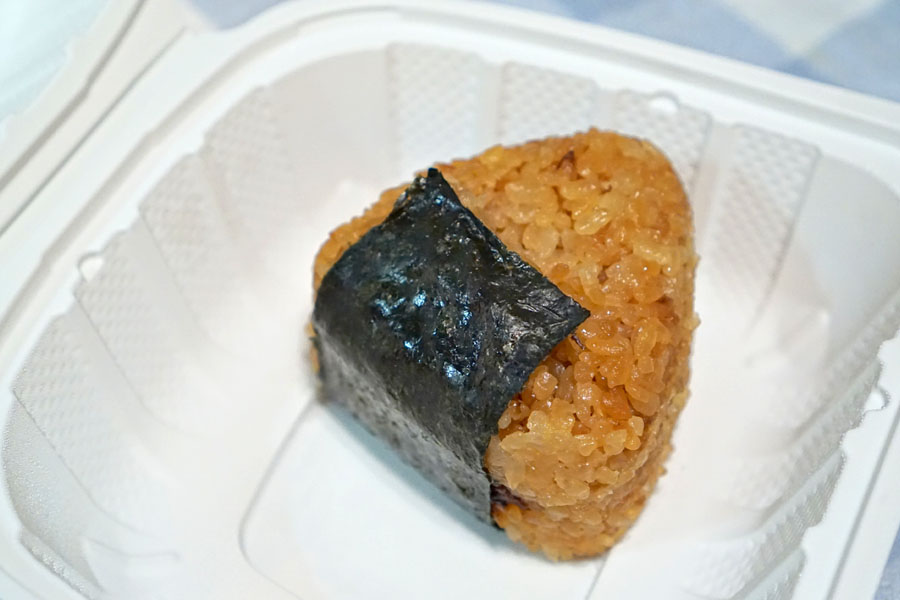 Ginger Onigiri [$3.00]
| seasoned steam rice ball, soy sauce, ginger, garlic
The rice ball blasted me with some utterly fragrant ginger aromas as soon as I opened the box. Tasting it, I found more of that ginger, but combined with savory, earthy qualities that were further boosted by the seaweed. As tasty as this was, I was left wondering if it would've been even better had the rice been grilled,
yaki onigiri
style.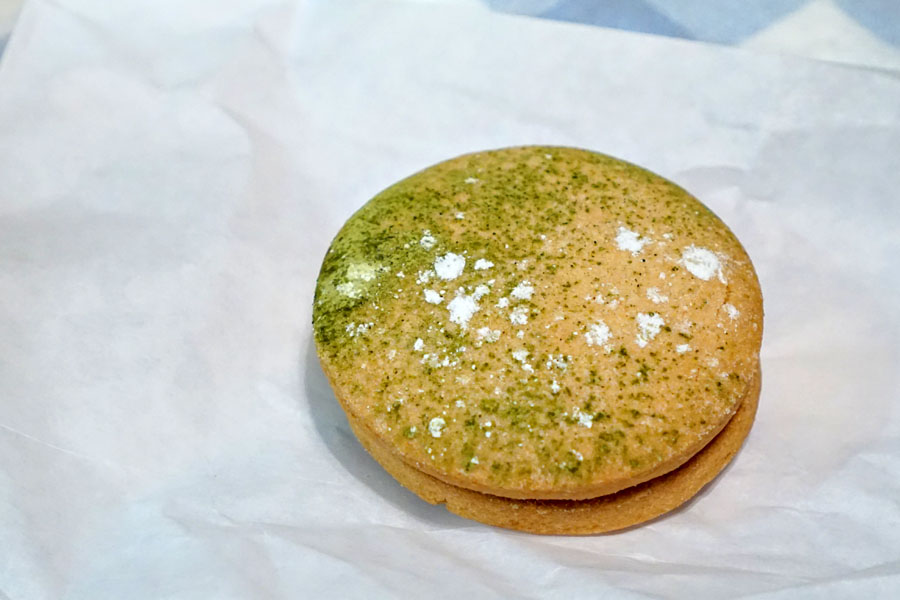 Miso de Leche Cookie [$3.50]
| shortbread cookie with miso de leche and matcha powder
For dessert, I had a super crumbly cookie stuffed with a gooey filling of miso-laced dulce de leche, which was smartly offset by the bitterness of that green tea powder.
It was nice to see Yagi back in action after all these years. Her take on fried chicken is perhaps slightly untraditional, but still worthy of consideration. I enjoyed it for the most part, while the rest of the food largely lived up to expectations as well. What I'm curious about is if this place will be replicated. I could see it working, and the Chef's partnership with Kaizen Dining Group certainly points to something like that. Sure, I wouldn't mind more Pikunicos sprouting up.