Thunderbolt (Los Angeles, CA)
Thunderbolt Bar
1263 W Temple St, Los Angeles, CA 90026
213.372.5099
www.thunderboltla.com
Wed 07/29/2020, 08:35p-10:25p

If you saw my last post, you'll know that I recently paid a visit to
Woon
. That meal inspired me to check out another spot just down the street: Thunderbolt, which opened in September last year. Situated in the overlap of Echo Park and Westlake, the Historic Filipinotown-adjacent, Downtown-abutting cocktail bar (named after a small town outside of Savannah, Georgia) happens to be sandwiched between the Knights Inn hotel and The Park's Finest. The location is the former home of Miki Saito's notorious after-hours joint Dinner House M (April 1987 - June 2011), and Akasaka nightclub before that.
Now speaking of The Park's Finest, it's a Filipino-tinged barbeque spot founded by Johneric Concordia back in 2009 as a catering company; their brick-and-mortar location debuted in 2012. Well it turns out that Concordia serves as Executive Chef/Partner here at Thunderbolt. He's joined by Bar Lead Michael Capoferri, at Atlanta native who spent nine years at Stoney River Legendary Steaks before jumping over to Soho House West Hollywood back at the start of 2011. During his tenure at Soho, he also worked (and still works) for
Denco Family
, a large operator of franchised restaurant/hotel locations. That brings us this place's third partner: Rahul Marwah, scion of Denco's original founders, UCLA grad, and occasional DJ. Curiously enough, Thunderbolt appears to be Denco's first "passion project" sort of investment, since their bread-and-butter is stuff like Denny's, Popeyes, and Subway.
In any case, Thunderbolt was one of the first bars to institute a to-go cocktail program near the start of the current coronavirus pandemic, and they also began patio service on July 8th. When I arrived at the bar, I wasn't sure if I'd be doing take-out or dine-in, but given that there was only one other party present, I decided to give the patio a go.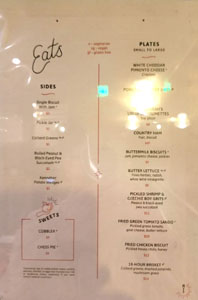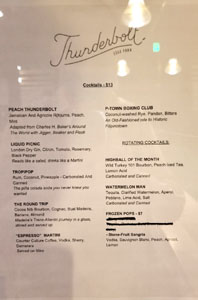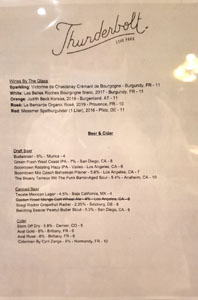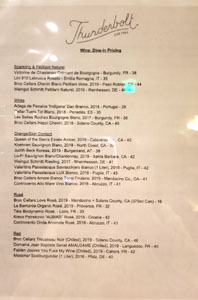 Food-wise, the menu here highlights Concordia's take on snacky Southern fare, while Capoferri's cocktails--rendered this evening by none other than Alyson "Aly" Iwamoto (Death & Co,
Jaffa
,
Bavel
,
HLaY
, The Varnish,
Connie & Ted's
)--are decidedly more cosmopolitan. There's a small array of wine and beer, and I've even heard that Thunderbolt boasts a substantial Madeira selection, a nod to the fortified wine's longstanding popularity in the American South. Click for larger versions.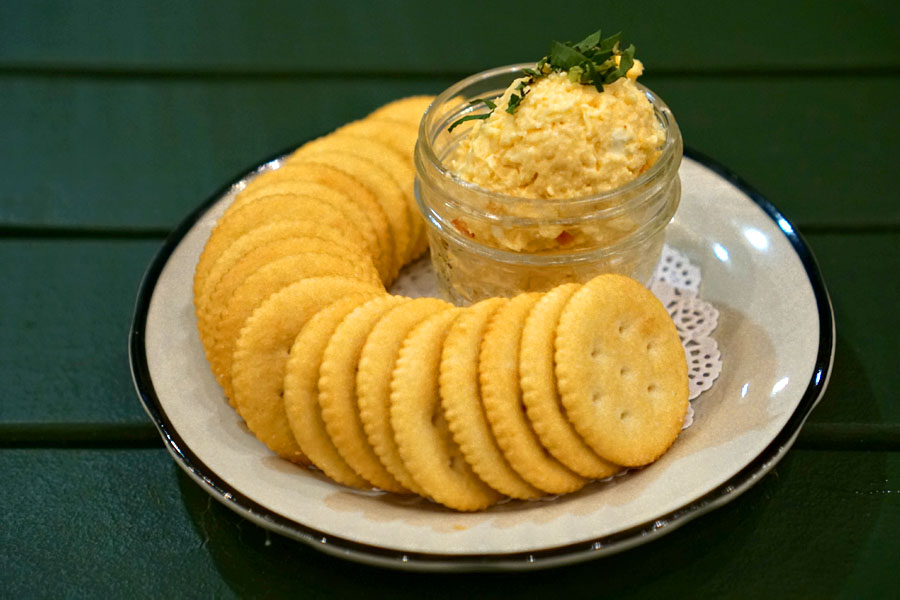 White Cheddar Pimiento Cheese [$6.00]
| Crackers
Given this place's Southern bent, I suppose it just made sense to start with a serving of pimento cheese. The spread came out on the thicker, chunkier side, and was a touch more aggressively-flavored than most, with a well-placed, piquant counterpoint from the peppers. As for the crackers, think rather crumbly, and slightly sweet.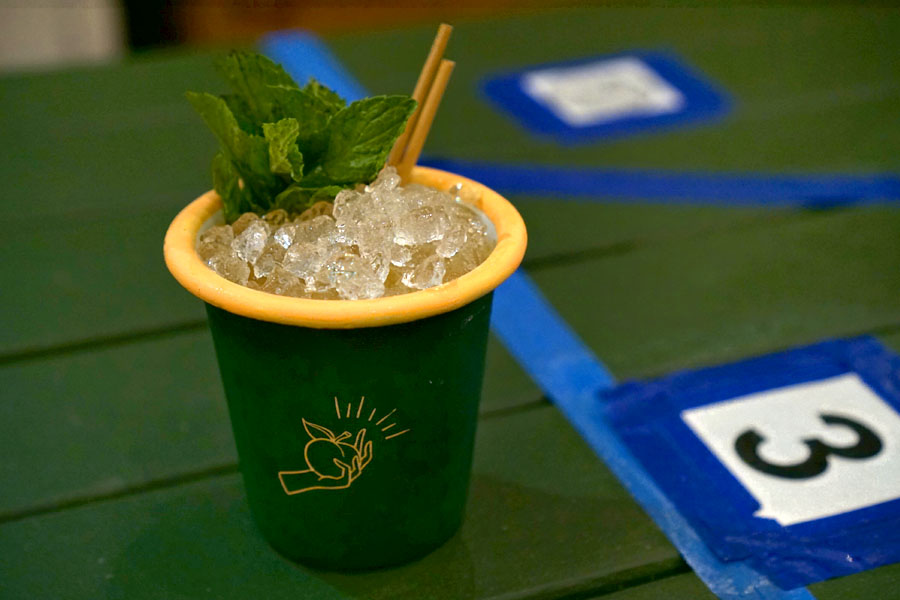 Peach Thunderbolt [$13.00]
| Jamaican And Agricole R(h)ums, Peach, Mint
I began with one of the more quaffable cocktails of the bunch. The drink showed off a healthy amount of peach, blended with a full-flavored dose of rum while mint overarched the whole interaction. This was basically a peach mojito in effect.
Pork Belly Burnt Ends [$7.00]
| Pickles
Perhaps I was too caught up in the moment of actually being able to enjoy a proper sit-down meal, because I forgot to take photos of my next two courses. Nonetheless, pork belly arrived with a sweet, sticky glaze that offset its unabashedly piggy, vaguely Asian-y savor. It was a potent mix of flavors, so the tart, acidic pickles were crucial for some modicum of balance.
Country Ham [$15.00]
| fruit, biscuit
A plate of Broadbent Heritage Country Cured Ham hit the mark with its sticky, salty, subtly sweet flavors. A pairing of sliced peaches functioned as a fruity, juicy counterpoint to the meat, and of course the crisp-on-the-outside buttermilk biscuit just made sense, too.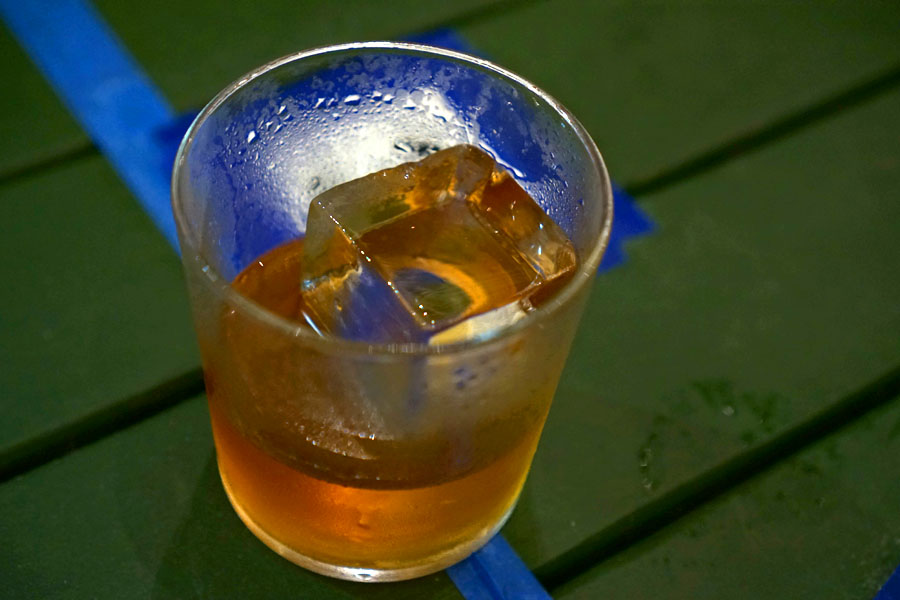 P-Town Boxing Club [$13.00]
| Coconut-washed Rye, Pandan, Bitters
Next to imbibe was this Filipino-inflected take on the classic Old Fashioned. The nose showcased the sweetness of the advertised coconut, but commingled with this almost celery-like element from the bitters. Tasting it, I found the cocktail soft and smooth, with a back-and-forth between sweetness and herb leading to a long-lasting finish tinted with familiar nuances of pandan.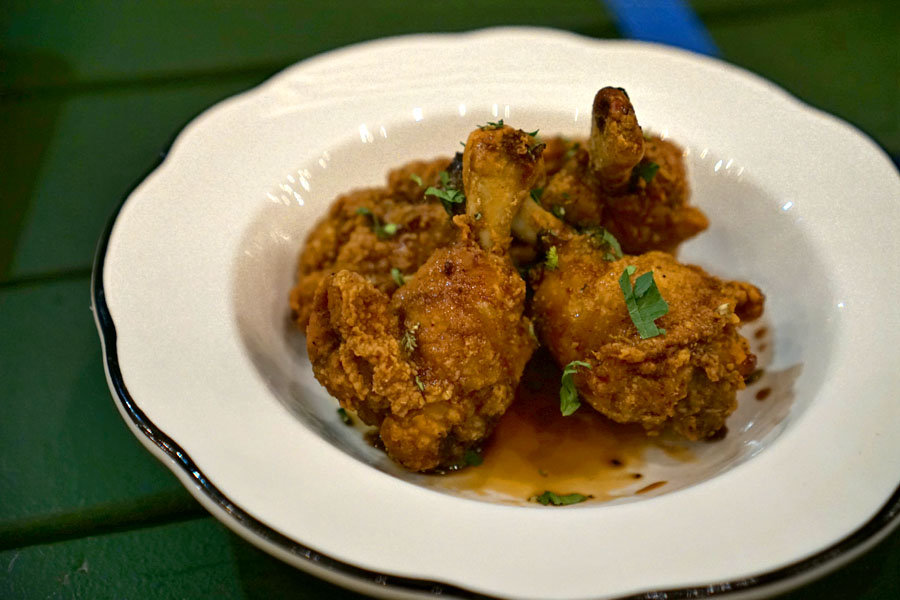 Momma Leah's Lollipop Drumettes [$8.00]
| Soy glaze
Chicken wings displayed a deft balance of savory, sweet, and sour flavors that I rather enjoyed, and found somewhat reminiscent of Korean-style
yangnyeom-chikin
. I also appreciated the crunchiness of the batter here, though the drumettes could've been juicier, more succulent.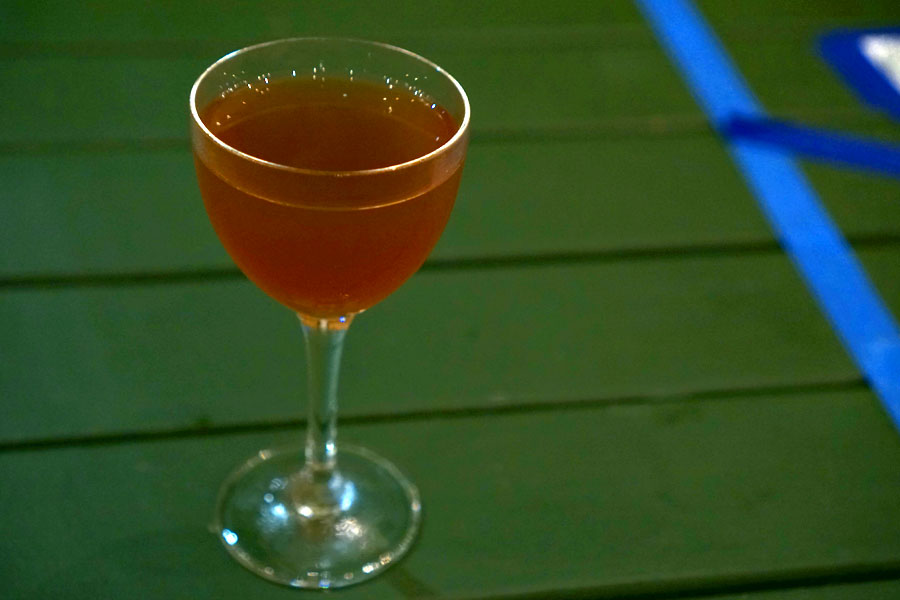 The Round Trip [$13.00]
| Cocoa Nib Bourbon, Cognac, Bual Madeira, Banana, Almond
This was probably my favorite of the cocktails. Nose was heavy on the dark fruit and cacao, and interestingly enough, I also detected some distinctly beer-like elements. Tasting it, I found a marked bitterness up front, later tempered by more of that rich dark fruit, cocoa, and a helping of tobacco.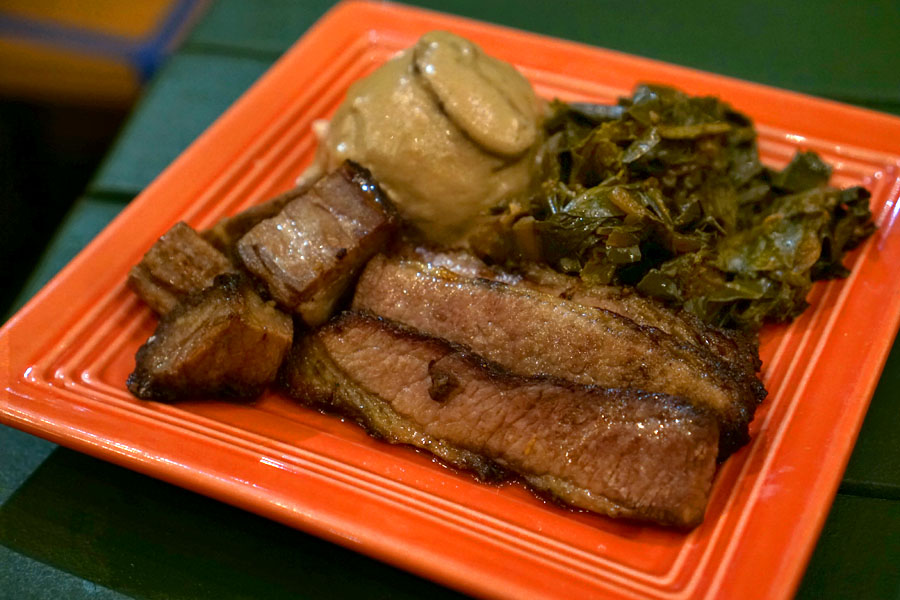 18-Hour Brisket [$14.00]
| Collard greens, mashed potatoes, mushroom gravy
Next came a solid rendition of brisket. The beef ate firm, substantial, but not tough, and had a pretty nice balance of smoke and savor going on. Earthy collards were a natural accompaniment, though even more satisfying was the mashed potato, an extremely homey example effectively amped up by a smothering of mushroom gravy.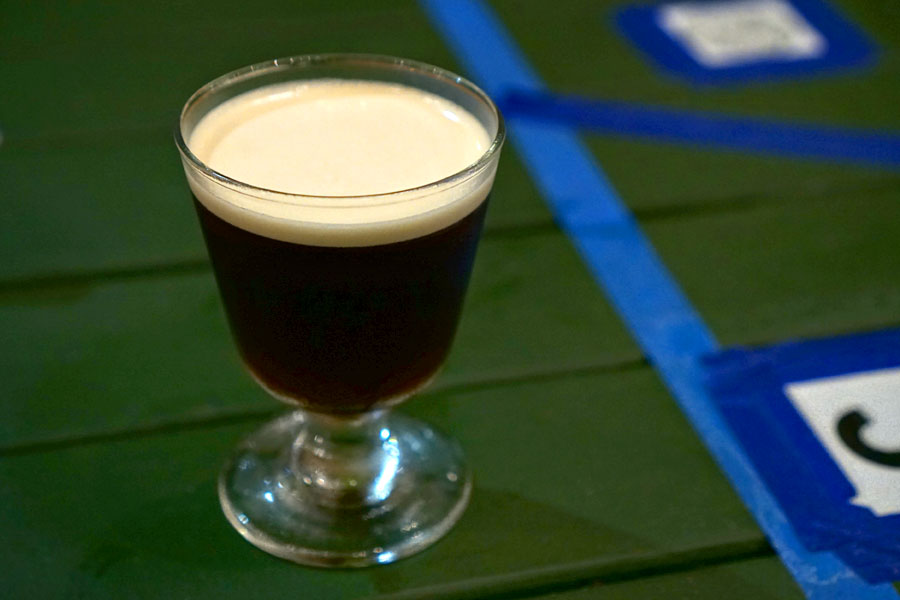 "Espresso" Martini [$13.00]
| Counter Culture Coffee, Vodka, Sherry, Demerara
The evening's final cocktail was served on nitro, which resulted in the drink sporting a ridiculously smooth, velvety mouthfeel. Taste-wise, I found a base of dark berry sweetness set against wonderfully bitter, nutty, fragrant notes from the coffee. This would make a lovely digestif.
Pickled Shrimp & Geechie Boy Grits [$11.00]
| Peanut & black-eyed pea succotash
I've discovered that I have a hard time saying no to shrimp and grits. The grits tonight were on point, and I appreciated the dish's finesse with regard to sweetness. Making the shrimp pickled gave it a pleasant tang that was a nice change of pace, but the hero here was that succotash, largely due to the crunchiness of those peanuts.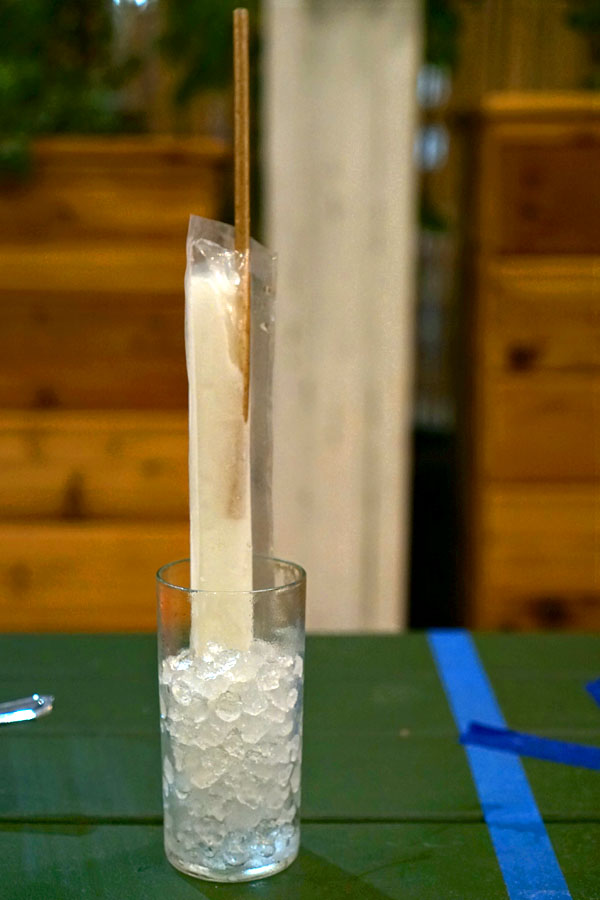 Stone-Fruit Sangria Frozen Pop [$7.00]
| Vodka, Sauvignon Blanc, Peach, Apricot, Lemon
I also sampled one of Thunderbolt's freeze pops. This particular example was ostensibly inspired by sangria, though it didn't quite taste like it to me. Rather, I got loads of astringent lemon all over the place, backed by a layer of sweetness from the stone fruit.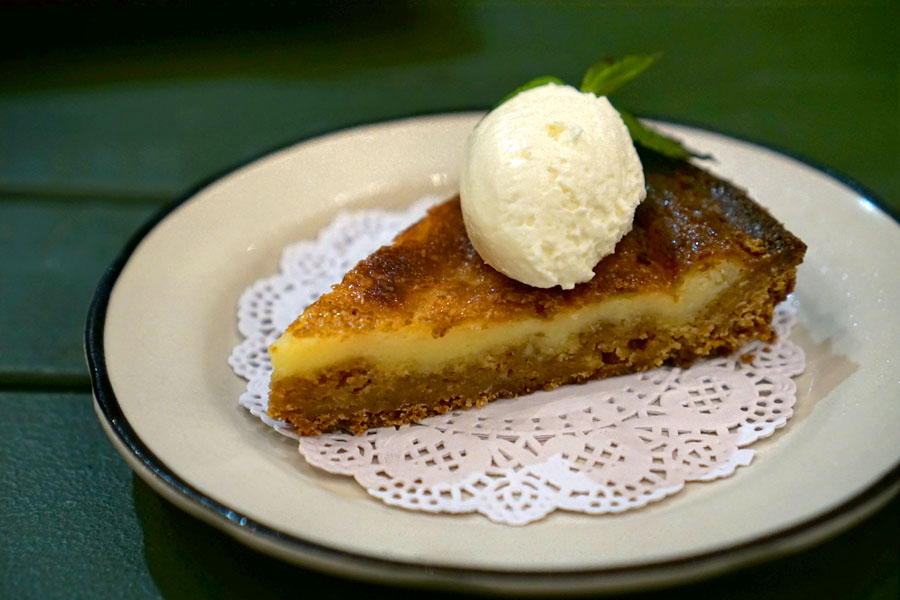 Chess Pie [$6.00]
The chess pie was a superb ending to the meal. I was especially fond of the texture and caramelized nature of the crust, and how that meshed with the dessert's lemony filling.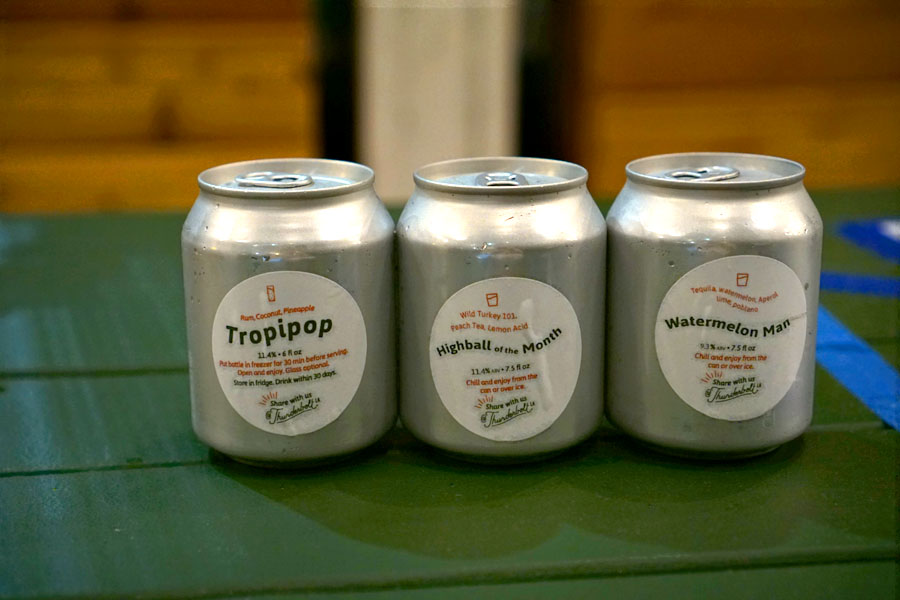 I also picked up one each of Thunderbolt's three canned/carbonated cocktails for enjoyment later. I wish more places would present their to-go drinks like this, since it's both convenient and hygienic.
Tropipop [$13.00]
| Rum, Coconut, Pineapple
I ended up having all three canned cocktails the next day. This first one was akin to a fizzy piña colada, its boatloads of tropical fruit flavors set against a backdrop of bitterness and booziness. I think this would make a nice apéritif.
Highball of the Month [$13.00]
| Wild Turkey 101 Bourbon, Peach Iced Tea, Lemon Acid
My second cocktail drank like a boozy, carbonated peach tea, one with almost candied flavors perked up by an acidic bite on the back end.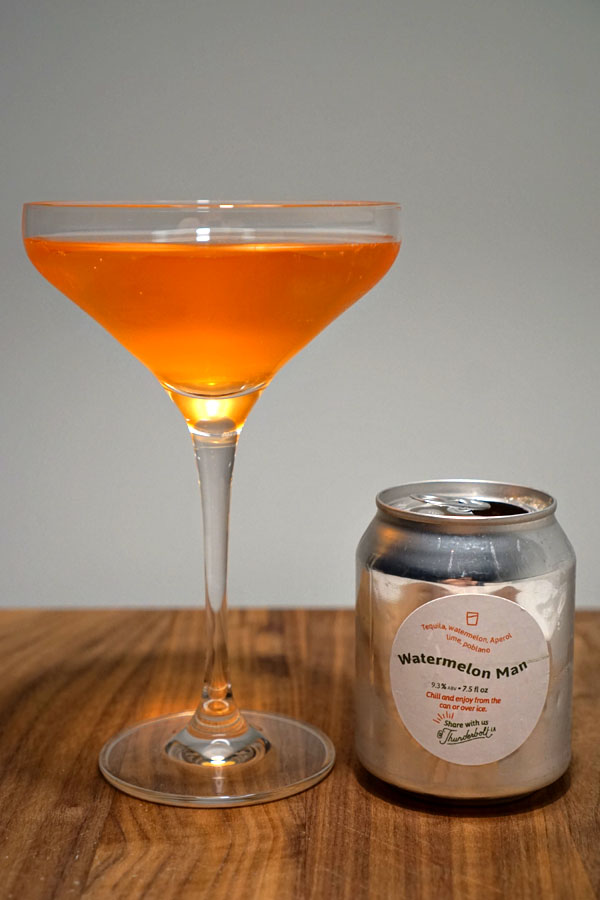 Watermelon Man [$13.00]
| Tequila, Clarified Watermelon, Aperol, Poblano, Lime Acid, Salt
The third and final canned cocktail recalled a watermelon Jolly Rancher at first blush. It conveyed a definite fruitiness, but this was subsequently moderated by a base of tequila and the restrained bitterness of the Aperol toward the finish.
It's been a while since I blogged about an actual sit-down meal, and I can tell you that it's something I truly miss, and which can't be duplicated in the backseat of my car. As for Thunderbolt, I had a good time here. In fact, if I lived in the area, there's a decent chance it'd be one of my regular spots. But since I don't, I'll say that I hope to return once (if?) we finally defeat COVID-19.