Mizlala West Adams (Los Angeles, CA)
Mizlala Restaurant
5400 W Adams Blvd, Los Angeles, CA 90016
323.433.7137 / 323.297.3187
www.instagram.com/mizlala_westadams/
Sat 08/01/2020, 08:45p-10:15p

My latest takeout food adventure brought me to Mizlala in the rising neighborhood of West Adams. Named after a Hebrew word that translates roughly to "eatery," the restaurant is situated just across the street from
Alta
, and opened in May last year. The cuisine here is casual Middle Eastern fare by none other than Israeli-Japanese chef Danny Elmaleh.
We last caught up with Elmaleh back in November 2010, not too long after the opening of the first
Cleo
at The Redbury. He was largely responsible for the conception of Cleo (in partnership with SBE), and that Hollywood restaurant became the springboard for numerous other locations across the globe: Las Vegas at Sahara (August 2014--now closed), South Beach at The Redbury (November 2014), L.A. Live (October 2016--closed), New York at Mondrian Park Avenue (October 2017), Nassau at SLS Baha Mar (November 2017), West 3rd Street at The Orlando Hotel (November 2017), Kuwait City at The Avenues (March 2018), and Seoul at Mondrian Itaewon (August 2020). In addition, Elmaleh also created the menu at SBE's Doheny Room in West Hollywood, which opened in April 2016, replacing Mercato di Vetro.
However, though Elmaleh was a key figure at SBE, he was also working concurrently on his own side project: Mizlala. The restaurant debuted in June 2016, replacing Simon's Cafe in Sherman Oaks, a Moroccan eatery that had been run his father Simon Elmaleh since 2001. Mizlala's Mediterranean menu was fairly wide-ranging, and not all that different than what you might get at Cleo, though at much lower price points. The place was well received, and news of a second, more easy-going version of Mizlala came at the end of 2018, with the spot opening in late May 2019.

Mizlala resides in the former home of JC Tires. You place your order inside, but as far as seating goes, it's pretty much all contained in the cozy patio out front, which comes in handy these days.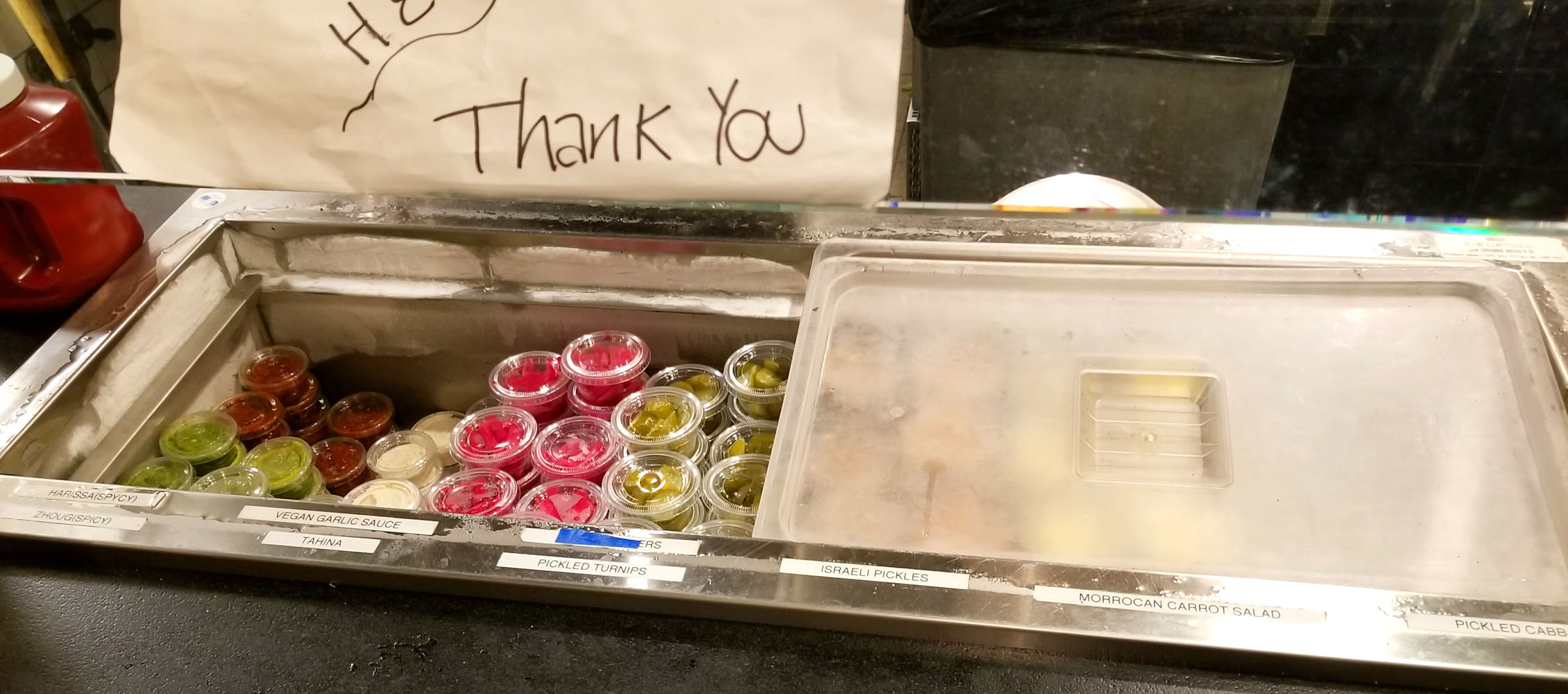 And here's the condiment/pickle cooler. In normal times, this would be a self-serve buffet sort of setup, but with the onslaught of COVID-19, everything's now pre-packaged.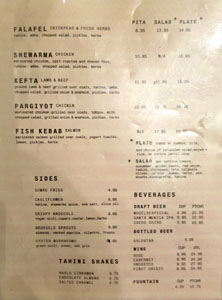 The menu here's much more casual than that of the original restaurant, and as far as I know, hasn't been modified at all due to coronavirus. There are also specials available, as well as beer/wine. Click for larger versions.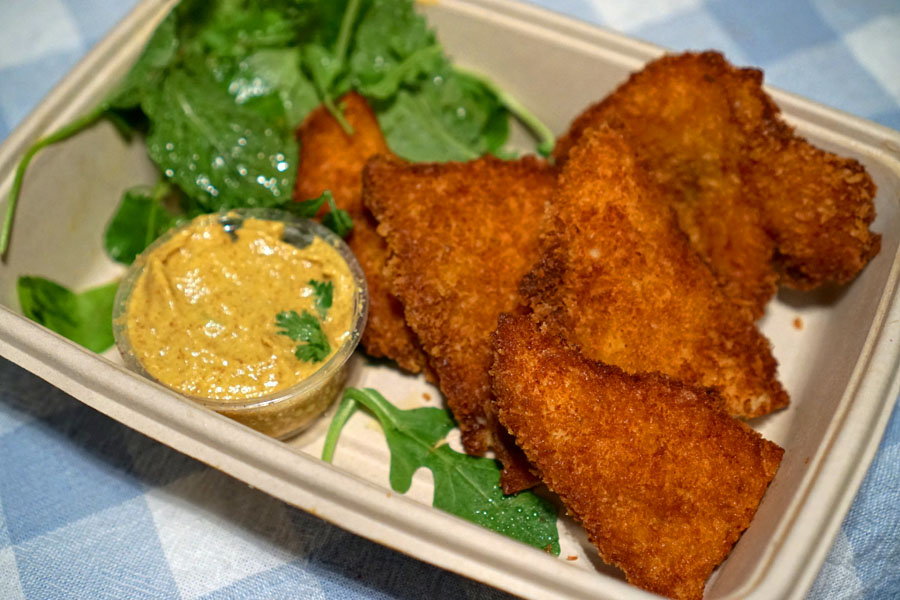 Chicken Schnitzel [$6.75]
| whole grain mustard sauce, lemon
I began with one of those aforementioned specials. The schnitzel made for a promising start to dinner, the chicken coming out juicier and more flavorful than I expected, with a properly crisp breaded crust to boot. An aggressively piquant mustard just made sense as a condiment, and I enjoyed the zippy greens, too.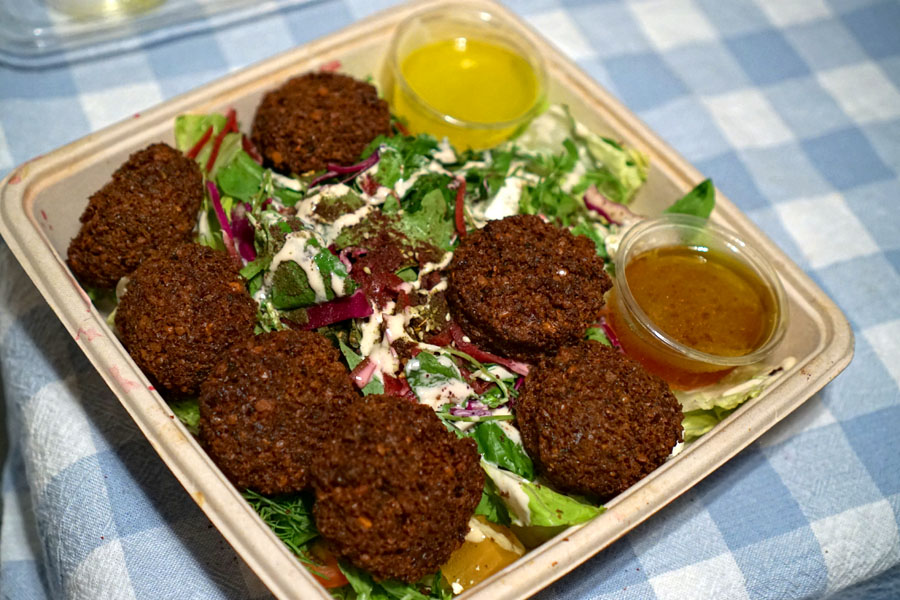 Falafel Salad [$13.95]
| tahina, amba, chopped salad, pickles, herbs
Per Mizlala's menu, the salad actually contains a bunch of ingredients: gem lettuce, tomato, cucumber, golden beets, red onion, radish, chickpeas, feta, kalamata olives, za'atar, sumac, herbs, pea shoots, vinaigrette, and tahina. What stood out the most to me, though, was the brightness of the cucumbers and especially the saltiness of the feta, all while the super tangy vinaigrette brought all the various elements together. As for the falafels, I found 'em tasty and well-seasoned, with a crumbly, not-too-dry texture--an apt pairing for the salad.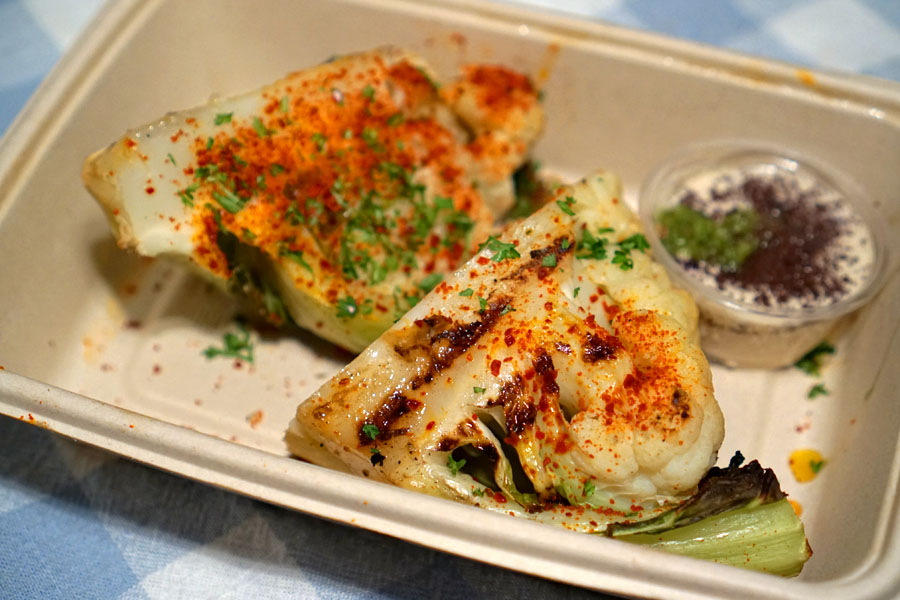 Cauliflower [$8.95]
| tahina, shewarma spice, sea salt, olive oil
Cauliflower arrived with a delightfully smoky aroma that I found inviting. That smoke was present in the taste, too, where it was joined by the advertised shawarma spicing and a wonderfully nutty, creamy tahini.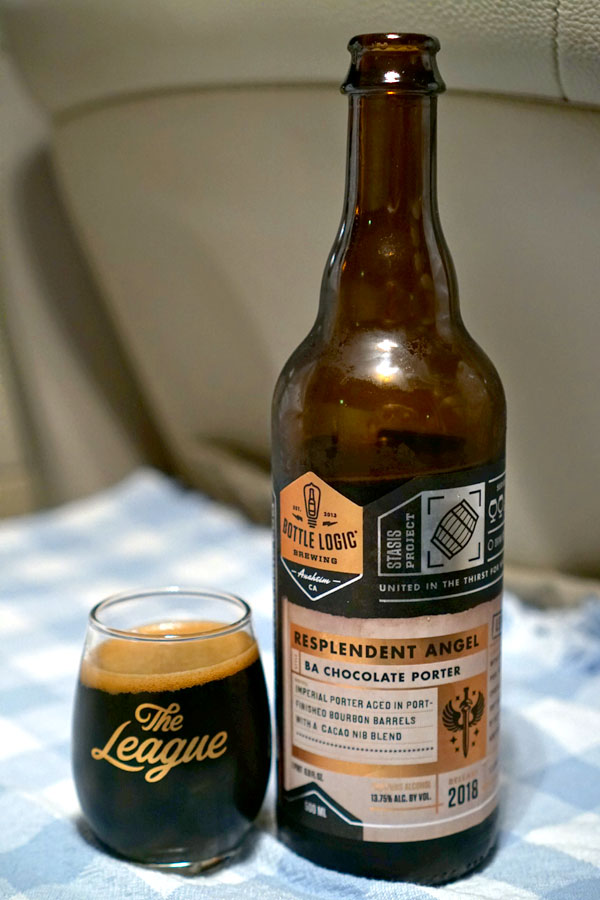 To drink, I opened up a bottle of the
2018 Bottle Logic Resplendent Angel
, an imperial porter aged in port-finished bourbon barrels with Ecuadorian and Ghanaian cacao nibs. The beer's bouquet had notes of tart, raisin-like fruit and chocolate that made me think of Raisinets. Tasting it, I got rich cocoa and more of that dark fruit, commingled with an oaky, astringent, roasty, bourbon-y presence.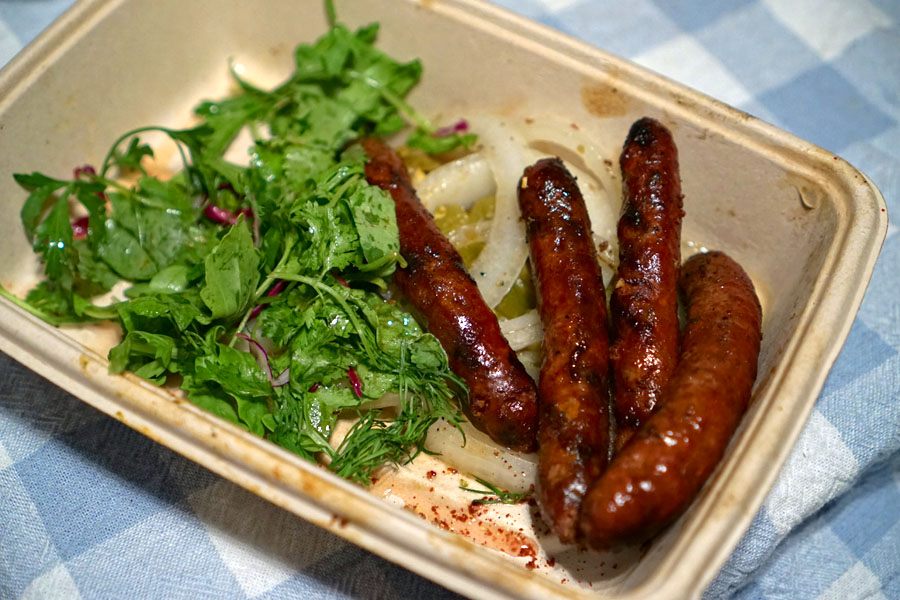 Merguez Sausage [$7.95]
| grilled peppers and onions
I'm a sucker for sausage, so the Merguez was a must-try. It didn't disappoint. I was a fan of its creeping spice and heat, while a pairing of onions and peppers was a no-brainer. Nice contrast from the herbs, too.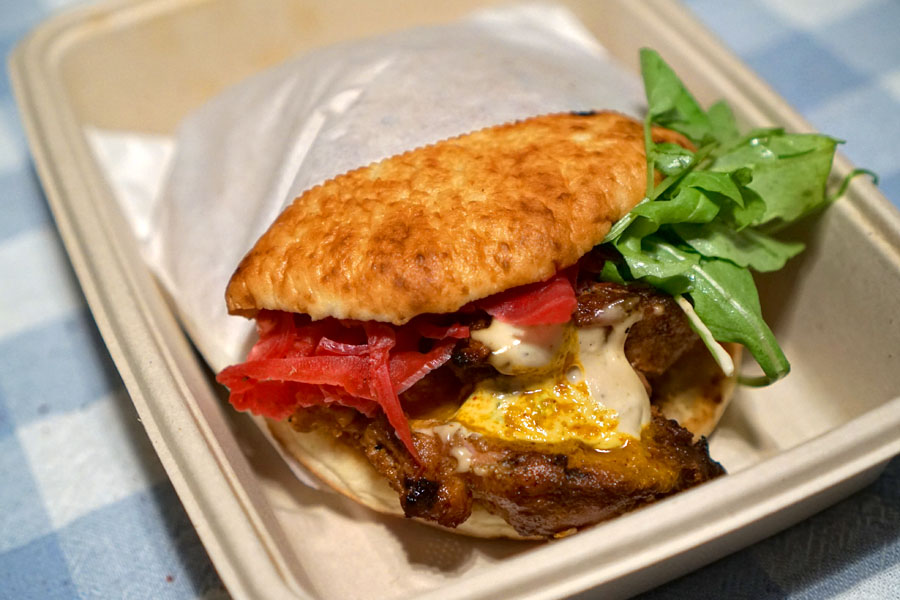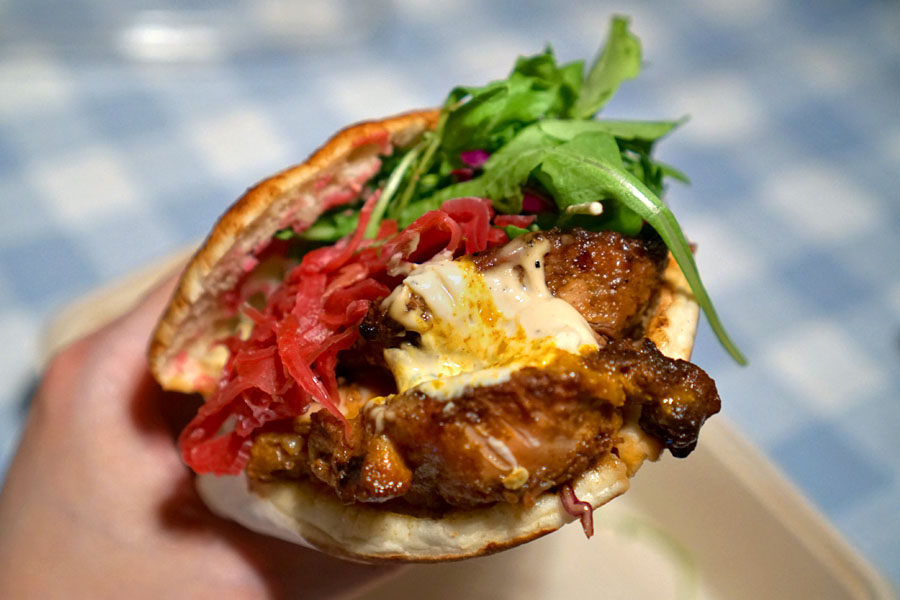 Pargiyot Pita [$10.95]
| marinated chicken grilled over coals, tahina, with chopped salad, grilled onion & anaheim, pickles, herbs
The pita was another winner. The hero here was clearly that succulent, super flavorful chicken, which showed off a fantastic smoke that absolutely pervaded the bird. It was delicious just by itself, but I also appreciated the zestiness of those greens, as well as how the tahini imparted a layer of creaminess to the dish. There were also these pricks of berry-like sweetness that were unexpected, and I liked how everything was so well contained in that thick, stretchy bread.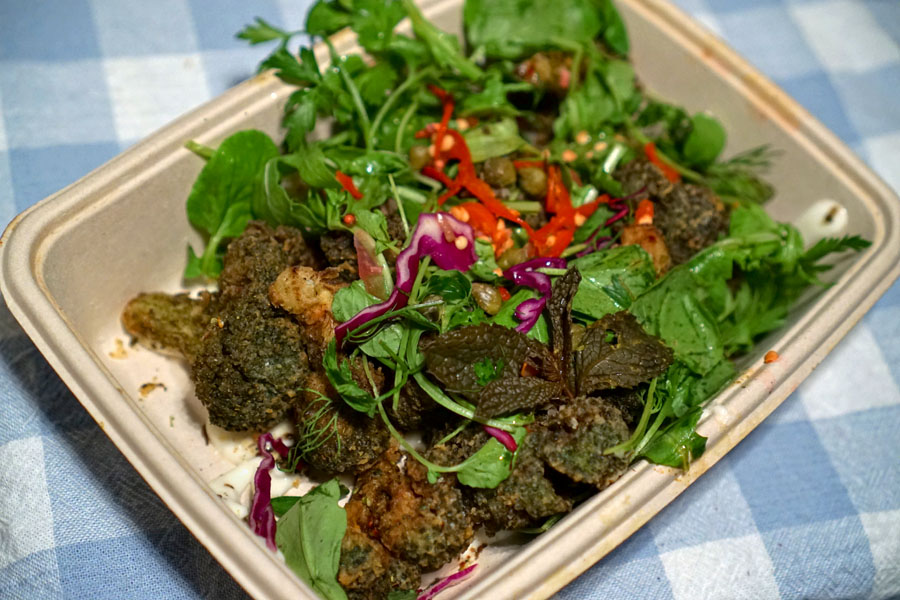 Crispy Broccoli [$8.95]
| vegan aioli, capers, zaatar, lemon, herbs
Broccoli was coated in a light, thin, crisp batter, and had a delectable spicing to it courtesy of the za'atar. Also key was this back-and-forth between the creamy aioli and the mintiness of the herbs, which added another facet to the dish.
I asked one of Mizlala's workers for his recommended condiments, and ended up with these three: an almost ranch-like vegan garlic sauce, seemingly extra crunchy/extra tart pickled turnips, and a Moroccan carrot salad imbued with plenty of warm spice.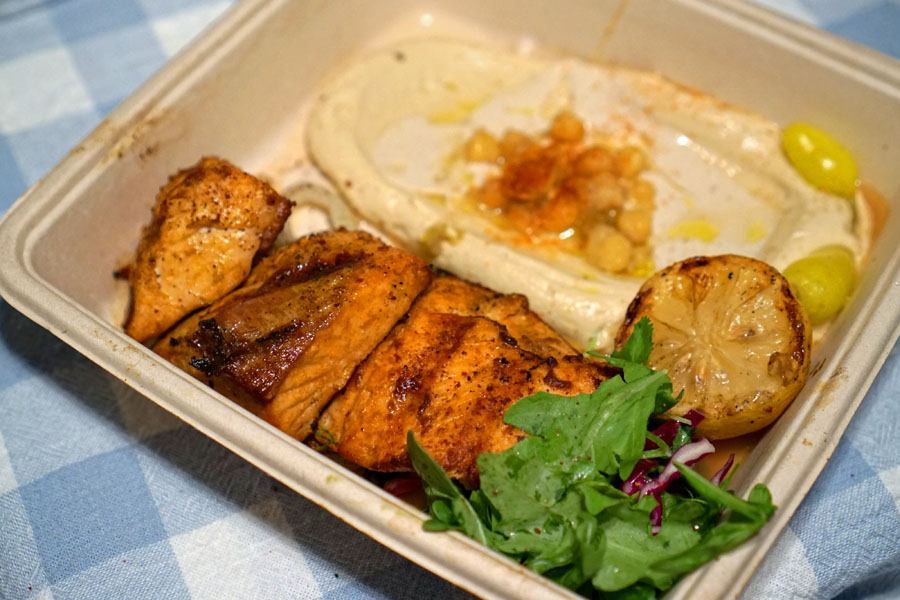 Fish Kebab Plate [$18.95]
| marinated salmon grilled over coals, yogurt tzaziki, lemon, pickles, herbs
In my final dish, salmon came out cooked a bit more than I would've preferred, but was still far from overdone. Taste-wise, I loved how well-integrated its smoke and sear were, and how these elements melded so effortlessly with the fish's inherent fat and brine. As for the included hummus, think uncommonly smooth, with all the classic flavors you want and expect. And be careful with those Shipka peppers!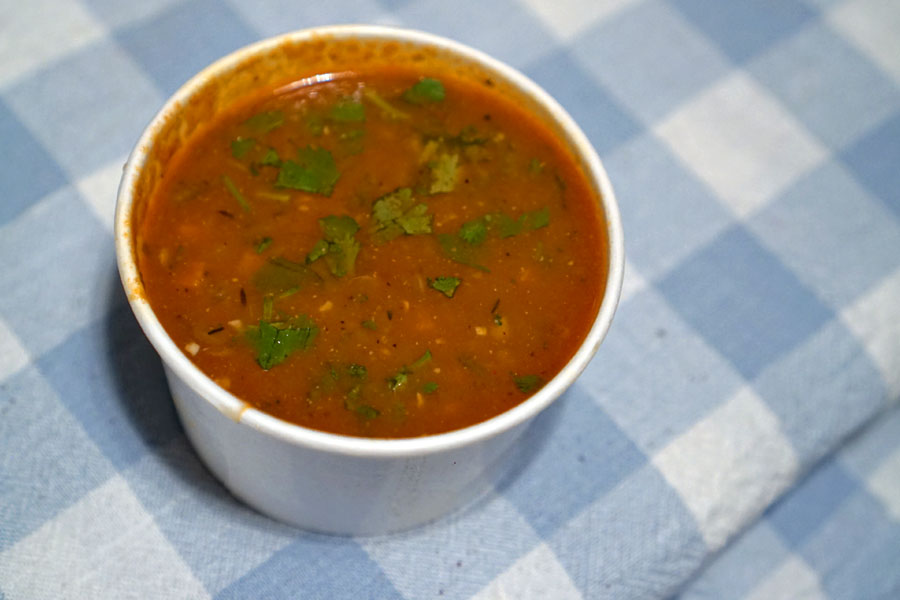 Each plate comes with your choice of Jerusalem salad, mejadra rice, or harira lentil soup. Now obviously I opted for the soup, and it was a good decision, as the harira did a great job showcasing the lentils while also juxtaposing some tart, herbaceous notes that really hit the spot.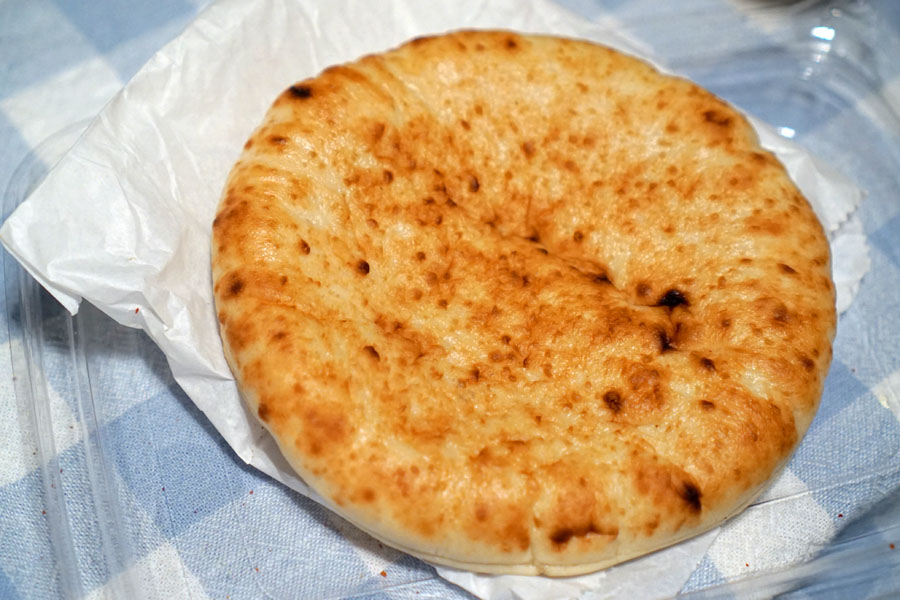 My salmon plate also came with pita, a particularly thick, soft, chewy example that's a bit different than most. I was definitely into it.
This was a compelling meal, so hats off to Elmaleh and his team. They've got some great flavors going on, flavors that are bold, assertive, but also balanced and finessed. I'd come here on the regular if I lived in the area. And speaking of being in the area, the Chef recently took over the old Johnny's Pastrami, located just up the street. If you recall, the place was supposed to become a
Travis Lett
project by the name of Gjohnny's, but with Lett out of the Gjelina family, that plan never came to fruition. Elmaleh somehow got hold of the space and turned it into Johnny's West Adams, which dropped in June. Given the quality of my meal tonight, I may have to check it out sometime.