Amorcito (Long Beach, CA)
Amorcito at The Hangar at Long Beach Exchange
4150 McGowen St, Long Beach, CA 90846
562.420.5005
www.instagram.com/amorcitolb/
Fri 10/23/2020, 07:20p-09:00p

Chef Thomas Ortega has been near the forefront of the so-called "pocho" cuisine scene here in the Los Angeles area, first at his debut spot Ortega 120 in Redondo Beach, then at both
Amor y Tacos
and
Playa Amor
. His latest effort is Amorcito, a fast casual taqueria stall that opened last February at The Hangar, an aviation-inspired food hall located inside the new Long Beach Exchange development.

Above we see the menu screens, which were pretty light on details.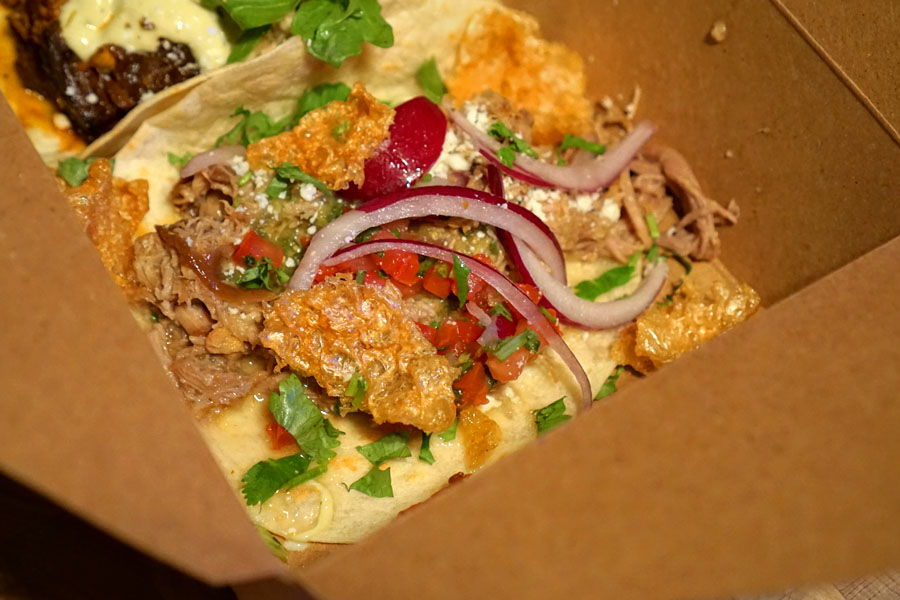 Carnitas Taco [$3.95]
| Carnitas, salsa verde, salsa macha, pico de gallo, Cotija and chicharrones
My first taco contained juicy, flossy cuts of carnitas that were easy to enjoy. They were boosted by the sheer porkiness and crunch of the fried rinds, while the zestiness of the onions was also key. Do note that I opted for the optional housemade flour tortilla here. I found said tortilla thin, with a slight crispness to it, though it got soggy far too quickly, and thus fell apart when I actually tried to eat the taco.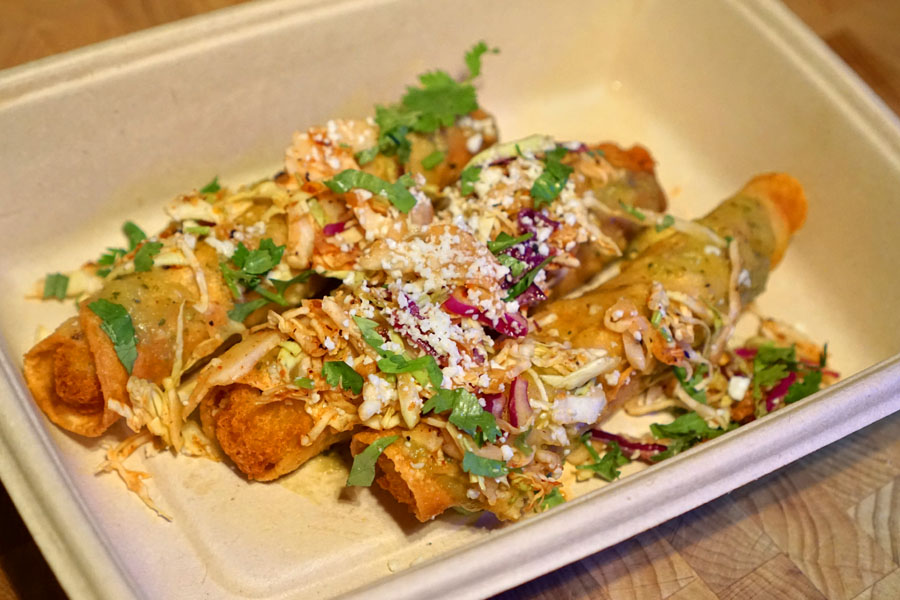 3 Taquitos de Papa [$6.95]
| Potato mushroom spinach mix, guacsalsa, salsa rojo, queso and spicy cilantro onion slaw
The rolled tacos, unfortunately, came out on the mushy side. Even more concerning, though, was that their potato filling was underseasoned, and didn't convey the mushroom at all. The avocado salsa did help lift things, as did the veggies, but even they weren't enough.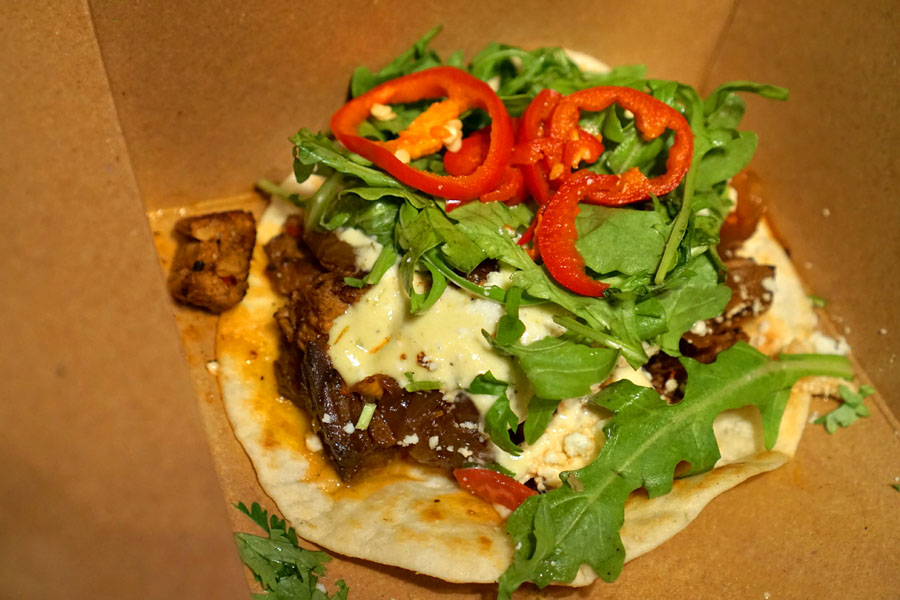 Carne Asada Taco [$3.95]
| Carne asada, salsa arbol, green chili aioli, caramelized onion, pickled red jalapeno, arugula, red onion and cotija
The asada taco was also a letdown. Texturally, the meat ate tough and chewy, while taste-wise, it veered far too sweet, with the caramelized onions unnecessarily making things even sweeter. Where's the sear, the smoke? The arugula was an unusual, but not ineffective pairing, and I did enjoy the creeping heat present.
The evening's first beer was the
2018 Bruery Terreux Oude Tart Reserve
, a Flemish-style red ale aged in oak barrels. It had an appealing nose displaying tart, yeasty notes alongside sweet stone fruit and berries. Tasting it, I got a plethora of funky, earthy, oaky, and of course sour notes, combined with dark fruit, leather, and yes, fruit leather. One of the best Flanders red ales I've had in recent memory, and actually one of the best sours I've had from the brewery.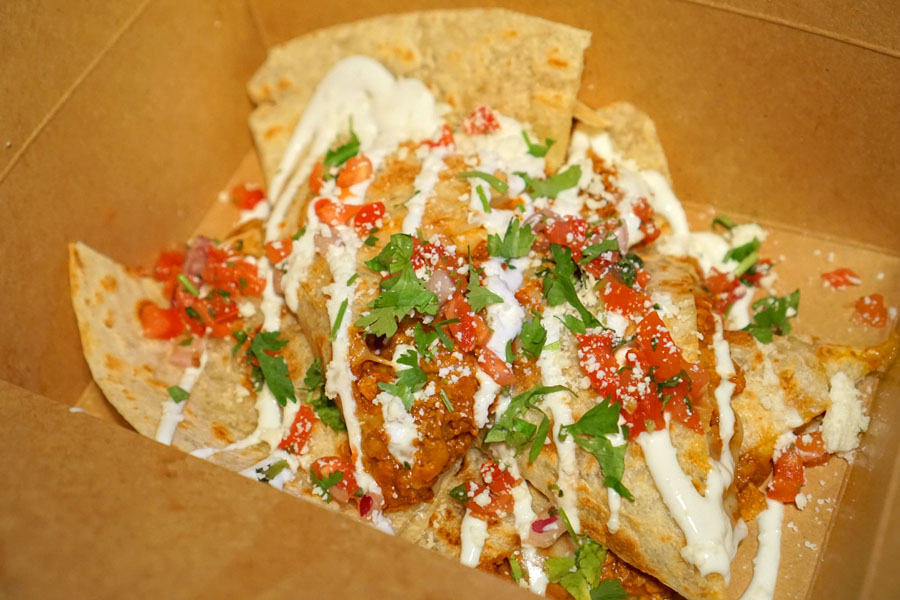 Soyrizo Quesadilla [$10.95]
I opted for a soy-based chorizo filling for my quesadilla, and it did a reasonable job in approximating both the taste and texture of the real thing, though it couldn't used more heat and spicing. The soyrizo melded pretty well with the large amount of cheese present, and overall this was a workable rendition of your classic quesadilla.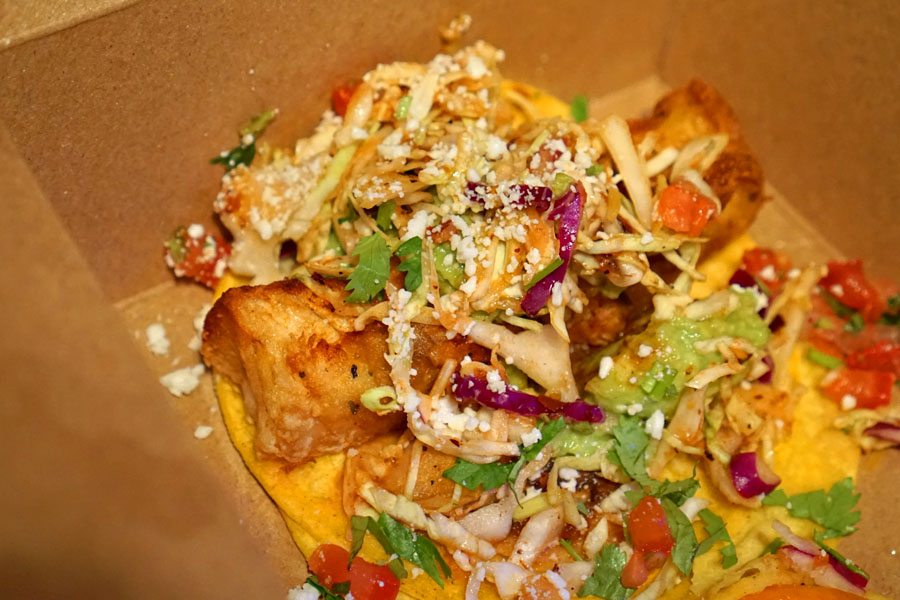 Rosarito Fish Taco [$5.00]
| Crispy battered fresh true lingcod, secret remoulade, pico de gallo, cabbage, avocado, cilantro, spicy red salsa, cotija and lime wedge
Ling cod arrived firm and flaky, with a nice batter to boot. However, I found it somewhat bland, though the fish did come into its own a bit when taken with the various accompaniments.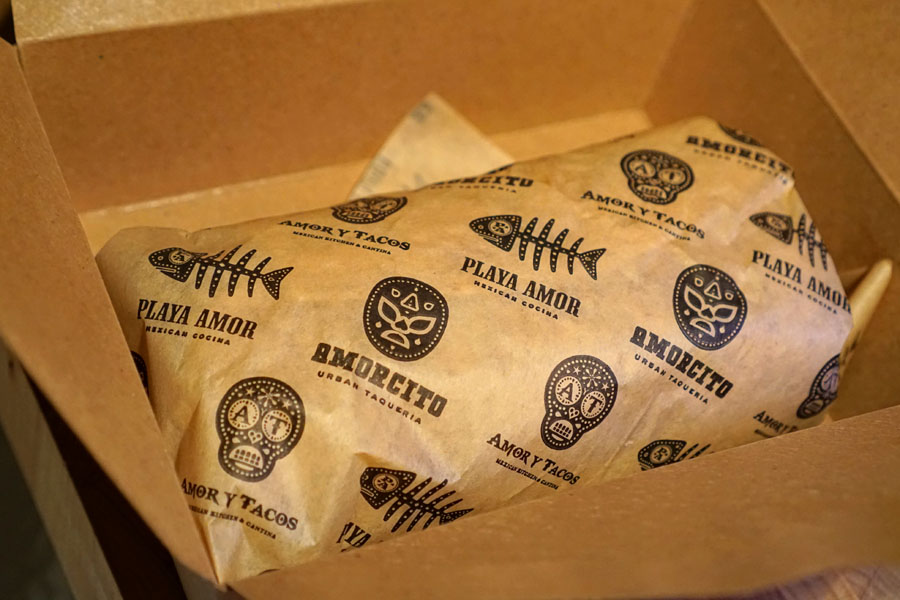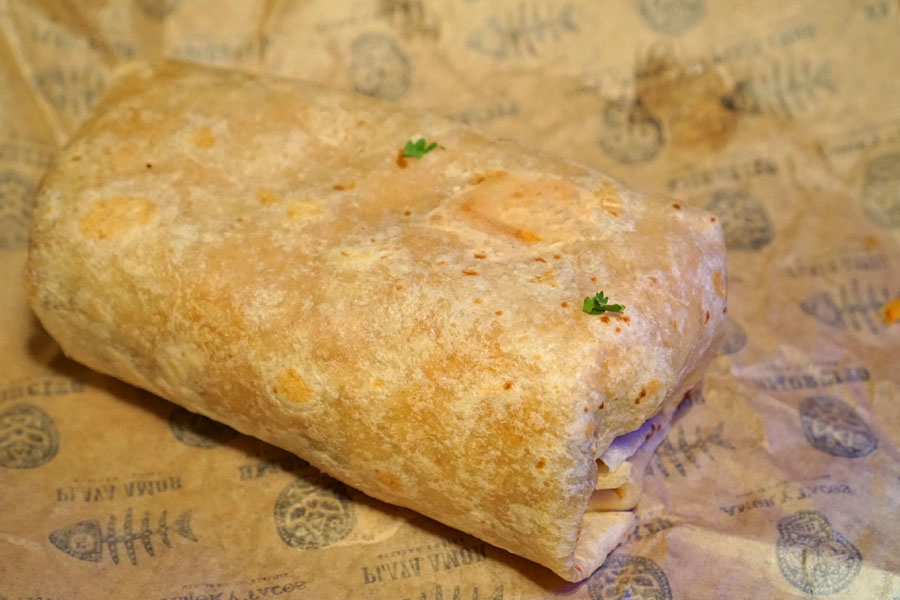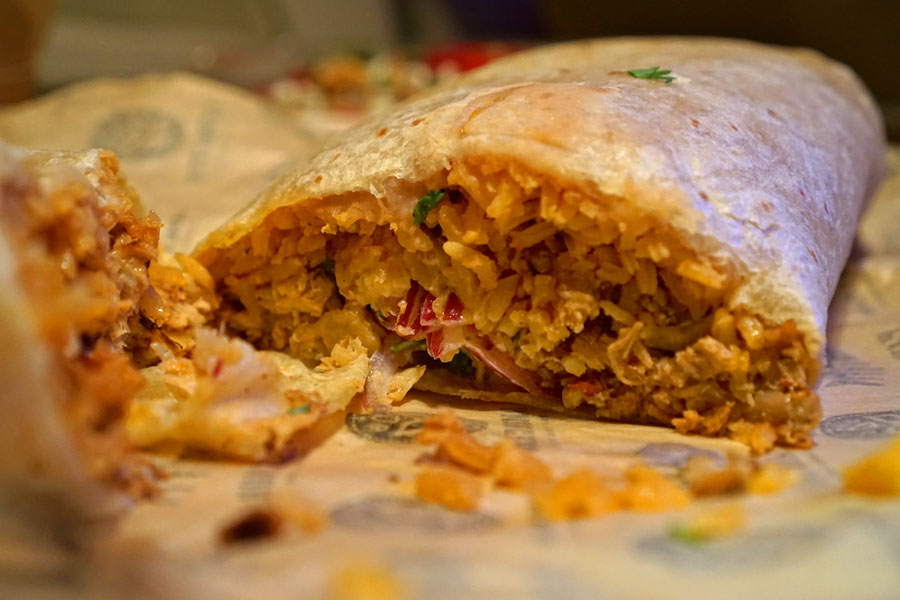 Pollo Asada Burrito [$8.85]
| Comes with rice, beans, green chile aioli, pico de gallo, cilantro, onion, salsa and queso
The burrito was a pretty massive thing that probably weighed close to 1.5 pounds, so I guess it was a pretty good value. My choice of protein here was chicken, and unfortunately it lacked savoriness and smoke, and instead conveyed a sweetness that recalled
rousong
(pork floss). This made for a muddled sort of flavor profile, though the onions did help brighten things.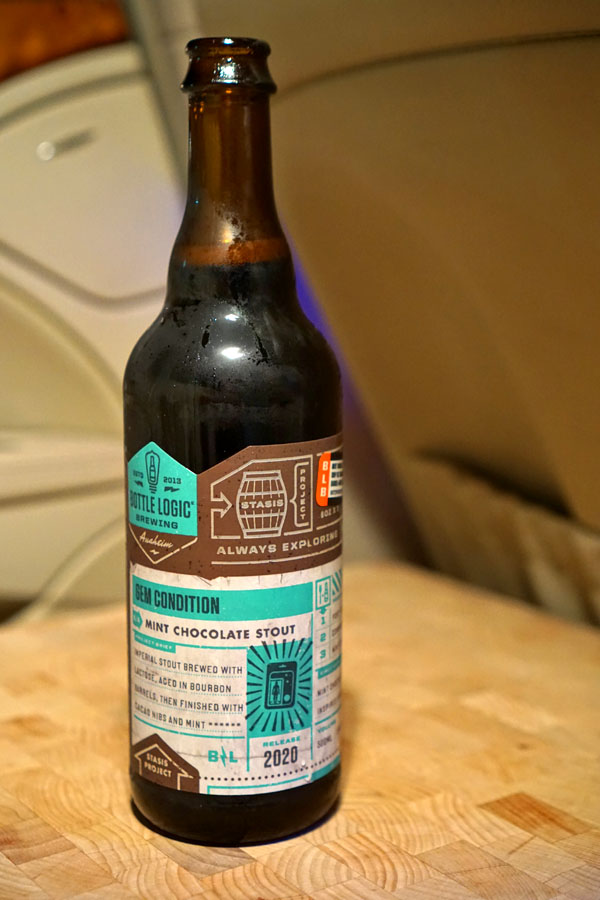 My second beer was the
2020 Bottle Logic Gem Condition
, a bourbon barrel-aged imperial stout brewed with lactose and finished with Ecuadorian cacao nibs and mint. The bouquet on this one was all about rich chocolate laced with refreshing mint; it actually reminded me of the Andes candies of my childhood. The palate was thick, smooth, and demonstrated more of those same mint chocolate chip flavors, but with additional elements of oak and dark fruit. One of the best mint beers I've had, no doubt.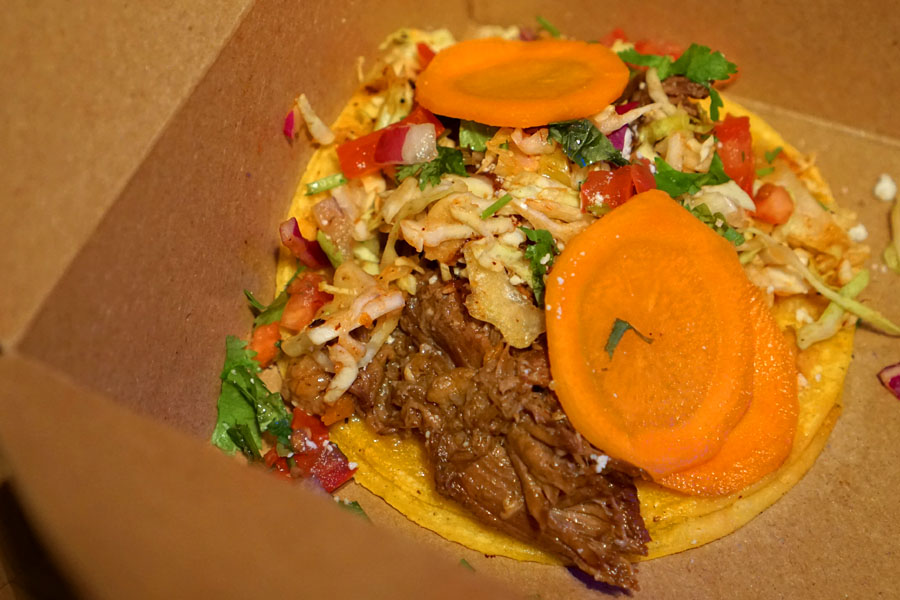 Short Rib Taco [$3.75]
| Short rib, chile arbol salsa, aioli verde, Cotija, caramelized onion, pickled carrot and cilantro cabbage slaw
A birria-esque preparation of beef came out tender and well-spiced. Pickles and veggies worked as effective counterpoints, and I appreciated the more substantial nature of the double homemade corn tortillas utilized here.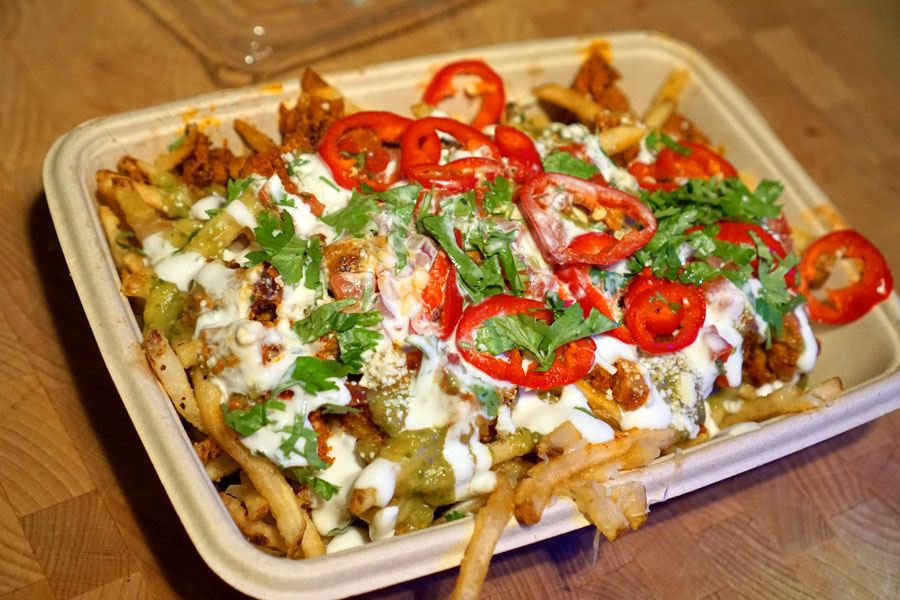 Pastor Fries [$9.75]
| French fries, al pastor, guacsalsa, queso, sour cream, pico de gallo, cilantro and pickled jalapenos
Interestingly, the al pastor was clearly the most aggressive of the meats I tried, arriving fatty and flavorful, with a nice sear. It made for a fitting topping for the fries, while the salsa and queso helped bind everything together.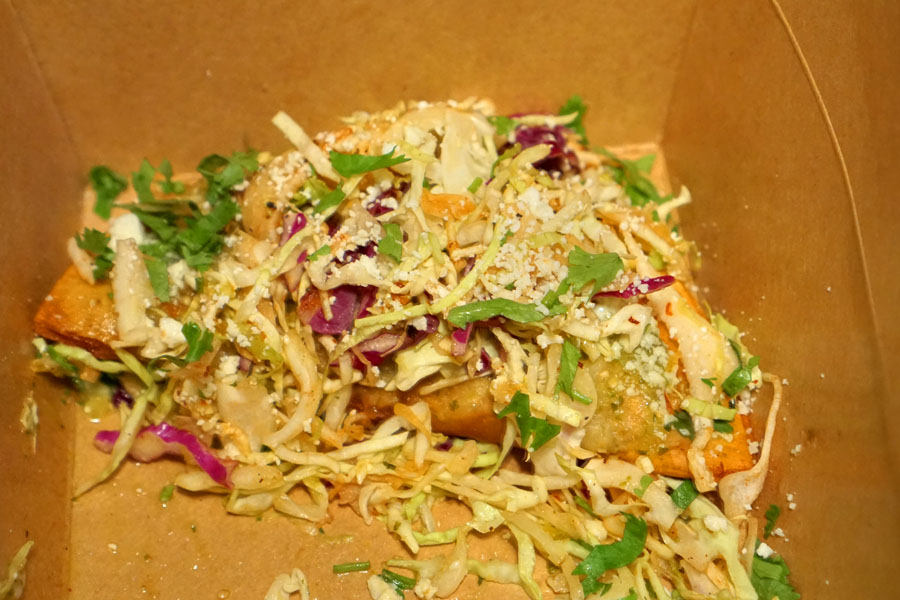 Crispy Sinaloa Shrimp Taco [$5.00]
| Bell pepper, onion, garlic, queso, salsa verde, cilantro, tomato and spicy slaw
This fried, hard-shelled taco featured a crispy tortilla, while the shrimp were pretty flavorful (albeit overcooked), with a delectable, lingering heat. I also appreciated the contrast provided by the bell peppers and onions, which were folded in with the shrimp.
Tonight was my first ever visit to the Long Beach Exchange, and I left the place disheartened. Amorcito made for an uneven experience. Flavors were often times muted, or just too sweet, and overall the food just seemed overly "safe." Perhaps that's just the compromise the Chef had to make in order to open up here.

With coronavirus putting the kibosh on indoor eating, the folks running LBX have set up a pretty welcoming outdoor dining area.