Death & Co (Los Angeles, CA)
Death & Company Bar
810 E 3rd St, Los Angeles, CA 90013
www.deathandcompany.com/dcdtla/
Sat 10/03/2020, 08:00p-10:10p

My previous post was on
The Mermaid
in Little Tokyo, and for this latest entry, I'm heading a few blocks east to the Arts District to file an account on the biggest bar opening of the past few years: Death & Co. The original Death & Co hails from New York City, and is considered by many to be one of the most iconic American cocktail bars. This Downtown outpost opened back in December last year, and is situated in a subterranean spot a stone's throw away from the likes of
Wurstküche
,
Inko Nito
, and
Manuela
. The place actually consists of two distinct experiences: Standing Room, and standing-only bar-slash-waiting area with a more casual menu, and Death & Co proper. Now I had been here a few times before in pre-coronavirus times, and was actually considering getting cocktails to-go during the summer, but the timing never quite worked out. However, Death & Co ended up re-opening on September 17th for outside dining, so I decided to prioritize a re-visit and report.
A bit of history
: The story of Death & Co begins with David Kaplan, who reportedly got his start in the hospitality biz at the tender age of 13. After graduating with a photography degree from Rochester Institute of Technology in 2004, he moved to Manhattan the following year, settling in an apartment above The Bourgeois Pig, an East Village wine bar. He became friends with the bar's owner Ravi DeRossi, and the two subsequently partnered up for the original Death & Co, which debuted on New Year's Eve 2006/2007 in a location just a block away from Bourgeois Pig. The bar quickly made a name for itself, and thus attracted the talents of one Alex Day, who started as a swing shift bartender but rapidly rose up the ranks. Kaplan and Day founded cocktail consulting firm Proprietors LLC in 2008, and in 2010 Day became a partner in Death & Co.
2010 also saw the two move out to Los Angeles, where they would meet The Varnish's Devon Tarby, who soon joined Proprietors as the third partner. In July that year, Death & Co won both the "America's Best Cocktail Bar" and "World's Best Cocktail Menu" awards at Tales of the Cocktail. The much-lauded
Death & Co: Modern Classic Cocktails
was published in October 2014, and in May 2018, the second Death & Co location opened at The Ramble Hotel in Denver. This was quickly followed in August by the official announcement that the bar would be launching a third outpost in LA, rumors of which had begun circulating all the way back since 2009. Death & Co and Proprietors ended up merging in September 2018, with the resulting company known as Gin & Luck. Soon after,
Cocktail Codex: Fundamentals, Formulas, Evolutions
was released, which won both "Book of the Year" honors from James Beard and Tales of the Cocktail's "Best New Cocktail or Bartending Book" award.
Death & Co eventually grand-opened in Los Angeles on New Year's Eve 2019/2020. Leading the beverage program here are Gin & Luck Beverage Director Tyson Buhler and Head Bartender Matthew Belanger, who joined Death & Co NYC in 2015 before taking charge of the bar at the start of 2018 (he also consulted for
Auburn
). Food-wise, we have Gin & Luck Culinary Director Wes Hamilton, while the day-to-day is run by Chef de Cuisine Ana Palomares, who previously helmed the kitchen at Wildcraft in Culver City.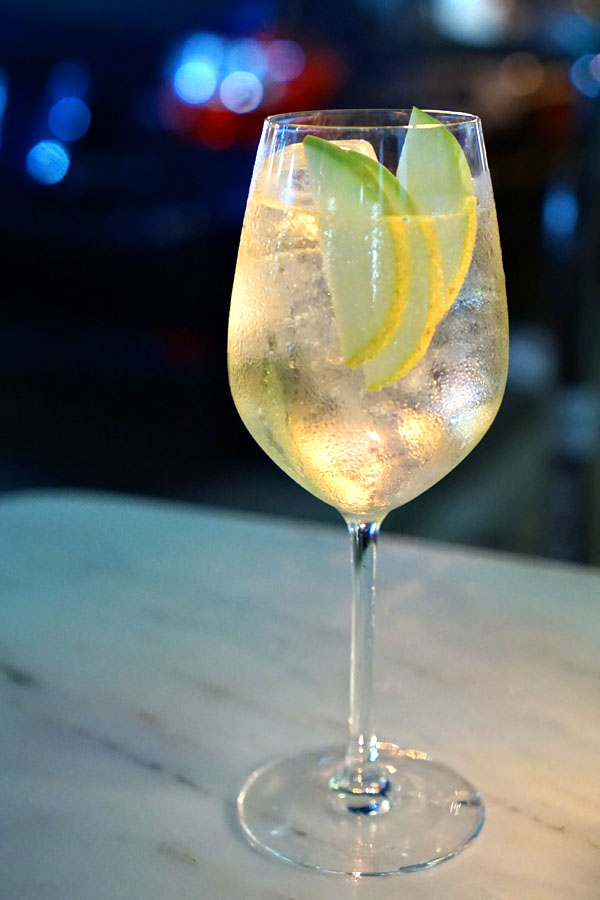 Menagerie [$17.00]
| Ford's Gin, Montreuil Calvados, Sour Apple, Chartreuse, Tonic
I made my way through a number of items from Death & Co's fall/winter 2020 menu, which has been condensed down to a mere dozen selections (three sections at four cocktails each). Coming from the "Fresh & Lively" section, my first drink made for a very strong start thanks to its pretty incredible sweet-n-sour depth and complexity, courtesy of the back-and-forth between apple flavors and accompanying medicinal, herbal notes. Fun and fizzy, yet multifaceted.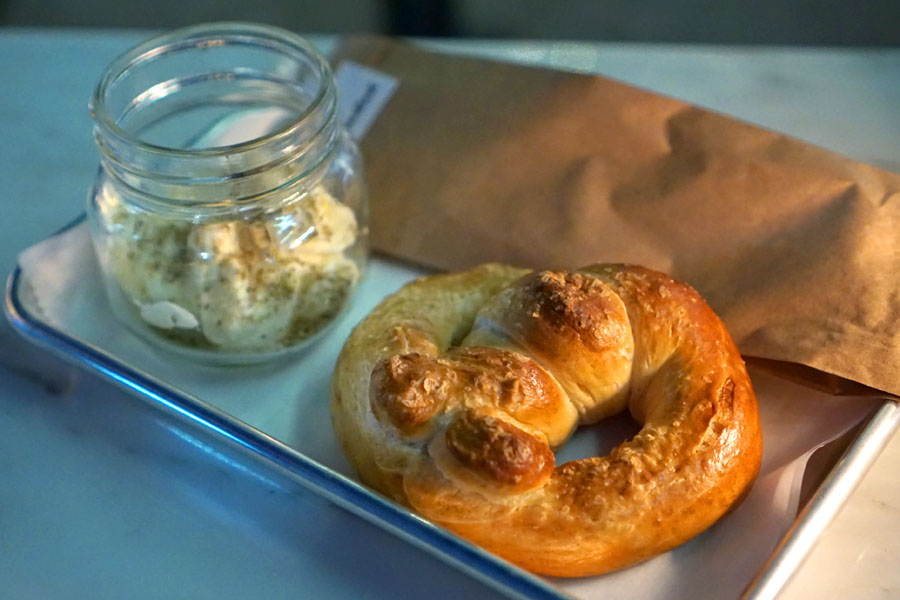 Warm House-Made Pretzel [$10.00]
| Cultured Butter - Smoked salt, fennel pollen
The bar's food menu was also abbreviated, and much snackier than usual. A housemade pretzel arrived hot and homey, with a delightfully crisp skin and a subtle sweetness. It paired easily with the butter, which I found wonderfully airy and loaded with a deft balance of sweet and salty flavors.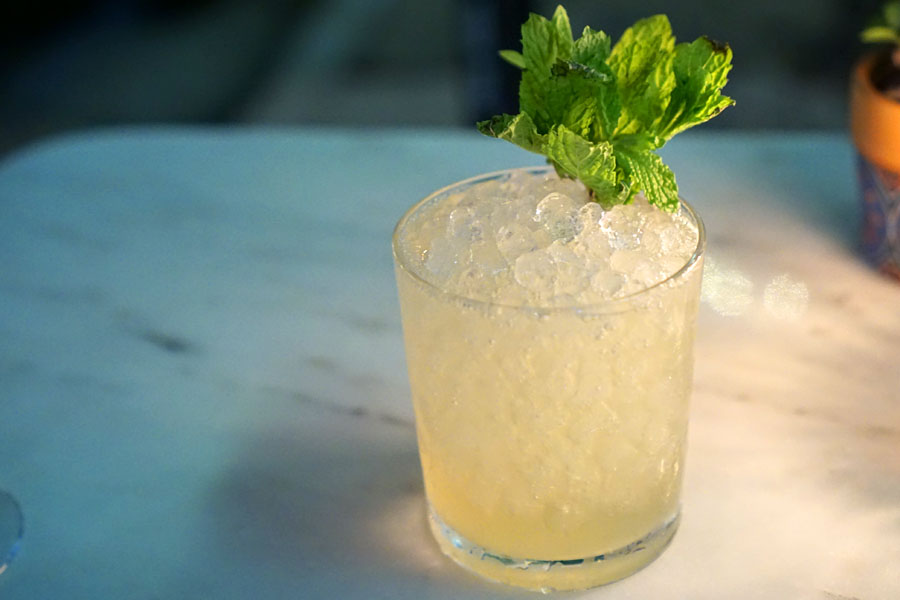 Drum Technique [$21.00]
| Street Pumas Blended Scotch, Douglas Fir Eau de Vie, Yuzu, Sesame, Lemon
Next came a cocktail from the "Light & Playful" section that veered easy-drinking and refreshing. Flavors here included an almost apple-like fruitiness offset by a smidge of acerbicness. This was then joined by subtle sweet spice and a botanical, piney quality toward the rear.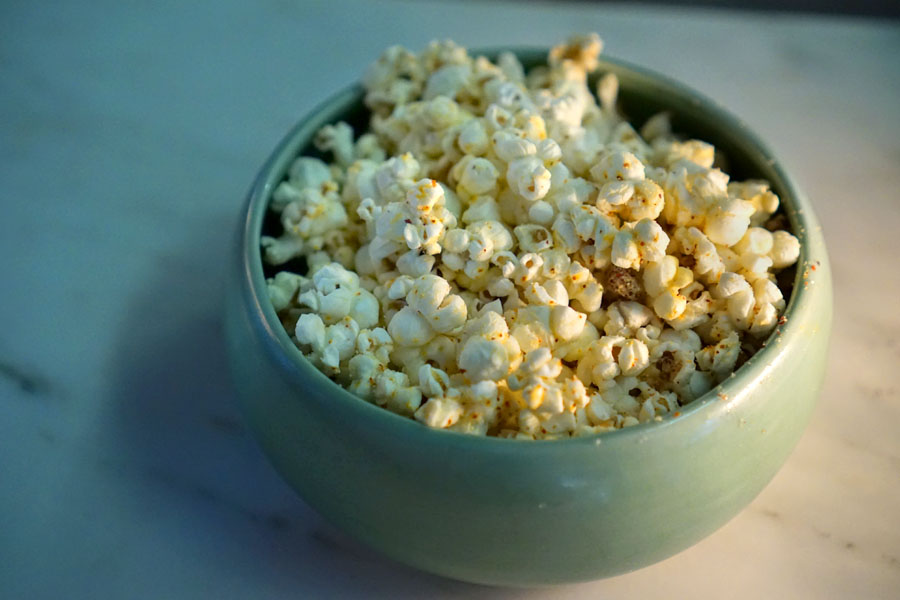 House Popcorn [$8.00]
| Espelette, lime, salt
Popcorn displayed a palpable sweetness evened out by spicy heat and pinpoints of lime acidity.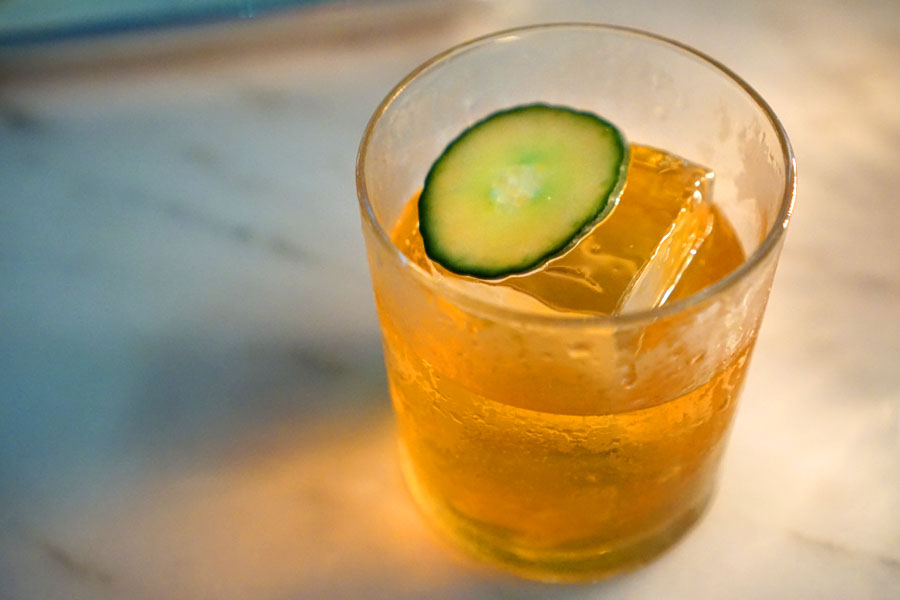 Kid Gloves [$16.00]
| Cimarron Blanco Tequila, Rhine Hall Mango, Aperol, Cucumber
This "Boozy & Honest" cocktail featured a nose filled with cucumber and something that reminded me of tomato sauce, curiously enough. Tasting it, I got more of those savory, pleasantly vegetal elements, commixed with bitter, herbal notes and a trace of cucumber toward the close.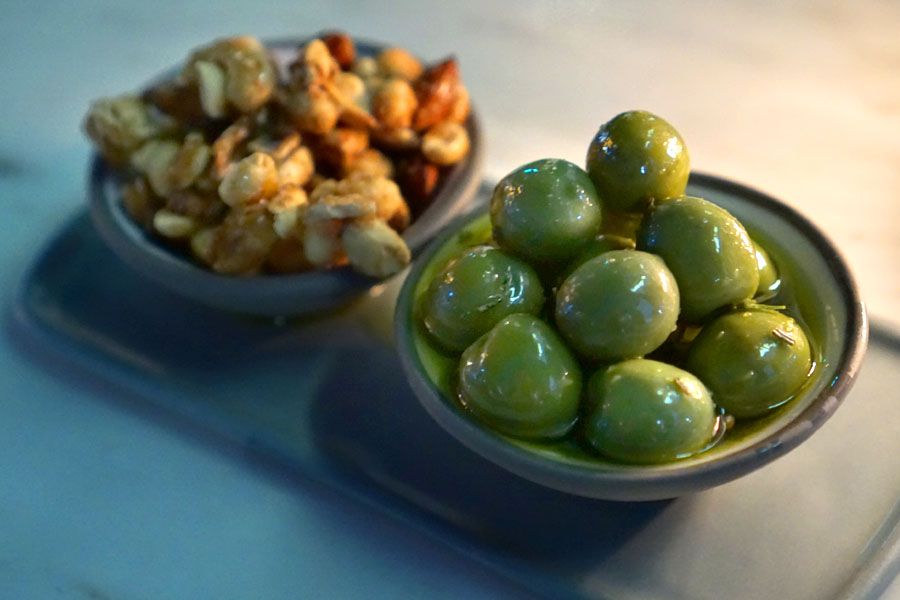 Marinated Olives & Mixed Nuts [$9.00]
| Citrus, herbs, honey
Olives (Castelvetranos I believe) were spot on in their piquancy, while the mixed nuts went in a sweet, sticky, multitextured direction.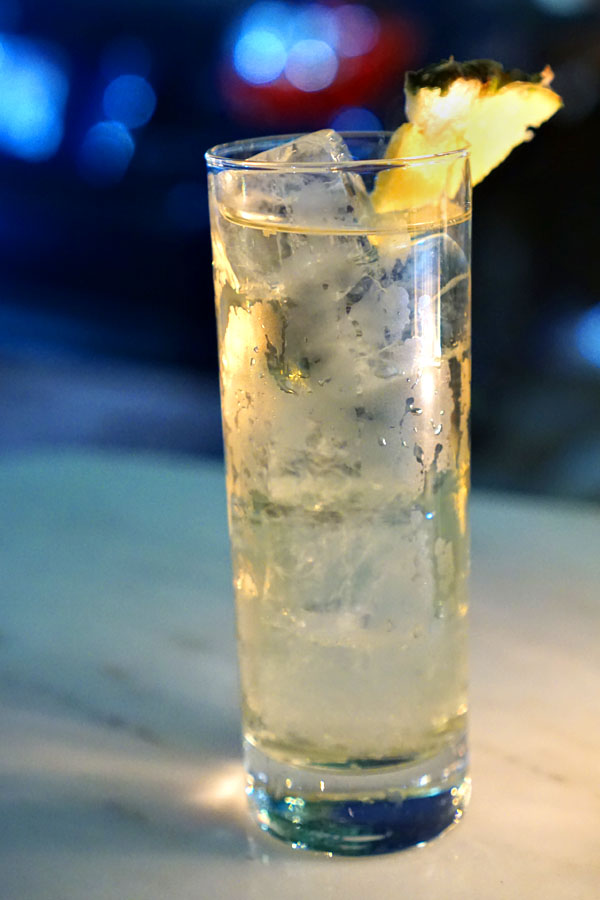 Bizzy Izzy Highball [$16.00]
| Suntory Toki Japanese Whisky, Oloroso Sherry, Pineapple Soda
I moved back to "Fresh & Lively" with this smart take on the classic highball cocktail. I'll liken its taste to that of a pineapple Jolly Rancher, even though I've never had that particular flavor of the candy before. It was an appealing sort of fruitiness, one that meshed like clockwork with the drink's potent backing of sherry and whisky.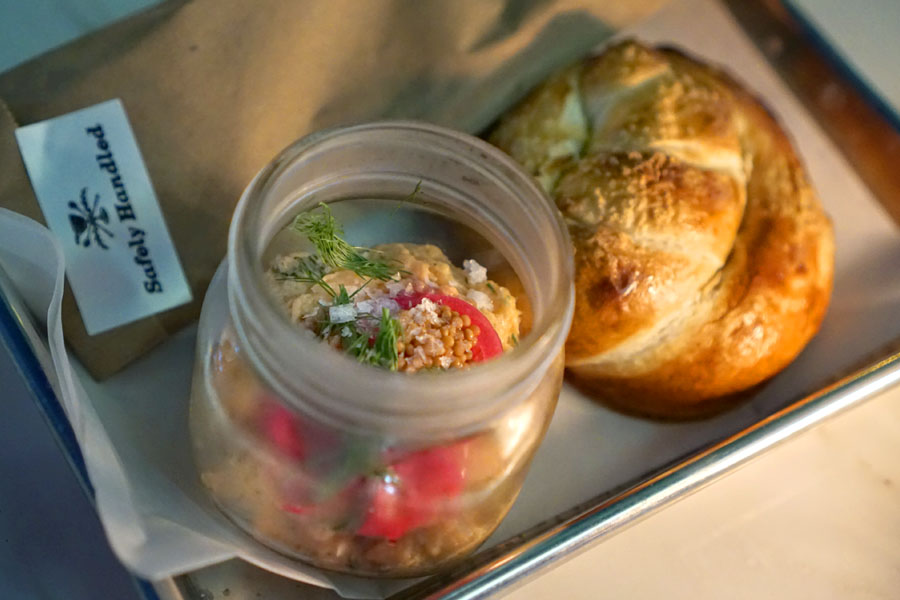 Warm House-Made Pretzel [$10.00]
| Wild Salmon Rillette - Cured salmon, mustard seed, dill, pickled onions
My second pretzel was even better than the first. I loved the smoky, aggressive nature of the salmon here, and especially how the fish married with the pickle-y onions and flakes of salt present.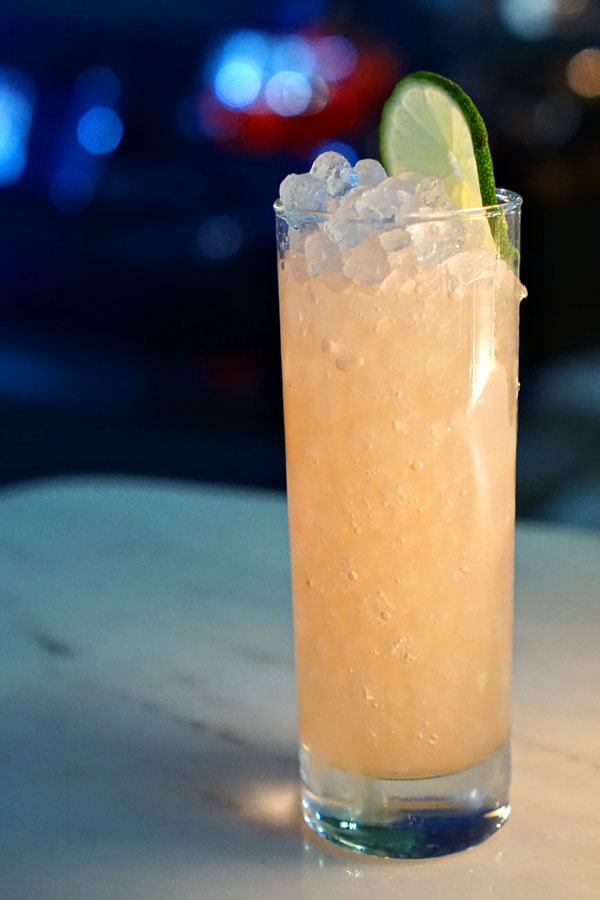 Doctor Mindbender [$16.00]
| Cimarron Blanco Tequila, Empirical Spirits Habanero, Guava, Lime, Angostura
The evening's final cocktail came from the "Light & Playful" portion of the menu, and featured a combination of heat and astringency transitioning to plenty of tropical guava flavors and a touch of herbaceousness.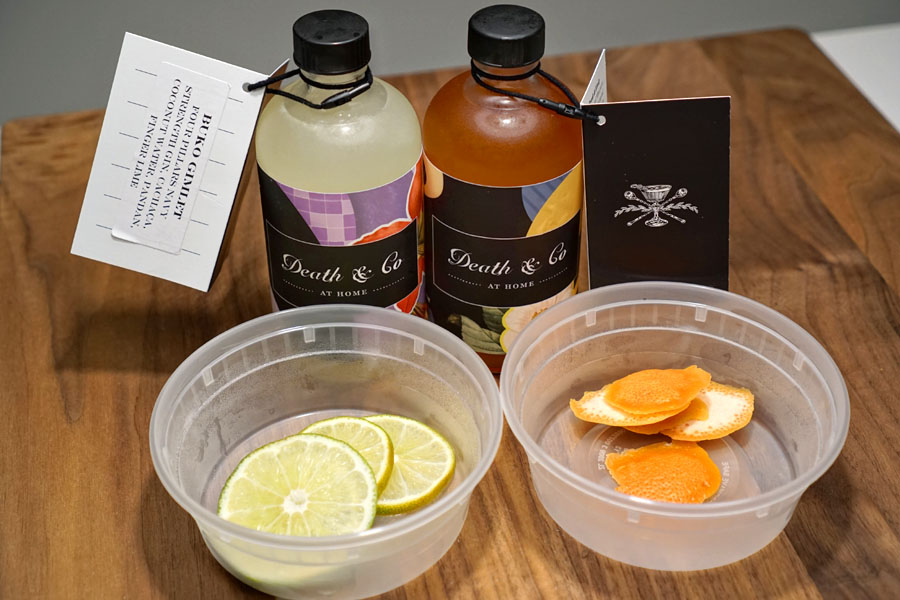 I ended up getting two drinks for enjoyment the following day. All the cocktails on the menu were available for takeout except those in the "Fresh & Lively" section, and were batched in double-sized portions meant for two drinkers each. The inclusion of garnishes was much appreciated.
Buko Gimlet [$33.00]
| Four Pillars Navy Strength Gin, Cachaça, Coconut Water, Pandan, Finger Lime
This take on the traditional gimlet cocktail played a citrusy sourness against the sweetness of coconut and the warmth and familiarity of pandan. The gin, meanwhile, made itself known more on the close.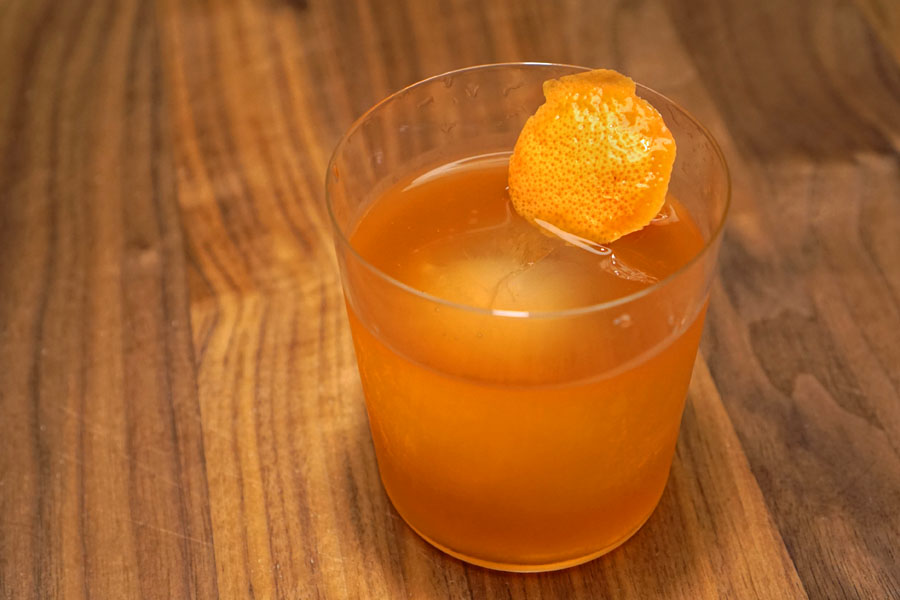 I Against I [$33.00]
| Hampden Single Jamaican Rum, Blended Scotch, Honey, Jamaican Jerk Bitters, Strega
Last up was certainly the most aggressive out of all the cocktails I tried. The nose here was intense, and conveyed tart, funky aromas backed by an almost rubbery quality. Taste-wise, I found a commingling of char, spice, and bitterness, joined by an acrid, pungent character while the finish was long and lingering, with bountiful amounts of heat and smoke. This one hit hard.
This spot was on its way to becoming one of my go-to bars in the Arts District, and this visit served as a reminder as to why. Now of course I do miss the intimacy of the actual Death & Co space, as well as its more ambitious food menu, so hopefully this place can weather the COVID-19 storm so we can all enjoy a proper experience here once again.