Tidbits by Dialogue (Santa Monica, CA)
Tidbits by Dialogue
1315 3rd Street Promenade, Santa Monica, CA 90401
www.dialoguerestaurant.com/tidbits/
Fri 10/16/2020, 08:10p-10:25p
[Update 11/03: Following the writing of this post, it was announced that Tidbits would be shutting down for good on November 7th. Dialogue is also done for at its current location, but hopefully will reappear somewhere down the line.]

One of my best takeout meals I've had this entire coronavirus pandemic was from
Dialogue
back in June. However, Dave Beran and his team stopped selling prix fixe meals to-go in early August, instead replacing those offerings with Tidbits, an outdoor-only pop-up. Launched on August 6th, Tidbits occupies the second floor patio of the Gallery Food Hall, while the actual cooking occurs in the kitchen of pizza slanger Paperboy.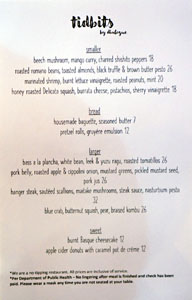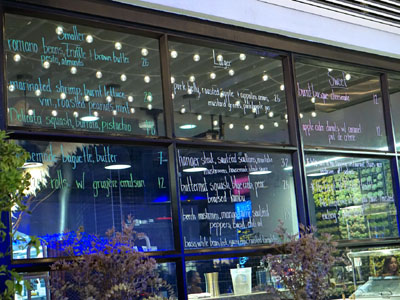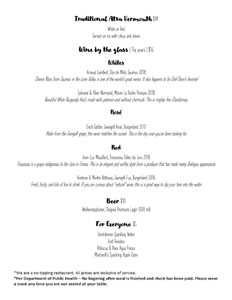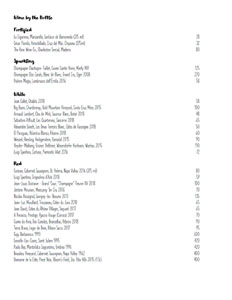 We ended up running the gamut on Tidbits' admittedly compact menu, trying every dish listed and even one that wasn't. Drink-wise, you get a relatively compact, Old World-leaning wine list from Dialogue Beverage Director Jordon Sipperley. Takeaway is also available, if desired. Click for larger versions.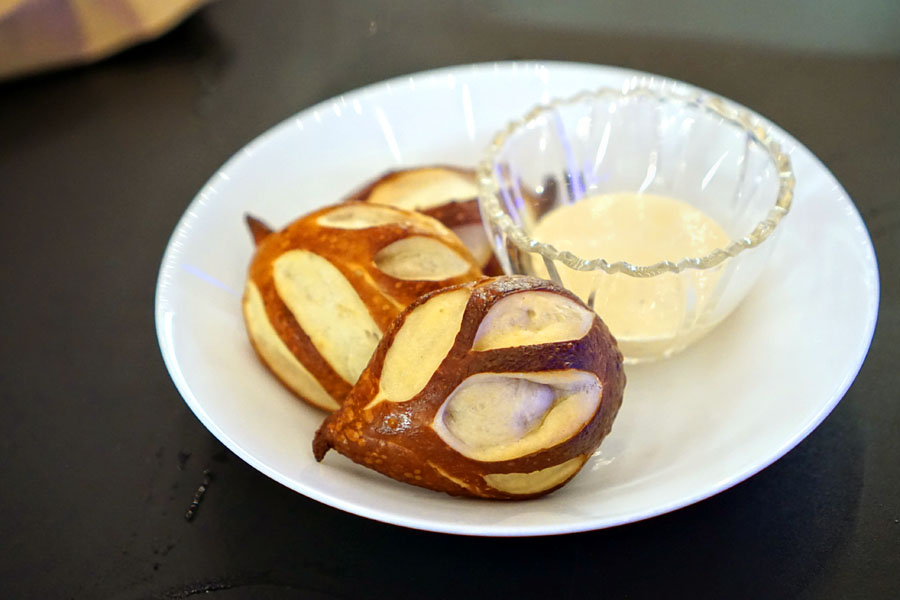 pretzel rolls, gruyére emulsion [$12.00]
Not only were the pretzel rolls visually appealing, they arrived piping hot, pleasantly crisp, and just buttery enough. They were thoroughly enjoyable on their own, but I didn't mind a dip into the almost ranch-like Gruyère either.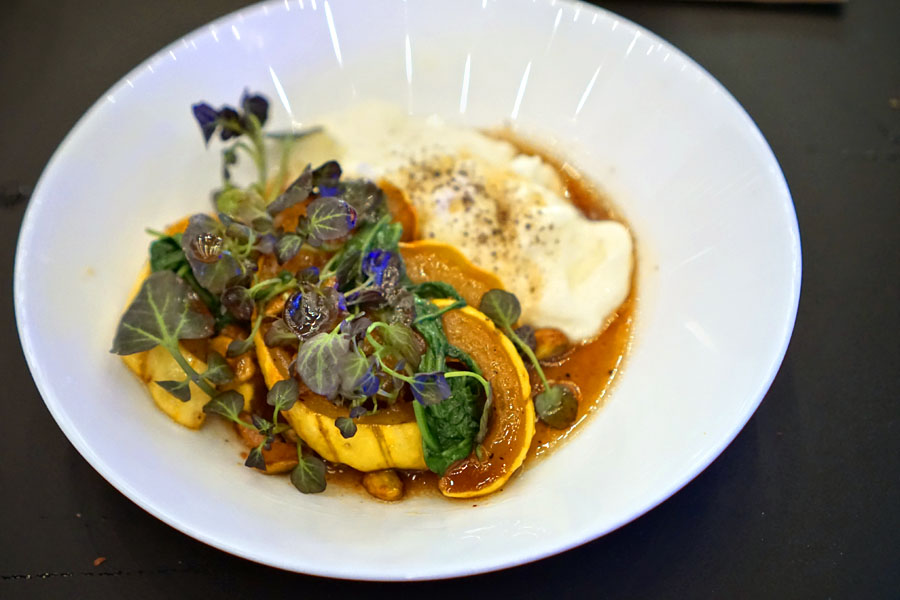 honey roasted Delicata squash, burrata cheese, pistachios, sherry vinaigrette [$18.00]
I'm not a squash fan, but given that caveat, Beran and the team did do a pretty good job with the delicatas. The burrata ate as lush and creamy as you'd expect, while also being punctuated by flakes of salt. It did an admirable job softening the sweetness of the squash, and I also appreciated the crunch and nuttiness imparted by the pistachios, too.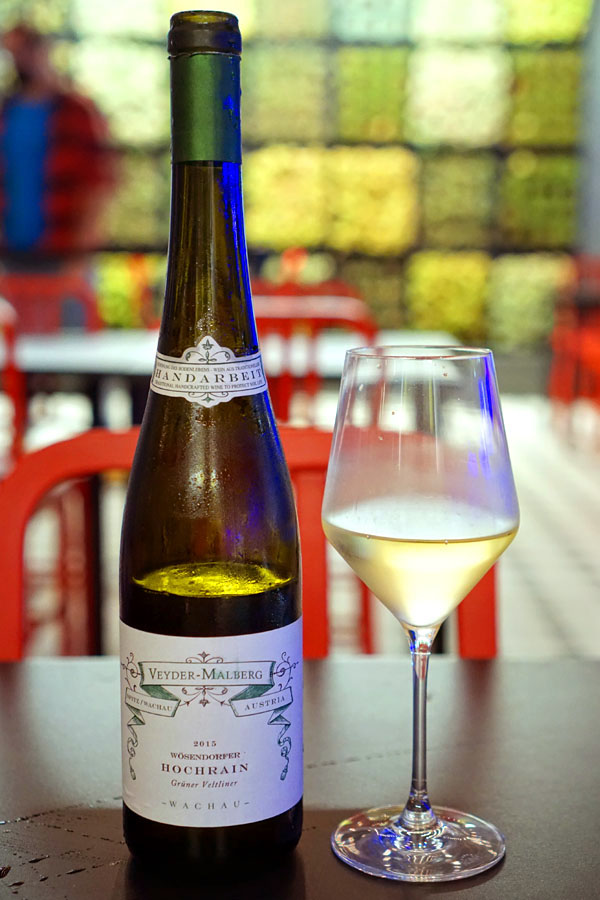 For our first wine, we went with the
Veyder-Malberg, Grüner Veltliner, Wösendorfer Hochrain, Wachau 2015 [$110]
. It had an appealing, multifaceted nose blending fruit with an earthy, vegetal quality and some butterscotch. Tasting it, I got fresh, lush yellow fruit mixed with tart green apple, while minerals and spice appeared later on.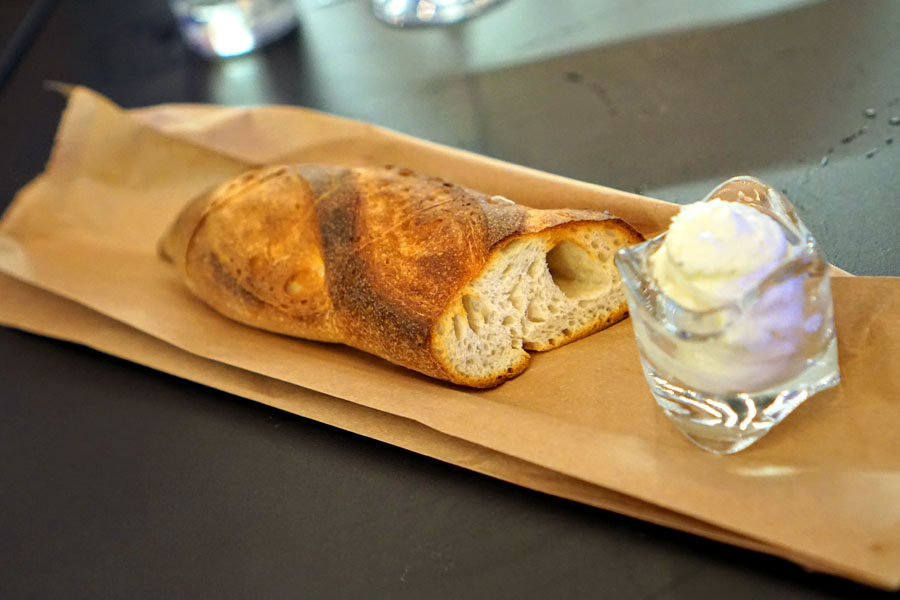 housemade baguette, seasoned butter [$7.00]
Our baguette was classic in form, and featured a particularly enjoyable crust. A perfect pairing with that supple, sweet-n-salty butter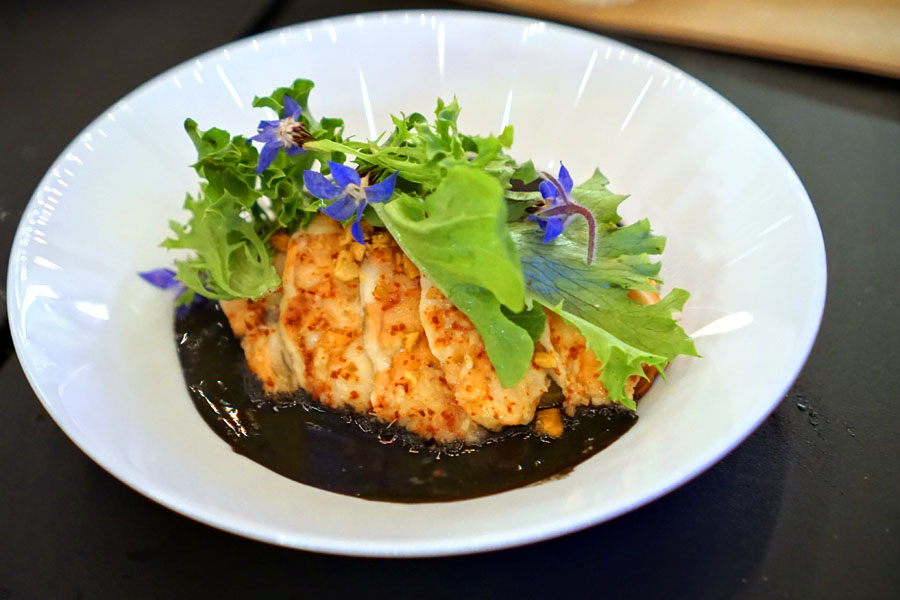 marinated shrimp, burnt lettuce vinaigrette, roasted peanuts, mint [$20.00]
Shrimp arrived slightly chilled, and sported a meaty, satisfying bite. They worked as a counterweight to the burnt lettuce vin, which was really the star of the show with its marriage of funky, fruity, sour, and astringent notes, all accented by a top note of brightness from the greenery.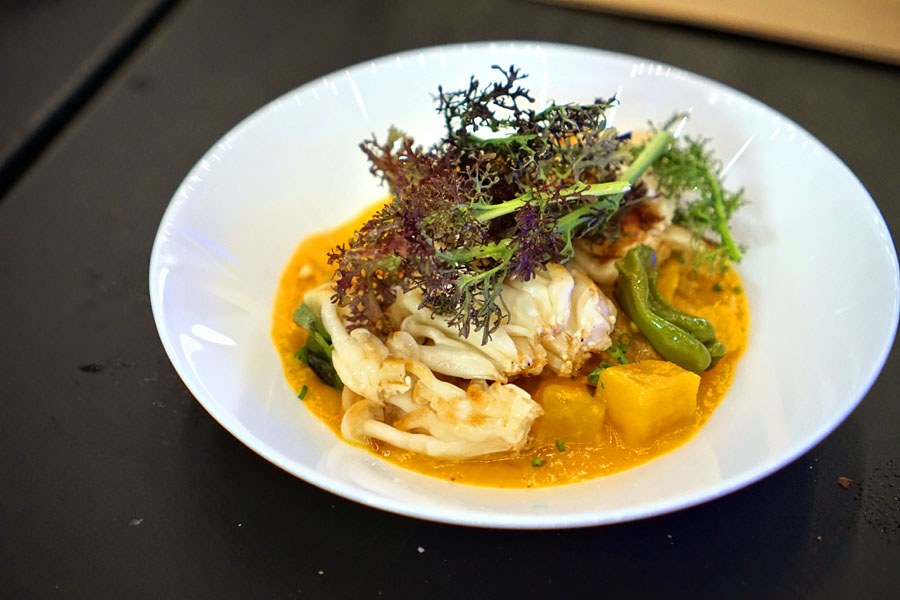 beech mushroom, mango curry, charred shishito peppers [$18.00]
Shimejis were delicious, and showed off an excellent depth and umami that surprised me. What was even more surprising, though, was how well the fruitiness of the curry worked as a juxtaposition, while I also liked the undercurrent of heat present. A standout dish.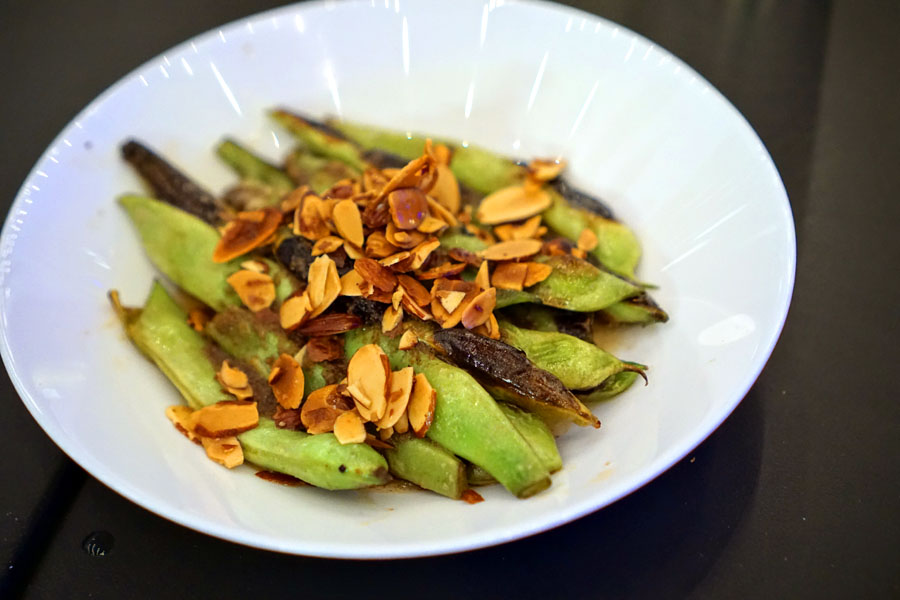 roasted romano beans, toasted almonds, black truffle & brown butter pesto [$26.00]
The flat beans were another favorite of mine. They worked beautifully as a base to the robust, buttery, smoky flavors at play, and had a superb crunch as well. I actually didn't get much truffle here, but I was alright with that.
bass a la plancha, white bean, leek & yuzu ragu, roasted tomatillos [$26.00]
Bass came out super flavorful, with a crispy, delicate skin. The fish was joined by a marked citrusy element, while the beans did a great job adding some additional heft to the dish.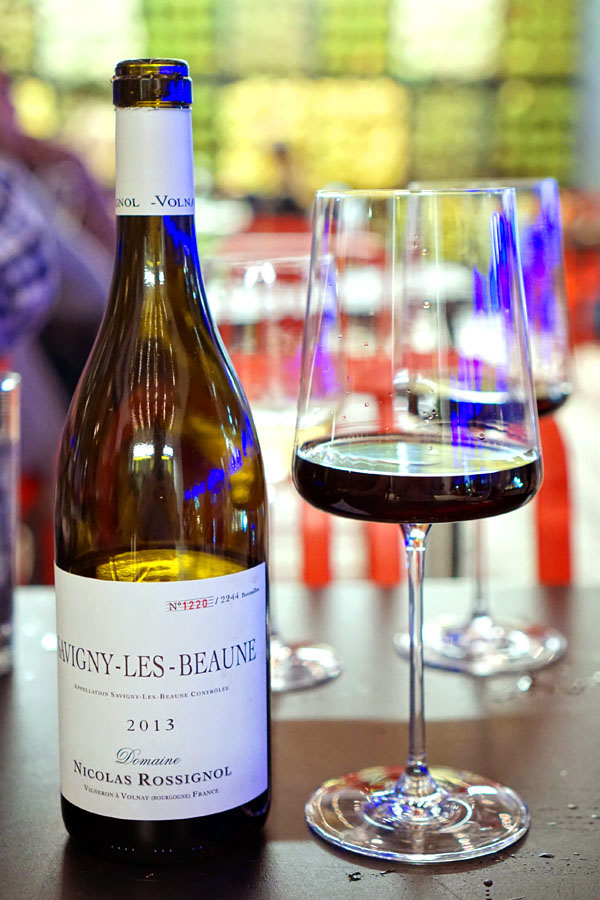 The evening's second bottle of wine was the
Nicolas Rossignol, Savigny-les-Beaune 2013 [$135]
. I got an intense nose brimming with savory, barnyard-y notes and a touch of berry. Taste-wise, it was dark fruit at the forefront, married with perfume-y, floral characteristics, a smidgen of minerality, and a generally soft, velvety presentation.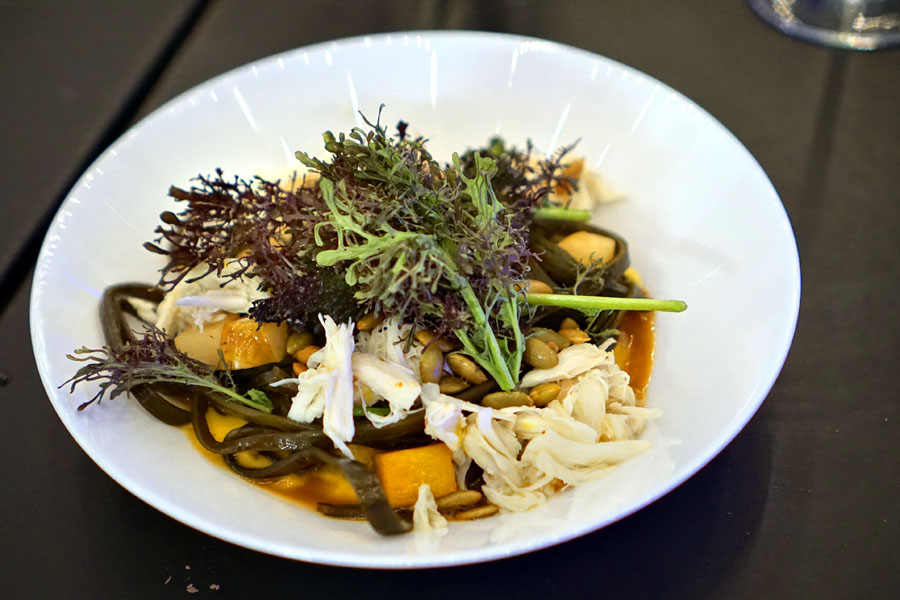 blue crab, butternut squash, pear, braised kombu [$26.00]
This next course didn't come together as well as I was hoping for. Now the actual crab was spot on. I loved its trademark sweetness and salinity, but the kombu here just seemed jarring, and overall things veered salty. However, I did enjoy the mustard-y notes in the dish, as well as the nutty crunch imparted by the pepitas.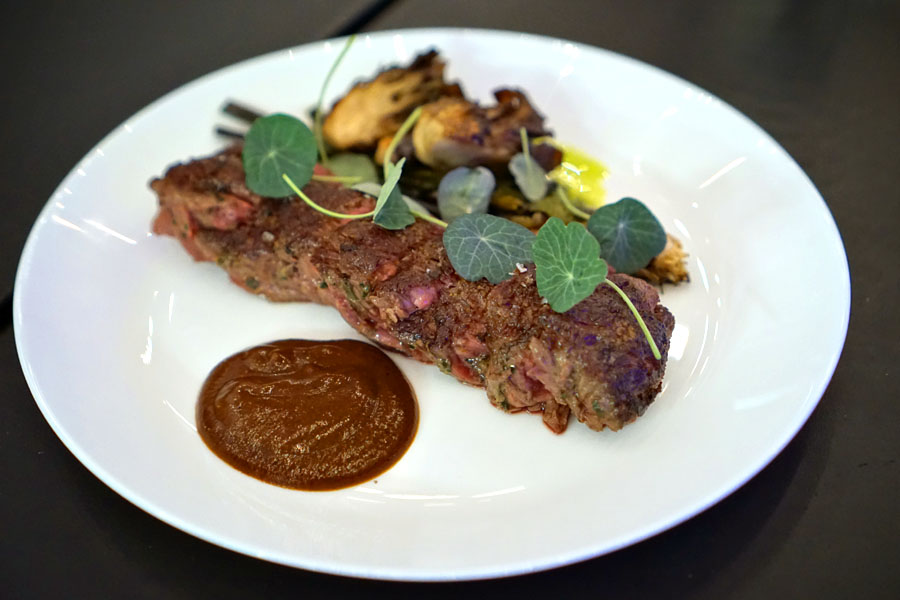 hanger steak, sautéed scallions, maitake mushrooms, steak sauce, nasturtium pesto [$32.00]
Hanger came out rare, with flavors that were uncommonly deep and funky. It was certainly tasty alone, but I didn't mind a dab of that ketchup-y steak sauce either, while even better were the scallions, which displayed a Chinese-y sort of smoke and savor.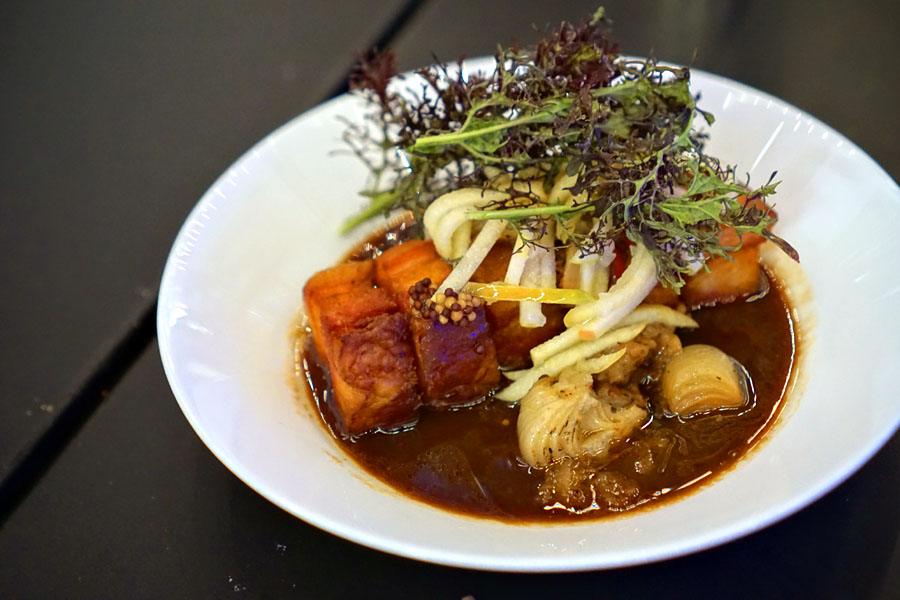 pork belly, roasted apple & cippolini onion, mustard greens, pickled mustard seed, pork jus [$26.00]
Last up was the pork, another favorite for me. The belly demonstrated a pretty incredible richness, along with a proper smoke and an almost hot dog-like quality that I was pretty enamored with. At the same time though, the meat ate surprisingly light and crispy, while the mustard offered an effective contrast.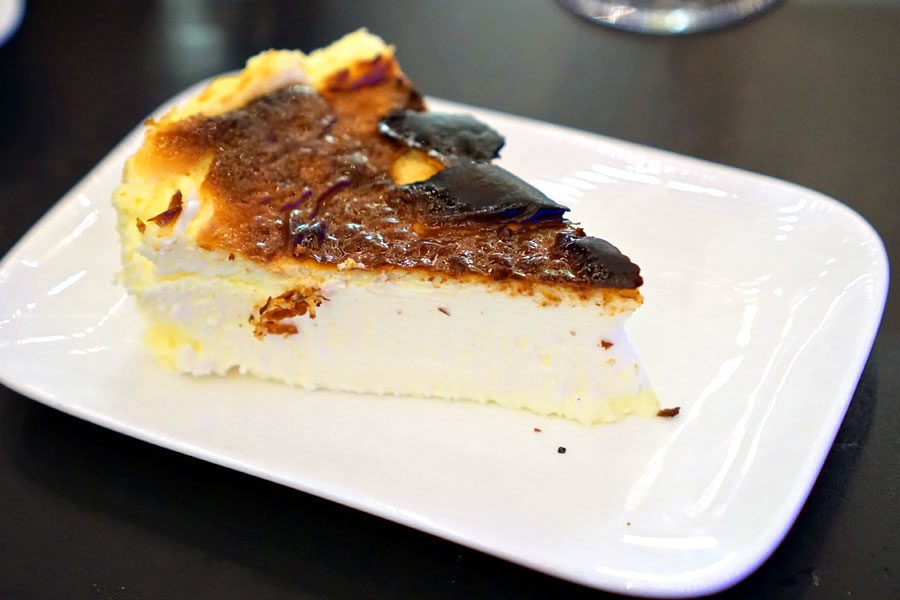 burnt Basque cheesecake [$12.00]
Now on to dessert. I'd actually had Dialogue's Basque cheesecake
back in April
, and compared to that, the version tonight ate a bit differently. It was certainly rich and dense and very obviously cheesy, but it didn't have the overt earthiness I tasted earlier, while its smoke was also more subdued.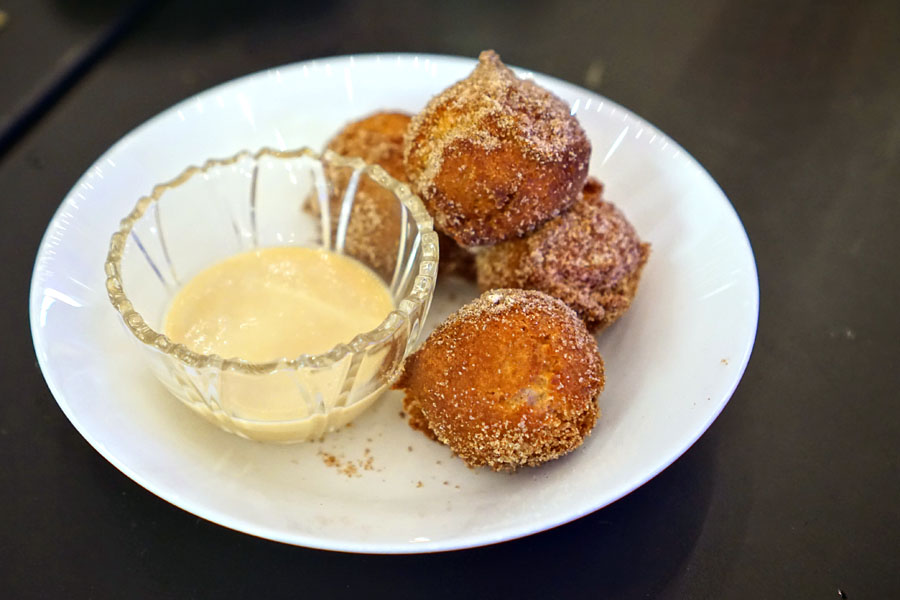 apple cider donuts with caramel pot de créme [$12.00]
The doughnuts were some of the creamiest, most luscious examples I've had in recent memory, and meshed well with the sweet-and-spicy nature of their accompanying sauce.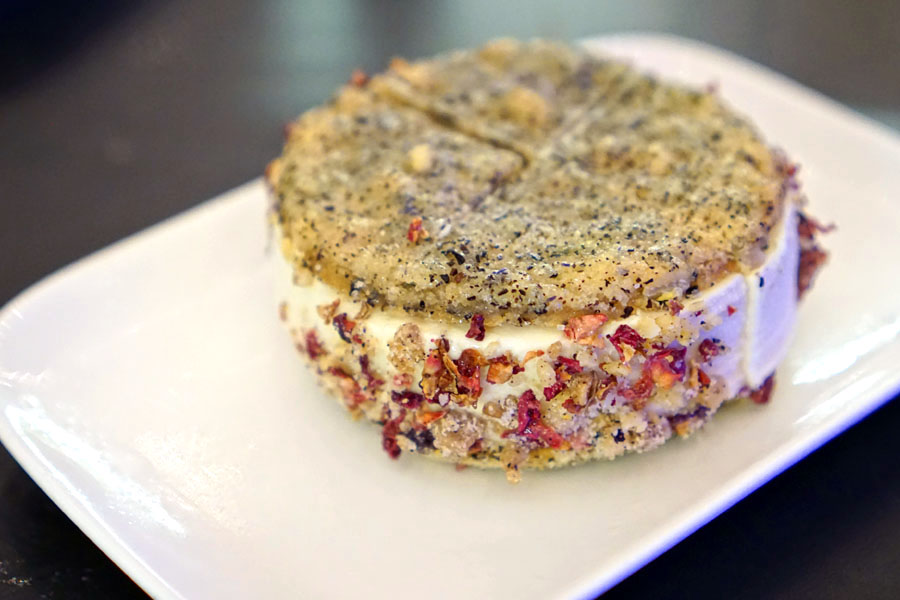 ice cream sandwich, Earl Grey, honey, rose [$???]
The best dessert for me was this off-menu ice cream sandwich, largely thanks to its delightfully fun, floral flavors.
Tidbits is a major pivot for Beran and his team, but one that looks to be pretty worthwhile, and a logical fit for our current state of affairs. A lot of the dishes we tried were pretty interesting, and imbued in the cooking was a definite sense of Dialogue's ethos. I'm curious if Tidbits will survive in one form or another after we get past this virus and attention shifts back to the main restaurant.