The Mermaid (Los Angeles, CA)
The Mermaid Bar
428 E 2nd St, Los Angeles, CA 90012
213.947.3347
www.themermaidla.com
Thu 10/01/2020, 07:45p-08:20p
My last post was on
Champion's Curry
in Little Tokyo. Now while I was picking up my food there, I was reminded that I needed to file a report on The Mermaid, which is a cocktail bar just across the street, one with a nautical theme--just don't call it tiki. The place opened on August 13th, 2018, and occupies the former home of Tapas and Wine Bar C (an odd little spot that had a surprisingly high-end wine list that featured DRC, first growths, and even the super culty Le Pin) and Albatross Cafe before that. The people behind The Mermaid are Kristin "Katie" Kildow and Arelene Roldan, as well as their respective husbands: Jake Sneider and Sean Heitkemper.
Roldan was the driving force behind Bar One Tap Room, a cozy beer bar in Valley Village that debuted in November 2007 (it closed in August 2017, and has been replaced by Mirabelle). In August 2012, she launched Steampunk CoffeeBar + Kitchen right next door to Bar One, though the cafe shuttered just recently this May. Kildow, meanwhile, got her start bartending (in Milwaukee, and at Blind Donkey and Verdugo Bar here in LA), as well as making jams and jellies through her company From the Robin's Nest. The preserves business led to her becoming a partner (with Anca Caliman, and later Aracelly Flores) in Lemon Poppy Kitchen in Glassell Park, an all-day spot that opened in May 2012 and is still going strong. Roldan and Kildow met in fall 2017 through a mutual friend. The former desired to open another drinking establishment after the shutter of Bar One, while the latter wanted to get back into bartending, so the two quickly joined forces, and now we have The Mermaid.

Since the coronavirus has eliminated indoor dining, the folks behind Honda Plaza have set up an outdoor dining area called Honda Ikoi (in Japanese,
ikoi
refers to rest or relaxation).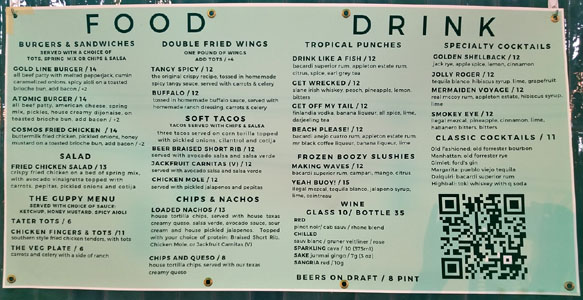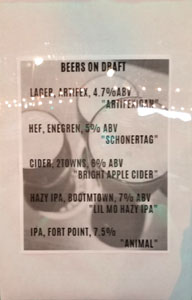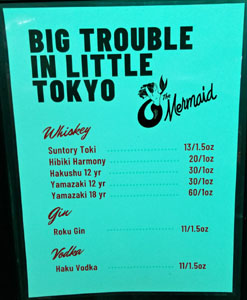 Here's the menu, which has been simplified somewhat given our current state of affairs. The food's straightforward bar fare, while the cocktails lean toward the fun, fruity, and yes, tiki-ish side. Note also The Mermaid's draft beer list and a separate, small listing of Japanese spirits. Click for larger versions.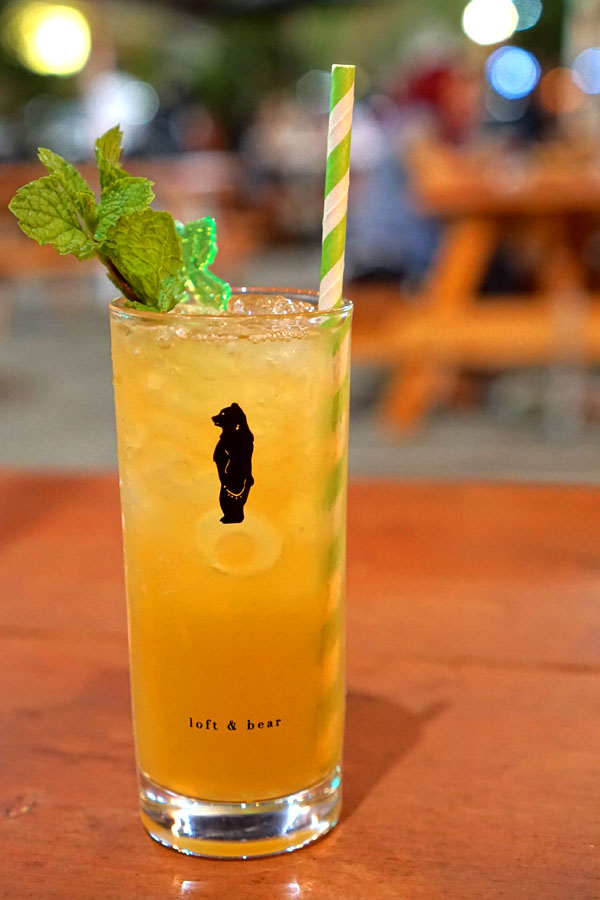 Get Off My Tail [$12.00]
| finlandia vodka, banana liqueur, all spice, lime, darjeeling tea
I began in the punch section of the menu. This first cocktail demonstrated a fruitiness that was hard to pin down--I sort of had to look for the advertised banana. Serving as a counterbalance was this tea-fueled bitterness, while bringing up the rear was the slightest hint of mint.
Gold Line Burger [$14.00]
| all beef patty with melted pepperjack, cumin caramelized onions, spicy aioli on a toasted brioche bun
The hamburger was a brutish looking thing, but ended up delivering in the taste department. I found the patty well-charred and unabashedly beefy, with a slight pepperiness. The meat married easily with the surprisingly restrained nature of the cheese, and I really appreciated the additional facet of the onion. As for the bun, think substantial but not heavy, as well as slightly sweet.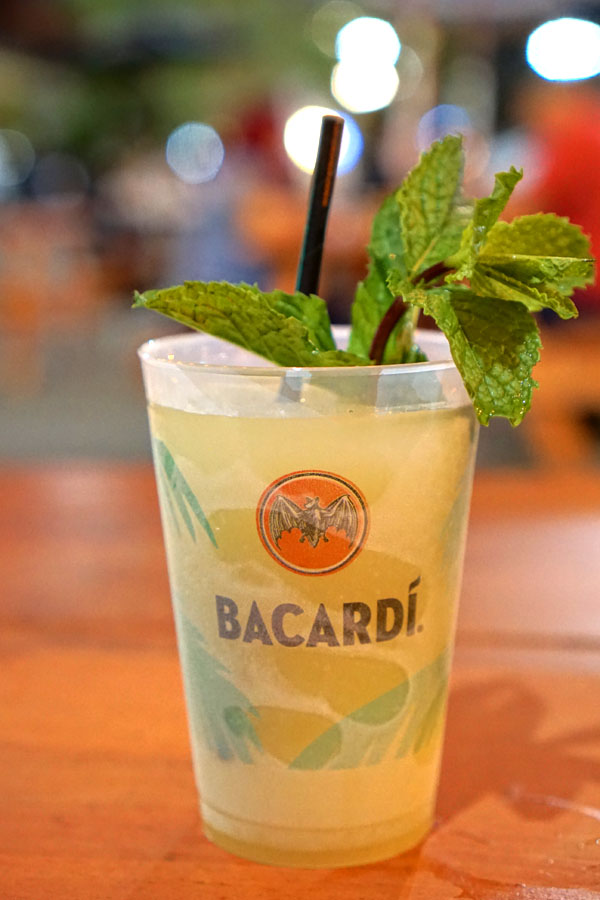 Yeah Buoy! [$15.00]
| ilegal mezcal, tequila blanco, jalapeno syrup, lime, cointreau
Slushie-type cocktails are usually on the easier-drinking side, but that wasn't the case here. Rather, the smoky, vegetal nature of the mezcal/tequila combo was on proud display, combined with notes of citrus and a prickly heat that really stayed with me.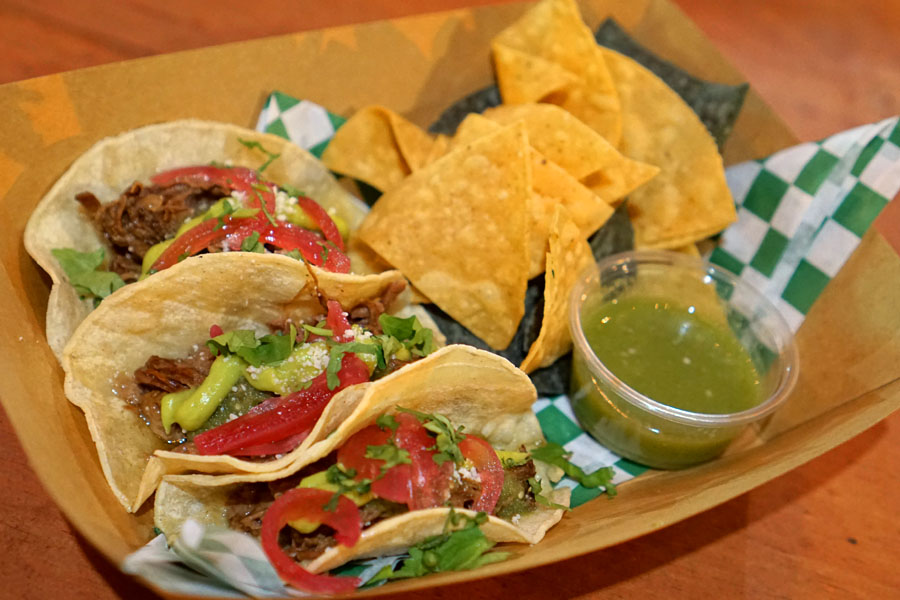 Beer Braised Short Rib Soft Tacos [$12.00]
| three tacos served on corn tortilla topped with pickled onions, cilantro and cotija. served with avocado salsa and salsa verde
The tacos managed to be my favorite dish of the evening. I was pretty impressed with the tenderness and seasoning of the beef, which was well tempered by the zippy onions and lushness of the guacasalsa. It all came together rather nicely. As for the chips, they were reminiscent of those you might find at many a Mexican restaurant, and certainly made sense with that thin, piquant salsa verde.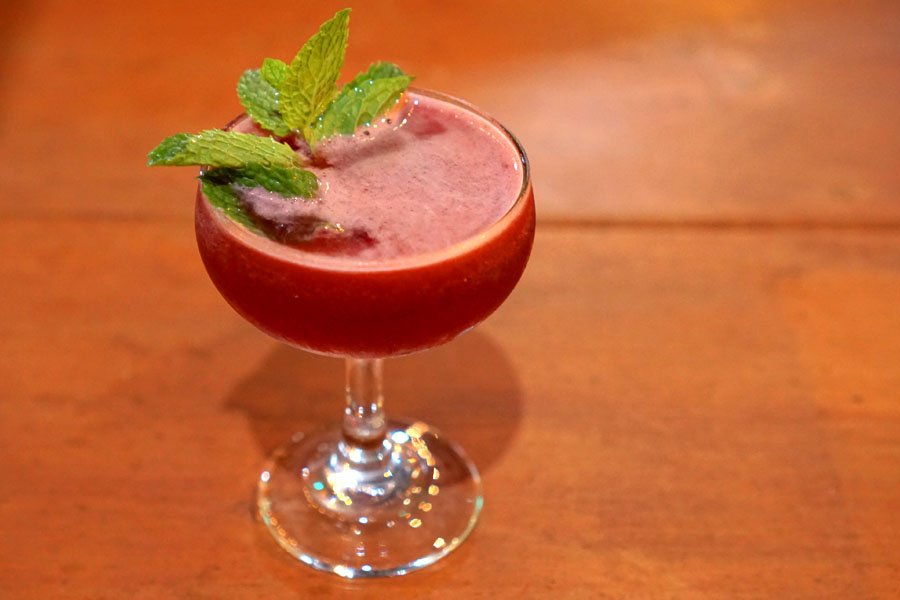 Mermaiden Voyage [$12.00]
| real mccoy rum, appleton estate, hibiscus syrup, lime
My first of the "specialty" cocktails showed off loads of rich, almost jammy fruit, moderated by the presence of citrus and shaper notes from the duo of rums.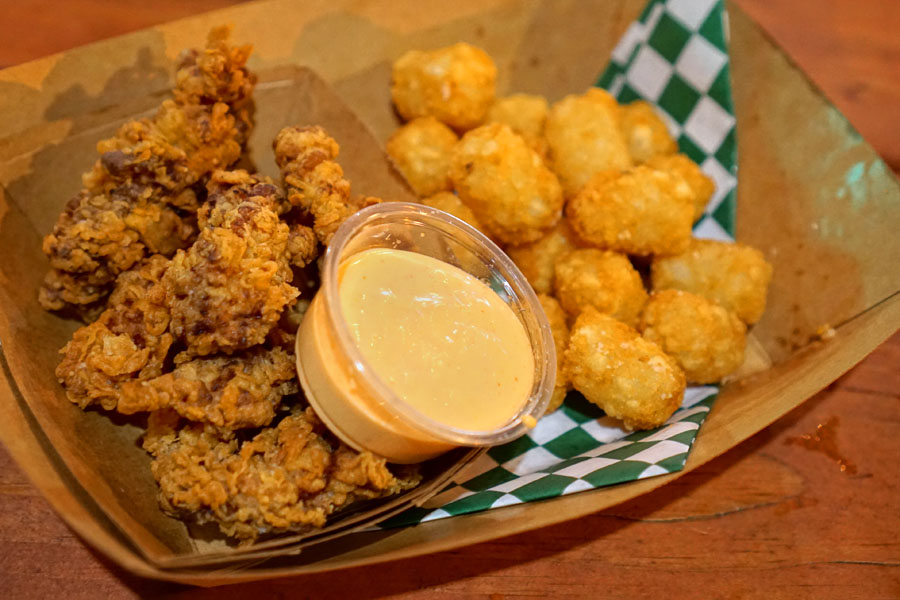 Chicken Fingers & Tots [$11.00]
| southern style fried chicken tenders, with tots
My next dish came from the "guppy" menu, which I'm guessing is The Mermaid's version of a children's menu. In any case, the tater tots arrived hot and crispy, just like I wanted, and matched swimmingly with the creamy, spicy aioli. As for the chicken, it managed to avoid dryness, but wasn't exactly juicy either. Meanwhile, its batter was properly crunchy, though a touch sweeter than I'd like.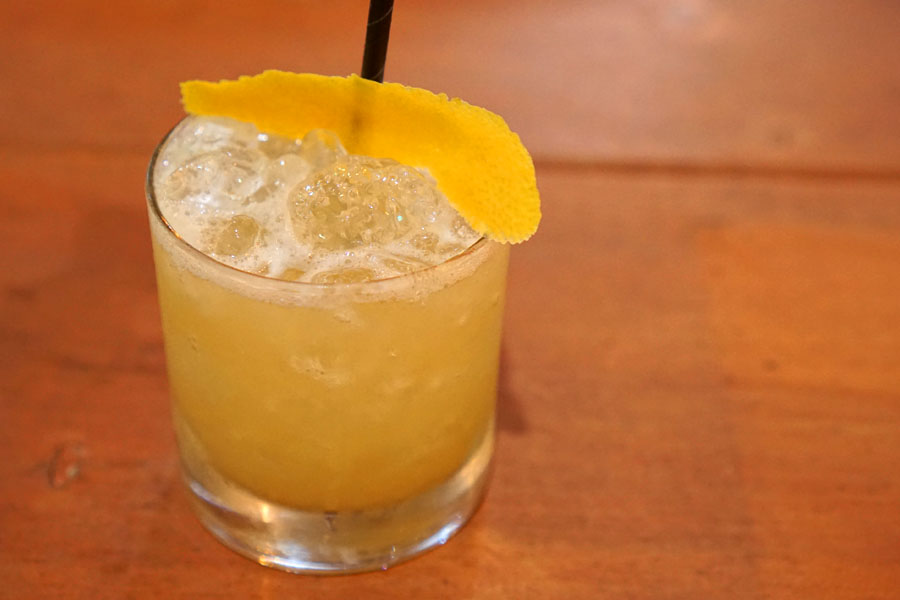 Golden Shellback [$12.00]
| jack rye, apple spice, lemon, cinnamon
The night's fourth cocktail blended a mild fruity character with an astringency that reminded me of laundry detergent, but not in a disagreeable way. Also present was an overarching sweet spice, while distinct apple-y notes appeared toward the finish.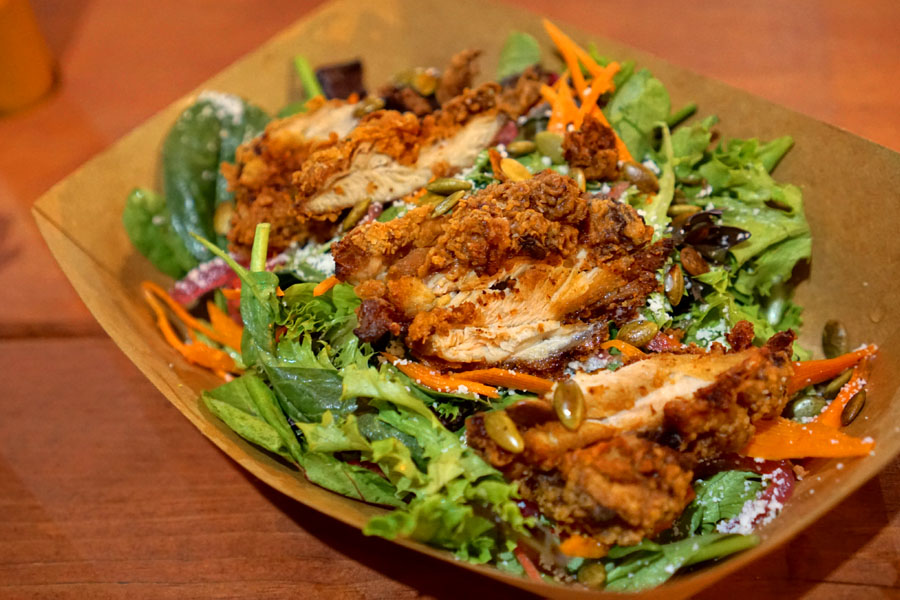 Fried Chicken Salad [$13.00]
| crispy fried chicken on a bed of spring mix, with avocado vinaigrette topped with carrots, pepitas, pickled onions and cotija
This salad ended up being better than I expected. First off, the chicken here was richer, more deeply flavored than in the application above, while its crust lacked the sweetness I identified earlier. At the same time, the greens were given a welcomed kick in the pants by the cotija, and I quite liked the nuttiness and crunch imparted by those pumpkin seeds, too.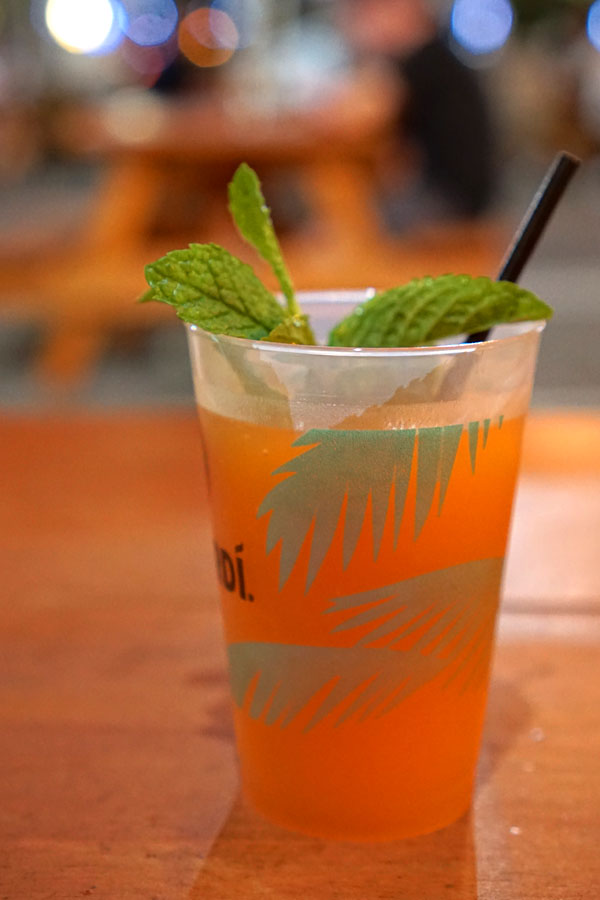 Making Waves [$12.00]
| bacardi superior rum, campari, mango, citrus
My second slush cocktail went in a super fruity and tropical direction, with bountiful amounts of grapefruit-esque citrus present, and very little booziness.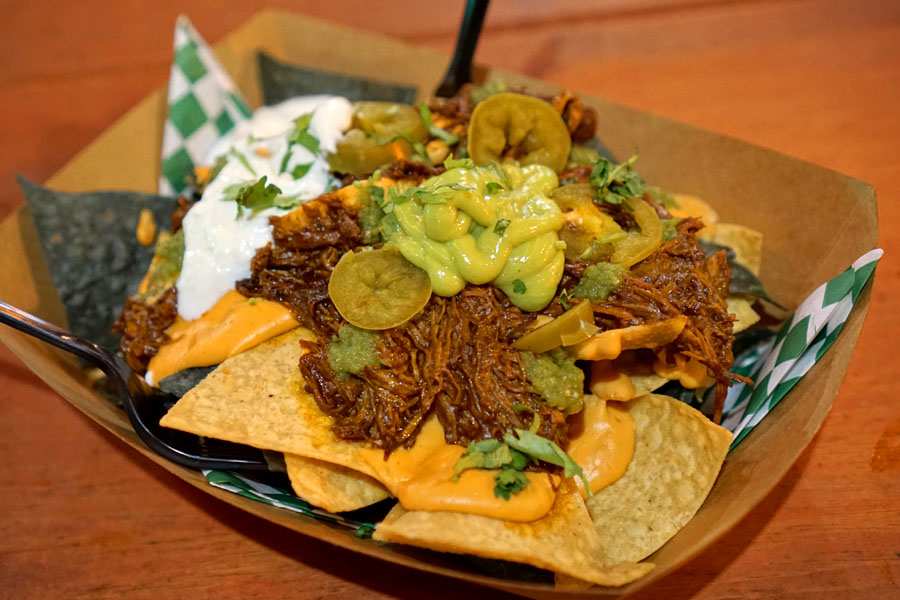 Loaded Nachos [$13.00]
| house tortilla chips, served with house texas creamy queso, salsa verde, avocado sauce, sour cream and house pickled jalapenos. Topped with your choice of protein: Braised Short Rib, Chicken Mole, or Jackfruit Carnitas
Flossy strands of chicken effectively demonstrated the nutty, chocolatey depth and complexity of mole. However, the richness and robustness of the meat actually fought with the other elements in the dish, so the various flavors didn't mesh as well as I would've liked. If you're thinking of ordering the nachos, I'd recommend that you opt for short rib instead.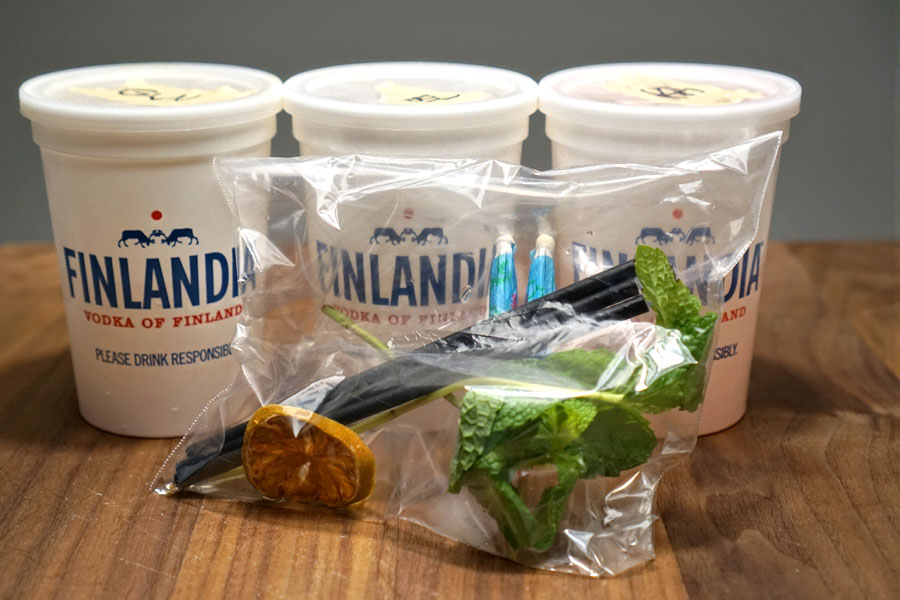 I also ordered three drinks for takeaway, which I enjoyed the next day. Curiously, they all arrived in plastic Finlandia containers despite none of them containing vodka, let alone Finlandia. I do have to give the team praise for providing me with proper garnishes (including umbrellas!).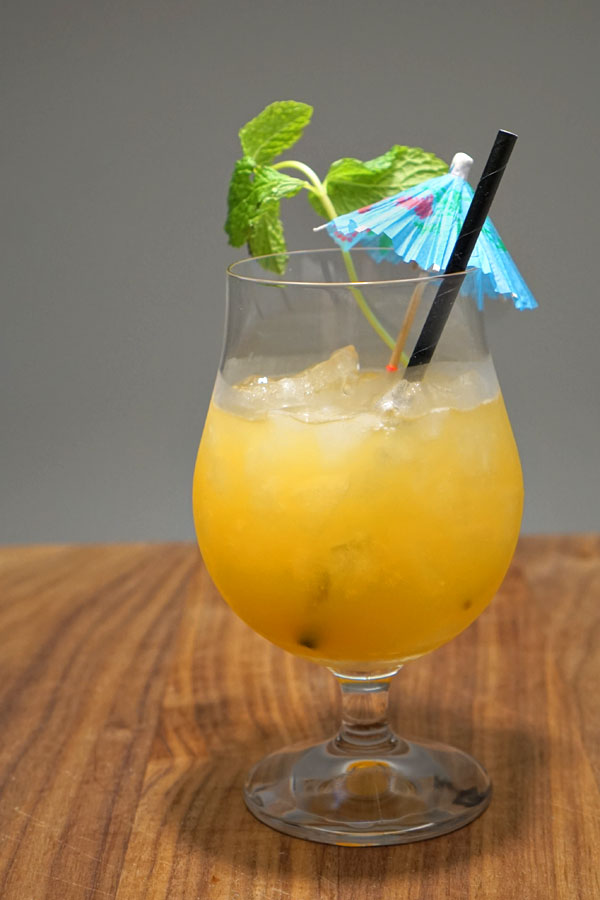 Get Wrecked [$12.00]
| slane irish whiskey, peach, pineapple, lemon, bitters
Apparently this is The Mermaid's most popular cocktail, and I can sort of see why. It was definitely on the gluggable side, displaying loads of fruity, tropical pineapple notes backed by sweet spice and just a smidge of contrasting bitterness.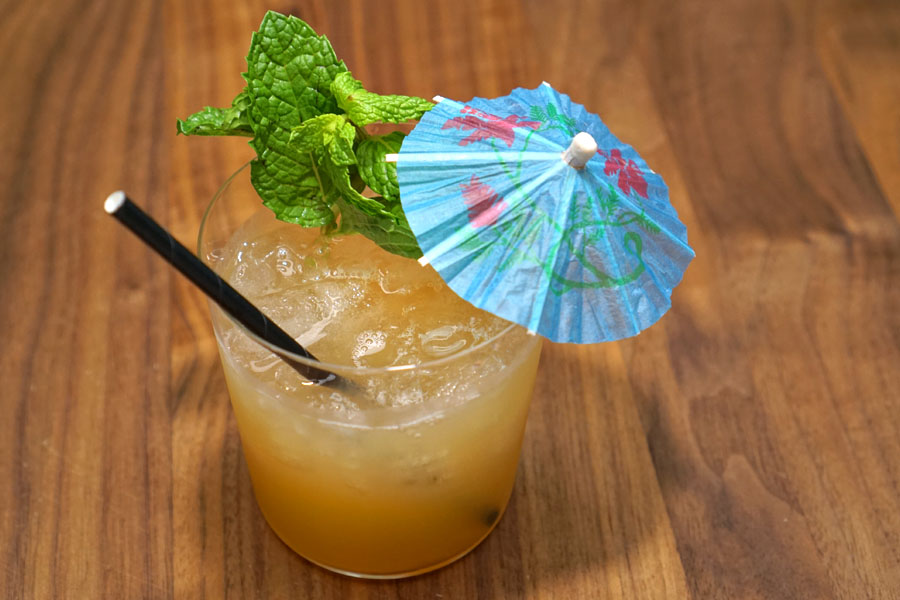 Beach Please! [$12.00]
| bacardi anejo cuatro rum, appleton estate rum, mr black coffee liqueur, banana liqueur, lime
This was one of the more interesting cocktails of the bunch. It showcased plenty of dark fruit and spice flavors, commingled with a subdued bitterness and just a trace of coffee on the back end. I actually didn't get much banana.
Smokey Eye [$12.00]
| ilegal mezcal, pineapple, cinnamon, lime, habanero bitters, bitters
My final cocktail combined the potency of mezcal with what almost seemed like pink lemonade. I also got this lingering sourness and smoke, as well as a woodsy, vegetal note in the back of my throat.
This wasn't my first visit to The Mermaid. In fact, I've been here a number of times already, but just hadn't blogged about the place until now. It's a relaxed, easy-going sort of a spot, and I've always enjoyed my time here. Tonight was no exception, and I'm sure I'll be back, probably even before we get past the virus.