Formosa Cafe (West Hollywood, CA)
The Formosa Café
7156 Santa Monica Blvd, West Hollywood, CA 90046
323.850.1009
www.theformosacafe.com
Mon 10/12/2020, 08:35p-10:10p

I recently found myself in the WeHo area, and was in search of a spot for a late-ish dinner. After considering a few options, including Petite Taqueria and Pizzana, I settled on the historic Formosa Cafe, which first opened its doors over 80 years ago. Curiously, I'd actually wanted to try this place since the Red Medicine crew took over in 2014, but for some reason, I never made it out until now.
A bit of history
: Unfortunately, the history of Formosa Cafe is murky at best. A restaurant may have been operating at this address as early as 1915, or possibly 1925. There seems to be some agreement that said restaurant was, by the 1930s, known by the name of Red Post Cafe. In 1939, the business was sold, with some reports stating that the buyer was one Max Goldie (a.k.a. Maximilian Goldstein). He soon rebuilt the place, and, in the process, added the iconic 1901-vintage Red Car trolley (the only one of its kind left, apparently). Red Post was subsequently renamed The Formosa Night Club, and became a popular hangout for the Hollywood set, thanks to its location across the street from United Artists Studio (later known as Samuel Goldwyn Studio and Warner Hollywood Studios).
A Jimmy Bernstein (either a boxer or a bookie, depending on whom you ask) acquired a stake in the spot at some point, and in the mid/late 1940s, brought on Hong Kong native Lem Quon as a chef. Quon, who had immigrated to the US in 1922, eventually became a co-owner and then sole owner upon Bernstein's death in 1976. Warner Hollywood Studios purchased the land underneath The Formosa circa 1987, and in early 1991, announced that they were planning on demolishing the building and erecting a five level parking garage in its place. Protests erupted as a result, and the restaurant was declared a historical landmark and marked for preservation. Quon passed away in 1993 at the age of 83, and ownership passed to stepson William Jung, and then to grandson Vince Jung, who'd been running the place for most of its recent history.
A more recent history
: Things at Formosa Cafe remained fairly quiet until the early part of the last decade. Jung tried to spice things up at the start of 2014, when he brought on the
Red Medicine
team to run the kitchen. However, the partnership lasted only two months before
Jordan Kahn
and company pulled out. In May that year, it was revealed that
Top Chef
alum and
Ricardo Zarate
protégé Brian Huskey would be redoing the menu. December 2014 saw the announcement of Two Korean Guys, a street food-inspired pop-up from Huskey and
Chris Oh
that was supposed to take over Formosa's second floor patio. However, 2KG never materialized, and Huskey was out the door by spring 2015. It was around that time when Jung hired
Broseph's Restaurant Group
to run things. BRG ended up remodeling the place, but their bland, gray-toned revamp was widely panned, and was quickly reversed.
Though BRG was soon let go after that debacle, the damage was seemingly done, as Formosa Cafe ended up shuttering in December 2016. In June 2017, we found out that Jung's lease had been transferred to none other than
1993 Group
, the folks behind the likes of Highland Park Bowl, Idle Hour,
Harlowe
, and Sassafras, among others. The new owners spent a reported $2.5 million on a complete restoration of the property, which included the installation of a second bar (taken from the old Yee Mee Loo in Chinatown) in the back room. A revitalized Formosa Cafe thus re-debuted at the end of June last year, and has been largely well-received.

Indoor dining was of course not permitted this evening due to coronavirus restrictions, so I took a seat in Formosa's cozy upstairs patio.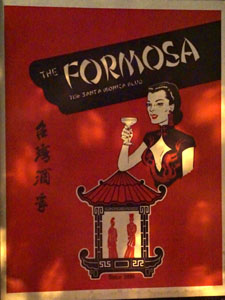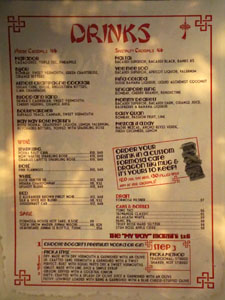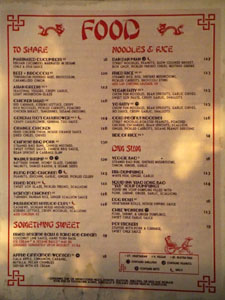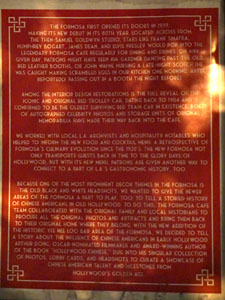 The menu at Formosa Cafe is the work of none other than
Little Fatty's
David Kuo. He's offering up an array of updated (American) Chinese dishes, along with a few of his signature Taiwanese-y selections, while most of the cocktails are theme-appropriate as well. Click for larger versions.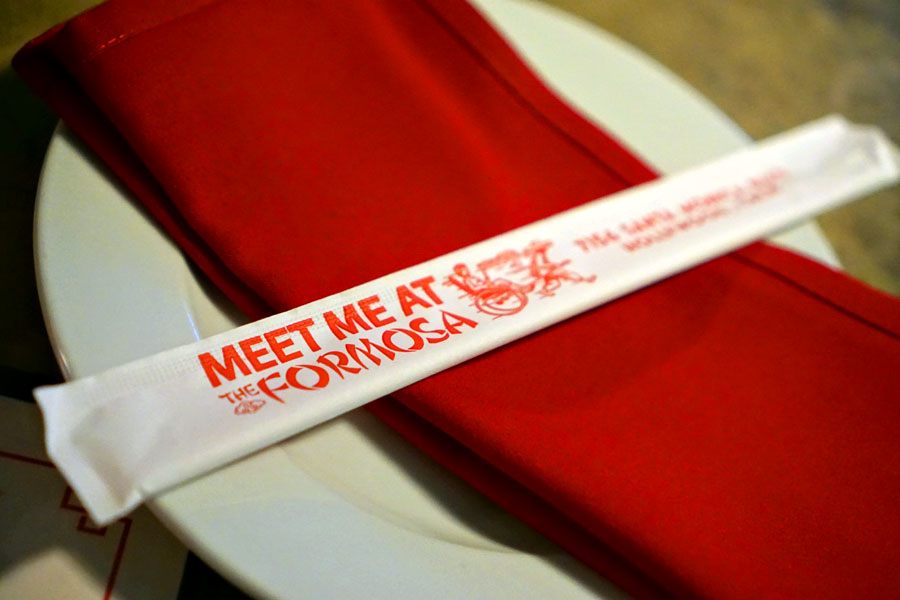 The custom chopsticks were a nice touch.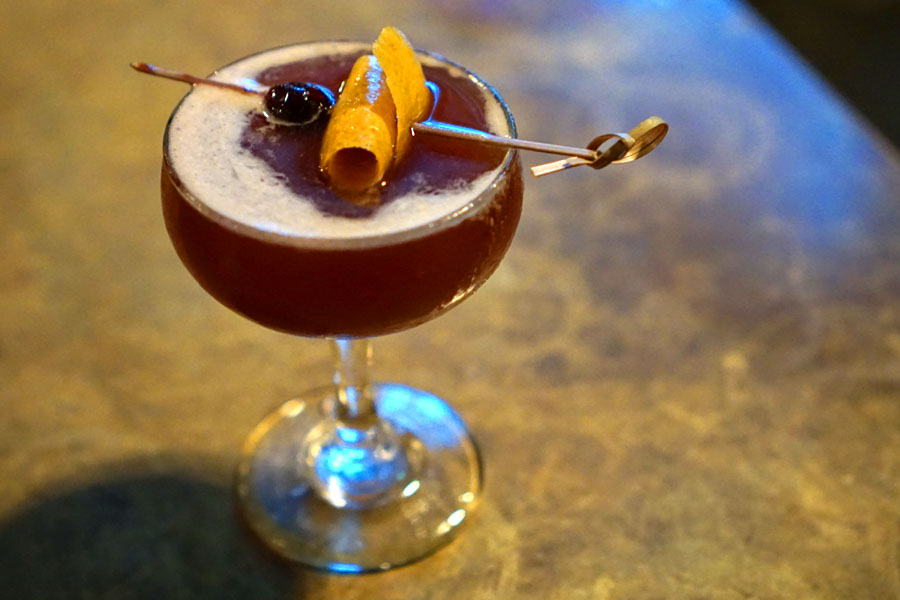 Blood and Sand [$14.00]
| Dewar's Caribbean, Sweet Vermouth, Cherry Heering, Orange Juice
I was able to taste a few of the cocktails tonight, and my first was this Prohibition-era classic. It was softer, smoother than I was expecting (probably due to the rum cask-aged whisky), showing off plenty of fruity, citrusy notes alongside a slight nuttiness and smoke.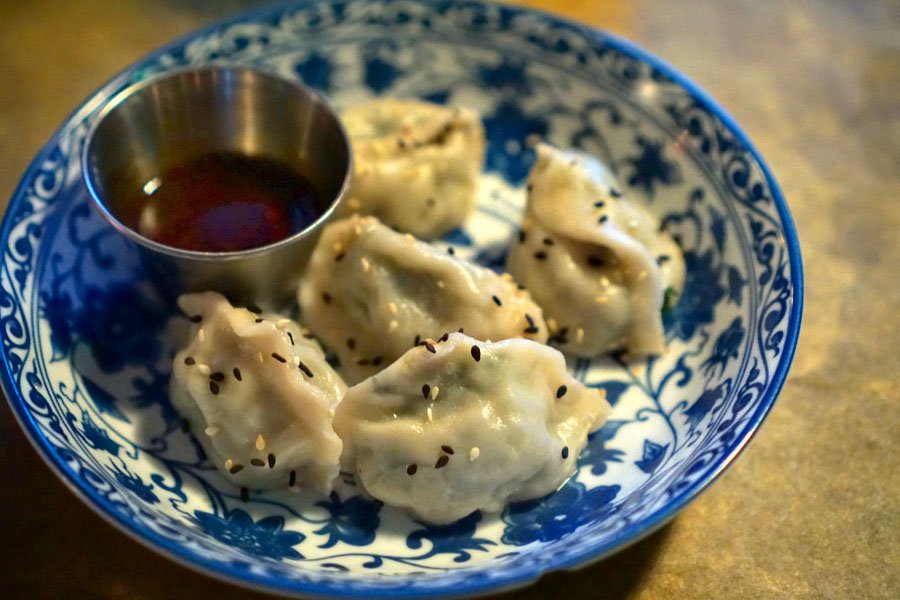 Fish Dumplings [$13.00]
| White Fish, Ginger, Garlic
Dumplings came out succulent and flavorful, and had a lovely zestiness from what I believe was
jiu cai
. The wrappers, meanwhile, were slightly thick and pleasantly chewy, and reminded me of the
jiaozi
of my childhood. Tasty alone, and even better with a dab of the vinegary sauce on the side.
Pot Stickers [$9.00]
| Stuffed with Pork & Cabbage, Sweet Chile Sauce
Potstickers featured crispy, substantial, not-quite-traditional skins that served as a counterpoint to their juicy, flavorful filling. As for the paired sauce, it was on the sweeter side, so I would've liked more heat.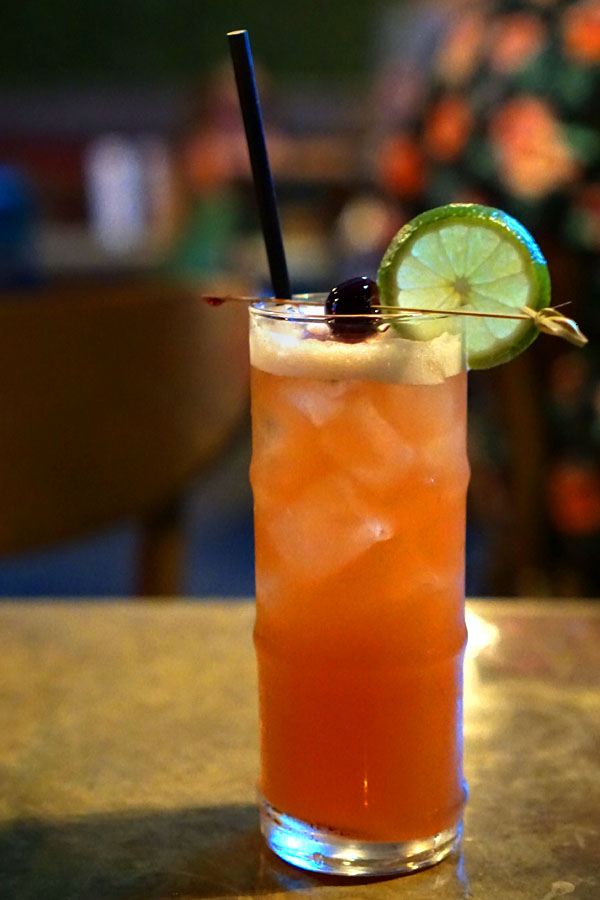 Singapore Sling [$16.00]
| Bombay, Cherry Brandy, Benedictine
My second cocktail was also on the easy-going, easy-drinking side. Flavors were primarily fruity and tart, though there was just a smidgen of bitterness, nuttiness, and spice for balance.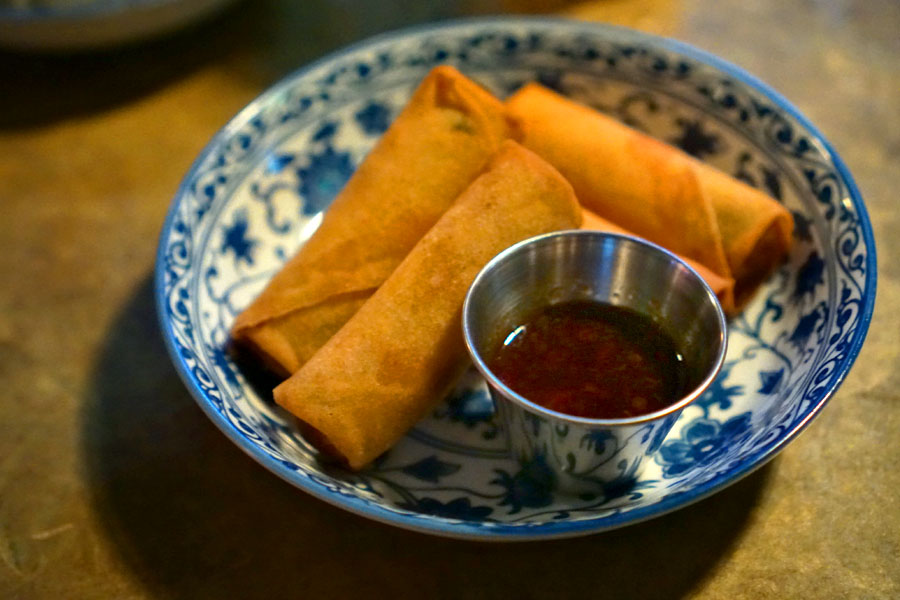 Egg Rolls [$6.00]
| Vegetarian Rolls, House Dipping Sauce
The egg rolls tasted just like the ones you've had dozens of times before. Wrappers were crisp, yet just a bit chewy, while the veggie filling was mildly-seasoned and very, very familiar. I would've liked to have seen some mushrooms in there for some additional oomph. The dipping sauce was the same as what came with the fish dumplings, and its depth and funk were even more crucial in this application.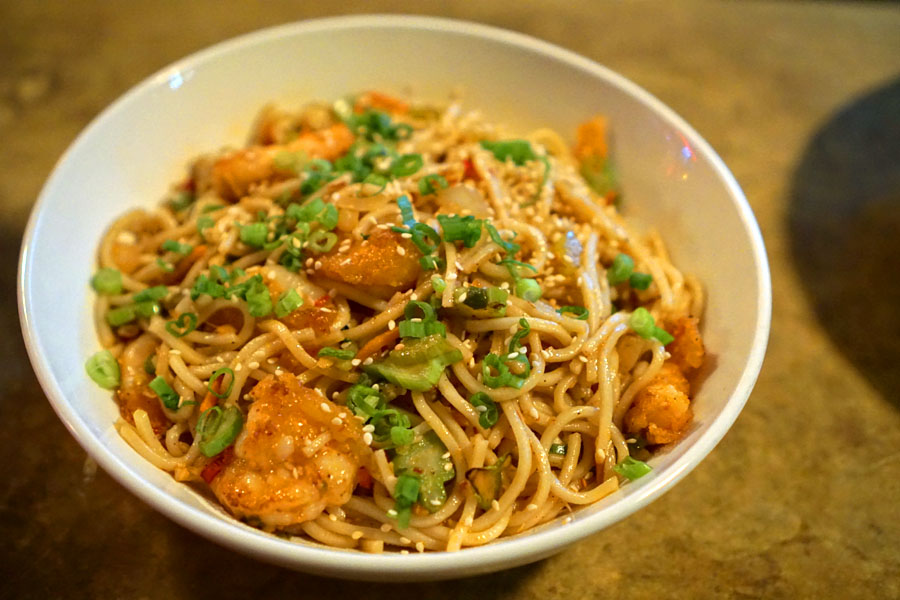 Chow Mein + Shrimp [$13.00 + $6.00]
The chow mein was one of three specials this evening, and was available with your choice of protein. I think I made the right choice by opting for the shrimp, which came out well textured and nicely briny. The noodles themselves were just what you'd imagine, and I appreciated the sharpness imparted by the celery. Also central was the undercurrent of heat in the dish, and overall this just had a sort of "freshness" to it that was unexpected, but not unwelcomed.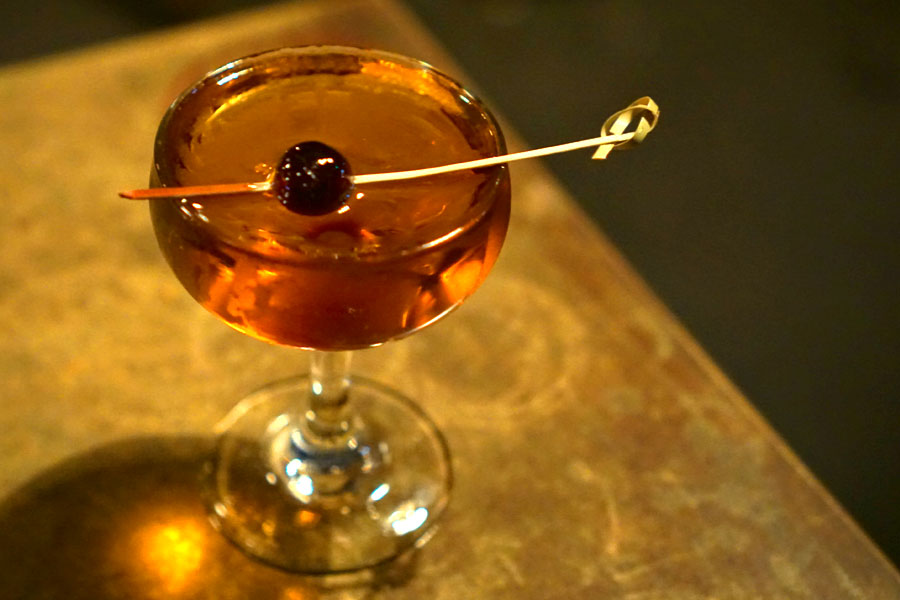 Bijou [$14.00]
| Bombay, Sweet Vermouth, Green Chartreuse, Orange Bitters
This late 19th century cocktail was clearly the booziest of the bunch, in a good way. I got sweet, aromatic citrus up front, which led to a floral heat perked up by restrained herbaceous and bitter notes.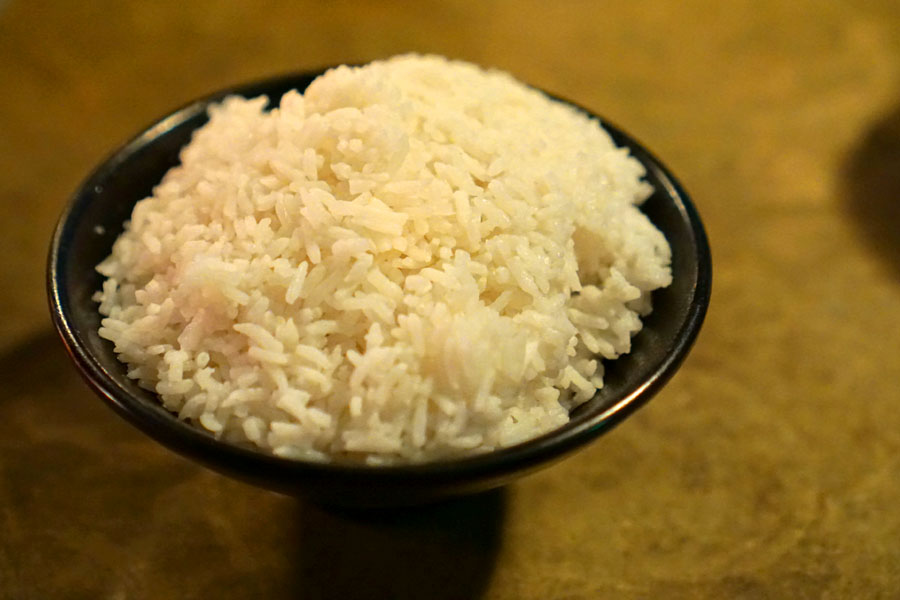 Beef + Broccoli [$20.00]
| Tenderloin Peppered Beef, Broccolini, Caramelized Onion
The American Chinese staple of beef and broccoli was taken up a notch by the use of legit cuts of tender, well-seasoned steak and bitter, crunchy broccolini. Those onions were also appreciated, as was the overarching sesame in the dish. The included rice was pretty much spot on, and just made sense as an accompaniment.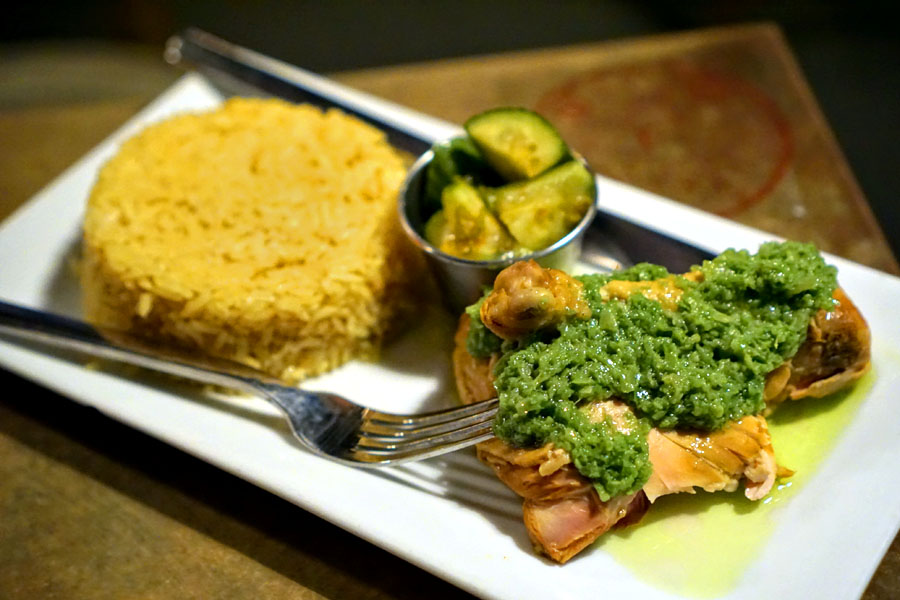 Hainan Chicken [$16.00]
| Turmeric Pandan Rice, Ginger Scallion Sauce
Formosa's take on Hainanese chicken rice largely delivered. The bird was near falling-apart tender and properly spiced, and married easily with that zippy scallion condiment. The rice was also deftly perfumed, while the cucumber pickles provided further points of interest.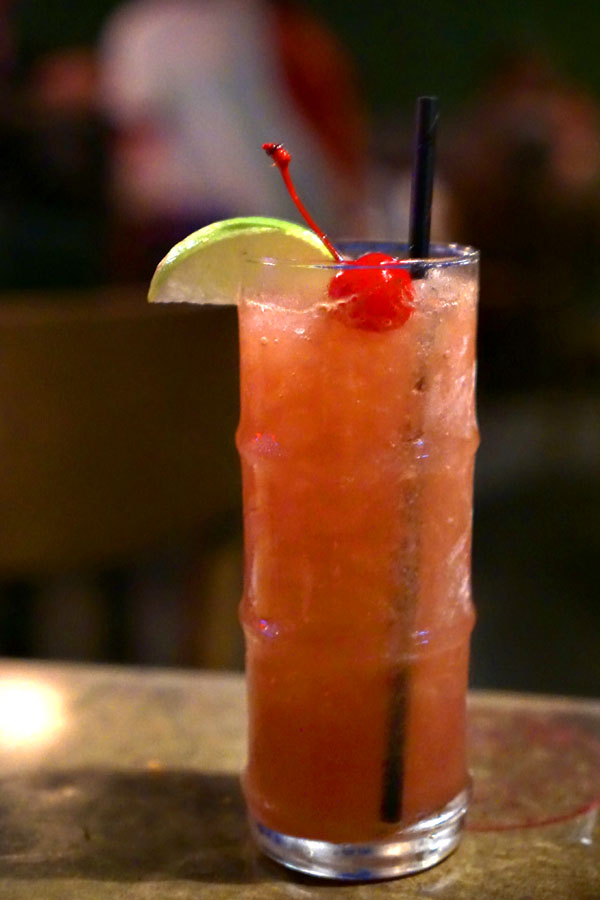 Mommy Dearest [$16.00]
| Bacardi Superior, Bacardi Dark, Orange Juice, Raspberry & Banana Liqueur
This next cocktail was the fruitiest of the five I tried. It showed off boatloads of banana and berry, but fortunately it never felt cloying thanks to the presence of a tempering bitterness.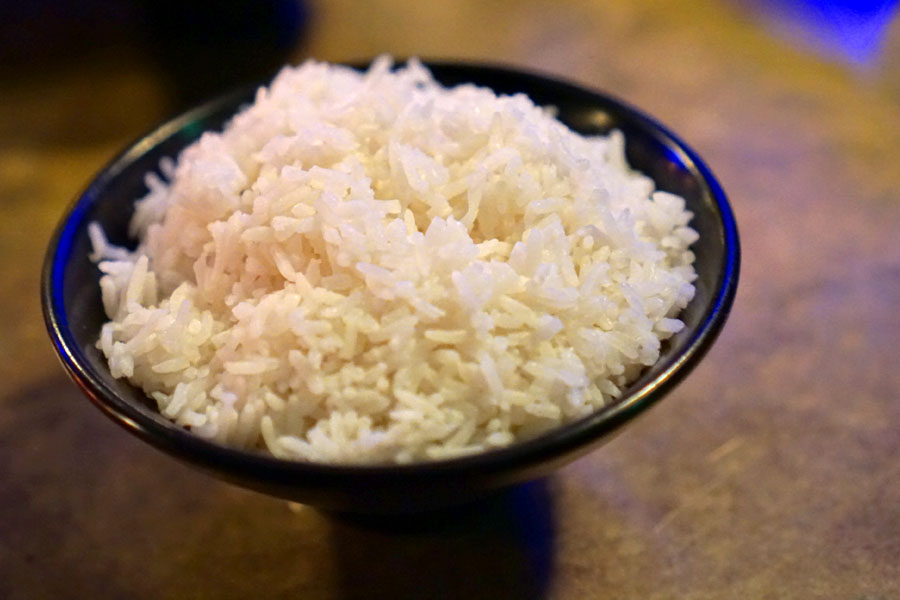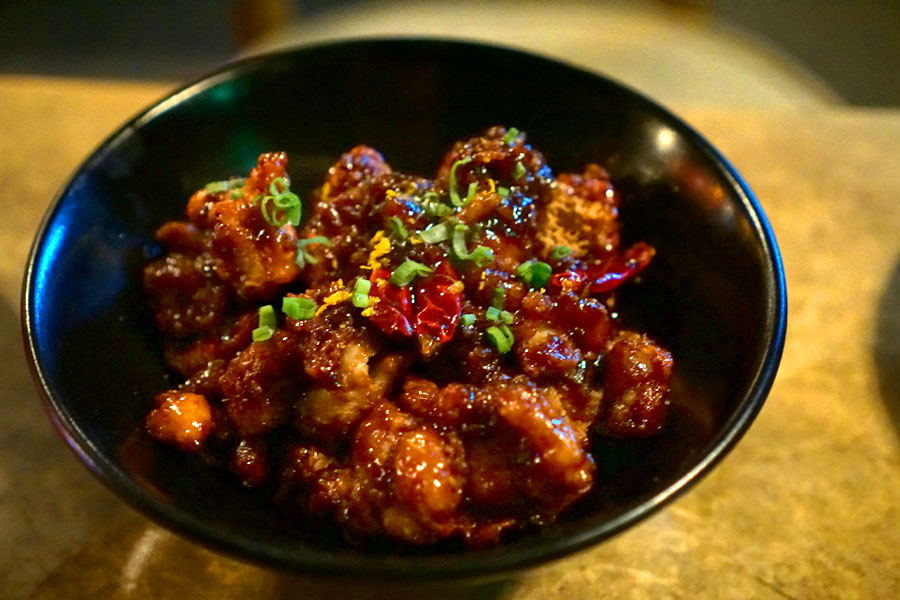 Orange Chicken [$16.00]
| Fried Chicken Thigh, House Orange Sauce, Dried Chiles, Chives
The orange peel chicken here was one of the better versions I've had. The key was that the sweet-n-sour nature of the dish was relatively restrained, allowing the more savory notes of the bird to come to the forefront. Also appreciated were the crispy charred bits present, which made for some welcomed textural variation.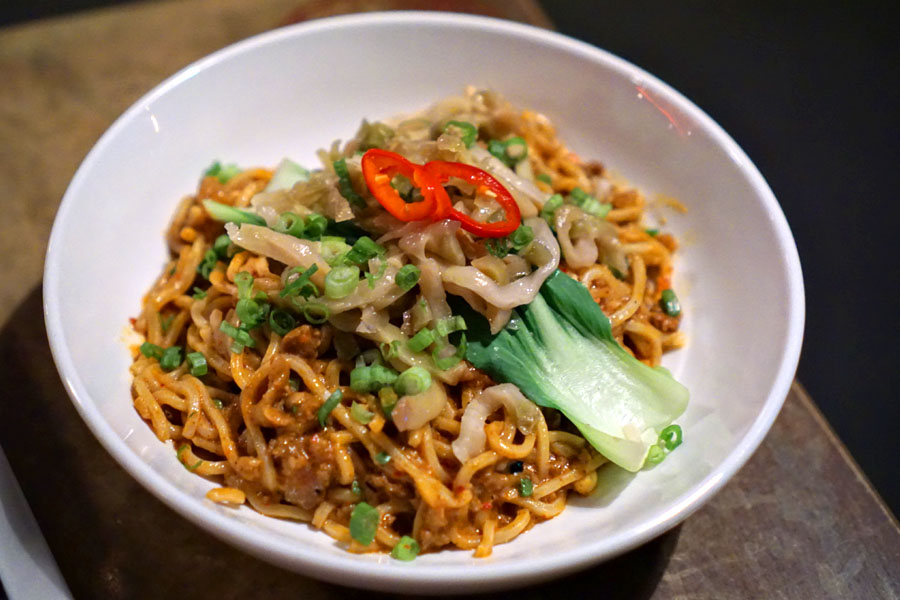 Dan Dan Mian [$17.00]
| Street Noodles, Peanuts, Slow Cooked Brisket, Bok Choy, Pickled Fresno Chiles, Mustard Greens
Last up was the dandan noodles, which managed to be one of the night's standouts. The use of brisket here resulted in particularly deep, potent flavors that were underpinned by a noticeable heat. The veggies functioned as a critical contrast, and I was a big fan of the tart, crunchy
zha cai
, too.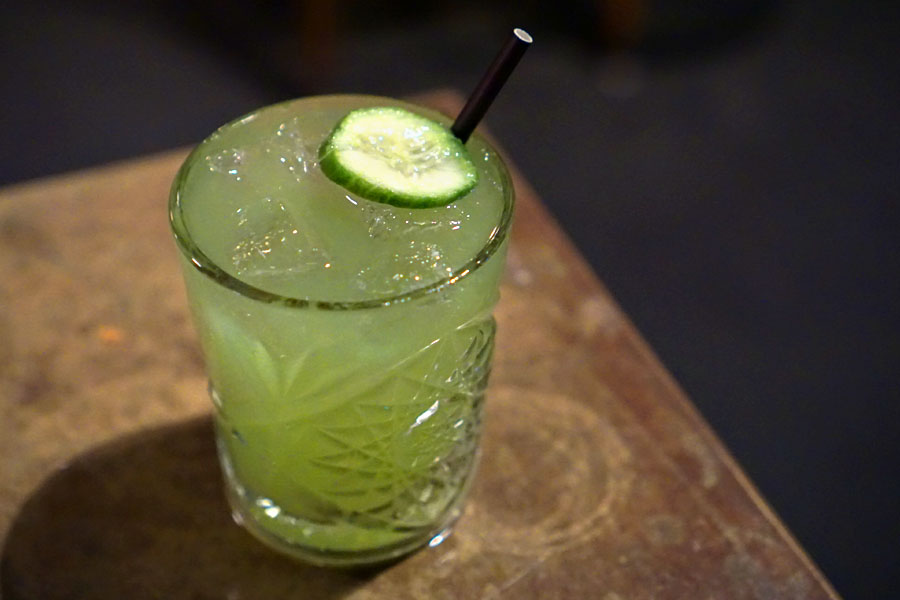 Mezcal It a Day [$16.00]
| Madre Mezcal, Ancho Reyes Verde, Fresh Cucumber, Lemon
My last cocktail came recommended by my server, and conveyed palpable amounts of smoke and heat against a refreshing cucumber-y brightness. Pretty balanced.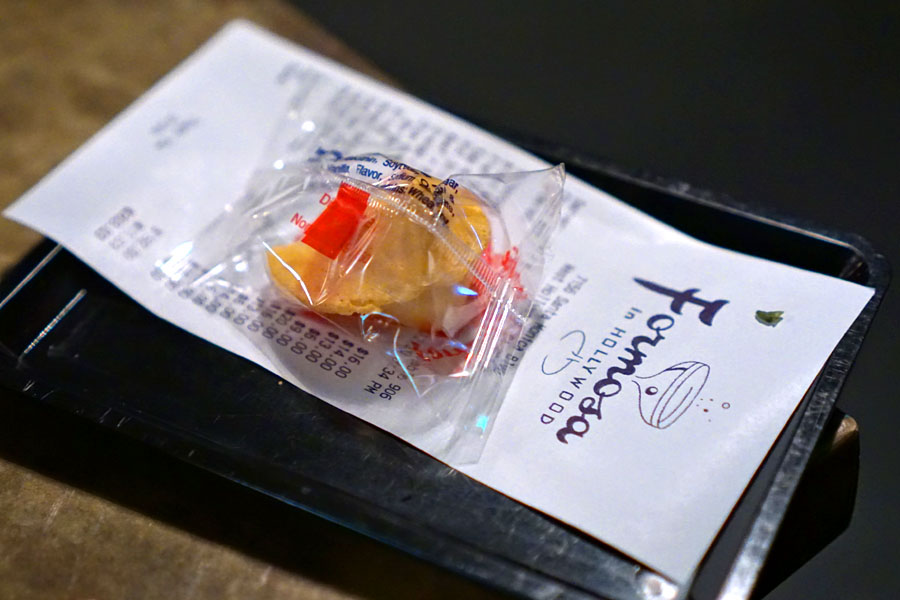 A fortune cookie with the check, but of course.
Like I said above, I'd wanted to try this place for over six years, so it's about damn time I made it out. However, now that I think about it, maybe it's better that I waited. What we have now is probably the best incarnation of Formosa Cafe that's been around in my lifetime. I was pleasantly surprised with the food, which seems to be at least as good as what Kuo serves at his Mar Vista properties, while the cocktails were solid to boot. I do plan to return someday so I can really get my fill of Formosa's oft bandied about interior.