Needle (Los Angeles, CA) [2]
Siu Yeh Pop-Up at Needle Restaurant
3827 Sunset Blvd, Los Angeles, CA 90026
www.needlela.com
Tue 12/22/2020, 07:45p-09:15p

You might recall that I visited Ryan Wong's Silver Lake spot
Needle
back in November. I really enjoyed the Chef's interpretation of casual Cantonese fare, and thus decided to return to the restaurant for Siu Yeh, an every-other-Tuesday, Hong Kong street food-inspired pop-up named after the Chinese term for a late night meal.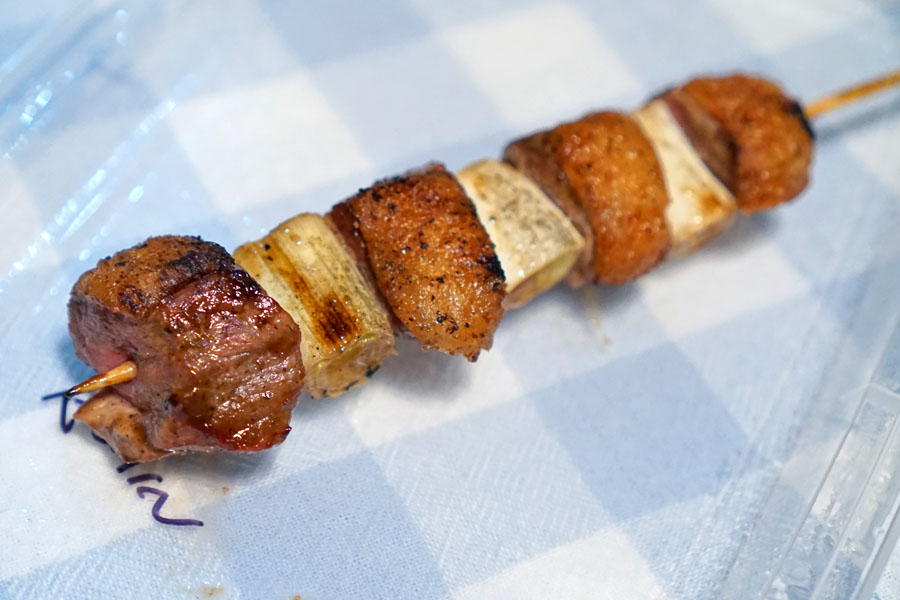 Duck Skewer [$8.00]
| Dry-Aged Mary's Free Range duck breast, leek, 8 spice.
I ended up trying all six skewers offered this evening, and the meal got started with my favorite of the sextet. I was super impressed by the soft, almost silky texture of the duck, and how its deep, earthy flavors linked up with the bird's wonderfully crisp, salty skin. Leeks offered up a perfect contrasting astringency, and I appreciated the lingering smoke element here as well. This was seriously one of the best skewers I've ever had.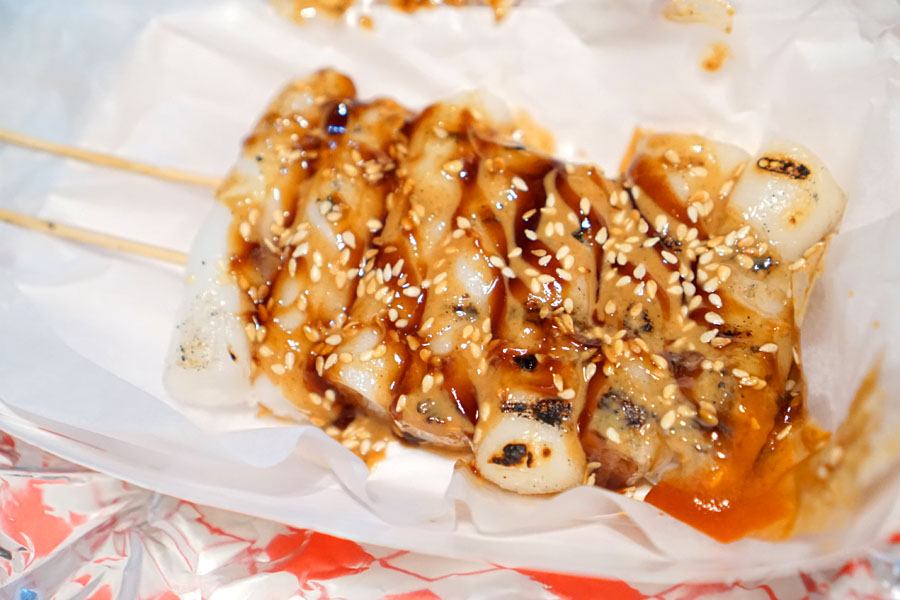 Cherng Fun Skewer [$3.50]
| Rice rolls, sesame sauce, soy sauce, hoisin sauce, sriracha.
This street-style preparation of
changfen
was a fun one. The rice noodle rolls had an appealing texture that combined their inherent suppleness with some charred crispy bits. Taste-wise, the thing that stood out to me the most was the sheer nuttiness of the sesame, which was then juxtaposed against sweet-n-savory elements and a smidgen of heat.
Beef Skewer [$6.00]
| First Light Grass-Fed Wagyu beef bavette, curry oil.
Chunks of flank steak were way more tender than I expected, and also far more succulent. They combined an elegant sort of beefiness, elevated by light touches of curry and char, with the luscious, decadent elements you expect from Wagyu.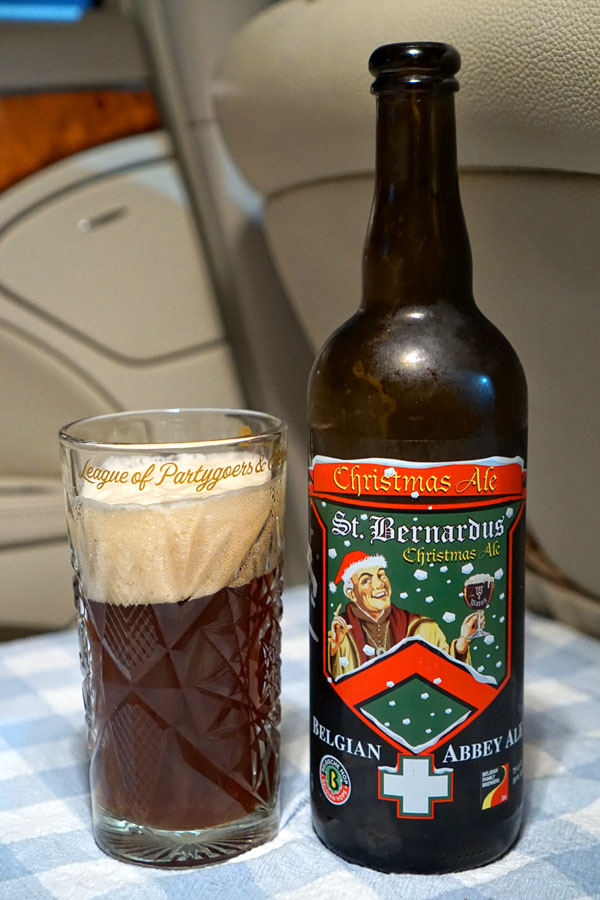 Given that we were just a few days from Xmas, I opted to pop open a theme-appropriate beer, the
2013 St. Bernardus Christmas Ale
, which is brewed annually for release during the holiday season. The nose featured plum-like notes along with subtle spices. In terms of taste, I got lots more of that sweet holiday spice, along with dark fruit and a bitter backbone. As the beer warmed, I detected hints of sticky toffee pudding, and interestingly, there was also this cough drop-esque character that actually recalled Sucrets. This held up quite well over the past seven years, and still tasted fresh.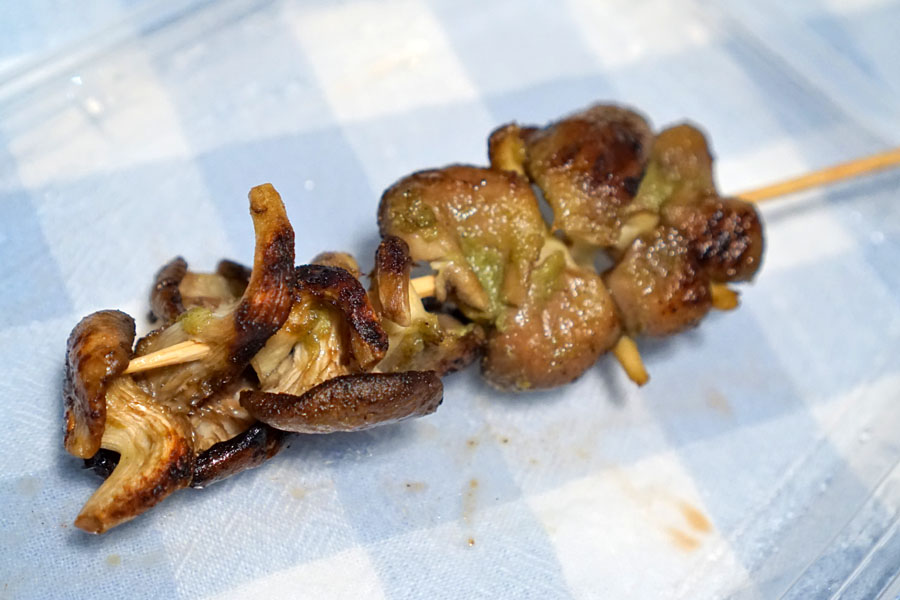 Oyster Mushroom Skewer [$4.00]
| Oyster mushroom, scallion oil, spicy salt.
Next we come to the lone vegan option of the night. The 'shrooms showed off a texture that was simultaneously springy, chewy, and juicy, while flavors married both sweetness and smoke against a general woodsiness.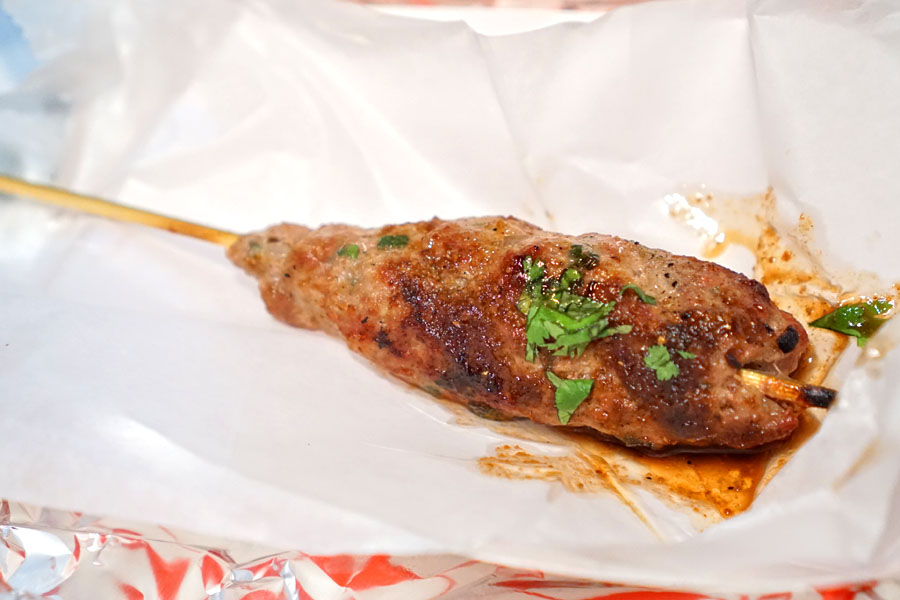 Pork Meatball Skewer [$4.00]
| Ground pork, sa cha sauce, cilantro.
Another standout was the meatball skewer. I loved its juicy, rustic consistency, as well as how effortlessly the pork melded with the zestiness of scallions and cilantro. Utterly inviting and delicious.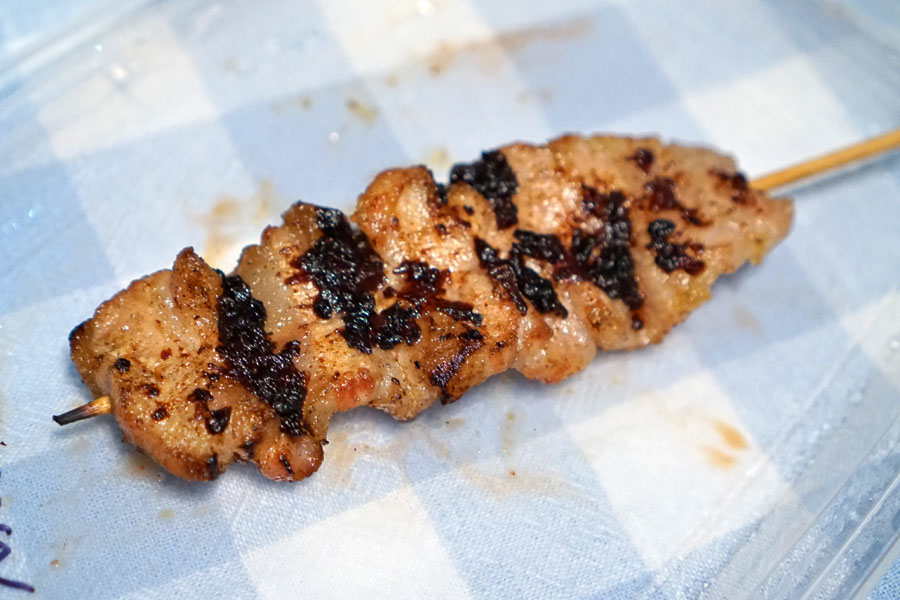 Pork Jowl Skewer [$5.00]
| Salmon Creek Farms pork jowl, black bean sauce.
My final skewer was a textural delight, and displayed a delectable interplay of lean and fat, punctuated by a healthy amount of char bitterness and the potency of black bean.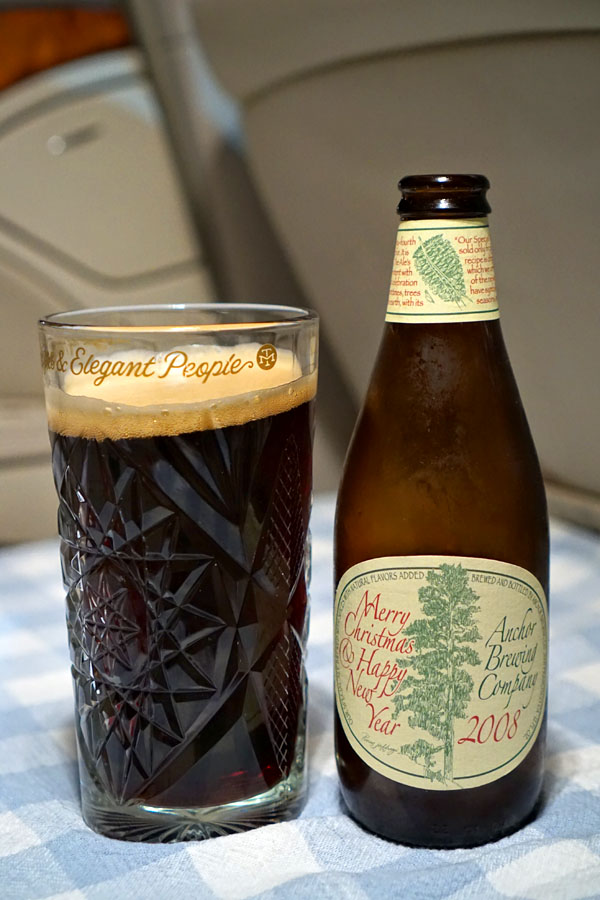 Continuing with the holiday theme, my next beer was the
2008 Anchor Our Special Ale
, a seasonal, spiced winter warmer that's been brewed with a different recipe every year since 1975. Aromas here weren't too forceful, but I did get a decent amount of dark berry fruits alongside baking spice and funk. Taste-wise, I found raisin-like flavors at the forefront, combined with lots of barnyard, a bit of black licorice, and noticeable oxidative notes. I don't think this beer is getting any better, so drink 'em if you got 'em.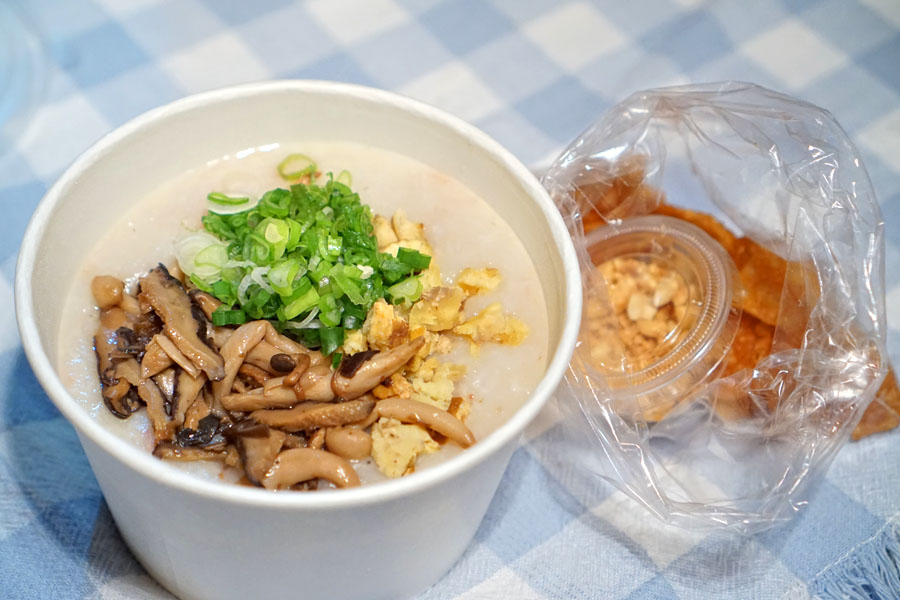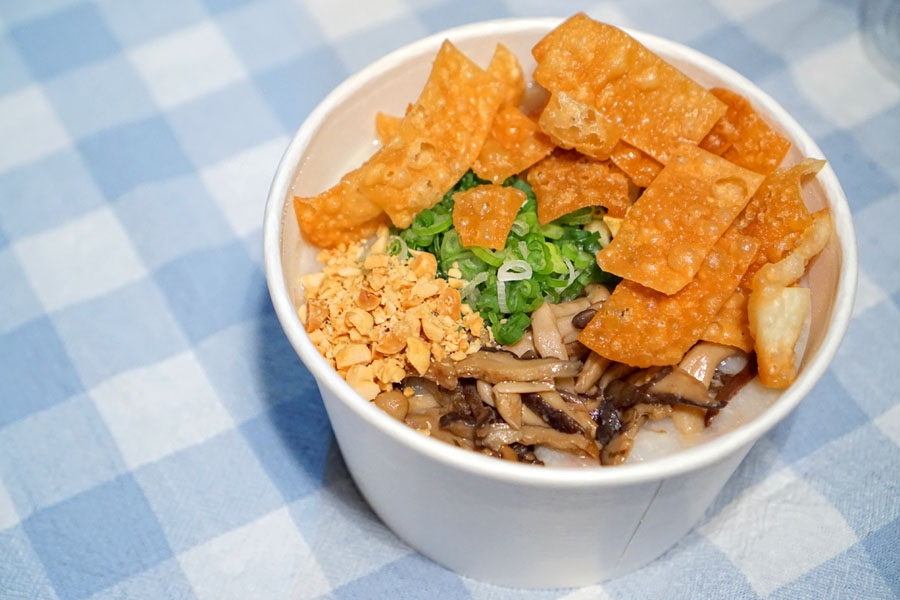 Smoked Duck Congee [$12.00]
| Congee, smoked duck leg, shimeiji, shiitake, chestnut, scallions, peanuts, wonton crisps.
In addition to the skewers, I also tried the congee, a new menu addition. The
juk
itself conveyed a homey, subdued sweetness, and served as a stage for all the other ingredients present. What struck me the most was the combination of mushrooms and green onion, and how that blending of musky, bright flavors so seamlessly complemented the rice porridge. The duck, meanwhile, contributed a smoky, ham-like quality, and I was a fan of those crunchy, savory wonton crisps, too. This was like pure, unmitigated comfort, and just what you'd want during this cold weather we've been having.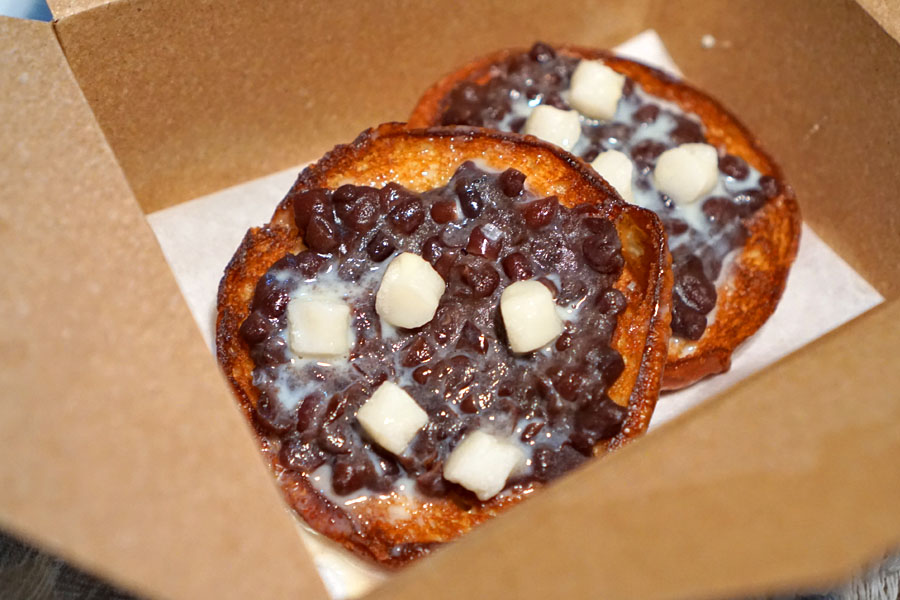 Red Bean Toast [$6.00]
| Milk bun, red bean, mochi, condensed milk.
I ended up trying a couple desserts as well, and this toast was certainly a winner. The soft, buttery, semi-saturated bread was tasty in its own right, but even more delicious when combined with traditional red bean flavors and the unmistakable sugary smack of condensed milk. Yum.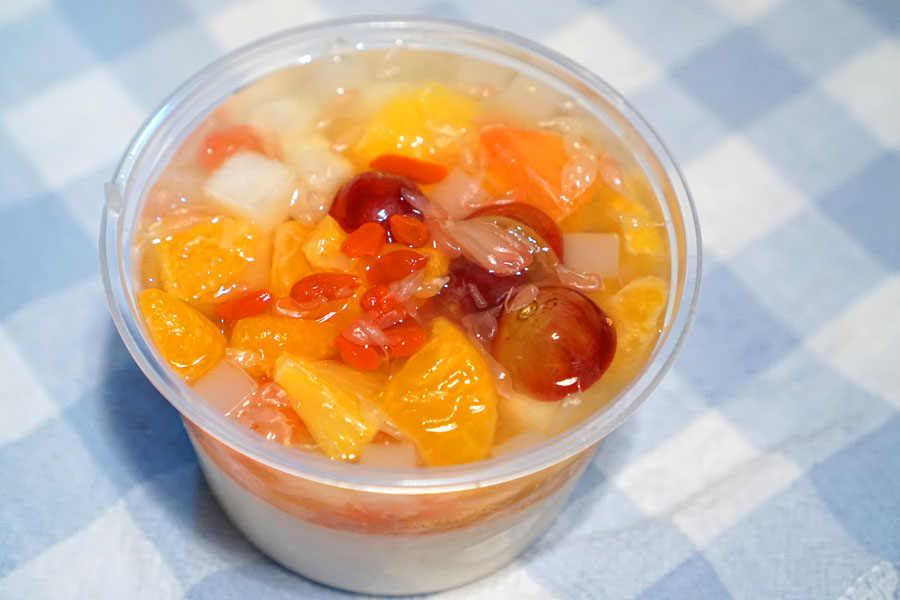 Almond "Jello" [$9.00]
| Almond "jello", navel, cara cara, satsuma, daisy, pomelo, oro blanco, asian pear, grape, goji berry, lychee jelly
Last up was the Chef's take on the common Chinese dessert that is
xingren doufu
. Taken alone, the almond tofu had the smooth, slippery texture that you want, along with that classic, almost amaretto-like sweetness. At the same time, a variety of fruit, mostly citrus (we are in the season for it, after all), gave the dish a much-appreciated punch of sweet-tart juiciness and some textural variation. Fun, refreshing, and a nice note to end on.
Tonight was a pretty different eating experience compared to my last visit to Needle, but nevertheless just as enjoyable. Wong and the team did a bang-up job with the cooking, and served me the best skewers I've had all year. I could actually see Siu Yeh becoming a completely separate, standalone restaurant, but that's probably far off in the future. For the time being, check out the pop-up while you still can, since it's not clear if it'll continue once we get past the current coronavirus pandemic.