Mexicali Taco & Co (San Gabriel, CA)
Mexicali Taco & Co
1811 S San Gabriel Blvd, San Gabriel, CA 91776
626.545.2554
www.mexicalitaco.com
Tue 11/24/2020, 07:30p-10:00p

One of LA's most well known taco-related success stories has got to be that of Esdras Ochoa. As we all know, the former fashion student and casino employee first burst on the scene in 2009, when he launched his taco cart in a parking lot just outside of Downtown. He eventually parlayed his success there into a brick-and-mortar location of
Mexicali Taco & Co
, which opened in Chinatown in 2012. The Chef's next move came in 2016, when he dropped the much larger, much more hyped
Salazar
in Frogtown. It was shortly after that debut that I last reported on Ochoa, and he's actually been quite busy since then.
In April the following year, Salazar made it on
GQ
's "
Best New Restaurants
" list, an honor also shared by
Kato
and Side Chick. However, around the same time, it was revealed, rather shockingly, that Ochoa would be leaving Los Angeles posthaste for Asia. It turns out that he'd been tempted earlier in the year by Boba Bear co-founder and Salazar customer Jon Chan to open a place in Hong Kong. Located in the Island's Kennedy Town neighborhood, 11 Westside was an ambitious project, way larger than anything the Chef had attempted before. The Mexican-inspired spot ended up opening in September 2017, and was largely well received. Interestingly, joining Ochoa at the restaurant was Daniel Eun (Normandie Club,
The Walker Inn
, The Varnish, PDT), who was recruited to run the beverage program.
Things got even busier in 2018, when the Chef was tapped to appear on Netflix's cooking competition
The Final Table
. The show was shot over the summer, and he ended up achieving a respectable fourth place finish (the eventual winner was none other than
Timothy Hollingsworth
). During the course of the filming, Ochoa became friends with fellow contestant Amninder Sandhu, and later visited her in India. It was then announced that the two were teaming up for the relaunch of Sancho's, a Mexican eatery in Mumbai's suburb of Bandra. The place ended up reopening in November that year.
Upon returning to the States, Ochoa soon began working on his next restaurant, which was to be located in Austin, TX. Plans for the spot were made public in late 2019, and his partners there were the aforementioned Daniel Eun as well as longtime corporate chef Christopher Haydostian and Charlie Tsai. Situated in the former East Austin home of Gotham, Reunión 19 opened on Valentine's Day this year, and appears to still be going strong despite the ravages of COVID-19.
Finally, we get to the subject of this post: the San Gabriel Valley outpost of Mexicali. News of this location came back in March, shortly before lockdown, and the restaurant takes over a building that was previously home to the likes of The Better Food, Eastern Spice, and, of course, Wienerschnitzel. Ochoa has once again teamed up with Paul Yoo, his partner in the original Mexicali (note that third partner Javier Fregoso is no longer involved, having sold his stake in 2016). The two were busy over the summer getting everything ready to go, with the place finally grand-opening on September 14th.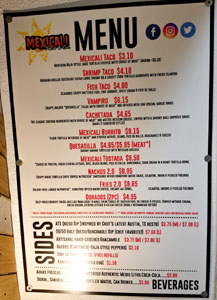 The menu's about what you'd expect, though there are a couple SGV-exclusive items. Click for a larger version.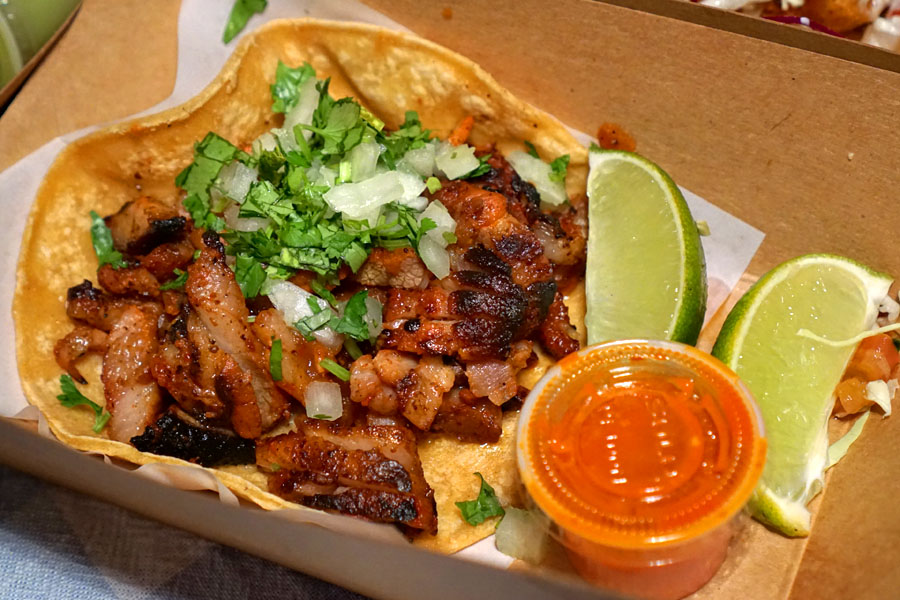 Mexicali Taco - Canto-Style Al Pastor [$3.10]
| Northern Baja-style: maíz tortilla Stuffed with Choice of Meat
It made sense to start with the most basic unit of consumption here, the standard taco, filled with a Cantonese-inspired preparation of al pastor that's unique to this location. The pork showed off a pleasing texture that was simultaneously tender and chewy, while flavors did indeed recall a char siu-like sweetness, combined with a healthy amount of offsetting char. Traditional accoutrements of onion and cilantro worked for contrast just as expected, and the corn tortilla helped bind it all together. Pretty tasty.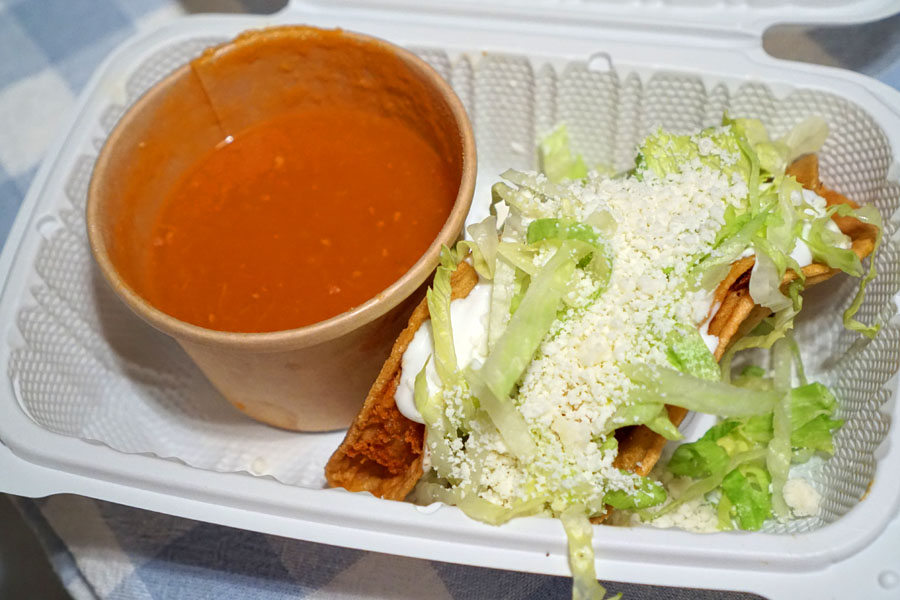 Dorados (2pc) [$4.95]
| Deep-fried crunchy tacos just like Nana used to make them! Choice of chicken pibil or cheese & potato. Served w/sour cream, salsa casera, iceberg lettuce & cotija cheese (highly recommend 50/50!)
The hard-shell tacos were a must-try for me. I opted for half-n-half, and began with the potato, which I found fragrant, familiar, and particularly well integrated with both the lettuce and cheese, not to mention its delightfully crunchy shell. The chicken version was even more flavorful, and in both cases, I didn't mind a dip into that homey, tomato-heavy sauce, either.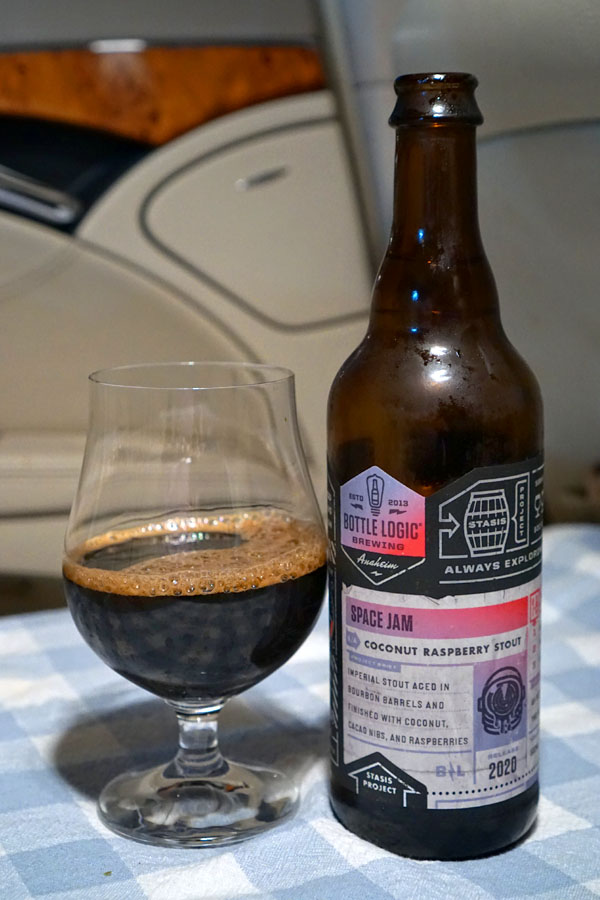 To drink, I first opened up a bottle of the
2020 Bottle Logic Space Jam
, an imperial stout aged in bourbon barrels and finished with coconut, Ecuadorian cacao nibs, and raspberries. The beer smelled of dark chocolate intertwined with berries, with coconut coming in later. Interestingly, the taste was the opposite: coconut and cocoa right up front, then transitioning to dark fruit. Pretty neat.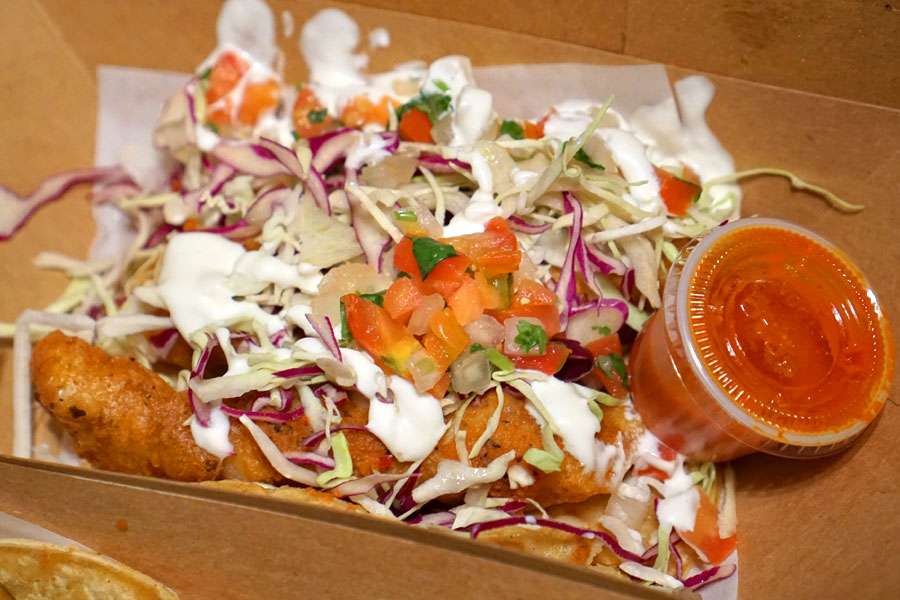 Fish Taco [$4.00]
| Seasoned crispy battered fish, fine cabbage, spicy crema & pico de gallo
This next item was a crowd pleaser. The fish ate silky and flavorful, with a crisp, elegantly fried exterior, and was complemented by a classic combination of crema, cabbage, and salsa. The tortilla seemed to moderate the interaction, and I liked the taco with a dash of the prickly Mexicali house salsa, too.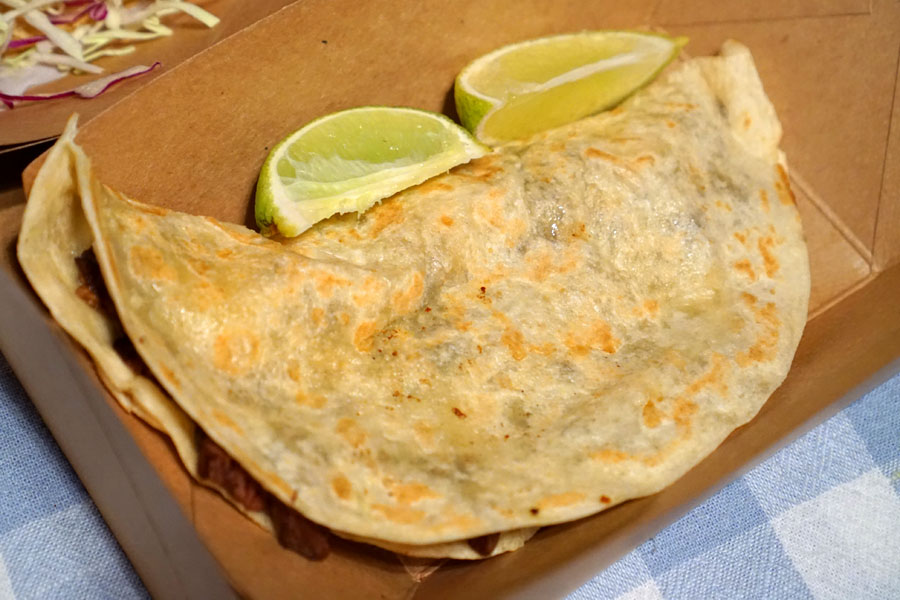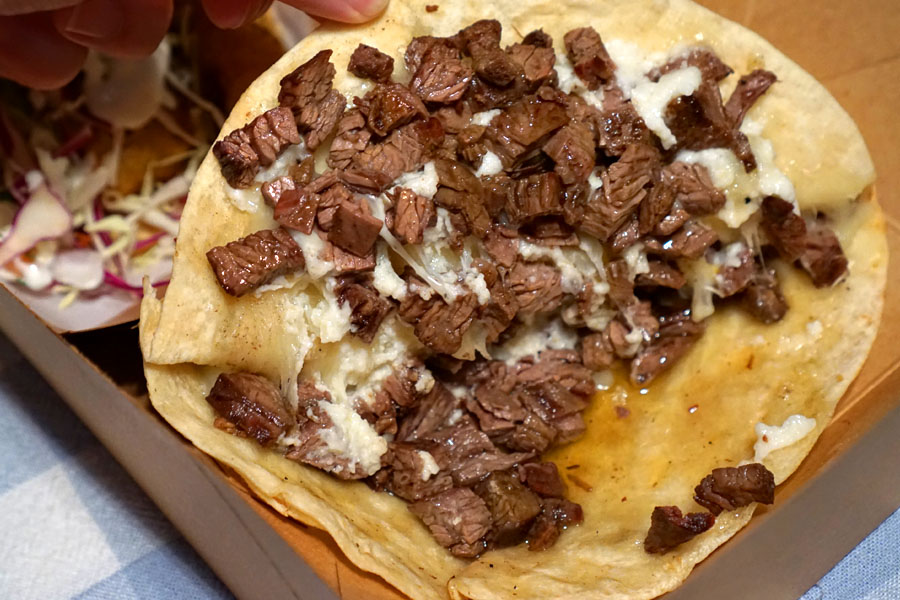 Vampiro - Carne Asada [$6.15]
| Crispy, golden "quesadilla" filled with choice of meat and infused with our special garlic sauce
In the first of two carne asada dishes, I found the meat properly tender, but lacking in smoke and sear. That being said, the meat did mesh pretty well with the potent, almost funky cheese, which was backed up by an undercurrent of garlic. I also appreciated the slight crispness of the tortilla here, and preferred to eat this with the provided avocado sauce and chopped cabbage.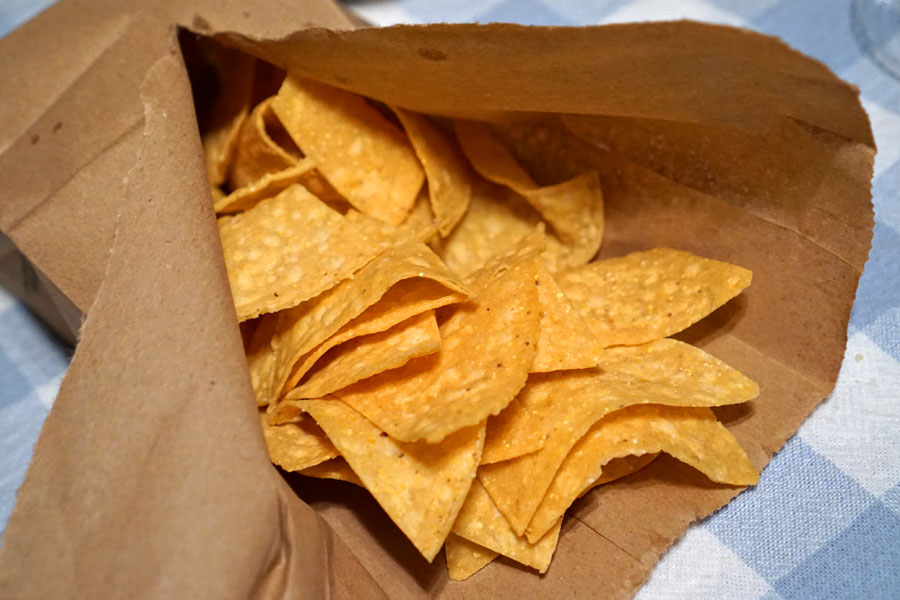 The kitchen initially forgot to make the cachetada below, so a complimentary
Side of Chips
was provided as compensation.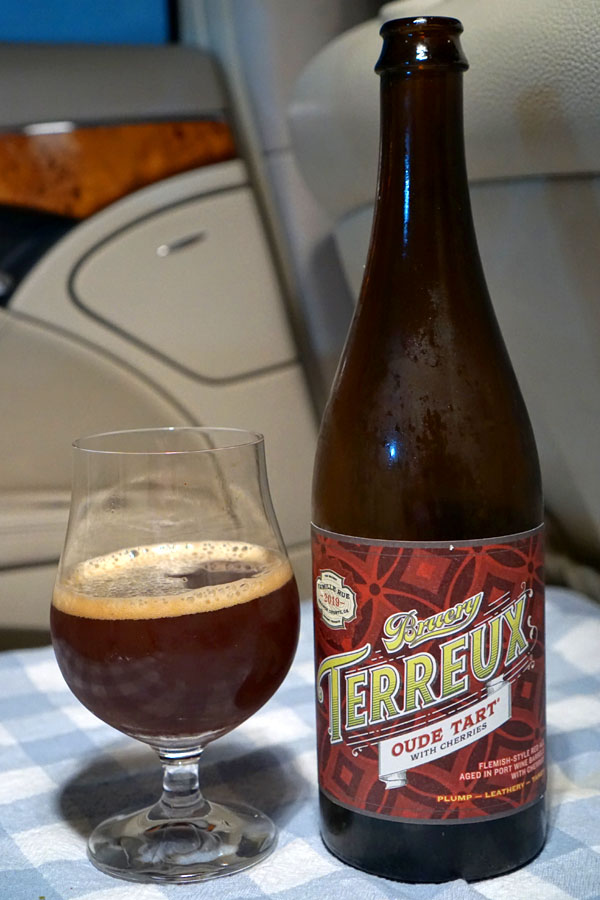 Next to imbibe was the
2019 The Bruery Terreux Oude Tart with Cherries
, a Flemish-style red ale aged in port wine barrels, finished with cherries. The beer had a classic Flanders red nose filled with tart berry fruit and earth. Tasting it, I got distinct cherry up front, along with barnyard, leather, oak, and a healthy amount of acidity.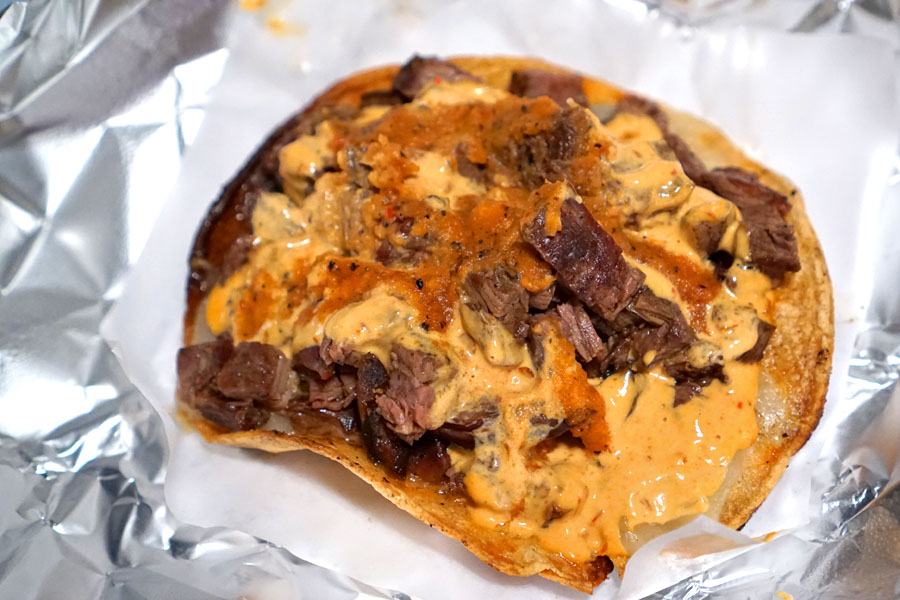 Cachetada - Carne Asada [$4.65]
| The classic tostada reinvented with choice of meat and melted Mexican cheese, topped with a savory aioli chipotle sauce
The cachetada just might've been my favorite item of the night. The asada definitely worked better here, and conveyed a nice smoke that married perfectly with that creamy, spicy aioli. Just as important though was the tortilla, which had both a wonderful crispness and a boatload of char character that I loved.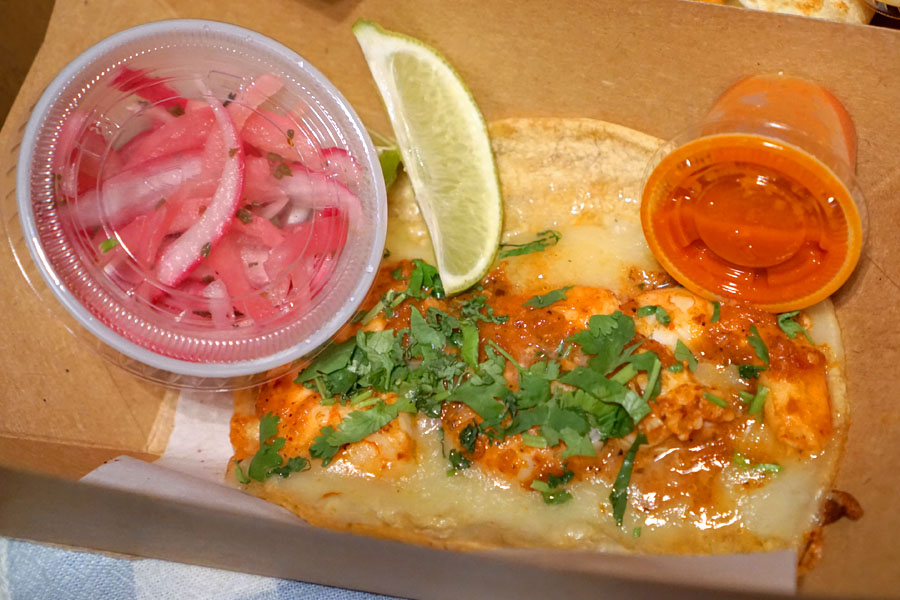 Shrimp Taco [$4.10]
| Adobado grilled succulent extra-large shrimp on a cheesy corn tortilla garnished with fresh cilantro
Shrimp were substantially textured, and took pretty well to their adobo seasoning, but the cheese really completed the package. I was a fan of those tangy pickled onions, too.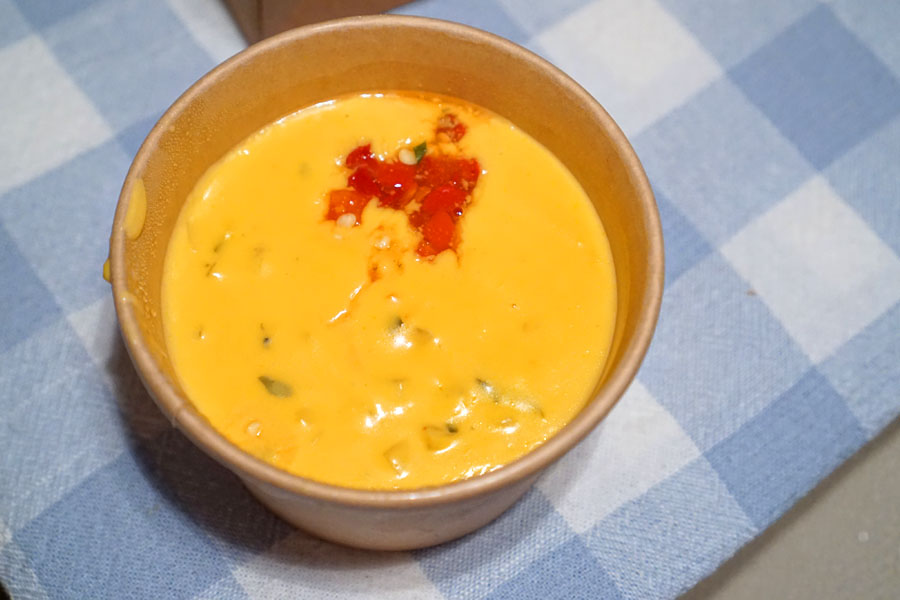 ATX Queso Dip [$3.75]
The cheese dip was a new item apparently inspired by Chef's restaurant in Austin. What struck me was its very noticeable sweetness, though fortunately this was balanced out by the queso's slow-moving heat.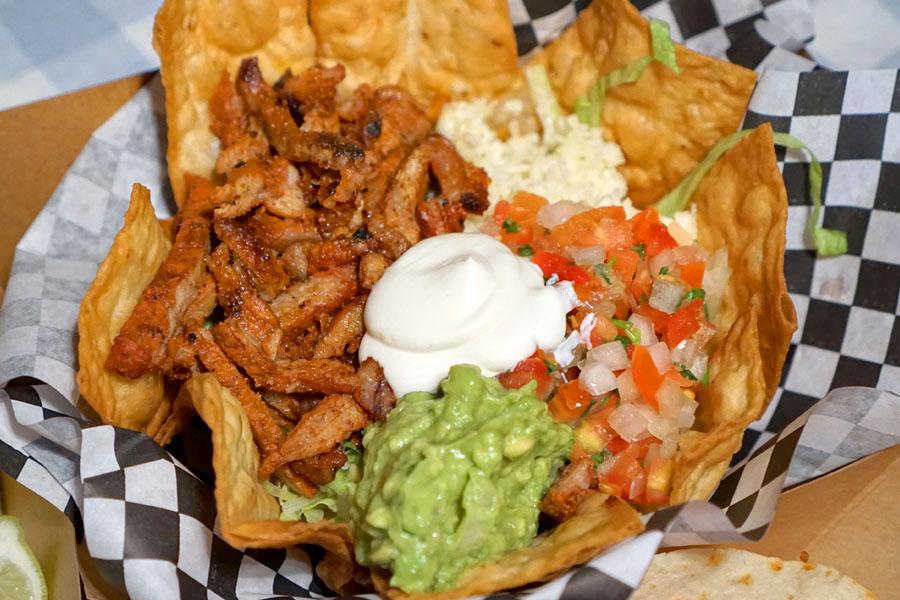 Mexicali Tostada - Canto-Style Al Pastor [$9.50]
| Choice of protein, fresh iceberg lettuce, rice, black beans, pico de gallo, guacamole, sour cream in a giant tortilla bowl
Mexicali's take on the tostada wasn't what I expected, and in fact reminded me of Taco Bell's taco salad, and I mean that in the best way possible. I found its combo of lettuce, beans, and rice extremely reminiscent, and overall there was just a gratifying mélange of flavors here that worked hand-in-hand with the dish's crunchy, savory tortilla bowl.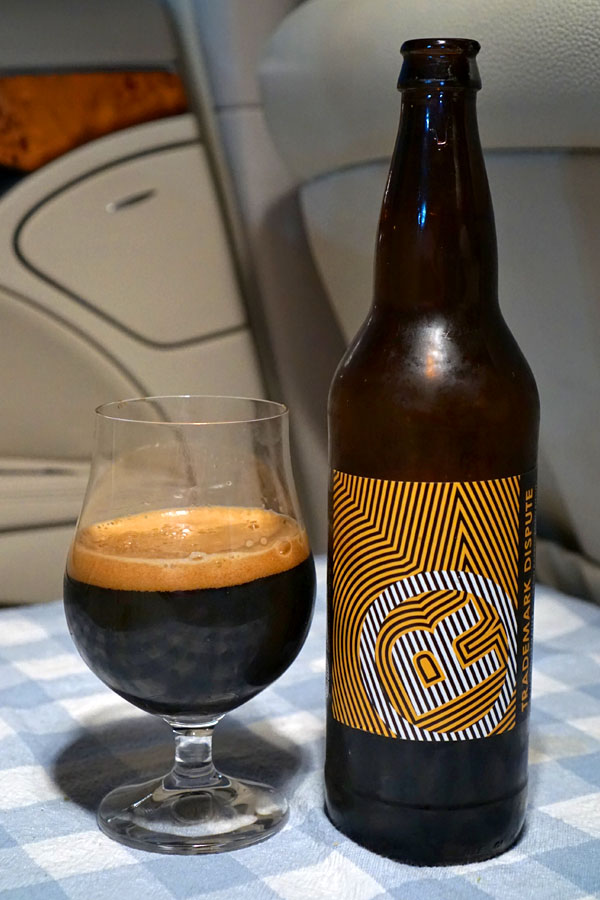 Our final beer was the
2016 Cycle Trademark Dispute (Yellow Label)
, a bourbon barrel-aged stout with coffee and cinnamon, essentially a remake of the brewery's Pallet 1. The nose here featured lots of piquant oak, along with a candied, almost barleywine-like sensation and a backing of cinnamon. Taste-wise, I got a bit of a bittersweet medicinal character at first, joined by more spicy cinnamon and overarching notes of coffee.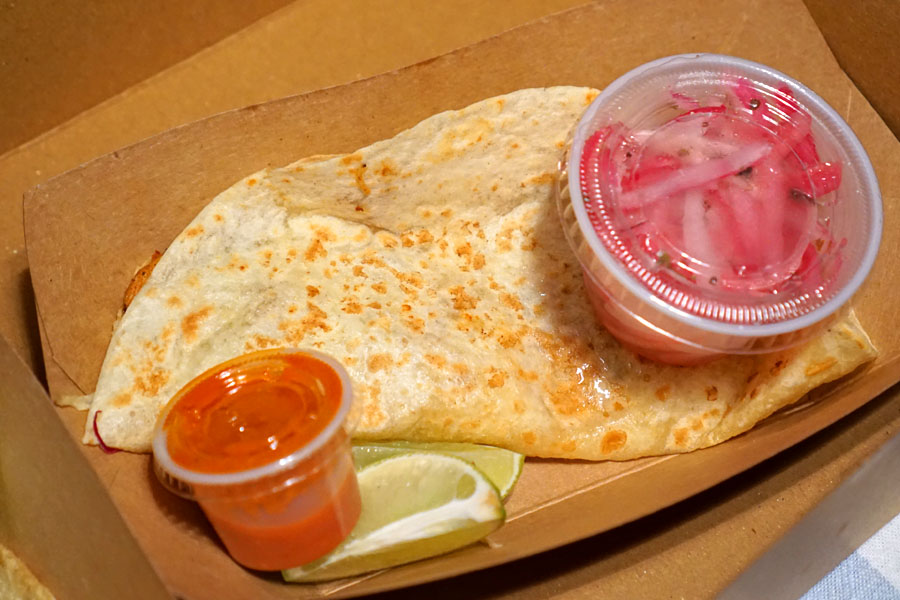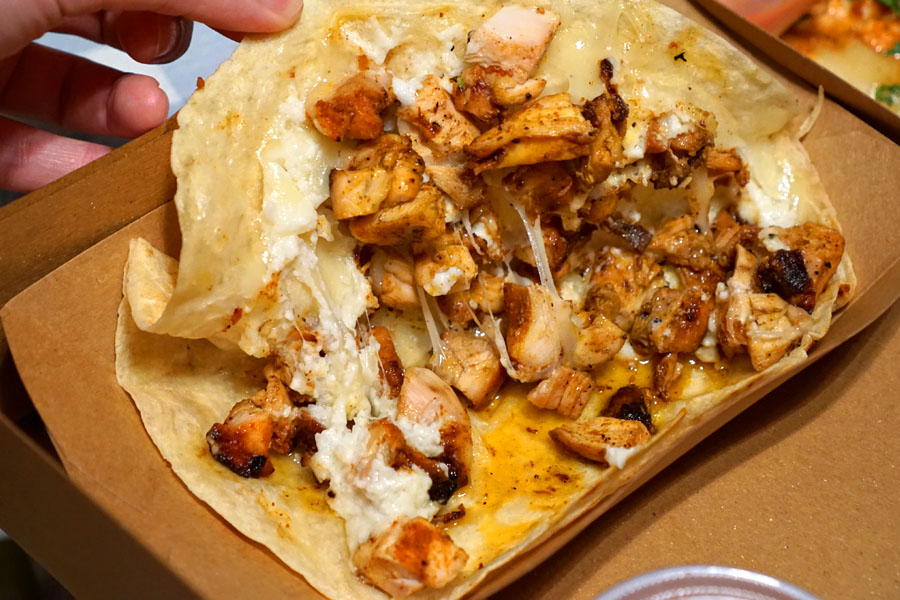 Quesadilla - Pollo Asado [$5.85]
| Savory harina tortillas with Mexican cheeses
My first taste of Mexicali's pollo asado was promising. The chicken was nicely textured and plenty flavorful, with a lovely amount of char and sear. The bird melded easily with the lushness of the cheese, while that flour tortilla served as an apt finishing touch.
Artisanal hand-crushed Guacamole [$3.75]
The guac was pretty much spot on, and was a particularly light, bright example due to all the greenery on top.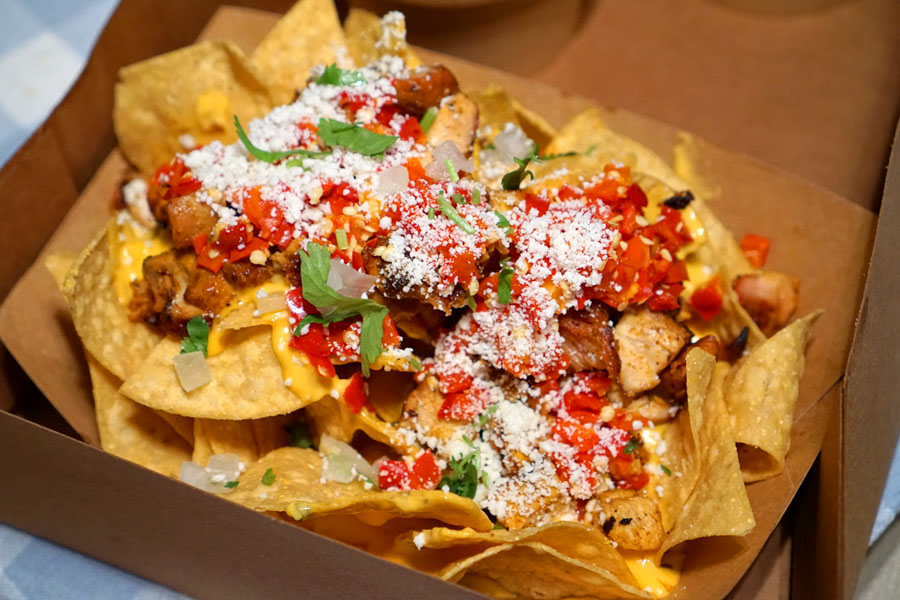 Nachos 2.0 - Pollo Asado [$8.95]
| Crispy house tortilla chips topped w/protein smothered w/our signature queso sauce, cilantro, onion & pickled Fresnos
As I've mentioned before, nachos are absolutely the single item that I've been eating the most during this coronavirus pandemic, so I obviously had to try 'em tonight. Again, the grilled chicken definitely delivered here, and made sense with the dish's pervasive, but not overwhelming heat. Onions and cilantro of course worked their magic, and the yellow cheese imparted that familiar, trashy element.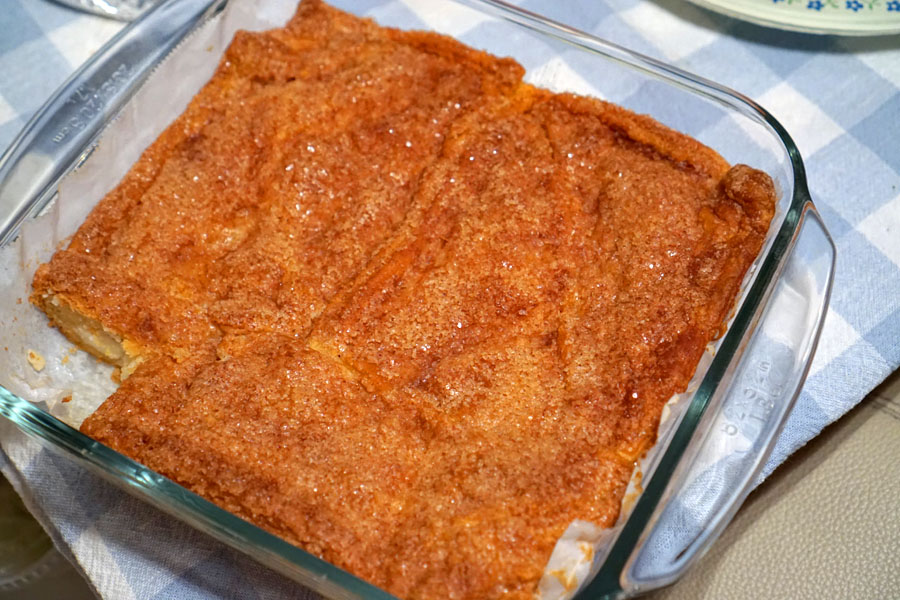 And for dessert? A homemade sopaipilla cheesecake that featured a delectable sweet-n-spicy layer on top.
No surprises here: if you're a fan of the original Mexicali Taco, you'll probably enjoy this place. Now I do appreciate the little tweaks that Ochoa has done to the menu to make it distinctive for the SGV. It wouldn't surprise me if he's cooking up plans for further locations, and it'd be sort of neat if each one could have its own unique twist. I'd certainly take a Mexicali closer to me.