The Golden State (Los Angeles, CA)
The Golden State Burger
426 N Fairfax Ave, Los Angeles, CA 90036
323.782.8331
www.eatgoldenstate.com
Sun 12/20/2020, 07:45p-08:50p

By now, many of you have probably heard the news of The Golden State's impending coronavirus-induced shutter, currently scheduled for January 4th. I'd needed to check out the beloved burger spot for over a decade now, but it sort of fell off my radar for some reason or another. Of course, word of the place's closure served as an unfortunate reminder, and so I prioritized a visit while I still could.
A bit of history
: The Golden State is the creation of friends Jason Bernstein and James Starr (fun fact: both have "Howard" as a middle name), a couple of LA natives who met while attending Crossroads School in Santa Monica. After graduating in 1996/1998, the two pursued careers in marketing/advertising, but left their posts after deciding to start a restaurant together during the Great Recession, pretty much on a whim. They eventually secured a space on Fairfax that previously helped Nova Express Cafe, a quirky pizza spot that closed in March 2008 after 15 years in business. Plans for Golden State were first revealed in June that year, with the opening planned for August. The schedule slipped, of course, and the place ended up debuting in March 2009 with a menu by Samir Mohajer (who'd just decamped from
Rustic Canyon
and met Bernstein and Starr while playing basketball) and ice cream from Tai Kim's Scoops.
The gastropub was well received, and even landed a spot on Jonathan Gold's "
99 Essential LA Restaurants
" list, along with fellow newcomers Bottega Louie,
Church & State
,
Gjelina
, Kogi,
LudoBites
,
Mo-Chica
, and
Mozza
(wow what a throwback selection!). Given the success of the restaurant, the partners had expansion on the mind, but before they could open another Golden State, they wound up taking over the building that previously held
Mark Peel
's Tar Pit. The space was eventually transformed into
Bludso's Bar-&-Que
, which opened in February 2013 in partnership with Texas BBQ legend Kevin Bludso, while Noah Galuten ran the kitchen on a day-to-day basis. Bernstein and Starr's next move came in May 2014, when they opened Cofax, a coffee shop located immediately up the street from Golden State, set in the former home of kosher butcher shop Hadar. Nick Starr (James' brother) was apparently also involved in the project, which was named after a portmanteau of "coffee" and "Fairfax."
Following, Bernstein and Starr joined forces with Zak Fishman (GM at Bludso's) and debuted Prime Pizza in October 2014. The spot focuses on New York-style pies, and is conveniently located just a couple doors away from Cofax, in the old Twins Sliders space. In March 2015, it was announced that Nicole Rucker, who'd just left Gjusta, had joined the team and was well on her way to revamping the sweet stuff at both Cofax and Bludso's. Starr and Fishman (sans Bernstein) then began working on a second outpost of Prime Pizza, one with an expanded menu by Galuten. The place dropped in November 2017, located in the former Little Tokyo home of Japanese Robata Kaba. Interestingly, in August 2018, word came that Starr was looking to open a restaurant with none other than
Eddie Huang
, but the project never came to fruition.
Just three months later, Rucker's
Fiona
grand-opened. Bernstein and Starr were partners in the place, which had Simbal's Shawn Pham handling the savories, but the spot sadly shuttered in August 2019 after a mere nine months. Further expansion came in December 2018, when the long-awaited second Golden State opened on the ground floor of Little Tokyo's Sakura Crossing apartment complex, inside a space that once held the likes of Gingergrass and
Josef Centeno
's
Lazy Ox Canteen
. Unfortunately, the restaurant closed at the end of 2019, and the address is now home to plant-based Mexican eatery Madre Tierra Express. Next up was the third Prime Pizza, which Starr and Fishman opened this January inside the old Taste Chicago in Burbank (which was owned by Joe Mantegna, curiously).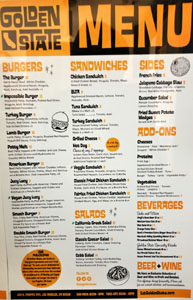 Pictured above is the final Golden State menu, which has evolved quite a bit since the restaurant's early days. Note that the place was known for its beer selection as well (Bernstein's apparently quite the brew aficionado), but the suds definitely weren't flowing tonight. Click for a larger version.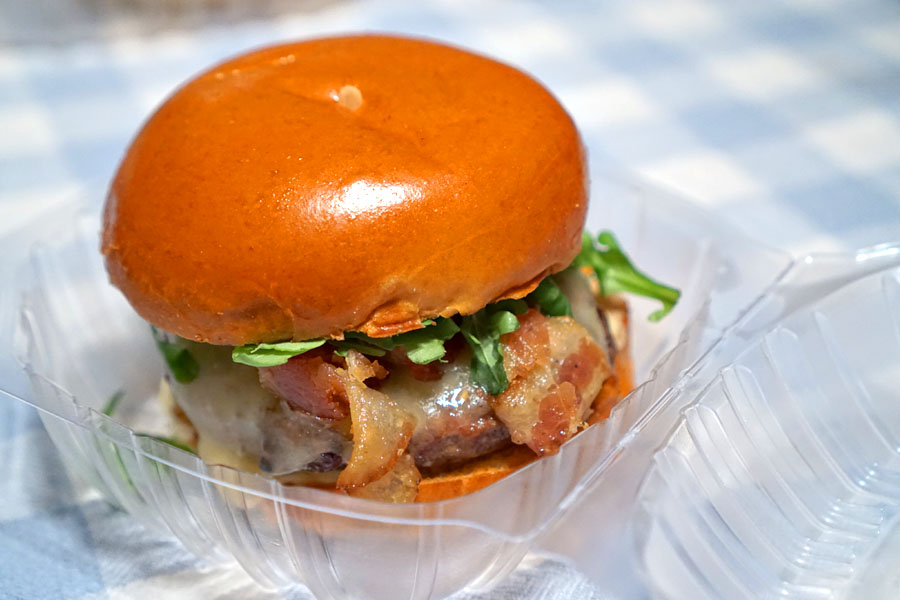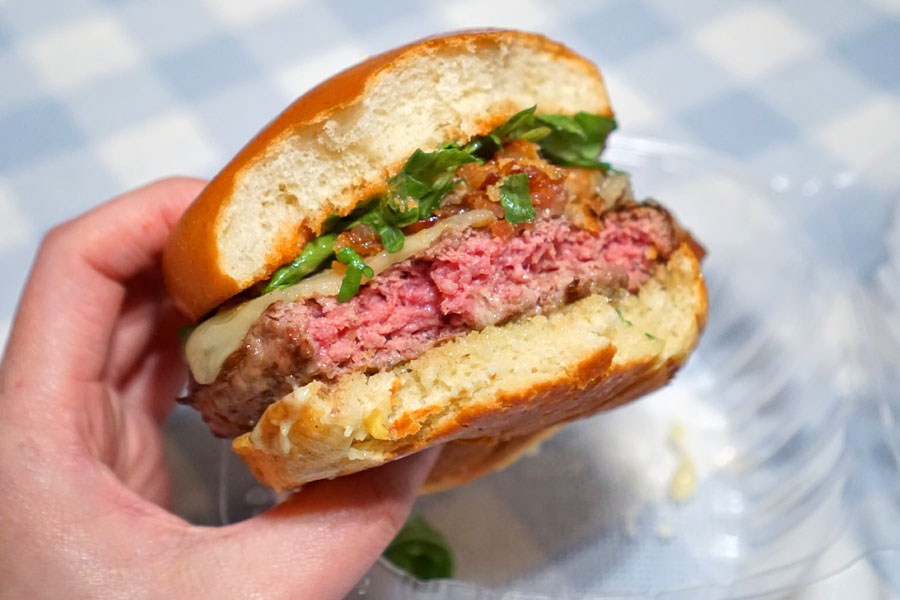 The Burger [$10.00]
| Harris Ranch Beef, White Cheddar, Applewood Smoked Bacon, Arugula, Aioli, Ketchup
I had to commence with the hamburger that Golden State built its reputation on, and it did not leave me disappointed. That mouth-watering back-and-forth between a medium-rare patty and Fiscalini cheddar was front and center, but was kicked up a notch by the saltiness of the bacon while the arugula imparted a wonderfully zesty overtone. The finishing note, meanwhile, was all about the sweet salty smoke of the pork again. Very well put together.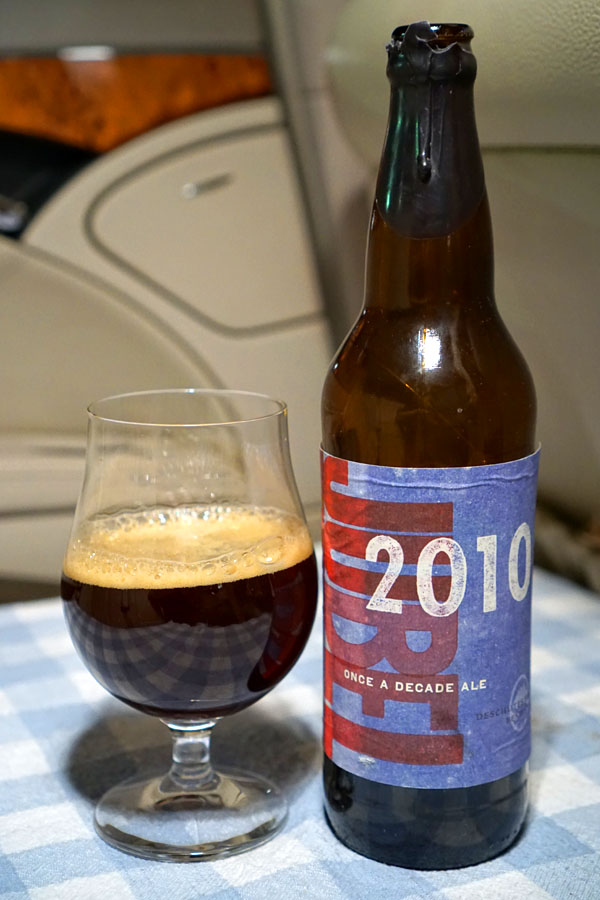 Since we were in the throes of winter, it made sense to open up a bottle of the
2010 Deschutes Jubel
, a winter warmer aged 13 months in Oregon pinot noir barrels. Interestingly, the ale was first bottled in 2000, and was supposed to be a special seasonal brew released only once a decade (hence the "once a decade ale" line on the label), but the brewery later relaxed that rule with the 2015 release of the beer. In any case, nose here was rife with malt, toffee, roast, and plenty of walnuts. Tasting it, I got more nuttiness right up front, joined by sugary malt, a slight metallic twang, and a healthy dosing of grapiness. I'd say that this has held up quite well over the past ten years.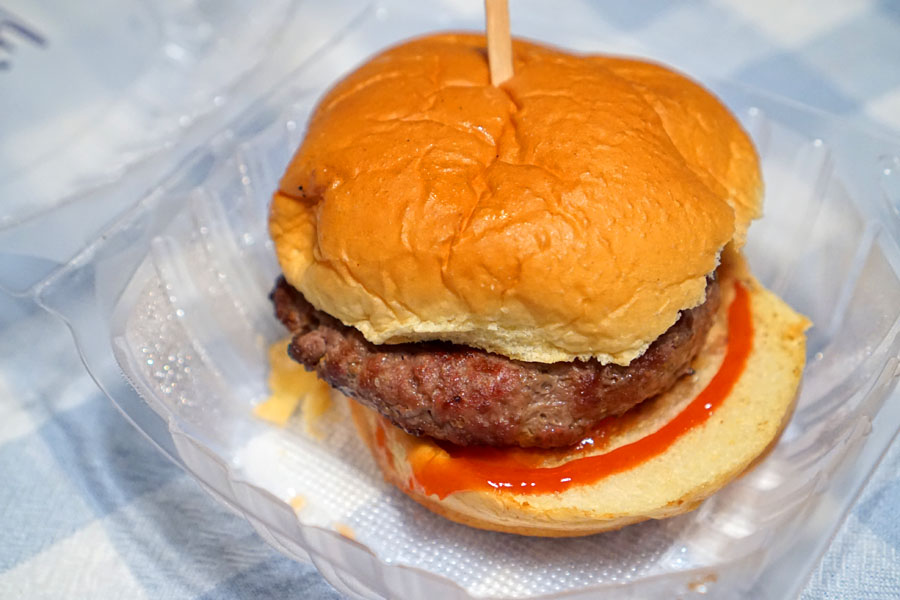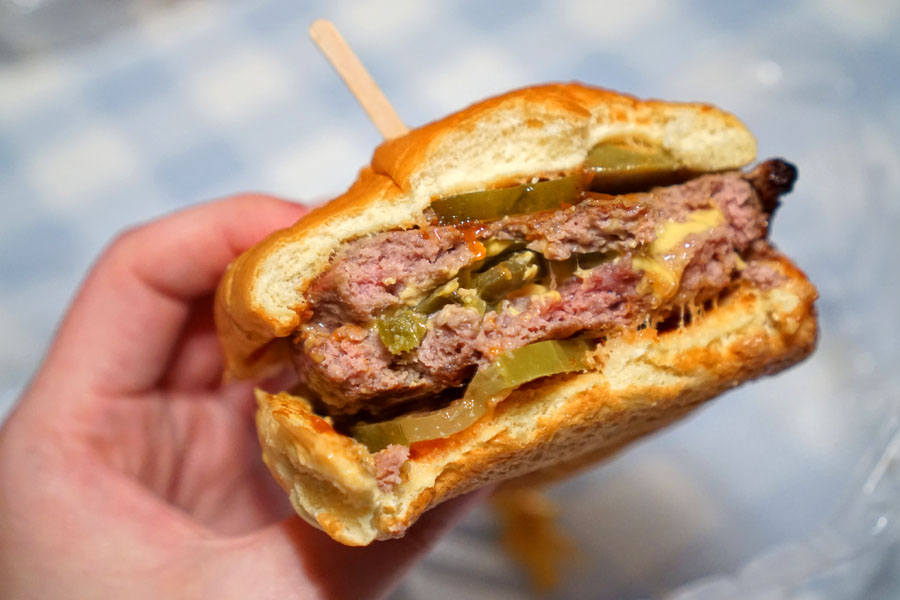 Jucy Lucy [$9.00]
| Beef Patty stuffed with American Cheese and Pickled Jalapenos, topped with Pickles and Ketchup on a Potato Bun
I was pretty smitten with the restaurant's take on the Juicy Lucy as well. Its classic combo of meat and runny cheese delivered in spades, tarted up by numerous pickles and jalapeño heat while the bread kept it all in check. Tastes like Americana.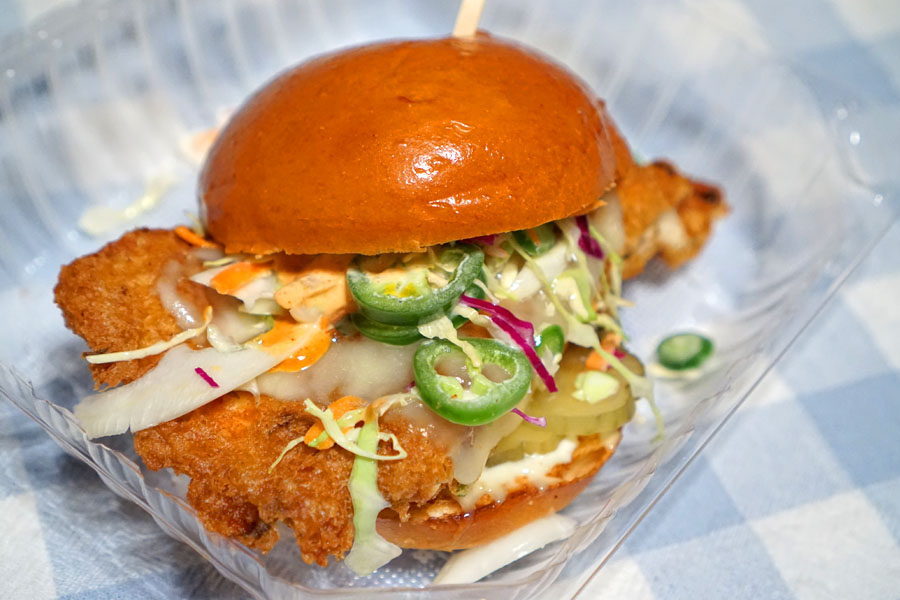 Classic Fried Chicken Sandwich [$9.00]
| House Fried Chicken, Jack Cheese, House Slaw, Pickles, Garlic Aioli, Fry Sauce, on a Brioche Bun
Featuring an oversized cutlet in a brioche bun, the chicken sando was one of the better versions I've had. The first thing that struck me was the bird's crisp, light, savory breading, which I found somewhat reminiscent of that of a Taiwanese pork chop. The chicken was certainly tasty just by itself, but was made even better by the growing, vegetal heat of the peppers, while the cabbage, pickles, and aioli added further interest to the sandwich.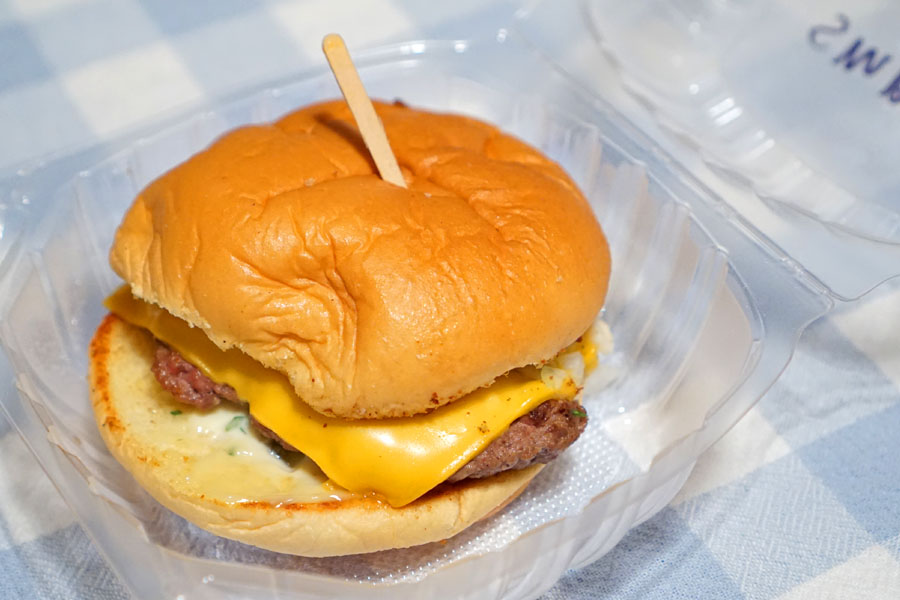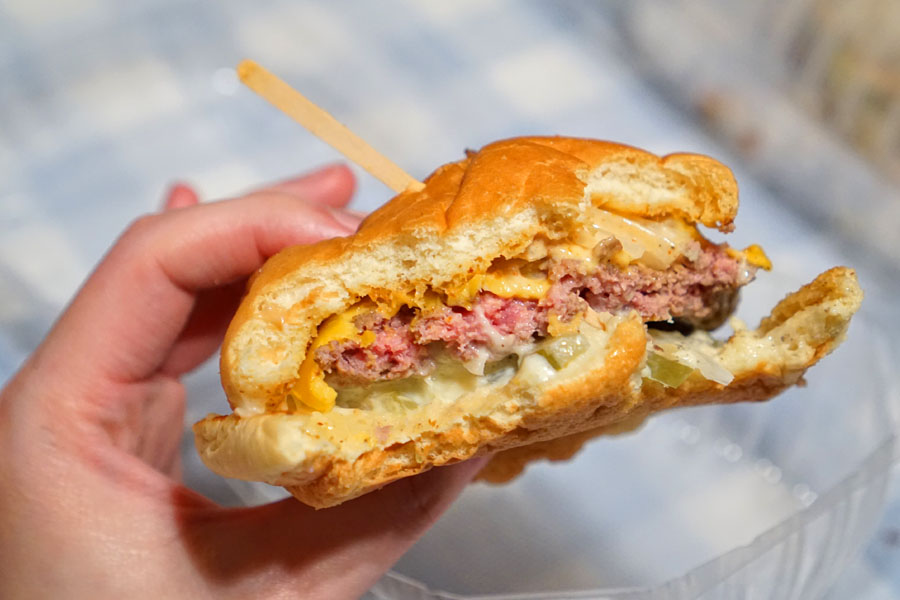 Smash Burger [$8.00]
| Thin, Crispy Beef Patty, American Cheese, Chopped Onions, Chopped Pickles, Garlic Aioli, House Fry Sauce on a Potato Roll
Next was Golden State's take on the smashburgers that have become all the rage over the past couple years. The thinness of the patty resulted in a very tight integration with the cheese, which I appreciated, but just as crucial was the sheer amount of onion present, which made for a great contrast. Also important was the fry sauce, hiding in the background with its familiar flavors.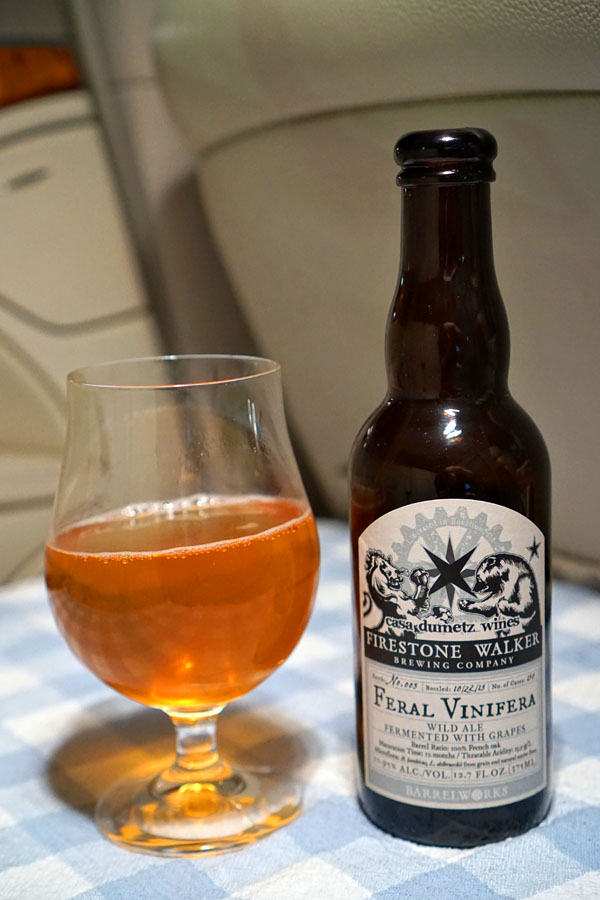 The evening's second beer was on the lighter side: the
2015 Firestone Walker Feral Vinifera #3
, a wild ale fermented with Grenache Gris grapes and aged in French oak for 12 months, created in collaboration with Casa Dumetz Wines. The nose on this one was unquestionably tangy, but also featured a rich sweet spice element, along with barnyard and a grape-y funk. In terms of taste, I found this lush and vinous and of course tart, but there was also this lingering pear-like note and a super pervasive earthiness. Quite nice.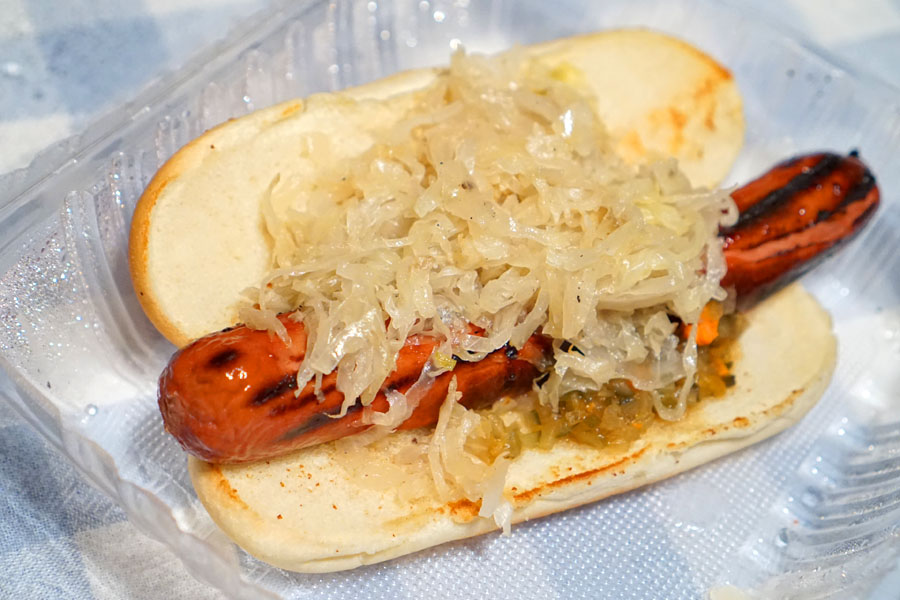 Hot Dog [$6.00]
The all-beef hotdog came with a choice of two garnishes, and I opted for Golden State's delightfully piquant, spicy relish and a relatively restrained preparation of sauerkraut. Those two toppings worked in concert as a counter to the juicy, full-flavored sausage, with its snappy, well-charred casing.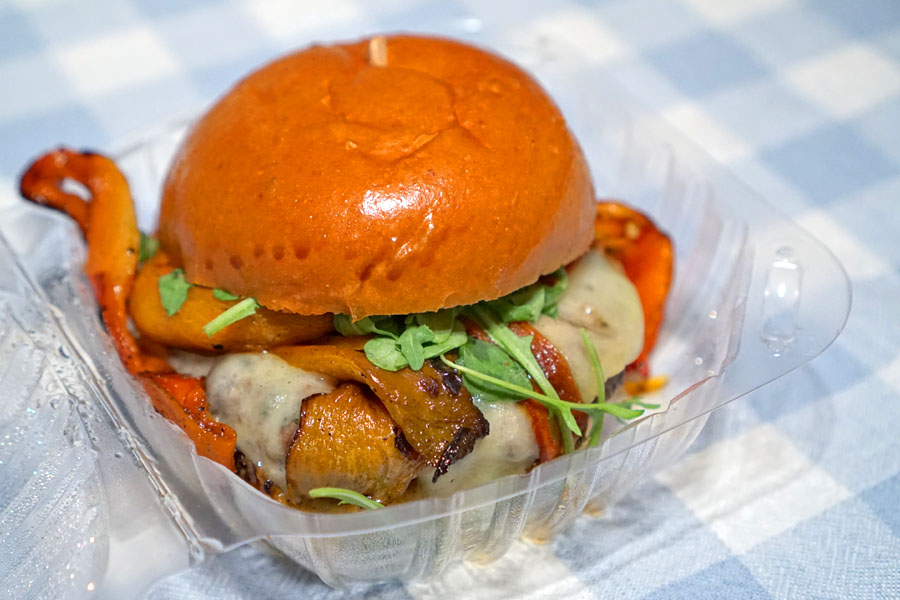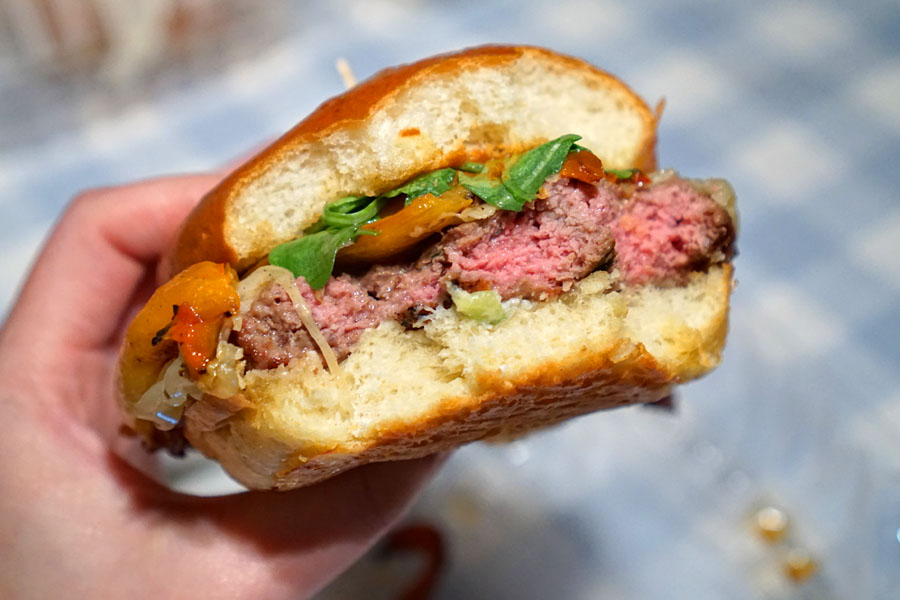 Lamb Burger [$10.00]
| Lamb Patty, Gruyere, Arugula, Roasted Red Peppers, Yogurt-Dill Sauce, Curry Ketchup
Last up was perhaps my favorite item of the night. Cooked medium-rare, the patty was super flavorful, properly charred, and seemingly incorporated Middle Eastern spices (though that could've been the ketchup). I was a fan of the elegant nature of the cheese as well, but even more key was the use of red peppers, which added a sweet, smoky element to the burger that perfectly complemented the lamb. And once again, the arugula added a much appreciated zippiness on the back end.
The Golden State crew put on an impressive performance tonight. Everything I tried was basically spot on, and in fact, these might've been the best burgers I've had all year. It's a shame that they have to close, especially given how well the place has always braved LA's ever-shifting hamburger zeitgeist. By the time this dining report is posted, there will still be a few days left to experience Golden State, so I think it's worth a visit if you haven't been, or perhaps a re-visit if you have. As for the future, Bernstein and Starr supposedly still hold the lease to the Fiona space, so I'm very curious to see what they're going to do with it now that Rucker's out of the picture.