Little Llama (Los Angeles, CA)
Little Llama Peruvian Tacos
222 S Main St, Los Angeles, CA 90012
213.372.5630
www.littlellamatacos.com
Tue 11/17/2020, 07:35p-09:15p

If you've been following this blog, you'll know that I recently re-visited Neal Fraser's Downtown stalwart
Redbird
. Now on the way to dinner, I just happened to pass by Little Llama (which is located next door), and after doing some research on the place, decided to check it out.
The casual Peruvian joint is helmed by Chef Jean Valcarcel. A native of Lima, he first started cooking with his grandmother, and later moved to the US as a teen. He eventually made his way to Los Angeles Trade Technical College, and while attending the LATTC, spent time in the kitchens of
Bestia
and
Mo-Chica
. At Mo-Chica, he met Angela Wagner, and in January 2013 the two founded
Re Creo Supper Club
. Re Creo hosted numerous events over the course of a few years, and in October 2016, Valcarcel and Wagner teamed up again to start Little Llama (the Chef's husband Christopher Spinder also joined the partnership).
The Peruvian taco concept soon began operating out of Smorgasburg, held Sundays at the Alameda Produce Market, and was generally well received. In early 2019, it was revealed that Little Llama would be launching a permanent location, originally scheduled to debut in April 2020. However, the coronavirus scuttled those plans, but after receiving emergency loans, the team was finally able to open on October 9th.

Little Llama resides on the ground floor of the new STOA Apartments building. The interior was empty due to COVID-19 restrictions, but do note that there are two patios: one in the front and one to the side.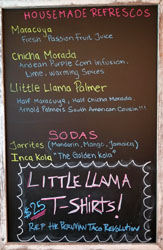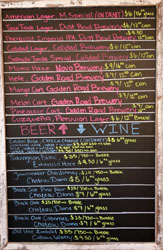 Little Llama's old four-item menu has been replaced with something more expansive, and there's even beer and wine available. Click for larger versions.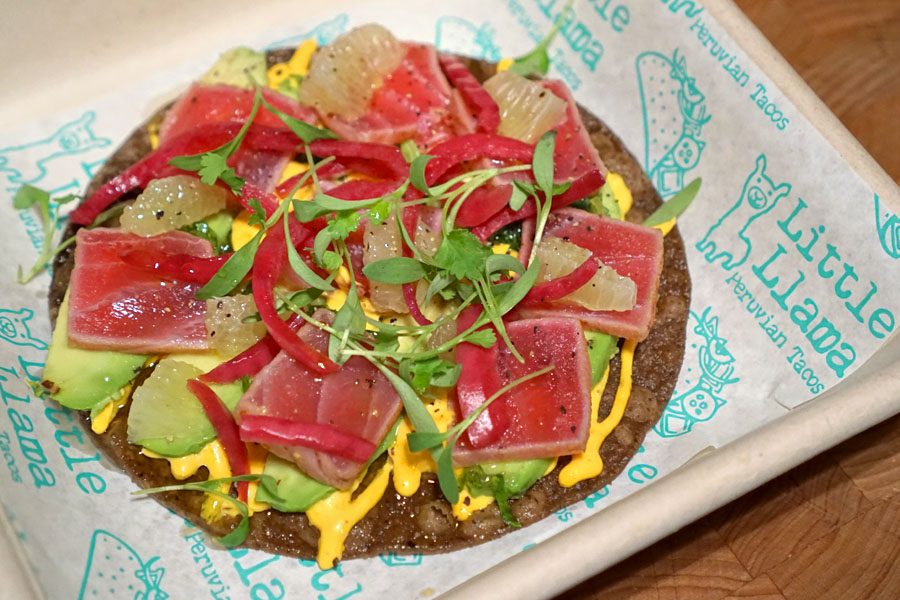 Seared Tuna Tostada Nikkei [$10.25]
| aji amarillo crema, avocado, scallion salsa, pickled red onions, cilantro
My first of two tostadas featured clean cuts of lightly seared, well textured tuna. The fish melded easily with the lushness of both the crema and avocado, while citrus, herb, and pickled onion imparted the requisite acidity and brightness. As expected, the tortilla provided a crunchy finishing touch that was much appreciated.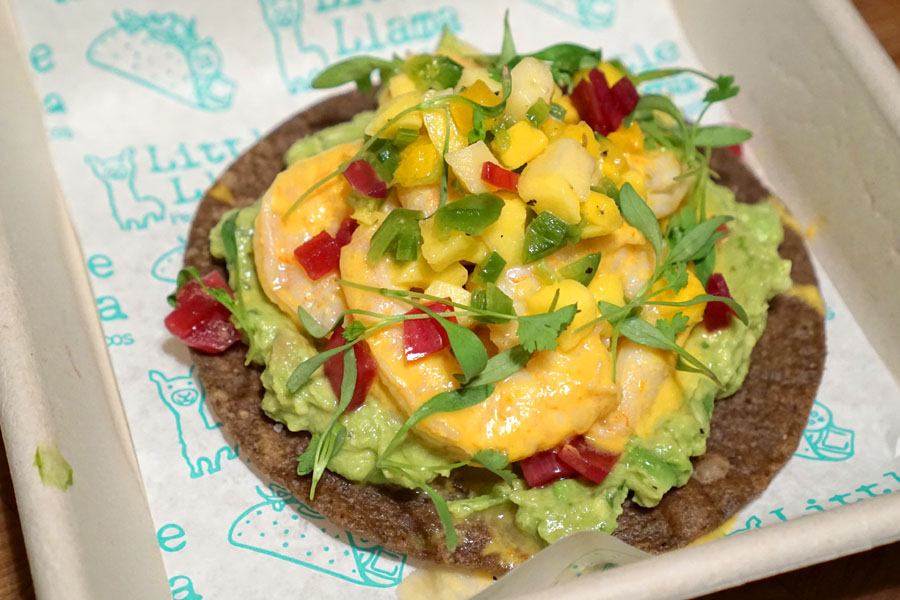 Shrimp Ceviche Tostada [$10.75]
| aji amarillo leche de tigre, mango & pickled red onion salsa, cumin guacamole
The next tostada also delivered for the most part. The shrimp had a substantial, satisfying consistency, and went well with the sweetness of the mango, while onions gave up a needed zestiness. I didn't detect much cumin in the guac, but the avocado did help smooth things out, and again the crispiness of the tortilla was spot on.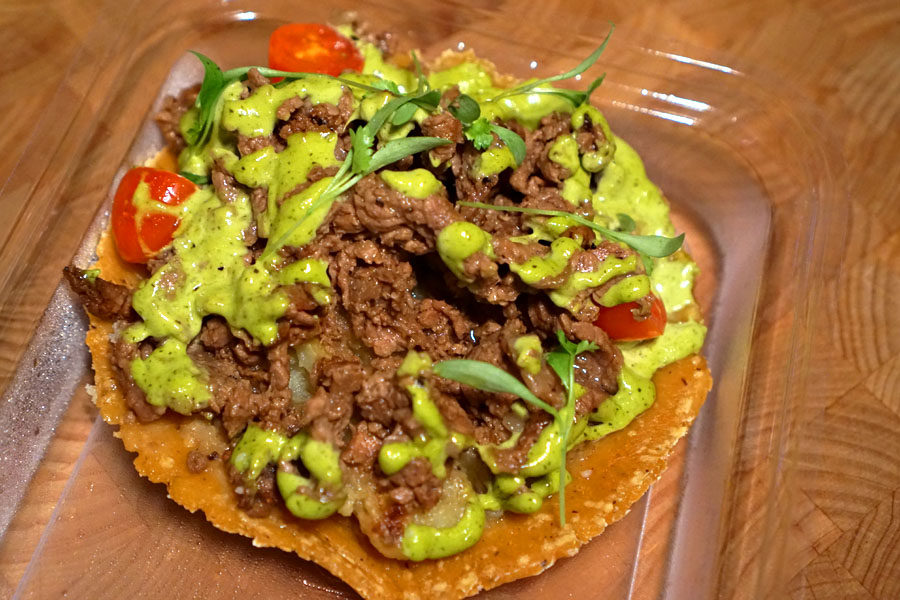 Lomo Saltado Taco [$5.00]
| garlic & ginger marinated certified angus steak, crispy yukon gold potatoes, huacatay aioli, tomato escabeche
For my first taco, I had to begin with the restaurant's take on the Peruvian staple that is lomo saltado. The beef was tender and full-flavored, with a slight sweetness that reminded me a bit of bulgogi. The huacatay-based sauce helped lighten things up, and I quite liked the moderating effect of the potato too (though it wasn't nearly as crispy as advertised). The yellow corn tortillas are worth mentioning as well, since they're on the thicker, heartier side and did a nice job sealing the deal.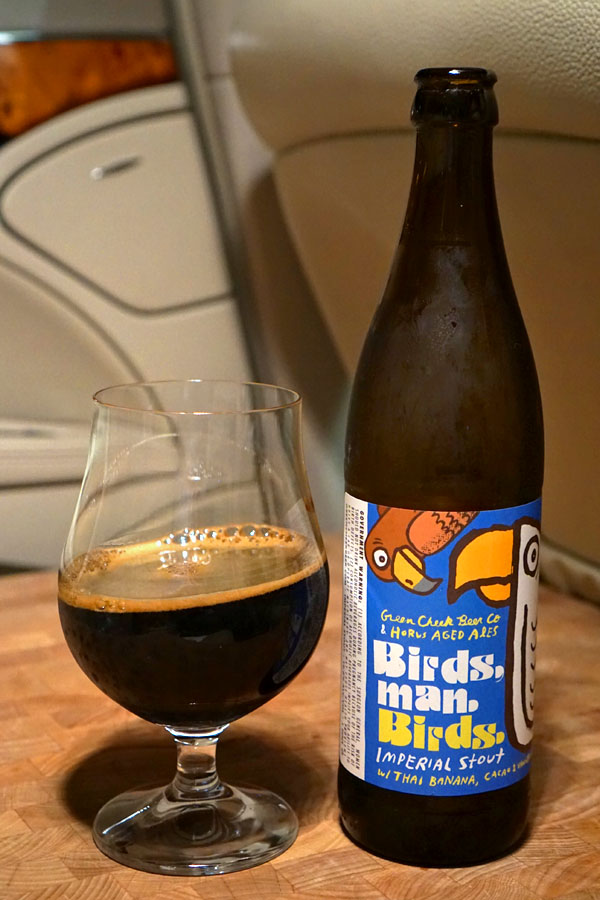 To drink, I opened up some beer, beginning with the
2020 Green Cheek Birds, Man. Birds
, an imperial stout with Thai banana, cacao nibs, and Mexican Planifolia vanilla, created in collaboration with Horus Aged Ales. Sweet, appealing nose of berries, banana, and chocolate. The palate was one of the thickest, silkiest I've experienced in recent times, and showcased more flavors of banana and chocolate, all layered over a base of dark fruit--yum.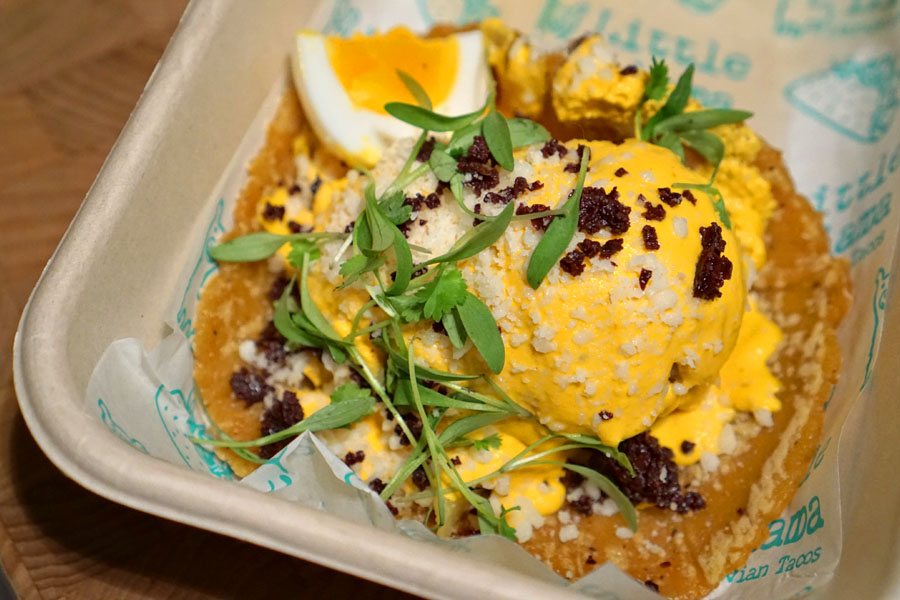 Papa a la Huancaina Taco [$4.50]
| crispy yukon gold potatoes, aji amarillo pepper & feta sauce, pasture-raised egg, cotija, olive
In this taco-fied rendition of a Peruvian classic, (definitely not crispy) mashed potatoes were joined by a palpable piquancy from the olive, which was then evened out by a combination of cheese, herb, and egg. I definitely got all the traditional flavors here.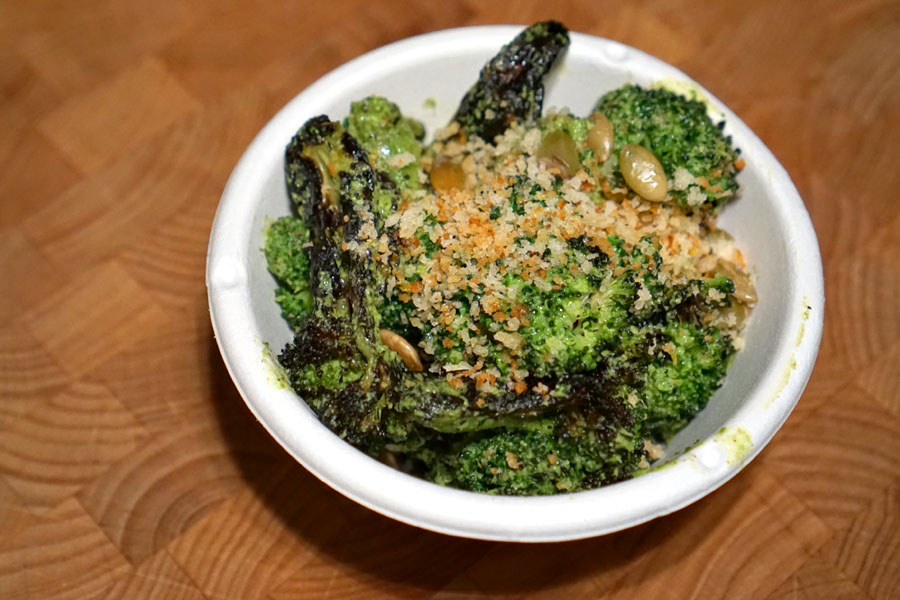 Blackened Broccoli [$4.50]
| pepita & cilantro pesto, lemon garlic panko
Broccoli should've been firmer, crisper, but the flavors were there. I especially enjoyed the nuttiness of the pepitas, while the panko provided a lemony savoriness that lingered.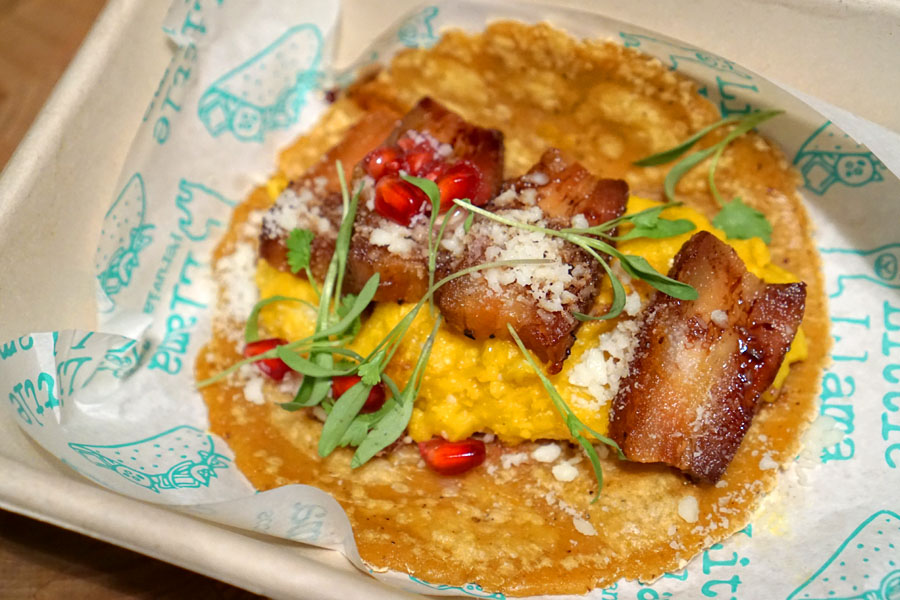 Pomegranate-Glazed Pork Belly Taco [$5.00]
| roasted pork belly, fresh corn polenta, cotija cheese, pomegranate arils
Pork belly showed off a deep, porcine funk, along with a noticeable sweetness and touches of char. However, the meat really needed to be juicier, more tender, and I also found the polenta overly sugary. Overall this just didn't come together like I'd hoped.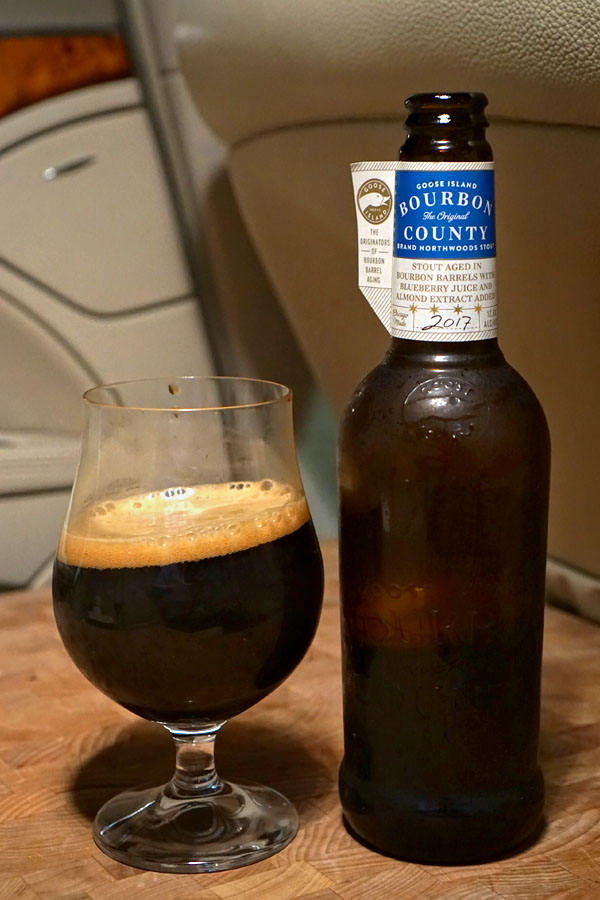 The evening's second beer was the
2017 Goose Island Bourbon County Brand Northwoods Stout
, which was aged in bourbon barrels and had blueberry juice and almond extract added. This one smelled of roasty-sweet malt, chocolate, and light blueberry. Tasting it, I got subtle berry fruit and a graininess up front, leading to more blueberry, oak, and some candied, almost barleywine-like flavors that lingered long. The blueberry has certainly fallen off from when I first had the beer a few years ago.
Elote [$5.00]
| charred corn, aji amarillo crema, jalapeno, cotija
Corn was served cool, and had a freshness and sweetness to it that meshed seamlessly with the potency of cotija and especially the heat of those jalapeños. A pleasant surprise.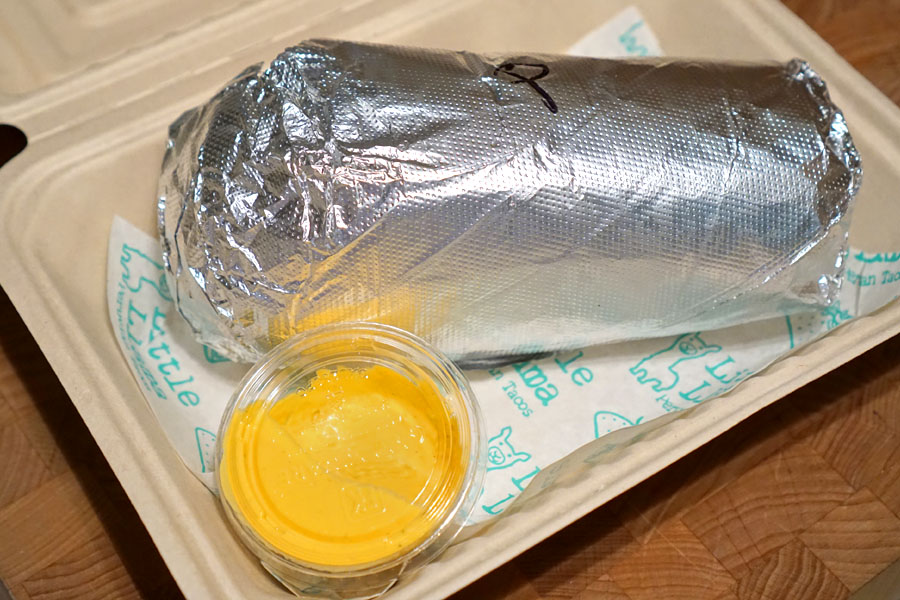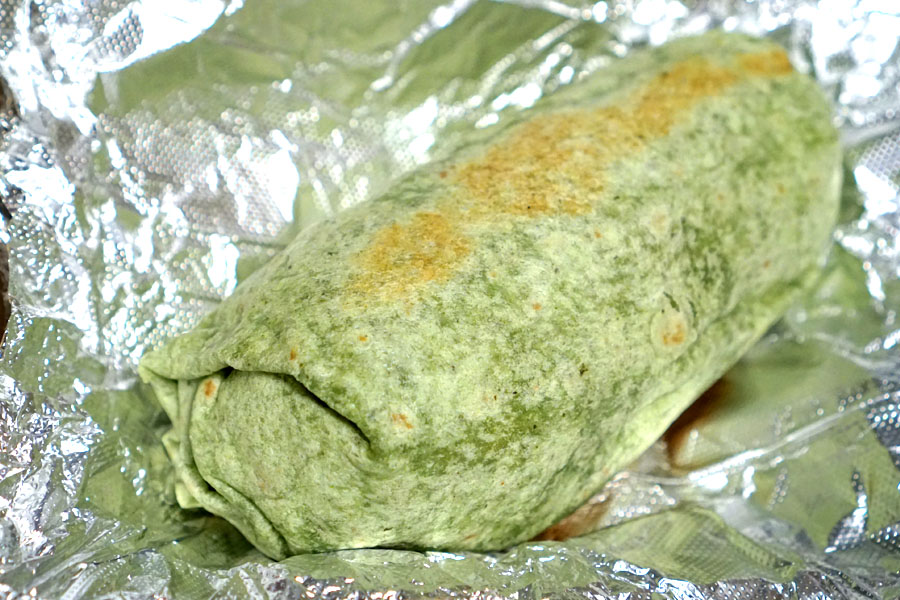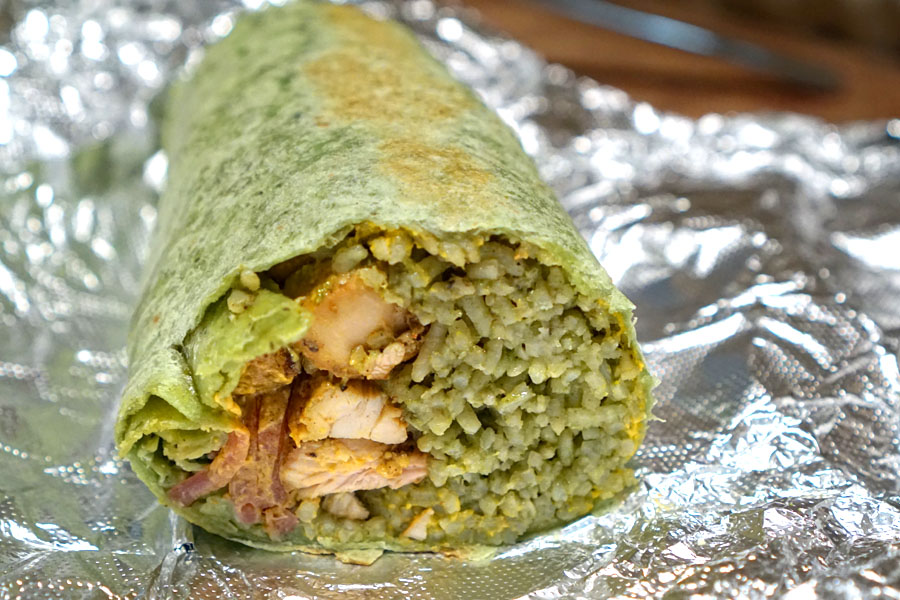 Arroz con Pollo Burrito [$11.25]
| beer & aji panca pepper marinated chicken, cilantro rice, huancaina sauce, pickled red onions
I ended with easily the most substantial dish of the night. I'm a fan of arroz con pollo in general, and the burrito was a reasonable approximation of the dish. The chicken itself was well seasoned and smoky, while the cilantro rice functioned as a natural complement. The zippiness of the red onions was crucial as well, and I didn't mind the green-tinted, garlic-herb flour tortilla either. Finally, the accompanying huancaína sauce added a slightly spicy, creamy, cheesy element, though it wasn't strictly necessary.
Despite a couple missteps, Valcarcel and the team were largely able to deliver on its mashup of Peruvian and Mexican flavors, rendered in a fast casual, very approachable format. It's a logical progression from what they were doing at Smorgasburg. What I'm curious about is if the partners plan to expand Little Llama to multiple locations. I could see it happening.