HiFi Kitchen (Los Angeles, CA)
Hi-Fi Kitchen
1667 Beverly Blvd, Los Angeles, CA 90026
213.258.8417
www.hifi-kitchen.com
Thu 12/17/2020, 07:40p-08:45p

I posted about Westlake spots
Woon
and
Thunderbolt
back in July, and always had it on my mind to return for a meal at the nearby HiFi Kitchen, a casual, counter service Filipino-American comfort food joint from Chef/Owner Justin Foronda. However, for one reason or another, I didn't make it out until just recently, after I was reminded when the Chef appeared at a
virtual fundraiser event
I attended, put on by the non-profit group
CPAF (Center for the Pacific Asian Family)
.
About the Chef
: Foronda was born and raised in LA, and attended the now-shuttered Bellarmine-Jefferson High School in Burbank. Having discovered a love for dance early on, he was part of b-boy crew BHAM Tribe and also worked at Blue13 Dance Company. In 2009, he enrolled at East Los Angeles College and was able to attain a nursing degree two years later. Interestingly, during his time at ELAC, Foronda worked as a cashier at The Oinkster, owned by Filipino chef-and-restaurateur Andre Guerrero. Following, he served as drummer for the band The Status: Fiction, and then as songwriter for The Winter 82.
Concurrently, he pursued a registered nursing career, working at Desert Valley Hospital before moving over to Sherman Oaks Hospital in July 2014. In 2015, Foronda founded Benaddictz (a play on
eggs Benedict addict
), a brunch pop-up series and food truck. He later incorporated his business as Fraiche Coast LLC in early 2017, and began working on HiFi Kitchen the next year. The Chef was eventually able to secure a lease on a Historic Filipinotown space that previously held The Village Kitchen, and debuted the eatery at the end of January 2019. Foronda hasn't given up on his musical ambitions either, and is apparently now part of a band called Apperson.

I wasn't allowed inside due to coronavirus restrictions, but we can see that the interior of the restaurant is pretty tiny, and isn't particularly conducive to on-site dining anyway.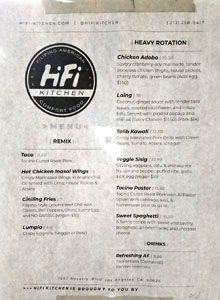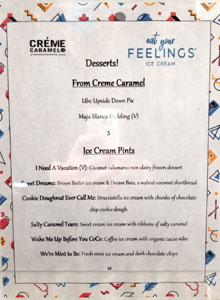 Pictured above is the HiFi Kitchen menu, which is on the casual, compact side and well-suited for takeaway. Desserts, meanwhile, are provided by
Crème Caramel LA
and
Eat Your Feelings Ice Cream
. Click for larger versions.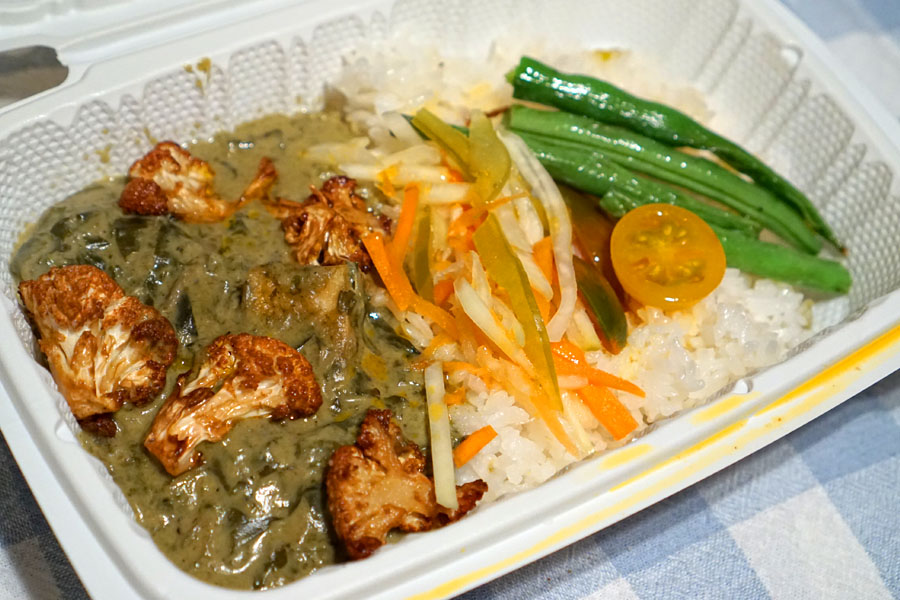 Laing [$10.00]
| Coconut-ginger sauce with tender taro leaves, roasted cauliflower, and crispy tofu. Served with pickled papaya and chili oil
We began with Foronda's take on the Bicolano staple of
pinangat
, and it turned out to be my favorite item of the evening. I was pretty smitten by the greens' bitter, earthy depth, which really linked up nicely with the cubed, lightly fried tofu and crunchy cauliflower florets. What was even more intriguing was the sweetness inherent in the dish, which of course recalled coconut, but also an unexpected stone fruit-like juiciness. The traditional pairing of white rice made total sense here, and I didn't mind the
atchara
pickles or green beans, either.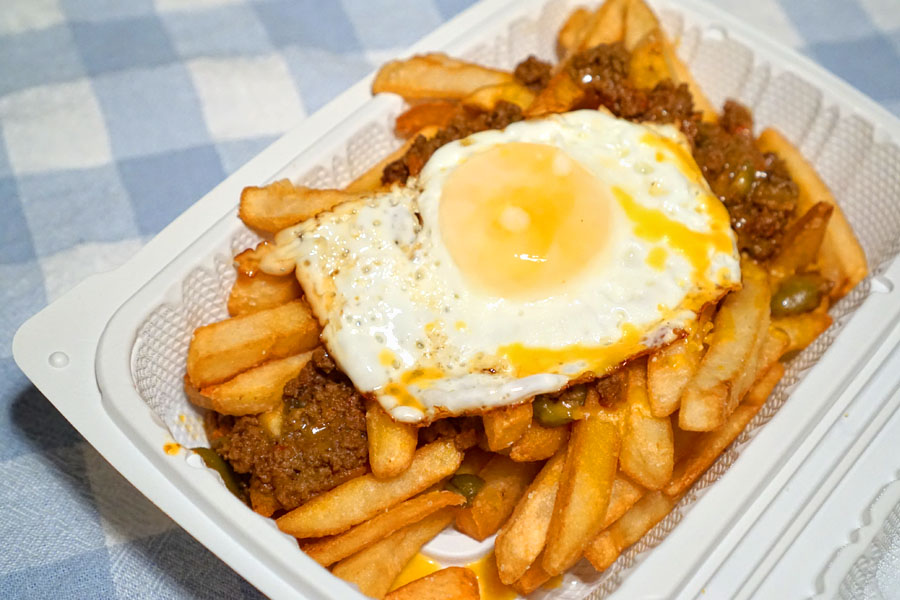 Giniling Fries [$7.00]
| Filipino-Style Ground Beef Chili with Carrots, Bell Peppers, Olives, Sunny Egg... and NO RAISINS
Next up was a Philippine-styled rendition of chili fries. The fries themselves were crispy and enjoyable in their own right, while the picadillo combined the inherent meatiness of the ground beef with a palpable sweetness and touches of piquancy from the olive. It was a pretty workable combination, and the lusciousness from that sunny side up egg served as a great finishing touch. I do find it curious that the menu was so keen on calling out the lack of raisins in the dish, but their absence turned out to be good thing, since I think they'd have made things overly sweet.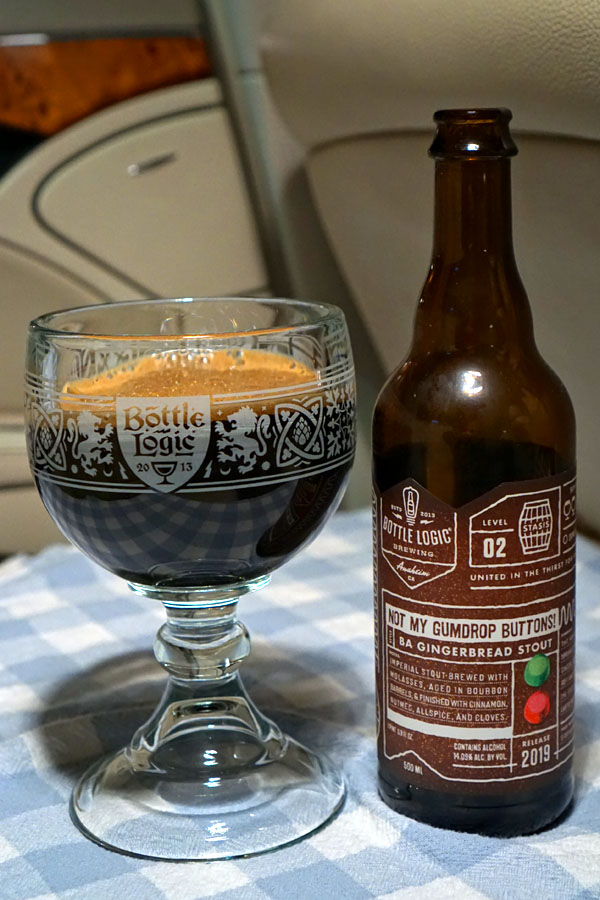 Given that it was almost Christmas, we have here the seasonally-appropriate
2019 Bottle Logic Not My Gumdrop Buttons!
, a gingerbread-inspired bourbon barrel-aged imperial stout brewed with molasses and finished with vanilla, cinnamon, nutmeg, allspice, cloves, and ginger. The beer displayed an intense baking spice nose that also had notes of chocolate and apple in the background. Tasting it, I got loads more warm spice, with the cinnamon coming out the most. That sensation lingered long on the tongue, where it was joined by a healthy dosing of bittersweet, cocoa-like notes.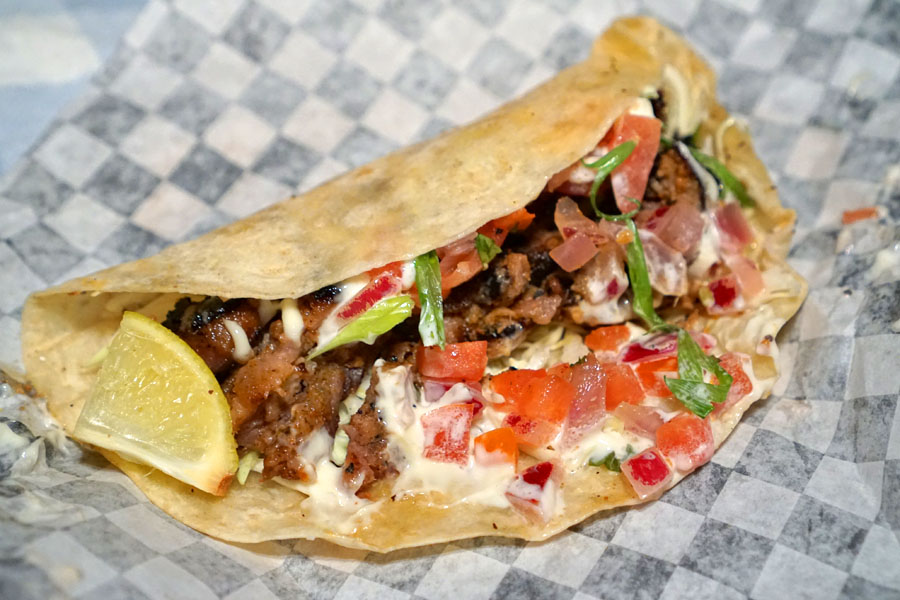 Taco [$3.50]
| Tocino Cured Roast Pork
The Chef's version of
tocino
apparently incorporated al pastor spices, and to good effect. The meat was well seasoned, and showed off a subdued sweetness that meshed well with all the charred, crispy bits going on. Cabbage offered up a contrasting crunch, while the aioli provided an enveloping sort of creaminess. Even more key: the burst of brightness from the pico de gallo.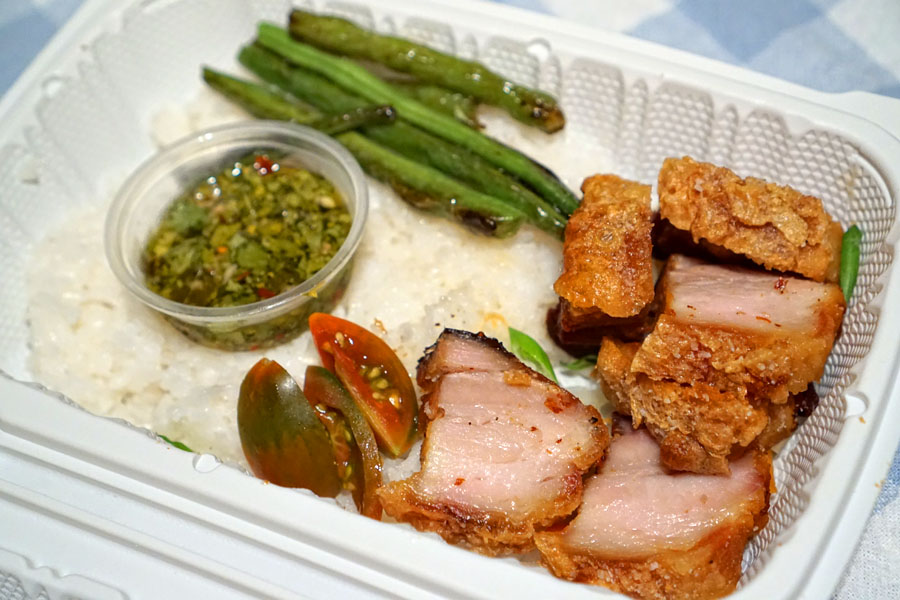 Talib Kawali [$12.50]
| Crispy Marinated Pork Belly, with Green Beans, Tomato, Atsara, Vinegar
This punny version of
lechon kawali
was ostensibly named after none other than New York-based rapper Talib Kweli. The pork was just about perfect thanks to its juiciness, tenderness, depth, and the sheer crispiness of its super flavorful skin. Green beans came out nicely charred, while the white rice ate soft and sticky, just as I expected. The most surprising thing here was actually that chimichurri-esque sauce on the side, which was wonderfully multifaceted in its zippiness.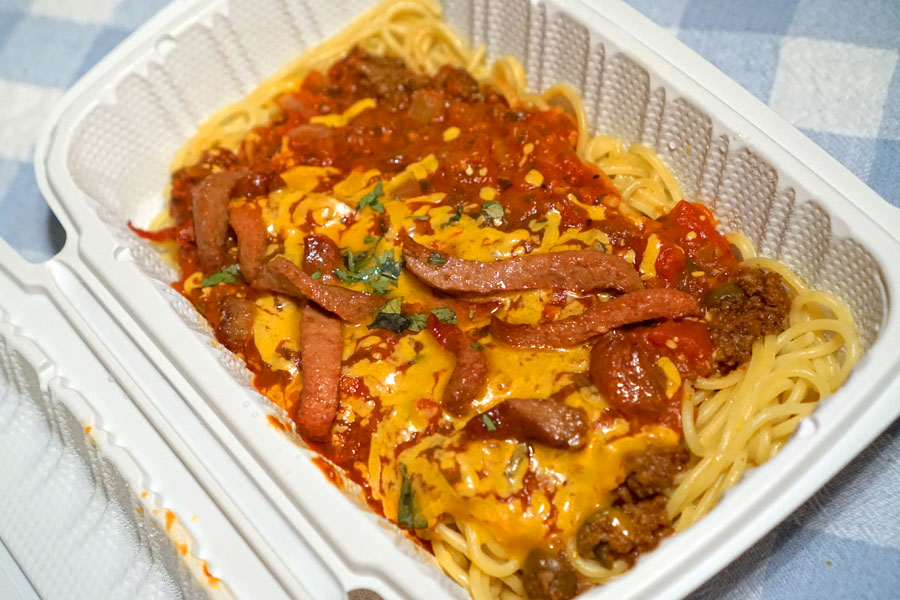 Sweet Spaghetti [$10.50]
| A family recipe with sweet and savory bolognese, all-beef franks and cheddar cheese
I hadn't had Filipino spaghetti in ages, and fortunately Foronda's interpretation of the comfort classic wasn't as sweet as I'd feared. That being said, it was still sweet, but said sweetness was smoothed out by the herbaceousness present, as well as the intrinsic meatiness of that ragù. The texture on the noodles was on point as well (i.e. not too soft), and I was a big fan of the homey, savory, salty character of those hot dogs.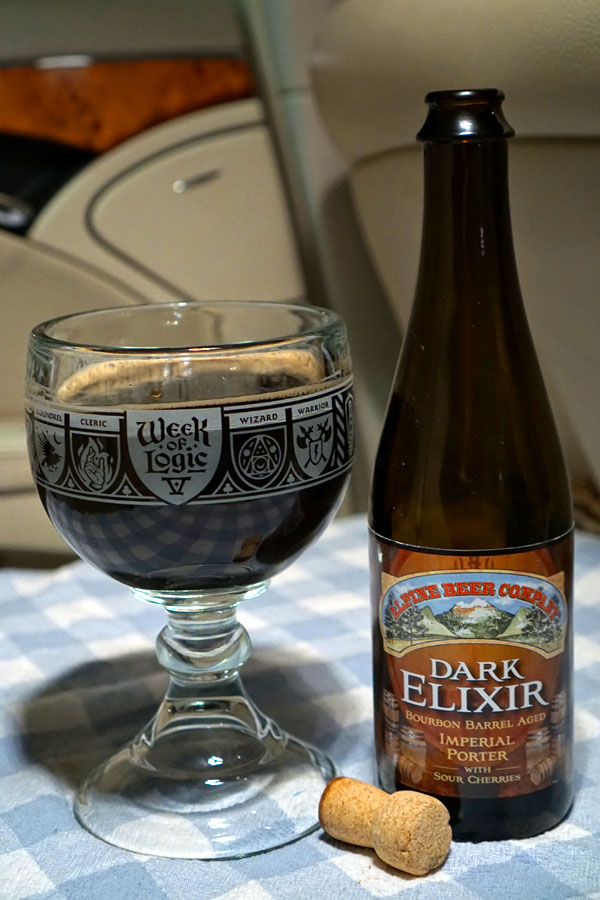 I also popped open a bottle of the
2016 Alpine Dark Elixir
, an imperial porter with sour cherries, aged two years in Heaven Hill 12 Year Old bourbon barrels. Aromas here were almost port wine-like, but with much more mustiness. In terms of taste, I found the beer tart, barnyard-y, in an infected sort of way, but there was also this omnipresent oxidative element happening. This was supposed to taste like chocolate-covered sour cherries, but it was pretty far from that--not very pleasant I'd say.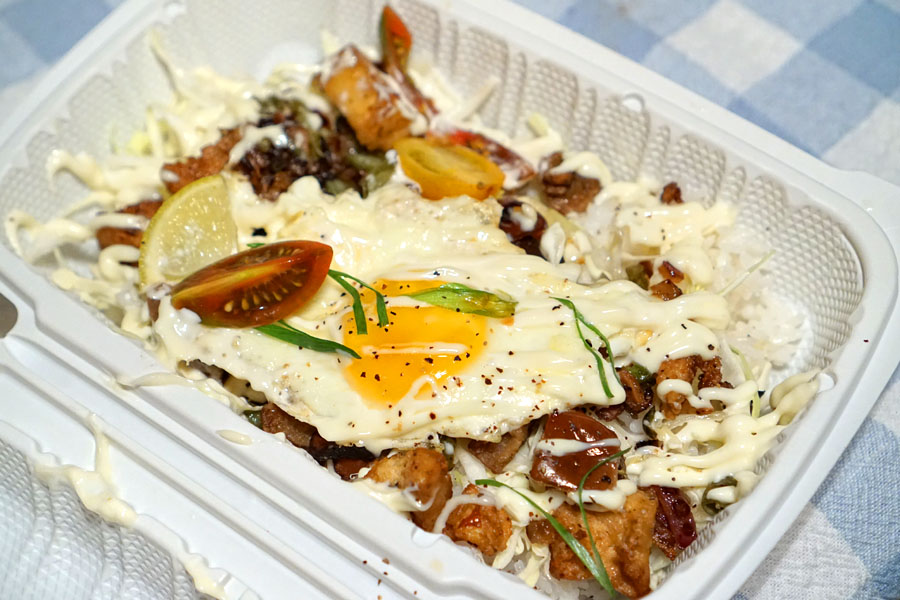 Veggie Sisig [$10.99]
| Sizzling eggplant, tofu, & shiitake stir fry, serrano pepper, puffed rice, garlic aioli, egg
The Chef's vegetarian riff on sisig didn't remind me all that much of the previous versions of sisig I've tried, but it was still tasty nonetheless. Overall, the flavors were much more restrained, and not funky at all. The creaminess of the aioli further softened the dish, while that runny egg was a welcomed addition as usual. I could've used more acidity though, as well as some more textural variation (I didn't get much from the advertised puffed rice).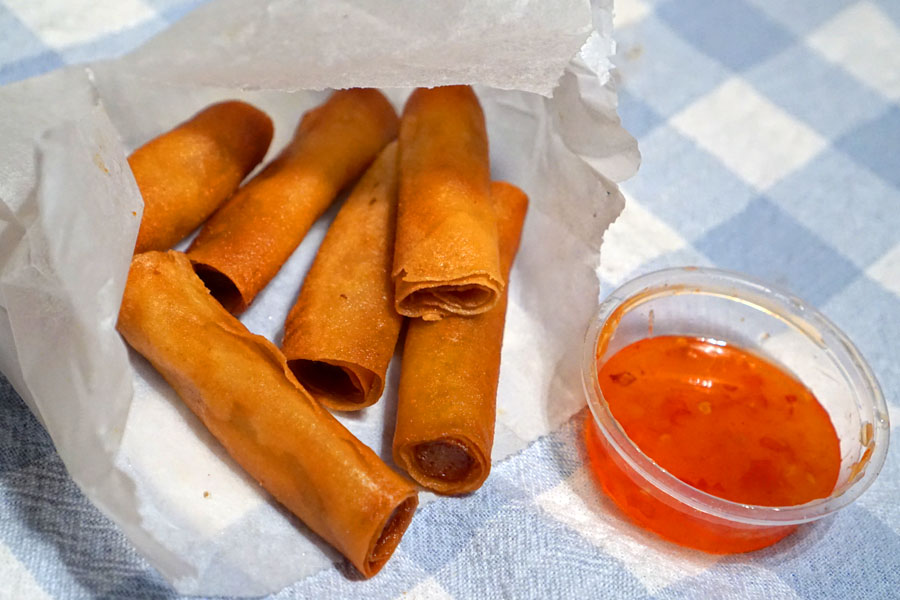 Pork Lumpia [$5.00]
| Crispy Eggrolls
The lumpia were a must-try for me, and didn't disappoint. They had perfectly crisp, flaky, light wrappers, and a filling of savory pork commixed with vegetal, almost celery-like flavors. As expected, the sweet-n-sour
agre dulce
dipping sauce on the side made for a natural accompaniment.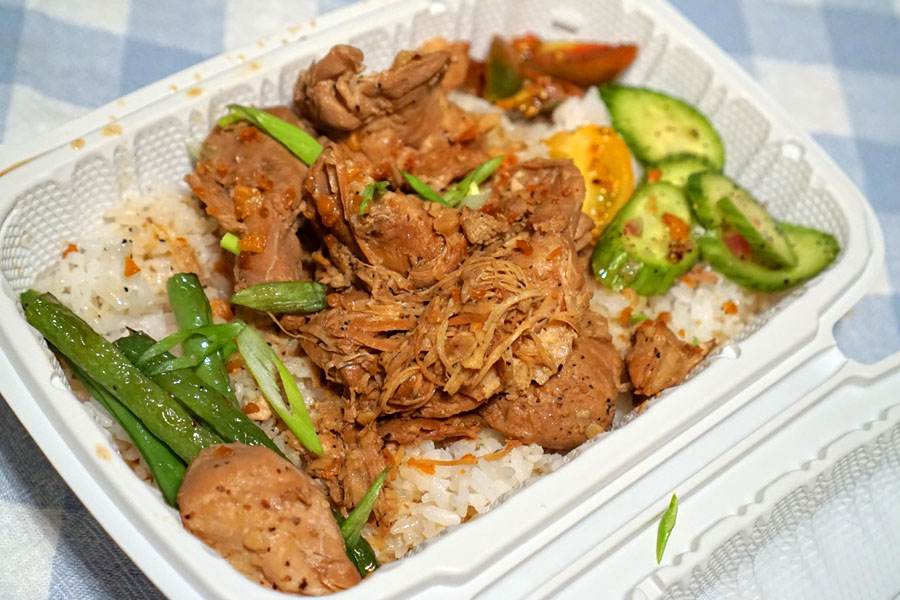 Chicken Adobo [$10.50]
| Savory cranberry-soy marinade, tender boneless chicken thighs, house pickles, cherry tomato, green beans
Last up was the quintessential Filipino dish of adobo, and it was a winner too. The chicken came out super tender and full flavored, and had this delightful ginger-y note that combined well with the bird's undercurrent of sweetness. The pickles and veggies and rice were all spot on as well, making for a pretty satisfying eating experience.
I'd wanted to check out HiFi Kitchen for a while now, and was certainly not let down by my visit. Foronda likens his cooking to comfort food, and it is, but at the same time, I think it does strike this fine balance between coziness and polish and lightheartedness that really works for me. Definitely a worthwhile addition to the Southland's burgeoning Filipino cuisine scene.