Needle (Los Angeles, CA)
Needle Restaurant
3827 Sunset Blvd, Los Angeles, CA 90026
www.needlela.com
Thu 11/19/2020, 07:45p-09:00p

I wanted to continue checking off places from my "to-try" list (actually an Excel spreadsheet), and decided on the new-ish Needle. Named after the Cantonese expression for "here" (
ne du
), the Silver Lake spot serves up casual-yet-polished Hong Kong-style fare, and comes to us from Chef Ryan Wong.
About the Chef
: Wong's family hails from Hong Kong, though he grew up in the San Gabriel Valley, and began his career in the hospitality business around 2008, starting out as a dishwasher. Early on, he worked under Michael Doutt at Mesa in Costa Mesa, then transitioned to a line cook position at Quinn and Karen
Hatfield's
eponymous restaurant. Wong then went to cook for
Michael Voltaggio
at
Ink
, where he became a sous. From there, the Chef joined
Ludo Lefebvre
at
Trois Mec
in early 2013, where he was part of the opening team. He eventually left to work with Ken Addington at Downtown's Ace Hotel before securing employment at
Otium
under Tim Hollingsworth.
Wong thus had quite a run in fine dining, but he was never really passionate about the food he was making, and yearned to cook the cuisine of his childhood. As a result, he branched out on his own, went to train in Hong Kong, and in late 2016, started a pop-up series entitled Needle Noodle Shop, first held at the 3D Systems Culinary Lab just up the street from the Mozzaplex. The idea was to turn Needle into a permanent eatery, and Wong ended up doing just that, securing the former We Have Noodles/Berlin Currywurst/Rincon Salvadoreno storefront on Sunset. The place officially opened in October last year to a warm reception. It shut down for a bit after the initial coronavirus lockdown, but reopened on May 28th.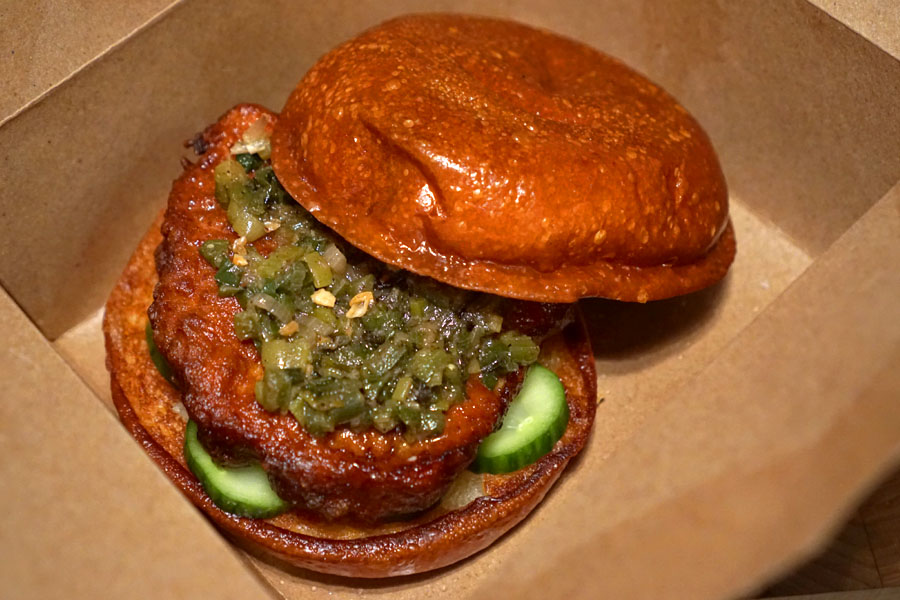 Pork Chop Bun [$13.00]
| Salmon Creek Farms pork loin, milk bread, spicy salt relish, pickled cucumber
Up first was perhaps Needle's most well-known dish: Wong's take on the Macanese snack
zhuba bao
. The thick-cut pork chop featured a gratifying bite and juiciness, while its taste was also immensely satisfying, and worked beautifully with the depth and savor of the relish. Cucumbers provided a welcomed crunch and acidity, while the housemade bread ate sweet, soft, and buttery. A very strong start.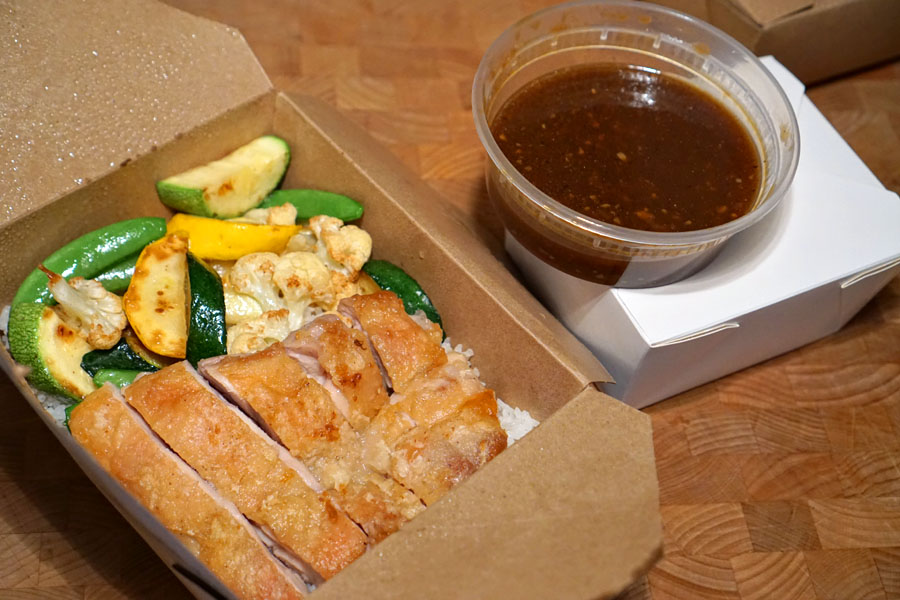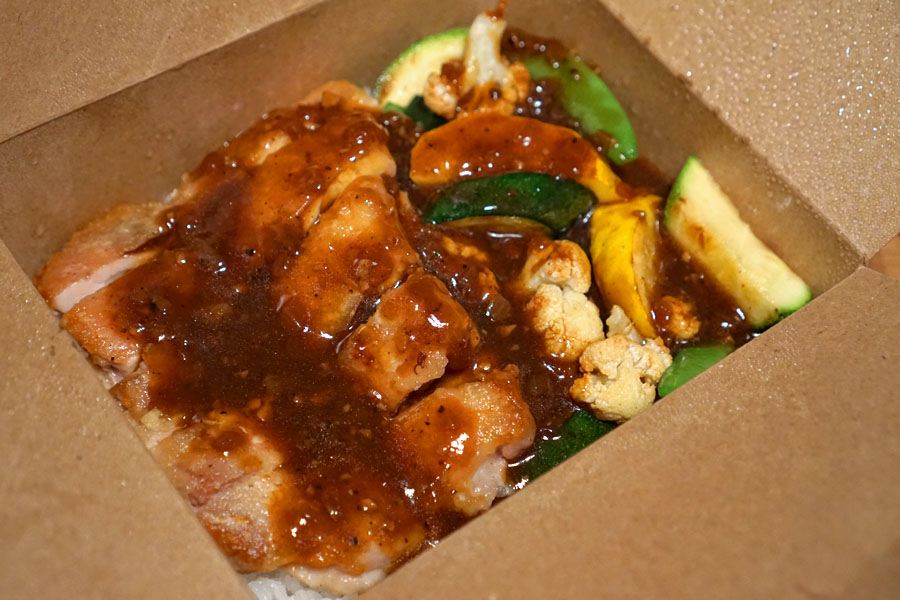 Chicken Steak Rice [$15.00]
| Jidori chicken leg quarter, black pepper sauce, market vegetables, white rice
Next up was the Chef's interpretation of a Hong Kong cafe classic. The chicken came out tender and succulent, with a light batter. The accompanying black pepper sauce was pretty subdued at first, but snuck up on me a bit. Veggies were about what I expected, while the rice was spot on, and a great pairing with the bird. Very cozy.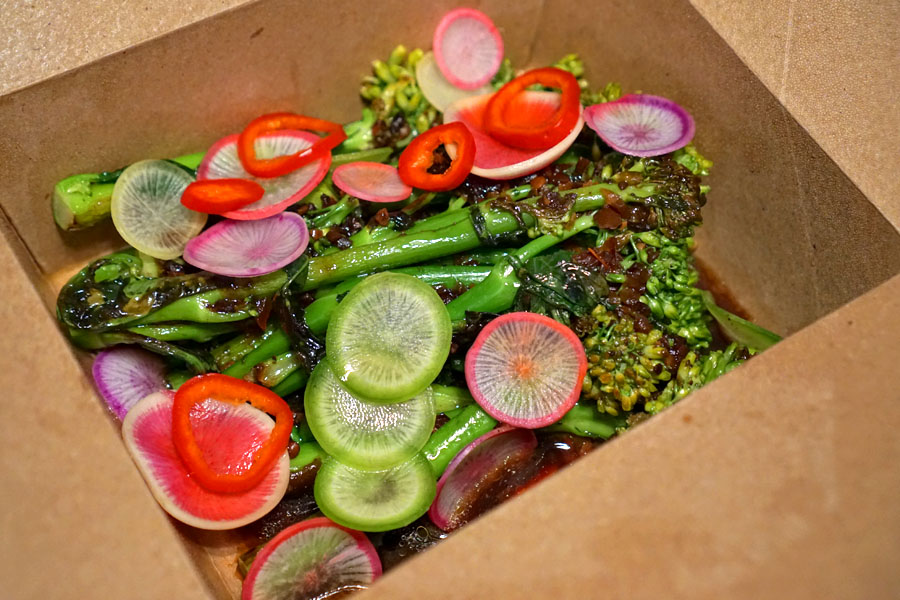 Broccoli [$14.00]
| Thao Family Farms' flowering broccoli, black bean sauce, radish, pickled fresno chili
The broccolini was also a winner, arriving perfectly textured and delightfully bitter. The relatively restrained nature of the black bean sauce really let the vegetable shine, and I also appreciated the added crunch and complexity (and color) of the radishes. There was also just a slight bit of heat from the chilies hiding underneath.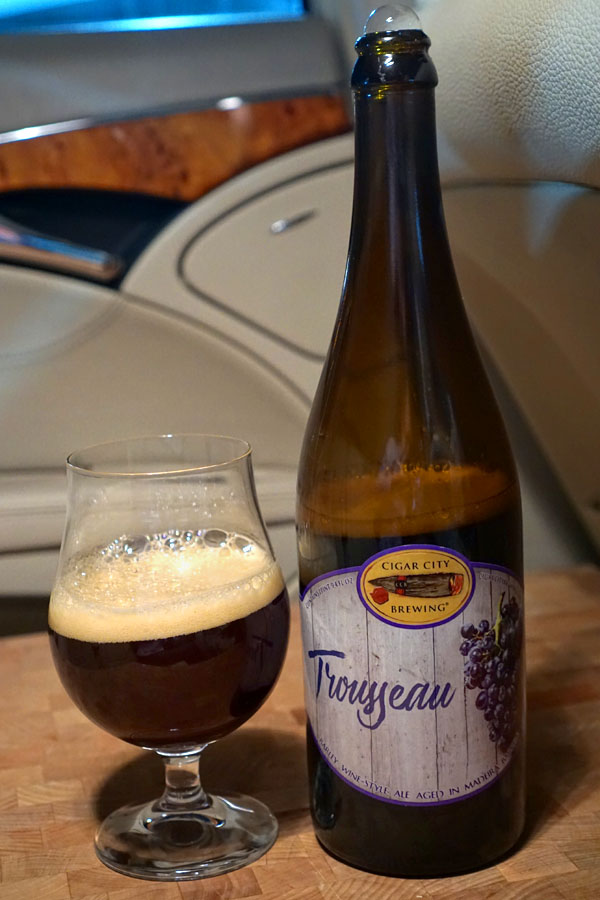 To drink, we had a bottle of the
2016 Cigar City Trousseau
, a barley wine-style ale aged in Madeira barrels. The beer smelled of chocolate intertwined with a tart, musty, grapey quality. The palate was on the thinner side, and showcased malty flavors and earth, leading to substantial amounts of raisin on the back end.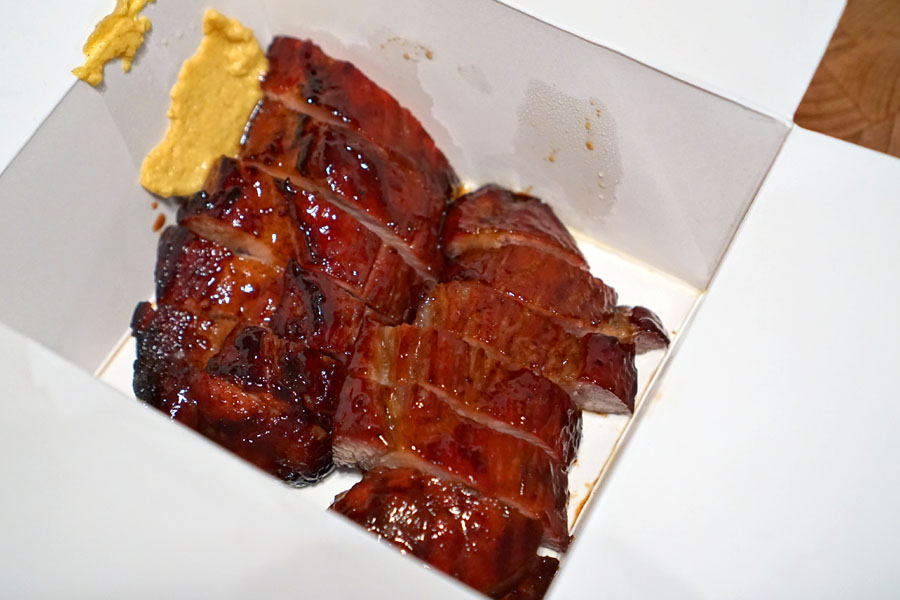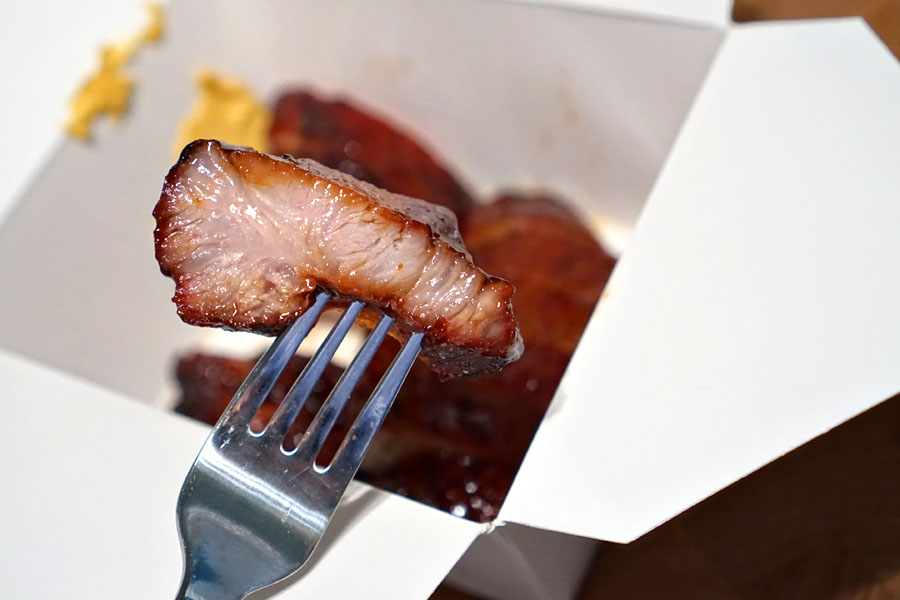 Char Siu [$17.00]
| Salmon Creek Farms pork shoulder, honey glaze, hot mustard
Naturally I had to give Needle's barbecued pork a go as well. Made here with the butt, the meat achieved a multitude of textures--firm, gelatinous, spongy, crunchy--while flavors emphasized a marked sweetness at first, which then transitioned to elements of char and umami. Quite tasty alone, and even better when paired with a dollop of that nostril-clearing mustard.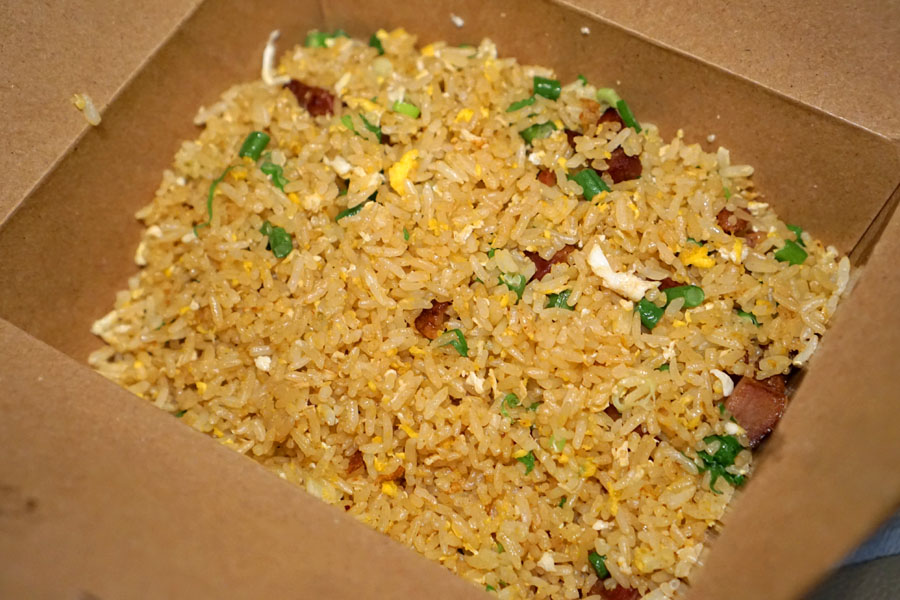 Char Siu Fried Rice [$12.00]
| Char siu, long bean, egg, rice, scallion
Next was what was essentially a version of the ubiquitous Yangzhou fried rice. It had the "dry" texture that I like from a Hong Kong-style preparation, with very distinct grains. The char siu contributed generous amounts of sweet, funky, porcine flavors, evened out by the scallions and beans, while the egg provided a sweet secondary note.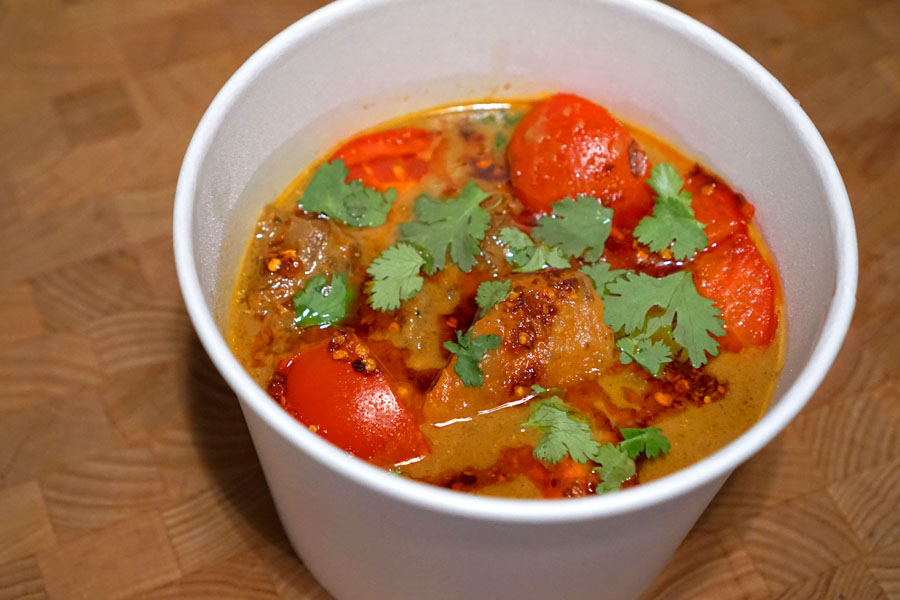 Beef Curry [$16.00]
| Short rib, potato, tomato, carrot, yellow curry, chili oil
Here we had another
cha chaan teng
staple. The beef ate supple, flossy, its rich flavors complemented by a familiar, coconut-y sweetness and plenty of herb. Meanwhile, hearty, homey root veggies really completed the experience.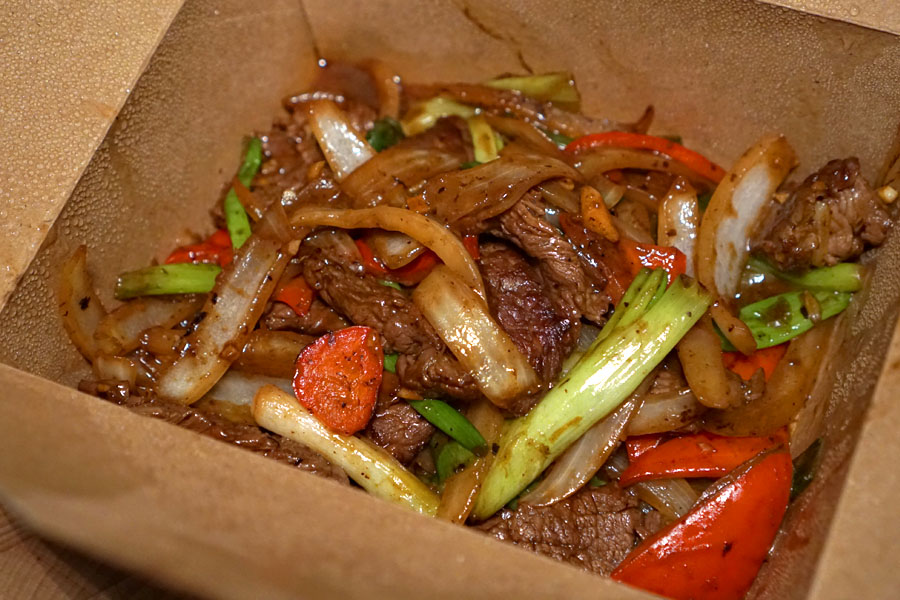 Beef & Onion [$22.00]
| First Light Grass-Fed Wagyu bavette, onion, scallion, bell pepper, oyster sauce
Flank steak made for tender, "grainy" eating experience, the beef's natural flavors dutifully enhanced by the rich, comforting, umami-filled nature of oyster sauce. The vegetables provided a very necessary contrast to the meat, and overall the dish was easy to enjoy, and actually reminded me of something that my grandmother used to make when I was a child.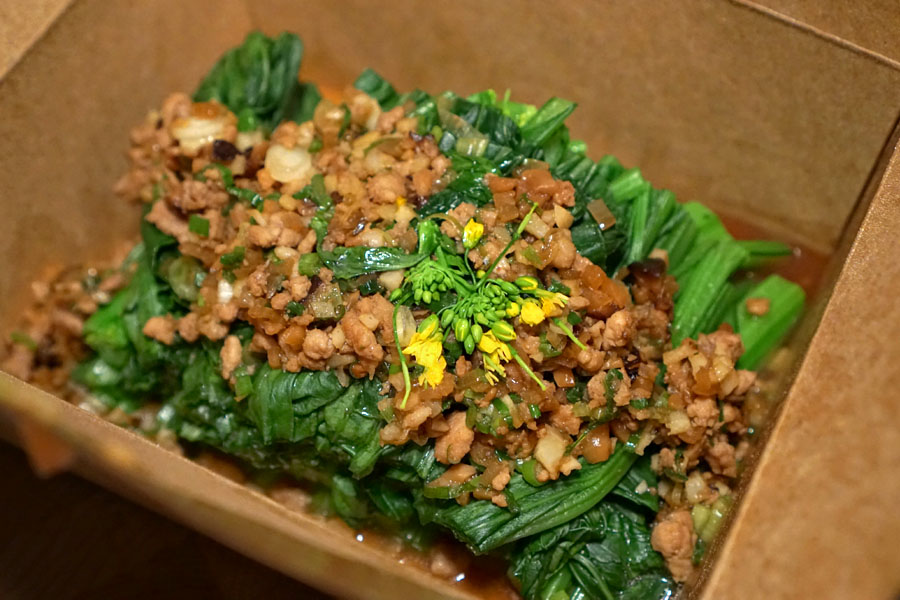 Yu Choy [$12.00]
| Yu choy, minced pork, shiitake, preserved radish, water chestnut
We ended with the most profound item of the night, and the one that probably best represents the Chef's vision. The choy sum was wonderfully fragrant, with some almost tea-like aromatics. Its bittersweet flavors meshed easily with the savory, supporting notes from the pork, while mushrooms imparted an undercurrent of umami. At the same time, water chestnuts provided an unexpected crunch and lightness, and overall there was a lot of elegance here. The key was that this is a dish that isn't part of traditional Cantonese cuisine,
but tastes like it could be
.
I left Needle impressed. Wong's cooking is a fresh take on Hong Kong cuisine, rooted in traditional flavors but incorporating elements of California and his own classical culinary training. There's a clarity, focus, and finesse in the food, and I'm really looking forward to seeing how the Chef can evolve his menu. On a related note, Wong is currently running a pop-up at the restaurant called Siu Yeh. It's supposed to be every other Tuesday, and the focus is on street food-style skewers, so I may just check it out as well.