Hanchic (Los Angeles, CA)
Hanchic Restaurant
2500 W 8th St, Los Angeles, CA 90057
213.375.7095
www.hanchic.co
Tue 12/01/2020, 08:15p-09:40p

For this latest dining report, I ventured a bit off the beaten path, both in terms of location and cuisine. Hanchic is situated in an unremarkable section of Westlake, on the edge of Koreatown, in no doubt one of the seediest looking strip malls I've seen in a while (the so-called Eoss Plaza). And though the place's name draws from the term
hansik
, which means Korean food, the menu isn't truly Korean. Rather, it's this fun, fusion-y mash-up that seems to draw from a number of different culinary traditions. The place soft-opened on September 19th, and grand-opened a couple weeks later. The four partners behind Hanchic are Dustin Lee, Brian Shin, Kevin Son, and Chef Justin Min.
About the Chef
: Min Kyung-bin hails from Seoul, though he immigrated to the US at a young age and grew up in the South Bay. After graduating from Torrance's North High School in 2012, he began his studies at the Le Cordon Bleu College of Culinary Arts in Pasadena, completing his degree in 2015. He got his first cooking gig working for
Patina
Restaurant Group at their spot Tangata at the Bowers Museum. From there, he transferred to a position at LACMA's Ray's + Stark Bar, under
Kris Morningstar
, and also spent time at
Café Pinot
. Min then moved over to Tin Vuong and Jed Sanford's BlackHouse Hospitality Group, and helped open the Downtown outpost of Little Sister in October 2015. He also worked at the
original
location, and assisted in the opening of Bluegold and
LSXO
in late 2016. In August 2017, the Chef joined the team at
Kali
, then went over to
Kato
and
NoMad
before going to work with Jason Winters at his pizza catering company Urban Pie. June 2018 saw Min return to BlackHouse, this time as opening exec sous at the new Little Sister in Redondo Beach.
However, around the end of 2019, the Chef and his partners began talking seriously about starting their own restaurant. Kevin Son, for his part, previously worked at
Genwa
on Wilshire. Dong-hyuk "Dustin" Lee did as well, for quite a few years in fact, and following his tenure at Genwa, opened the Beut food stall at California Market's food court in 2019. The COVID-19 pandemic forced the guys to speed up their plans, and they thus incorporated
JTH Foods
in July and had secured their lease by August. Curiously, there are two other food concepts under the JTH banner--
ChiChi Chicken
and
Palate
--but neither of them appear to be active at the moment.

Hanchic takes over a small storefront that was previously home to Kong Poki/G-Station/A-Station, Bobtory, Bongsoo Korean Chinese Restaurant, and Curry Hyang. I don't think the decor has changed all that much since the Bobtory days, when the space was combined with unit #102 to the left.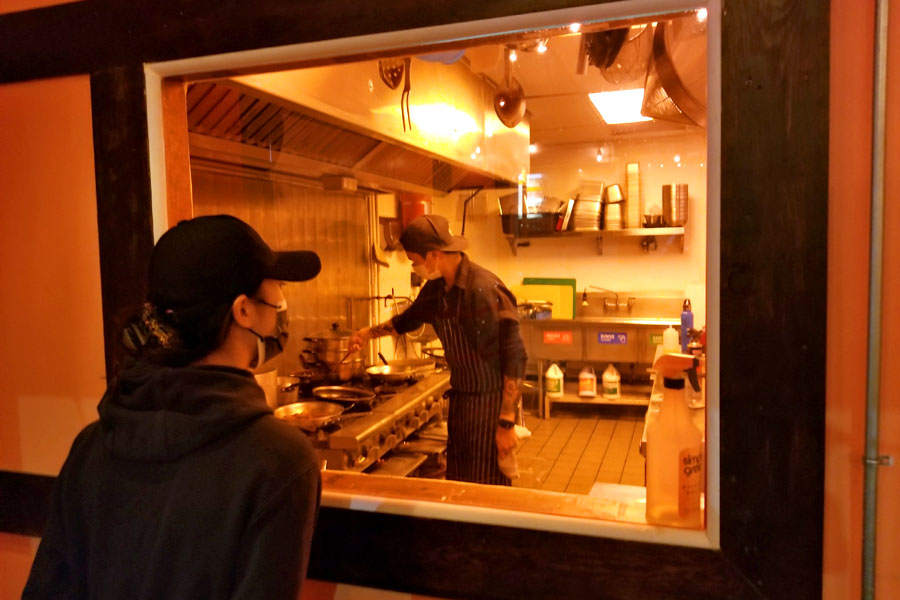 A tinted window affords customers a garnet-hued view into the kitchen.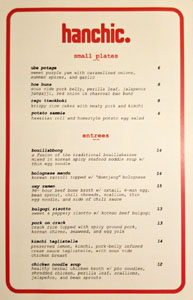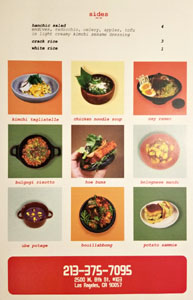 Above we see Hanchic's menu, which is pretty compact for now, and appropriate for takeout. Click for larger versions.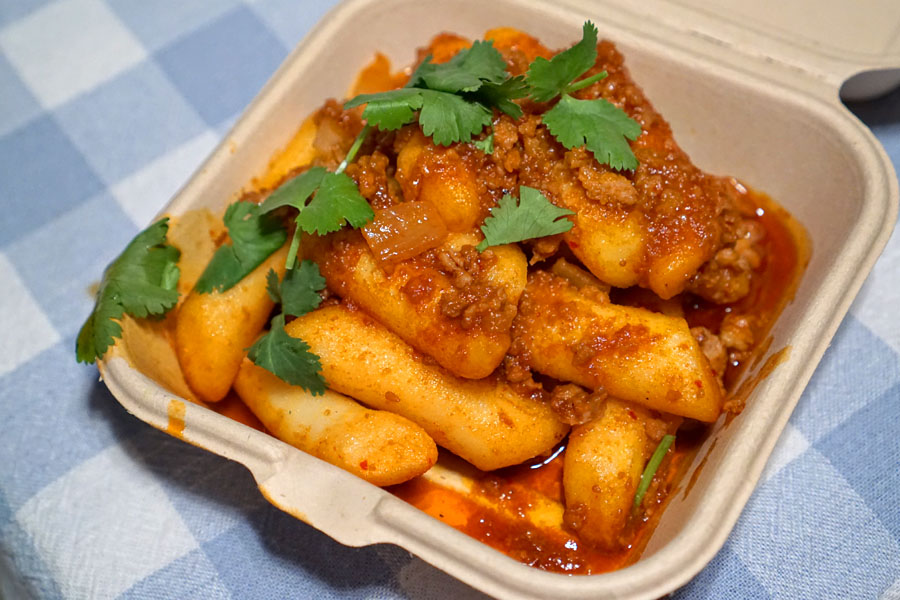 Ragu Tteokboki [$8.00]
| krispy rice cakes with meaty pork and kimchi
I'm not a huge fan of
tteokbokki
in general, but this was one of the tastier renditions I've had as of late. The rice cakes had just the right amount of satisfying chew to them, along with a slight crispness. Meanwhile, the accompanying ragù showed off a sweetness at first, which was then evened out by growing amounts of spice and a delightfully savory depth.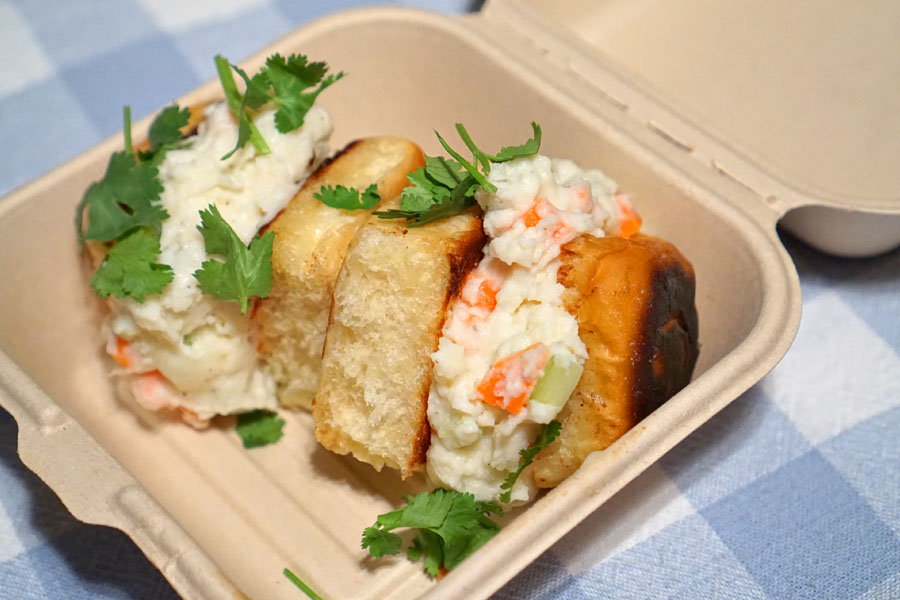 Potato Sammie [$6.00]
| hawaiian roll and homestyle potato salad
Given my penchant for potato salad, this was a must-try for me. Texturally, the salad had a super smooth consistency that was punctuated by the crunch of the various veggies. Flavors were a balance between sweet and tart, while the crisp, buttery buns made for a surprisingly effective pairing. This seems like it'd be a great dish for a picnic.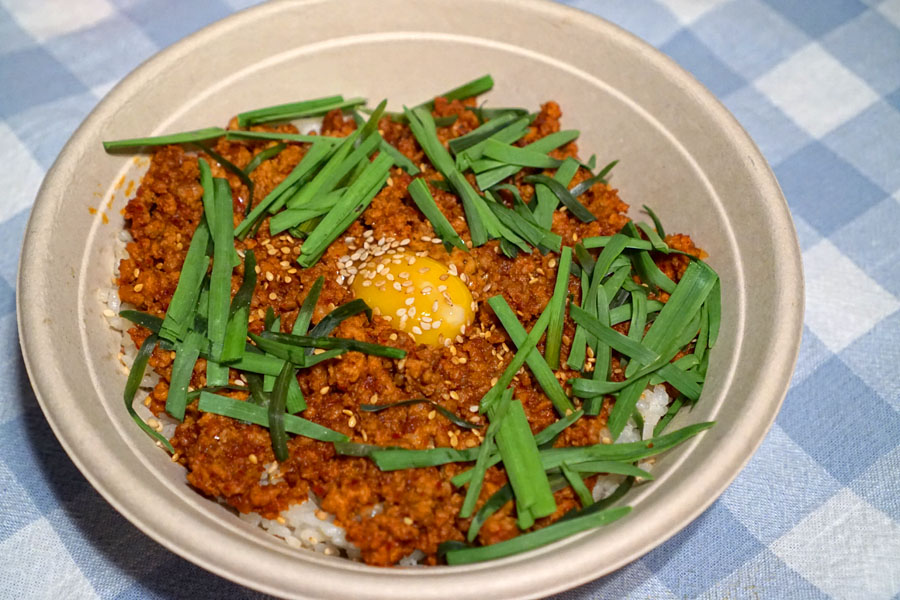 Pork on Crack [$13.00]
| crack rice topped with spicy ground pork, egg yolk, korean chives, seaweed, and spicy "gochujang" sauce
Next came my favorite item of the night. A wonderfully nutty, beefy aroma greeted me once I removed the plastic lid from the dish--a promising sign. Tasting it, I got an excellent spicing and seasoning on the pork, which married easily with the well-textured,
gim
-boosted, umami-filled rice, all while the
buchu
gave things a touch of zestiness. I didn't mind the additional layer of lusciousness from that runny egg, either.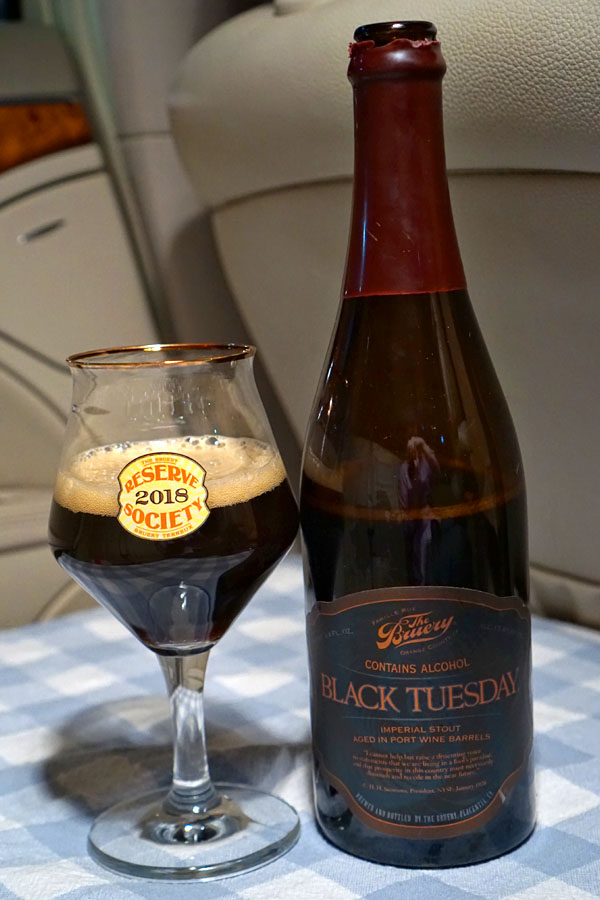 To drink, I opted for an imperial stout this evening, the
2017 The Bruery Port Wine Barrel Aged Black Tuesday
. Bouquet here was cherries and chocolate, with a slightly tart backing--nice. In terms of taste, think soft notes of cocoa up front, leading to tangy berry fruit and a tannic, astringent quality. You definitely could taste the port barrels used to make the beer.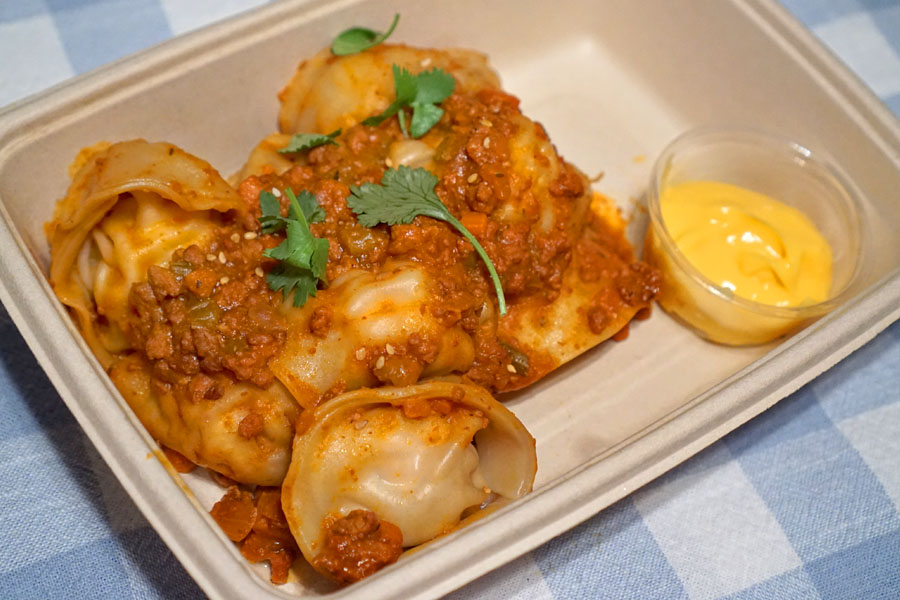 Bolognese Mandu [$14.00]
| korean ravioli topped with "doenjang" bolognese & melted cheese
Min's dumplings featured substantial, yet delicate skins along with a filling that was on the lighter, herbier, slightly creamy side, though I actually would've preferred a more aggressive stuffing. They were paired with a meaty, tomato-heavy, very familiar-tasting Bolognese sauce, which made sense. What was more curious was the included yellow cheese, which was almost nacho-like, replete with the expected trashiness; it actually sort of worked though.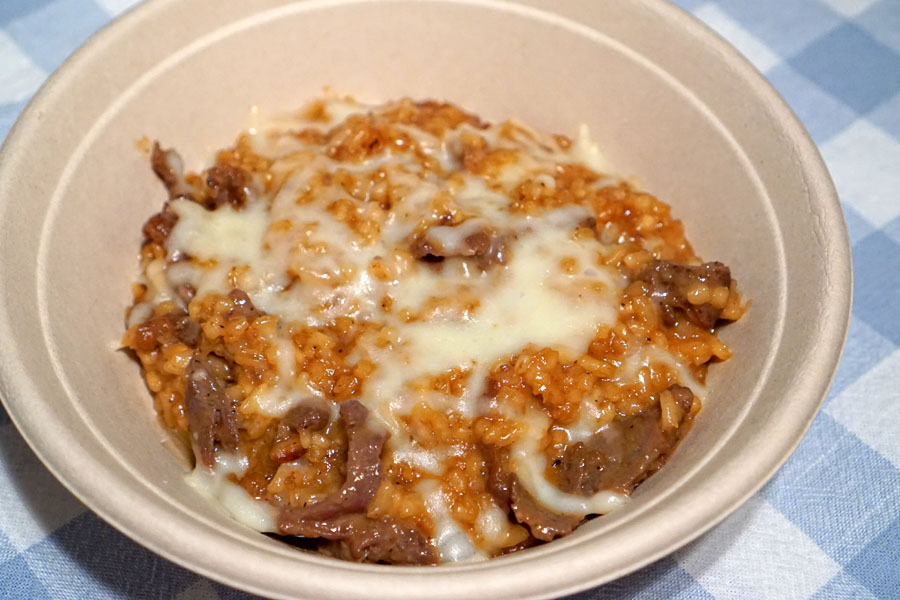 Bulgogi Risotto [$13.00]
| sweet & peppery risotto with korean beef bulgogi
I have a hard time saying "no" to risotto, and tonight was no exception. The rice showed off some seemingly mushroom-like notes at first, but this quickly led to huge amounts of bulgogi-fueled sweetness. It actually leaned overly sugary, so more of a focus on savory or spicy elements would've been appreciated. The cheese, fortunately, almost acted as a moderating force in the dish, and tended to smooth things out.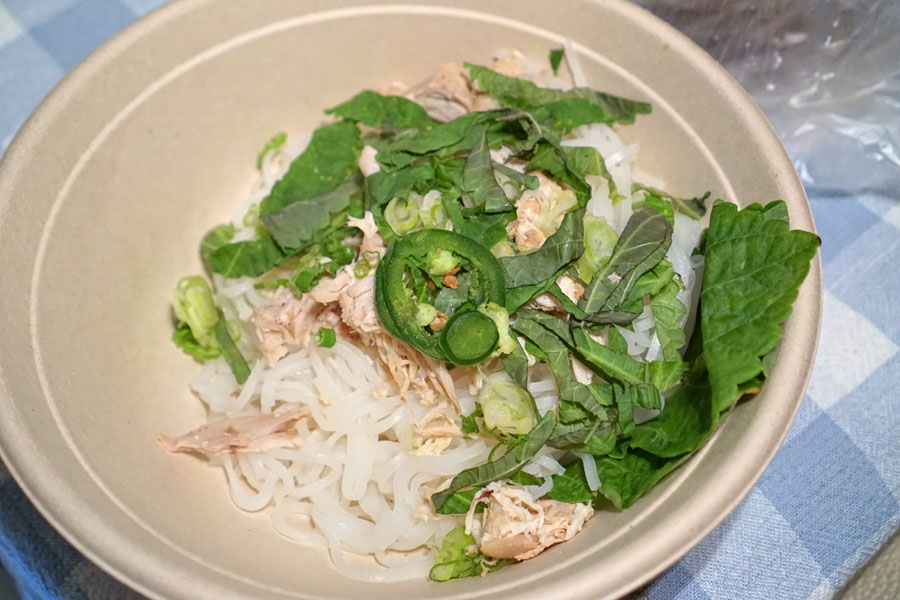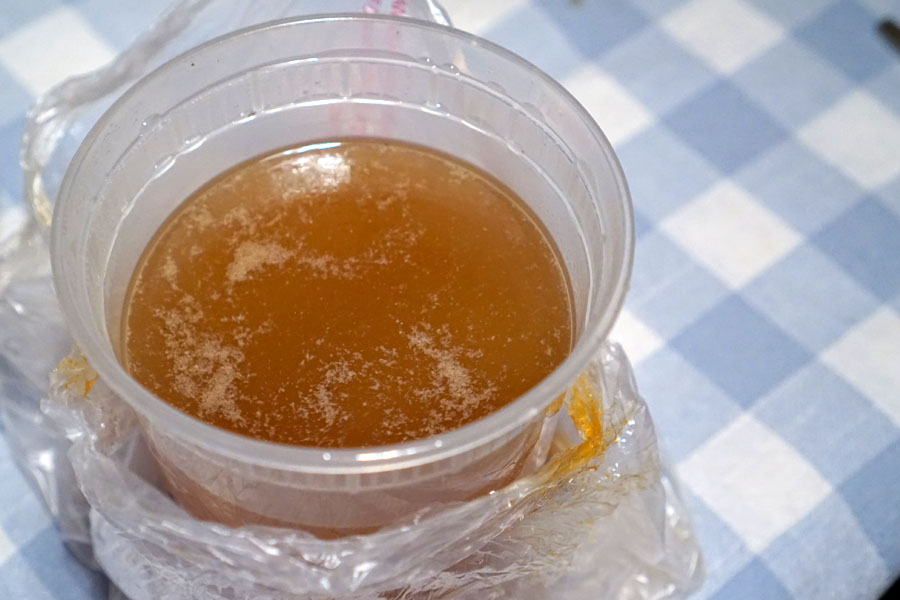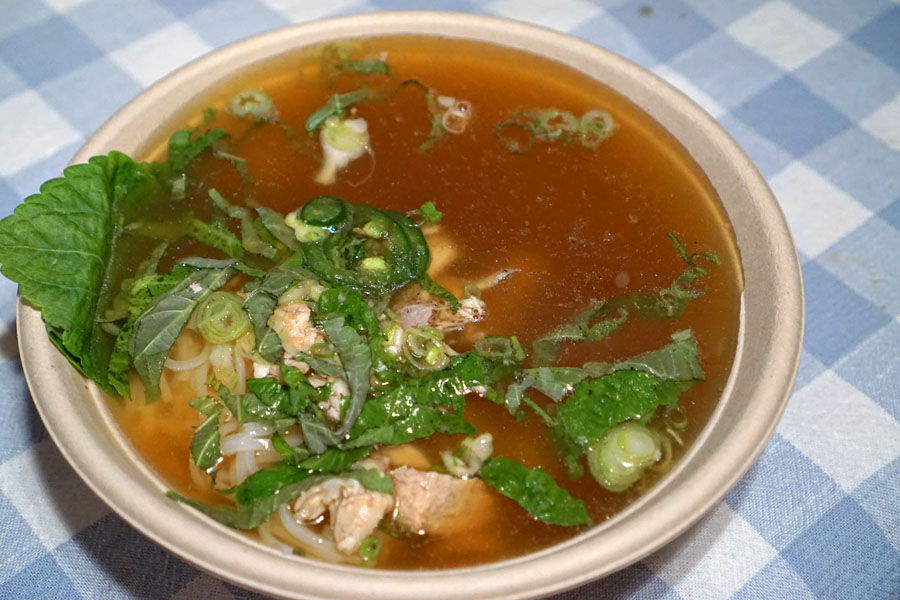 Chicken Noodle Soup [$12.00]
| healthy herbal chicken broth with pho noodles, shredded chicken, perilla leaf, scallions, jalapeño, and bean sprouts
Last up was what appeared to be a pho-inspired riff on
dak gomtang
. The actual chicken ate tender and full-flavored, and meshed effortlessly with the broth, which combined a distinct herby character with restrained amounts of sweet spice. Cozy and comforting--a fitting dish to end on, especially with this chilly weather we've been having.
Hanchic's self-proclaimed motto is "Korean food like no other," and I can't argue with that. The cooking's not quite like anything I've had before, which is sort of neat. Currently, the menu's a bit limited due to both the coronavirus and lack of equipment, so I'll be curious to see how things change once those restrictions are lifted. I've often bemoaned the lack of non-traditional Korean fare in LA, so hopefully this is a step in the right direction.