Damian (Los Angeles, CA)
Damian Restaurant
2132 E 7th Pl, Los Angeles, CA 90021
www.damiandtla.com
Tue 11/10/2020, 08:30p-11:00p

I think it's probably safe to say that Damian has been the most anticipated Arts District opening of the past couple years. The reason for the hype? Simple: the California-inspired Mexican eatery is the work of Enrique Olvera, the most lauded Mexican chef in the world. Olvera, of course, is most known for his groundbreaking spot Pujol in Mexico City, which debuted in 2000 and is oft considered one of the world's top restaurants. The Chef expanded to the United States in 2014 with Cosme in New York, opened in concert with Daniela Soto-Innes. Atla, again in NYC, followed three years later, and his third US project dropped in June: Elio at Encore in Las Vegas (also with Soto-Innes, though she's not involved with Damian).
As far as LA is concerned, Olvera first teased a SoCal outpost of Cosme back in 2017, and the place was originally slated to open about a year later. Its location, across the street from perennial Downtown hotspot
Bestia
, was confirmed in March 2018. In early 2019, it was revealed that the restaurant wouldn't be named Cosme, but Damian instead (a fun note: the URL was registered in December 2018), and its debut date was pushed back to late summer that year. Obviously that never happened, and then coronavirus happened, so Damian ended up opening just recently, on October 21st.
Now obviously Olvera isn't actually cooking here, so he's installed Chef Jesus "Chuy" Cervantes Jr. to run the kitchen. An El Paso, Texas native, Cervantes moved to Austin in 2008, and first started making a name for himself at contemporary Mexican spot La Condesa. He worked there from April 2011 to March 2014, achieving the rank of sous chef, but left to secure a place on the opening team for Cosme, which dropped in October 2014. He was sous there until the following September, when he transitioned to Luksus, a Nordic tasting menu spot run by Daniel Burns. After Luksus' shutter at the end of 2016, Cervantes moved over to its sister beer bar, Tørst, where he significantly revamped the menu. He left Tørst in January 2018, and three months later, it was announced that he'd be steering the ship at Damian. After a quick trip to Europe and Mexico, he began cooking at Atla that August, but left New York in December last year.
Meanwhile, the FOH is being run by General Manager Ana Odermatt, who got her start in the restaurant biz at Pierre-André Ayer's Le Pérolles in Fribourg, Switzerland. She worked as a server there while studying at the Ecole Hôtelière de Lausanne, where she graduated from in 2017 with a degree in hospitality management. During her time in college, she interned for Grupo Enrique Olvera in Mexico City, and following the completion of her studies, returned there to become Chief of Staff for the company's R&D arm. Odermatt stayed there until February 2019, when Olvera tapped her to run things at Damian.
Beverage Manager duties are being filled by Jun Kwon (a.k.a. Kwon Jun-Hyung), who hails from CDMX. After finishing high school in 2010, Kwon relocated to New York to attend NYU, where he attained a bachelor's degree in music in 2014. In October that year, he began bartending as Cosme, and was later promoted to head bartender in November 2017. Kwon remained there until May 2018, when he switched over to Junghyun Park's highly acclaimed modern Korean restaurant Atomix. After leading the bar there for 11 months, he moved back to Mexico City to run the beverage program at Ticuchi, Olvera's casual Oaxacan-inspired joint, before being recruited for Damian.


Damian's interior was penned by Alonso de Garay, who also designed Cosme and Atla. The space definitely sports a contemporary aesthetic, but also has a bit of a raw, industrial look befitting of its location in an old warehouse (which was previously part of HD Buttercup). Some well-placed greenery does liven things up.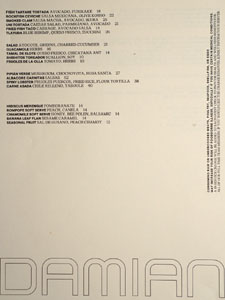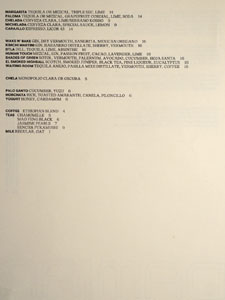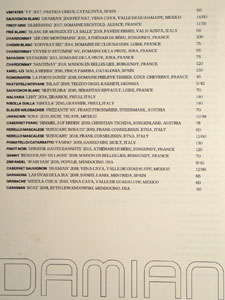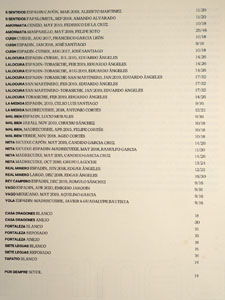 Damian's Cal-Mex menu is refreshingly compact, and surprisingly casual sounding. Drink-wise, you get a dozen or so cocktails and a couple beers, joined by a short wine list and a selection of agave spirits. Click for larger versions.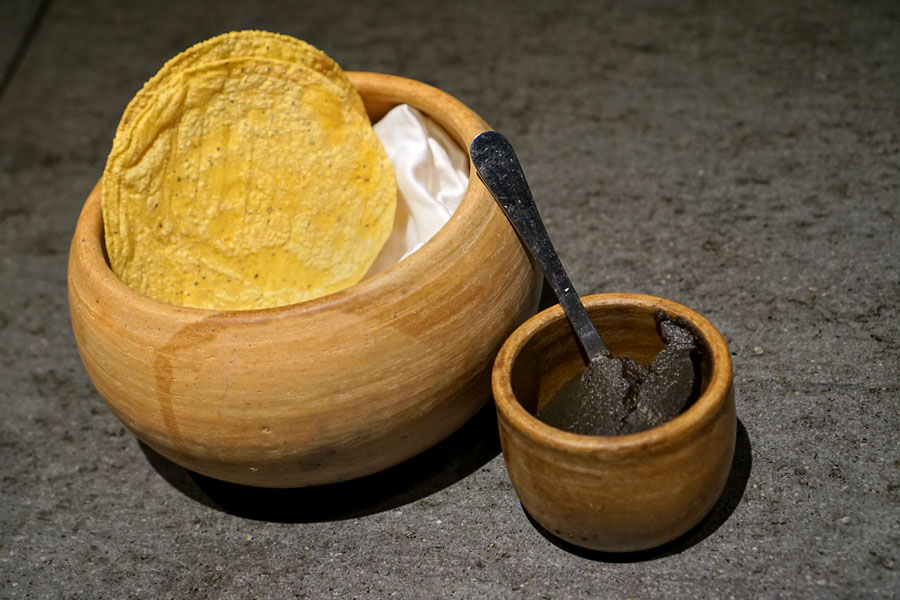 Taking the place of the usual chips & salsa were a gritty, relatively subdued smoked eggplant habanero dip and a couple tostadas that were so maize-forward as to actually recall popcorn.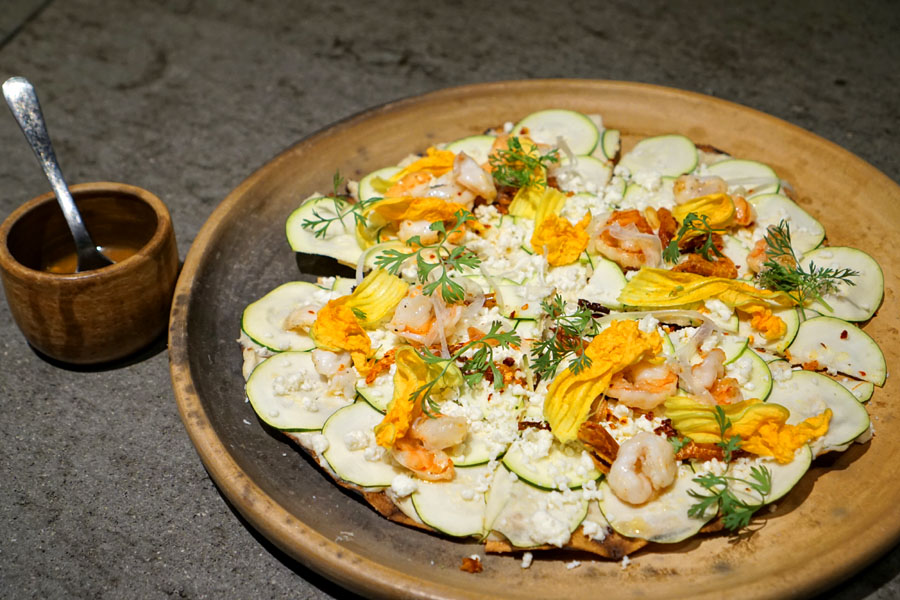 Tlayuda [$26.00]
| Blue Shrimp, Queso Fresco, Zucchini
Our meal began with a bang thanks to Damian's excellent take on the Oaxacan staple that is the
clayuda
. What really struck me was the immense depth of flavor thanks to the use of what I believe was dried shrimp. This, combined with a tingling heat, paired perfectly with the vivacity from the veggies and herbs, and I loved the crunchiness of the dish's thin, toasty tortilla base. A delicious marriage of different tastes and textures, and a definite standout for me.
Human Touch [$16.00]
| Mezcal, Gin, Passion Fruit, Cacao, Lavender, Lime
We ended up going through most of the cocktails on the list. Our first presented smoke and sugary lime up front, blended with botanical notes from the gin, very light cacao, and just the smallest trace of the advertised passion fruit.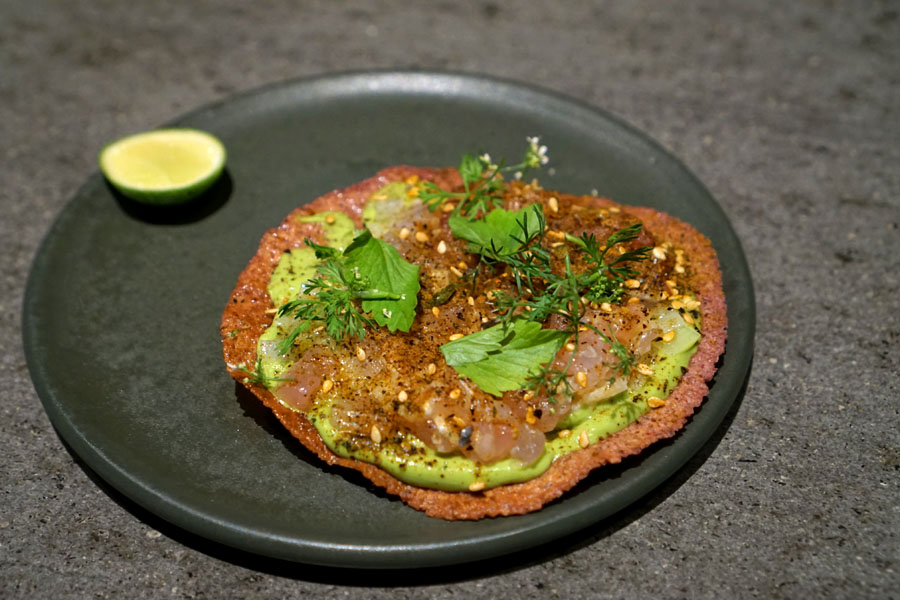 Fish Tartare Tostada [$18.00]
| Avocado, Furikake
The first of two tostadas certainly delivered. I was impressed by the sheer silkiness of the fish here, as well as how smoothly it meshed with the nutty, savor quality of the furikake while the avocado imparted a layer of brightness. Very well integrated.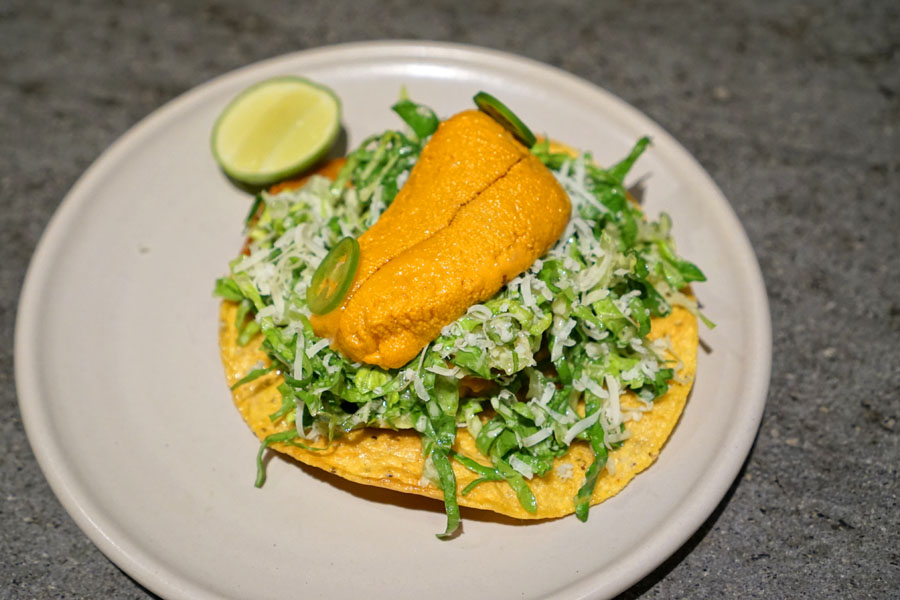 Uni Tostada [$21.00]
| Caesar Salad, Parmigiano, Avocado
I also enjoyed the other tostada, which featured perhaps the largest piece of uni I'd ever encountered. The tongue was also among the sugariest examples I've tried, and made a surprisingly large amount of sense when taken with the accompanying Caesar salad, all while the crispy tortilla finished things off.
Kimchi Martini [$16.00]
| Gin, Habanero Distillate, Sherry, Vermouth
This thoroughly reworked version of the classic martini went down rather easily thanks to its plethora of sweet, soft, floral notes, punctuated by a touch of funk. The provided kimchi sort of worked as a chaser.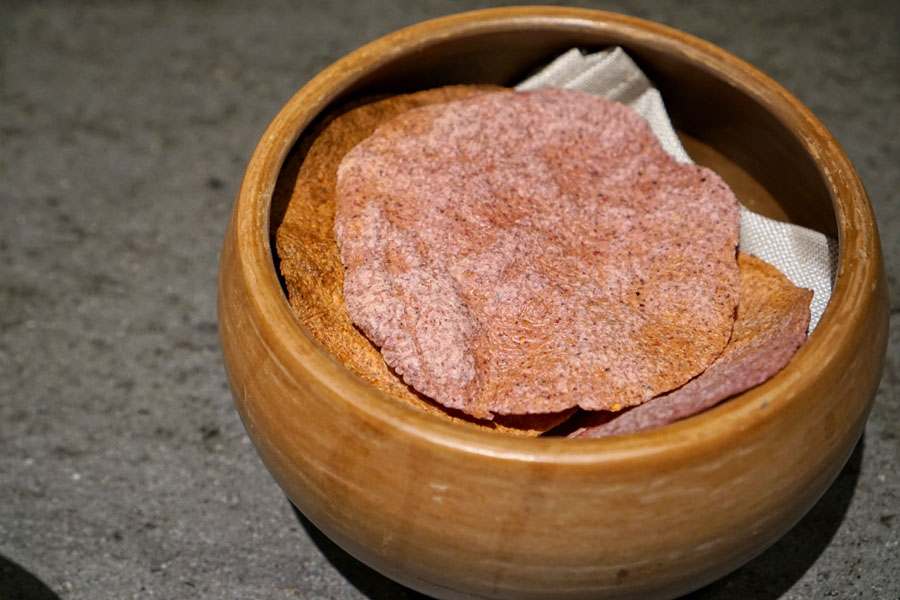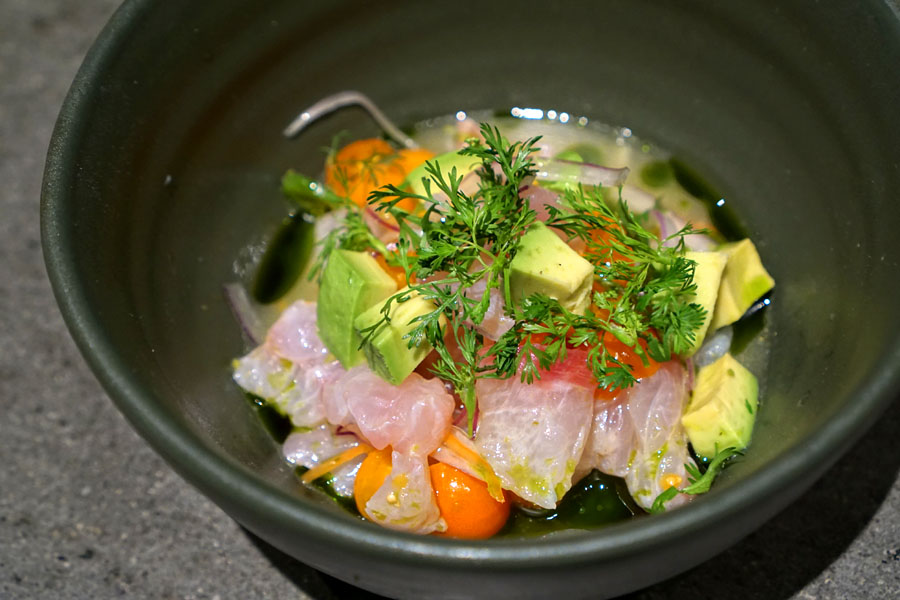 Rockfish Ceviche [$22.00]
| Salsa Mexicana, Olive Kosho
The ceviche showed off an excellent union of brine and acidity, evened out by an undercurrent of sweetness. Well textured and very tasty alone, and even better when paired with one of those svelte, brittle blue corn tostadas.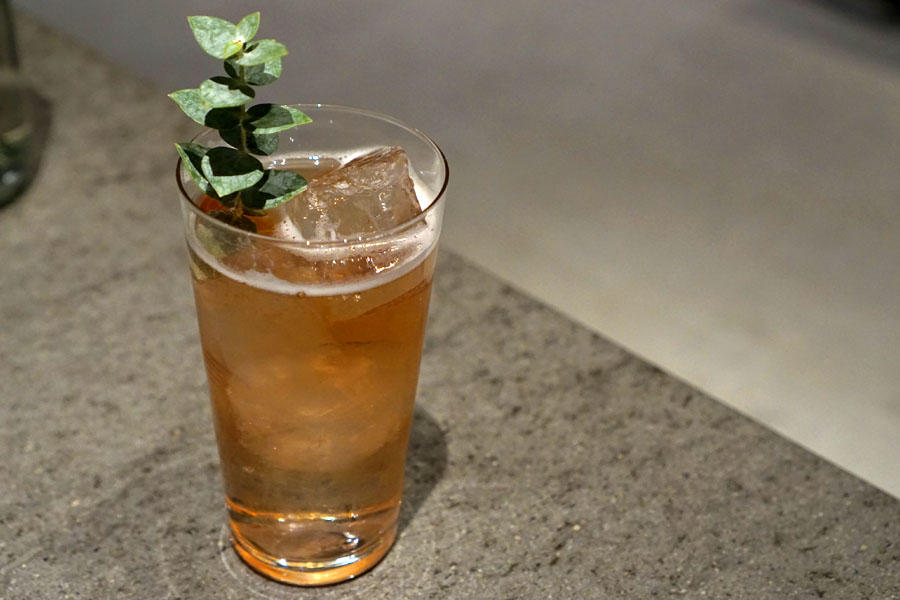 El Smoked Highball [$16.00]
| Scotch, Smoked Juniper, Black Tea, Pine Liqueur, Eucalyptus
Well this was easily the most intriguing take I've had on the ubiquitous cocktail that is the highball. I got tea-fueled aromatics at first, overarched by subtle smoke, but this soon transitioned to a bevy of sharp, piney, astringent notes that hit me hard.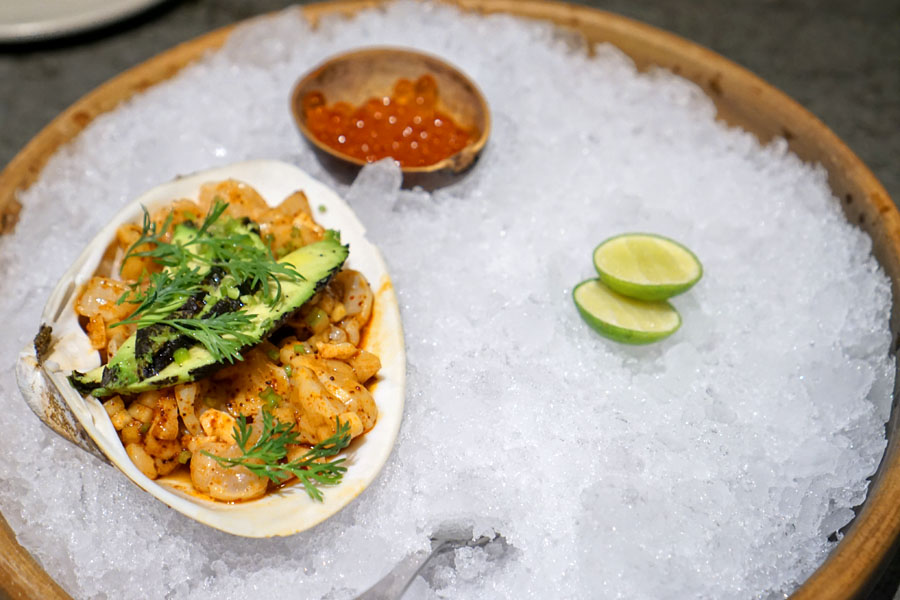 Smoked Clam [$25.00]
| Salsa Macha, Avocado, Ikura
This next dish managed to be another table favorite. The clam was spot on texturally, and I loved its growing, lingering smoke and restrained heat, especially when combined with its intrinsic salinity and tempering effect of the avocado. The salmon roe imparted further pops of salt to the dish, but wasn't strictly necessary.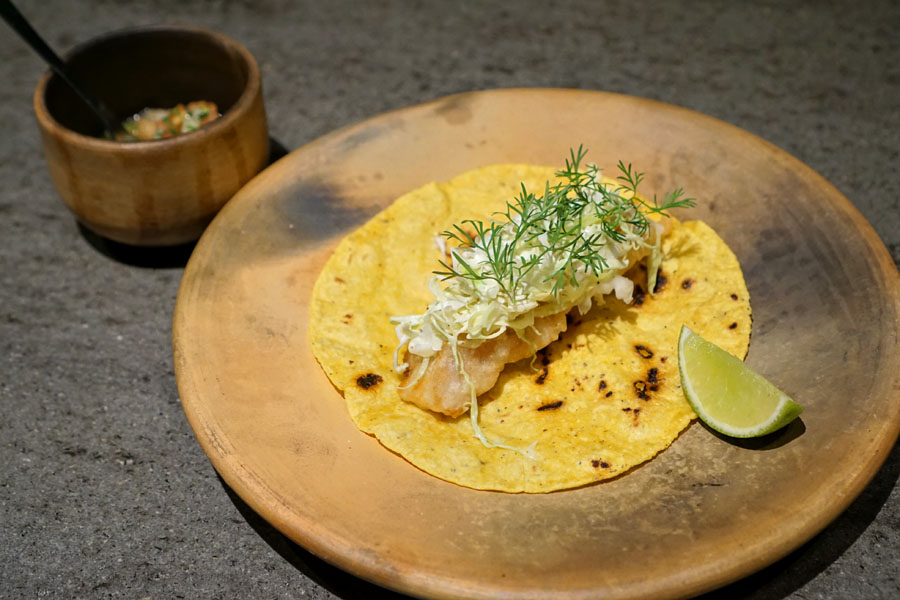 Fried Fish Taco [$14.00]
| Cabbage, Avocado Salsa
The fish taco was obviously a must-try. The actual fish came out perfectly fried, with a particularly intense depth to it that I rather fancied. The cabbage, tortilla, and salsa especially functioned just as they should, making for a smart rendition of a street food star.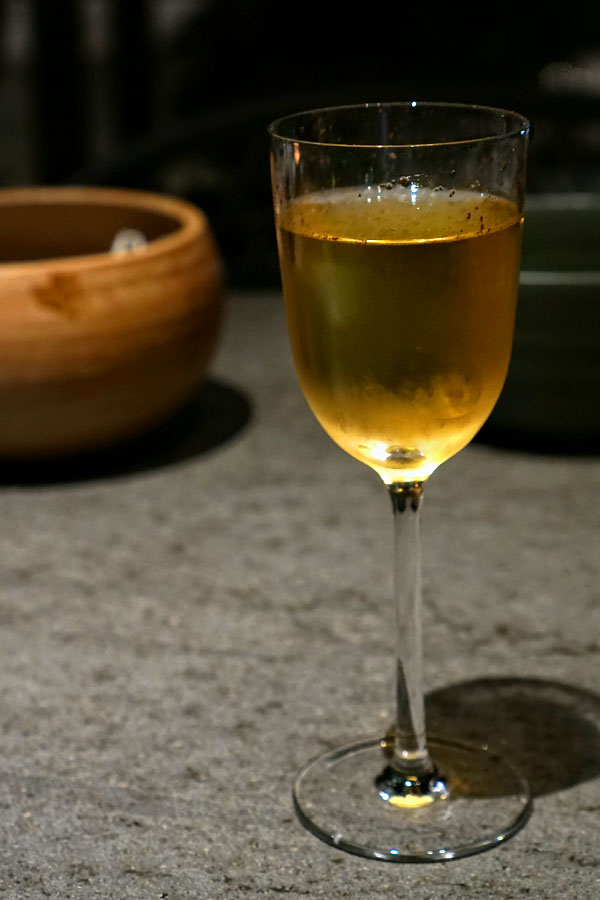 Waiting Room [$16.00]
| Tequila Anejo, Pasilla Mixe Distillate, Vermouth, Sherry, Coffee
Our next cocktail was another favorite. The nose here was dark fruit, barnyard, and a bit of an oxidative note from the sherry. Tasting it, I got light coffee combined with more red fruit and dashes of herb and bitterness. Nicely put together.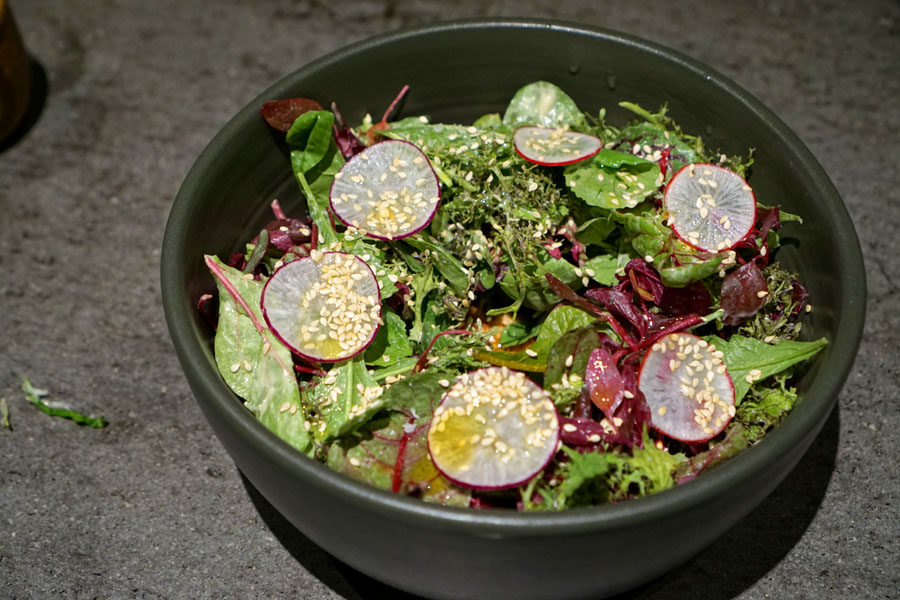 Salad [$21.00]
| Ayocote, Greens, Charred Cucumber
The requisite salad played bright, bitter greens and the hot crunch of radish against a rich, well-seasoned dressing that displayed flashes of wasabi-esque spice.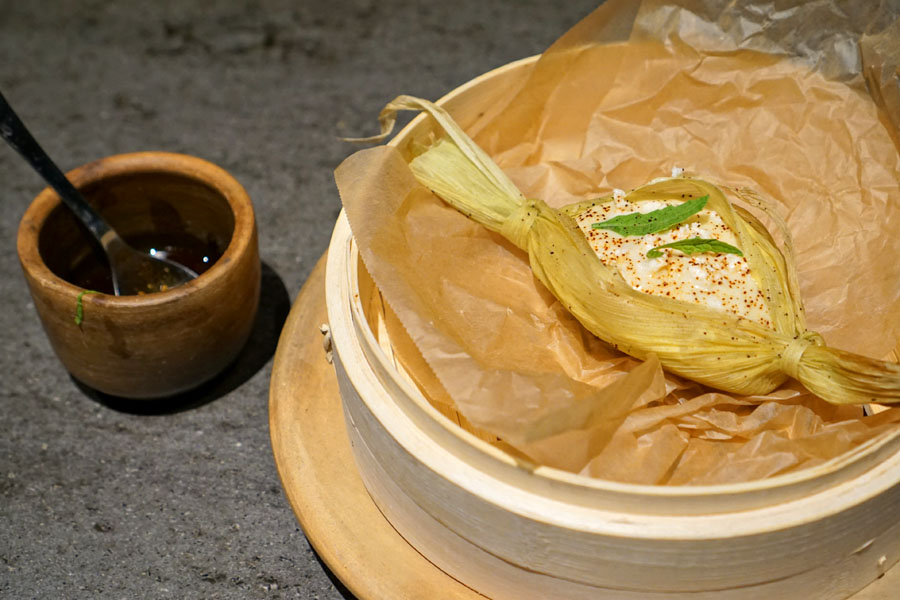 Tamal de Elote [$14.00]
| Queso Fresco, Chicatana Ant
A lone tamal deftly showed off the natural sweetness of corn, but the star of the show here was clearly that ant-based salsa, which offered up a delightfully tangy, earthy, nutty, smoky complexity.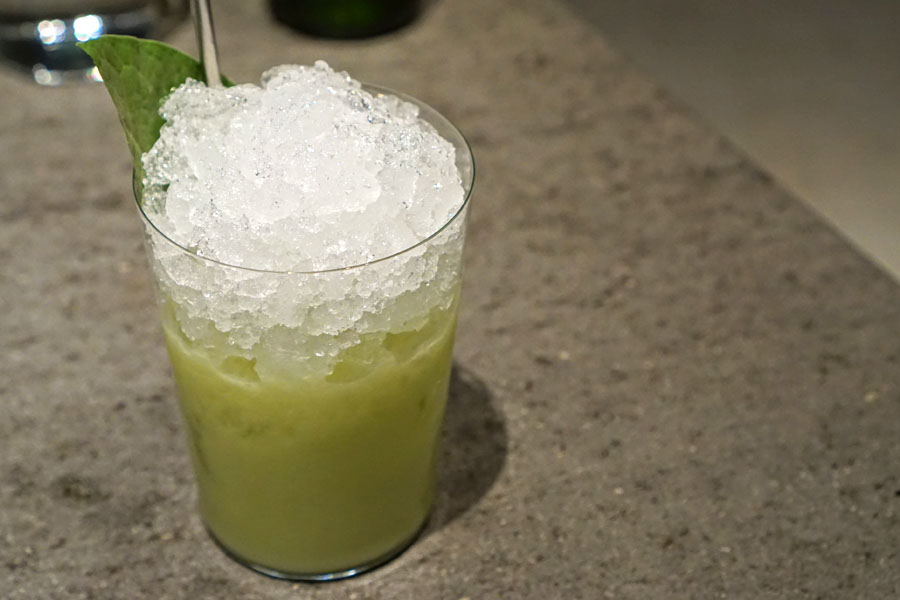 Shades of Green [$16.00]
| Sotol, Vermouth, Falernum, Avocado, Cucumber, Hoja Santa
It's pretty uncommon to find sotol-based cocktails, so this was a must-order for me. The drink had a vivacious, vegetal character that I liked, grounded by the sweetness of falernum while the sotol provided the necessary heft.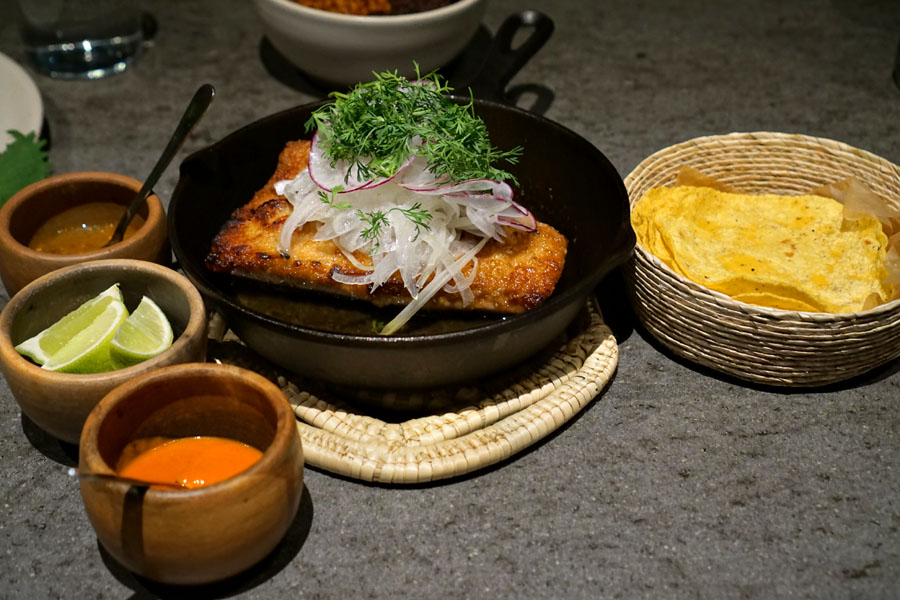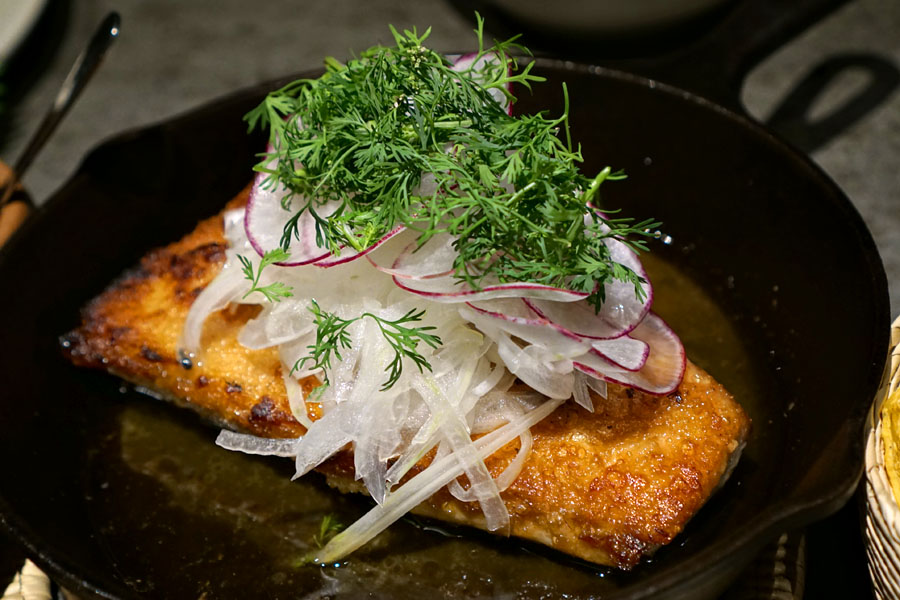 Albacore Carnitas [$52.00]
| Salsas
It was difficult for us to resist ordering something named "albacore carnitas," and indeed, the dish managed to turn tuna into a very workable rendition of the classic meat dish. Texturally, the fish had the tender, "shredded" consistency that I was looking for, though it could've been a bit juicier. It was even closer taste-wise, and I loved the offsetting zestiness of all the veggies on top. The key here was to make use of the various accoutrements--salsa de tomate, habanero salsa, lime--and put together some very tasty tacos.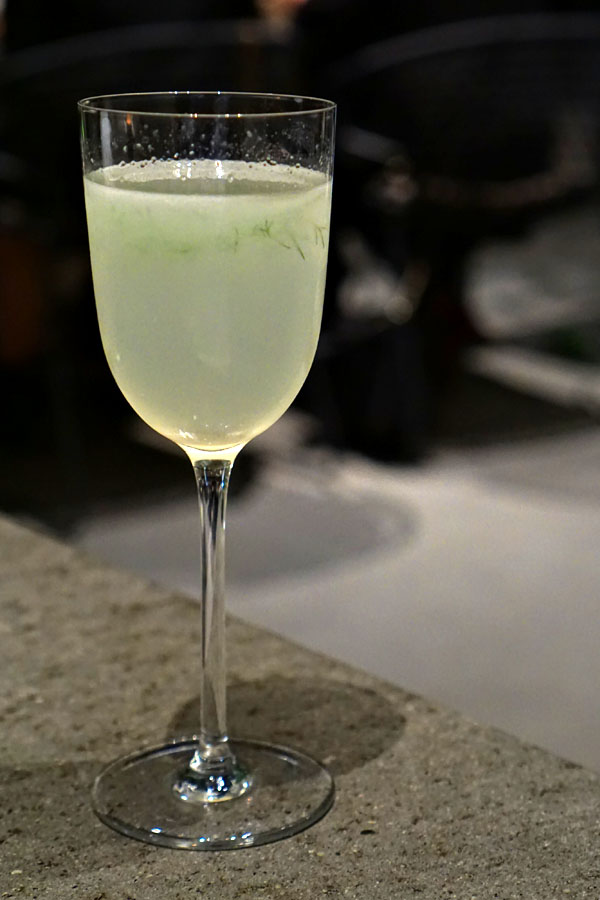 DTLA [$16.00]
| Dill, Tequila, Lime, Absinthe
The night's penultimate, acronymic cocktail featured a bouquet filled with anise-y notes and lime, while its taste went in an acerbic, oxidative, almost "rubbery" direction, which isn't a complaint.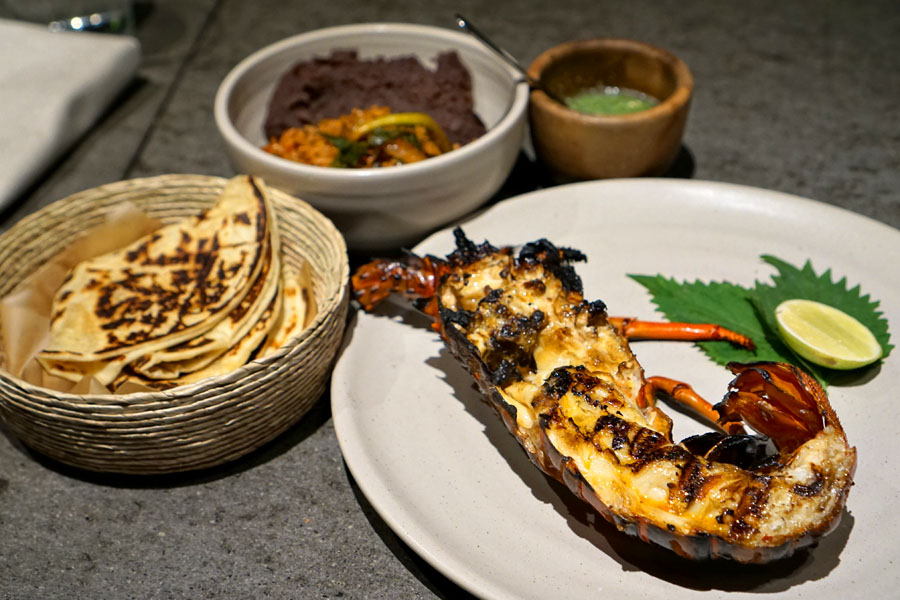 Spiny Lobster [$38.00]
| Frijoles Puercos, Fried Rice, Flour Tortilla
I was also curious to try the lobster, and it didn't disappoint. The
langosta
conveyed a superb smoke that matched beautifully with its inherent sweetness. As delectable as the crustacean was alone, it was even better when doused with salsa verde cruda and folded into one of those fluffy flour tortillas. As for the paired beans, they were some of the meatiest, porkiest examples I've tried, while the rice had this piquant quality to it that actually reminded me of kimchi
bokkeumbap
.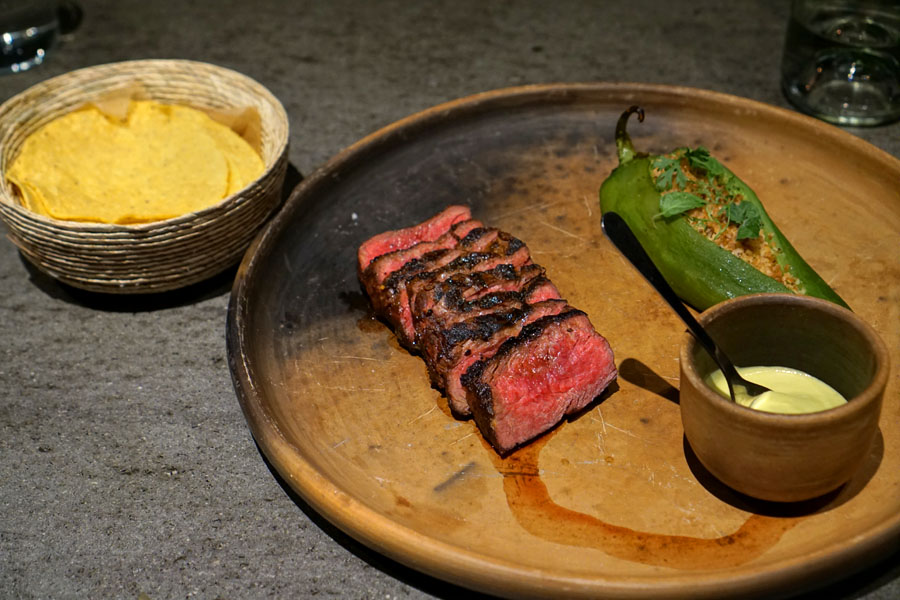 Carne Asada [$40.00]
| Chile Relleno, Taboule
Our final savory dish was the asada, and it was a crowd pleaser. The steak ate juicy and super flavorful, and had just the right amount of char and sear. The meat paired easily with the zippy sauce on the side, and was even more delicious when combined with the nutty, minty tabbouleh in one of those floppy corn tortillas provided.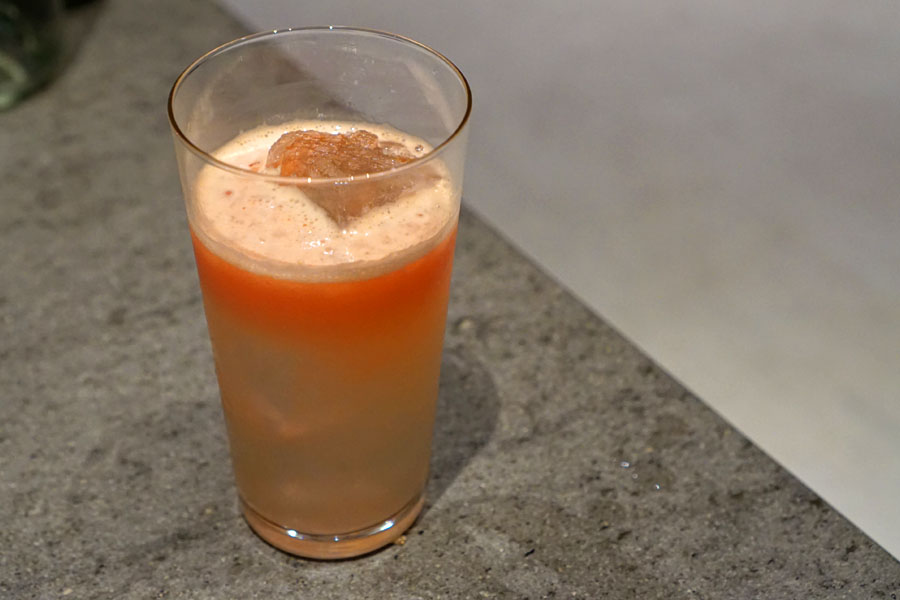 Wake n' Bake [$16.00]
| Gin, Dry Vermouth, Sangrita, Mexican Oregano
Last up for cocktails was this garnet-tinted number. Due to the sangrita, it had this sort of vegetal sweetness to it, while juicy flavors of what seemed like grapefruit came in later. Pretty cool.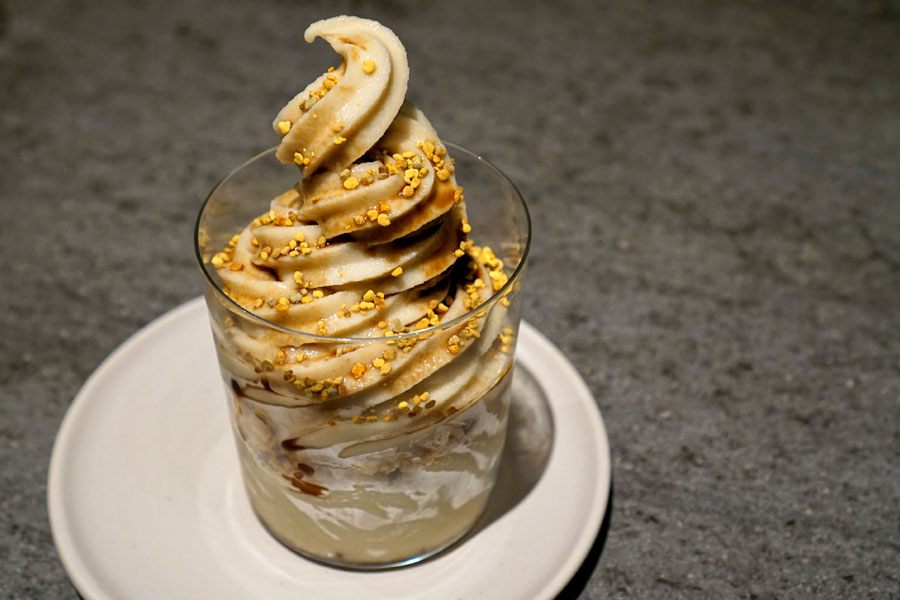 Chamomile Soft Serve [$14.00]
| Honey, Bee Polen, Balsamic
We were pretty full by this point, but saved room for at least a few of the desserts. I was pretty smitten with the soft serve's floral, honeyed flavor profile, peppered by pops of salt. The crunchy bits were much appreciated as well, and I didn't mind the drizzles of balsamic vinaigrette, either. Curiously, there were times when I tasted Japanese melon gum here.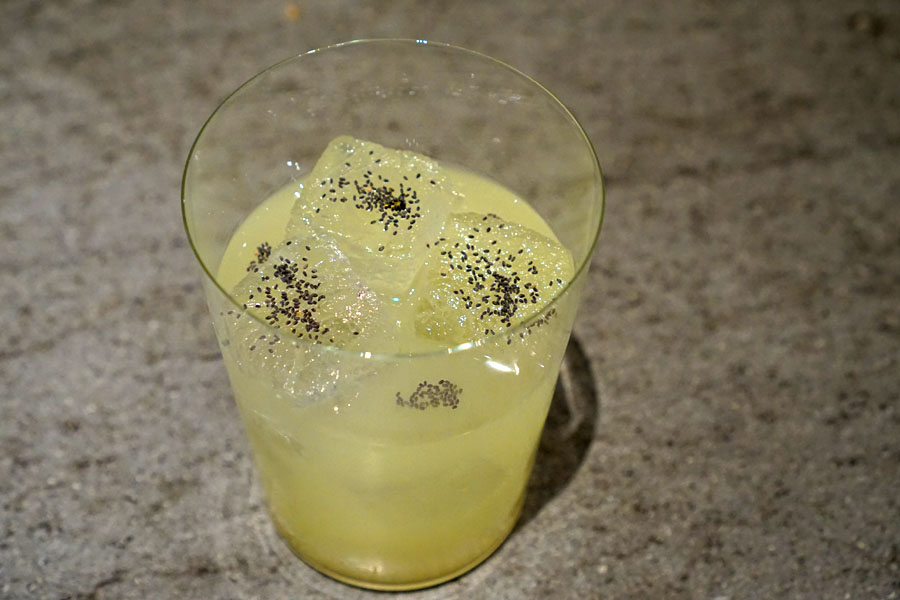 Palo Santo [$6.00]
| Cucumber, Yuzu
We opted for a trio of non-alcoholic drinks to pair with dessert. This first one conveyed a healthy amount of refreshing cucumber, laced with tart, floral flavors from the yuzu.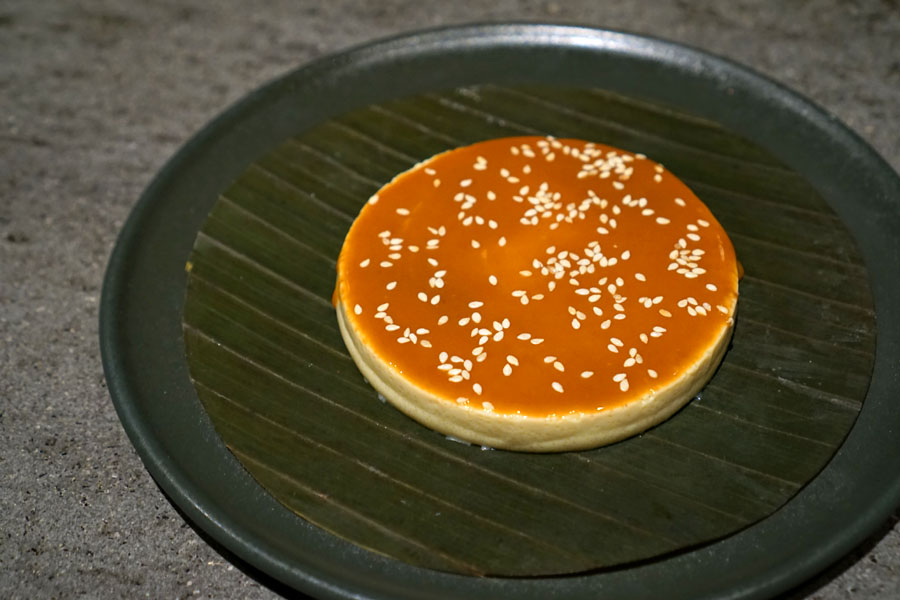 Banana Leaf Flan [$14.00]
| Sesame Caramel
The flan was easily one of the better versions I've had as of late. It was on point texturally of course, and the dessert's back-and-forth between sugary caramel and nutty sesame was just right. There were also these passion fruit-like flavors that I enjoyed as well.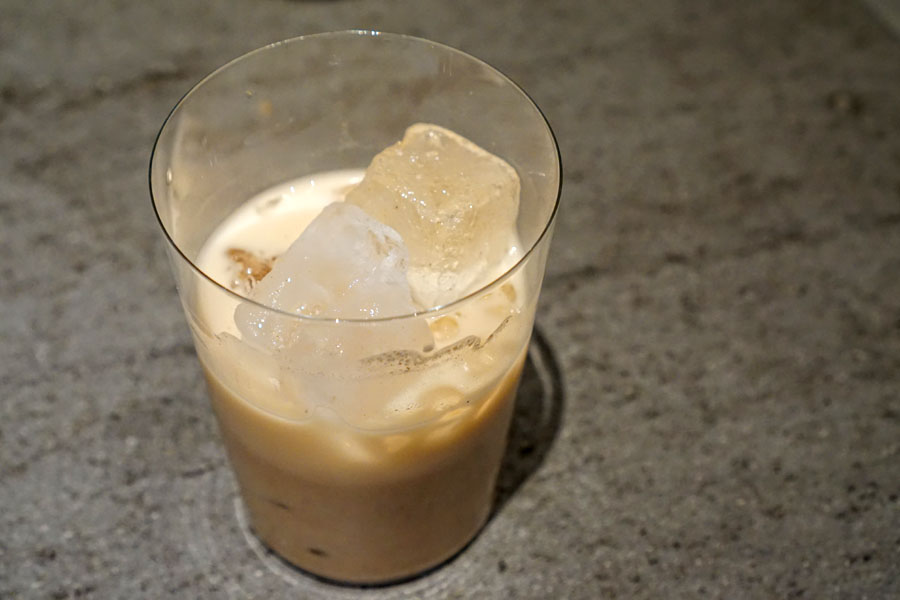 Horchata [$6.00]
| Rice, Toasted Amaranth, Canela, Piloncillo
The horchata was on the thinner side, and though it was one of the nuttiest examples I've had, its sweet spice character was surprisingly muted.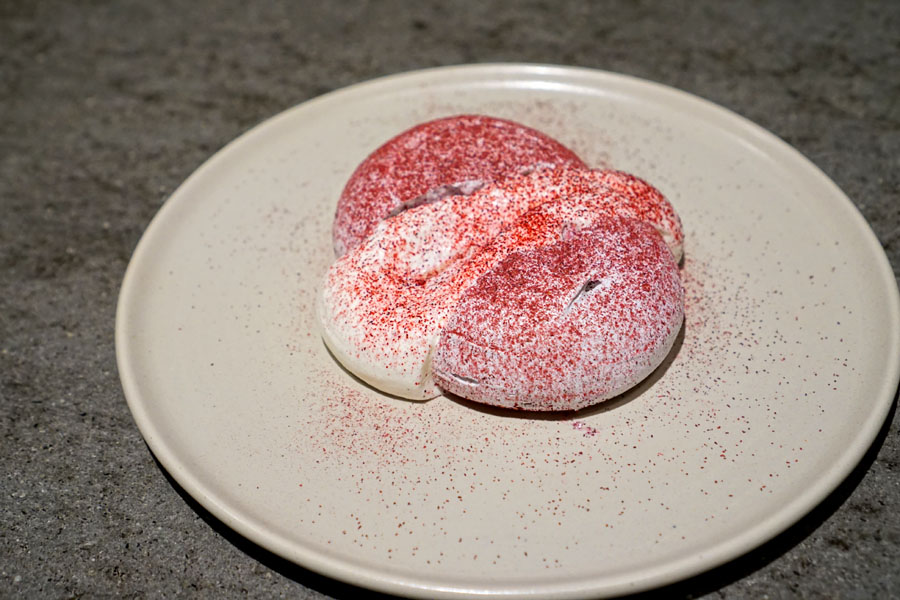 Hibiscus Merengue [$14.00]
| Pomegranate
Meringues were airy and flawless, and, along with the pomegranate, formed a perfect foil to the creamy, lactic elements in the dessert. A neat dish, yet somehow very comforting at the same time.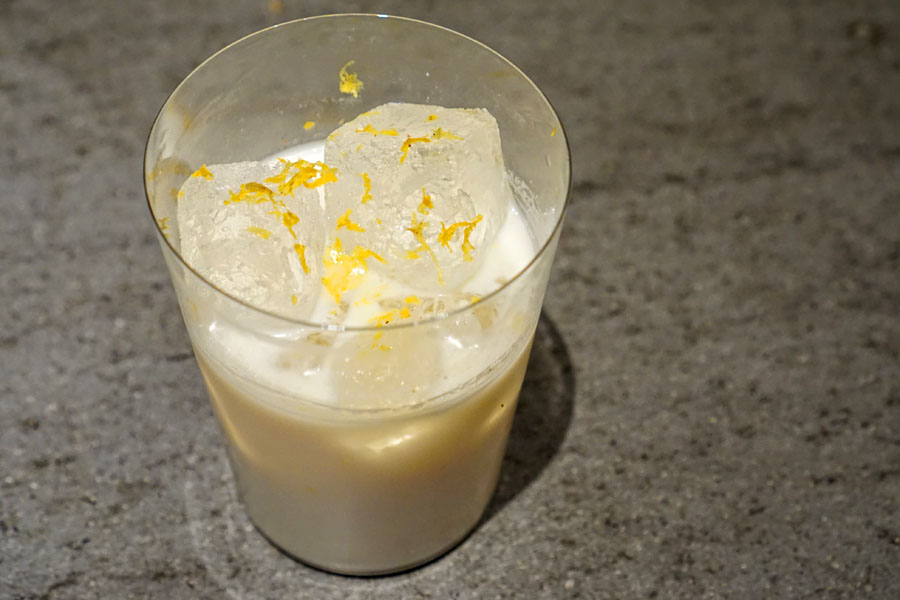 Yogurt [$6.00]
| Honey, Cardamom
This yogurt-based concoction was my favorite of the three. It was thick, almost lassi-like in fact, and had this wonderful honeyed, citrusy quality perked up by the sweet spiciness of cardamom.
I was unquestionably enthusiastic coming into this meal, and I was not let down. The cooking's finessed, precise to be sure, yet our dishes hit a lot more familiar notes than I was anticipating. That's not a bad thing, since the food's got a palpable excitement to it, and already feels uniquely tuned for LA. Damian's a huge addition to the Southland's already strong Mexican cuisine scene, and I'm already looking forward to returning and seeing how the menu evolves. Before that happens though, Olvera and company are still working on debuting Ditroit, which was supposed to be just a taco takeout window next door, but has now morphed into a full-blown taqueria. Hopefully we can see the place come to fruition in the coming months.