Johnny's West Adams (Los Angeles, CA)
Johnny's Pastrami
4331 W Adams Blvd, Los Angeles, CA 90018
323.840.3048
www.johnnyswestadams.com
Wed 12/30/2020, 07:50p-09:25p

You might remember that I reported on Danny Elmaleh's Middle Eastern spot
Mizlala
back in August. I rather enjoyed that meal, so I made a mental note to check out the Chef's other eatery in the area: Johnny's West Adams, a casual, pastrami-focused walk-up joint that debuted in the middle of June.
A bit of history
: The restaurant occupies the former home of Johnny's Pastrami (a.k.a. Johnny's Hot Dog Stand), a historic Jefferson Park spot that opened back in 1956. Johnny's suffered a fire in the autumn of 2015, and as a result, shuttered in December that year. Ownership initially had plans to renovate and reopen, but that never happened. Instead, the site was taken over by
Gjelina
's Travis Lett, and in late 2018, it was revealed that he'd be relaunching Johnny's as Gjohnny Pastrami, replete with an accompanying bar/brewery inside a different building on the property. However, things took a huge turn when, in November 2019, Lett decided to sell his stake in his various businesses to his partner Fran Camaj. Johnny's was a victim of the breakup, and the project was subsequently taken over by Elmaleh, so here we are.

Pictured above is the ordering area. Normally there'd be some seating here.

And here's the main outside dining space, which was of course off limits due to coronavirus restrictions.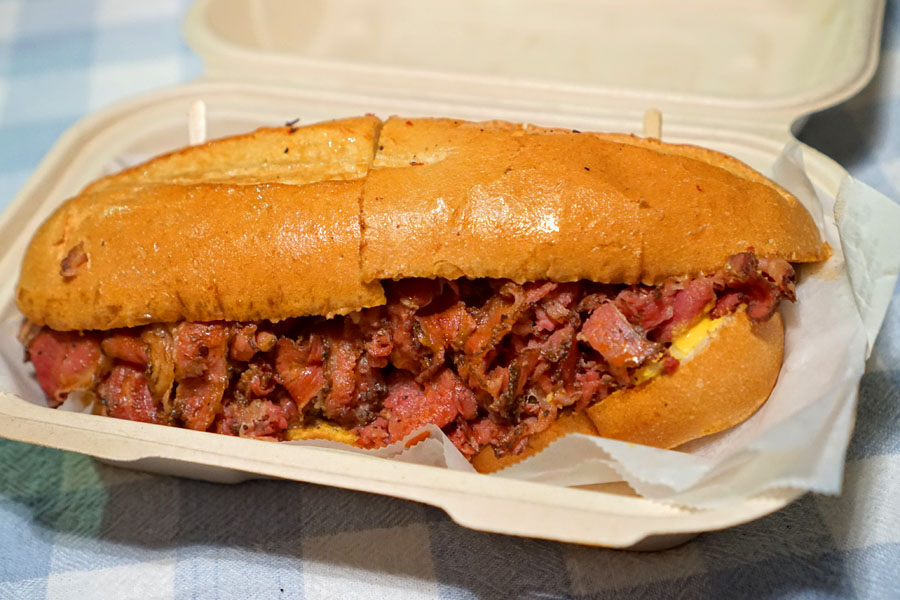 French Dip Pastrami [$15.00]
| thinly sliced pastrami, french mustard, pickles, french roll, choice of coleslaw or potato salad
I had to begin with the most popular, most classical form of pastrami consumption at Johnny's, which is also an ode to the former restaurant's signature dish. The thin-cut beef ate soft and springy, and was teeming with a subtly sweet spiciness that was pretty unique and lingered long on the tongue. The pickles certainly made sense here, but even better was the mustard, which linked up especially well with the meat's seasoning. As for the bread, think supple and semi-saturated.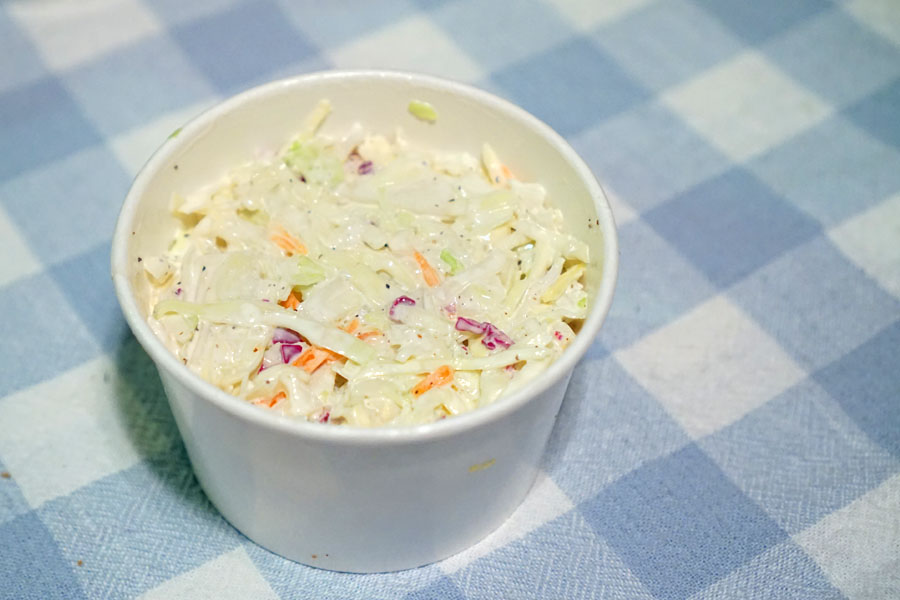 Coleslaw
| House made creamy dressing
The sandwich above came with a side of slaw, and it was a fine example: creamy but crisp, with a layer of restrained sweetness and a slight peppery character.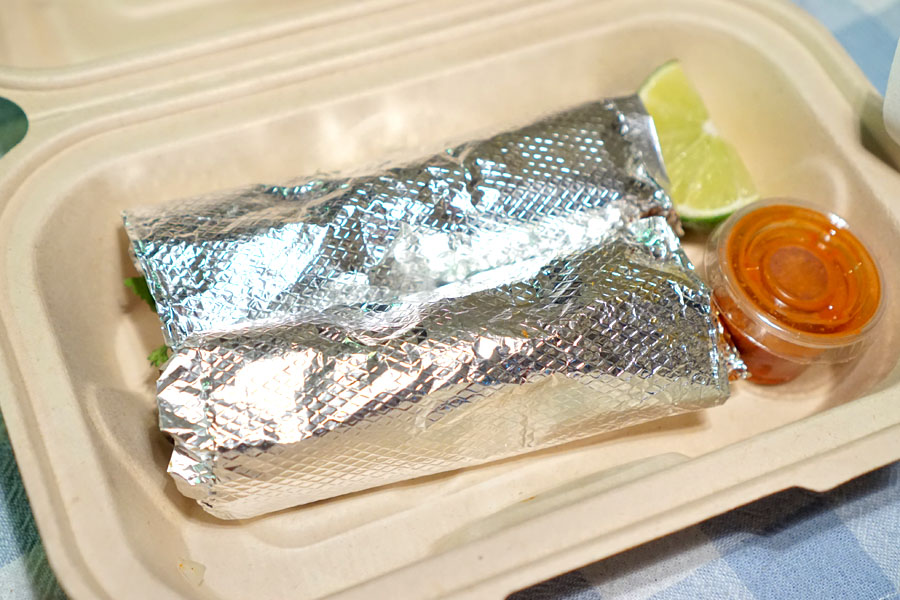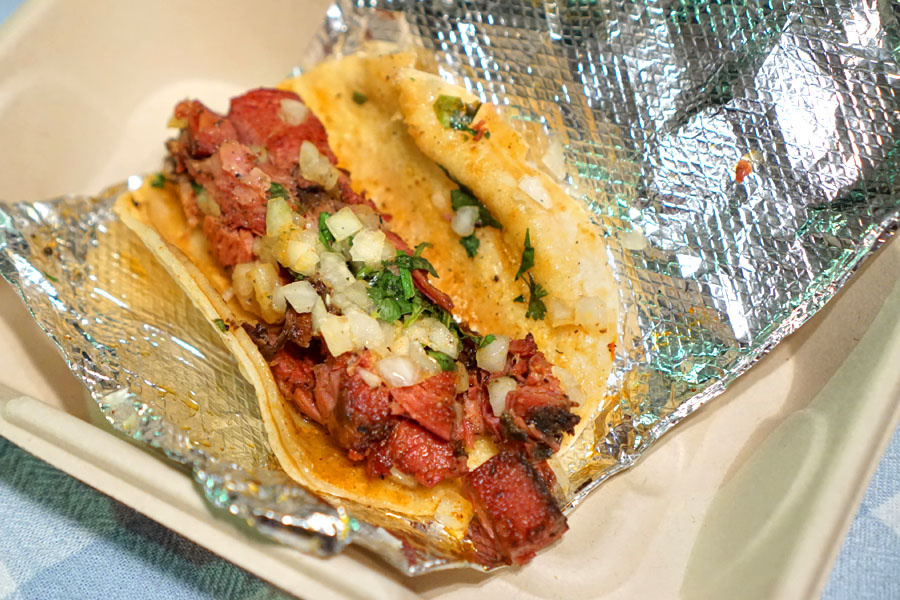 Johnny Tacos [$7.00]
| pastrami, white corn tortilla, onion, cilantro, lime, sauce
Next came the most untraditional vessel for pastrami on offer. Compared to the beef in the French dip, the meat here showed off a deeper smoke and savor. The obligatory toppings of onion and cilantro worked well to lighten things up, while the salsa featured a sour, growing heat.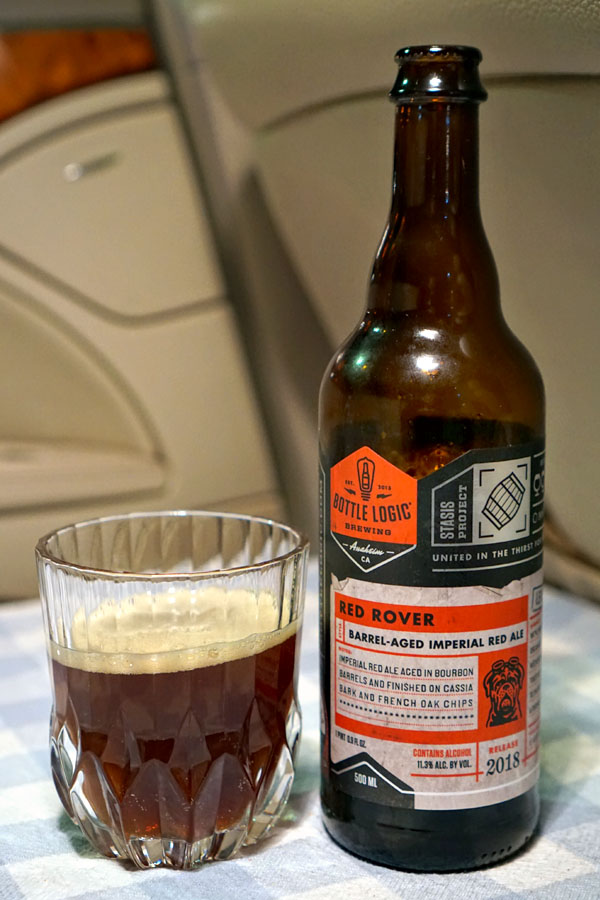 To drink, we have here the
2018 Bottle Logic Red Rover
, an imperial red ale aged in Michter's bourbon barrels and finished on cassia bark and French oak chips. The beer's aroma was definitely on the malty, sugary side, with subdued cinnamon-y spice in the background. The taste also veered in a sweet direction, with flavors of dark berries and raisin joined by barrel notes and a bit of bitterness commingled with cassia on the back end.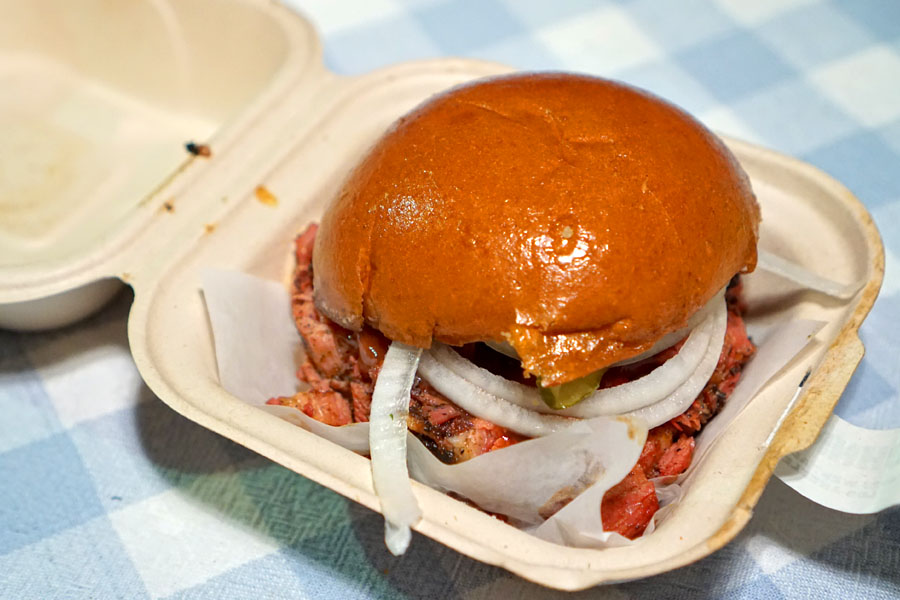 BBQ Brisket Sandwich [$10.00]
| brioche potato bun, bbq sauce, raw onion, pickle
Brisket came out soft and smoky, but with a very palpable, barbeque sauce-fueled sweetness to it. The included aioli served as a surprisingly effective counterpoint to the meat, and the sheer zestiness of the raw onion provided a crucial contrast as well.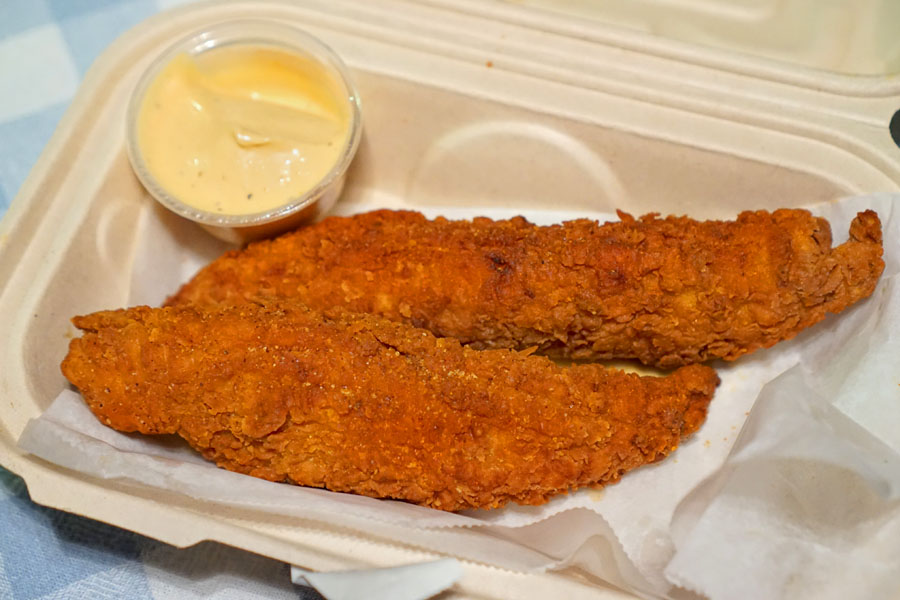 Spicy Chicken Tenders [$7.00]
| seasoned with special spice blend, spicy creamy sauce
Chicken breast arrived decently juicy, with a tight, almost flaky consistency. However, what you're really here for is the bird's hearty, crunchy exterior, which displayed a delectable dry spice sort of heat that I found quite appealing. I didn't mind the sweet-ish sauce on the side either, though it wasn't truly necessary.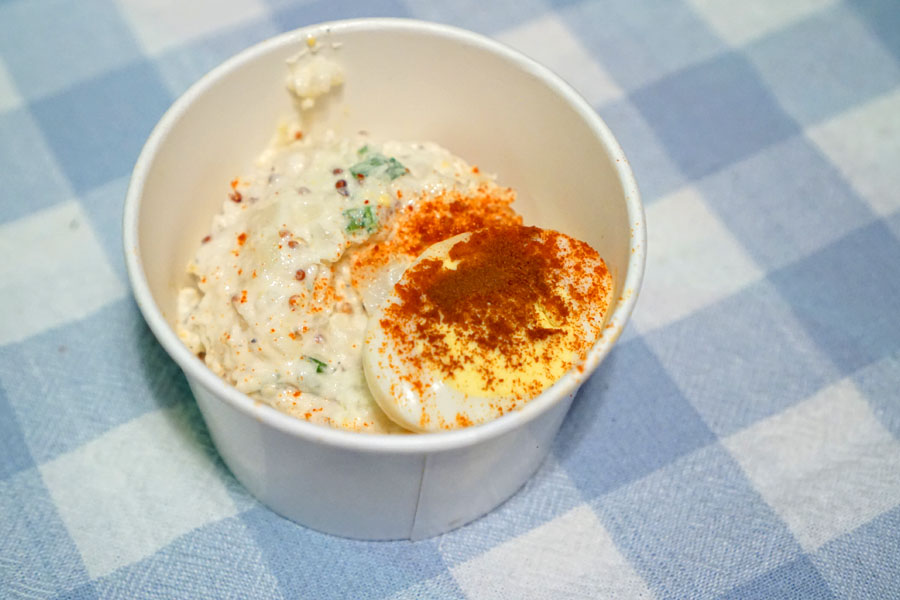 Potato Salad [$3.50]
| Red potato & russet potato, hardboiled egg, paprika
What I found the most intriguing about the potato salad was its texture, which represented a middle ground between creamy and chunky variations of the dish. Also appreciated was the half egg in there, and I liked the spiciness imparted by the paprika, too.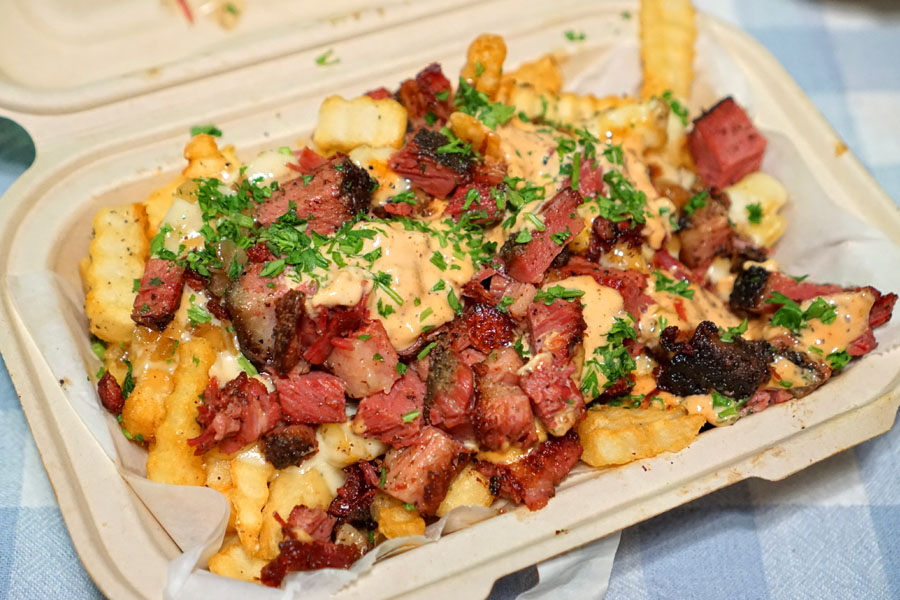 Johnny Fries [$9.00]
| hand cut fries, Swiss cheese, pastrami, thousand island, caramelized onions
It's hard to go too wrong with pastrami fries, especially when said fries are of the crinkle-cut variety. The crux of the dish for me was the back-and-forth between the smoky chunks of meat and the unmistakable sweetness of caramelized onions, all while the Thousand Island dressing offered up a tanginess that helped bring it all together.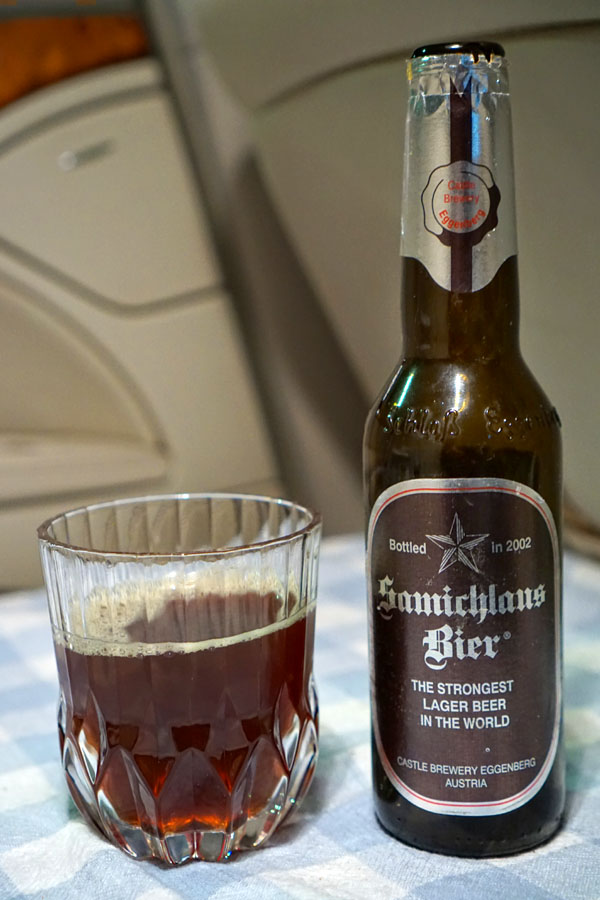 The evening's second beer was very apropos for the season, the
2002 Schloss Eggenberg Samichlaus Classic Bier
, a wintertime doppelbock brewed only once a year, on December 6th, then aged for 10 months before bottling. The nose here was pretty subdued, and conveyed dark fruit notes backed by a distinct, wet cardboard-like mustiness. On the palate, the lager drank super smoothly, and had nuances of dried fruits and nuts combined with saline and oxidative elements, along with bitter chocolate. This one certainly tasted mature, but I'd say that the double bock still has a few years left in it.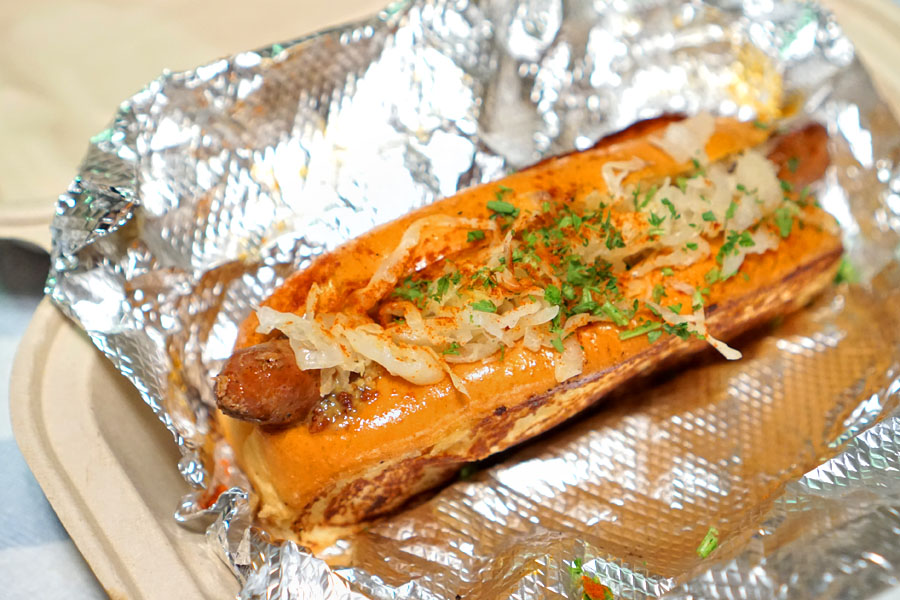 Spicy Dog [$8.00]
| house made merguez, sauerkraut, honey mustard, toasted brioche
I believe the merguez was the same as what's served at Mizlala, so it was just as delicious with its spot on seasoning, rustic consistency, and spicy kick. The sausage meshed easily with the tangy kraut, and I also liked the bun, which I found soft, sweet, buttery, and well-griddled.
A generous portion of pickles and baby peppers was provided with my meal.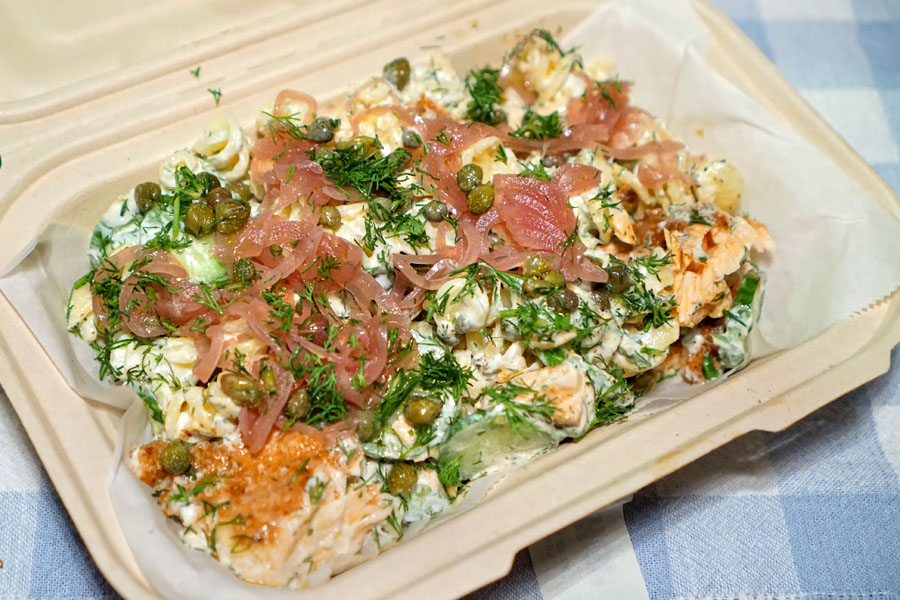 Smoked Fish Pasta Salad [$8.00]
| hot smoked salmon, creamy dressing, capers, cucumber, dill, pickled shallot
Supple, flaky cuts of salmon were seriously smoky, so the bright crunch of the cucumbers was a great counterpoint. Additional interest was provided by the piquancy of the shallots and capers, while the rotini pasta helped moderate everything.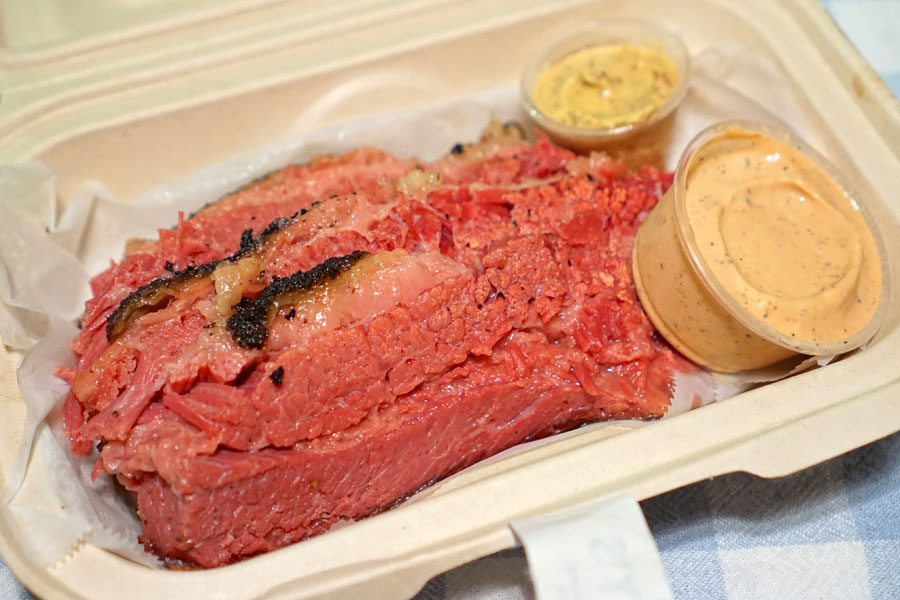 Pastrami by the Pound [$15.00]
| half pound
I wanted to try the pastrami just by itself, and this was arguably the most satisfying way to enjoy it, certainly from a textural perspective. In this manner you really get the full-throated expression of the meat, all the smoke, seasoning, fat, and char that you want. The accompanying sauces (mustard, Thousand Island) weren't even needed.
Elmaleh and his team have done a respectable job with the revamp of Johnny's. The food's got the old school sort of comfort to it that you expect, but at the same time there are the requisite cheffy touches that keep things a bit more interesting. In fact, I wouldn't mind trying more of the menu, and when I do, I hope that I can also check out The Bar at Johnny's. As the name would imply, that's the restaurant's attached cocktail bar (located in what was supposed to be Lett's brewpub), and it actually opened in September before being shut down due to COVID-19 regulations. I'm anticipating that it'll be back online sometime in 2021, but we shall see.