Vespertine (Culver City, CA) [4]
Vespertine Restaurant
3599 Hayden Ave, Culver City, CA 90232
323.320.4023
www.vespertine.la
Sat 01/02/2021, 07:00p-11:45p
I ordered food from
Vespertine
back in June, and at the end of my dining report, expressed my hope for an
Alinea
-inspired takeout series sometime in the future. Well it turns out that Jordan Kahn and I were on the same wavelength, since the Chef's Alinea dinners ended up commencing in December, and have so far proved to be pretty popular. Now if you're not familiar with Kahn's background, he did indeed work with Grant Achatz at the groundbreaking Chicago restaurant back in the 2005/2006 time frame, so he does have personal experience with many of Alinea's earliest, iconic dishes. As a result, this tribute dinner certainly made sense.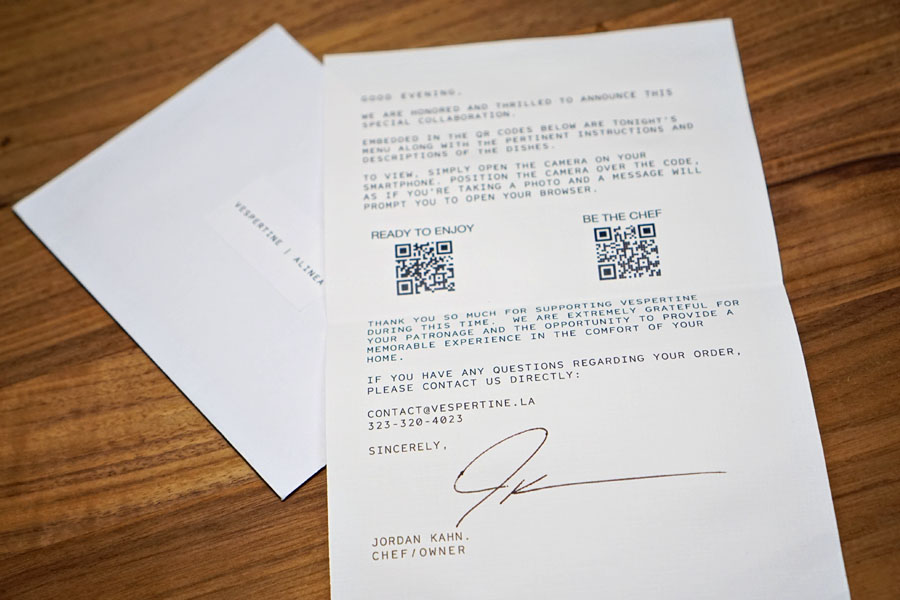 The dinner came with a signed thank you note directing me to a web site containing reheating/eating instructions.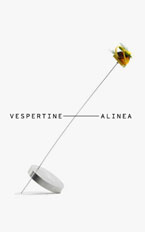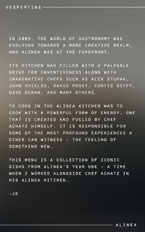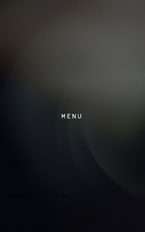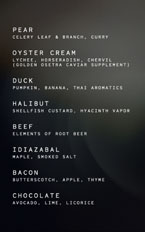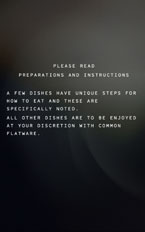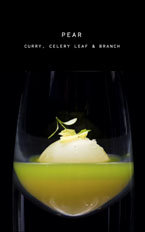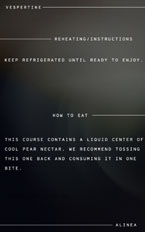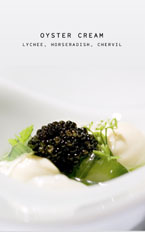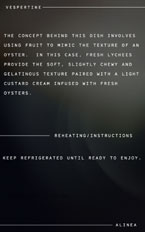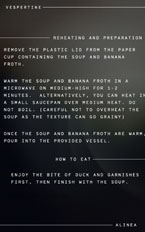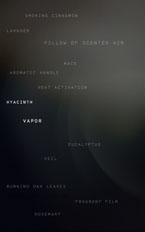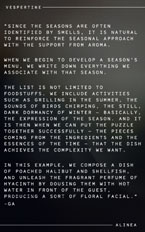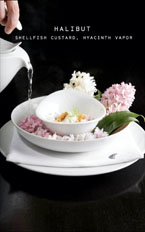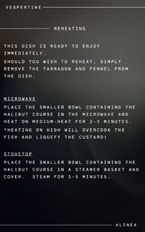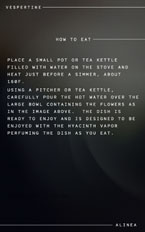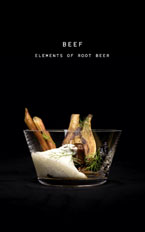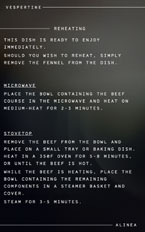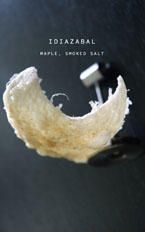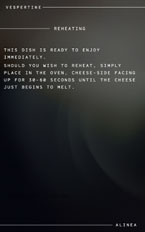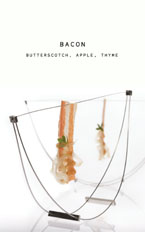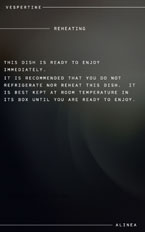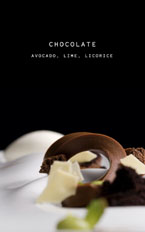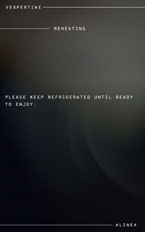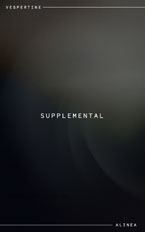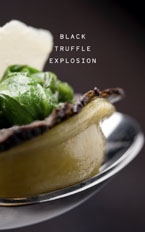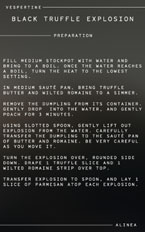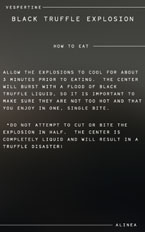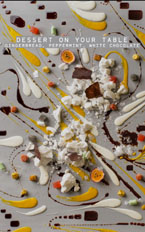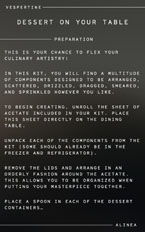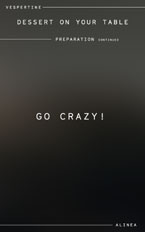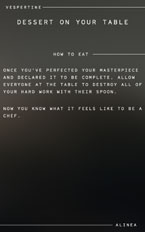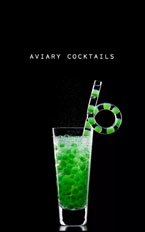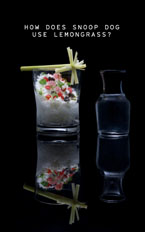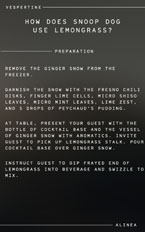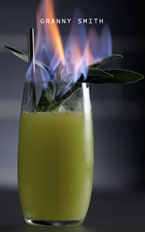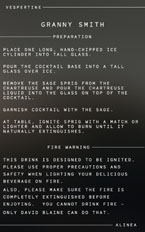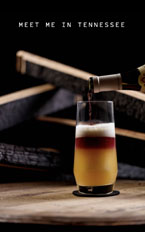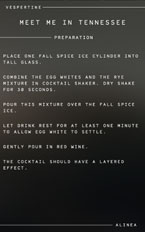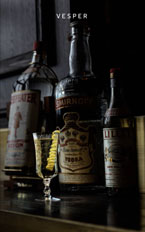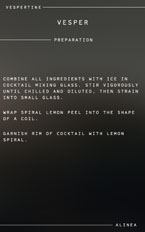 For your reference and edification, I've included above all the material contained on that web site. Do also note that there was a "Be the Chef" incarnation of the dinner available, wherein diners would have to actually cook the food themselves; the instructions associated with that version were much more detailed. As for the cost of the meal, it was $115 a head (minimum two orders), not inclusive of tax nor service. Click for larger versions.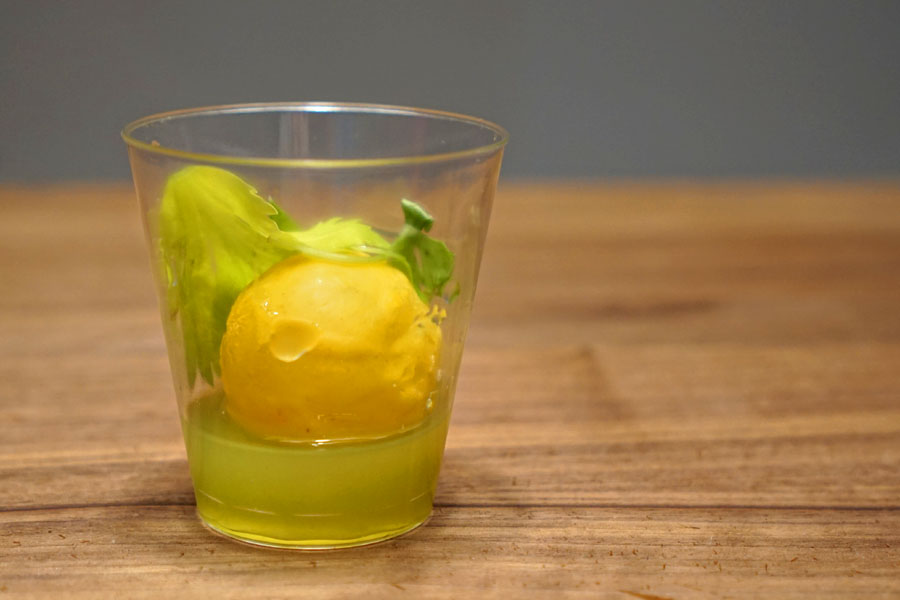 1: Pear
| Celery Leaf & Branch, Curry
The evening's first course functioned as an amuse bouche, and made for a promising beginning to the meal. The sphere provided a delightful pop in the mouth, then coated the palate with the sweet, luscious flavors of pear nectar. The celery juice and leaves then provided a sharp, vegetal zing, while the curry came in later, then disappeared while more celery returned and lingered long. Some fantastic transitions between flavors here--very cool.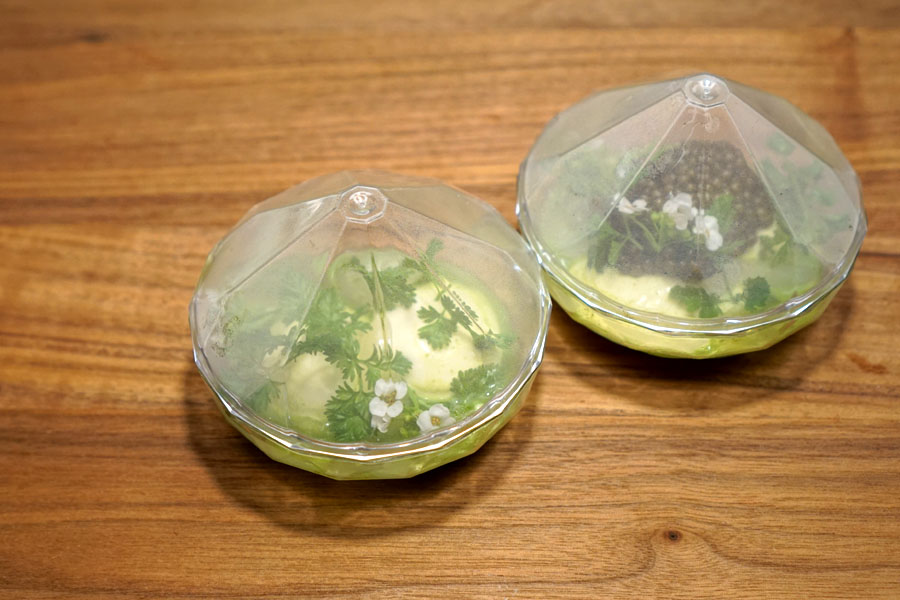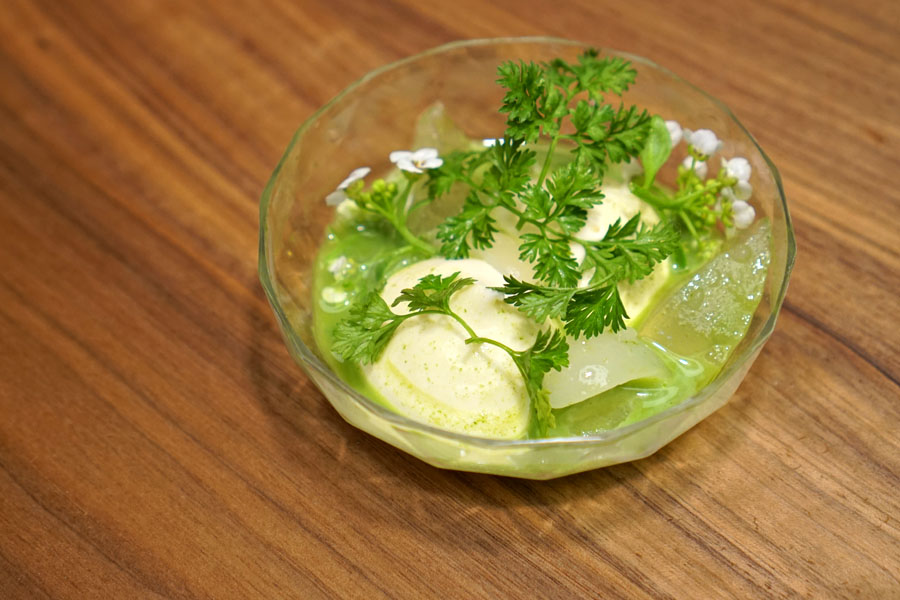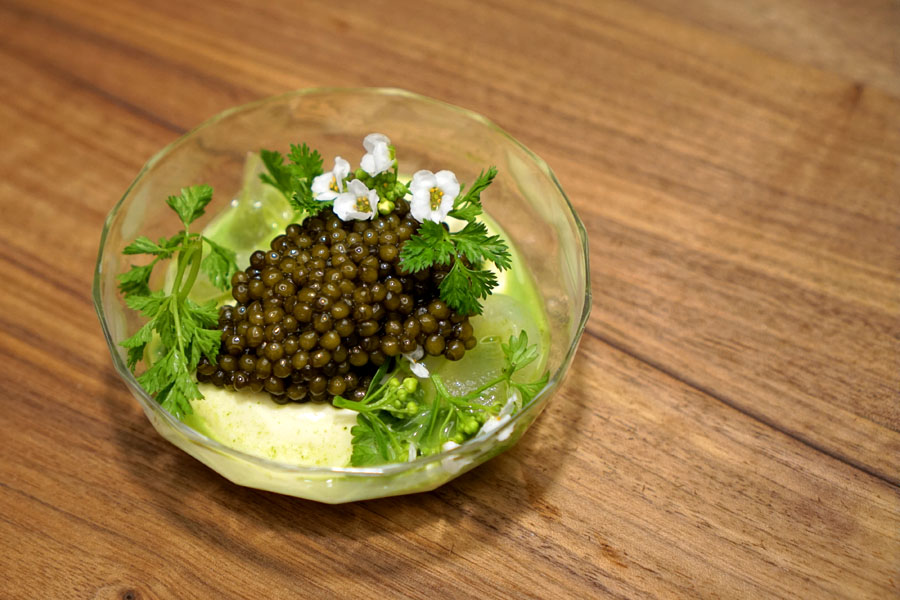 2: Oyster Cream
| Lychee, Horseradish, Chervil (Golden Osetra Caviar Supplement)
The use of lychee here was designed to mimic the soft, slippery consistency of oyster, while flavor-wise, I got sweet, creamy, herbaceous sensations at first, with salinity coming in later. It was interestingly both a bit dessert-y, and a bit salad-like at the same time. This course was also available with a $30 caviar supplement, which I'd definitely recommend. The Ossetra really made the dish pop thanks to its elegant application of salt, which definitely underscored the existing oceany nuances present--just lovely.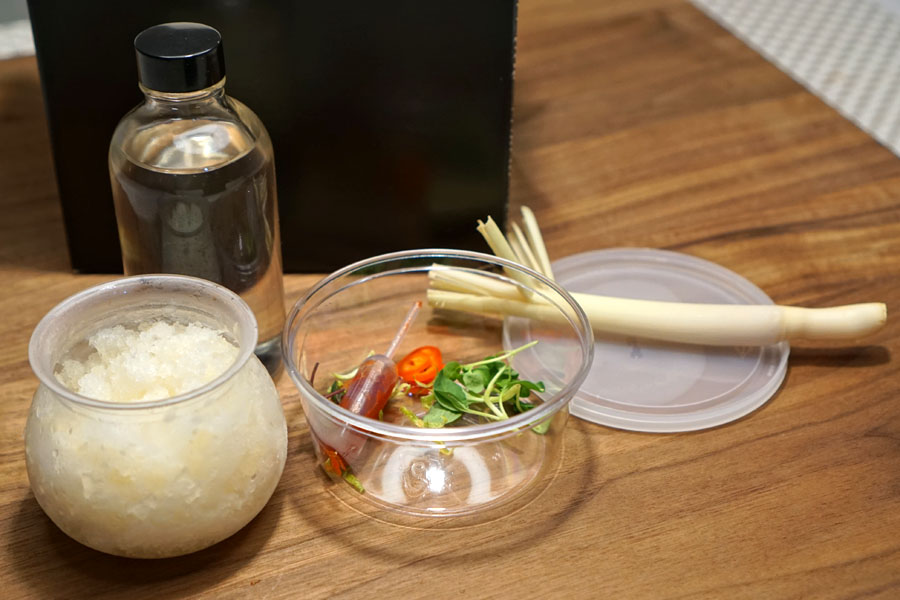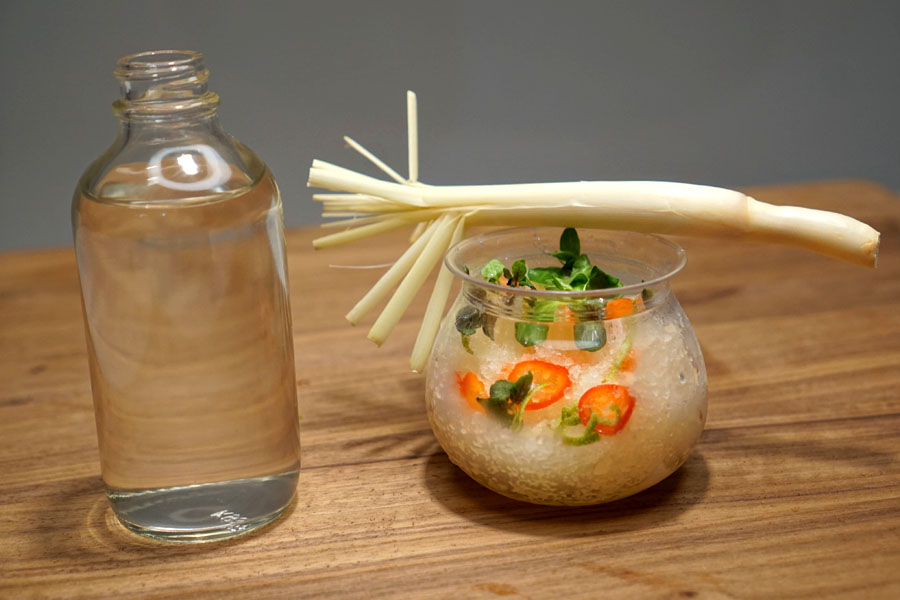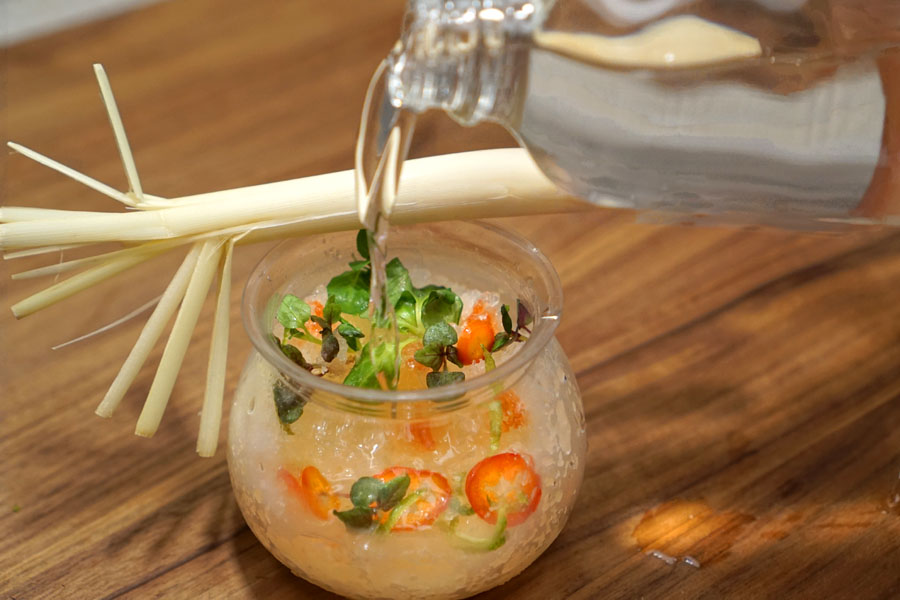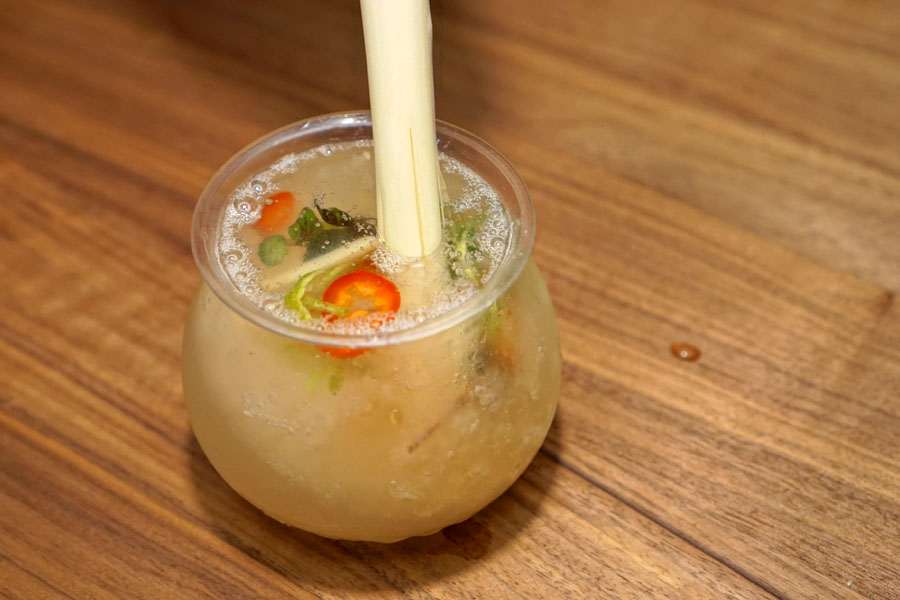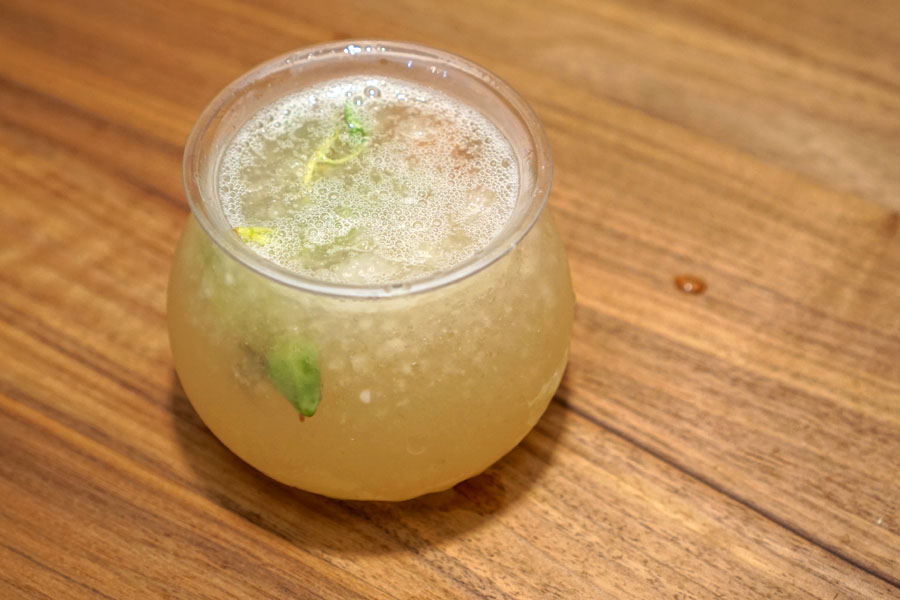 How Does Snoop Dogg Use Lemongrass? [$25.00]
| Gold Vodka, Ginger Snow, Lemongrass Swizzle, Chili, Shiso, Finger Lime
I ended up adding all four Aviary cocktail options to my order, and this first one was a bit of a pain in the ass to put together. The end result was worth it though. The drink had a winter-y feel, and I was a big fan of the back-and-forth between its sweet, herby, and bitter (from the Peychaud's pudding) flavors, perked up by pinpoints of citrus and just a smidgen of heat from the peppers. Very nicely integrated.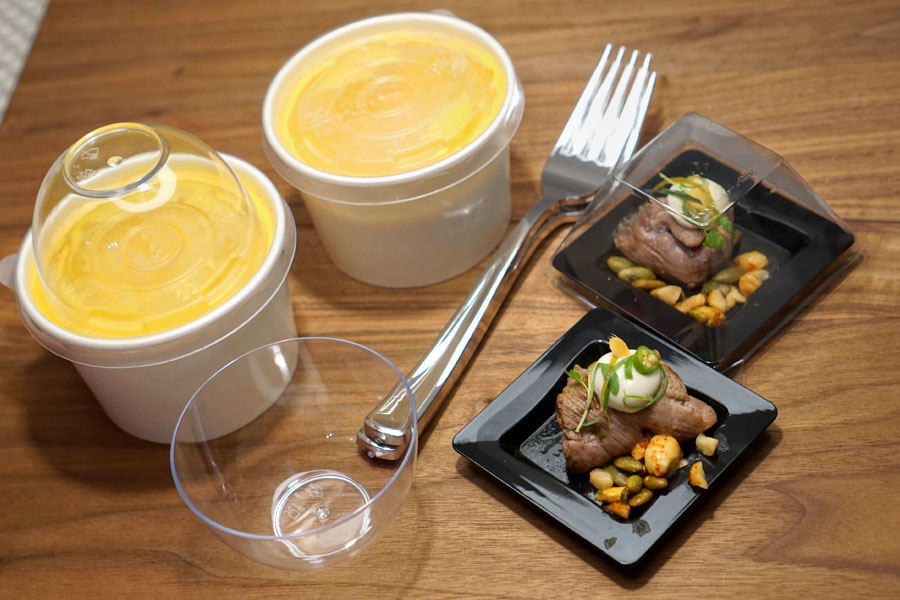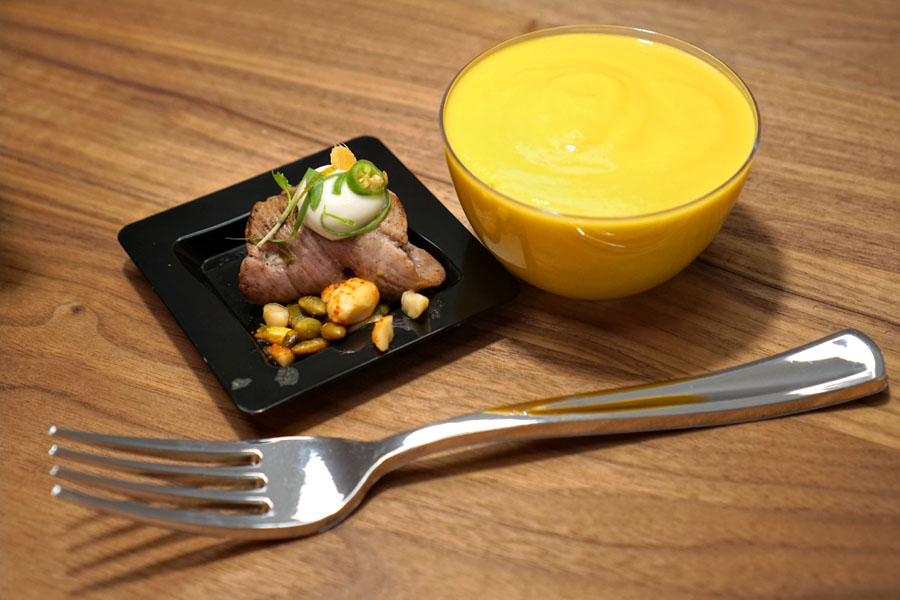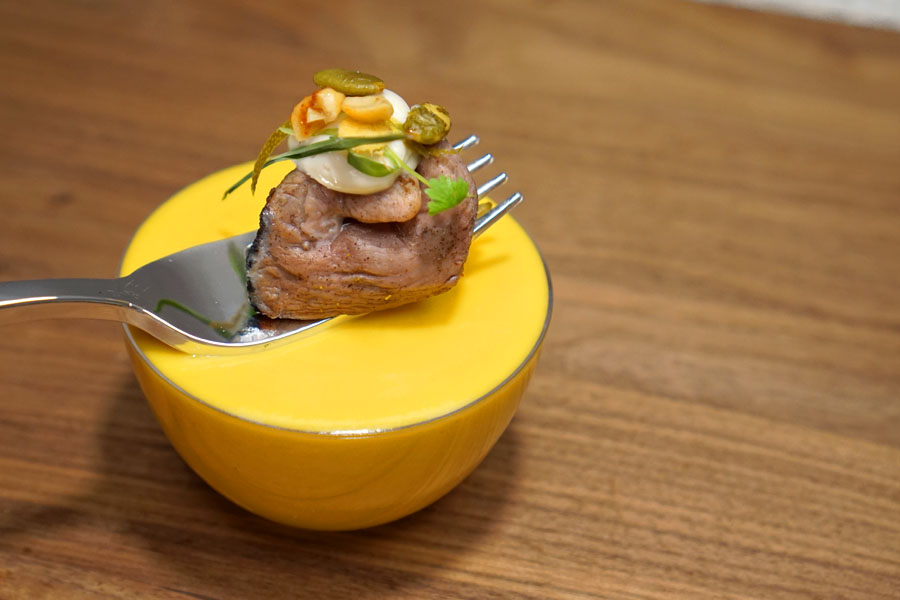 3: Duck
| Pumpkin, Banana, Thai Aromatics
This next course ended up being my favorite of the bunch. The hero here was the duck of course, which was topped with banana pudding, scallion, chilies, pumpkin seeds, lime zest, peanuts, ginger, lemongrass leaf, and micro cilantro. What I loved was how different layers of flavor emerged from the meat the more I chewed, with the bite's finish demonstrating a wonderfully lingering, complex seasoning that really sang with the nuts. Now as for the accompanying squash soup with banana froth, it was meant as a chaser of sorts, and imparted a bevy of sweet fall flavors that perfectly linked up with and moderated the duck's spicing.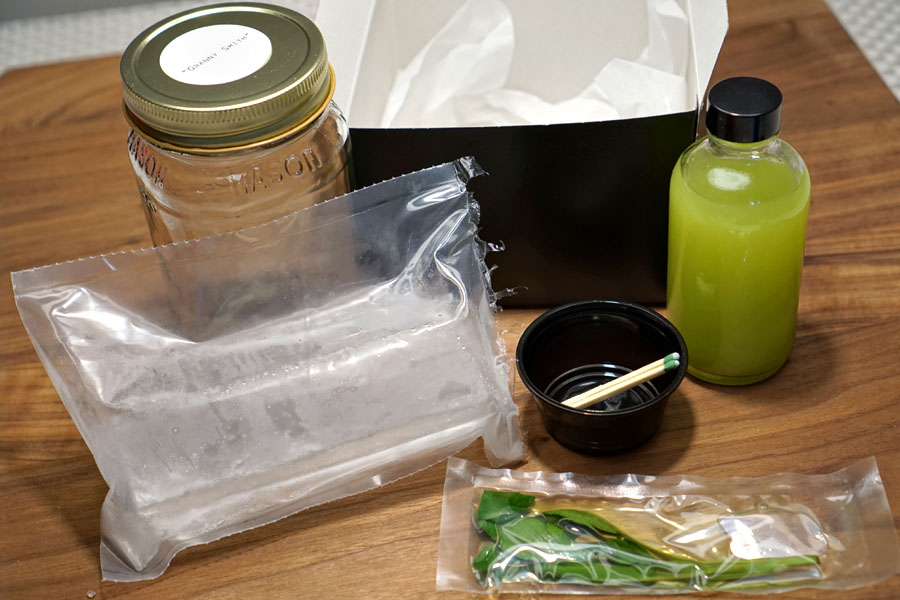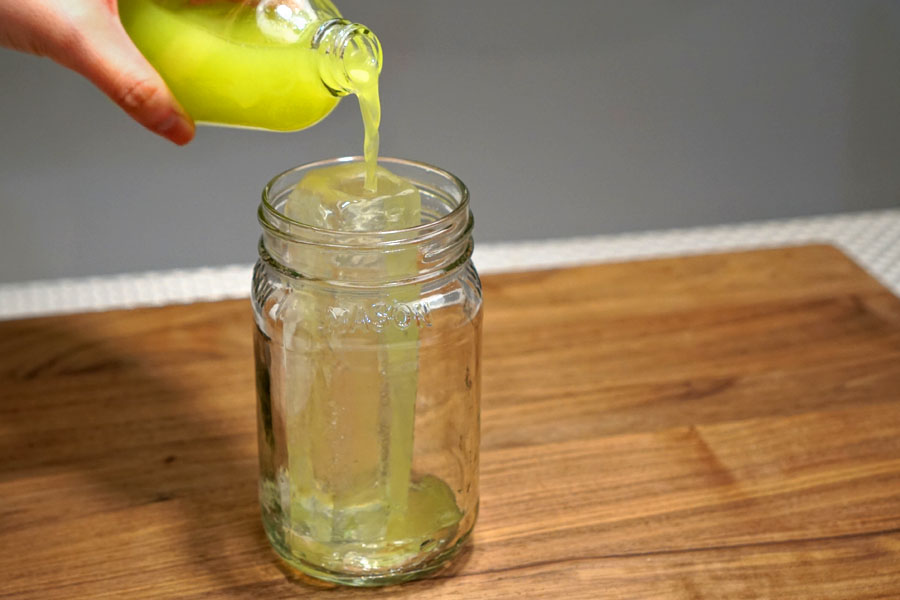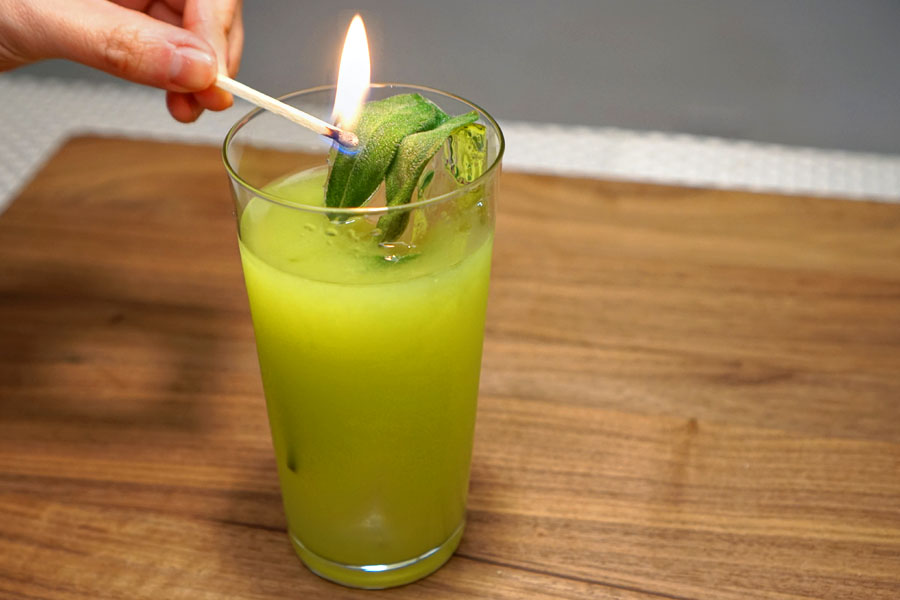 Granny Smith [$22.00]
| Blanco Tequila, Mezcal, Granny Smith Apple Juice, Lemon, Sage
The ability to light this cocktail on fire instantly piqued my interest, but unfortunately my particular example simply wouldn't ignite, despite repeated attempts to torch the Chartreuse-soaked sage sprig. That being said, it was still pretty damn delicious. I found the drink smoky, woodsy, and vegetal at first blush, though this quickly led to flavors of bright, juicy, tart green apple, laced with sour hits of citrus.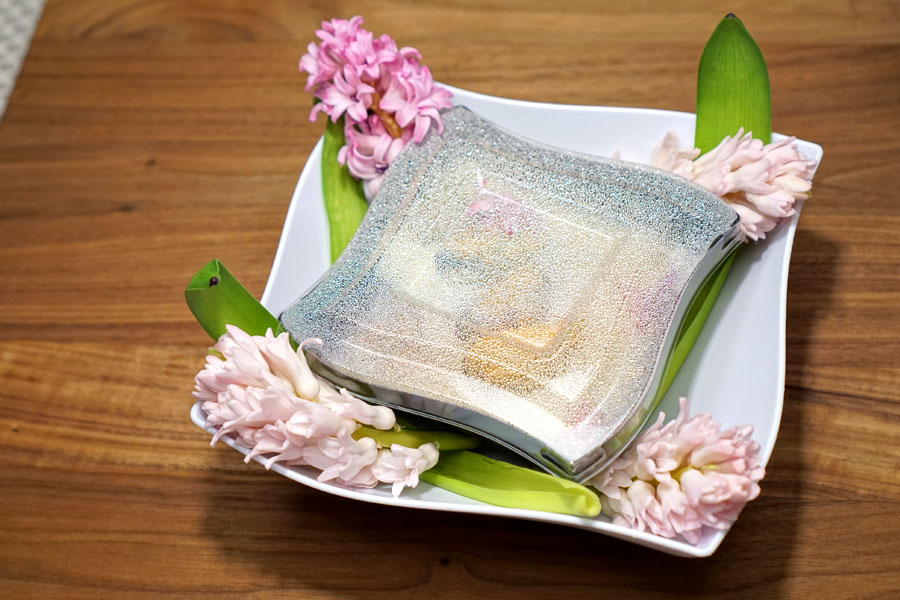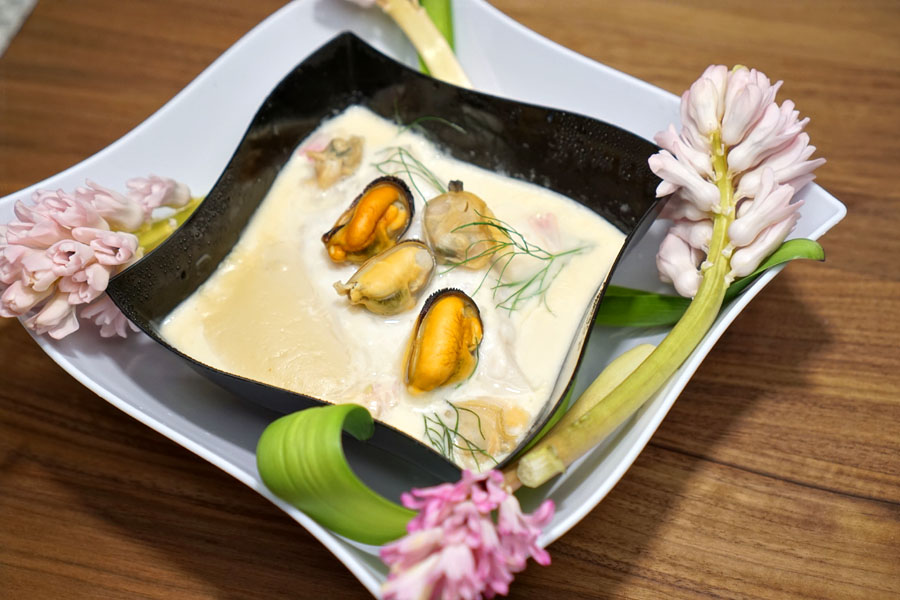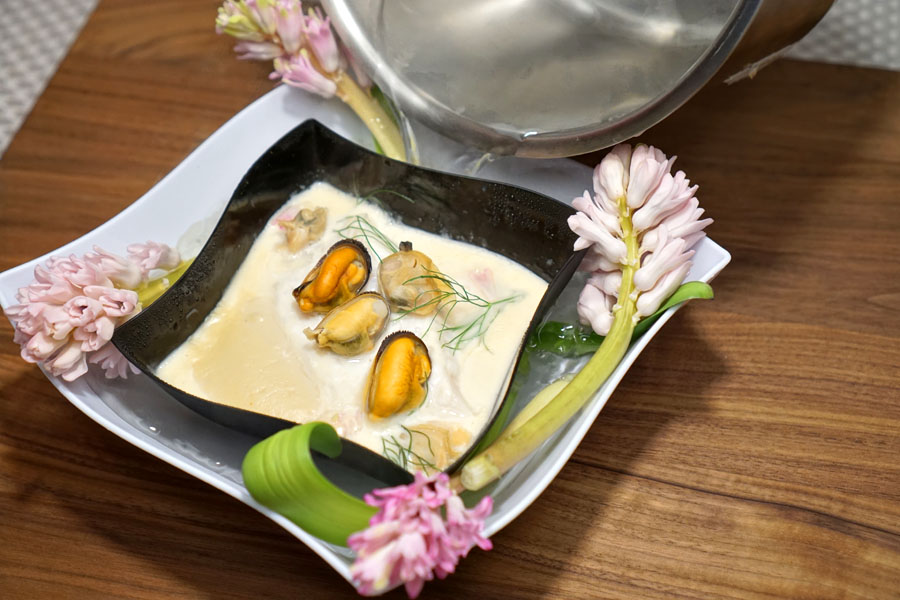 4: Halibut
| Shellfish Custard, Hyacinth Vapor
Alinea was one of the pioneers of introducing various aromas at the dining table, and the hyacinth provided a floral, vegetal, almost bracing bouquet that both set a seasonal tone and helped counteract the richness of the dish. The actual halibut filet had a dense, semi-firm, semi-flaky consistency, along with clean, saline flavors that were boosted by the presence of mussels, clams, and a buttery shellfish custard. You thus had this multifaceted brine of sorts, tempered a bit by the sunchoke purée and zesty fennel, while diced water chestnuts offered up a crucial textural contrast and lightness.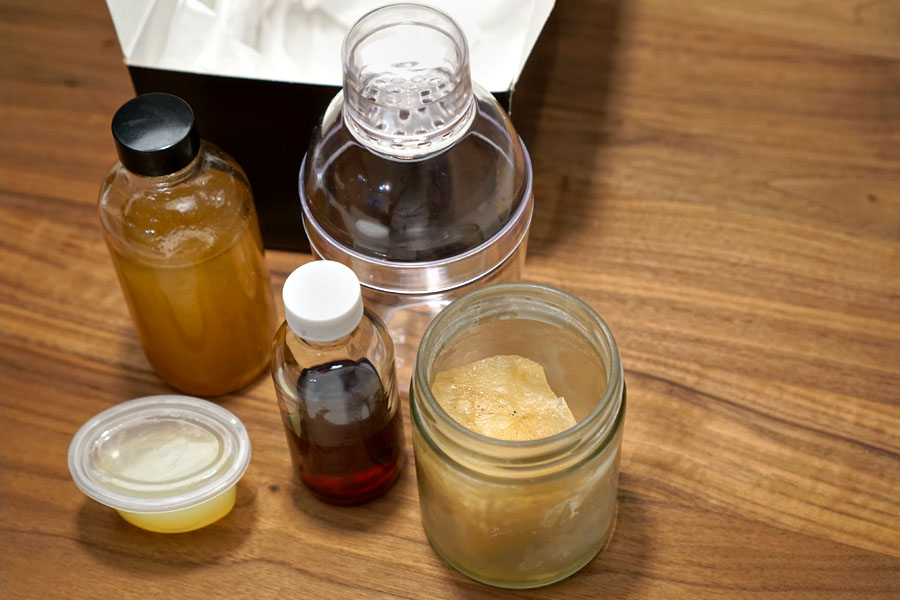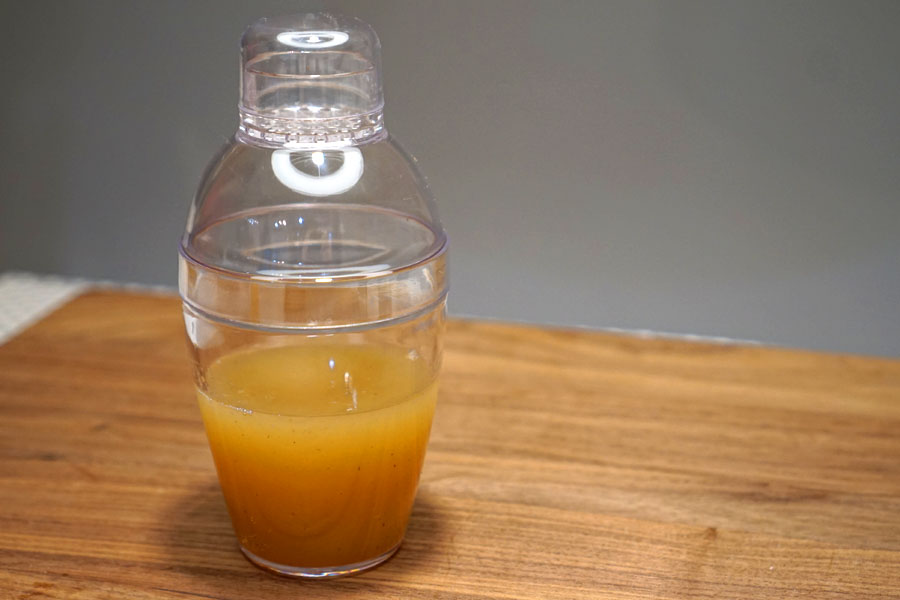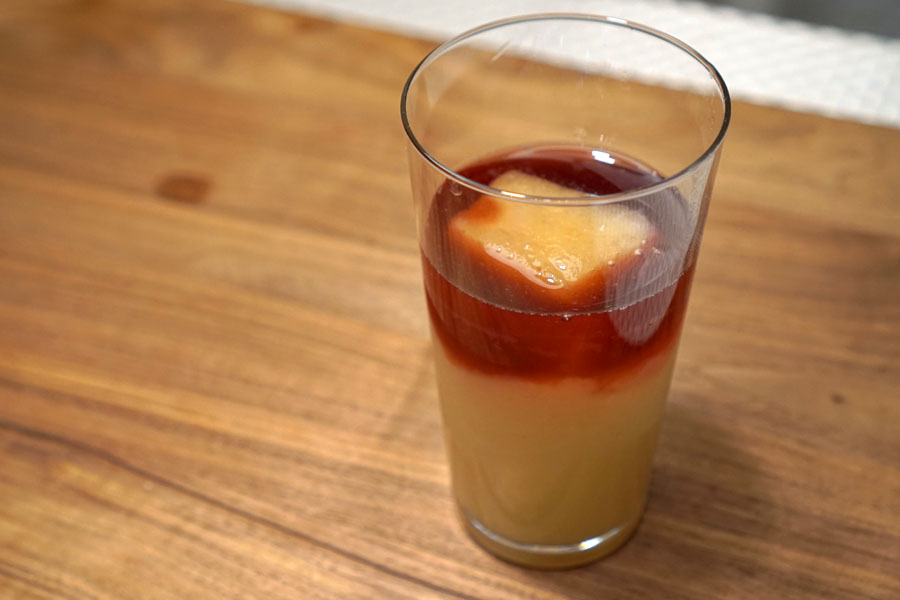 Meet Me in Tennessee [$22.00]
| Rye Whiskey, Pear, Tonka, Fall Spice, Pinot Noir, Lemon, Egg White
This was another interactive cocktail, one that required some DIY shaking in the provided shaker. Unfortunately, despite some vigorous agitation, the desired foam failed to materialize. Nevertheless, the drink was still quite tasty, and thick. It had a fruity, vinous character, and also conveyed a plethora of autumnal, apple pie-like spices, commingled with piquant, astringent notes and an overarching layer of fragrant, vanilla-like tonka.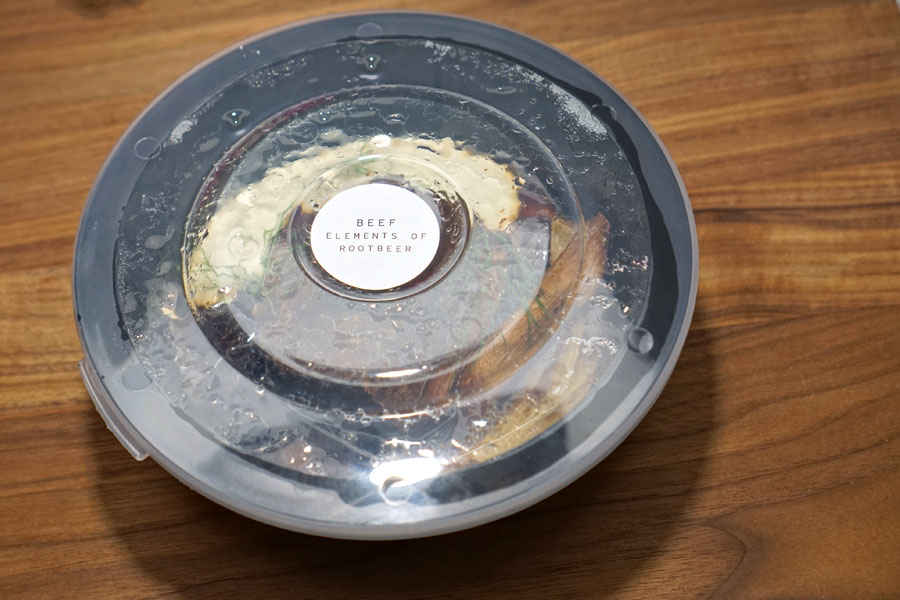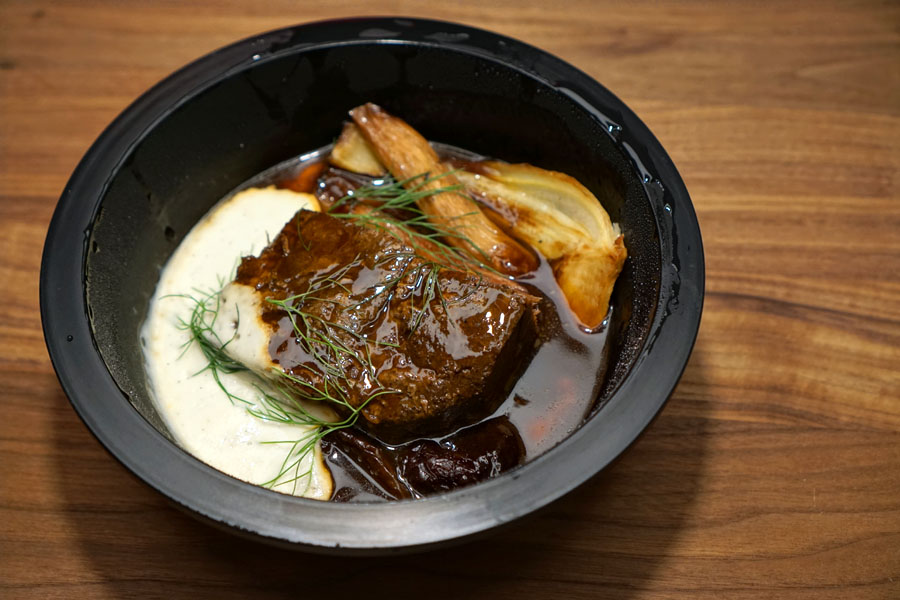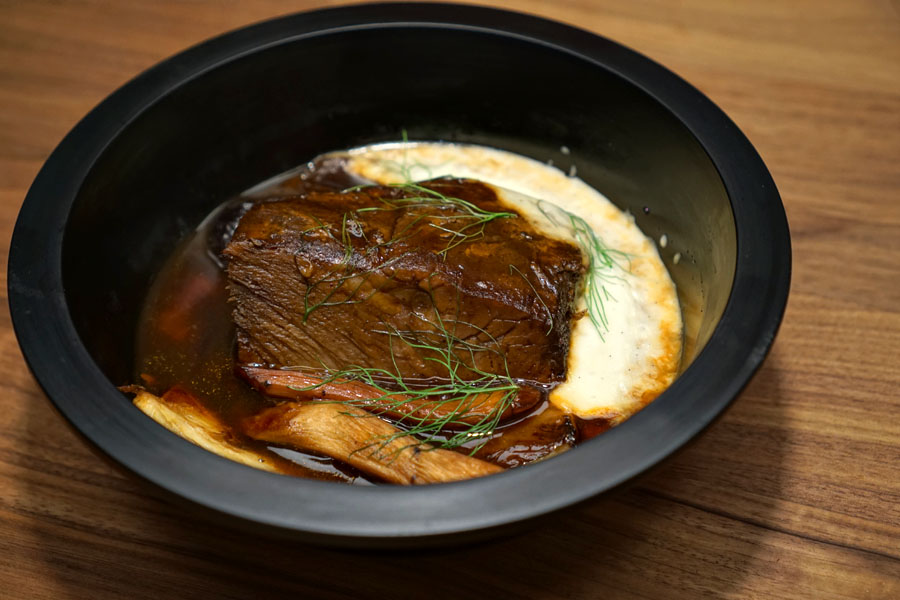 5: Beef
| Elements of Root Beer
Next came easily the most substantial item of the night. A surprisingly large portion of beef showed off a fork-tender consistency, while flavors were rich, robust, and long-cooked. An accompanying vanilla-potato foam provided a softly sweet quality, while the salsify gave things a bit more oomph. The best component here was probably the fennel, which offered up an aromatic, herbaceous, minty quality that helped lift the dish. I will say, though, that the course didn't really channel the flavors of root beer all that much.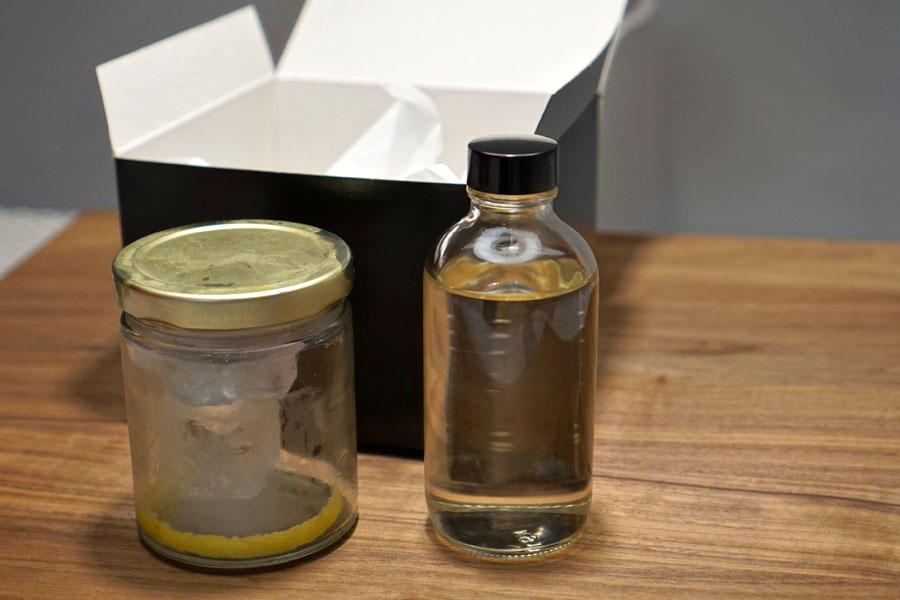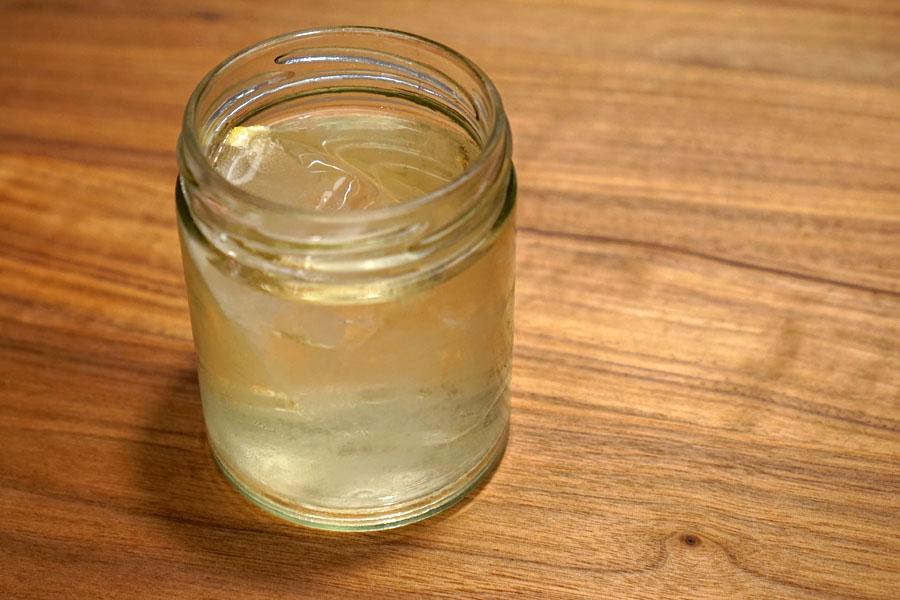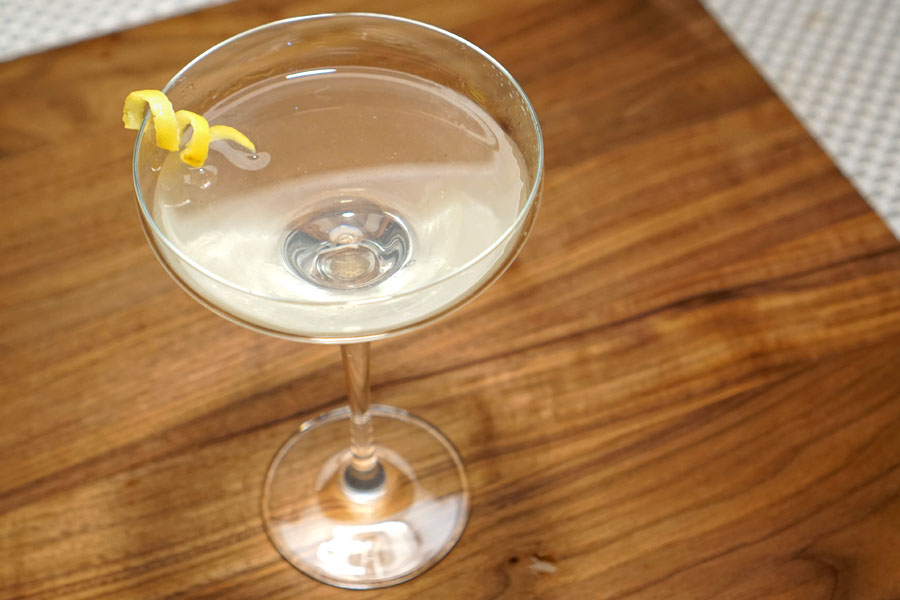 Vesper [$20.00]
| Gin, Vodka, Lillet Blanc, Lemon
A nod to The Office (Aviary's classic-leaning bar-within-a-bar), my final cocktail was certainly the stiffest of the four, and was famously immortalized by Ian Fleming in his novel
Casino Royale
(which marked the first appearance of James Bond). The drink showed off an intense nose brimming with lemon and a bevy of boozy, acerbic notes. In terms of taste, I found it thought-provoking, complex, with distinctly savory, spicy attributes punctuated by woodsy, herbaceous subtleties.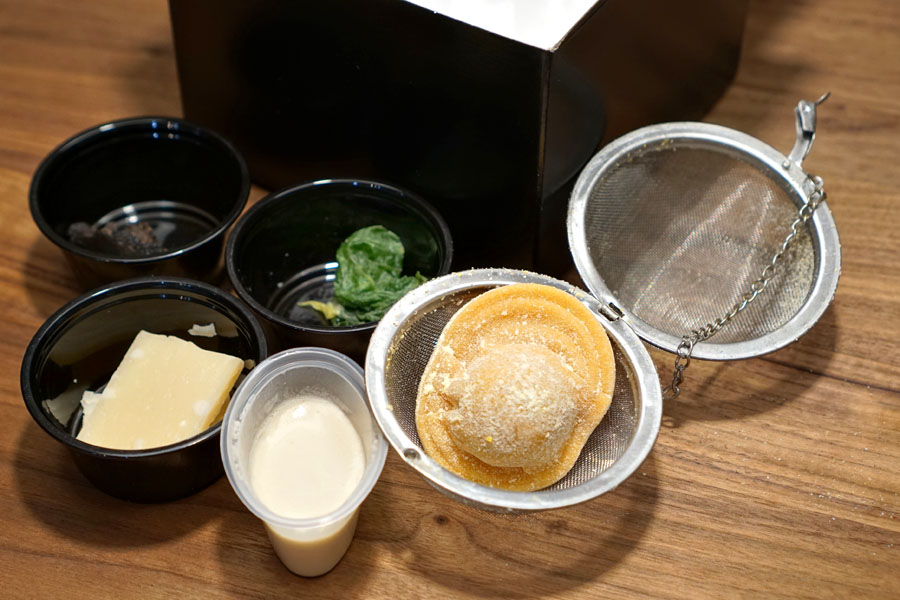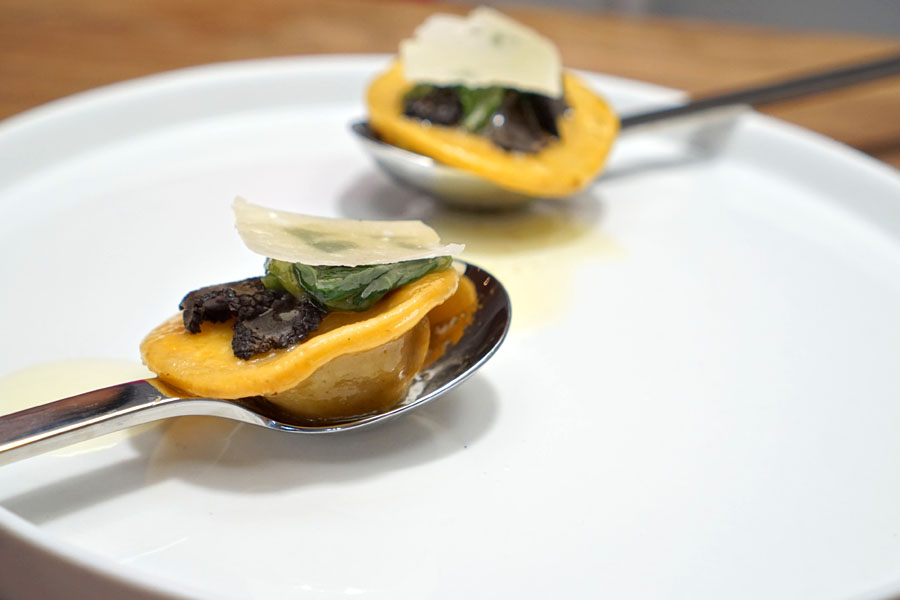 Supplement: Black Truffle Explosion [$15.00]
Our first of two supplemental courses was perhaps Alinea's most well-known dish, and it was a fun one for sure. As the name would imply, I did indeed witness an explosion of rich, heady, buttery black truffle upon mastication. This matched perfectly with the bitterness of the wilted romaine lettuce, while the salty weight of the parmesan cheese made itself known on the back end. My one complaint was that the pasta skins were too much on the thick, chewy side.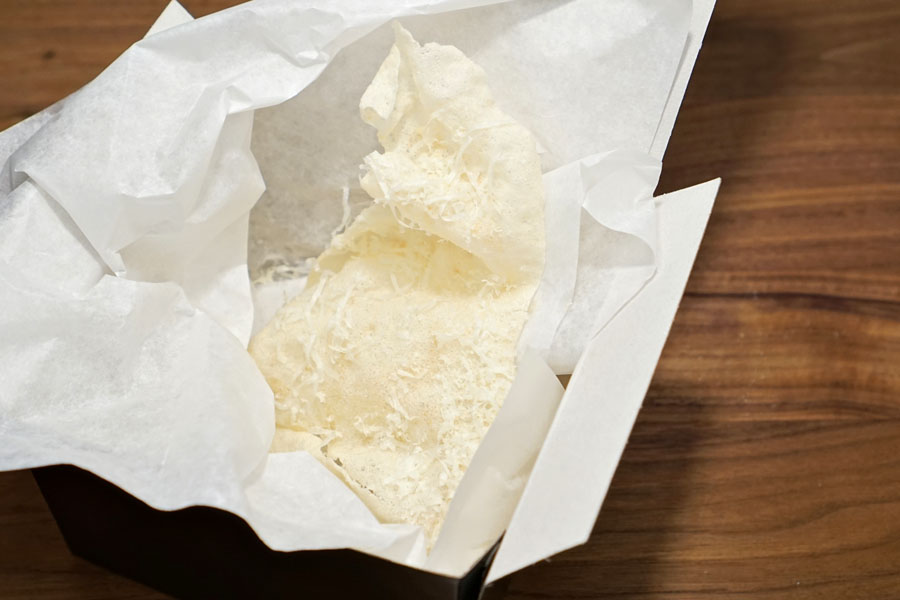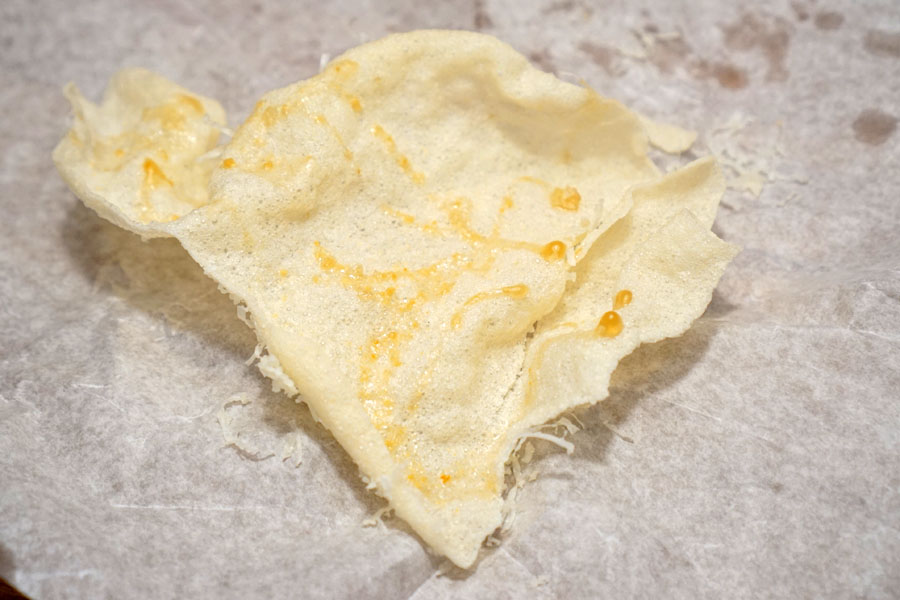 6: Idiazabal
| Maple, Smoked Salt
This untraditional cheese course featured an airy, elegant Idiazabal cracker, dusted with grated cheese, and paired with sugary drizzles of maple syrup that made much more sense than I thought they would. Note that the intensity of the cheese was definitely taken up a notch when the cracker was heated for a bit.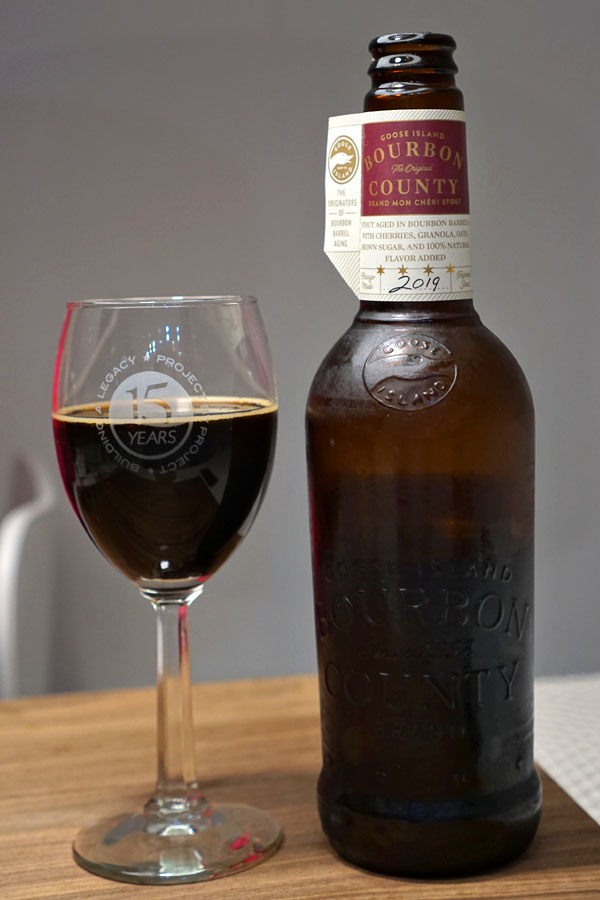 With the cocktails dispensed with, I moved on to a beer, and wanted to drink something produced in Alinea's hometown of Chicago. I thus went with the
2019 Goose Island Bourbon County Brand Mon Chéri Stout
, which was aged in bourbon barrels with Balaton and Montmorency cherries, granola, oats, and brown sugar. The nose here was pretty inviting, and recalled a cherry pie with a particularly apparent crust. Taste-wise, I got lots more cherry and granola flavors, along with oaky notes, some chocolate-y bitterness, and just a bit of a vegetal aspect.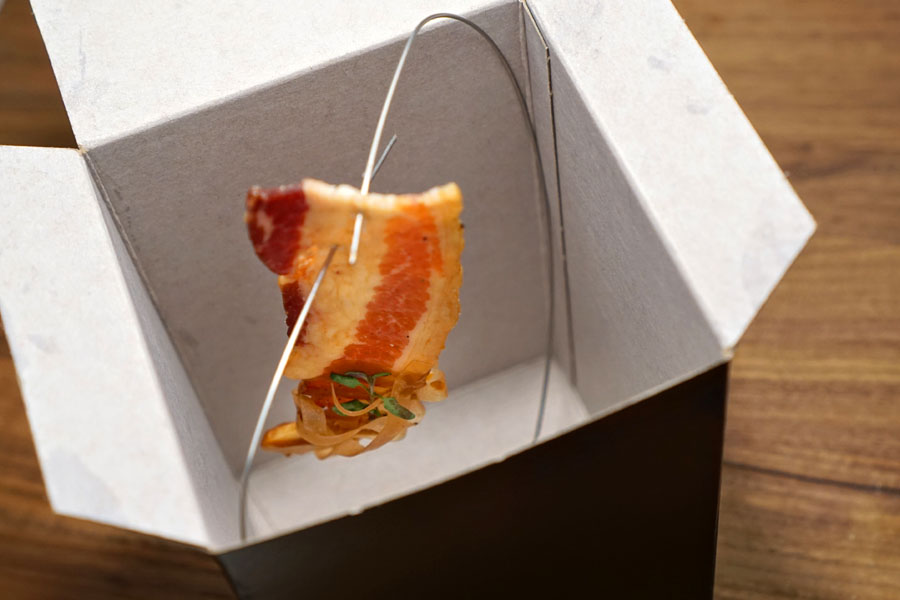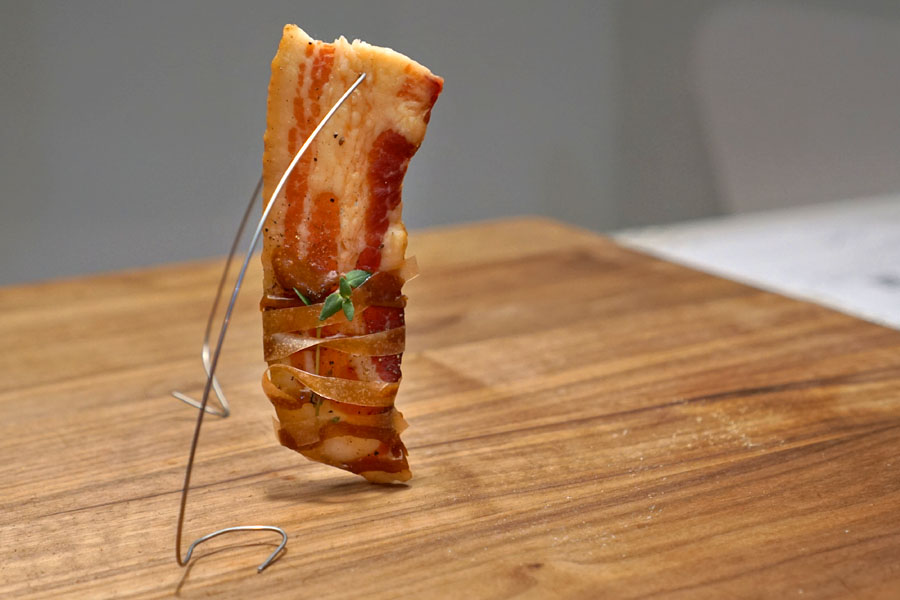 7: Bacon
| Butterscotch, Apple, Thyme
This bacon on a string dish was no doubt one of the more controversial things to come out of the Alinea kitchen. Infamy aside, it made for an amusing, non-traditional take on dessert, one that paired the unmistakably strong, salty, smoky facets of the meat with whimsically sugary elements of butterscotch ribbons and apple leather strips.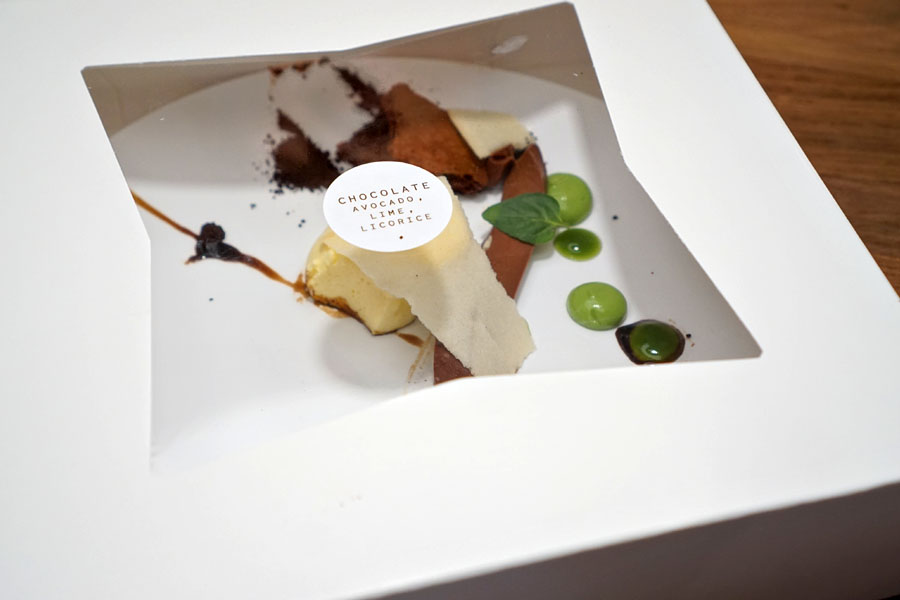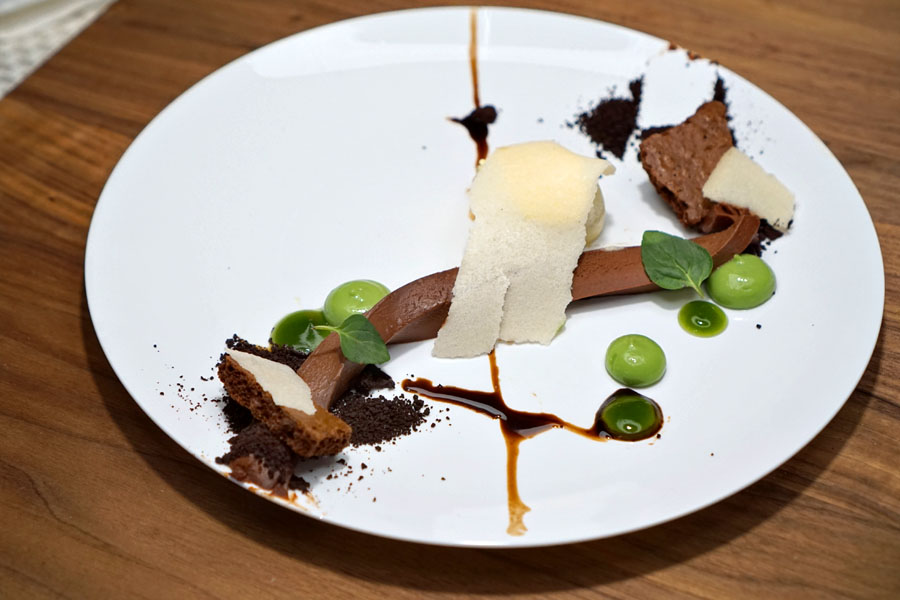 8: Chocolate
| Avocado, Lime, Licorice
Next came the more "proper" dessert, which arrived rather artfully plated. What surprised me the most here was how well the chocolate ganache and avocado purée played together, representing two different versions of lusciousness. Also crucial was the sheer citrusiness of the dehydrated lime curd/tuile/mousse, while the dehydrated chocolate mousse and cocoa crumbs provided some great textural interest. On the flip side, the mint pudding/leaves and licorice syrup weren't quite as noticeable.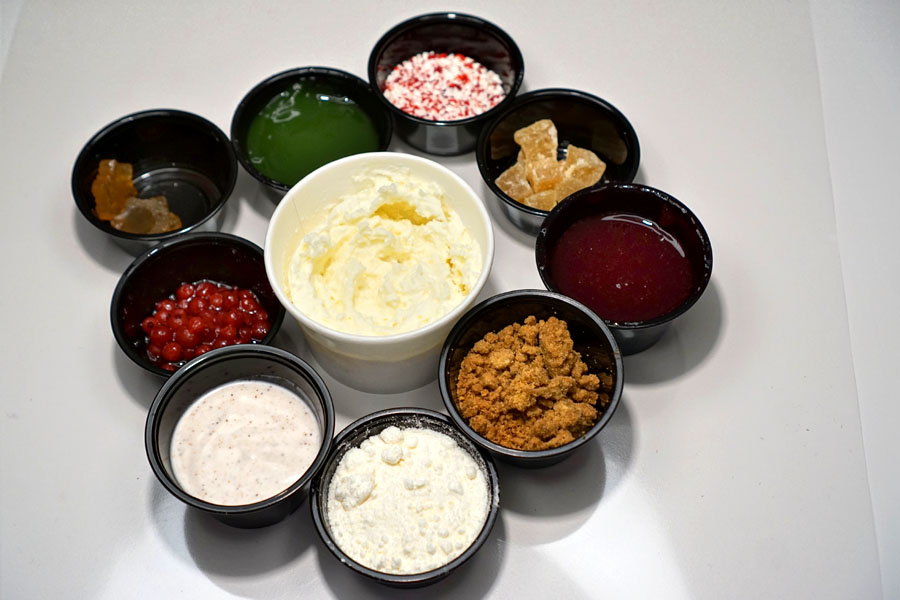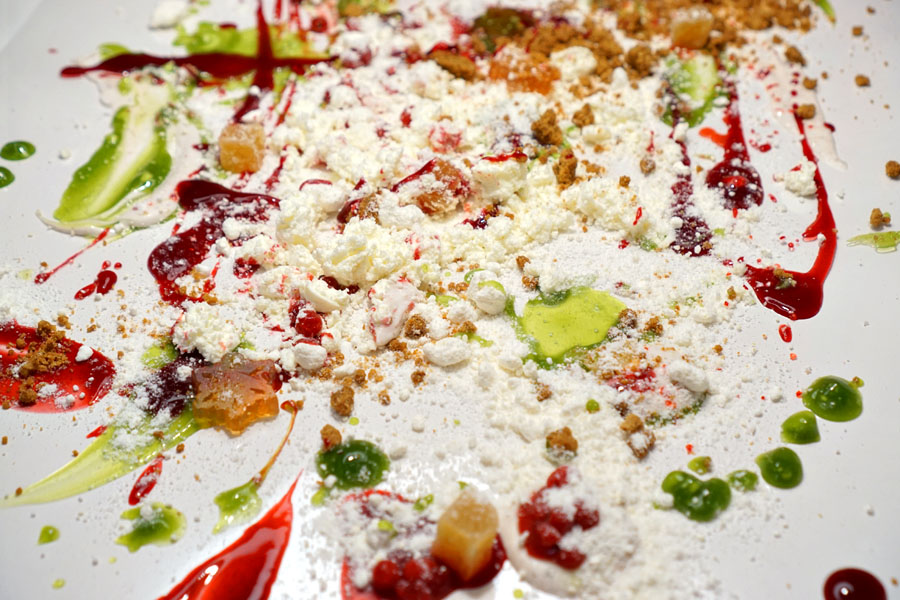 Supplement: Dessert on Your Table [$35.00]
| Gingerbread, Peppermint, White Chocolate
The evening's final course was Alinea's notorious "table dessert," which arrived with a large sheet of acetate and no fewer than ten components to channel Jackson Pollock with. The end result of this artistic endeavor was an array of colors, tastes, and textures that was both frenetic and somehow cohesive, and also very apropos for the holiday season (especially with the gingerbread-mint combo).
Throughout this coronavirus pandemic, Vespertine has continued to offer the most ambitious to-go meals in the Los Angeles area, and this was perhaps the culmination of those efforts. Given the inherent limitations present, the food was a pretty respectable approximation of the cooking that goes on at Alinea, and in fact, some of the dishes elicited the same sense of wonder and whimsy and novelty that I experienced at the original restaurant. This one might be hard for Kahn and company to top, but I do look forward to seeing what they have up their sleeves next.