Burgers 99 (Los Angeles, CA)
Burgers 99
131 S La Brea Ave, Los Angeles, CA 90036
323.297.3380
www.burgers99.com
Mon 12/28/2020, 08:00p-09:15p

You might recall that I reported on
The Golden State
recently. Well after that meal, I was reminded that I had another hamburger joint in the area that I needed to visit. Situated in the former home of Japanese macrobiotic eatery Inaka (next door to the now-shuttered
Odys + Penelope
), Burgers 99 opened at the start of March, right before the coronavirus lockdown, and comes to use from brothers Arjun Mahendro and Nakul Mahendro. They're the guys behind hipster Indian spot
Badmaash
, which originally opened in Downtown in May 2013 before expanding to Fairfax Avenue five years later.
Joining the Mahendros in the Burgers 99 partnership are Brick Stowell and Chef Geovanny "Geo" Delgado. Interestingly, the siblings poached Delgado from Arts District cocktail bar
Here and Now
after trying his burger there. Before that, he cooked at
E.R.B.
, Pistola, Gusto, Petit Ermitage, and Minx in Glendale. Coincidentally, I actual met him at a Thomas Keller
book signing
back in 2009, where was next to me in line--small world!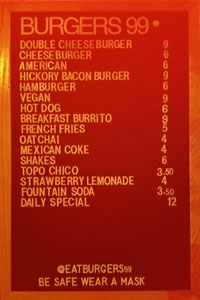 Pictured above is the Burgers 99 menu, which is certainly on the straightforward side. Click for a larger version.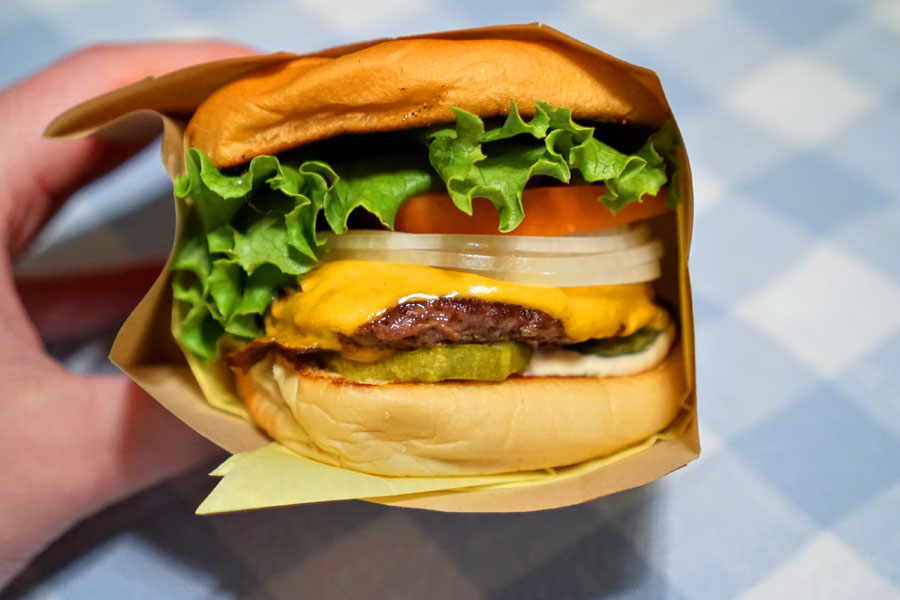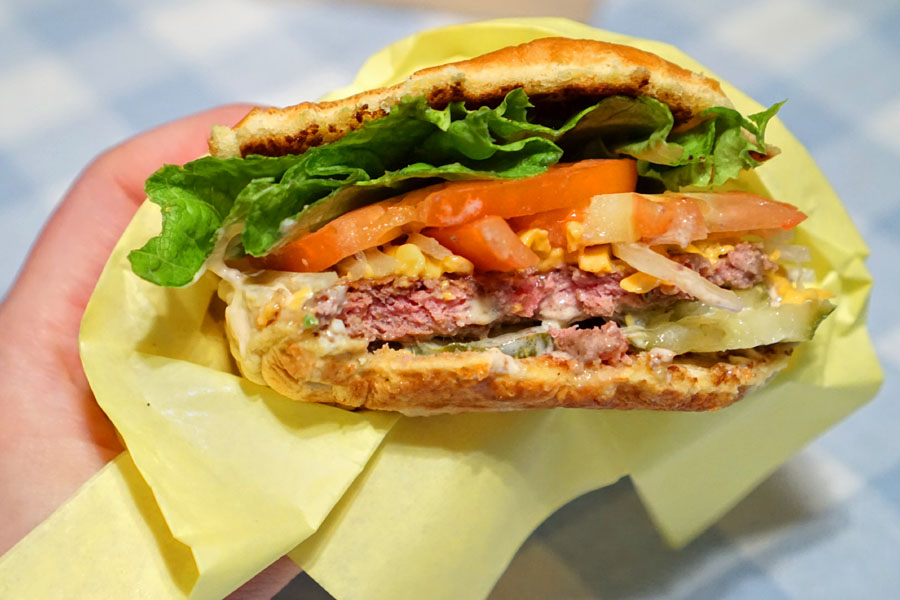 Cheeseburger [$6.00]
We begin with the most basic item on the menu, inspired by the hamburgers served by the SoCal institution that is In-N-Out. I could definitely taste the reference, and it was a delicious one. I'd say that the burger here was more aggressively beefy, though the biggest difference actually lay in the housemade spread, which was on restrained side with its subdued, herby heat (it incorporates Fresno chilies, coriander, cumin, and dill). The pickles played a major role as well, as did the onions to a lesser extent. It was hard for me not to enjoy this.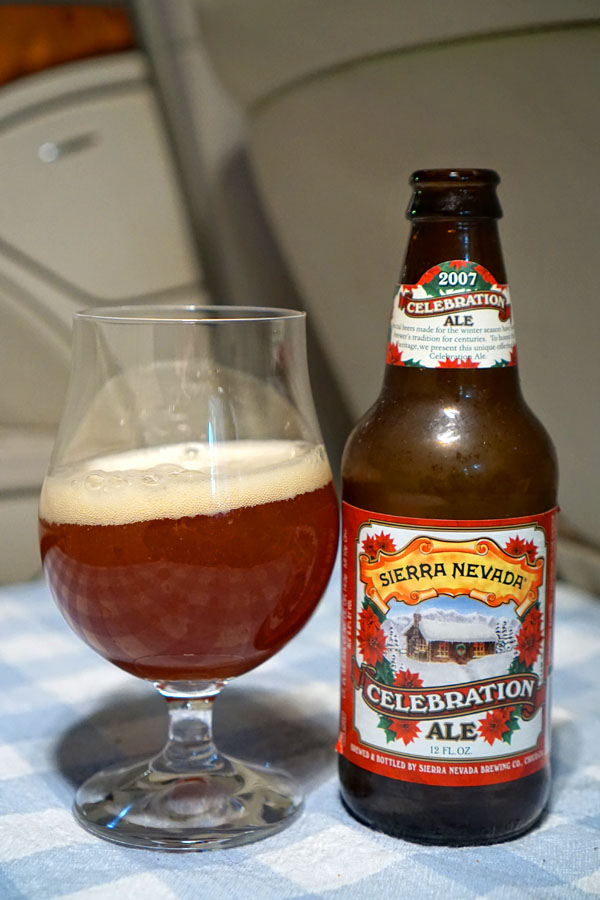 Given that we were well into winter, it made sense to bust out a vintage seasonal bottling, the
2007 Sierra Nevada Celebration Ale
. The beer smelled appealing with its stone fruit-like juiciness, touches of baking spice, and palpable funk hiding in the background. The taste featured a base of malty sweetness, combined with a distinct bitterness, some dark plum notes, subtle spice, and a metallic, cinnamon-y twang on the finish. This one held up better than expected over the past 13 years.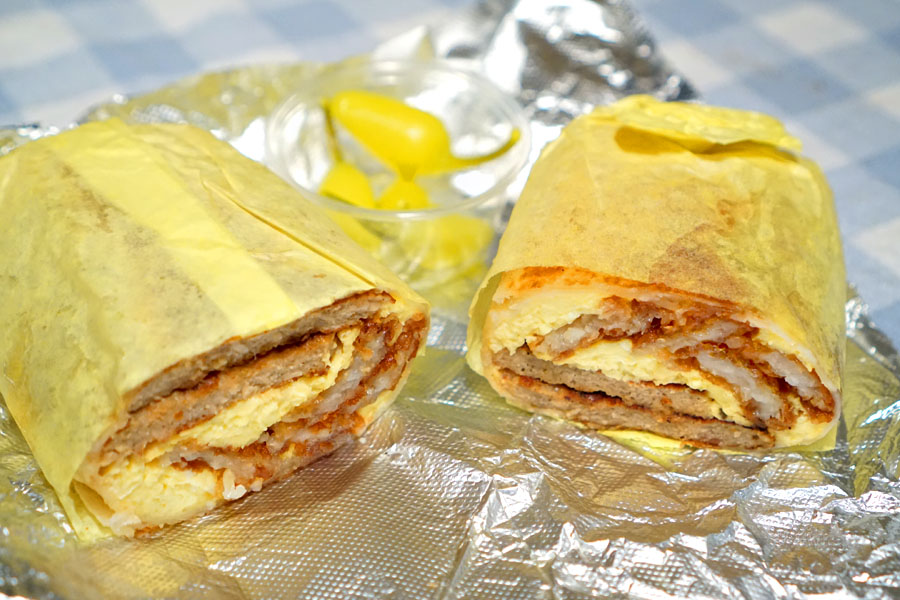 Breakfast Burrito [$9.00]
| your choice of protein in a flour tortilla with soft scrambled eggs, extra crispy hashbrowns & American cheese
I have a bit of a proclivity for breakfast burritos, so this was a must-try for me. What struck me first was the sheer fluffiness of the eggs, and how that meshed with the salty, savory qualities of the turkey sausage. The hash browns were much appreciated too, as was the burrito's griddled crisp tortilla. I will say, though, that I would've really liked some salsa to help bring it all together.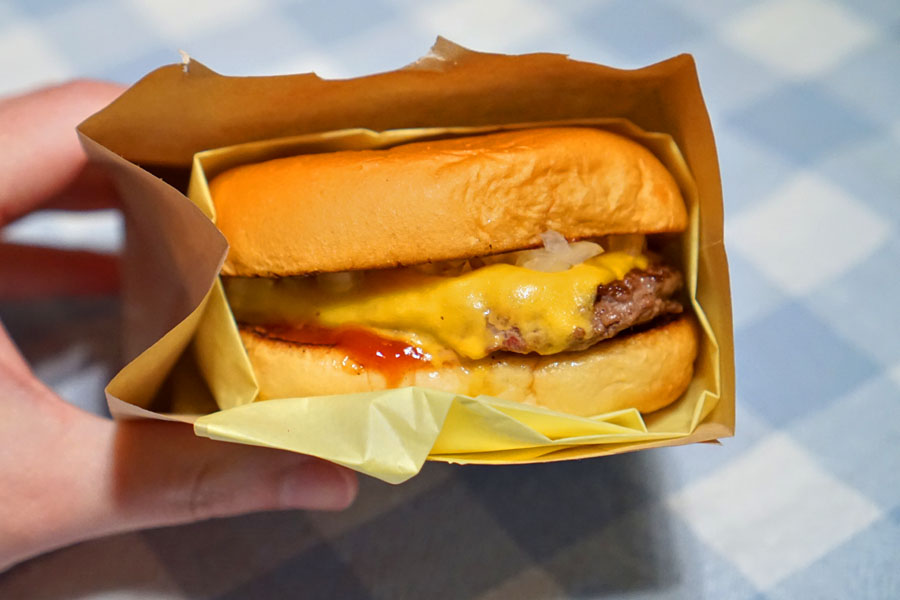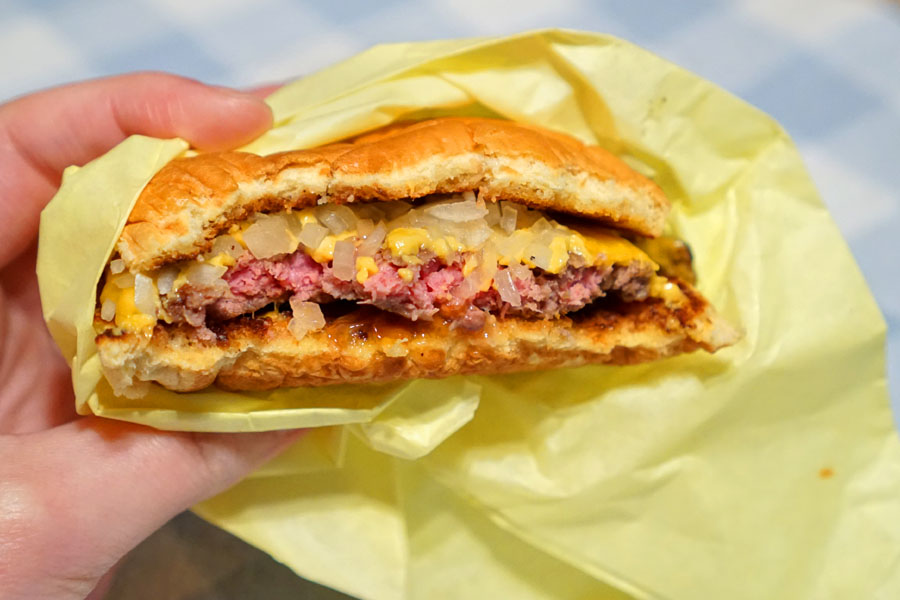 American [$6.00]
Next came a burger inspired by McDonald's' iconic Quarter Pounder. It was a pretty close approximation, its classic, cozy combo of meat and cheese complemented by the sheer zestiness of chopped onion, all while the tanginess of the pickles came in toward the rear. Also of note was the bun, which I found particularly pillowy.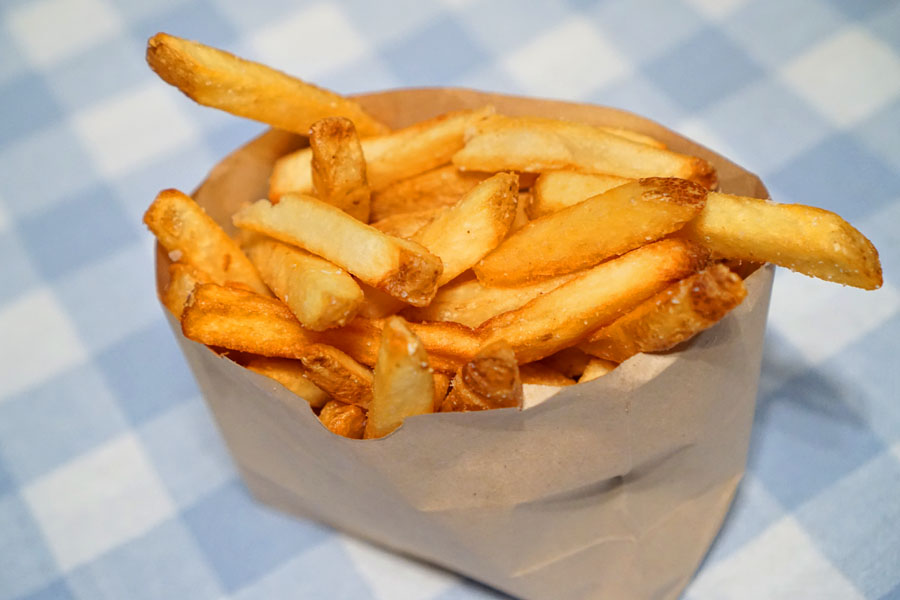 French Fries [$5.00]
Coming out on the thicker side, the fries were just crispy enough, and showed off some delightful pricks of salt.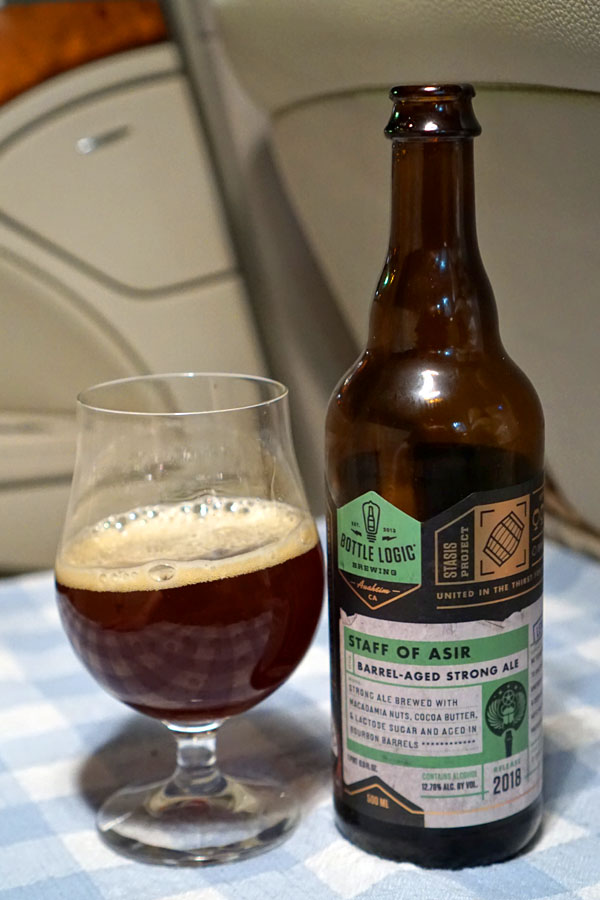 My second bottle was the
2018 Bottle Logic Staff of Asir
, a bourbon barrel-aged strong ale with macadamia nut flour, cocoa butter, and lactose, created in collaboration with Horus Aged Ales. I got an inviting, super sugary nose filled with notes of sweet nutmeats and brown sugar. Taste-wise, think more sticky, toffee-like flavors commingled with macadamia and vanilla. The beer was inspired by a white chocolate-macadamia cookie, and it was pretty damn spot on.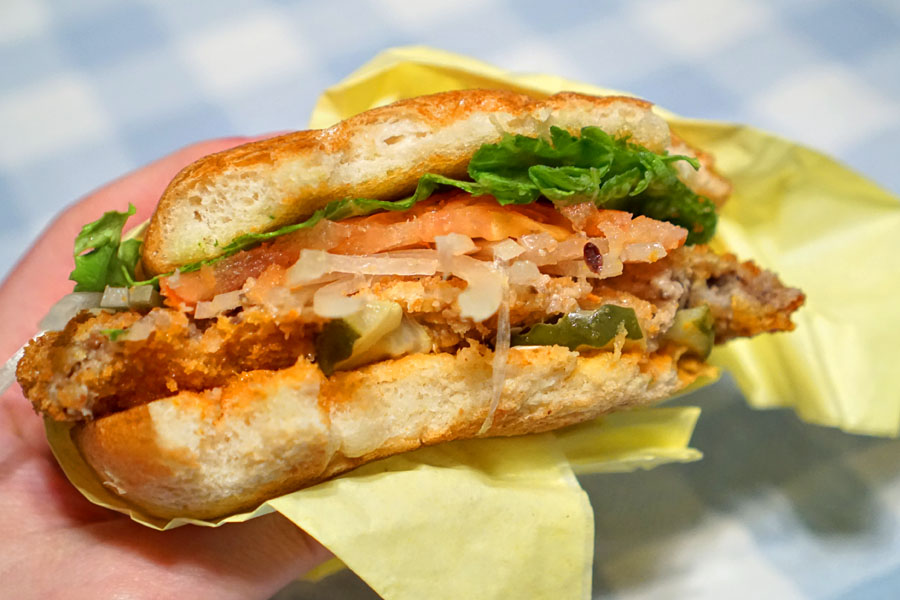 Homemade Vegan Burger [$9.00]
| Vegan patty made of whole & natural ingredients (potato, mushroom, garbanzo beans, black lentil, carrots, cauliflower & parsnip) with lettuce, tomato, pickles, onion, ketchup & mustard, on a vegan-bread bun
I was curious about the restaurant's lone vegan option, and it wasn't bad at all. The patty ate crispy and flavorful and nutty, and was somewhat reminiscent of falafel. The veggies worked well as counterpoints, especially the onion, though I would've liked a spread of some sort to help coalesce all the various elements.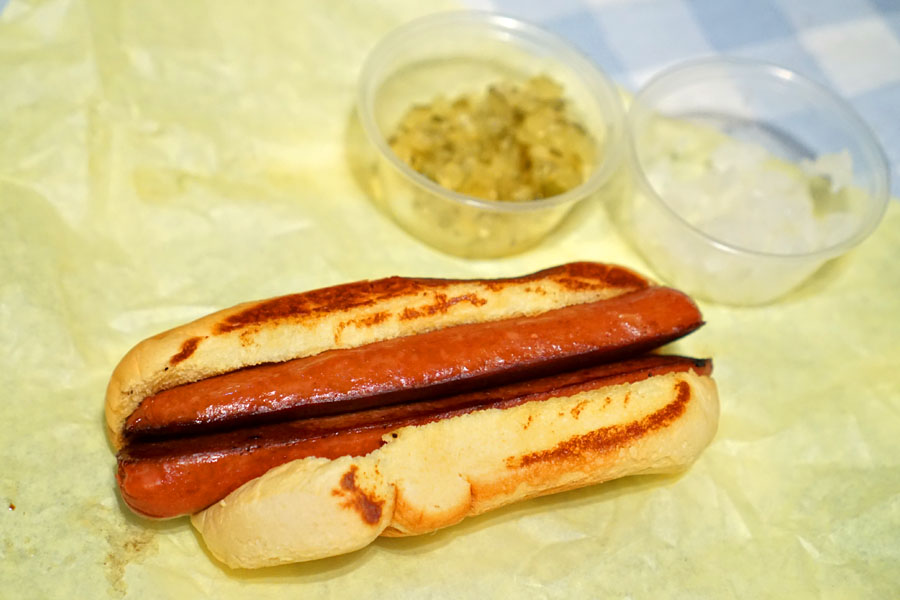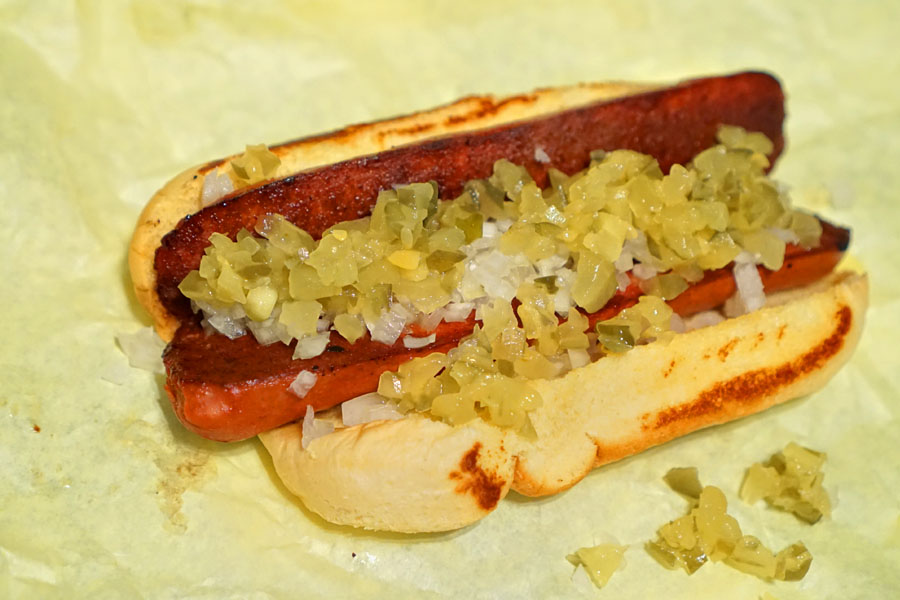 All Beef Hotdog [$6.00]
| 100% All-Beef Kosher dog, mustard, ketchup, chopped onion, Martin's hot dog bun
I was pretty happy with the hot dog, specifically the sausage itself, which I found super flavorful and nicely griddled. Onion and relish offered up a zippiness that of course made sense, while the soft, sweet-ish bun completed the package.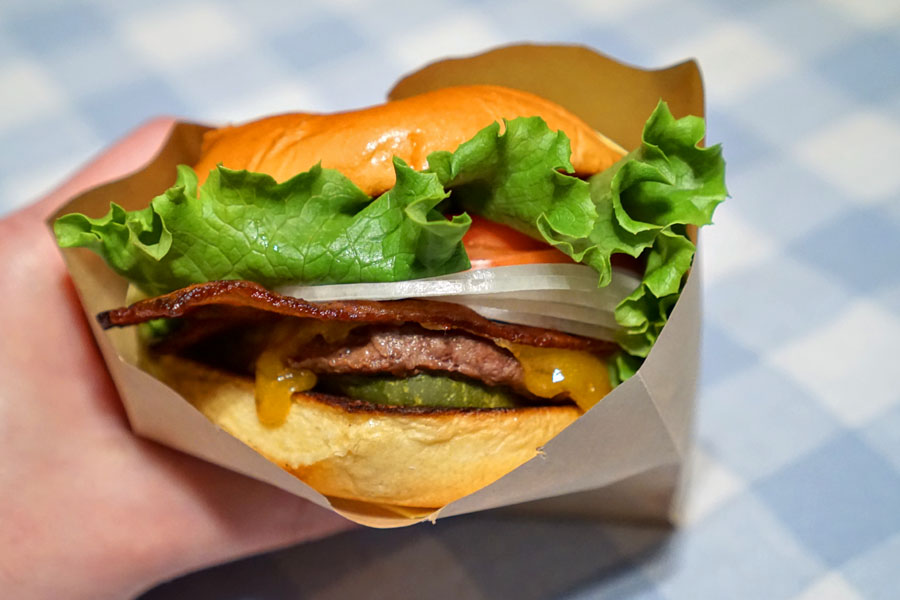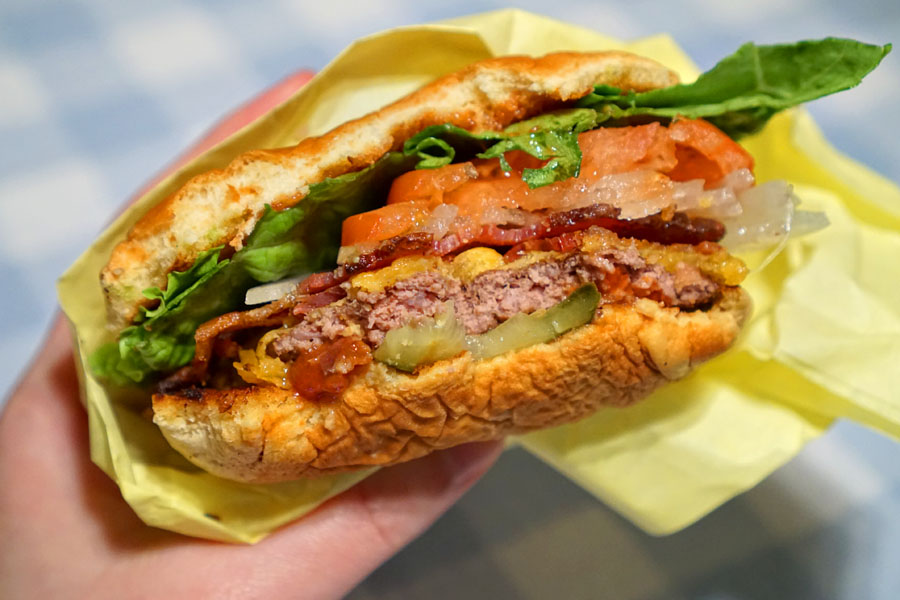 Hickory Bacon Burger [$9.00]
My final burger was a winner as well. I was impressed with the bacon, which combined, sweet, smoky, salty flavors with a perfect amount of crispiness. In fact, the bacon was clearly the hero for me, with the other ingredients effectively serving as supporting elements. Yum.
Burgers 99 made for another positive hamburger experience to end the year with. The food here is a bit of a throwback. It's got a familiar, comforting, old school sort of feel to it, and that works for me. Now this is clearly a replicable concept, so I wonder if the Mahendro brothers are planning on opening up other locations. It wouldn't surprise me.