Shiku (Los Angeles, CA)
Shiku at Grand Central Market
317 S Broadway, Los Angeles, CA 90013
213.265.7211
www.shikulosangeles.com
Fri 03/05/2021, 06:55p-08:15p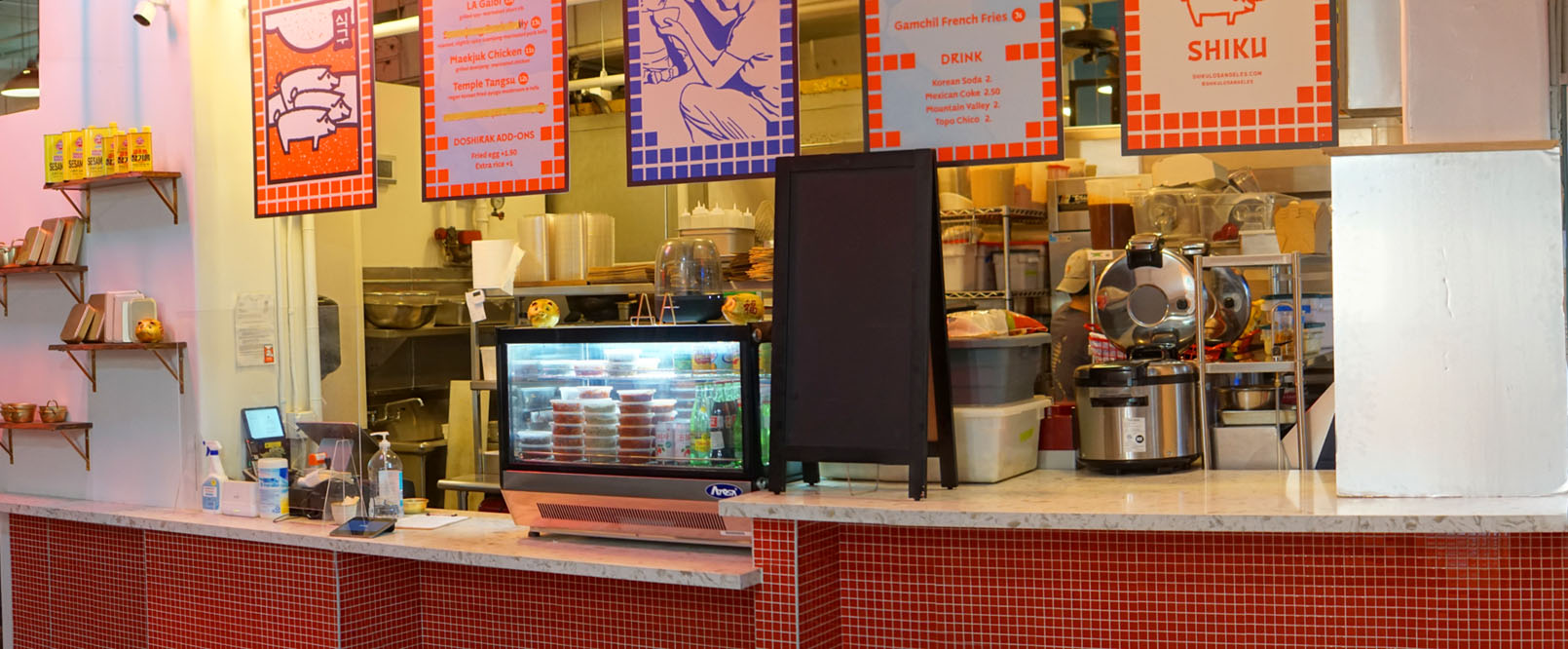 Baroo has got to be one of the most "LA" success stories of the past few years. Chef Kwang Uh and Matthew Kim opened the scrappy, experimental, fermentation-focused eatery in a nondescript Hollywood strip mall in late summer 2015, and despite all odds, the place ended up garnering nationwide attention and acclaim.
I was fortunate enough to have visited the place
shortly after it opened
, and left duly impressed. I wasn't the only one. Jonathan Gold followed up with
his report
soon after, while
LA Weekly
deemed it #3 on their list of "
The 10 Best New Restaurants in Los Angeles 2015
" (right behind
Cassia
and
Broken Spanish
). This was followed by a "Best New Restaurant" semifinalist nod from James Beard. In August 2016, not long after Uh and Kim closed the place for six weeks in order to travel to Asia for inspiration, Baroo took the #5 spot on
Bon Appetit
's "
America's Best New Restaurants 2016
" list, while their kimchi fried rice was awarded "
Dish of the Year
" honors by that same publication.
Yet, all the accolades may have put too much pressure on the Chef, because in December that year, he took a seven-month sabbatical, spending the bulk of his time at Baegyangsa, a Buddhist temple in South Jeolla province that he first visited during the aforementioned six-week break. There, he trained under
Jeong Kwan
, a nun and Buddhist cuisine expert who actually appeared on Netflix's
Chef's Table
. During this time, he also met one Mina Park, who would eventually become his partner, both in business and in life.
A Harvard and NYU grad, Park started her career in corporate law. This eventually led her to move to Hong Kong to work for Citi, and while there, she started
Sook
, a sort of supper club concept. Curiously, she actually dined at Baroo in early 2017 (Kim was still running the place), and ended up meeting Uh in Korea, which was quite a coincidence. The two fell in love, and decided that they wanted to get into the restaurant biz together. Park became a partner in Baroo in July 2018, and it was around this time when Kim left. However, the place ended up shuttering at the end of October 2018, as apparently it just wasn't sustainable despite its consistent business and low rents. Interestingly, Kim kept control of the Baroo space, and quickly flipped it to a relaxed rice bowl spot called BBQ + Rice.
Uh and Park got married in February 2019, and in March, opened up Baroo Canteen, a more casual rendition of the original restaurant located inside East Hollywood's Union Swapmeet (in the former Jose Chiquito stall). The Canteen, though, was always meant to be temporary, and thus shut down at the end of 2019 after a mere nine months. In early 2020, the couple was approached by the management of Grand Central Market, who were seeking some Korean representation at the food hall. Shiku, thus, was the response to that request. Named after a Korean word for "family" (식구), the stall takes over the old Valerie location at GCM, and grand-opened on January 15th this year. As for the food, think "homestyle" fare inspired by the
doshirak
lunchboxes of the owners' childhood.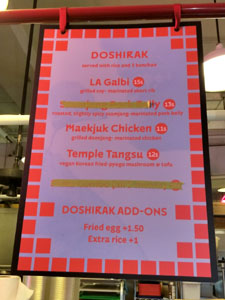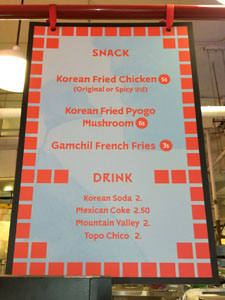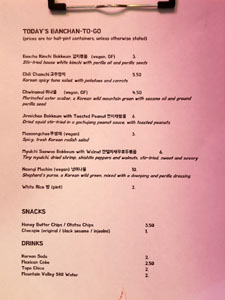 The menu is simple enough, listing the aforementioned
dosirak
selections as well as a handful of snacks and an ever-changing array of pre-packaged side dishes. Click for larger versions.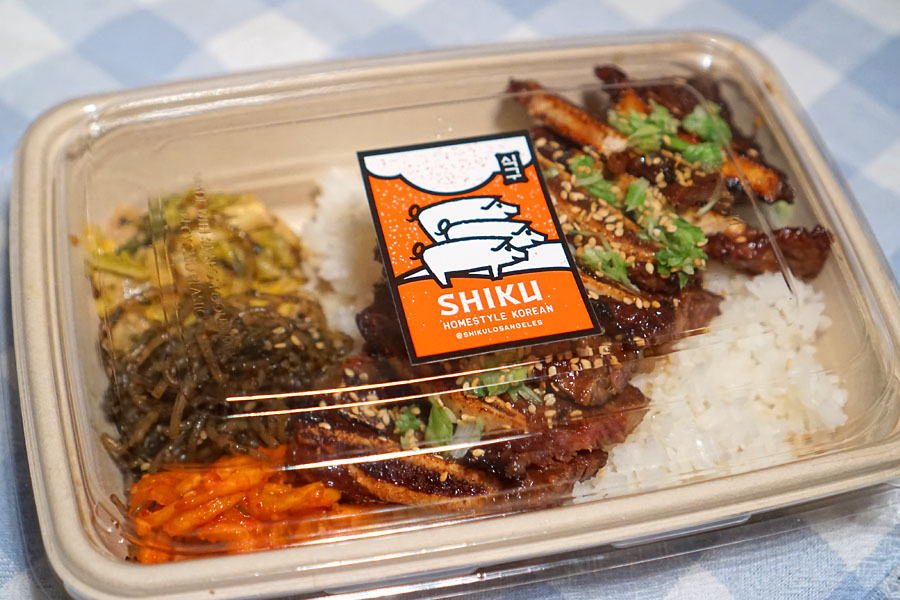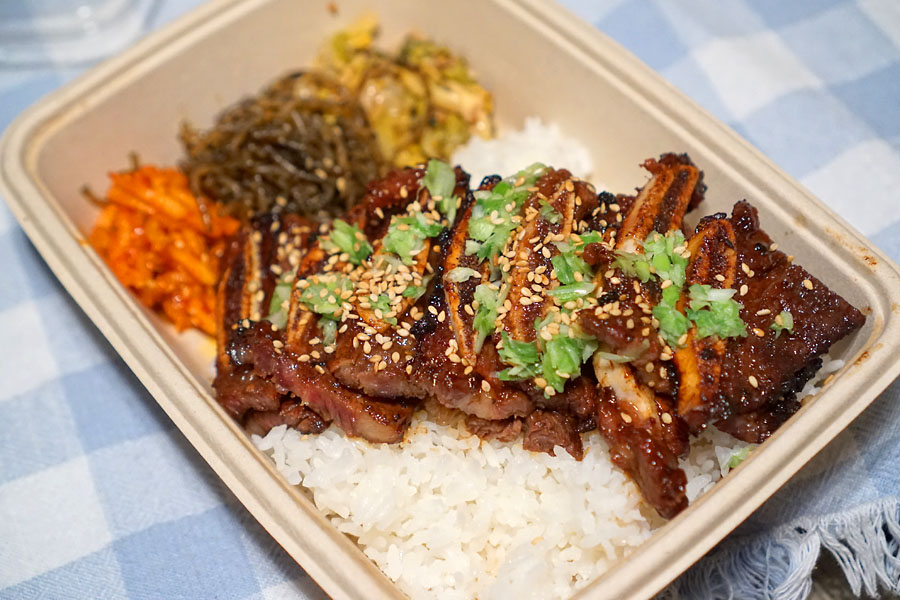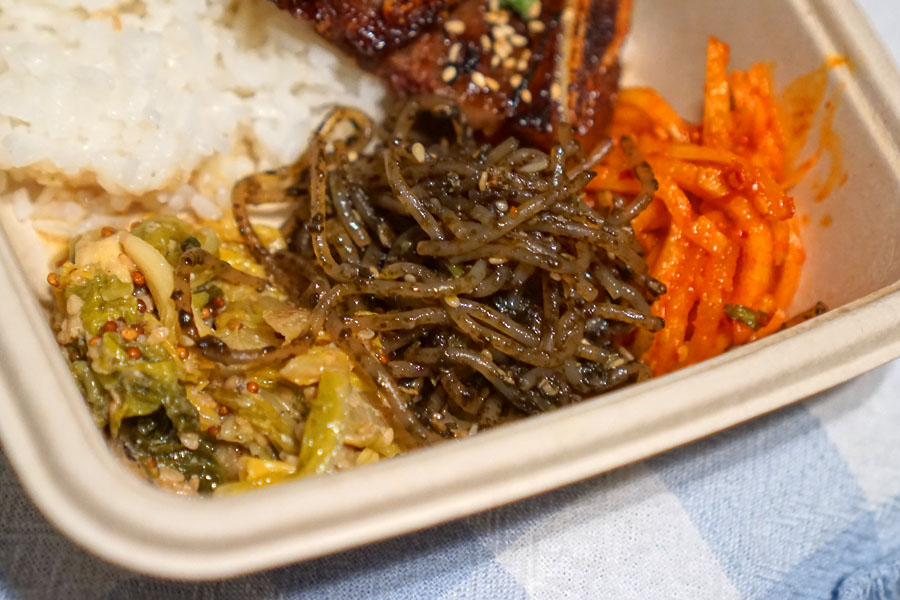 LA Galbi [$15.00]
| Grilled soy-marinated short rib. Served with white rice + 3 daily banchan.
I generally shy away from "LA" galbi, preferring the traditional
wang
variety instead. However, I was impressed with Uh's preparation here, which just might've been the best I've had. The meat ate super tender, but what I really enjoyed were those crispy charred bits, which imparted a smokiness that married seamlessly with the elegant, not-too-sweet flavors of the beef's marinade. I also appreciated the sprinkle of sesame seeds on top, and the rice was pretty much textbook. Now as for the three sides, my favorite the
baechu kimchi bokkeum
, which showed off a rich nuttiness thanks to its use of perilla oil. The
musaengchae
was classic and crunchy, with a heat and depth that worked great as a foil to the short ribs. Also a winner was the
dangmyeon
-based banchan in the middle (anyone know the name?), which had an almost briny complexity to it, along with a slow-building spice.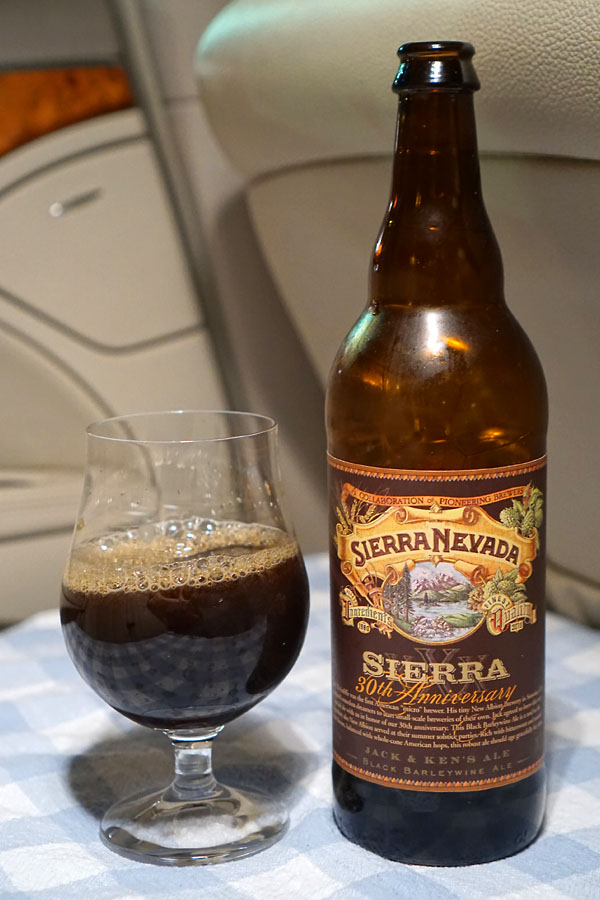 To drink, we have here the
2010 Sierra Nevada 30th Anniversary - Jack & Ken's Ale
, a black barley wine meant to honor Jack McAuliffe (who collaborated on the beer) and his ground-breaking New Albion Brewing Company. Nose was dark fruit, roasty malt, and chocolate, with a slight metallic twang. The palate was definitely smooth, soft, and I got flavors of more dark fruit, coffee, bittersweet malt, and light hops, all joined by a pronounced woody astringency.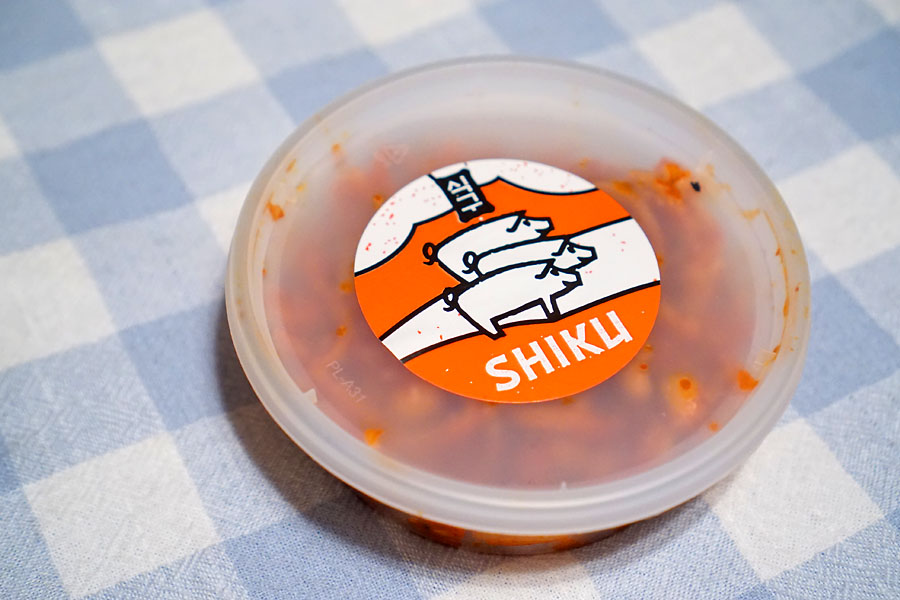 Jinmichae Bokkeum with Toasted Peanut [$6.00]
| Jinmichae is also called ojinguh bokkeum, or stir-fried dried squid. Our sauce is made with toasted peanuts which gives it a rich, creamy feel. A classic accompaniment to a cold beer.
As mentioned above, Shiku offers a rotating selection of banchan to-go, and I made sure to sample some. We'll start with Uh's take on
ojingeochae bokkeum
, a fairly ubiquitous side dish that I've encountered countless times. However, I don't think I'd ever had it before with peanuts. It was a really smart addition though, one that provided a nutty, crunchy counterpoint to the sweet, spicy, and saline flavors of the squid.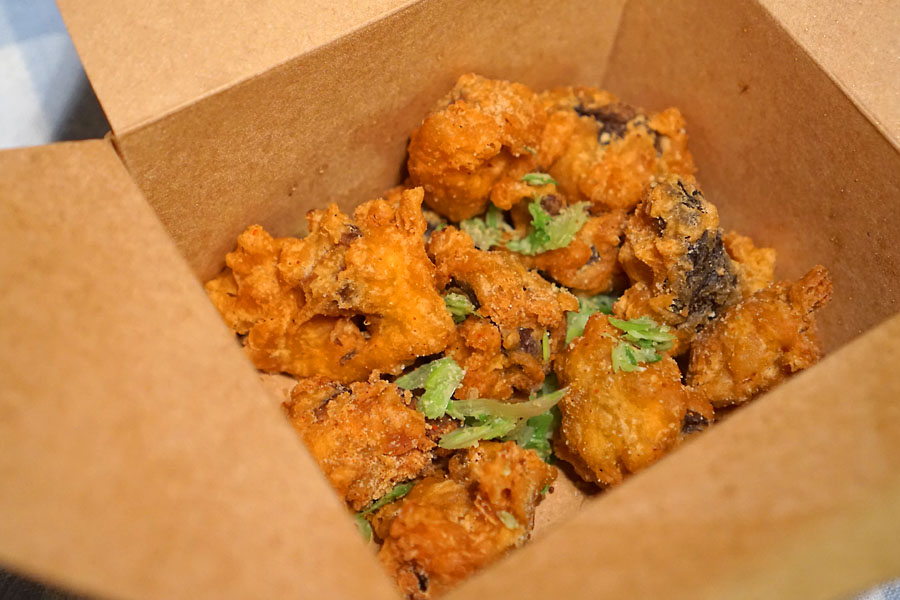 Korean Fried Pyogo Mushroom [$6.00]
| A side of our vegan Korean fried pyogo mushrooms (also known as shiitake mushrooms). Sprinkled with our house doenjang dust for a hint of umami.
Pyogo
mushrooms were quite unlike any that I'd had before. They had a super crisp, thick, "bready" batter, which resulted in a substantial, almost "meaty" texture. Flavors, meanwhile, were savory and satisfying, and I also appreciated the contrast imparted by those bits of greenery.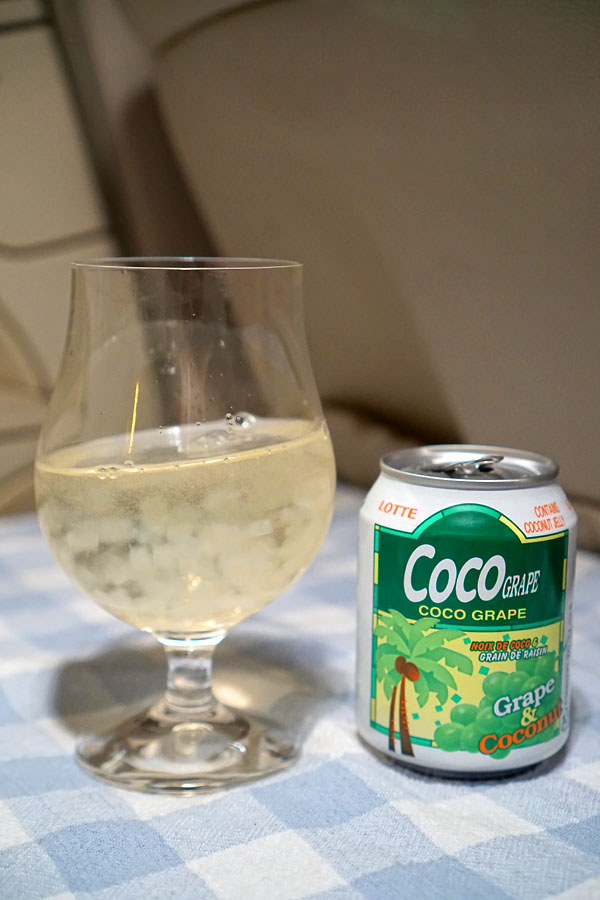 I also tried a couple Korean sodas, beginning with the
Sac Sac Grape Coco [$2.00]
. Taste-wise, think grape bubble gum mixed with coconut, but mostly grape. The interesting thing here were those bits of coconut jelly suspended in the drink, which made for a pleasant surprise.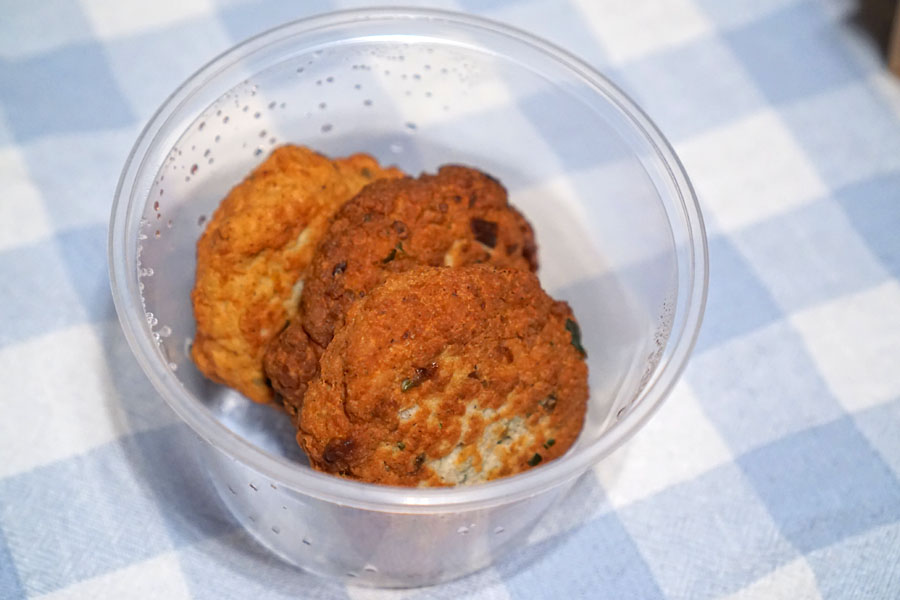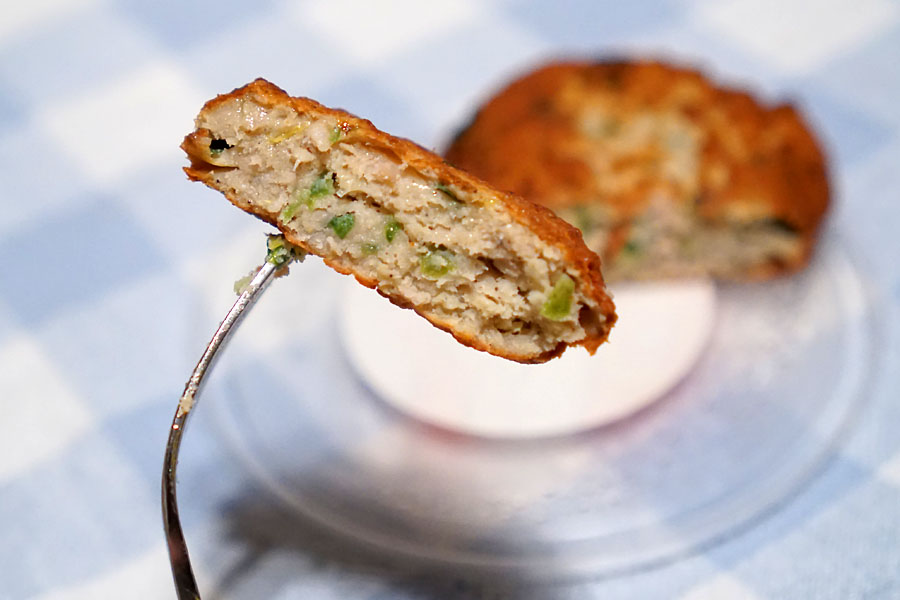 Wanja Jeon [$7.50]
| We were missing the meat patties at the original Soonhuinae stall at Gwangjang Market, so we made a version inspired by the feeling of having those patties in the freezing Seoul winter, with steam rising above the market stalls. 3 patties made from a half pound of pork and seasoned with a ton of chilies, garlic chives and other aromatics. Spicy.
I'm a sucker for meatball-type foods, so these were a must-get for me. Also known as
donggeurang ttaeng
, they had a dense, gratifying consistency, while flavors blended the requisite porky notes with the refreshing zing of
buchu
.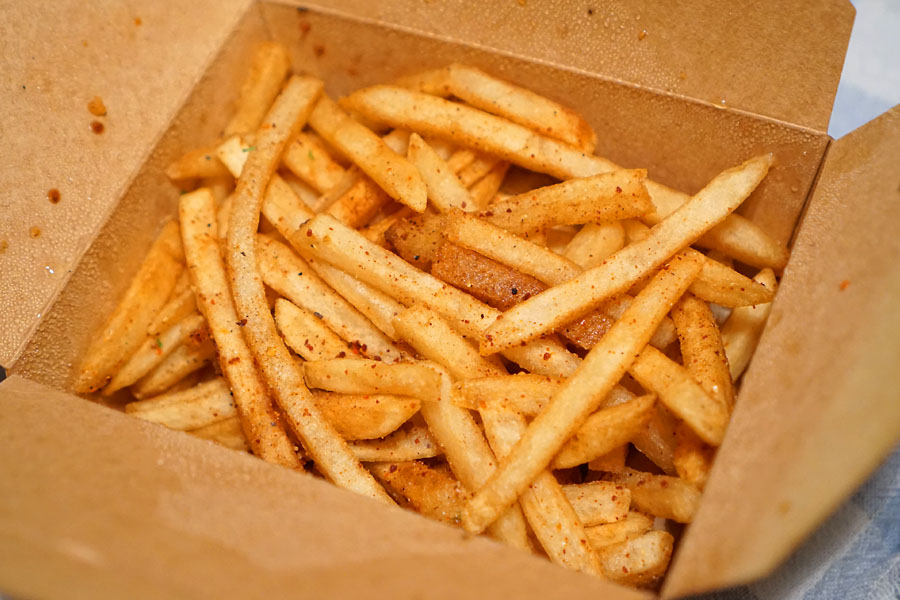 Gamchil French Fries [$3.00]
| Gamchil = umami in Korean, and our shoestring fries are dusted with a house umami seasoning.
Fries were expertly seasoned, and I definitely got the
gamchil
the menu was talking about, though I would've liked the potatoes a touch crispier.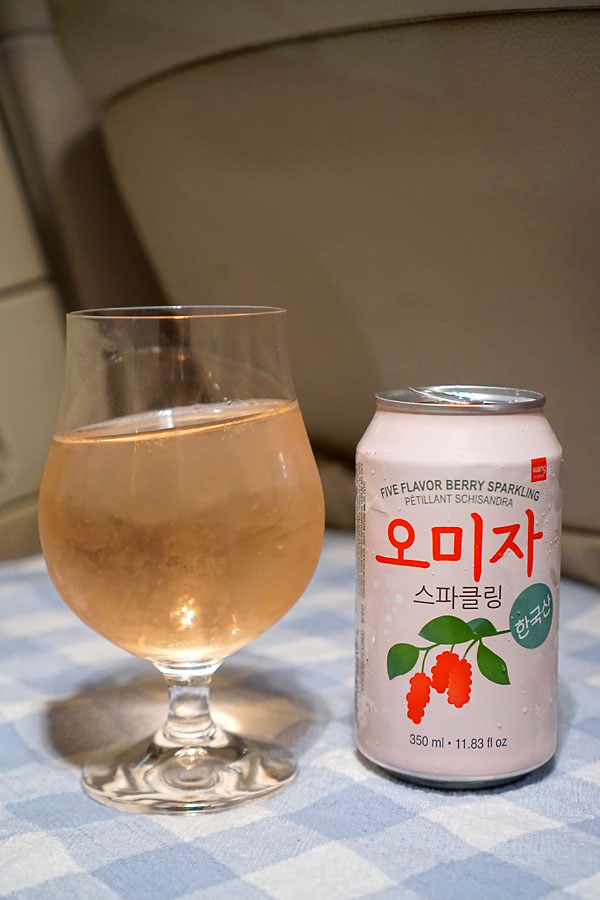 Next to drink was the
Omija Sparkling [$2.00]
. The name means "five flavor fruit," and indeed, the soda's taste was surprisingly multifaceted, and even a bit raisin-y. It made for an intriguing, yet familiar imbibing experience.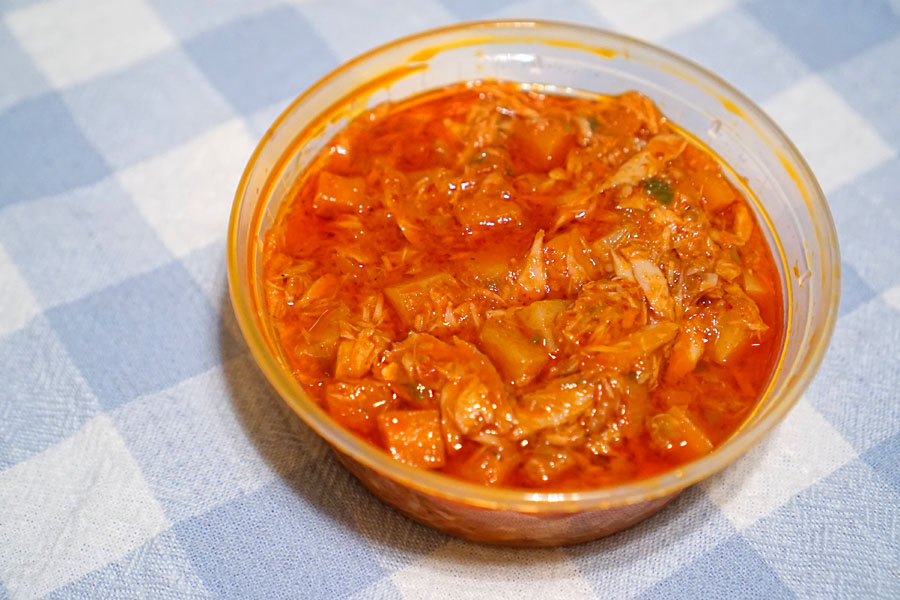 Chili Chamchi [$5.50]
| Our take on the old-school favorite gochu chamchi or Korean spicy tuna in a can. Made fresh with tuna, a lot of spice, potatoes and carrots, our Chili Chamchi is great with rice or as a sandwich.
My favorite of the banchan tonight combined the unmistakable taste of canned tuna with a bevy of peppery, spicy notes. It was a very fulfilling back-and-forth for me, one deftly moderated by the presence of those root veggies.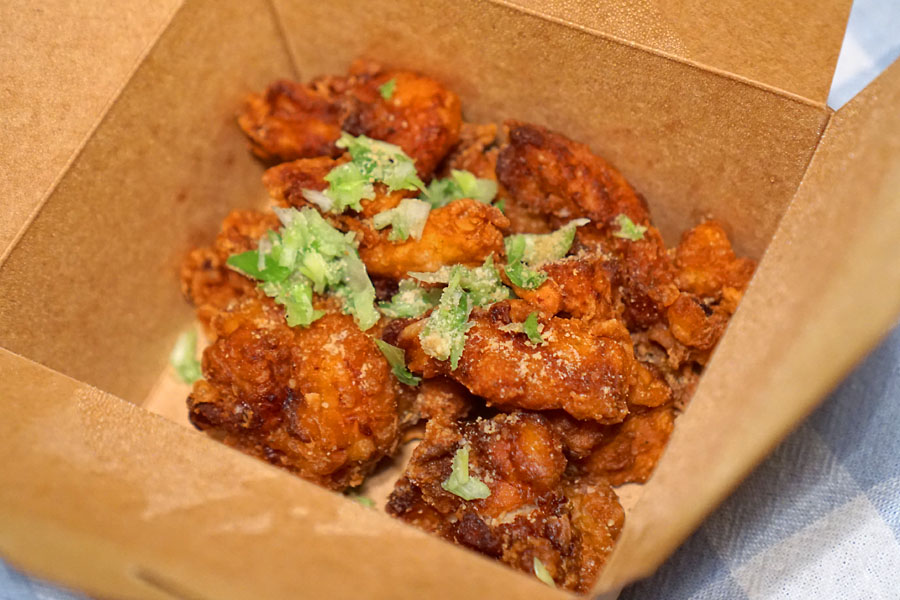 Korean Fried Chicken - Original [$5.00]
| Korean fried chicken pieces in 2 flavors: Original or Spicy.
We'll end with Shiku's take on
chikin
. The fritters came out decently tender and juicy, but what stood out to me was the batter. It was more robustly flavored than most, but still allowed the natural flavors of the bird to shine. Very easy to eat.
It'd been nearly three years since my last meal at GCM, and Shiku made for a welcomed return to the historic market. I was rather happy with my
doshirak
, and I'd be very interested in trying some of the Chef's other banchan as well. Now that being said, I still do miss the type of cooking that Uh was doing over at Baroo, and apparently, he and Park are still working on bringing that restaurant back to life. I've read reports that they were targeting a 2020 opening, but with the whole coronavirus situation, who knows when it'll finally come to fruition. When it does drop though, you can bet that I'll be there.