Tendon Tempura Carlos Jr (Torrance, CA)
Tendon Tempura Carlos Junior
1510 Cabrillo Ave, Torrance, CA 90501
424.271.7004
www.instagram.com/tempuracarlosjr/
Wed 03/03/2021, 07:25p-08:45p

As some of you might know, I have a soft spot for tempura, and often lament the lack of tempura specialists in the Los Angeles area. The best places that I've tried here in SoCal are
Tempura Endo
and
Inaba
. However, other than those two, there really aren't many other choices when it comes to dedicated tempura joints. That being said, one option is the awkwardly-named Tendon Tempura Carlos Junior, where I found myself recently.
A bit of history
: The restaurant comes to us from Chef/Owner Carlos A. Pinto, who was actually born and raised in Peru. He moved to Japan when he was 22 years old, and though he initially planned to stay for 10 months or so, ended up living in the country for 14 years. Despite not being able to understand Japanese at first (he learned by watching baseball games on TV), he fell in love with the culture, especially the food. Pinto eventually found employment in restaurant kitchens, and soon discovered that his favorite dish to make was tempura. After training in Japan, he later moved to the United States in the mid-2000s, where he further improved his cooking skills.
In 2014, he learned that Tokyo's Tendon Kaneko Hannosuke Nihombashi Honten was opening up a second US location in Torrance (the first was in Mar Vista, which arrived in June 2012). As a result, the Chef went back to Japan that spring to train at the original restaurant. The Torrance outpost of Hannosuke ended up debuting in May 2014, situated inside Mitsuwa Marketplace, and Pinto was tasked with running it. Unfortunately, the food stall didn't last too long, and its closure was announced in 2019. As a result, the Chef started working on his own place, and Tendon Tempura Carlos Jr thus grand-opened on November 1st, 2019.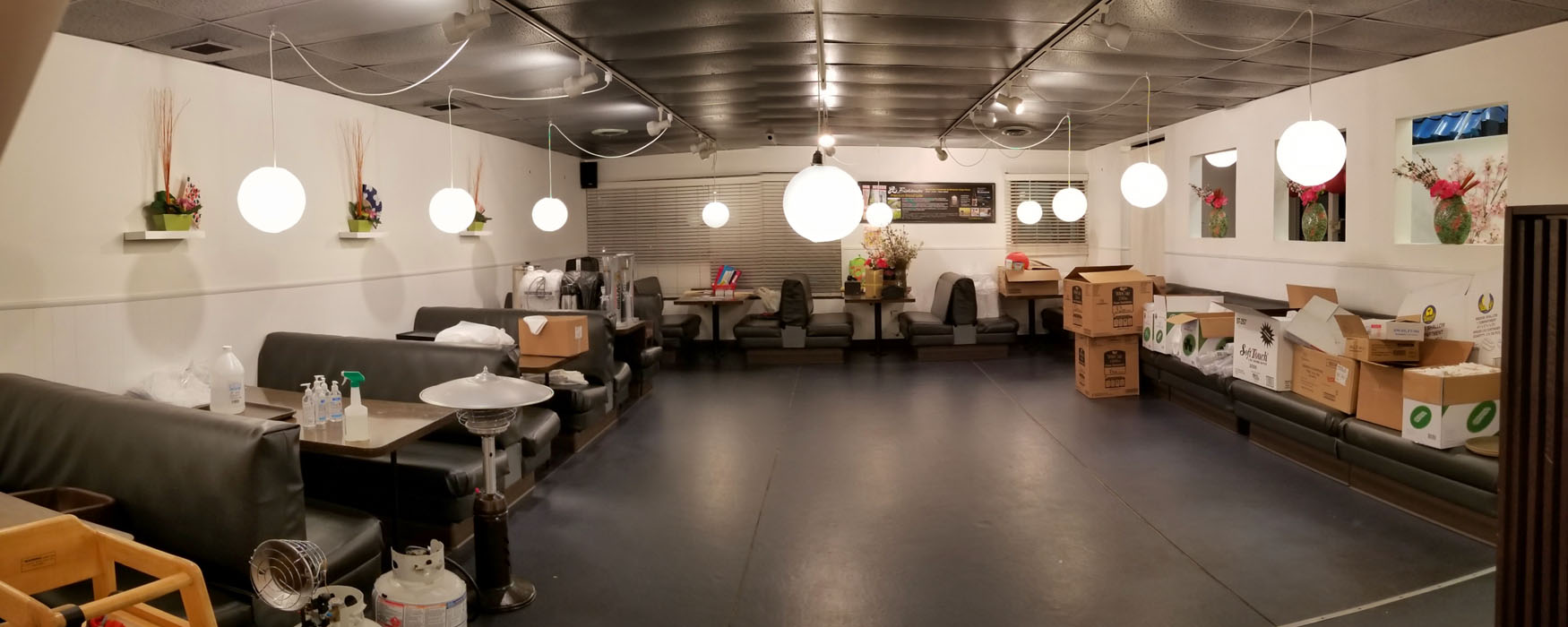 The restaurant occupies the former home of the long-running Kozan. Indoor dining wasn't allowed due to coronavirus restrictions, but under normal circumstances, the capacity here is around 40 persons.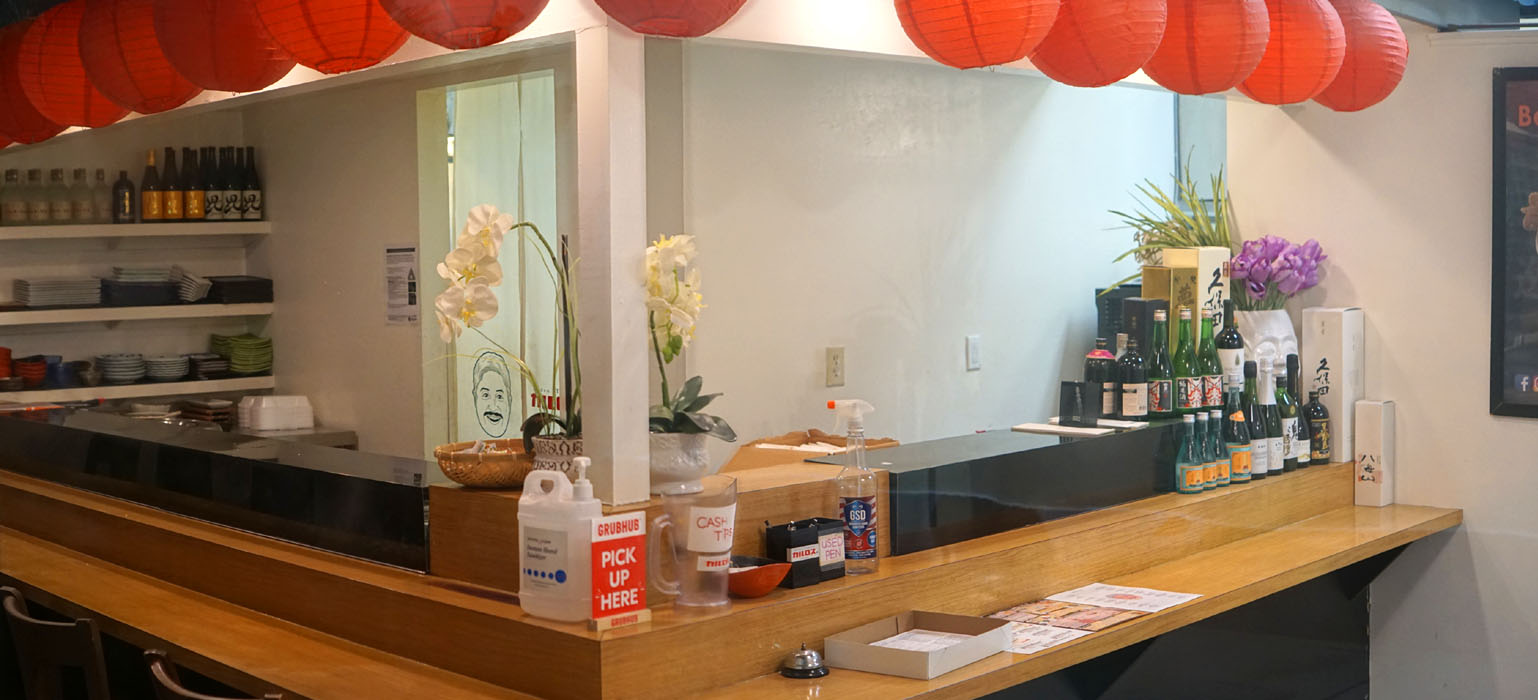 Do also note that there's actually a sushi bar right by the entrance.

They do have a pretty nice outdoor dining setup.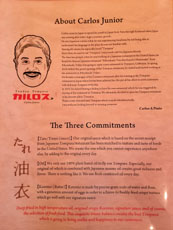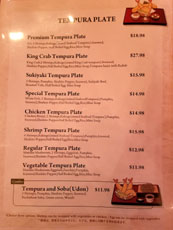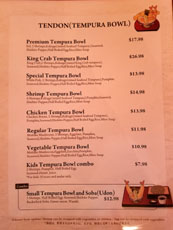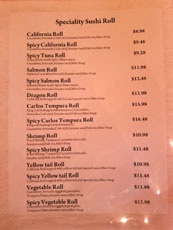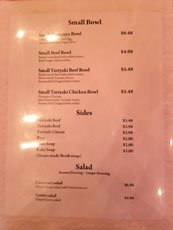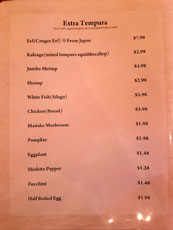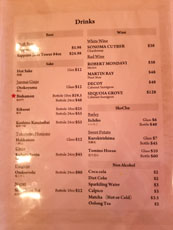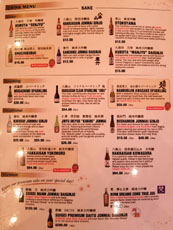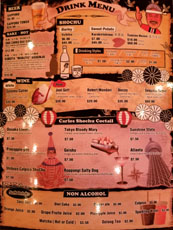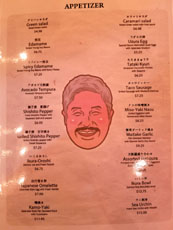 The menu's centered on tempura, obviously, and your main decision is whether you want to opt for bowl, plate, soba, udon, or à la carte formats, though there are also sushi roll and appetizer options available. To drink, you get surprisingly varied selection of sake, shochu, wine, and beer. Click for larger versions.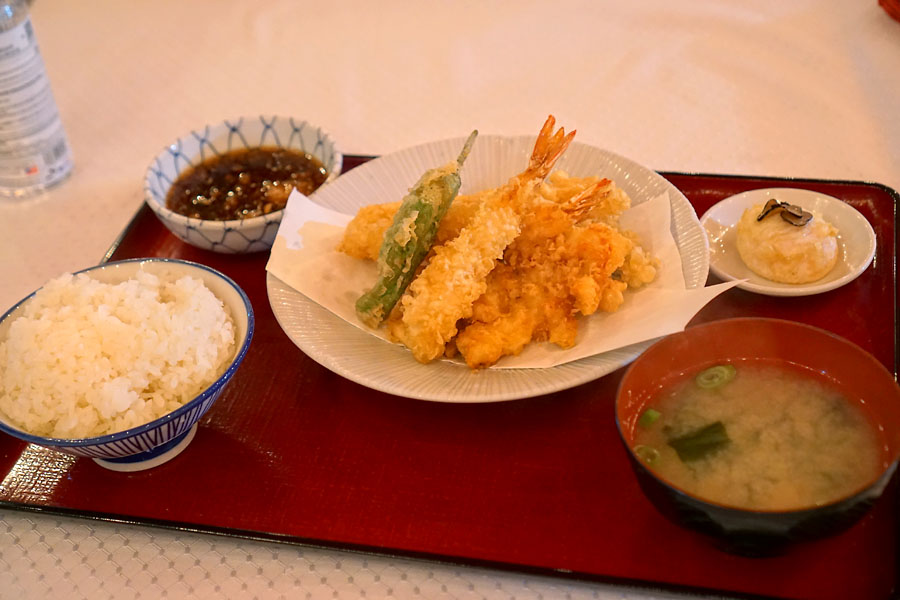 King Crab Tempura Plate [$27.98]
| King Crab, 2 Shrimps, Kakiage (Mixed King Crab Tempura), Seaweed, Shishito Pepper, Half Boiled Egg, Rice, Miso Soup, Tempura Sauce with Radish
I opted for the "plate" format, which was comprised of five components.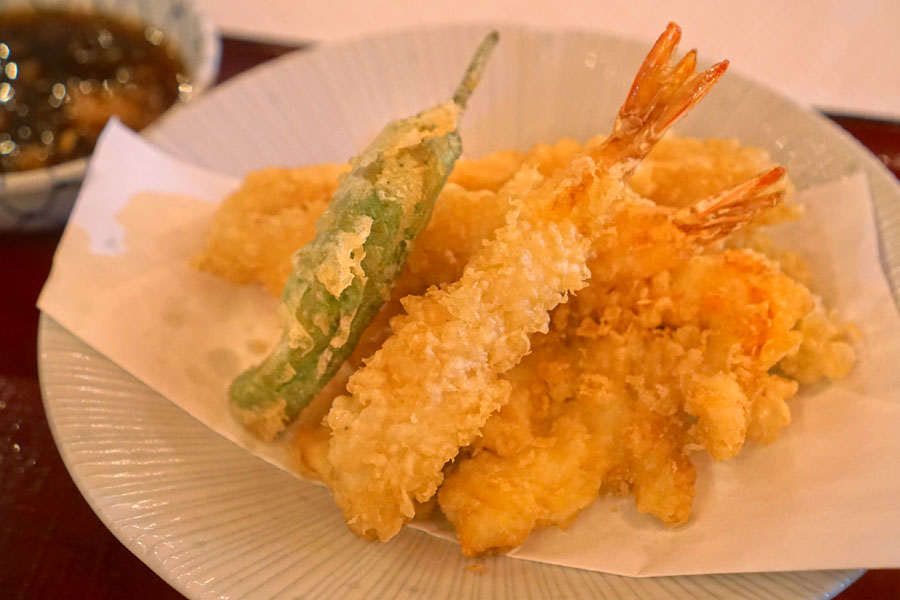 Here's a close-up of the tempura selection.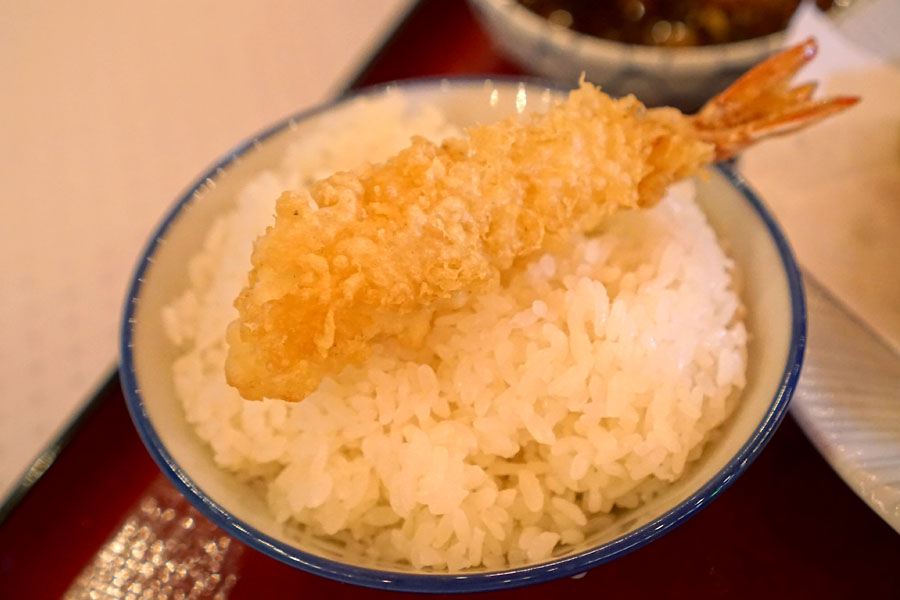 I began with the
ebi
, which is probably the most representative piece of tempura there is. What impressed me the most here was how the shrimp showed off just the right amount of doneness, which resulted in a texture that was simultaneously creamy and snappy. Taste-wise, I got a healthy dosing of salinity, and I also appreciated the bite's light, thin, crisp, semi-fluffy
koromo
batter (which reportedly makes heavy use of eggs). A strong start.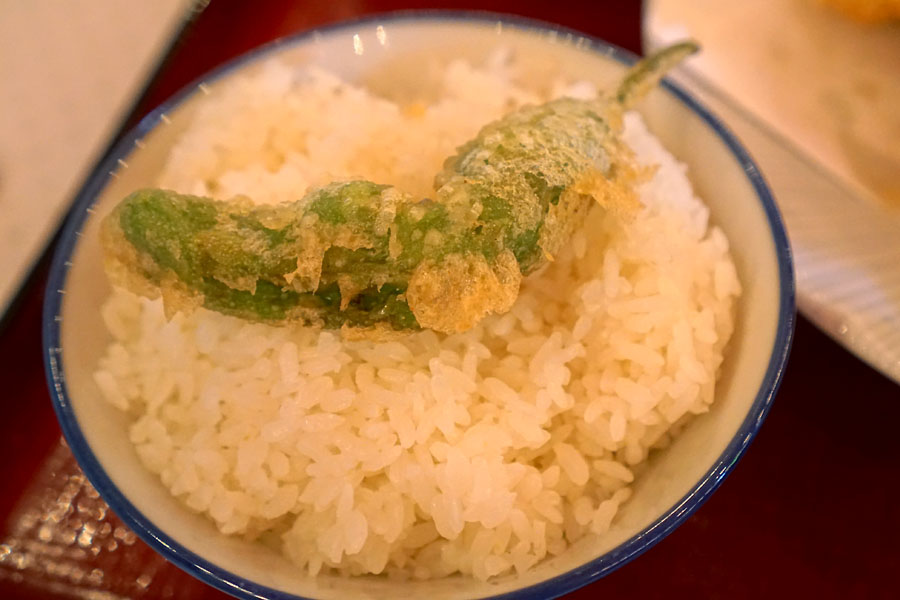 The shishito was certainly enjoyable thanks to the back-and-forth between the pepper's zippy, vegetal taste and the savoriness of its crunchy exterior.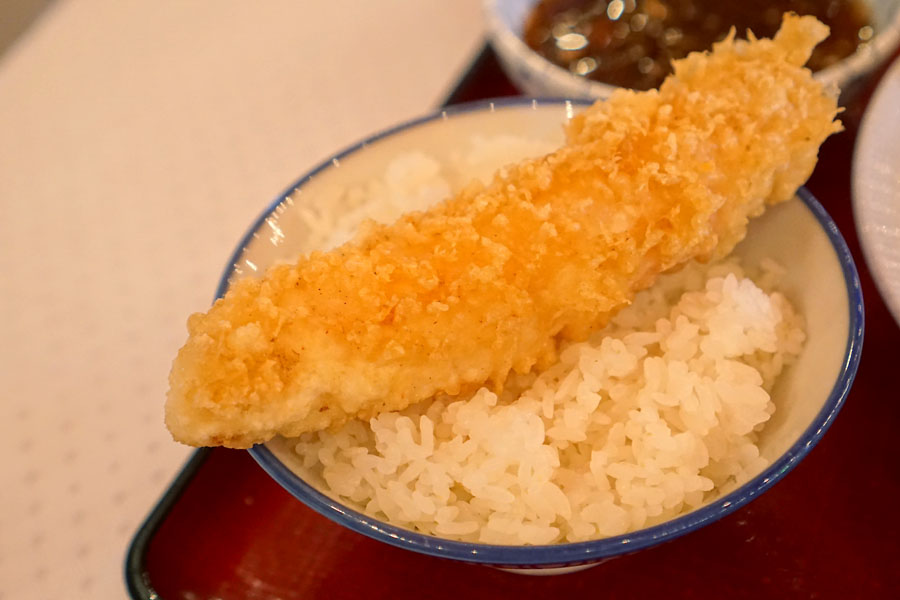 Now this is what I'm talking about. A surprisingly substantial spear of
tarabagani
displayed its signature sweetness alongside an elegant brine, while its consistency was supple, but satisfying. I also appreciated the delicacy of the batter here, and how it complemented the crab without overwhelming it in any way. A favorite for sure.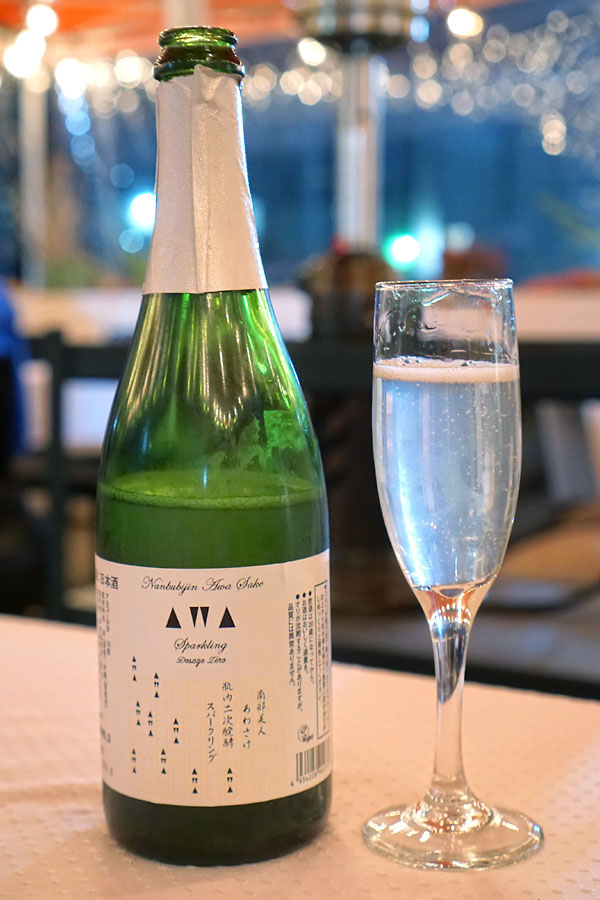 To drink, we opted for a bottle of sake, the
Nanbubijin Awasake Sparkling [$58]
from Iwate Prefecture (which was actually priced below retail!). I got a rich, fragrant bouquet rife with pineapple and flowers. Taste-wise, think sweet and tropical at first blush, but with rice-y, umami, and boozy notes appearing toward the back end.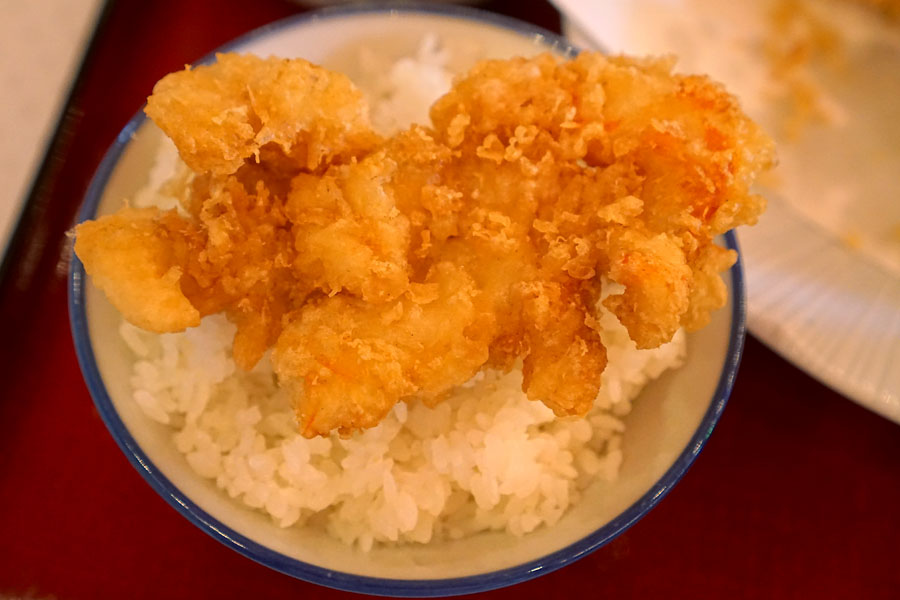 The king crab also arrived in
kakiage
form, and in this presentation, it conveyed a richer, more intense taste profile, which was backed up by a more aggressive batter. This one really stood up well to the
tentsuyu
that was provided.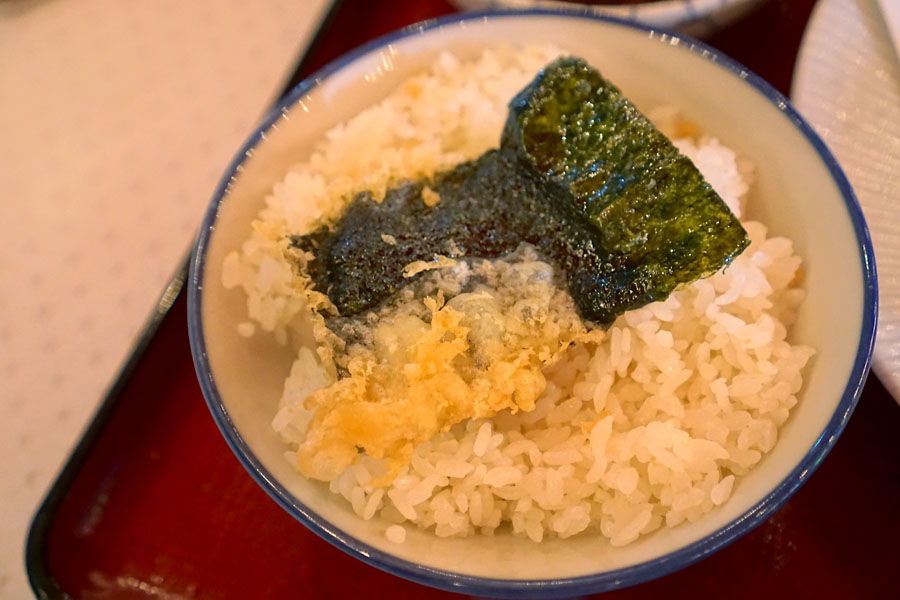 This was a fun one. What I really enjoyed was the interplay between the crunchy, savory nature of the batter and the classic, familiar, umami-laden flavors of the seaweed.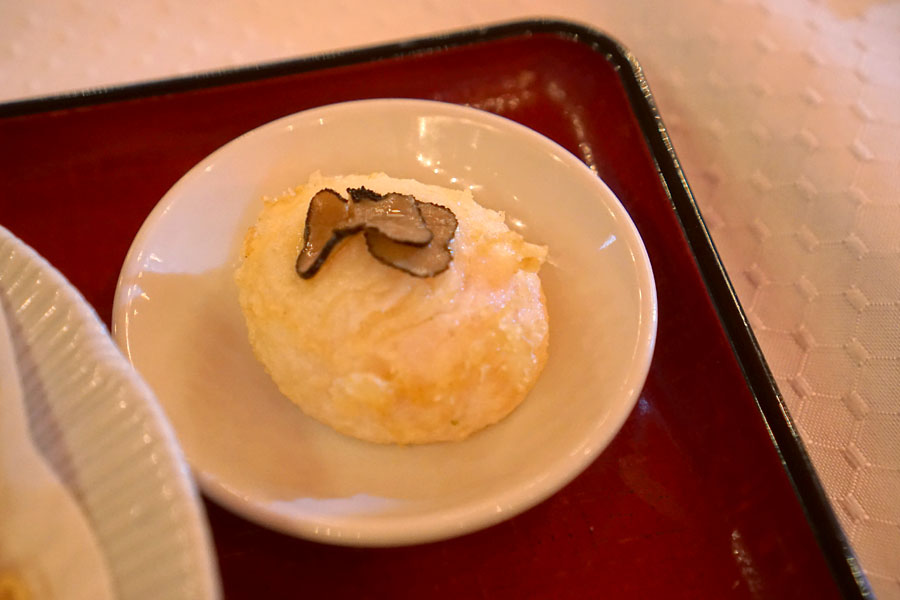 A truffle-topped egg revealed a dark tinted, perfectly runny yolk that I mixed in with my spot on, just-sticky-enough rice.
The
misoshiru
was pretty textbook, though the seaweed seemed particularly robust this evening.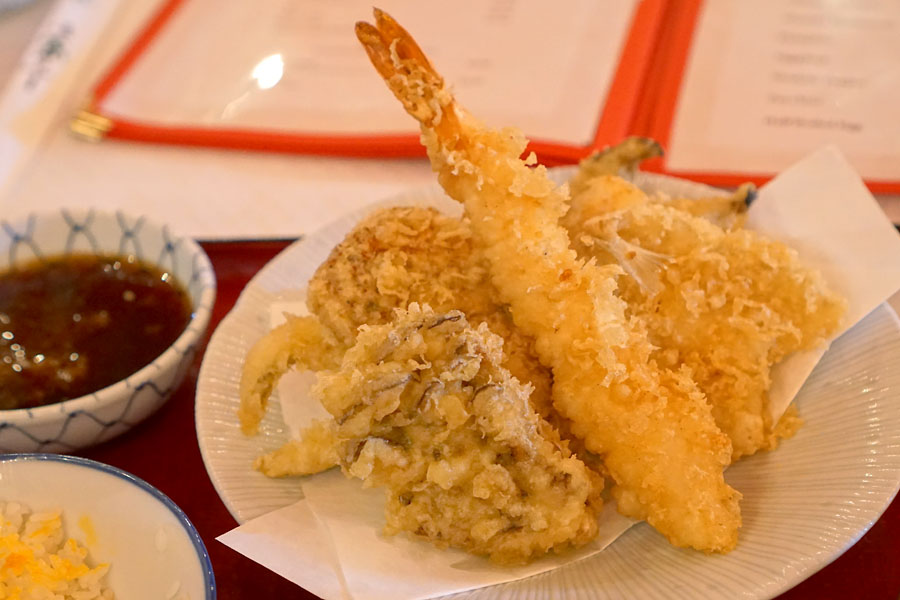 Pictured above are some additional orders of tempura.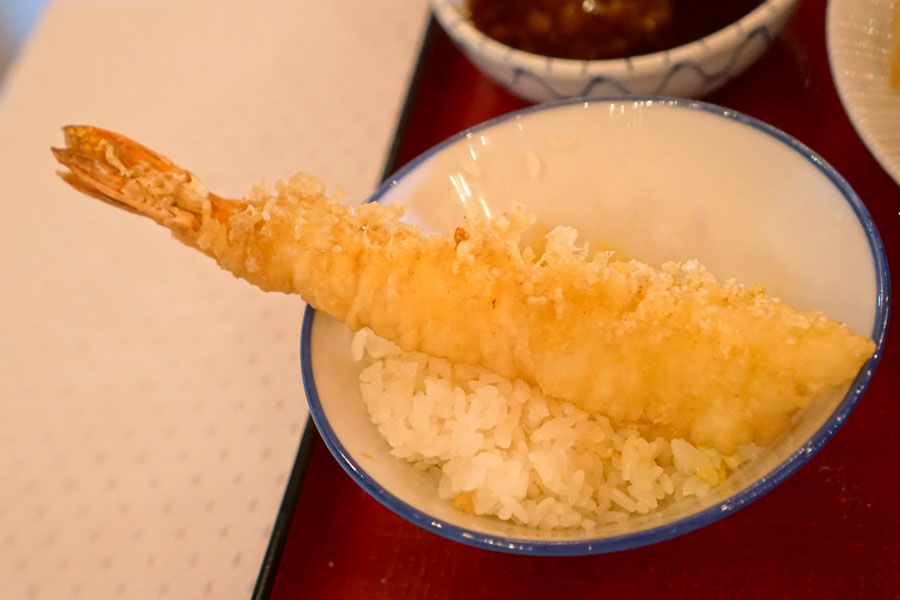 Jumbo Shrimp [$4.98]
Now I tried the shrimp tempura above, but was curious as to how the jumbo version would be different. Well it was certainly bigger, while texturally I found it creamier, though still with a nice bite. Also, given the larger size of the shrimp, the actual batter was somewhat less apparent.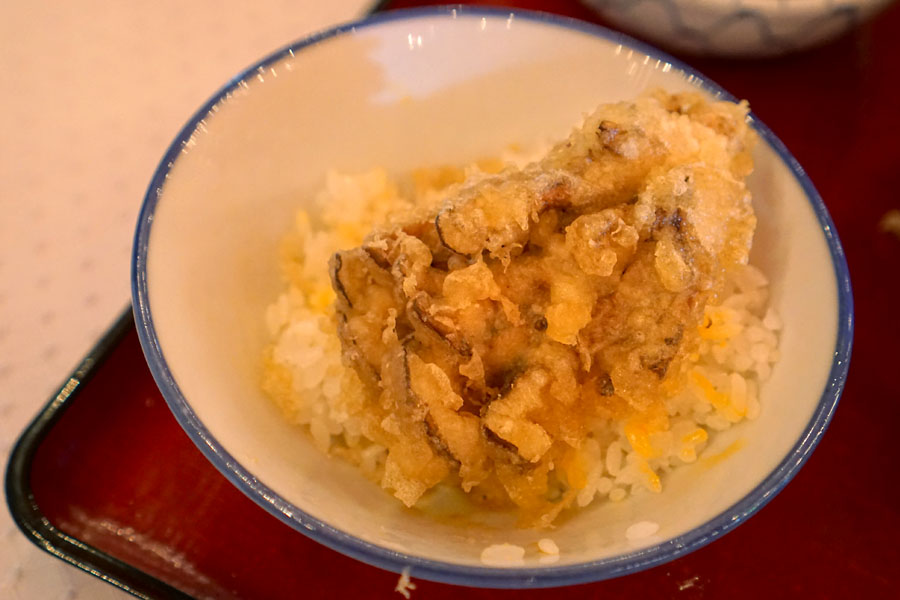 Maitake Mushroom [$1.98]
Hen-of-the-woods mushroom possessed a craggy surface that actually made the taste of the batter more apparent. This, in concert with the naturally woodsiness of the maitake, made for a combo that linked up particularly well with the dipping sauce.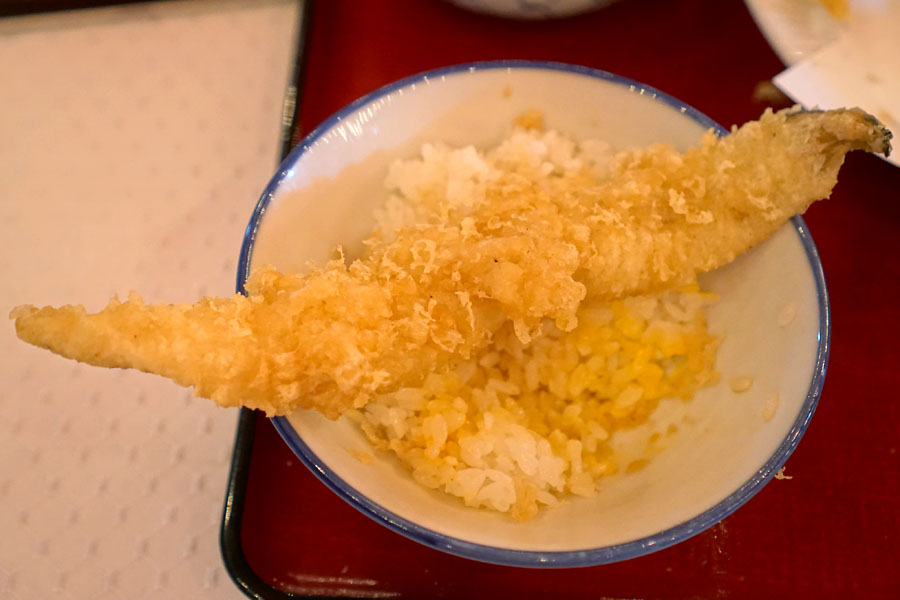 Eel (Conger Eel) from Japan [$7.98]
The
anago
was a must-try for me. I found the eel full-flavored, its oceany character forcefully conveyed, yet evened out by a touch of sweetness and the light, airy nature of its crispy coating.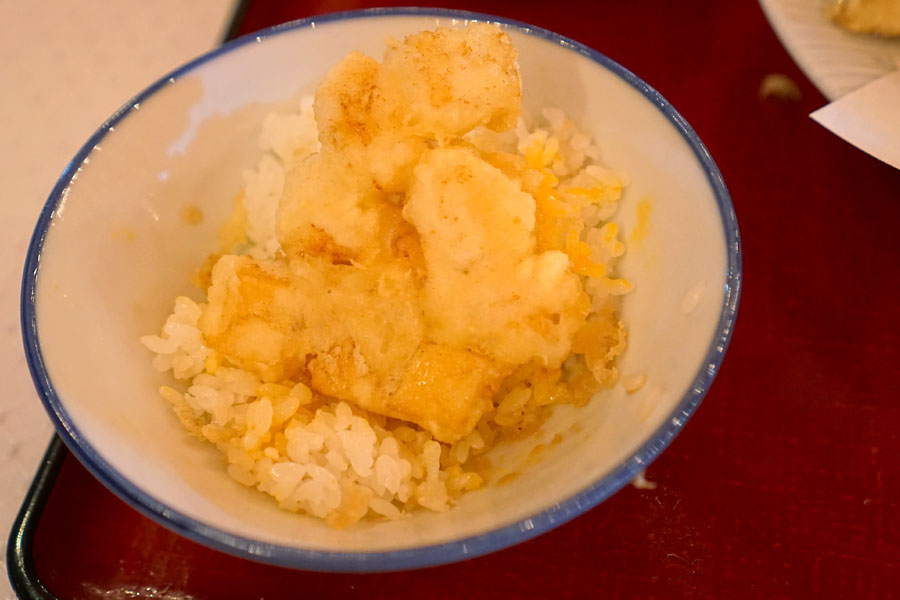 Kakiage (Mixed Tempura Squid & Scallop) [$2.98]
The evening's second preparation of
kakiage
was quite different than the first. Here, the sweetness and salinity of the scallop were very evident, though I didn't get much from the advertised squid.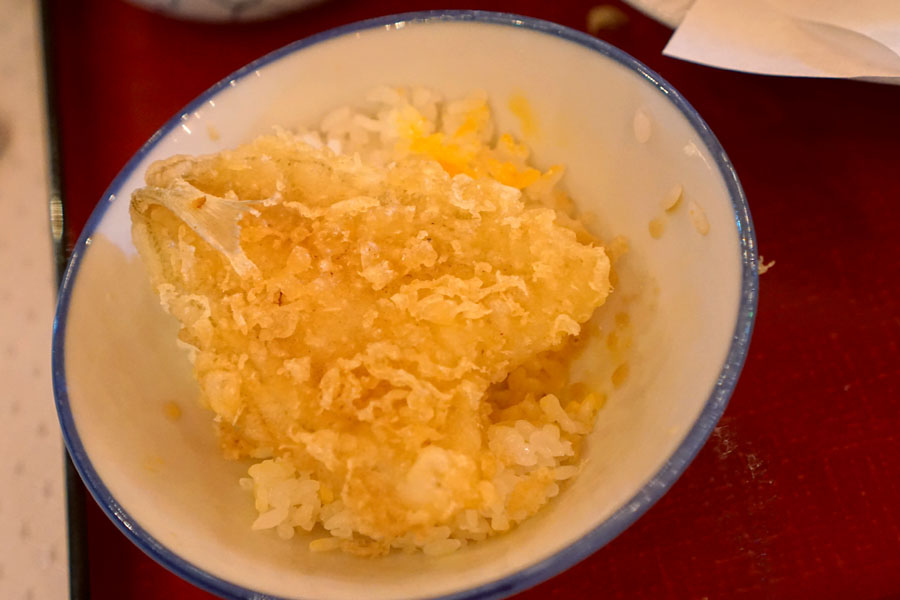 White Fish (Sillago) [$3.98]
The Japanese whiting (
kisu
) was another favorite. The fish offered up a solid brine, as well as a soft, juicy consistency that contrasted well with its crispy batter.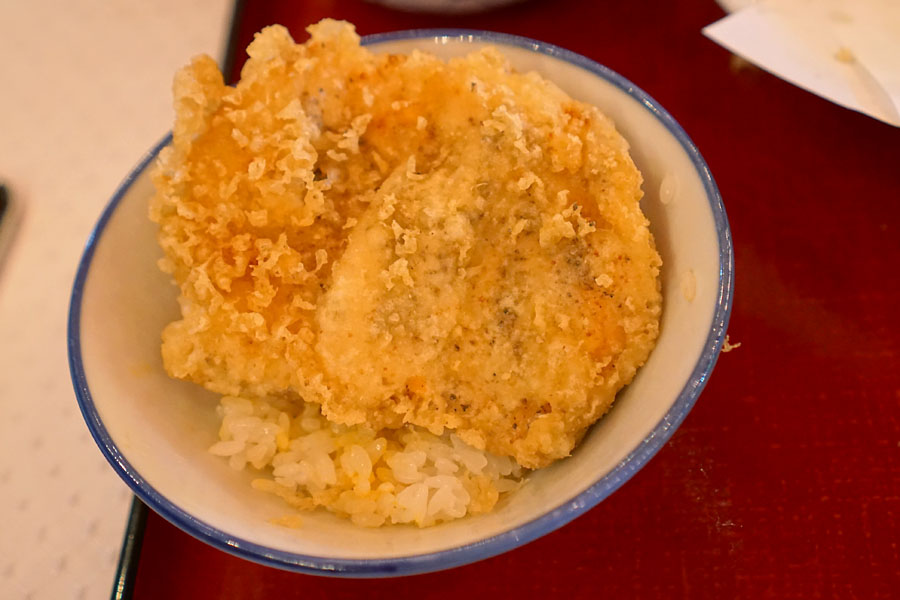 Chicken (Breast) [$3.98]
The chicken managed to be a surprise standout. I was impressed by how tender and succulent the bird was, and its slightly peppery flavors made it easy to enjoy.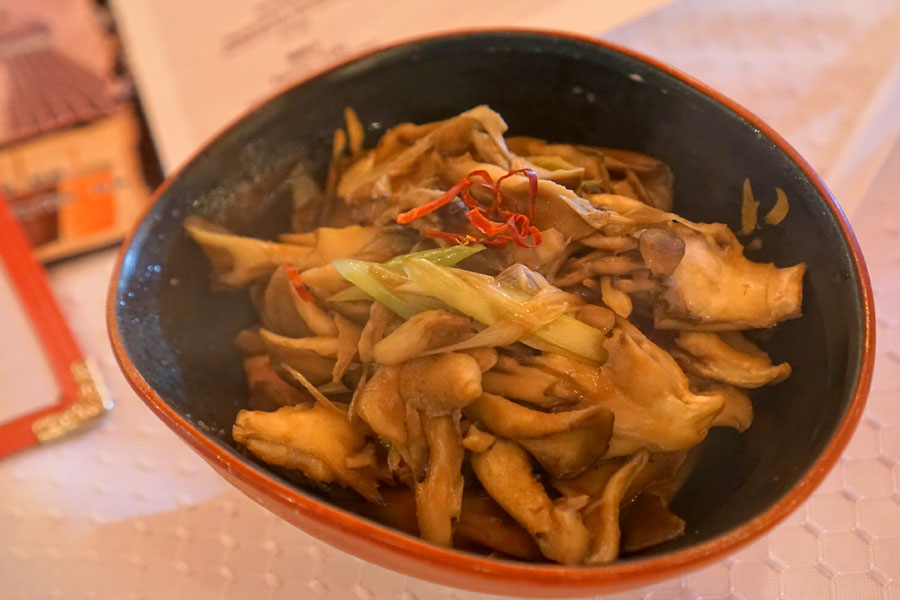 Maitake Garlic [$9.25]
| Pan Sauteed Maitake with Special Garlic Soy Sauce
We ended with a couple of small plates. Maitakes made a second appearance, and they were arguably even better this time around. The 'shrooms came out rich and earthy and buttery, and the counterpoint from the scallions was just about perfect. Some great textures here, too.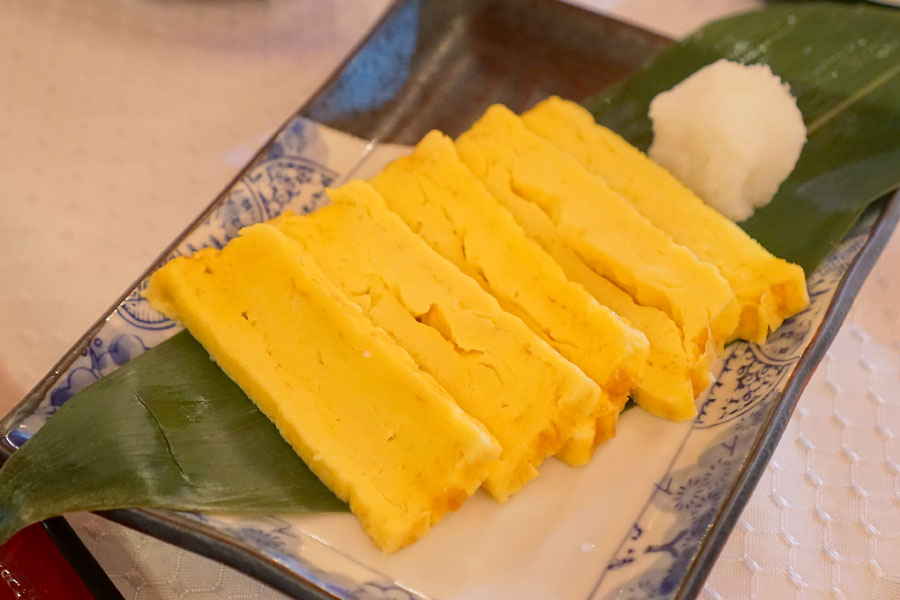 Japanese Omelette [$7.00]
| Japanese Style Egg with Fresh Radish
Last up was the traditional closer of tamago. The version here went in a dense, eggy, sweet direction, and matched up well with the grated daikon on the side.
It'd been a while since I'd had some good tempura (over a year I think), so it was nice to be able to enjoy the dish again. Carlos Pinto and his team made a commendable showing for themselves, and the restaurant is a great neighborhood-y sort of spot, one that I think I'd visit pretty often if I resided in the area. Actually, now I'm a bit curious to check out Hannosuke to see how it compares. But other than that place, are there any other tempura specialists I'm missing out on?