Hasu (Torrance, CA)
Hasu Japanese Izakaya & Grill
2120 Artesia Blvd, Torrance, CA 90504
310.819.8042
www.hasudining.com
Sun 07/25/2021, 08:10p-10:05p

I was recently at the Total Wine in Redondo Beach to pick up some whiskey that I'd been allocated. I needed to have dinner afterward, so I ventured over to Hasu, which I'd wanted to try for some time now. The place was founded by the husband-and-wife team of Takashi Tsuma and Chie Tsuma, who previously operated an eatery in Japan before moving to the US around early 2008, initially settling in Yorba Linda for two years before relocating to the South Bay. Interestingly, Chie actually lived in La Palma in the late 1980s when she was still single, then moved back to Japan, met Taka, and got married.
Named after the Japanese word for lotus (蓮), Hasu originally opened as Hasu Kitchen of Japan back in June 2008, taking over the former home of longstanding okonomiyaki joint Tombo. It garnered a following over the years, but shuttered in late 2018 since the building it was housed in was slated for demolition. After a new building was constructed on the same site, the restaurant re-opened as Hasu Japanese Izakaya & Grill on March 1st this year. Curiously though, the Tsumas are no longer the owners. Rather, the partners behind the new Hasu appear to be Takako Shimakage and Takayuki Sasaki, though the couple is still running the place.

The new space is surprisingly sleek, and quite a bit larger than the old one.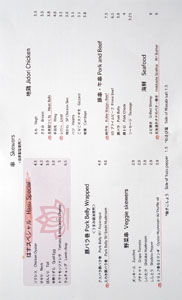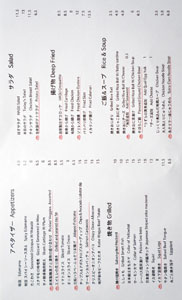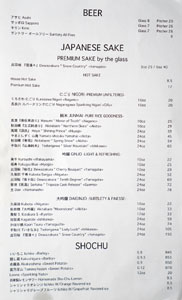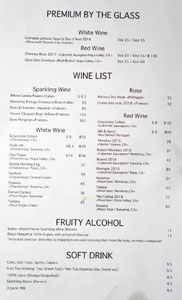 As for the menu, it's still centered, of course, on the skewers, but now there's an expanded selection of other izakaya-type fare. Drink-wise, you get a pretty reasonable array of sakes, as well as beer, shochu, and a semi-decent wine list. Click for larger versions.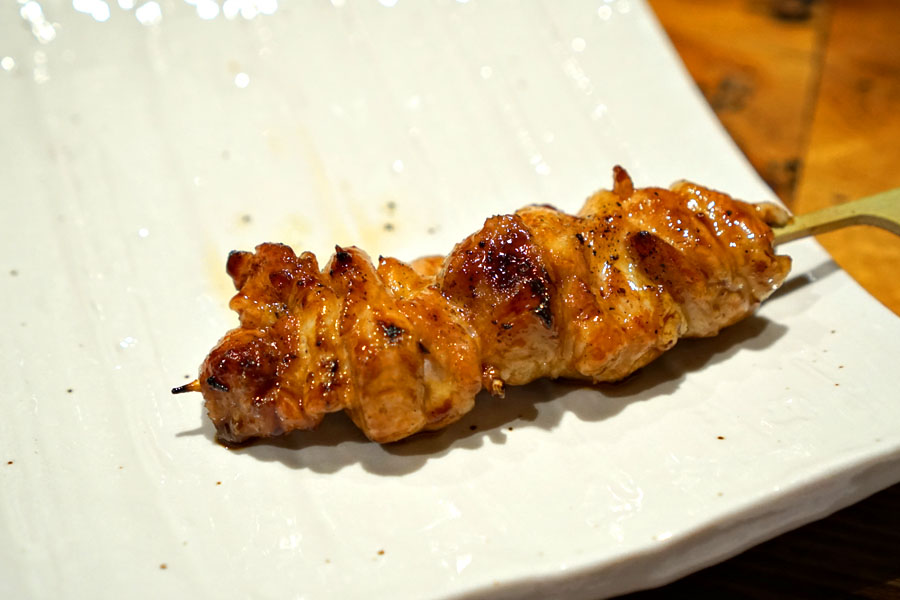 もも - Thigh [$3.50]
I began with the
momo
, perhaps the most prototypical of all yakitori cuts, and it represented a very promising start to the meal. The thigh came out super juicy, and its marriage of sweetness, savoriness, and smoke was right on point, while the finish was all about lingering char.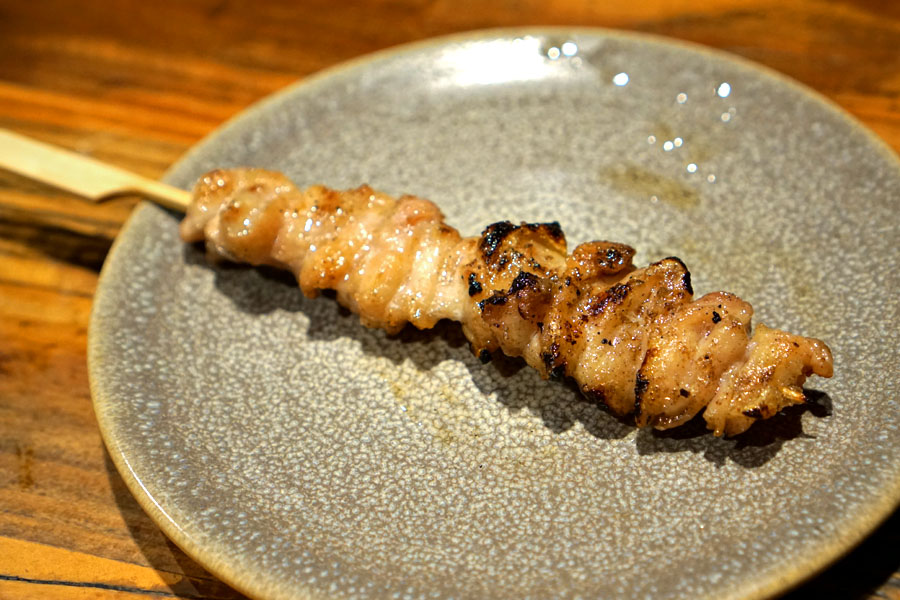 ぼんじり - Tail [$3.90]
I generally consider
bonjiri
my favorite yakitori part, and it didn't disappoint tonight. I loved its balance of fat and lean, while the skewer also showed off the most depth of flavor thanks to its chicken-y funk and healthy amount of sear.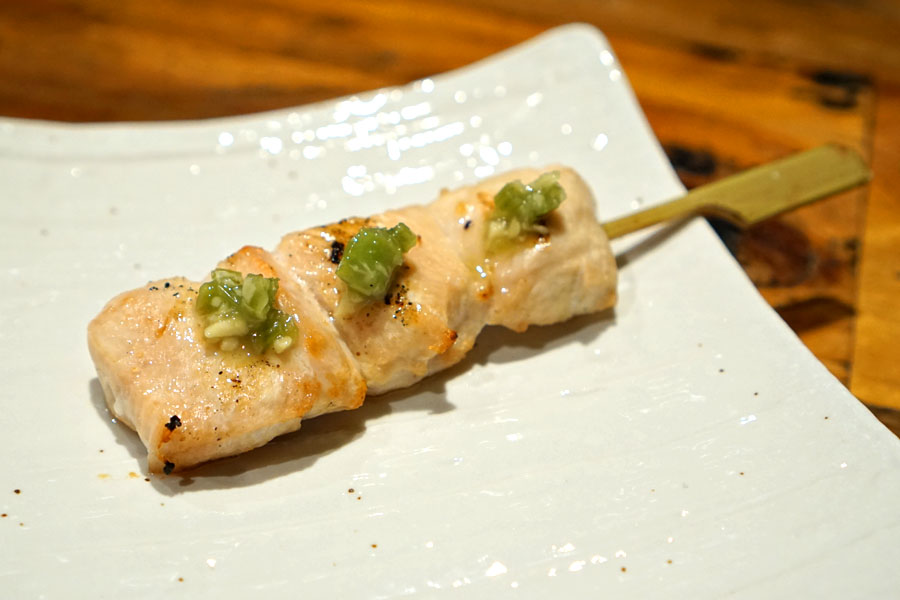 ささみ - Breast [$3.50]
The
sasami
was suitably juicy, with a firm-yet-fibrous consistency and a superb accent from the wasabi. Easily better than I thought it'd be.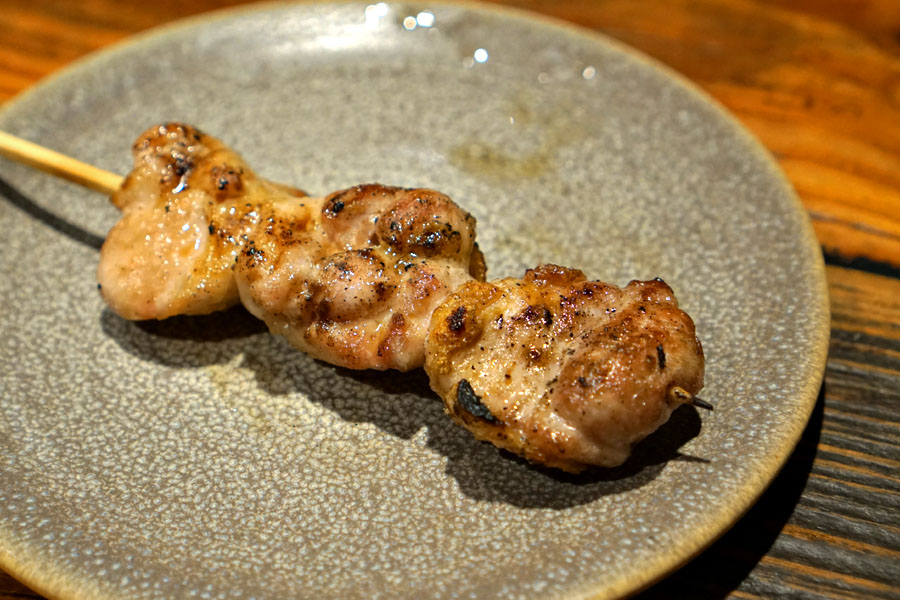 ソリレス - Chicken Oyster [$4.50]
Soriresu
was a joy to eat. I was enamored with the chicken's succulence, savor, and sear, as well as its slightly gelatinous texture and touch of earthiness.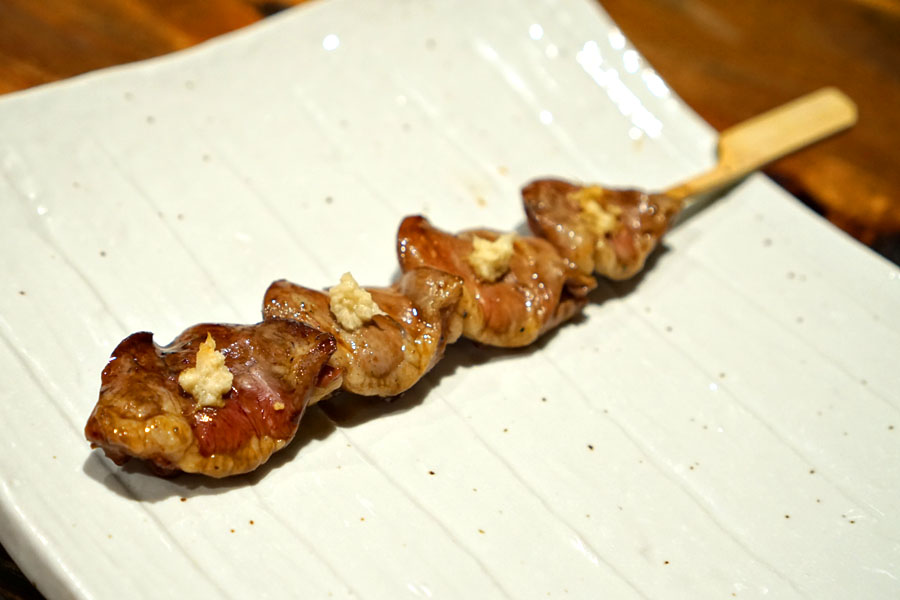 ハツ - Hearts [$3.50]
Also spot-on was the
hatsu
. The hearts arrived slightly chewy, but supple, and had their somewhat mineral-driven taste beautifully complemented by lingering notes of ginger.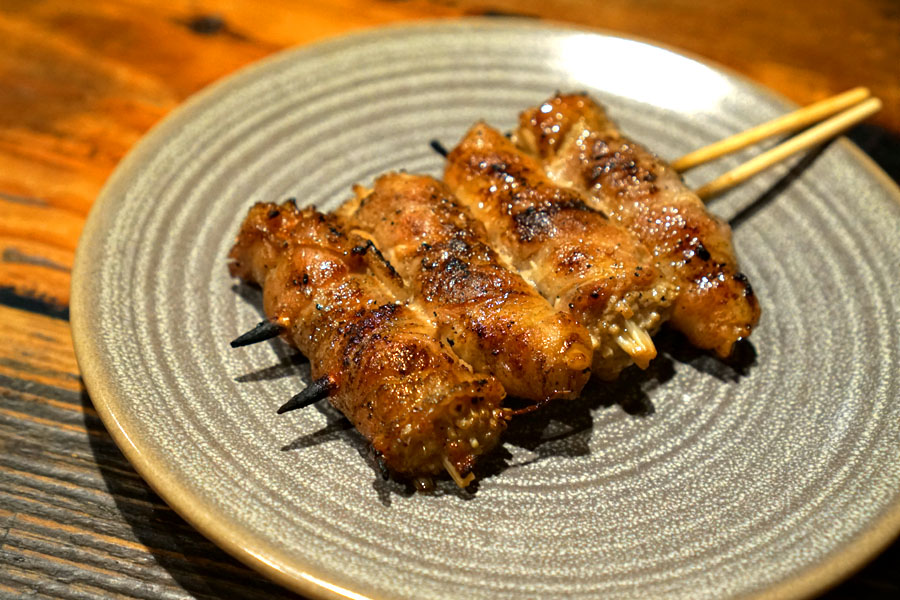 えのき豚バラ巻 - Pork Belly w/ Enoki Mushroom [$4.80]
The
enoki tonbara maki
was a fun one. I was a big fan of the mushrooms' flossy, crunchy texture, and how their slight sweetness matched up with both the char and the saltiness of the pork.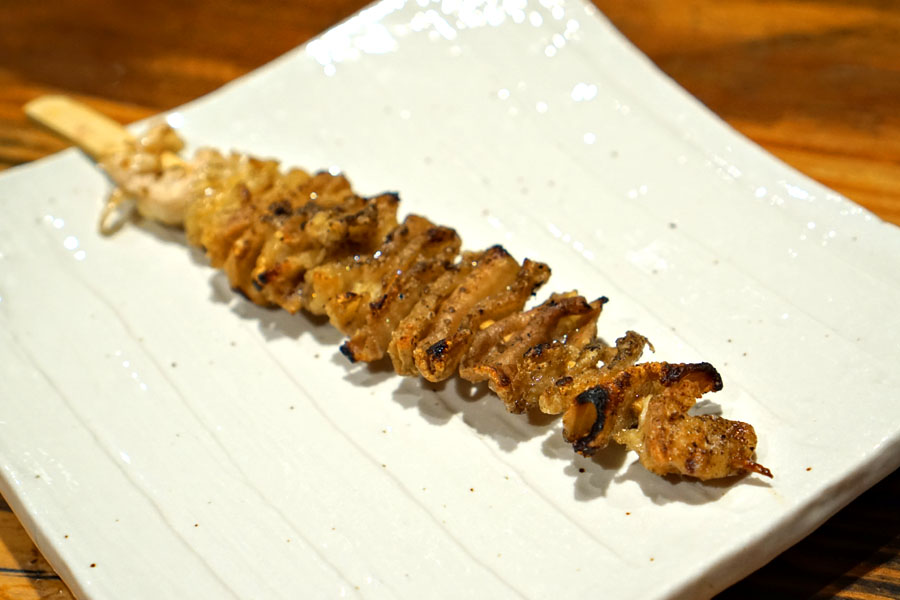 特かわ - Special Chicken Skin [$3.80]
The
tokukawa
was also a standout. Now I'm not sure what made this "special," as there was no "regular" version on the menu, but whatever it was, it worked. I liked the sheer crispiness of the skin, as well as how unabashedly salty and savory it was. I was actually reminded of some sort of snack I used to have in my childhood, though I can't remember which one unfortunately.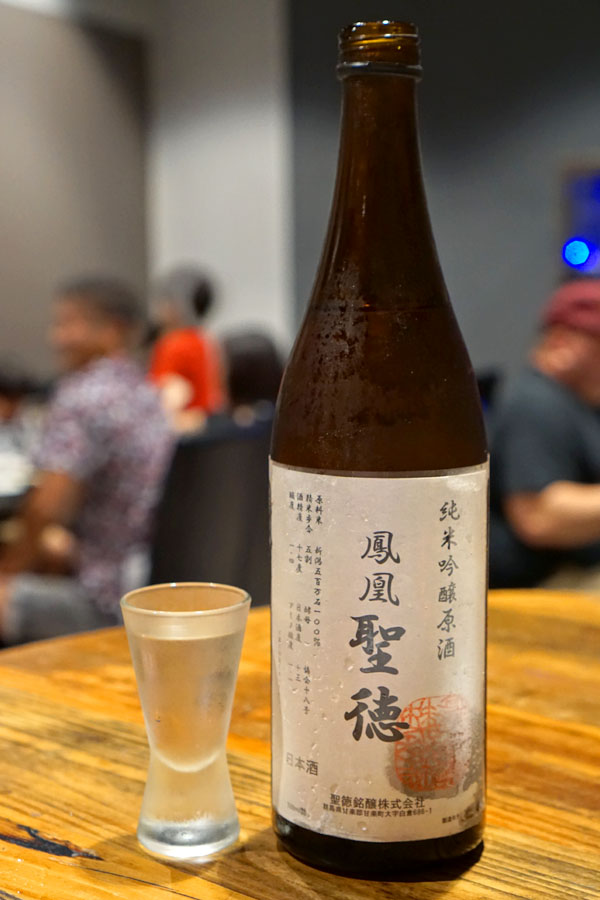 To drink, I opted for a bottle of the
Seitoku "Trapeza-Cask Release" [$72]
, a
junmai ginjo genshu
-class sake from Gunma. Nose here was very restrained, with subdued floral notes, peach, and a light lactic quality. Taste-wise, I found tropical fruit commingled with subtle rice character and a pleasant acidity, all in an extremely light, dry package.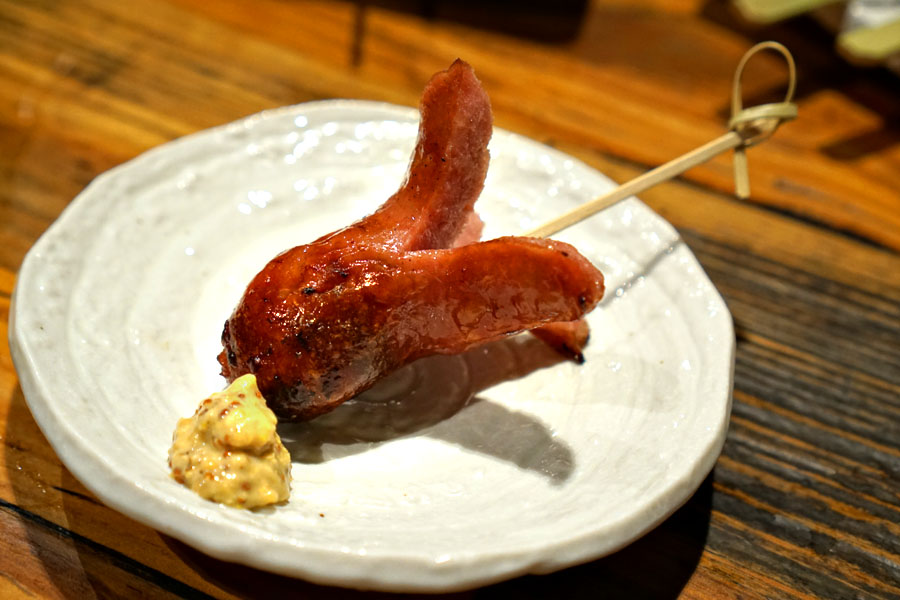 ソーセージ - Sausage [$3.25]
I'm a sucker for encased meats, and wasn't let down here. The sausage had a delightfully snappy exterior, while its savory-sweet flavors paired seamlessly with the zippy mustard on the side.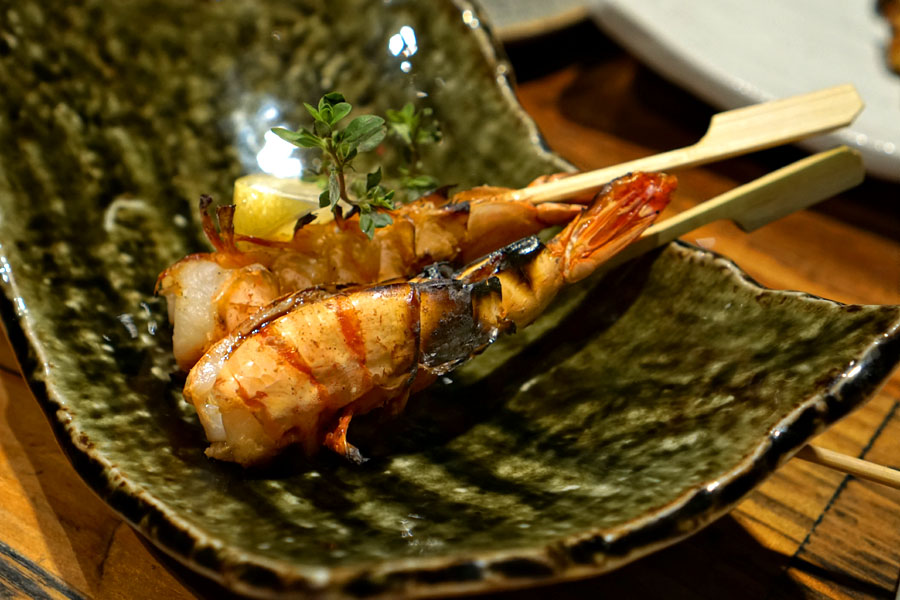 エビ焼き - Grilled Shrimp [$6.00]
The
ebi yaki
was surprisingly well textured, and featured a strong saline component that matched up swimmingly with all the smoky bits.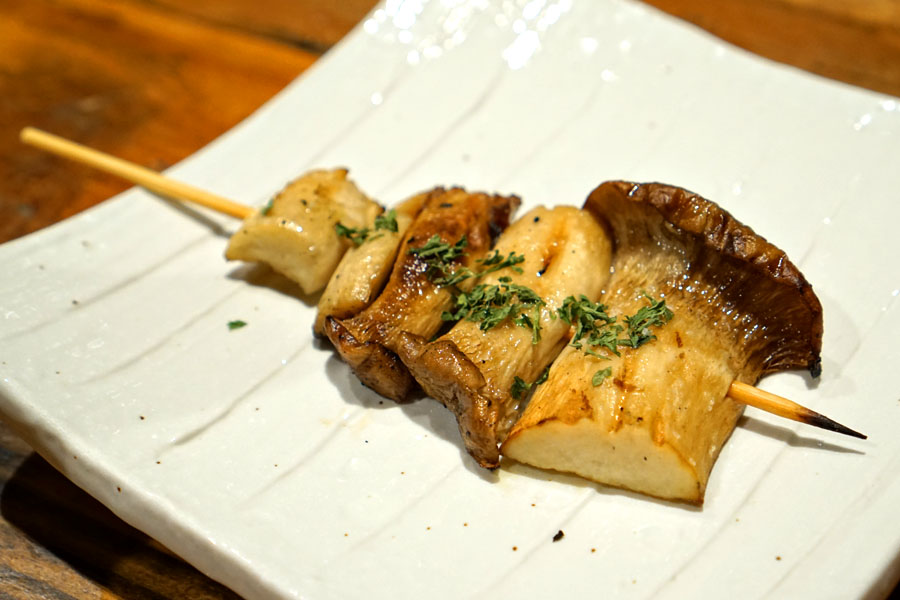 トリュフ香るエリンギ - Oyster Mushroom w/ Truffle Oil [$3.90]
The
toryufu kaoru eringi
was another must-try for me. The texture on the mushroom was just what I wanted--juicy and springy--and I appreciated how the truffle didn't mask the inherent umami flavors of the king trumpets.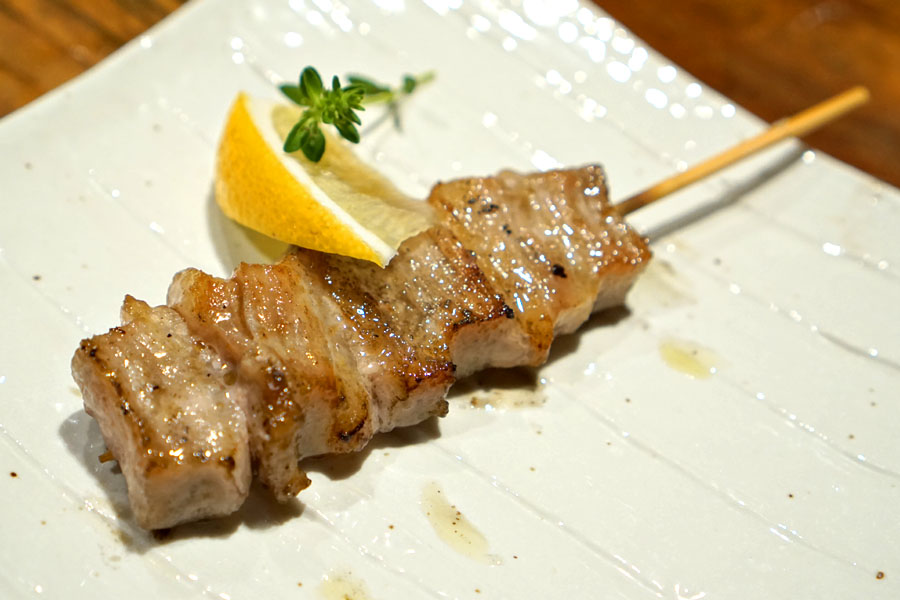 豚トロ - Pork Cheek [$4.00]
Cuts of
tontoro
were firm and fatty, with a slight crunch and plenty of porcine depth. Nice with a squirt of lemon.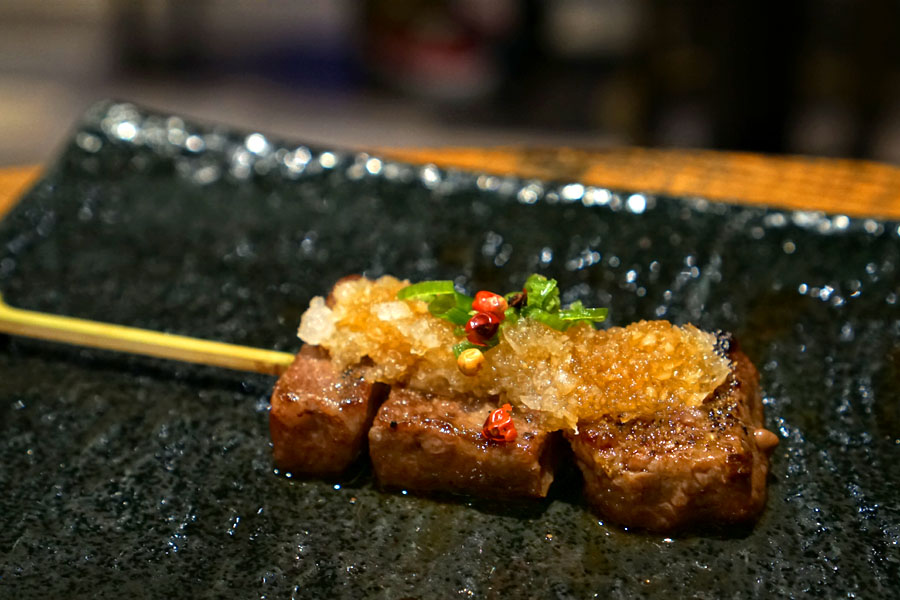 神戸牛 - Kobe Wagyu Beef [$7.50]
The
Kobeushi
ate as tender as I expected, and was perked up by tangy grated daikon and the zing of peppercorns. However, I really wanted to taste more smoke, more sear here.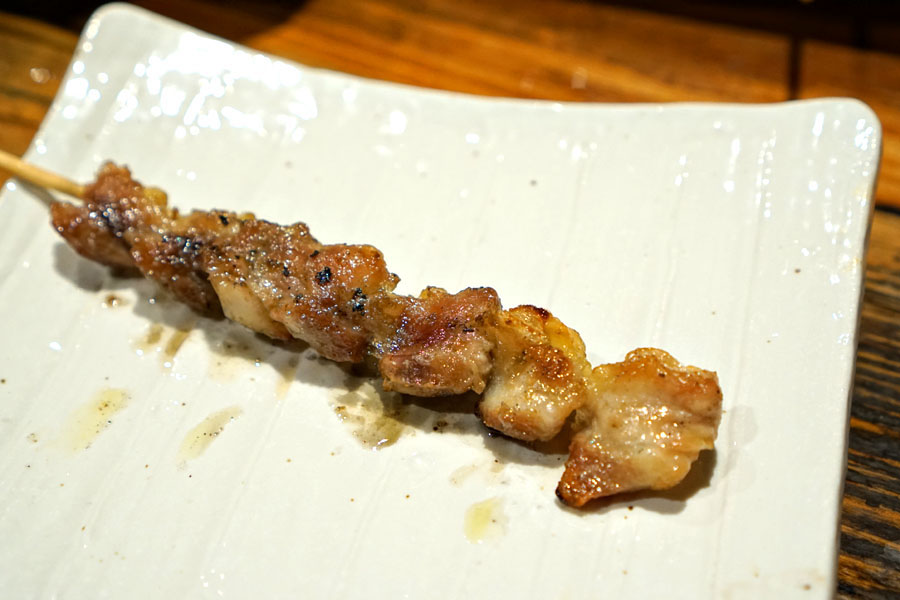 軟骨 - Cartilage [$3.80]
The
nankotsu
was a winner due to its utterly satisfying crunch and apt amount of char.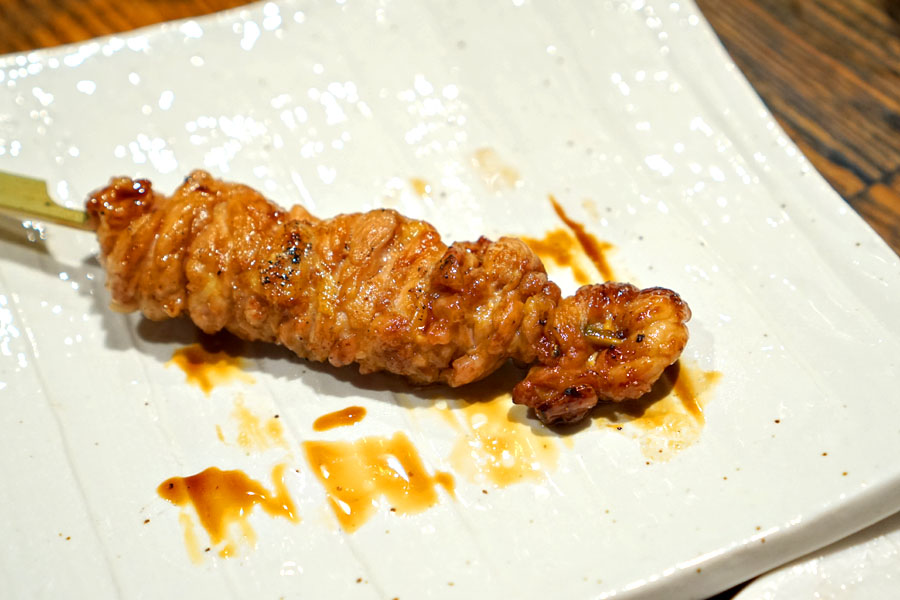 せせり - Neck [$4.30]
Seseri
arrived soft and slightly chewy, with a marked sweetness that made for some very balanced bites.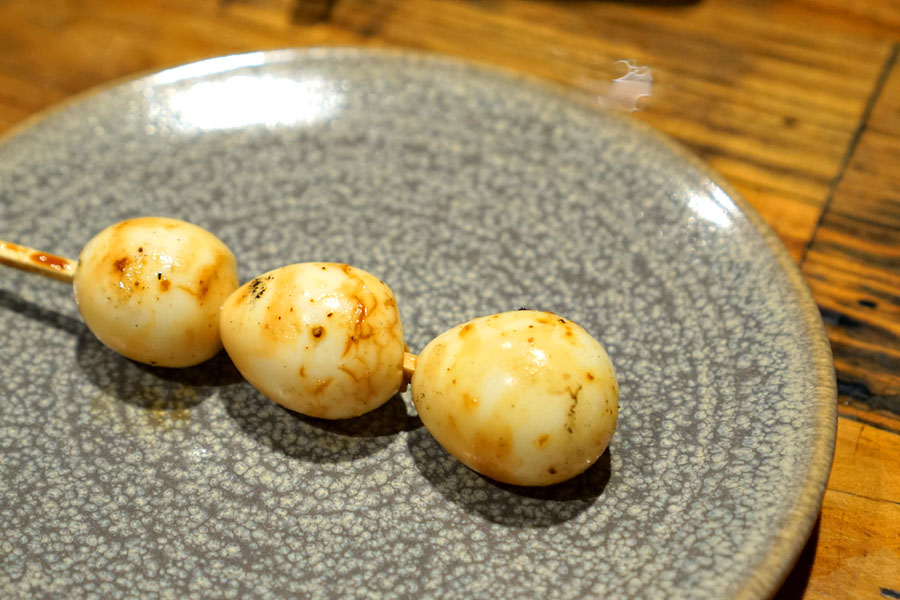 半熟うずら - Quail Egg [$3.80]
Hanjuku uzura
featured runny yolks, which I really appreciated, as well as a lovely "snap" on the outside.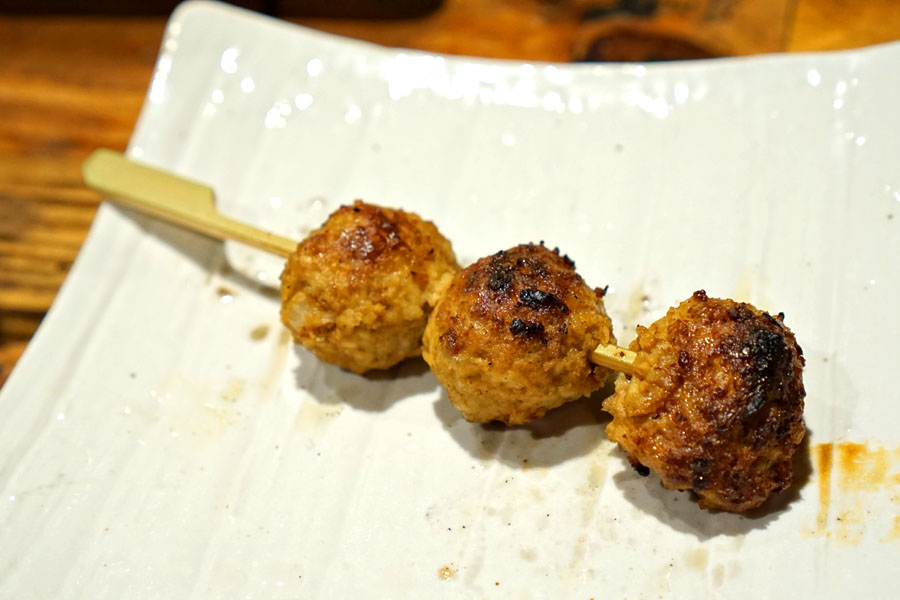 自家製つくね - Meat Balls [$3.80]
Another favorite tonight were the
jikasei tsukune
. I was smitten by their melding of soy-fueled umami with just enough sweetness, as well as the zestiness of scallion on the finish.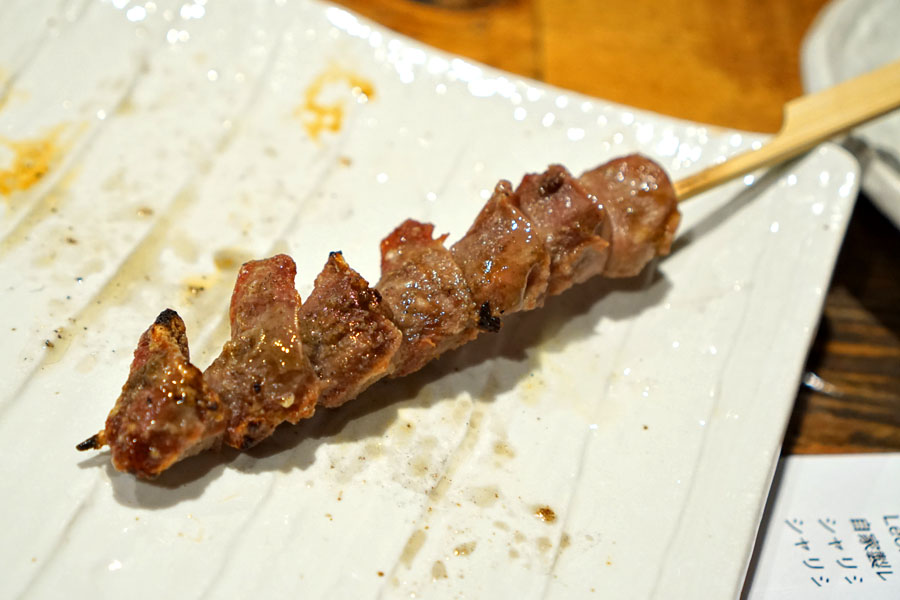 こりこりスナギモ - Gizzard [$3.50]
Korikori sunagimo
were properly crunchy, and much more elegant tasting than usual.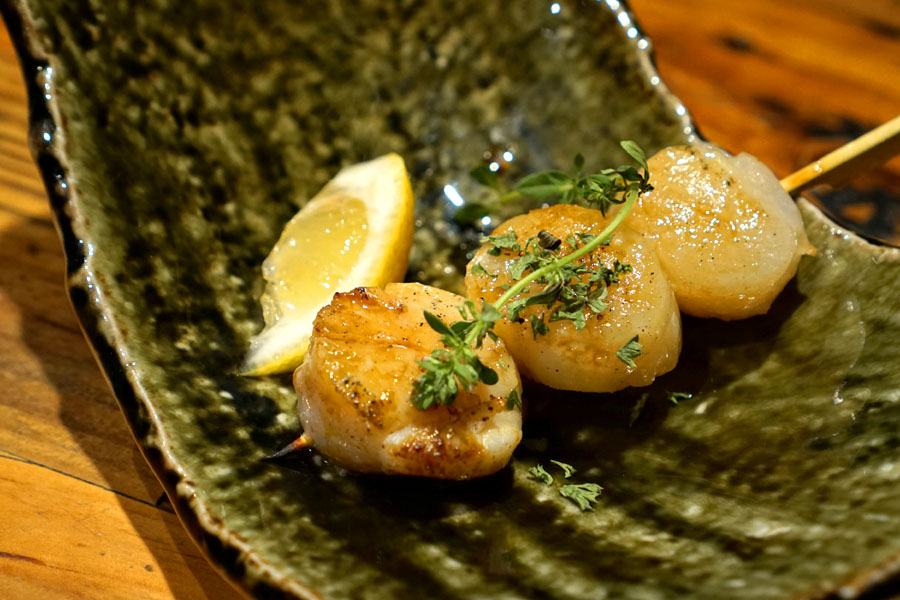 北海道ホタテのバター焼き - Hokkaido Scallop w/ Butter [$8.00]
Interestingly, one of my
Hokkaido hotate no bata-yaki
came out overdone, but the remaining two were just fine. They showcased the scallops' signature sweet-salinity for sure, but augmented by herb and lemon.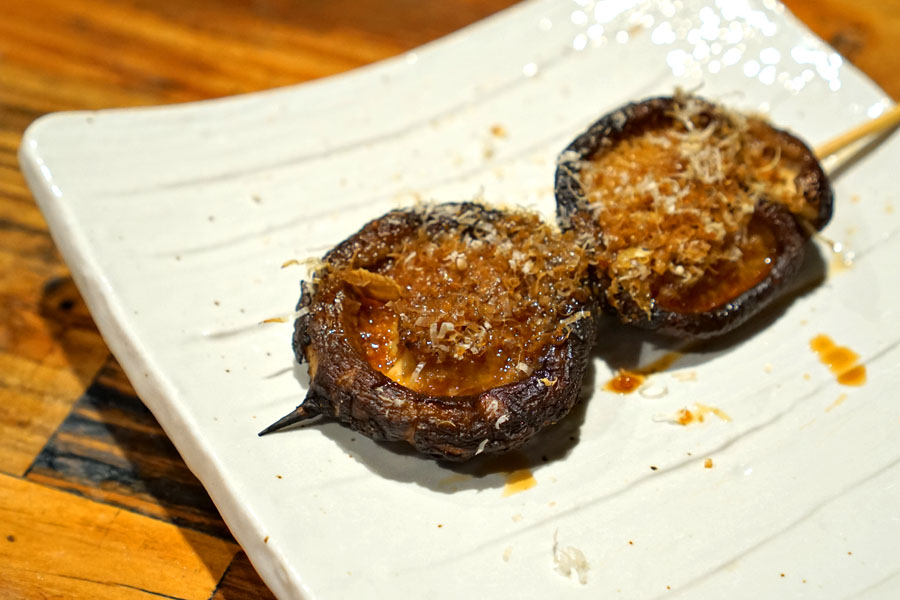 しいたけ - Shiitake Mushroom [$2.90]
Last up were the shitakes, which had the soft 'n' springy consistency I was looking for, along with a sweet-sour flavor profile and plenty of umami from the
katsuobushi
sprinkled on top.
Hasu had been on my to-eat list since 2017, so I'm very glad I finally made it out here. I was impressed with Taka-san's cooking for the most part, and I'd say the yakitori's right up there with the top spots in Los Angeles. I'll definitely be keeping this place in mind next time I'm craving some skewers. But actually, before I come back for that, I'm interested in returning to try Hasu's izakaya dishes, which hopefully will be just as delicious.