Sushi Nakata (Monrovia, CA)
Sushi Nakata
108 E Lime Ave, Monrovia, CA 91016
626.256.3379
sushinakatamonrovia.business.site
Sat 07/17/2021, 08:20p-10:05p

I was in search of a good sushi spot around Arcadia recently. It turns out that there aren't terribly many options in the area, and so I decided on Sushi Nakata (鮨中田) in Old Town Monrovia, which looked promising. The place is relatively new, having opened in November 2019, and is run by Chef/Owner Tadanari Nakata and his wife Anu Nakata (née Davaanyam), who's responsible for the front-of-the-house.
About the Chef
: Nakata Tadanari was born in May 1983 in the San Francisco Bay Area. His parents were both from Sapporo (his dad's brothers were also chefs in the area), and would often go back there for work, so he spent his childhood splitting his time between the US and Japan. Due to his father's job, the family eventually moved to Bridgeport, Connecticut during Nakata's high school years, and he ended up graduating from New Eden Academy (now known as Bridgeport International Academy) in 2001. Following, he relocated to Los Angeles since both his brother and sister were already here. Nakata decided to pursue a career in cooking, and thus enrolled at Le Cordon Bleu at the CSCA in Pasadena. Interestingly, his older sister, Mika Shenefelt, would later study here as well, and currently runs the onigiri-focused Rice & Nori in Little Tokyo.
While attending culinary school, he took a dishwashing gig at Tokoro in South Pas, but was able to make his way up to the sushi counter after the head chef quit unexpectedly. He was only there for six months though, and his second post was at Yu & Mi Sushi in Beverly Hills (open 2003). By the late 2000s, Nakata had moved to Sushi Yuzu in Toluca Lake (open 2008), and in 2012, he joined M2K Group (now
Zao Brands
), the company behind the likes of Backhouse and
EMC Seafood
, among others. During this period, he helped open multiple locations for the hospitality group (and also got married), but left in 2019 to start work on Sushi Nakata. The restaurant takes over an address that was previously home to Mooncat Sushi Bistro (they still have a separate ramen shop next door that opened in 2015) and Moon Dog's (a hot dog joint) before that.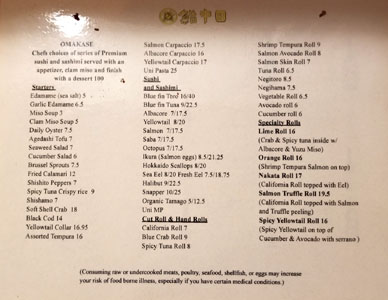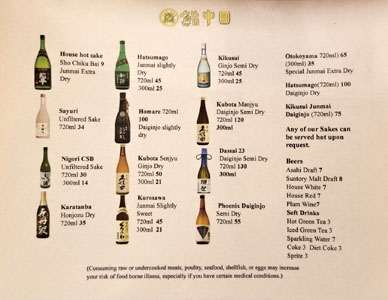 Pictured above is the menu, which is about par for the course, and fortunately, there aren't any crazy rolls or anything like that. We opted for the $100 omakase, taken at the restaurant's six-seater bar. To drink, you get a reasonable sake list, a couple beers, and wines you probably don't want. Corkage is a sensible $15 per bottle or $30 per magnum. Click for larger versions.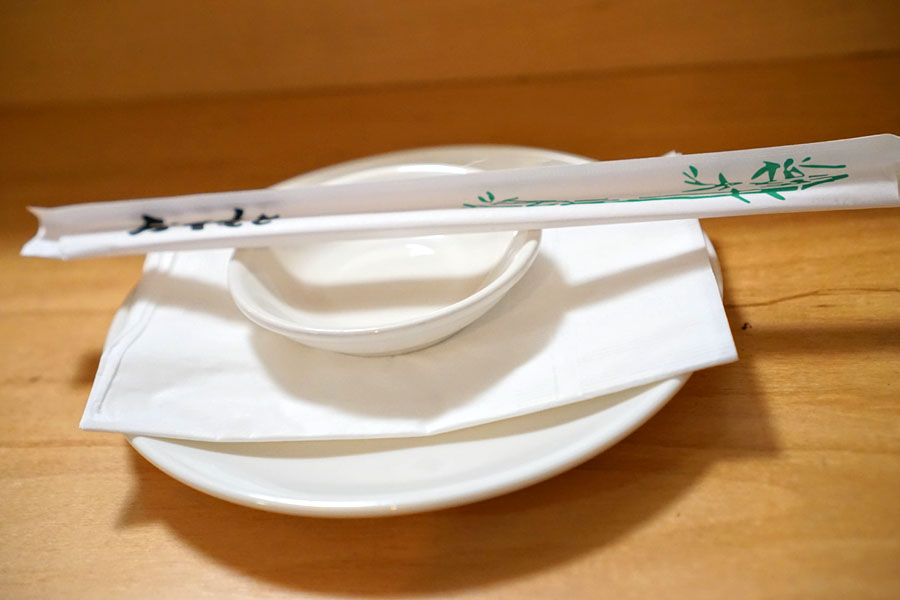 My place setting was about as straightforward as you can get.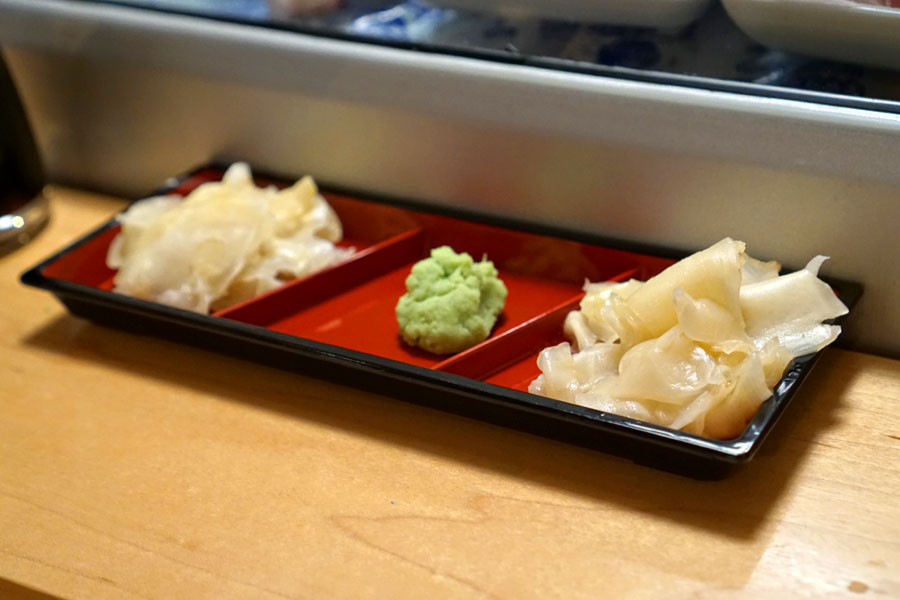 A plate of ginger and wasabi was already there when we arrived.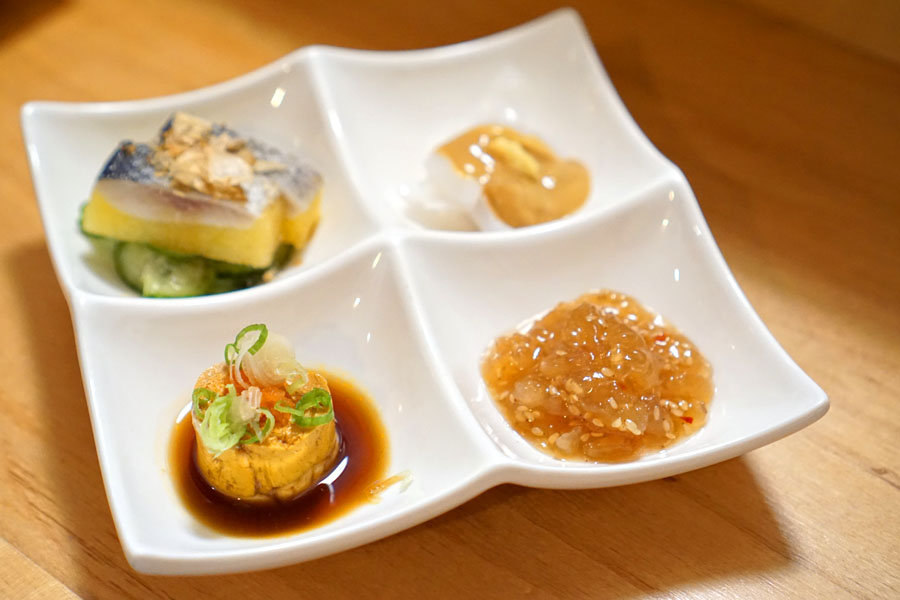 1: Zensai
Our meal commenced with a quartet of four small appetizers. Counter-clockwise from bottom-left, we had:
Ankimo - A creamy cylinder of monkfish liver was mild to begin with, but had a sweet brine that crept in slowly. Traditional accoutrements of ponzu, scallion, and momiji-oroshi were all on point.
Kurage - Jellyfish showed off a fantastic crunch, as well as a plethora of sweet, nutty flavors all in harmony.
Shiokara to Ika - Here, the intensely bitter, funky, briny taste of fermented cuttlefish guts was duly tempered by the much milder nature of the squid.
Nishin Kazunoko - Last up was herring served atop its own roe, which provided for some intriguing textural play and a back-and-forth between sweet, sour, and saline flavors, all lightened up by slivers of cucumber.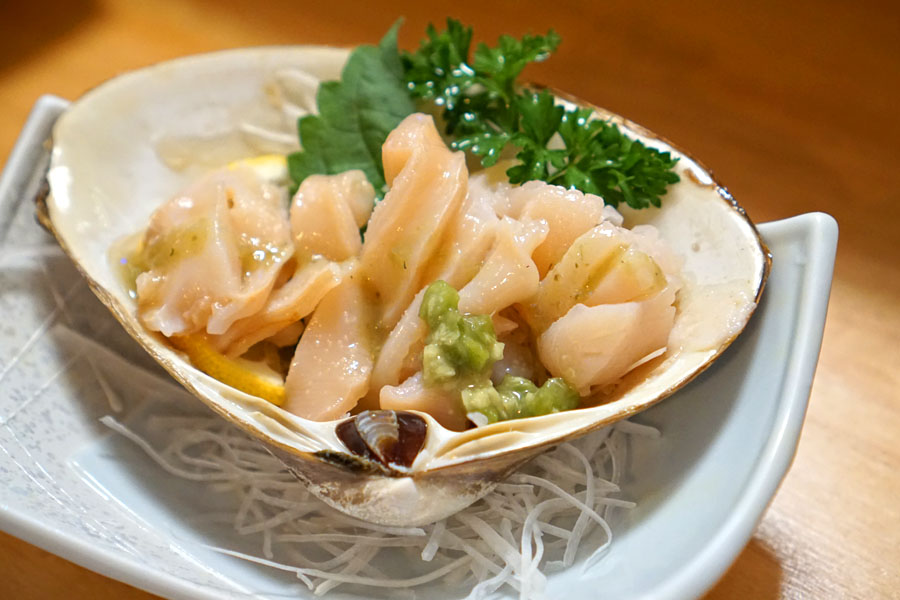 2: Aoyagi Sashimi
Next came a whole orange clam (a.k.a. round clam or surf clam), which was a joy to eat. I loved its supple-yet-crunchy texture, while the
bakagai
's sweet, oceany flavors meshed beautifully with the punch of both wasabi and
yuzukosho
. My favorite part, though, just might've been the bivalve's
kobashira
(adductor muscle), which had an especially toothsome quality to it.
To drink, I brought along a bottle of the
2006 Billecart-Salmon Champagne Blanc de Blancs Brut
. The nose here was very appealing given its focused aromas of juicy apple, yeast, and sugary brioche. Tasting the wine, I found it crisp and refreshing, with notes of yellow fruit, mineral, and citrus alongside a palpable acidity, though I could've used more toasty bits.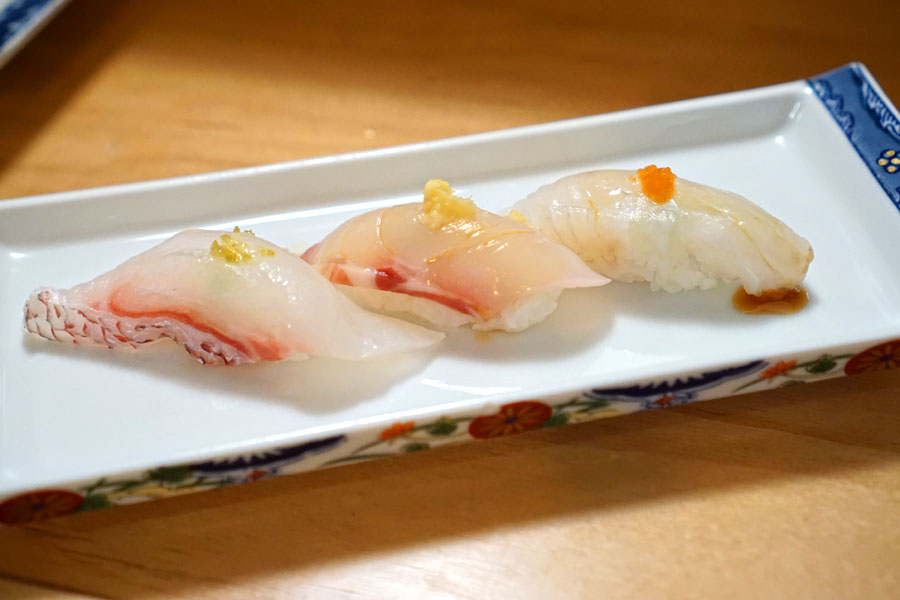 It was now time for sushi, and our first plate was clearly focused on
shiromi
. However, I do wish that Nakata-san would serve his nigiri one at a time, as is traditional for customers sitting at the sushi bar (which we were).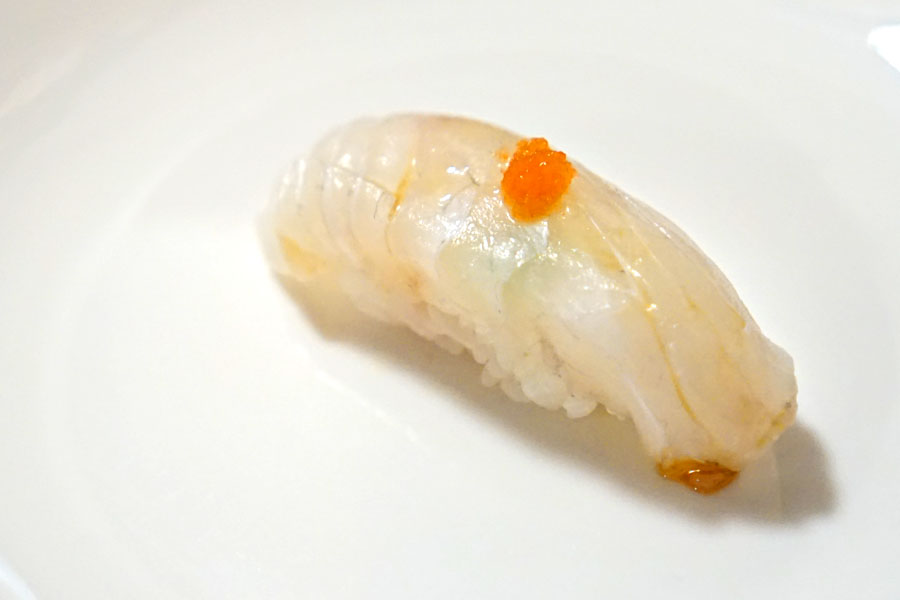 3a: Hirame
Flounder had a satisfying, supple chew, and demonstrated the restrained, subtly sweet flavors you'd expect from the cut.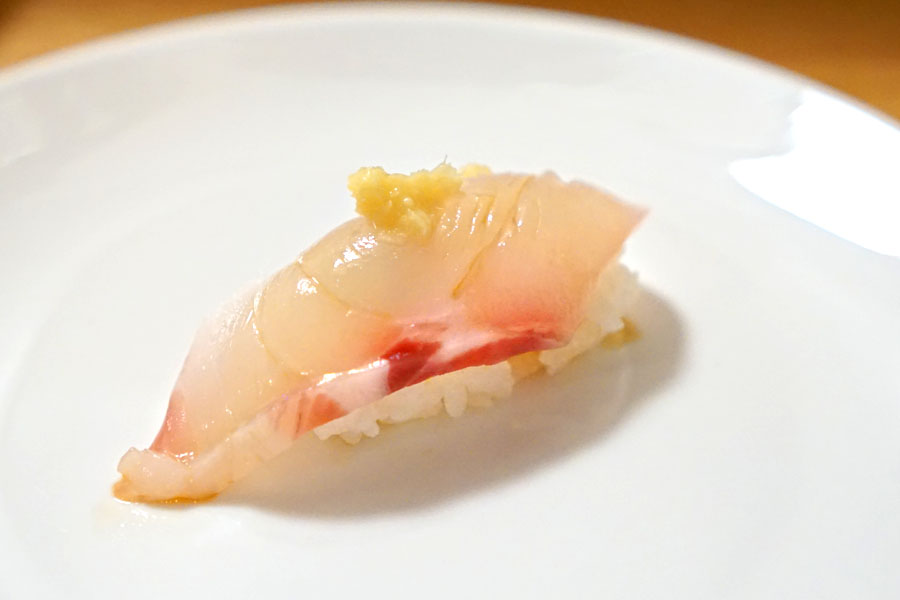 3b: Suzuki
Sea bass ate tender and mild, and featured a dab of ginger on top that gave the fish a spiciness that worked rather well.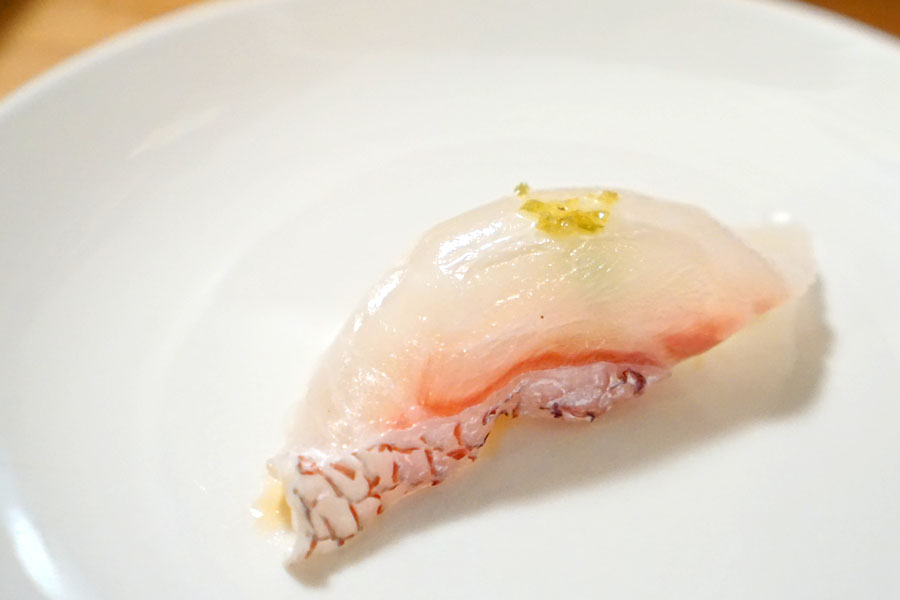 3c: Madai
Last up was easily one of the softest, sweetest cuts of sea bream I've had, which made it an even better pair with that zippy
yuzukosho
.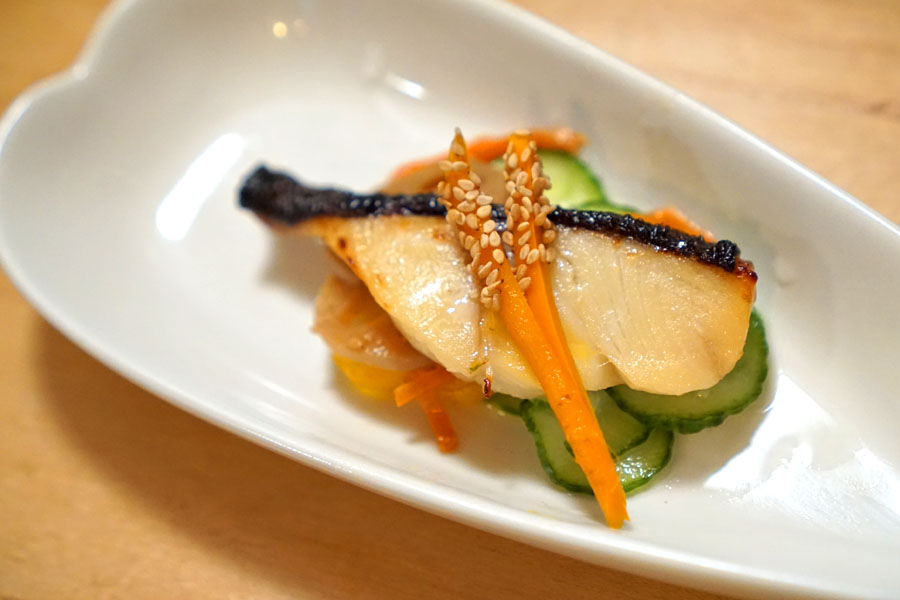 4: Gindara no Saikyo Yaki
Next came a classic preparation of white miso-marinated black cod. I quite enjoyed the unabashedly rich, savory flavors of the fish, especially when taken with the pickles and crunchy cuts of
renkon
.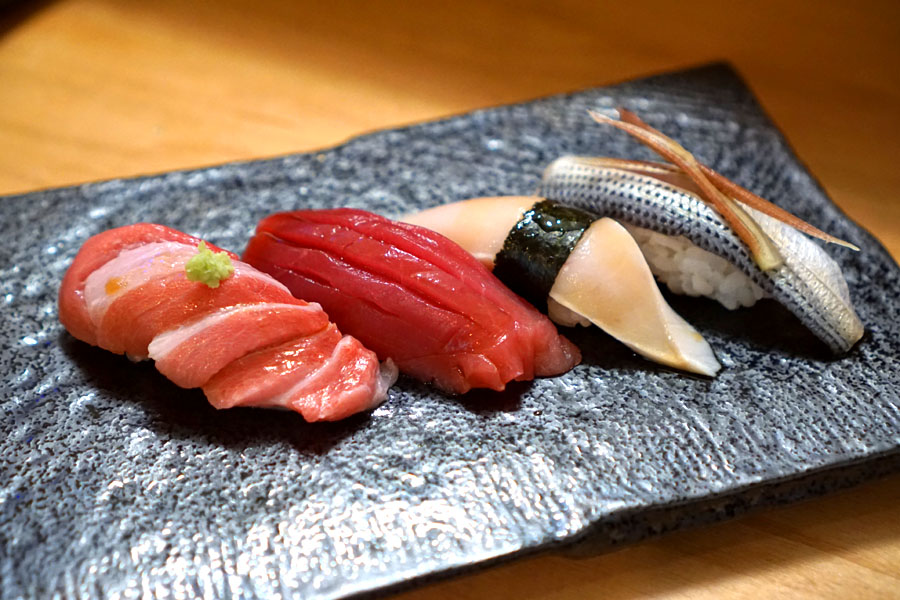 This was our second plate of sushi. Again, I'd prefer it if each piece were served individually on a
geta
.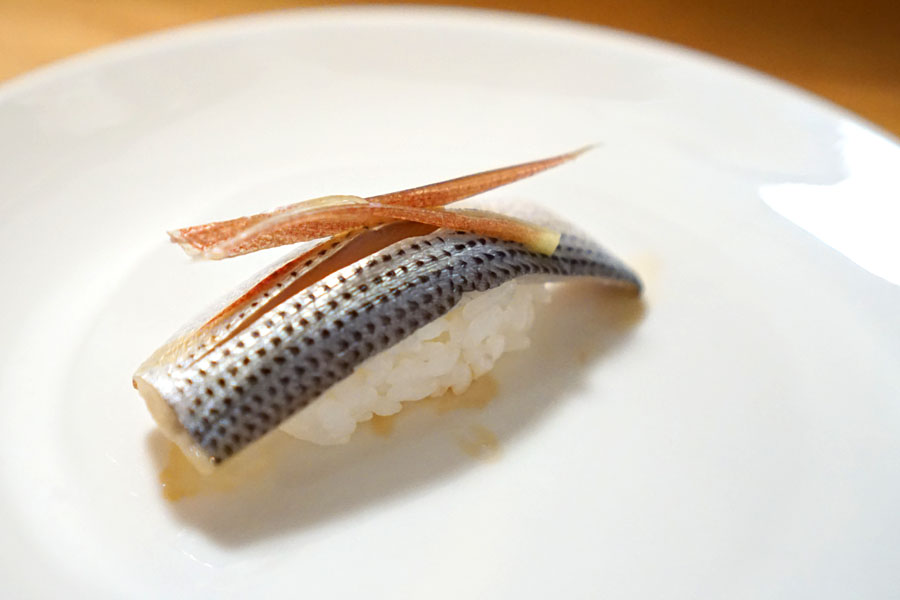 5a: Kohada
The gizzard shad was a standout thanks to its balance of saline, sweet, and umami-focused flavors, and meshed perfectly with the tartness of the
myoga
on top.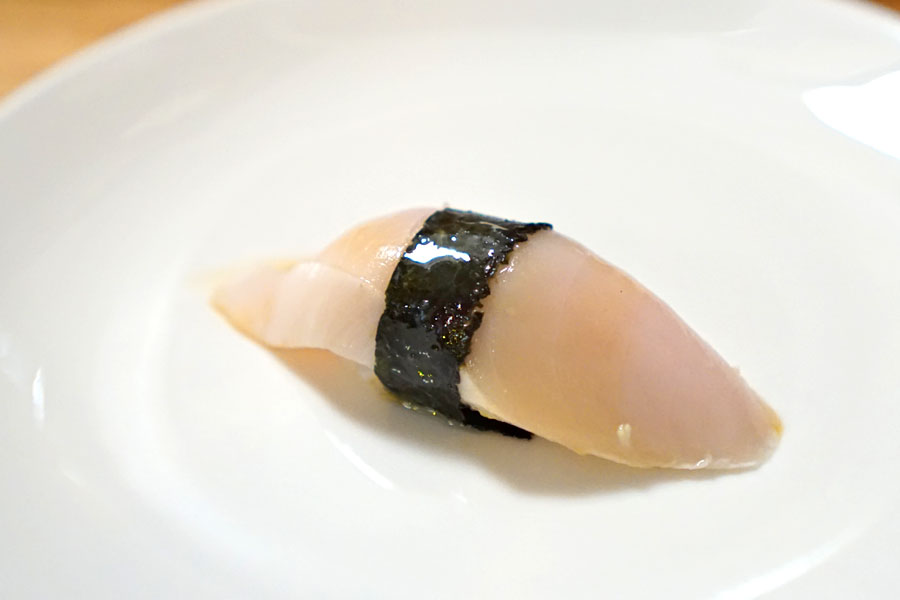 5b: Ono
Now we come to the butterfish (or escolar), a super slick, almost silky cut that conveyed a mild sweetness at first before transitioning to more oceany notes towards the back end.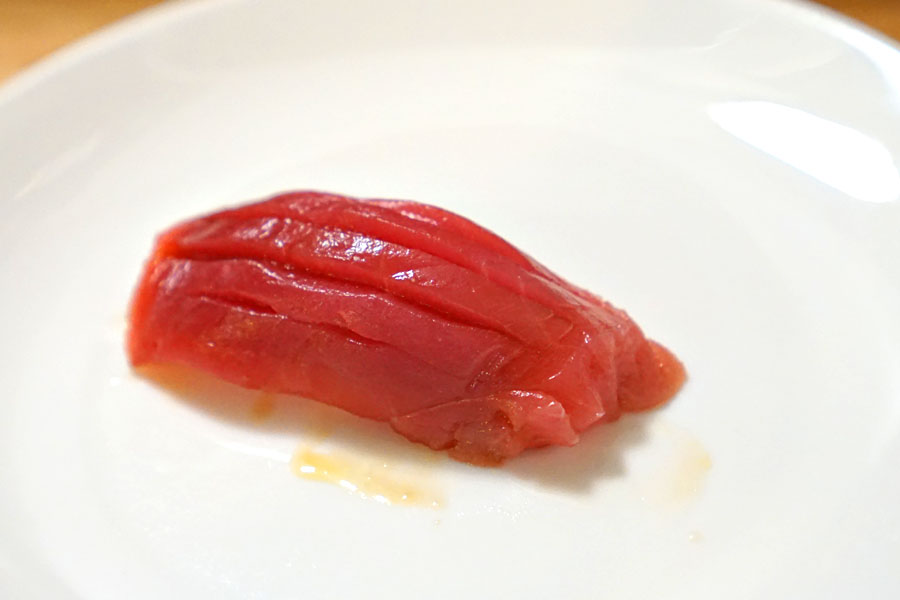 5c: Akami
Spanish bluefin was particularly melt-in-your-mouth this evening, while flavors were clean and a bit mineral-driven.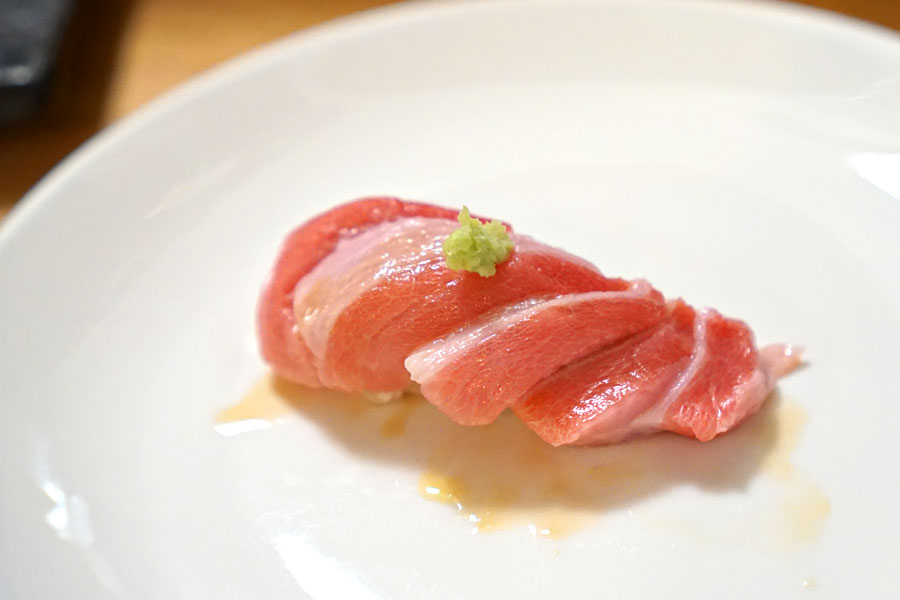 5d: Otoro
Rounding things out was an especially fatty, luscious, sinewy cut of toro that practically oozed oil upon mastication. The wasabi on top was crucial for balance, as was the Chef's rather neutral-tasting rice.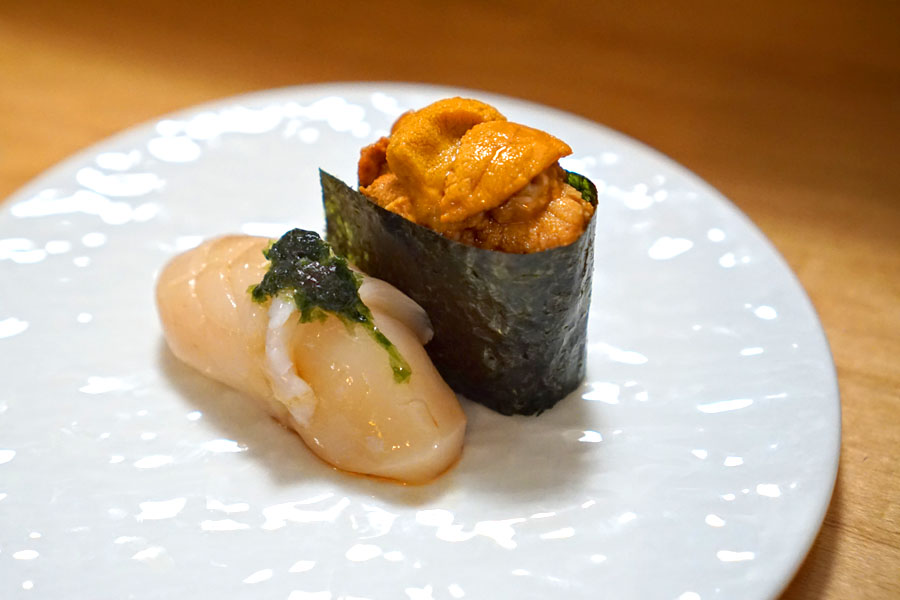 Our third sushi plate featured but two items.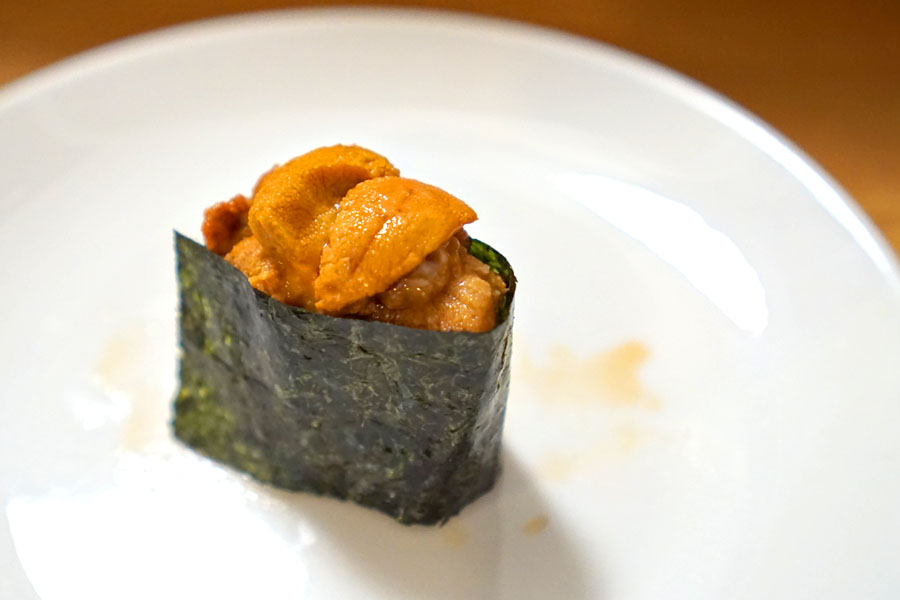 6a: Bafun Uni
Sea urchin came from Hokkaido, and ate cool, creamy, and sugary, just like I wanted. Excellent contrast from the crispy nori here as well.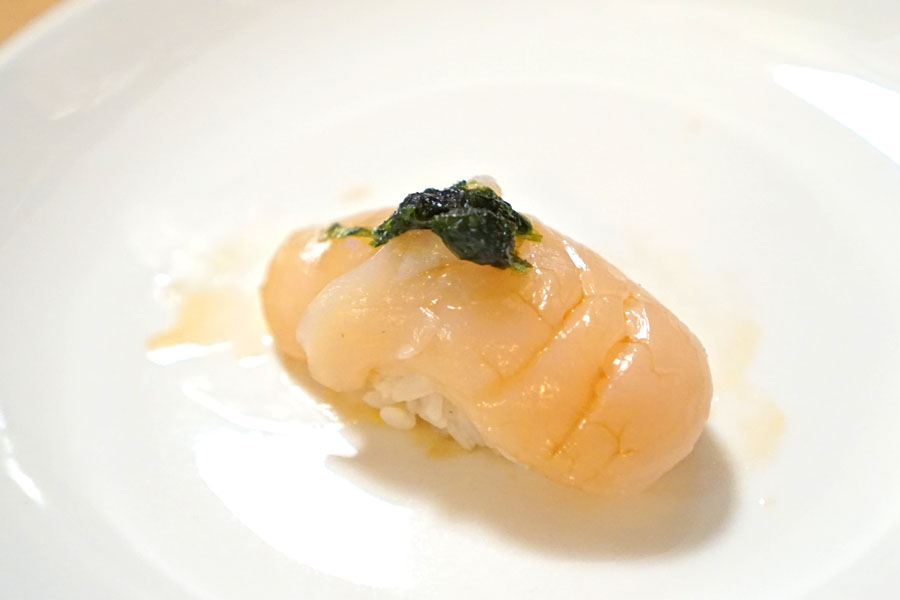 6b: Hotate
The scallop also hailed from Hokkaido. Its sweet-saline nature was on vibrant display here, and I much appreciated the additional complexity from the seaweed on top, too.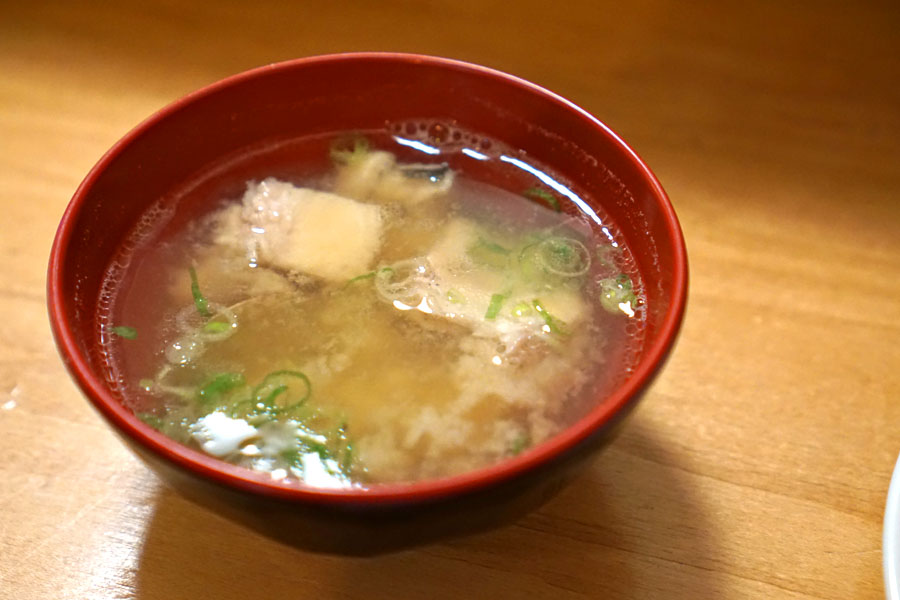 7: Misoshiru
A fairly classic rendition of miso soup came enriched with both clam and black cod bones.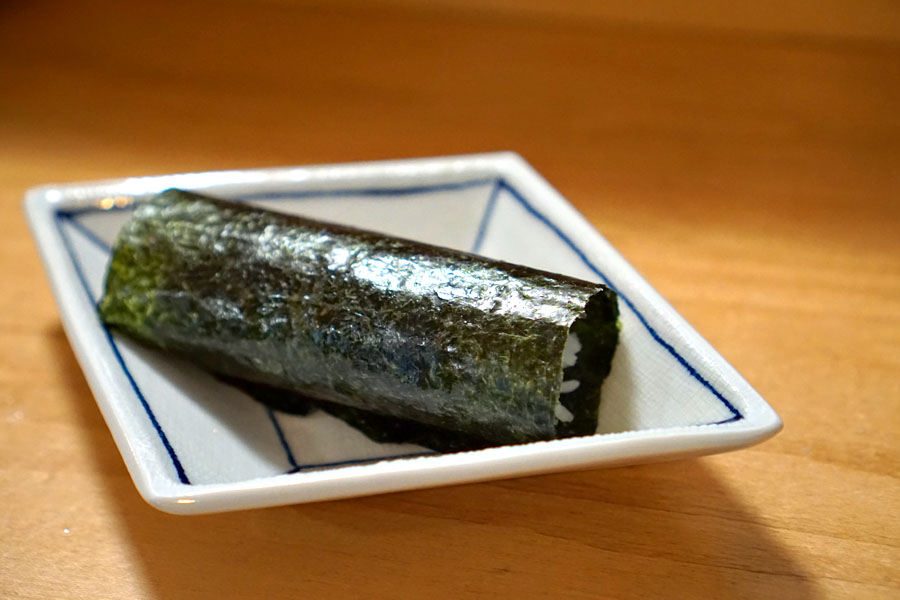 8: Toro-Taku
Our final savory was this lovely hand roll stuffed with
negitoro
and
takuan
. I really liked the crunchy, sweet-sour nature of the pickle and how it interacted with the tuna-scallion combo, and again, superb counterpoint from the seaweed as well.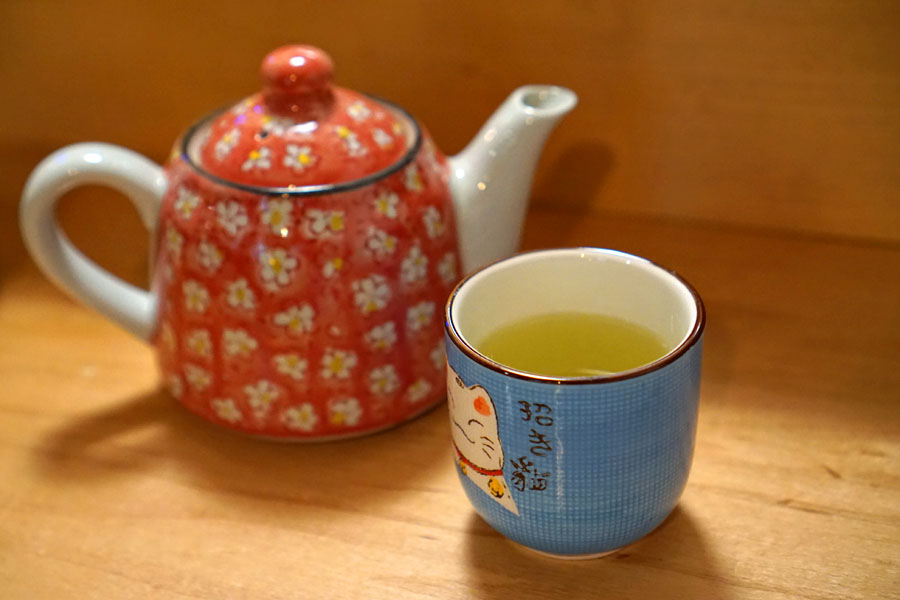 Some complimentary green tea to go with dessert.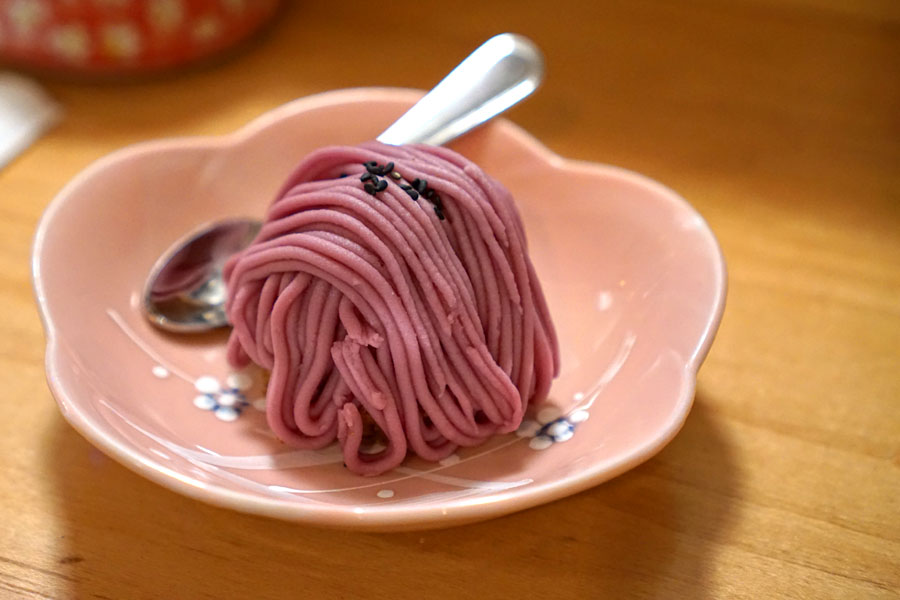 9a: Satsumaimo Mont Blanc
Speaking of those desserts, they comprised two varieties of Mont Blancs. The first incorporated sweet potato, which gave the dish an almost floral nature.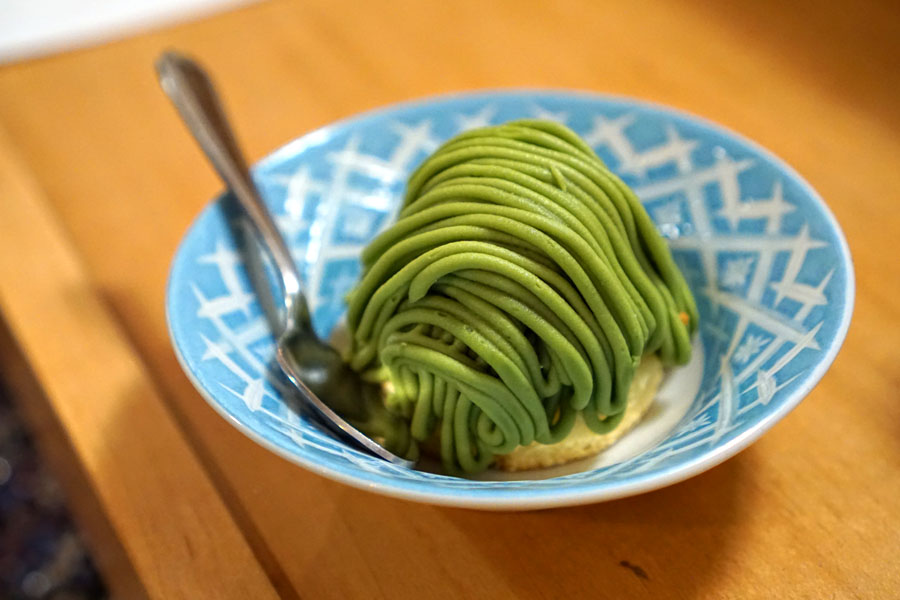 9b: Matcha Mont Blanc
The green tea version, meanwhile, was quite a bit more herbal and astringent compared to most matcha desserts.
I hadn't even heard of Sushi Nakata until relatively recently, but I'm glad I did, since it's a bit of a hidden gem. People rarely talk about this place, but I imagine it'll get more attention now that things are getting back to normal. I thinking that this has to be some of the best sushi available in the San Gabriel Valley, so it's definitely worthy of consideration if that's what you're looking for.