Sushi Kaneyoshi (Los Angeles, CA)
Sushi Kaneyoshi
250 E 1st St, Los Angeles, CA 90012
213.277.2388
kaneyoshi.us
Fri 07/23/2021, 07:00p-10:15p
I've always had a fondness for Little Tokyo, but the area hasn't traditionally been known as the place to go for truly high-end sushi. However, apparently things have changed with the debut of Sushi Kaneyoshi (鮨かね嘉), a new spot that proudly proclaims its traditional
edomae
inspiration. Though the place had been doing takeout for a while, the restaurant opened for dine-in service on April 14th this year, taking over part of the old Izakaya Fu-Ga. Interestingly, the owner here is also Fu-Ga's owner: Sadaki "Bruce" Kanenobu, who's also the man behind the Shogun restaurant chain, which he started in Pasadena in 1980. However, helming the counter is Chef Yoshiyuki Inoue, whom some of you might recognize if you've been eating sushi in LA for a while.
About the Chef
: Inoue Yoshiyuki was born in December 1978, and hails from Yokohama. He moved to the United States in 1997, settling in the South Bay (where he still resides), and started out working at local sushi spots in the area, but also trained under Kuwano Tatsuya (of Sushi Kuwano in Ginza). The Chef was eventually able to make his way to
Mori Sushi
, where he worked for about four years (this was after the restaurant's sale to Masanori "Maru" Nagano in March 2011). He stayed there until June 2016, spent three months at
Kiriko
, then moved to
Sushi Zo
(he's friends with the owner). In June 2017, he joined the team at
Ginza Onodera
, but lost his job when the pandemic shutdowns started last March. Shortly afterward, in May, Inoue began collaborating with Yasuhiro Hirano (a friend of a friend) over at
Sushi I-Naba
, serving to-go boxes under the Sushi Kanenobu (鮨かね信) banner. That lasted for about two months, and at the end of July, the name Kanenobu changed to Kaneyoshi (due to pressure from the owner's wife). The Chef began offering takeout from the Little Tokyo space in August, which was able to sustain the business until now.
Meanwhile, assisting Yoshi-san this evening was Northridge native Anthony P. Nguyen, who actually started his sushi career circa 2012 at the now-closed conveyor belt spot Gatten Sushi in Granada Hills. After a couple years there, he completely switched careers and worked a stint for Alcatel-Lucent out in Naperville, IL. However, the allure of cooking pulled him back in, and in 2015 he returned to Southern California to join the team at Katsuya (multiple locations, including the original), where he trained under Kentaro Uechi. After two years, Nguyen transitioned to Hiroshige Yamada's Sushi Sushi in Beverly Hills, where he spent another couple years. Following, he went to Japan to further his knowledge (January to April 2020), but the trip was unfortunately cut short by COVID-19. He was later able to secure his position at Kaneyoshi through a connection with Shin Sushi (where he initially wanted to work), and has been at the restaurant since opening.

Sushi Kaneyoshi resides in the basement of the Kajima Building, in a space that I believe was previously used as a private event room for Fu-Ga. Shown above is pretty much the entirety of the place, which is basically just a 12-seater bar. The restaurant is actually quite difficult to find, not unlike many a high-end sushi joint in Tokyo.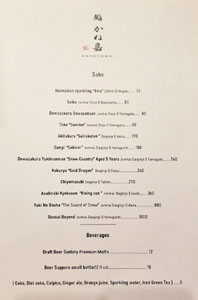 There's no written menu here, but instead, diners are solely offered an omakase meal priced at $250 a head, though you can still order food to-go. Pictured above is the beverage list, which features a small array of sake and a couple beers. Corkage was $50 a pop. Click for a larger version.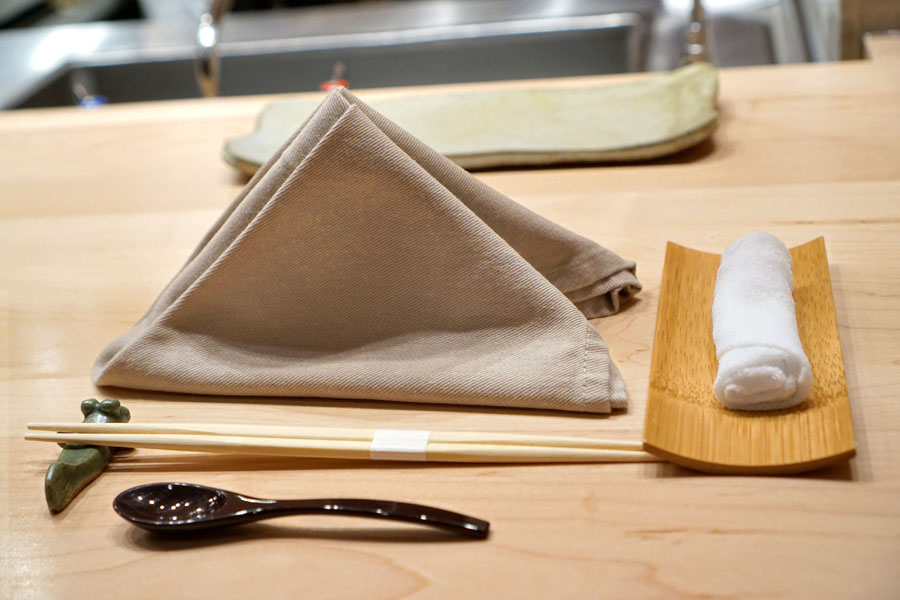 Here we see Kaneyoshi's place setting, replete with a chilled
oshibori
. Note that both the
hashioki
and plate in the back were handmade by Yoshi-san himself.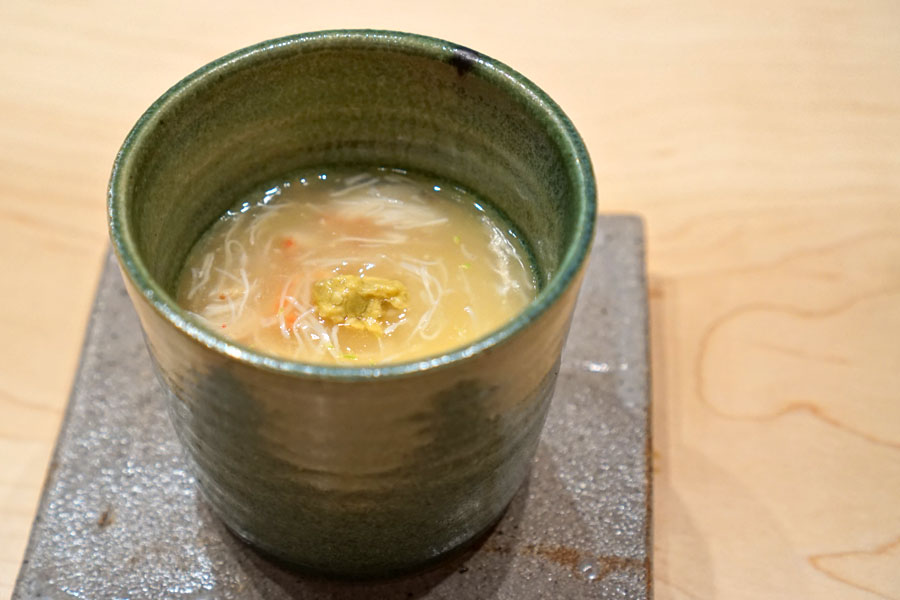 1: Kegani Chawanmushi
Our meal got off to a promising start. The chawanmushi highlighted flossy shards of intensely sweet hairy crab, joined by the earthiness of what I believe was the crab's innards. The dense-yet-silky egg custard itself played foil to these strong flavors, and livening things up further were overarching notes of citrus.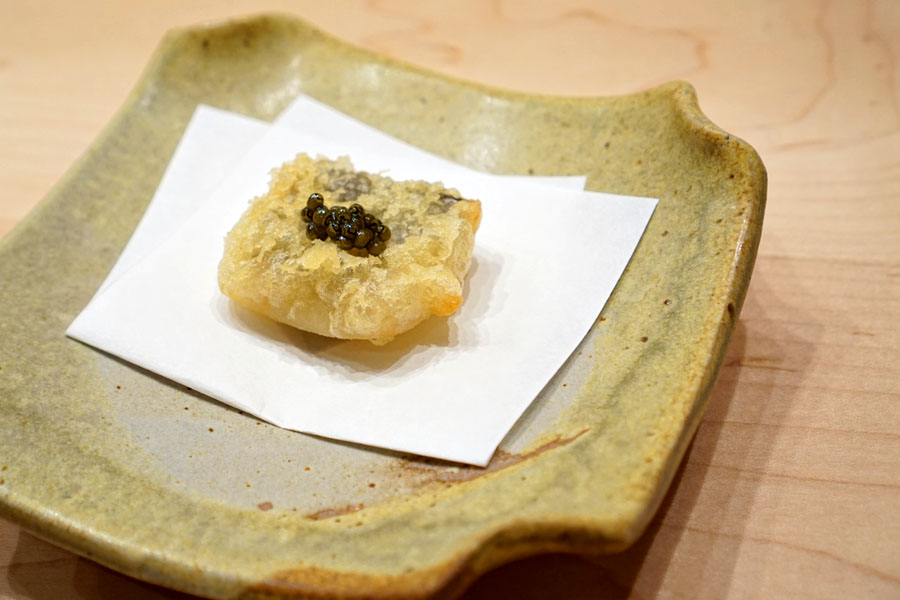 2: Tachiuo Tempura
Tempura'd beltfish from Chiba showed off a light, crispy exterior, while its insides were supple and almost pillowy, with a restrained, caviar-boosted salinity that was perked up by hits of yuzu.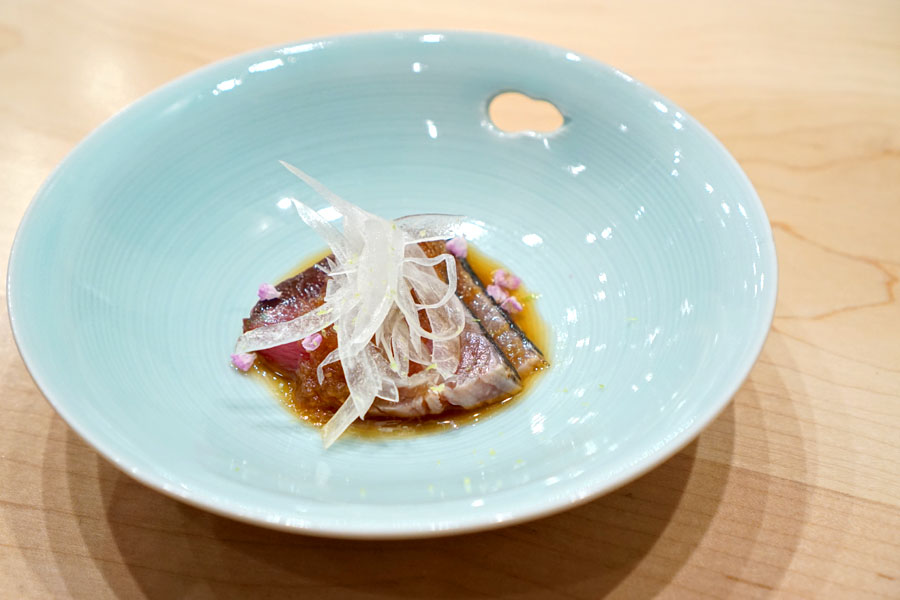 3: Katsuo no Kunsei
Next up was cherrywood-smoked skipjack tuna from Mie, with ponzu, onion, and shiso flowers. I loved the bonito's forceful, focused smoke, and how that married with the sweet-n-sour flavors going on, all while translucent slivers of onion imparted the perfect amount of zestiness to brighten things up.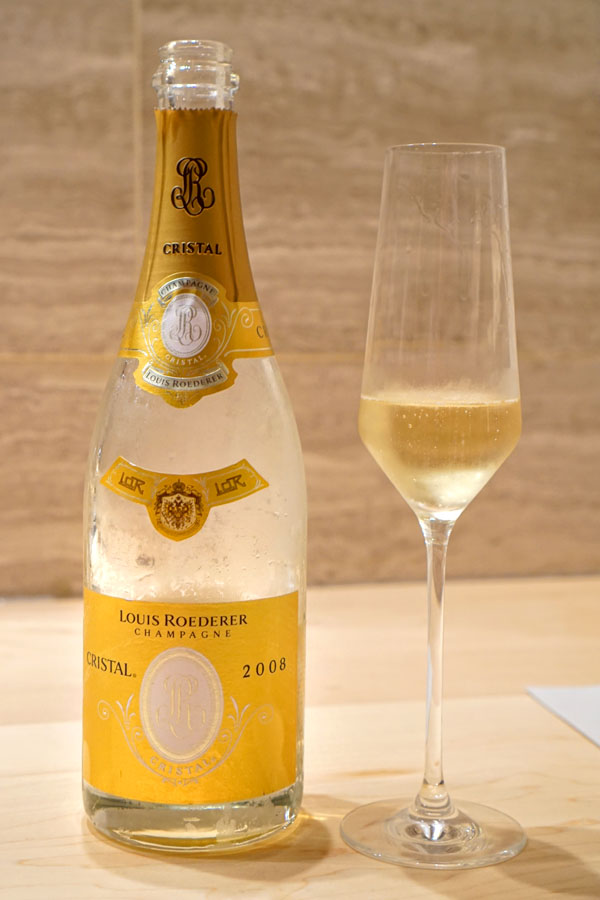 To drink, we brought along a bottle of the
2008 Louis Roederer Champagne Cristal Brut
. The wine smelled fantastic due to aromas that seamlessly blended robust citrus fruit with an intense earthiness and unmistakable elements of sugary brioche. The palate, meanwhile, was delightfully multifaceted, young and vivacious, yet seemingly fully developed, and showcased a full-throated toastiness alongside juicy stone fruits, minerals, and a palpable funk, all leading to even more toast on the back end. This was the best "young" Champ I've ever had, and I'm guessing a modern classic in the making thanks to its incredible concentration and focus.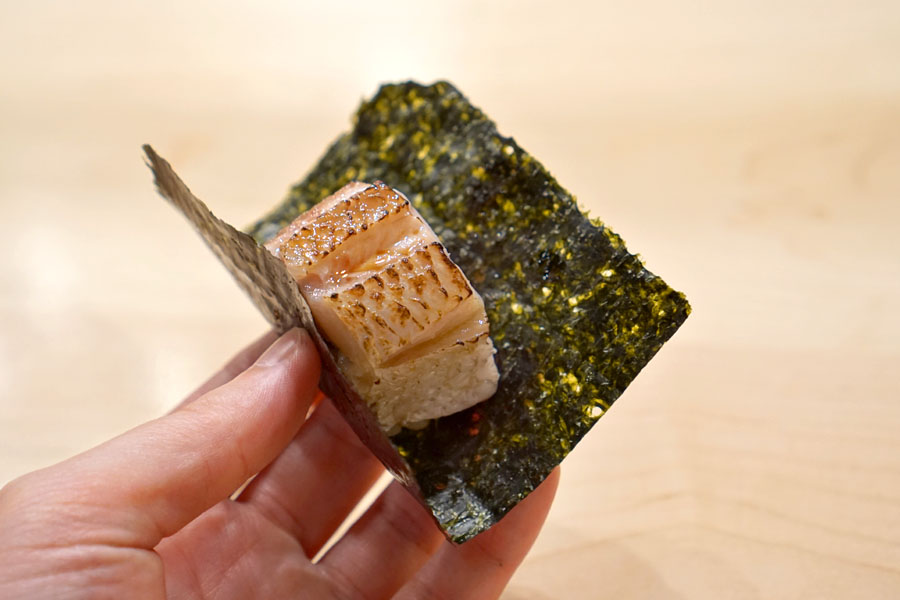 4: Nodoguro Bozushi
I've come to the conclusion that blackthroat seaperch is my favorite fish, so I was happy to see it here in pressed sushi form. The
akamutsu
ate as lush and fatty as I wanted, and was immensely gratifying just by itself. However, the crux of the dish was how well it meshed with the rice, super crisp nori, and subtle undercurrents of ginger present. In addition, I was a big fan of the mintiness on the finish, courtesy of some shiso I'm pretty sure. A standout.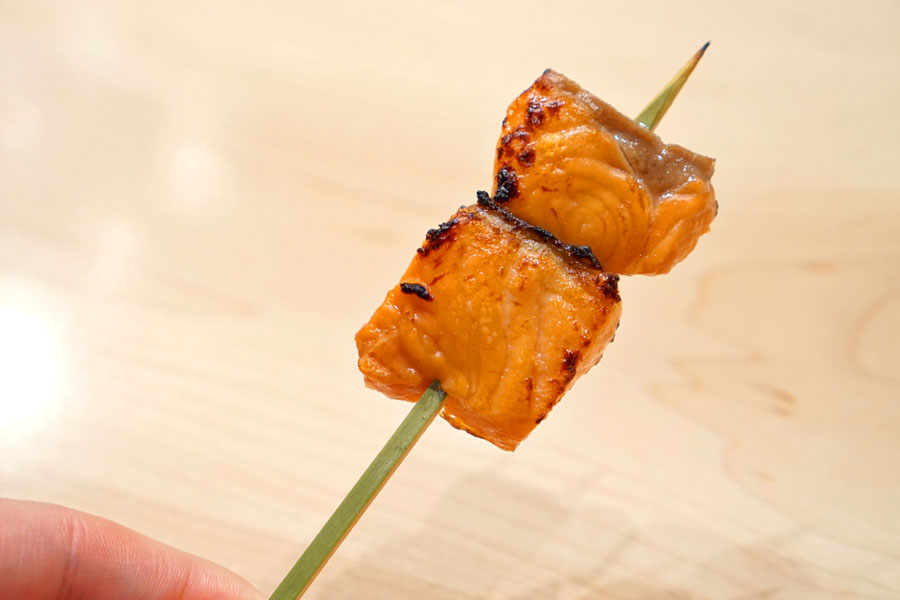 5: Yaki Masu
Cooked over
binchotan
, ocean trout conveyed a stupendous amount of powerful, almost "hammy" smoke that went well with the fish's inherent richness, though the cuts could've been juicier.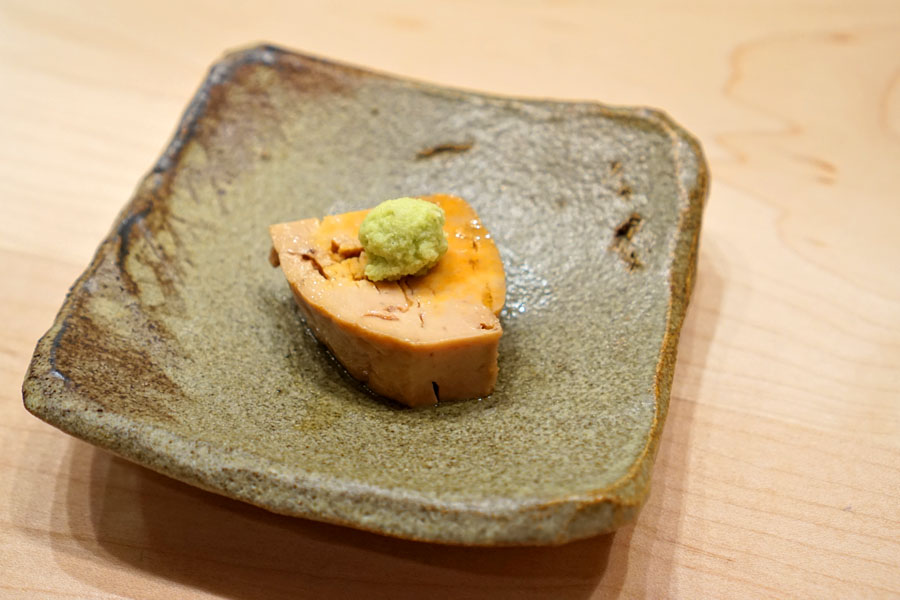 6: Ankimo
Prepared with sake and soy, monkfish liver from Hokkaido was easily one of the best I've had. Its texture was quite different than most, and I loved how apparent yet refined the sweetness here was, as well as the superb juxtaposition of the wasabi. Another standout.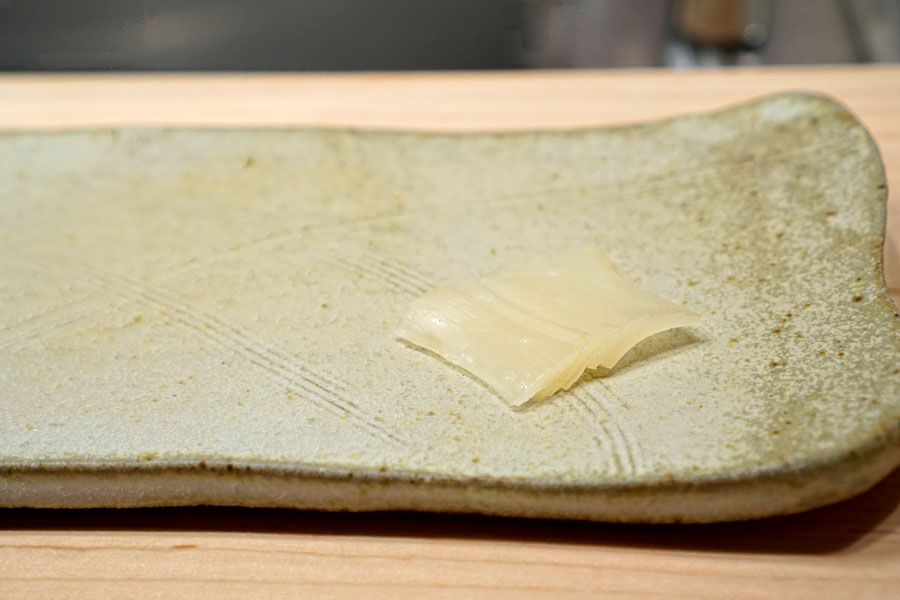 At this point, the Chef placed some finely sliced cuts of ginger in front of us, signaling the start of the sushi portion of our meal. The
gari
was probably the most unique I've tried, not only because it was super crunchy, but because of its initial saltiness and potent combo of sourness and mustiness on the finish, one that was somehow familiar to me.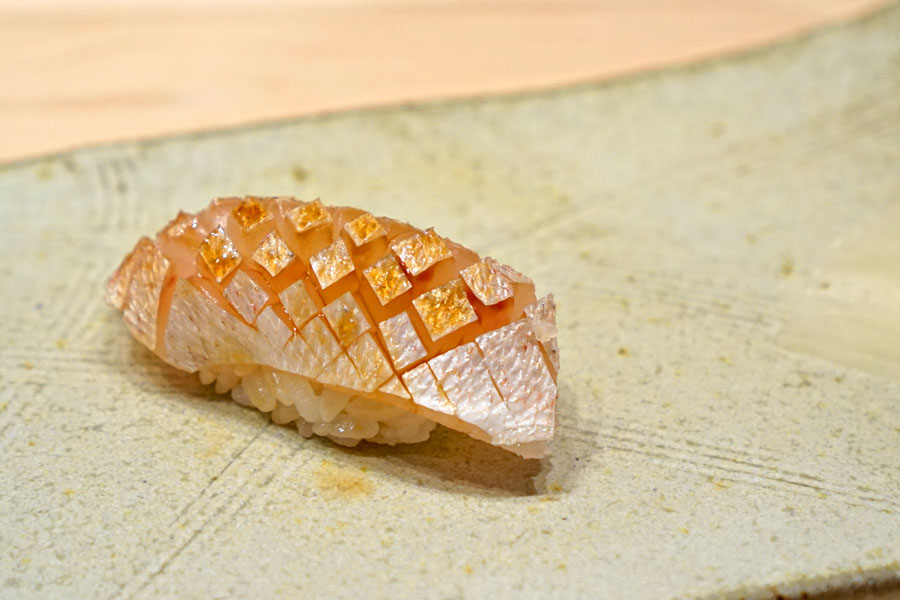 7: Kasugo Dai
Young sea bream was unquestionably elegant, tasting mild at first, but with the umami notes of its
kobujime
treatment showing up on the mid-palate, all enlivened by a punch of wasabi. A great start that really set the stage for all the nigiri to follow.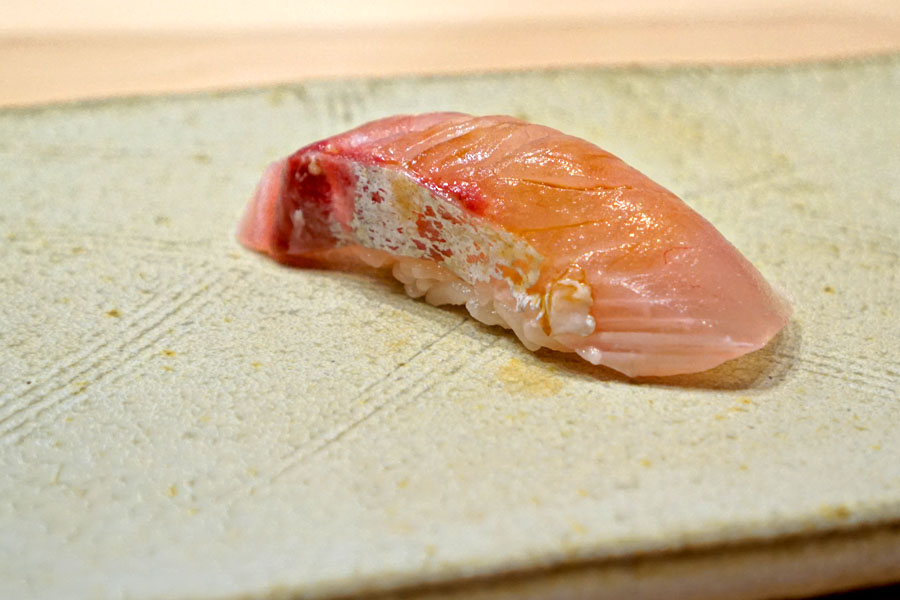 8: Kanpachi
Two day-aged wild amberjack had a lovely "crunch" to it, not to mention a spot-on balance of wasabi and soy to go along with the fish's considerable depth. What really made itself known here, though, was the Chef's warm-ish, potent-yet-finessed
shari
(I'm curious as to how much
akazu
he uses), which served as a perfect counterpoint to the kanpachi.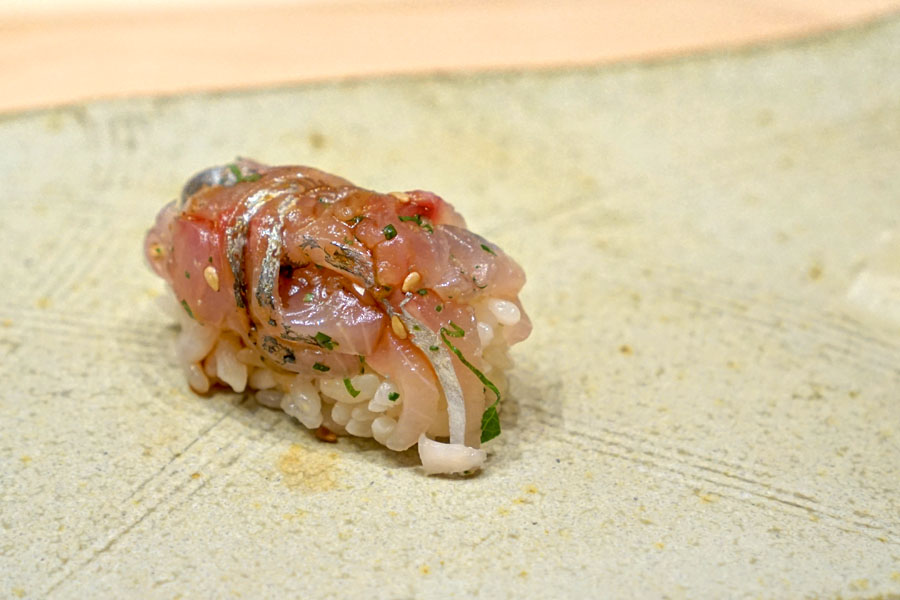 9: Aji
Spanish mackerel arrived coarsely chopped, giving the bite an unexpected, but not unwelcomed textural component. Taste-wise, I found the fish utterly sophisticated, with a superb lightness from its vegetal and citric notes.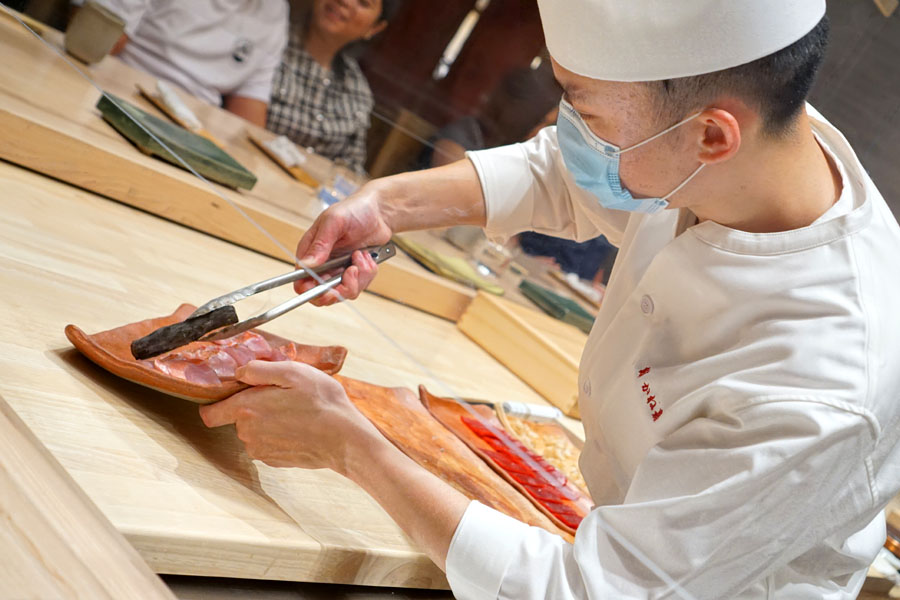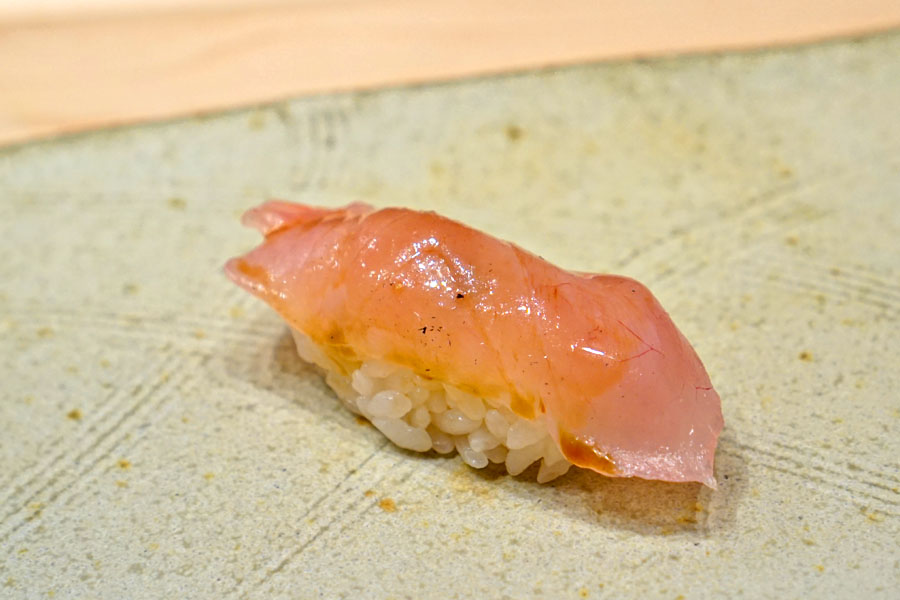 10: Kinmedai
Charcoal-seared golden eye snapper was another favorite of mine. I loved the balance of smoke and citrus here, layered over the cool, supple fish and warm rice. I think I even detected some
yuzukosho
on the finish.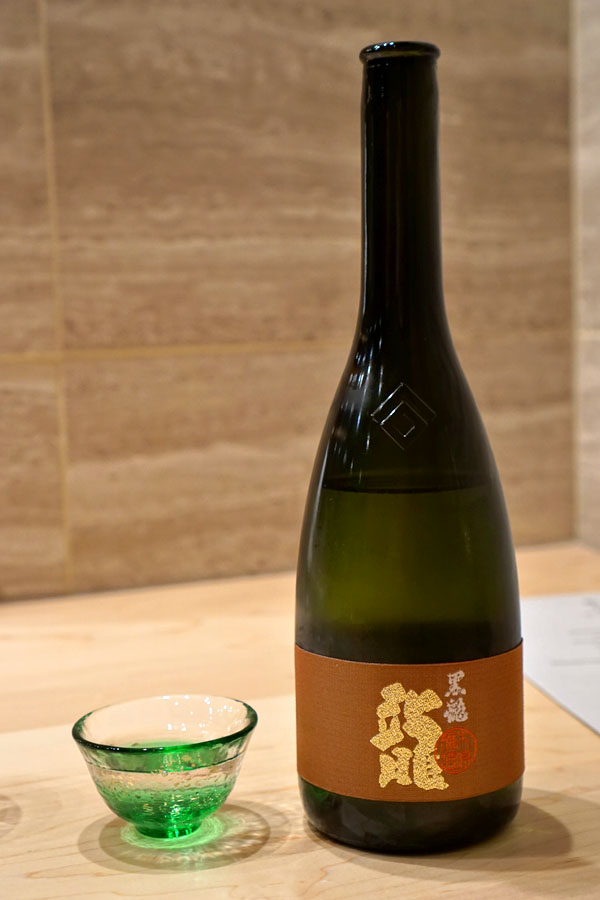 With the wine dispensed with, we proceeded to order a bottle of the
Kokuryu "Gold Dragon" Daiginjo [$240]
from Fukui Prefecture. The sake had an astonishing nose brimming with what I can only describe as banana bubble gum. Its palate wasn't nearly as explosive though, giving up soft, clean flavors blending muted fruit with ricey qualities, subdued flowers, minerality, and a smidge of heat.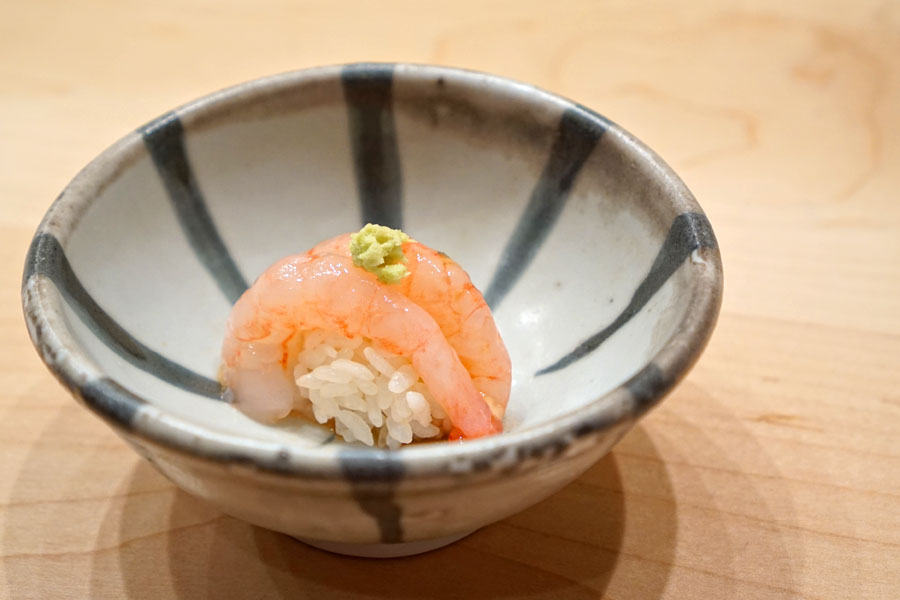 11: Amaebi
Hokkaido sweet shrimp arrived lush and creamy, its sweetness complemented by
ebi miso
(shrimp innards) and the inimitable heat of wasabi. And again, the way the rice melded here was absolutely key.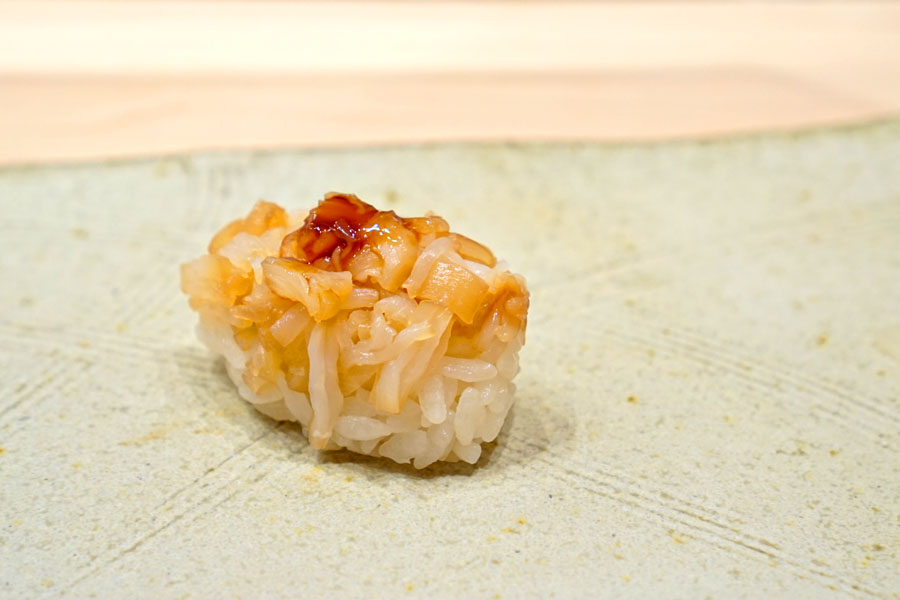 12: Hotate
What appeared to be cooked scallop came topped with a
tsume
-esque sauce made with parts of the scallop itself. This resulted in an uncommon amount of both sweetness and umami, all evened out by an omnipresent layer of wasabi. Probably the most unique piece of scallop sushi I've had.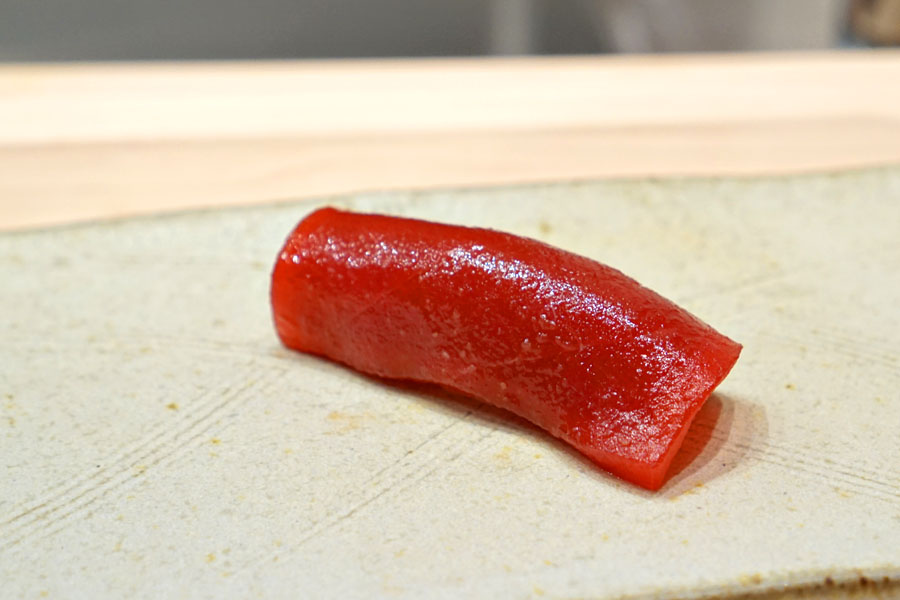 13: Akami
Wild bluefin from Boston demonstrated a pleasantly firm consistency, but what surprised me here was the fish's unusually fruity character, which was well matched by classic accoutrements of soy and wasabi.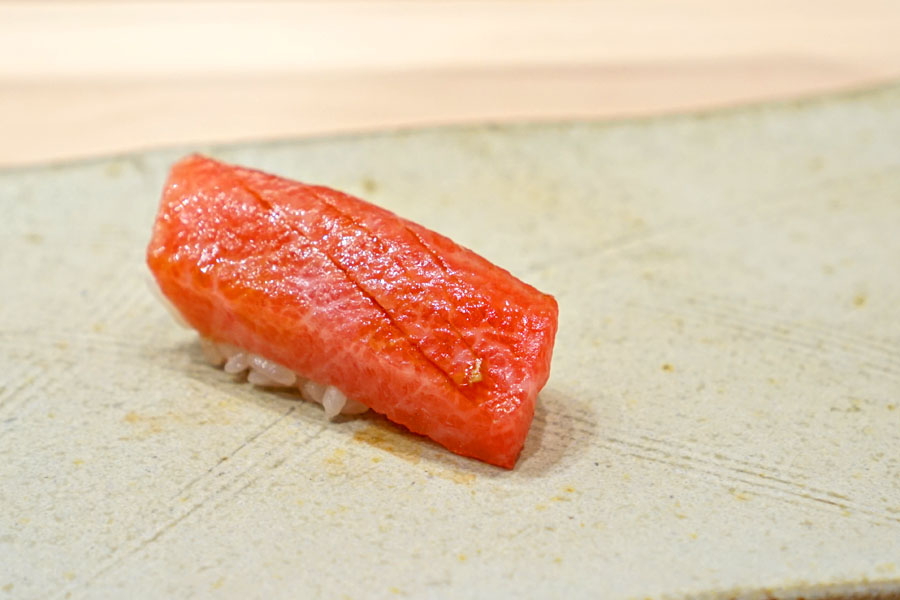 14: Kamashita
Here was a piece of tuna from what Yoshi-san indicated was the lower part of the cheek. I was smitten by its dense, almost "meaty" consistency, as well as its unabashed richness and oiliness; the cut seemingly oozed fat and umami. A real treat.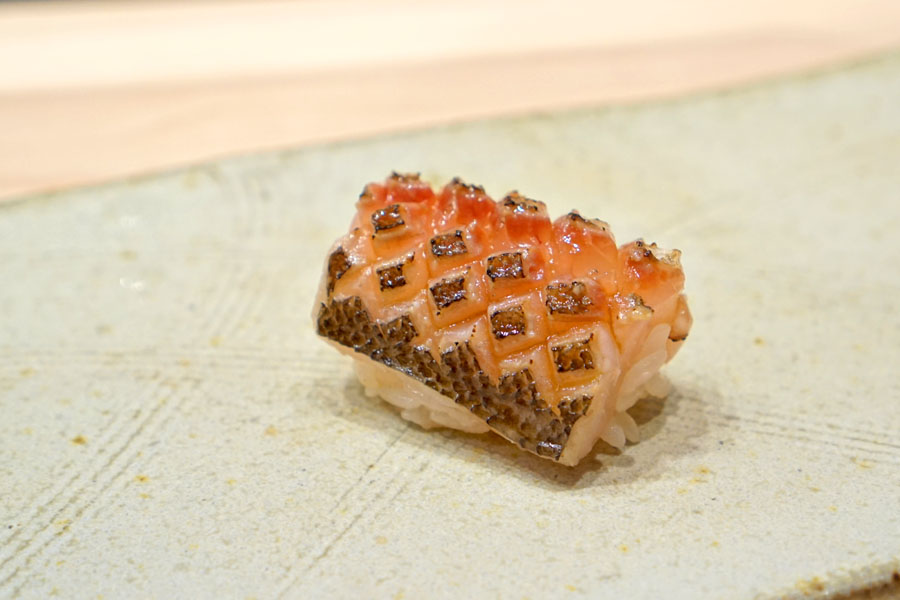 15: Kamasu
A handsome cut of Japanese barracuda delivered in a big way thanks to its harmony between smoky elements and the cool, restrained nature of gelatinously-textured fish.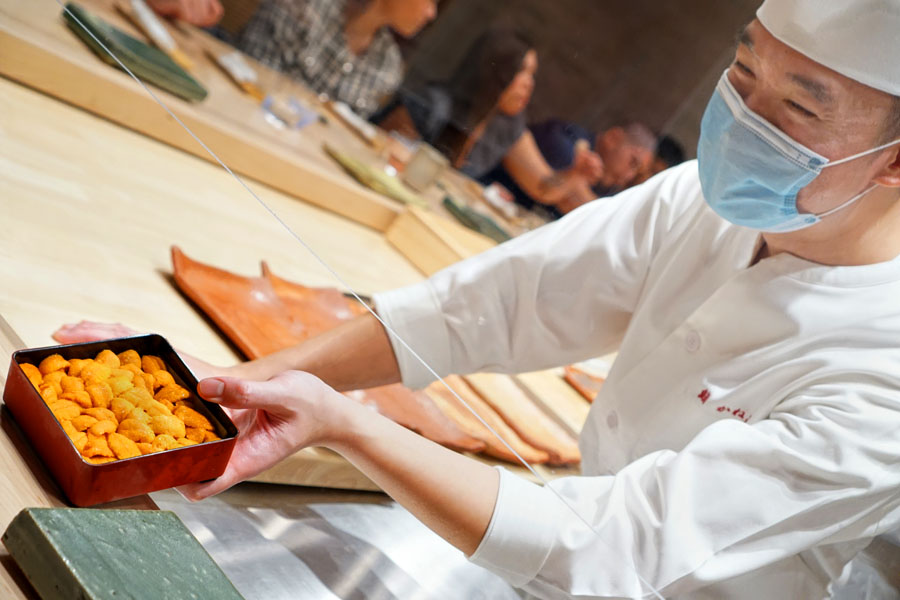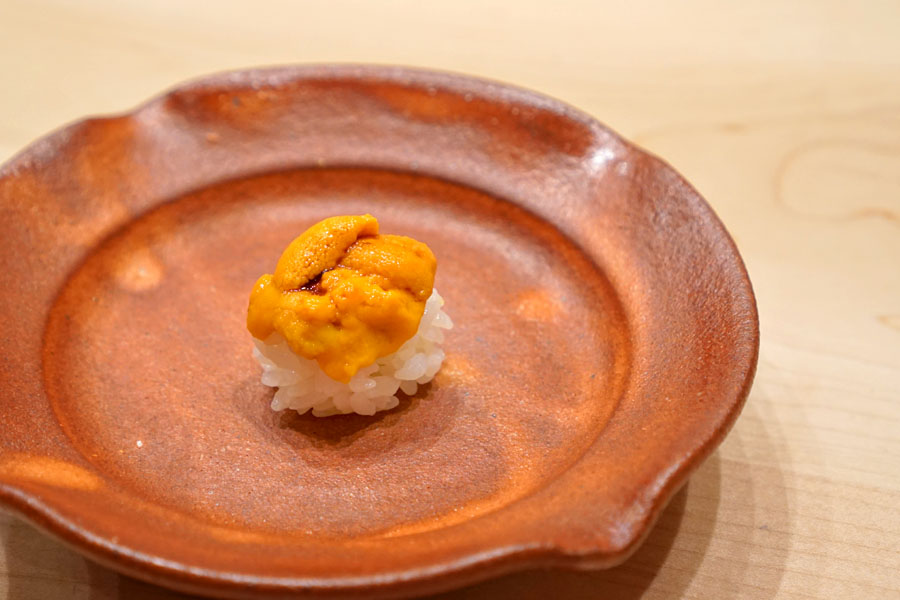 16: Bafun Uni
Sea urchin from Hokkaido conveyed a textbook amalgam of sweet and saline flavors, backed up by a deft application of rice and a "toasty" quality that I really enjoyed.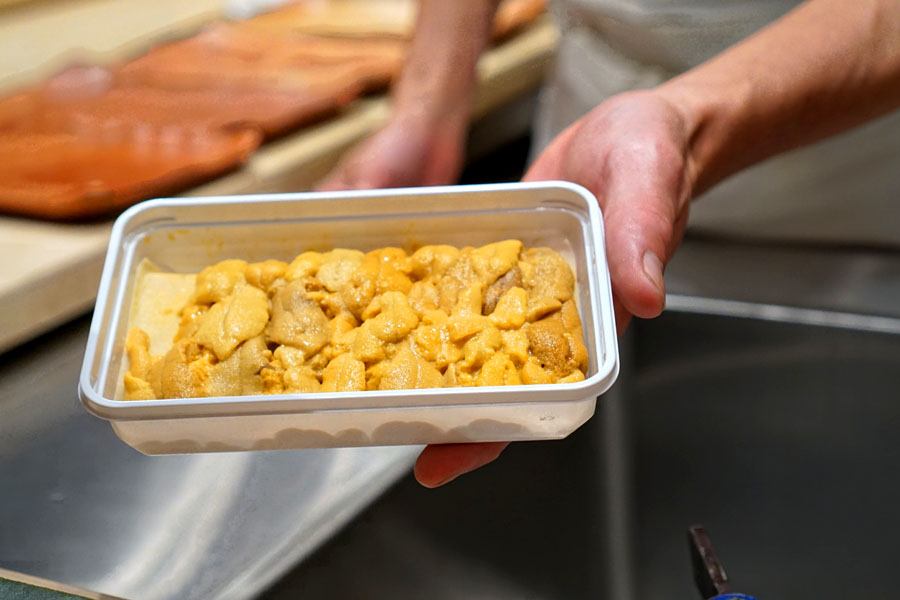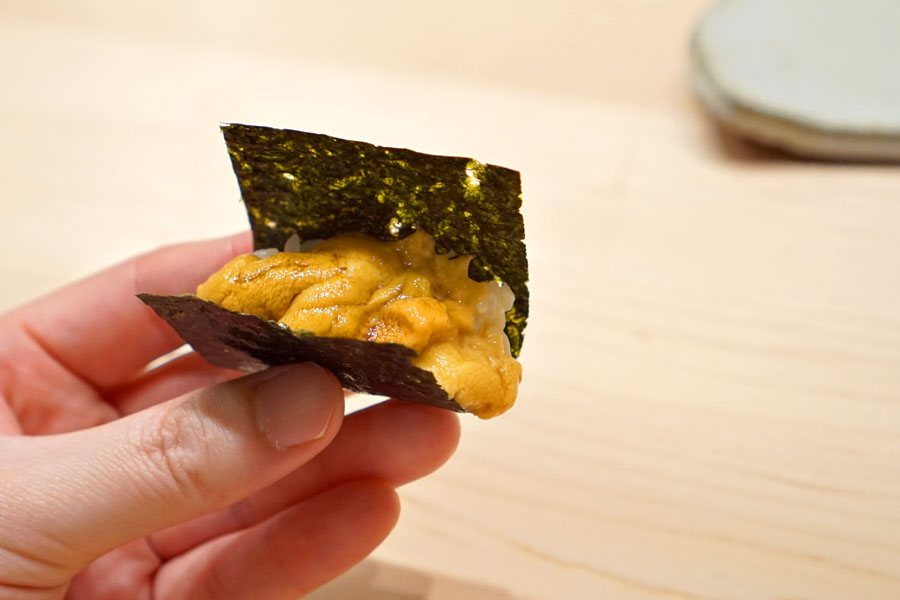 17: Aka Uni
Red sea urchin from Kyushu was altogether a different beast. It was clearly less sweet than the example above, with a more mineral-driven, subtler taste. I found it a bit more enjoyable largely due to the nori used here, which provided both complementary umami flavors and a welcomed textural contrast.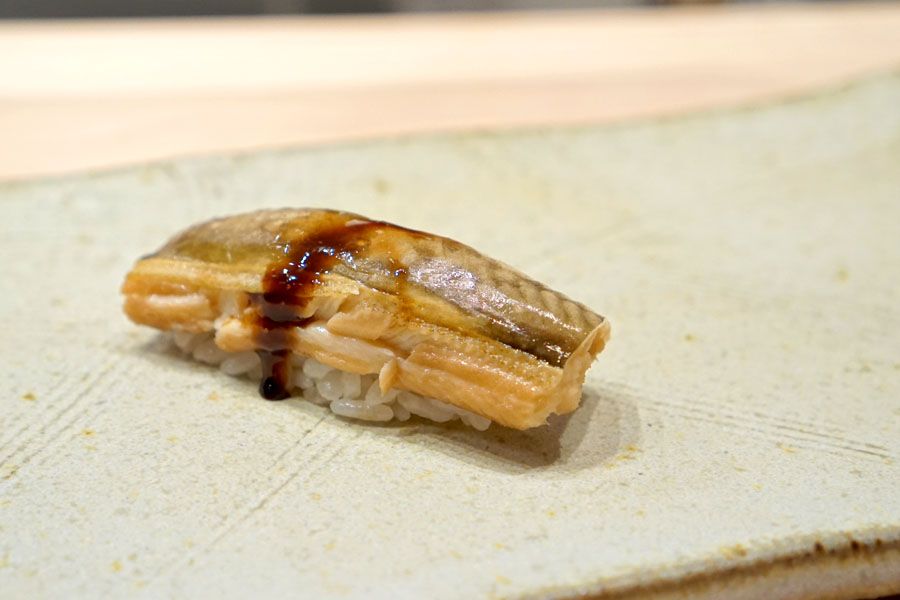 18: Anago
The sea eel was probably the softest, sweetest example I've tried. As always, the rice kept things in check, and I really appreciated the light pricks of citrus here.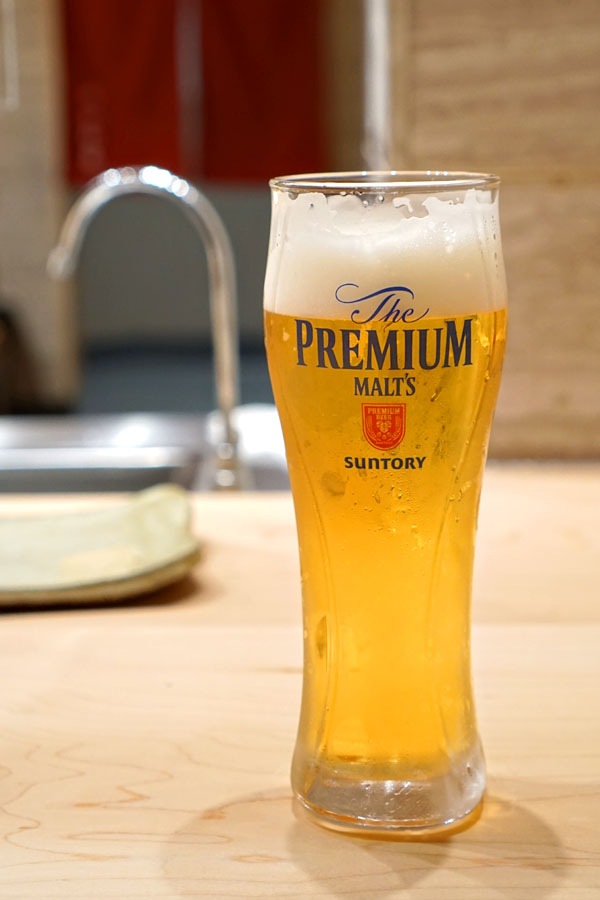 We ended the dinner with some suds in the form of the
Draft Beer Suntory Premium Malt's [$12]
. It's been a while since I'd had this pilsner, and I found it rather refreshing, with lots of grain-y, almost rice-y notes along with a pleasant minerality and a backbone of malty sweetness.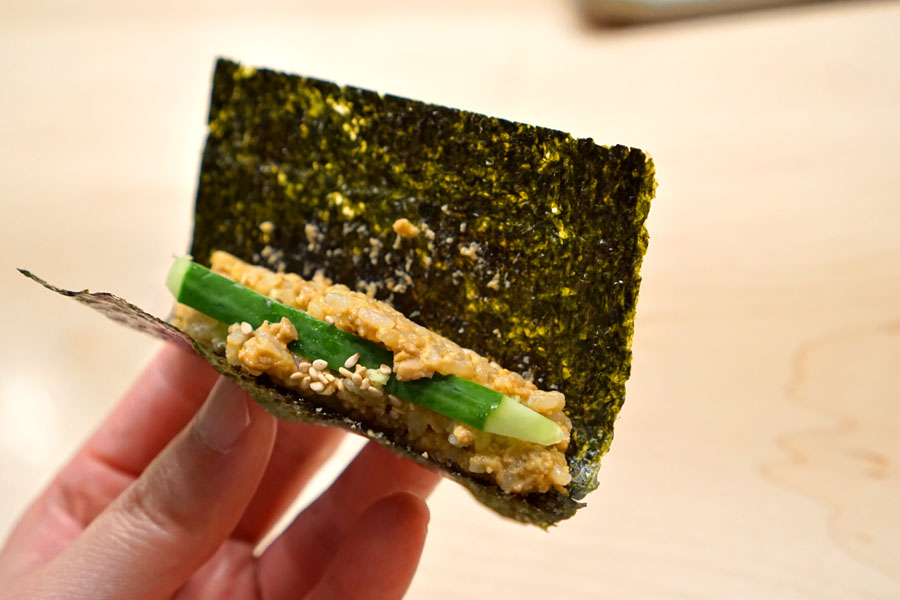 19: Ankimo Maki
Monkfish liver made another appearance. Again, I loved its polished sweetness, and how that linked up with both the sesame and crispy nori. Great crunch and lightness from the cucumber, too.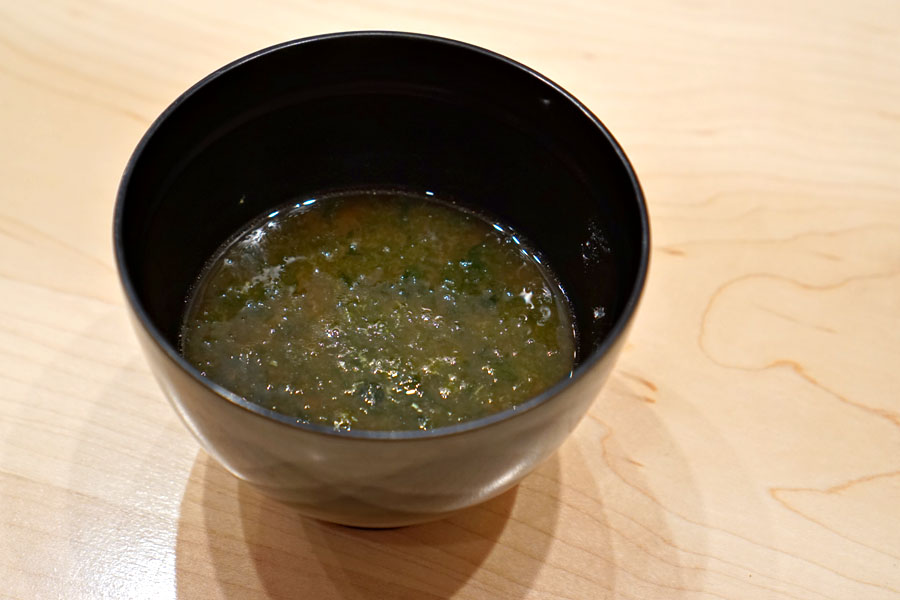 20: Misoshiru
This red miso soup was perhaps the strongest-tasting version I've sampled, with a particularly sour finish and lots of seaweed.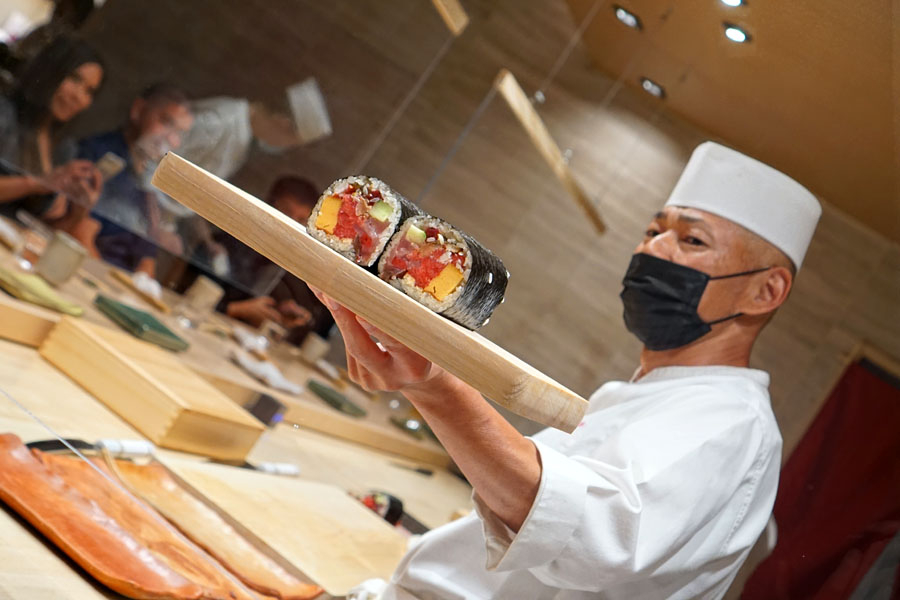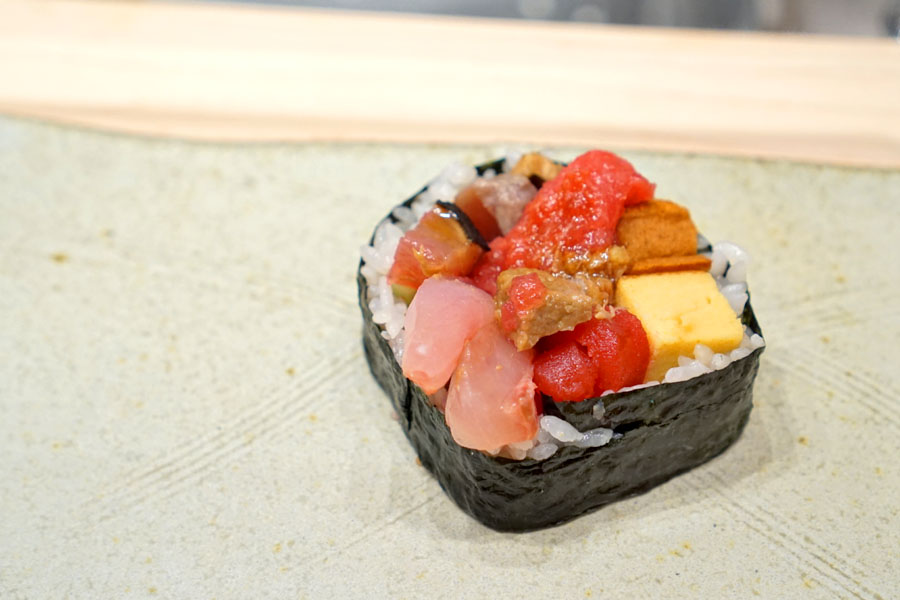 21: Futomaki
Last up was probably the heftiest roll I'd ever encountered, and I made the mistake of eating it in one bite, which did result in things getting a bit muddled. Comprised of tuna, toro, splendid alfonsino, shrimp, egg, and more, this one had a definite sweetness to it, backed up by various oceany elements and finished with the crunch of
kyuri
.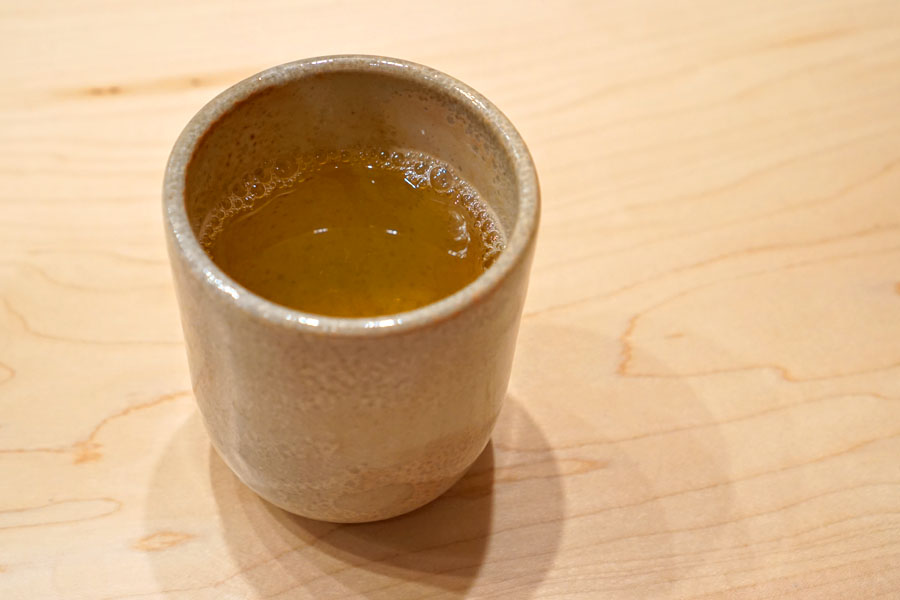 A hot cup of tea to close out the meal with.
I'd avoided getting takeout from Kaneyoshi in order to save myself for a proper meal at the bar, and boy was it worth the wait. Chef Inoue is no doubt upping the game in Little Tokyo, and sets a new standard for the area. In fact, this place is right up there with the best in the City by my estimation, and absolutely needs to be on your "to-eat" list if you're a sushi enthusiast like myself, though unfortunately, reservations are already becoming quite difficult to come by.
Now interestingly, according to Yoshi-san, the entire former Izakaya Fuga space is going to be transformed into a home for multiple Japanese concepts. Kaneyoshi is the first, but Gyuichi, a beef restaurant, will hopefully open in a few months (the spot already started doing takeaway earlier this year). There's also a Suntory-affiliated Japanese-style whisky bar on the way apparently, and maybe even more in the pipeline. I'll be looking forward to it all.
---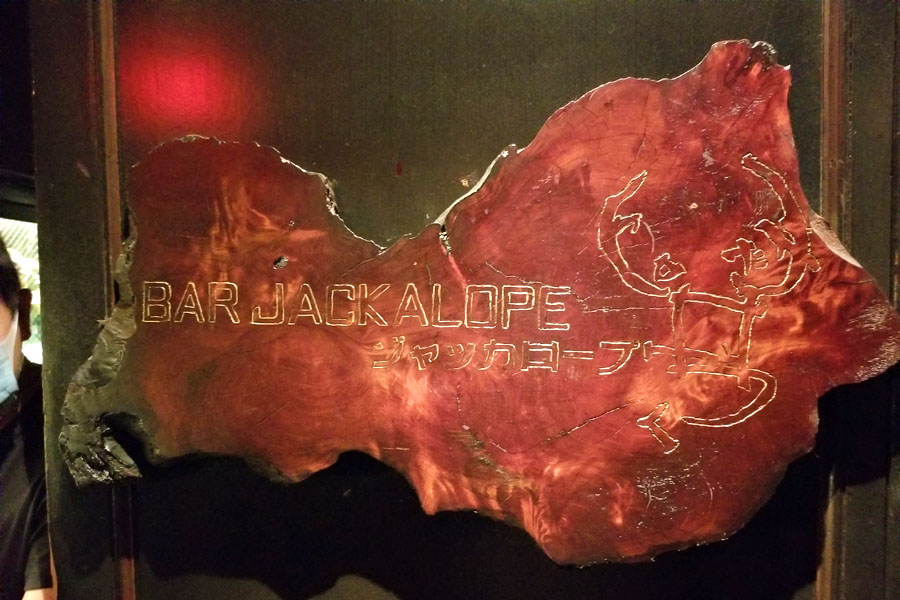 Speaking of Japanese-style whisky bars, after dinner we headed over to Downtown's Bar Jackalope for a nightcap.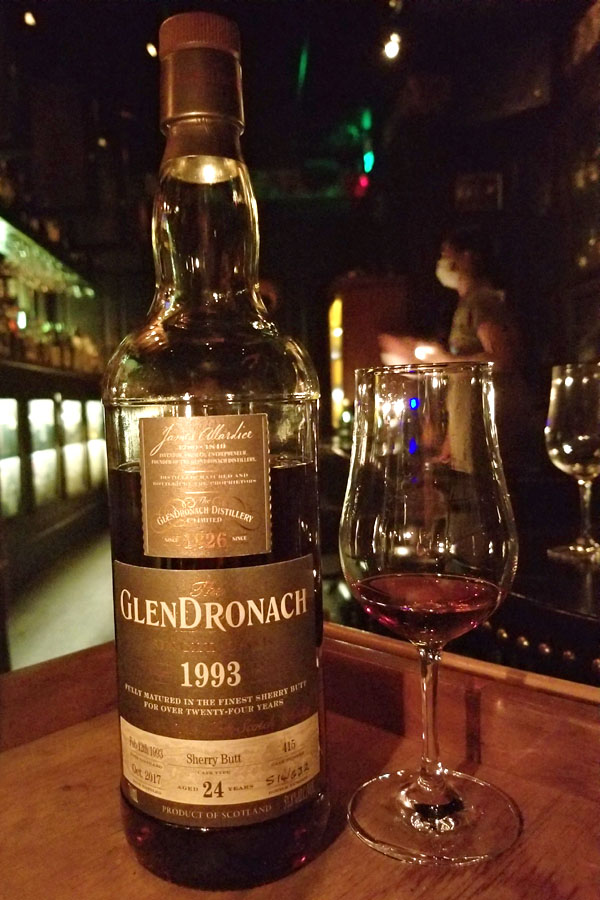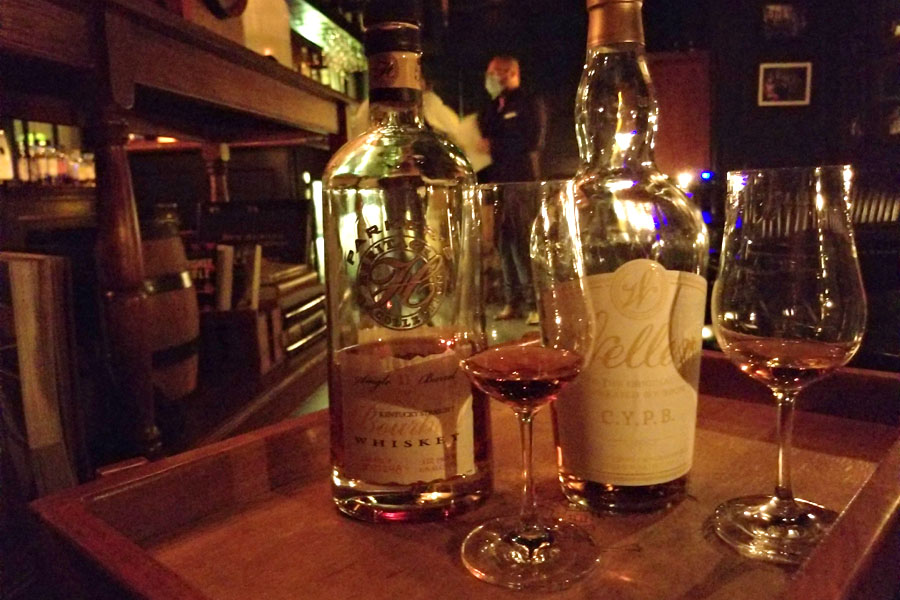 We ended up sampling three whiskies there:
Glendronach Single Cask 1993 24 Years Old [$60] - Intense nose of must, saline, and dusty, sherried raisins. Palate was loaded with (baking) spice and citrus, along with very apparent chocolate and dark fruit showing up later.
Parker's Heritage 2017 11 Years Old [$13] - Moving away from Scotch now, the first of two bourbons showcased aromas that went in a decidedly herbaceous direction, but with a backing of brown sugar and smaller amounts of dark fruit. As for the palate, it was on the thicker side, with lots of sweet spice at the forefront leading to woodier elements and a persistent heat.
W.L. Weller C.Y.P.B. (2018 Release) [$18] - Also known as Craft Your Perfect Bourbon, our final whiskey smelled, remarkably, of mint chocolate chip ice cream commingled with citrus and oak. Taste-wise, I got an almost candied sweetness alongside more minty nuances, touches of barrel, tangy citrus, and a bit of heat.