Bicyclette Bistro (Los Angeles, CA)
Bicyclette Bistro
9575 W Pico Blvd, Los Angeles, CA 90035
424.500.9575
www.bicyclettela.com
Fri 07/16/2021, 10:15p-12:45a

In what must be the most anticipated French opening of the year,
Margarita
and
Walter Manzke
's long-awaited Bicyclette finally debuted on June 16th. Created in partnership with Sprout hospitality group, the Pico-Robertson bistro had apparently been in work for four years, so it's a long time coming. The spot takes over the former home of
Sotto
, which shuttered back in January 2019, and interestingly, I'm told that Bill Chait still controls the lease on the building.

Inside, the same general layout remains, but the decor's been updated to give off a more theme-appropriate vibe, with lots of green and brown all over. Do note that the previous tenant's patio seating has been removed, and replaced with a service area and wine cellar.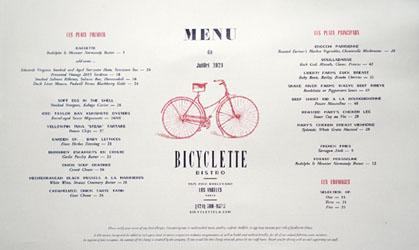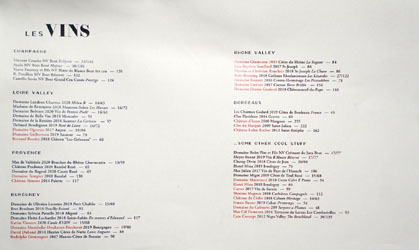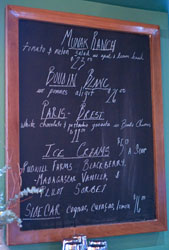 Here we see Bicyclette's menu, which is about what you'd expect for a bistro-type place; be sure to take a gander at the specials board as well. On the back of the menu is an all-French wine list put together by Sommelier Devon D'Arcangelo (
République
,
Otium
,
Maude
, Gramercy Tavern), though there's also a larger selection of bottles available upon request. Corkage is an unusually hefty $75, but can be waived if you purchase a bottle from the restaurant. Thus, here's a tip: there are numerous options on the wine list under $75, so just buy one of those instead of paying corkage. Click for larger versions.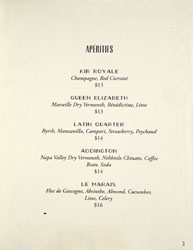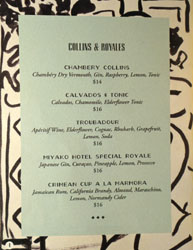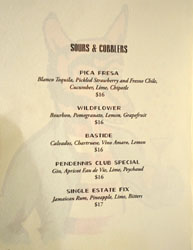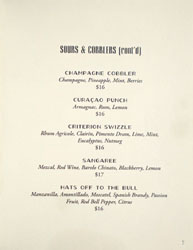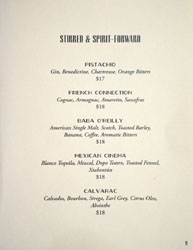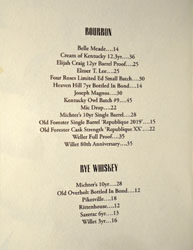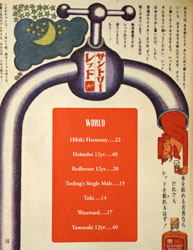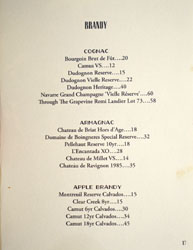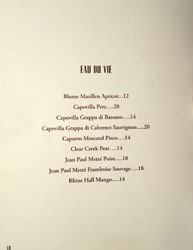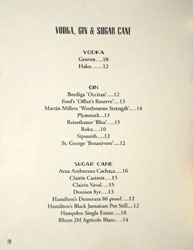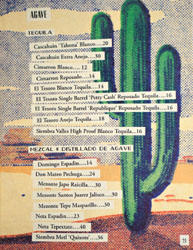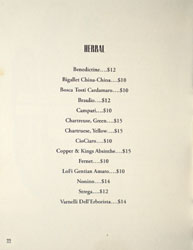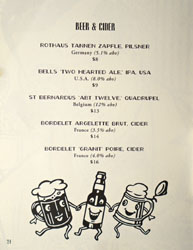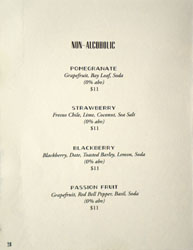 You'll also want to pay attention to the surprisingly lengthy cocktail list, and of course there's a full array of spirits at your disposal to boot. Click for larger versions.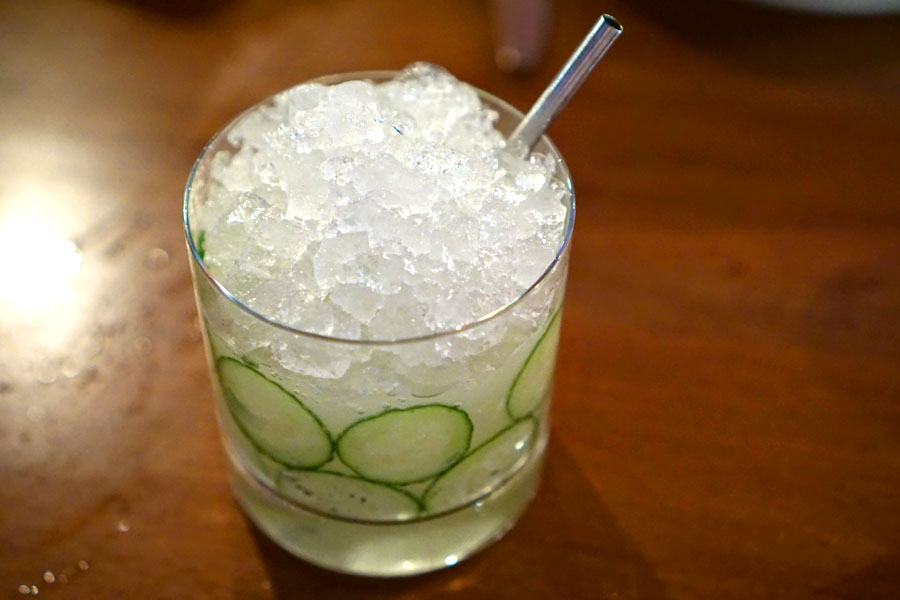 Le Marais [$16.00]
| Floc de Gascogne, Absinthe, Almond, Cucumber, Lime, Celery
Since the cocktail menu's divvied up into four sections, we ended up picking a couple drinks from each and comparing them amongst ourselves. The first of our apéritifs blended surprisingly complex notes of cucumber, flowers, and fruit with the prickliness of absinthe and a long-lasting, pickle-y finish.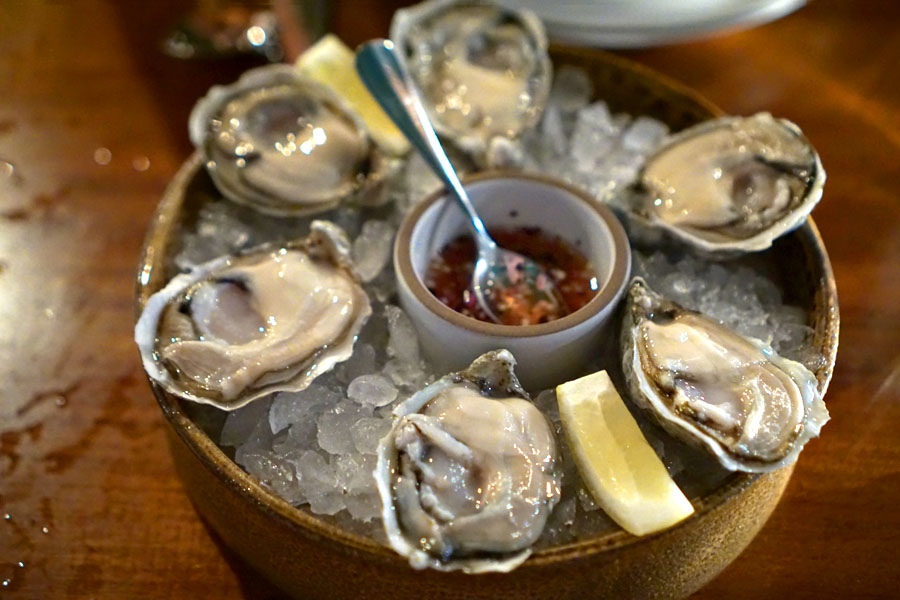 Iced Taylor Bay Kumamoto Oysters [$24.00]
| Barrel-aged Sauce Mignonette
Kumamotos were meatier than usual tonight, with a relatively mild taste that really opened up with a squirt of citrus or, better yet, a splash of that delightfully zesty mignonette.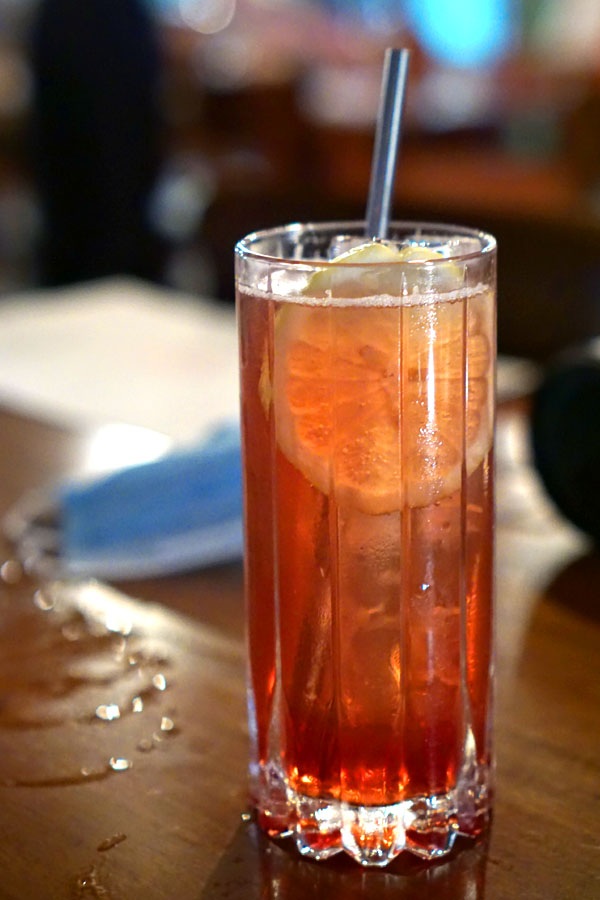 Addington [$14.00]
| Napa Valley Dry Vermouth, Nebbiolo Chinato, Coffee Bean, Soda
Our first long cocktail featured subdued notes of vermouth at first blush, leading to flavors of dark fruit, spice, and bittersweet coffee.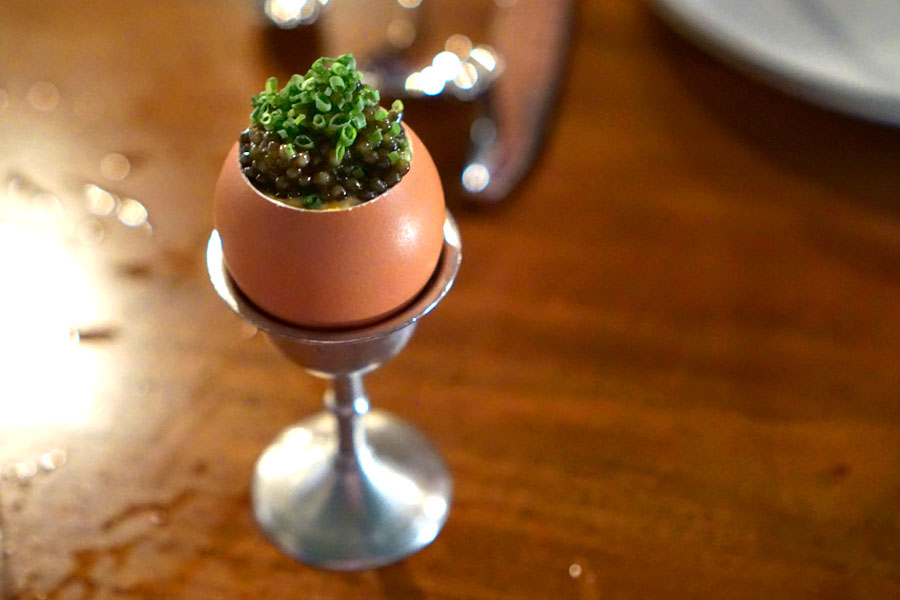 Soft Egg in the Shell [$28.00]
| Smoked Sturgeon, Kaluga Caviar
What struck me the most in this standout dish was the wonderfully "hammy" smoke from the sturgeon. This was augmented by the saltiness of the roe, while evening things out were the fluffy egg and chives up top. This was as delicious as you'd expect--I could've easily eaten several more of 'em.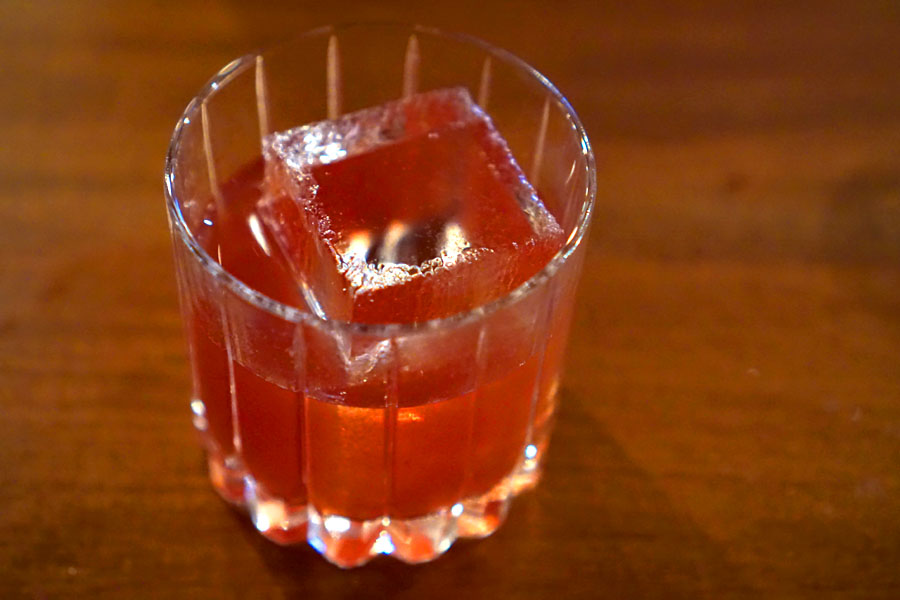 Latin Quarter [$14.00]
| Byrrh, Manzanilla, Campari, Strawberry, Peychaud
This ended up being our favorite cocktail of the round. I was a fan of the drink's jammy, somewhat chocolatey elements, countered by herby, bitter nuances. There was also a surprising amount of depth here, and I liked the tart, almost
suanmei
-esque finish of the drink, too.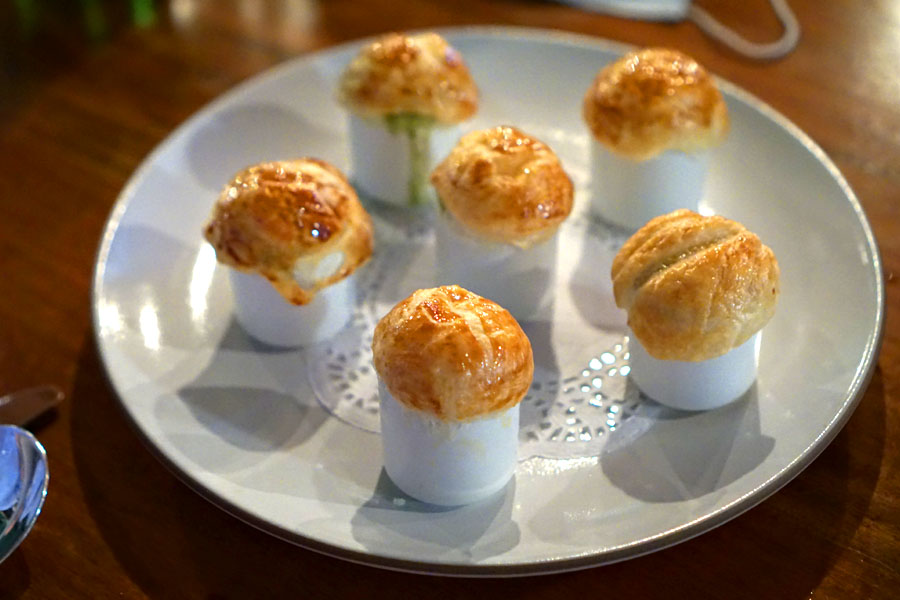 Burgundy Escargots en Croute [$24.00]
| Garlic Parsley Butter
Next came another favorite of mine: Manzke's snails in puff pastry, which he's served at both
Church & State
and
Republique
. The escargots were texturally perfect, and I loved how they matched up with the super garlicky, butter, herby forces present, all while the pastry softened all the flavors at play. Easily one of the best preparations of snail that I've had.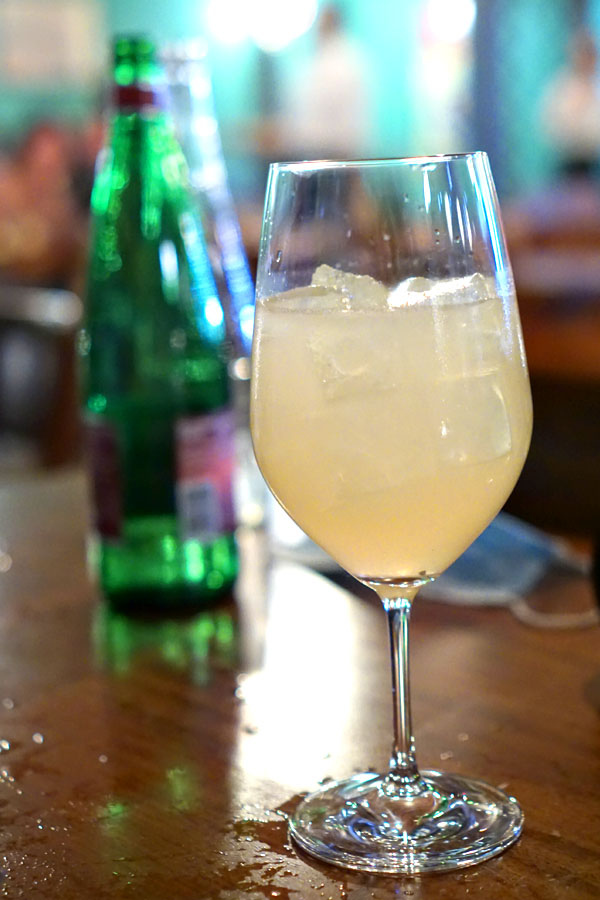 Crimean Cup à la Marmora [$16.00]
| Jamaican Rum, California Brandy, Almond, Maraschino, Lemon, Normandy Cider
The second section of the cocktail menu features collins and royales, and as you can tell from the glassware used here, this first drink was on the quaffable side. I found it generally fruity and floral, but there was a crucial counterbalancing astringency that kept things in check. Interestingly, while consuming this, I was reminded of the cosmetics section of a department store, probably due to the somewhat perfume-y nature of the beverage.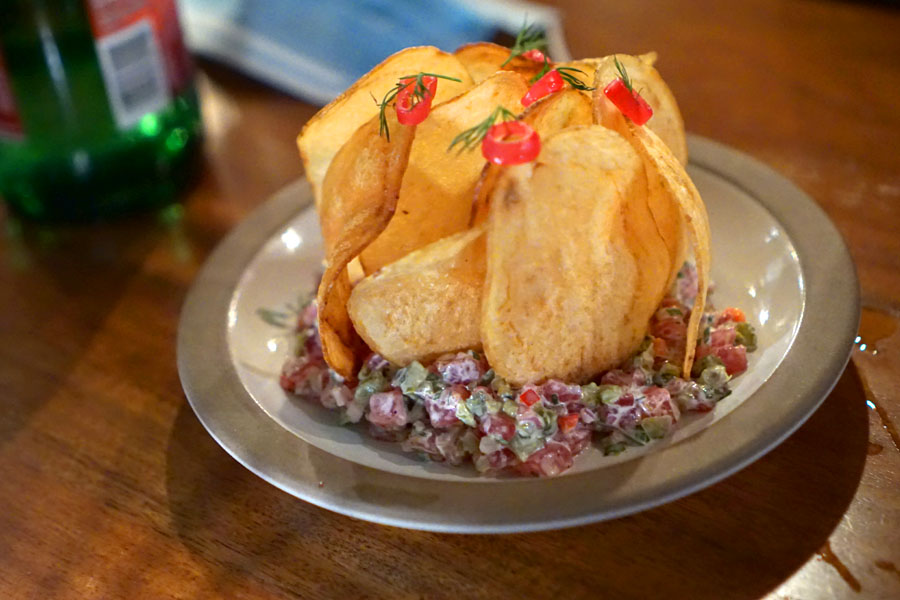 Yellowfin Tuna "Steak" Tartare [$27.00]
| Potato Chips
This was certainly the "meatiest" tuna tartar I've ever had, which I guess should've been expected given the dish's name. I was indeed impressed by how beef-like they managed to make the fish, and the intensely mustard-y, pickle-y notes present emphasized that similarly even more. Meanwhile, also appreciated was the contrast provided by those salty, crispy, oversized chips (which have also made appearances at
Republique
).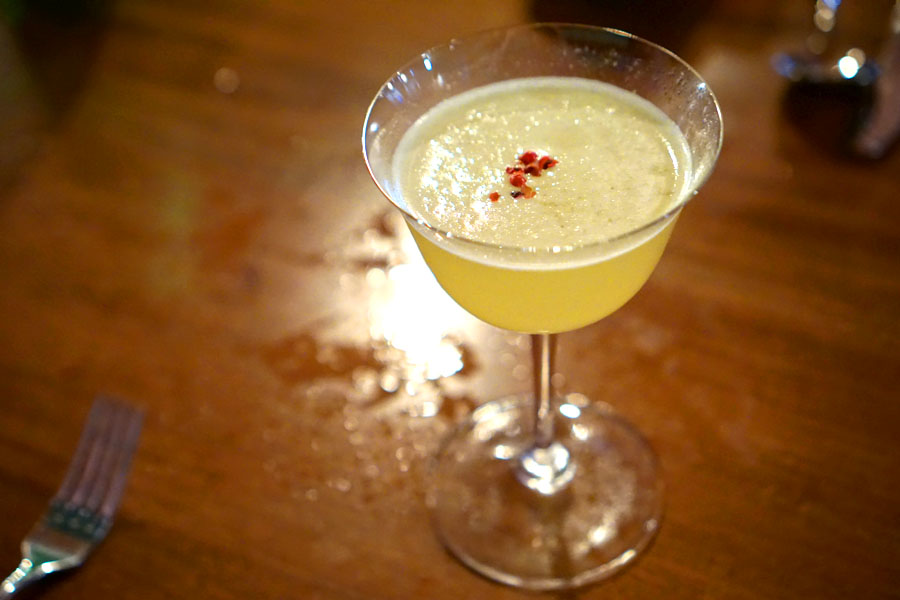 Miyako Hotel Special Royale [$16.00]
| Japanese Gin, Curaçao, Pineapple, Lemon, Prosecco
This round's favorite cocktail married a strong citric sharpness with botanical qualities, but the presence of pineapple did a great job moderating everything.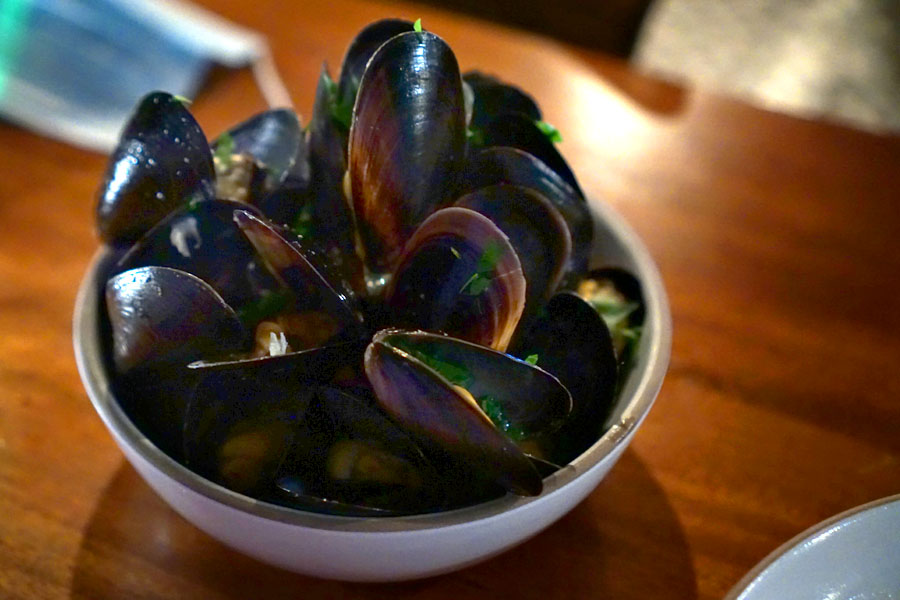 Mediterranean Black Mussels à la Marinieres [$28.00]
| White Wine, Strauss Creamery Butter
Manzke's rendition of
moules marinières
was just about perfect. The mussels themselves were substantial-yet-supple, with a succulent, refined brine that matched up beautifully with that heady white wine-based broth. In fact, the broth was so good that we eagerly supped up the remaining liquid.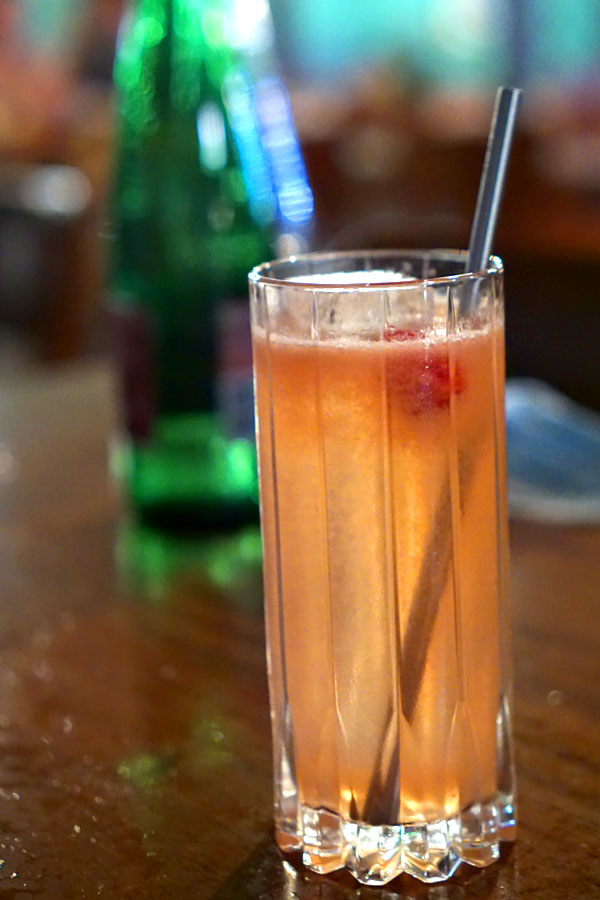 Chambery Collins [$14.00]
| Chambéry Dry Vermouth, Gin, Raspberry, Lemon, Tonic
This next cocktail was also rather easy-going, showcasing boatloads of juicy, true-to-life raspberry flavors cut by the zip of vermouth and gin.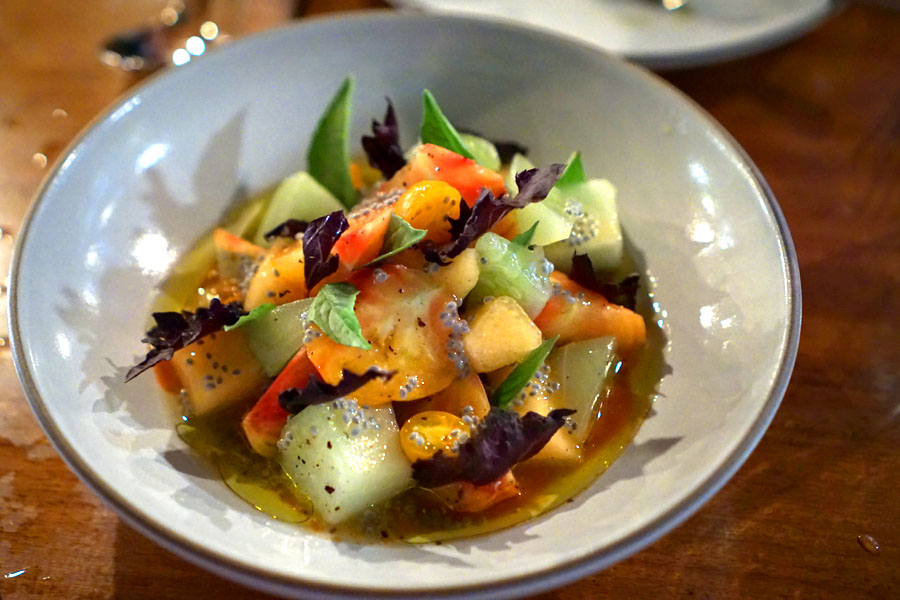 Munak Ranch [$23.00]
| Tomato & Melon Salad with Opal & Lemon Basil
Here we have one of the specials of the night, and it managed to be the most refreshing dish that we tried. I enjoyed the interplay between the sugary melons and the comparatively discreet taste of the tomatoes, while the basil imparted an aromatic layer that helped tie everything together. Nice incorporation of basil seeds, too.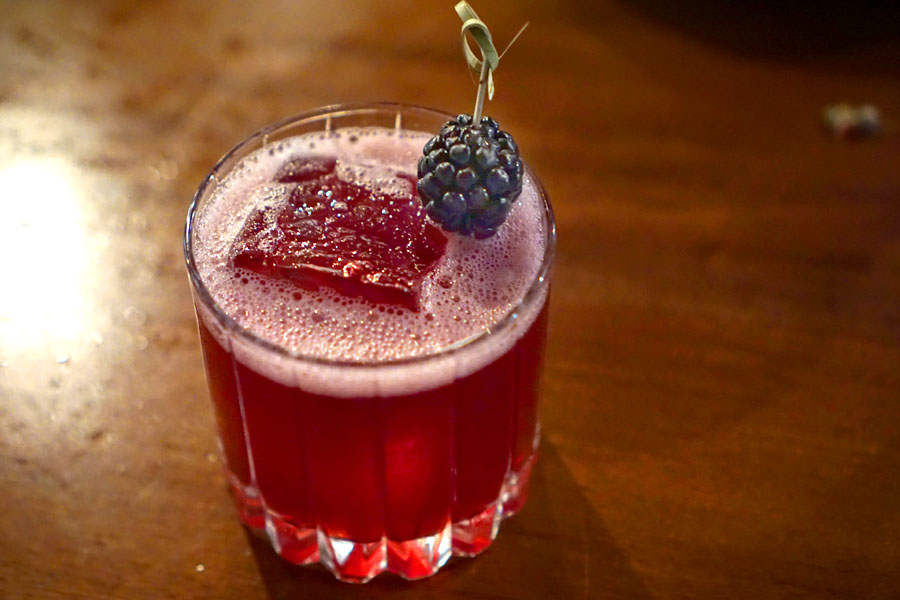 Sangaree [$17.00]
| Mezcal, Red Wine, Barolo Chinato, Blackberry, Lemon
The sours/cobblers portion of Bicyclette's cocktail list is by far the largest, and pictured above is the first of our three selections from it. The drink did a nice job mingling the smokiness of mezcal with plenty of juicy dark fruit, while the lemon perked things up just a smidge.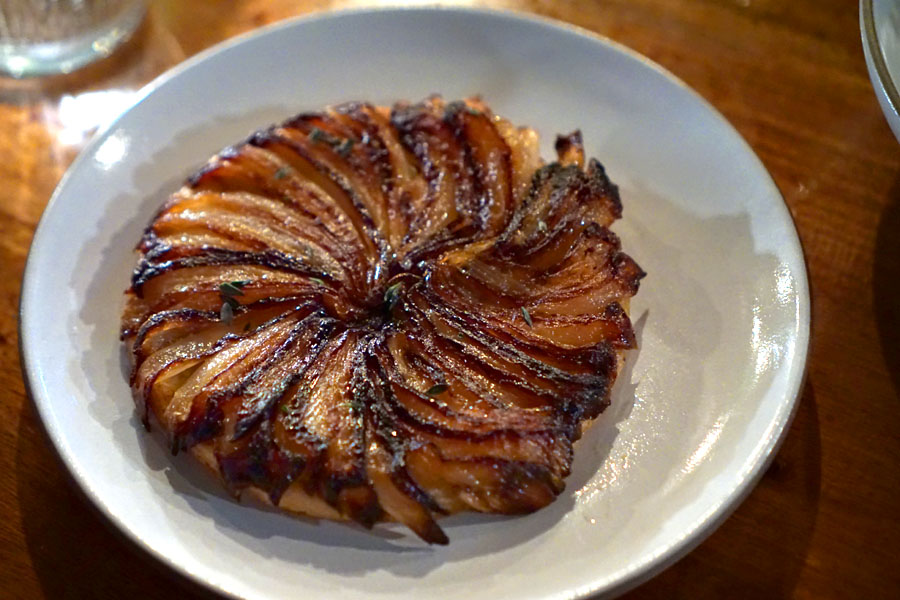 Caramelized Onion Tarte Tatin [$24.00]
| Goat Cheese
This savory version of the classic tarte Tatin was another standout. I really enjoyed how the sweet smoke of the onions was so seamlessly paired with the chevre, while just as crucial was the delicacy of the dish's pastry crust. Very harmonious.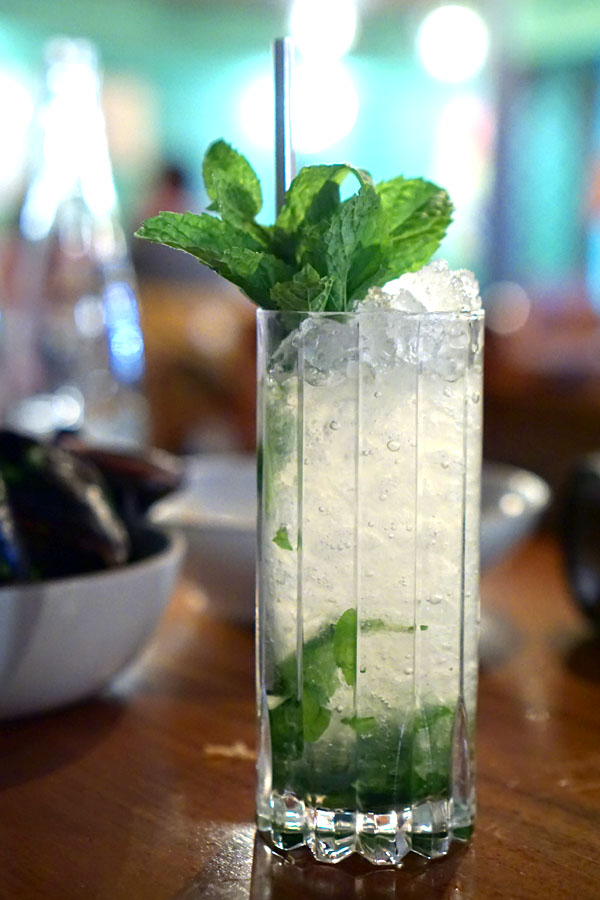 Criterion Swizzle [$16.00]
| Rhum Agricole, Clairin, Pimento Dram, Lime, Mint, Eucalyptus, Nutmeg
My cocktail choice this round was this multifaceted take on the traditional swizzle. I found it generally sharp and citric, punctuated by mint and the pungency of eucalyptus, while the rhum/clairin combo added the necessary heft.
Gnocchi Parisienne [$28.00]
| Roasted Farmer's Market Vegetables, Chanterelle Mushrooms
Made with pâte à choux, these French-style gnocchi were a surprise favorite. I loved the juxtaposition of their browned, crispy exteriors and supple insides, and the dumplings linked up effortlessly with the smoky, savory, sometimes bitter veggies and woodsy 'shrooms.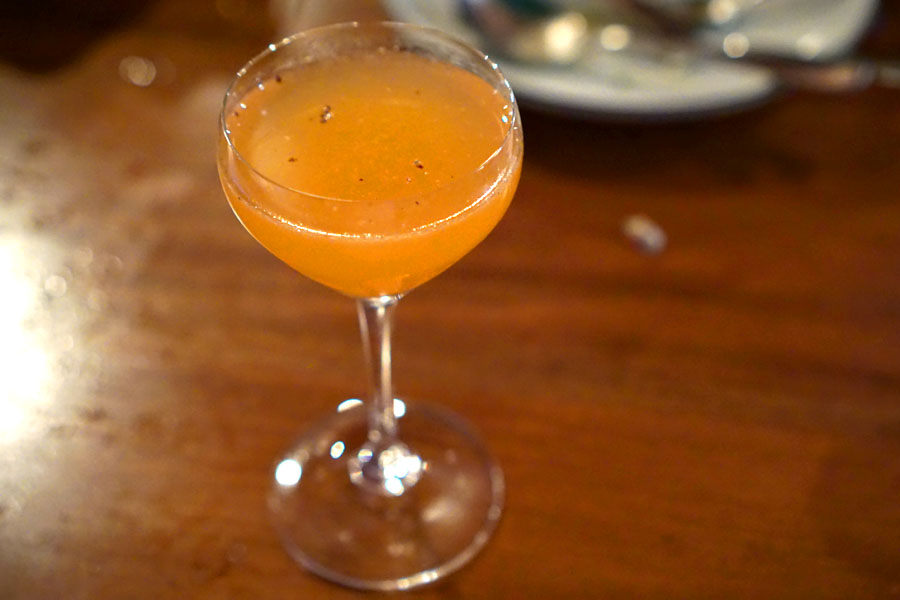 Pica Fresa [$16.00]
| Blanco Tequila, Pickled Strawberry and Fresno Chile, Cucumber, Lime, Chipotle
And now we come to our favorite cocktail of round #3. This one combined sugary, nearly candied strawberry flavors with a peppery, spicy edge while the tequila provided by the necessary weightiness to make it all work.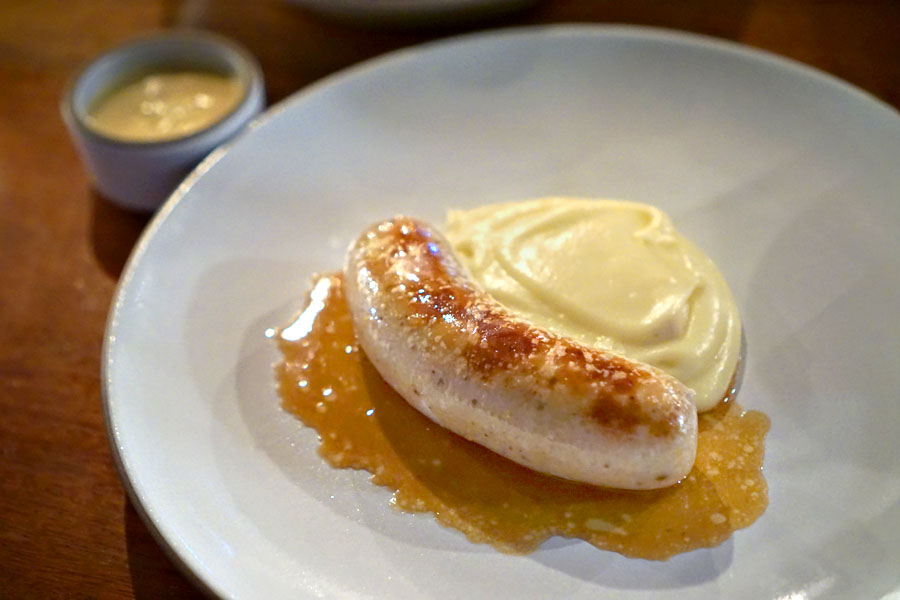 Boudin Blanc [$26.00]
| with Pommes Aligot
Another special, this fine-grained pork sausage was pretty elegant with its delicate flavors and mild herbiness. The accompanying mustard definitely kicked things up a notch, and I also appreciated the rich, cheesy potatoes on the side.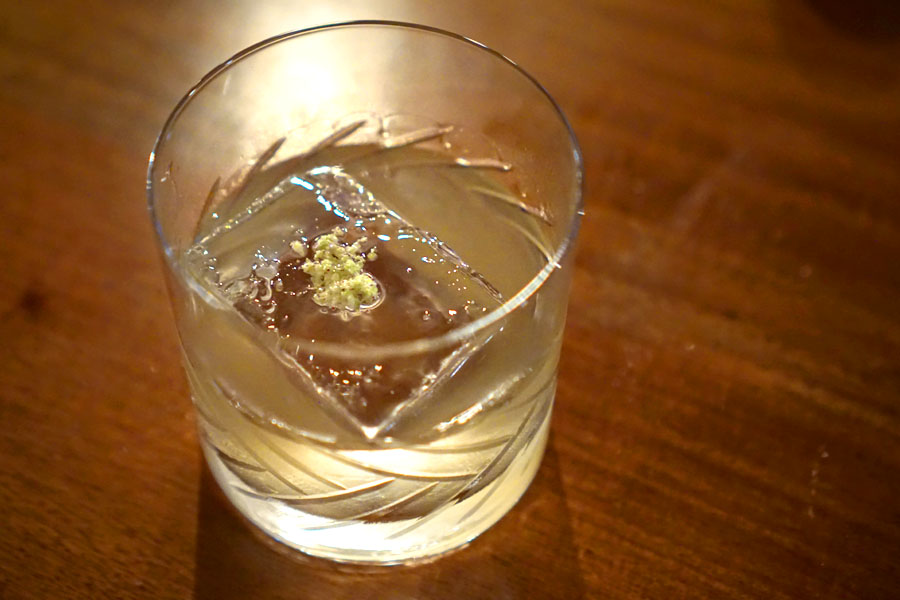 Pistachio [$17.00]
| Gin, Benedictine, Chartreuse, Orange Bitters
Our fourth and final round of cocktails featured the boozier stuff. This first drink really did convey the nuttiness of pistachio, but cut by a bevy of botanical, medicinal influences.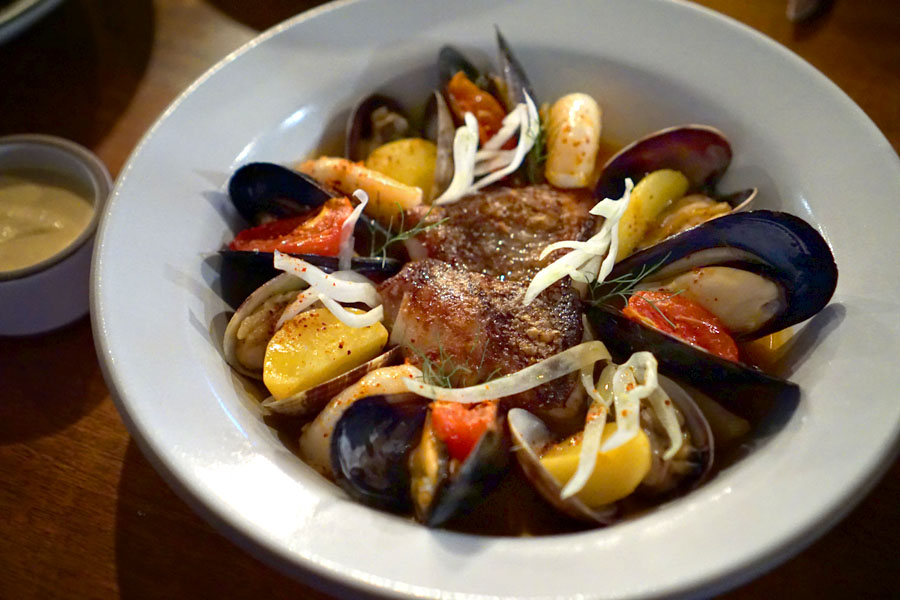 Bouillabaisse [$42.00]
| Rock Cod, Mussels, Clams, Prawns
The somewhat non-traditional bouillabaisse was certainly one of the tastier versions I've tried. Each item of seafood was pretty much spot-on, with the snappy shrimp being my favorite of the bunch. I was also a fan of the robust broth (though I could've used more of it), while potatoes were crucial in how they tempered all the flavors going on.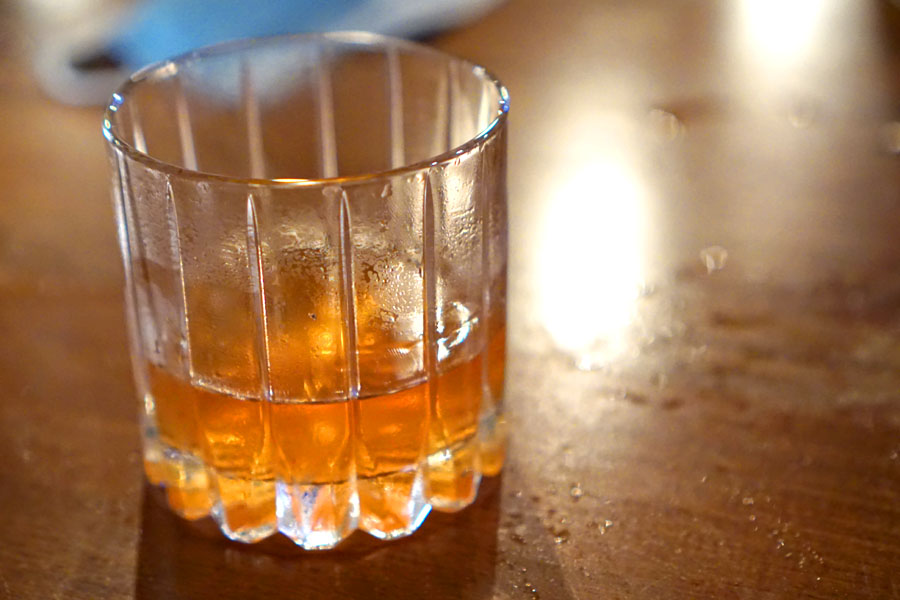 Calvarac [$18.00]
| Calvados, Bourbon, Strega, Earl Grey, Citrus Oleo, Absinthe
This calvados-enhanced version of the traditional Sazerac cocktail smelled of sweet, minty herbs, while its palate brought forth lots of spicy, saccharine, pungent elements all combined with an apparent backbone of licorice from the absinthe.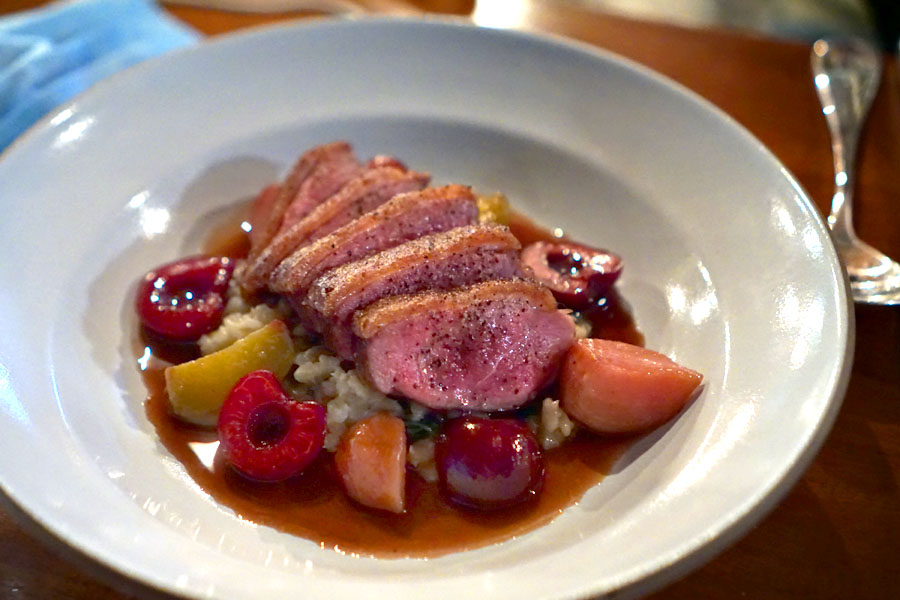 Liberty Farms Duck Breast [$32.00]
| Baby Beets, Barley, Brooks Cherries
Duck arrived earthy and savory, and meshed surprisingly well with the beets. I also liked the additional dimension provided by the barley, though I could've done with less fruitiness in the dish overall.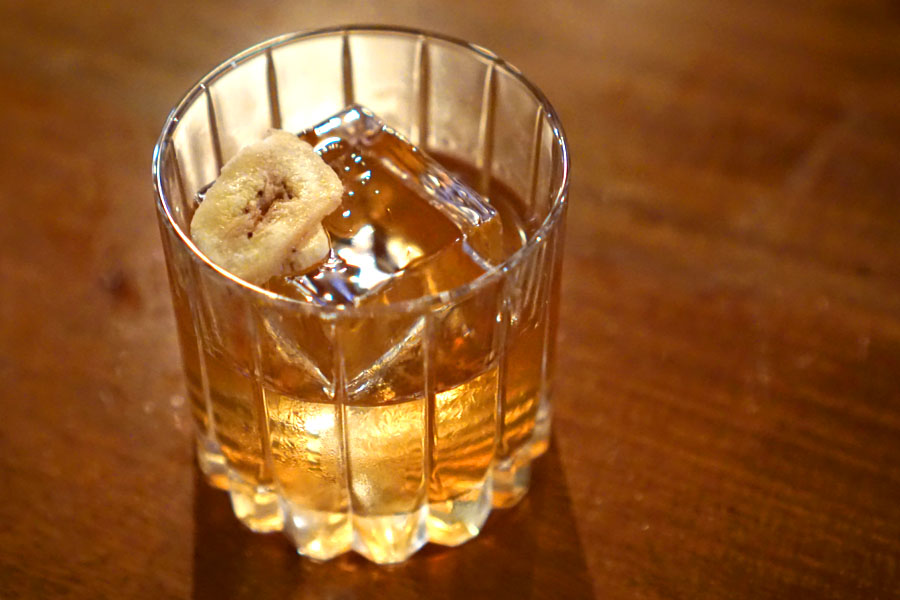 Baba O'Reilly [$18.00]
| American Single Malt, Scotch, Toasted Barley, Banana, Coffee, Aromatic Bitters
Our final cocktail of the meal was a spirituous one, and deftly integrated notes of banana and brown sugar, all topped off with subdued spice and traces of coffee.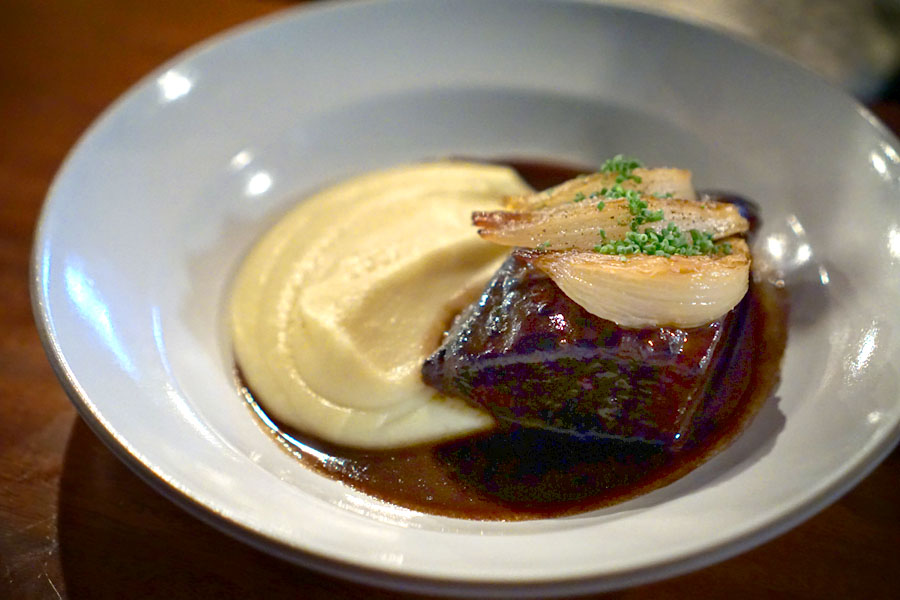 Beef Short Rib à la Bourguignonne [$48.00]
| Potato Mousseline
A bourguignon-inspired short rib comprised a tender, almost gelatinous cut of meat that was unexpectedly restrained in its beefiness, and instead allowed the red wine to shine. It was nonetheless classic in essence, and went well with the mashed potatoes.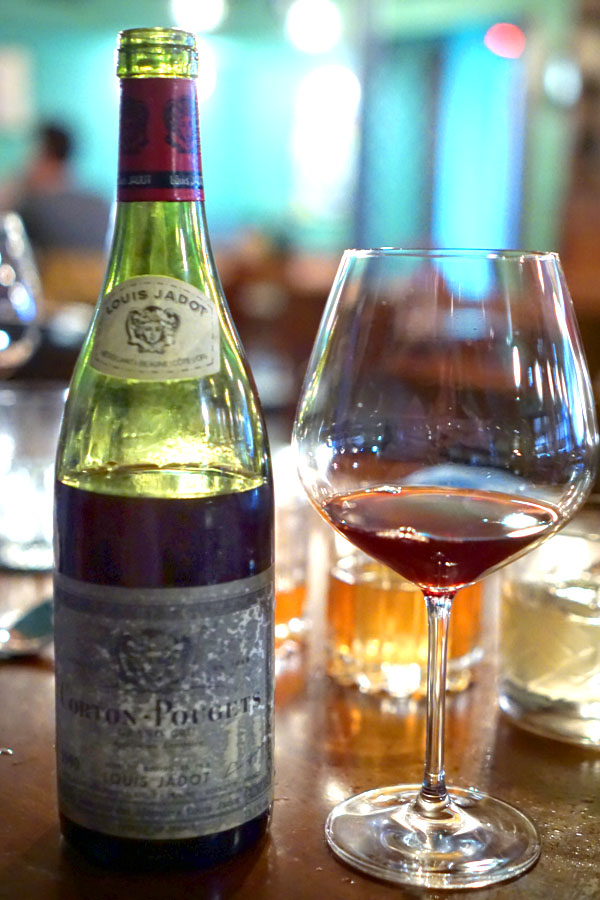 We also brought along a bottle of Burgundy to pair with our mains: the
1990 Louis Jadot Corton-Pougets Grand Cru Domaine des Héritiers
. The nose on this one was something special, as I'd never encountered a wine that smelled so much like sweet barbequed meat! Its taste, though, was less bombastic, showcasing mature red fruit combined with earthy, herbaceous nuances and a touch of minerality.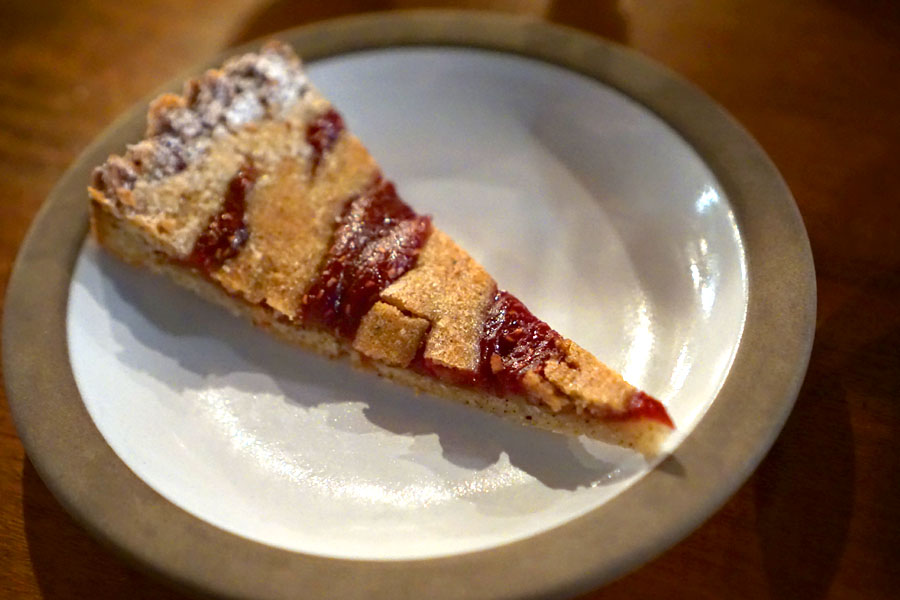 Linzer Tart [$11.00]
It was now time for Marge's desserts, which lack a proper menu but are instead presented on a wooden board, just like they were back at
Church & State
. A raspberry Linzer torte represented a full-throated expression of the tangy fruit, set alongside (hazel?)nuts and a licorice-like spice. Do note that all desserts ended up being comped, given that we'd ordered so much other stuff from the menu.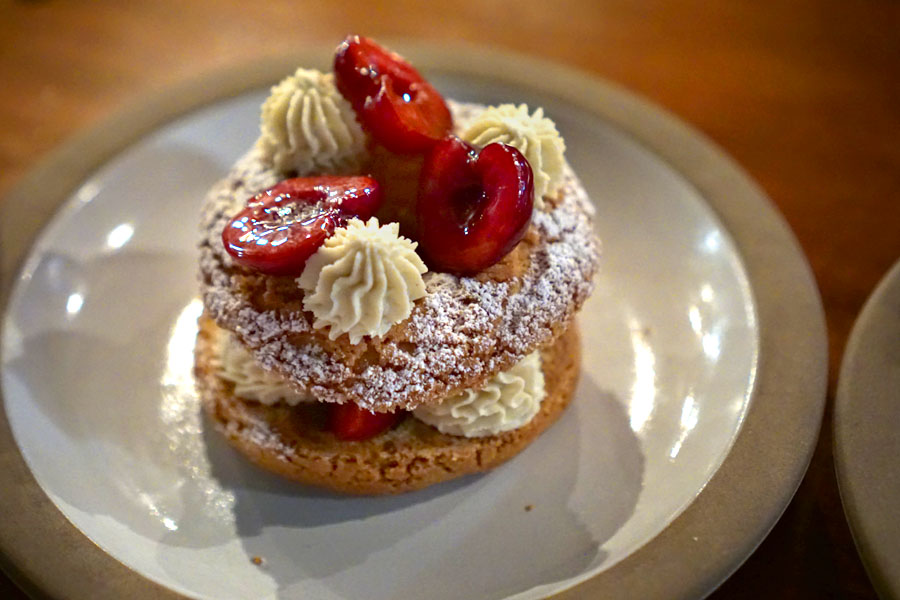 Paris–Brest [$11.00]
| White Chocolate & Pistachio Ganache with Brooks Cherries
A dessert special, the Paris-Brest featured a lovely back-and-forth between the nutty ganache and juicy cherries, while just as important was the texture of the choux pastry.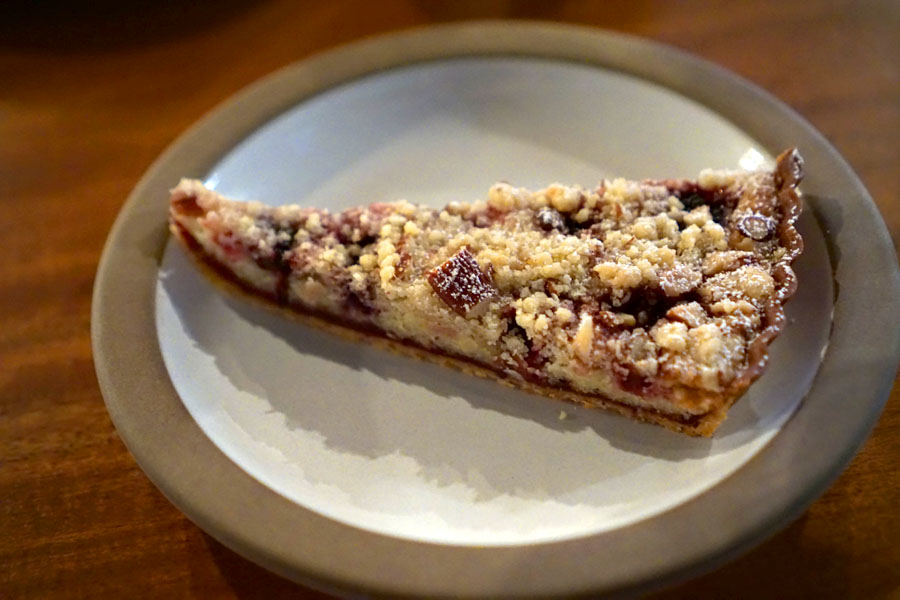 Streusel Tart [$11.00]
Our second tarte was also quite bold with its juicy blackberry and cherry flavors, but just as apparent was the nuttiness of the almond streusel up top.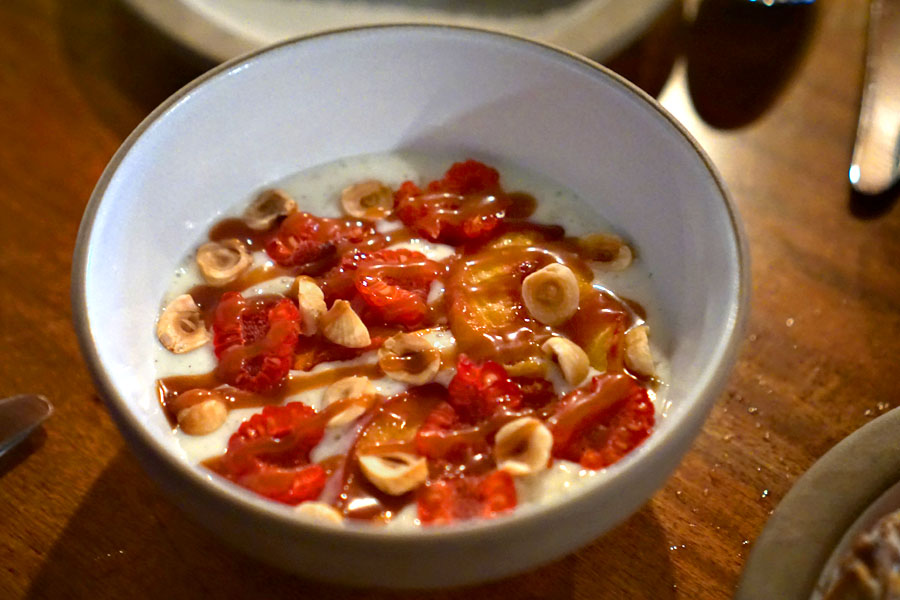 Riz au Lait [$11.00]
The rice pudding was our favorite of the desserts thanks to how well the nuts and sweet, fragrant berries melded with the lightly-perfumed rice.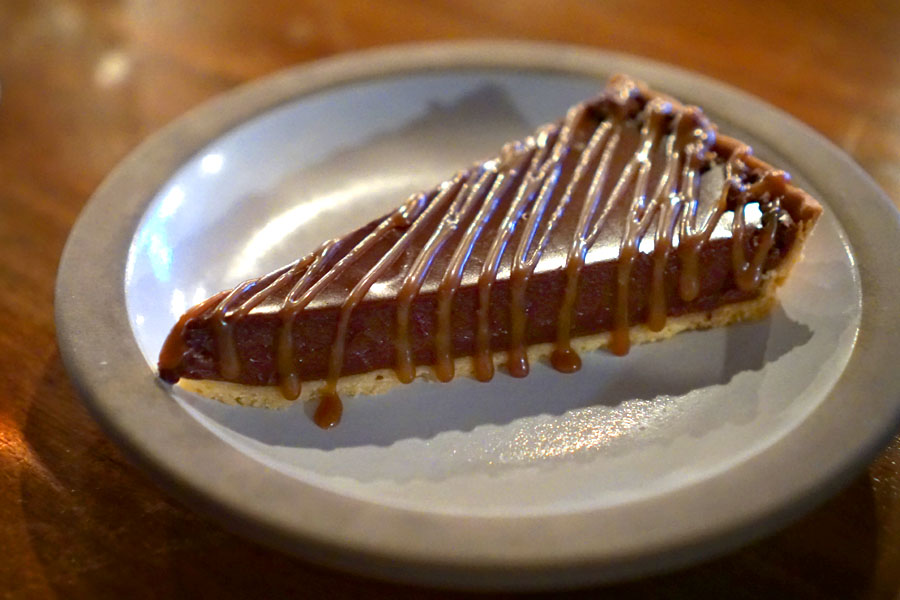 Chocolate Tart [$11.00]
This dense, decadent, caramel sauce-laced chocolate tarte was definitely the heaviest of our desserts, so the contrast provided by its pastry base was absolutely key.
Like many of you, I was sad to see the closure of Sotto, but thankfully, Bicyclette looks to be a more than worthy replacement. The Chef's updated, bistrot-inspired cooking is pretty damn good, as you'd expect, and harkens back to his days helming the kitchen over at Church & State. If you were a fan of the food at C&S, you should be quite happy here. Now the Manzkes are also planning on opening up a more formal, tasting menu-focused restaurant upstairs, and I was told that the team is targeting a September debut, so I'll certainly be looking forward to it.