Girl & the Goat (Los Angeles, CA)
Girl and the Goat
555 Mateo St, Los Angeles, CA 90013
213.799.4628
girlandthegoat.com/los-angeles/
Thu 07/29/2021, 08:15p-11:45p

Stephanie Izard's Girl & the Goat just might be the most popular restaurant in all of Chicago, and the Chef had been teasing a Downtown location ever since 2018. Well, the wait is over, as the biggest Arts District debut of 2021 officially opened just a couple weeks ago at the new At Mateo development. It's the latest project from Kevin Boehm and Rob Katz's wide-ranging
Boka Restaurant Group
, which operates all of Izard's current properties. And if you're wondering about the restaurant's name, it's based on the Chef's surname, which refers to the
izard
, a type of goat typically found in the Pyrenees.
About the Chef
: Izard was born in October 1976 in Evanston, Illinois, but was raised by food-loving parents in Stamford, Connecticut who inspired her to start cooking at age 10. She longed to return to the Midwest though, so she attended school at the University of Michigan, majoring in sociology, and worked at an Olive Garden during her college years. Following graduation in 1998, she enrolled at the Scottsdale Culinary Institute, where she attained an AOS degree in one year. Afterward, Izard worked at the nearby Camelback Inn Resort & Spa and then at Christopher's Fermier Brasserie in Phoenix. She returned to Chicago in 2001, and was able to secure a
garde manger
position at
Jean-Georges
Vongerichten's Vong. This was followed by roles at
Shawn McClain
's Spring and Dale Levitski's La Tache.
In 2004, at age 27, Izard opened her first solo project: the seafood-focused Scylla in Chicago's Bucktown neighborhood. The place was well-received, even garnering a three-star review from the
Chicago Tribune
and a "Best New Restaurants" nod from
Chicago
magazine, but the Chef ended up selling the business in August 2007. Immediately after the sale, she took part in
Top Chef: Chicago
, which she ended up winning, beating out the likes of
Richard Blais
and Lisa Fernandes. Following her televised victory in June 2008, Izard started The Wandering Goat, a series of underground dinners. This of course led to the debut of Girl & the Goat (pre-opening name: The Drunken Goat) in Chicago's West Loop in July 2010.
The nose-to-tail eatery was a hit, and was subsequently named "America's Best New Restaurant" by
Saveur
. In 2011, James Beard deemed the spot a "Best New Restaurant" nominee, while
Food & Wine
named Izard a "Best New Chef;" we also saw the publication of the Chef's first cookbook:
Girl in the Kitchen
. Beard came back with a "Best Chef: Great Lakes" nomination in 2012, while a win was secured the following year. During this period, Izard also took part in
Iron Chef America
, where she lost to Michael Symon in a Season 10 bread battle. December 2012 witnessed the debut of the all-day Little Goat Diner, also in concert with Boka group, and the place later spawned the accompanying Little Goat Bread, which was relaunched as Little Goat Bakery in November 2014. The Chef's third restaurant, the Chinese-inspired Duck Duck Goat, opened in March 2016 in Fulton Market/West Loop.
In 2017, Izard appeared on
Iron Chef Gauntlet
, ultimately winning the competition and earning the title of Iron Chef; this was quickly followed by two wins on the short-lived
Iron Chef Showdown
. 2018, meanwhile, saw the release of her second book,
Gather & Graze
, as well as the launch of Baobing, a Taiwanese street food takeout window attached to Duck Duck Goat. Next, in April 2019, the Chef opened Cabra Cevicheria, a Peruvian spot on the rooftop of The Hoxton hotel, while November 2020 marked the launch of Sugargoat, a sweets shop that replaced Little Goat Bakery. Finally, we come to Girl & the Goat LA, which largely completed construction in August 2020, but ended up opening almost a year later.
Running the day-to-day here is Chef de Cuisine Jason Beliveau, who was previously sous at the original G&tG. Before that, he was at ReadyMade/Les Grands Verres in Paris, and before that, worked at Momotaro/Izakaya at Momotaro, two other Boka spots from Chef Gene Kato. He began his career at Insieme under Marco Canora, then apprenticed at Blue Hill with Dan Barber before cooking at
Per Se
,
Addison
, and Next. As for the front-of-the-house, it's under the command of GM Einstein Park, an alum of Jean-Georges Beverly Hills, Girl & the Goat, Longman & Eagle, and Blackbird.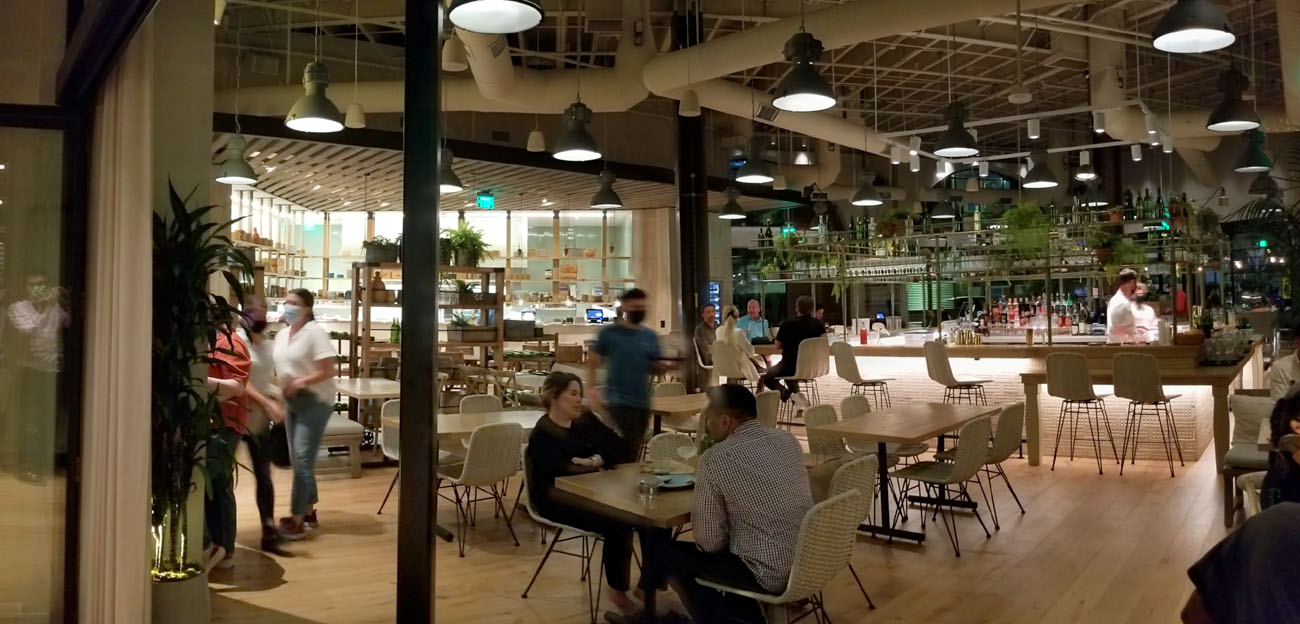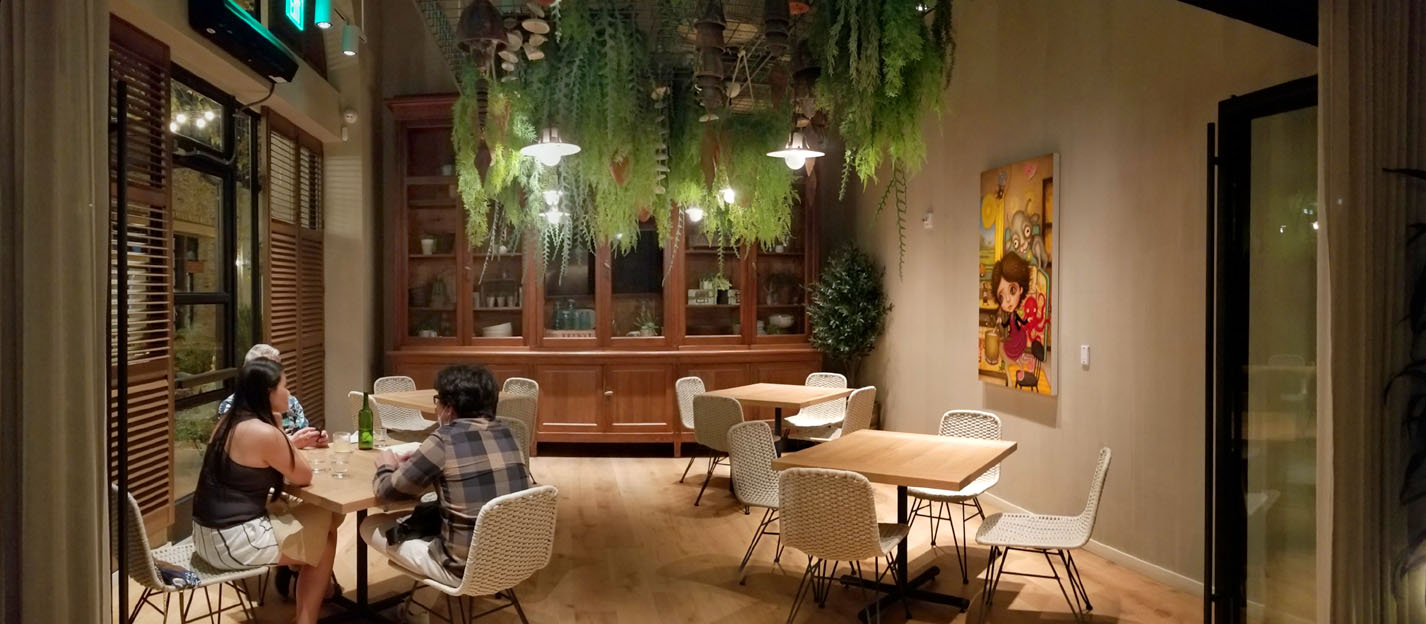 The
Studio K
-penned restaurant is actually surprisingly large, and features several distinct dining areas, including a pretty capacious patio (not pictured).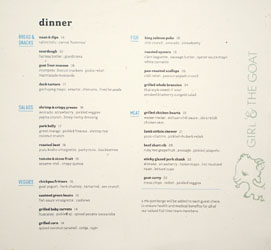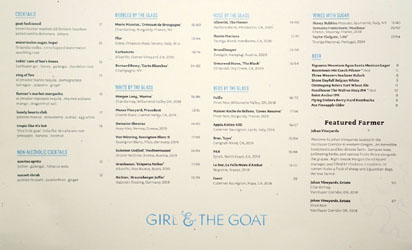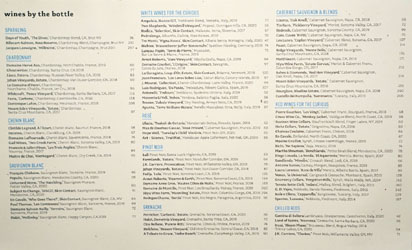 Pictured above is Izard's seemingly pan-Asian-inspired menu, which has a similar feel to what diners are used to in Chicago. To imbibe, there's a selection of cocktails (by Little Goat's Mike Zell) and beers joined by a significantly larger array of wines. Click for larger versions.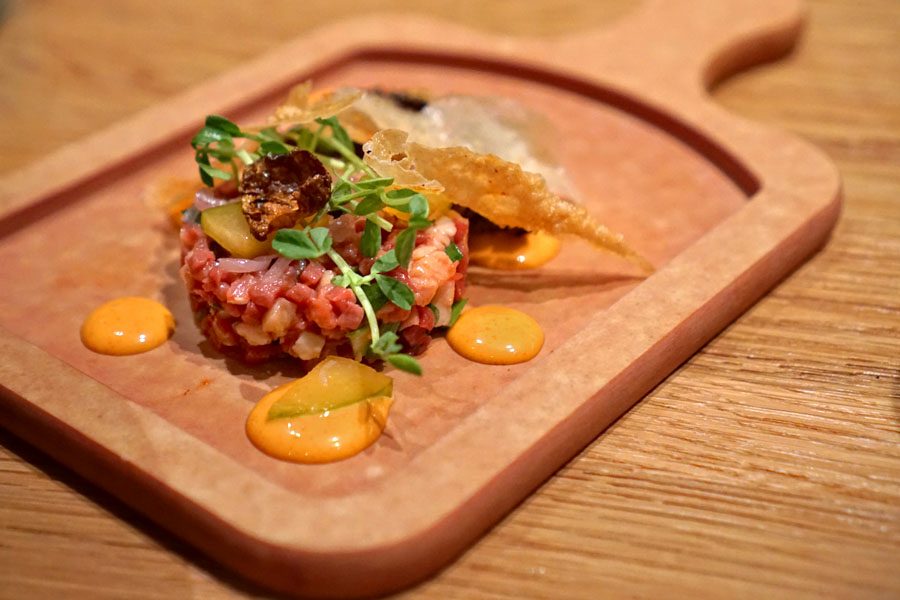 duck tartare [$17.00]
| gochujang mayo . sesame . cherums . fried brussels
I'm a sucker for a good tartar, and this was a good tartar. The duck demonstrated a savoriness that actually reminded me a bit of raw
jiaozi
filling, while the cherums offered flashes of sweetness that really worked. The herbs and crunchy bits added even more interest to the dish, while the mayo helped bind it all together. A great start.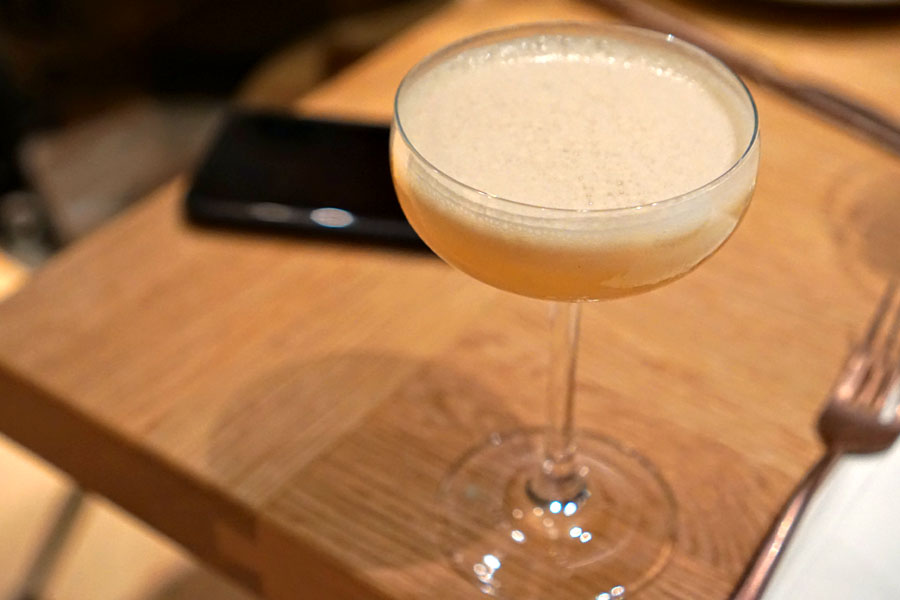 tropic like it's hot [$16.00]
| 'this little goat' india flor de caña oro rum . pineapple . banana . coconut
This punny cocktail just might've been my favorite of the bunch. I loved its commixture of fruity and floral flavors, joined by an undercurrent of sweet coconut, while the finish showed off long-lasting baking spice notes.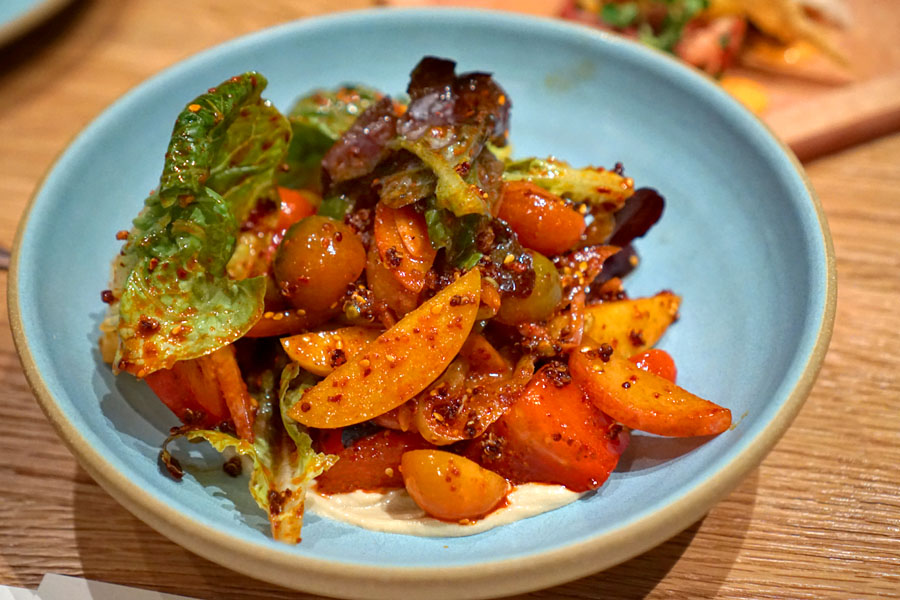 tomato & stone fruit [$16.00]
| sesame-chili . crispy quinoa
Both tomato and stone fruit were spot-on, and meshed beautifully with the palpable, lingering heat in the dish. Also crucial was the crunch of the quinoa, and I liked the overarching hits of sesame, too. This one came together very well--a surprise standout.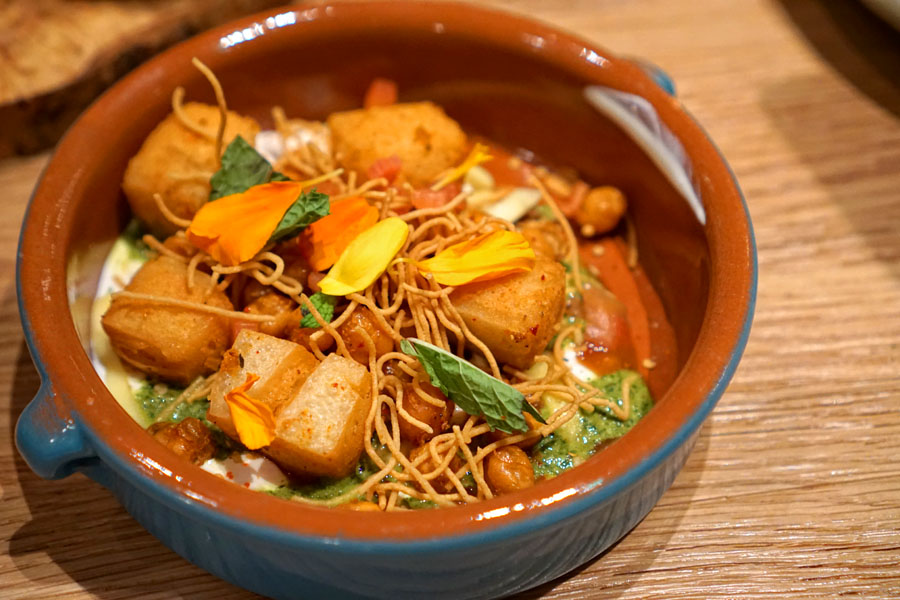 chickpea fritters [$16.00]
| goat yogurt . herb chutney . tamarind . sev crunch
These Indian-inspired garbanzos were a favorite of mine. I loved the crisp exterior of the fritters, while their insides were soft, almost creamy. The tangy yogurt was the perfect complement, and I really appreciated the sour-sweetness of the tamarind.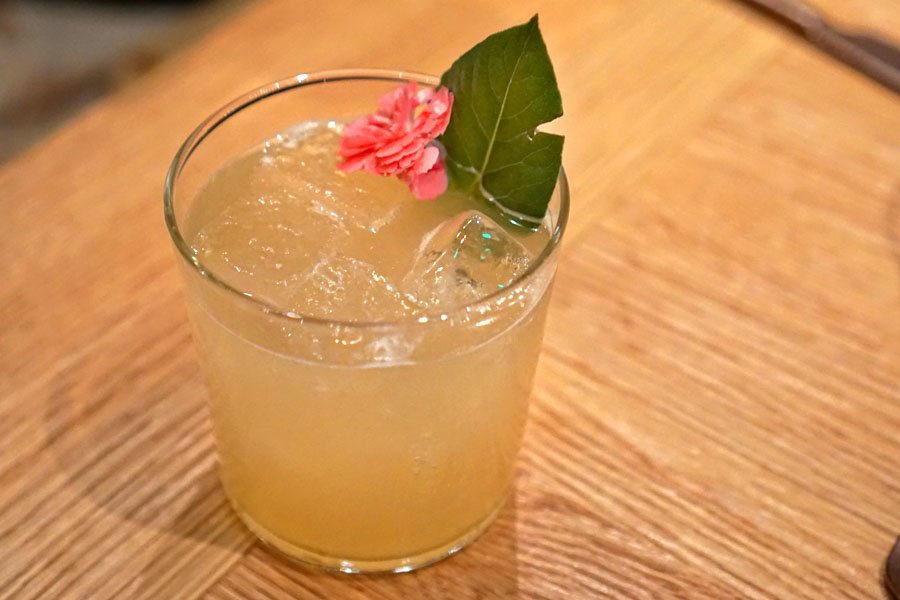 takin' care of bee's knees [$15.00]
| beefeater gin . honey . galangal . dandelion root
A riff on the classic Bee's Knees cocktail was unabashed in its gingeriness, though this was softened by a sugary base of honey, all while the galangal gave the drink a welcomed tingle.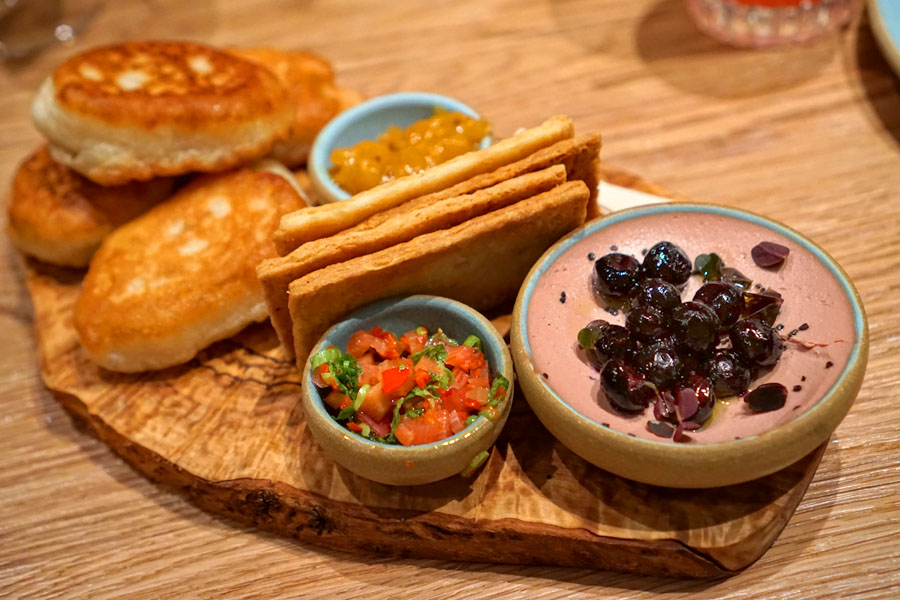 goat liver mousse [$18.00]
| crumpets . biscuit crackers . pickle relish . marmalade mostarda
This was a must-try for us, and should probably be for you too. The mousse was commendably elegant, like a slightly more potent version of a good chicken liver version. It had just the right amount of sweetness from the fruit on top, and I appreciated the counterpoints provided by both the zippy pickles and the mostarda. The provided crackers were crumbly and slightly sweet, but what really impressed were those crumpets, which came out dense, chewy, and almost mochi-esque, with a healthy dosing of both saline and earth.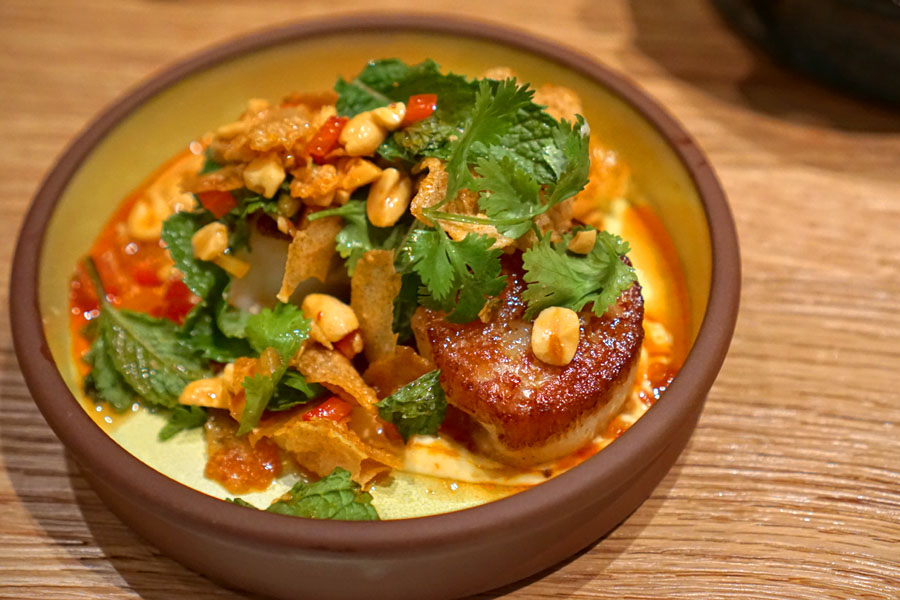 pan-roasted scallops [$26.00]
| chili relish . peanut-popiah crunch
Scallops arrived delightfully caramelized, with a soft, supple consistency and a forceful brine that matched up swimmingly with the herby, spicy, even floral flavors present. Excellent textural component from the peanuts and spring roll skins as well.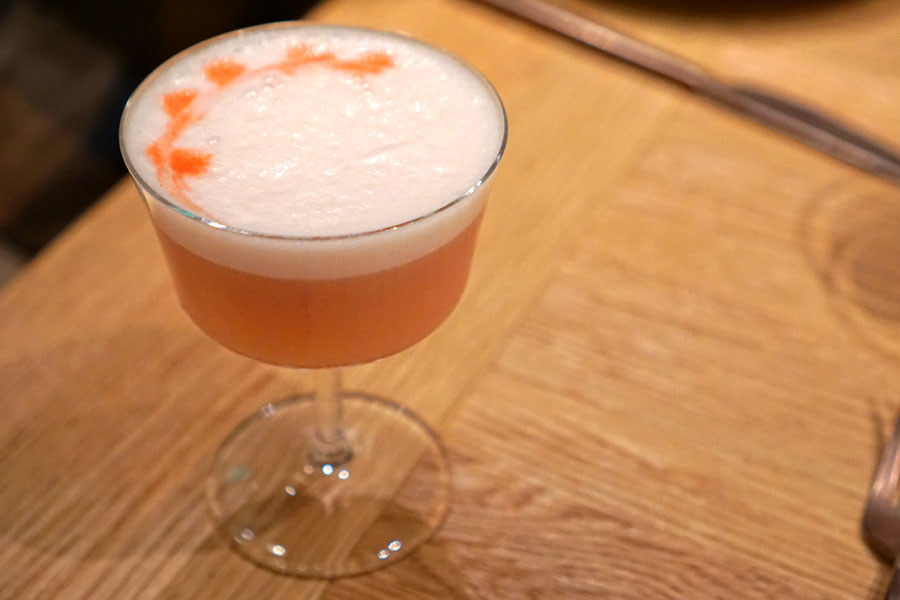 lonely hearts club [$17.00]
| peloton mezcal . strawberry . sumac . egg white
I was quite fond of this next cocktail. It had an appreciable smokiness from the mezcal, but this set the stage for an amalgam of soft, fruity, floral flavors that really came together in a balanced manner, the whole thing finishing with a lingering astringency.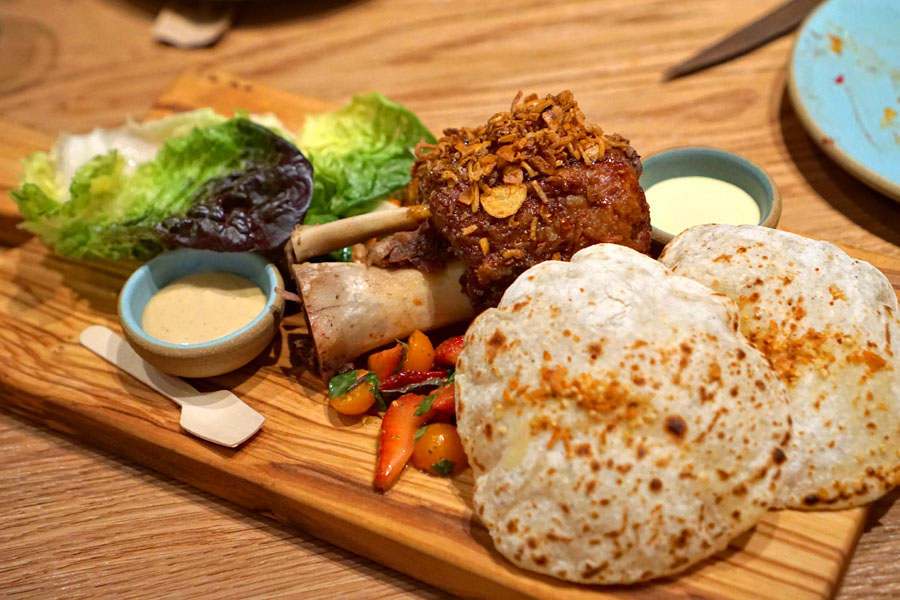 sticky glazed pork shank [$32.00]
| shiitake . strawberry . hoisin mayo . hot mustard . naan . lettuce cups
This dish came highly recommended by our server Alison, and she was right on the money. The shank had this wonderfully crispy, caramelized skin, while hiding underneath was the pig's tender flesh, imbued with plenty of savory depth and porcine funk. The mustard functioned flawlessly as a counterweight to the meat, while more interesting was the hoisin mayo, which tasted strongly of wasabi and sesame, strangely enough. Absolutely delish when wrapped in some of the included lettuce or flatbread--you probably want to order this.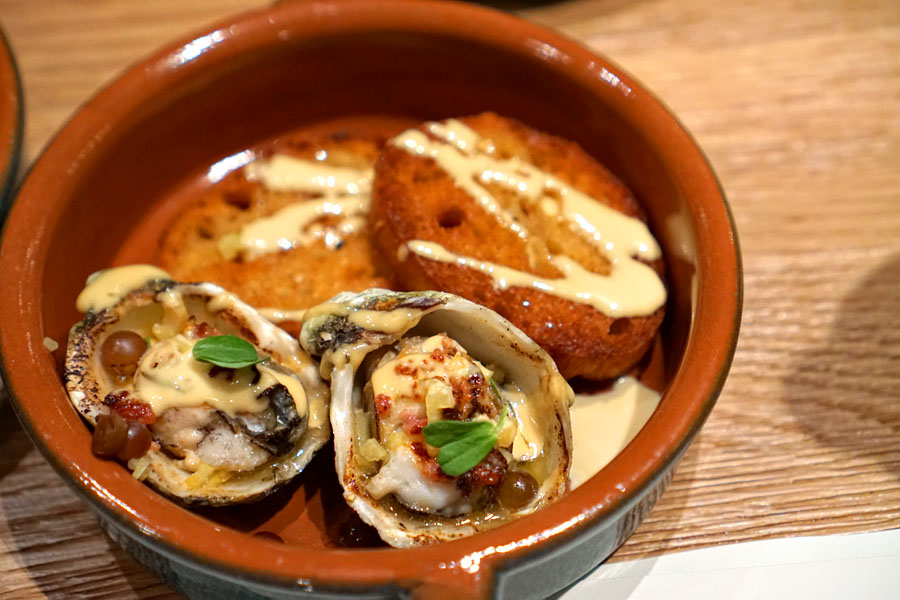 roasted oysters [$16.00]
| clam baguette . sausage butter . oyster sauce mayo . white currants
Oysters were meaty and buttery for sure, but the hero was the clam juice-infused bread, which was both gratifyingly crispy and imbued with a surprising amount of oceany savor. My concern here was that the two components didn't really link up.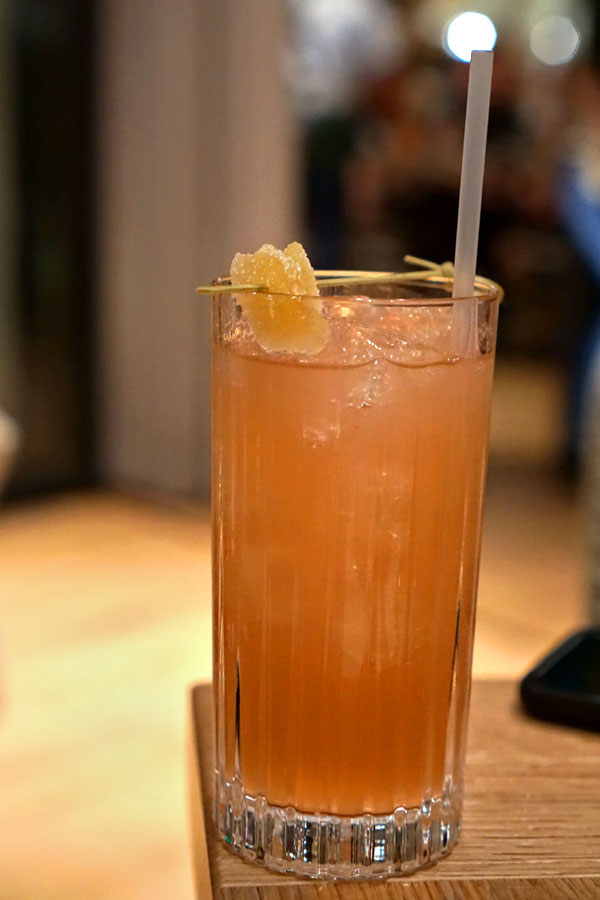 ring of fire [$15.00]
| el jimador blanco tequila . pomegranate . tarragon . jalapeno . ginger
The lone long cocktail of the night displayed boatloads of ginger, making for a zippy, pungent cocktail with not much tequila character.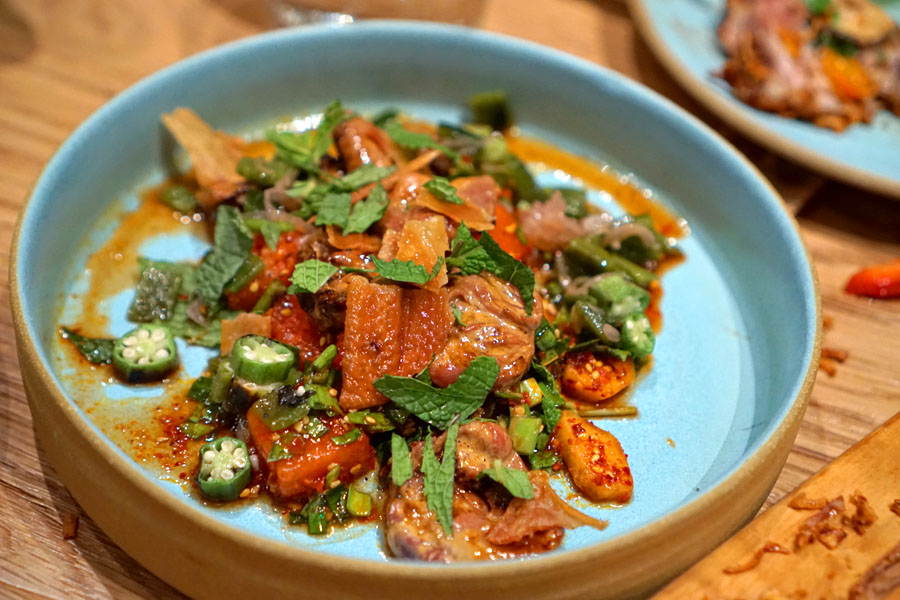 grilled chicken hearts [$19.00]
| weiser melon . sichuan chili sauce . okra relish . chicken skin
Chicken hearts came out soft and chewy, but I was really looking for more char and more sear, like what you'd get at yakitori. Taste-wise, they were super earthy, so the minty bits were absolutely critical for balance, as was the slightly funky chili sauce. Superb crunch from the fried skins to boot.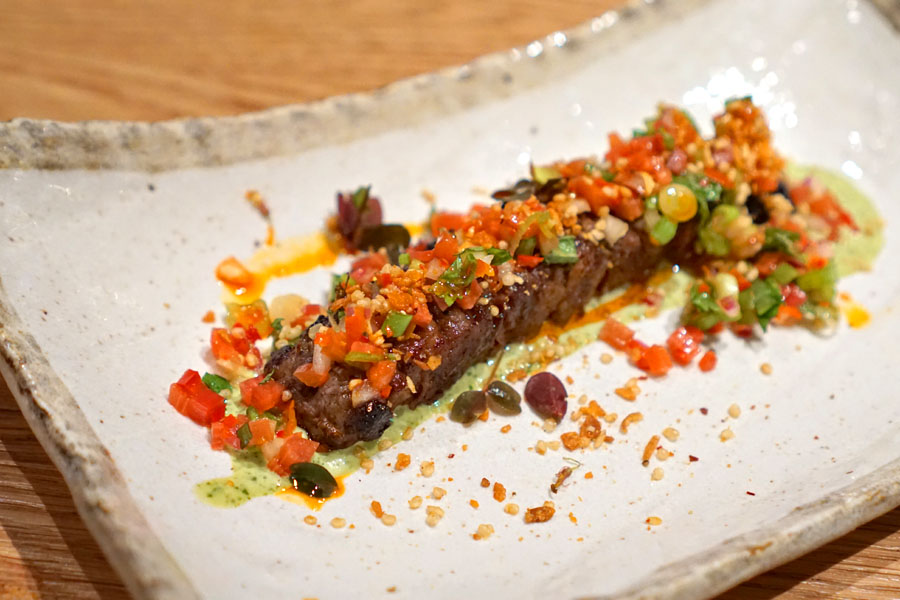 lamb sirloin skewer [$21.00]
| yuzu-cilantro . pickled rhubarb relish
I'm a fan of skewers in general, so this immediately appealed to me. The lamb ate tender and smoky, with some delectably lingering garlicky notes. At the same time, the relish really did a nice job brightening things up, while the cilantro-infused sauce brought it all together.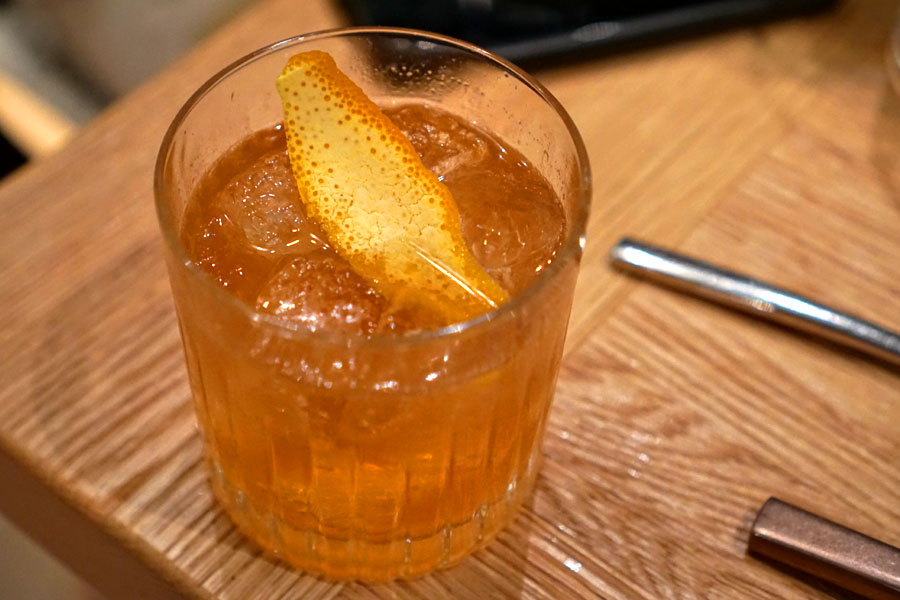 goat fashioned [$17.00]
| brown butter washed old forester bourbon . salted vanilla demerara . bitters
Here was another contender for favorite cocktail. The drink had a stupendous nose brimming with brown butter and citrus that really surprised me. The palate, meanwhile, was rich and viscous, with luscious brown sugar and vanilla flavors offset by the potency of the booze and bitters, all while the finish recalled cherry cough syrup.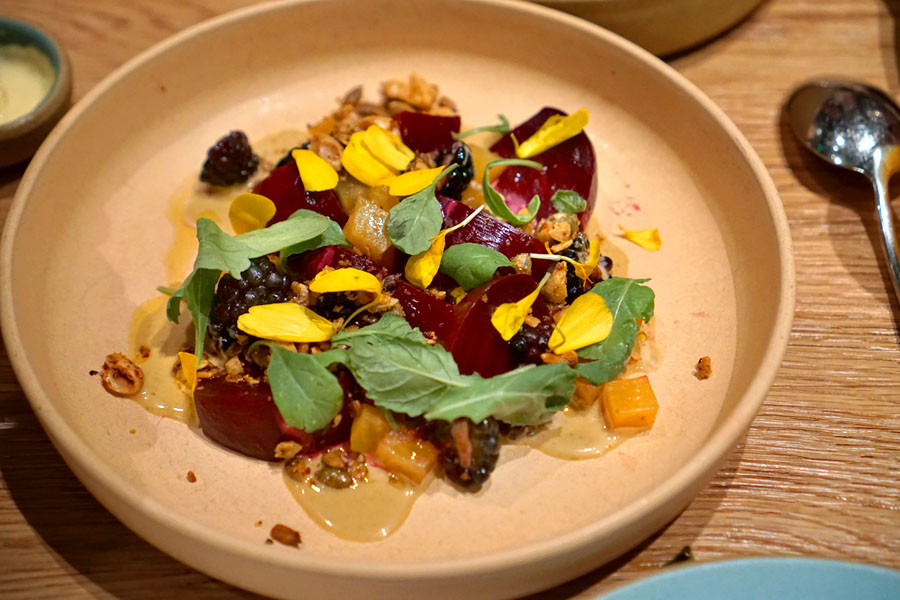 roasted beet [$16.00]
| yuzu kosho vinaigrette . party nuts . blackberries
Beets came in both roasted and pickled forms, which made for a nice balance of tastes as well as some textural variation. The
yuzukosho
-boosted vin offered up both sourness and heat for contrast, and I really appreciated all the nutty, crunchy elements, too.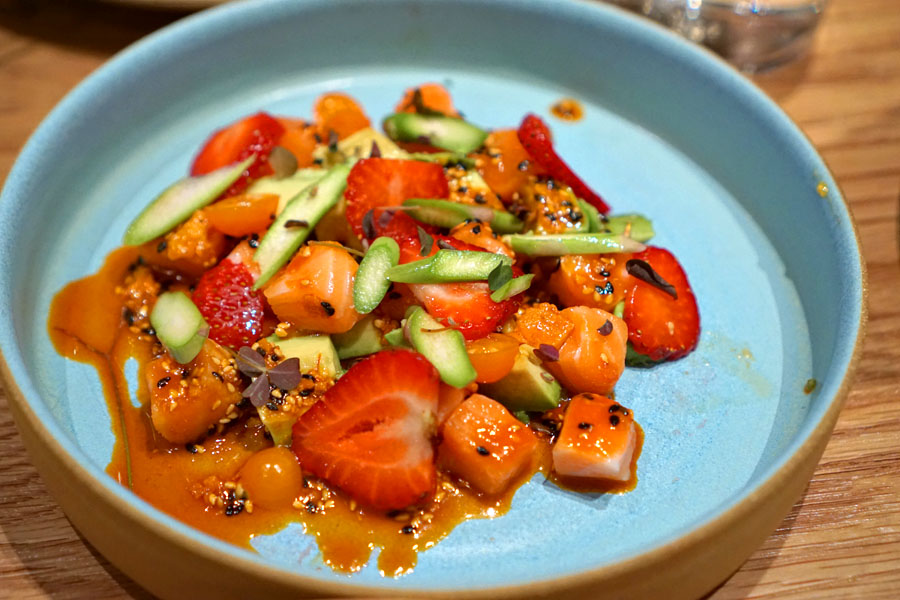 king salmon poke [$18.00]
| chili crunch . avocado . strawberry
For our final savory, we had one of the most interesting preparations of poke I've ever encountered. What stood out to me the most was the nuttiness and heat in the dish, and how that matched up with the saline nature of the fish, while the avocado just smoothed things out.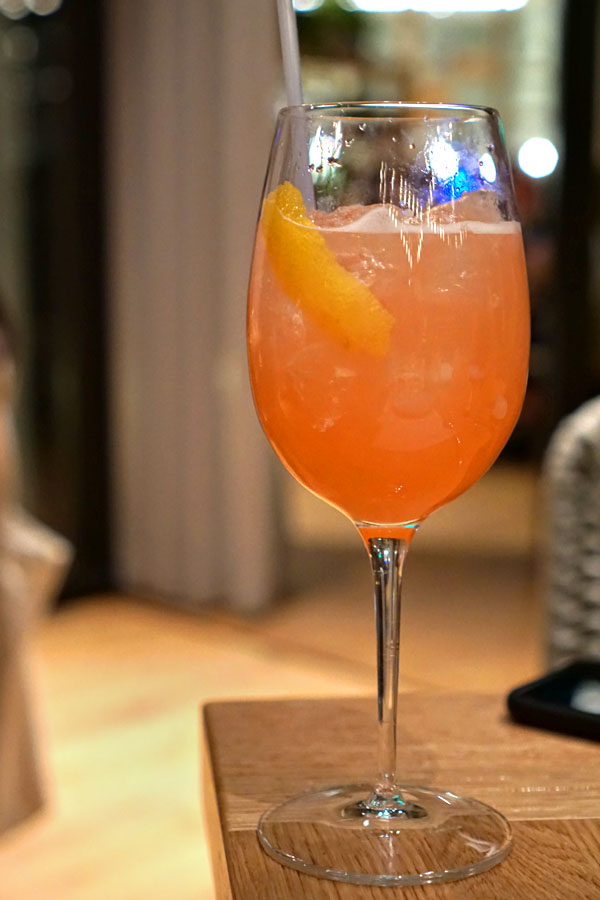 watermelon sugar, hops! [$16.00]
| finlandia vodka . citra hopped watermelon . sparkling rosé
Our last cocktail featured refreshing watermelon flavors backed by an intriguing beer-like quality from the hops. Very quaffable.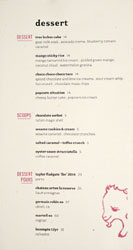 Though we were quite full by this point, dessert was still a must. Click for a larger version.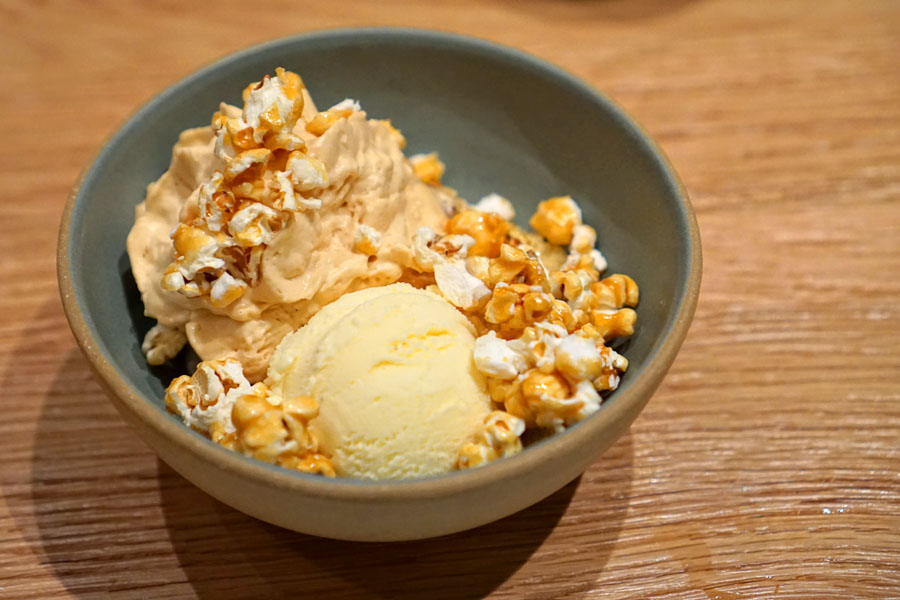 popcorn situation [$14.00]
| cheesy butter cake . popcorn ice cream
Our first dessert demonstrated utterly satisfying, familiar flavors of sweet, buttery popcorn, but set against an unexpectedly rich, cheesy, tangy cake. Great juxtaposition of temperatures here, too.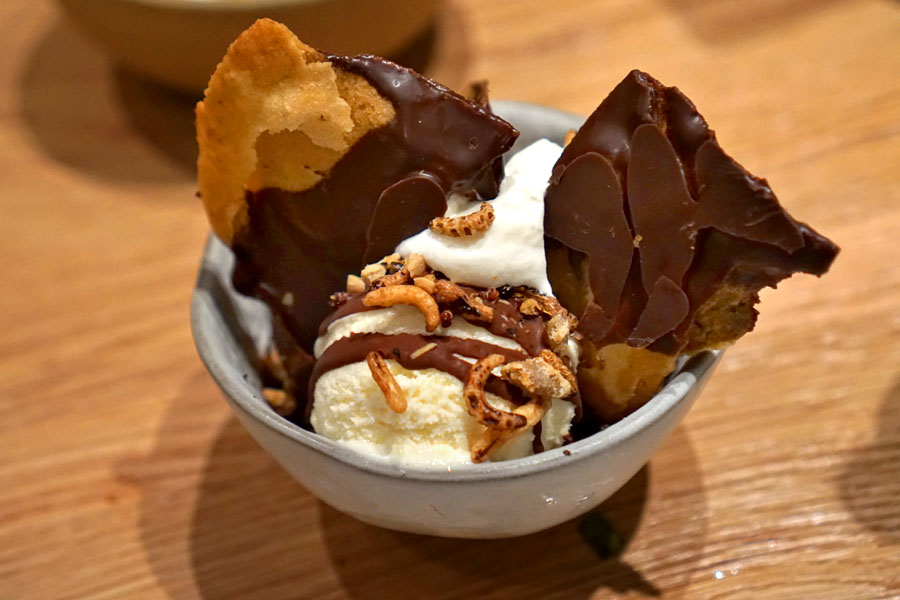 choco choco choco taco [$14.00]
| spiced chocolate and lime ice creams . sour cream whip . fun crunch . chocolate masa chips
As good as the dessert above was, this one was even better. I was impressed by the marriage of corn and chocolate flavors, as well as how that combined with the cinnamon-y spice present. A delightful tangy lime-infused cream uplift the dish, and rounding things out were all those nutty-crunchy tidbits.
Having never had the Chef's food before, I came in here not knowing exactly what to expect, but what I ate definitely met the mark. The cooking has a vibrancy to it, and I noticed common themes of lots of crunch, and lots of herb/heat/acid for contrast. This all worked for me, as did the relatively subtle weaving in of Izard's signature Asian-y elements. Angelenos have been waiting a long time for this place to open, and I'm happy to report that it appears to be worth the wait. I can already see Girl & the Goat being one of my standby spots in the Arts District.