Cara Cara (Los Angeles, CA)
Cara Cara at Downtown L.A. Proper Hotel
1100 S Broadway, Los Angeles, CA 90015
800.806.1947
www.properhotel.com/downtown-la/restaurants-bars/cara-cara/
Tue 11/02/2021, 08:05p-10:20p

I recently checked out
Pilot
at Downtown's Hoxton hotel, as I wanted to get a visit in before the place closes in the coming months. While dining there, I peered over across the street at the Proper, another new boutique hotel, and was reminded that it too had a rooftop restaurant, one named Cara Cara (after the citrus). The place opened in mid-October, and is actually the work of Chef Suzanne Goin and Caroline Styne, the two LA hospitality veterans behind the venerable
Lucques Group
. It's the organization responsible for the likes of
Lucques
,
A.O.C.
,
Tavern
, and The Larder, though the company has had to shutter almost all its properties except A.O.C. over the past couple years.

After stepping outside of the elevator, you're greeted by Cara Cara's relatively compact bar area.

And here we see the main dining patio, a cozy affair that affords guests a superb view of the DTLA skyline (see photo at the top of this post).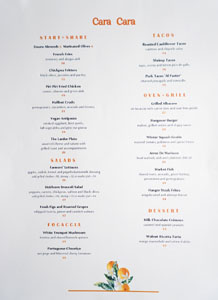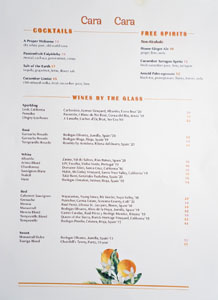 Cara Cara's menu features easy-going Californian fare with a bit of a Mediterranean and Latin influence, while drink-wise, you get cocktails, a handful of beers, and a compact wine list--all appropriate for the setting. Click for larger versions.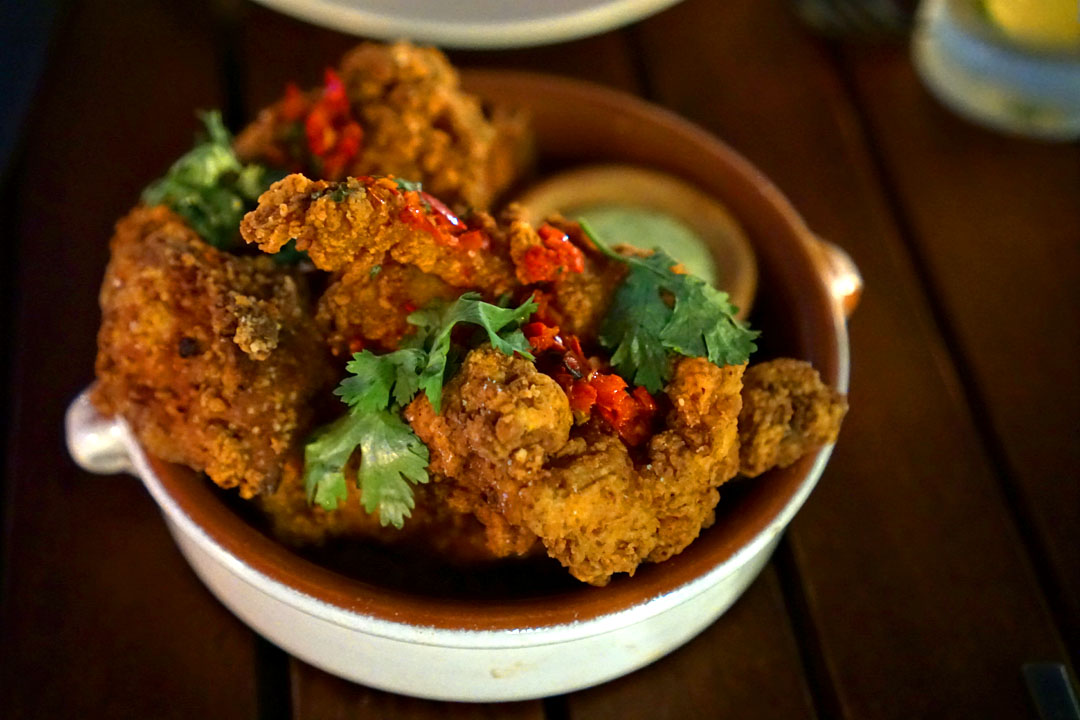 Piri Piri Fried Chicken [$18.00]
| cumin, cilantro and green aïoli
Chicken arrived as juicy and tender as I'd hoped for, and was beautifully spiced with cumin and chili, while the sheer brightness of the aioli elevated the dish even more. Overall, this sort of recalled Taiwanese-style
yán sū jī
, and made for a great start.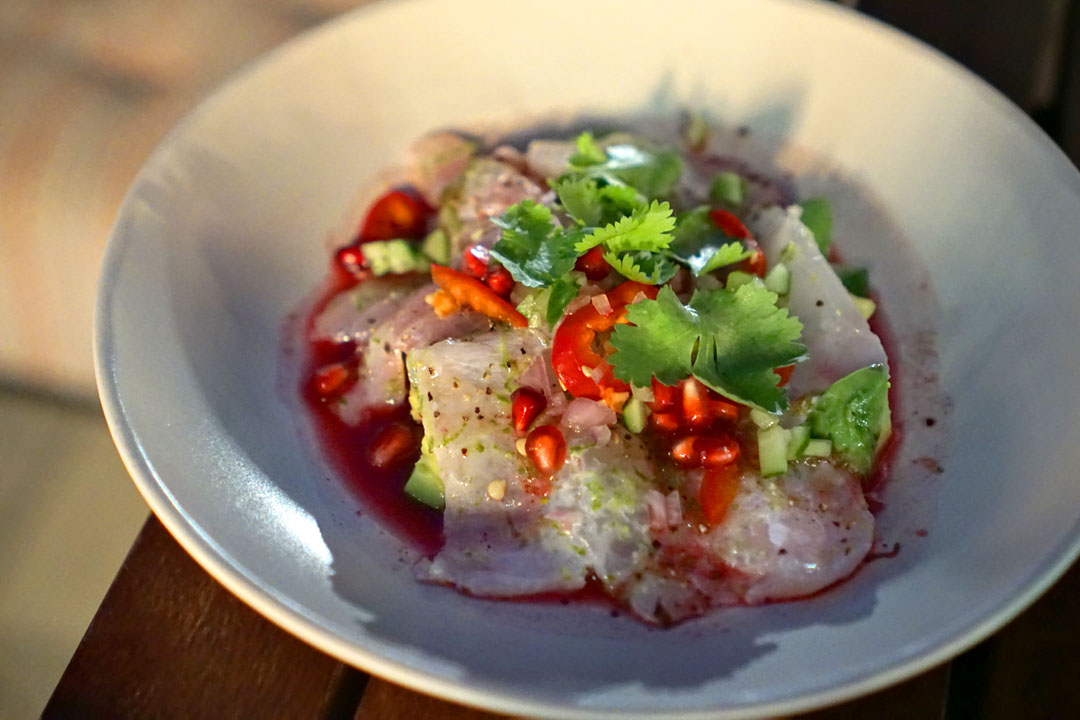 Halibut Crudo [$21.00]
| pomegranate, cucumber, avocado and fresnos
Halibut came out in meaty, substantial shards, and had a distinct brine that matched up swimmingly with the cilantro and chilies, and even those pomegranate seeds. However, I did find the dressing here a bit acidic, though the avocado did help smooth things out.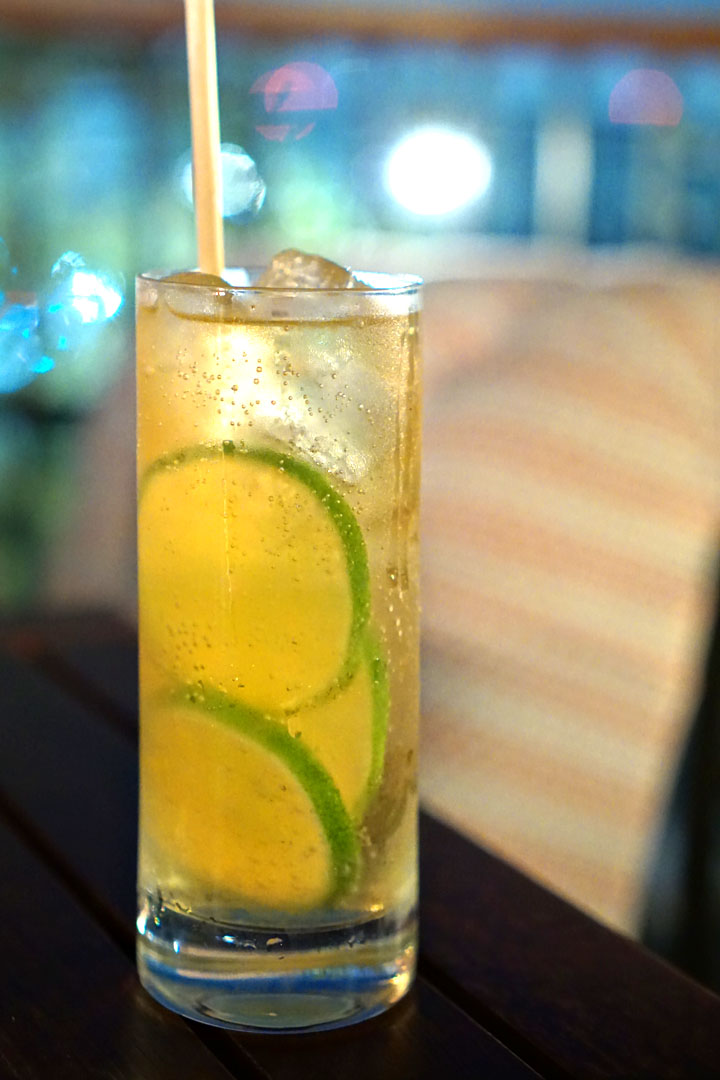 A Proper Welcome [$14.00]
| dry white port, old world tonic
Serving as a bit of an apéritif was this first cocktail, which did a good job marrying the fruitiness of the port with a properly zippy tonic.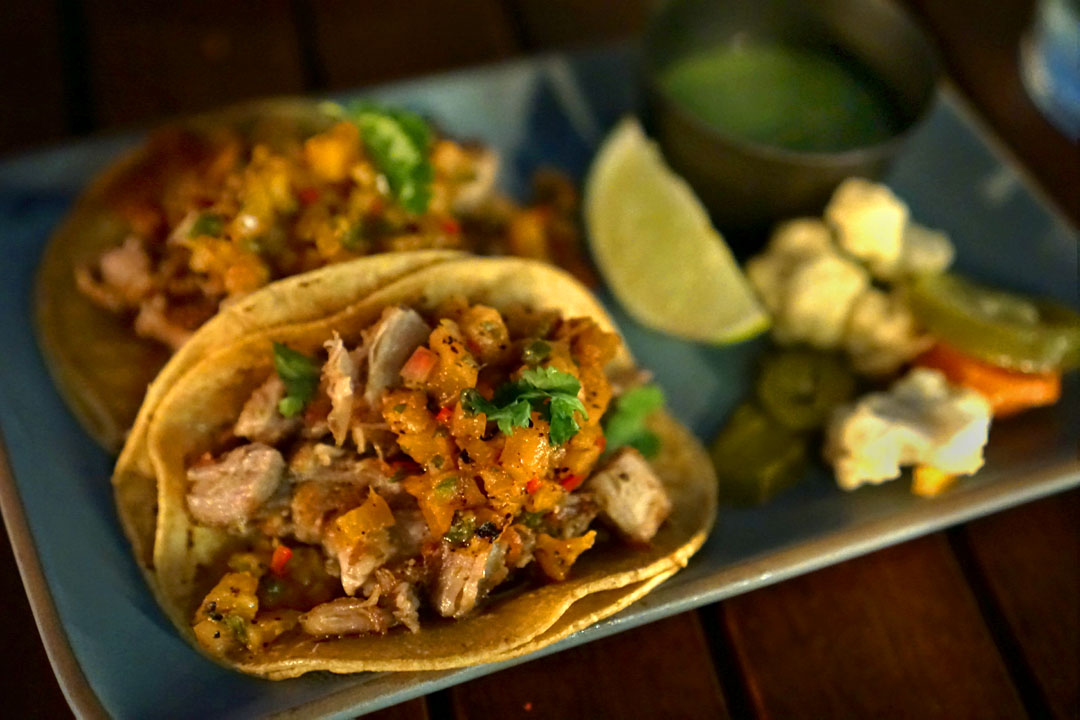 Pork Tacos 'Al Pastor' [$15.00]
| charred pineapple and tomatillo
Cara Cara's take on al pastor was surprisingly successful, as I quite enjoyed the softness and succulence of the pork, along with its crispy bits. The meat was also well-seasoned, with a nice juxtaposition of flavors from the tangy pineapple, while the tomatillo salsa imparted a delightfully fruity heat.
White Trumpet Mushroom [$19.00]
| fontina and shaved brussels sprouts
This personal-sized focaccia pizza featured a lovely back-and-forth between earthy 'shrooms and the refreshingly bitter taste of the Brussels, all while the cheese grounded the dish. I liked the crust, too.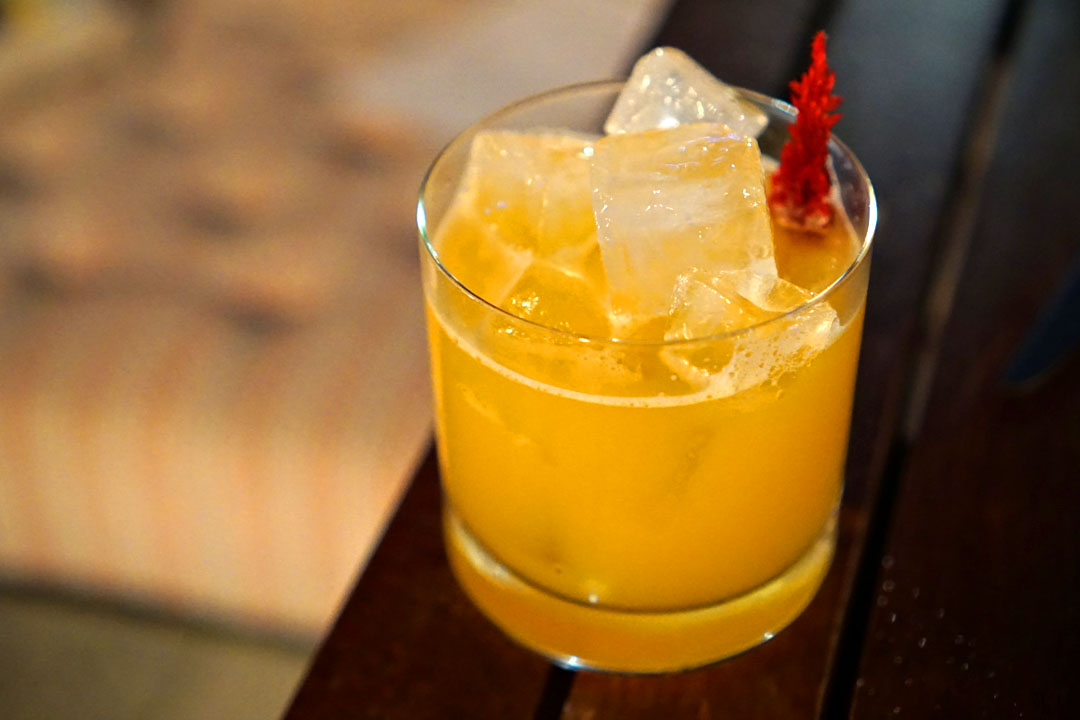 Passionfruit Caipirinha [$19.00]
| mezcal, cachaça, passionfruit, citrus
In our second cocktail, a commixture of spice, smoke, and funk gave way to the unmistakably tropical nature of passion fruit, with the cachaça making itself known only a smidge.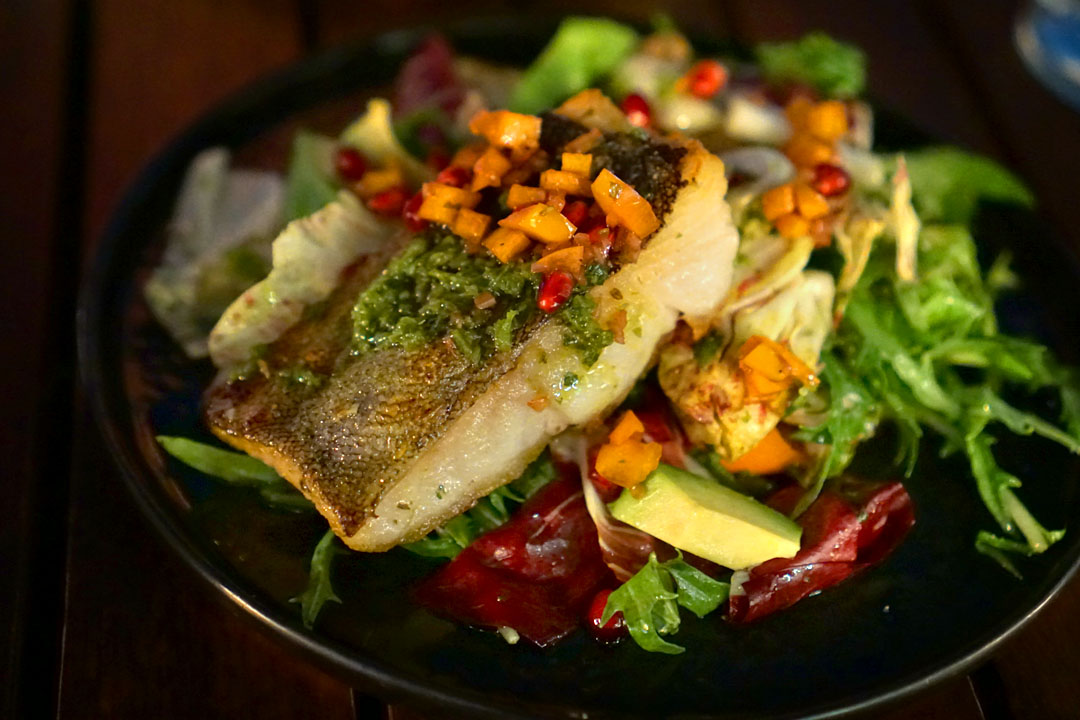 Market Fish [$28.00]
| shaved roots, avocado, green harissa, persimmon and pomegranate
Lingcod showed off flaky, silky, falling-apart-tender flesh along with a restrained salinity, one that paired pretty well with all those bitter, crunchy veggies, and especially the harissa.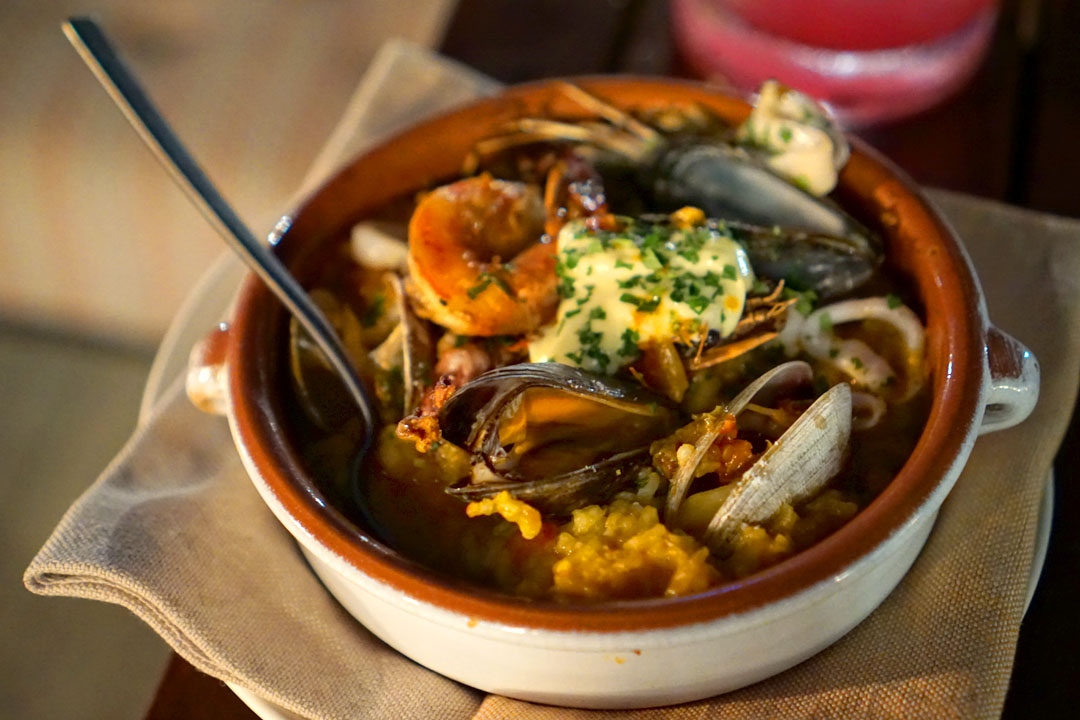 Arroz De Mariscos [$21.00]
| local seafood, aïoli and calabrian chili oil
Our seafood rice did a nice job showcasing the clams, mussels, shrimp, and squid contained within, and also displayed a creeping heat that really completed the package. However, I would've liked some more texture on the arroz itself for contrast.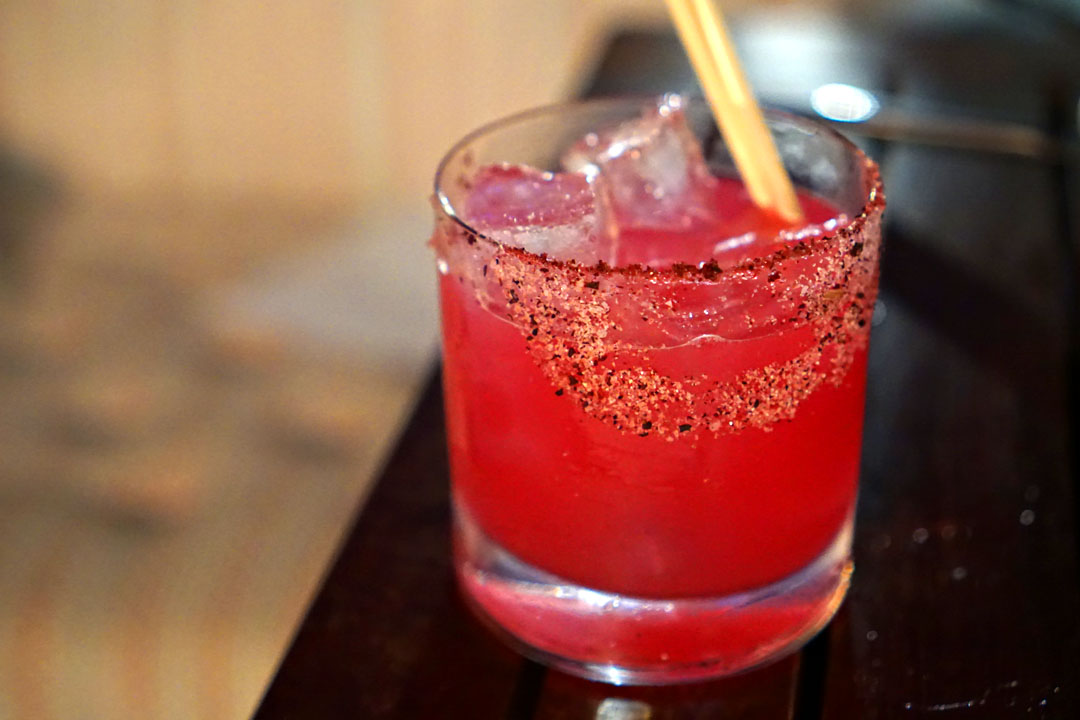 Salt of the Earth [$17.00]
| tequila, grapefruit, brine, flower salt
The night's third cocktail appeared to be a riff on the margarita, and conveyed a fruity heat layered over a base of booze and grapefruit-fueled astringency.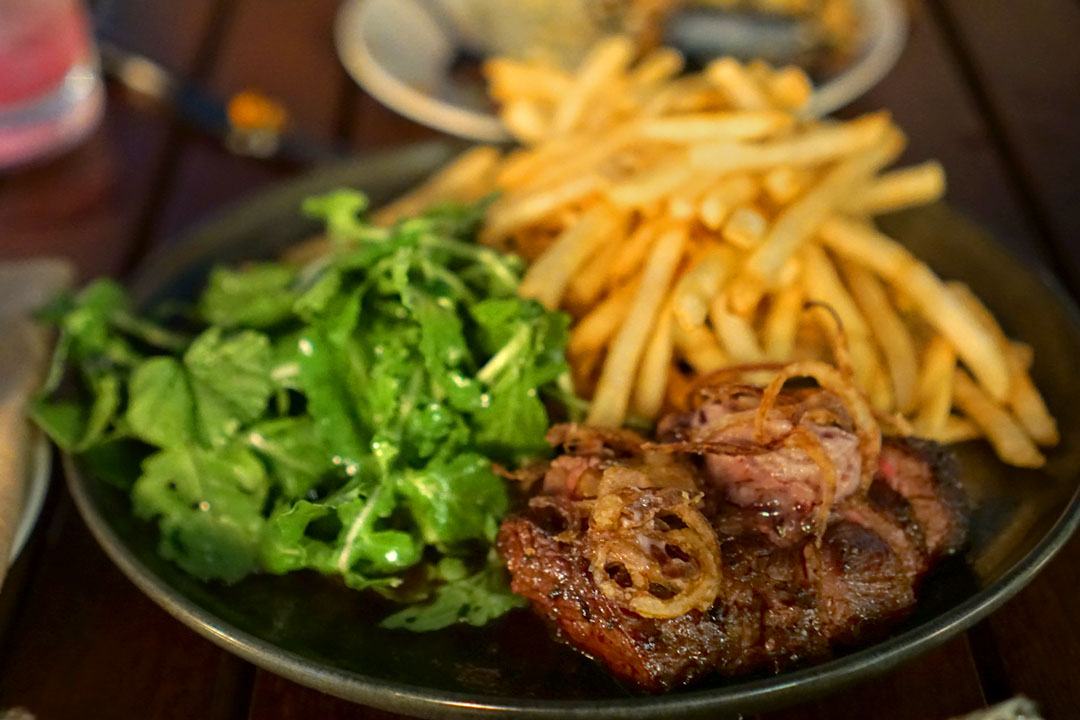 Hanger Steak Frites [$34.00]
| arugula salad and alentejo butter
Our final savory was the hanger steak. Think reasonably tender and very flavorful, with a healthy amount of sear and char to boot. The zesty arugula helped offset some of the meat's more aggressive flavors, while the fries came out crispy and salty, as you'd expect.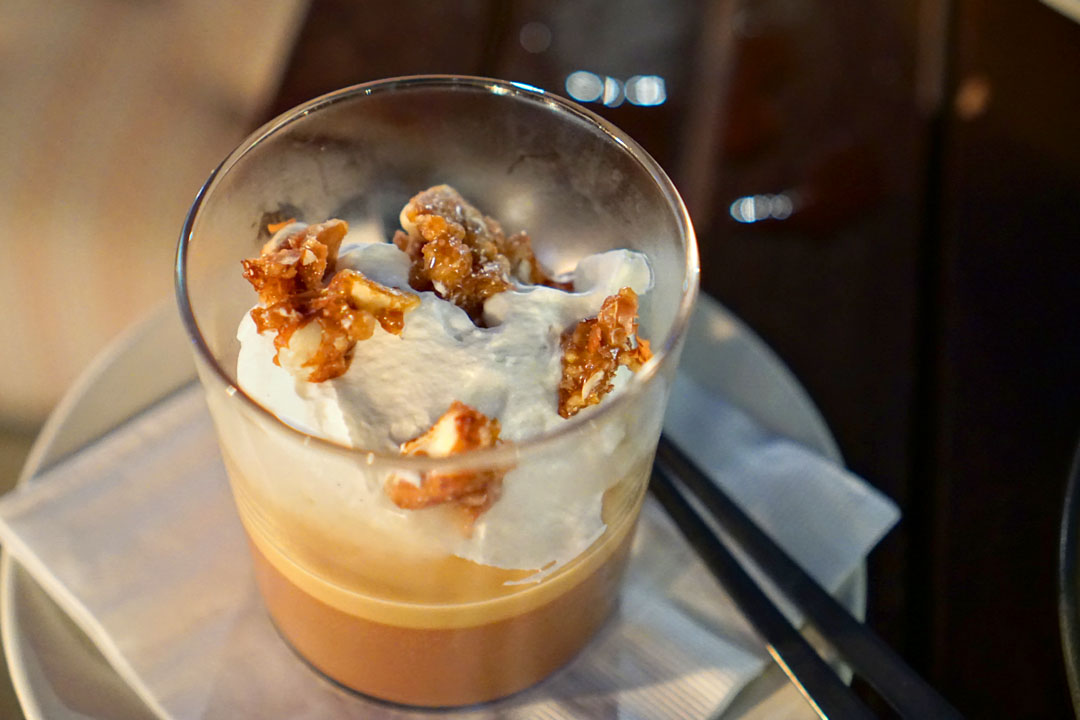 Milk Chocolate Crémeux [$13.00]
| caramel and spanish peanuts
There were but two desserts offered, and we opted for the crémeux, which turned out to be a good decision. The chocolate matched up near perfectly with the rich, sugary caramel elements, and I was a big fan of the crunch on those nuts.
All in all, I'd say that this was a successful meal at Cara Cara despite a couple quibbles, and I think the combination of the food and view should make for a thriving rooftop eatery. Now The Lucques Group has also opened up Caldo Verde, a Cal-Portuguese restaurant on the ground level, so I'll probably check that place out eventually. In addition, the team is working on Dalia, a cocktail bar scheduled to debut in December that's on my list as well.