End of an Era at Playground 2.0 (Santa Ana, CA)
End of an Era at Playground 2.0
220 E 4th St, Santa Ana, CA 92701
714.560.4444
www.playgrounddtsa.com
Thu 12/16/2021, 06:05p-08:10p

As some of you might know, Playground is probably my favorite restaurant in Orange County, so I was definitely saddened to hear of its impending shutter. Its closure wasn't necessarily due to financial pressures
per se
, but rather, the COVID-19 pandemic had simply defeated Chef/Owner Jason Quinn mentally. He had had enough of the industry, and wanted to end things on his own terms. The place's lease was set to expire right at the end of 2021, six weeks after the place's 10-year anniversary, so it just made sense to end things on that date. Given all this, I wanted to return to the restaurant for one last hurrah before Quinn was out the door.

Pictured above is the view from the end of the Playground 2.0 (a.k.a. Trust Kitchen), which, if you're not familiar with it, is an 18-seat, omakase-style dining counter attached to Playground proper. Tonight's dinner was priced at $250 a head, inclusive of food, drink, tax, and tip.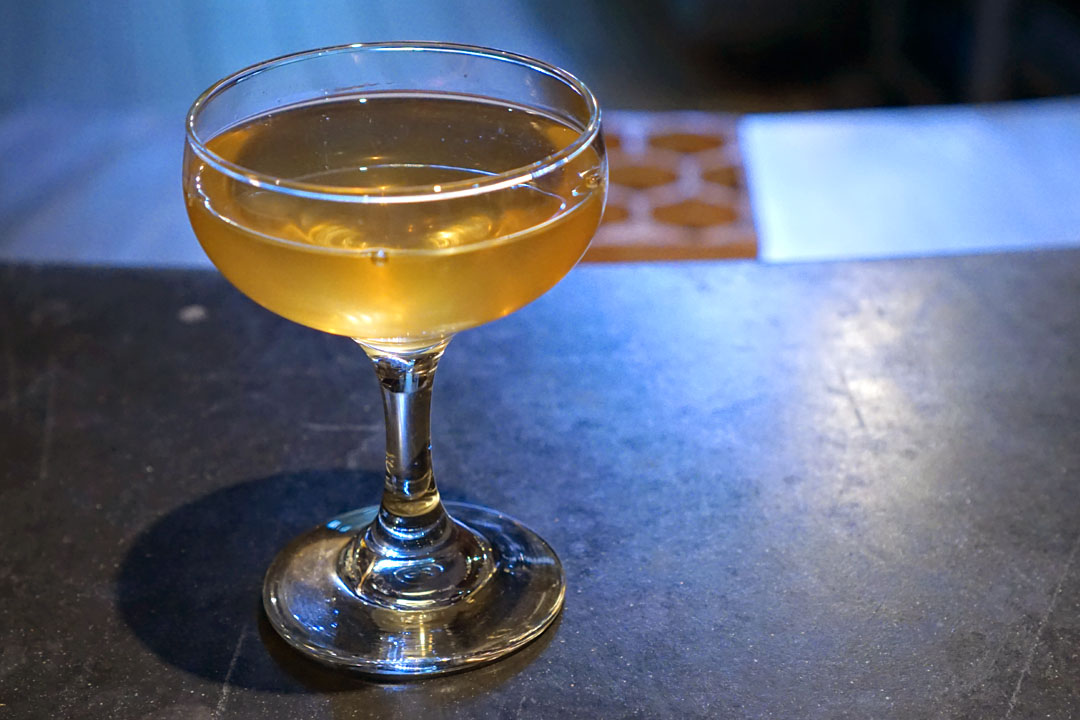 Our meal began with a welcome cocktail that I believe was composed of vodka, Amaro Montenegro, and house bianco vermouth. It functioned pretty well as an apéritif, its robust, smooth, grapefruit-y flavors working well with the drink's slight oxidative character and overall bittersweetness.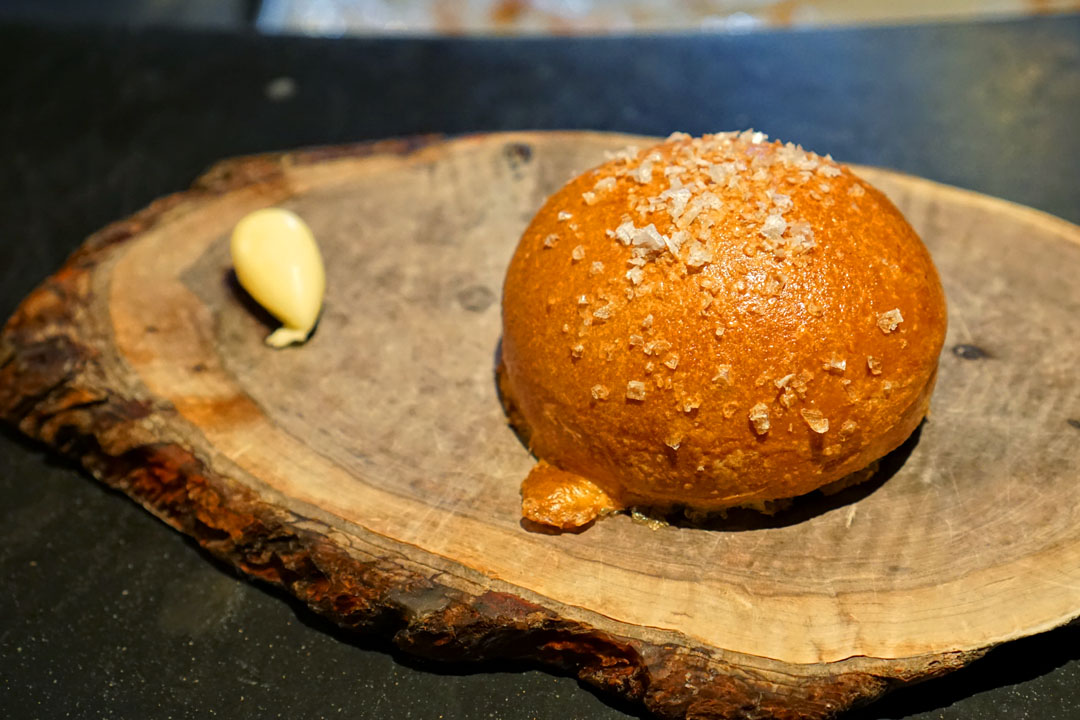 1: The Freshest Bread
I was a huge fan of the bread here, which was easily some of the best I've had in a while. Think soft, fluffy, and slightly sweet, with some wonderful pricks of salt. It was delicious alone, but even better with a dab of that luscious butter on the side.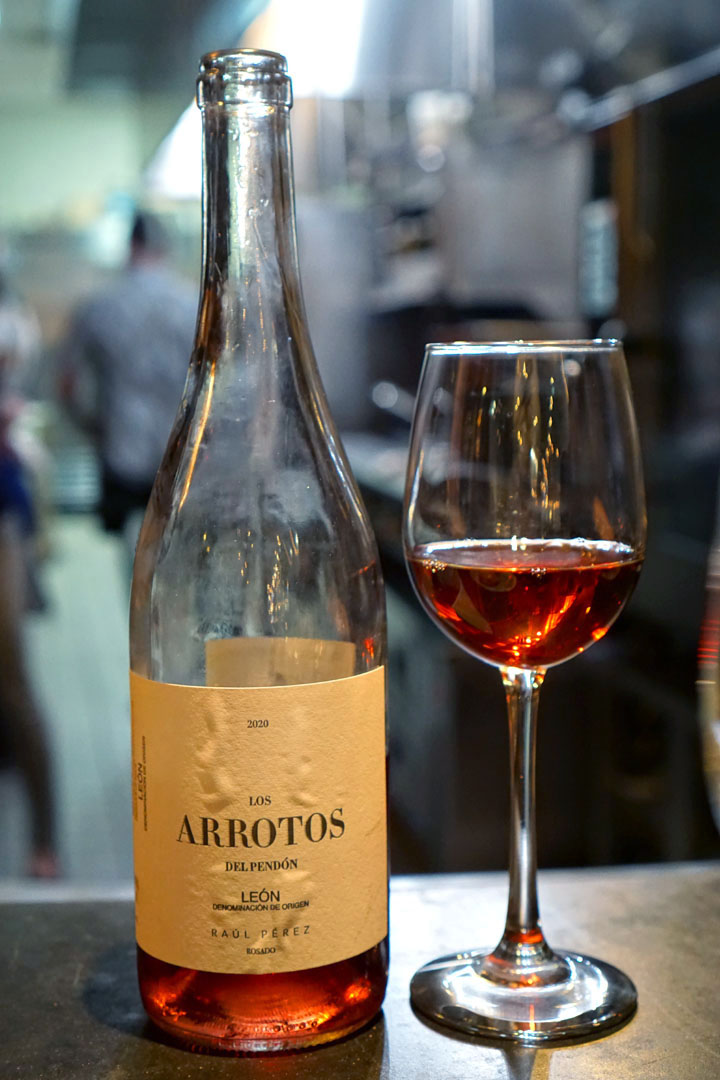 Our first wine pairing was the
2020 Raul Pérez Los Arrotos del Pendón
, meant for the salad below. I got loads of bright red fruit on the nose, while the palate was more contemplative, giving up restrained berry notes backed by a persistent earthiness.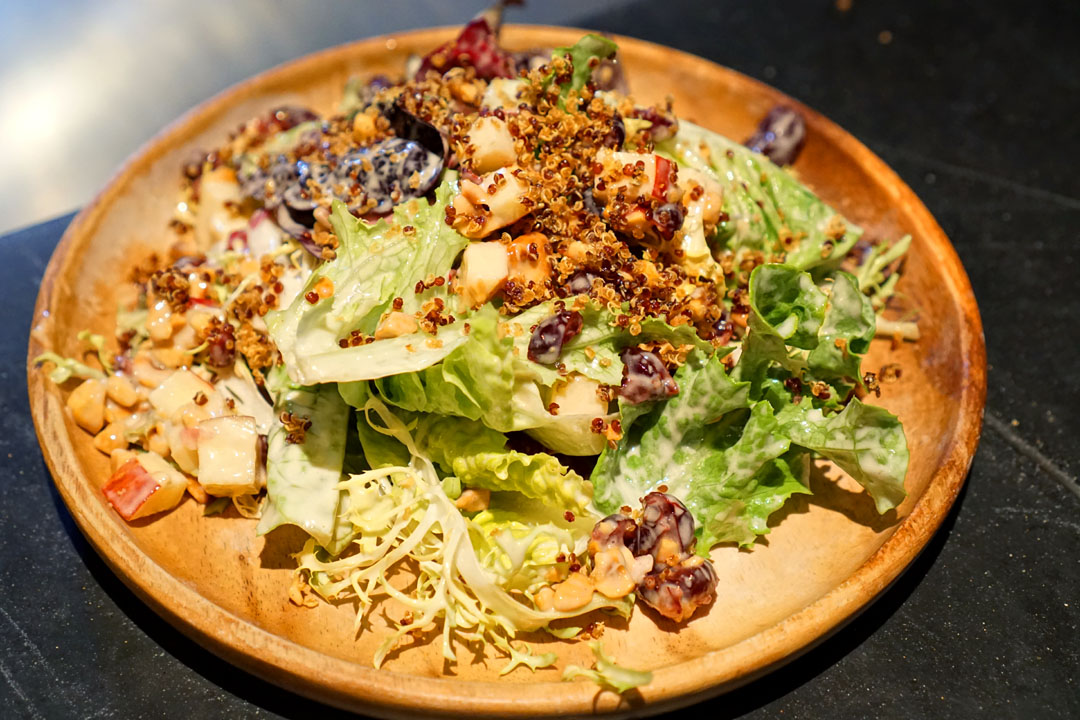 2: Ride or Die Salad
| Local Baby Greens, Cream Acidic Vinaigrette, Fuji Apple, Dried Cranberry, Pistachio, Adult Pop Rocks
Next came a salad from the regular menu that's apparently being retired along with the restaurant. That's too bad, since it was a damn good salad. I really enjoyed its sheer nuttiness and crunch, and how that combined with the chewy cranberries and crisp cuts of apple, all while that tangy vinaigrette brought it all together.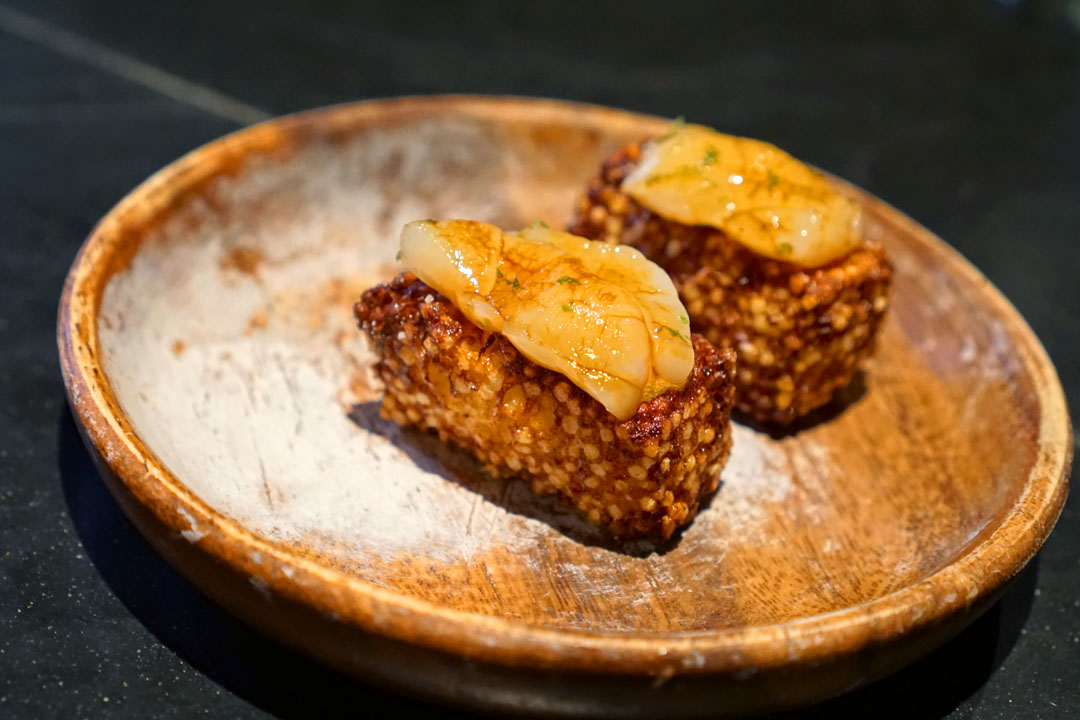 3: Tapioca Pearls & Hokkaido Scallop
These next bites apparently came about because the kitchen received tapioca pearls instead of the desired tapioca flour, and decided to start experimenting. I'd have to call the experiment successful, since I loved the toasty, crispy, savory nature of the tapioca, and how that was juxtaposed against the cool, sweet, soy- and lime-topped scallop. Yum.
Next to drink was the
2018 Roland Lavantureux Chablis Grand Cru Bougros
. The wine smelled of fresh white fruits with touches of grassiness and barnyard, while taste-wise, I got a helping of green apples commingled with a mish-mash of saline, spicy nuances.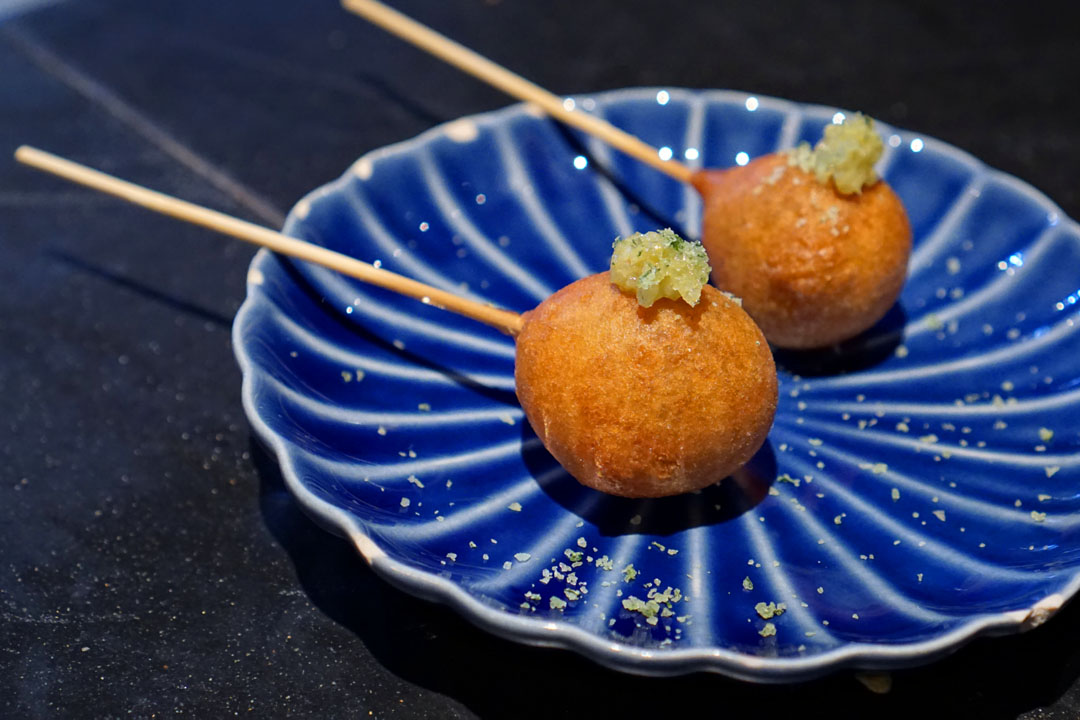 4: Faviken Pork Balls
Here we have a dish inspired by Faviken, a near-legendary, now-shuttered restaurant in Sweden run by Magnus Nilsson. The skin and fat from a sous vide'd pig head is pressed through a tamis, with the resulting slurry mixed in with shredded head meat and rolled. Those balls are then skewered, battered with sourdough starter, and fried by hand, then garnished with tarragon salt and lacto-fermented green gooseberries. The end result was pretty spectacular, and sort of reminded me of semi-liquified Cantonese roasted pork with its immensely deep, savory, porcine flavors, moderated just a smidge by the sourness of those gooseberries. Super fun, and super tasty.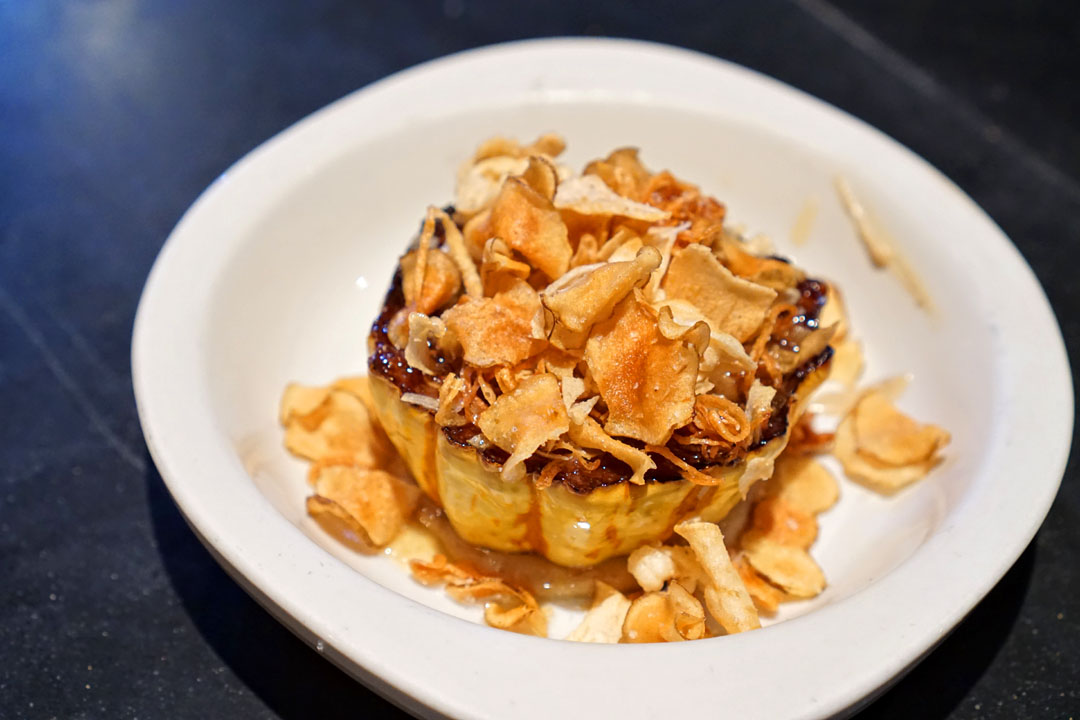 5: Delicata Squash
I'm generally not a squash fan, but this was pretty great. The Delicata was seared on both sides to caramelization, poached in a combo of sherry and honey, then served with sunchoke purée, sunchoke chips, garlic chips, slow-fried shallots, and puffed Job's tears. I appreciated the variety in textures here, and really enjoyed the boatloads of savory, nutty, oniony flavors present, all set against the innate sweetness of the squash.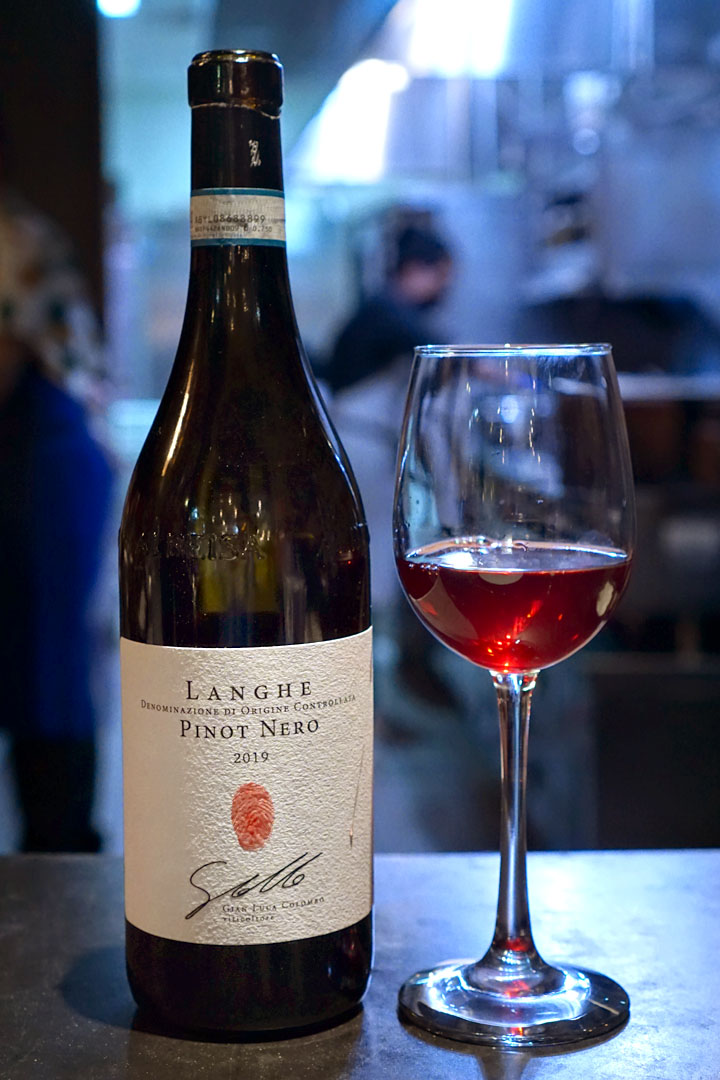 The evening's third wine was the
2019 Gian Luca Colombo Langhe Pinot Nero Sable
. This one smelled of deep, fragrant dark fruit with a touch of forest floor. Tasting it, I got more of those juicy berries, along with an amalgam of woody, herby, peppery elements, all coming together in a surprisingly easy-drinking package.
An impressive-looking swordfish steak being prepped for our next course.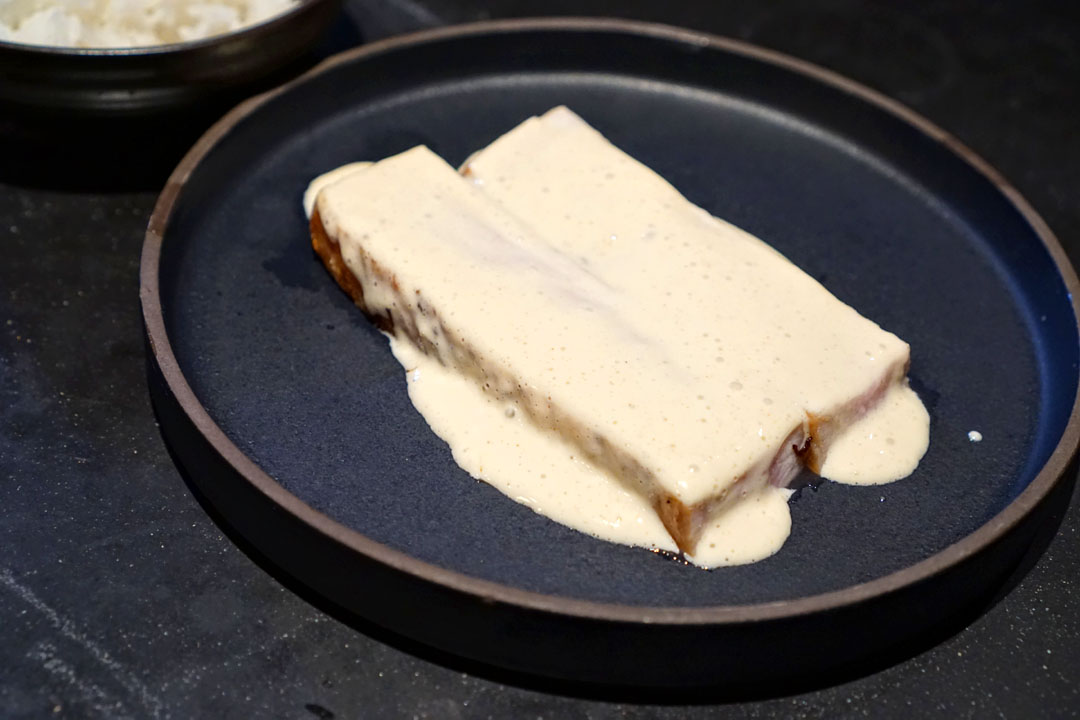 6: Swordfish
As many of you can probably attest to, swordfish is often disappointing at restaurants, but that was far from the case tonight. The fish was cooked using the reverse sear method: first bring the steak up to a 100° internal temperature, then grill it for two minutes per side over Kishu binchotan charcoal. The end result was a slightly rare center, while the fatty, oily nature of the flesh stood up to the accompanying white soy-lime sauce, which showed off an almost caramel-like sweetness.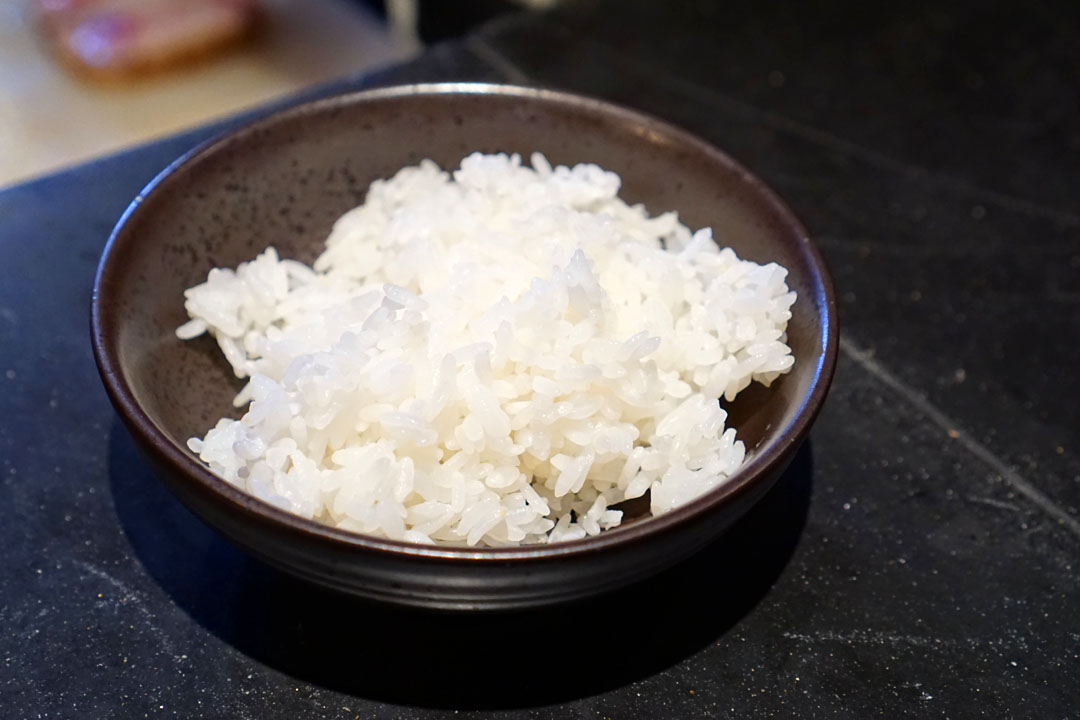 Given the heft of the swordfish, some rice was needed for balance, and what a rice we had! Yamagata Tsuyahime is supposedly the best in Japan (with prices to match), and I'll say that it was as perfect as any I've experienced. I was especially impressed by how utterly "fluffy" the grains were.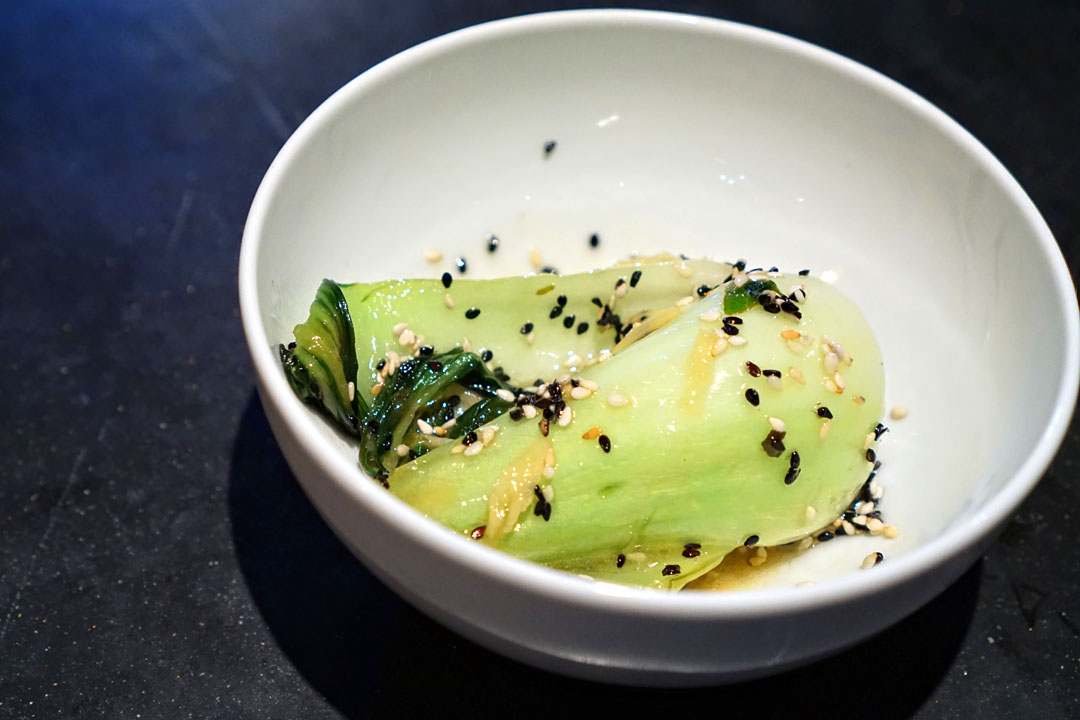 Also accompanying the swordfish was this excellent rendition of bok choy, prepared in a toffee made from fish bones and topped with
gomashio
. I was pretty smitten by how well the nutty, savory flavors here played off the bright, bitter nature of the veggie.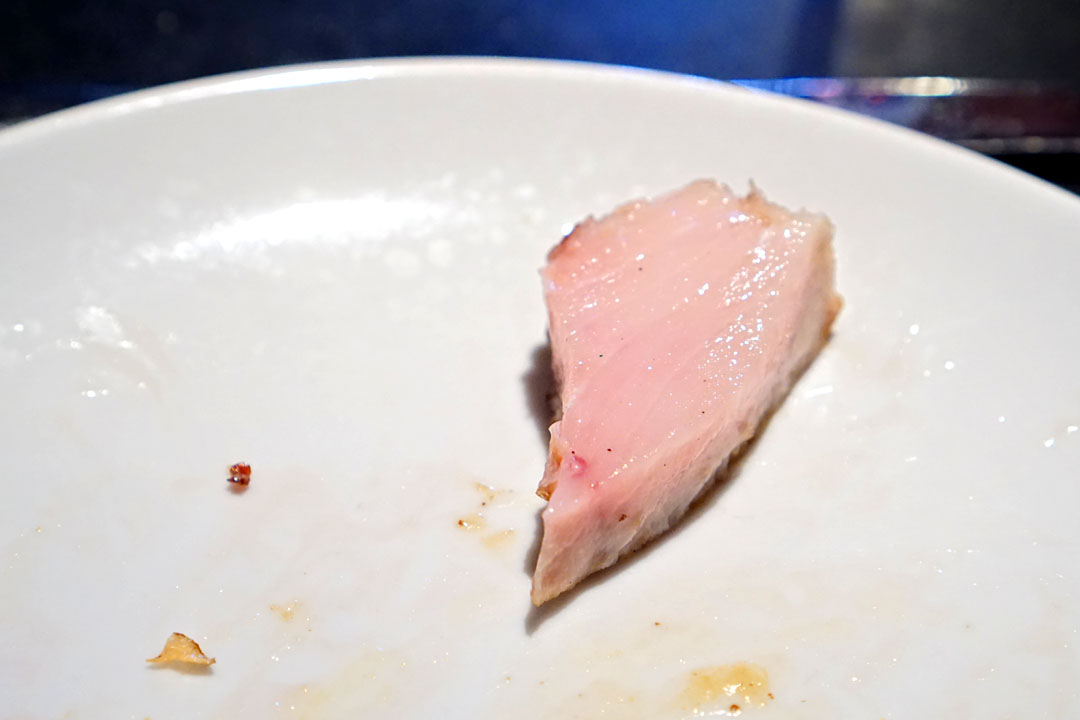 The Chef also slipped us an extra piece of fish, ostensibly taken from the "chutoro" portion of the steak. This was even better than the cut above, and may very well have been the best single piece of swordfish I'd ever eaten thanks to its near over-the-top lusciousness.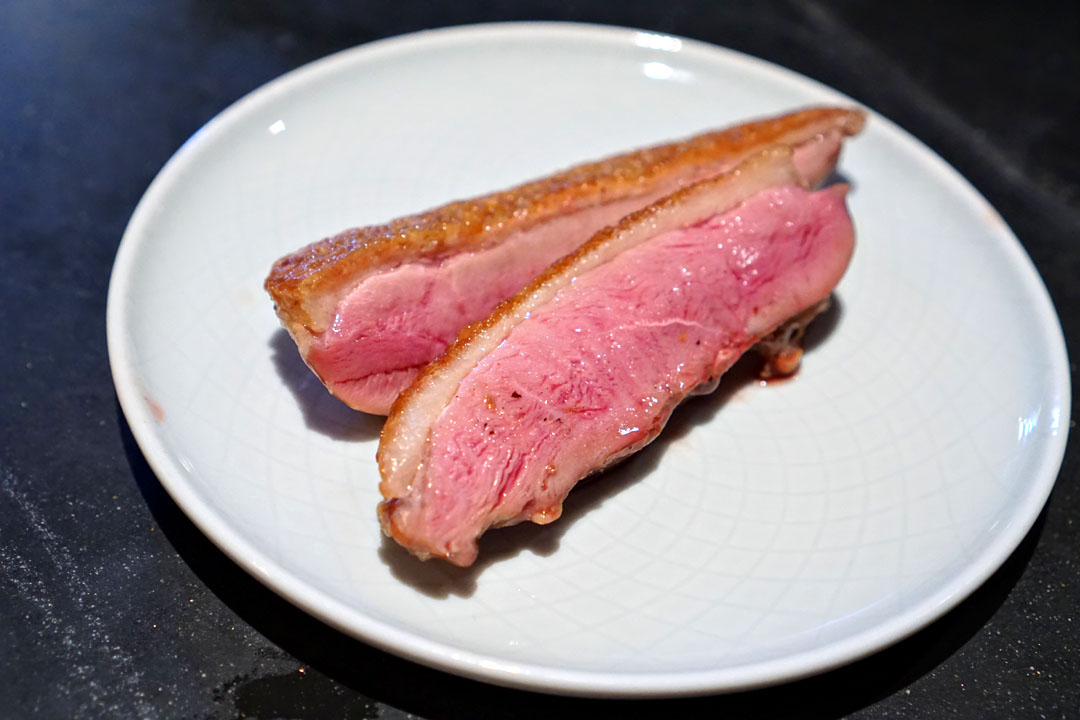 7: Smoked Duck
Dressed in Minus 8 vinegar, the duck was also super impressive, and was perhaps the most "ducky" preparation I'd ever encountered. I loved its persistent, pervasive smokiness, and how that melded with the bird's generous amounts of sweetness, savor, and fat. Wow.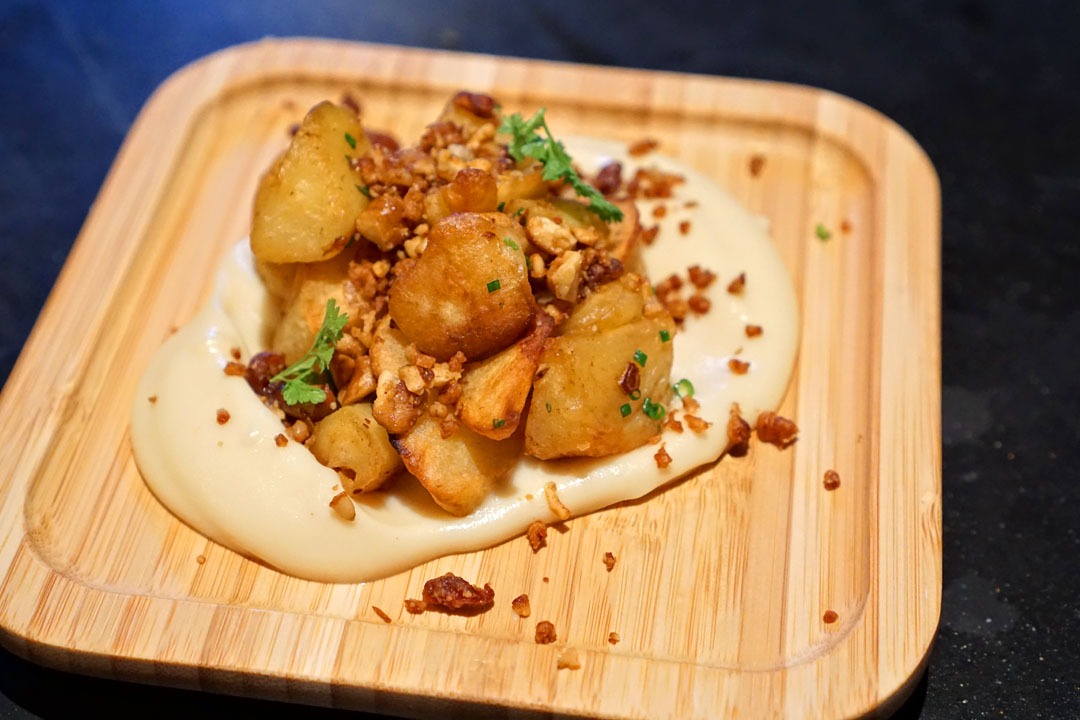 8: Roasted Parsnips
Parsnips were paired with roasted garlic, toasted walnut, steel-cut oats, and a bit of brown sugar. It was among the strongest preparations of the root vegetable I've had, as the earthy sweetness of the parsnips just paired beautifully with all the nutty, crunchy components going on.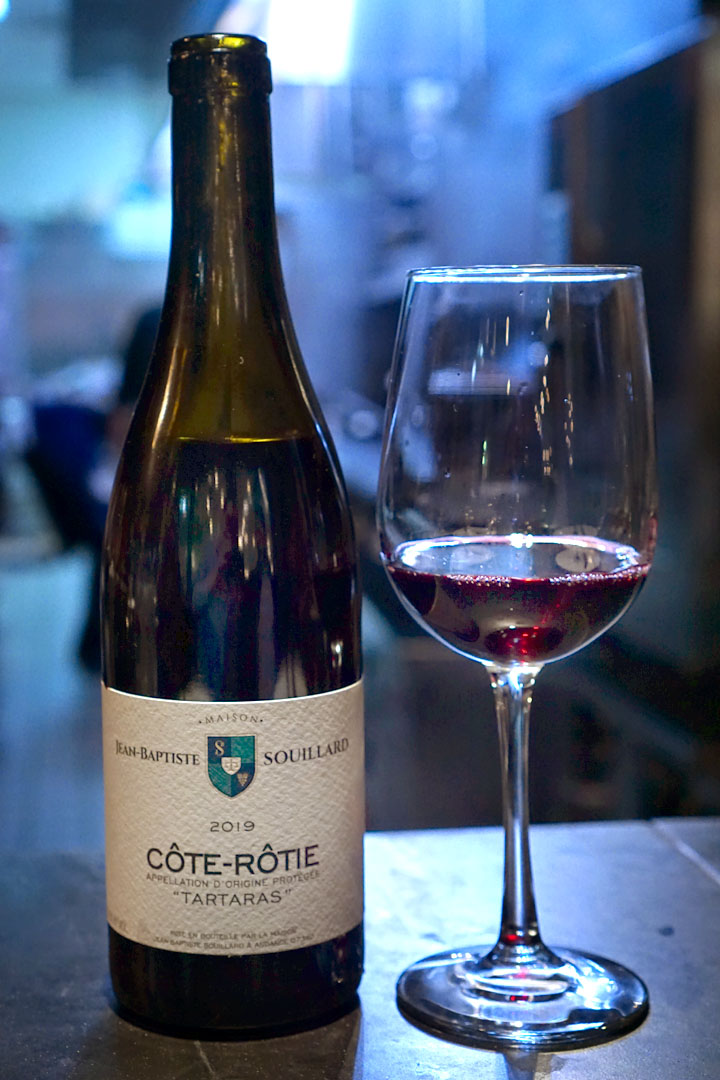 Our final wine was the
2019 Jean-Baptiste Souillard Côte-Rôtie Tartaras
. The Syrah showed off aromas of dark, sharp fruit commixed with some mintiness. Taste-wise, I got more of those berries as well as counterbalancing notes of peppery spice and minerals that all made for a relatively heady wine that stood up to the stronger flavors we were experiencing at this point in the meal.
9: Wagyu
Japanese Wagyu has become somewhat common on high-end menus these days, and I don't get excited about it as much as I used to, but this example was no doubt one of the best I've had in recent memory. The beef was super fatty, gelatinous almost, but never overwhelmingly so, and I loved how all that savor and richness was tempered by the liberal amounts of smoke imbued into the meat. This was power, luxury, and delicacy, all rolled into one.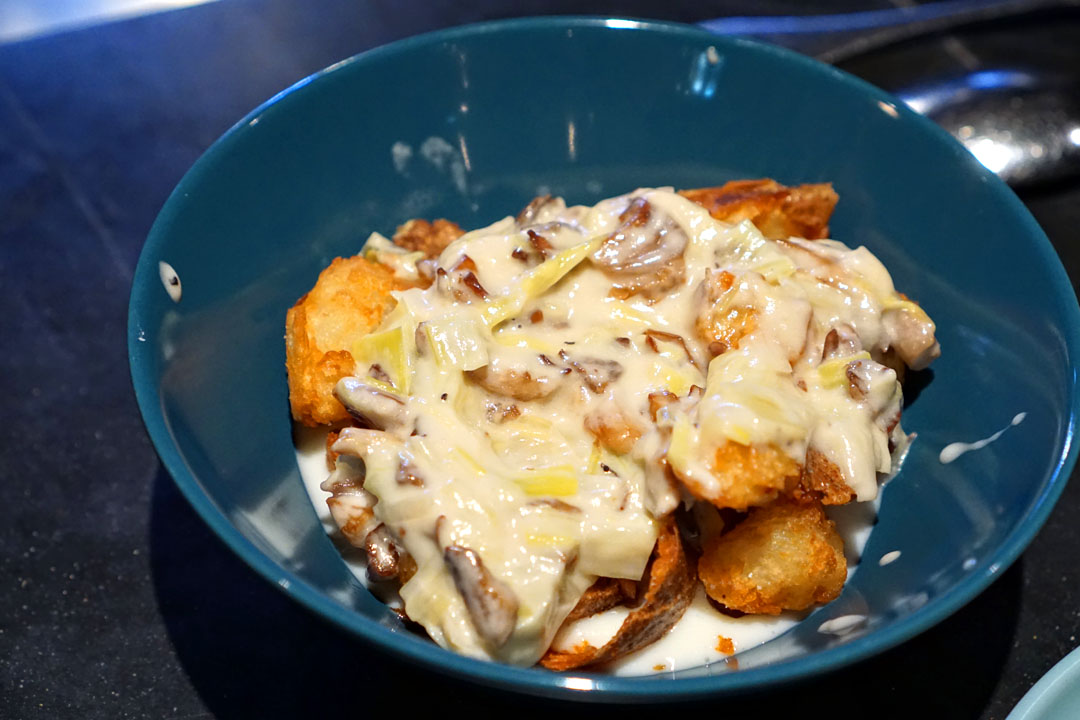 10: Potatoes
Steak calls for potatoes, and tonight's were fried crisp, then topped with Gruyère sauce and a ragù of smoked oyster mushrooms and wild leeks. The taters were superb, masterful in texture, with a great back-and-forth between the cheese and the zestiness of
Allium
.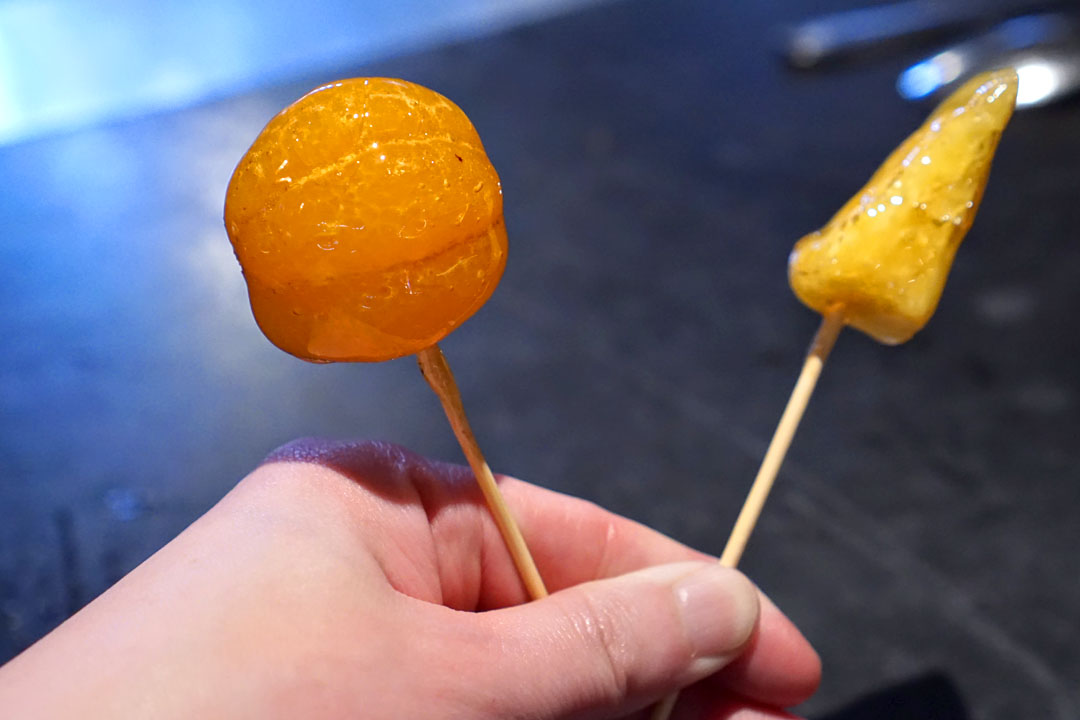 11: Tanghulu
Our first dessert course showcased the Chef's take on
tanghulu
, or candied satsuma mandarin and pineapple. The thin, crunchy sugar syrup coating here seemingly emphasized the juiciness of the fruit, and also contributed a savory edge that I quite liked.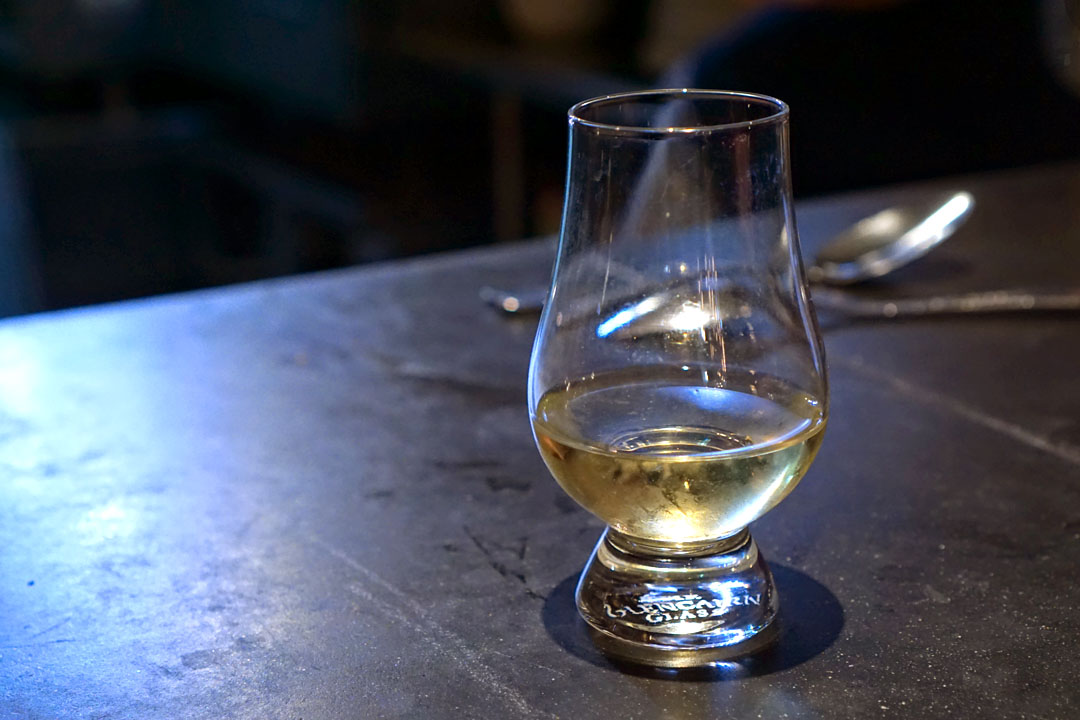 Digestif duties were handled by a clarified milk punch featuring aged rum and brandy, as well as a very healthy dosing of pumpkin spice.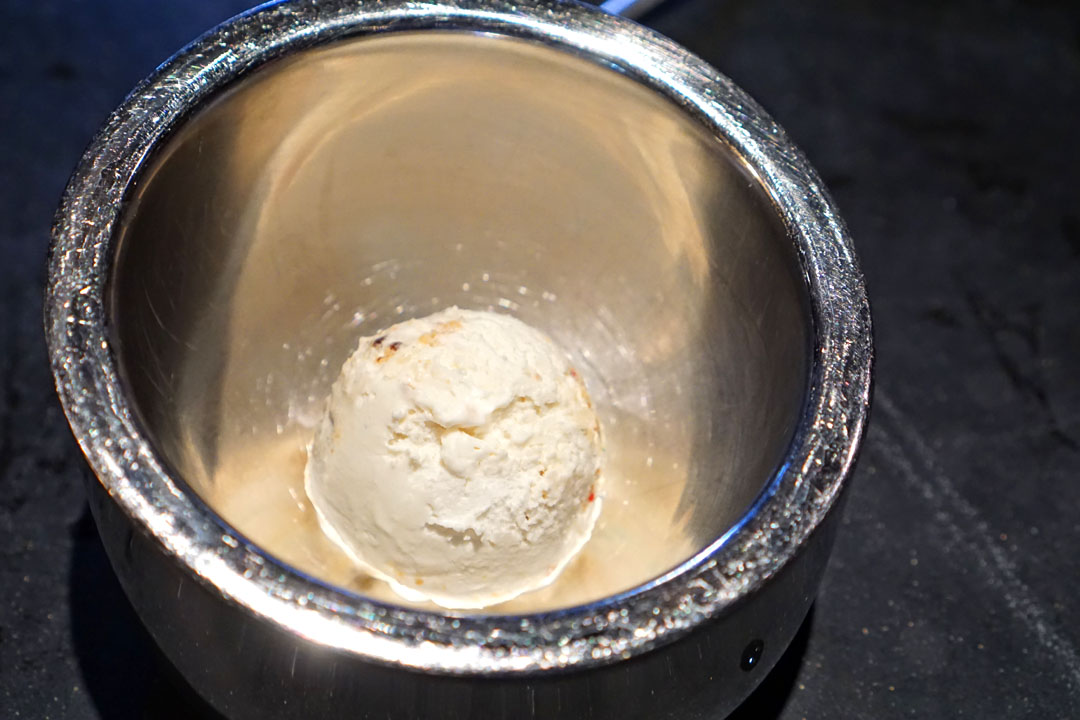 12: Birthday Cake Semifreddo
The semifreddo really did recall the nostalgic goodness of an old school birthday treat, and left me wanting more. What a cake tease!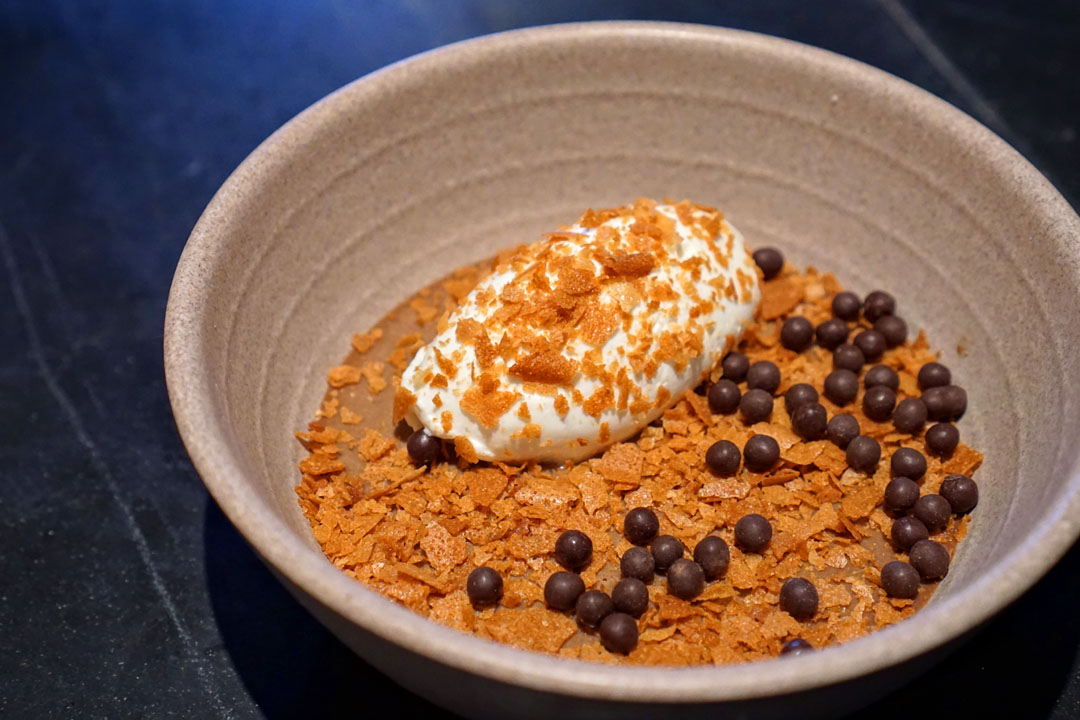 13: Memories of Thrifty's Ice Cream
And speaking of nostalgia, our final course was inspired by the Chef's childhood memories of eating mint chocolate chip ice cream from the old Thrifty at Culver/Michelson in Irvine. What we had here was a mint-chocolate budino, chocolate balls, and shards of caramelized waffle cone, and the combination really did recall the classic frozen dessert. Very neat.
Tonight's meal was surely one of my best of the year, and was a fitting way to say goodbye to a spot that I'd been coming to for nearly a decade. I'm bummed about the closure, but fortunately, there's a silver lining. Since the staff here wanted to keep the business alive, Quinn has decided to continue on as an owner, but will not be involved in the day-to-day. The kitchen at Playground 2.0/Trust will instead be run by Justin Werner, who actually worked at Playground for four years before leaving to open Porch & Swing in Irvine. He's back now though, and will be leading the charge here going forward. Meanwhile, the original Playground will be renamed
Detention
, and is set to arrive early in 2022 under the control of Exec Chef John Parker. I'm obviously looking forward to checking out both spots coming up.