Forn Al Hara (Anaheim, CA)
Forn Alhara
512 S Brookhurst St, Anaheim, CA 92804
714.758.3777
www.fornalhara.com
Sun 12/05/2021, 08:05p-09:45p

A few weeks ago, I posted about
Tacos El Patron
, which came recommended by a reader with the handle "BMan1113VR." I quite liked the place, and upon being asked for further suggested dining spots in the area, he offered up Forn Al-Hara (فرن الحارة,
furan alhara
, or "hot oven"), a
manakish
-focused Middle Eastern bakery situated in the heart of Anaheim's Little Arabia district. I was in the area recently, so I decided to give it a shot for some takeout.
The restaurant is the creation of Chef/Owner Mohammad Alam (also known as "Mo"), a Lebanese native who hails from a long line of bakers. He opened Al-Hara circa 2003 as Tripoli Pastry, named after his hometown, but changed the name sometime around 2010. Day-to-day activities, however, are managed by Nader Hamda, who's the one who took care of me during my visit.

Here we see the bakery's interior. It's a fairly large space, and occupies a corner storefront in a strip mall that's actually owned by Mo Alam and his brother Ahmad Alam, who's also the founder of The Arab World Newspaper.

Al-Hara's menu board is pictured above. It's a fairly lengthy affair, listing various
manaeesh
as well as associated Levantine pastry items, wraps, and sweets. Note that miniature versions of the breads are offered, which makes it very easy to try a variety of items. Click for a larger version.
Zatar [$1.99]
| Oregano, Thyme, Herbs & Olive Oil
I'll begin with the most representative version of
manaqish
, one topped with the famed spice mixture that is za'atar. I was quite fond of the pungent, piquant flavors here, grounded by the nuttiness of sesame, while the soft flatbread served as a nice counterbalance.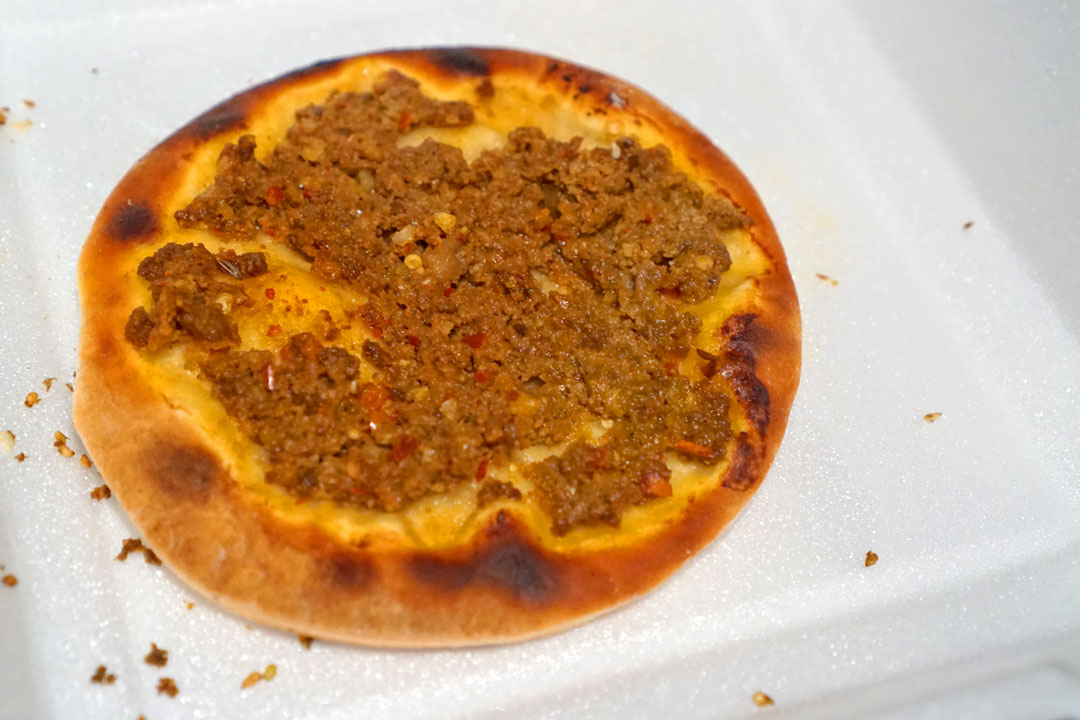 Sujuk [$1.99]
| Ground Beef, Spicy Seasoning
I'm a sucker for sausage, so it came as no surprise that the
soujouk
appealing to me with its delectably sweet, warming spice. I also found the bread somewhat more substantial, which worked to offset the heavier nature of the meat.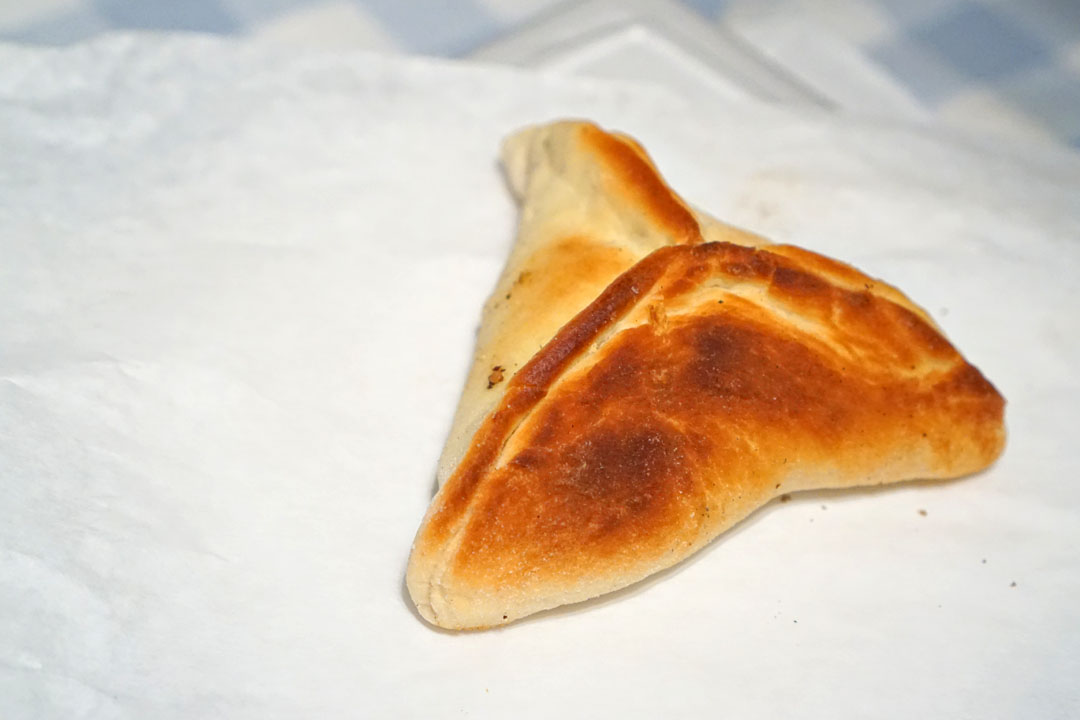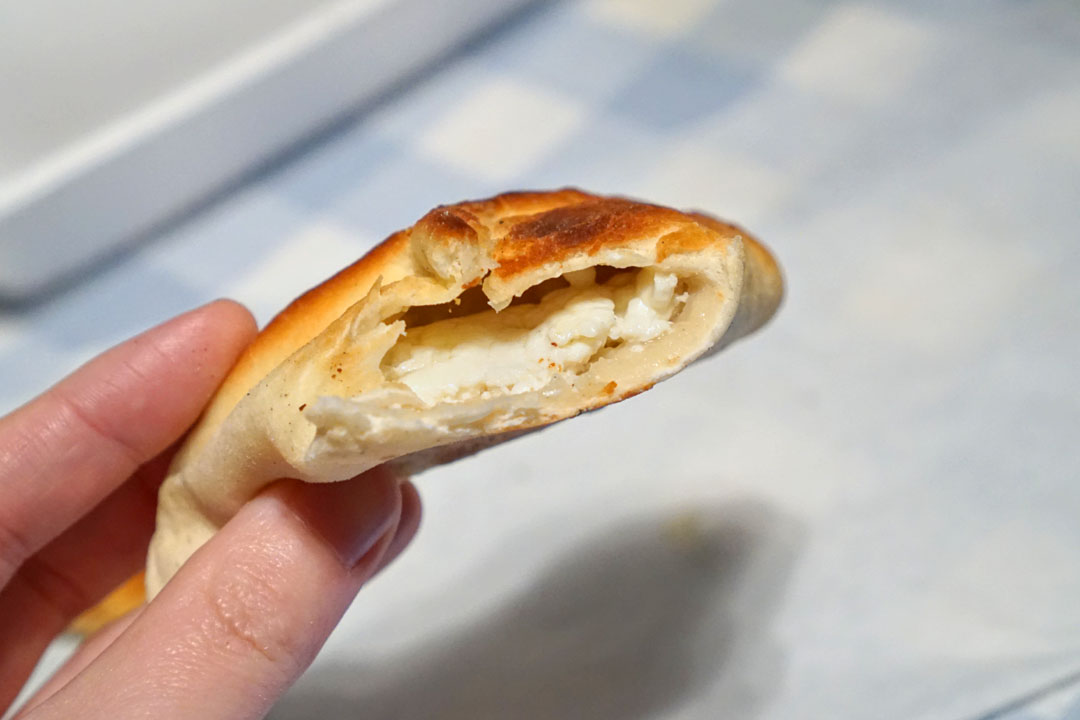 Cheese Closed [$1.99]
A cheese-stuffed
fatayer
was also a winner, playing its smooth, sweetly lactic filling against the supple, fluffy, almost buttery nature of the bread. Can't go wrong with this.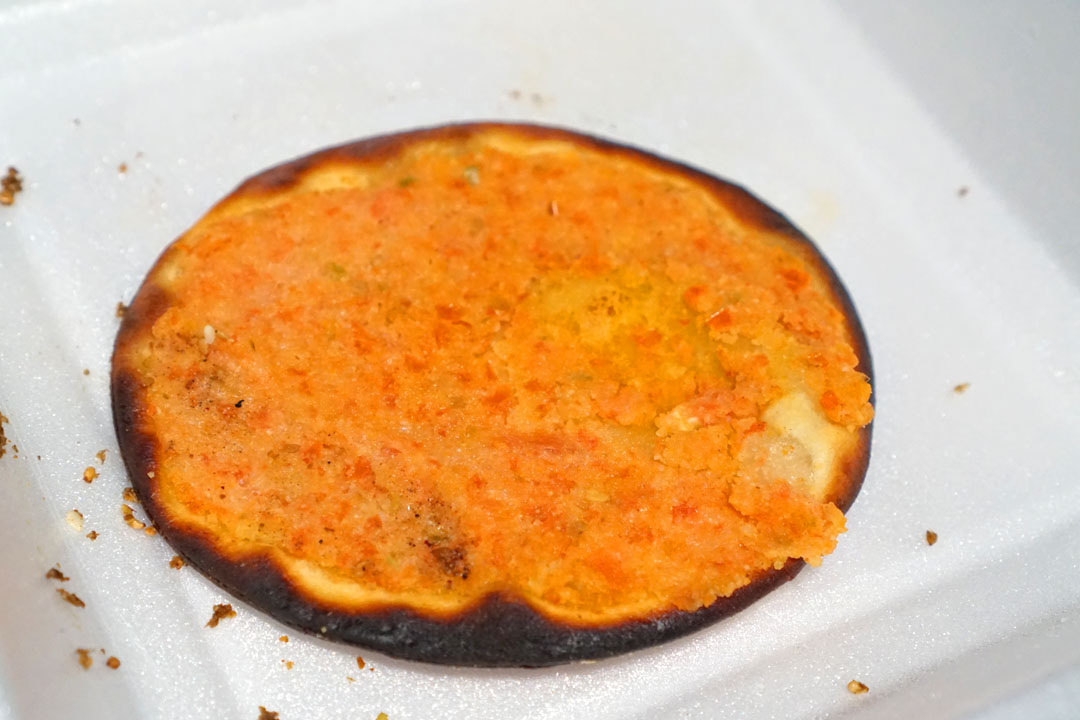 Kishik [$1.99]
| Cracked Wheats, Milk & Yogurt
Made from bulgur fermented with milk and yogurt,
kishk
was combined here with tomato paste. This resulted in a softly sweet-tangy flavor profile that totally made sense with this
manakeesh
's more aggressive char.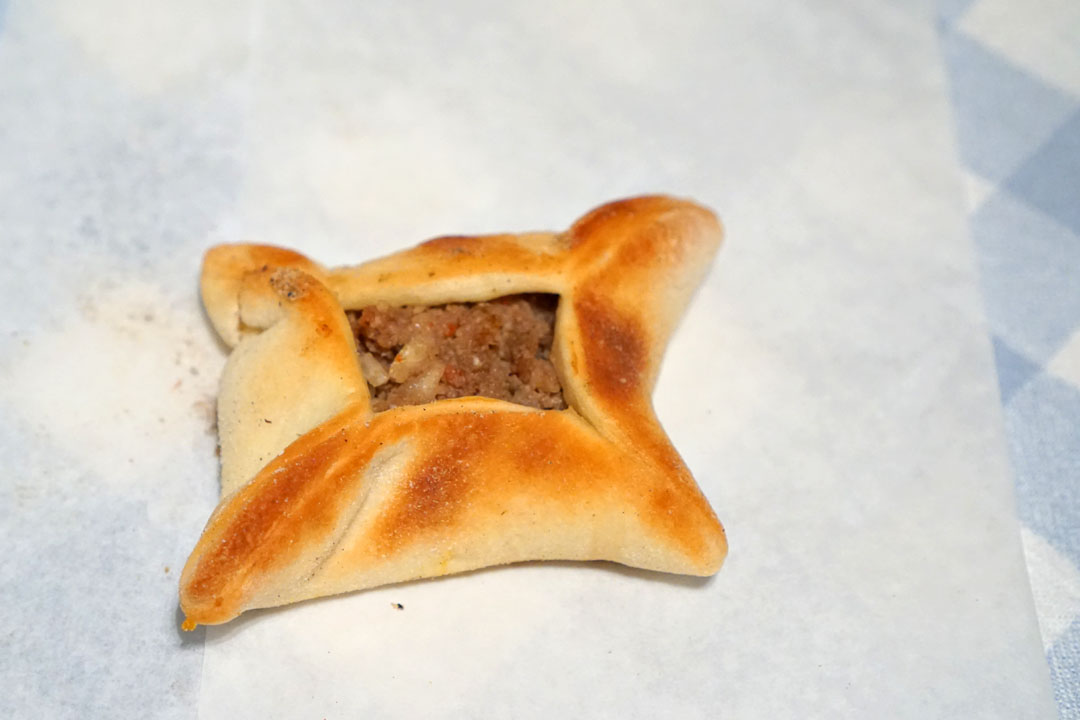 Balbakie Square [$1.99]
A square-shaped pie came filled with a mixture of ground beef and pomegranate molasses, making for some sweetly spiced meat tarted up by touches of fruit and herb. And again, great juxtaposition with the pastry crust.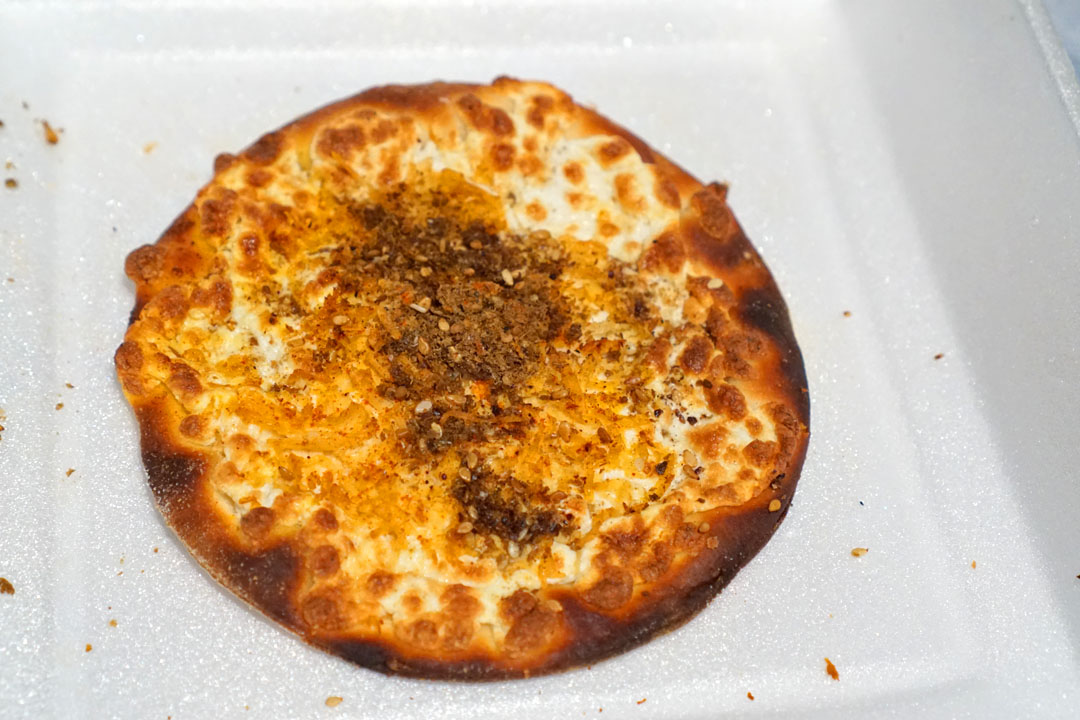 Cheese & Chicken [$1.99]
The combo of cheese and herbs here resulted in a familiar, almost pizza-esque flavor profile, though I actually didn't get much from the chicken.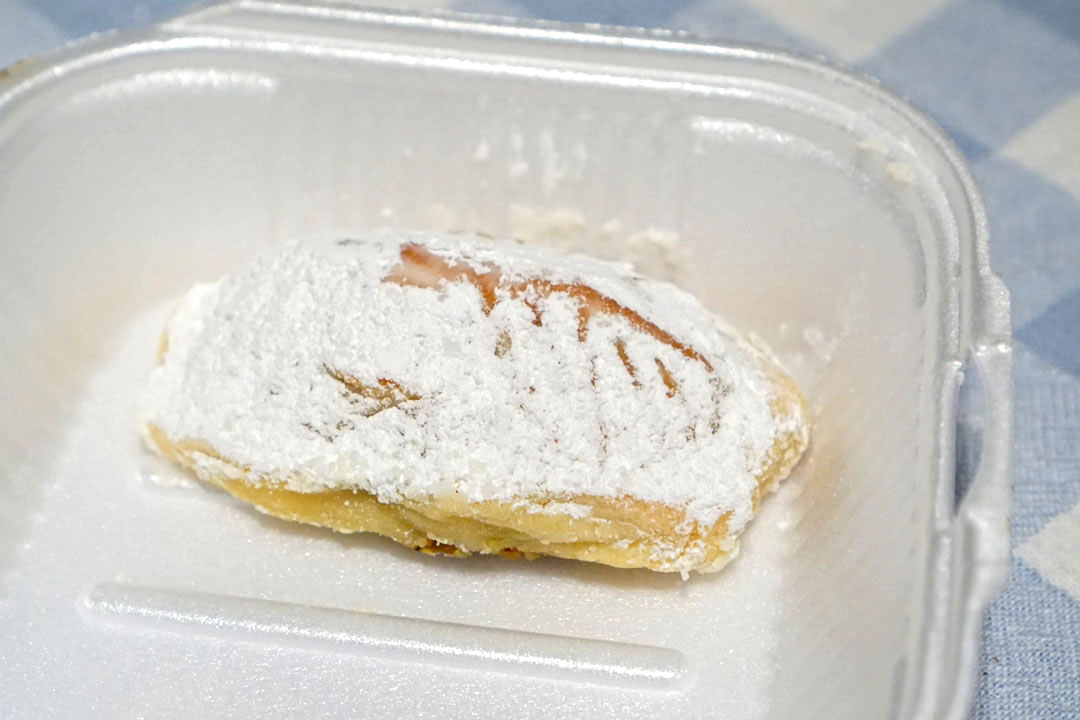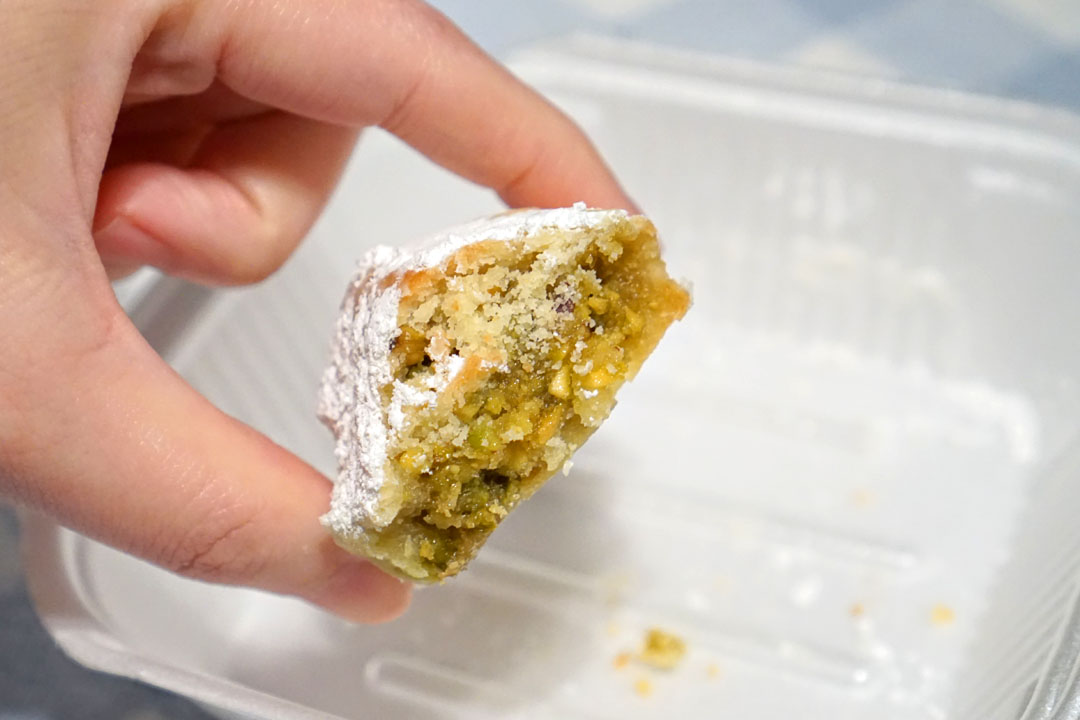 Mamol With Pistachio (Large) [$1.50]
I also made sure to try some of the filled cookies offered. My first featured pistachio, resulting in some wonderfully nutty, spicy, sugary flavors that paired swimmingly with
ma'amoul
's thick semolina exterior.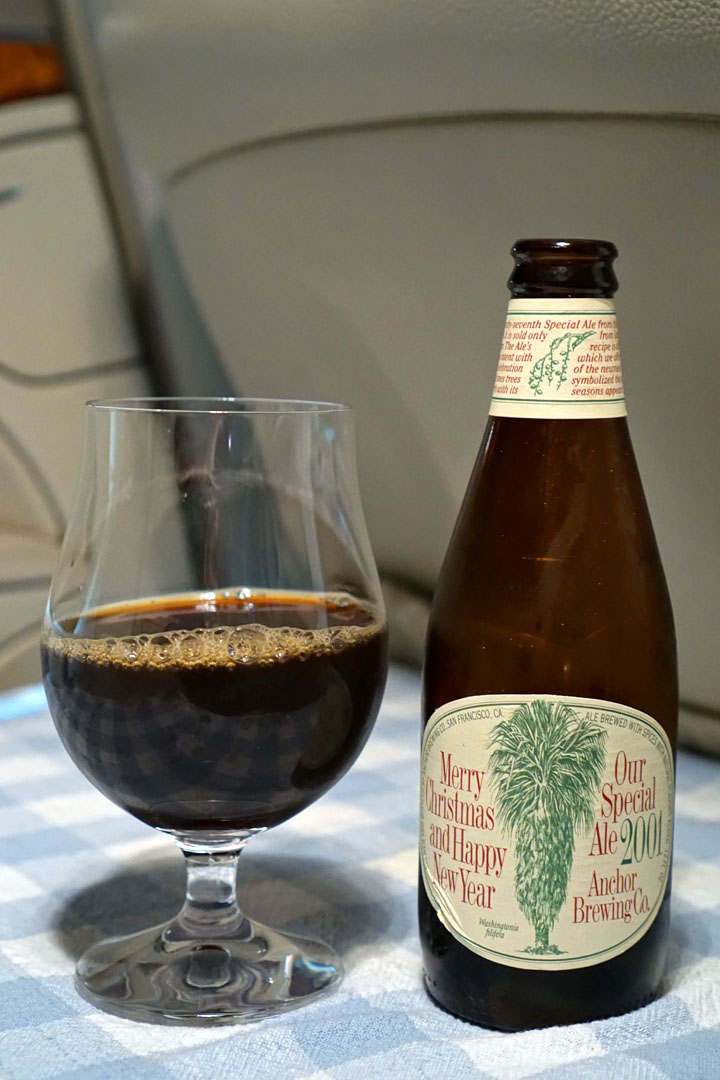 To drink, I brought along the
2001 Anchor Our Special Ale
, a seasonal spiced winter warmer that just celebrated its 20th birthday. This one smelled strongly of rich dark fruit, with warm spices lurking in the background. The beer was thin and smooth on the palate, and gave up flavors of robust raisin with more of those baking spices and a hint of tartness. I'd say that this held up pretty well over the past two decades.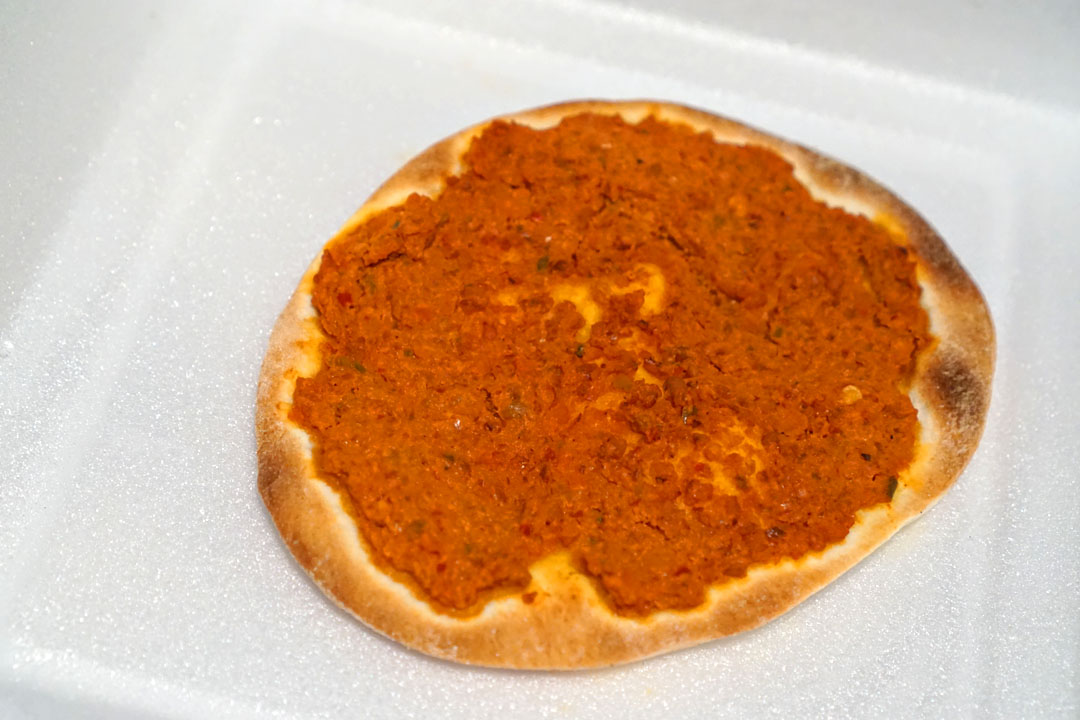 Muhamara [$1.99]
A topping of
muhammara
resulted in a mélange of tangy, vegetal, sweet-spicy flavors that totally jibed with the particularly thin, crisp flatbread.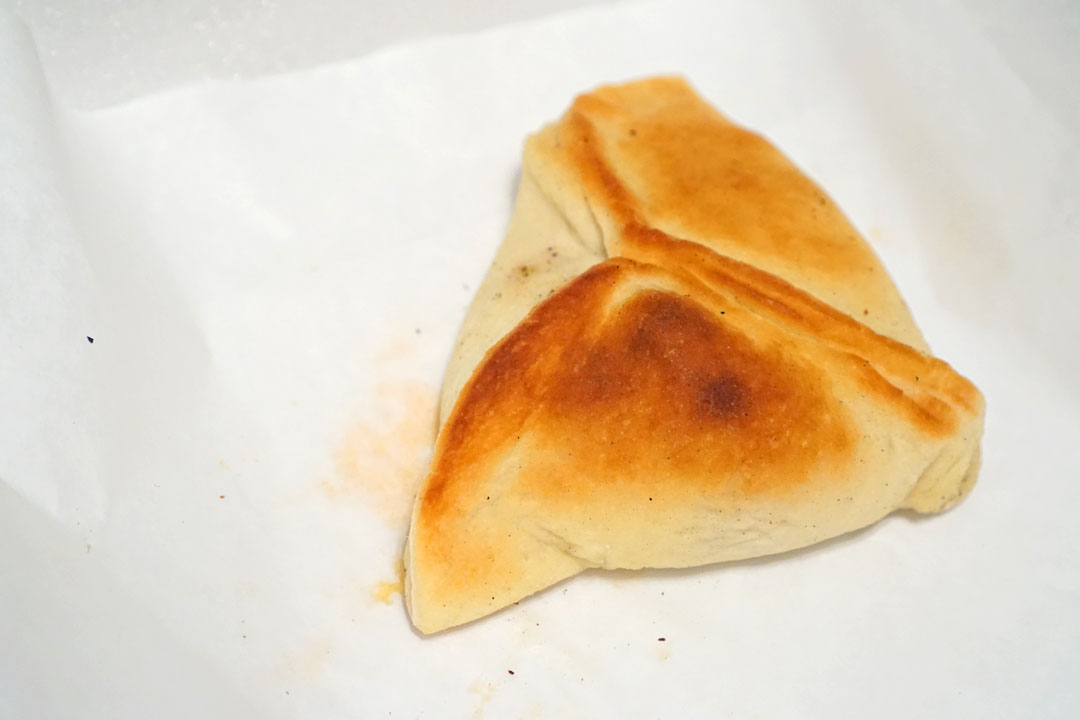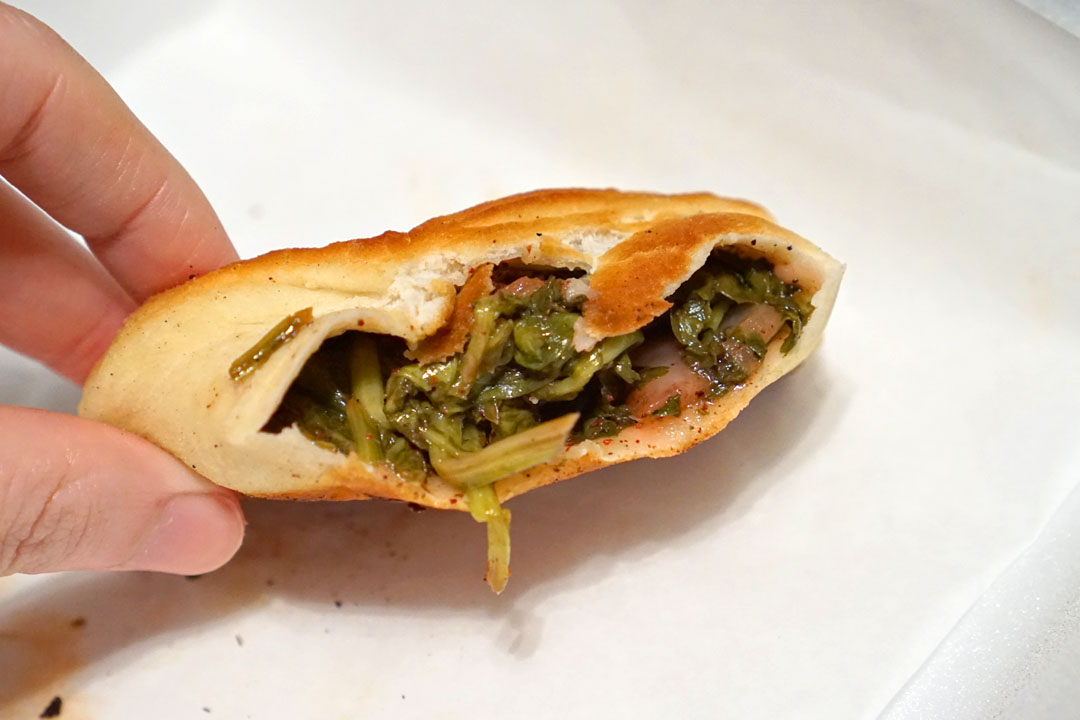 Spinach Fatayer [$1.99]
My next stuffed pie did a fantastic job marrying bitter, earthy, slightly sour spinach with a delightfully soft, subtly sweet pastry crust. A favorite.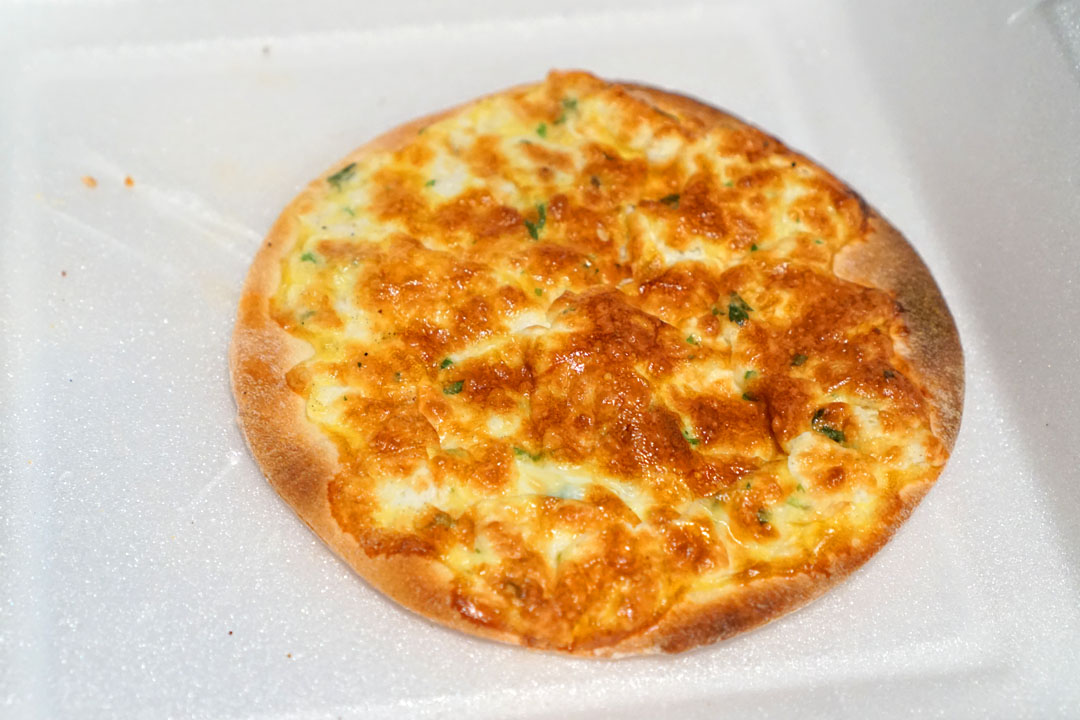 Cheese & Eggs [$1.99]
Cheese and egg is usually a safe combination, as was the case here, though I actually could've used more from said eggs to help pull together the various ingredients.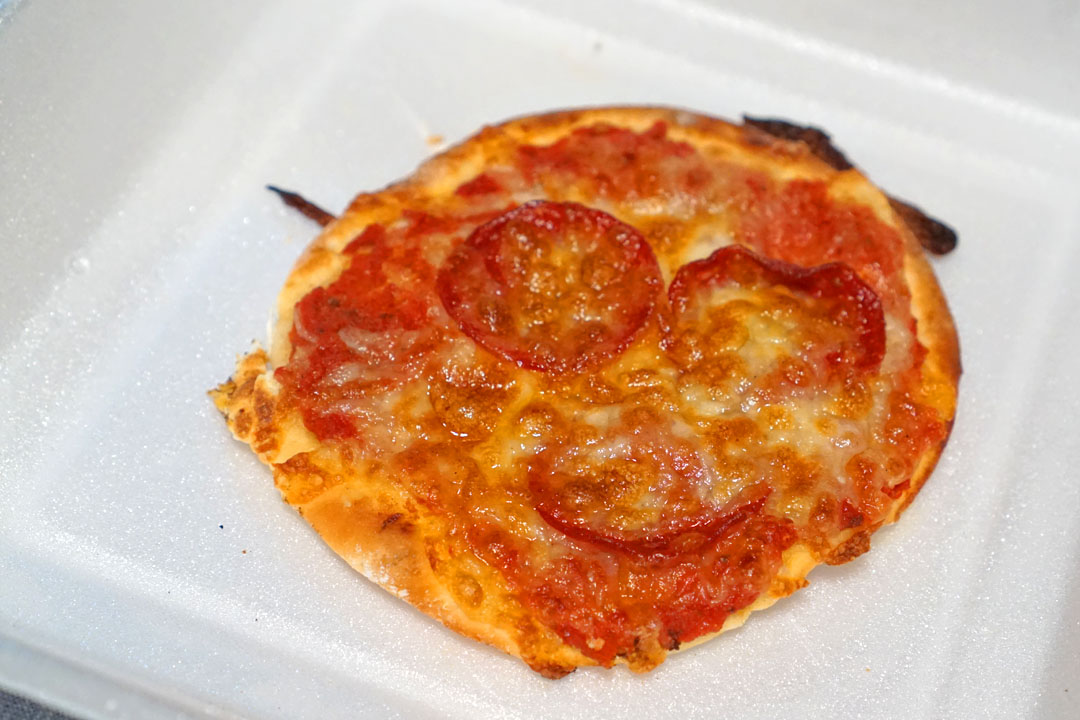 Pepperoni Pizza [$1.99]
Forn Al Hara also makes standard-issue pizzas, so I felt the urge to indulge in one. What we see above was very classic in nature, nostalgic even, with the (halal) pepperoni's sweet spice reminding me a bit of the Little Caesars pies of my childhood. The crust was also noticeably doughier with this one, which seems logical if they're going for American-style pizza.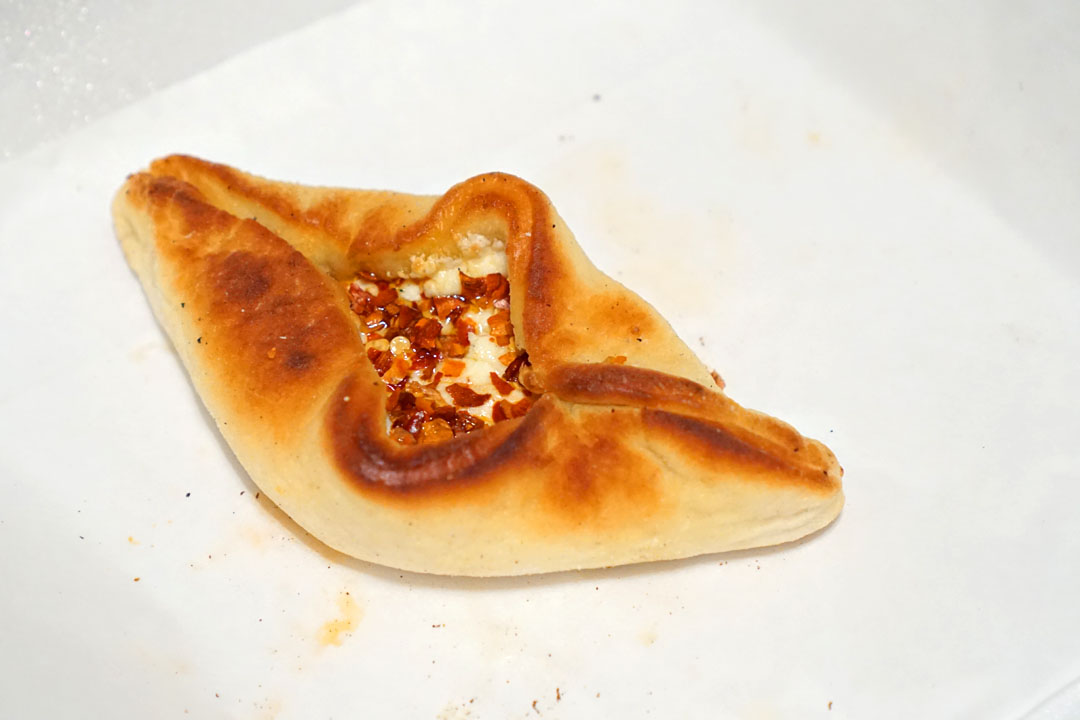 Cheese Boat & Chili [$1.99]
This
fatayer jibneh
was a standout for me. I just loved how the sweet, creamy, lactic nature of the cheese melded with the heat of the chilies, all while the soft bread completed the package.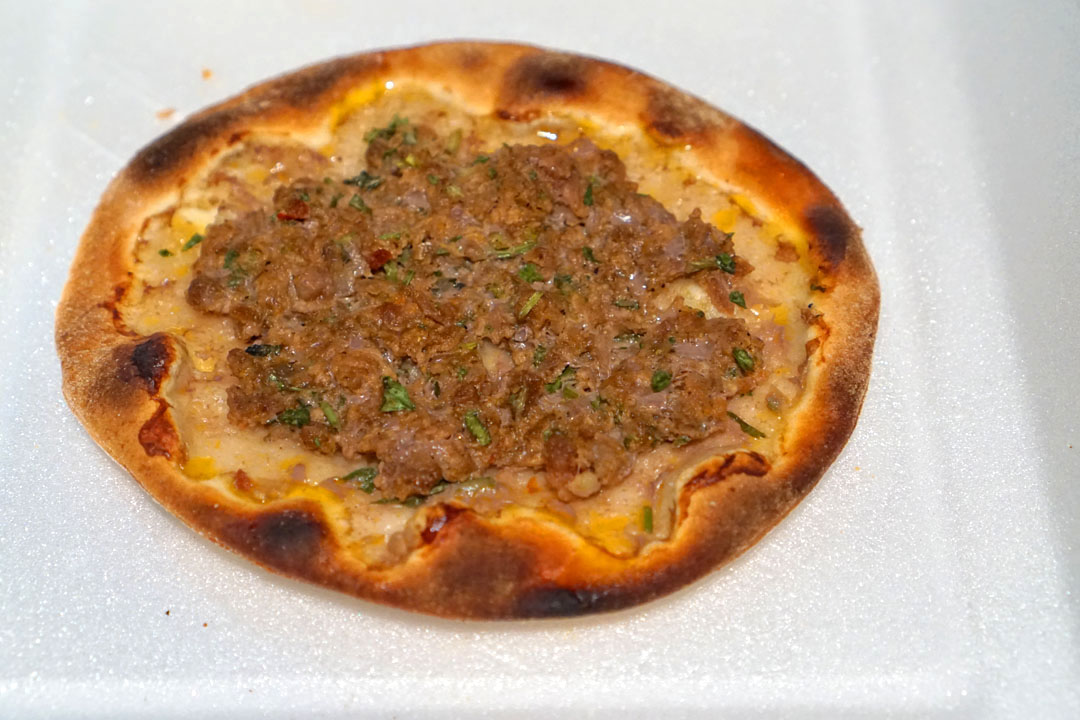 Kafta [$1.99]
| Ground Beef, Parsley, Onions & Seasoning
Kofta
arrived beautifully spiced, with nice touches of both sweetness and herb, and meshed superbly with the thinner bread. Another favorite.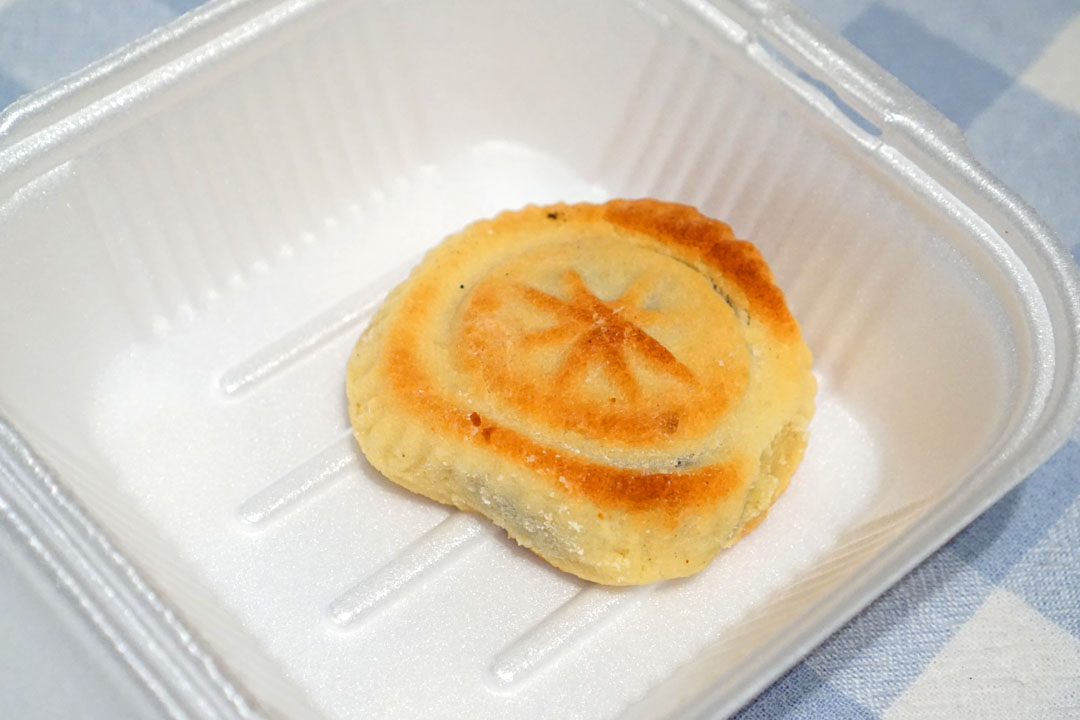 Mamol With Date (Large) [$1.50]
The evening's second
m'amul
came stuffed with date paste, the most common filling, and was even better than the first. I was pretty enamored with the cookie's savory, minty elements, which worked great for contrast against the sheer sugariness of the fruit. Big fan of the substantial, crumbly crust here, too.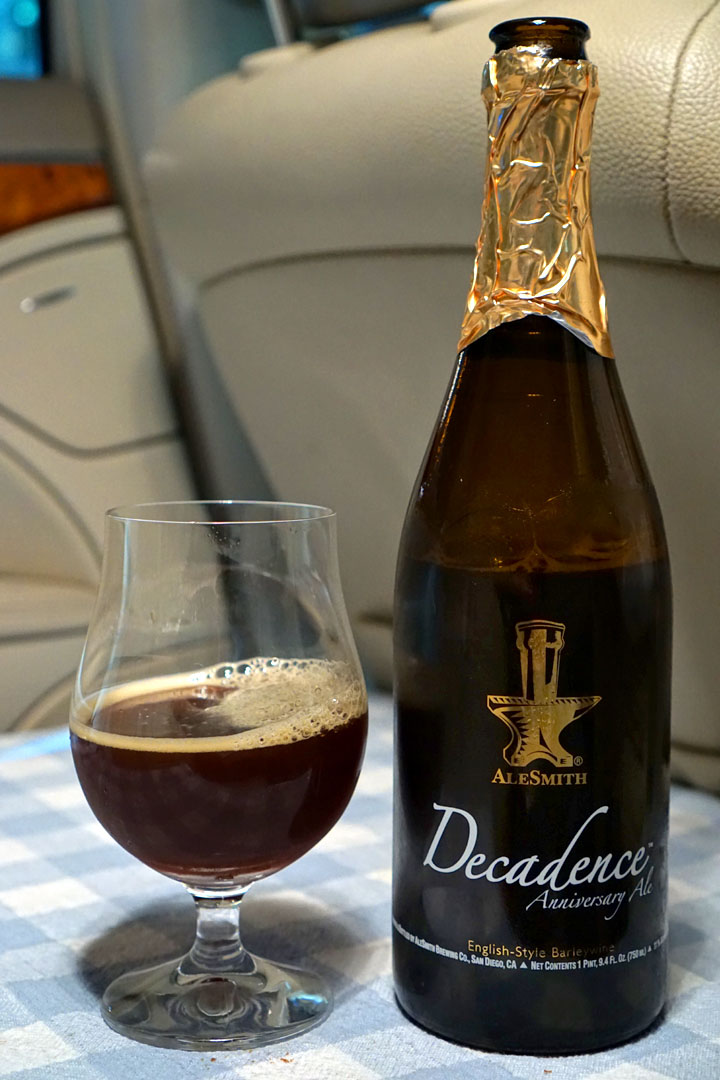 Our second beer was also something with quite a bit of age: the
2008 AleSmith Decadence
, an English-style barley wine. Nose was funky, musty, nutty, with an oxidative character, while taste-wise, I got tart, thin dark fruit leading to more nuttiness, traces of malt sweetness, and a steely minerality. I imagine this one has seen better days.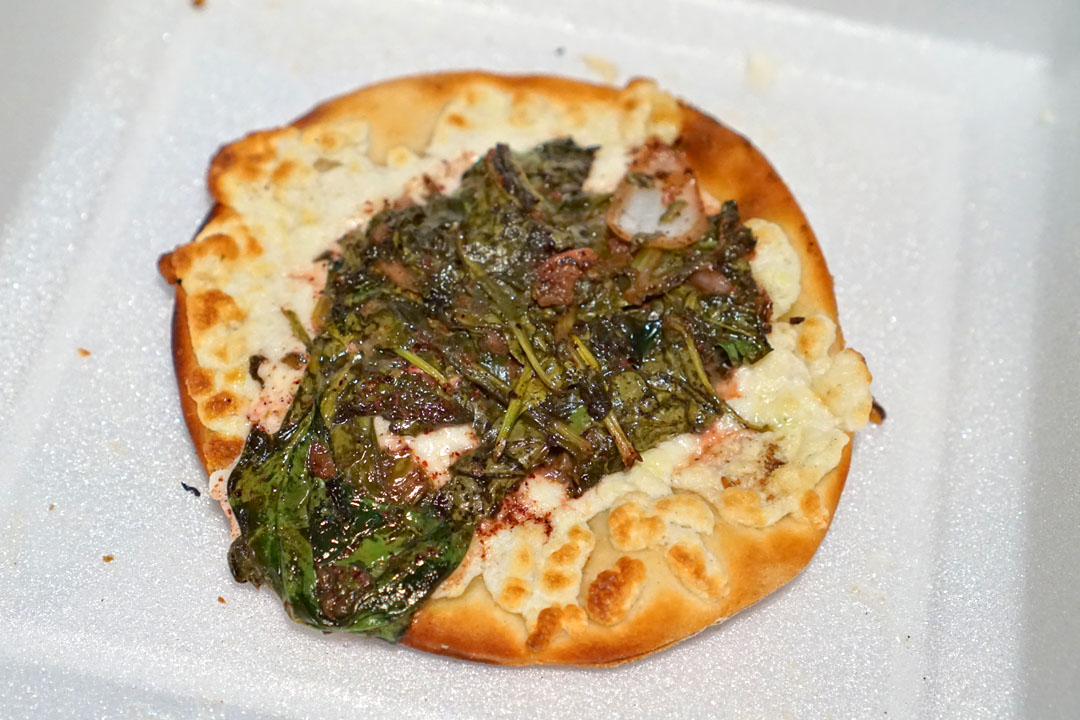 Cheese Cooked Spinach [$1.99]
Here, the spinach conveyed an almost saag-like bitterness and depth that was pleasantly offset by both cheese and bread.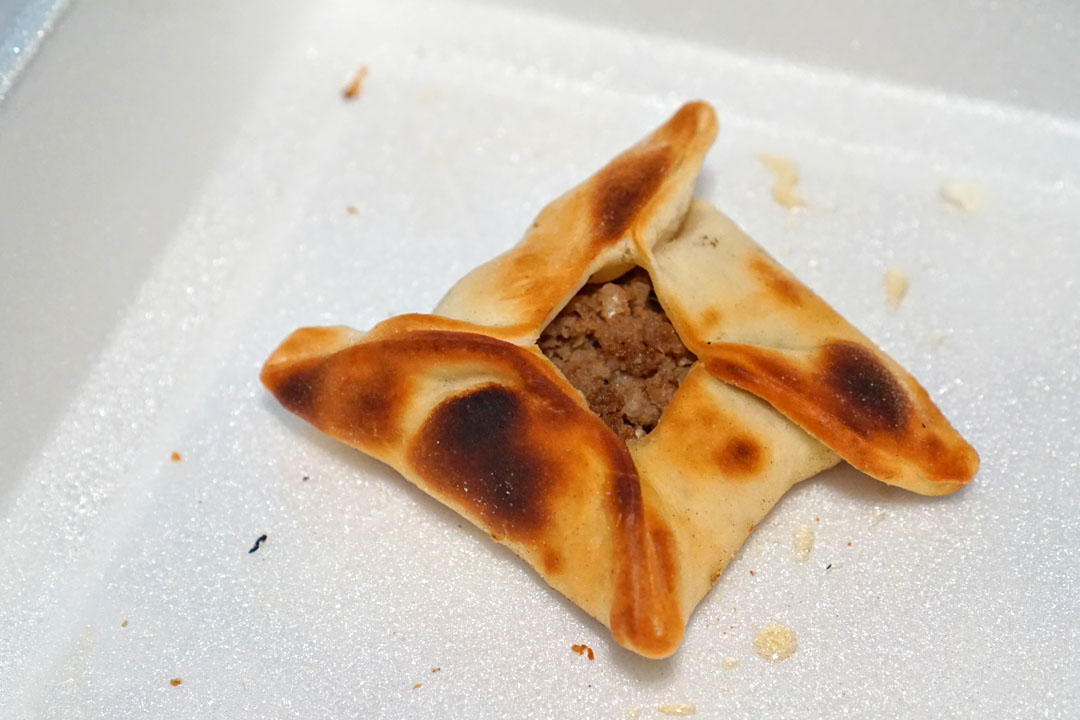 Sambosik [$1.99]
An open
sambousek
came stuffed with sweetly spiced ground meat imbued with pricks of acidity. Again, the spongy pastry worked as a counterweight, and overall, I found this somewhat similar to the Balbakie Square above.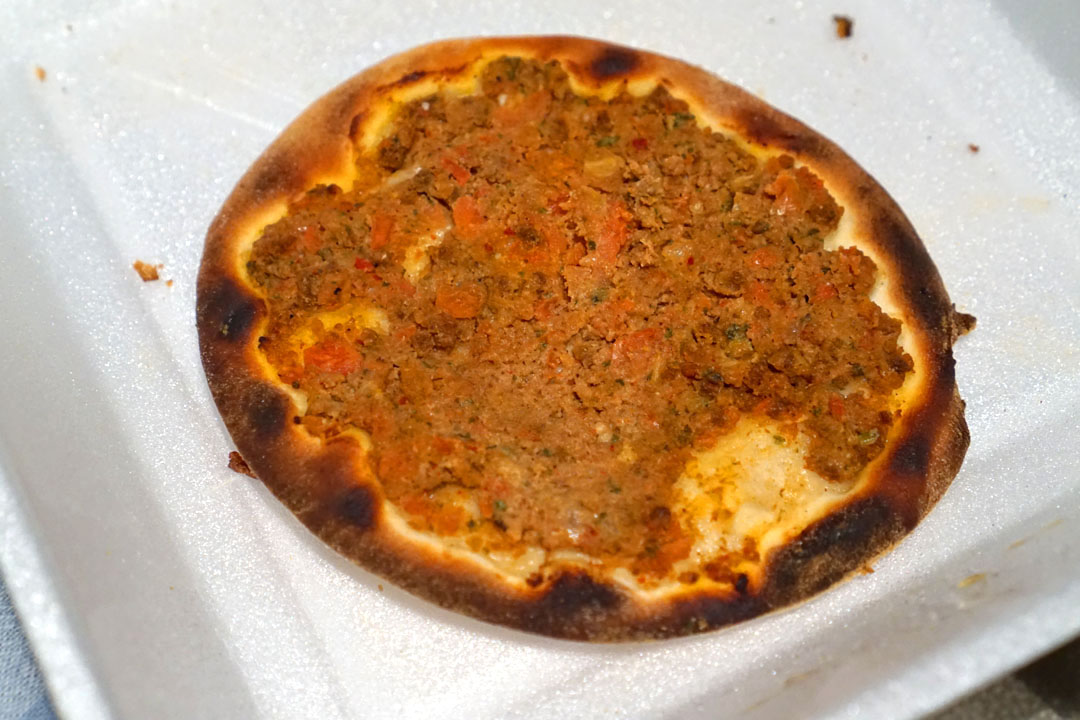 Safiha Traboulsi [$1.99]
| Ground Beef, Pomegranate Molasses, Veggies & Tahini
The
sfiha traboulsieh
featured a lovely back-and-forth between delicately seasoned meat and notes of tangy tomato and mint. I quite liked the thinness and crispness of the flatbread to boot.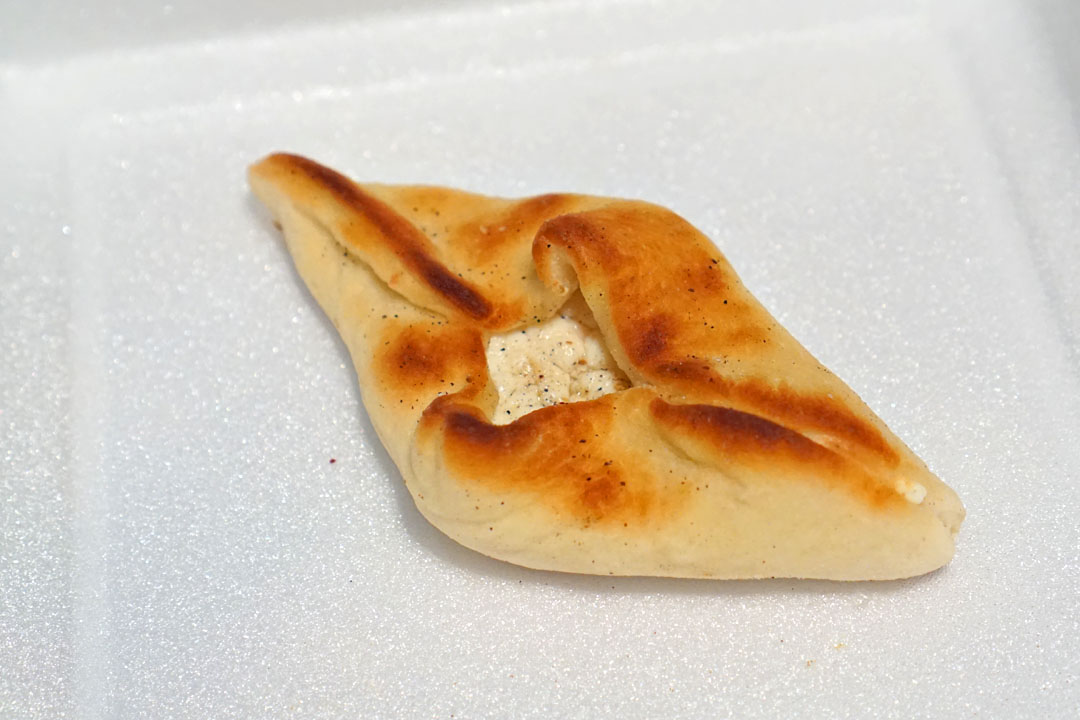 Cheese Boat & Potato [$1.99]
My second
fatayer jebneh
came with a delicious filling of soft, salty cheese, though I didn't taste much from the advertised potato.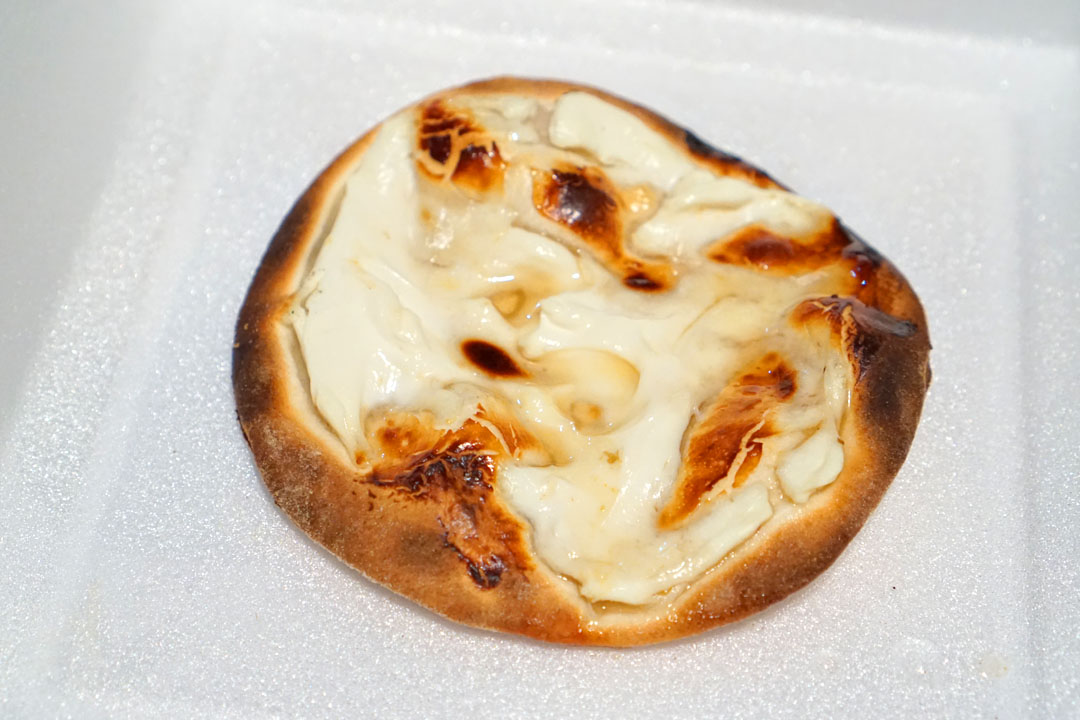 Lebneh & Asel (Honey) [$1.99]
A topping of labneh yogurt actually worked way better than I expected with the honey, while the crust provided a moderating char and crunch. A prime example of sweet-n-savory in harmony.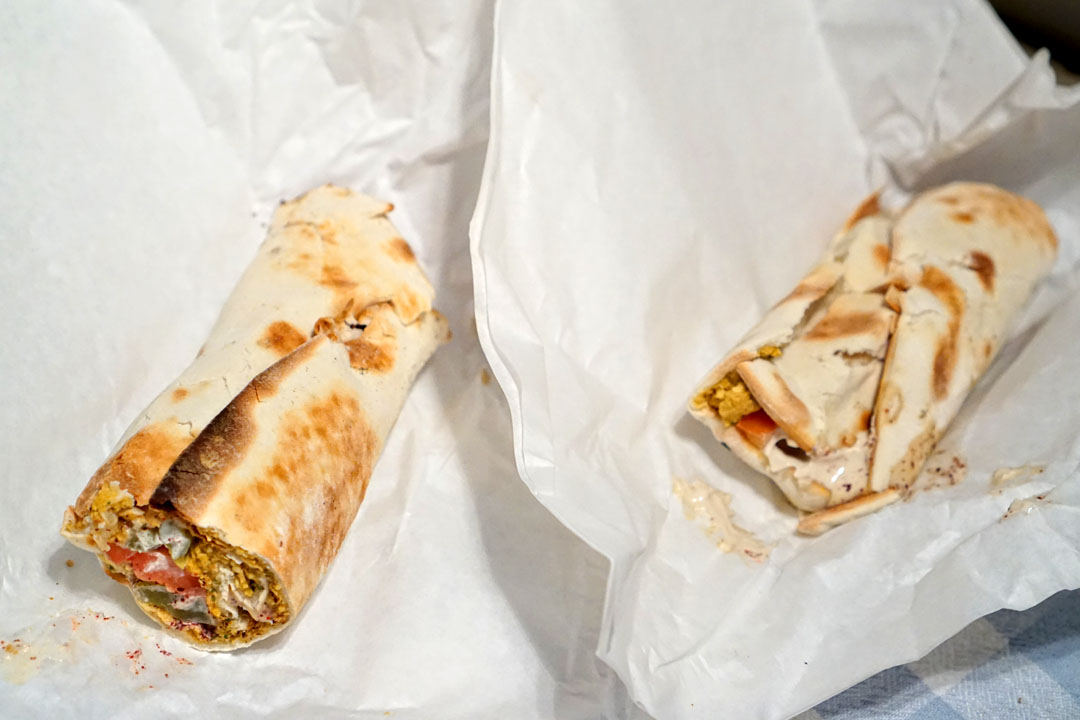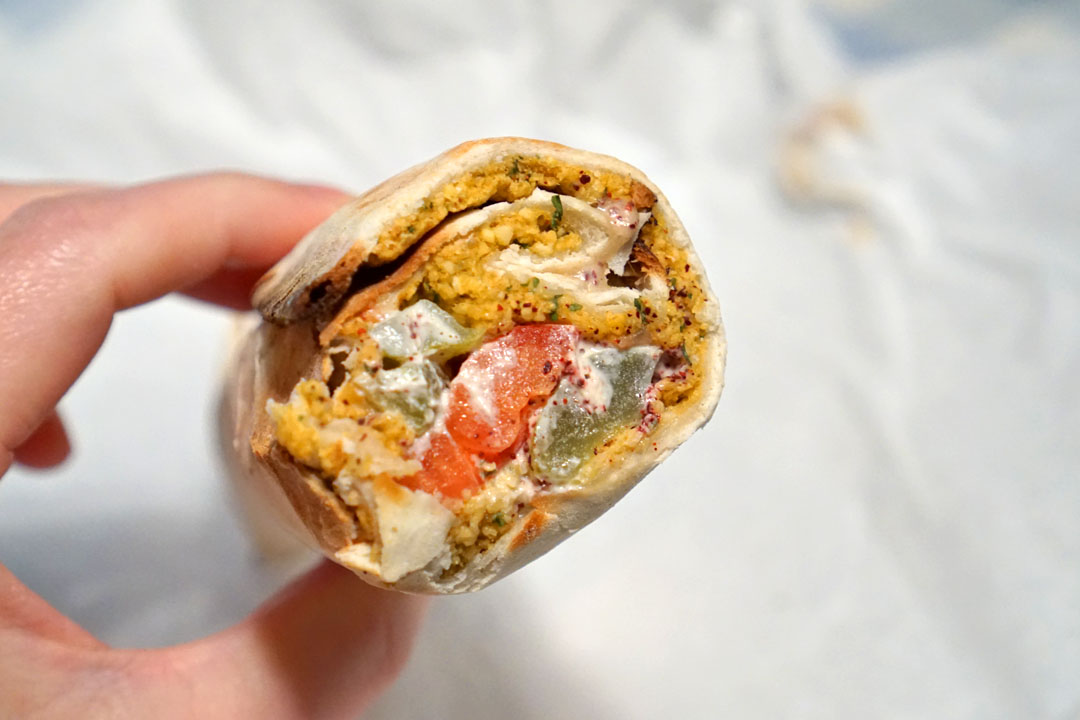 Falafel Wrap [$6.49]
I was curious to sample one of the wraps, and opted for the falafel version. The chickpea fritters came out gritty, nutty, and hearty, and certainly worked with the creamy, pickle-y elements here.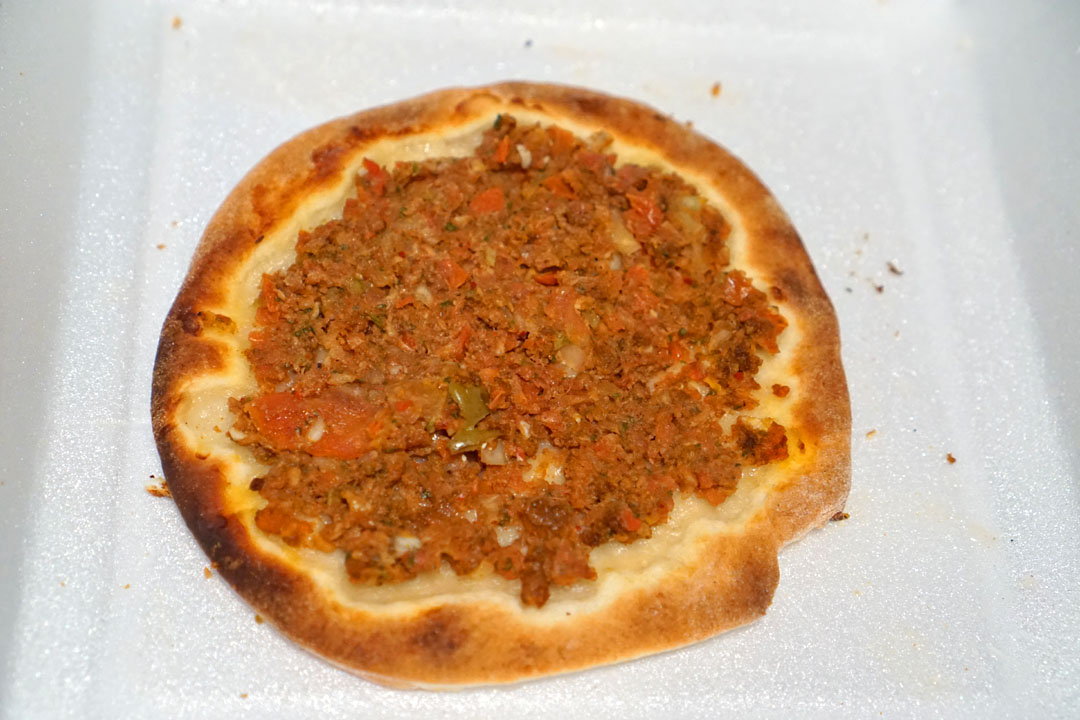 Lehem Bel Ajeen [$1.99]
| Ground Beef, Tomatoes & Veggies
The night's final flatbread was the
lahm b'ajin
. The one showcased a comparatively mildly spiced meat, and I could definitely taste the contribution from the tomatoes and veggies as well.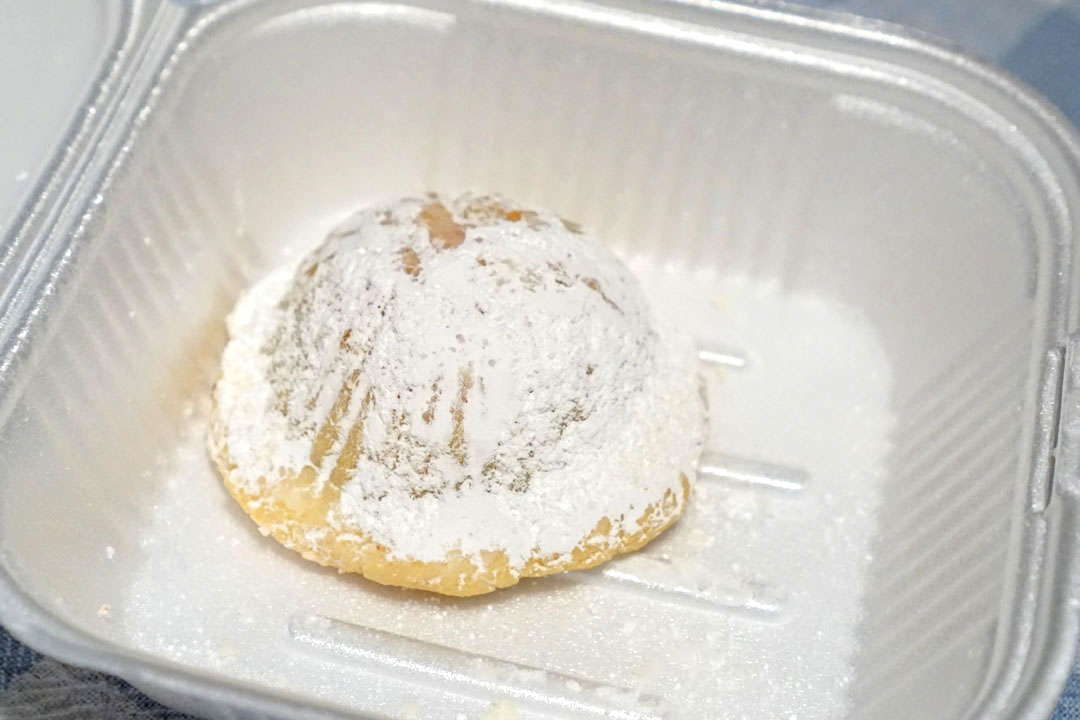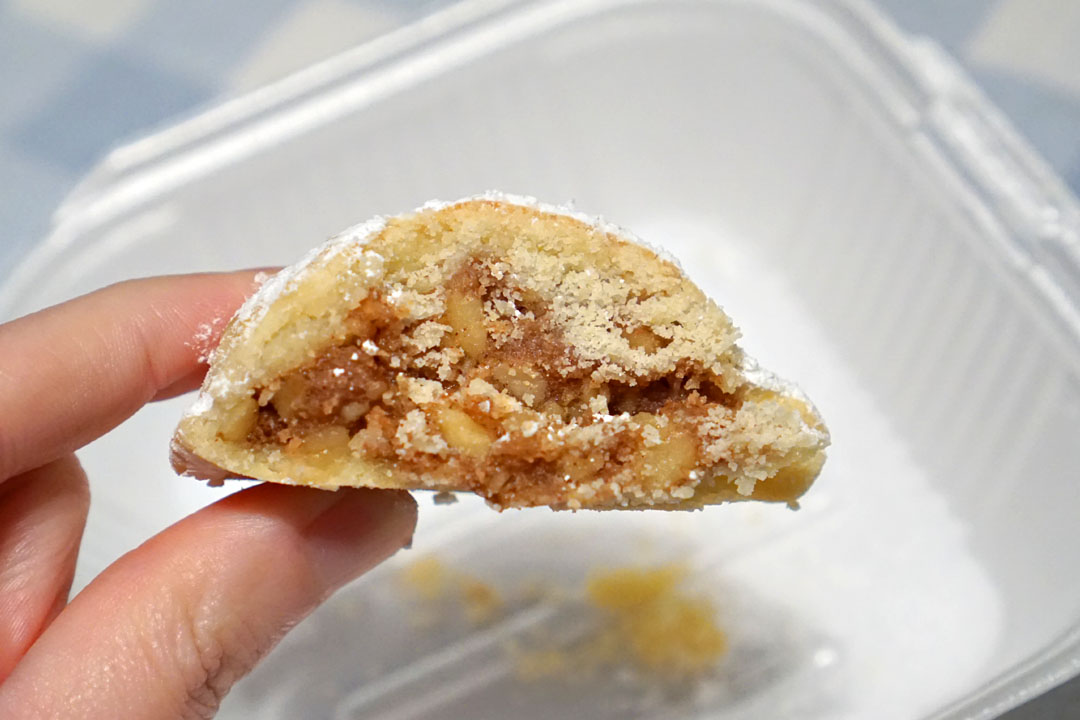 Mamol With Walnut (Large) [$1.50]
Our last
m'aamoul
ended up being complimentary, probably because I'd ordered so much, and might've been the best of the three thanks to its super fragrant nature and strong, cinnamon-like warming spice.
I believe this was actually the first time I've posted about a restaurant in Little Arabia, and hopefully it won't be the last. I really enjoyed the breadth of the baked goods at Al-Hara, and it was great fun exploring all the various tastes and textures on offer. In fact, during my meal, I was already thinking of returning to try the rest of the menu. It looks like "BMan1113VR" is two-for-two.