The Barish (Los Angeles, CA)
The Barish at The Hollywood Roosevelt Hotel
7000 Hollywood Blvd, Los Angeles, CA 90028
323.769.8888
www.thebarishla.com / www.thehollywoodroosevelt.com/about/food-drink/the-barish/
Sun 11/14/2021, 07:00p-11:00p
I was at The Hollywood Roosevelt to partake in this year's Vulture Festival, and after sitting through a conversation between Seth Rogen and Jesse David Fox, was in search of a place for dinner. We decided on The Barish since we didn't want to deal with driving, as traffic was a mess due to Will Smith's appearance at a screening of
King Richard
at the Chinese Theatre. An Italian-inflected American steakhouse, The Barish is largely the creation of LA culinary icon Nancy Silverton, and takes its name from her grandparents' cattle farm in Saskatchewan. The restaurant opened in October 2020, and running the day-to-day is a familiar face: Executive Chef Armen Ayvazyan.
About the Chef
: A native of Glendale, Ayvazyan got his big break at the Beverly Hills location of
Bouchon
. He was a line cook there, and worked for three-and-a-half years before departing at the end of October 2014. His next role was working the meat station at Michael Tusk's well-regarded Quince in San Francisco, where he stayed for about a year. In October 2015, Ayvazyan returned to Southern California to become exec sous at The Rose, cooking under
Jason Neroni
. He left the Venice eatery after two years, and eventually found his way on to the opening team at
Eric Bost
's
Auburn
. The restaurant ended up debuting in March 2019, but shuttered, sadly, in April 2020 due to the pandemic. With Auburn closed, Ayvazyan took on the opening EC role at The Barish, and here we are today.
The Chef, meanwhile, is joined by Jerald Armstrong, who leads the front-of-the-house and actually comes from Mozza Restaurant Group. Before that, he was at the legendary
Chez Panisse
, served as GM/Wine Director at Cafe Juanita up in Washington, and managed Culina at the Four Seasons. This was preceded by a stint at The Bent Brick in Portland, a couple years at Art Restaurant and Lounge at the Four Seasons in Seattle, and five years at Blackbird in Chicago.


The Barish takes over a space that was previously home to Public Kitchen & Bar and Dakota Chop House, both of which were run by Chef Tim Goodell (who still operates burger spot 25 Degrees at the hotel). The room was redone by local firm
Nickey Kehoe
, and the team there was able to preserve some of the hotel's Spanish Colonial style.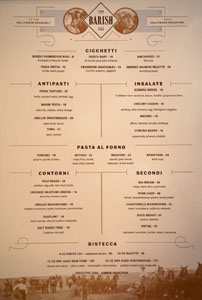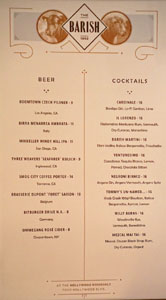 The menu follows a fairly traditional steakhouse format, though dishes do have a Cal-Italian slant, and there's an entire section dedicated to baked pastas. To drink, you get a compact selection of cocktails and beers, along with a wine list (not pictured) that's focused, unsurprisingly, on Italy and California. Click for larger versions.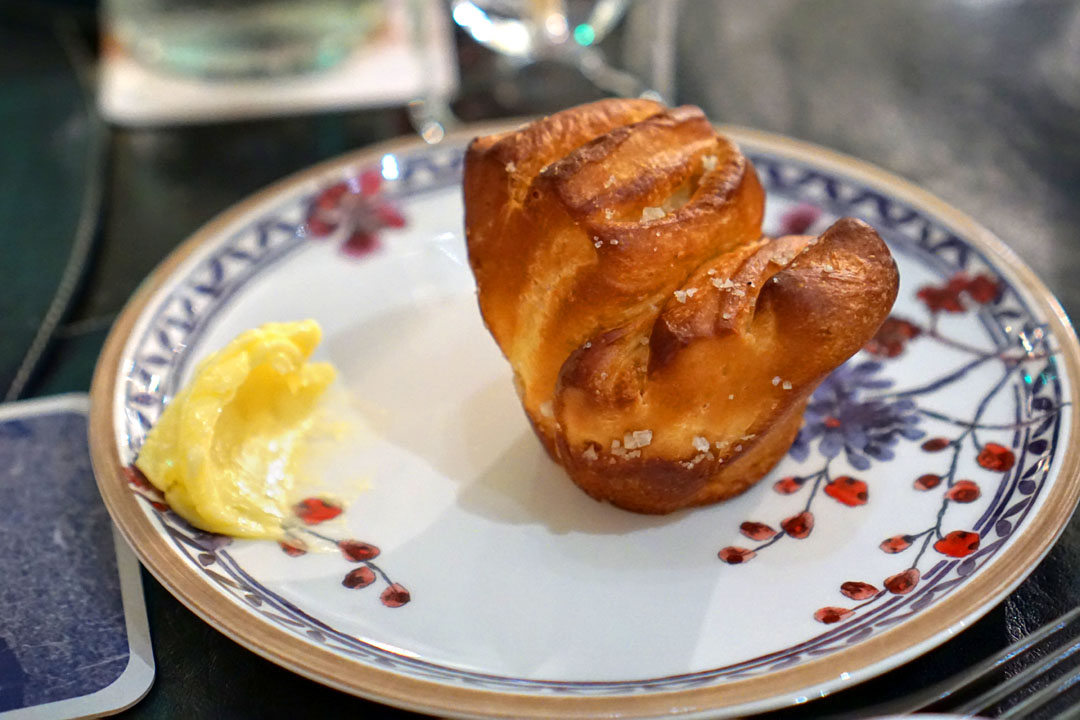 Barish Farmhouse Roll [$8.00]
| Rodolphe le Meunier butter
We began with an order of The Barish's irregularly-shaped bread, which demonstrated a balance of sweet and salty that was somehow very familiar to me. The roll was tasty enough that we opted for two more servings, but of course I can't forget about Rodolphe Le Meunier's now-famous butter either, which came out wonderfully creamy and savory, and really completed the experience.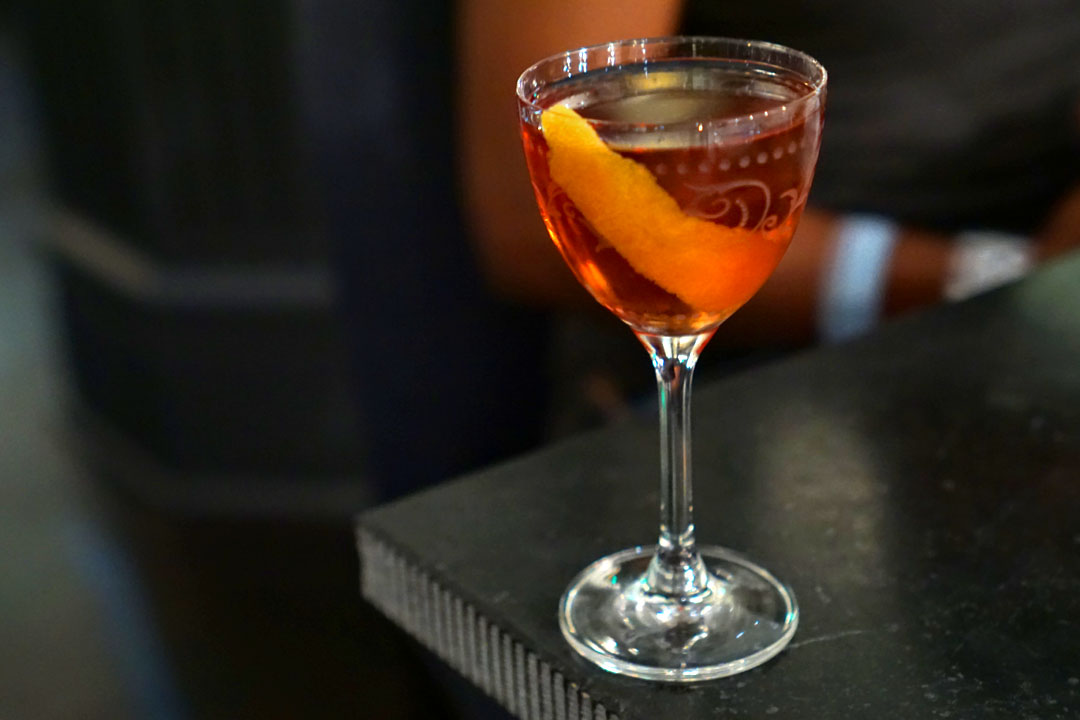 Il Lorenzo [$16.00]
| Diplomatico Mantuano Rum, Vermouth, Dry Curacao, Maraschino
The night's first cocktail brought together citrusy and bittersweet notes on the nose, while the palate demonstrated a base of sugary dark fruit set against the more pungent characteristics of vermouth and maraschino.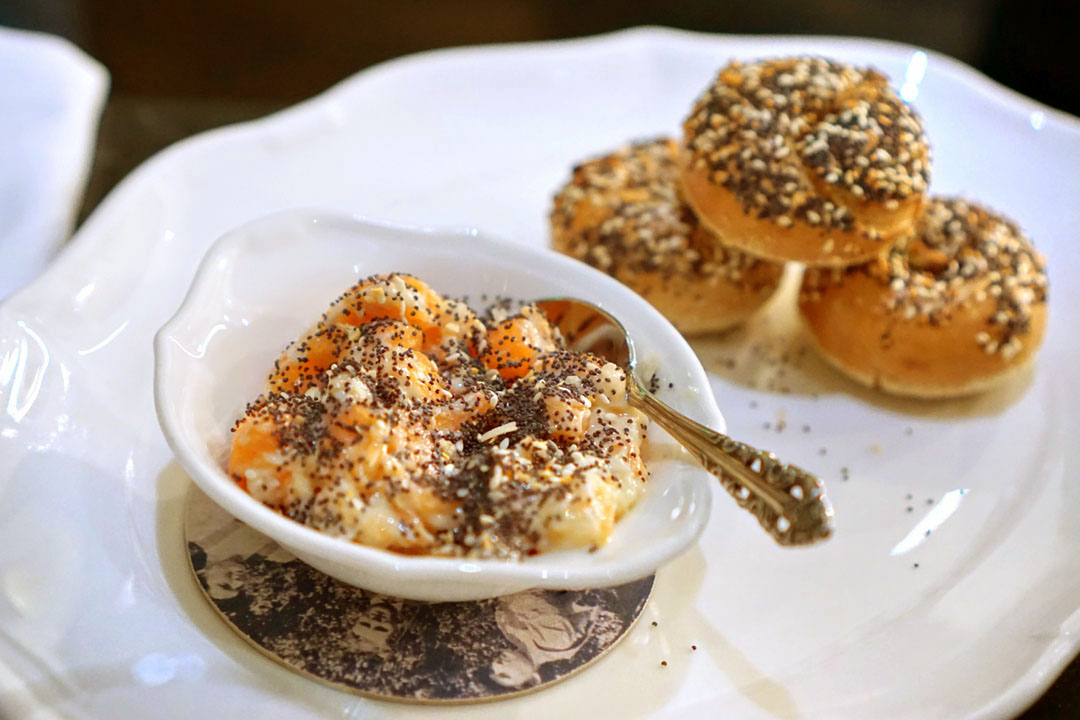 Smoked Salmon Rillette [$16.00]
| everything bagel
I was a big fan of the rillettes, which melded full-throated expressions of smoke and salinity with the lush, fatty nature of the fish. Also key were those mini bagels, which did a nice job capturing the essence of "everything" toppings while providing contrast to the salmon.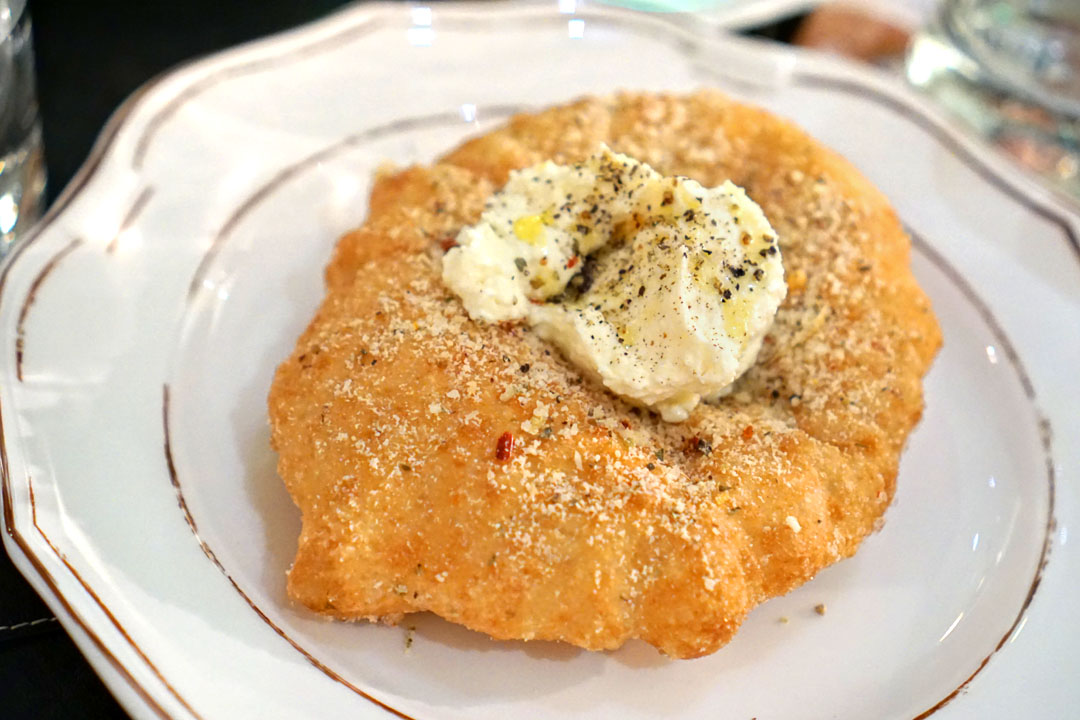 Pizza Fritta [$12.00]
| ricotta, black pepper
The fried dough was a winner as well, coming out light and airy, with a homey, cozy taste that meshed beautifully with the lushness of that pepper-boosted ricotta.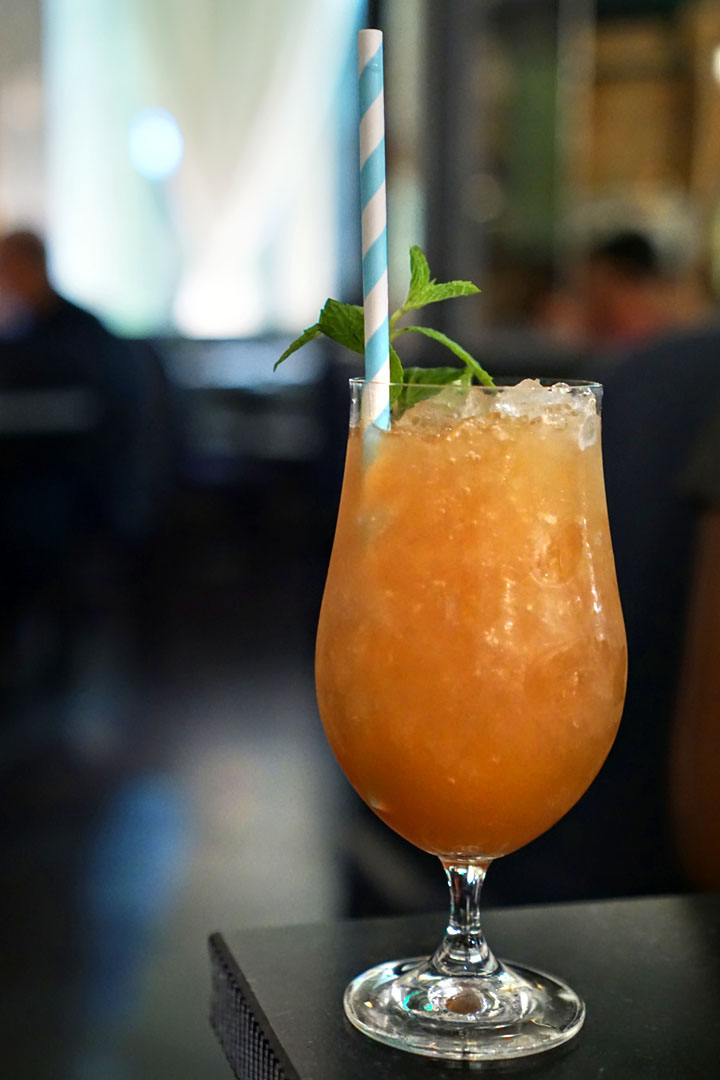 Mezcal Mai Tai [$16.00]
| Mezcal, Cruzan Black Strap Rum, Dry Curacao, Orgeat
This riff on perhaps the most quintessential of tiki cocktails was smart in its incorporation of mezcal, which imparted a smokiness to the drink that worked hand-in-hand with the sugary orgeat.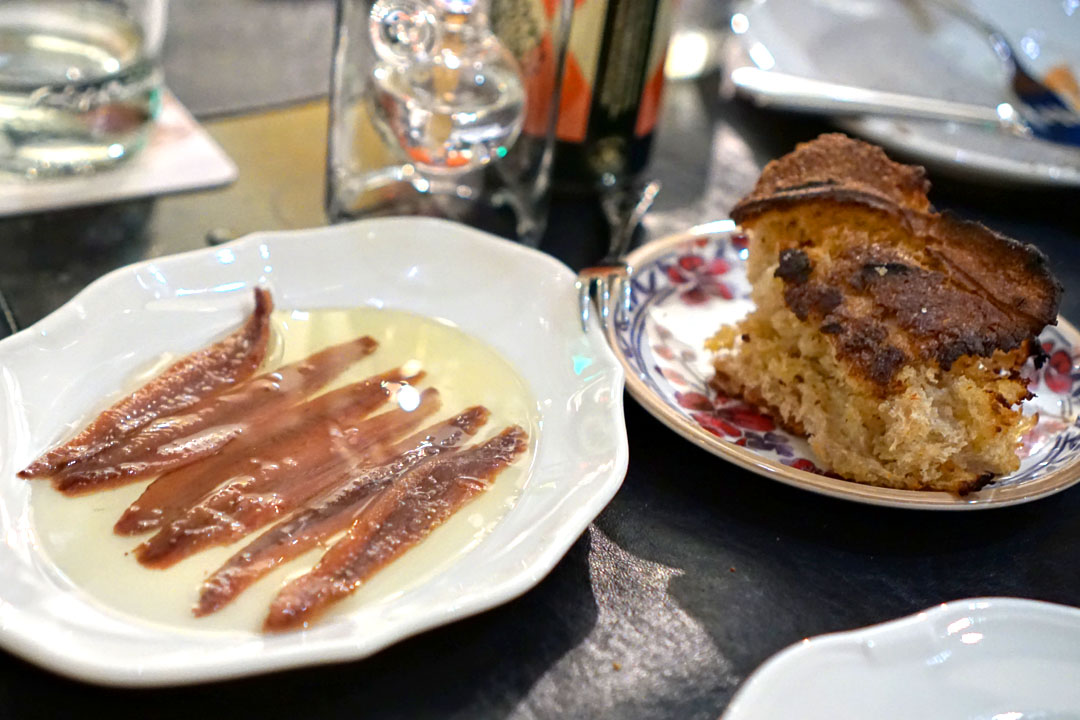 Anchovies [$15.00]
| fett'unta
Anchovies, of course, showed off a forceful brine that totally made sense when combined with shards of smoky, toasty bread.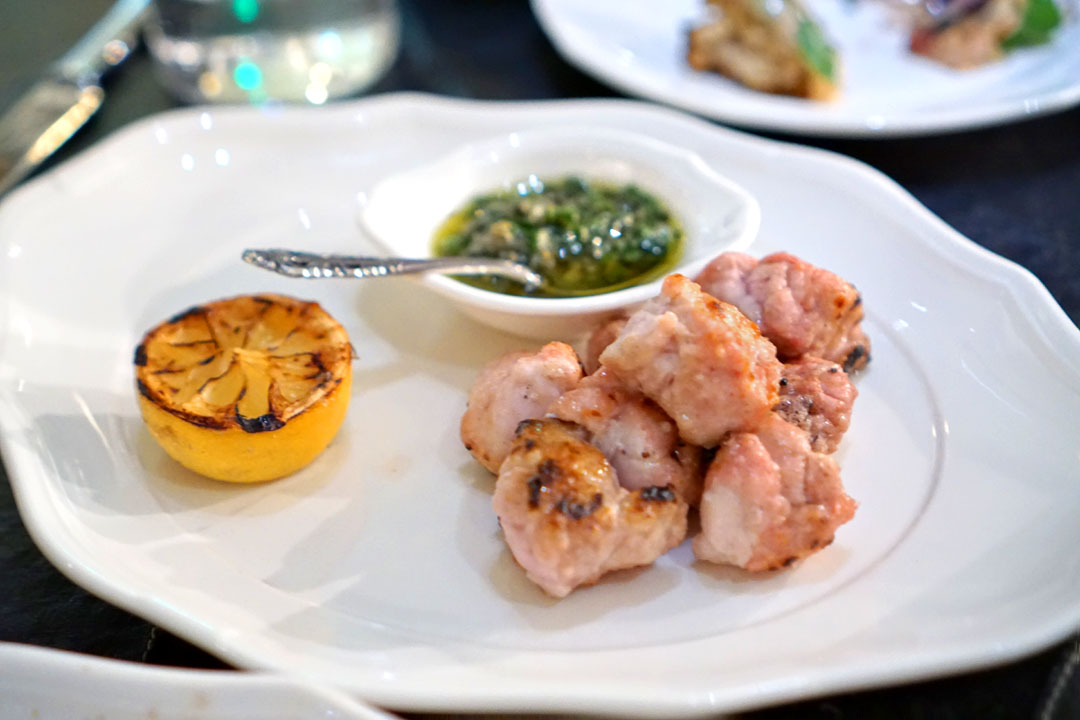 Grilled Sweetbreads [$20.00]
| salsa verde, lemon
Sweetbreads weren't very visually appealing, but they definitely delivered in both the taste and texture departments. I loved their marriage of charred crispy exteriors with soft, silky insides, while the earthiness of the offal paired superbly with the smoky flavors present. I quite enjoyed the sweetbreads alone, but they were even better when taken with a dab of that zesty salsa verde.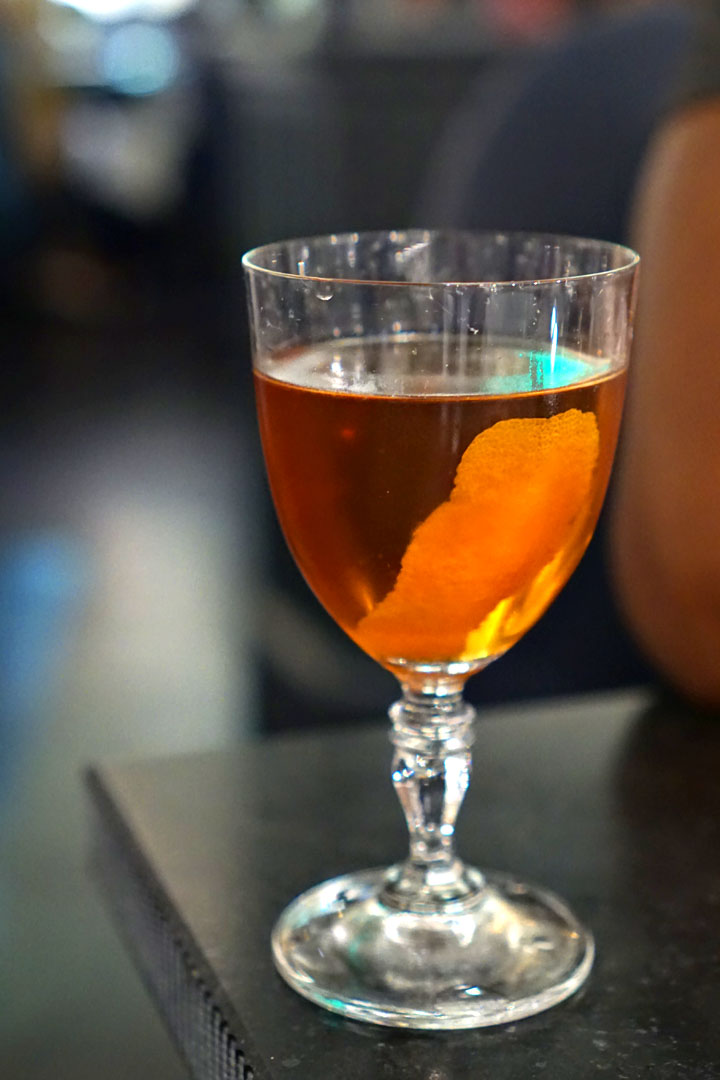 Willy Burns [$16.00]
| Woodinville Rye, Vermouth, Benedictine
This next cocktail was certainly on the heftier side, and brought forth aromas of dark fruit intertwined with bittersweet, medicinal nuances. Taste-wise, I found this decidedly spirit-forward, with loads of spice underpinned by a sweet heat.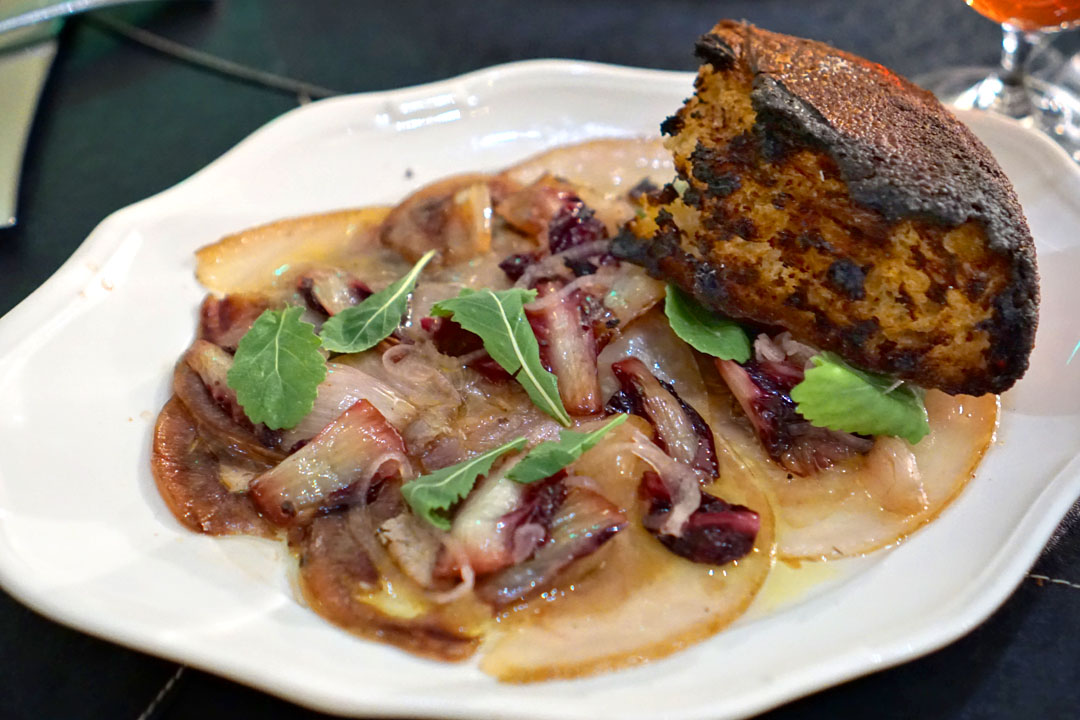 Warm Testa [$18.00]
| radicchio, shallots, sherry vinegar
Thin-cut slices of porchetta di testa ate slick and fatty, their richness counteracted by the tartness of sherry vinegar while the bread contributed an offsetting smoke and crunch.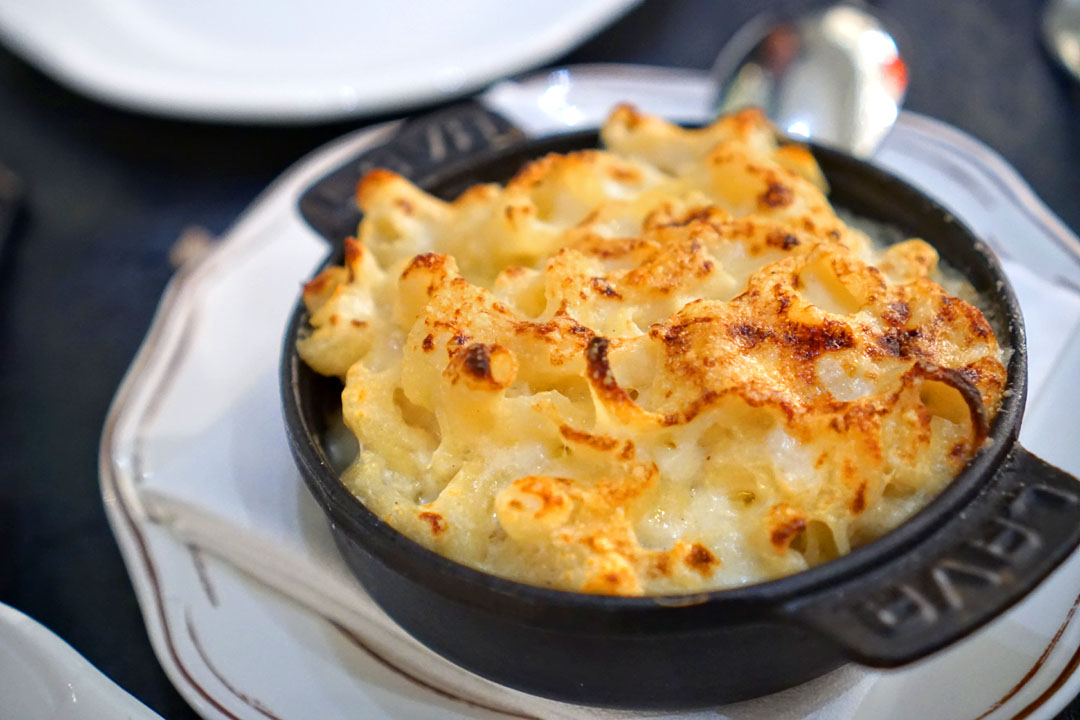 Torchio [$18.00]
| gruyere, gouda, fontina
This upmarket take on mac 'n' cheese was cozy and classic. I appreciated the spot-on texture of the torch-shaped pasta, while the trio of cheeses worked just as I'd want. I quite liked the crunchy browned bits on top, too.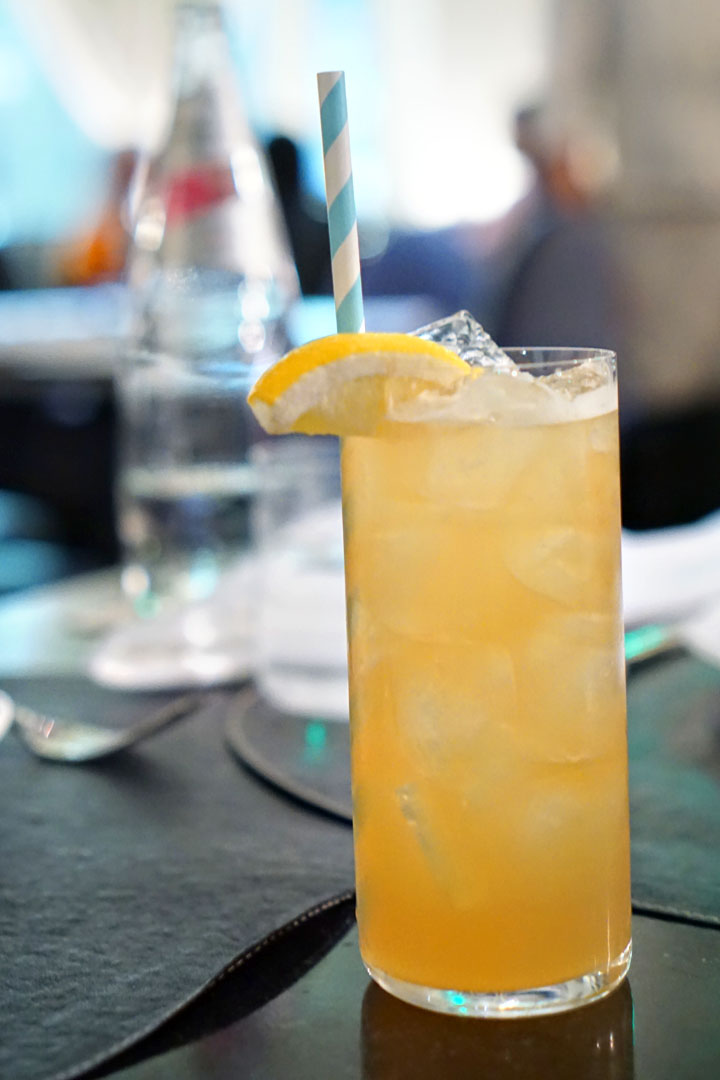 Tommy's Un-Named... [$16.00]
| Knob Creek 100pf Bourbon, Italicus Bergamotto, Apricot, Lemon
The evening's lone long cocktail displayed a foundation of robust stone fruit flavors combined with an array of boozy, bitter, grassy, and citrusy notes.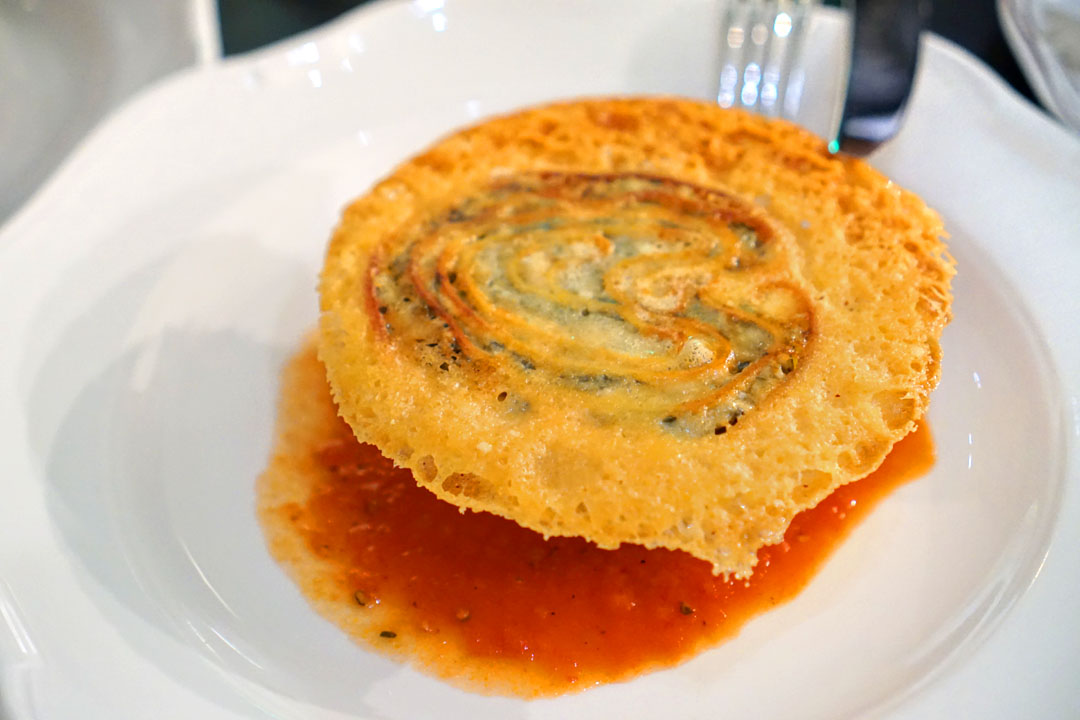 Rotolo [$22.00]
| crispy frico, ricotta, swiss chard, passato
This was my first time having rotolo pasta, which is a shame. I liked the juxtaposition of chard and cheese, while the tomato imparted a key touch of levity to the dish. However, my favorite thing here was that layer of delightfully crispy, savory, salty frico on top.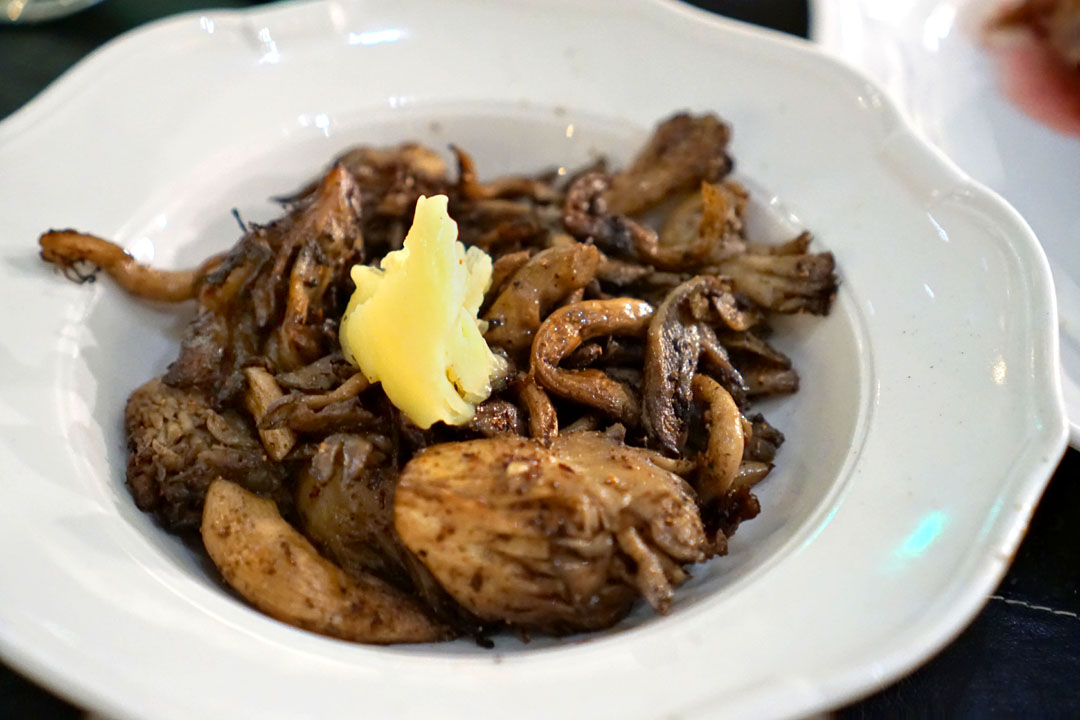 Grilled Mushrooms [$18.00]
| maitake mushroom, oyster mushroom, porcini butter
In our first side, a duo of mushrooms made for some welcomed textural contrast, and I appreciated how the woodsy nature of the 'shrooms worked with the smoke imparted by the grill. Now I do have to mention that this dish and our mains ended up being comped, which actually came as a surprise to me. What happened was that the kitchen was a bit delayed in getting out some of the plates, so one of my dining companions brought this up to a manager, who must have approved the comps. This conversation occurred while I was away using the restroom, so I didn't realize what had gone down until a couple days later when I took a detailed look at the night's receipt!
Cardinale [$16.00]
| Bordiga Gin, Lo-Fi Gentian, Lime
This vibrantly-hued cocktail did a commendable job merging the fruity, unusually floral nature of Lo-Fi gentian with a base of crisp, botanical gin, all while the lime contributed bursts of acidity.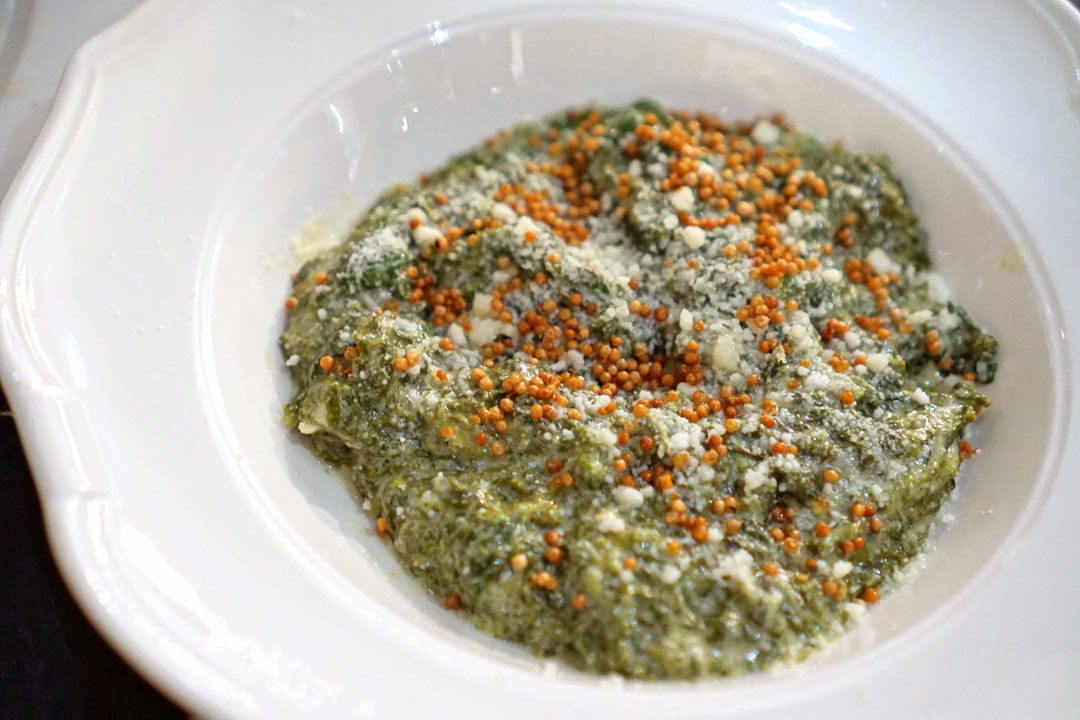 Creamed Mustard Greens [$14.00]
| pecorino, mustard seeds
Bitter, creamy greens really set the stage for an interaction between rich, nutty pecorino and an almost horseradish-esque zing from the mustard seeds.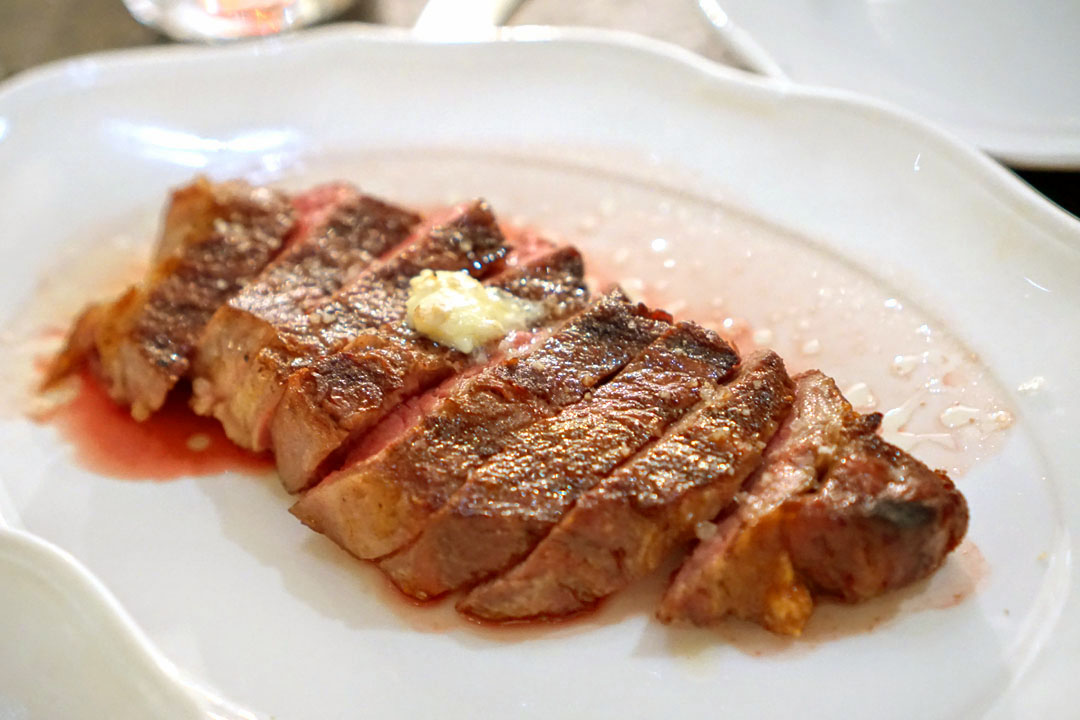 15 oz Dry Aged New York [$105.00]
Our steak was simply prepared over a wood fire, and featured a healthy amount of sear and caramelization to go along with its mouthwatering funk and savory depth, all made possible by the dry aging process. Yum.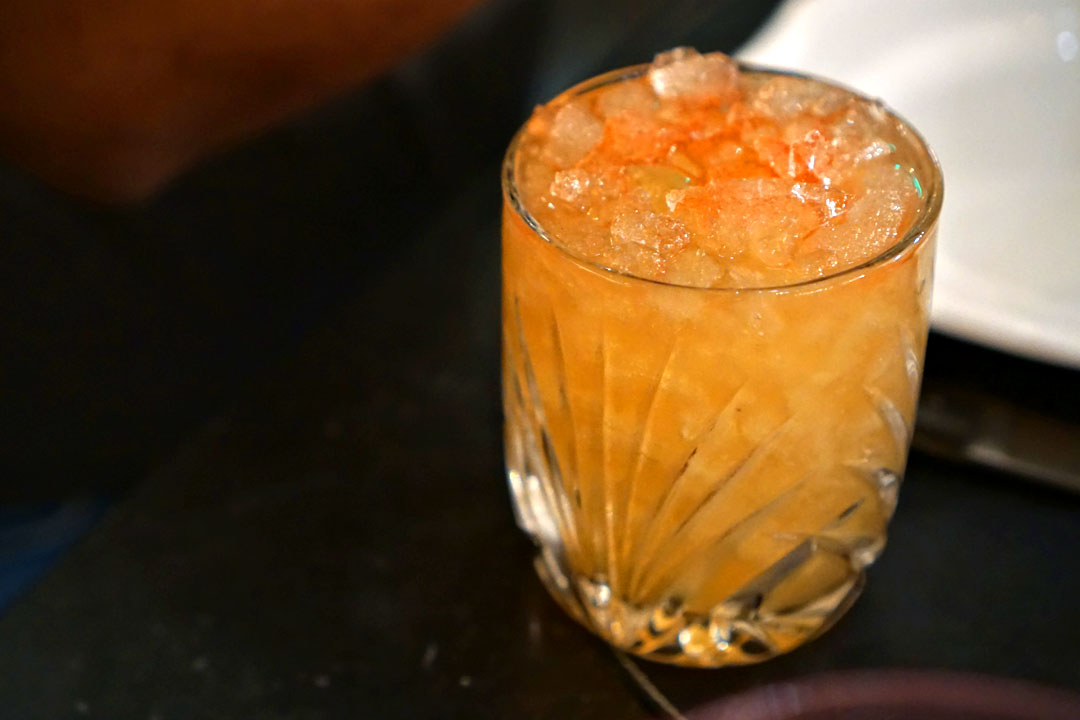 Ventunesimo [$16.00]
| Cazadores Tequila Blanco, Lemon, Pernod, Chocolate Bitters
The final cocktail of the night went down surprisingly easily, and conveyed a lovely commingling of sweet-spicy-chocolatey nuances layered over a base of relatively restrained tequila.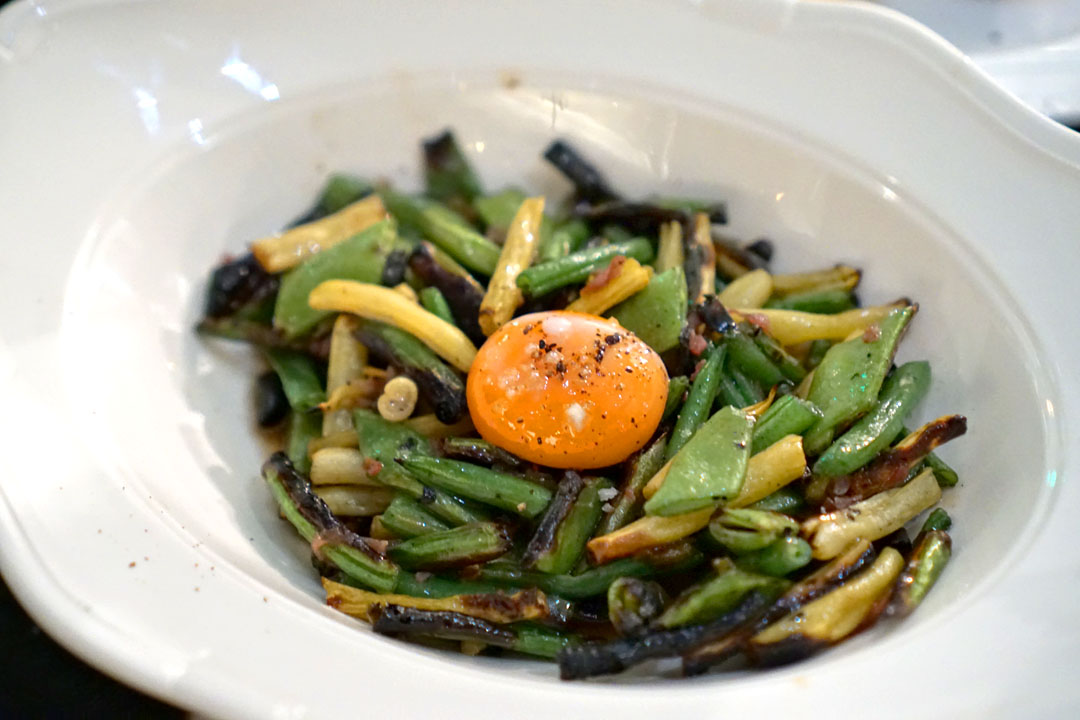 Pole Beans [$16.00]
| poblano, egg yolk, ham hock brodo
The bright, crunchy nature of pole beans came paired with a nutty, smoky pork broth, while the egg imparted much more lusciousness than I expected.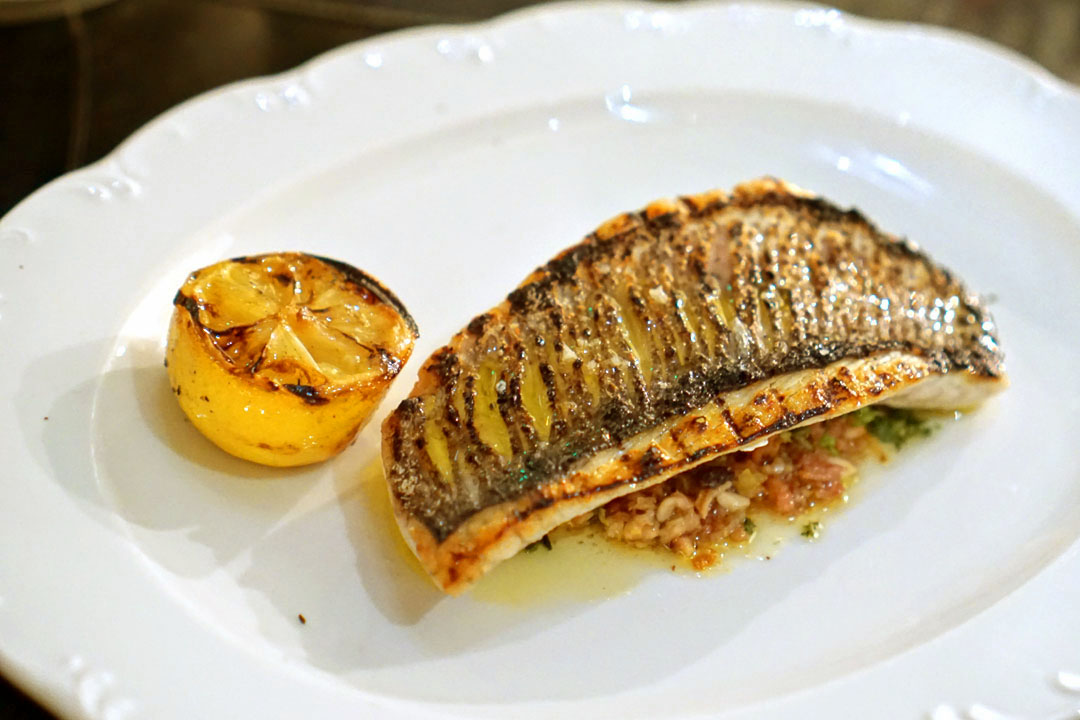 Sea Bream [$36.00]
| 'nduja, black olives, gremolata
Our final savory dish was another favorite. The bream arrived perfectly cooked, its juicy, supple flesh expressing a fantastic intensity and salinity that was only boosted by the fish's smoky, well-seasoned skin. I was pretty enamored with the zippiness of that gremolata, too.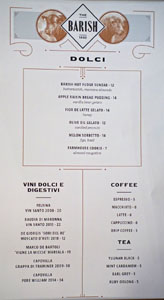 Pictured above is the dessert menu, which was originally the creation of Pastry Chef Molly Mueller (Mozza group, Mr. Holmes Bakehouse), though it's not clear to me if she's still with the restaurant. Click for a larger version.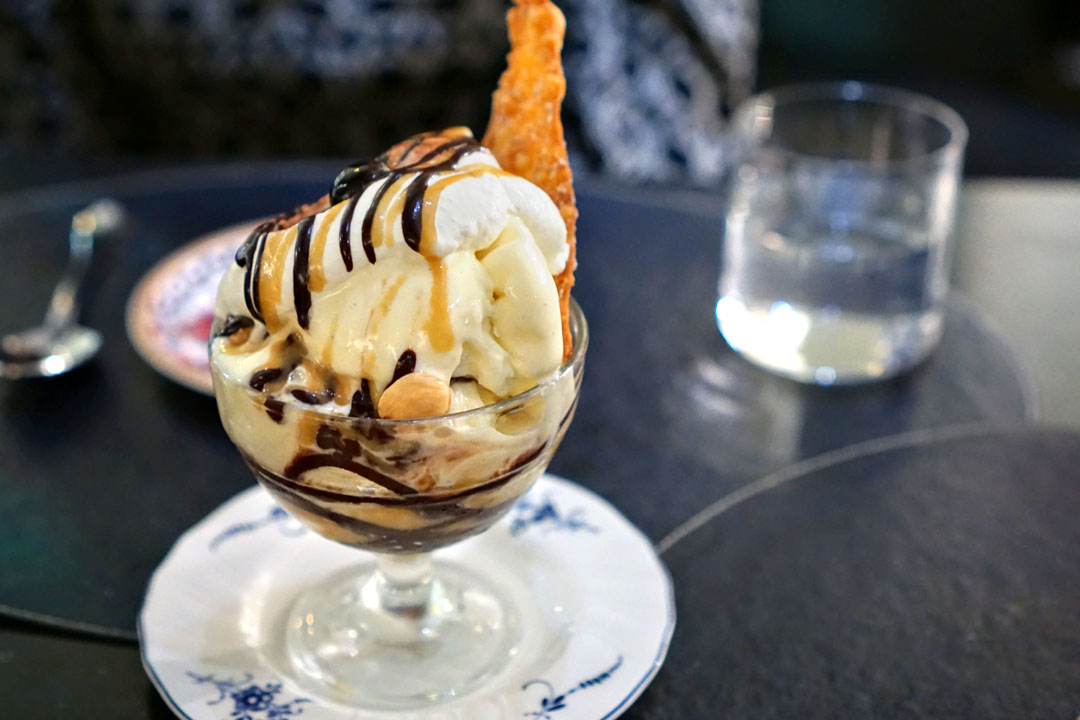 Barish Hot Fudge Sundae [$12.00]
| butterscotch, marcona almonds
The sundae was a crowd-pleaser, a classic, comforting, fun preparation that was hard not to enjoy. I did like how they mixed things up a bit with the inclusion of Marconas.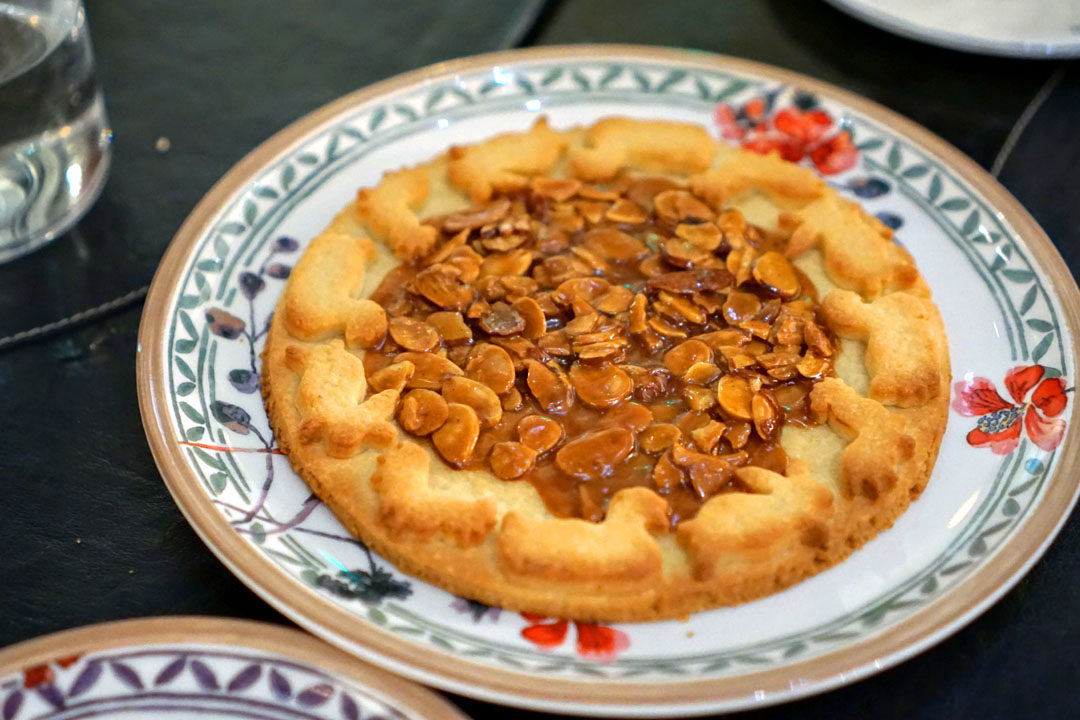 Farmhouse Cookie [$7.00]
| almond nougatine
The cookie was one of the largest I've encountered, and ate dry and crispy, with a bit of a citrusiness to go along with the sugary nougatine.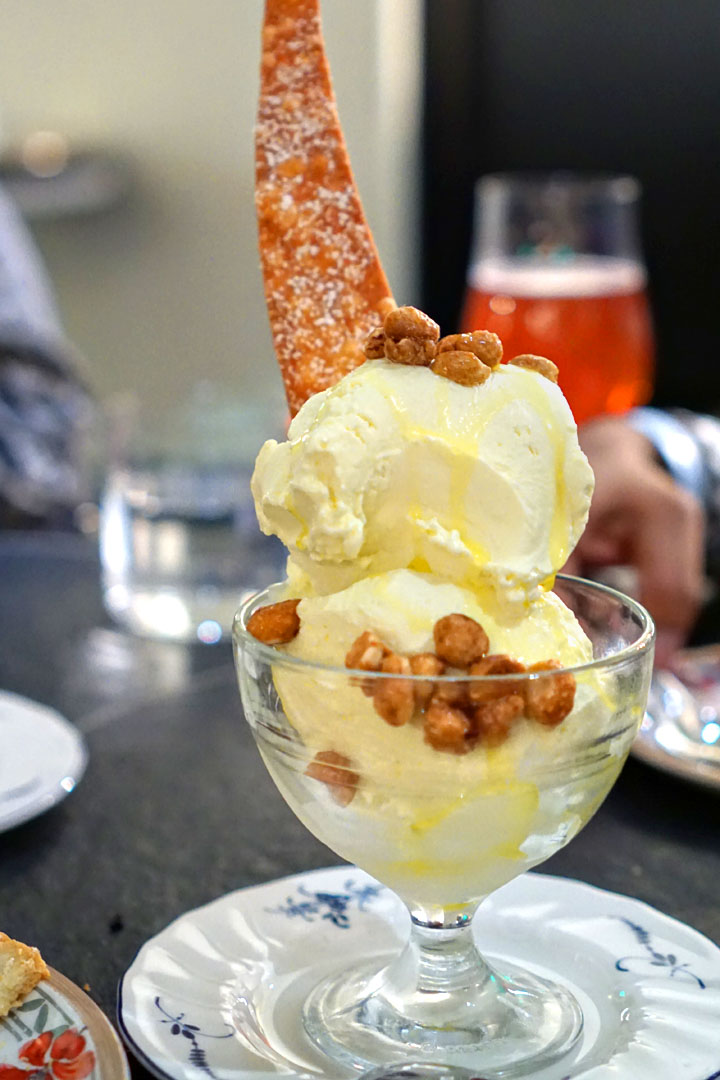 Olive Oil Gelato [$12.00]
| candied peanuts
The kitchen also sent out a complimentary serving of gelato, which really served as the perfect finishing touch to our meal. I appreciated the subtly lactic nature of the ice cream, and how that played with the elegant, fragrant qualities of the olive oil, while peanuts offered a sweet, nutty crunch.
I have to say that I enjoyed my dinner at The Barish much more than I expected to. The kitchen's Italian-influenced, rejiggered versions of steakhouse staples worked for me, and there's a focus and finesse to the cooking that I hadn't anticipated, so hats off to Ayvazyan and the team. Hollywood isn't generally my preferred dining scene, but I think this place just might become one of my go-to picks in the area.