Hayato (Los Angeles, CA) [3]
Hayato Restaurant at ROW DTLA
1320 E 7th St, Los Angeles, CA 90021
213.395.0607
www.hayatorestaurant.com
Sun 12/12/2021, 06:30p-10:30p

At this point, I think it's safe to say that Brandon Hayato Go's eponymous
Hayato
(隼人) is
the
Japanese opening of the past several years. The spot has garnered generous amounts of well-deserved praise for the Chef's deeply intimate, kaiseki-inspired cooking, and as a result, has become one of the toughest reservations in town to score (a feat made no easier by the place's garnering of a second Michelin star). Last December, I experienced the
best bento
of my life courtesy of the restaurant, but was eager to return for a proper meal. Fortunately, Hayato reopened for dinner service on June 16th, but it was only until now that I was able to land one of the seven coveted seats at the counter.

And here's the view from that aforementioned counter. There's only one seating a night here, and the sole menu option is a ~14-course omakase priced at $260 a head (soon to be $295 starting in 2022), plus 18% service.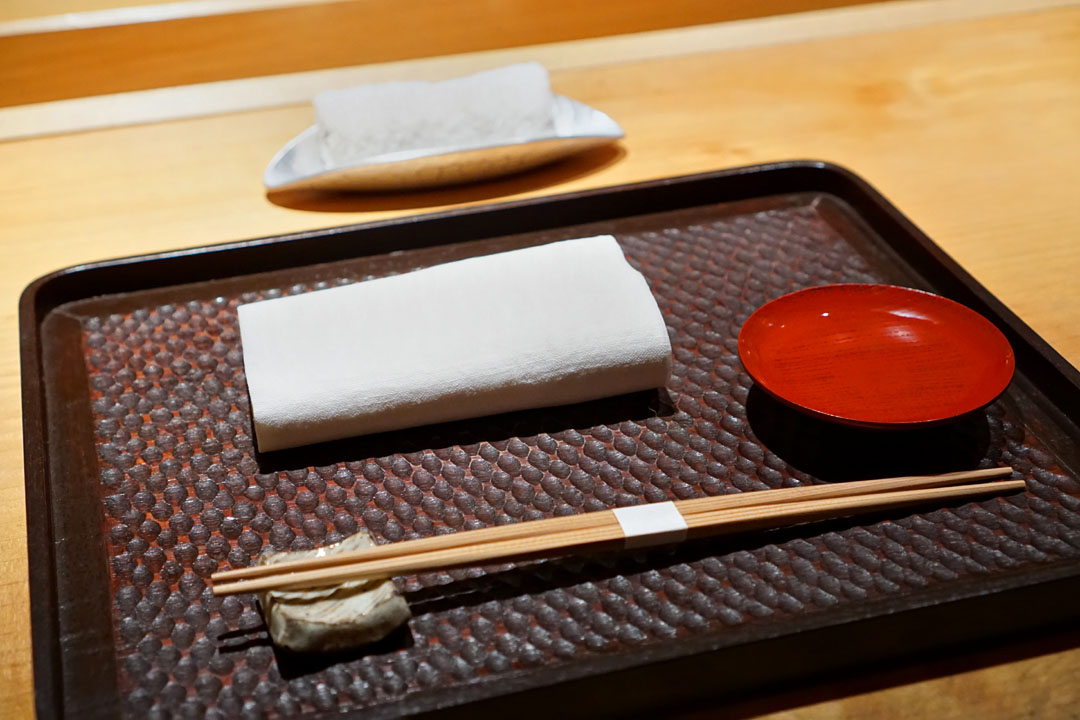 Here we see the place setting at the beginning of the evening, replete with a hot
oshibori
befitting the season. Note also the
sakazuki
, filled with a pour of welcome sake that functioned swimmingly as a sort of apéritif.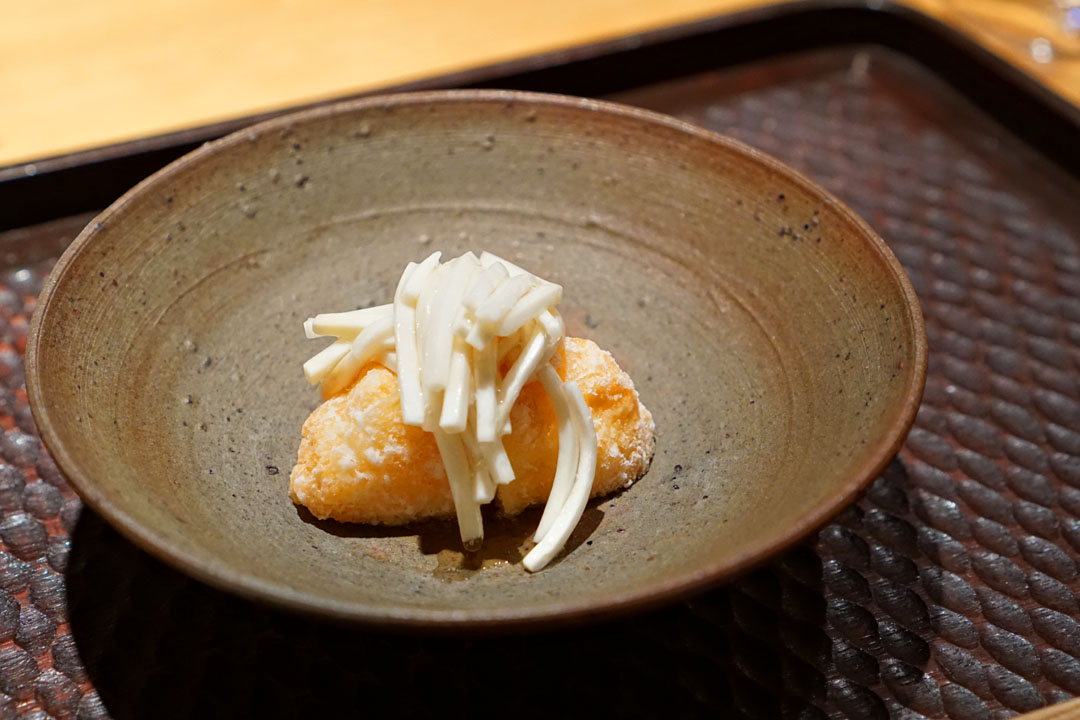 1: Ebi Shinjo, Matsutake
Now let's get into the food. Shrimp balls were reminiscent of the ones found in Hayato's bentos, but even better. The dumplings really did do a great job conveying the savory, saline aspects of the shrimp alongside the creamier, more luscious character of the egg yolk mixed in, and I loved their slightly crisp exteriors. I could eat these all day, and that's not even taking into account the wonderful woodsiness of julienned,
ankake
-steamed matsutake, which seemingly emphasized the sweetness of the shrimp. A truly delicious
sakizuke
course that really conveyed a statement of intent to start the meal with.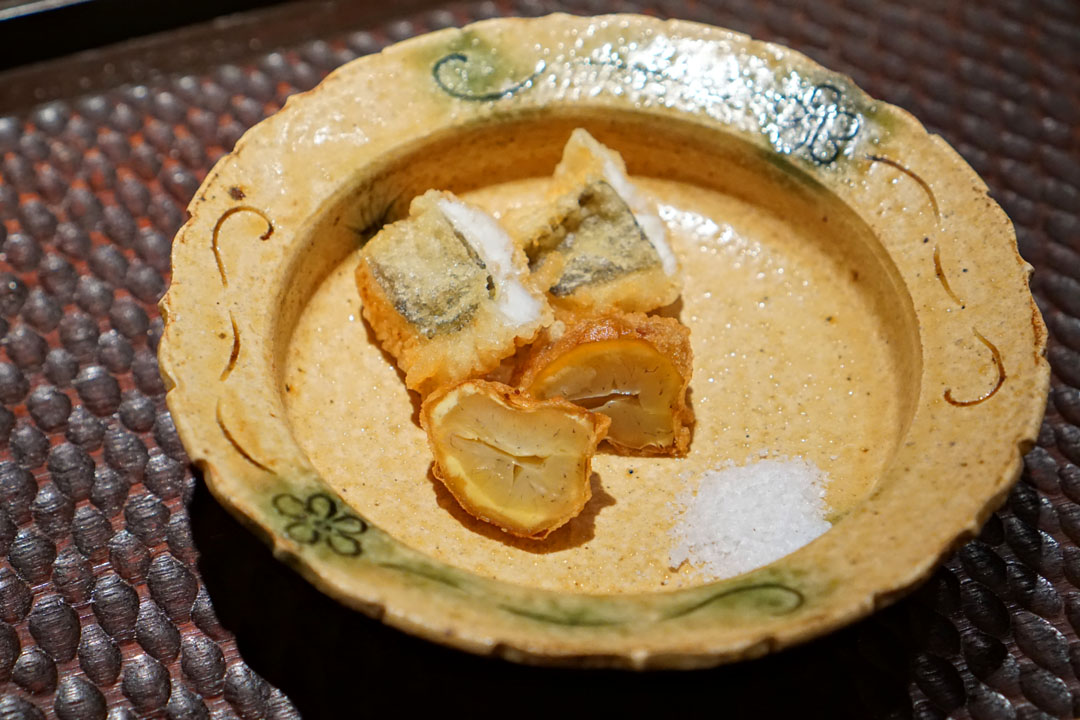 2: Anago, Kuri Tempura
Agemono
duties were handled by perfectly-textured cuts of eel, while perhaps even more impressive were the chestnuts (we were in the last week of the season), which arrived delightfully sweet and nutty, and really opened up with a dab of salt.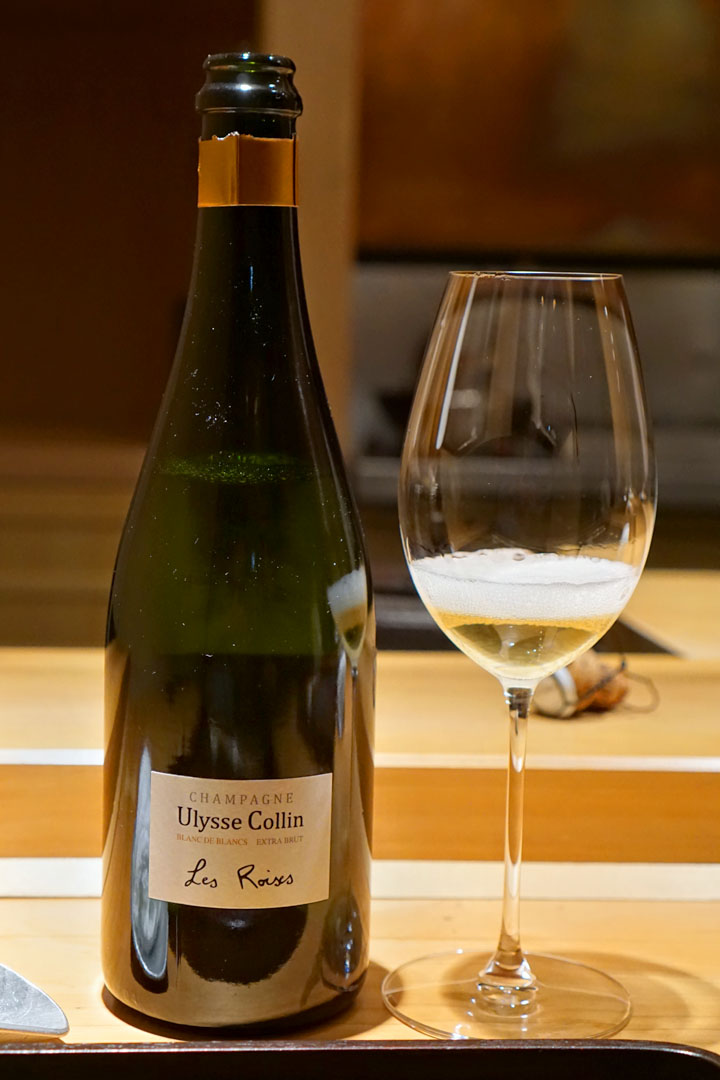 To drink, I ordered a bottle of the
NV Ulysse Collin "Les Roises" [$330]
(disgorged March 2019, so 2014 base I assume), a particularly difficult-to-find "cult" Champagne that was also very well-priced (Hayato's wine list contains a number of other gems too, such as an '02 Krug Clos d'Ambonnay for only $2400). The wine showed off an intense nose of crackers, yogurt, and straw, with fruit preserves in the background; a certain smokiness also appeared as the evening progressed. On the palate, I found rich barnyard flavors, a marked grassiness, stone fruit, minerals, and a real mustiness on the back end. And interestingly, the fruitiness and toastiness of the bubbly only increased with time. I've never had a Champ quite like this before, so hopefully this isn't my last encounter with Mssr. Collin.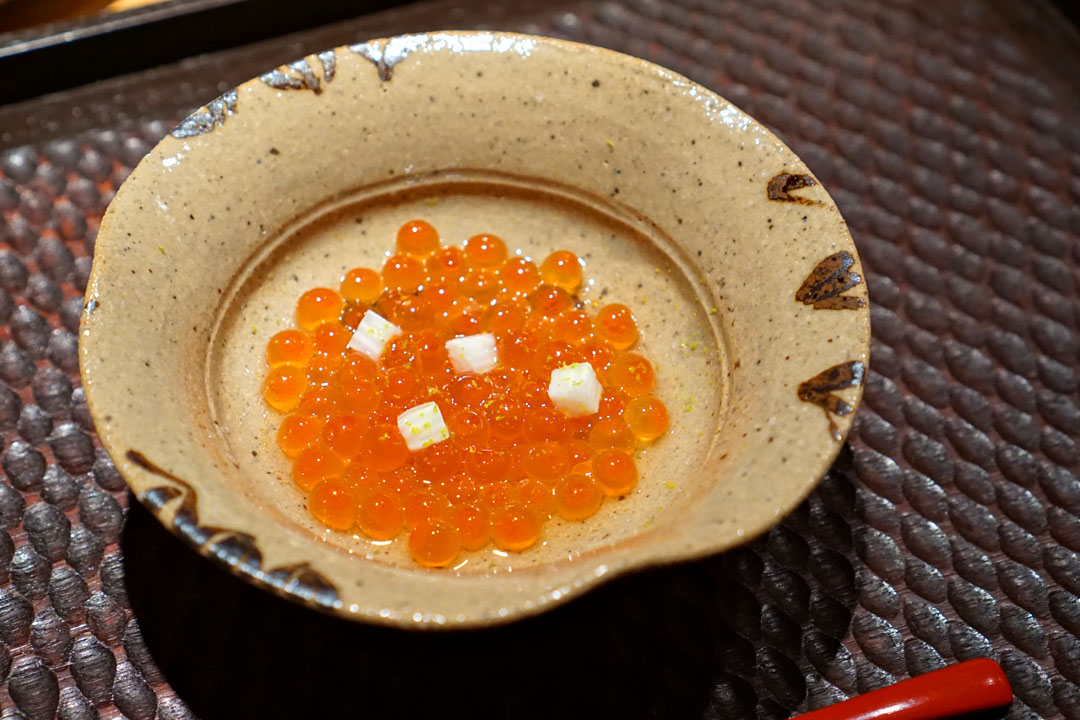 3: Sujiko
Salmon roe is a common sight at Japanese restaurants, but
sujiko
(immature eggs still in the sac) is much less encountered. Soaked for a brief period in soy sauce and dressed with dashi, it was much more delicate than ikura, both in terms of texture and brine. Also present here were thoughtful amounts of both smoke and umami, and I appreciated how the
yamaimo
(mountain yam) and yuzu zest enlivened the dish. This might be the best salmonid roe I've had.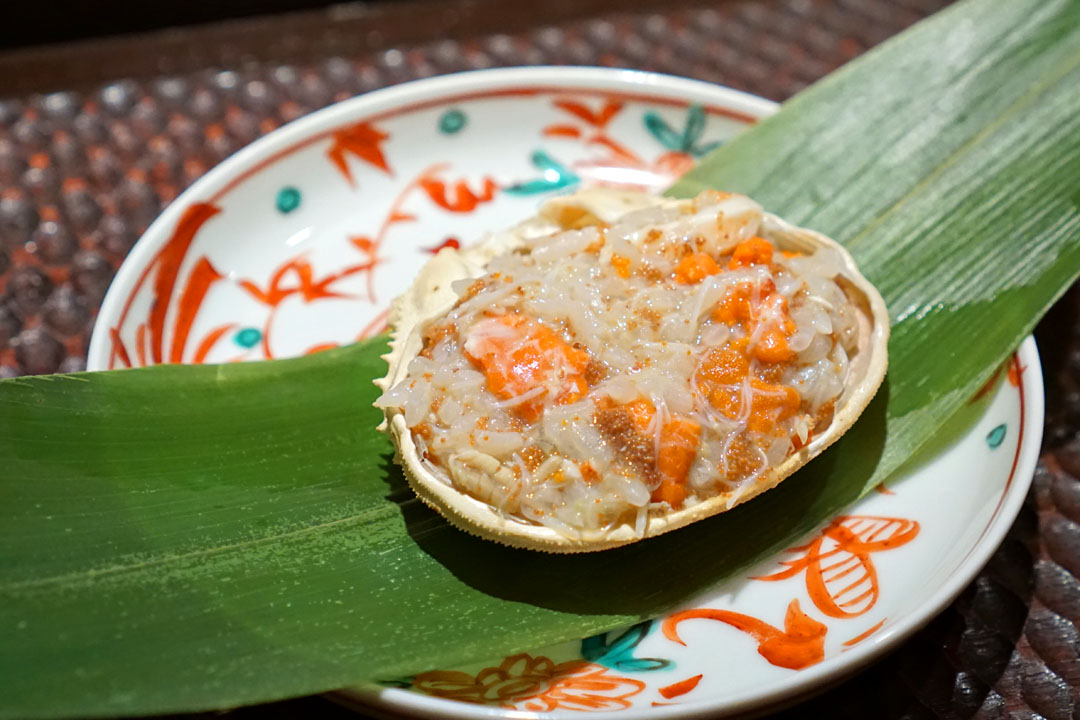 4: Seikogani
Female snow crab from Hyogo is apparently the Chef's favorite wintertime dish, and after tasting this, I can definitely understand why. What we have here is crab meat, crunchy fertilized eggs (
sotoko
), chewy ovaries (
uchiko
), and rice, all made into something akin to a risotto. I loved the textural variation going on, not to mention the amalgam of sweet, saline, and bitter flavors that conveyed the essence of the ocean, but in finessed, finespun form. Somewhat humorously, upon tasting the dish, one of my fellow diners (a Korean) couldn't help but exclaim
jinjja masisseoyo
(really delicious!). Indeed,
maj-ayo
.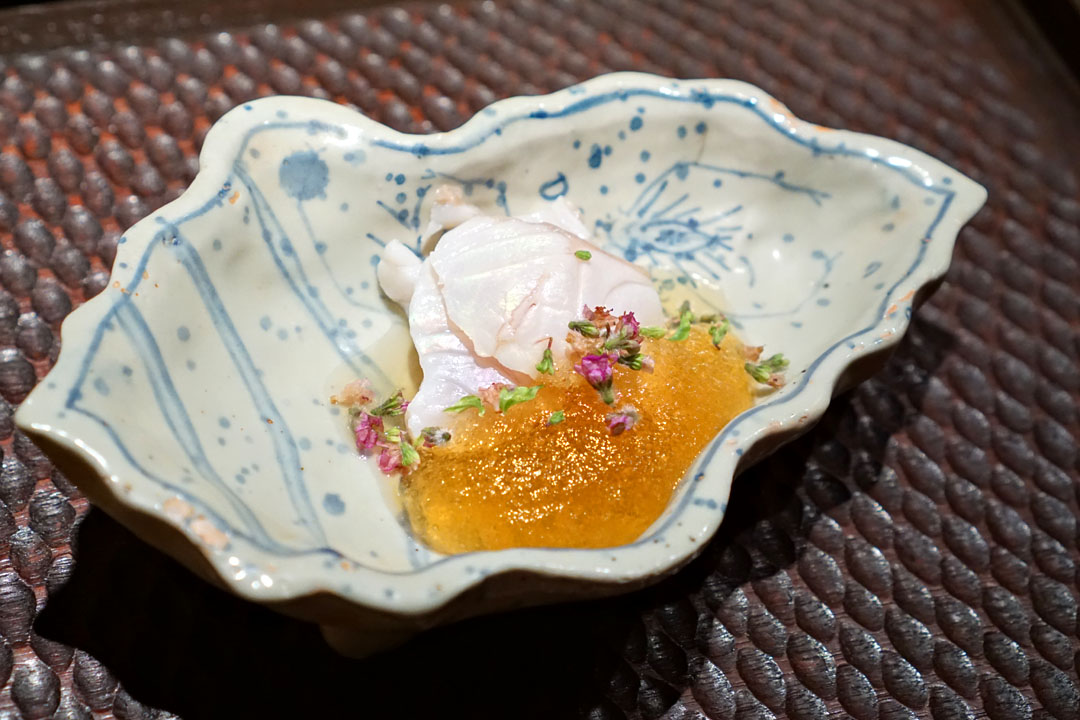 5: Kue
The prized longtooth grouper from Kyushu was partially cooked shabu-shabu-style, giving it a slightly chewy, slightly springy consistency that I found eminently pleasing. The fish's delicate yet deep flavors were paired with a tart-savory
tosazu
jelly, while shiso blossoms imparted a fantastic zestiness that really completed the package.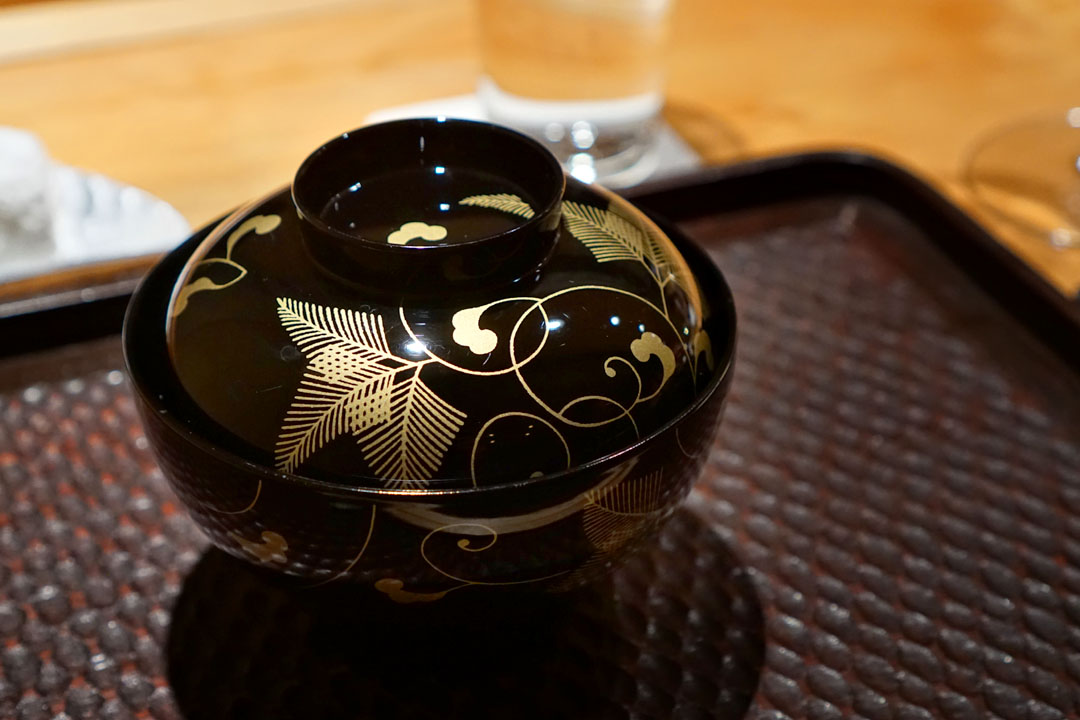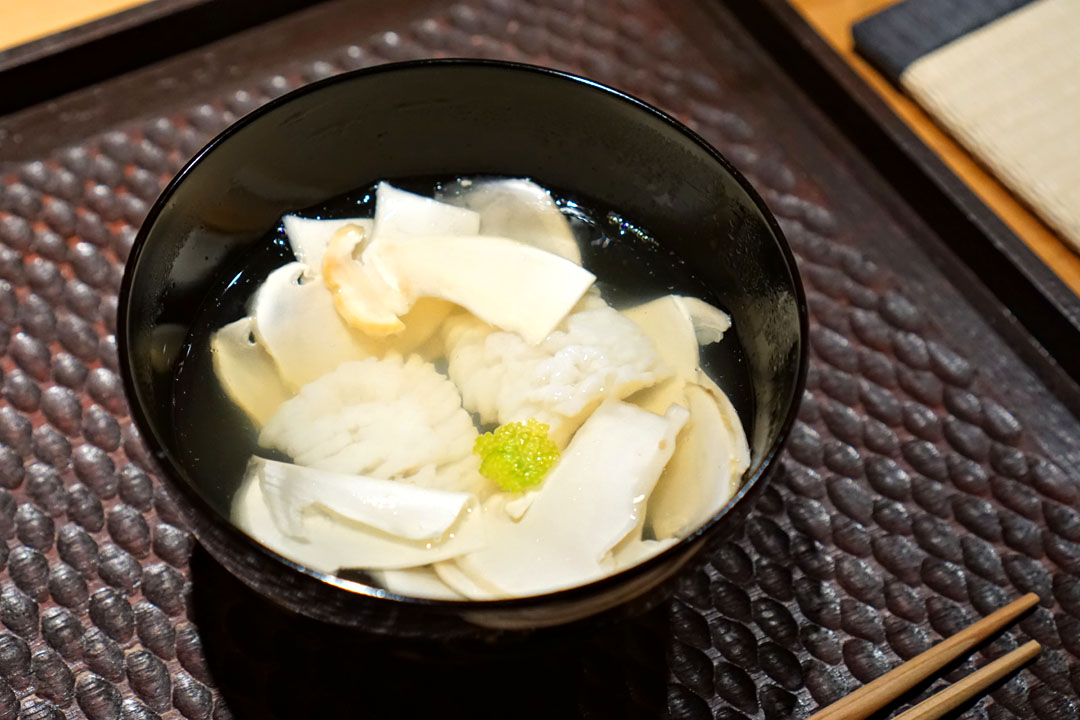 6: Hamo, Matsutake Owan
Matsutakes are the most important fall ingredient in Japan, so I was glad to see it multiple times during my meal, especially since this was the second-to-last week of the season. Here, the mushrooms came out thin-sliced, and provided an earthiness that easily complemented the comparatively mild, lean flavors of the late-season pike conger eel. I also got traces of tanginess from the yuzu, and overall, the soup tasted assuredly of late autumn.
At this point, Chef Go and his assistant lit some rice straw ablaze and got quite a fire going in order to sear the bonito for our next course.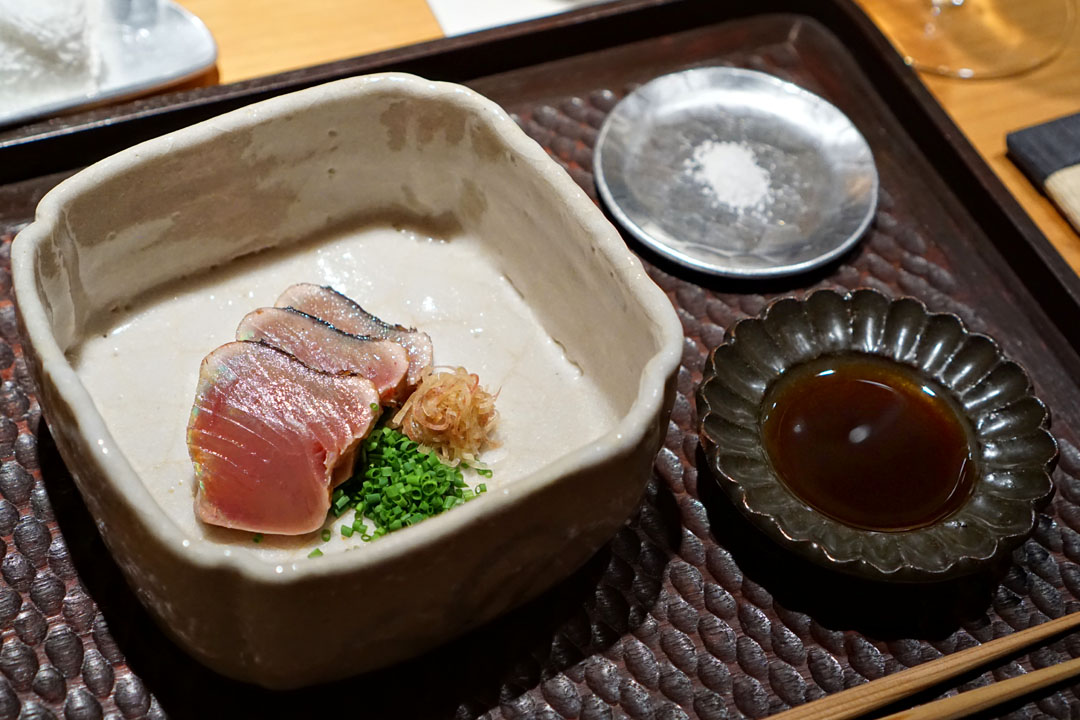 7: Modori Katsuo
The blaze above barely cooked the "returning" skipjack, a fattier, tastier version of the tuna made possible by the fish's migratory patterns. However, the copious amounts of grassy smoke generated resulted in an uncommonly rich, savory flavor profile that I found extremely appealing, while textures were slick and supple, but substantial. I enjoyed the fish by itself, but it was even better when paired with chives, zesty
myoga
, and a touch of salt.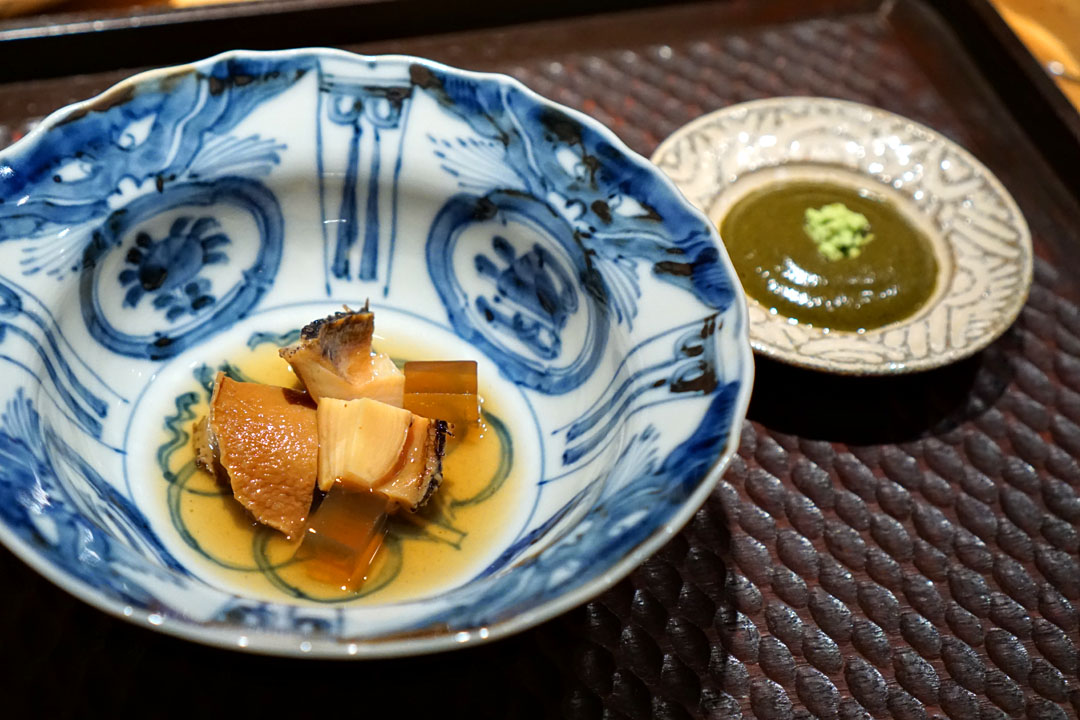 8: Awabi
Steamed abalone was gratifyingly-textured, and showcased plentiful amounts of mouth-watering umami. This sensation was only enhanced by the cubes of awabi stock, but even better was the accompanying
kimo
sauce, made from the stomach. It had a somewhat gritty consistency to it, along with both earthy intensity and delicacy, and functioned beautifully as a counterpoint to the abalone.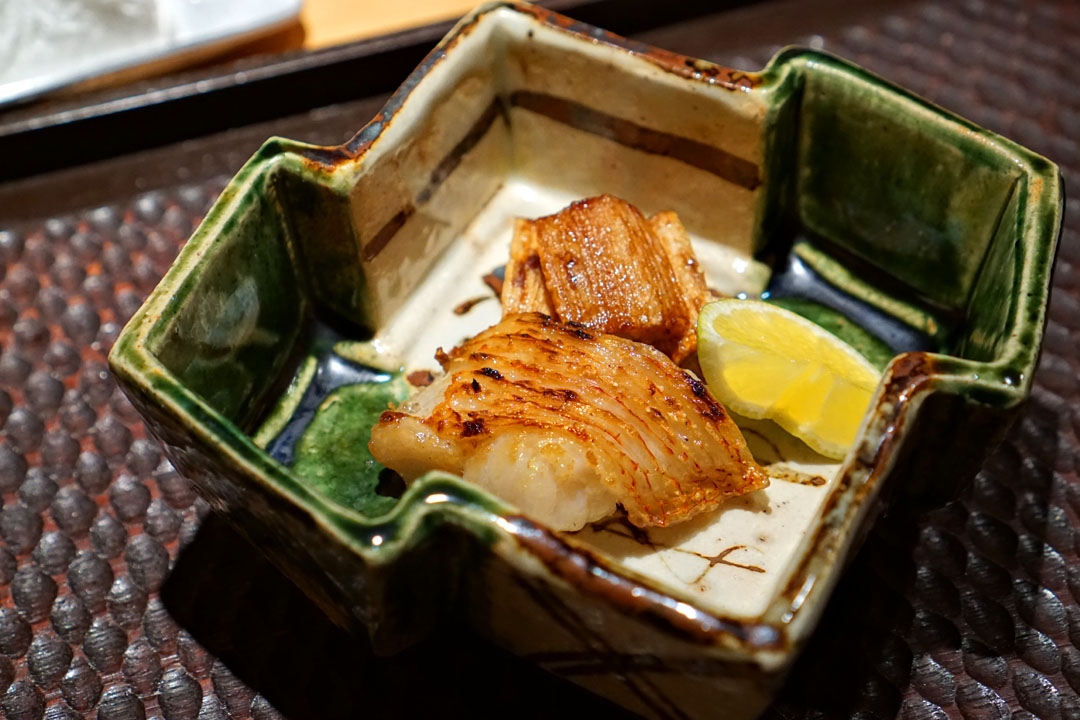 9: Kinki, Renkon
It was interesting how such a "simple" dish of grilled fish could be so revelatory.
Kichiji
from Hokkaido displayed a wondrously slick, luscious, yet elegant flesh that was perfectly juxtaposed against the fish's crispy, fatty, savory skin. It was a joy to eat unadorned, though I didn't mind a small squirt of sudachi, either. Also commendable, meanwhile, was the
renkon
, roasted in coals for an hour and brushed with soy sauce. It had a deep, concentrated taste and satisfying bite that made it unquestionably one of my favorite lotus root preparations ever.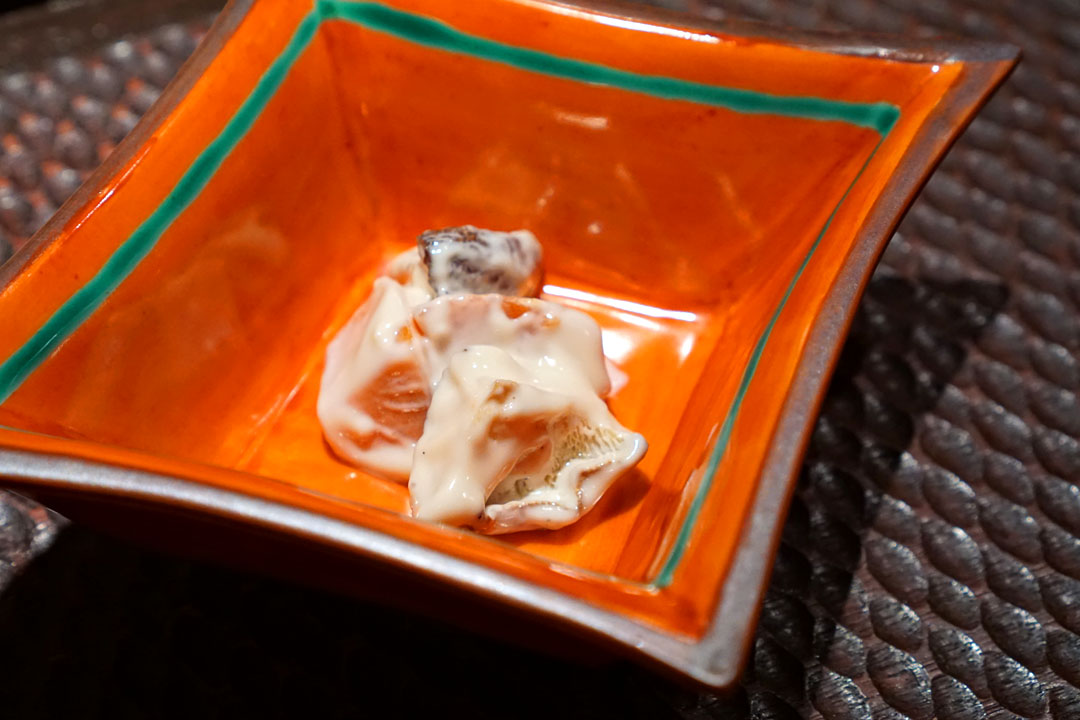 10: Goma-ae
The
gomaae
served as a sort of palate cleanser. Made from sesame paste, dashi, sugar, and rice vinegar, the dressing demonstrated a mish-mash of creamy, nutty, sweet, and funky flavors that I really took a liking to. The use of two very different main ingredients--persimmon and roasted shiitake--was key, since it was fun to see how both items interacted with the sauce.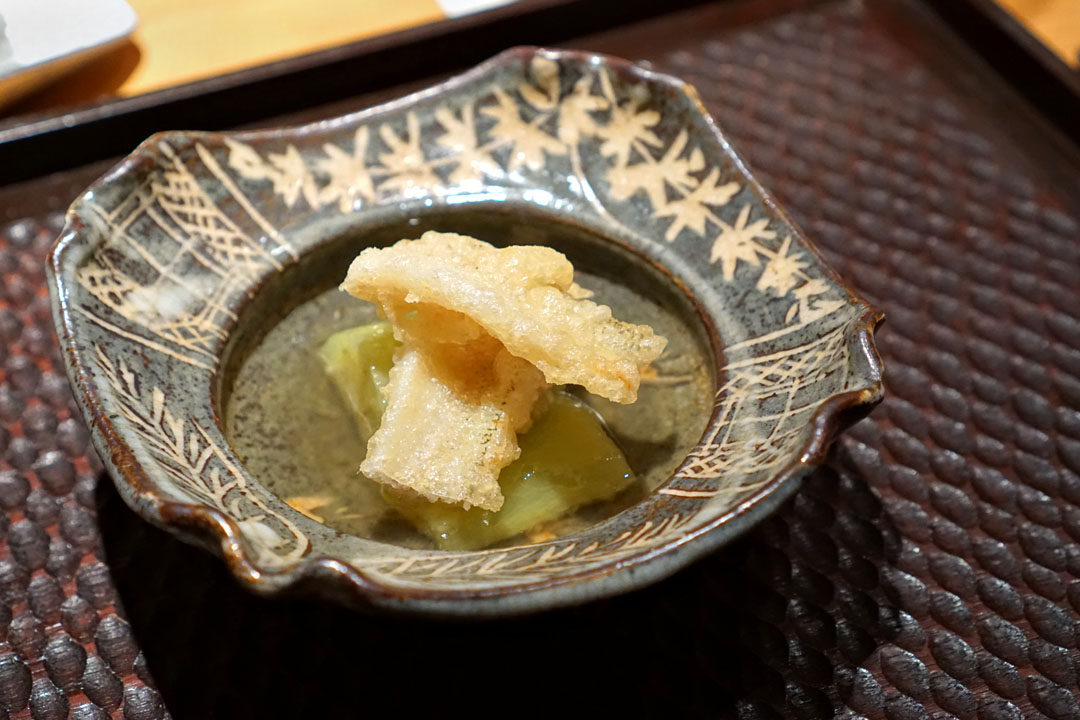 11: Kisu Tempura, Nasu
Japanese whiting was responsible for the best fish tempura I've ever experienced (at
Mikawa Zezankyo
in Tokyo), so I was happy to see it on the menu tonight. The
shirogisu
was gorgeously-textured, and flaunted an almost corn-like sweetness that made for a great match with the viscous, ginger-assisted
ankake
sauce. We also have to talk about the eggplant, which was fried sans batter, peeled, and soaked in dashi all day. This all made for a "juicy" prepration of the vegetable, one that was again one of the best I've had, and worked easily as a contrast to the
kisu
.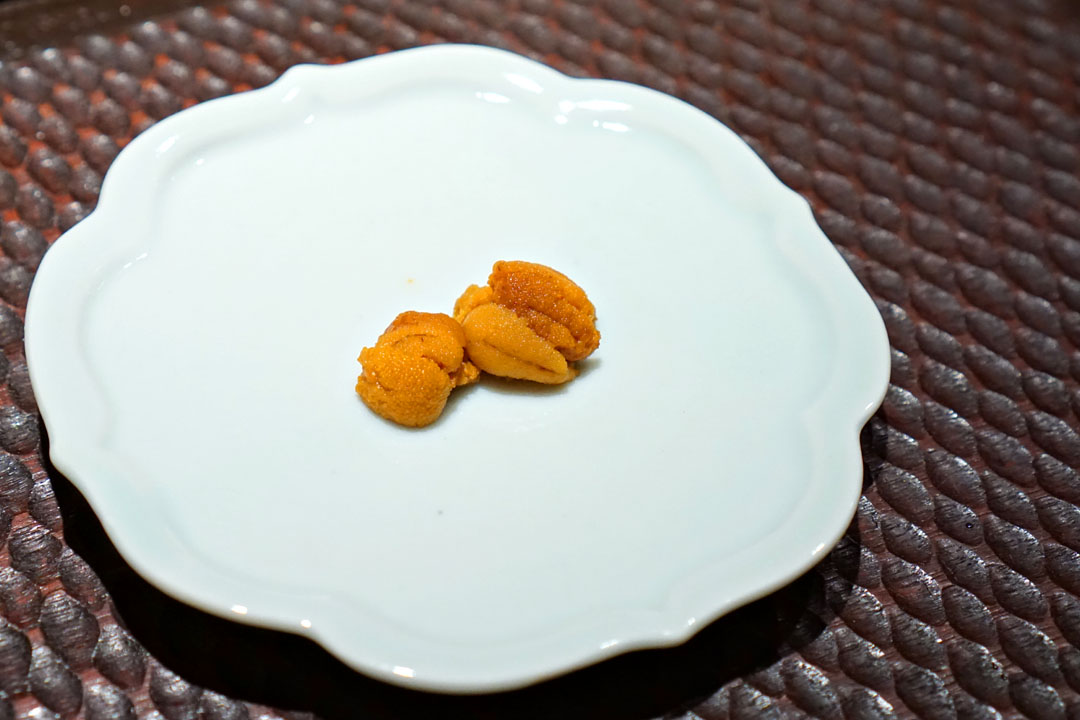 12: Uni Tsukudani
Next came a minimalist presentation of Hokkaido sea urchin, which was simmered with sake, sugar, soy, and mirin. The result was a fully-cooked version of uni, one with a nearly ankimo-esque consistency and a measured amount of sweetness that didn't veer into candied territory as similar such dishes often do.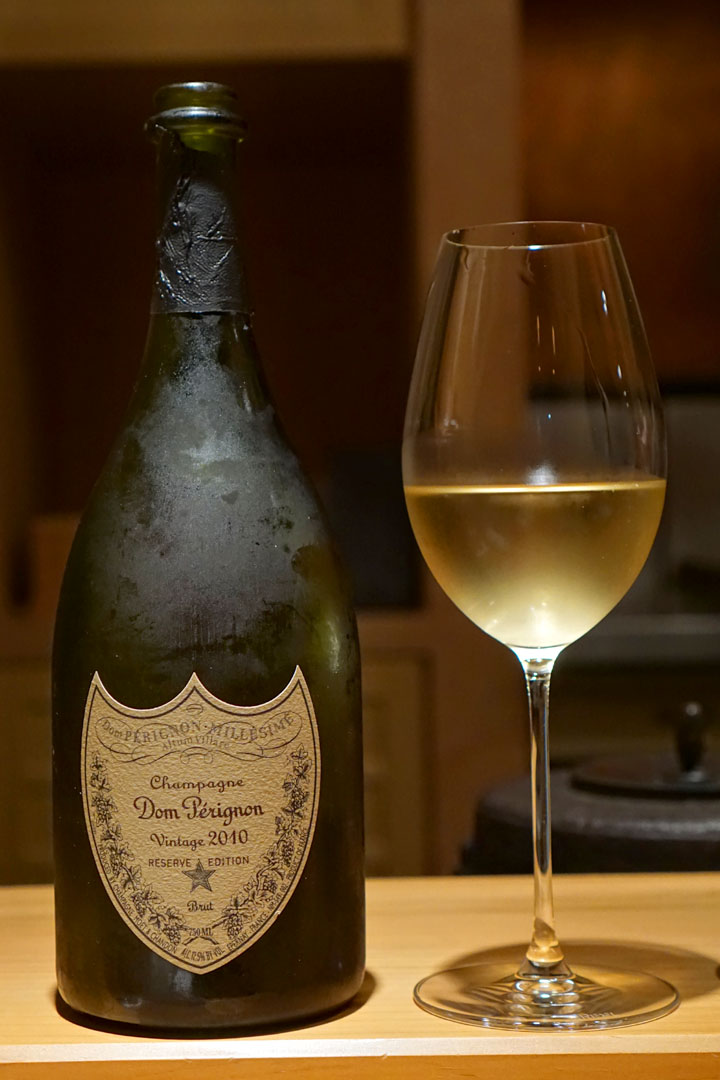 With the Champagne above all drunk up, I opted to continue on with the sparkling stuff and requested a glass of the
2010 Dom Pérignon Brut [$50]
. Now I haven't always had great experiences with young DP, but was quite impressed with this one, possibly because it was a "Reserve Edition" release with an extra year of aging (essentially a proto-"P1" per the Chef). The wine had an unexpectedly potent nose that actually made me think of Normandy apple cider due to its slight funk and dry, crisp, fruity notes. In terms of taste, this also showed more depth and concentration than I was anticipating, its brightness and citrus elements combining with just enough toast and a touch of barnyard. Very nice.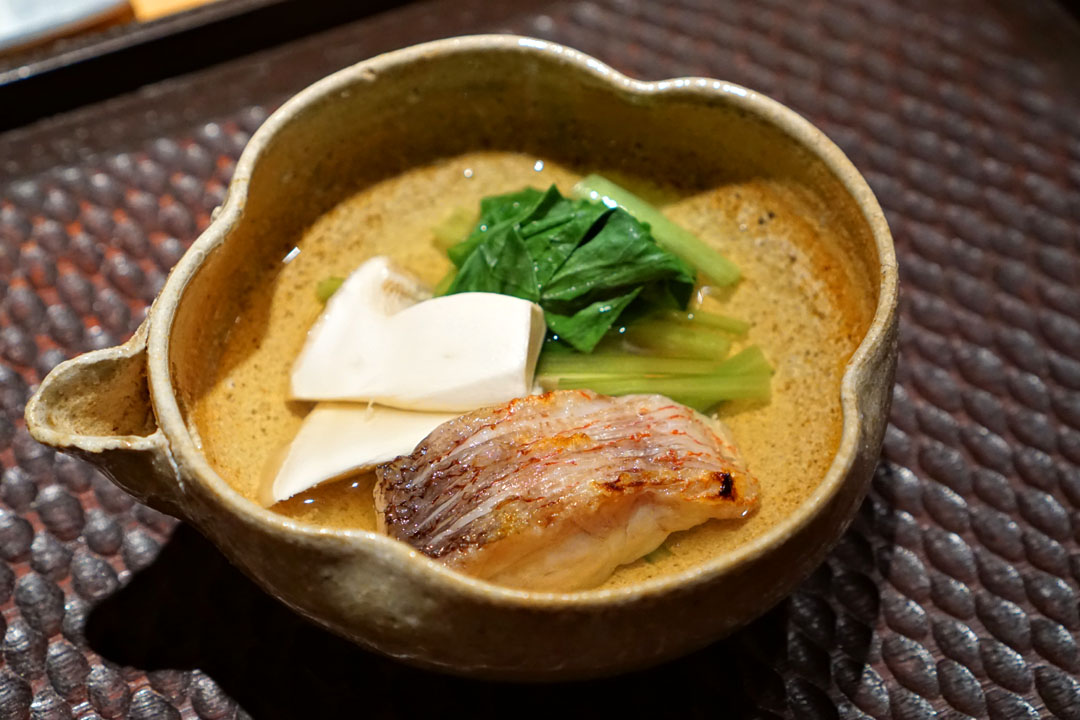 13: Amadai
Amadai
is probably the Chef's favorite fish, and tonight, he grilled it before finishing the tilefish in dashi. I was pretty enamored with its silky, "sticky" bite, while its balance of sweet and savory nuances worked effortlessly with the bitterness of those greens. If that wasn't enough, the broth was given an autumnal kick in the pants by the matsutakes, which were thicker cut here in order to better convey their texture.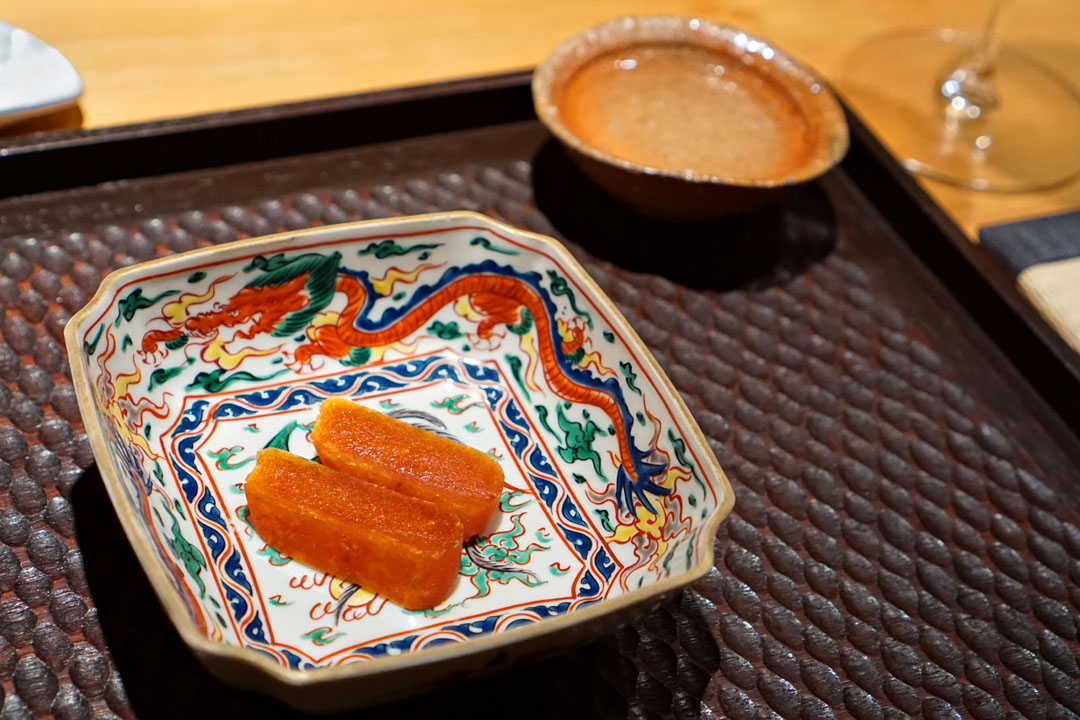 14: Karasumi
Dehydrated mullet roe arrived slightly grilled, which somewhat softened its inherent saltiness, and at the same time, there was this cheese-like quality here that I didn't expect, but enjoyed. The roe was joined by its traditional accoutrement of sake, a fragrant, lush example that I believe was the
Koshi no Kanbai "Muku"
from Niigata.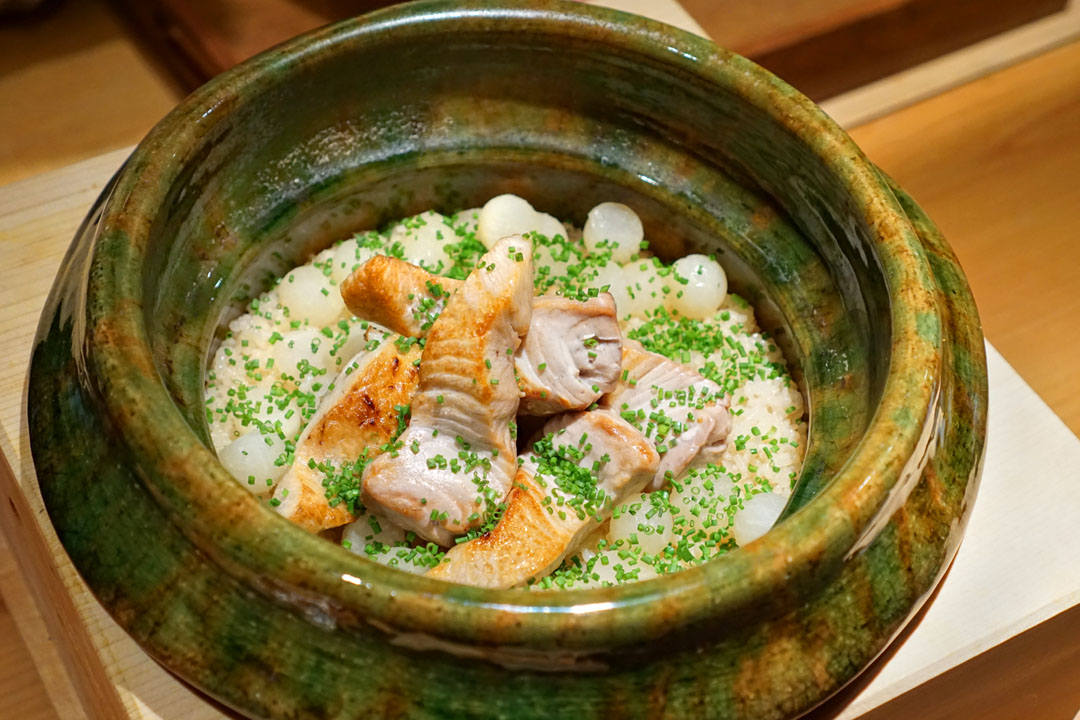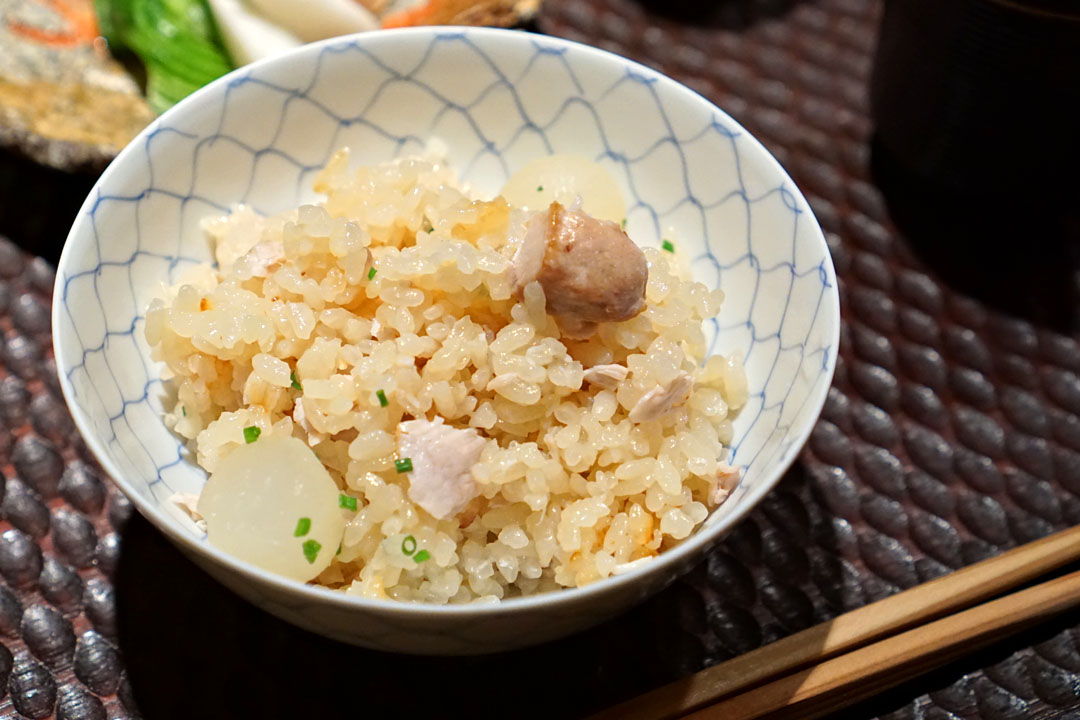 15: Buri-Daikon Kamameshi
Winter is the time for Japanese amberjack, so I was tickled to see it tonight. I found the yellowtail firm and flavorful and of course delicious, but also key was the ginger-y nature of the rice itself, as well as the crunchy, bitter counterpoints from the radish. It all came together rather flawlessly. I managed to eat three bowls, but could've easily done more had the rice not run out.
Accompanying the rice was a cup of
hojicha
, a nutty, roasty tea that certainly heightened the meal's coziness factor.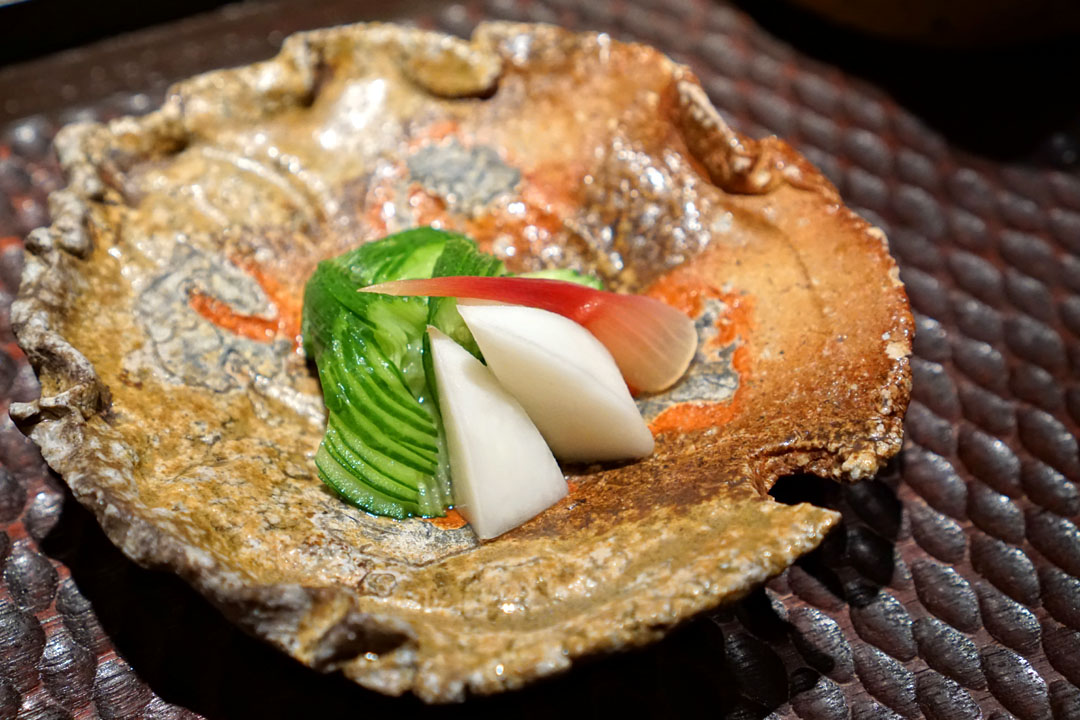 Comprised of pickled turnip, cucumber, and Japanese ginger,
konomono
provided an offsetting crunch and acidity to go along with the rice above.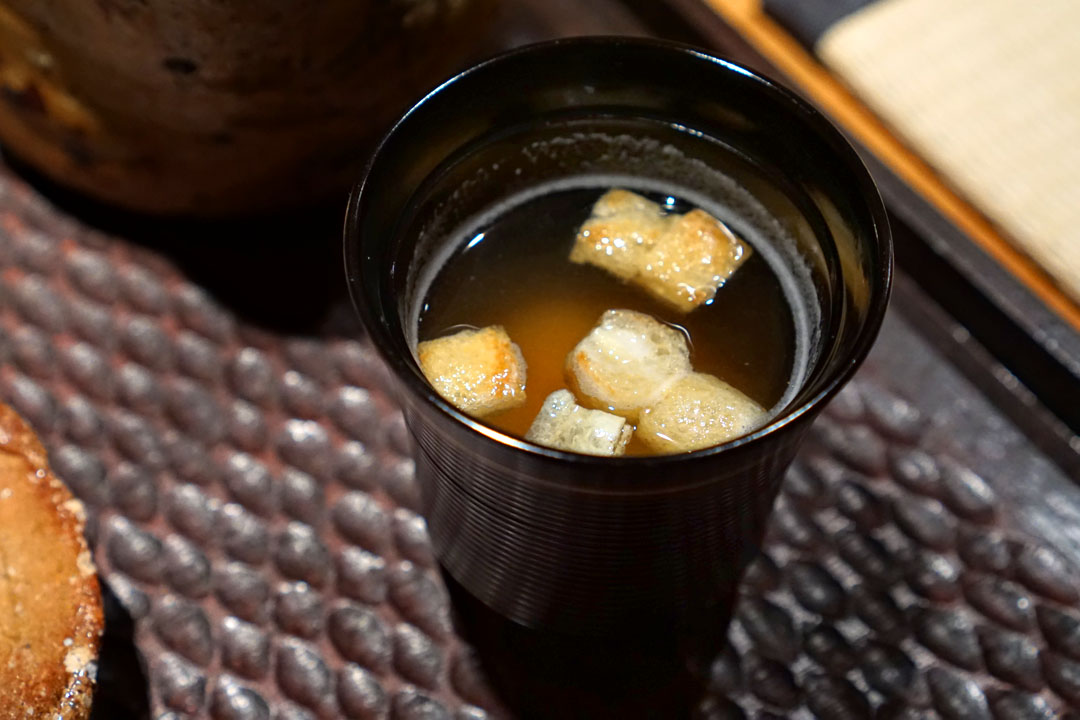 An utterly comforting, toasted tofu-boosted miso soup signaled the end of the savory portion of our meal.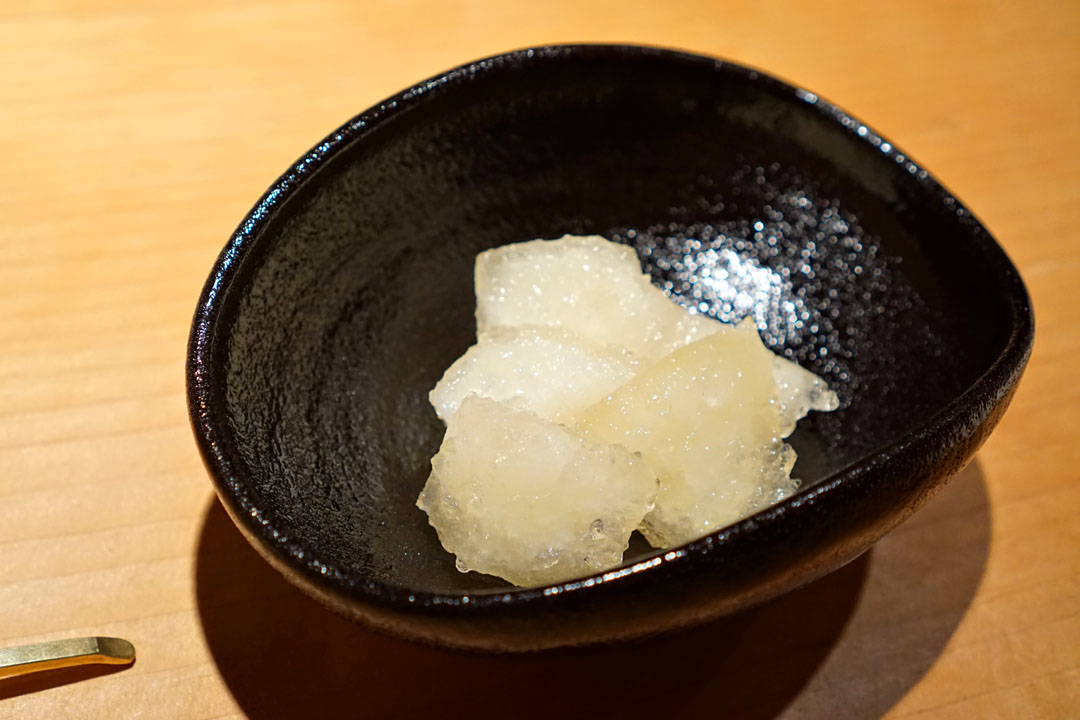 16: Nashi
Sourced from K&J Orchards up in Northern California, Asian pears were marvelously crisp and juicy, but the crux was their coating of sea salt-sake jelly, which imparted hints of durian and mint and made the fruit both more interesting and more scrumptious.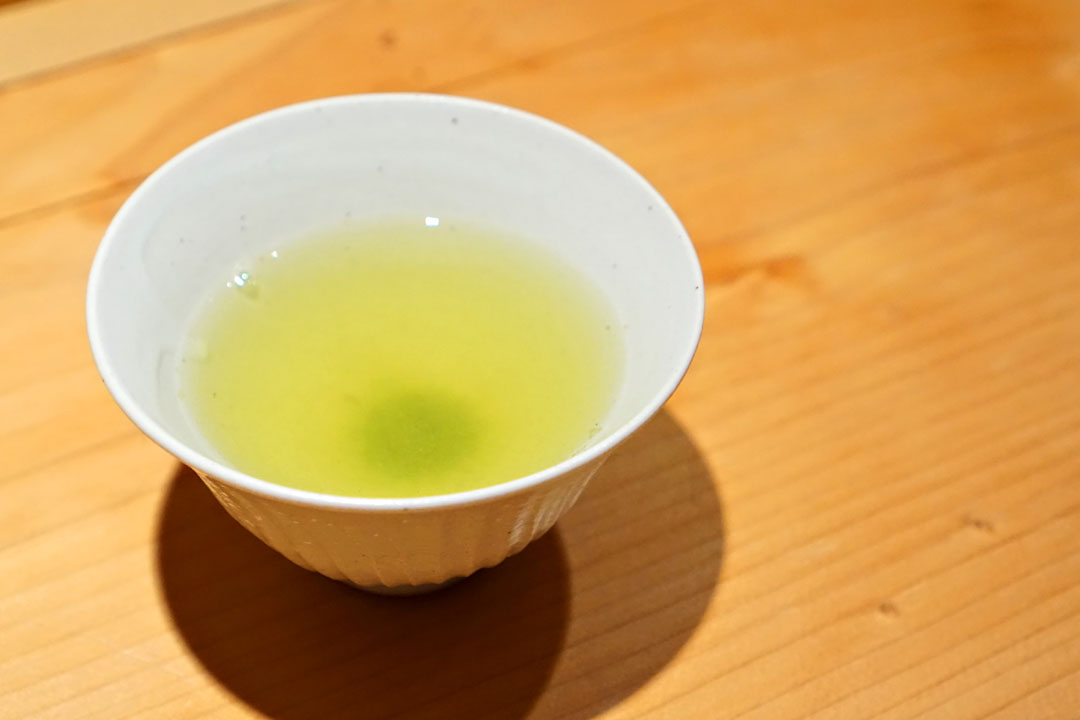 Sencha was served along with the pears, and was ostensibly made from the same source of leaves as the preceding tea. It possessed a vegetal, somewhat astringent character that really did mesh well with the sweetness of the fruit.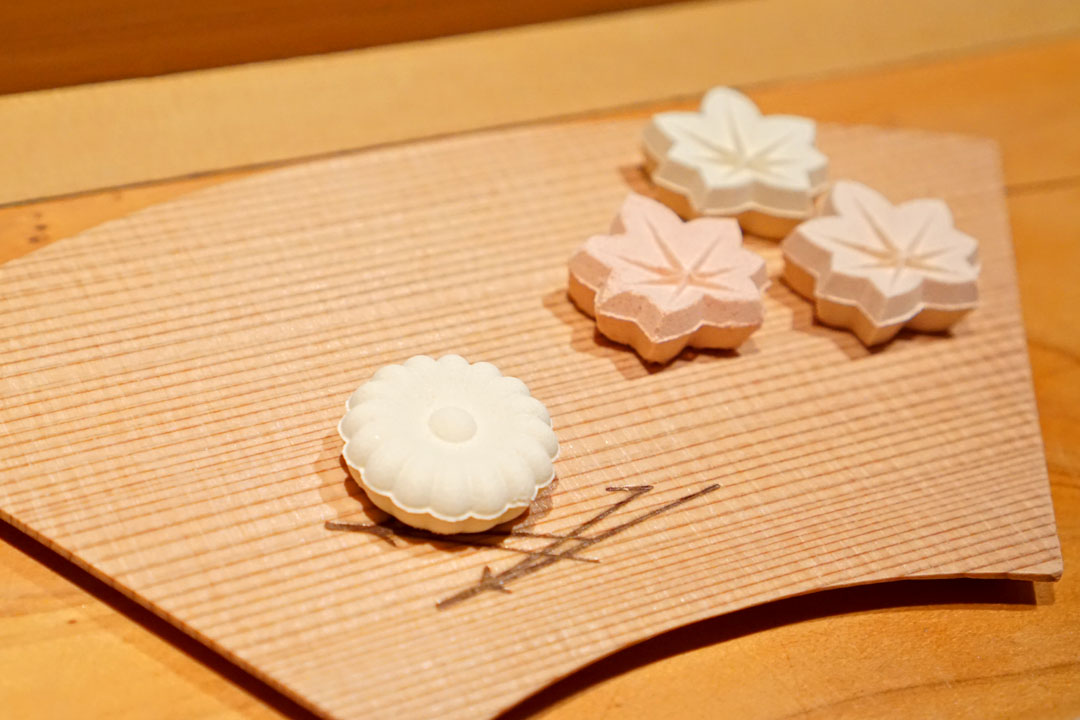 17: Wasanbon
Wasanbon
confections were indeed sugary, yet dainty and delicate at the same time. It'd been ages since I'd last had these, so I was pleased to see the candies tonight.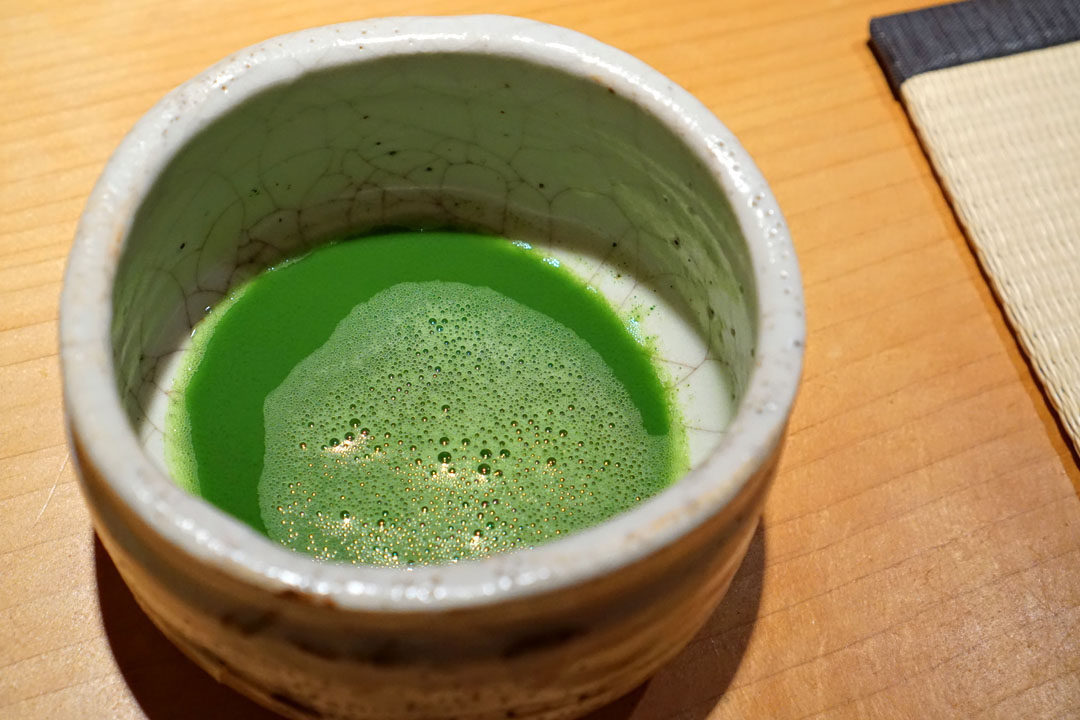 18: Matcha
Finally, a gritty, robust, bittersweet cup of vibrantly-hued matcha was whisked right in front of us by Yuki-san (who did a great job managing the front-of-the-house). The tea made for an apt accompaniment to the
wagashi
above, and also worked as a digestif to close out the night with.
At the conclusion of the evening, I began to think that this dinner was likely my top meal of 2021. And after I took a detailed look at everywhere I've eaten this year, I can now confirm that's the case. Go's cooking is unquestionably pristine, precise, personal, and really does convey the heart and soul of
washoku
. Nobody else in town is doing it like he is, and in fact, if pressed, I'm inclined to deem Hayato the best Japanese restaurant in LA. You should definitely come here if you haven't already, though getting a reservation might be an issue...