Tokki (Los Angeles, CA)
Tokki Korean Tapas
3465 W 6th St, Los Angeles, CA 90020
www.tokki-la.com
Tue 11/23/2021, 08:20p-10:50p

You might recall that I checked out Koreatown KBBQ specialist
Woo Hyang Woo
about a month ago. Well after that meal, I noticed that there was a new restaurant across the street at Chapman Plaza, and the place immediately piqued my interest. Named Tokki (토끼, or "rabbit"), the spot soft-opened in October, and serves a menu of contemporary Korean drinking fare. Tokki is the creation of Patrick Liu, Won-yong Park, and Yohan Park, and the owners have also brought on Chef Sunkyung Jang (a.k.a. Sunny Jang) as a partner.
About the Chef
: Sun-kyung Jang (장선경) was born in September 1990, and hails from Seoul. After finishing high school, she pursued a culinary education, and finished her associate degree in March 2011. Following, she stayed local and began working at Edward Kwon's The Mixed One, then transitioned over to his other place, Lab XXIV, in February 2012. In 2013, Jang came to the US on a J-1 visa and got a line cook job at
Michael Mina
in San Francisco. She stayed there for a bit over a year, but was back in Korea by 2015. She cooked at a few spots around Seoul, including Stereo Kitchen in Seongnam, but then returned to the Bay Area at the start of 2016 to join the opening team at Min-yong Choe's Sushi Hon, which launched that July.
Jang served as head kitchen chef there, and in September 2017, helped open BarnZu, a modern
anju
joint in the Tenderloin also owned by Choe (plans for a second BarnZu location at 250 Hyde were scrapped). She left Sushi Hon in June 2018 for Michael Tusk's much-lauded Quince, and worked as a chef de partie there until the following September. After a brief return to Korea, she was back Stateside in early 2020, but this time in New York, where she cooked at both Junghyun Park's Atomix and his more casual Atoboy. Jang left NYC in September 2020, then relocated to LA to consult on the menu for Tokki, but ended up becoming the Chef proper here.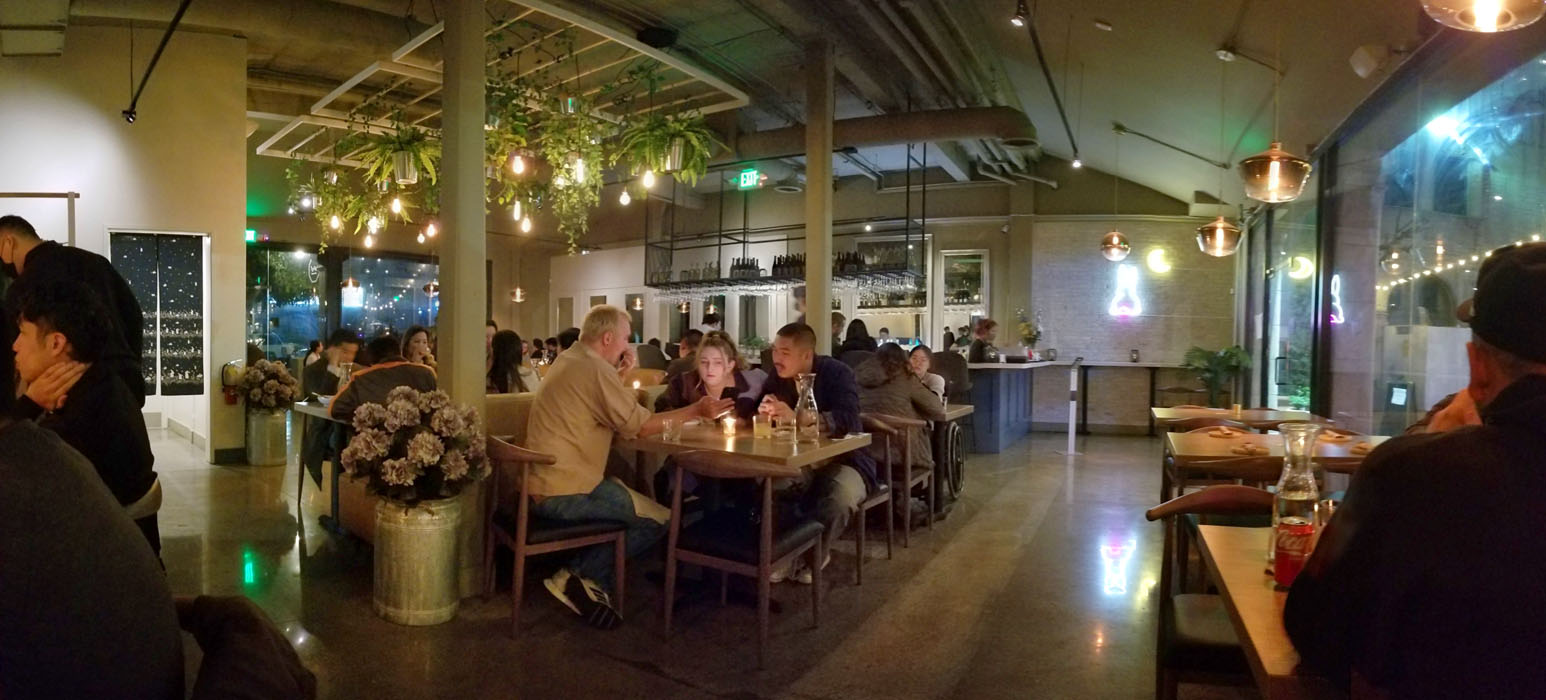 Tokki takes over a Chapman Plaza space that was previously home to Jokbal 1030, and Chapman Hair Salon before that. The room certainly features a lighter, brighter aesthetic compared to the days when the kitchen was slangin' trotters.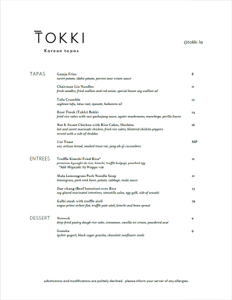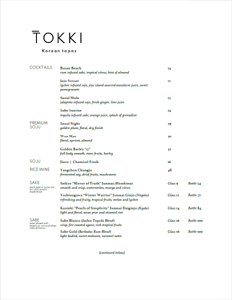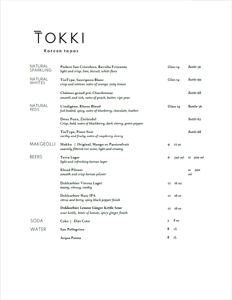 Tokki's menu lists a compact array of reinterpreted Korean dishes, while alcohol-wise, you get low-ABV cocktails, soju and associated rice-based liquors, a smattering of wine, and a few beers. Click for larger versions.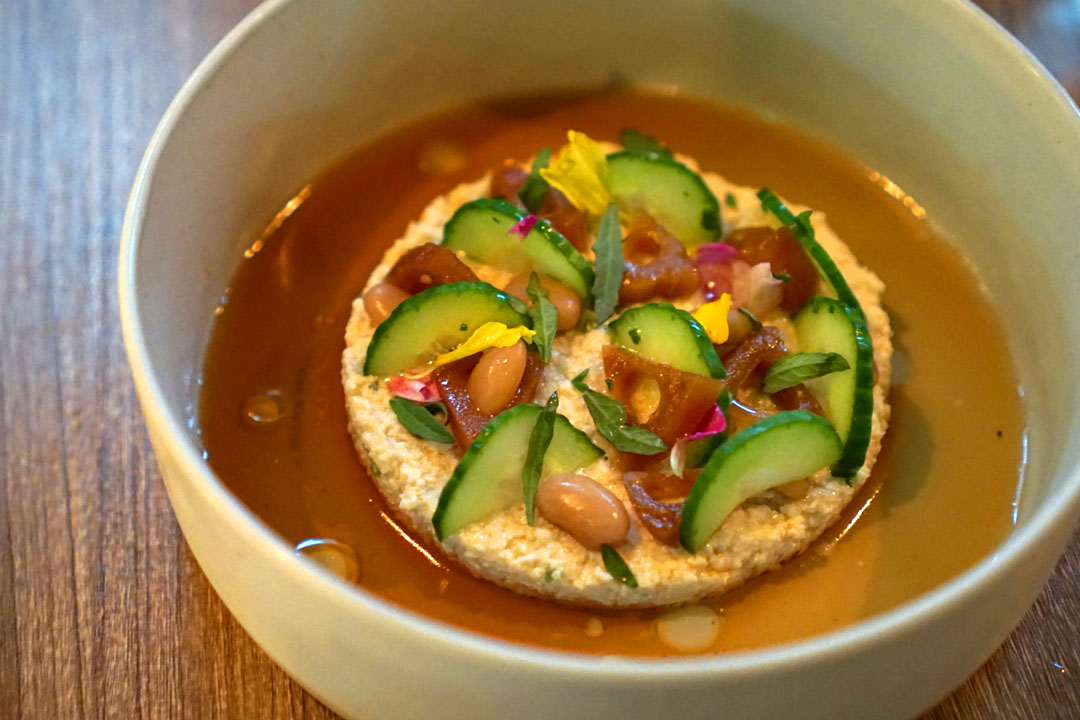 Tofu Crumble [$13.00]
| soybean tofu, lotus root, epazote, habanero oil
Up first came certainly the most inventive tofu dish I've had in recent memory. I loved is unabashed nuttiness and umami, as well as the overarching lightness of the cucumber, while habanero imparted subtle heat on the back end. There was some great textural play as well, and overall, the various elements just came together beautifully. The dish made a strong impression to start, and set expectations high from the get-go.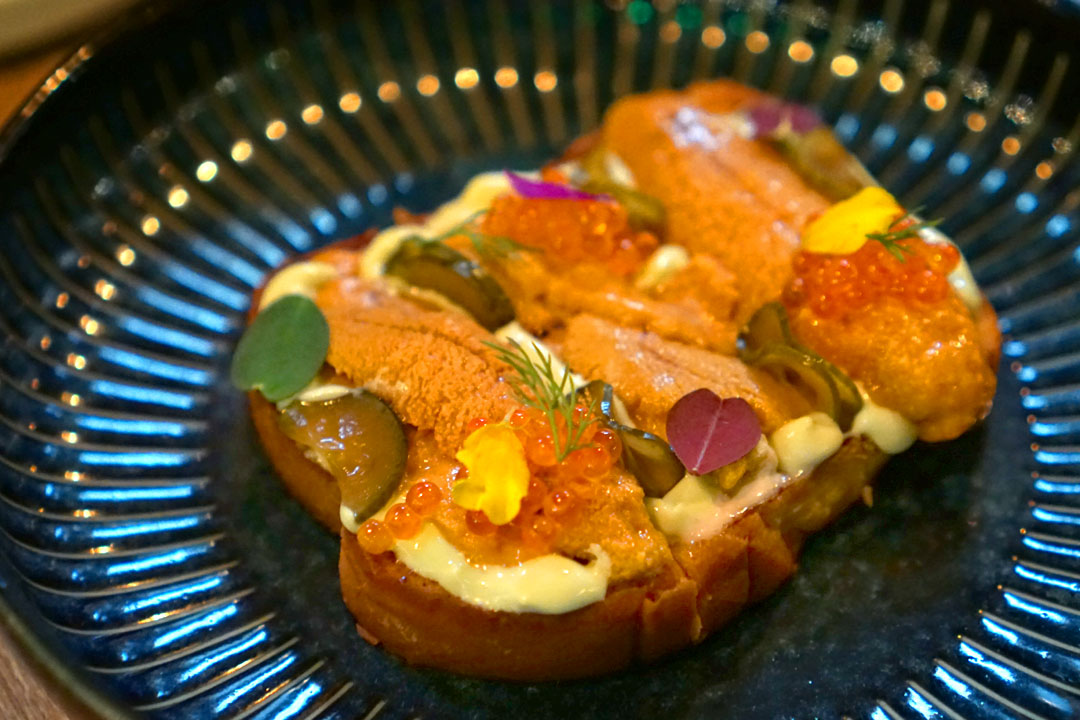 Uni Toast [$32.00]
| uni, artisan bread, smoked trout roe, jang-ah-jii cucumbers
Uni toast has perhaps been a bit overexposed on LA menus over the past decade or so, but fortunately, Tokki's version was easily one of the most effective I've had. The Santa Barbara sea urchin showed off its signature combination of sweet and saline in spades, but the crux here was the counterpoint of smoke provided by the trout roe, which really served as the perfect finishing touch. I also appreciated the moderating effect of the toasty, sweet-ish bread.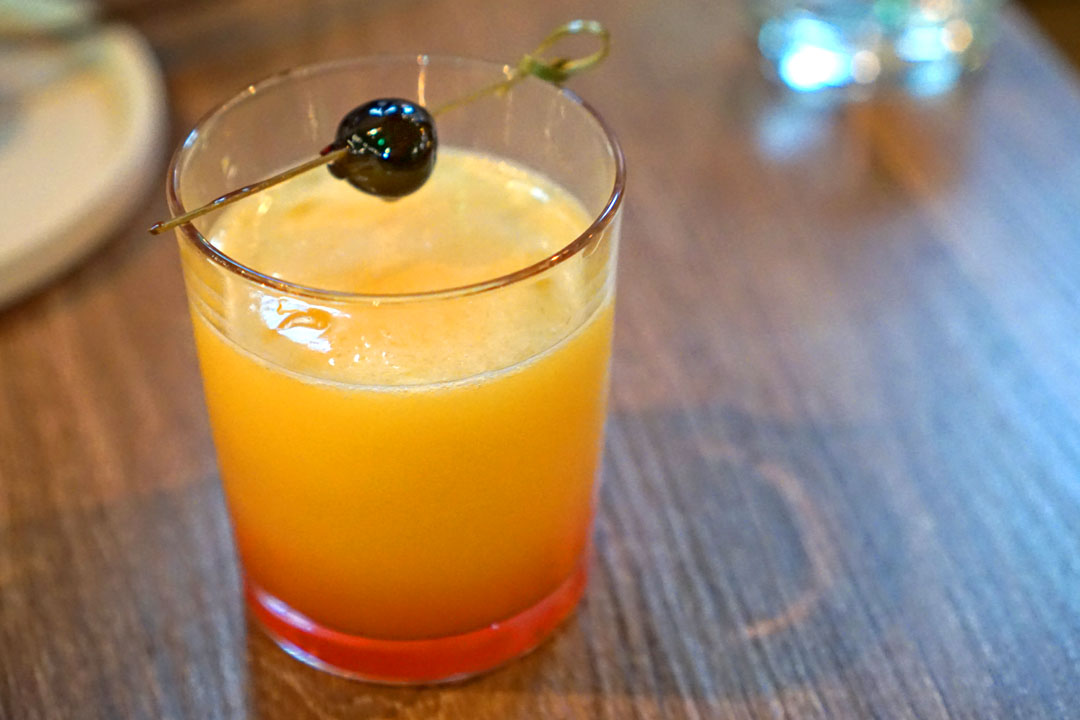 Sabe Sunrise [$14.00]
| tequila infused sake, orange juice, splash of grenadine
Our first cocktail was a soju-based riff on the classic tequila sunrise. It was about what I expected, and tasted of orange juice with a bit of a boozy, bitter backing.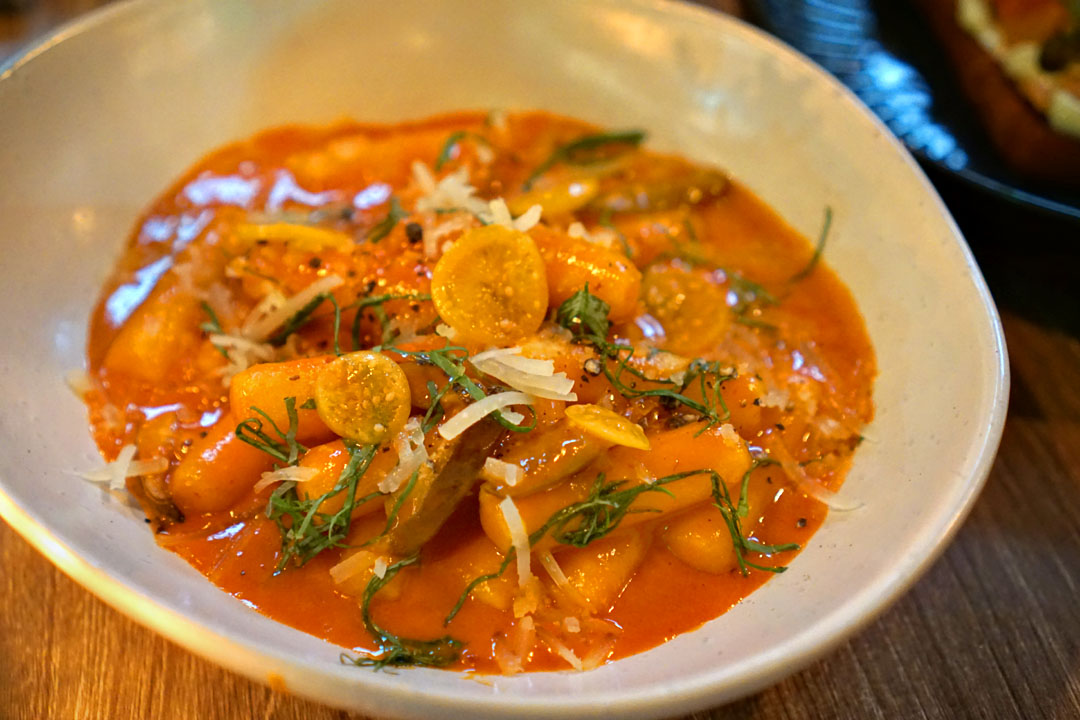 Rosé Tteok (Tokki) Bokki [$14.00]
| fried rice cakes with rosé gochujang sauce, oyster mushrooms, manchego, perilla leaves
I'm actually not a huge fan of
tteokbokki
normally, but I'm happy to report that Jang's just might've been the best I've ever had. This wasn't just because of the perfectly chewy texture on the rice cakes; rather, the key was that sauce, which conveyed a creamy elegance and multifaceted spicing that was so much more interesting than the blasts of gochujang-fueled heat that you taste in most preparations. I also liked the pops of pungency from the inclusion of whole peppercorns, and appreciated the contribution from those mushrooms, too.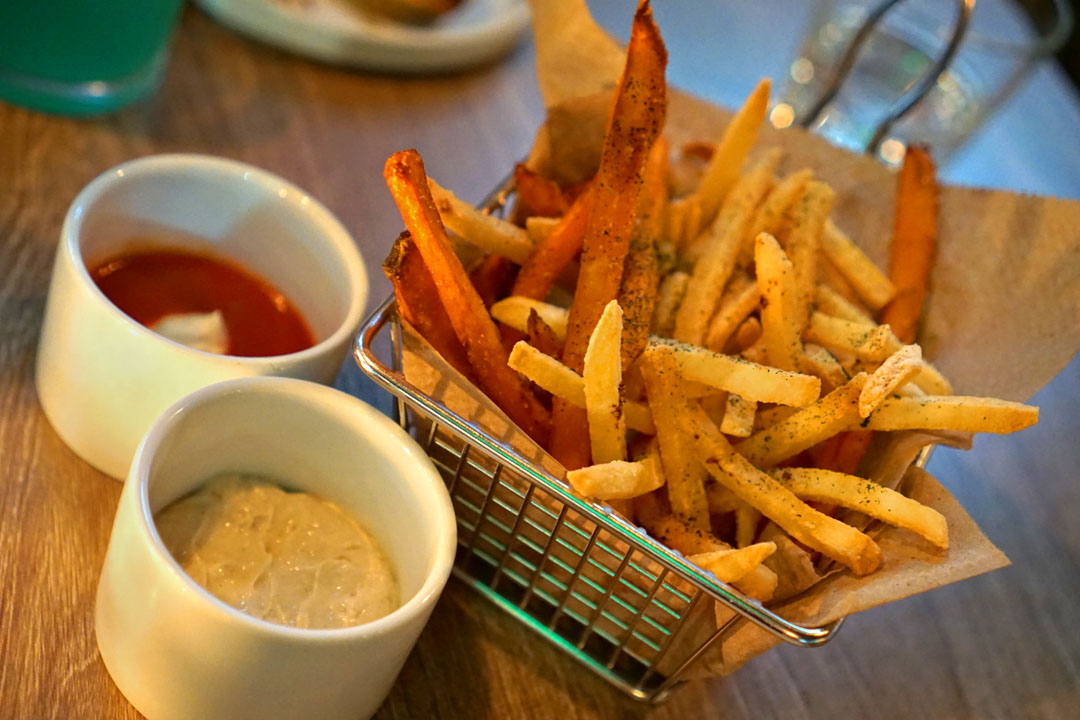 Gamja Fries [$8.00]
| sweet potato, idaho potato, porcini sour cream sauce
French fries came out well-textured and well-seasoned, and though I don't prefer sweet potato fries, I did appreciate how they mixed things up here. Condiments included a creamy mushroom dip and a tangy, floral hot sauce.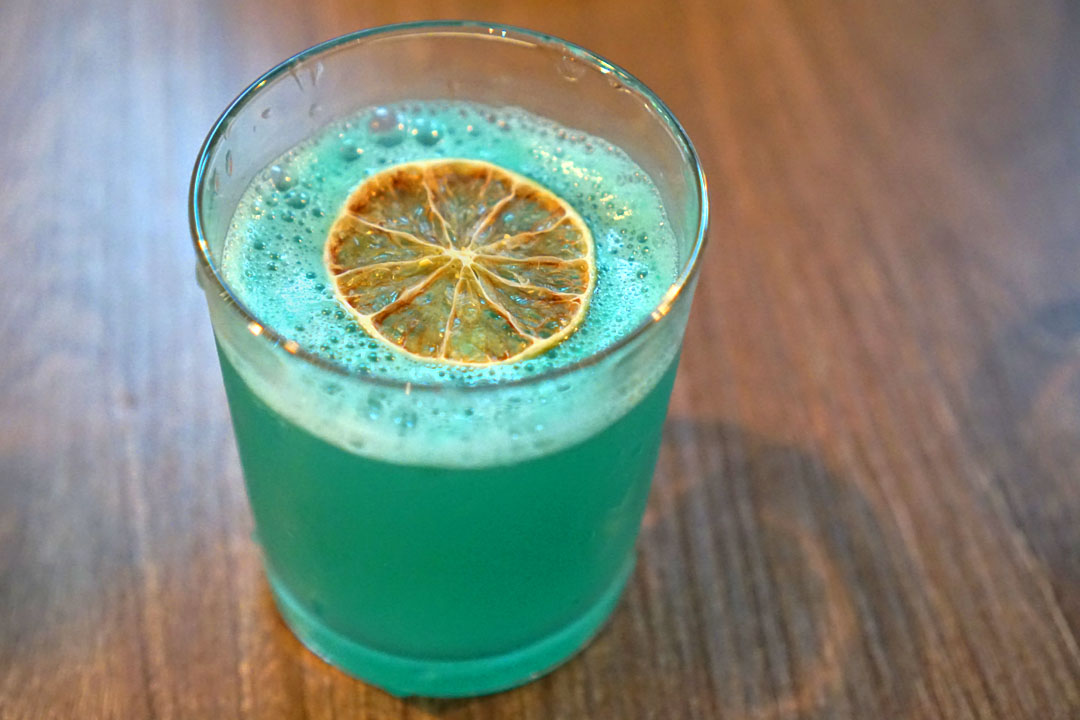 Busan Beach [$14.00]
| rum infused sake, tropical citrus, hint of almond
This aqua-hued cocktail was certainly visually striking, but was my least favorite of the four we tried: think of a cloying sweetness transitioning to bracing notes of urinal cake.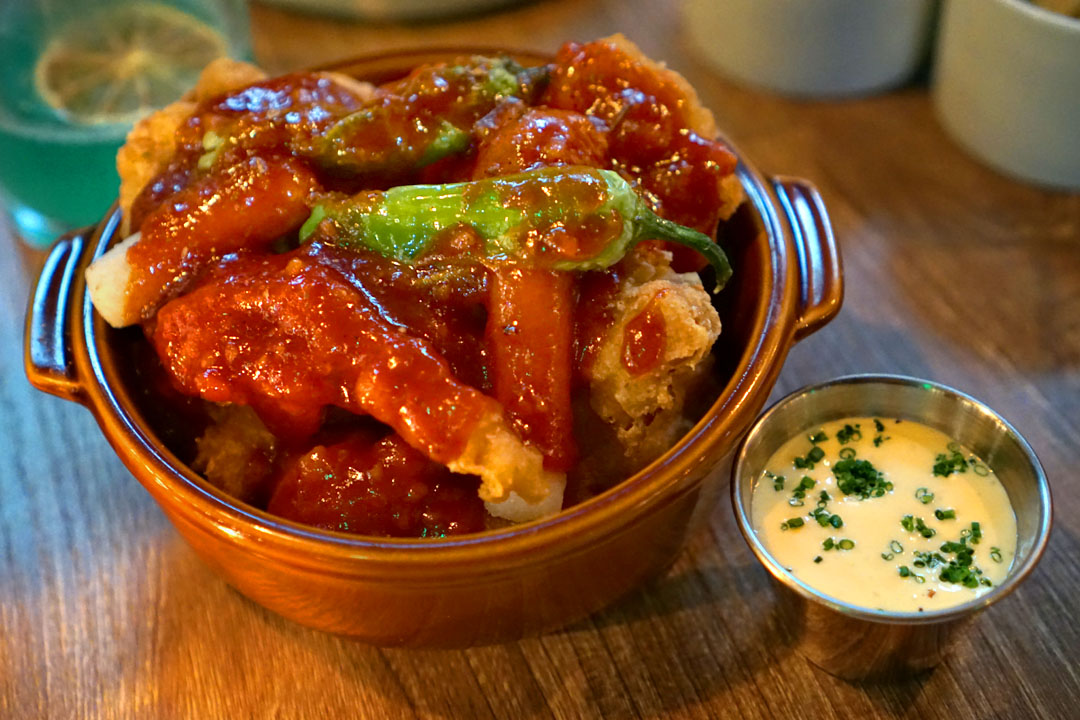 Hot & Sweet Chicken with Rice Cakes, Shishito [$16.00]
| hot and sweet marinade chicken, fried rice cakes, blistered shishito peppers, served with a side of cheddar
In what I assume must be an ode to
yangnyeom chikin
, juicy, crunchy cuts of the bird were enveloped in a piquant sweet heat, while an impossibly airy cheese dip tempered the flavors at play. At the same time, crispy batons of
garae tteok
and smoky shishitos prevented things from becoming too monotonous.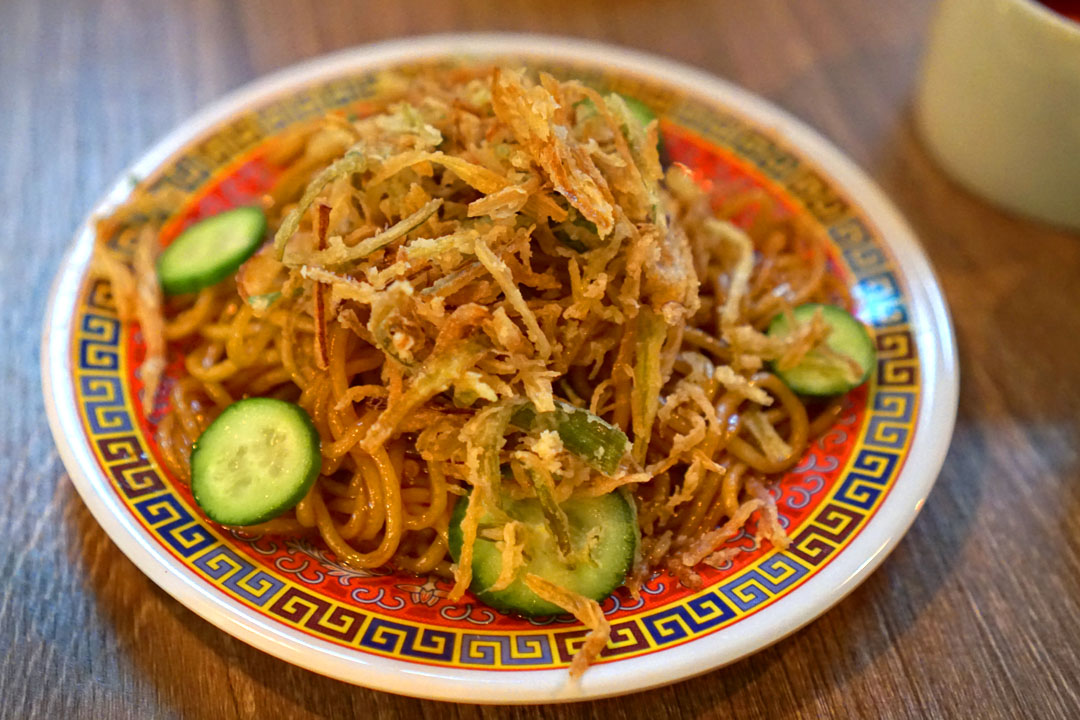 Chairman Liu Noodles [$11.00]
| fresh noodles, fried scallion and red onion, special house soy scallion oil
Named in honor of co-owner Patrick Liu, these noodles showcased a sticky, chewy consistency that I enjoyed, while flavors were unexpectedly intense, deep, savory. I also enjoyed the crunchy, salty kicks from the fried onions, as well as the necessary brightness and crunch of the cucumbers.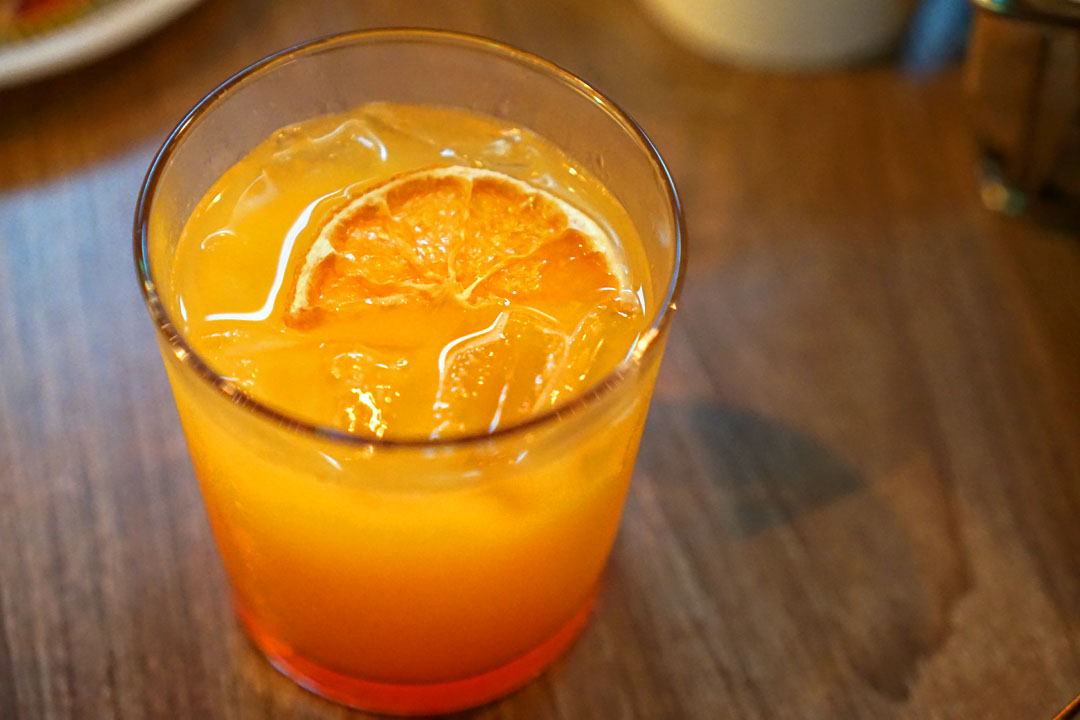 Jeju Sunset [$13.00]
| lychee infused soju, jeju island sourced mandarin juice, sweet pomegranate
The evening's third cocktail looked very similar to the first, which I suppose makes sense since sunsets are analogous to sunrises. However, in terms of taste, things were quite different thanks to the drink's massive amounts of fragrant lychee and generally soft, fruity disposition.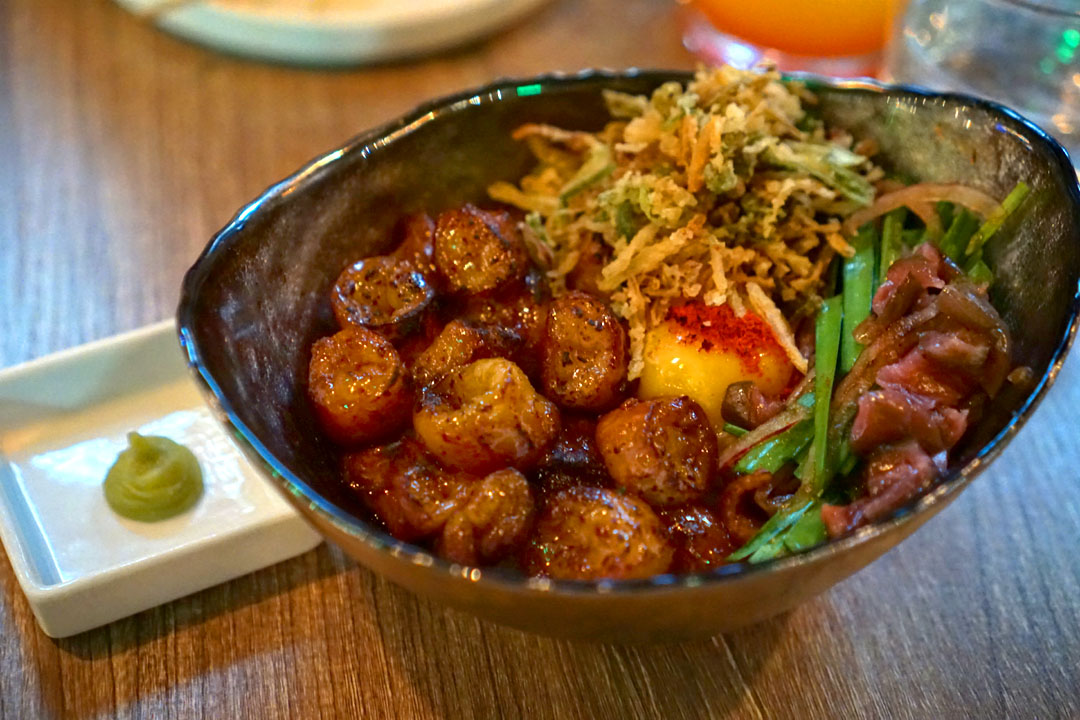 Dae-chang (Beef Intestine) over Rice [$23.00]
| soy glazed marinated intestines, tomatillo salsa, egg yolk, side of wasabi
This may have been the best
daechang
I'd ever tasted. I loved the back-and-forth between the intestines' crispy, charred bits and fatty insides, while flavors represented a deft marriage of sweet, savory, smoky, and earthy. Given the strong flavors present, the inclusion of scallions, mushroom, pickles, and wasabi was absolutely crucial for balance, and I was also pretty enamored with the way the egg meshed with the rice.
Kalbi steak with truffle aioli [$29.00]
| angus prime sirloin flat, truffle pate aioli, kimchi and bean sprout
Tokki's interpretation of galbi was a bit messy in terms of presentation, but the flavors were definitely there. I got all the classic sweet and savory notes I wanted, which made total sense with the char and smoke going on. Also welcomed was the zippiness of that green sauce on top, but the most intriguing, yet effective component here were the beans.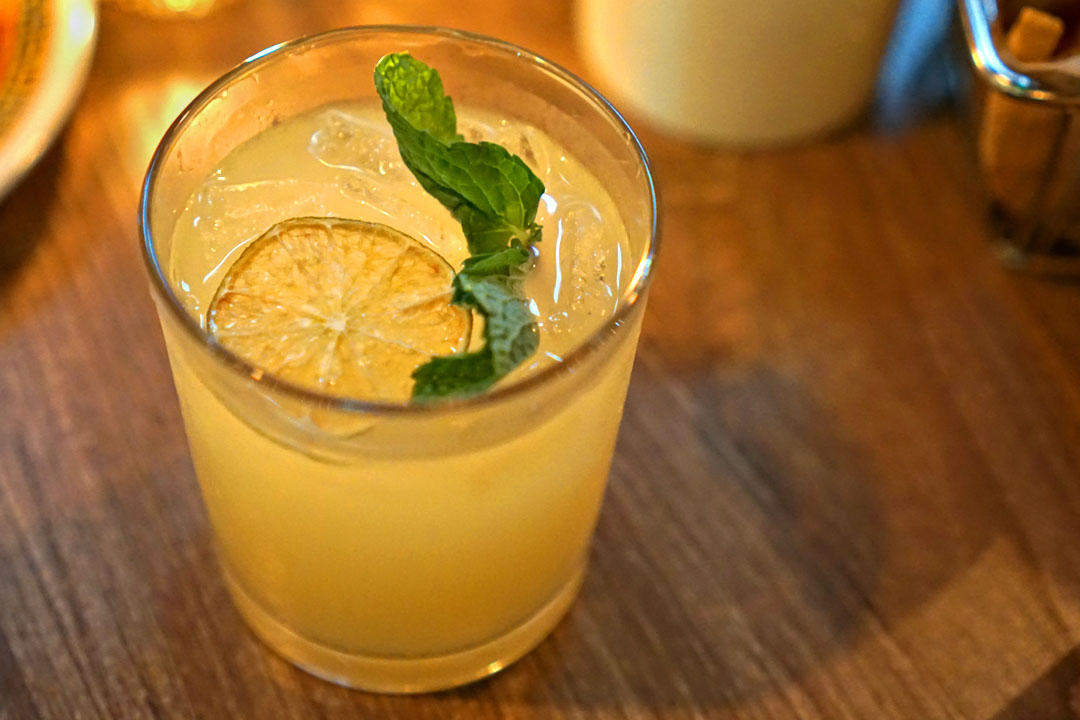 Seoul Mule [$13.00]
| jalapeño infused soju, fresh ginger, lime juice
Our final cocktail was the most aggressive of the foursome. It certainly wasn't shy about the ginger or the chili pepper, but the two actually kept each other in check.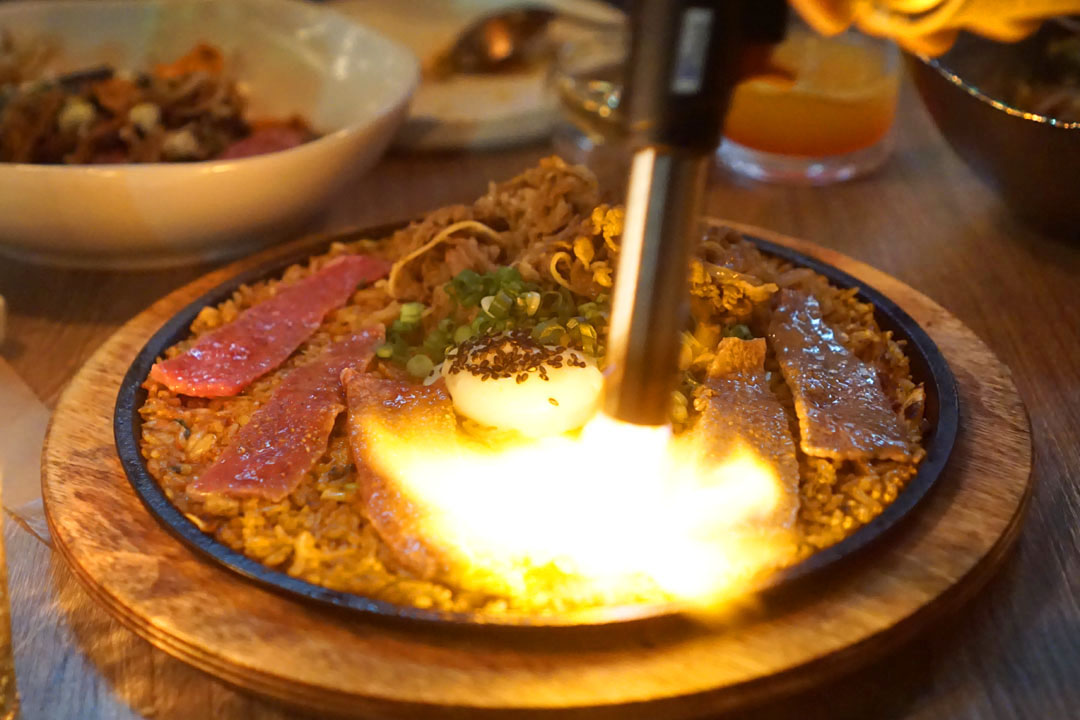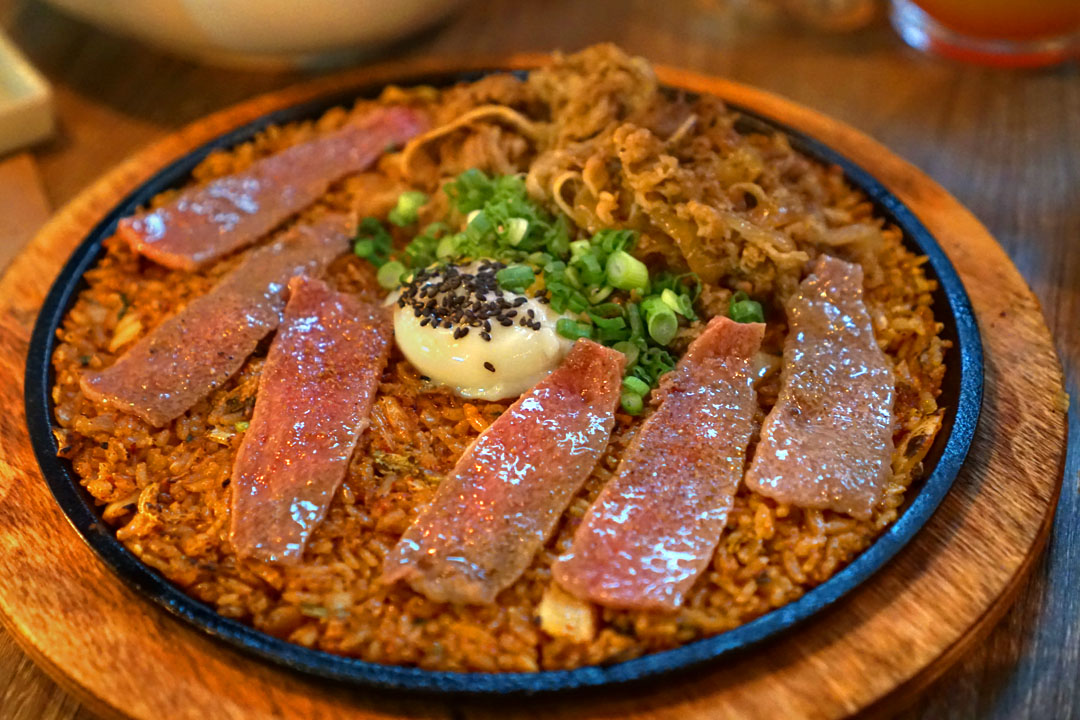 Truffle Kimchi Fried Rice + Miyazaki A5 Wagyu [$21.00 + $19.00]
| premium kyungki-do rice, kimchi, truffle bulgogi, poached egg
Jang's
bokkeum bap
was a contender for the best I've had, not only due to the meat--supple cuts of delectable truffle-scented bulgogi as well as decadent wagyu--but the rice itself, which had far more depth and complexity than usual. Indeed, I really enjoyed how the funk and latent heat of the kimchi was incorporated, but the icing on the cake was the dish's delightfully crunchy layer of
nurungji
.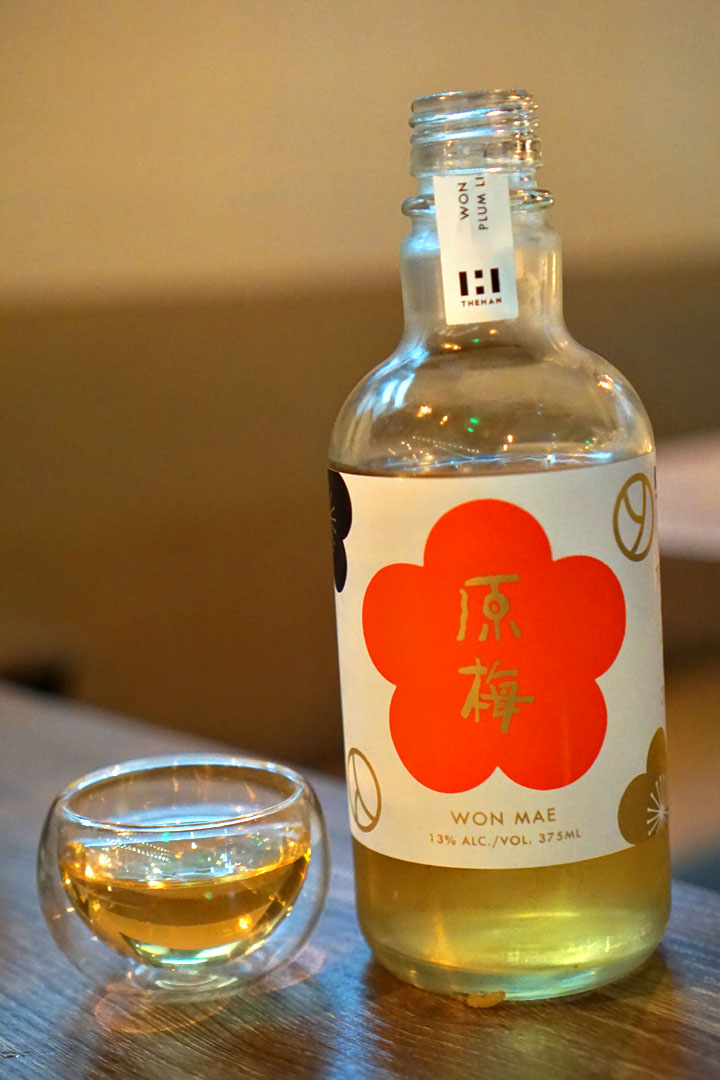 With the cocktails dispensed with, we ordered a bottle of
Won Mae [$30]
plum liquor. I found the
maesil ju
soft, fruity, and floral, with an apple juice-like sweetness offset by spicier, almost cough syrup-esque notes.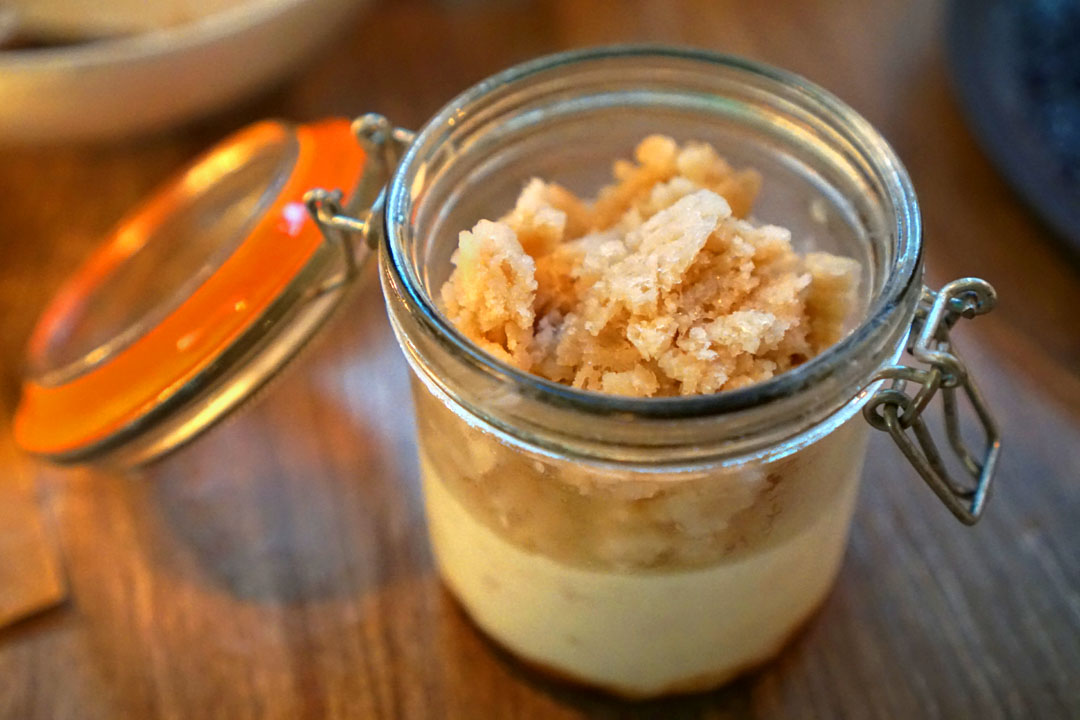 Granita [$9.00]
| lychee yogurt, black sugar granita, chocolate sunflower seeds
In our first dessert, a base of rich, sugary syrup on the bottom provided a bevy of dark fruit flavors that paired easily with the comparatively light, lactic, lychee-boosted yogurt. I didn't get much from the advertised sunflower seeds, though.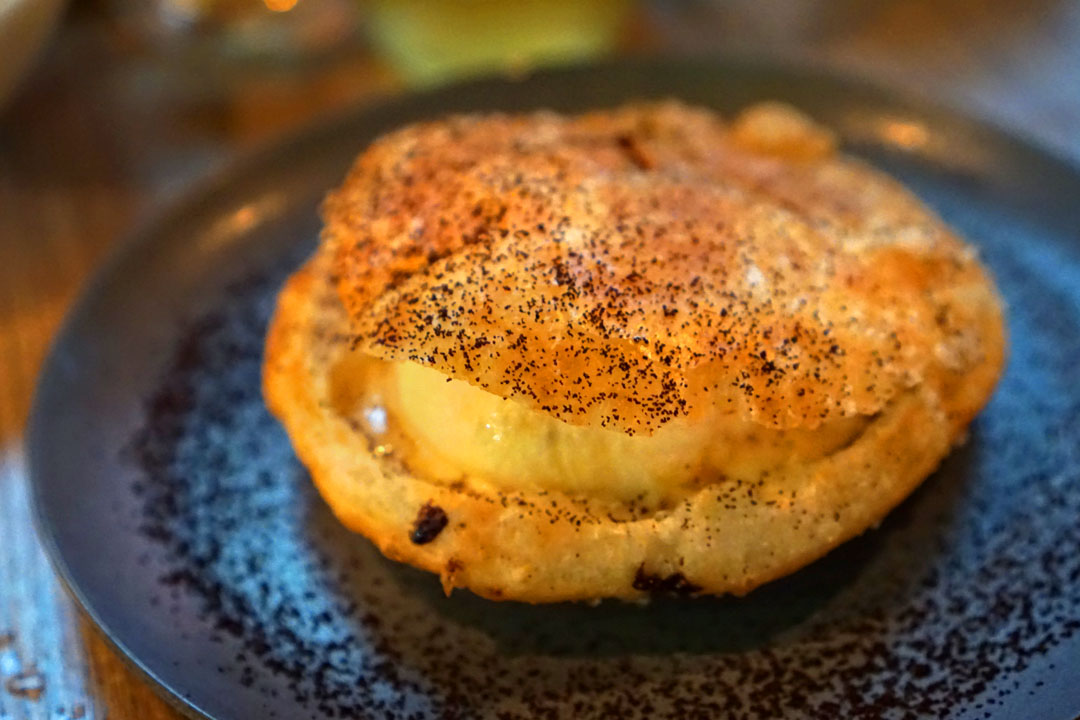 Hotteok [$9.00]
| deep-fried pastry dough rice cake, cinnamon, vanilla ice cream, powdered acai
We'll conclude with the
hotteok
, which I found wonderfully buttery and sweet, but with a familiar savory edge and a nice crispness to the pastry. The pancake was certainly enjoyable alone, but melded perfectly with its filling of vanilla ice cream, making for an uncompromisingly delicious parcel that was no doubt one of the tastiest desserts I've eaten all year.
I was impressed with my dinner at Tokki, especially given that the place just opened a few weeks ago, and for me, it's one of the most promising restaurant debuts of recent times. The food does a great job showcasing classic Korean flavors and preparations in a new light, and features a level of polish and aplomb that pays respect to tradition while also imparting a fresh perspective to the cuisine. I'm truly excited to see what the team has in store for us, and it's my hope that Tokki will be Jang's Atoboy to her future Atomix.