Good Clean Fun (Los Angeles, CA)
Good Clean Fun Wine Bar
868 S Olive St, Los Angeles, CA 90014
323.600.3016
www.goodcleanfundtla.com
Tue 11/30/2021, 08:05p-11:40p
My latest foray into the Downtown dining scene brought me to the cheekily-monikered Good Clean Fun, a wine shop and nighttime bistro situated at the bottom of the Level high-rise building, immediately south of
Modern Times
. The business actually shares a space with Yeekai Lim's Cognoscenti Coffee, and opened at the end of February. The focus here is on natural wines and similarly-minded beers, ciders, and sakes, while the food program blends Mexican flavors with Mediterranean and East Asian influences. Good Clean Fun is the brainchild of Portland native Ian Asbury, a Manuela/Barton G vet most known in LA as the co-founder of grilled cheese slanger Cheezus. He's partnered up with fellow Oregonian (and Cheezus co-owner) Arielle "Ari" Stevens for GCF, and the two have installed Chef Jesus Ramirez-Arteaga in the kitchen.
About the Chef
: Ramirez was born in October 1993, and hails from Tarzana. After finishing high school, he attended college but dropped out, and also shunned a formal culinary education. Instead, he got his start in the kitchen by working in fast food, eventually landing at Chipotle. Ramirez was able to secure a position at the Arts District's Eat Drink Americano in 2016, but in December that year, moved down the street to
Manuela
, then under the control of Wes Whitsell. He stayed there through Whitsell's departure and
Kris Tominaga
's subsequent hiring, but lost his job in 2020 as a result of the pandemic-induced shutdowns. However, he was quickly recruited by Asbury to lead things here at GCF (remember, they worked together at Manuela).
Ramirez is joined in the kitchen by Pastry Chef Marina Pilar-Aranda, who grew up in Rancho Cucamonga. A former oral surgery assistant, she got her culinary training through The Chef Apprentice School of the Arts, an organization that trains students through externships at actual restaurants. Interestingly, Aranda actually apprenticed at
Clifton's
in 2017 before landing her first proper position at Bret Thompson's Pez Cantina. She started at Manuela in May 2019, and was also let go due to COVID-19, but like Ramirez, was soon asked to join Good Clean Fun's opening team.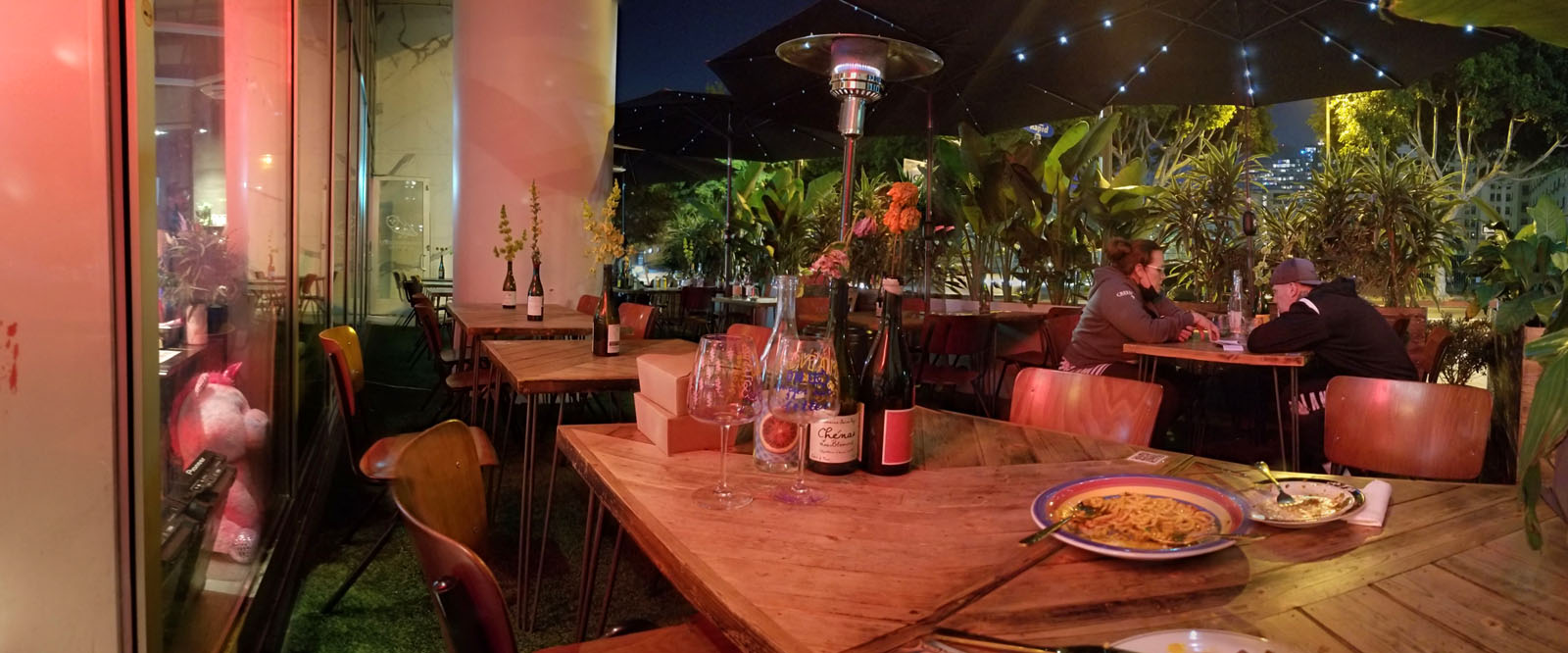 As far as I could tell, patio seating is the only option here, which I didn't mind.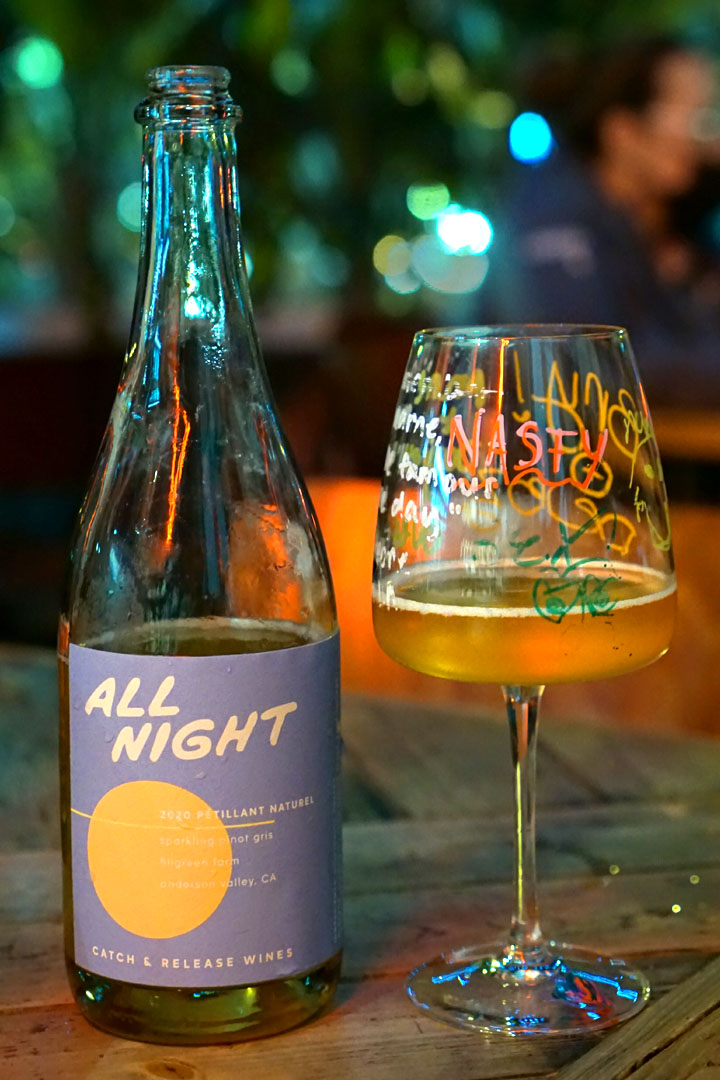 Regular readers will know that I'm quite the fan of sparkling wine, so I decided to get started with a bottle of the
Catch & Release 'All Night' Pet Nat 2020 [$74]
. Made from Pinot gris, this one had a bouquet rife with sour stone fruit, backed by barnyard and boozy heat. Taste-wise, I got a growing peach ring-esque sweetness evened out by a layer of minerality and an omnipresent acidity. Really fun, and actually a bit beer-like.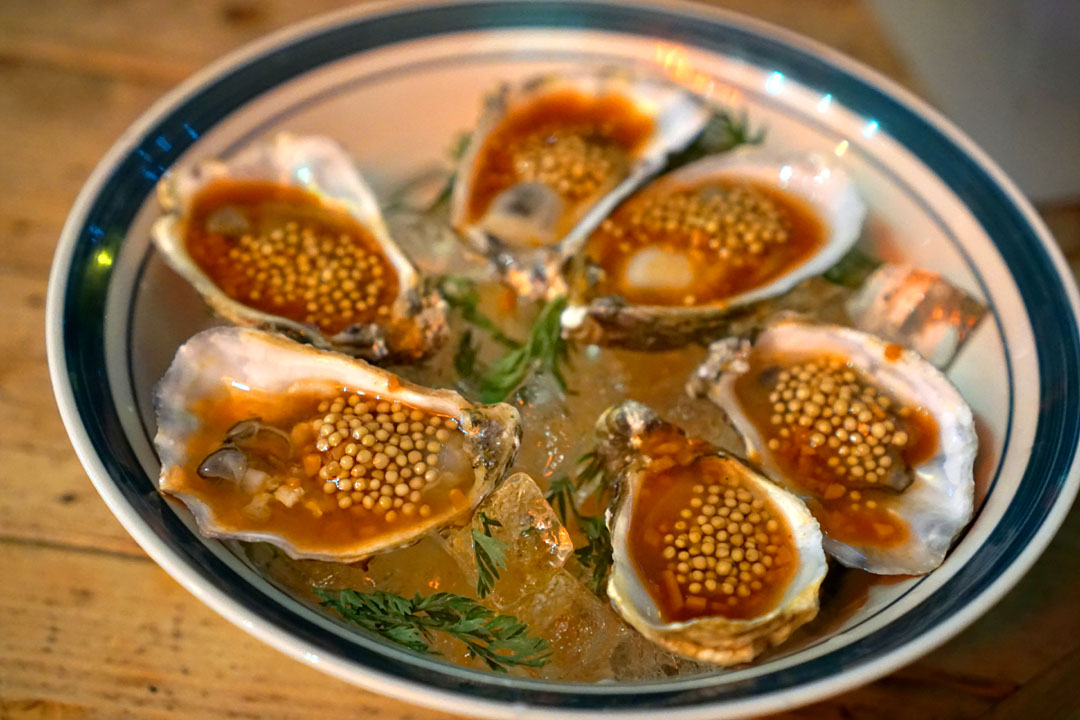 Rawwwww Oysters [$20.00]
| Oyster(s) Served on the Half Shell with Hibiscus Mole Vinaigrette & Pickled Mustard Seeds
I will say that I'd never had oysters quite like this before. What struck me was the somewhat discordant back-and-forth between zingy mustard and the fruitiness of the vinaigrette, and how that played with the dish's omnipresent brine. It all sort of made sense in an unexpected way, and I liked the textural contrast from those seeds, too.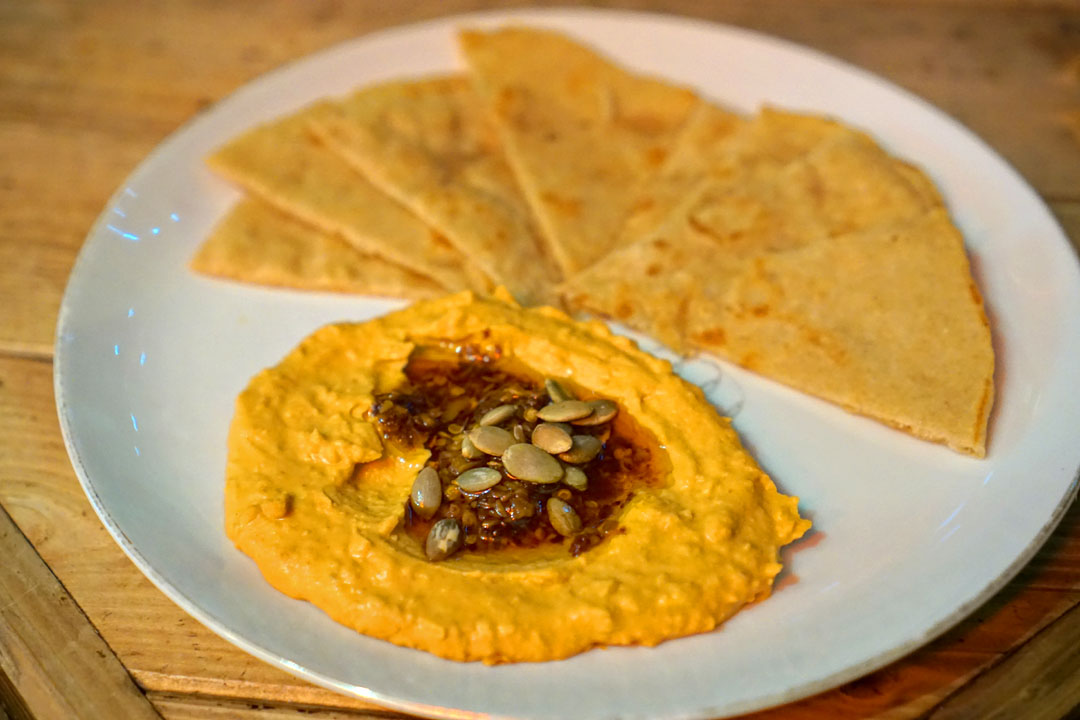 Transcendent White Bean Hummus [$12.00]
| Salsa Macha, Garlic, House Flatbread
I wouldn't necessarily call the hummus "transcendent," but it
was
pretty damn good. The beans had a slightly sweet-n-sour flavor profile, but the key was the nutty heat of that salsa macha, which had a familiar, almost Chinese-y feel to it. No complaints about the thin, floppy flatbread, either. A surprise standout.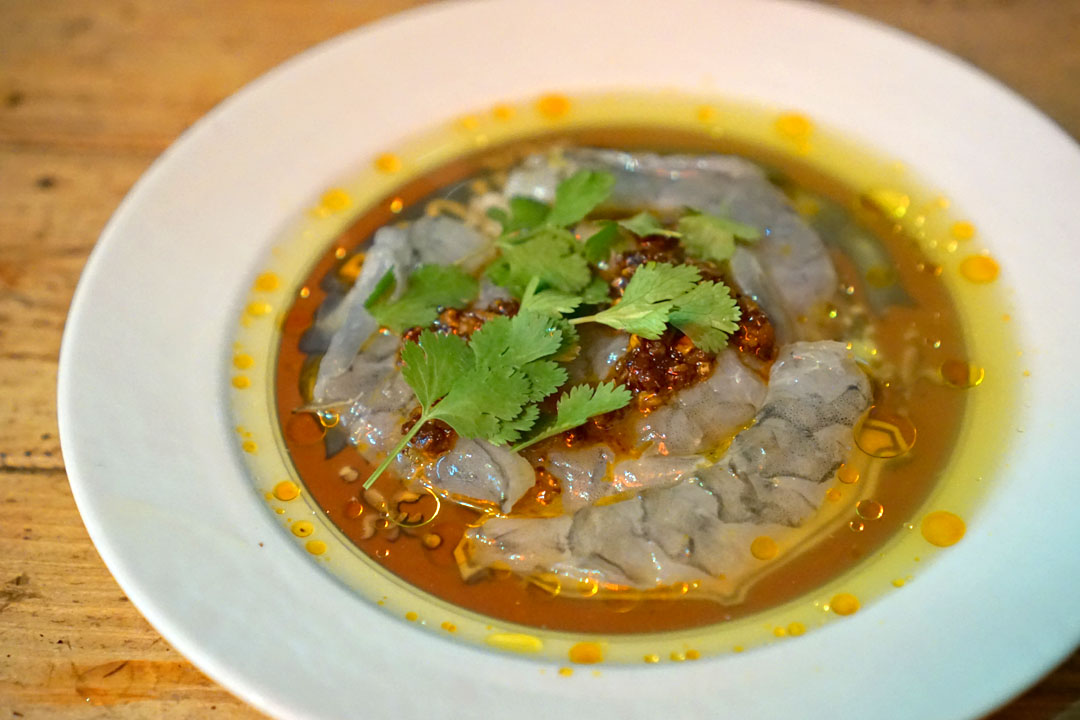 Magnificent Prawn Crudo [$19.00]
| Apple Jalapeno Vinegar, Salsa Macha, Cilantro
Raw shrimp arrived clean and crisp, their subtle salinity pairing easily with the spicy depth of the salsa while cilantro imparted a welcomed herbaceousness on the finish.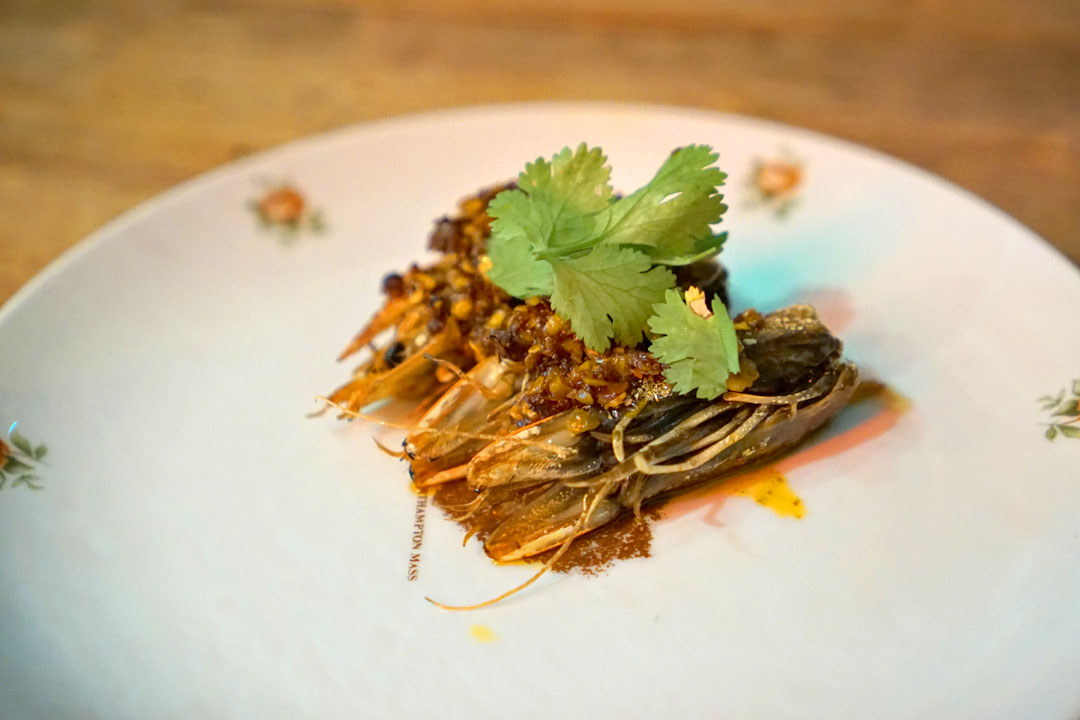 We were then presented with the shrimp heads, which ate rich and buttery, with a tad bit of smoke.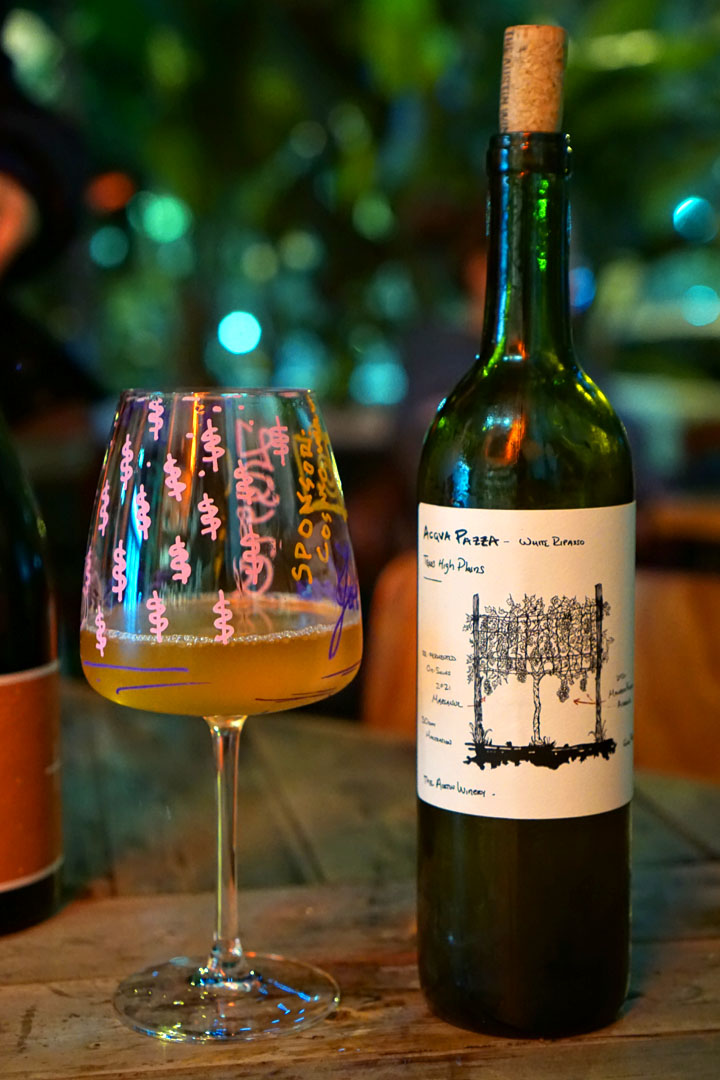 At this point we moved to glasses of wine, and first up was
The Austin Winery 'Acqua Pazza' 2020 [$15]
, made from Malvasia bianca, Albariño, and Marsanne. The juice had a hugely intense nose brimming with flowers and lychee, while its palate was similarly aggressive, boasting massively floral, perfume-y notes moderated just enough by traces of minerality. Whoa.
Baked Oysters (Str8 Fire) [$20.00]
| Mole Butter, Estero Gold, Breadcrumbs
Here we have what might've been a riff on Oysters Rockefeller. Think unabashedly cheesy at first blush, with some nice caramelized bits and an underpinning of mole-fueled spice.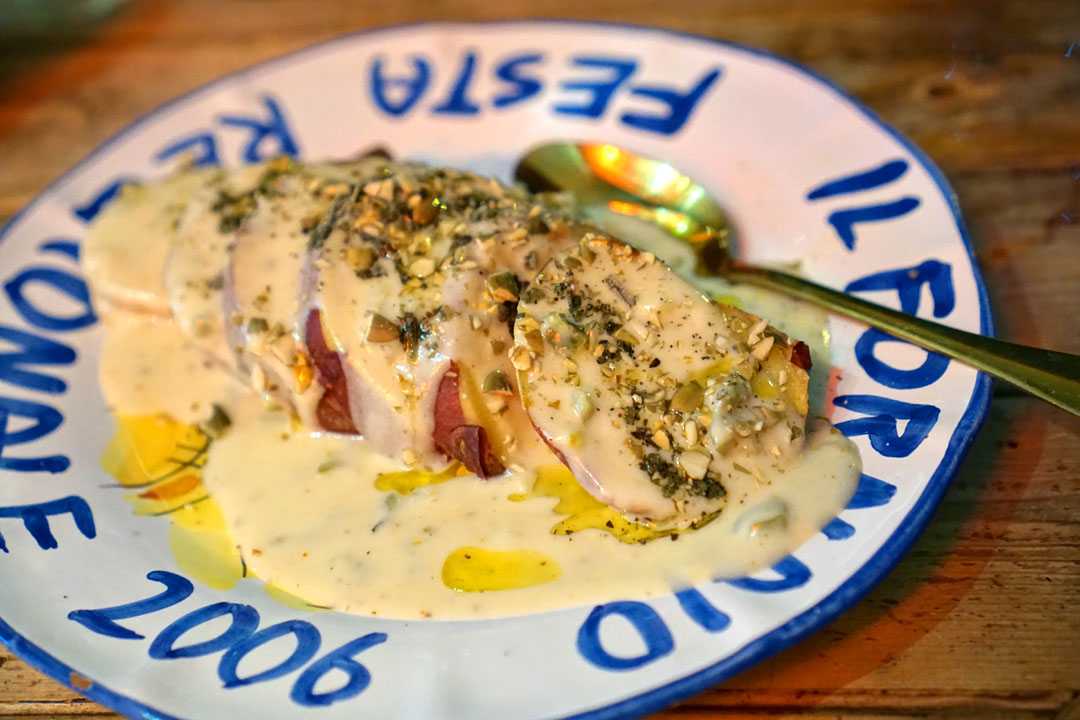 A Magical Sweet Potato [$14.00]
| Japanese Purple Sweet Potato, Goat Cheddar, Mornay, Crushed Pepitas, Fried Sage
I'm not sure if I'd classify this as "magical," but the sweet potato was indeed one of the best versions of the root veggie that I've had. I really appreciated how the tuber's sweetness was kept in check by the lush, cheesy nature of the Mornay, while just as crucial were the aromatics from the sage.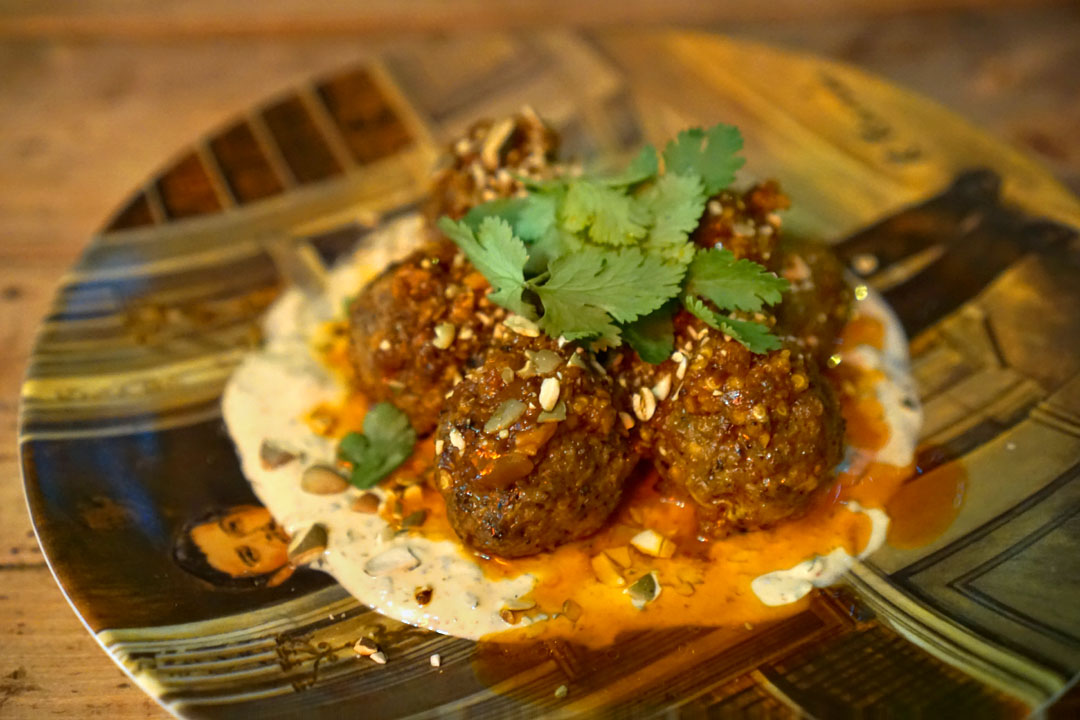 Sweet & Spicy Meatballs [$12.00]
| Ground Lamb, Prickly Pear Sticky Salsa, Herbaceous Yogurt, Cilantro
Meatballs are generally a must-get for me, and GCF's did not disappoint. I was quite the fan of the lamb's delightfully savory spice, and how that melded with all the nutty, creamy, and herby nuances in the dish. A crowd pleaser.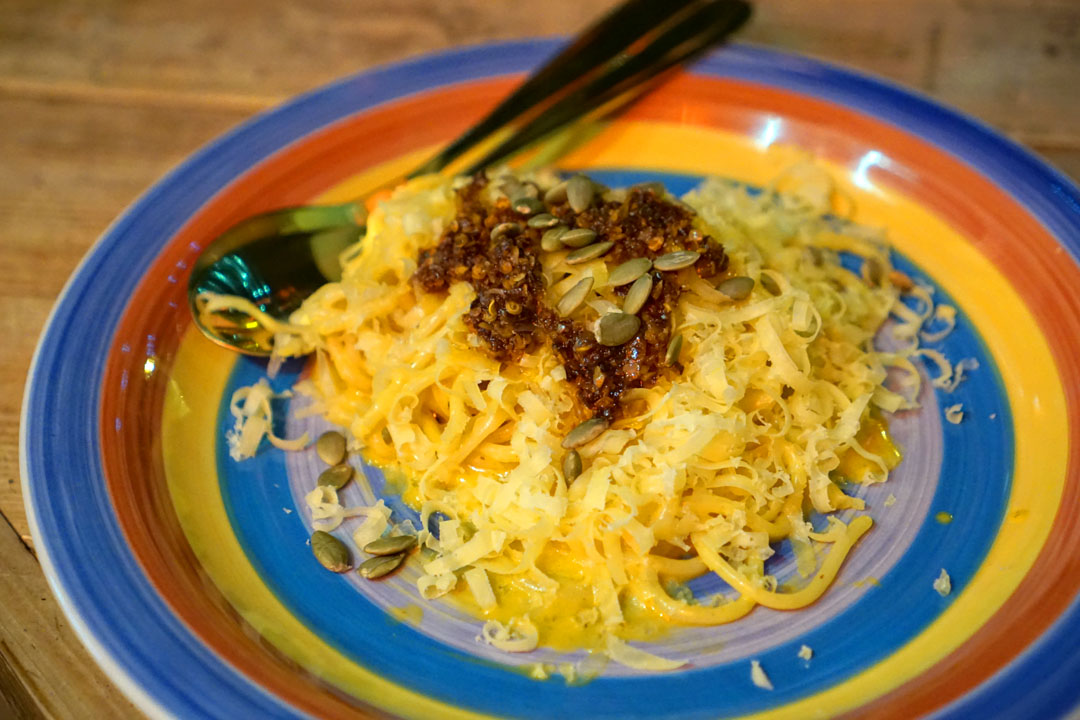 Yellow Gold Bucatini [$18.00]
| Roasted Kabocha Squash, Estero Gold, Salsa Macha, Pepitas
Our first of three pasta dishes was also a winner. The bucatini itself was flawlessly textured, and I appreciated how the sweetness of the kabocha was offset by the one-two punch of salty cheese and the nutty heat from the salsa macha.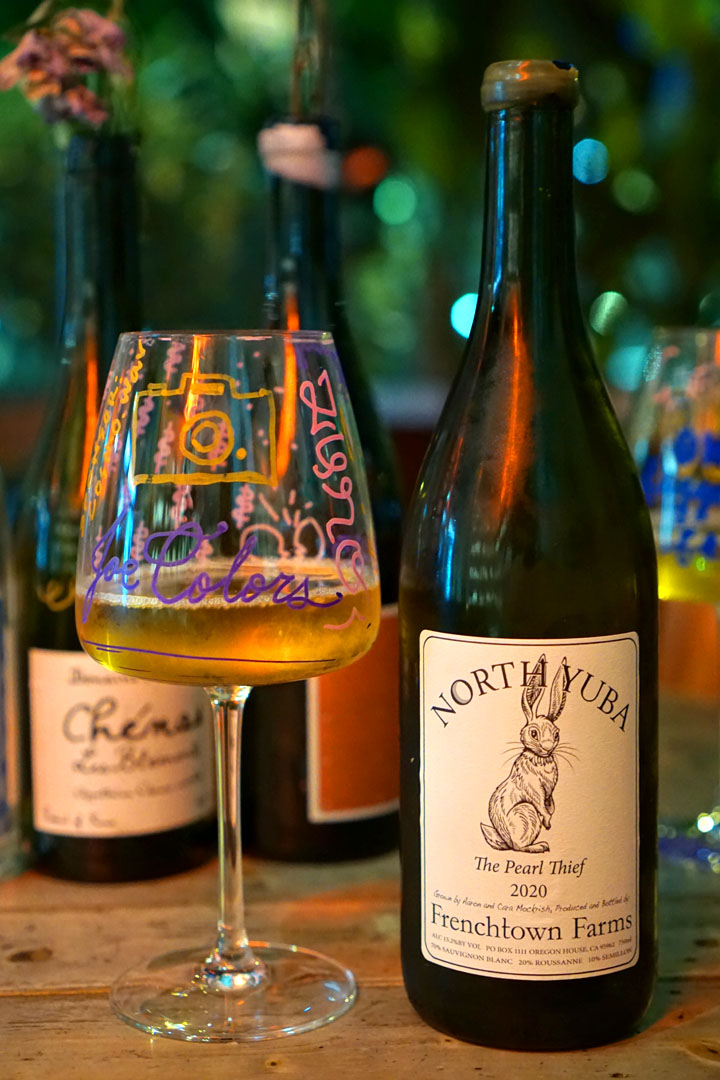 White wine duties were handled by the
Frenchtown Farms 'The Pearl Thief' 2020 [$15]
, a blend of 70% Sauvignon blanc, 20% Roussanne, and 10% Sémillon. I got a pleasant nose of tropical fruits intertwined with hints of funk and grass, while the palate was bright and refreshing, showcasing an amalgam of stone fruit, citrus, herbs, and minerals.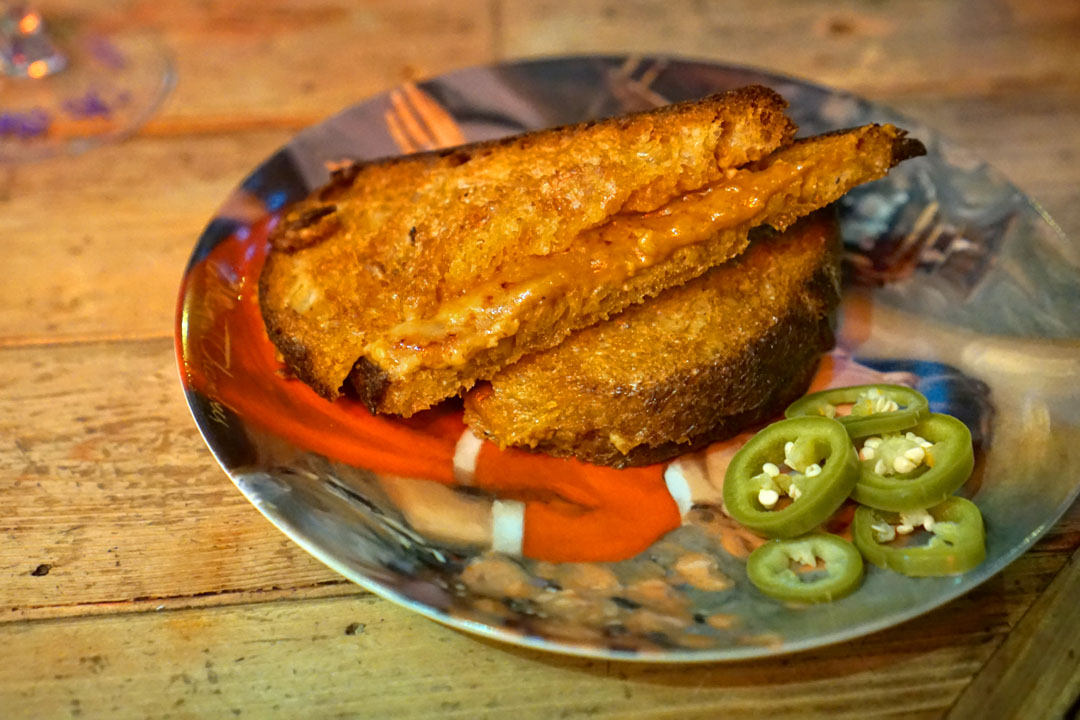 Gooey Molé Grilled Cheese [$10.00]
| Goat Cheddar, Mole, Pickled Jalapeno
The grilled cheese combined the lushness of goat cheddar with a bit of spicy complexity from the mole, while the jalapeños amped up the oomph factor even more. Nice crunch and toastiness on the bread, too.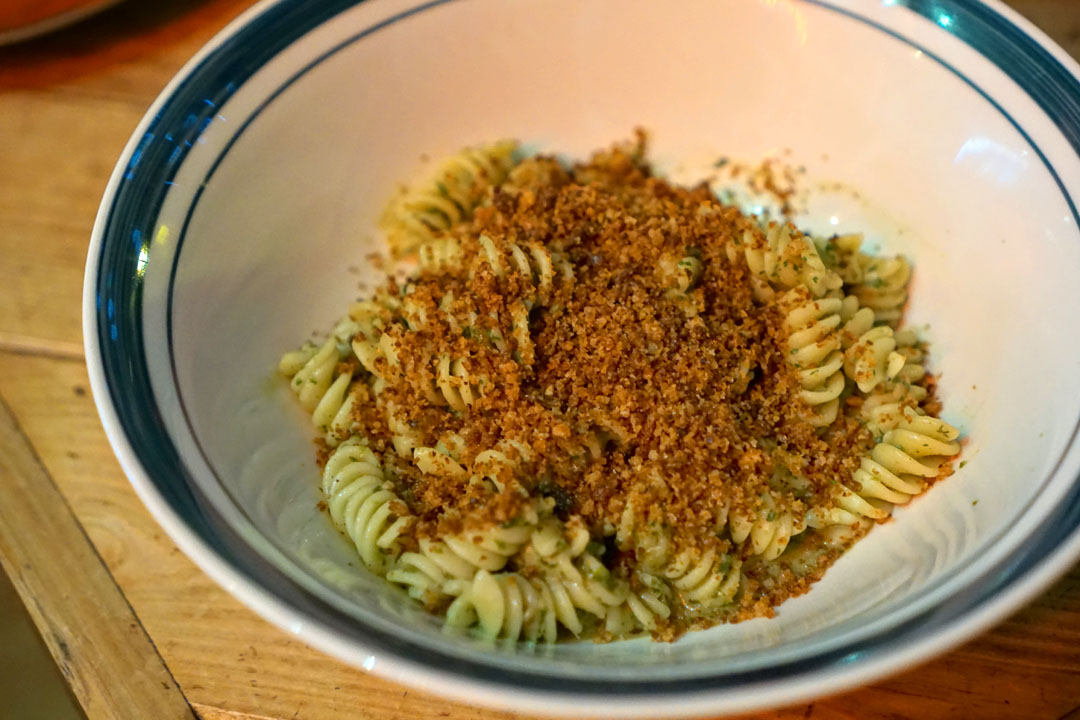 Sexy Pesto Bucatini – Made Vegan with Fusilli Substitution [$18.00]
| Burrata, Estero Gold, Carrot Top Pesto, Cilantro, Breadcrumbs
Here we see what must be one of the more interesting interpretations of pesto that I've tried. I was pretty enamored with the dish's bright, zippy base of flavor, and how that interacted with the savory, crispy qualities of the breadcrumbs. It was a more intriguing relationship than I would've imagined.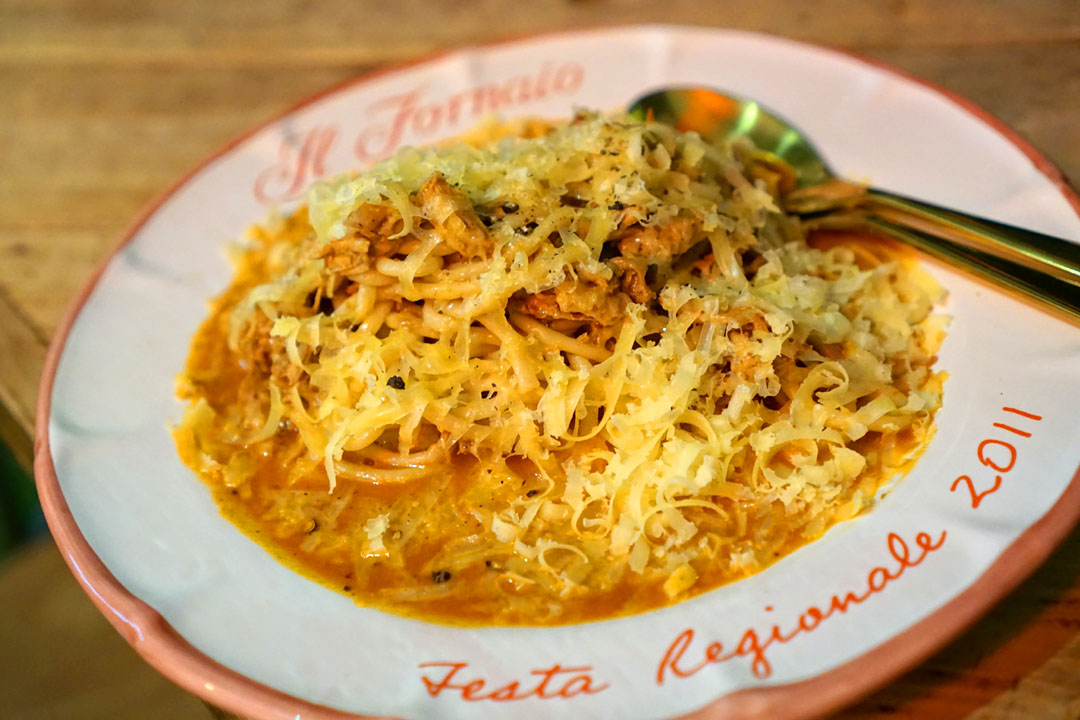 Chicken Ragu Bucatini [$19.00]
| Whole Braised & Shredded Chicken, Heirloom Tomato, Chile, Estero Gold, Fennel Pollen
Our final pasta dish also delivered. I just found the chicken here satisfyingly salty and savory, with a great peppery edge that made this all rather cozy and comfy.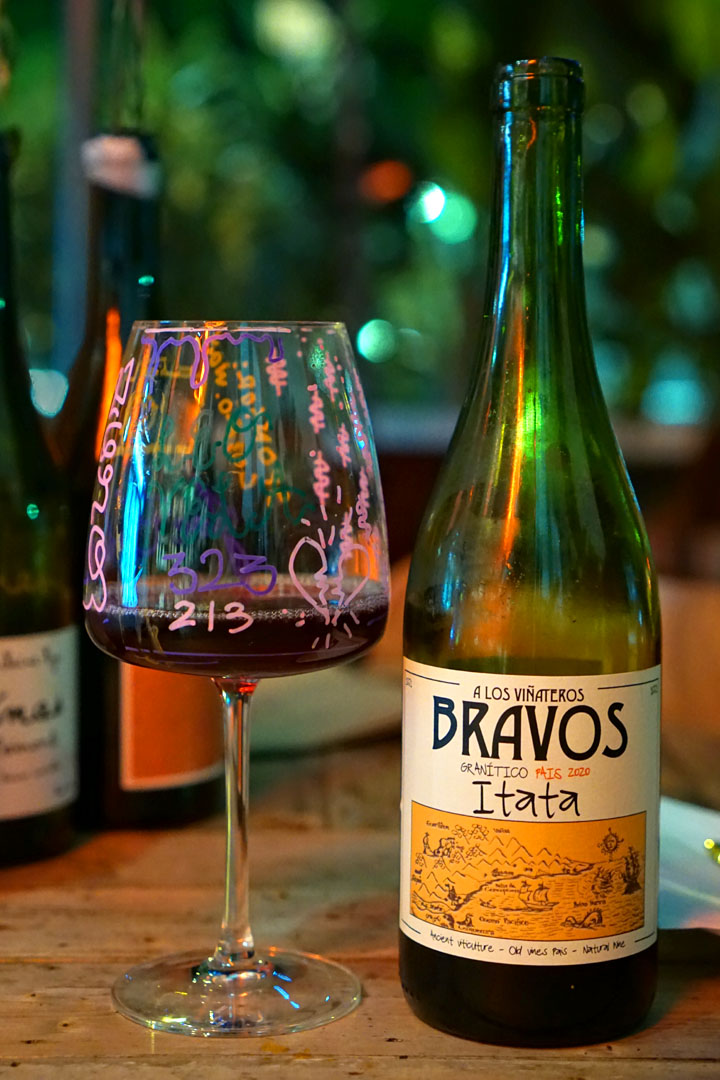 The
A Los Vinateros Bravos 'Granitico' 2020 [$15]
was a chillable red made from the rarely-encountered Pais grape. The wine had a nose that I'll describe as musty cherries, and that delectable red fruit character continued on to the palate, where it was joined by the requisite funk, some floral elements, and a tempering minerality.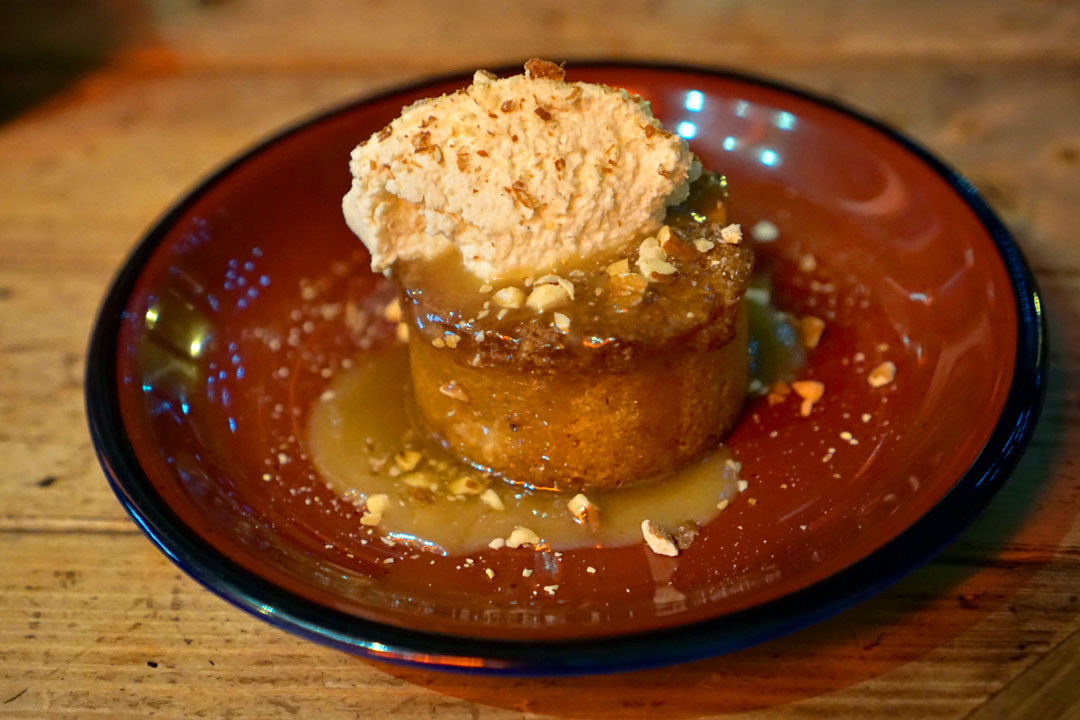 Amazing Awesome Apple Cake [$16.00]
| Apple Brown Butter Almond Cake, Apple Wine Caramel, Whipped Creme Fraiche, Crushed Almonds
Time for dessert. Our first was apropos for the season, and did a nice job presenting its lush apple flavors. Caramel provided some additional depth, and I liked the airiness and levity of the crème fraîche, too.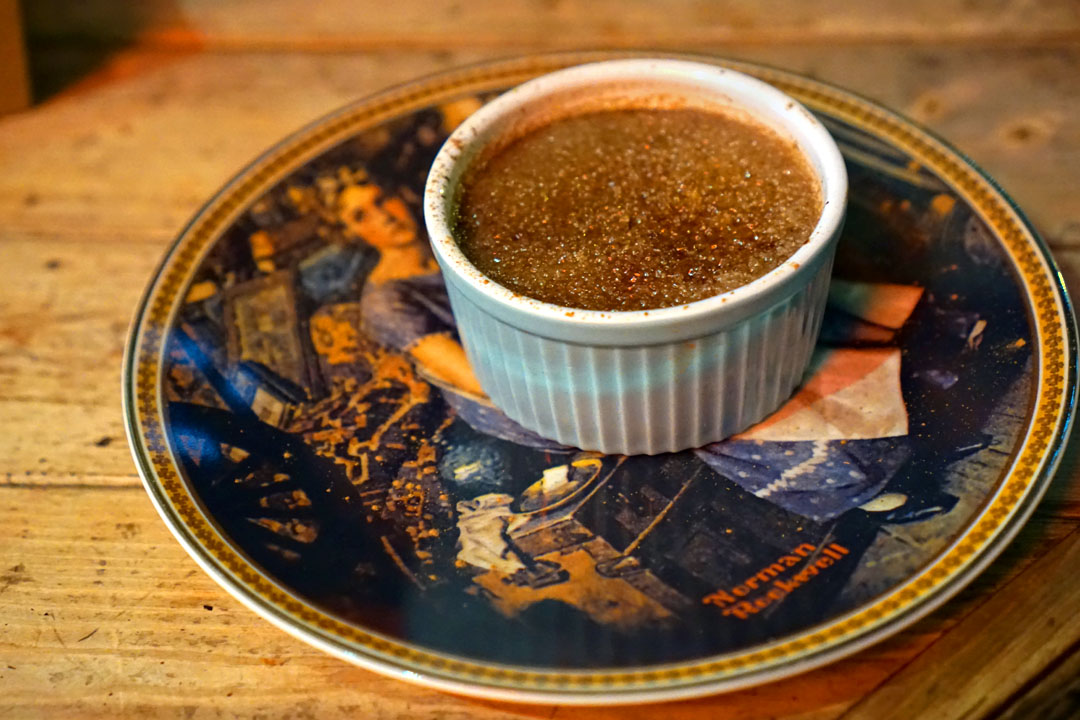 Sweet & Spicy Choco Creme Brulee [$16.00]
| Chocovivo Dark Chocolate, House Made Dulce de Leche, Mexican Spices
It'd been a while since I'd had a crème brûlée, and GCF's certainly met the mark with its crunchy caramelized top and slightly savory, slightly spicy chocolate flavors. Do note that this and the next dessert ended up being comped, I imagine since we'd ordered so much.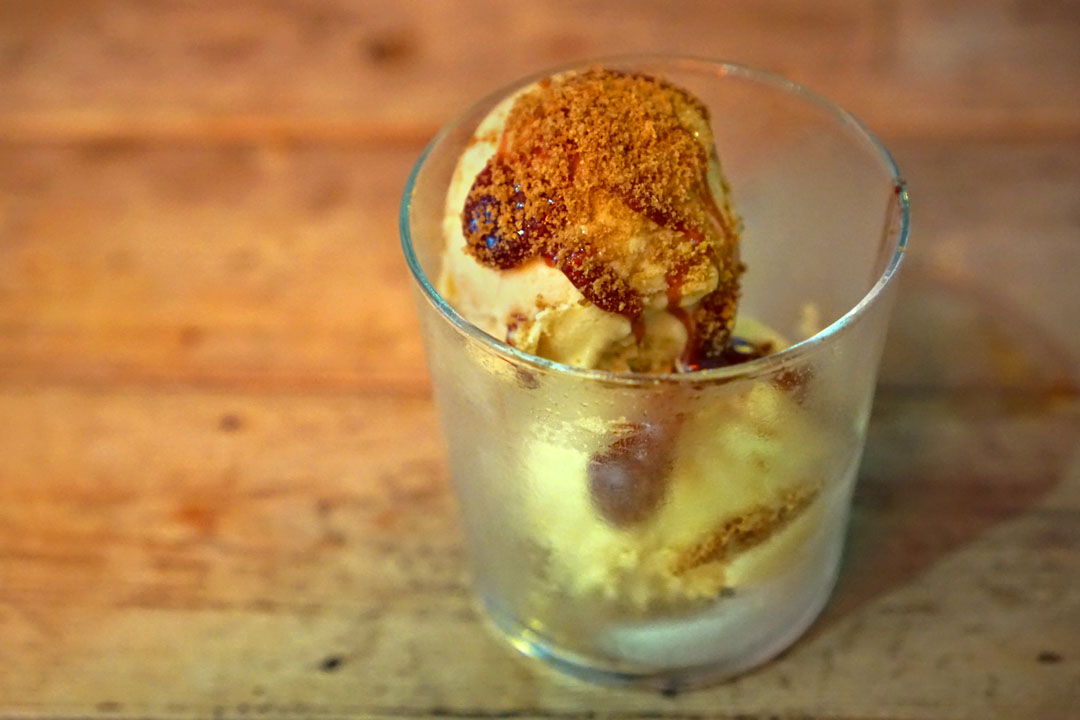 Pumpkin Spiced Ice Cream [$9.00]
I tend to get quite fond of pumpkin spice flavors during the autumn season, so this ice cream definitely hit the spot. I found the cinnamon especially potent here.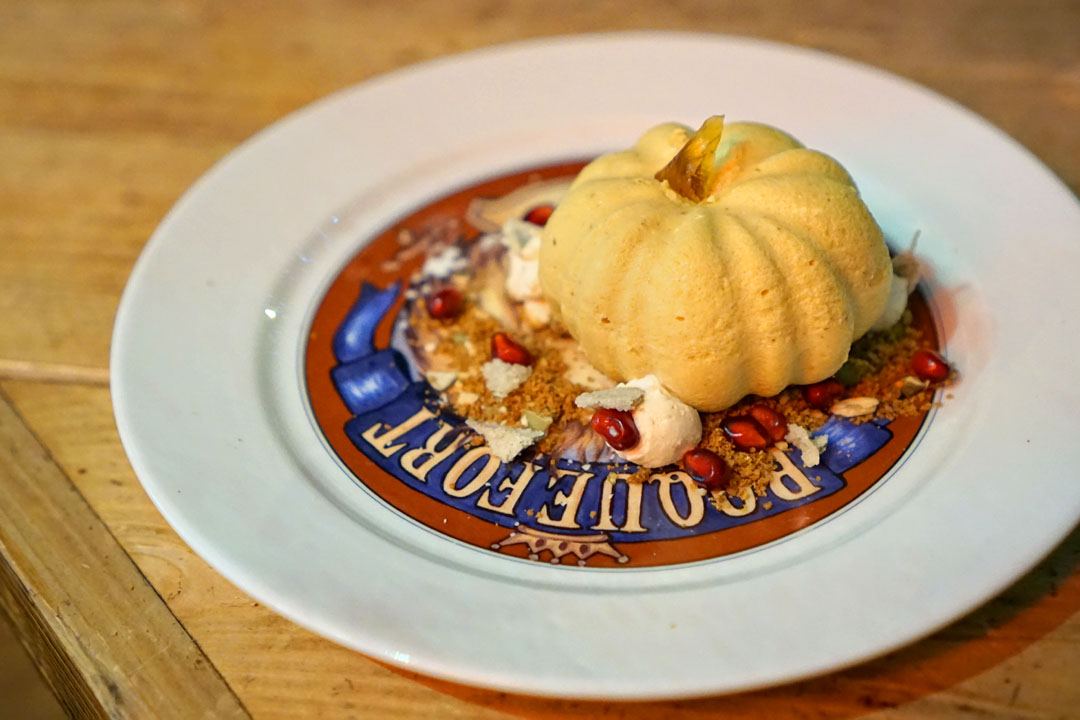 Pumpkin Cheesecake [$14.00]
| Graham Cracker Pepita Crumble, Pumpkin Spiced Whip, Pomegranate, Candied Sage
Our final dessert was also very timely for the fall. It was a fun take on your classic cheesecake, one with a nice savory component and some welcomed pops of acidity from the pomegranate seeds.
Good Clean Fun is a cool, quaint spot, and my meal here was one of the more surprising (in a good way) I've had all year. The focus on low-intervention wine is a refreshing (and tasty) change of pace, while the cooking was far more thoughtful and far more engaging than I was anticipating. I don't really have a go-to wine bar in DTLA, so perhaps this will be it.