Caldo Verde (Los Angeles, CA)
Caldo Verde at Downtown L.A. Proper Hotel
1100 S Broadway, Los Angeles, CA 90015
213.806.1023
www.properhotel.com/downtown-la/restaurants-bars/caldo-verde/
Tue 12/15/2021, 08:05p-10:30p
You might recall that I recently reported on
Cara Cara
, the rooftop eatery at the new Proper hotel. Well, during that visit, I was reminded that I also needed to check out the property's other restaurant, Caldo Verde, which opened back in the middle of October as well. As was the case with Cara Cara, the spot is the work of LA dining veterans Suzanne Goin and Caroline Styne, and showcases a menu highlighting the cuisine of Portugal, but imbued with the Chef's Californian leanings, of course.
Penned by the prolific Kelly Wearstler, Caldo Verde's ground floor dining room spans just over 2,300 square-feet. The space has a certain classic California warmth to it, and just feels appropriate for the concept.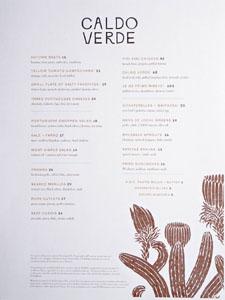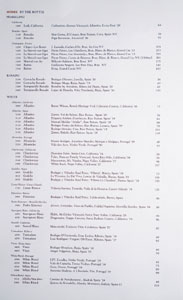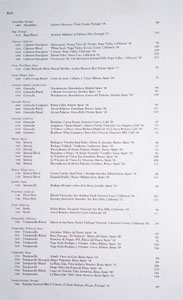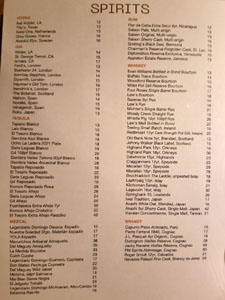 Caldo Verde's menu is relatively compact, and not surprisingly, focuses squarely on Portuguese- and Spanish-inspired dishes. Beverage-wise, you get an unexpectedly short cocktail list, a handful of beers, and a mostly Iberian selection of wine. Note that, as this is a hotel restaurant, breakfast and lunch are also served here. Click for larger versions.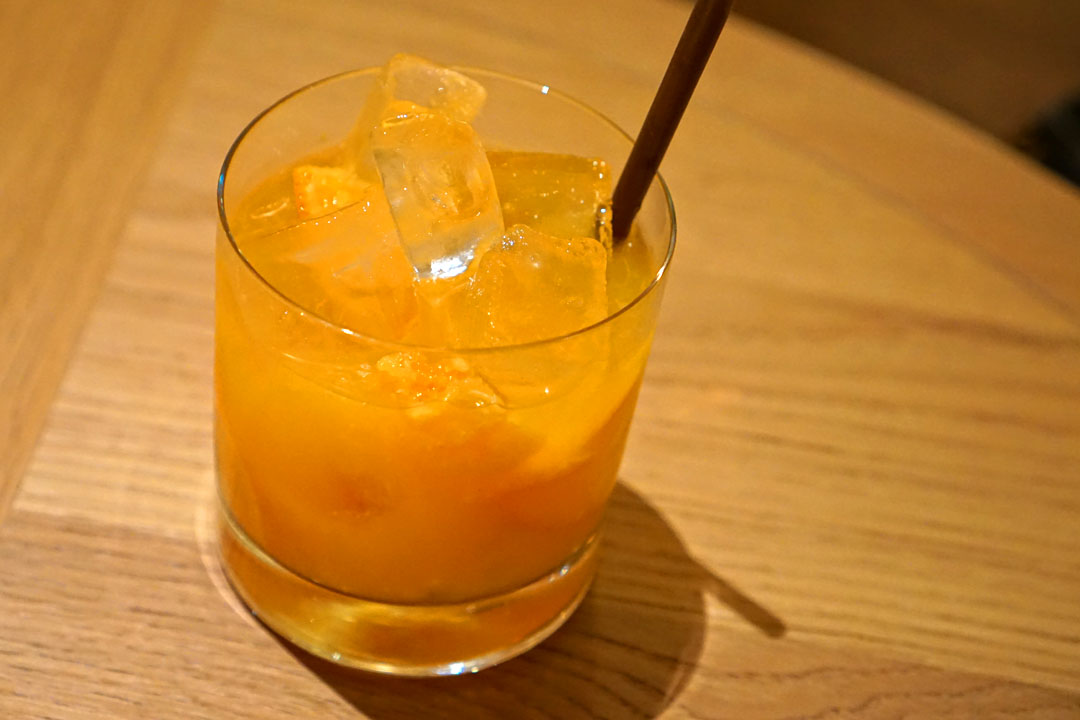 Gato Faminto [$16.00]
| vodka, satsuma mandarin, calamansi
The evening's first cocktail was named after the Portuguese translation for "hungry cat," so I'm assuming it must be a nod to the former
Hollywood restaurant
run by Goin's husband, David Lentz. In any case, the drink was super bright and refreshing, tasting of orange juice spiked with bitterness and booze. An apt apéritif.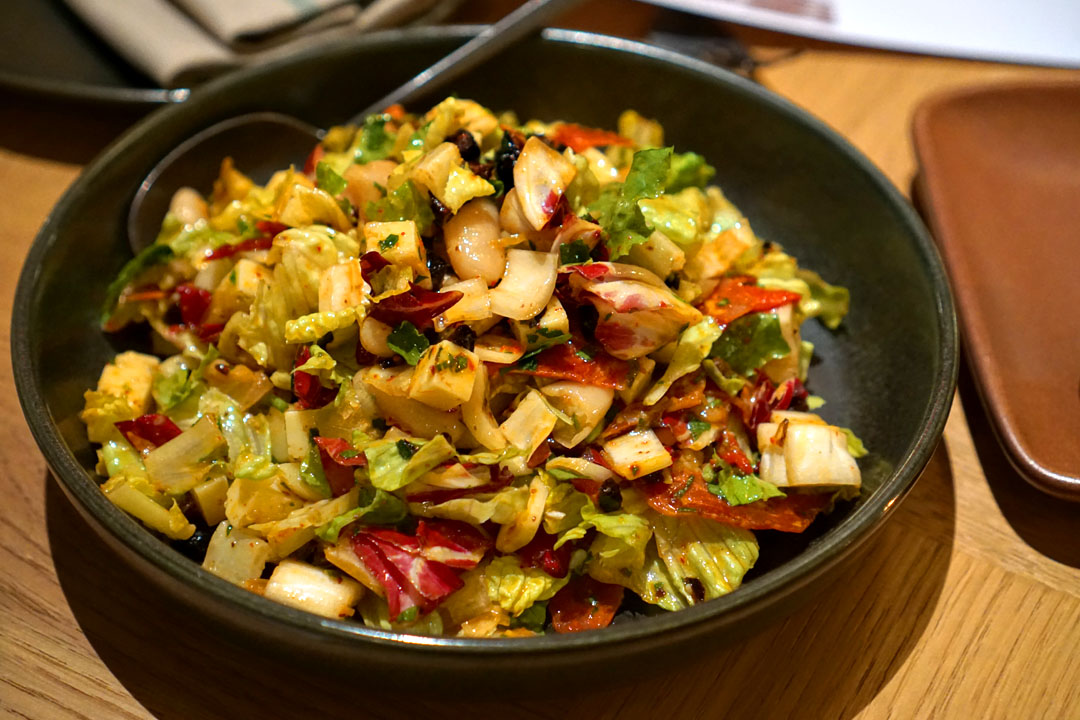 Portuguese Chopped Salad [$18.00]
| broad beans, potato, leeks, black olives, chorizo, sao jorge
Among salad types, the chopped variety is among my favorites, and Caldo Verde's version didn't let me down. The main focus for me was the pervasive, sour spice of the chorizo, and the manner in which it melded with the weight of the cheese. At the same time, I was a fan of how the beans and potato moderating everything, and of course this all wouldn't work without those bitter, crunchy greens either.
Yellow Tomato Campechana [$21.00]
| shrimp, crab, avocado, local halibut
The seafood cocktail was definitely a winner. I was impressed with how forcefully the crab's saline sweetness was conveyed, and how that married with the tangy nature of the tomatoes. The shrimp, meanwhile, were key for mixing things up texturally.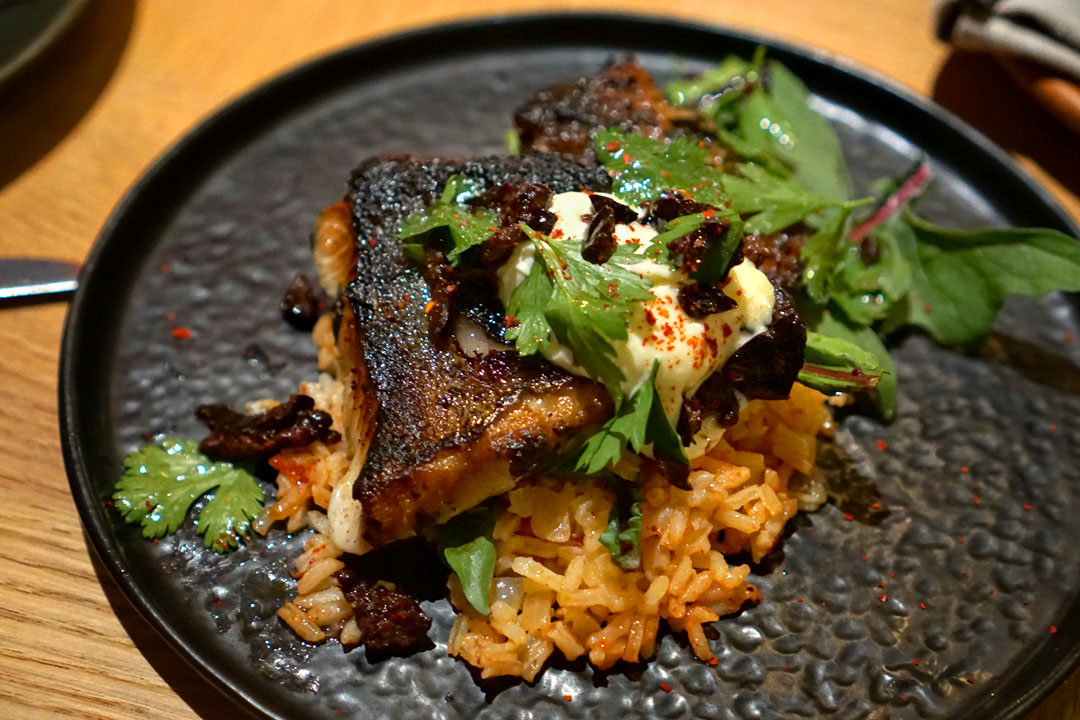 Seared Merluza [$29.00]
| tomato rice, black olives, dandelion, aioli
This might've been my first time having merluza, which is a shame, because it was pretty damn delicious. The fish ate silky, flaky, and fatty, with a delicate brine that matched up well with its crispy charred skin. I also liked the rice much more than I thought I would, while the dandelion greens imparted a welcome zippiness as well.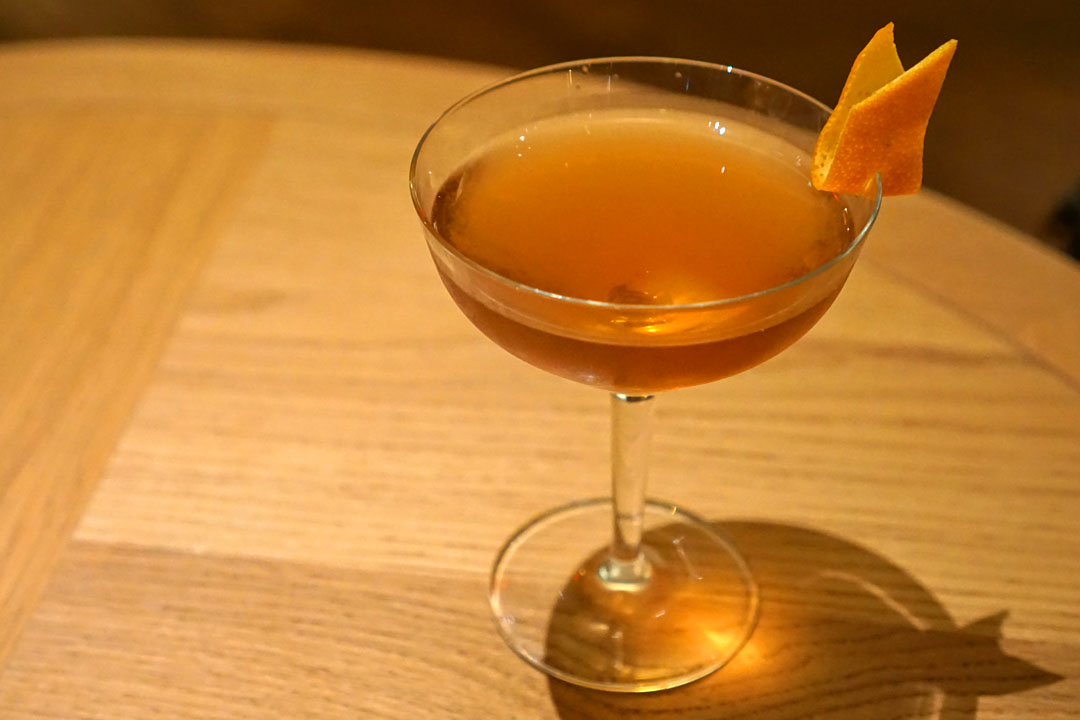 Barrels on Barrels [$19.00]
| japanese whiskey, sherry cask rum, sherries, barhi dates
Our next cocktail was certainly on the stronger side. Nose here was of juicy apple intertwined with Scotch-like notes and spice. In terms of taste, I found this piquant at first blush, with oxidative nuances appearing on the mid-palate, joined by a bit of fruitiness, while the finish veered almost cinnamon-y.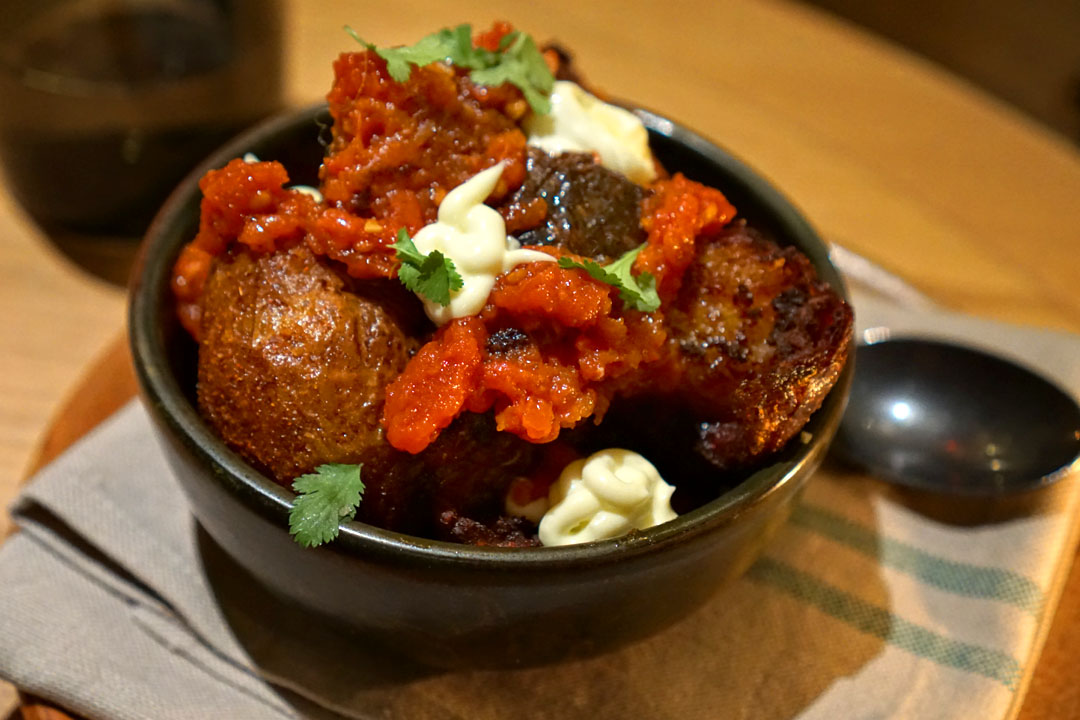 Patatas Bravas [$15.00]
| spiced tomato + garlic aioli
Next came what must be the heartiest preparation of papas bravas I've had. I quite liked the contrast here between the potatoes' crispy outsides and their soft, almost creamy insides, while taste-wise, I got lots of sourness and spice, with a touch of smoke to boot.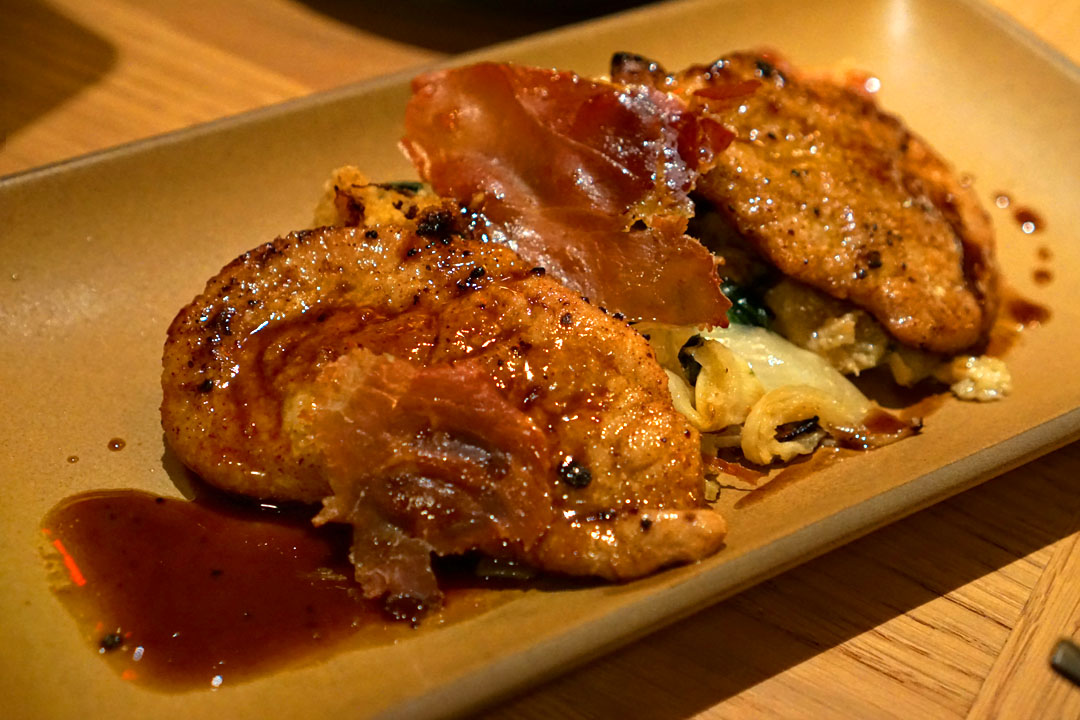 Pork Cutlets [$27.00]
| green migas, jamon, pedro ximénez
Pork chops arrived super tender, with a tart, smoky flavor profile. The meat was certainly tasty on its own, but I preferred it matched up with the migas, which were on the sweeter side, but also nicely bitter thanks to the greens.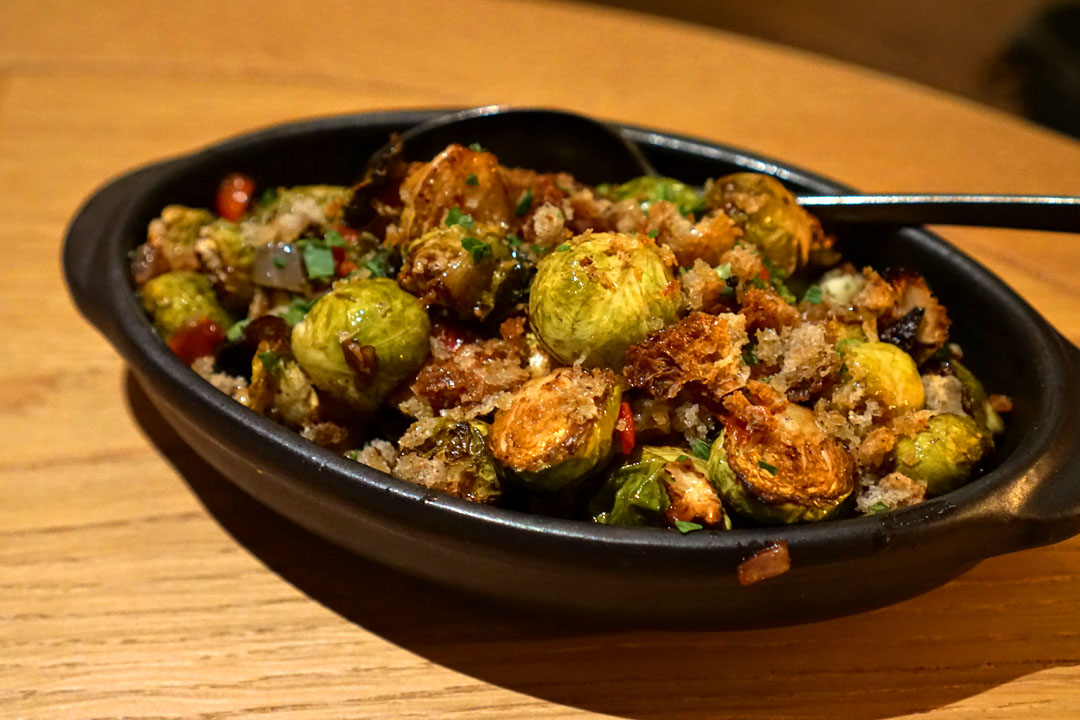 Brussels Sprouts [$16.00]
| chouriço, minced peppers, dark crumbs
Brussels were satisfyingly textured, and delivered a healthy dosing of bitterness and funk that took well to the sausage and peppers. I got a pleasant crunch from those bread crumbs, too.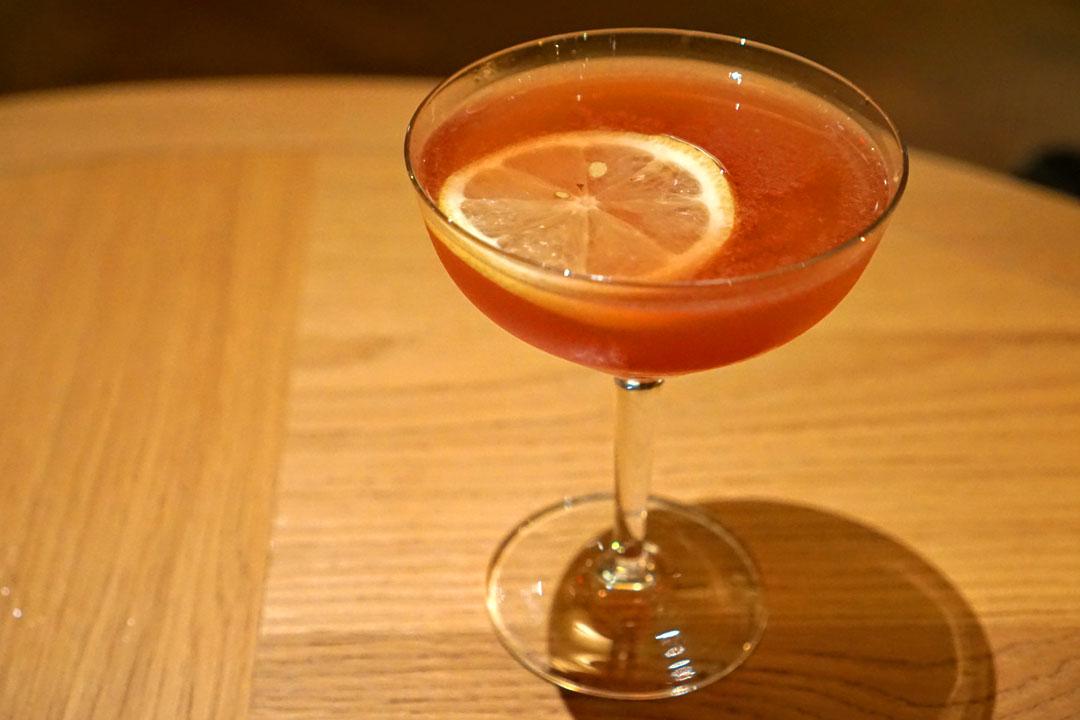 Bairro Alto [$17.00]
| tequila, amaro angeleno, pomegranate, citrus
Named after a neighborhood in Lisbon, our third cocktail highlighted the somewhat smoky character of the tequila, set against tart, fruity elements and the astringency from the amaro.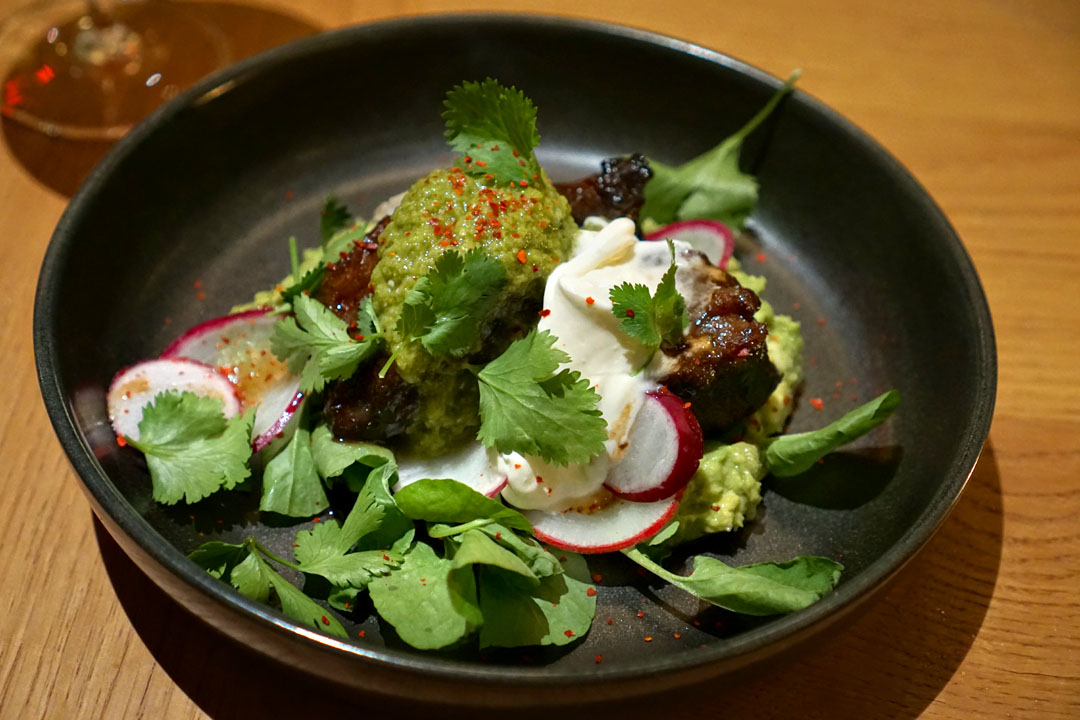 Beef Cheeks [$34.00]
| avocado, green chile, crema, radish
Beef cheek came out utterly tender and almost gelatinous, while the meat's dark, savory, long-cooked flavors made complete sense with the bright, zingy nature of the avocado/herb/radish combination. A favorite for me.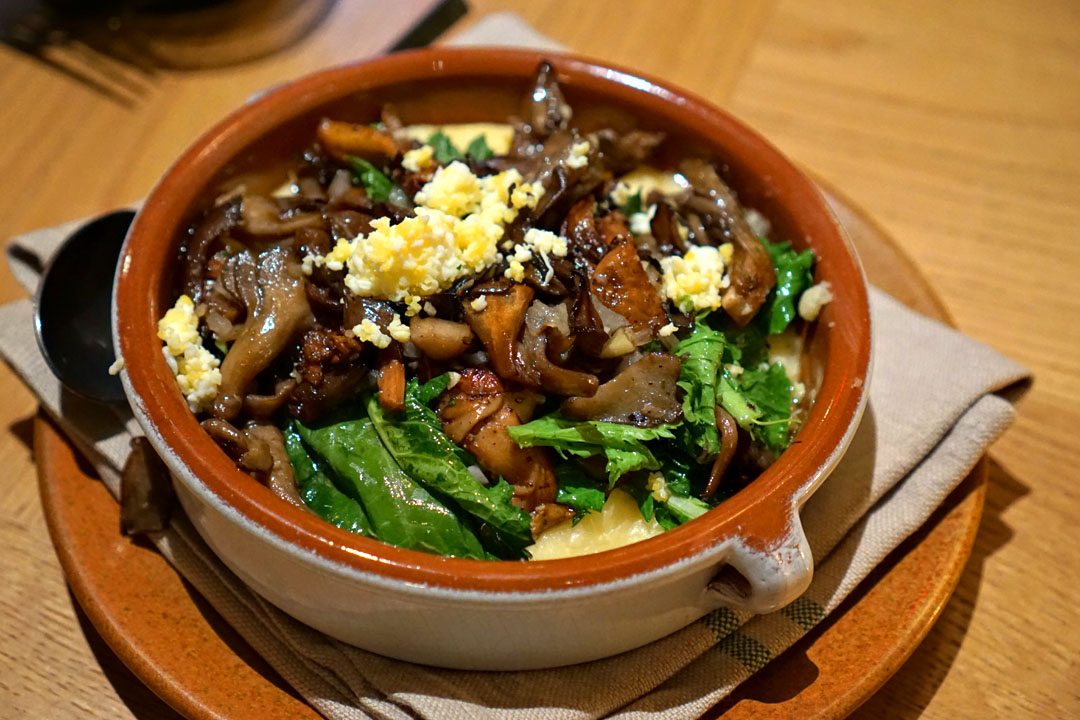 Chanterelles + Maitakes [$20.00]
| over bob's polenta, rapini, sieved egg
I don't know who Bob is, but he makes a fine polenta, and the cornmeal worked easily as a counterpoint to those woodsy mushrooms. I was also a fan of the bitterness from the rapini, and overall, I just found this rather comforting.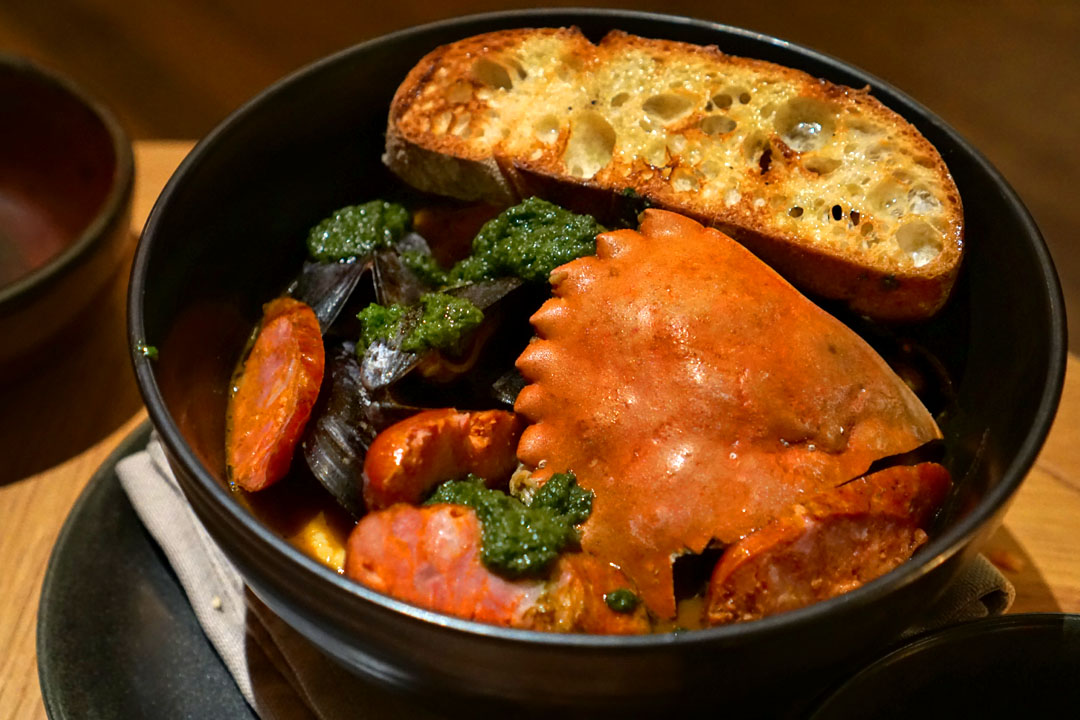 Caldo Verde [$68.00]
| local rock crab, grilled linguiça, kale, mussels, potato
Given that the restaurant is called Caldo Verde, I felt compelled to order its namesake dish. I found the soup unabashedly earthy and saline, with an offsetting sweetness courtesy of the crab. Also key was the acrid nature of the kale, while the potato evened things out while contributing both heft and texture. I can't forget about that linguiça, either, which I had no problem enjoying alone.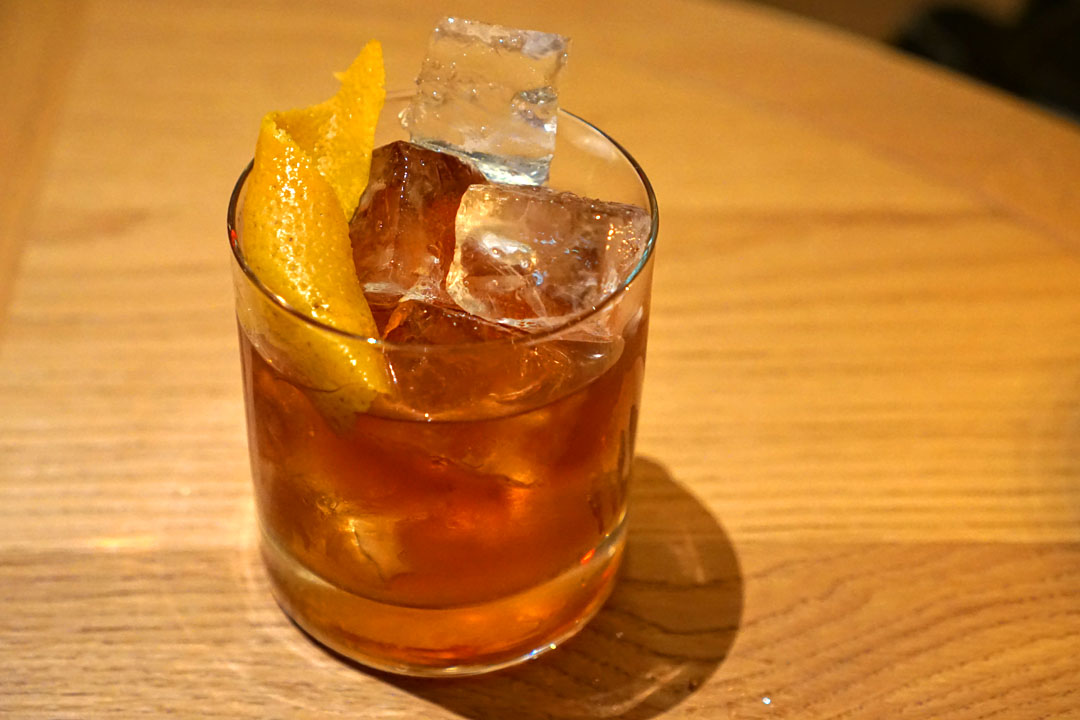 Winter Old Fashioned [$16.00]
| bourbon, walnut, spiced pear, bitters
Last up to drink was this smart take on the most classic of cocktails. This one smelled strongly of brown sugar commingled with baking spice. On the palate, think thick and rich, with a medicinal, cough syrup-like character joined by minty, spicy complexities.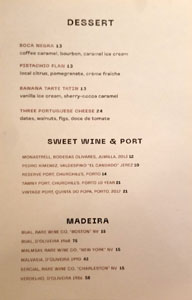 The dessert menu's short and sweet. Click for a larger version.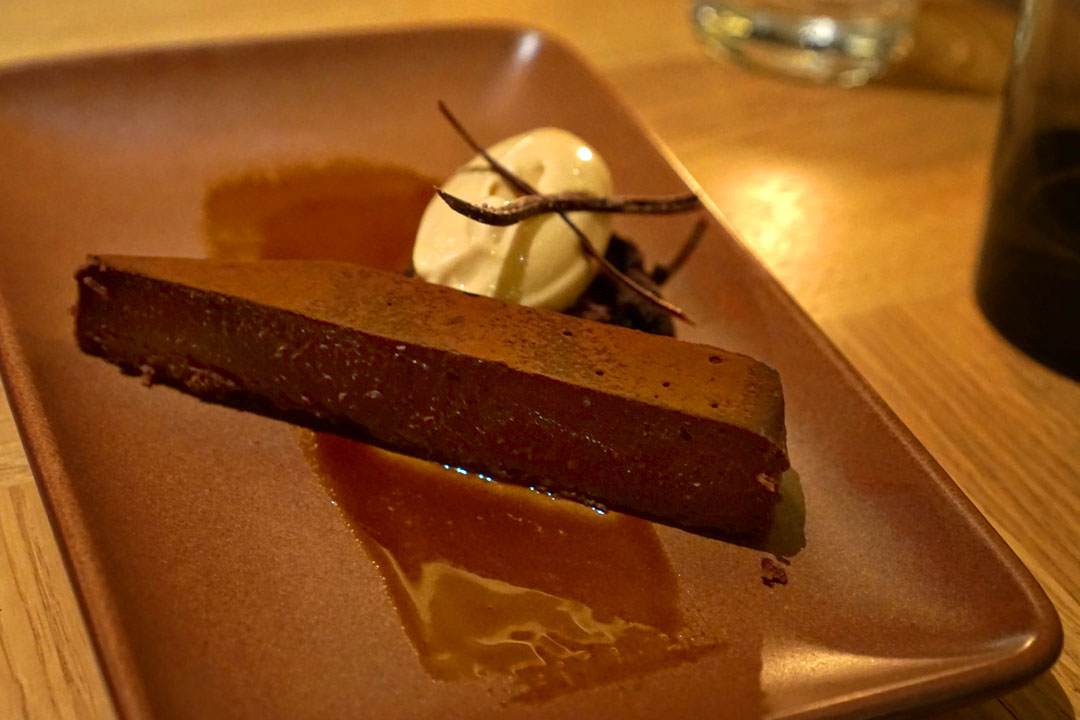 Boca Negra [$13.00]
| coffee caramel, bourbon, caramel ice cream
The restaurant's riff on "black mouth" featured a dense, decadent chocolate cake that was less overtly sweet and more about the earthy, bitter notes from the dark chocolate. The cake paired like clockwork with the sugariness of the caramel here, but really opened up when taken with that ice cream.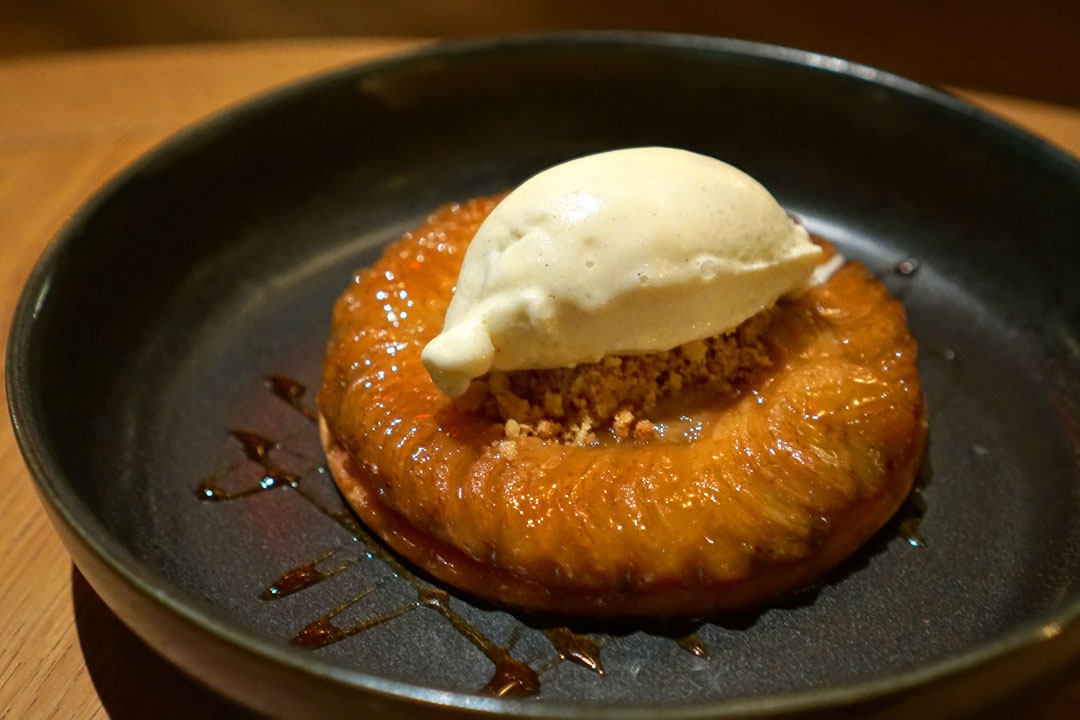 Banana Tarte Tatin [$13.00]
| vanilla ice cream, sherry-cocoa caramel
Even tastier was this banana-boosted version of your good ol' tarte Tatin. I really appreciated how the deep, gratifying flavor of the fruit was conveyed, and how it all made absolute sense in the context of the classic dessert. And of course, the pastry was all the better with a scoop of that ice cream up top. Yum.
Portuguese cuisine isn't particularly well-represented here in the Southland, so I'm happy to have Caldo Verde as a new entrant in that arena, especially since my dinner here was quite lovely. There was just a clarity to the cooking that was nice to witness. Goin and Styne aren't done yet, either. Still to come is Dalia, a speakeasy-ish bar/lounge that sounds rather promising. I'm sure I'll check it out eventually.