All Day Baby (Los Angeles, CA)
All Day Baby Restaurant
3200 Sunset Blvd, Los Angeles, CA 90026
323.741.0082
www.alldaybabyla.com
Fri 11/19/2021, 08:30p-10:05p

I've always been a fan of
Here's Looking at You
, Chef Jonathan Whitener and Lien Ta's much-lauded modern LA cuisine spot in K-town. Thus, when the partners' second project, a diner-bar-bakery concept, debuted in Silver Lake at the end of November 2019, I was eager to check it out for dinner. However, despite the restaurant's name, All Day Baby wasn't able to move beyond breakfast and lunch in those early months, and its whole service model was upended not long after by the pandemic. Now the team did institute an outdoor, weekends-only nighttime dining series by the name of Helluva Time in October last year, but I didn't make it out before it was shut down. However, I recently discovered that ADB commenced
actual
dinner service in July, so I made sure to give it a try this time.

The restaurant takes over a storefront that was previously home to Samosa House, and Dusty's Bistro before that. Pictured above is the dining room, and there's also an adjacent bar area (not shown).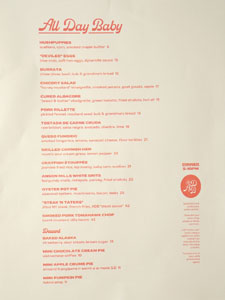 ADB's dinner selections are quite a bit different than their daytime offerings, and seem to have a bit of a Mexican-meets-American Southern feel. To drink, there are cocktails by Bar Director Jorge Figueroa and (former Bar Director?) Harry Chin, while Danielle Françoise Fournier is in charge of the wine list. Corkage is $25, limit two. Click for larger versions.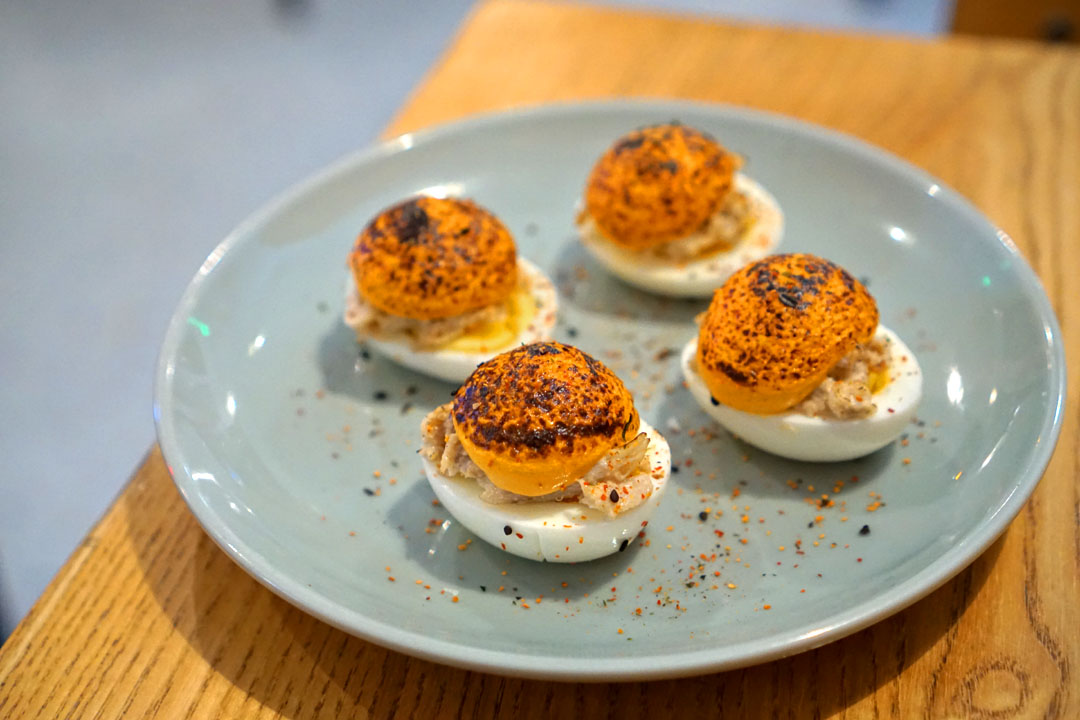 "Deviled" Eggs [$15.00]
| blue crab, soft hen eggs, dynamite sauce
I can't resist deviled eggs on a menu, so of course I had to start with an order. Think sweet and saline from the crab, joined by a lingering dynamite heat, all while the egg whites moderated everything. I even detected a hint of pickle-y tartness that totally worked.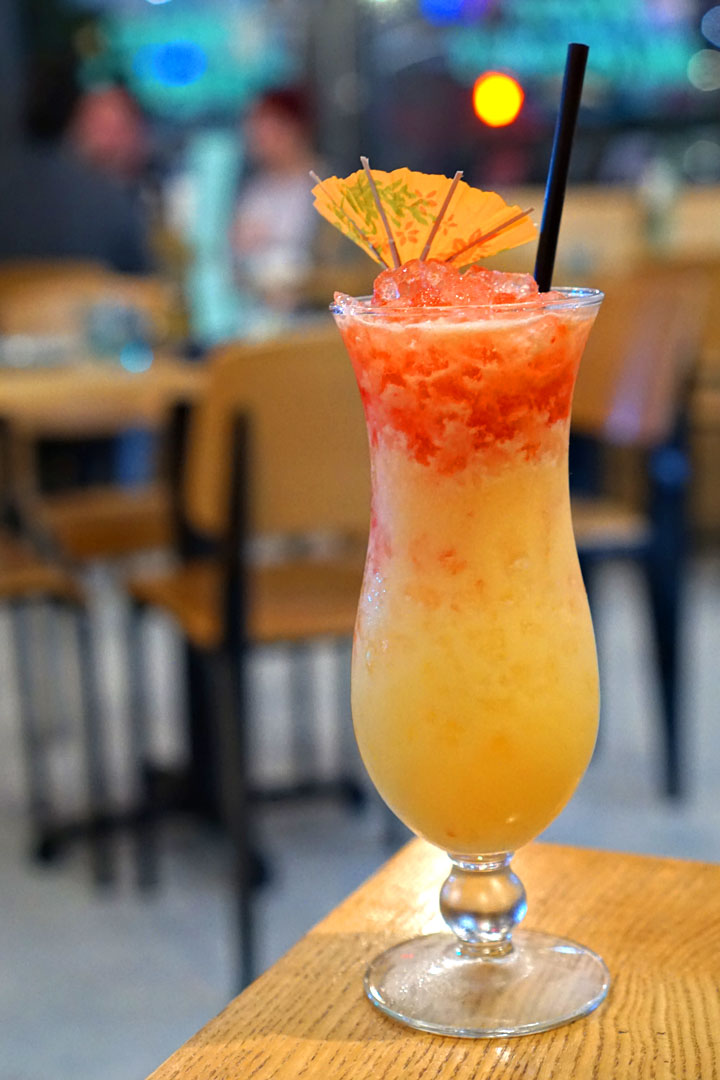 ADB Painkiller [$15.00]
| SelvaRey Rum, Chinola Passionfruit Liqueur, Orange & Pineapple Juice, Coconut Cream, Strawberry Float
A passion fruit-boosted version of the classic Painkiller cocktail certainly met the mark with its bevy of tropical fruit and citrusy flavors, all set over a base of nutty sweetness and punctuated by touches of astringency. This one went down easy.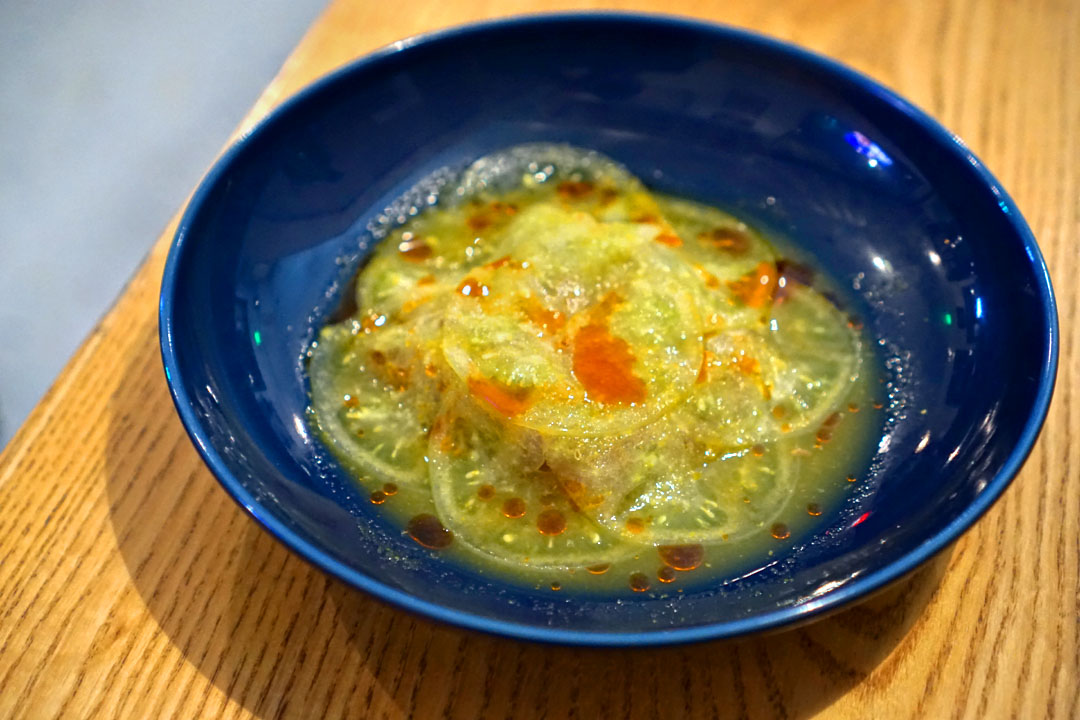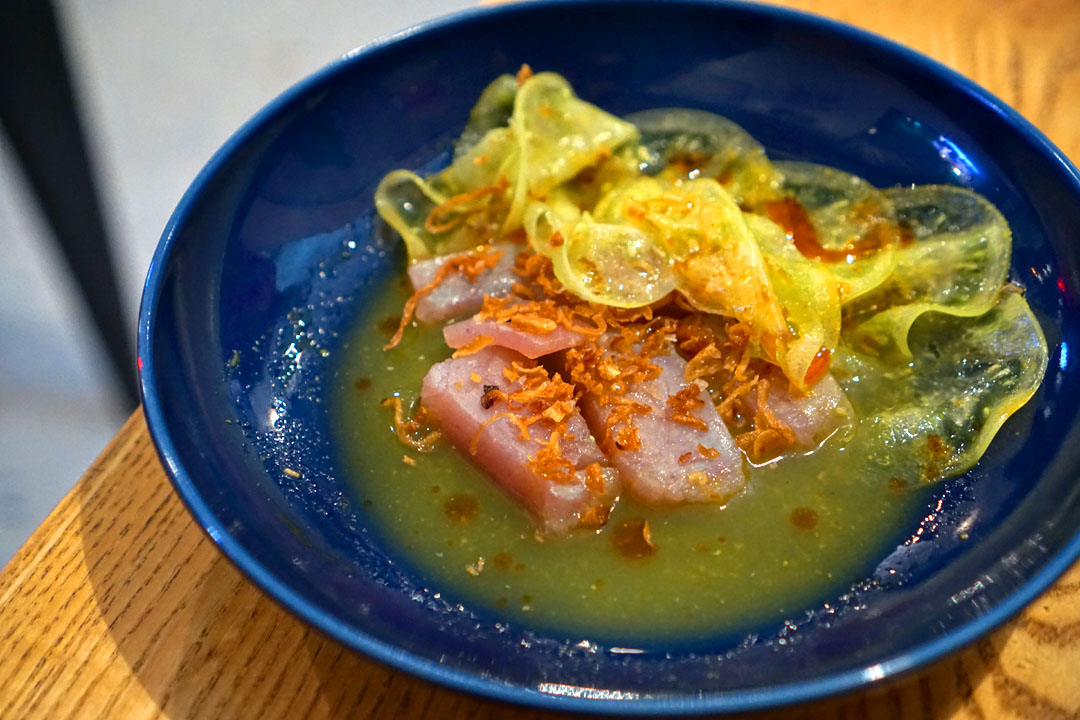 Cured Albacore [$15.00]
| "bread & butter" vinaigrette, green tomato, fried shallots, hot oil
Cuts of tuna came out supple and satisfying, with a creeping brine that melded easily with the savoriness of fried shallots. However, the crux was really the vinaigrette and tomatoes, which enlivened the dish with their tartness and acidity.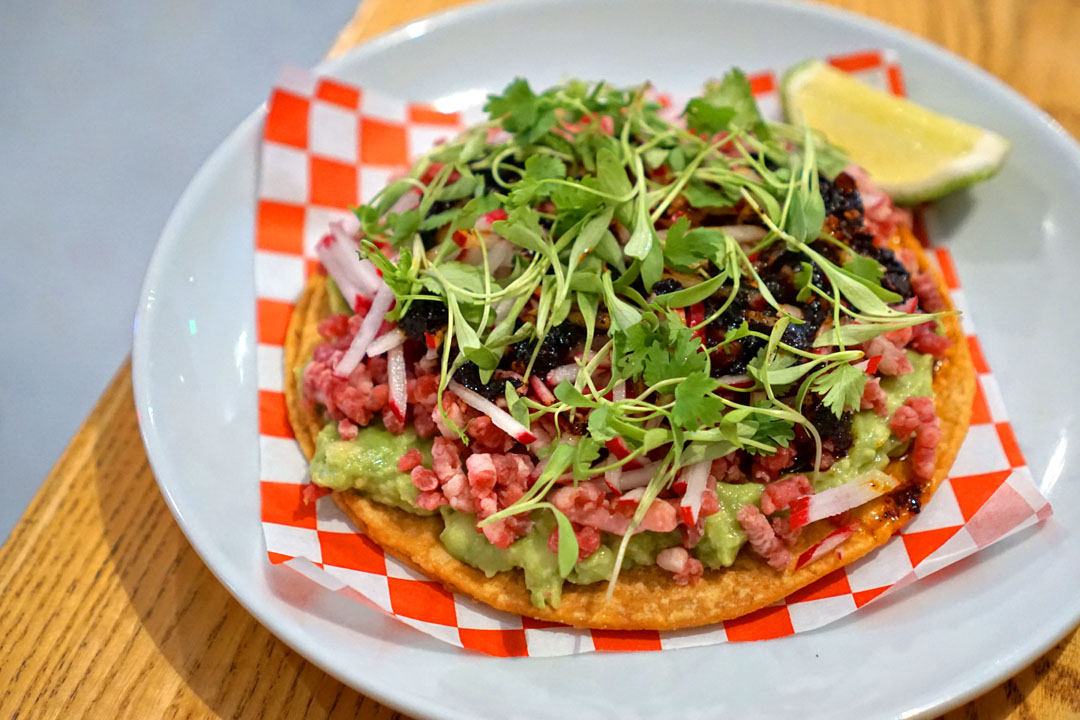 Tostada de Carne Cruda [$18.00]
| raw brisket, salsa negra, avocado, cilantro, lime
The kitchen then sent out this rather substantial looking tostada. The meat itself came lightly seasoned, so the in-your-face nuttiness, smoke, and heat from the salsa were absolutely crucial; in fact, I could've used more of it. At the same time, the avocado helped smooth things out, and I really appreciated the zippiness of all that cilantro, while the dish was certainly improved with a squirt of lime. Excellent crunch on the actual tortilla here, too.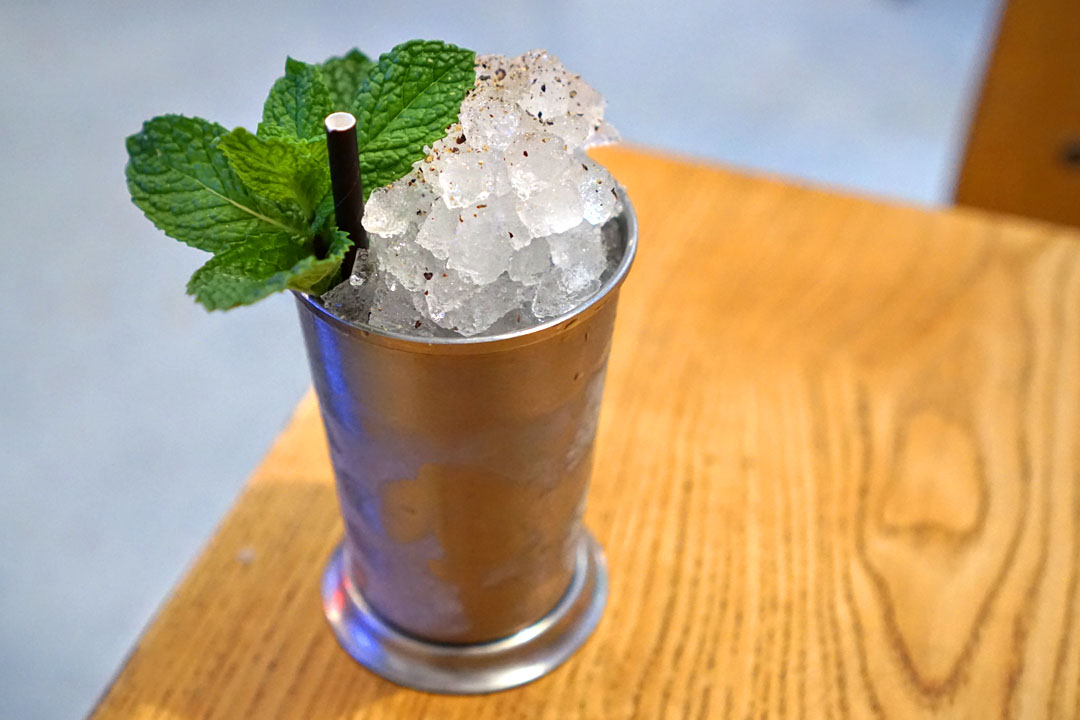 American Azteca [$15.00]
| Abasolo Mexican Whiskey, Rye Whiskey, Juniper Grove American Gin, Coriander White Peppercorn Syrup, Mint, Black Pepper
Named after a breed of horse, this next cocktail was akin to a mint julep. I got a fairly classic commingling of boozy and sweet flavors, with the requisite minty accent and a nice peppery edge on the back end.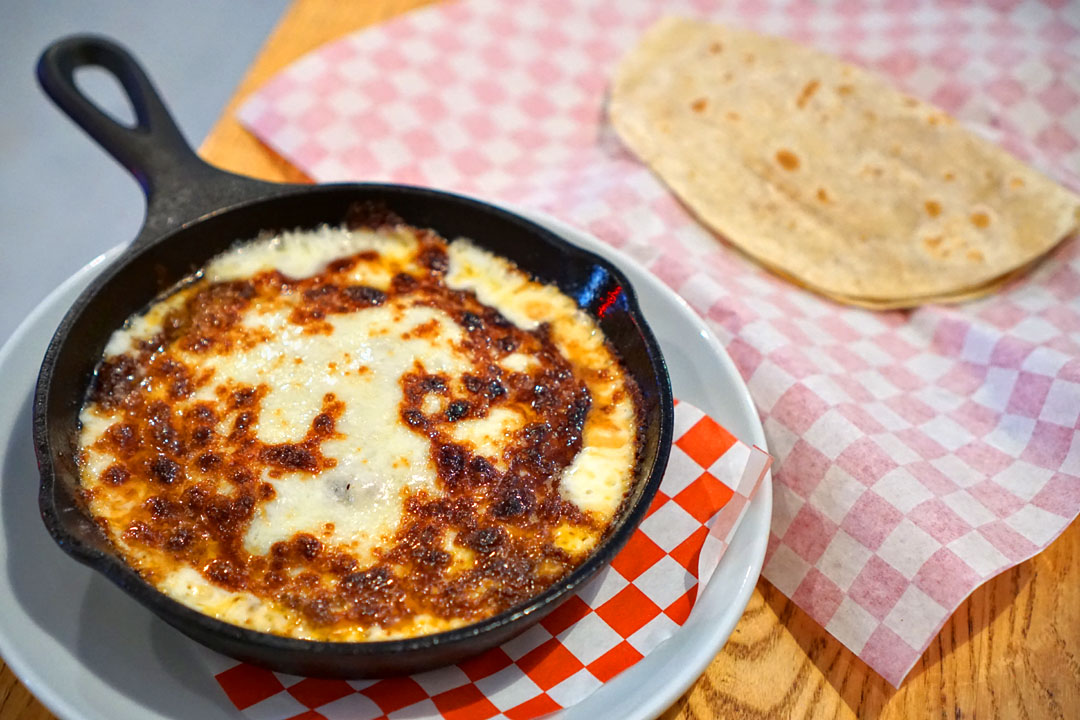 Queso Fundido [$21.00]
| smoked longaniza, onions, oaxacan cheese, flour tortillas
The queso fundido was a surprise standout, and no doubt one of the best versions of the dish I've had. I was a big fan of all the smoke and spice happening, and how that melded with the lusciousness of the cheese, all while onions imparted a crucial, offsetting zestiness. Also key were all those charred, salty bits on top, and the soft, stretchy tortillas definitely worked as a counterpoint.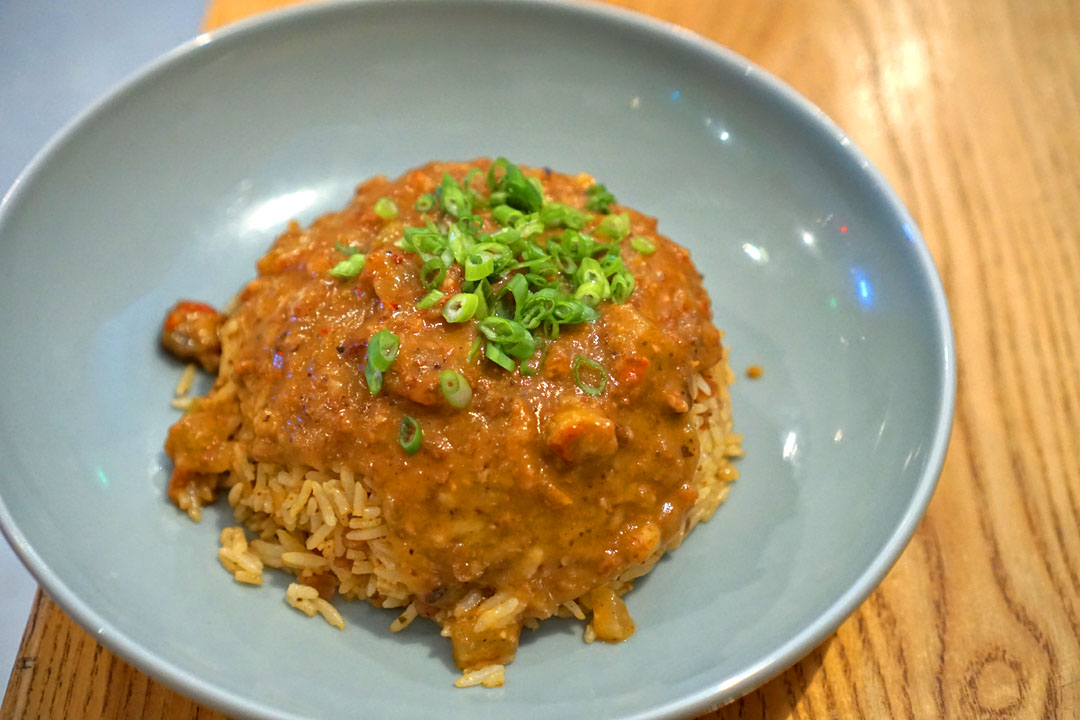 Crayfish Étouffée [$21.00]
| jasmine fried rice, lap xuong, baby corn, scallion
The etouffee was a must-order for me, and didn't disappoint with its boatloads of umami and spot-on seasoning that really did recall the comfort of the traditional dish. I was especially fond of the crunch from the baby corn, not to mention the texture on the rice.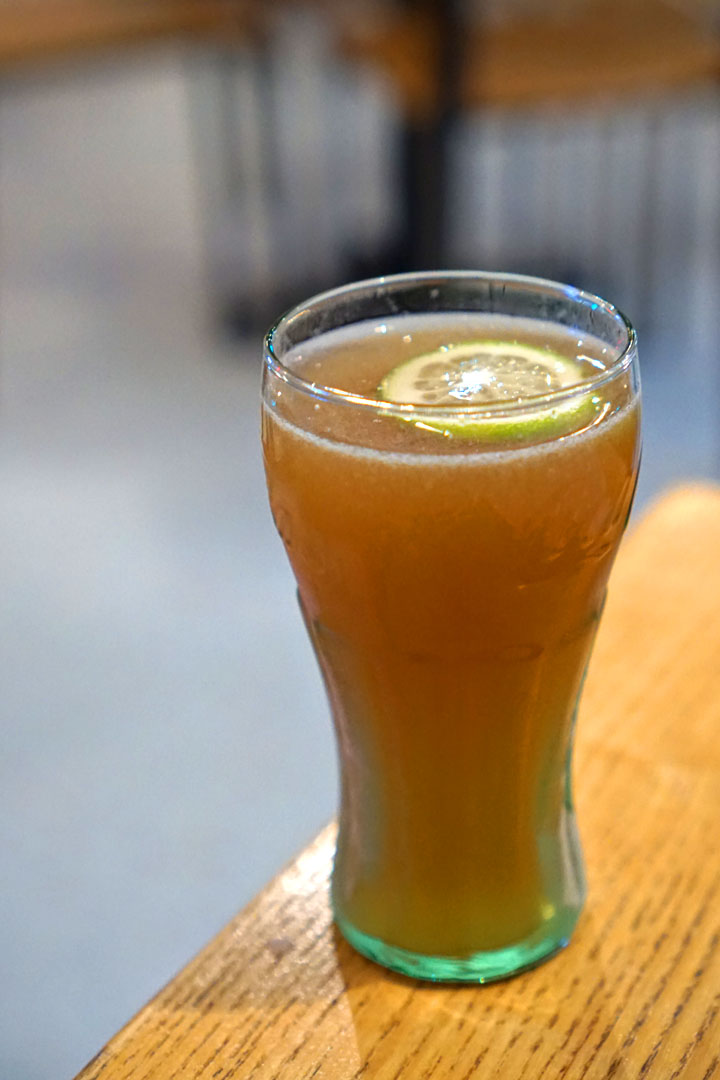 Havana Daiquiri [$14.00]
| Bacardi Ocho, Bacardi Superior, Crème de Banane, Mexi-Coke Syrup, Lime
Next came another variation on a classic cocktail, and this one worked it out as well. I got lots of refreshing citrus up front, backed by traces of banana and a distinct, long-lasting sugariness.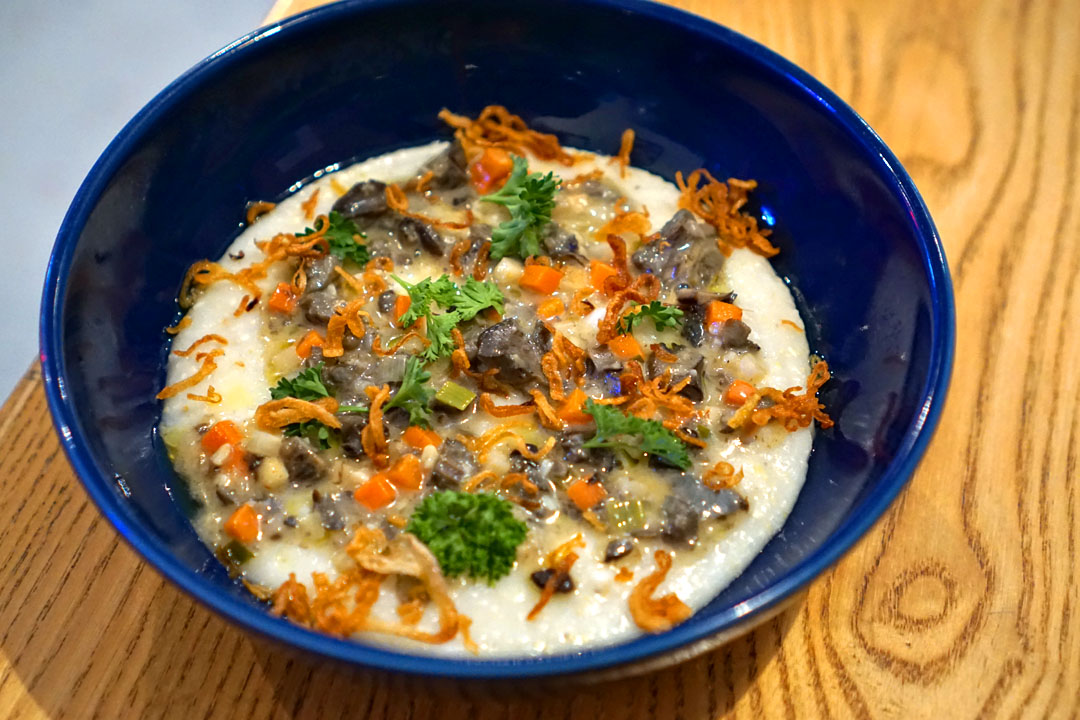 Anson Mills White Grits [$23.00]
| burgundy snails, mirepoix, parsley, fried shallots
The grits were another favorite, and just might've been the creamiest I've ever had. The porridge married beautifully with the herby, buttery flavors that you typically associate with escargot, and I definitely appreciated the tartness and crunch from the mirepoix, too.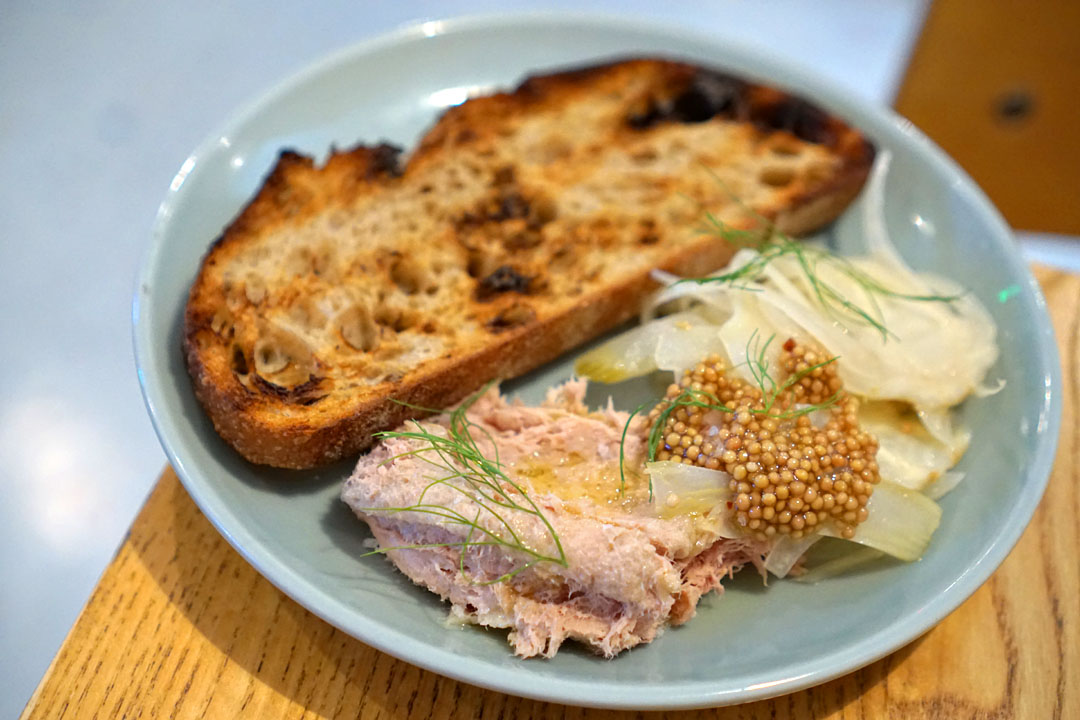 Pork Rillette [$13.00]
| pickled fennel, mustard seed, bub & grandma's bread
These rillettes were perhaps the most luscious I'd ever encountered, and came thoroughly imbued with the salty, savory goodness of pork. Mustard provided an important sweet-n-sour contrast, but even more effective was the pungency of that fennel, while the crispy, smoky bread completed the experience. Note that this dish ended up being comped--well, either that or my server forgot to add it to the bill.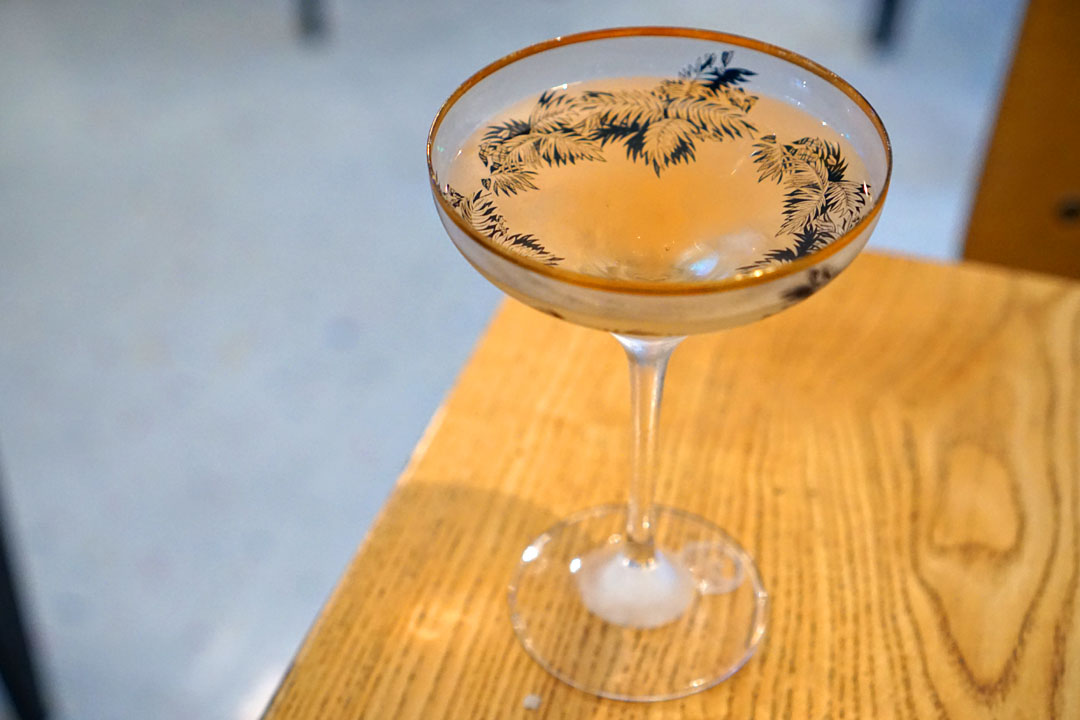 Chef's Tiki Tini [$14.00]
| Bimini Coconut Fat-Washed Gin, Martini Rossi Ambrato Vermouth, Arizona Strawberry Kiwi Juice
Next came my favorite cocktail of the night, and probably the best riff on a martini I've ever tasted. I loved all the perfume-y, floral, grapey nuances present in this one, and how they so seamlessly married with the botanical nature of the gin, making for one very cohesive, delicious package.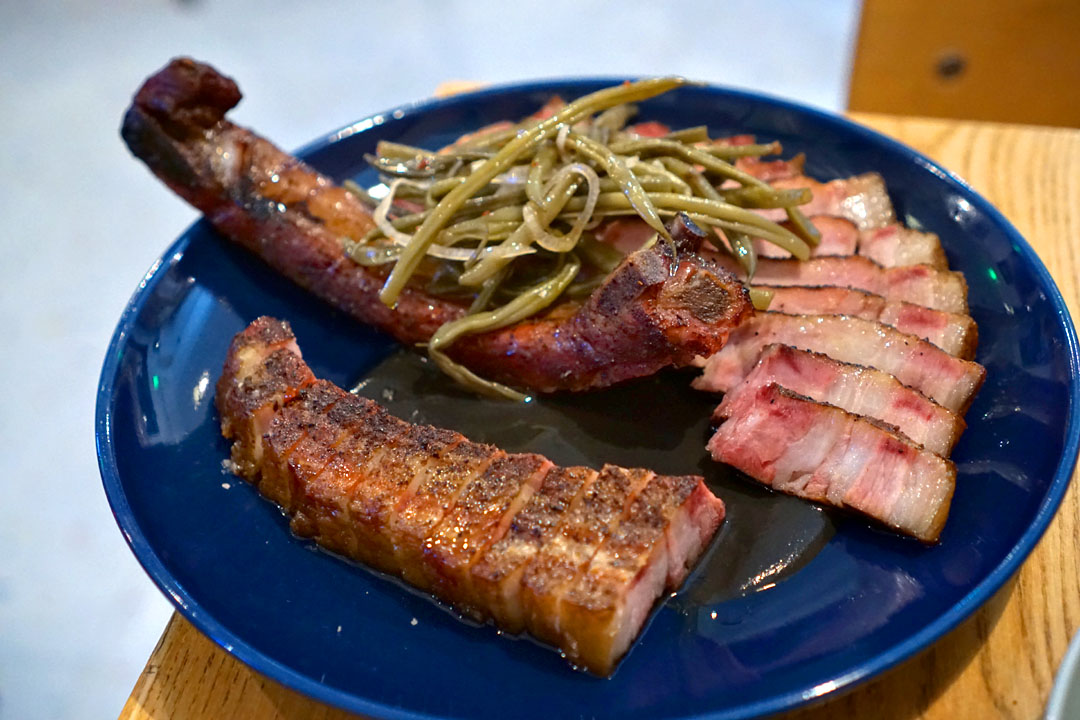 Smoked Pork Tomahawk Chop [$43.00]
| burnt mustard, dilly beans
The pork chop was a winner as well. I was quite happy with the ratio of fat-to-tender, juicy meat, and enjoyed the brazenly "hammy" smoke that pervaded the dish. Mustard helped even out the strong flavors here, while the beans conferred a sweet acidity.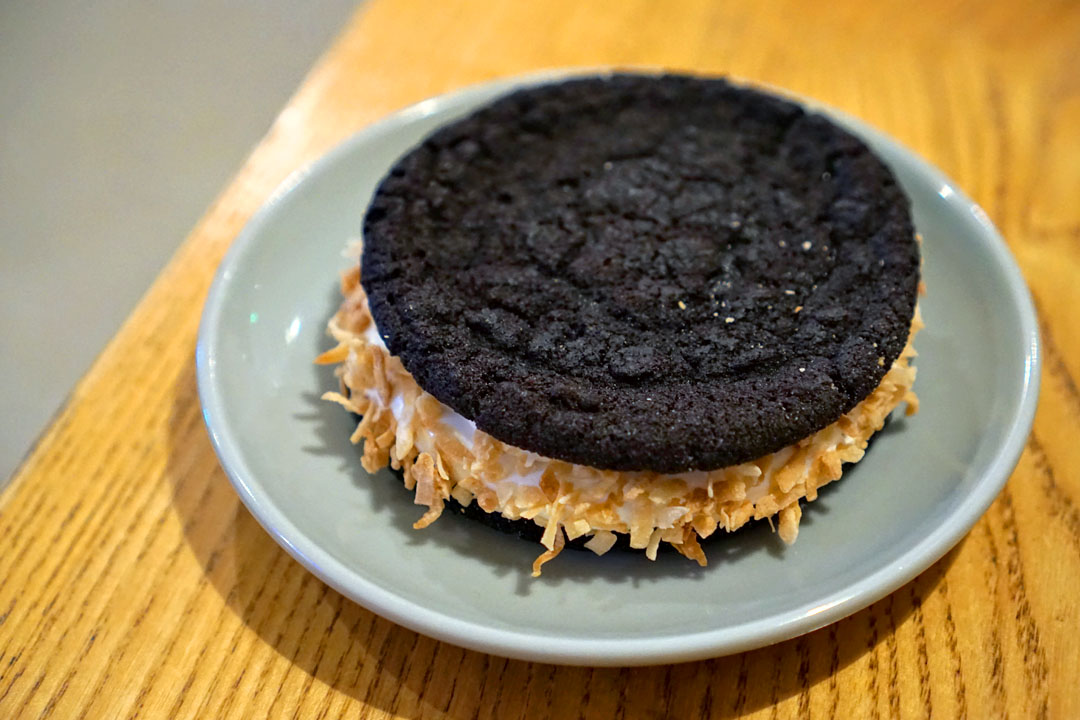 German Chocolate Marshmallow Pie [$5.50]
| sticky pecan & coconut
I was provided a complimentary serving of marshmallow pie, which did an excellent job of playing the sugary nature of its fluffy, nutty filling against the relatively bitter flavors of the chocolate cookies--yum. I will point out that desserts here are the work of Pastry Chef Thessa Diadem, who was also in charge of the sweet stuff at HLaY and first met Chef Whitener at the now-shuttered
Mezze
a decade ago.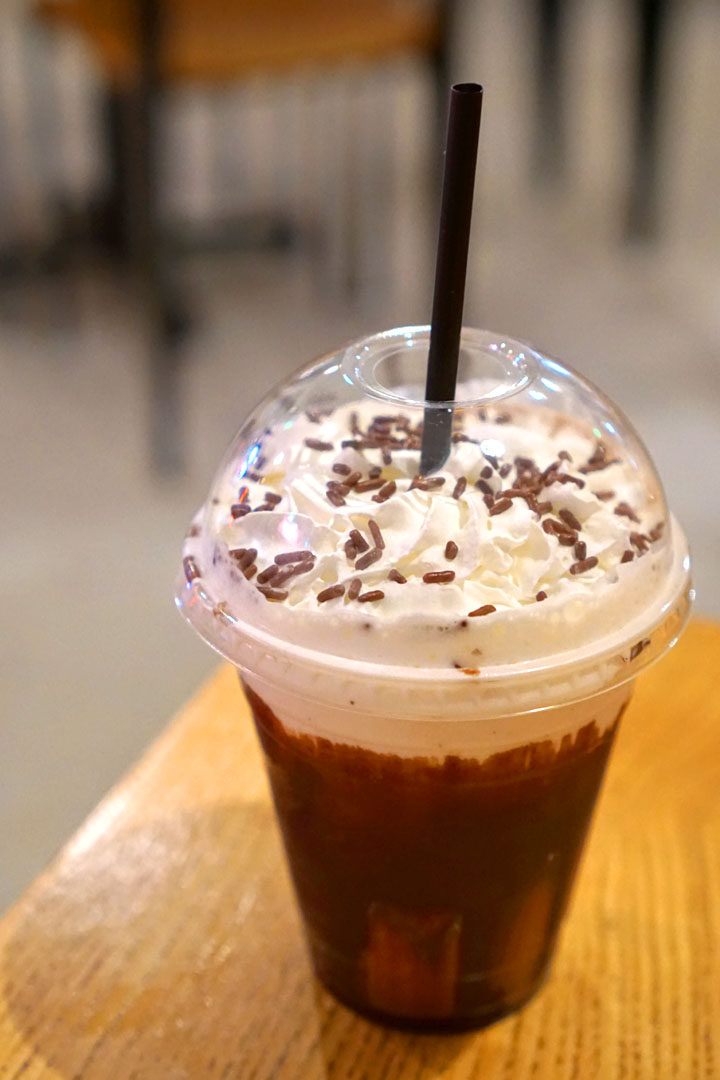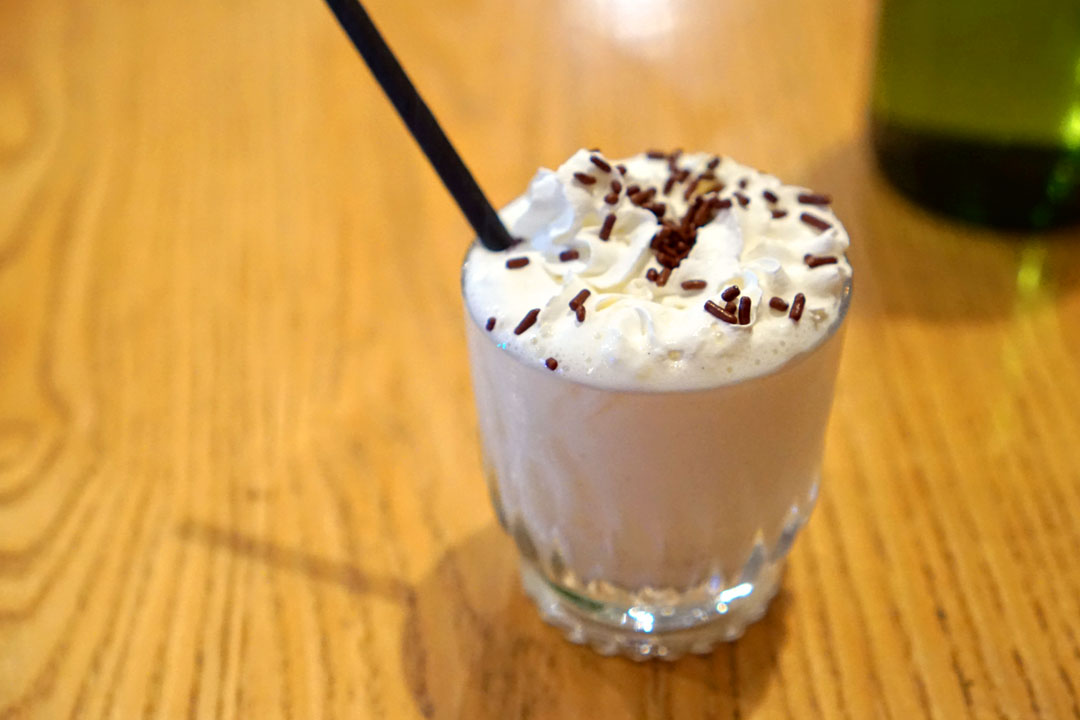 Elvis Shake [$15.00]
| skrewball peanut butter whiskey, bacon fat-washed bourbon, banana, whole milk, vanilla ice cream, chocolate, whipped cream, cinnamon
Unsurprisingly, I was rather full by this point, so I requested my boozy milkshake to-go, though my bartender was kind enough to make a mini version for me to enjoy at the restaurant. I actually didn't get much peanut butter, but instead, the focus was on deep flavors of banana and chocolate, intertwined with just enough booziness and a hint of spice.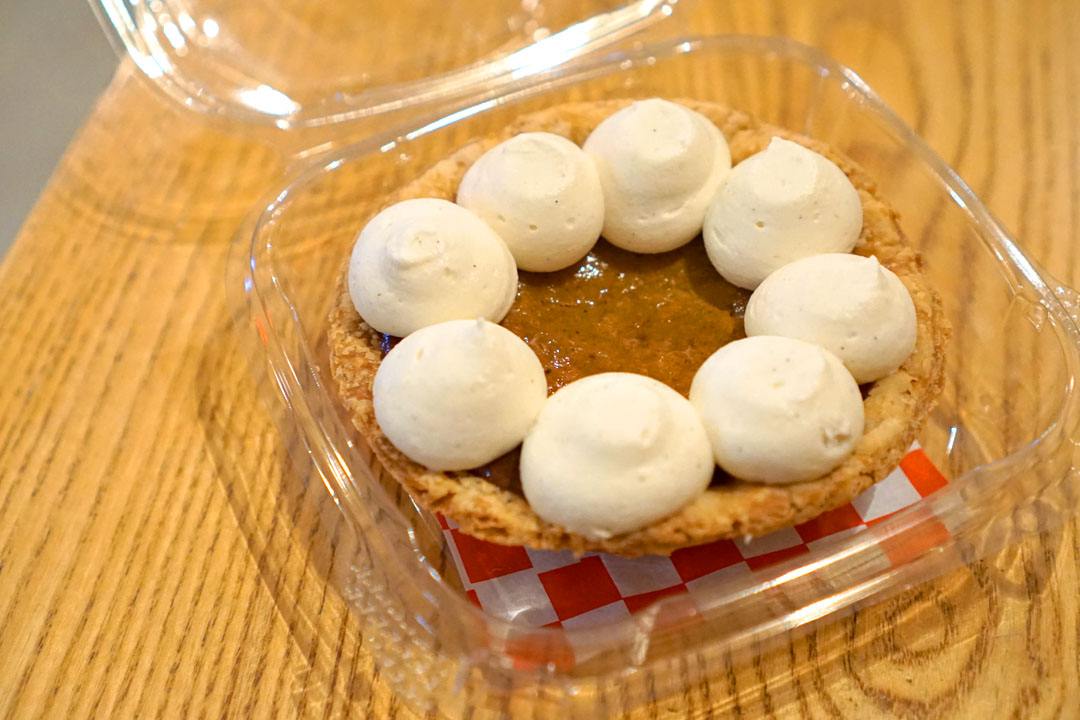 Mini Pumpkin Pie [$11.00]
| tahini whip
This miniature pumpkin pie was also purchased for takeaway, though I couldn't resist taking a bite of course. It really did convey the autumnal spices that I was looking for, but with a savory, almost funky edge from the tahini. Great crisp, flaky crust here to boot.
I was quite happy with my meal here tonight, and I think All Day Baby does a nice job interpreting what I've always enjoyed about the cooking at Here's Looking at You in a more casual, playful manner. I'm actually curious about the place's daytime offerings now. But speaking of HLaY, I was definitely saddened to hear of its pandemic-induced closure last July; it was one of the shutters that hit me the hardest. Fortunately though, the staff at ADB mentioned that the Koreatown restaurant might re-open before the end of 2021, which is fantastic news. Hopefully that ends up coming to fruition, since I can't wait to be back there.