Sushi Kisen (Arcadia, CA)
Sushi Kisen
1108 S Baldwin Ave, Arcadia, CA 91007
626.623.6033
www.sushikisen.com
Sat 12/11/2021, 08:30p-10:25p

You might recall that I posted about
Izakaya Tonchinkan
back in June. In that dining report, I mentioned that owner Yamato Miura was planning on opening an edomae-style sushi restaurant. Well, Sushi Kisen (鮨㐂扇) came to fruition a bit quicker than I thought it would, and grand-opened on November 16th. Miura's partnered up with
Steve Tieu
(a former customer and local insurance agent) for the place, while heading the kitchen is Executive Chef Hiro Yamada.
About the Chef
: Yamada hails from Kumamoto Prefecture in southern Japan. He started his culinary career when he was 18, and moved to Tokyo at age 20 to further his sushi skills. After spending time in the capital, he immigrated to the US in 1995, settling in Philadelphia. There, he worked with Atsushi Yokoyama (who currently runs
Hanare
), and later relocated to Southern California. In LA, Yamada spent considerable time at Sushi Gen, then, in the early 2010s, worked at Itacho, a spot situated right next door to
Angelini Osteria
(he became friends with
Ori Menashe
as a result). From there, he went to
Shiki
, but left the Beverly Hills eatery in February 2020. He then joined the team at Tonchinkan (he's a longtime friend of Miura's, and even did sushi pop-ups at Tonchinkan while still at Shiki) and instituted a sushi program there before starting work on Kisen.

Sushi Kisen resides in a Baldwin Plaza strip mall space that was previously home to the short-lived Dagu Rice Noodle, and Tea Bar Starry before that. It's a nice-looking room, with blonde wood everywhere. Do note that the photo above was taken after the restaurant closed, hence the upturned chairs.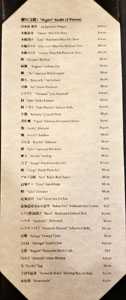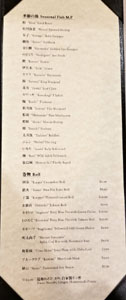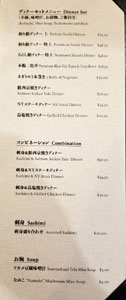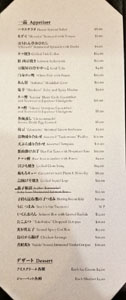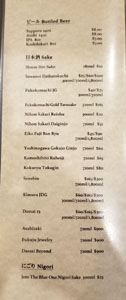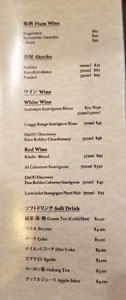 Kisen's menu lists an extensive array of nigiri, one of the largest I've seen in fact. This is joined by traditional rolls, a fairly lengthy selection of appetizers, and some combination sets. Keep in mind that there's a minimum charge of $80pp at the sushi bar, and there is no set omakase option. Instead, your
itamae
will continue serving sushi until you tap out. Beverage-wise, you get a handful of beers, a short sake list, and a smattering of wines. Corkage is $25. Click for larger versions.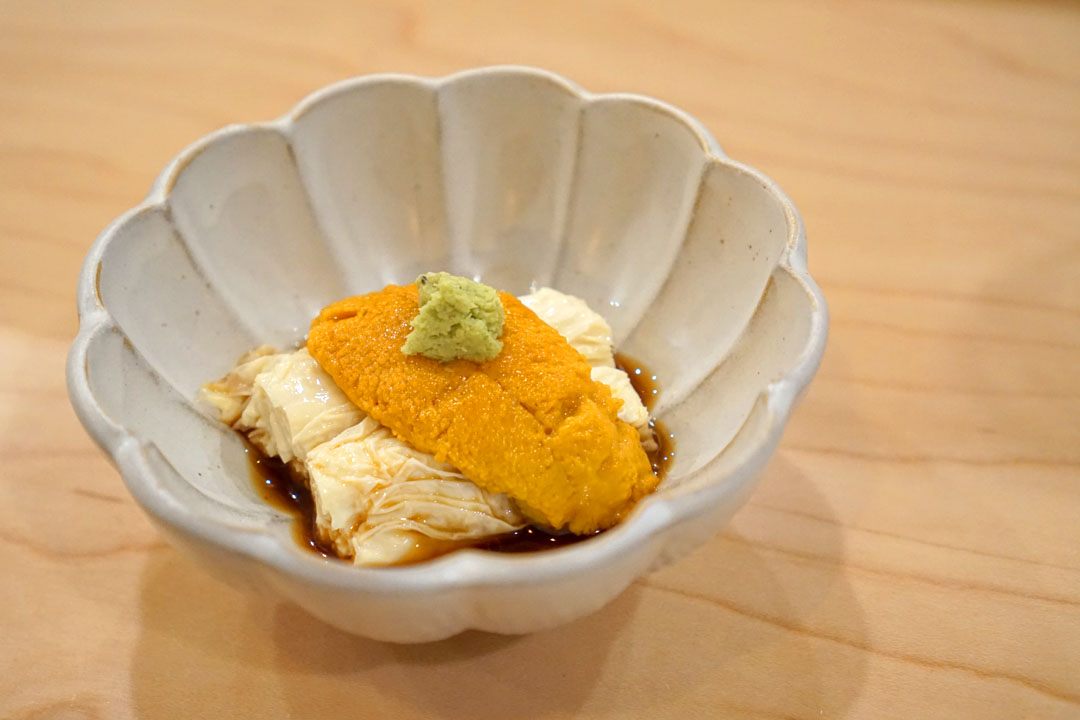 1: Uni Yuba [$12.00]
In my first course, the saline sweetness of sea urchin was complemented by soy-fueled umami and wasabi heat, all while tofu skin offered up contrast in both taste and texture. A smart pairing that I don't think I've seen before.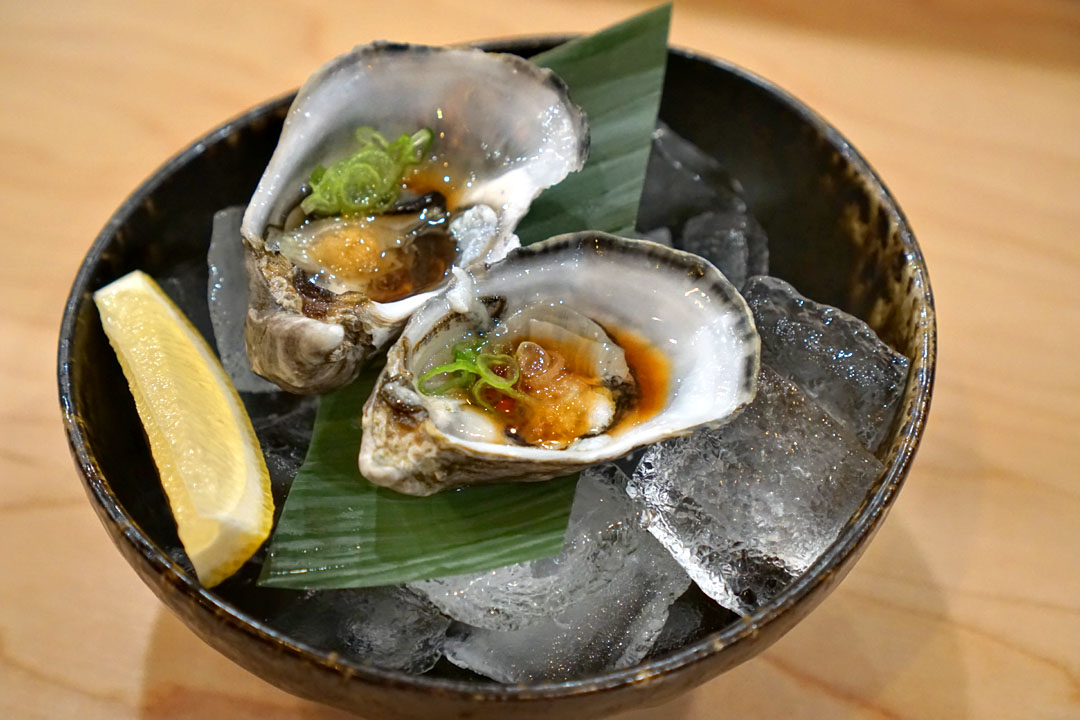 2: Shigoku [$9.00]
Shigokus are probably my favorite variety of oyster, and the examples tonight were clean and crisp, taking well to the tanginess of ponzu and lemon. Great zestiness from the scallions, too.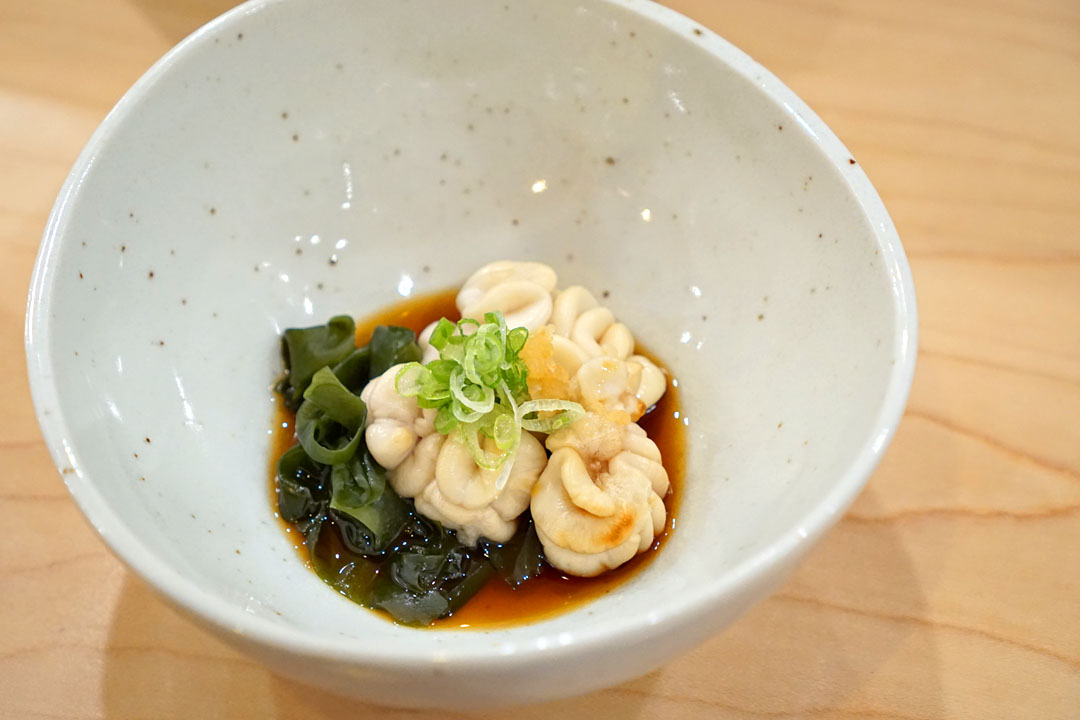 3: Shirako [$6.00]
Fish milt showed off a creamy, almost ankimo-esque consistency, while flavors were savory and saline, with an elegance. I appreciated the sourness from the ponzu, while the seaweed provided both crunch and umami to round things out.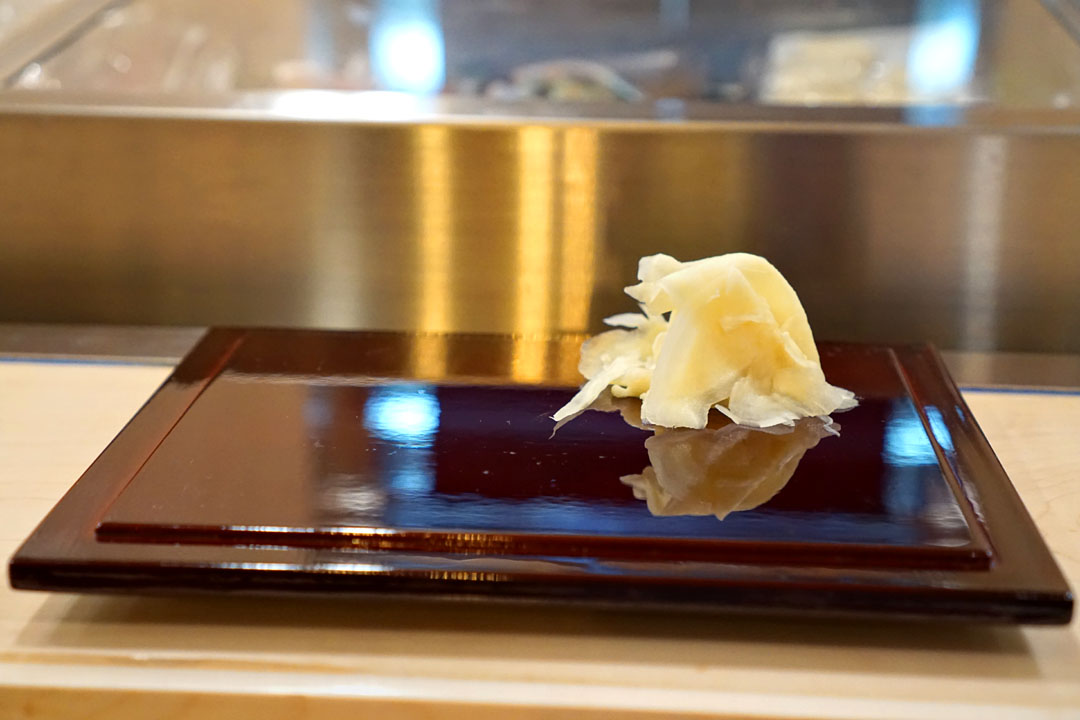 Ginger was seemingly extra spicy, and its presence signaled the beginning of the
nigiri
portion of our meal.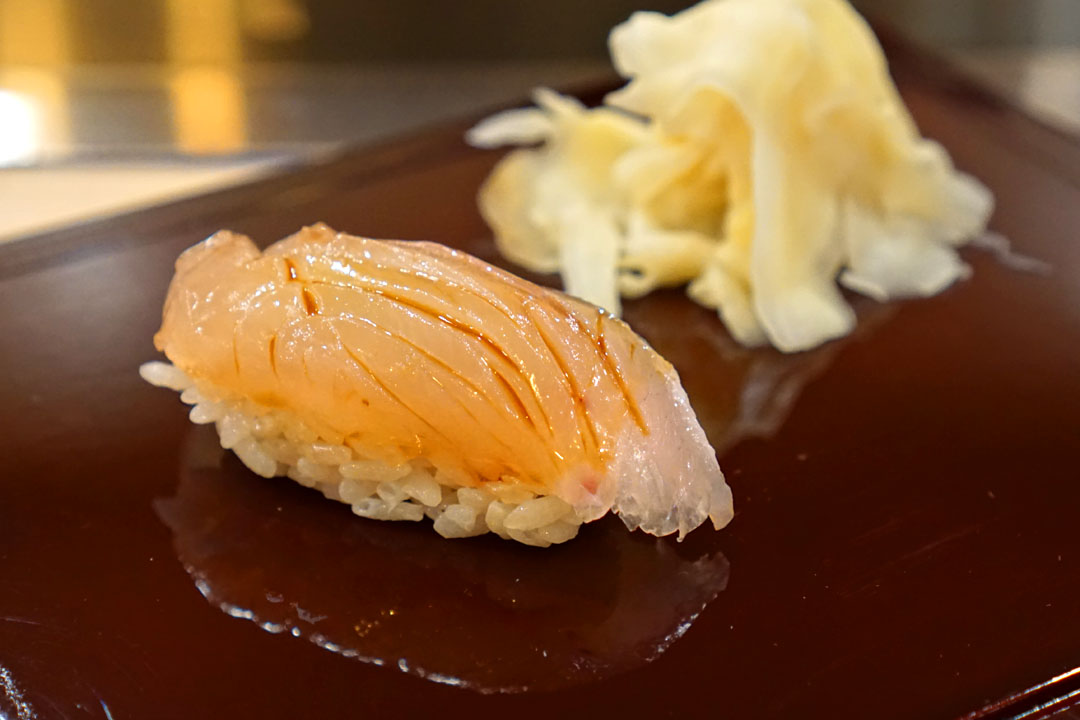 4: シマアジ "Shimaaji" Jack Mackerel [$5.00]
Striped jack made for a solid start to the sushi thanks to its lovely "crunch" and balance of soy and wasabi flavors, while the
shari
here was quite apparent, firm-ish, and very neutral.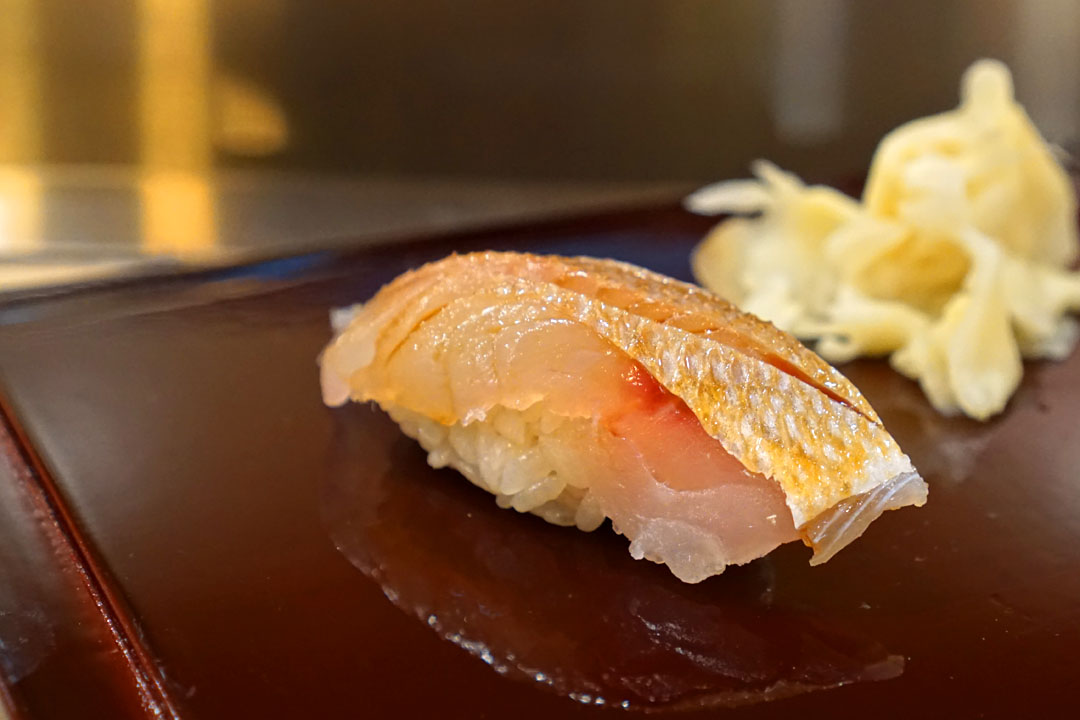 5: 春子 "Kasugo" Baby Snapper [$5.50]
Young sea bream was a winner, as I quite enjoyed the back-and-forth between citrus, umami, wasabi spice, and the tempering effect of the rice.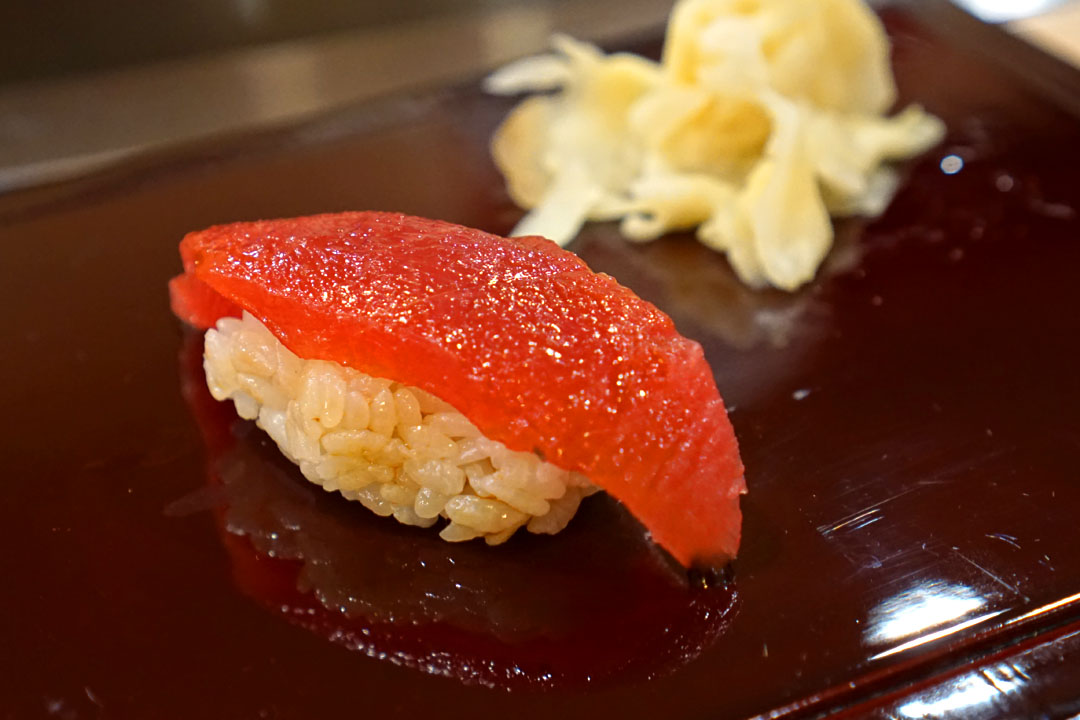 6: 本鮪赤身 "Akami" Blue Fin Tuna [$5.00]
Hon maguro
from Mexico ate cool, soft, and savory, with just a slight burn from the wasabi. The counterpoint from the rice was particularly effective here.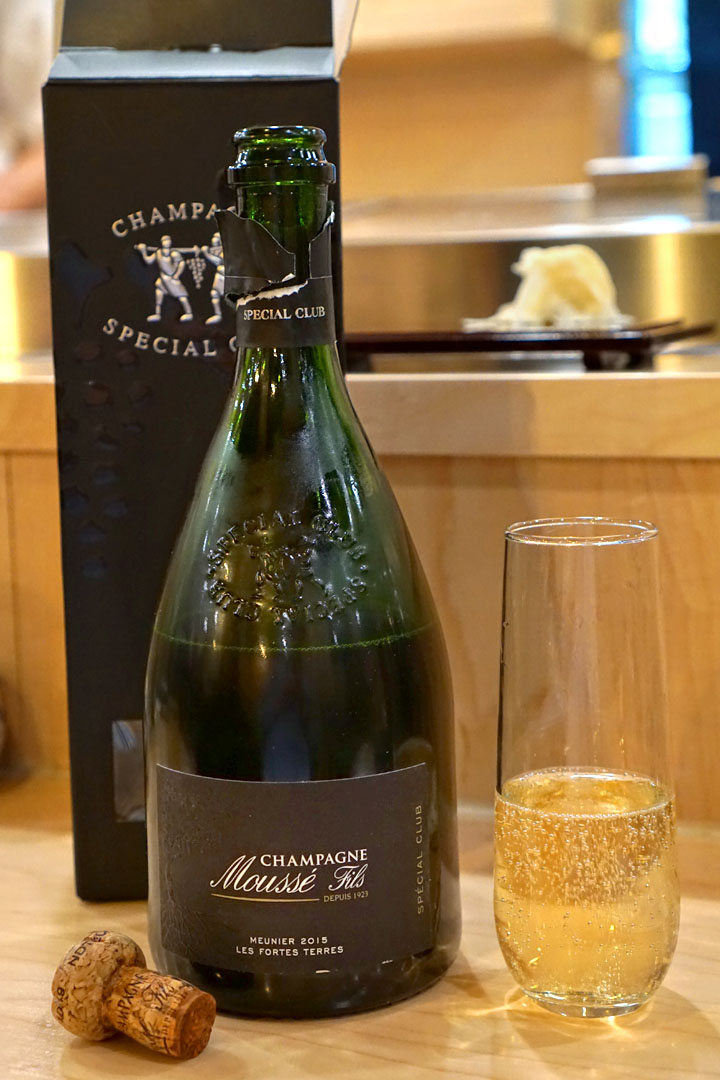 To drink, I brought along a bottle of the
2015 Moussé Fils Champagne Special Club Les Fortes Terres
. The wine featured a super robust nose filled with rich, deep apple flavors along with traces of cream and oxidation. The palate was similarly lush and full-bodied, with an amalgam of concentrated pome fruit, citrus, toast, minerals, and heat.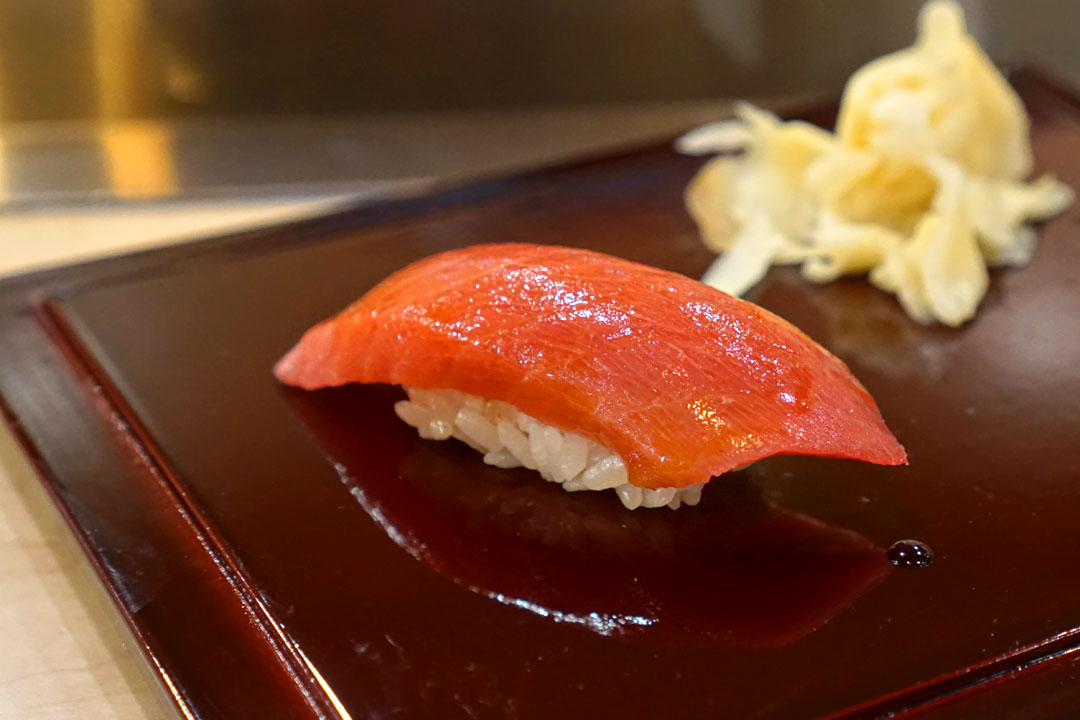 7: 本鮪中トロ "Chu-toro" Blue Fin Medium Toro [$8.00]
The chutoro was also sourced from Mexico, and had a very pervasive, but balanced fattiness that definitely worked for me.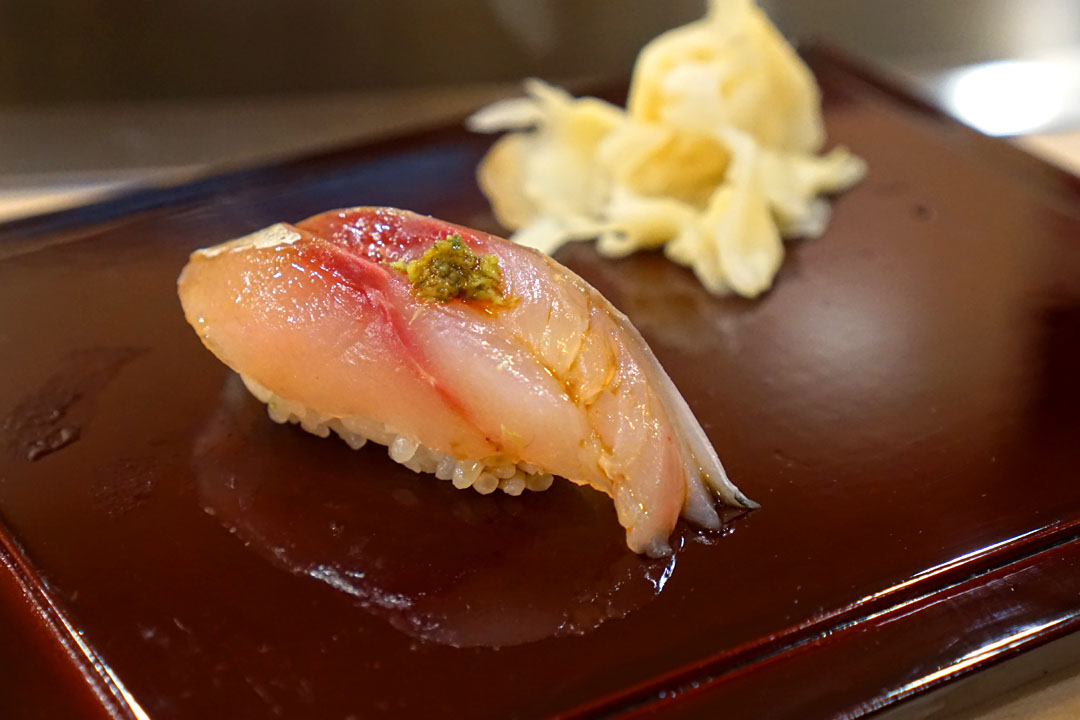 8: 真鯵 "Aji" Horse Mackerel [$4.25]
Maaji
had a nice bite, and I appreciated the zip of the scallion and wasabi, but unfortunately there was a muddiness to the fish that didn't sit well with me.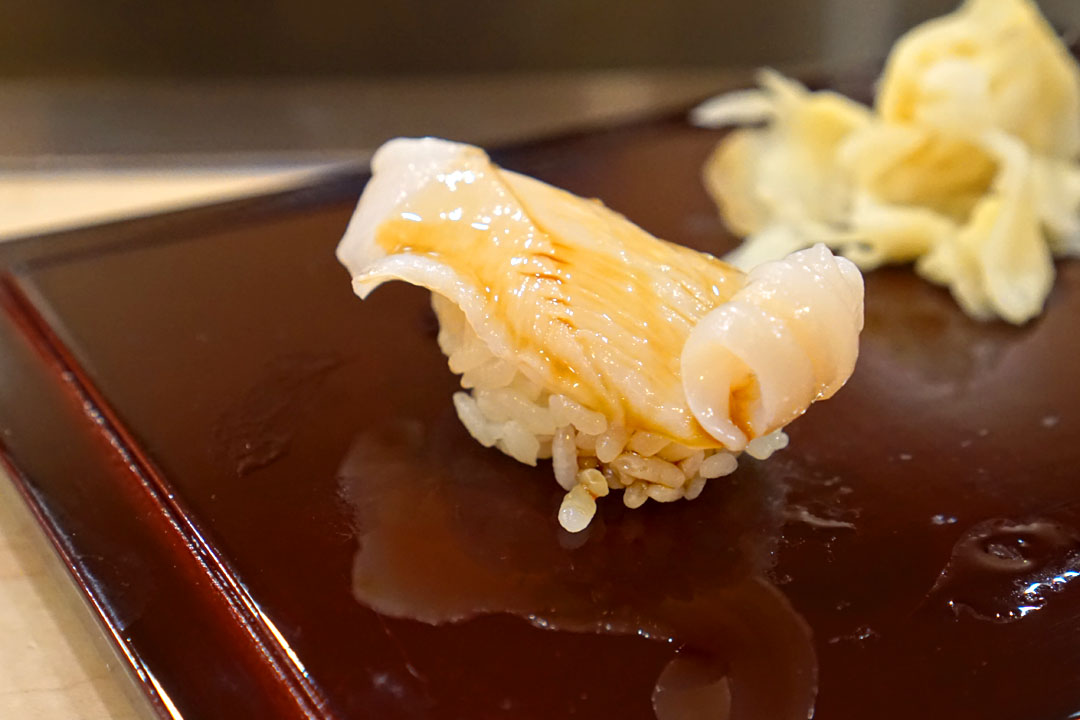 9: ミル貝 "Mirugai" Giant Clam [$10.00]
The geoduck did a commendable job blending its sweet, saline qualities with the sting of wasabi. Nice crunch here to boot.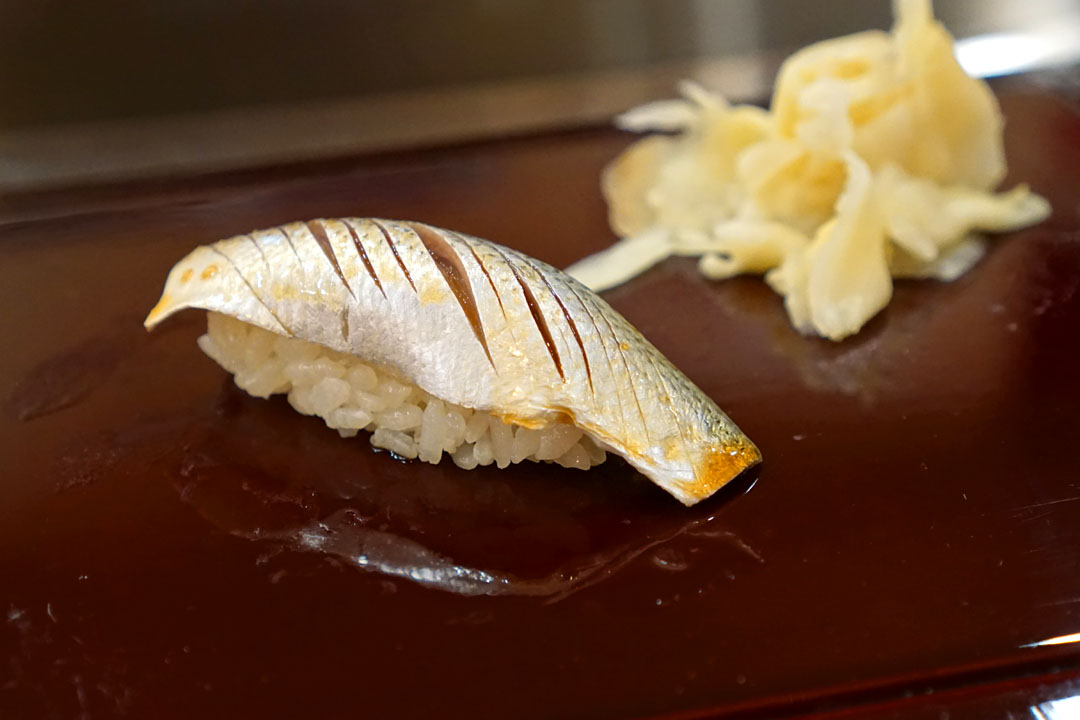 10: 小肌 "Kohada" Gizzard Shad [$4.25]
This was a standout thanks to the fish's spot-on balance of brine and almost fruity sweetness. The rice was also warmer here, which worked out well.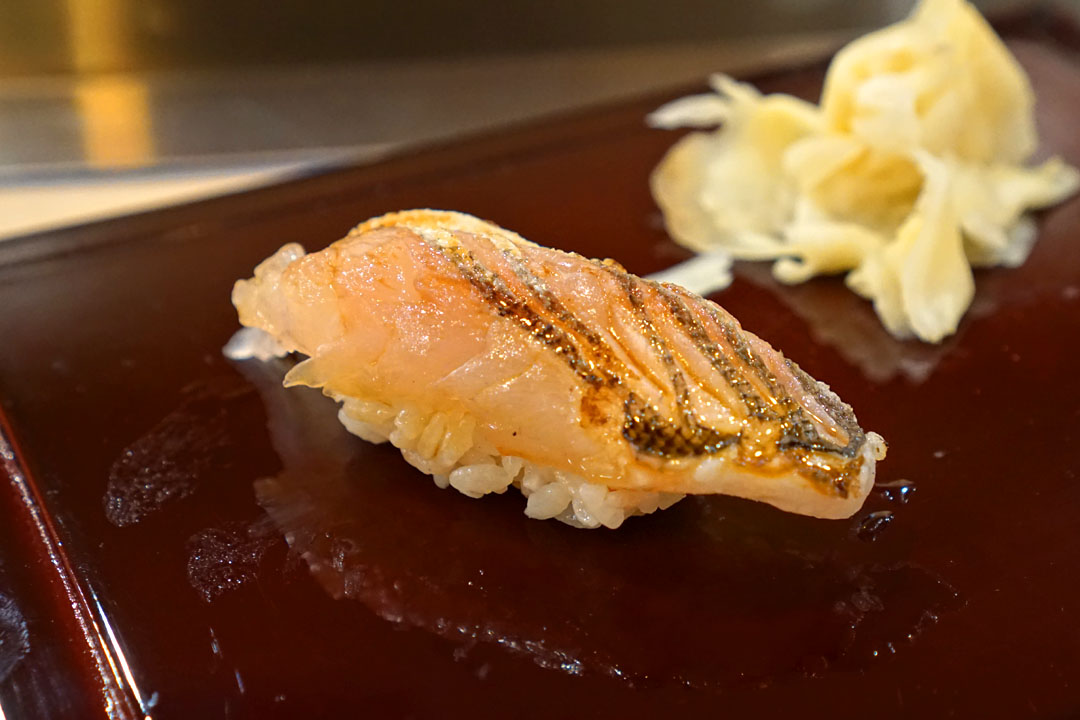 11: カマス "Kamasu" Barracuda [$5.50]
The barracuda delivered in spades with its mouth-watering mix of smoke, sear, and salt, while its supple texture meshed well with the firmer nature of the rice.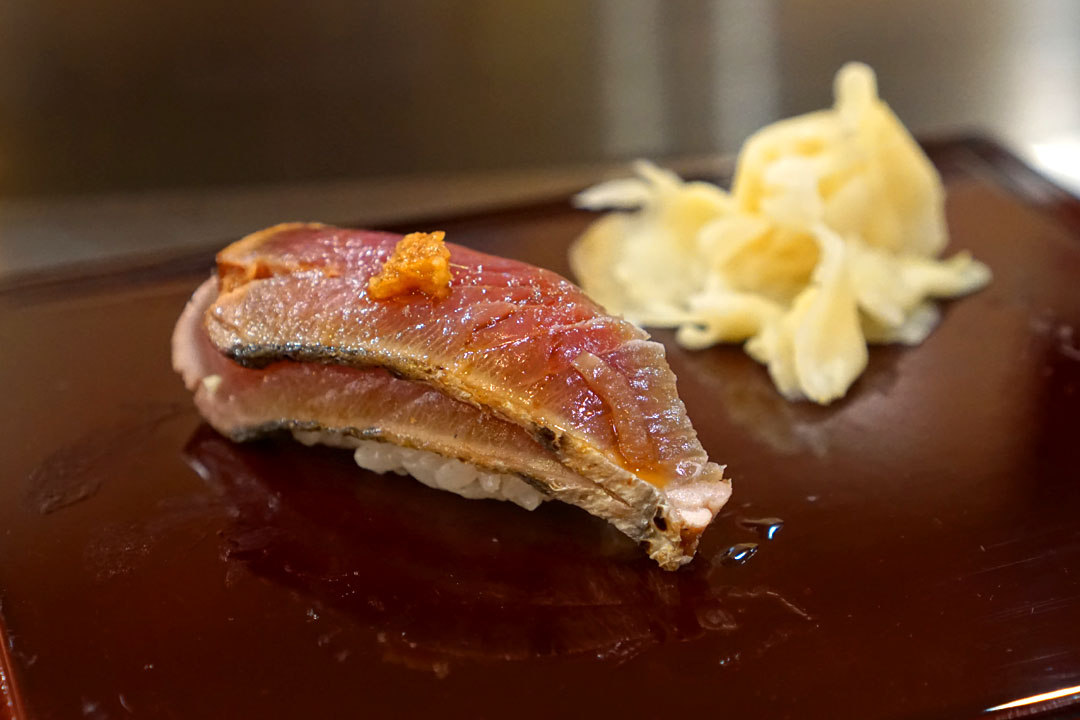 12: 鰹 "Katsuo" Bonito [$9.00]
The straw-smoked skipjack tuna was a favorite of mine. I loved all the grassy, smoky flavors here, as well as the fish's deep, almost ham-like savor.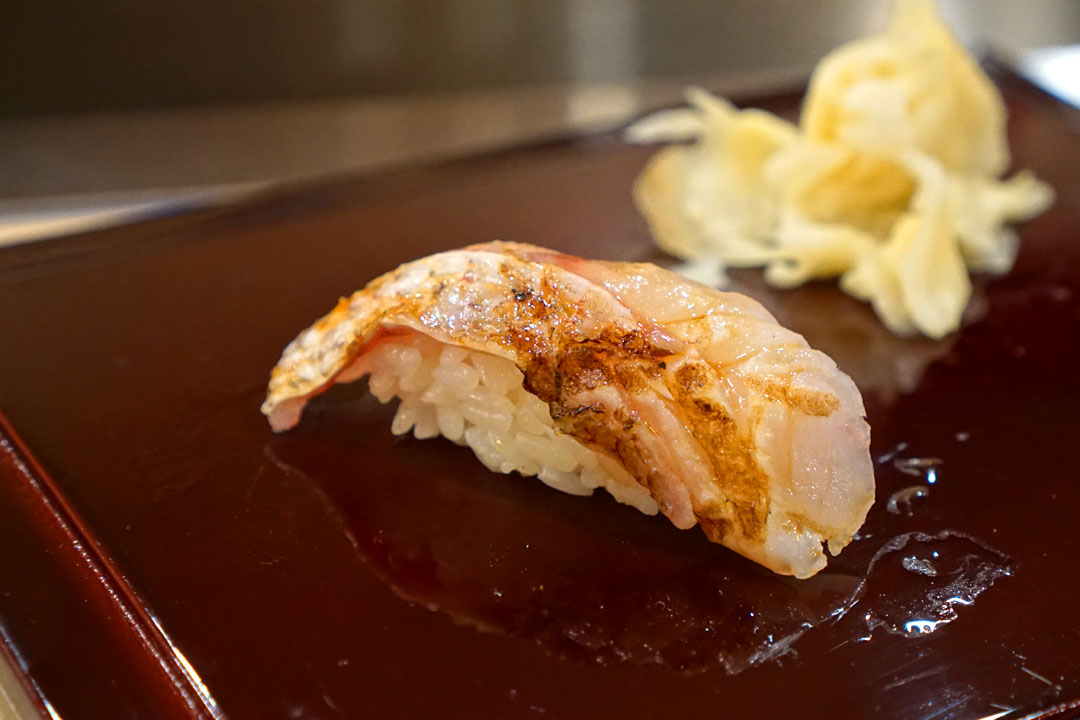 13: のどぐろ "Nodoguro" Sea Perch
Akamutsu
is my favorite fish, so I was happy to see it tonight. A light sear really highlighted its savory, sweet, fatty nature, and again, the juxtaposition with the
shari
was crucial. Note that I was not charged for this particular piece of sushi, I'm guessing because the Chef forgot to add it to the bill.
14: 白エビ "Shiroebi" Glass Shrimp [$9.00]
White shrimp from Toyama displayed a creamy, sweet brine, as well as a salty finish that made sense with the tartness of
sudachi
.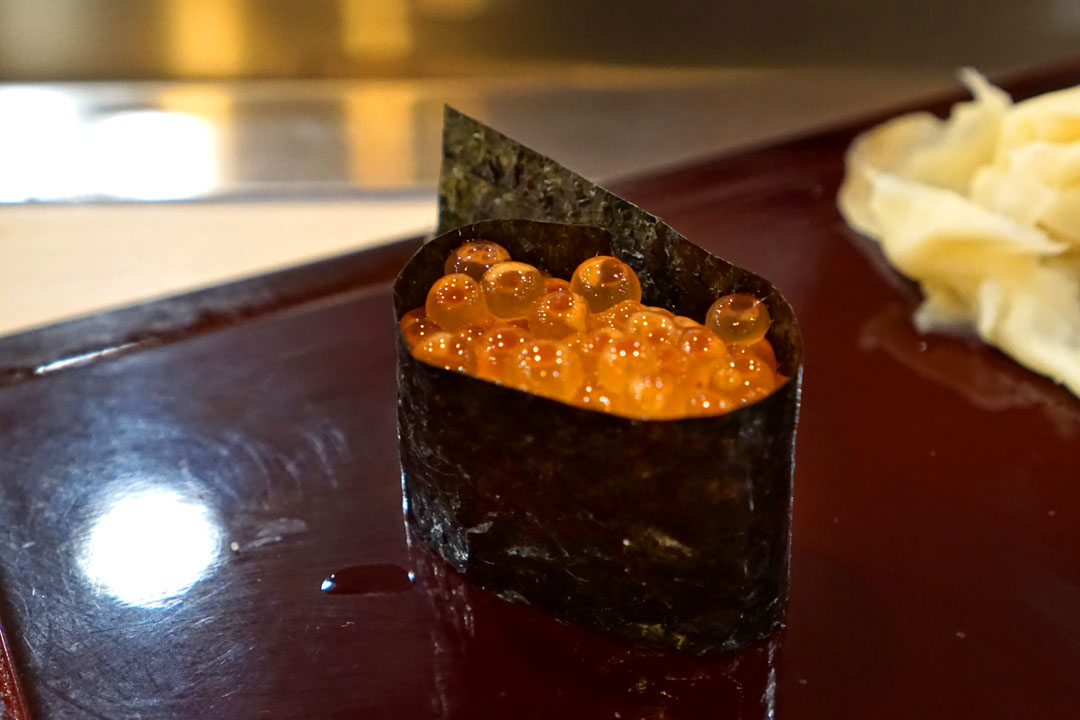 15: イクラ醤油漬け "Ikura" Marinated Salmon Roe [$6.50]
The
ikura shoyu-zuke
conveyed a deeper, smokier savor than usual, while that crispy nori certainly completed the package.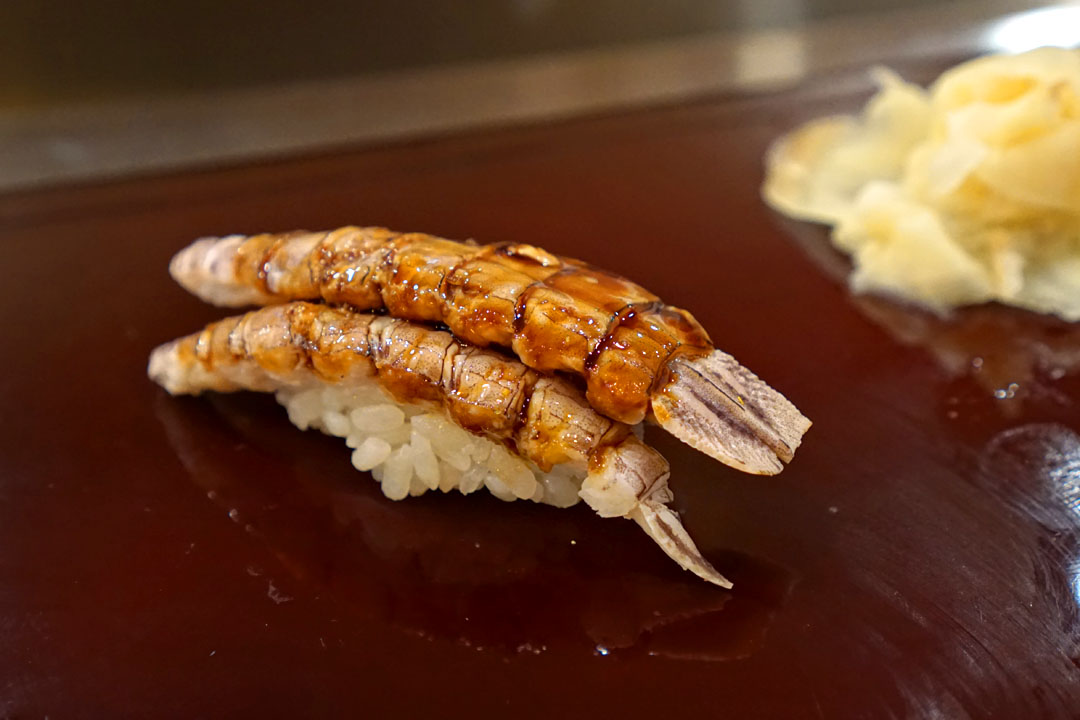 16: 蝦蛄 "Shako" Mantis Shrimp [$6.00]
I don't often see mantis on sushi menus, so it was a treat to have this tonight. The shrimp possessed a spongy, meaty texture, along with a mild earthiness that linked up well with the sweetness of its
tare
topping.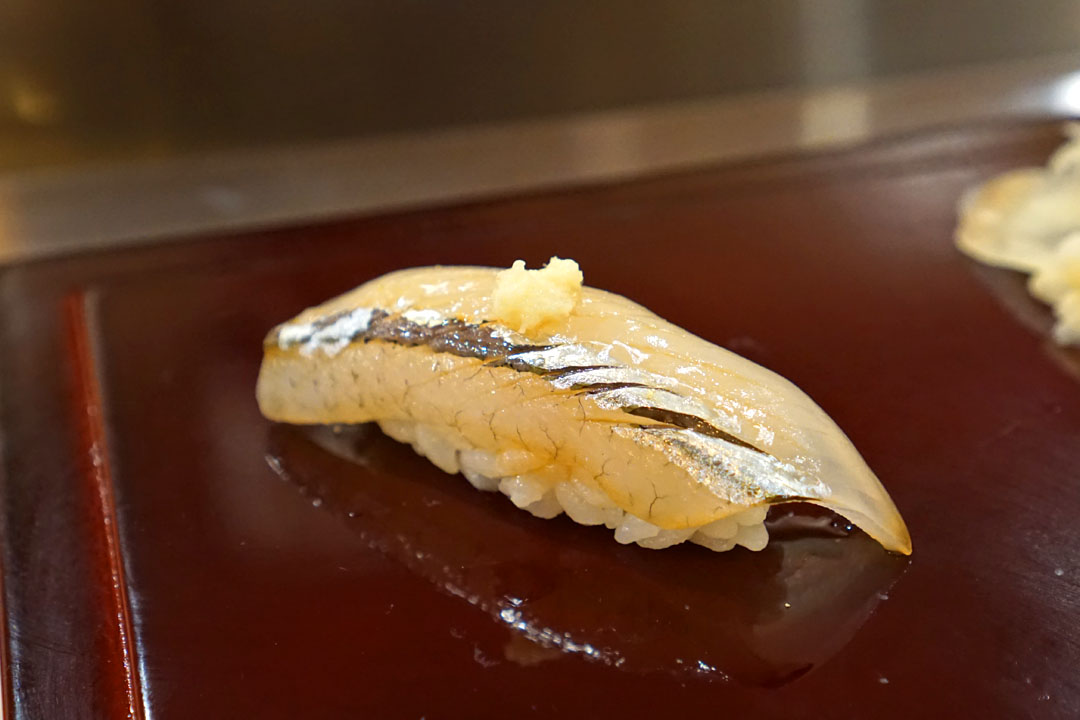 17: 細魚 "Sayori" Halfbeak [$5.50]
Half beak is also a relatively rare offering. The fish showcased a very pleasing texture, while its delicate flavor married easily with the piquancy of ginger.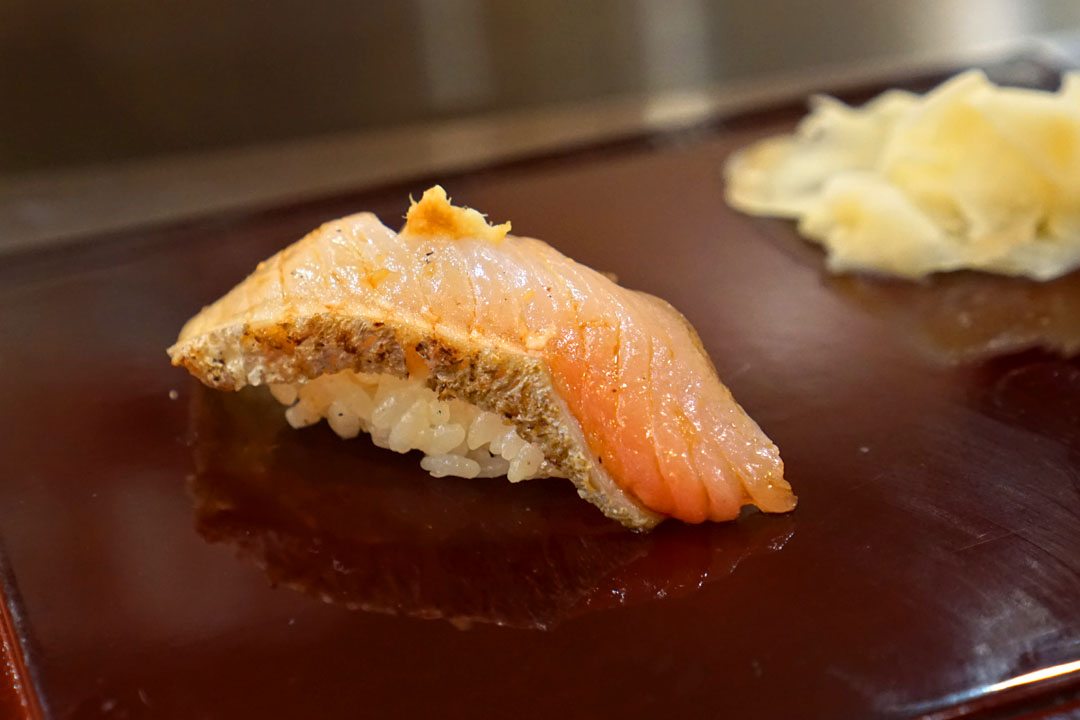 18: 鰆 "Sawara" King Mackerel [$5.50]
The Spanish mackerel was another favorite. I was pretty enamored with its super silky consistency, while the taste went in a decidedly deep, smoky, meaty direction.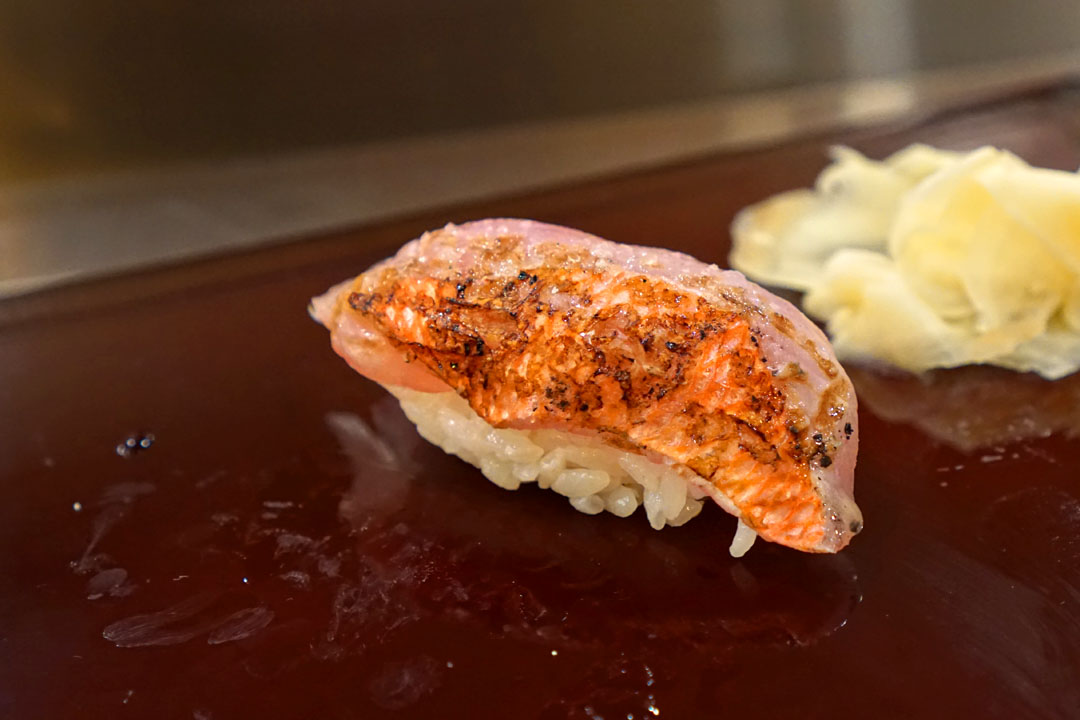 19: 金目鯛 "Kinmedai" Golden Eye Snapper [$8.00]
We ended on a high note thanks to this splendid splendid alfonsino, which had an excellent texture as well as an aggressive char that was smartly offset by citrus.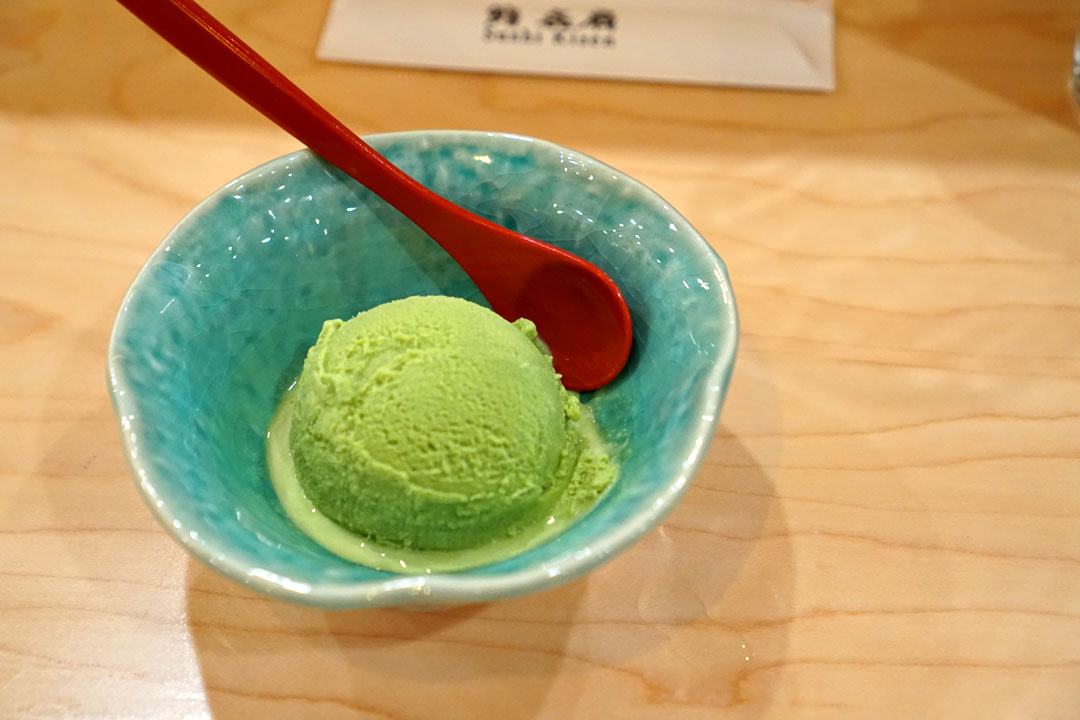 20: Green Tea Ice Cream [$4.00]
Dessert duties were handled by a somewhat dense scoop of ice cream, one with a particularly powerful matcha powder character.
The San Gabriel Valley isn't exactly known for its sushi scene, so Kisen is a welcomed addition to the landscape, and of particular note here is the restaurant's wide-ranging selection of
neta
. I hope this place can stick around. Now as for Miura's next steps, he's apparently taken over the lease at a rather famous location in Beverly Hills, so I'm very curious to see what he ends up doing with the space. No timeline on that project yet, though.