Bestia (Los Angeles, CA) [3]
Bestia Restaurant
2121 E 7th Pl, Los Angeles, CA 90021
213.514.5724
www.bestiala.com
Mon 11/08/2021, 08:45p-11:20p

Bestia
is easily one of my go-to Italian restaurant picks in LA, but I really don't come here as often as I should, simply because it's so difficult to snag a seat at the place. If you want a desirable reservation, you pretty much have to book it a month out, and even tonight's non-desirable one (later on a Monday) required three weeks. All that notwithstanding, I was eager to return to the Downtown eatery for another meal recently.

Inside, things really haven't changed much at all since the spot opened, and that's probably a good thing. It's a lovely space, and very apropos for the concept.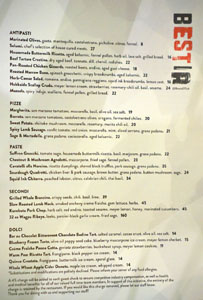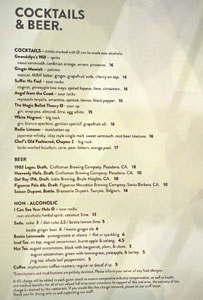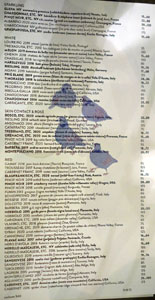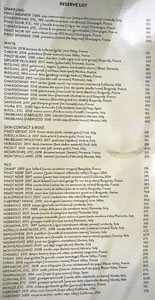 I imagine Bestia's menu should be familiar to many of you reading this. It lists numerous favorites, such as the bone marrow and mussels, alongside a dynamic selection of more seasonal dishes. I will also note that the wine list has gotten much more impressive compared to when the place launched. Click for larger versions.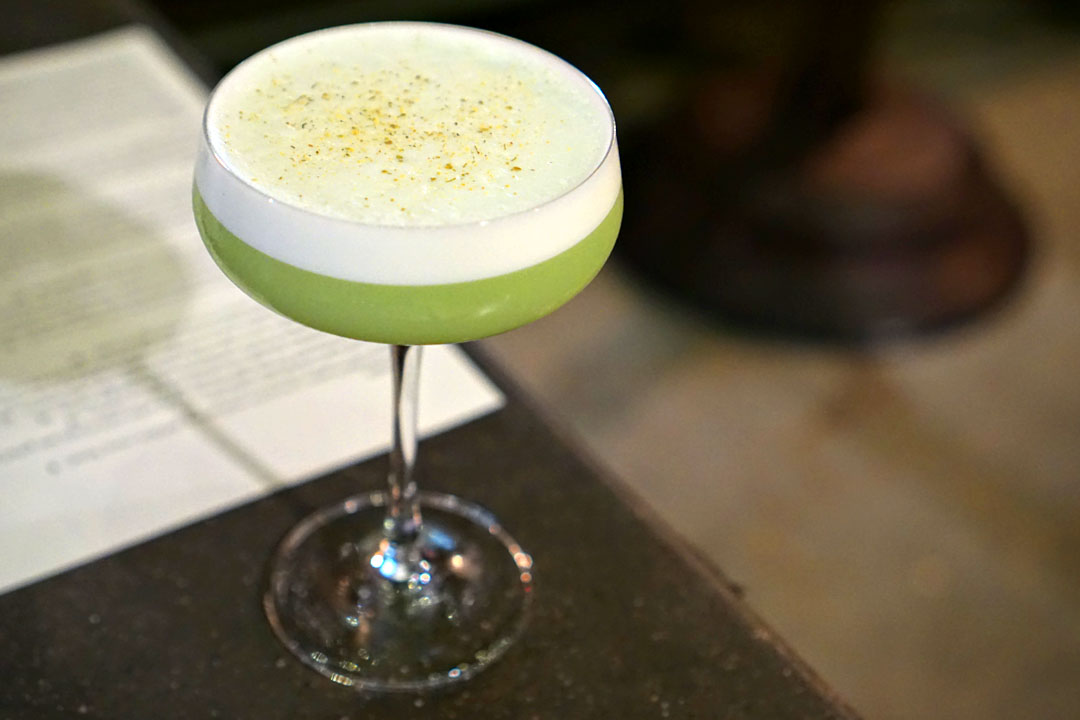 The Magic Bullet Theory Ø – sour up [$15.00]
| gin. snap pea. almond. lime, egg white.
I generally opt for cocktails here, and this first managed to be one of the more interesting I've had in recent times. In the addition to its green hue, the inclusion of snap pea also lent the drink a vegetal note that combined beautifully with the sweetness present. This was then juxtaposed against sour notes and the sheer egginess of that foamy head up top.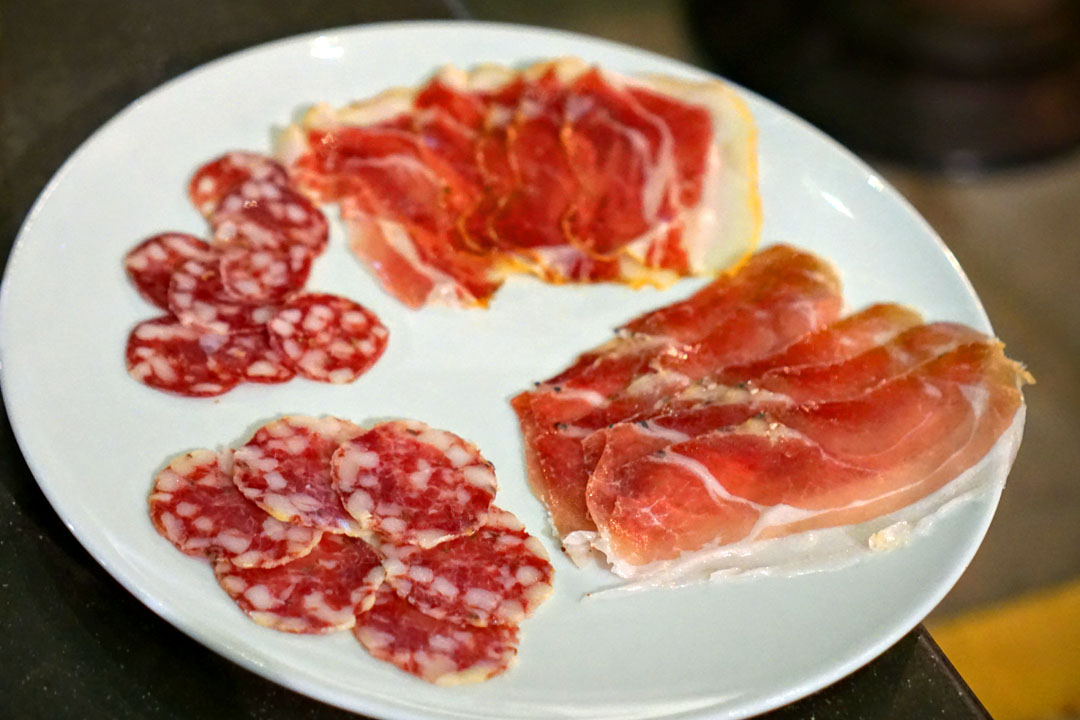 Salumi [$27.00]
| chef's selection of house cured meats.
Bestia is renowned for its house-made charcuterie, so it made sense to start with some. Clockwise from lower-left, we have:
Orange-Fennel Salami – Excellent zestiness from the fennel set against the innate savoriness of the sausage, superbly finished with a touch of heat.
Smoked Caraway Salami – Here, I really enjoyed how a bevy of pungent, anise-y notes were presented without overpowering the pork.
Spicy Lomo – The lomo showed off the deepest, most umami-driven flavors, offset by a hint of spice on the back end.
Speck – I got a definite ham-like flavor profile, augmented by deft applications of smoke and salt.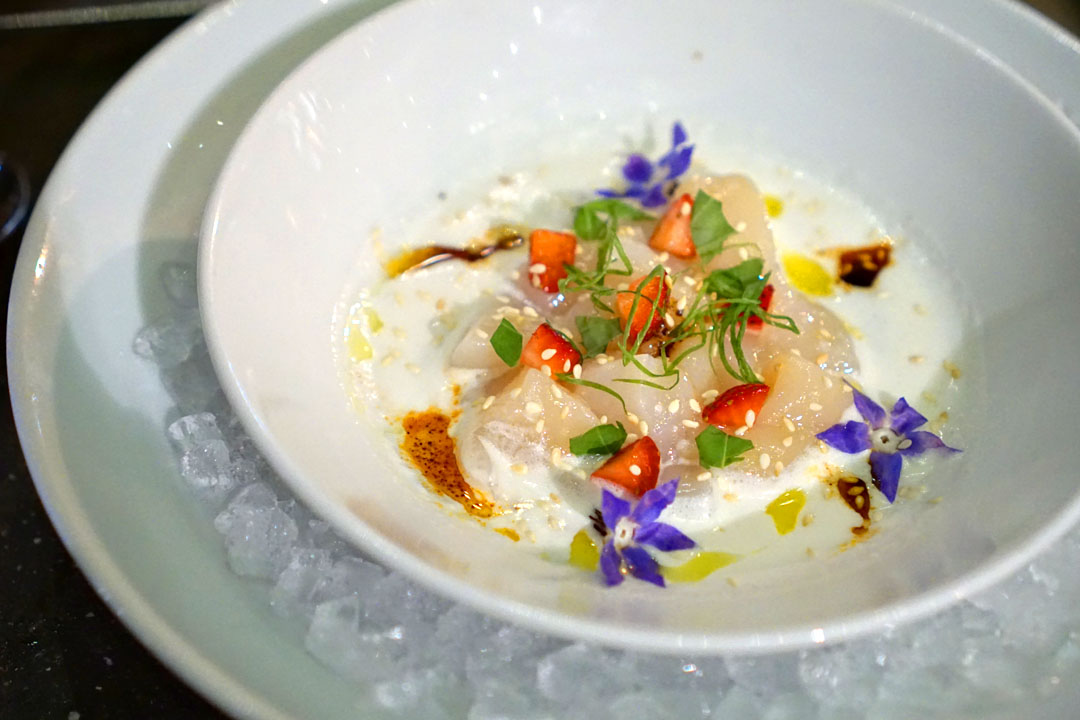 Hokkaido Scallop Crudo [$24.00]
| meyer lemon cream. strawberries. rosemary-chili oil. basil. sesame.
Cuts of
capesante
arrived cool and supple, and initial flavors highlighted the creamy, citrusy components in the dish. However, what really made this work was the inclusion of sesame, which imparted a fantastic nuttiness on the finish that lingered long and strong while complementing the natural sweetness of the scallops.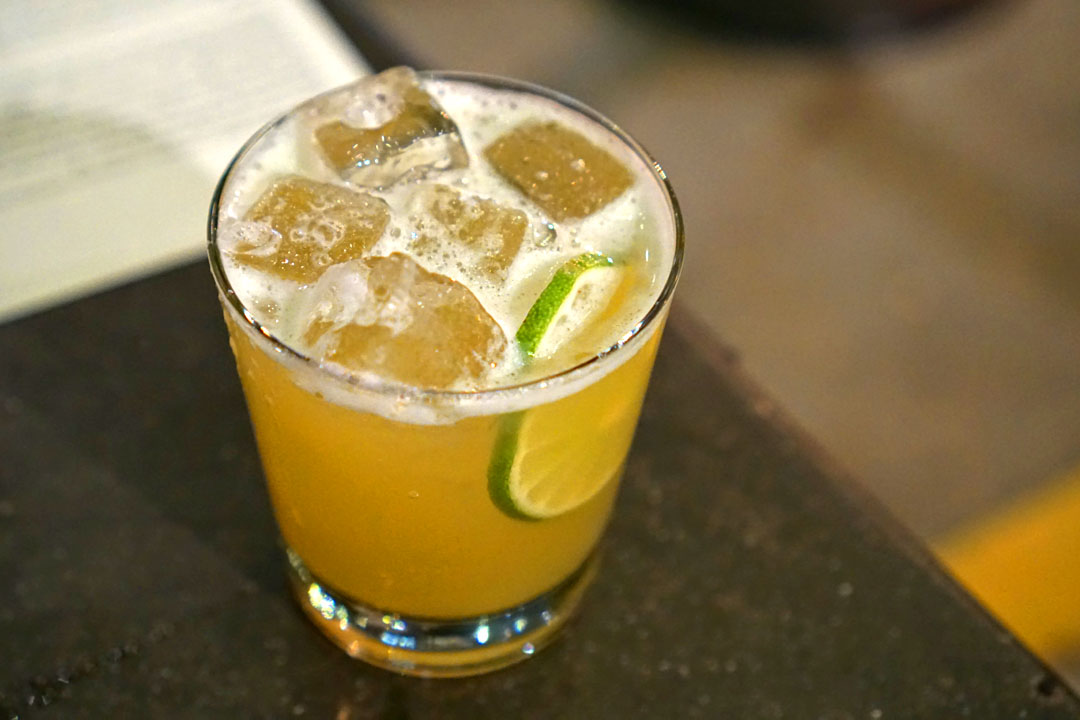 Suffer No Fool – sour rocks [$16.00]
| cognac. pineapple two ways. spiced liqueur. lime. cinnamon.
Our second sour-based cocktail featured robust, unmistakable notes of pineapple commingled with sweet spice, the cognac barely making itself known.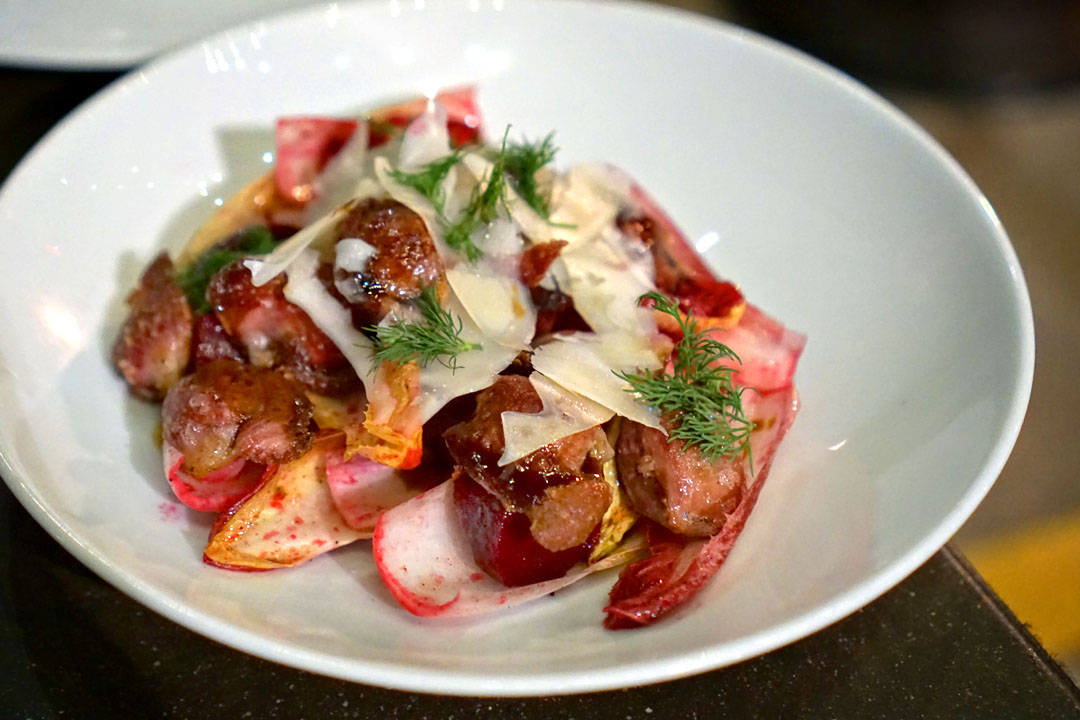 Pan-Roasted Chicken Gizzards [$18.00]
| roasted beets. endive. aged goat cheese.
The gizzards were certainly a standout. I loved their supple, gratifying bite, while their earthiness paired beautifully with smoke, sear, and even sweetness from the beets. The endive provided a welcome crunch and bitterness, and there was this pervasive acidity in the dish that worked as well.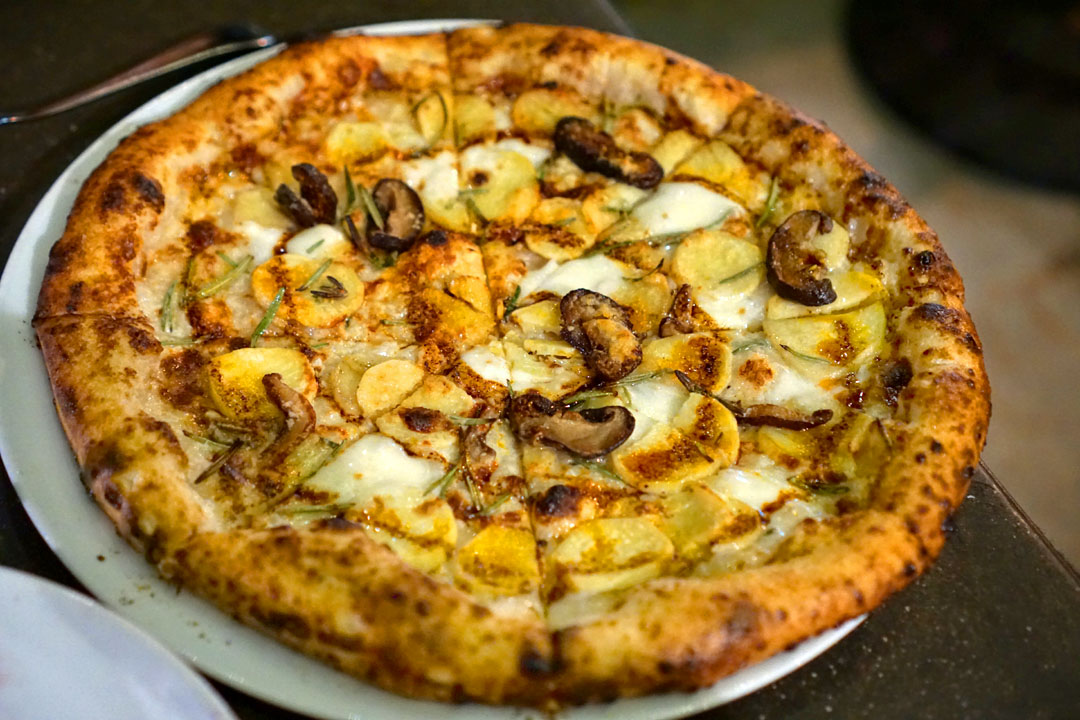 Sweet Potato [$20.00]
| shiitake mushroom. mozzarella. rosemary. morita chili oil.
I'm generally wary of sweet potato, but the tuber really made sense in this pizza thanks to contrasting flavors of char, shiitake-fueled umami, and especially the bracing, pine-y nature of rosemary. Nice job with the crust here, too.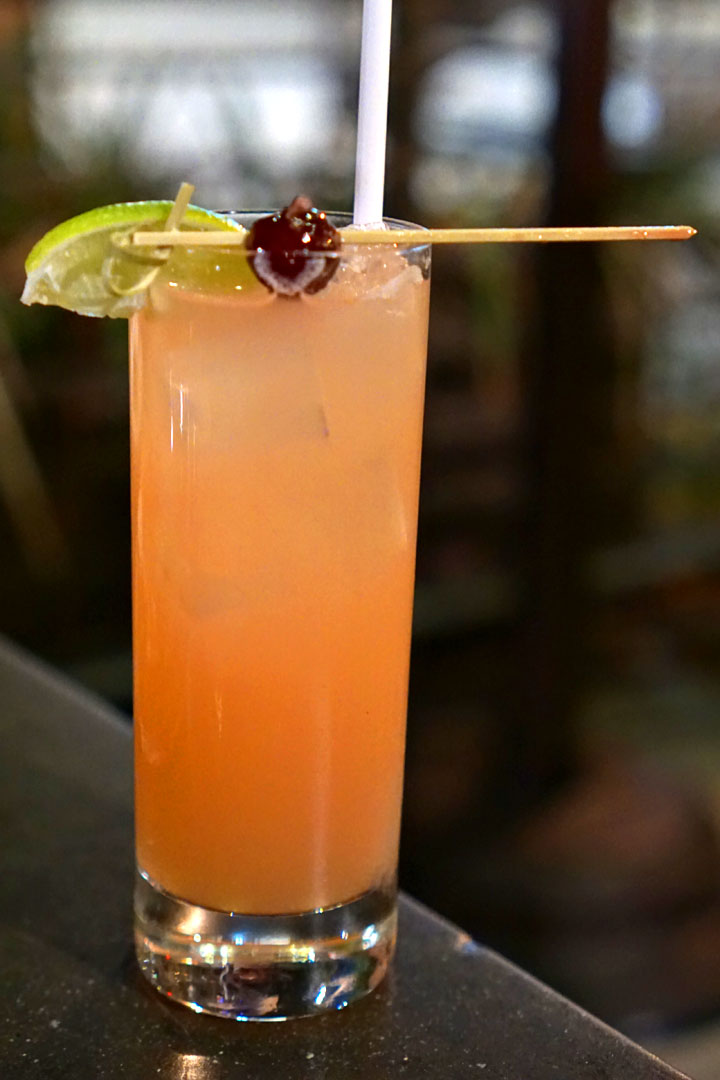 Ginger Messiah – paloma [$14.00]
| mezcal. M&R bitter. ginger. grapefruit soda. cherry on top.
This smart take on the classic paloma cocktail wasn't shy about showing off the ginger, but even more important were the additional layers of smoke from the mezcal.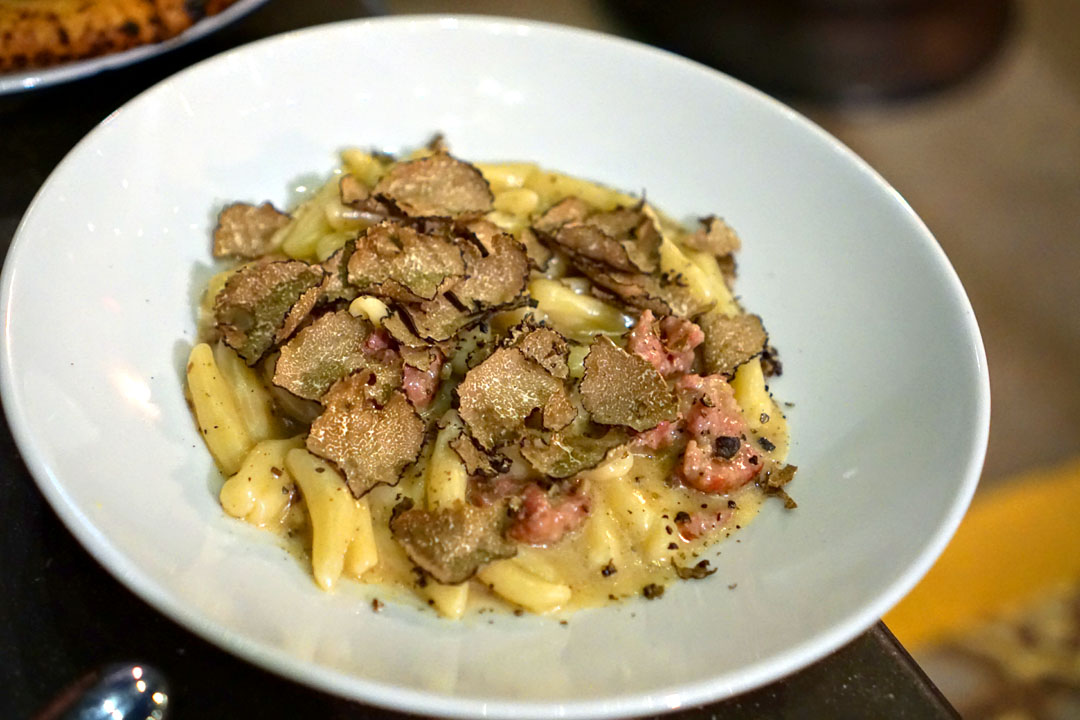 Cavatelli alla Norcina [$35.00]
| ricotta dumplings. shaved black truffles. pork sausage. grana padano.
The unridged nature of the cavatelli made for a pleasant mouthfeel, and the pasta worked effortlessly as a base for the robust, rustic flavors of the sausage and familiar musk of black truffle. This is a dish that's been on the menu since day one, and it's hard to go wrong with it.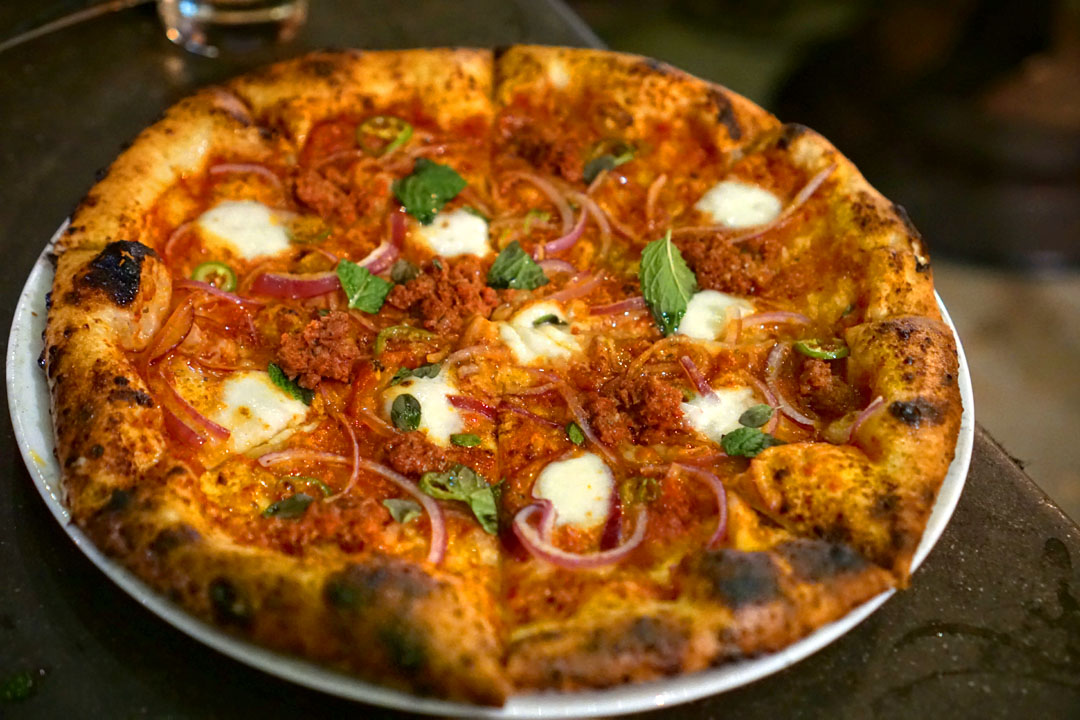 Spicy Lamb Sausage [$21.00]
| confit tomato. red onion. mozzarella. mint. sliced serrano. grana padano.
The night's second pizza was easy to enjoy. I loved the comfortingly spicy, savory flavors from the sausage, which actually recalled the Jeno's frozen pizzas of my childhood, but just as crucial was the sweet-heat of the tomato sauce. I can't forget about the piquancy of those red onions, either.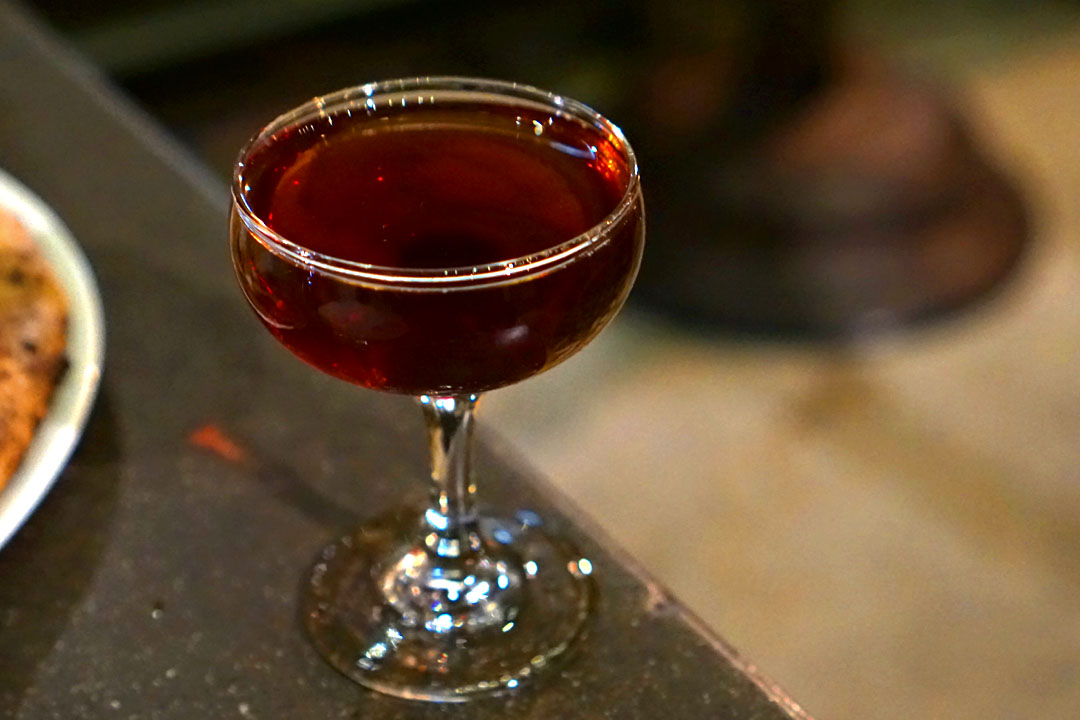 Radio Listener – manhattan up [$16.00]
| japanese whisky. islay style single malt. sweet vermouth. root beer tincture.
The Manhattan is probably my go-to classic drink these days, and this was definitely a smart twist on the cocktail staple. The crux here was the use of both Japanese whisky and Scotch, which gave things a wonderful touch of smoke that just meshed gorgeously with all the dark fruit notes present.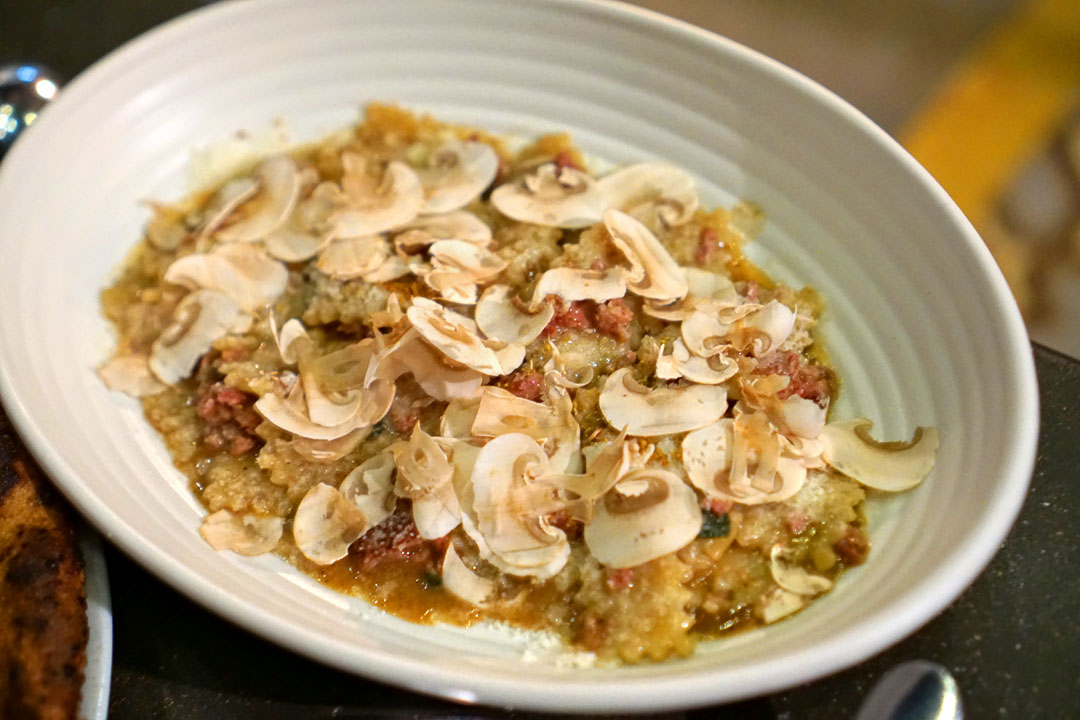 Sourdough Quadretti [$24.00]
| chicken liver & pork sausage. brown butter. grana padano. button mushroom. sage.
I believe this is a relatively new addition to Bestia's menu, but it was certainly a winner as well. I was a big fan of the earthiness of the liver up front, and how that went back-and-forth with the coziness of the pork, all while the sage offered up an aromatic facet that served as the perfect finishing touch.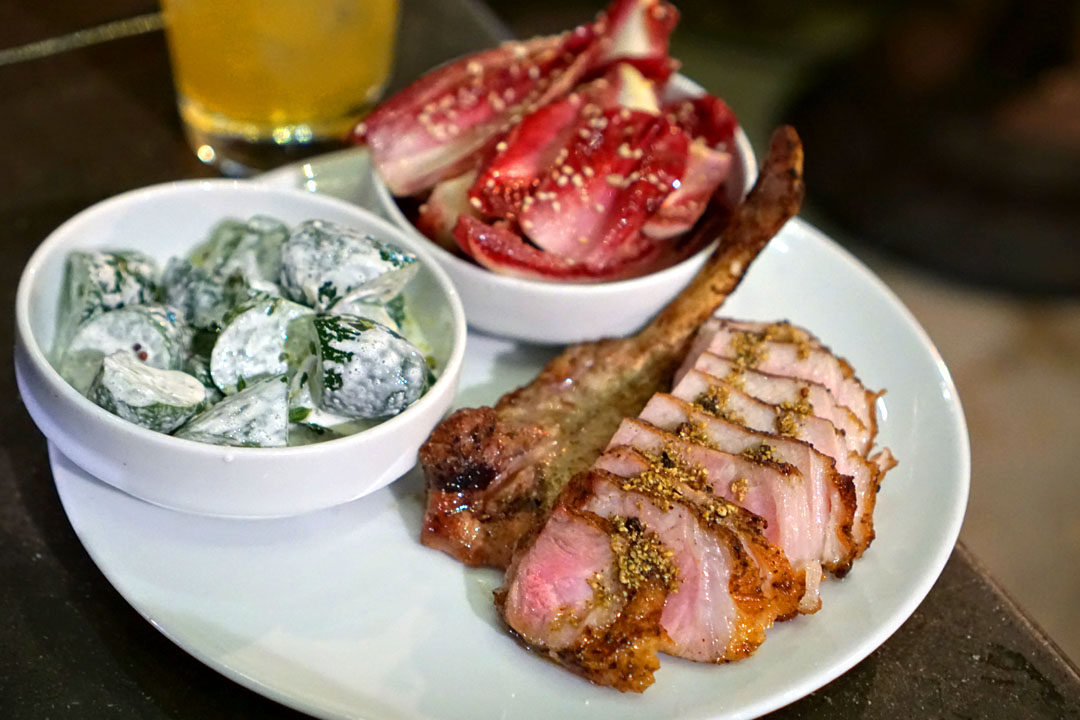 Kurobuta Pork Chop [$45.00]
| herb salt. red endive. toasted sesame. meyer lemon. honey. marinated cucumbers.
I thoroughly enjoyed the pork chop as well. Particularly appealing was the cut's juiciness and ham-like smoke, which mixed seamlessly with the meat's unabashedly savory, salty, herbaceous elements. The sesame-boosted endive worked great as an accompaniment, but even better was the creamy brightness and crunch from those cucumbers.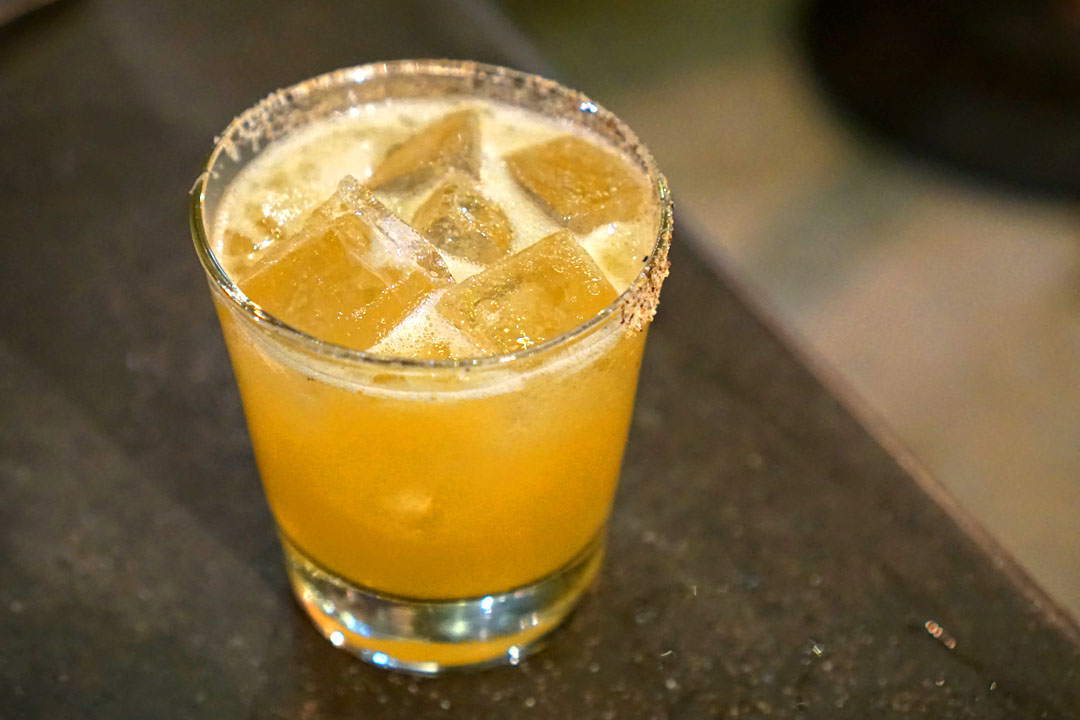 Angel from the Coast – sour rocks [$16.00]
| reposado tequila. amaretto. apricot. lemon. black pepper.
In the evening's final cocktail, tequila played foil to a healthy dosing of nutty sweetness from the amaretto, while lemon tempered things just a smidge.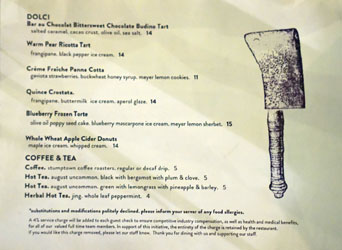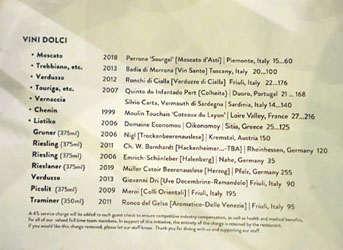 And here we see Bestia's dessert menu and after-dinner drink selection. Click for larger versions.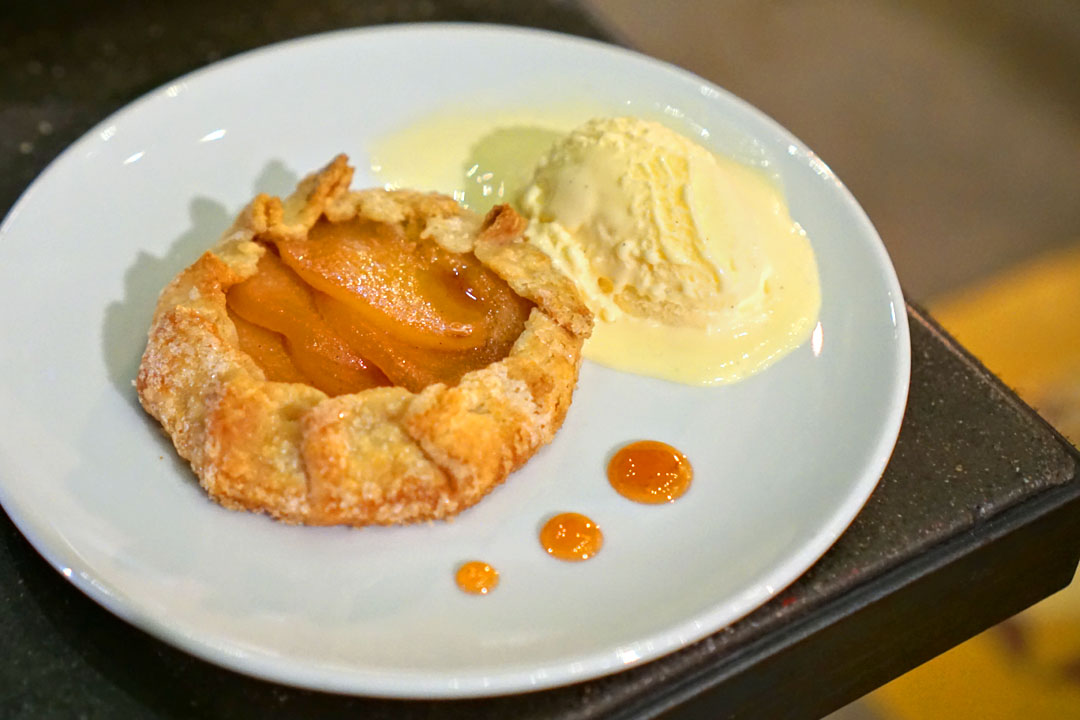 Quince Crostata [$14.00]
| frangipane. buttermilk ice cream. aperol glaze.
In our first dessert, sugary cuts of quince were set off by the crostata's well-textured pastry crust, while the ice cream imparted a welcomed lactic component that completed the package.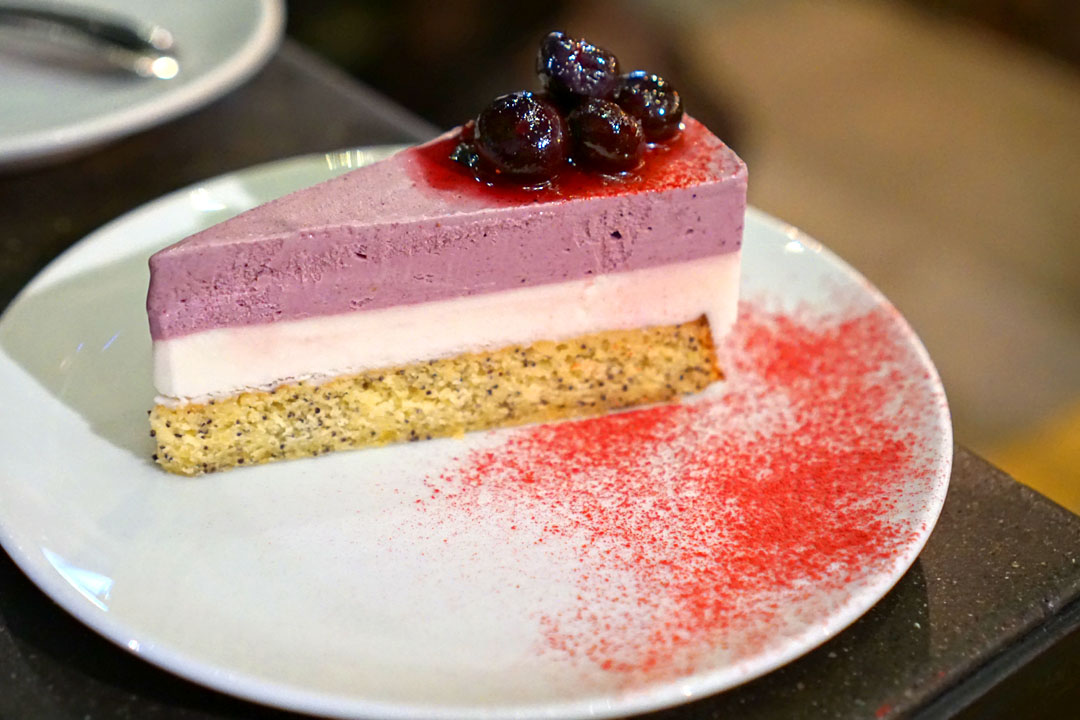 Blueberry Frozen Torte [$15.00]
| olive oil poppy seed cake. blueberry mascarpone ice cream. meyer lemon sherbet.
Finally, we have here a somewhat visually-arresting dessert, one that matched tart berry flavors with the moderating effects of an airy olive oil cake.
This was another top-notch dinner at Bestia, and I do have to give Ori Menashe, Genevieve Gergis, and the entire team credit for their consistency. Over the course of nine years, I don't think I've had a single subpar experience here, and I believe this helps explain why, despite debuting in 2012, this place is still one of the toughest reservations in town.