Yakiniku Osen (Los Angeles, CA)
Yakiniku Osen
3503 Sunset Blvd, Los Angeles, CA 90026
323.426.9455
www.yakinikuosen.com
Sat 11/13/2021, 08:30p-12:05a

I definitely enjoy my Japanese BBQ, but when I'm craving the stuff, I usually get my fix in the South Bay, where many of the top yakiniku spots are located. However, a new entrant to the scene opened recently (August 2nd) in a locale that I wouldn't expect: Silver Lake of all places. Part of the
Osen Family
of restaurants, Yakiniku Osen (焼肉 御仙) is the brainchild of Chef/Owner Damon Cho, and distinguishes itself from the pack by its upscale, tasting menu-focus and liberal use of true Japanese A5 Wagyu beef.
About the Chef
: Damon Min Cho (a.k.a. Minsang Cho) was born in April 1982, and spent much of early life in and around LA. He graduated from our local outpost of Le Cordon Bleu, and in January 2002, began as a sushi chef at Zencu Sushi & Grill in Little Tokyo. From there, he went to work for Nobu
Matsuhisa
, and in July 2005, transitioned to Sushiya in West Hollywood. Cho stayed there until August 2008, when he moved to San Francisco and took over ownership of Sudachi Sushi (now closed). He then served a brief stint as sous at the fusion-y Ozumo in Oakland, then launched Tamashi Soul in August 2013. However, the Chef would step away from both his SF restaurants by the middle of 2014. At the start of 2015, Cho was recruited by the LORE Group, an LA-based hospitality company responsible for the likes of Rock & Reilly's, Pearl's Liquor Bar, and The Barrel Room.
He worked for LORE's short-lived Yellowtail in WeHo, which was flipped to Maia in April 2015, but was out the door by the following January. His next role was that of head sushi chef at Nobu at the Four Seasons Resort Lanai in Maui, but he soon returned to SoCal and got a gig leading the kitchen at Umami Sushi. Cho left the K-town spot in March 2017 to become exec sushi sous chef at the clubby TAO in Hollywood, but during his time there, was already in the planning stages for his own restaurant. Izakaya Osen thus opened on July 22nd that year, taking over the former strip mall home of Aroma in Silver Lake. The place was well received, and its success allowed for the launch of the more upscale Kappo Osen in Santa Monica in September 2019, but the Chef relinquished ownership of that spot earlier this year, and the eatery changed its name to Kappo Miyabi right around the time that Yakiniku Osen arrived.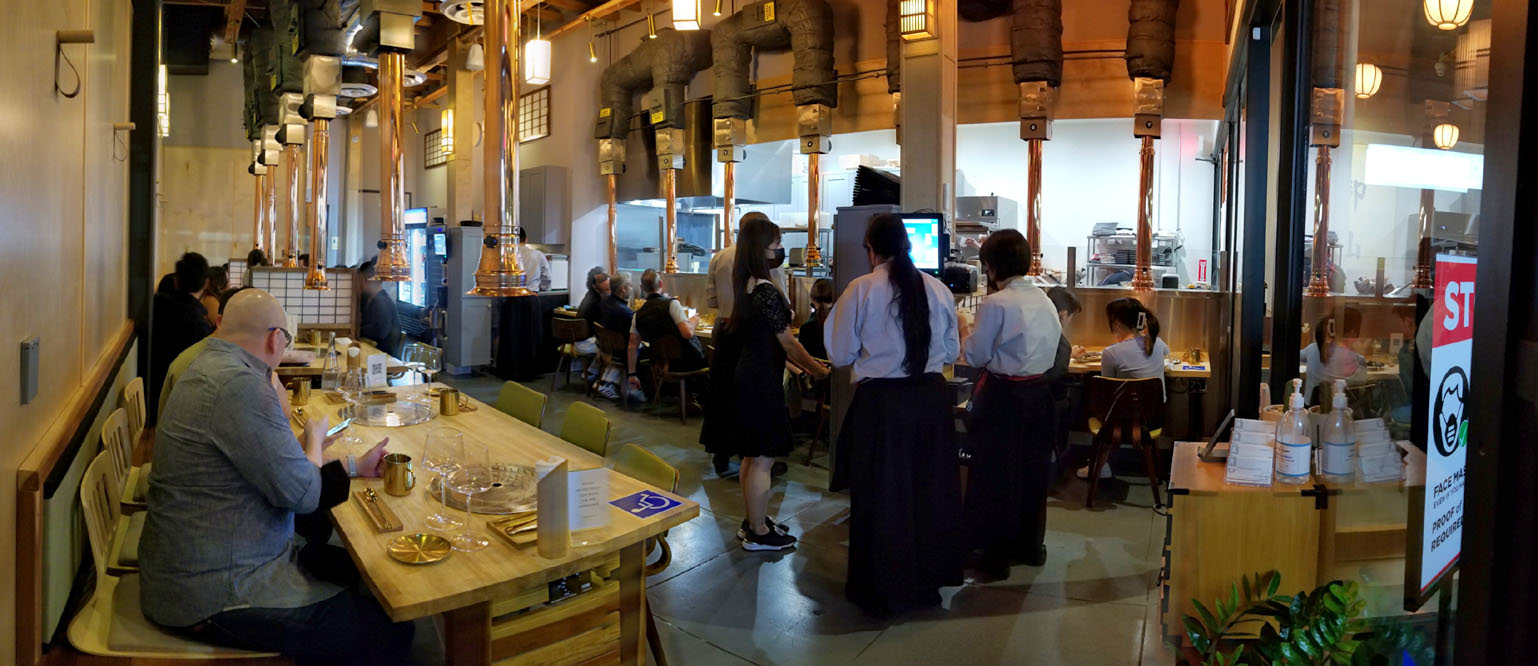 Here's what Yakiniku Osen looks like inside. The restaurant (partially) occupies a space that was previously home to the original location of barre fitness franchise Pop Physique.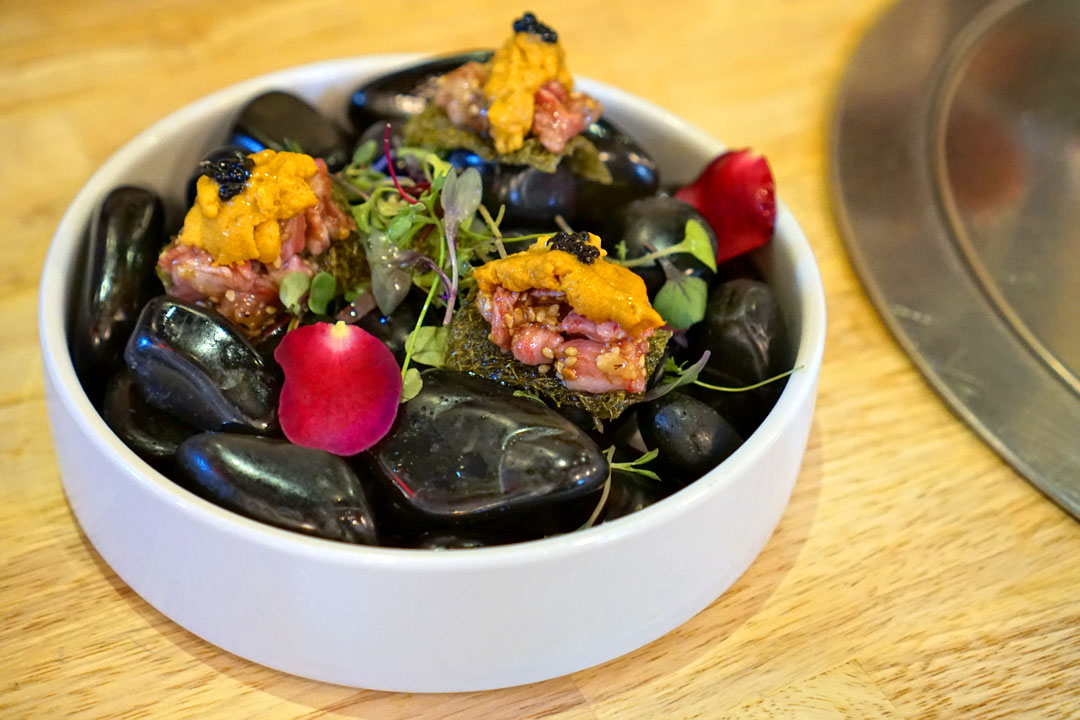 A5 Wagyu Beef Uni [$25.00]
| A5 Wagyu Beef Tartare w/ Uni, Garlic, Crispy Sea Trumpet and Caviar
Despite Osen's tasting menu focus, we opted to order à la carte in order to sample more dishes. Our first bites effectively functioned as amuse bouche, with the heft of the meat transitioning to sweet flavors of urchin before the herbs and grassiness of the
gamtae
seaweed came in.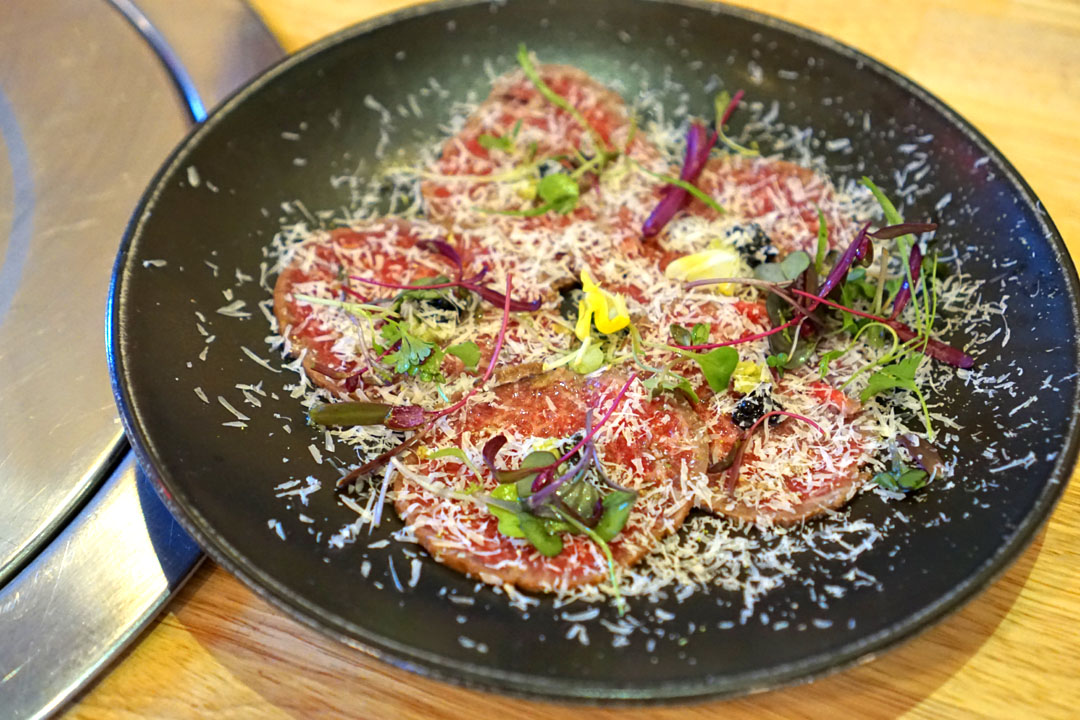 US Wagyu Beef Carpaccio [$25.00]
| US Wagyu Beef Tenderloin, Yuzu Dressing, Parmesan Cheese, Truffle Oil, Truffle Powder, Fresh Wasabi, Caviar
Thin cuts of meat conveyed a relatively restrained richness that served as a base for a back-and-forth between tart citrus elements and the salty weight of the cheese. I didn't actually get much truffle, though.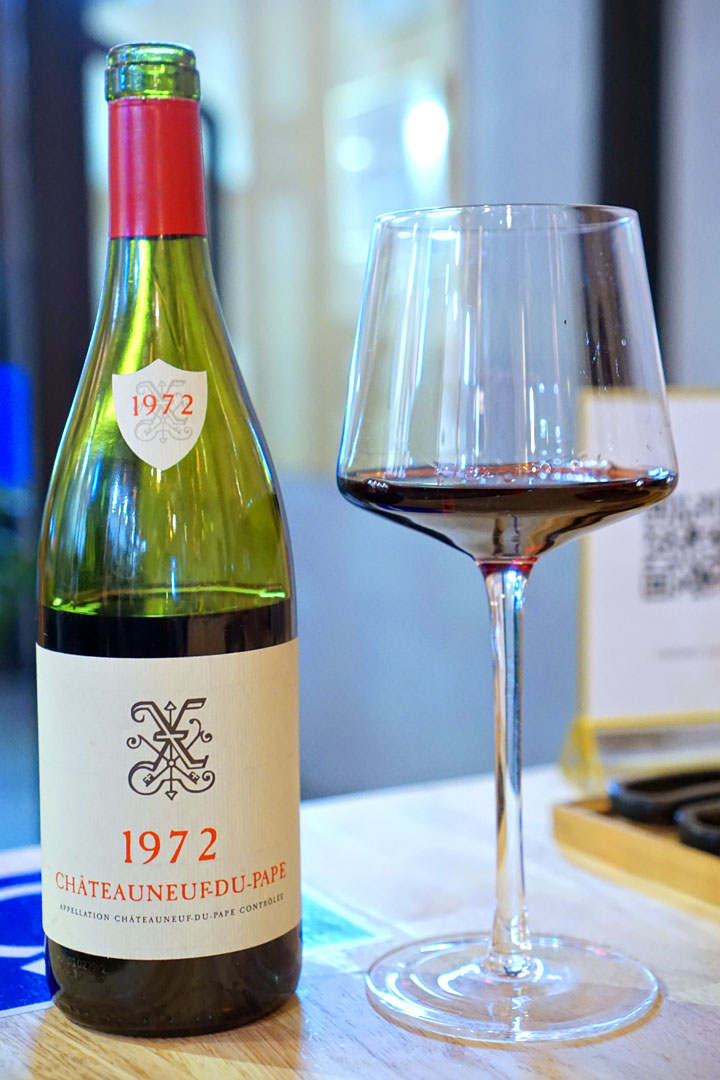 To drink, we brought two bottles of red wine (corkage was $25 a pop), and first up was the
1972 Xavier Vignon Chateauneuf-du-Pape
, a Grenache-dominated blend that had been maturing in concrete vats for almost 50 years before being bottled in 2020. Nose here was sophisticated and assertive, with a balance of bramble and meaty nuances joined by earth, mineral, and especially olive as the juice progressed throughout the evening. As for the palate, I found it surprisingly young-tasting and graceful despite the wine's age. Think of a focused herbiness and mintiness up front, but backed by a persistent acidity and more smoked meat and more dark fruit. Very tasty, and very neat.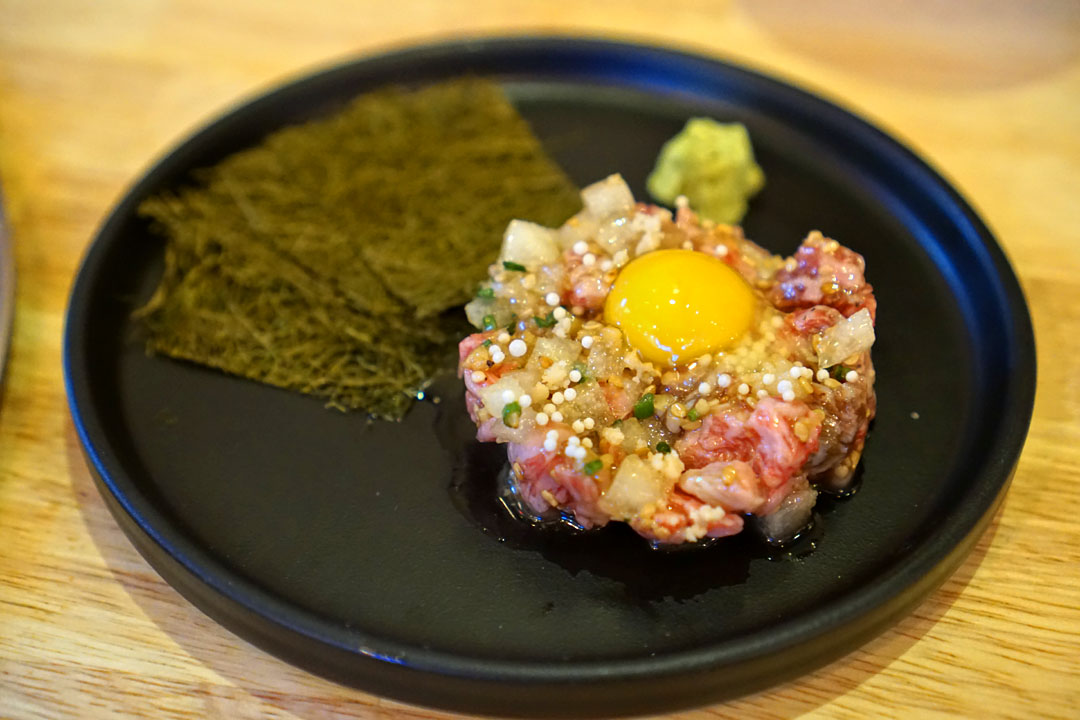 A5 Wagyu Beef Tartare [$32.00]
| A5 Wagyu w/ Egg Yolk, Sesame Seed, Sesame Oil, Fresh Wasabi, Pine Nut, Garlic, Sea Trumpet
This
yukhoe
-esque tartar did a nice job marrying sweet and savory, and showed off a welcomed overarching umami quality from the seaweed.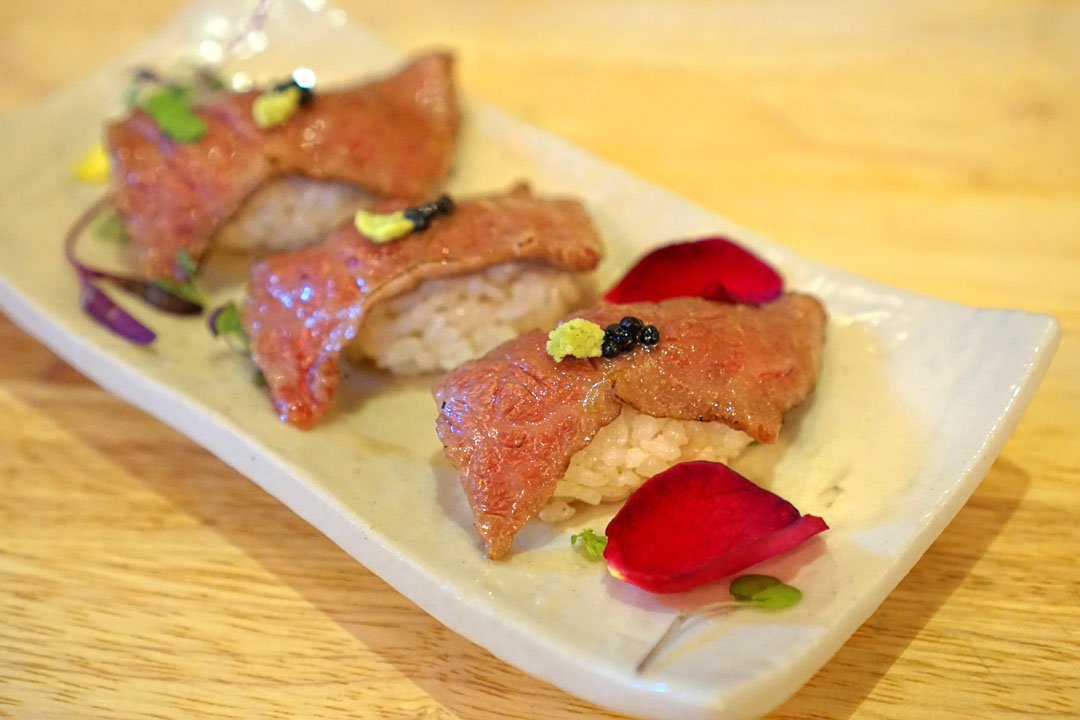 A5 Wagyu Beef Sushi
We ended up waiting around 30 minutes to be seated (due to the previous reservation refusing to leave), so we were given a complimentary serving of wagyu sushi (normally a part of Osen's tasting menu) as a bit of a consolation. Made with the
zabuton
cut, the meat was properly supple and fatty, though surprisingly muted taste-wise, as I felt the bites could use more sear and more smoke. Now I did like the kick of the wasabi for contrast, and the counterpoint from the sushi rice was also much appreciated.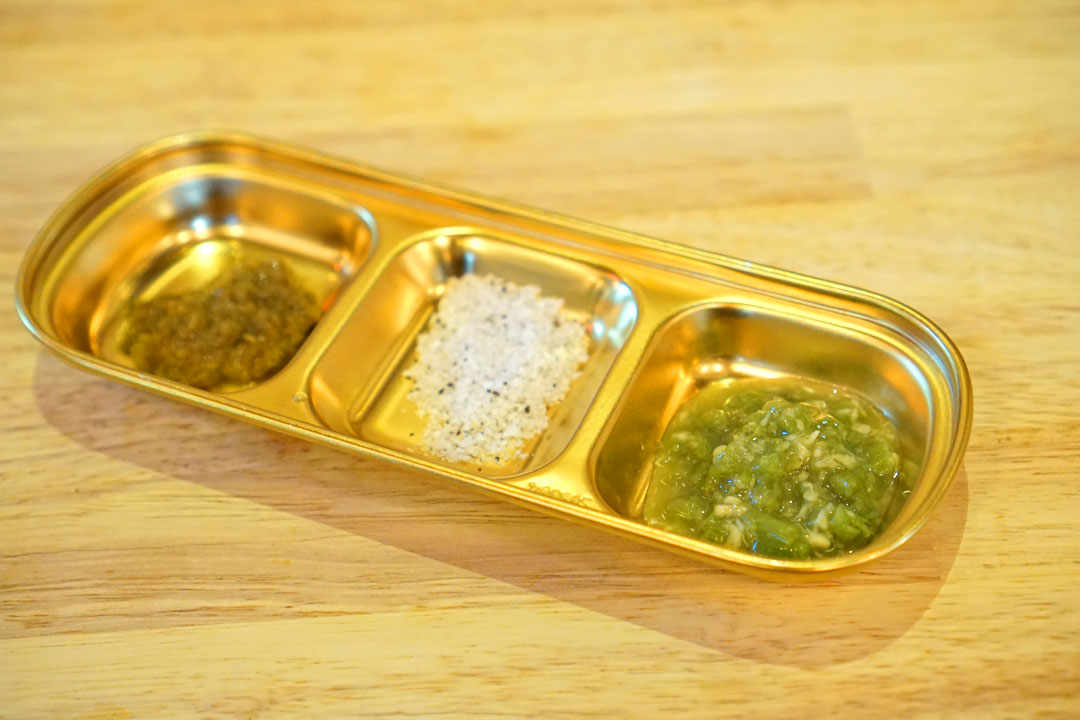 Condiments included
yuzukosho
, salt, and wasabi.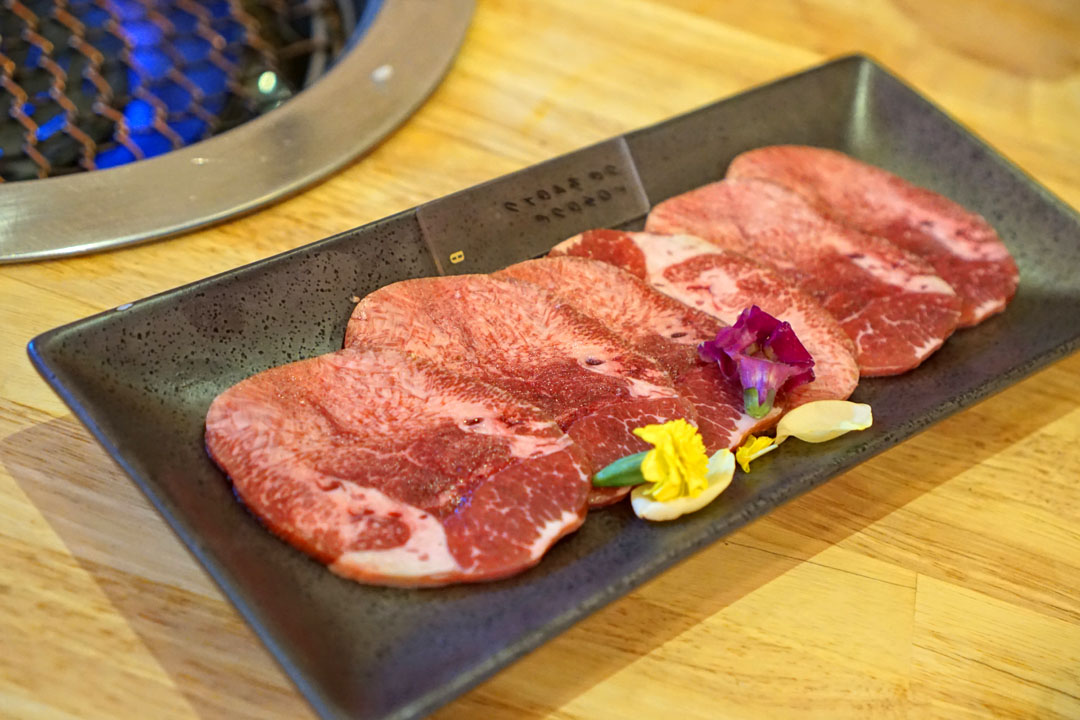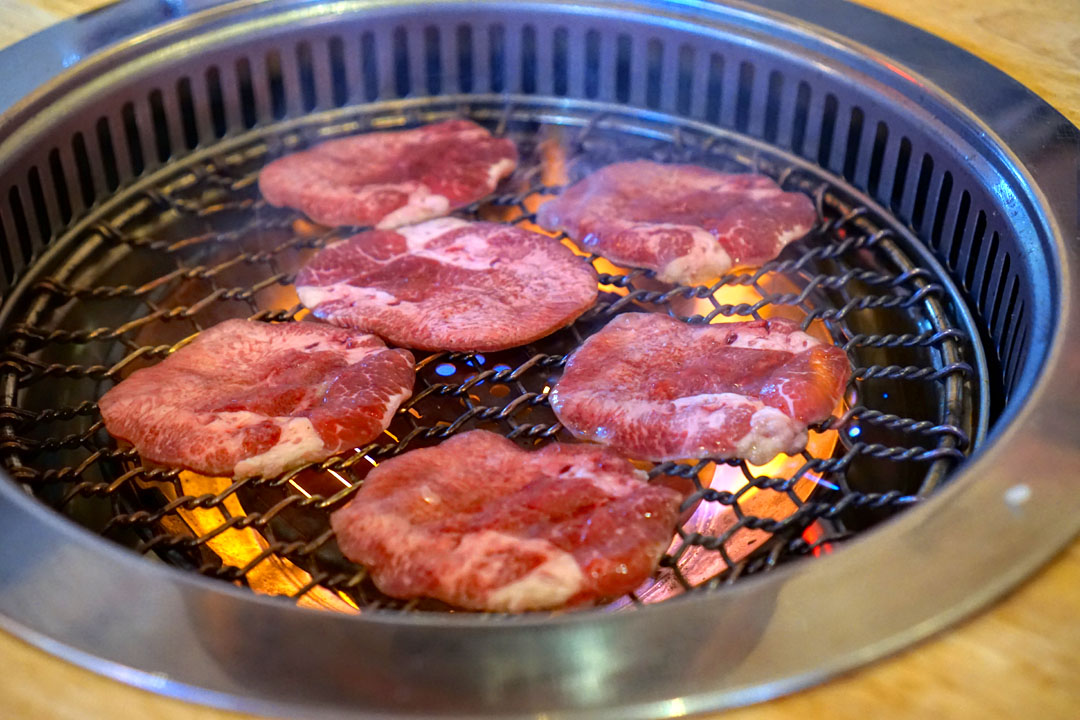 US Wagyu Style Tongue (Salted) [$21.00/4oz]
| Gyu Tan (牛タン)
Time to get grilling (which was actually done for us by our server). We began with tongue, a perennial favorite of mine, and the meat had just the right amount of chew, along with a healthy dosing of char and smoke that just made sense. A good start.
A5 Wagyu Beef Katsu Sando [$25.00]
| Housemade Special Dressing, A5 Wagyu Beef, Milk Bread
Katsu-sando are all the rage these days, and while Osen's version wasn't particularly impressive visually, it did deliver in the taste department, providing a delectable marriage of sweet-savory-spicy that was smartly attenuated by the milk bread. In addition, I found this a surprisingly good match with the wine below.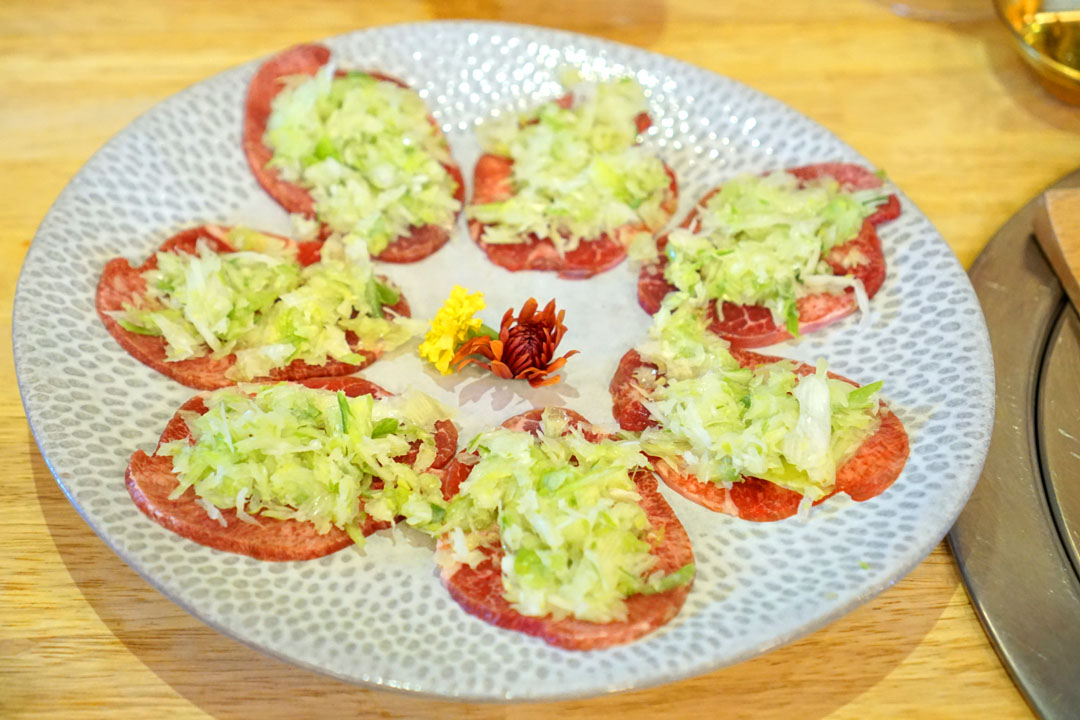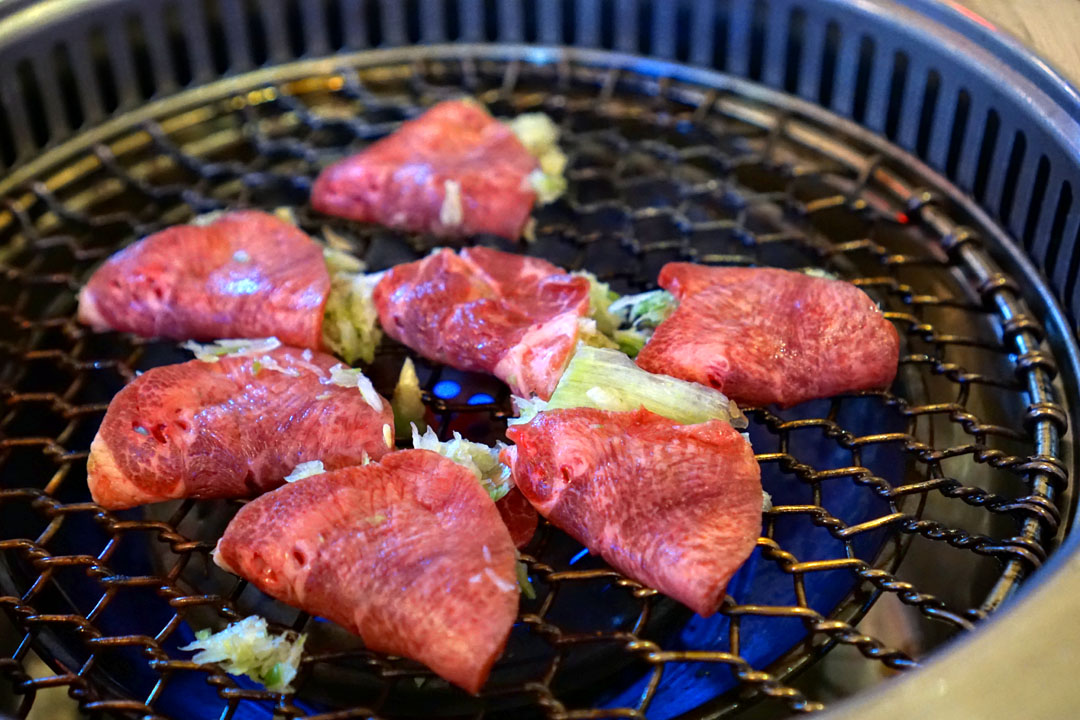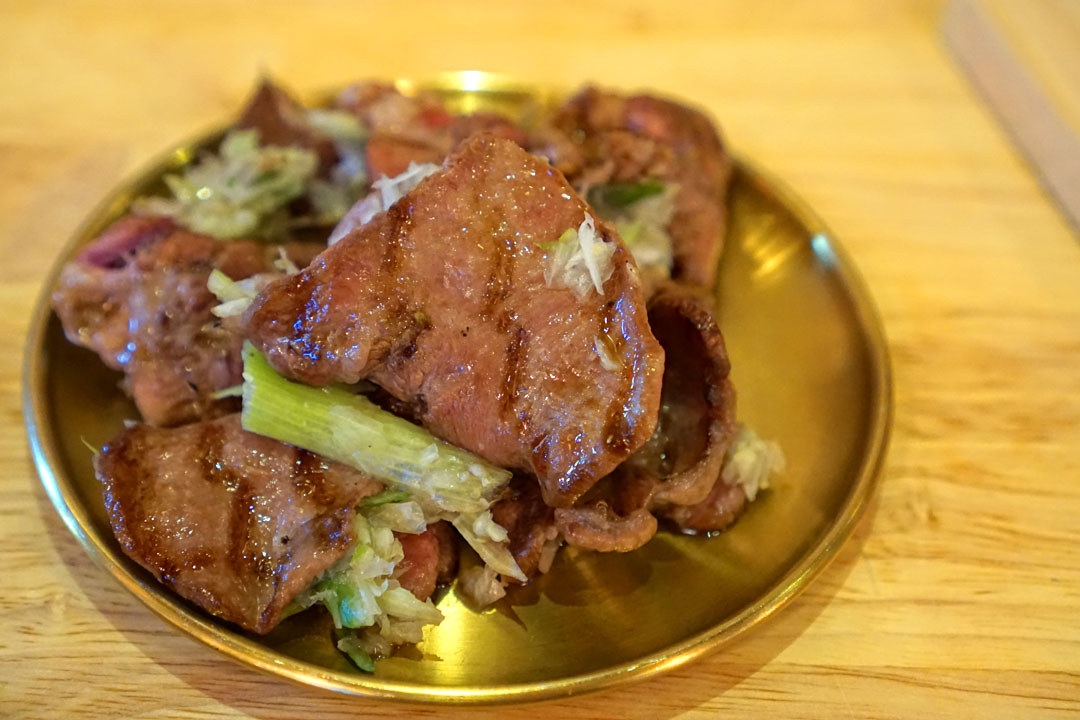 US Wagyu Style Signature Negi-Shio Tongue [$23.00/4oz]
| Gyu Tan (牛タン)
Next up was the same
gyutan
as above, but paired with green onion. The astringency of the
negi
seemed to emphasize the earthier qualities of the meat, so I liked a dab of salt here to keep things in check.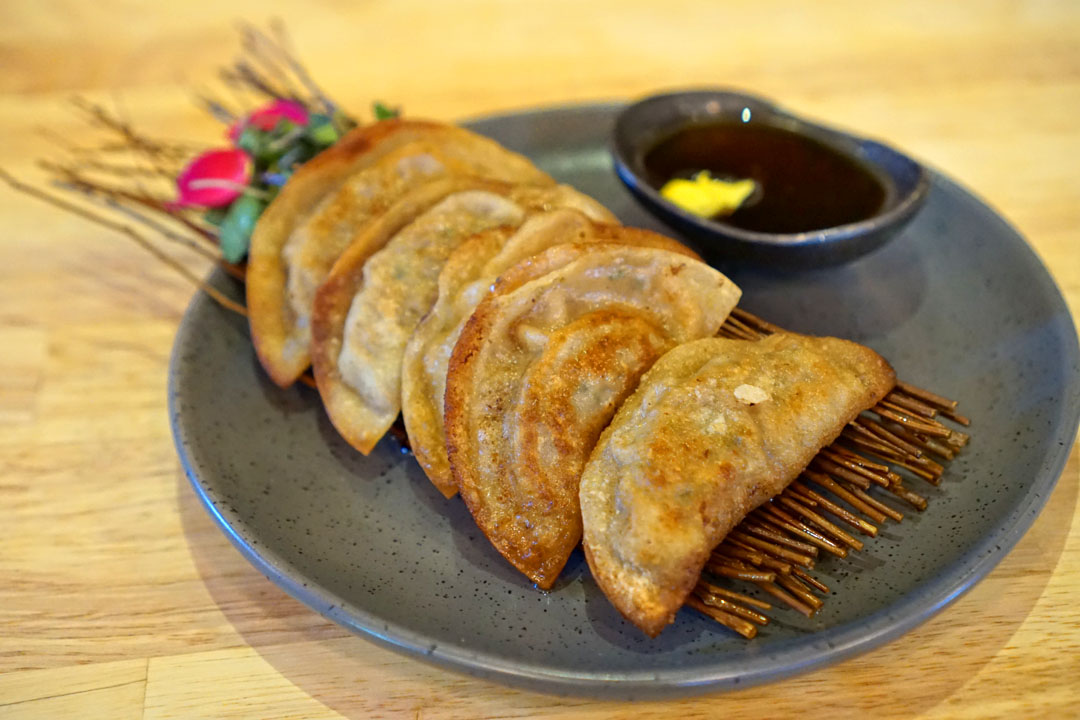 A5 Wagyu Gyoza [$18.00]
| Ground A5 Wagyu Beef, Tofu, Mixed Vegetables, Glass Noodles
Dumplings came with a stuffing of super juicy, decidedly
funky
ground beef that was quite unlike anything I'd encountered in gyozas before. These were quite tasty though, but I would've liked some crispier skins.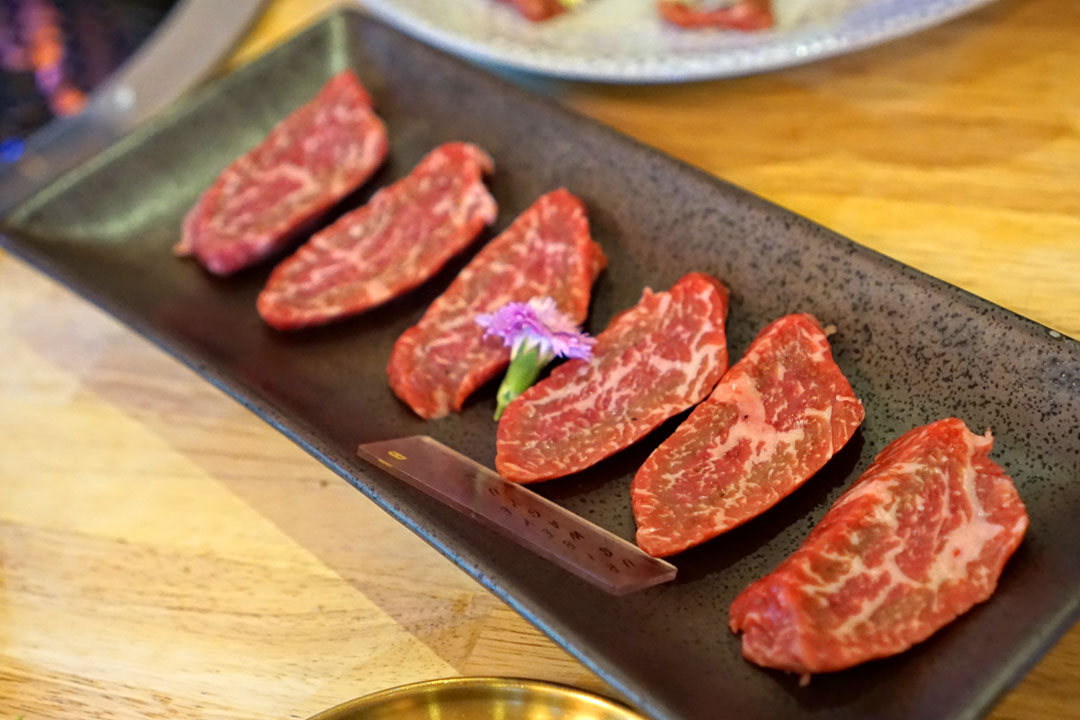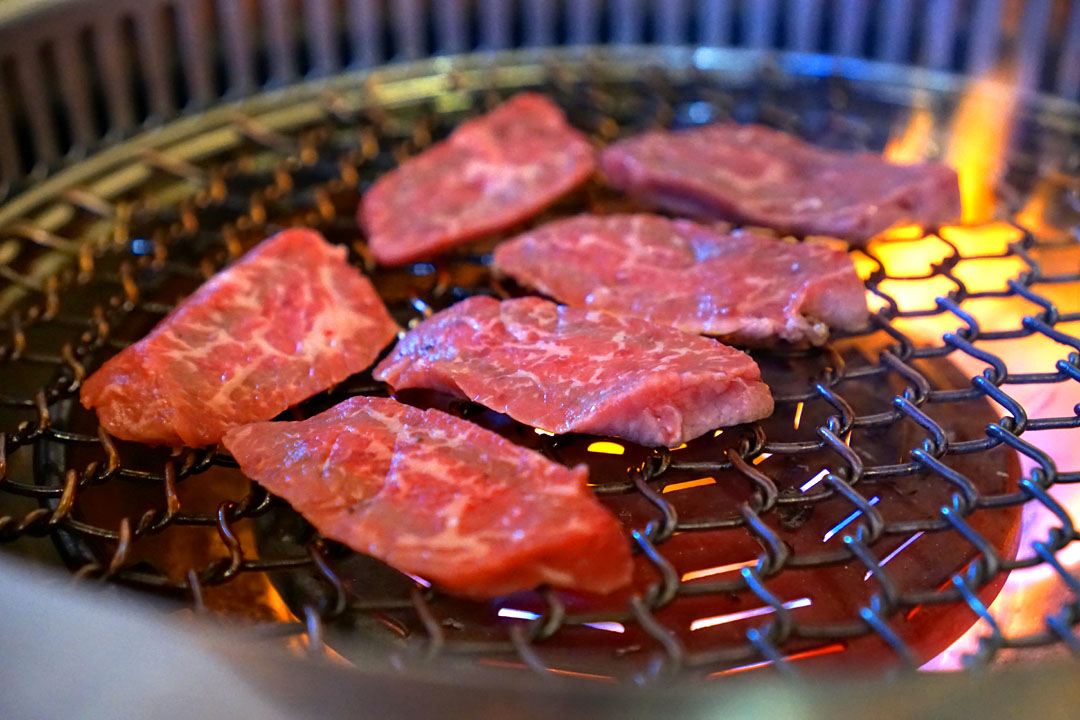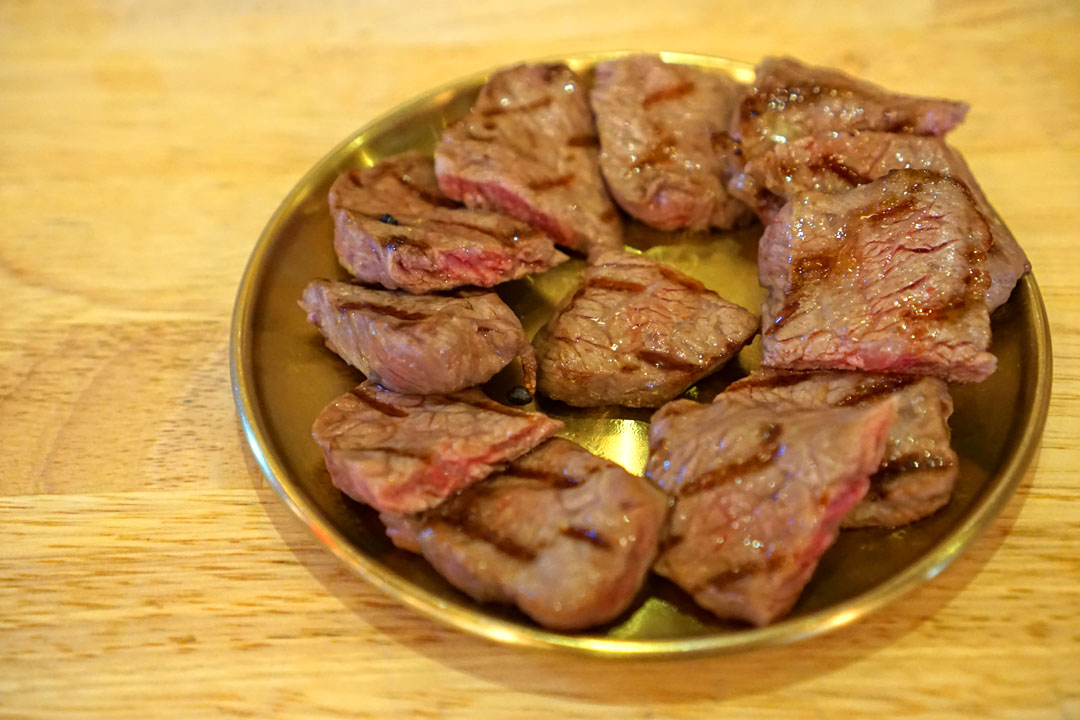 US Wagyu Style Ribeye (Salted) [$35.00/4oz]
| Ribeye Rosu (リブアイ)
The standard rib eye was quite lovely, coming out tender, elegantly flavored, and very well balanced overall. No condiments necessary.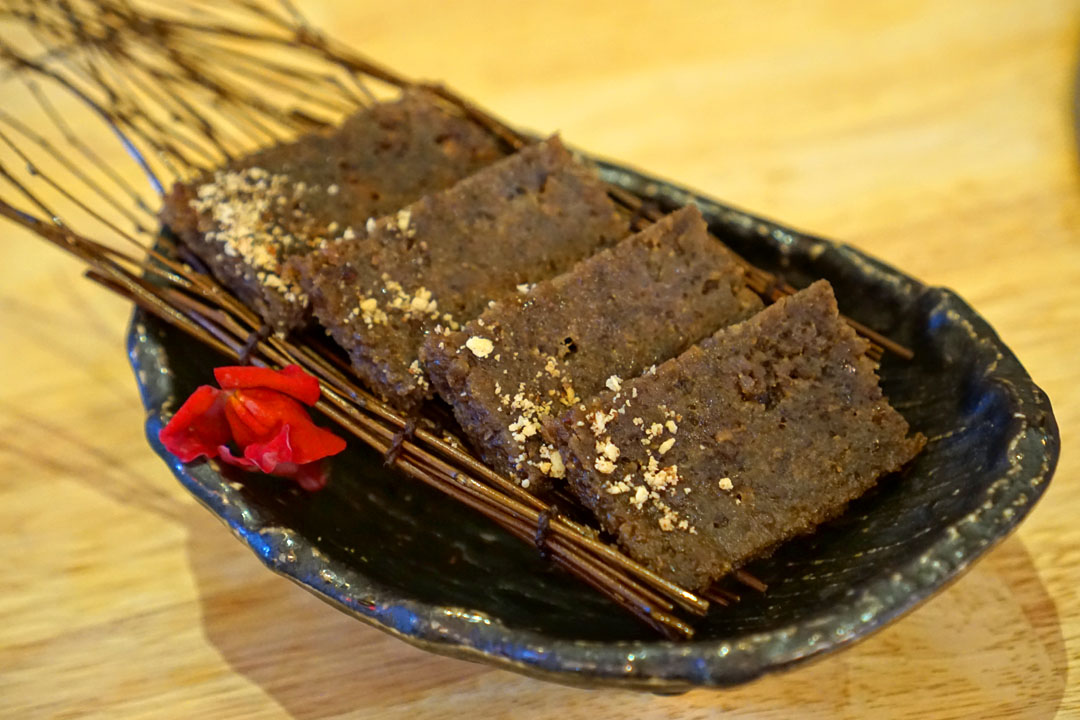 A5 Wagyu Beef Jerky [$10.00]
| Ground A5 Wagyu Beef, Honey Sauce, Almond
I'd never had beef jerky like this before. Instead of being tough and chewy, the meat had this almost fruit cake-like consistency. Things were less unexpected in terms of taste though, with your classic jerky sweetness augmented by notes of honey and almond. An odd one.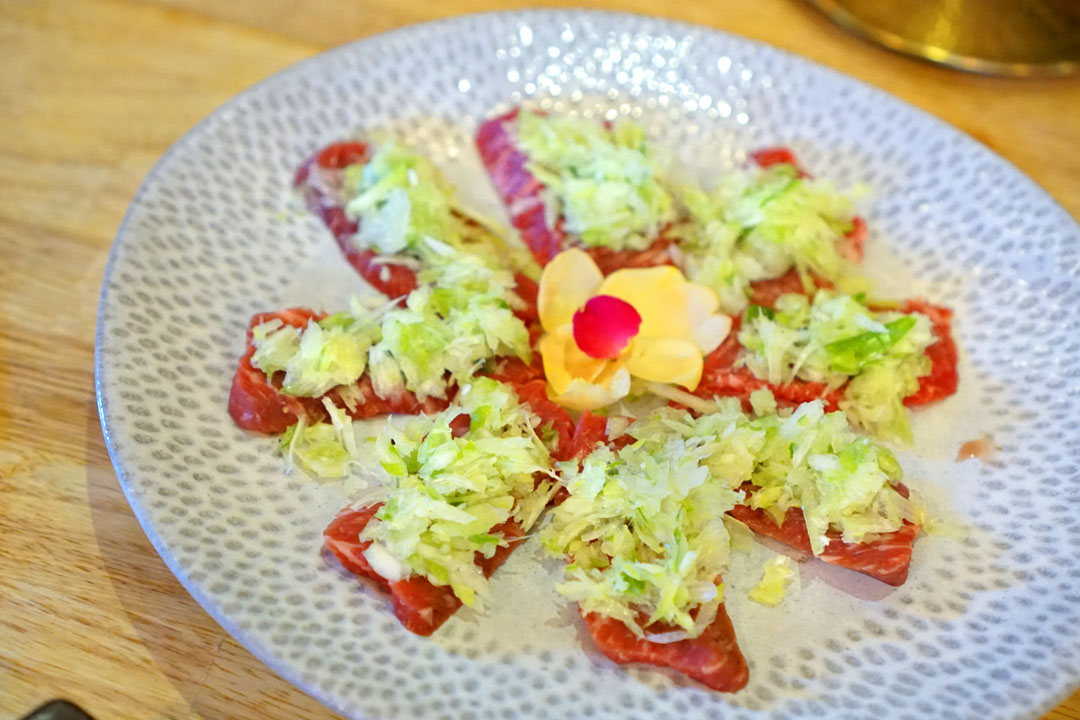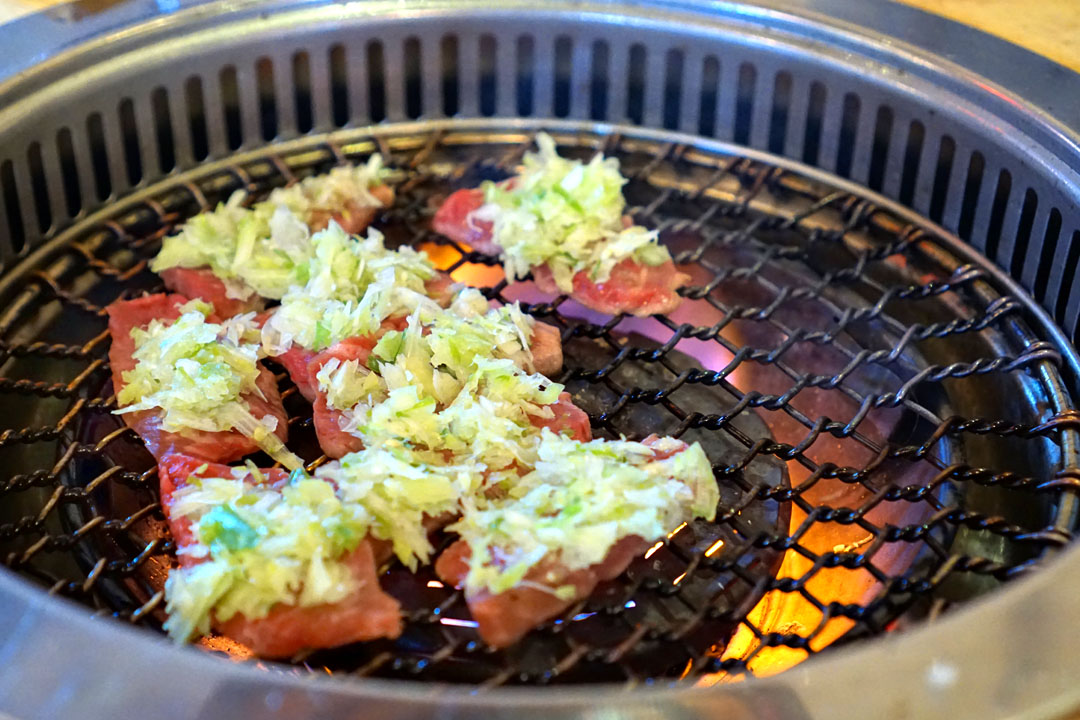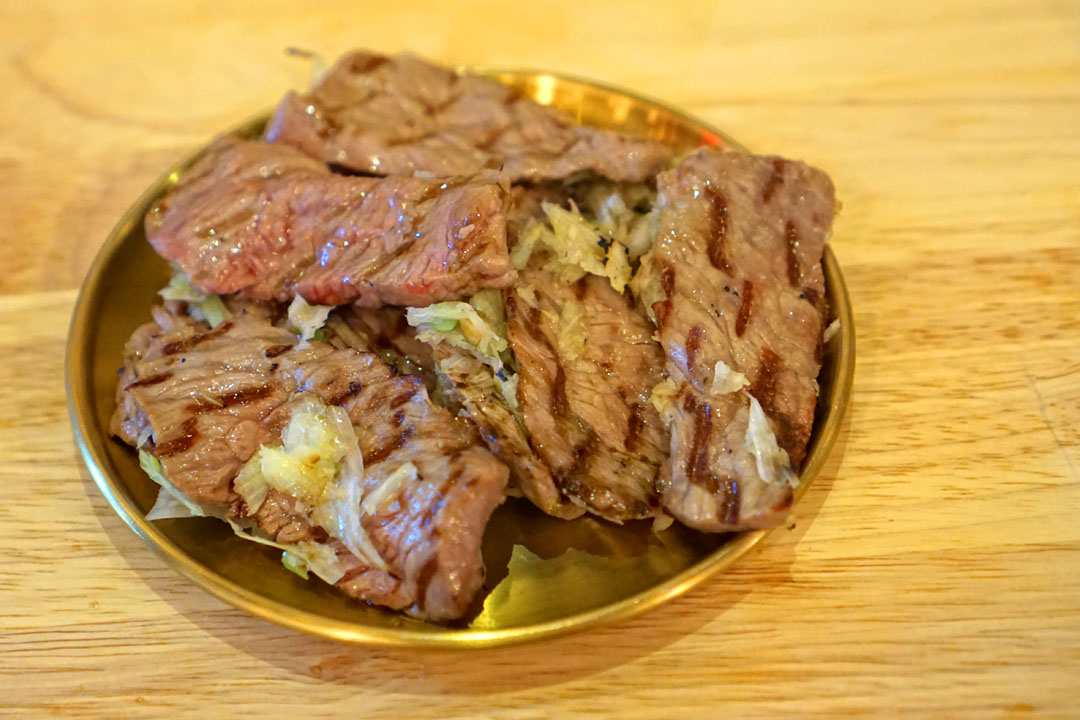 US Wagyu Style Signature Negi-Shio Ribeye [$35.00/4oz]
| Ribeye Rosu (リブアイ)
The overt bitterness of green onion made for a fitting match with the heavier nature of rib eye. Things opened up even more with a dab of
yuzukosho
, though the sweetness of the provided
tare
sauce worked here as well.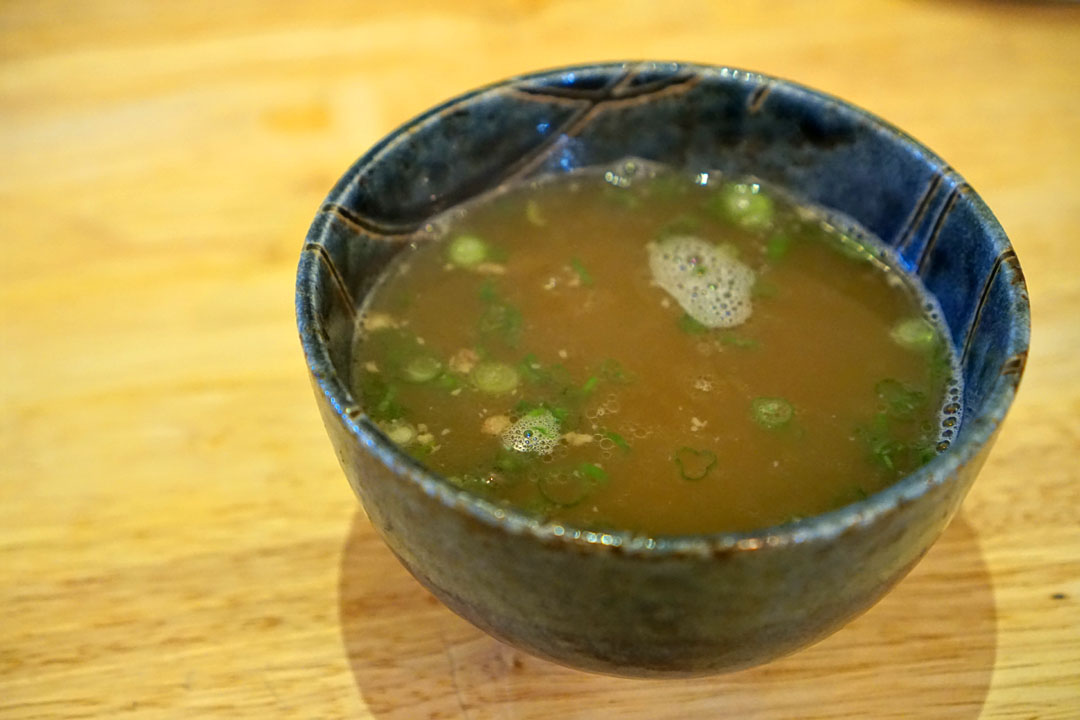 Oxtail Soup [$9.00]
The soup showed off a bevy of mouth-wateringly homey, heartwarming flavors, and included delightfully satisfying, supple shards of beef to boot.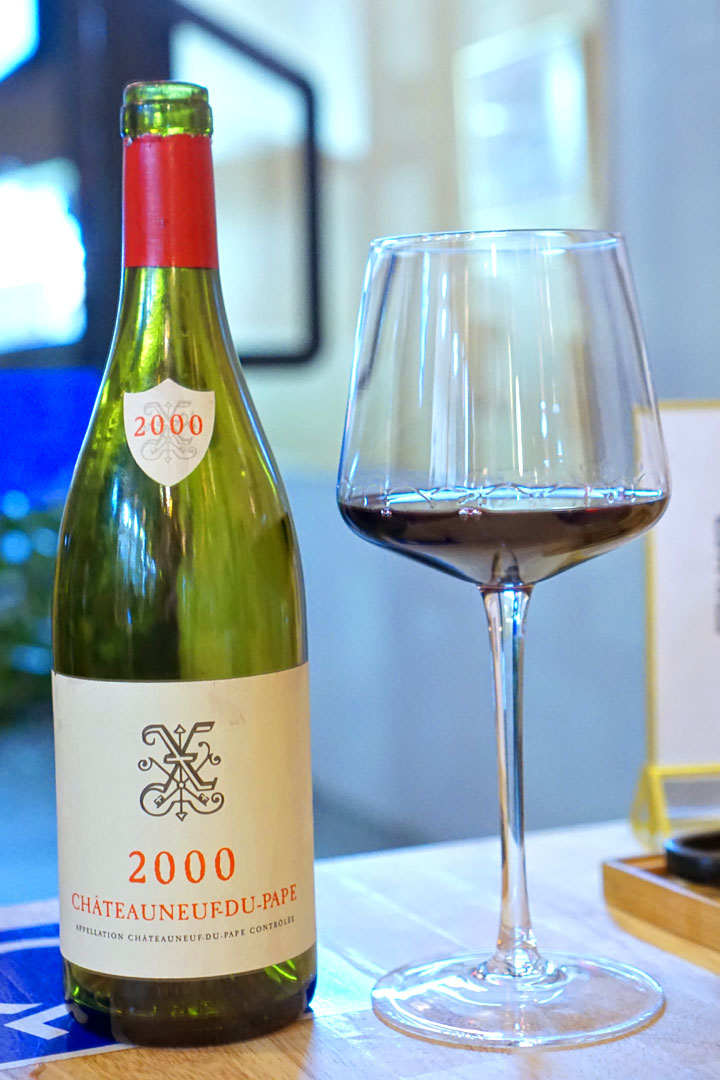 We also had a bottle of the
2000 Xavier Vignon Chateauneuf-du-Pape
, made by the same producer as the wine above. However, this one was aged in wood instead of concrete, and although it's also Grenache-based, features a different blend of grapes. The bouquet here was more muted, but still conveyed a noticeable jamminess undergirded by spice character and a marked herbaceousness. Tasting it, I found the wine much more overtly tannic, with notes of smoke, dark berries, and spice joined by ever-increasing amounts of piquant olive. This is ready to drink now, but it might be interesting to see how it ages.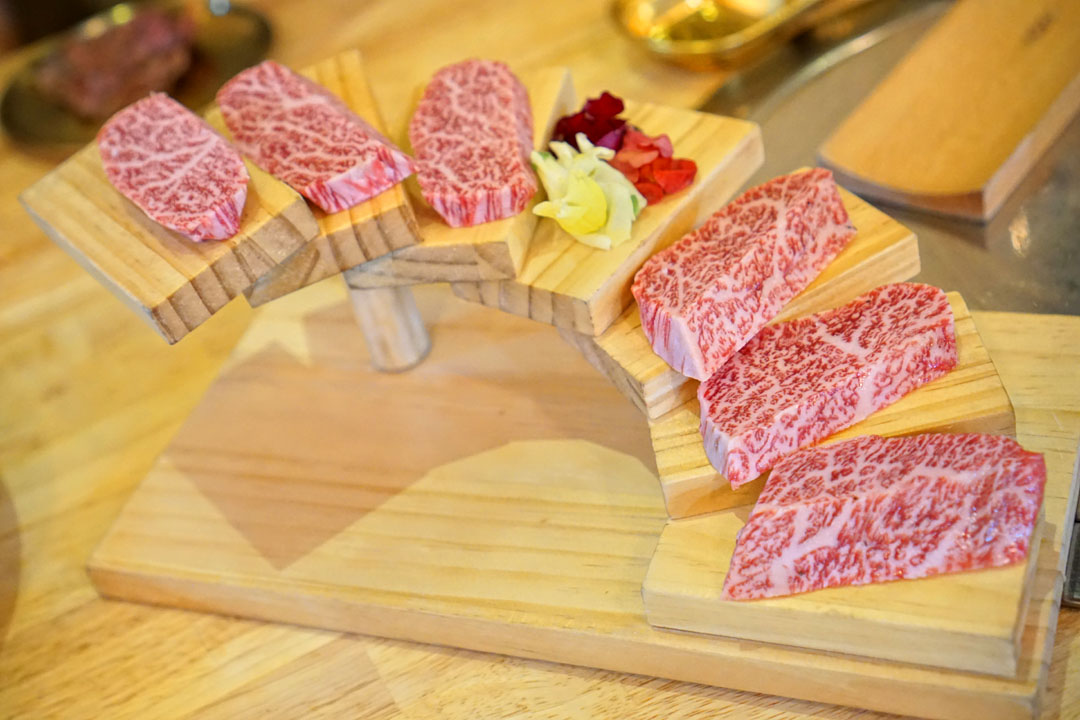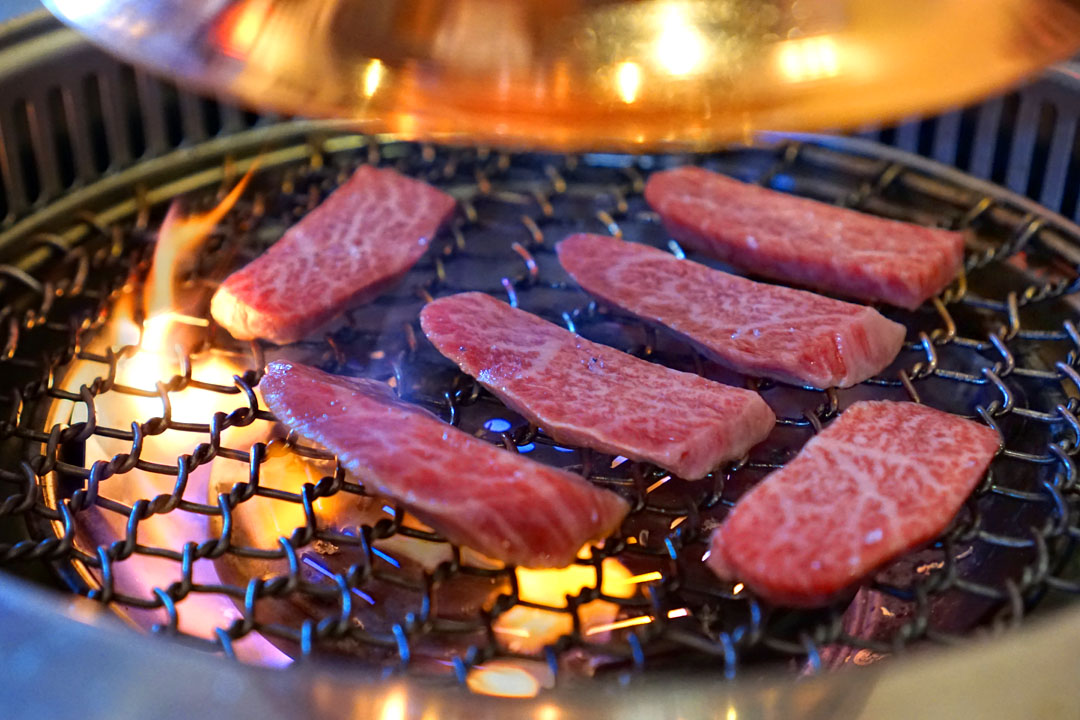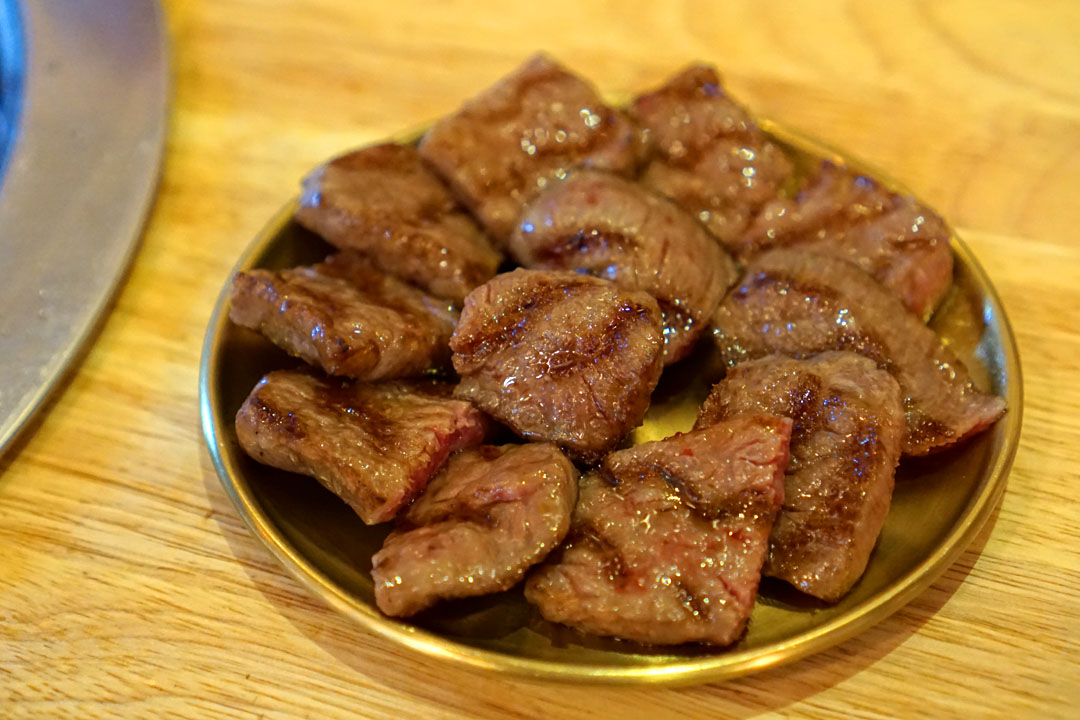 Japanese A5 Wagyu Ribeye (Salted) [$70.00/4oz]
| Ribeye Rosu (リブアイ)
Our third round of rib eye brought real deal Japanese Wagyu, and the beef was a big step up from what we had above in terms of fattiness, suppleness, and general decadence. Pair this with some wasabi to cut through all the oil.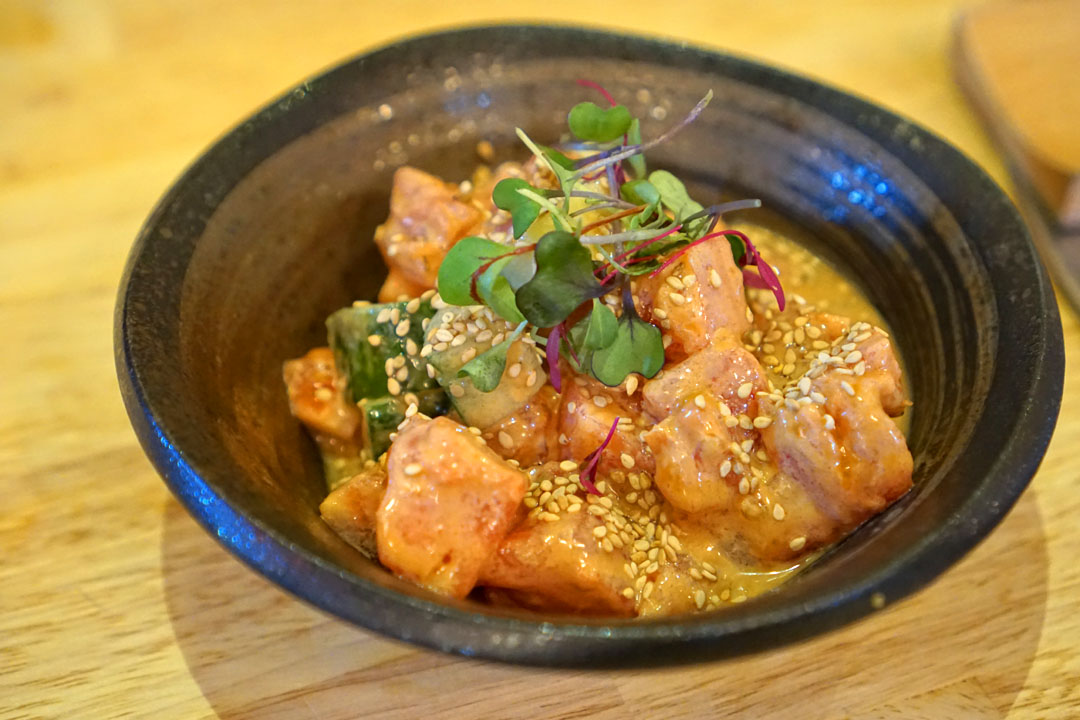 Japanese Tomato Salad [$15.00]
| with Cucumber and Sesame Dressing
Sweet, juicy tomatoes were accompanied by a pleasantly nutty dressing, while cucumber provided the requisite crunch and brightness. A good counterpoint to many of the heavier dishes we were having.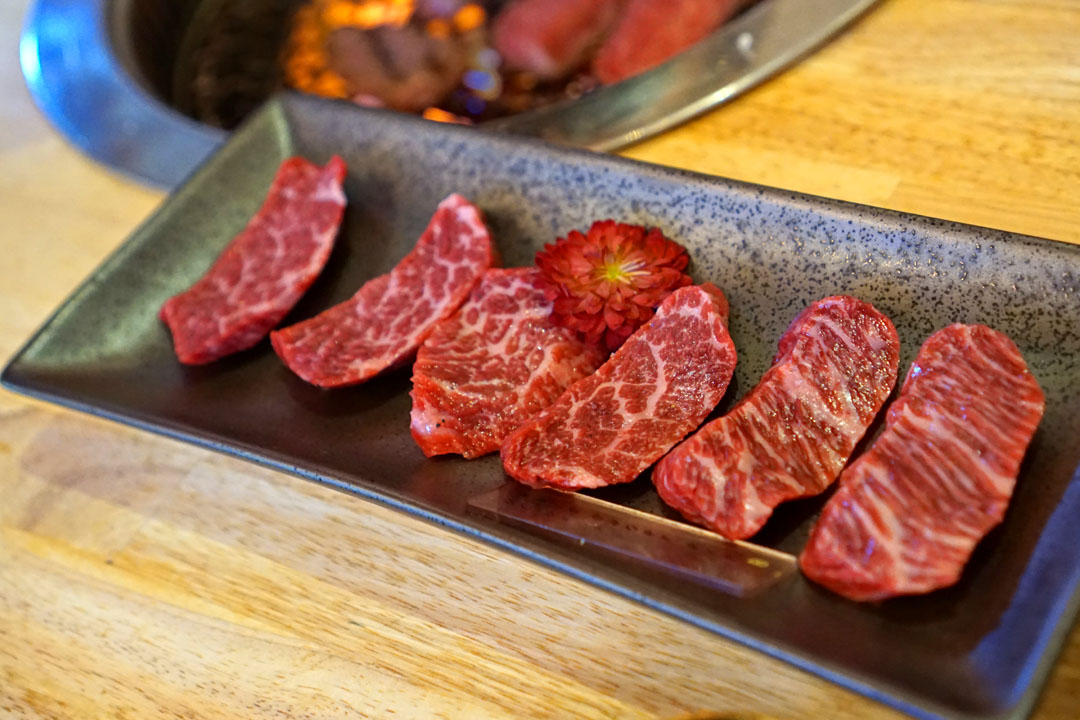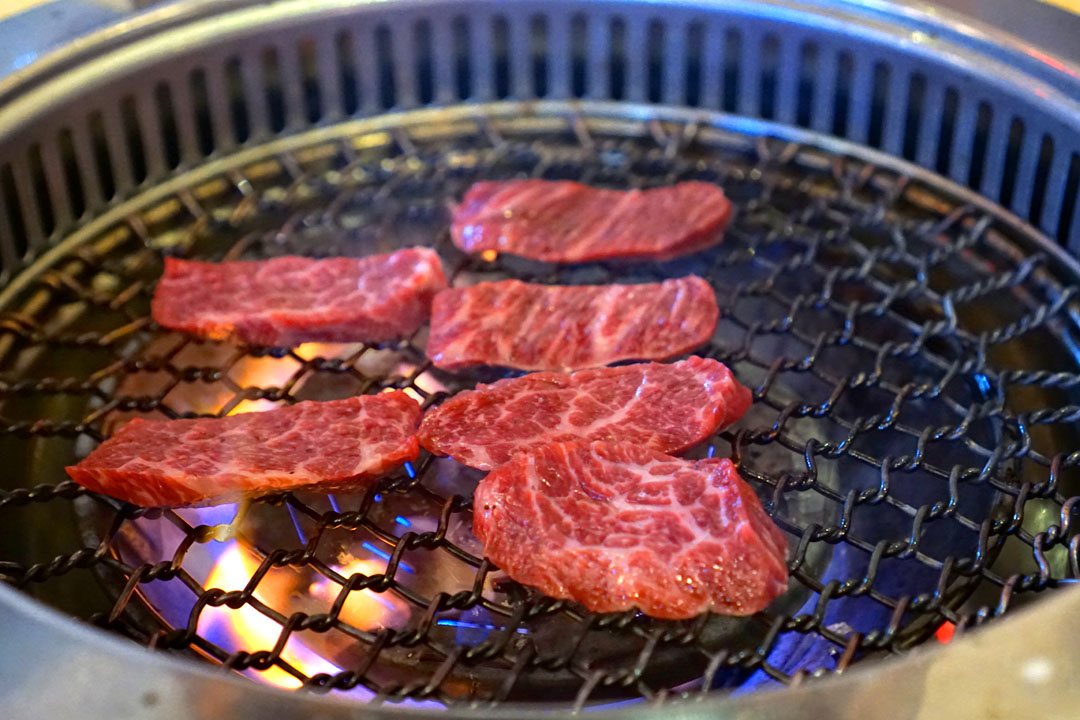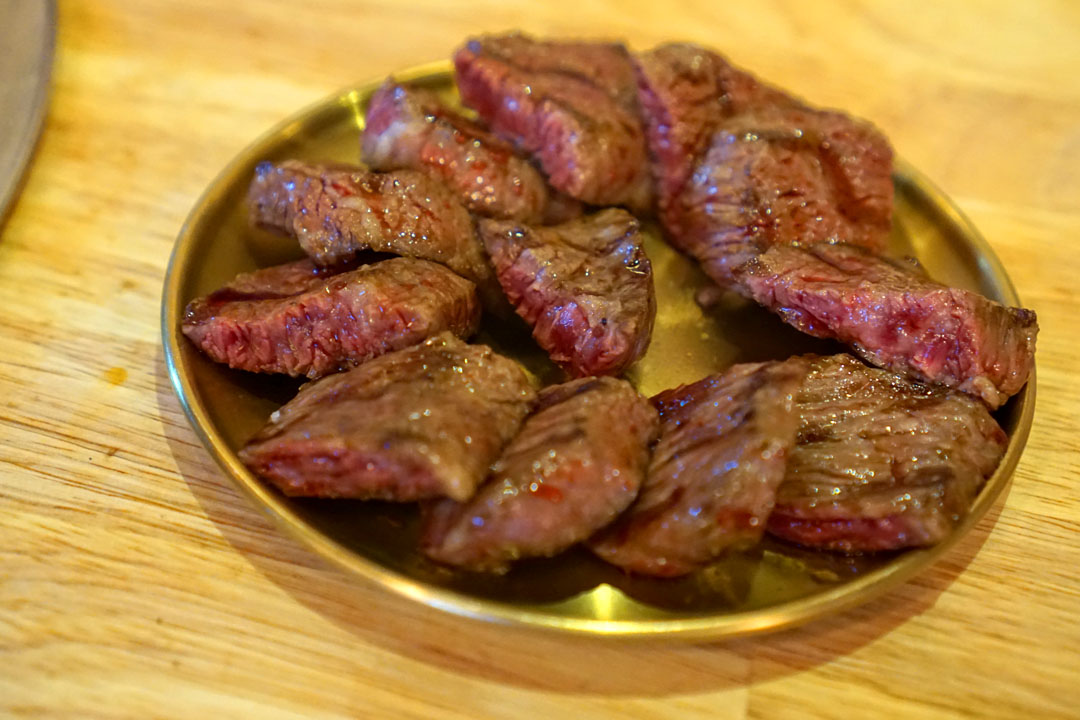 US Wagyu Style Bnls Short Rib (Salted) [$29.00/4oz]
| Nakaochi (中落ち)
Rib fingers had a nice bit of chew, while flavors were rich and robust, with a particularly apparent umami component. Try this with some wasabi.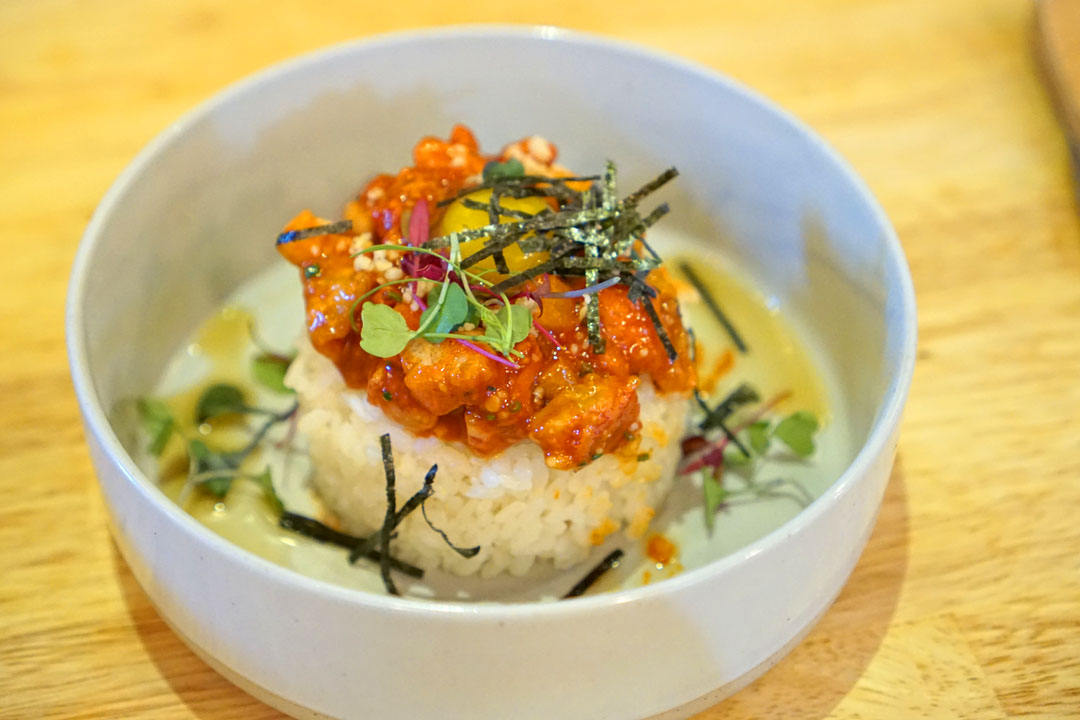 A5 Wagyu Beef Tartare Bowl [$21.00]
| Ground A5 Wagyu Beef, Rice, Egg Yolk, Vegetable, Kizami Seaweed, Sesame Seed, Sesame Oil, Sweet and Spicy Dressing, Pine Nut
The evening's third presentation of beef tartar went in a sweet direction at first, but this was evened out by a delightful growing, lingering heat. The rice worked well for contrast, and I liked the crunch of those pine nuts, too.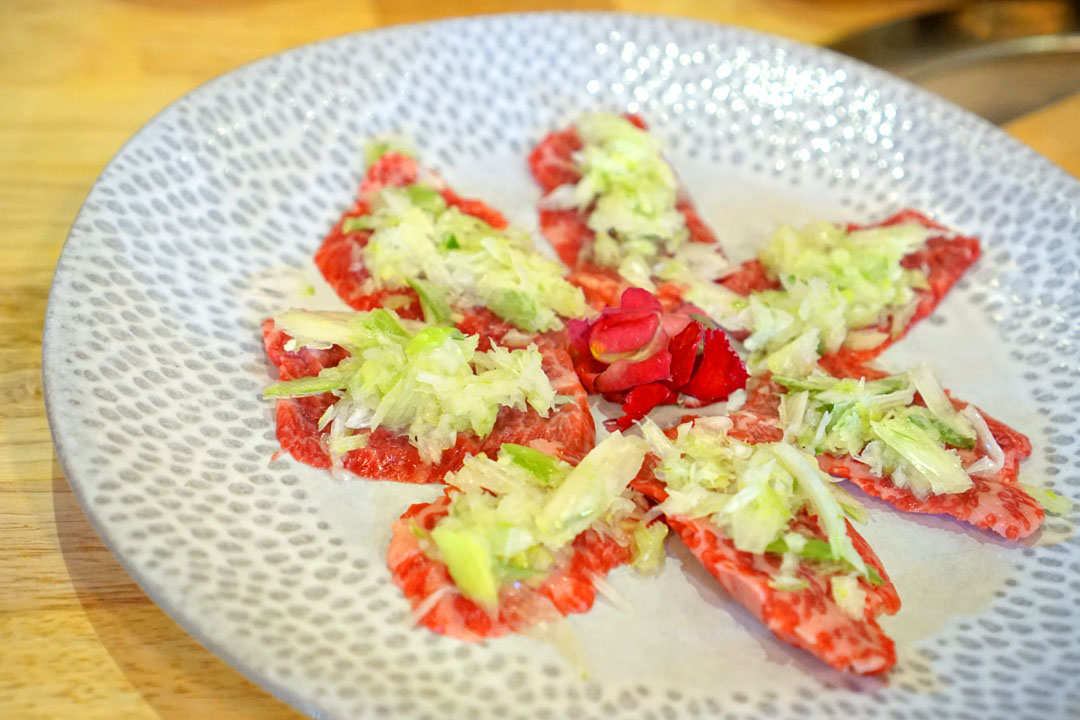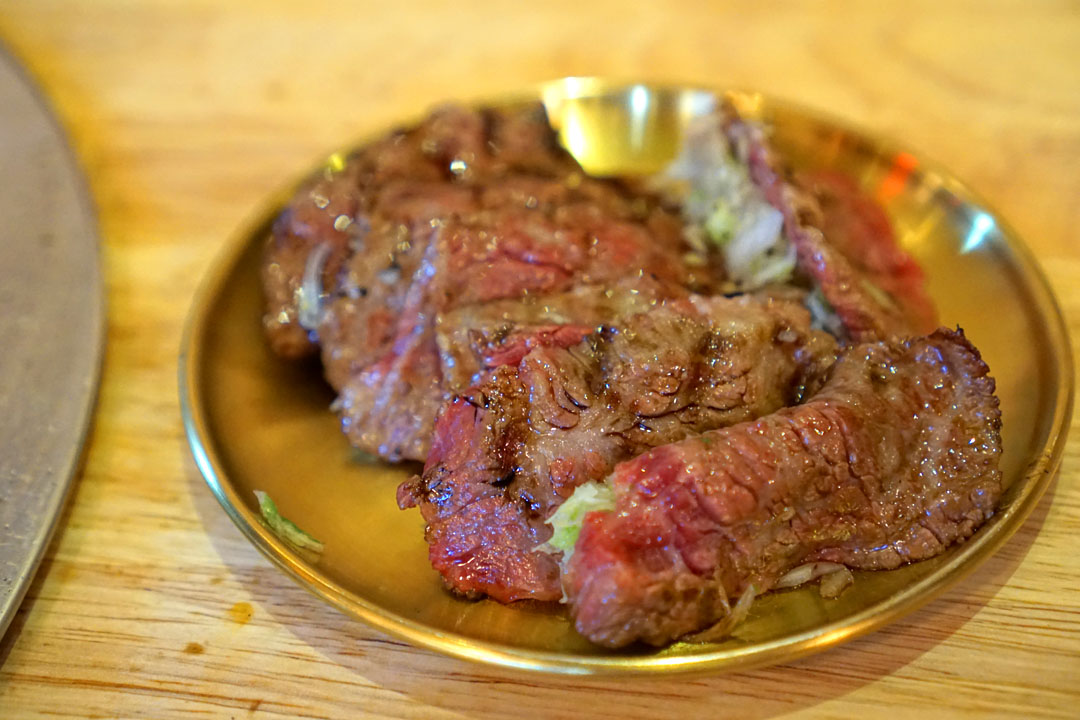 US Wagyu Style Signature Negi-Shio Bnls Short Rib [$33.00/4oz]
| Bnls Short Rib (カルビ)
In our second boneless short rib dish, the in-your-face bitterness of scallion did an admirable job tempering the sheer potency of the
karubi
. A winning combination.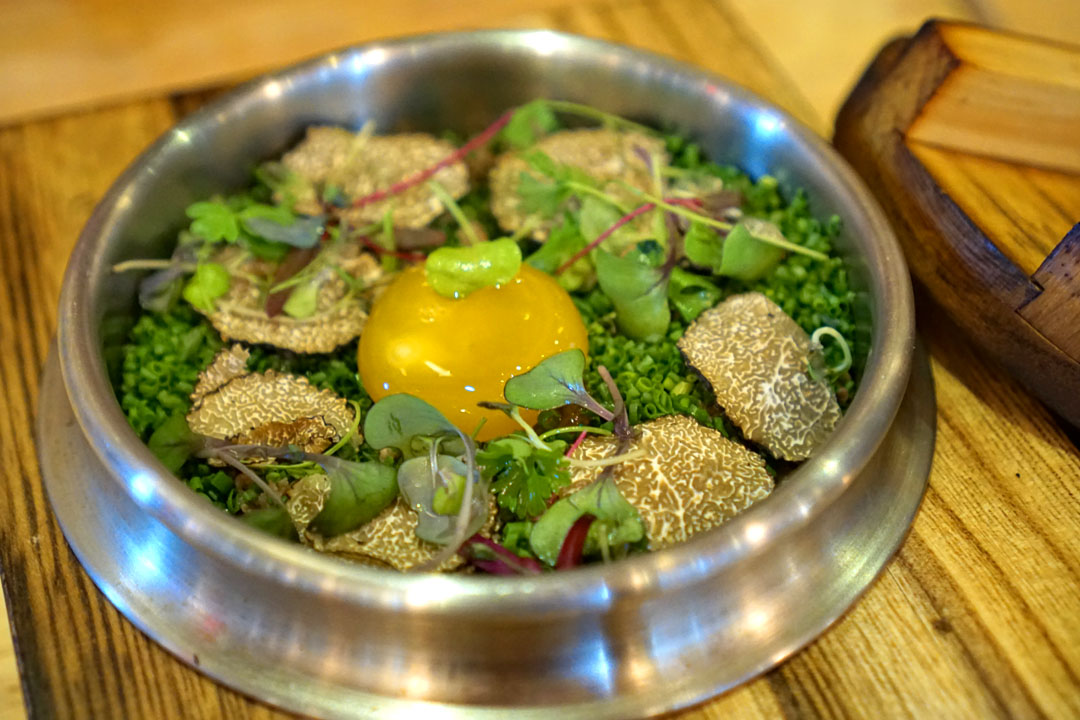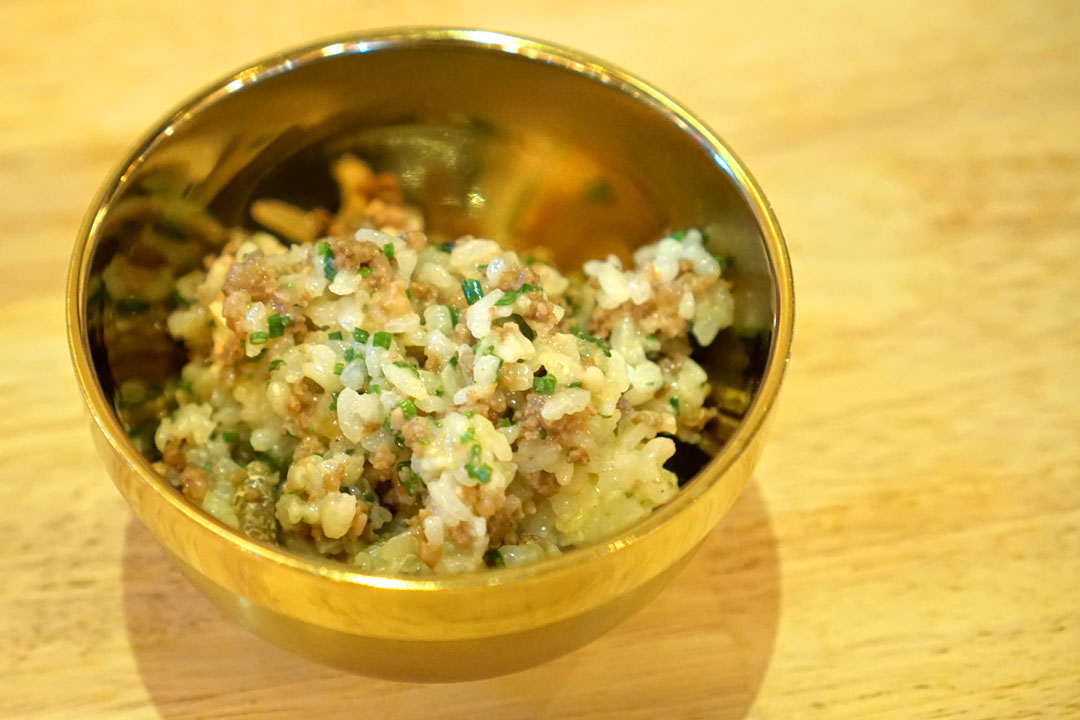 Truffle A5 Wagyu Beef Hot Pot [$48.00]
| A5 Wagyu Beef, Chive, "à la Minute" Dashi Rice, Fresh Black Truffle, Sesame Oil, Tsuyu, Shoyu Marinated Egg Yolk
This next dish was somewhat akin to a drier, softer version of risotto. I quite enjoyed the smoky, umami-driven flavors here, and how that all meshed with the enveloping musk of black truffle. Great touch of herbiness from the chives as well.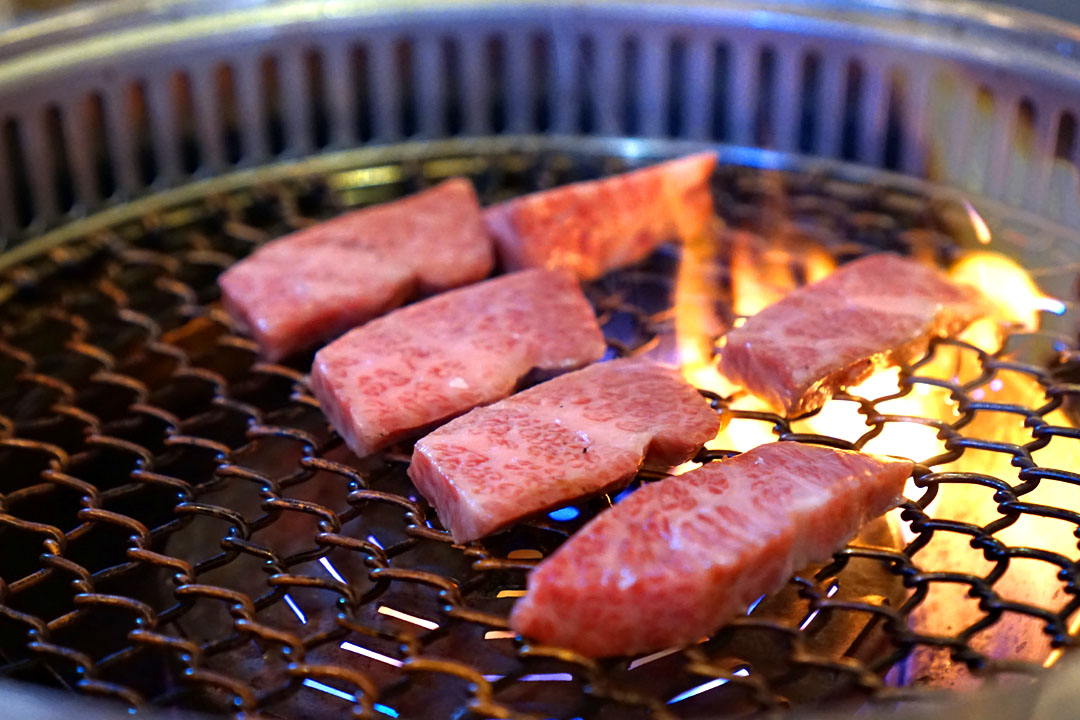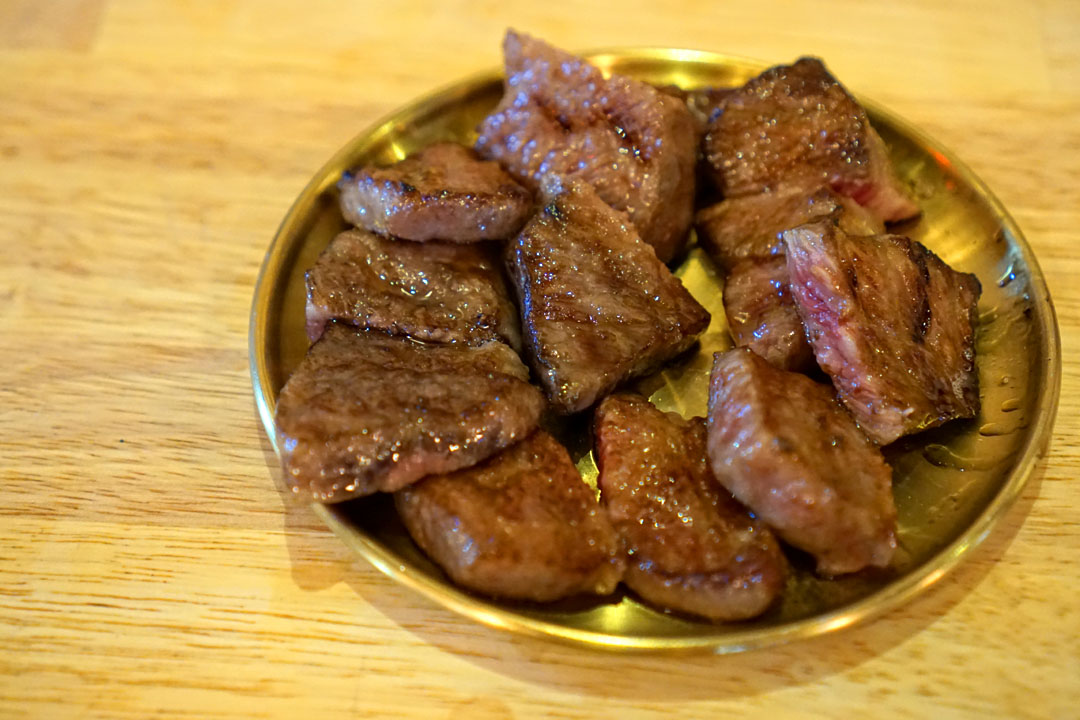 Japanese A5 Wagyu Osen Kalbi (Salted) [$67.00/4oz]
| Bnls Short Rib (カルビ)
Our third cut of short rib was clearly the lushest, most luscious of the three, and was just what I wanted and expected from genuine Japanese beef. The charring and caramelization happening here was absolutely key, and I found that I liked this with a pinch of salt.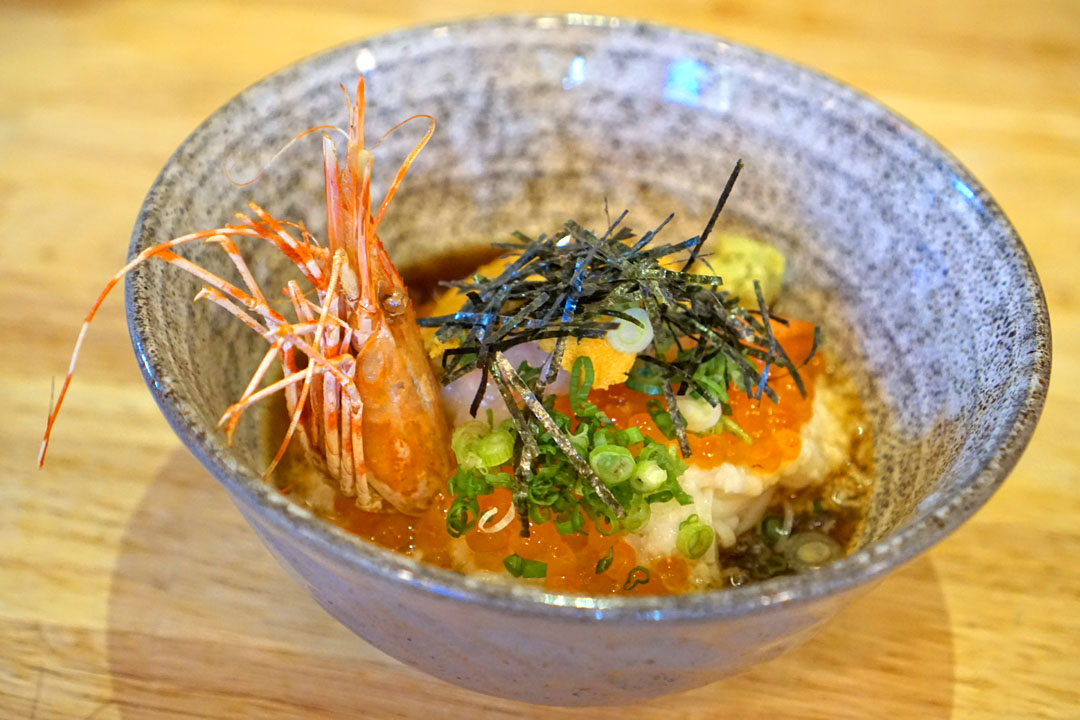 Premium Omakase Cold Noodle [$35.00]
| Cold Dashi Broth, Uni, Sweet Shrimp, Ikura, Ground Yam, Udon Noodle, Wasabi, Tsuyu
I appreciated the sweet salinity and texture on the shrimp here, as well as the mucilaginous nature of the
yamaimo
and the zestiness of the scallion, but overall, there was a bit too much going on, so things got somewhat muddled.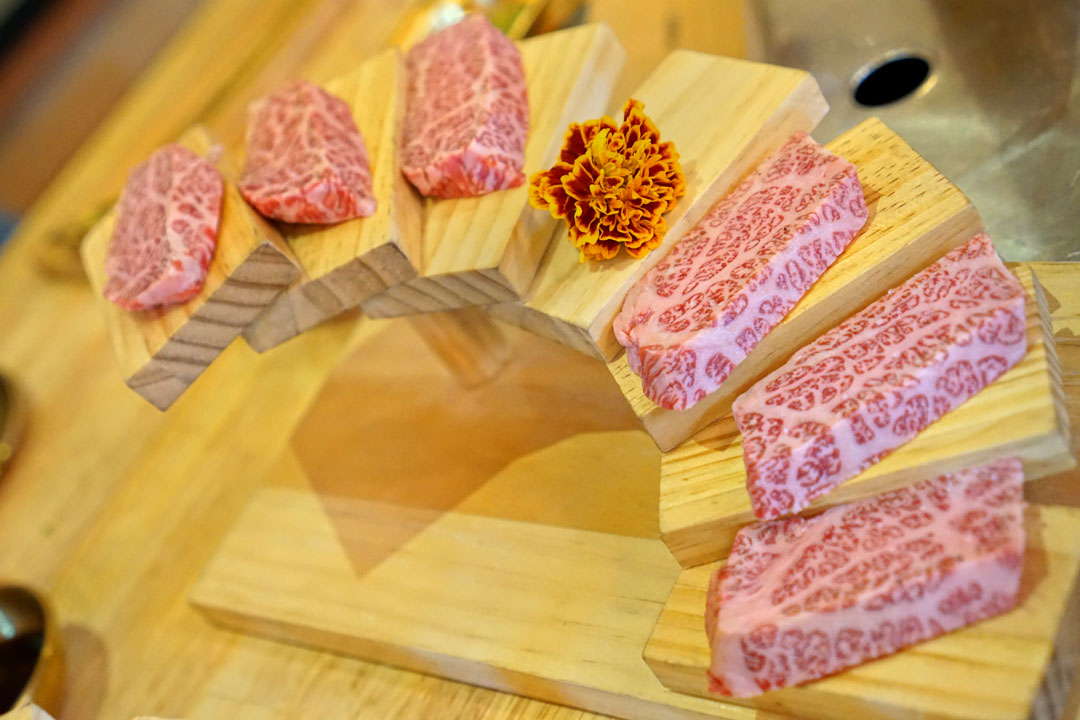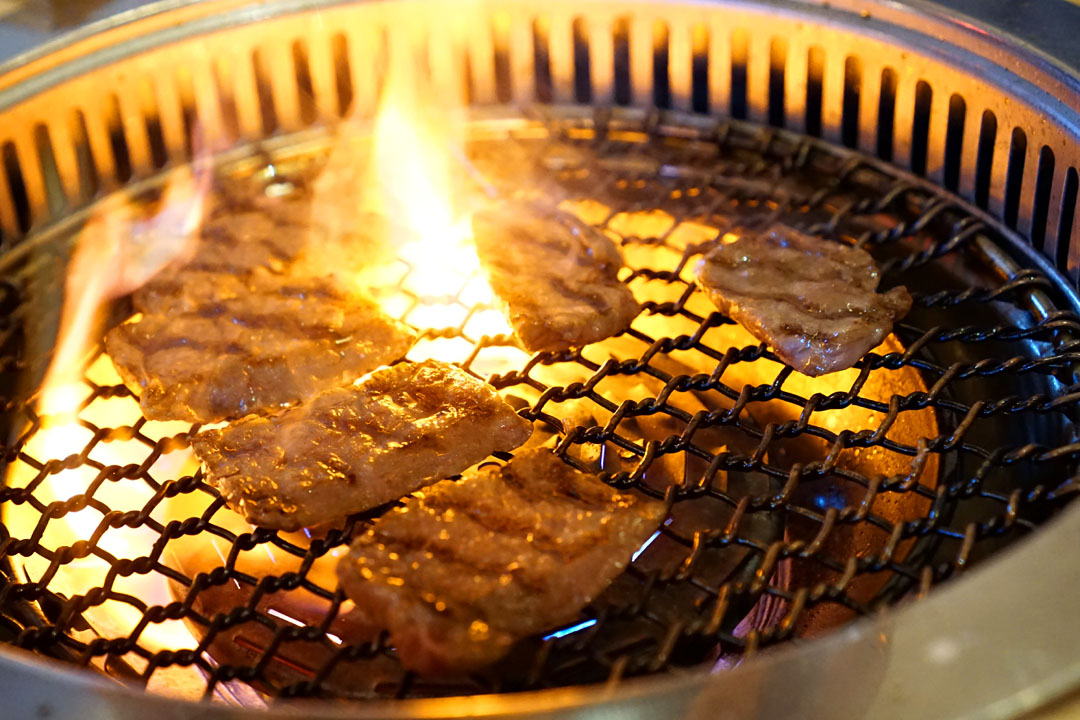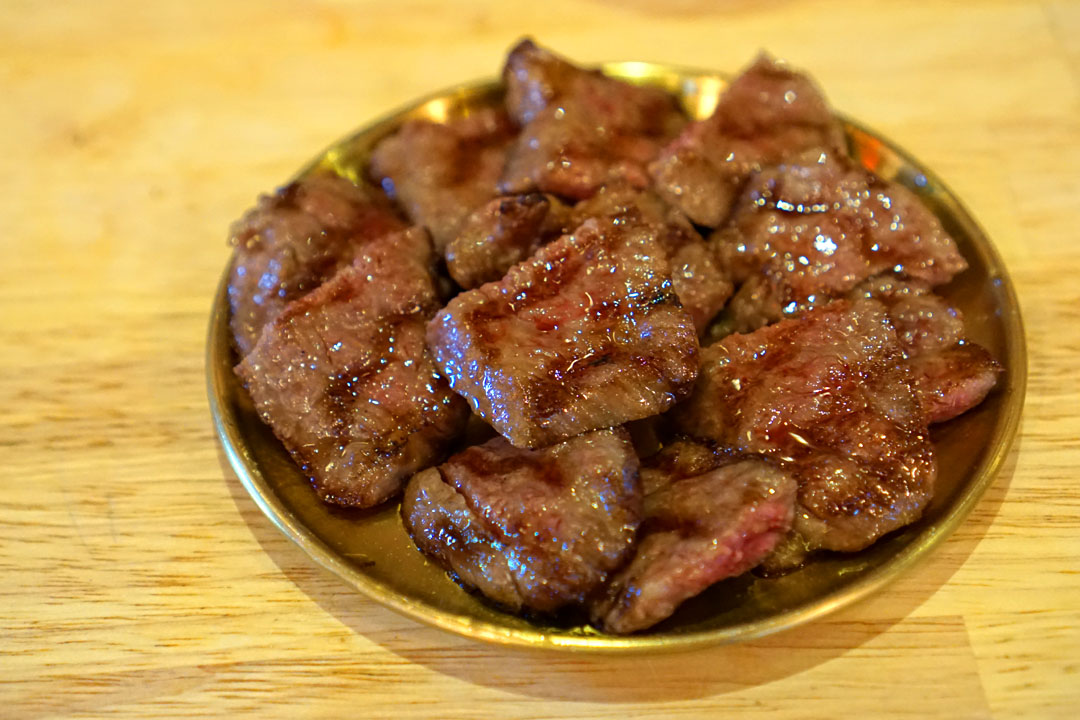 Japanese A5 Wagyu Zabuton (Salted) [$64.00/4oz]
| Chuck-Flap (ザブトン)
Our final, beautifully marbled cut was the fattiest, softest, most luxurious of the bunch, and really showed off the benefits of true Japanese Wagyu. The meat paired especially well with the generous amounts of smoke present, and I enjoyed it without further accoutrements.
Cold Lime Somen [$12.00]
| Cold Dashi Broth, Tsuyu, Sliced Lime, Onion, Myoga, Ginger, Wasabi
Somen arrived well textured, and sort of worked as a palate cleanser due to its refreshingly citrusy flavors, backed by just enough savoriness from the dashi-tsuyu combo.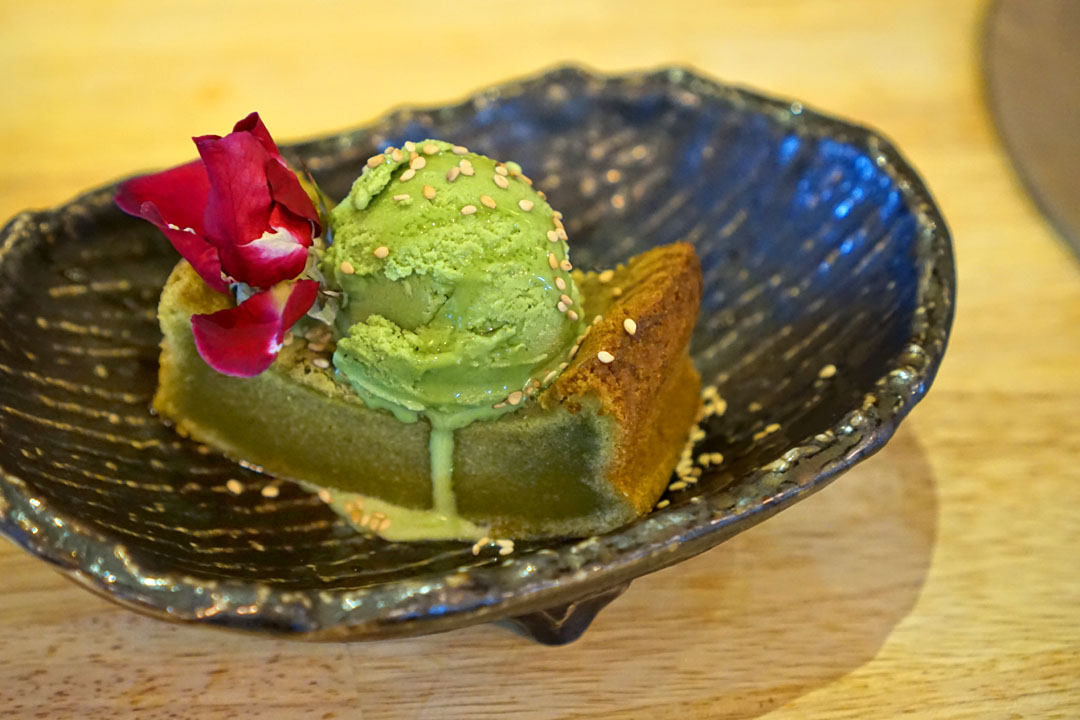 Warm Matcha Mochi Cake
| with Green Tea Ice Cream
Desserts were also comped on account of us being seated late. This first one was a delight texturally, with its dense, chewy consistency, and I enjoyed the pairing of bittersweet green tea flavors with the nuttiness of sesame.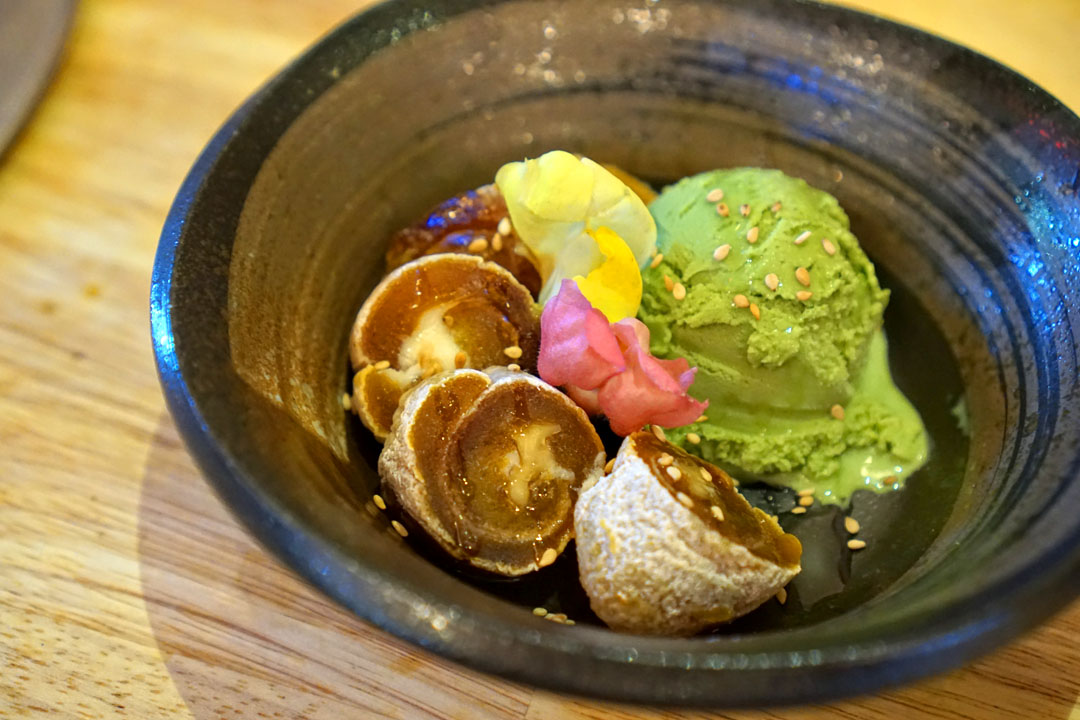 Cream Cheese-Stuffed Dried Persimmon
| with Green Tea Ice Cream
Our second dessert was more interesting. I actually liked the merging of fruity, floral dried persimmon with cheese more than I thought I would, while the effective combination of matcha ice cream and sesame made another appearance.
I'm of the belief that we don't have enough Japanese barbeque restaurants here in the Southland, so Yakiniku Osen is a welcomed addition to the landscape. Most of what we had tonight was successful and delicious, and I do think that the sometimes-over-the-top nature of the food here can serve as a bit of a distinguishing factor. Now as for Cho's next steps, remember how I mentioned above that he lost control of Kappo Osen in Santa Monica? Well, apparently he's planning on reviving the concept next year, in Irvine no less. There's not much that can compare to it down in south Orange County, so I imagine the place will do pretty well. I'll probably check it out eventually.