Playground (Santa Ana, CA) [7]
Playground Restaurant
220 E 4th St, Santa Ana, CA 92701
714.560.4444
www.playgrounddtsa.com
Thu 12/23/2021, 07:30p-10:05p

My previous blog post detailed one last meal at
Playground 2.0
while it was still under the watch of Jason Quinn. Immediately following that dinner, I felt that a final visit to the original Playground was called for, and thus prioritized a return to the O.G. restaurant before it was too late.

As stated in my last post, Playground will be turning into Detention in early 2022, and I imagine that the process will involve significant changes to the decor. Thus, I wanted to capture some photos of the place in its current form for posterity. Shown above is the space that comprised the entirety of the restaurant when it
first opened
in 2012.

The storefront immediately to the west was subsequently acquired and turned into an auxiliary dining area and second kitchen circa 2016.

This was followed shortly afterward by another expansion west. This third space is divided into a dining room in the front...

...As well as an even larger section in the back, replete with its own bar (and bathroom). I imagine this part of the restaurant is oft used for private events.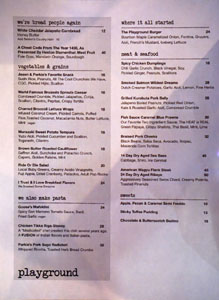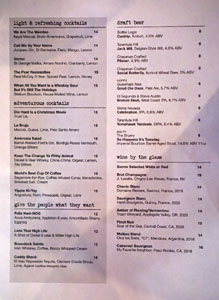 Pictured above is Playground's closing menu and beverage list, which read as irreverent and eclectic as ever. Click for larger versions.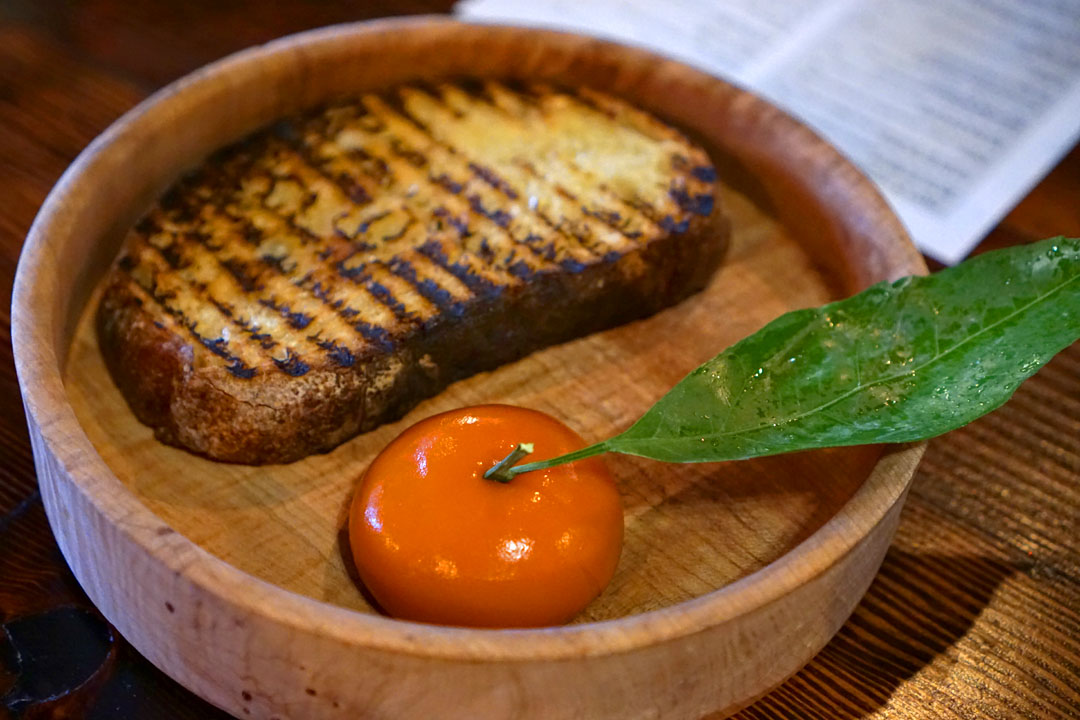 A Cheat Code From The Year 1430, As Presented By Heston Blumenthal: Meat Fruit [$48.00]
| Foie Gras, Mandarin Orange, Sourdough
Our meal began with a bang thanks to Playground's version of "meat fruit," an iconic dish from the highly-regarded Dinner by Heston Blumenthal in London. The key was how the innate earthiness, the potency of the liver was so thoughtfully juxtaposed against the sweet, fruity components in the dish. It was a great marriage of disparate flavors, one that worked even better when paired with that bitter, smoky, well-charred bread.
Beverage-wise, one of my dining companions brought along a bottle of the much-lauded
2013 Marcassin Chardonnay Marcassin Vineyard
. The Chard had an intense, engaging nose filled with barnyard, butter, baking spice, and green apple. On the palate, I found the juice rich, concentrated, with more of those creamy, buttery notes commingled with elements of citrus, grass, warm spices, and minerals. A lovely wine, and a treat to have. Also, do note that the corkage fees (normally $15) tonight were comped, probably because we shared wine with our servers.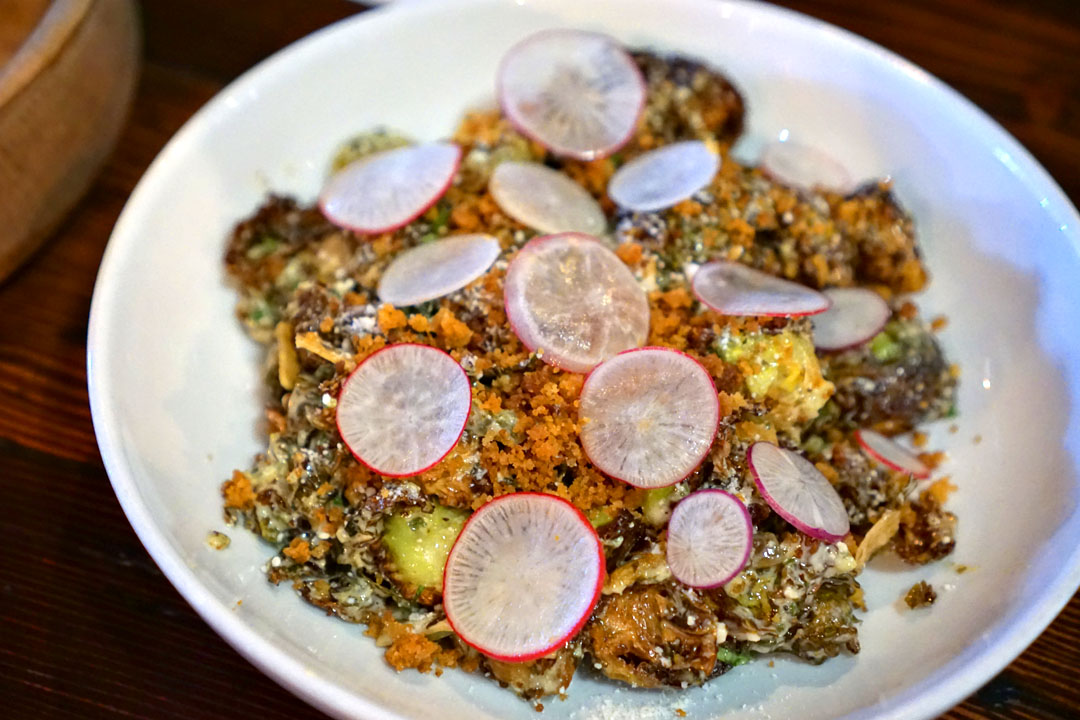 World Famous Brussels Sprouts Caesar [$16.00]
| Cornbread Crumble, Pickled Jalapeños, Cotija, Scallion, Cilantro, Pepitas, Crispy Tortilla
This is one of Playground's most well-known dishes, and was way better tonight than I remember. The salad had this almost fishy blast of umami that I was really surprised by. Those heady flavors worked beautifully with the bitterness of the Brussels, and I really liked the sneaking heat from the jalapeños, and how the cheese help tie everything together. Also crucial were all the nutty-crunchies tossed in, which made for some great textural play. A favorite.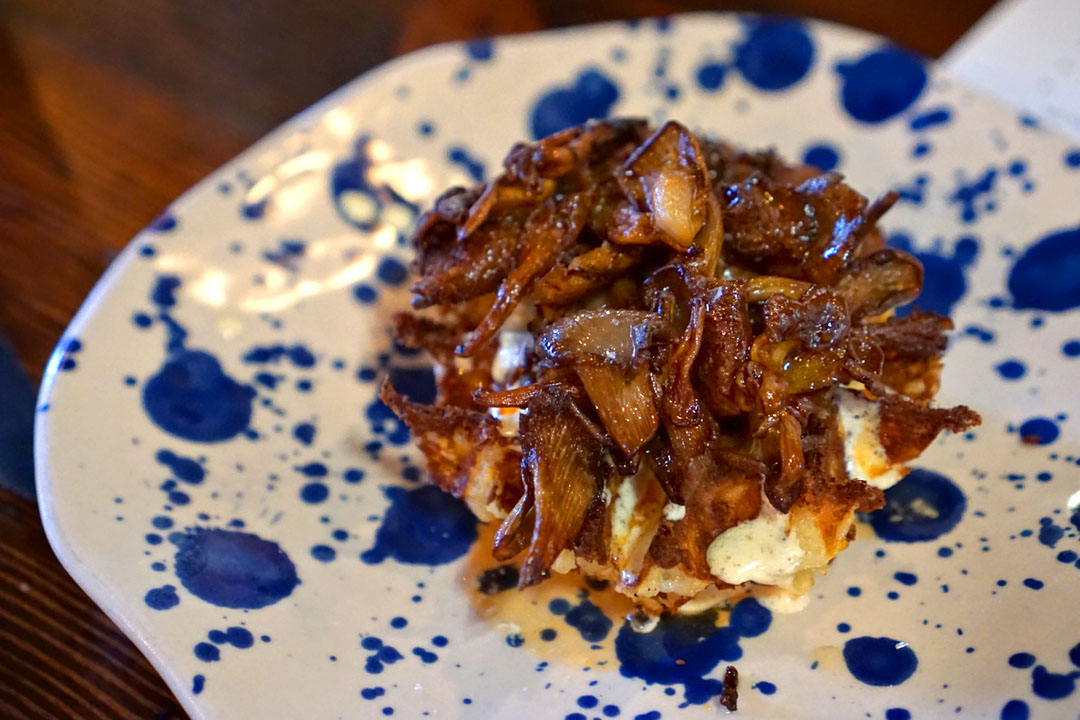 I Trust & I Love Breakfast Flavors [$24.00]
| We Smoked Some Shrooms
Here was an intriguing dish composed of mushrooms that had been seasoned/smoked like bacon, hollandaise, lacto-fermented Fresno chile hot sauce, and thyme- and sage-infused maple syrup, all set over a potato-cheddar sourdough waffle. The crux here was the sheer smoky sweetness of the 'shrooms, boosted by the maple, while the hot sauce and hollandaise helped temper the flavors at play. I was a big fan of the texture on that waffle as well, and overall, the dish was familiar at its core, yet fun and exciting.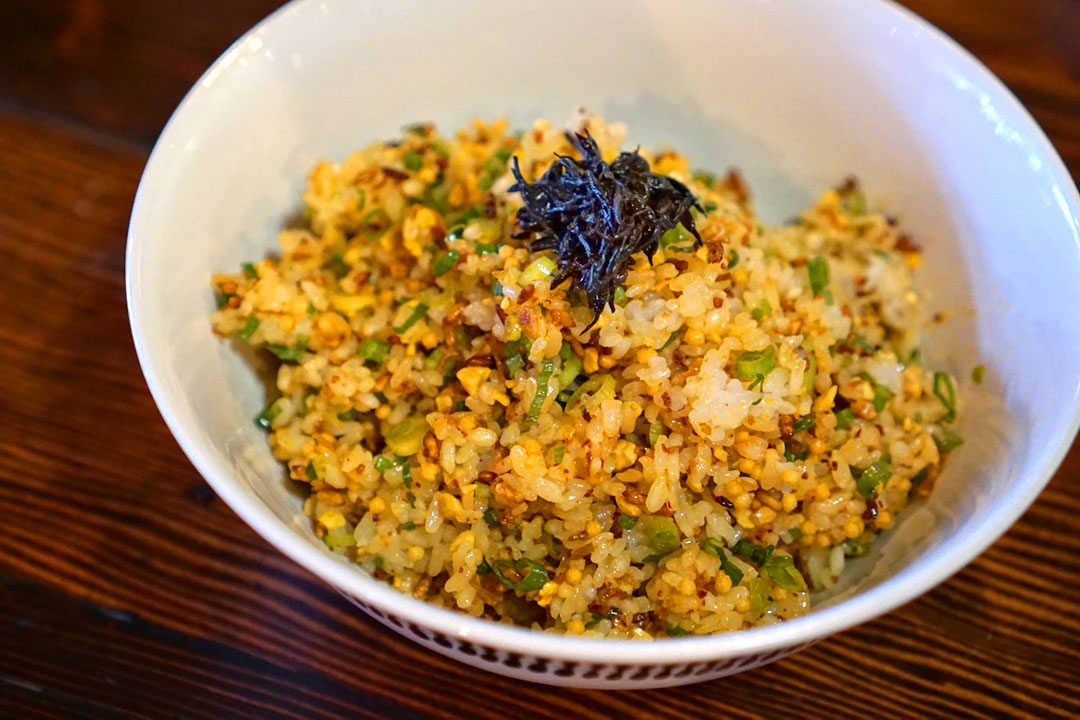 Jason & Parkie's Favorite Snack [$16.00]
| Sushi Rice, Peanuts, All The Cool Crunchies We Have, CGC, Pickled Hijiki, Scallion
This was another standout for me. What I loved was the spot-on back-and-forth between all the crunchy, nutty things going on and the zestiness of those scallions, all while the chili garlic crisp and
hijiki
contributed an underlying layer of spice and savor. I've never had rice quite like this before--very neat.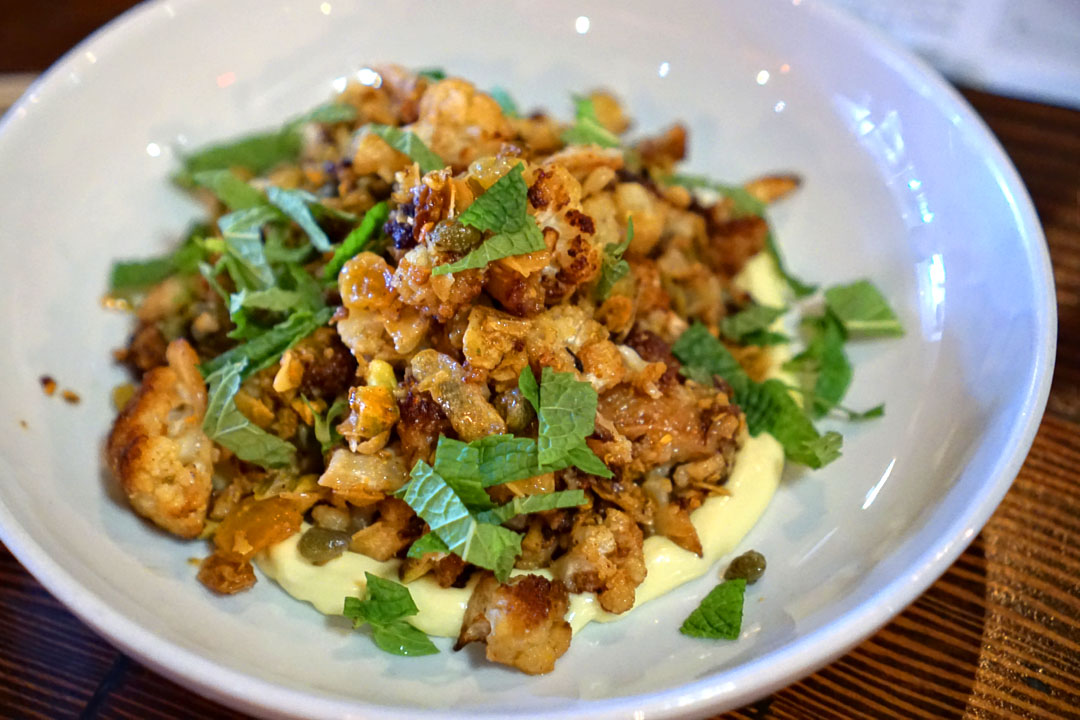 Brown Butter Roasted Cauliflower [$18.00]
| Saffron Aioli, Sunchoke and Pistachio Crunch, Capers, Golden Raisins, Mint
I'm a big proponent of cauliflower, but this version sort of missed the mark. The actual cauliflower was lacking in texture, and the combo of capers and raisins resulting in a largely sour-sweet flavor profile that I found domineering, though the mint did help.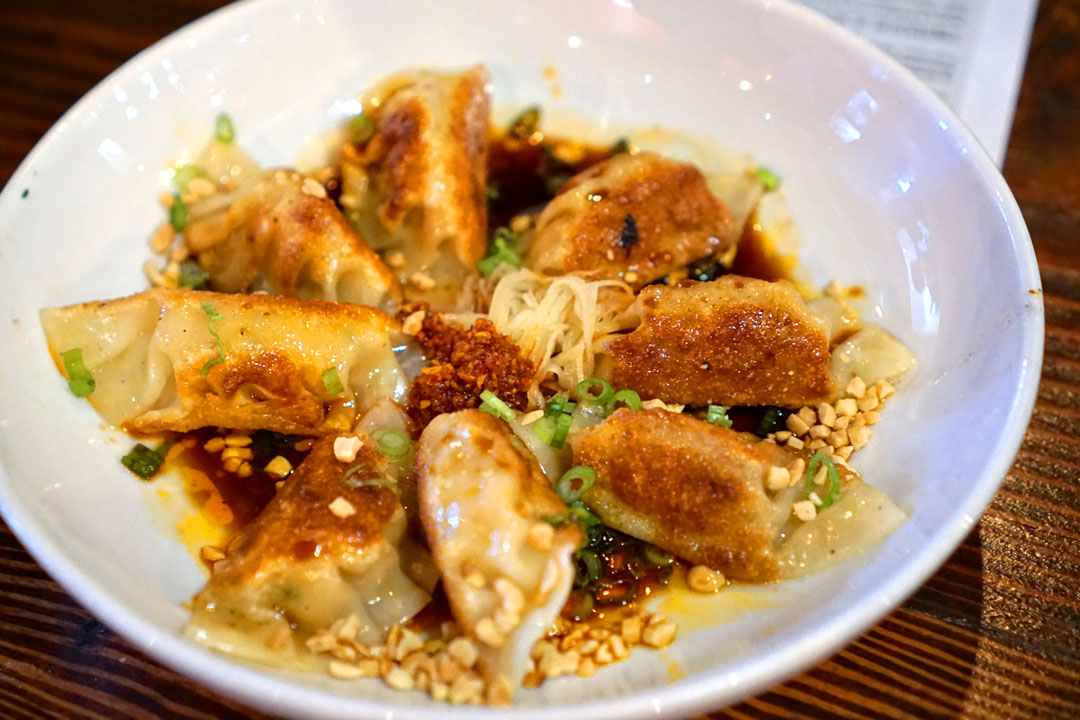 Spicy Chicken Dumplings [$18.00]
| Chili Garlic Crunch, Black Vinegar, Soy, Pickled Ginger, Peanuts, Scallions
This take on Chinese-style dumplings also fell a bit short. Texturally, the
jiaozi
were just about perfect, but I found the flavors overly restrained, lacking in heat and depth. It almost felt like the kitchen was holding back.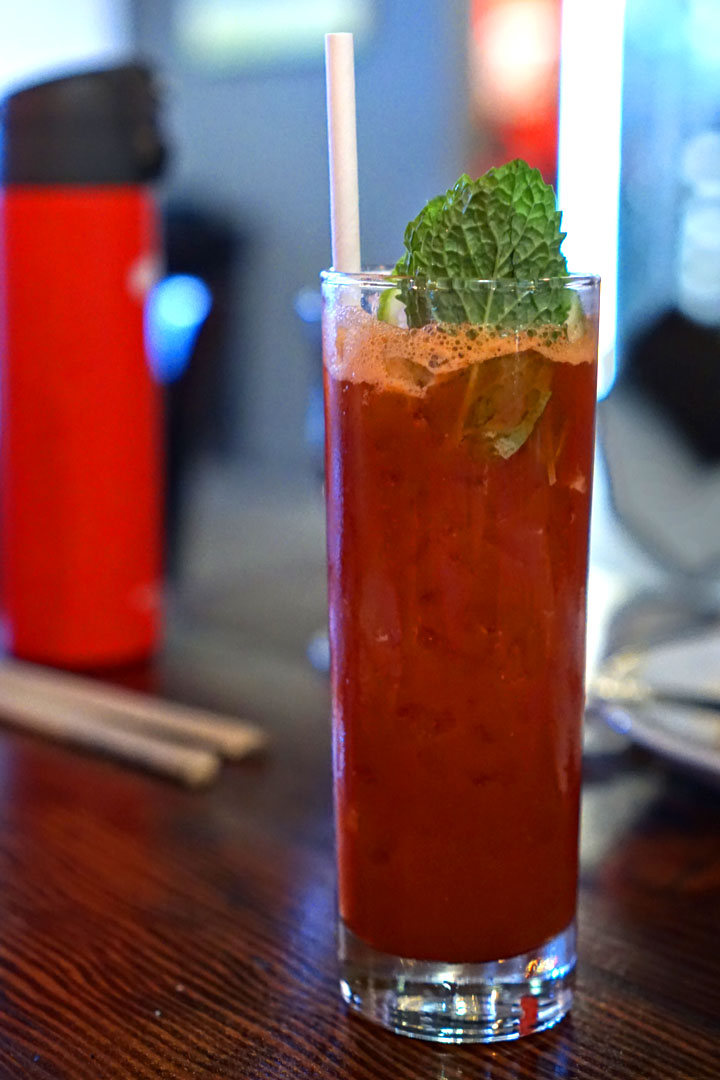 Yippie Ki-Yay [$16.00]
| Angostura, Rum, Pineapple, Orgeat, Lime
We initially wanted to order this cocktail in addition to one called
Die Hard Is a Christmas Movie
(in order to stick with a theme), but alas, the bar had run out of the latter, so this was it. In any case, I found the drink very apropos for the Christmas season due to its massive amounts of sweet spices, and in fact, one of my fellow diners even described the taste as candle-like.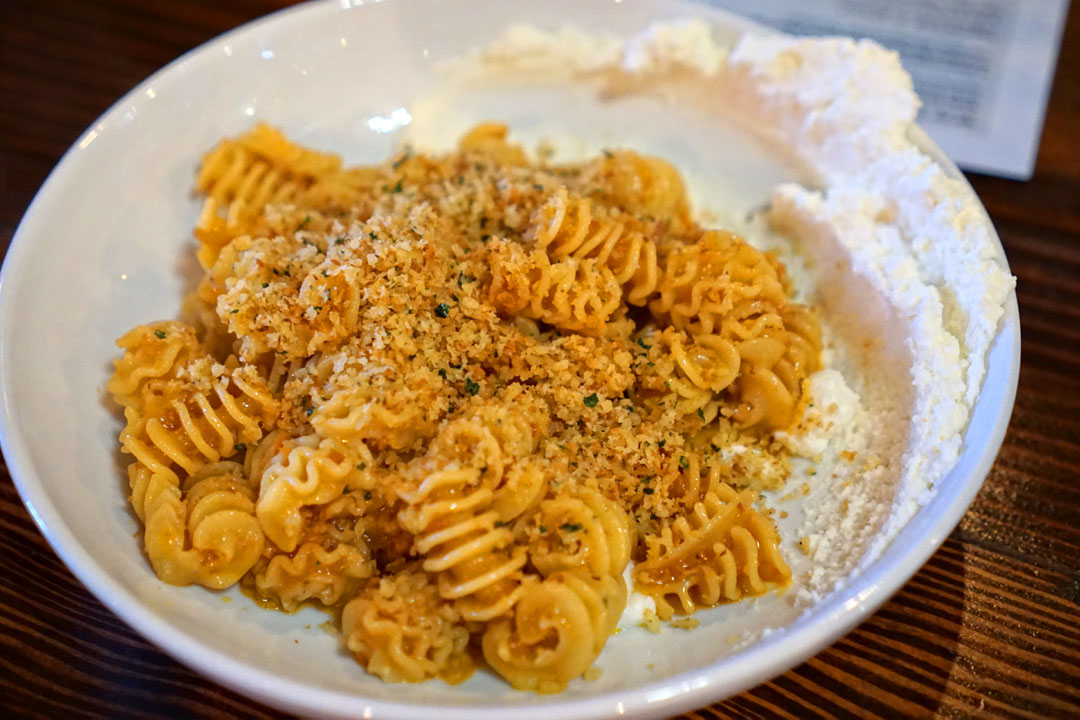 Parkie's Pork Sugo Radiatori [$35.00]
| Whipped Ricotta, Toasted Herb Bread Crumbs
Radiator pasta was a joy texturally, and took well to the homey, cozy flavors of that pork. I also liked the bit of levity imparted by the ricotta, and I can't forget about the crispiness from the crumbs, either.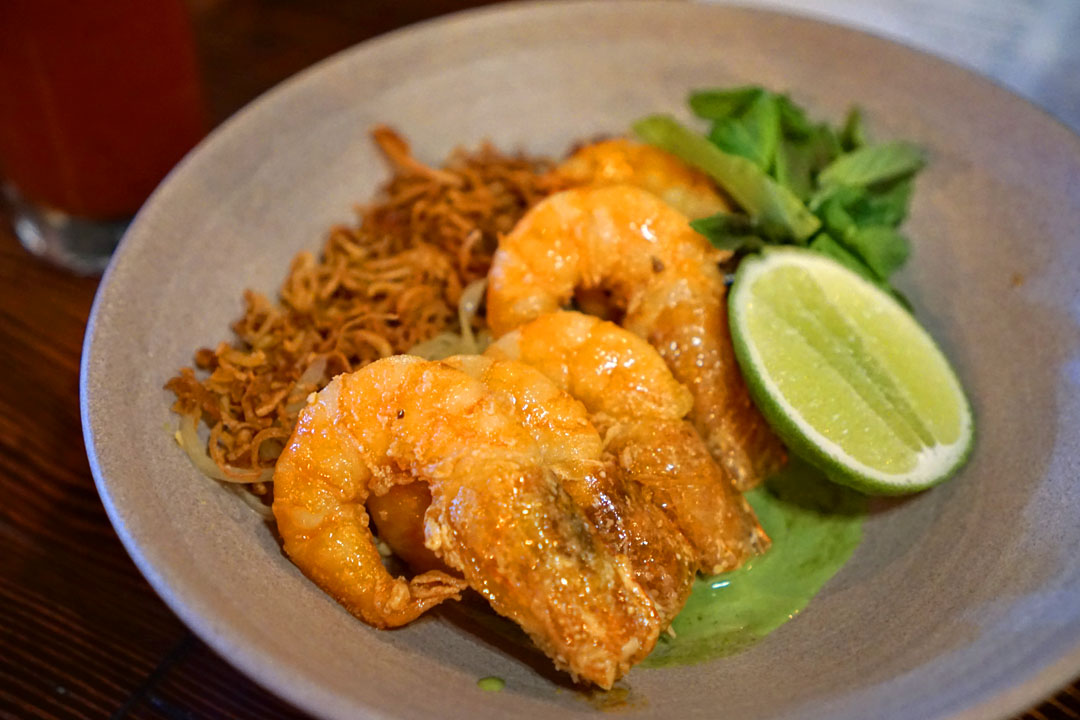 Fish Sauce Caramel Blue Prawns [$30.00]
| Our Favorite Two Ingredient Sauce, The HEAT is REAL Green Papaya, Crispy Shallots, Thai Basil, Mint, Lime
Next up came another table favorite. I loved how the brine on the shrimp was so deftly elevated by the fish sauce, and how that all meshed so perfectly with the coconut-like sweetness in the dish. At the same time, the herbs and
som tam
did a wonderful job brightening things up. You should probably order this.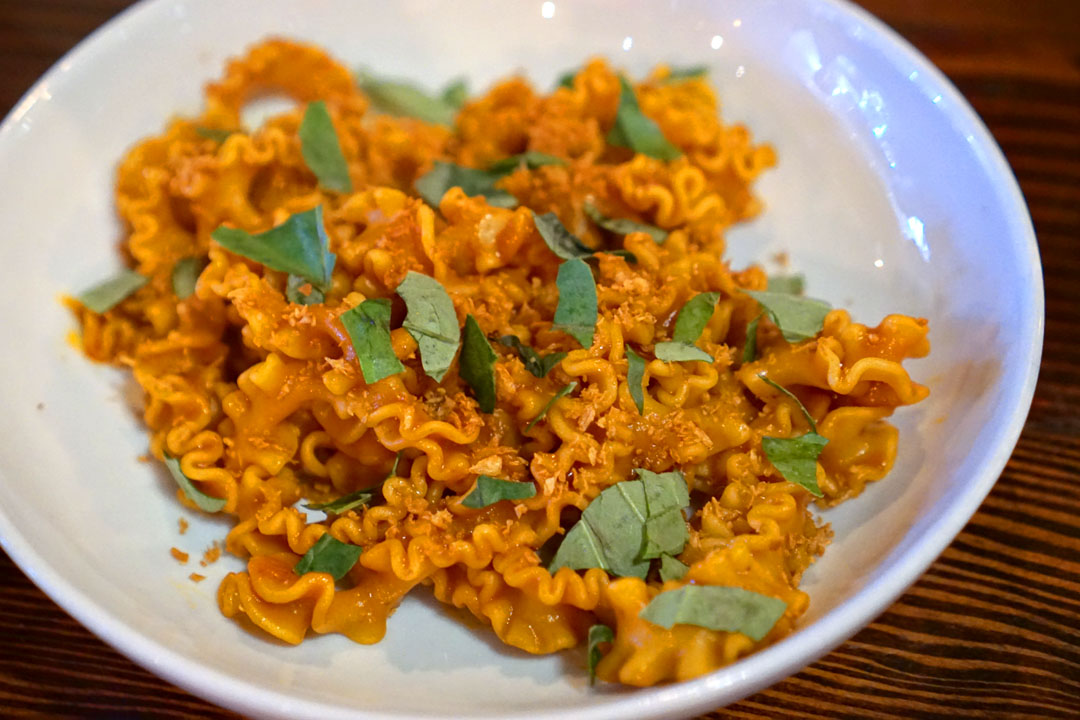 Goose's Mafaldini [$24.00]
| Spicy San Marzano Tomato Sauce, Basil, Fried Garlic
The mafaldine was also superb in terms of texture, and worked swimmingly as a foil to the tangy, subtly spicy flavors of the tomato sugo, all while the basil imparted a welcomed aromatic accent.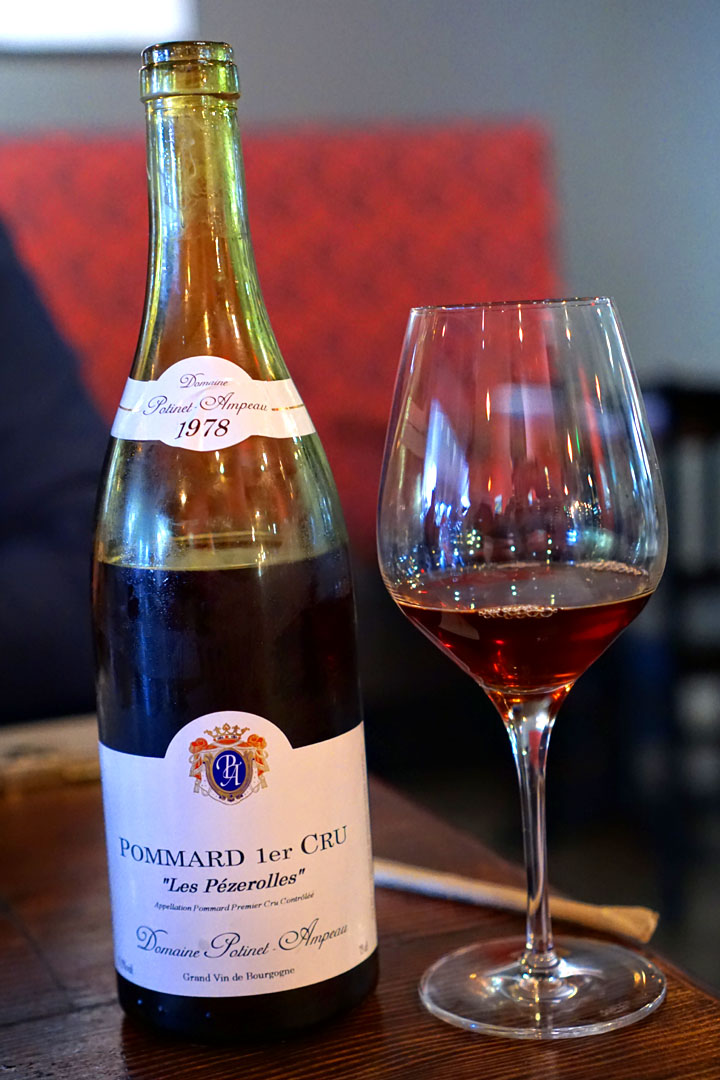 Next to imbibe was another bottle we'd brought: the
1978 Domaine Potinet-Ampeau Pommard 1er Cru Les Pézerolles
. The Burgundy showcased an appealing bouquet that I initially likened to strawberry and sea urchin due to the presence of sweet, creamy, and saline nuances; however, as the wine warmed, I detected an almost
suanmei
-esque piquancy commixed with a bit of mushroom. The palate displayed more of that earthiness, as well as tart berries, sous bois, and leather; and as the evening progressed, I found that flavors became softer, silkier, and I even got some pear on the finish toward the very end of the night. This one was definitely mature, though quite vibrant at the same time.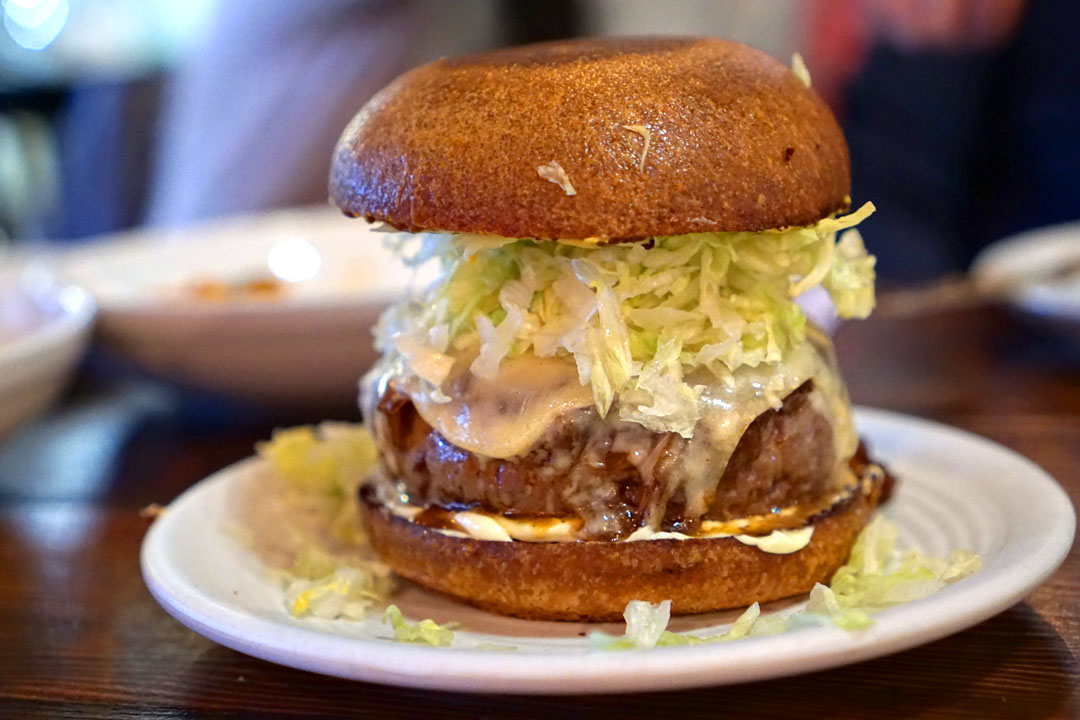 The Playground Burger [$24.00]
| Bourbon Maple Caramelized Onion, Fontina, Gruyere, Aioli, French's Mustard, Iceberg Lettuce
The burger is probably Playground's most infamous dish, and I've always thought it to be one of the best I've ever had. However, the version tonight didn't live up to my previous experiences. My biggest concern was that the patty was overcooked, and perhaps because of that, the burger ate overly salty, overly sweet. The lettuce could only do so much to keep things in check, and the cheese actually felt a bit lost. Things just didn't come together as well as I was hoping for.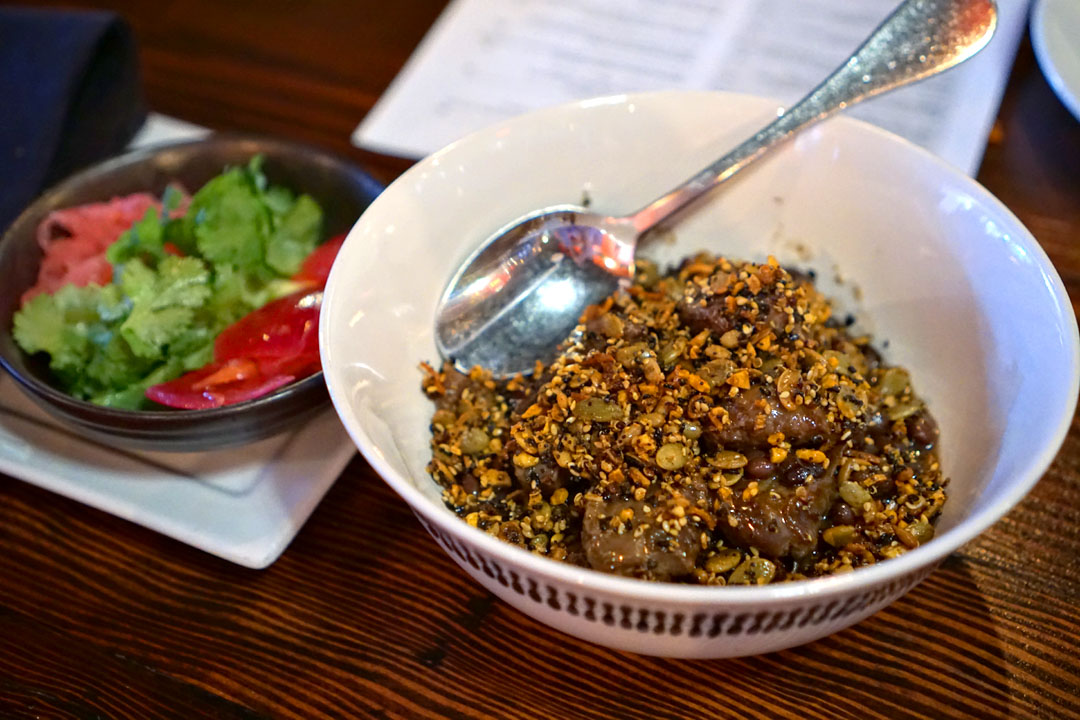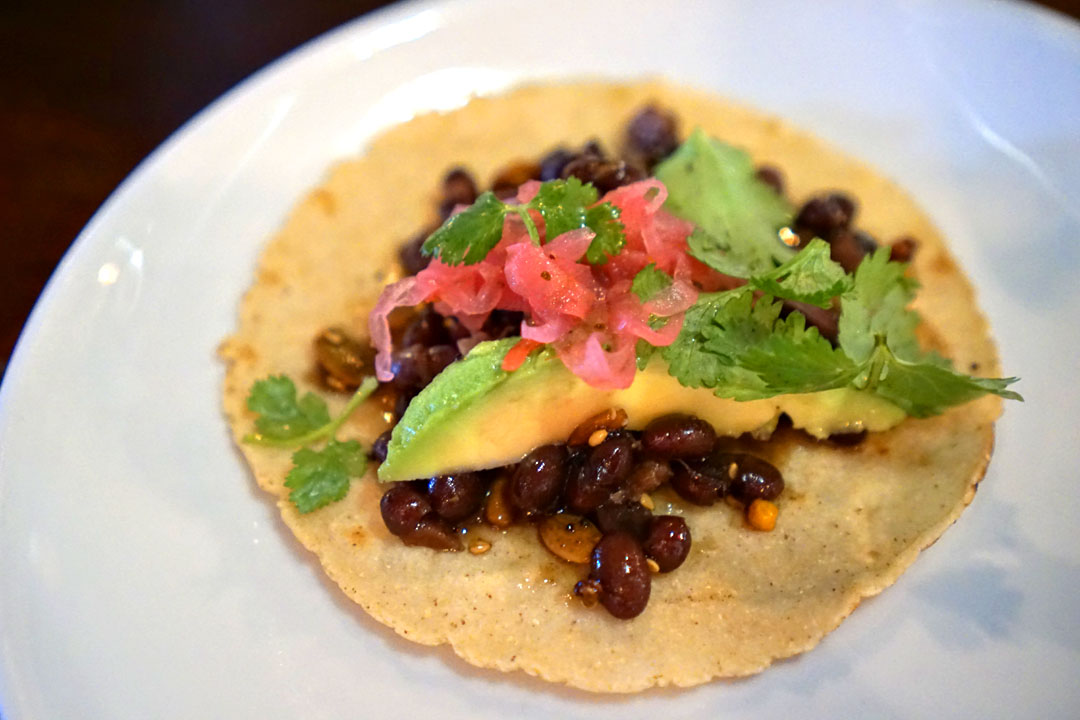 Braised Pork Cheeks [$32.00]
| Black Beans, Salsa Seca, Avocado, Xnipec, Masienda Corn Tortillas
The pork cheek was definitely a winner, and was easily one of the best preparations of the ingredient I've had. The meat was near-falling-apart tender, and conveyed a real depth of flavor that was amped up even more by the dish's nutty, creeping heat. Meanwhile, cilantro and pickled onions were perfect for contrast, and I was pleasantly surprised by the moderating effect from the beans, too. Delish.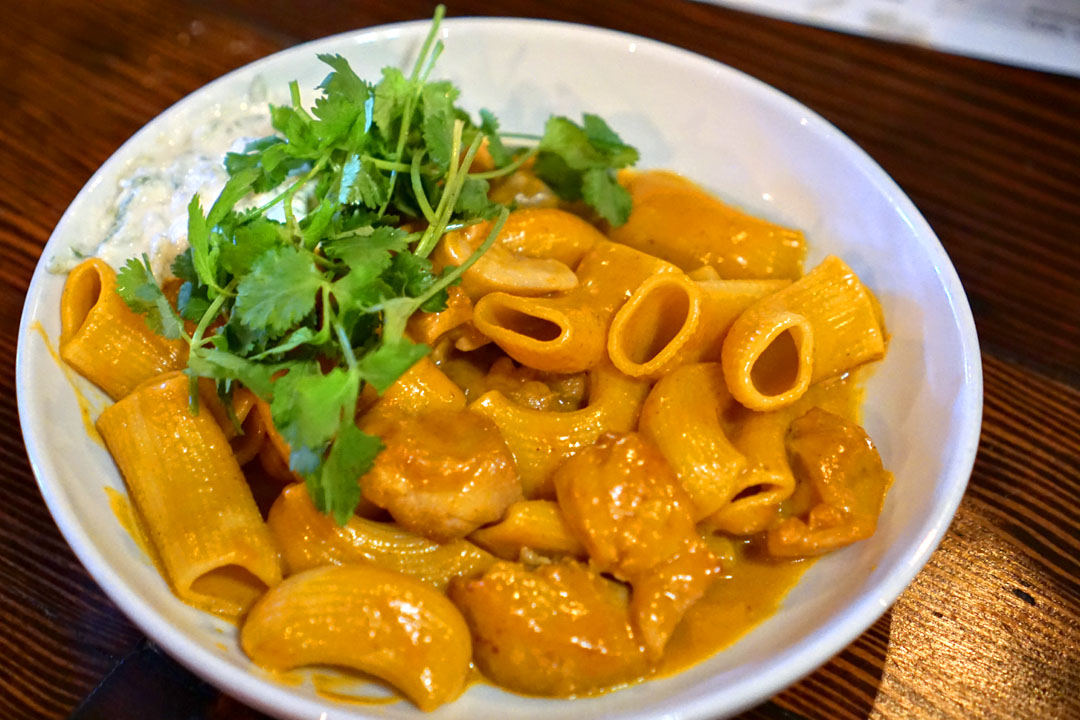 Chicken Tikka Riga-Stoney [$28.00]
| A "Medicated" chef created this dish several years ago. A FUSION of Indian flavors and Italian pasta.
Our final pasta was a fun one. It definitely tasted akin to chicken tikka masala, but the reference was a bit more subtle than I was anticipating. The bird itself was superbly textured, though a tad over-seasoned, so I really appreciated the super refreshing nature of that raita on the side.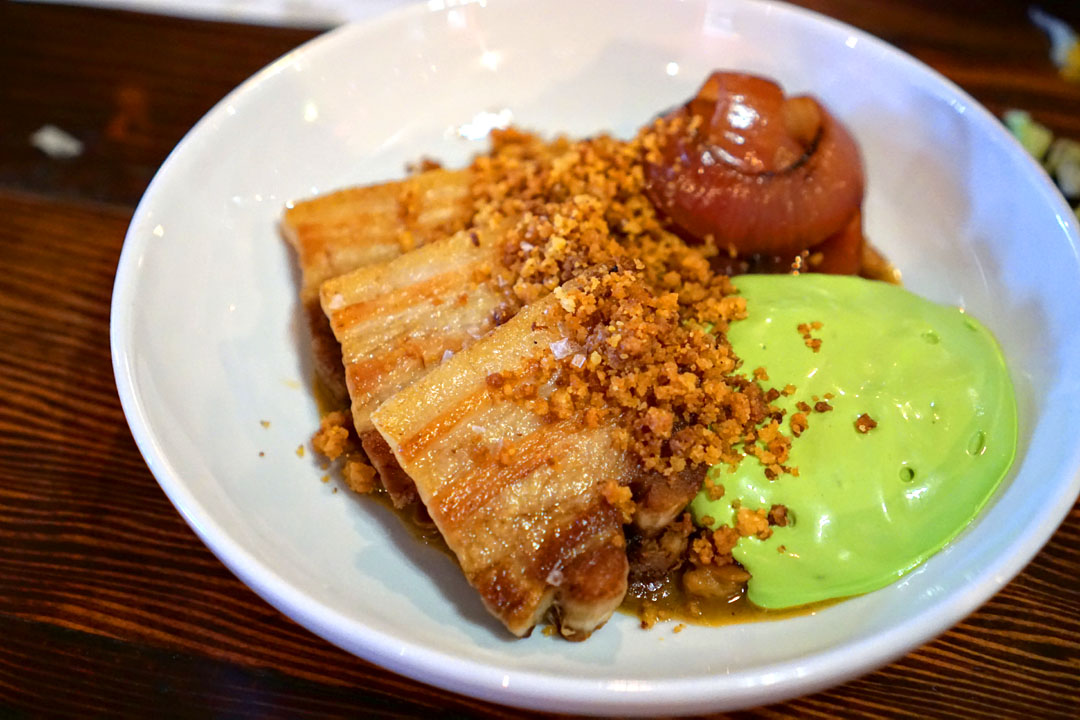 Grilled Kurobuta Pork Belly [$28.00]
| Jalapeno Boiled Peanuts, Pickled Red Onion, Kale & Roasted Garlic Aioli, Cornbread Crumble
Thin-cut, well-striated portions of pork belly showed off a great mix of melt-in-your-mouth fat and crispy lean portions. Not surprisingly, there were some pretty aggressive flavors happening, so the zing of that aioli really helped even things out. I also liked the peanuts more than I thought I would.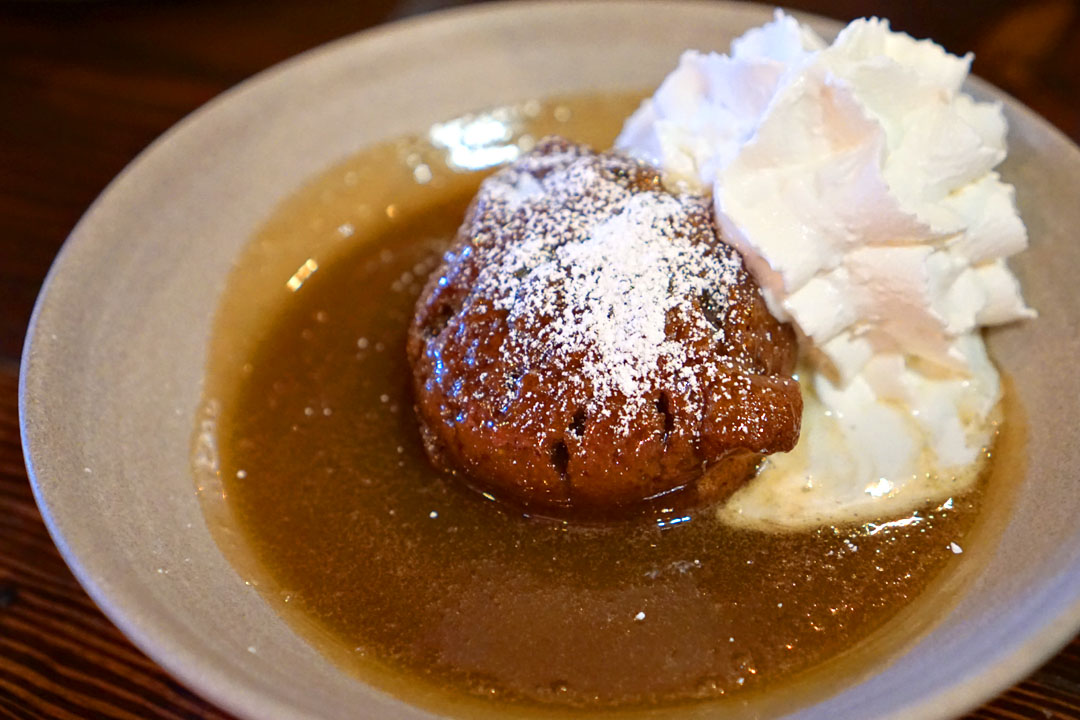 Sticky Toffee Pudding [$13.00]
Given that we'd ordered so much, our toffee pudding ended up being comped. It's no doubt Playground's signature dessert at this point, and didn't fail to deliver with its boatloads of dark fruit and caramel flavors, all softened a smidge by the somewhat salty whipped cream.
This final dinner was a bittersweet one, since it served as a reminder of all that I've enjoyed at the restaurant over the past nine years. As Playground turns into Detention, I'm hoping much of what made the place great will remain. Fortunately, it seems like much of the team will be staying on through the transition. Current CdC John Parker will now lead the kitchen as Executive Chef, and Jarred Dooley will continue to manage the beverage program and FOH, while Bob Quinn (Jason's father and Playground co-owner) will still be around as well. I'm excited to see what they have in store for us.